Words: Claire Matheson
Photos: Rich Callahan
Hovering above the bustling, eclectic streets of the Jalan Petaling district, Jann at Four Points by Sheraton Kuala Lumpur, Chinatown, is one of KL's best rooftop bars. At Jann, prepare to be served with views alongside your new favourite cocktail. Menus and mixes here are a salute to the merchants, mythology and microcosm of culinary traditions that make up KL's Chinatown. Using local ingredients and celebrating local vendors and landmarks, Jann pays homage to this colourful neighbourhood's heritage. With such a package, I am more than happy to join Mon on her mission to maximize her Marriott Bonvoy points with their current Double Points promo (details here).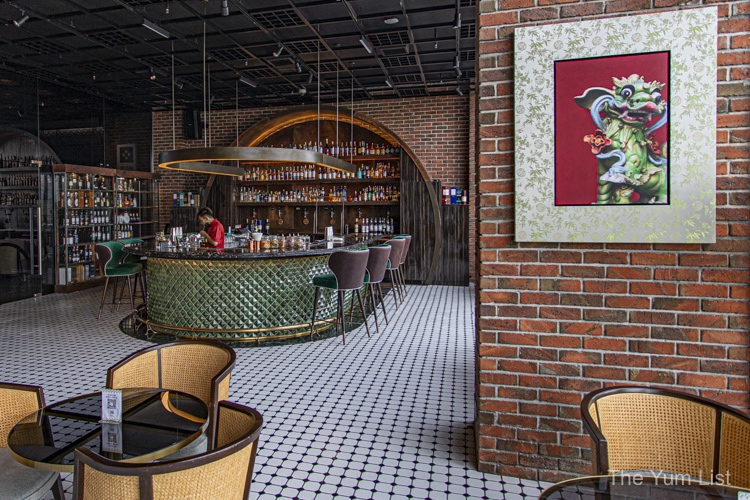 Double Points with Marriott Bonvoy
If you're not already a Marriott Bonvoy member, now is the ultimate time to join. For an entire month from February 18 until March 20, Marriott Bonvoy members can earn double the points when dining at participating Marriott Bonvoy restaurants and bars. There are also discounts of up to 20% available, and the best news is that membership is absolutely free! So not only will you get to eat and drink your way through Jann's sensational menu with some of the best views in KL, but you can start earning benefits to some of the world's best luxury hotel names straight away. Now that's a deal worth drinking to!
Views, Views, Views
With one of the most fabulous rooftop locations in KL, Jann's high ceilings and expansive spaces are juxtaposed against the close quarters of Chinatown's back alleys. On the seventh floor, it is close enough to the shophouse roofs to clearly make out details on passers-by below – a necessity for people watching! Jann's rooftop deck is also high enough to capture passing breezes. At the same time, you appreciate the grandeur of the scale of KL's impressive skyscape. Views stretch to all four major skyscrapers – the Petronas Twin Towers, the Tun Razak Exchange or TRX, the Menara KL Tower and the still under construction Warisan Merdeka 118, as well as mountain ranges beyond.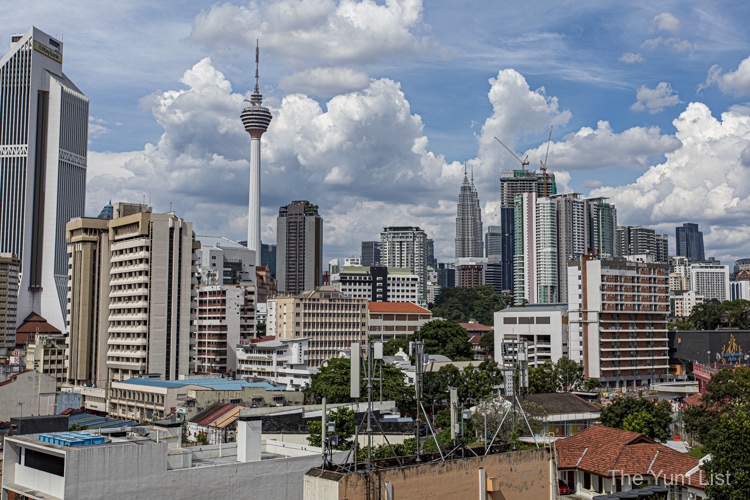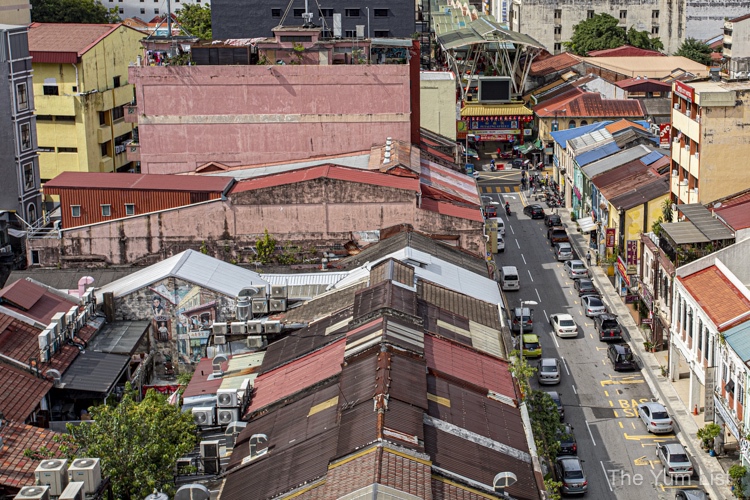 The Team
The team at Jann take great pride in the inventiveness of their technical recipes. Bartender Darwin Ng makes a close study of flavour evolutions in his cocktails, making the leap between scientific theory and drinking culture anthropology. The intricacies of his practice mirror the craftsmanship of the traditional Chinatown traders, his own natural selection of ingredients leading to a metamorphosis of taste. Gerald Chong is the Executive Chef, and like Darwin, his menus make a study of the streets below. Not content to serve the usual fare, each dish is cultivated to highlight and embolden local flavours and traditions, culminating in an array of cultural must-tries. Four Points by Sheraton's F&B Manager Boon Leong is a master of all trades, with a background spanning banquets, bars, cafes and restaurants. He knows how to work the room, greeting guests by name or melting into the background only to reappear precisely in the moment before you realise you wanted assistance. Likewise, all members of the Jann team are exceptional at anticipation and bar showmanship. Even their 'shaker action' is carried out with flair and a unique percussive beat.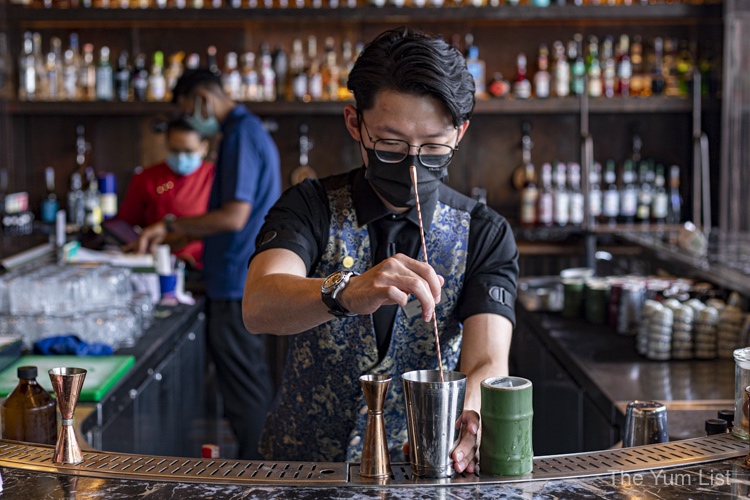 Double Points with Marriott Bonvoy at Jann KL
Decked out in glossy green pineapple tiles with brassy accents, the bar at Jann is surrounded by exposed brick, natural wrap around cane chairs, and verdant velvet bar stools. Artwork features iconic colourful statues, vistas, and iconography from the Chinatown streets. The wide, spacious outdoor alfresco deck runs the entire length of the building, down to the hotel pool. Bowls of quickly replenished snacking vegetable chips laden with flavour can be found on every table.
Loving Our Local
We at The Yum List are big fans of restaurants with sustainable practices. The use of locally sourced produce from local businesses, and the celebration of social traditions from the location, are all goals we love to get behind. At Jann, their entire menu is dedicated to honouring the Chinatown district of KL. Many of the ingredients are made within Chinatown by long-established vendors who have served this community for many years. Cocktails and dishes have been designed to shine a spotlight on the trades and characters of the streetscapes below. With minimal transport between production and service, Jann rejoices in its local community's roots, with a mindset of both environmental and social sustainability. If we weren't fans before, we definitely are now!
Plant-forward Recipes
Tonight we are particularly interested in exploring the plant-forward elements in the menu, with some astonishing finds for the vegetarians out there. Launching their new drinks menu, two signature items have remained on the list: the Dear Jann and the Vitality. Boon's team have decided to retain these two quintessential cocktails due to their sheer popularity. The signature Concoctions of Chinatown Menu draws inspiration from local landmarks, legends and personalities, while each selection from the Rail Tales Menu is inspired by local train stations. Here, there is a charming subliminal reminder to take public transport home. That is, of course, if you're not staying in the hotel. The temptation to stay for a few more drinks and simply wander up to your room at the Four Points by Sheraton Kuala Lumpur, Chinatown, for a staycation may make this a moot decision. Waking up to this view the next morning may just be the best cure for any potential hangover!
Concoctions of Chinatown – Jann Craft Cocktails
A house-made lavender-infused gin forms the base of the Dear Jann (RM50) with apricot, elderflower, and an Australian Sauvignon Blanc white wine. The choice of white wine in this mix is dependent on availability, though always with the same high quality, adding a subtle air of mystery to this house favourite. Lemon is at the forefront, the acid hitting with an intensity that is immediately counteracted by the smoothness of the wine, the floral of the lavender, and the sweetness of the apricot. It is served with a small packet of sherbet-like preserved, candied mandarin peel. Entirely unique, there is no doubt why this is a signature.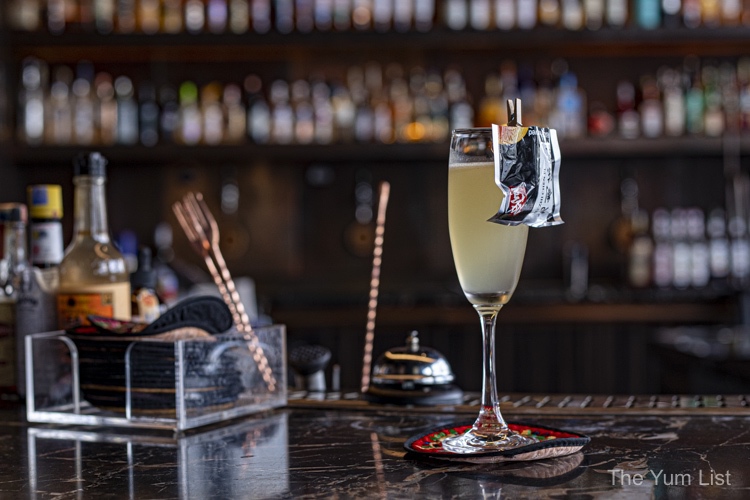 Traditional Chinese liquorice root is the star ingredient in the Vitality – Jalan Petaling (RM45), balanced with lemon, gin and chrysanthemum. Boon Leong brings us out a dried sliver of liquorice root to smell. Looking for all the world like a cross between a wood chip and a dehydrated slice of pineapple, it is not at all what we are expecting. The aroma is woody, spicy, sweet and smokey, lacking the overpowering bitterness of Western liquorice. Designed to optimise the 'cooling effect' of traditional Chinese medicine, offsetting body heating thought to cause illness, the liquorice hits the frontal palate and wafts smoothly up your nose. It does indeed have a delightful cooling effect in the head and is commonly referred to in Chinese medicine as a 'golden' effect or flavour. This cocktail is in honour of the famous Chinese medicine hall on Jalan Petaling. A fantastic Friday night imbibement, I feel that drinking this Vitality medicine may just be the most pleasant way to counteract indulgences to come.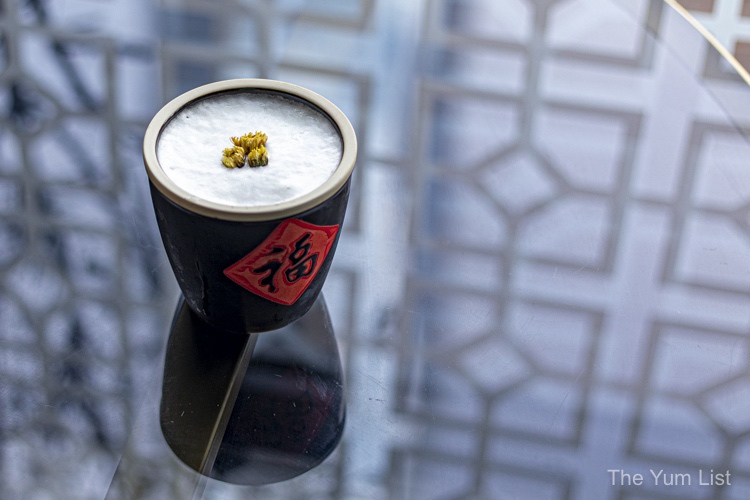 Also inspired by the Jalan Petaling area, the Hua – Jalan Hang Lekir (RM 45) is an ode to the local flower markets. Literally translating to 'flowers', this brew teams osmanthus tea, rose syrup, and lavender with a blend of Roso and Bianco Vermouth. The balance between the two fortified wines creates harmony between spicy and sweet, each countering the other. Beefeater Gin matches well with the lime and floral notes, while the slight bitterness of the osmanthus tea is like feng shui on the palate.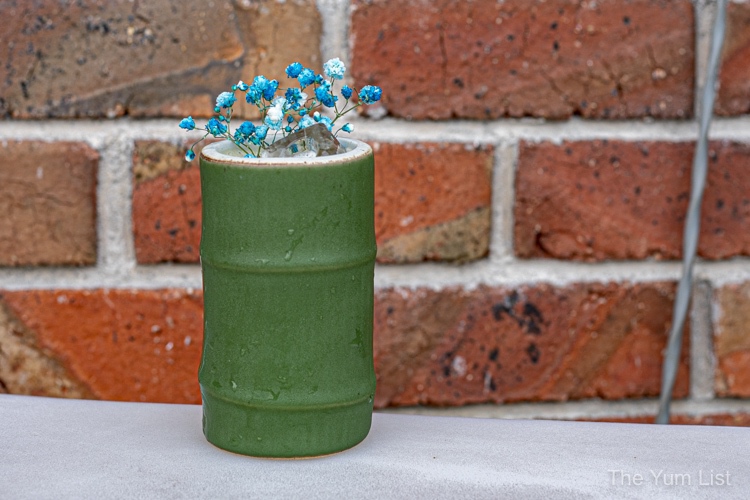 Rail Tales Cocktail Menu – Double Points with Marriott Bonvoy
The nearest train station, Pasar Seni, is the name of our next drink, the Kopi O (RM 48). What would the streets of Chinatown be without Kopitiams? Taking inspiration from kaya toast, the Jameson Black Barrel Whisky is fat washed by steeping it with planta. Chilling removes all the fat leaving the buttery taste behind, the alcohol absorbs all the rich creaminess of the planta, but without the calories. Darwin combines the fat-washed whisky with dark kopi, using an incredible pouring technique down the twisting stem of a long-handled mixing spoon into a glass of tonic water and palm sugar. Slow, even and precise, the pour is an art form in and of itself. The result is a beautifully layered glass with slow swirling clouds of rich, dark liquid, dancing around a completely clear, elongated ice cube, cut to fit. The taste is sultry, powerful and thick on the tongue despite the clarity of the mix. A more elegant choice than your run of the mill espresso martinis.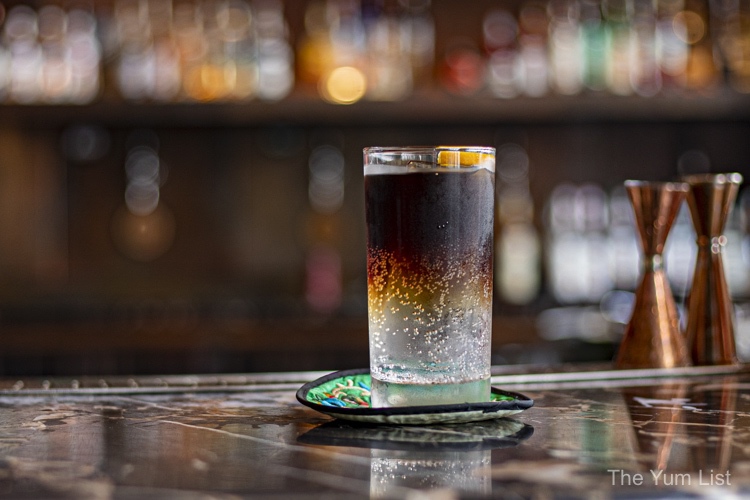 The Bunga Raya – Merdeka Station SBK17 (RM 45) is a commemoration of Malaysia's declared independence, the rail station near where this historical event took place. Malaysia's national flower, the bunga raya hibiscus, forms the heart of the drink. Vodka is infused with dried roselle flowers sourced from a local tea merchant. Floral but not sweet, a ginger-spiced syrup, made in house, is added as well as a hint of lemon juice and egg white. Pretty in pink, it comes topped with dessert – a devilishly good candied brandy snap. Cheers to Malaysia's independence and national pride!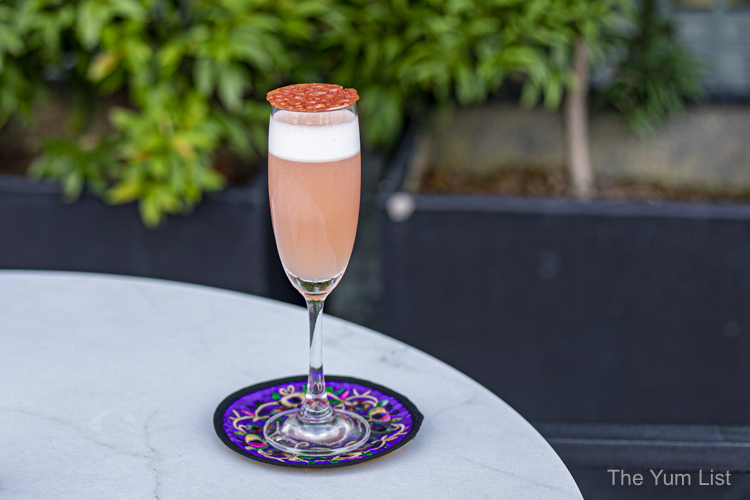 Named for the ancient Klang River at night, the River of Life – Masjid Jamek Station KJ13 (RM 48) is a crystalline blue reflecting the melting pot of cultures that line the banks of the life-giver. The drink gives a nod of the head to Indian Malay influences with both absinthe and cardamom syrup featured. The blend also includes Absolute Vodka, Blue Curaçao with its bitter orange tones, and lemon. Served with flames, the absinthe is cradled in an upturned lime husk above a super icy glass, swirls of cold clouds rising from the rim to mix with the blue flame. Depending on your tolerance, you can either tip the lime shell contents in quickly for a stronger concoction or let the alcohol burn off a little more first. Carrying the distinct aroma of absinthe, this cocktail has a more recognisable aniseed tang when compared to the earlier Chinese liquorice from the Vitality. Yet the finish is smooth, the anise weaving between herbal and sweet. It is a perfect drink for hotter, more humid days.
Jann Snacks
Topped with parmesan cheese, chilli flakes, and sliced jalapeños, the Spicy Potato Wedges (RM20) are perfectly crisped, the insides fluffy and slightly infused with a small hit of chilli. One of the first dishes we try, we come back to them again at the end, picking the bowl clean, sneaking one more bite even after we're full.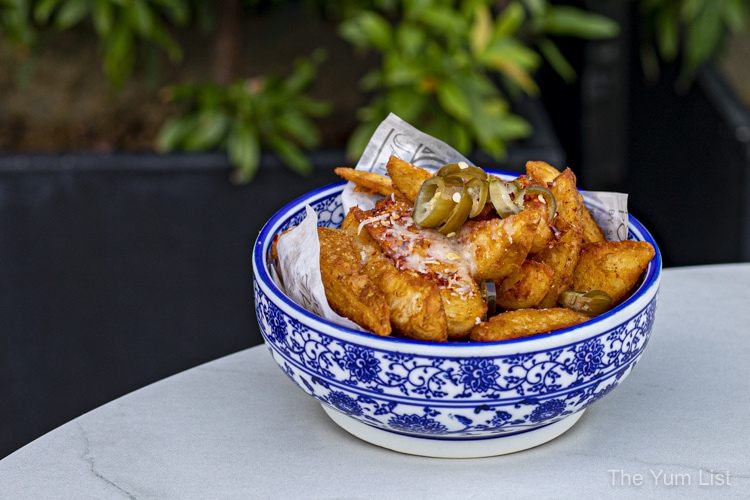 With a lovely crunchy exterior coating, the Spring Rolls with Sweet Turnip and Chili Cilantro Sauce (RM28) are moist in the middle, packed with loads of mushrooms. Vegetable-rich yet somehow meaty and incredibly satisfying, the silken parcels of golden goodness are also quickly devoured.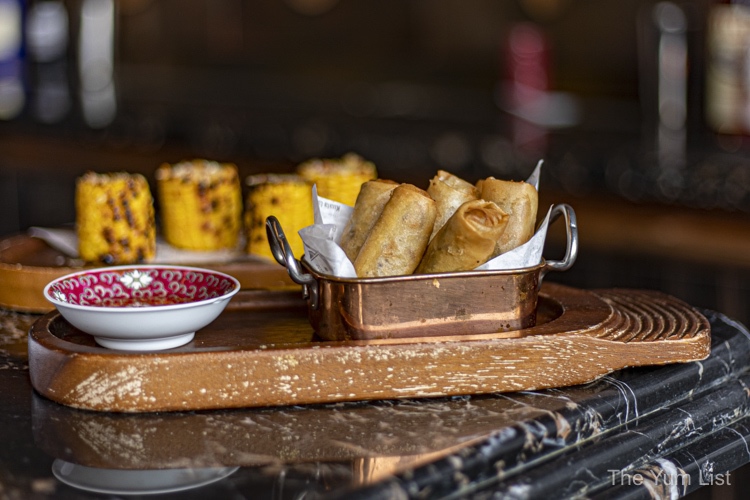 Fresh from the outdoor barbeque, the Grilled Corn on the Cob (RM 17) is topped with a sprinkle of parmesan cheese, chilli flakes, salt and a hint of butter. The natural sweetness of Malaysian grown corn is accented by a slightly caramelised char and the faintly spiced butter and cheese – top-shelf comfort food.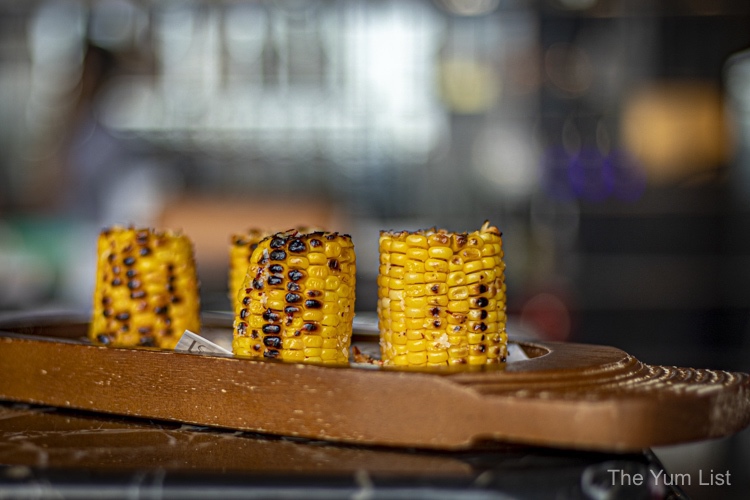 Jann Dining – Double Points with Marriott Bonvoy
Presented as nuggets of golden, fried, marinated softened tofu, the Wok-Fried Pei Pa Tofu (RM25) are served with a rainbow of stir-fried vegetables. Broccoli, baby corn, carrots, and king oyster mushrooms are topped with shavings of carrot, beetroot, and deep-fried vermicelli noodles for crunch and texture. For the Pei Pa Tofu, Chef Gerald mixes mushrooms and chestnuts into each parcel, giving an earthy and hearty flavour and adding further texture. This is one plant-forward option that will have even the most devout meat lovers eating their veggies first.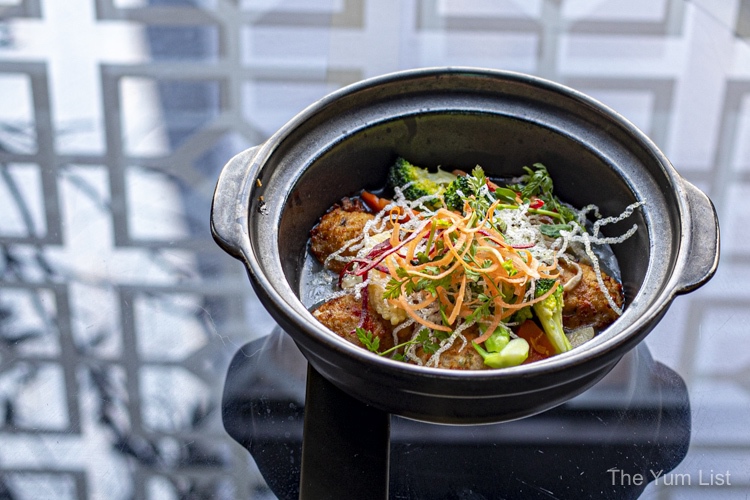 Rather than choosing fake meat options in his vegetarian menu choices, Chef Gerald and the kitchen team have worked particularly hard conceptualising their next dish. The Sweet Potato Cottage Cheese Burger (RM 35) has a taste that is authentic, wholesome and utterly sensational. A lighter option than a traditional burger, the silken, cheesy sweet potato pattie is topped with lettuce, pickles, tomato, melted cheese and a house-made, secret sauce. Served with fluffy, crunchy, moreish fries, this is a burger you'll savour but without the residual guilt that often sets in once your plate is clean.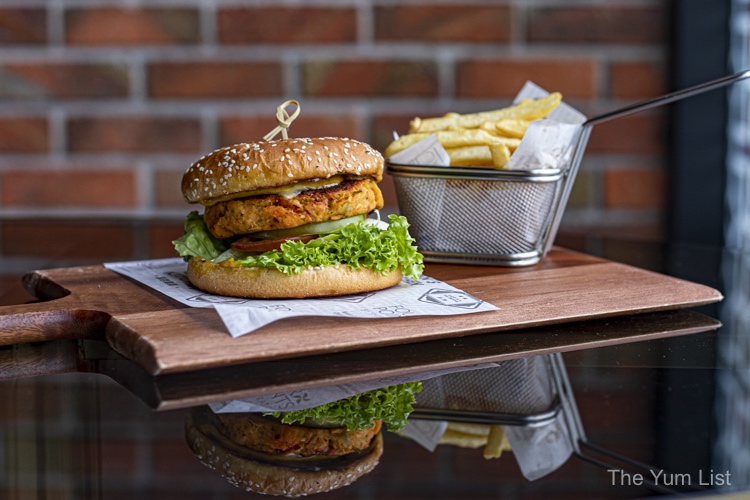 While plant-forward meals are something we are increasingly looking for, we can't visit Chinatown without trying Jann's standout version of a local hero – the Tiger Prawn Char Kuey Teow (RM 30). Who can resist a gigantic, fat, juicy tiger prawn? Packed with fresh ingredients, this wok-tossed char kuey teow is filled with premium thick rice noodles, farm eggs, plenty of beansprouts, chunks of succulent chicken, and Gerald's house-made fishcakes. The dish is garnished with plenty of curly deep-fried onions. A luscious take on a street food staple, this is generously packed with high-end ingredients. We highly recommend it!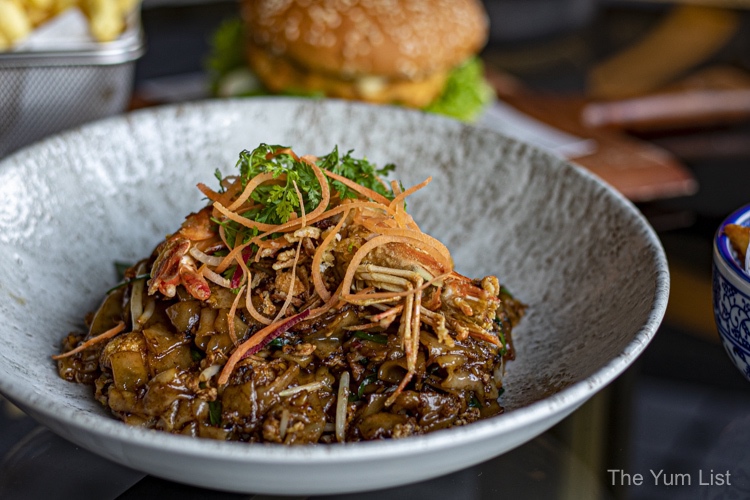 As the sun sets over the KL skyline, the buzz from our Chinatown cocktails pleasantly takes hold, accompanied by the thrum of the colourful, vibrant streets of Malaysia's iconic Jalan Petaling district. Sitting back to admire the view, we raise a toast to the proud heritage of this neighbourhood. Cheers!
Reasons to visit Jann KL: We love the signatures Dear Jann & Vitality, and the Kopi-O is something truly unique. The Sweet Potato and Cottage Cheese Burger and Tiger Prawn Char Kuey Teow are spectacular, while we vote the Potato Wedges the best drinking accompaniment! Whatever you're ordering at Jann, you're guaranteed to get a whole lotta' bang for your buck. Double Points with Marriott Bonvoy until March 20th!
Jann at Four Points by Sheraton Kuala Lumpur, Chinatown
2, Jalan Balai Polis, Chinatown
50000 Kuala Lumpur, Malaysia
+6 03 2035 7333
www.marriott.com
Jann Opening Hours
Daily 4:00 pm to midnight through the week and 1:00 am on the weekends.
Happy Hours daily: 5:00 pm and 8:00 pm
Find more KL bar recommendations here, and stay up-to-date on the latest gourmet and travel happenings around Malaysia here and here.