Fujisawa Izakaya Sri Petaling
Words: Rebecca Cannon
Photos: Monica Tindall
Fujisawa Izakaya in Sri Petaling is a fun find serving a bumper menu of comforting Japanese recipes and a solid collection of drinks in a setting full of character.
Fujisawa Izakaya Sri Petaling
The restaurant has as many sections as the real-life coastal town itself. There's an old-town feel as you climb up the stairs bordered with Japanese paraphernalia. The host station is combined with the oyster aquarium, from which fresh oysters are plucked at your request. Turning left, you'll find an informal, cozy bar section and a private dining room beyond that. Turn right, and you'll find the traditional chabudai, or floor tables, the lounges, and the outside beach-style balcony where pets are welcome. Playing in the background are clips from Japanese television, including a tour guide showing Fujisawa's sights and culture and some chill J-pop music. Overall, the vibe is exciting and invites you to find just the right spot for your mood. The menu offers as many options as there are sitting locations.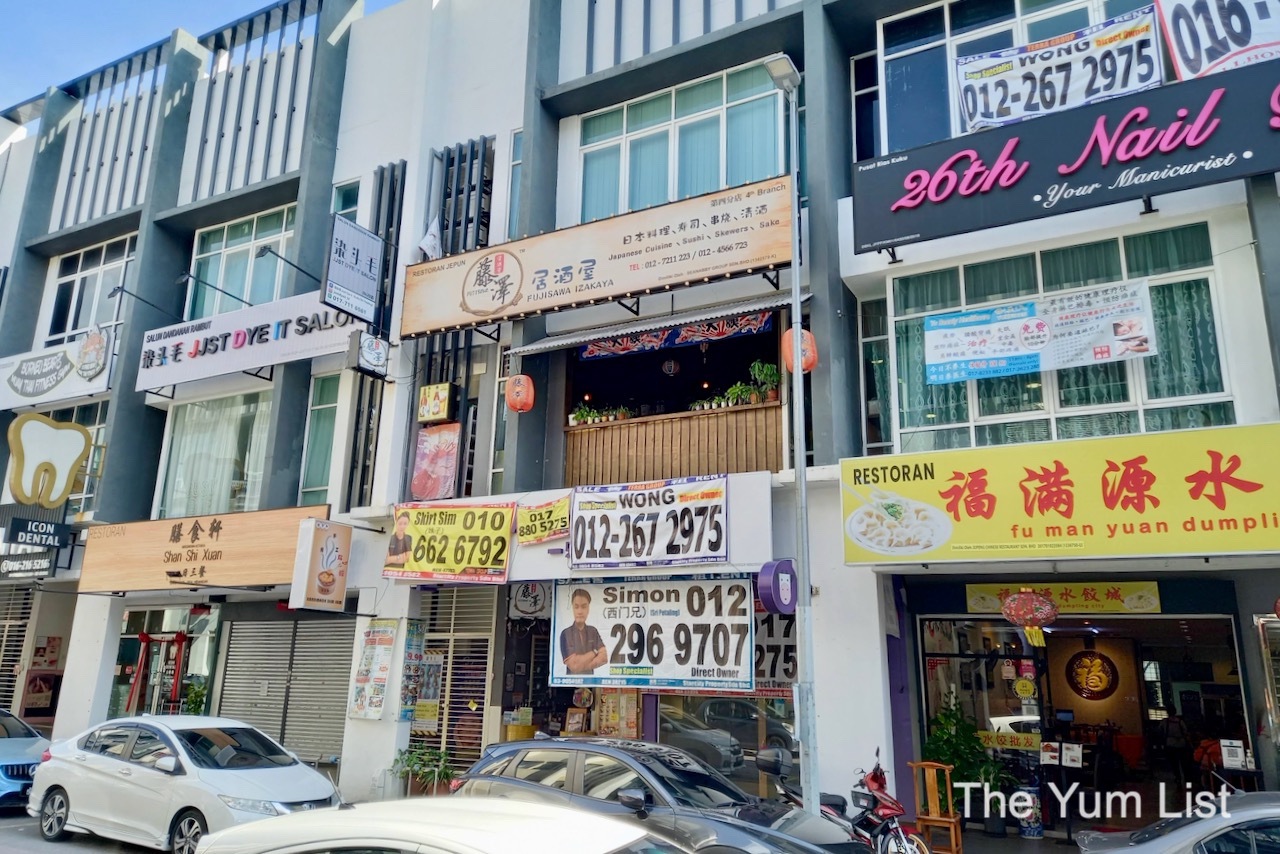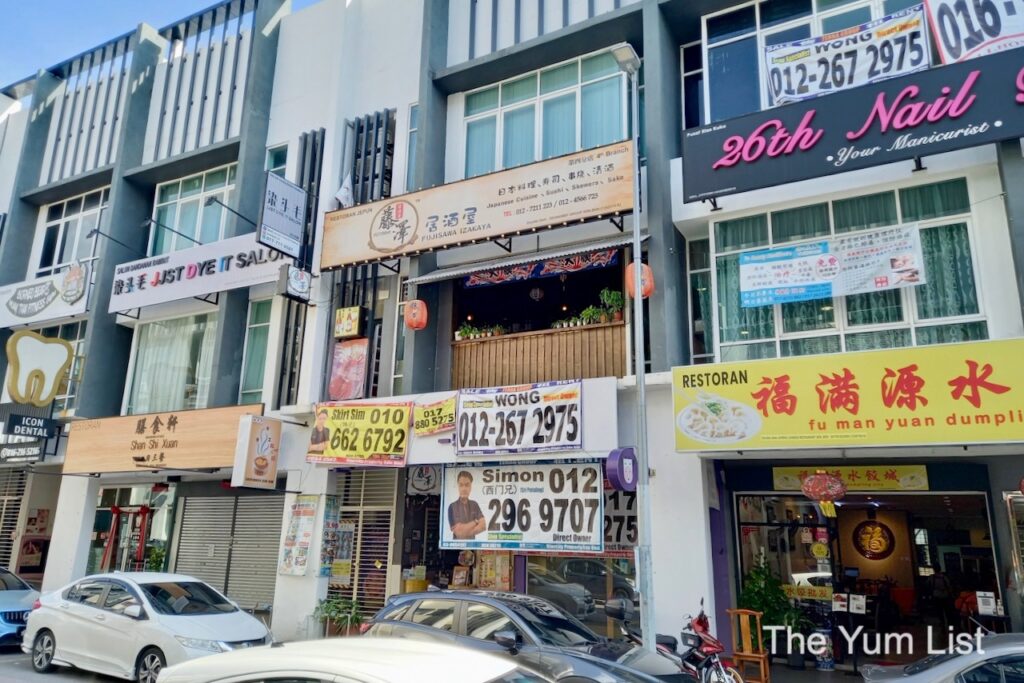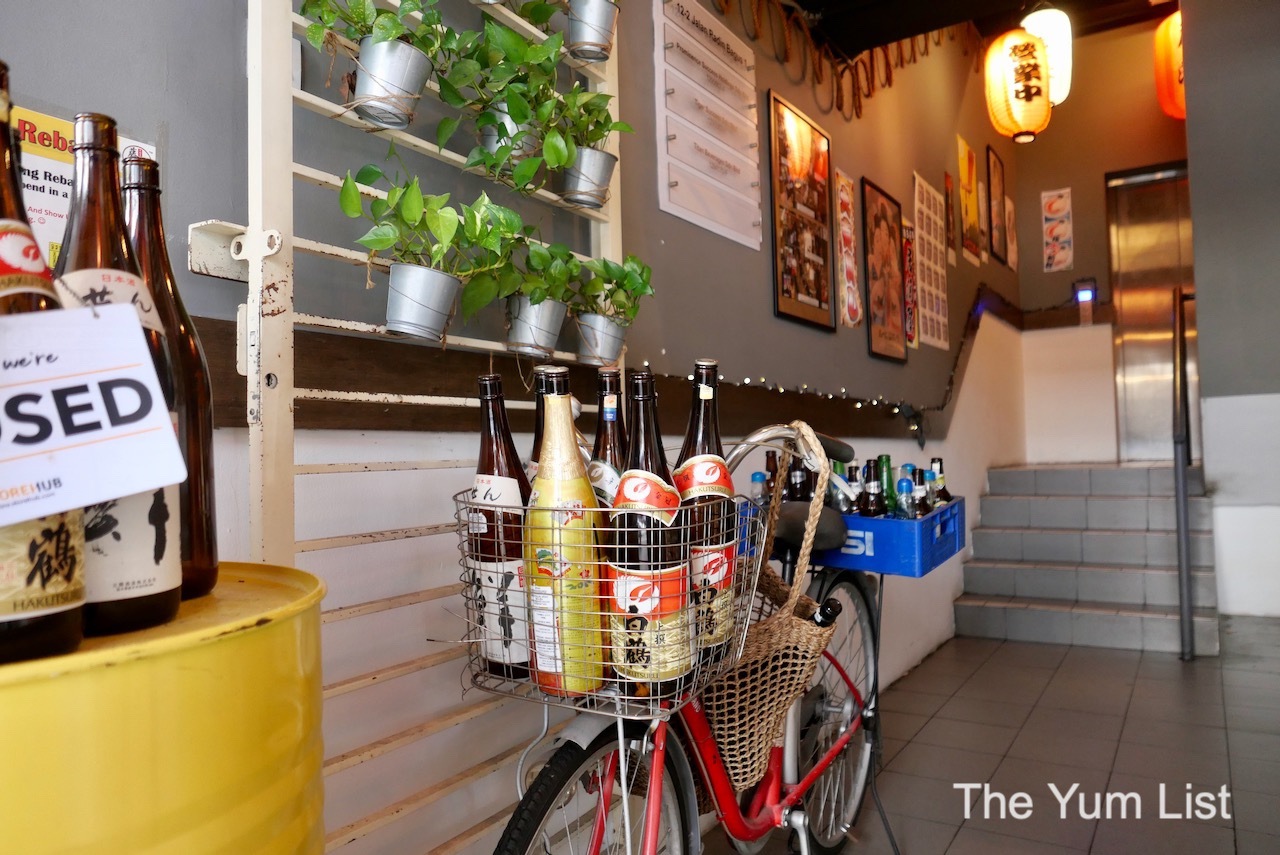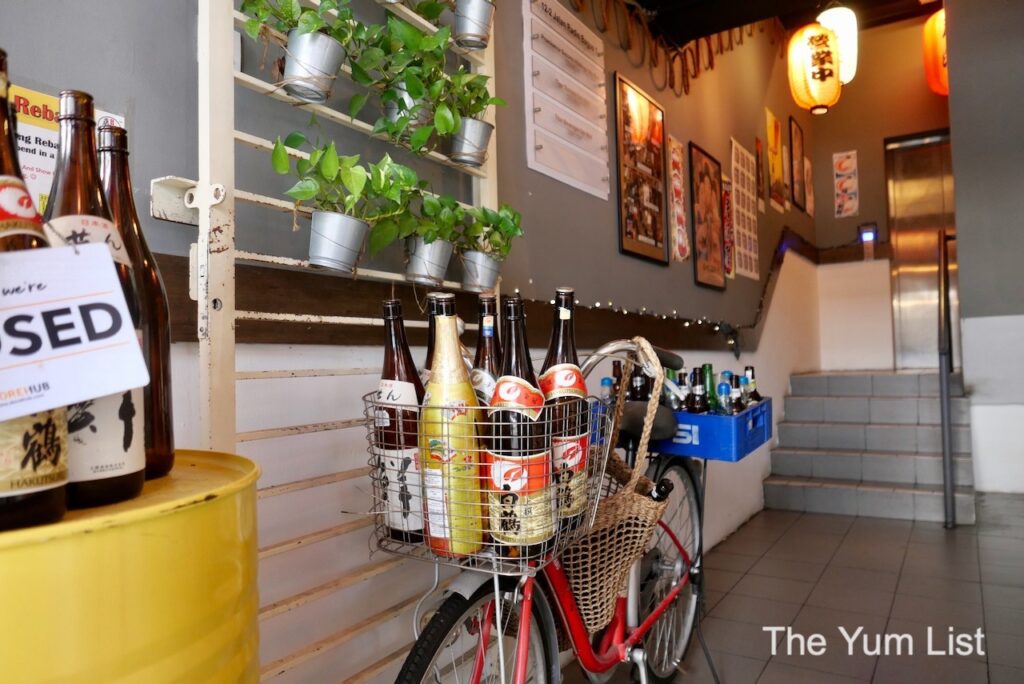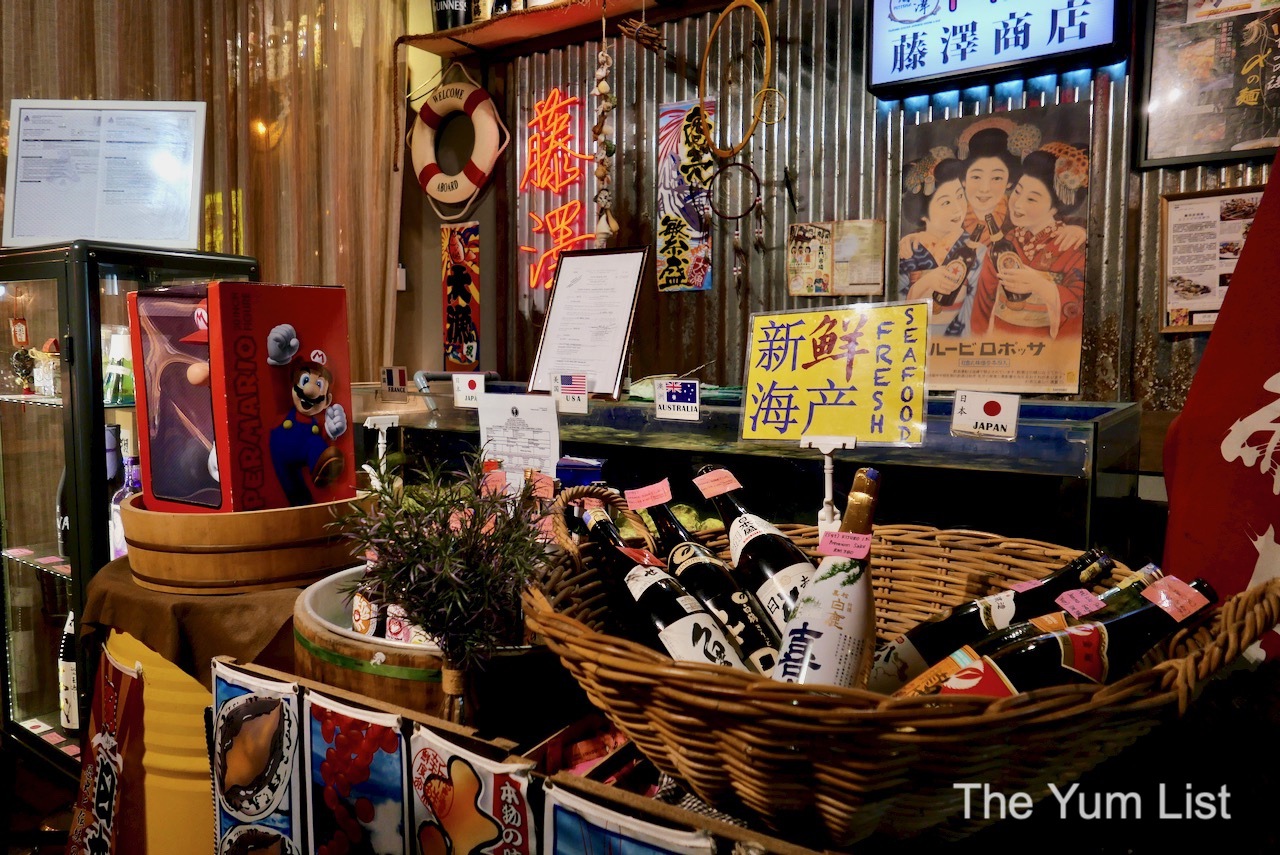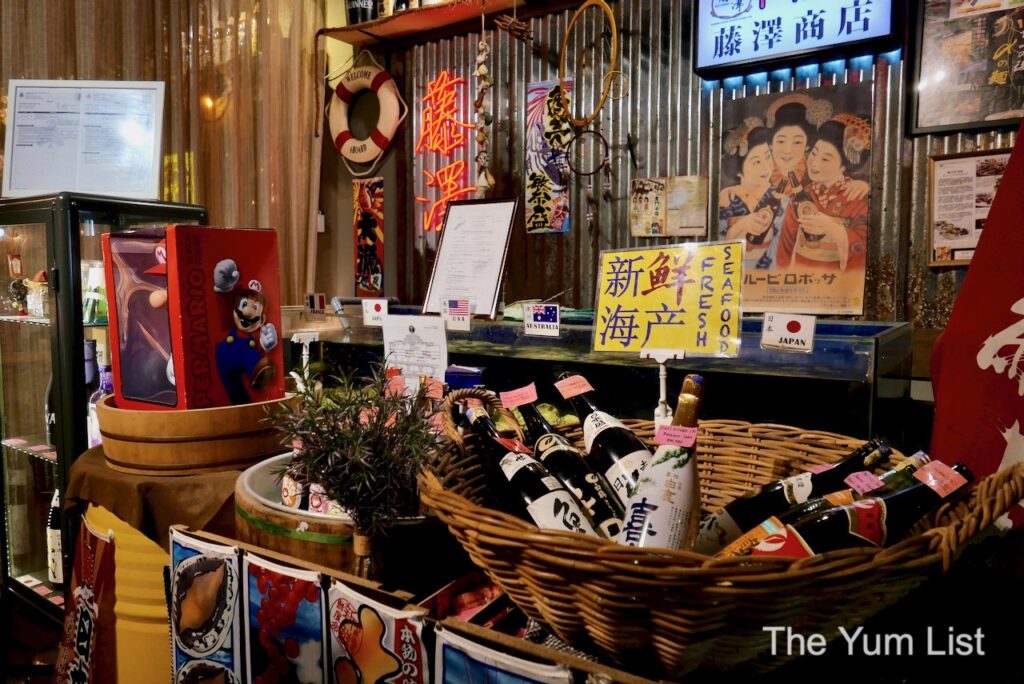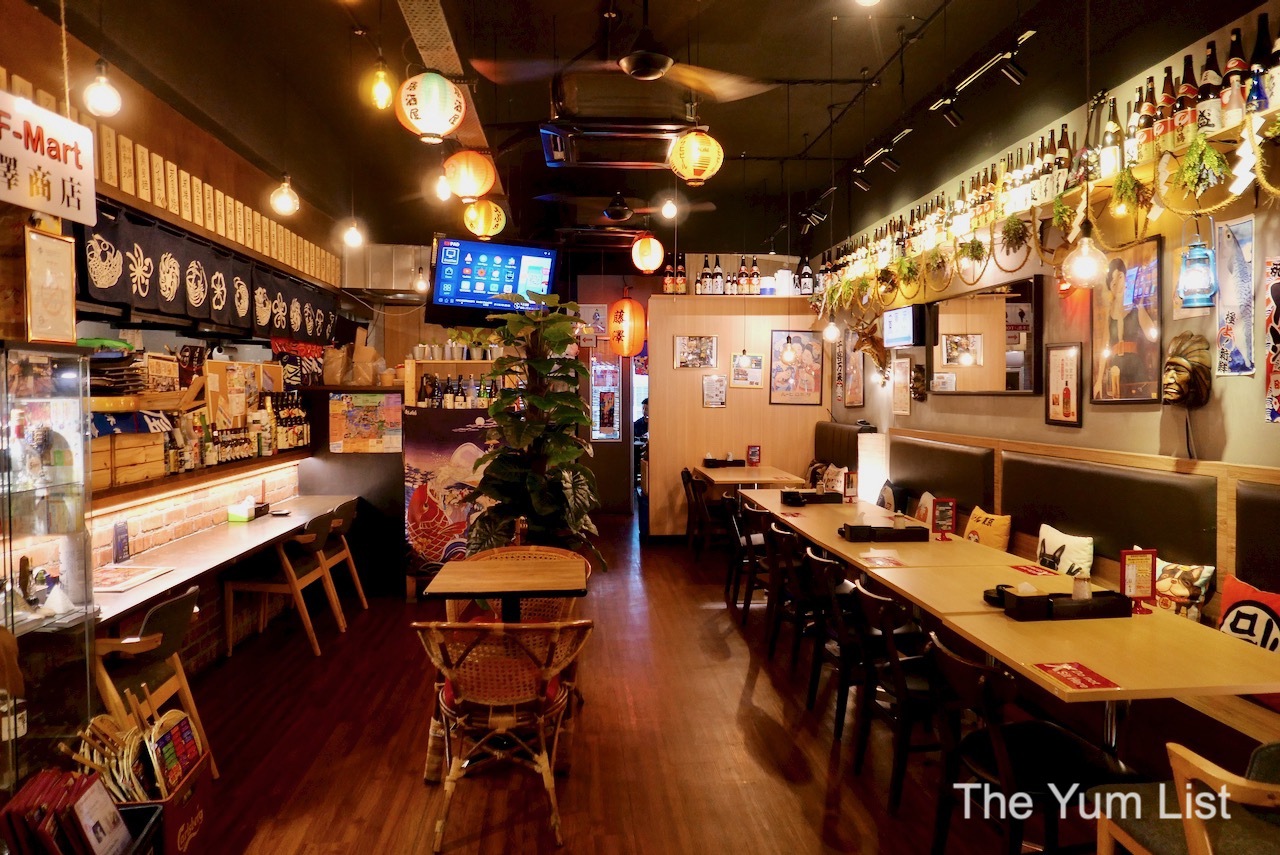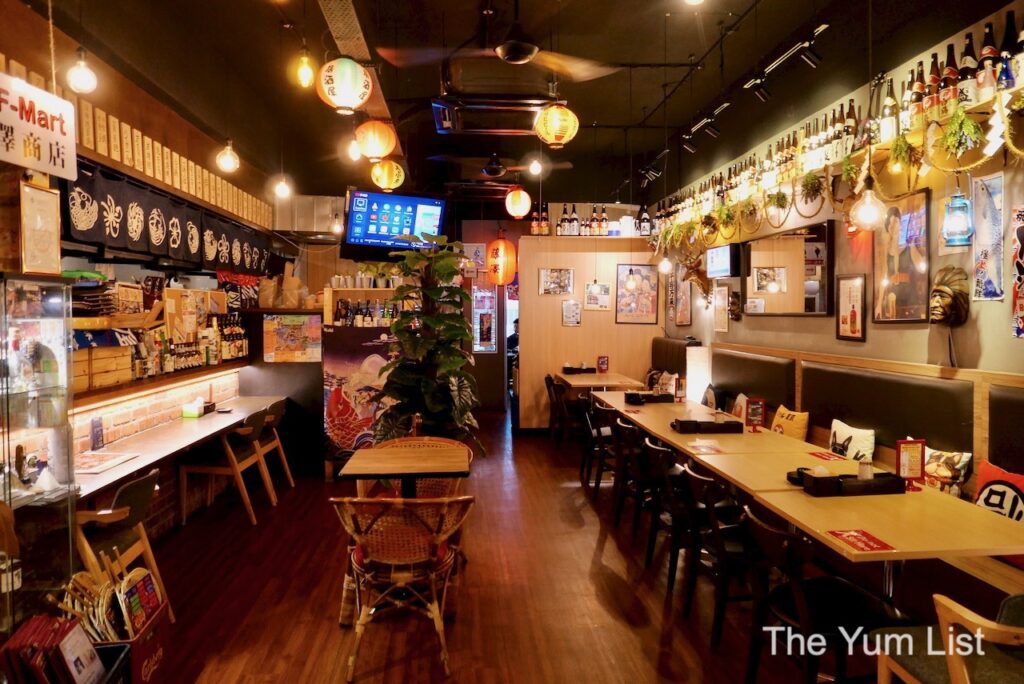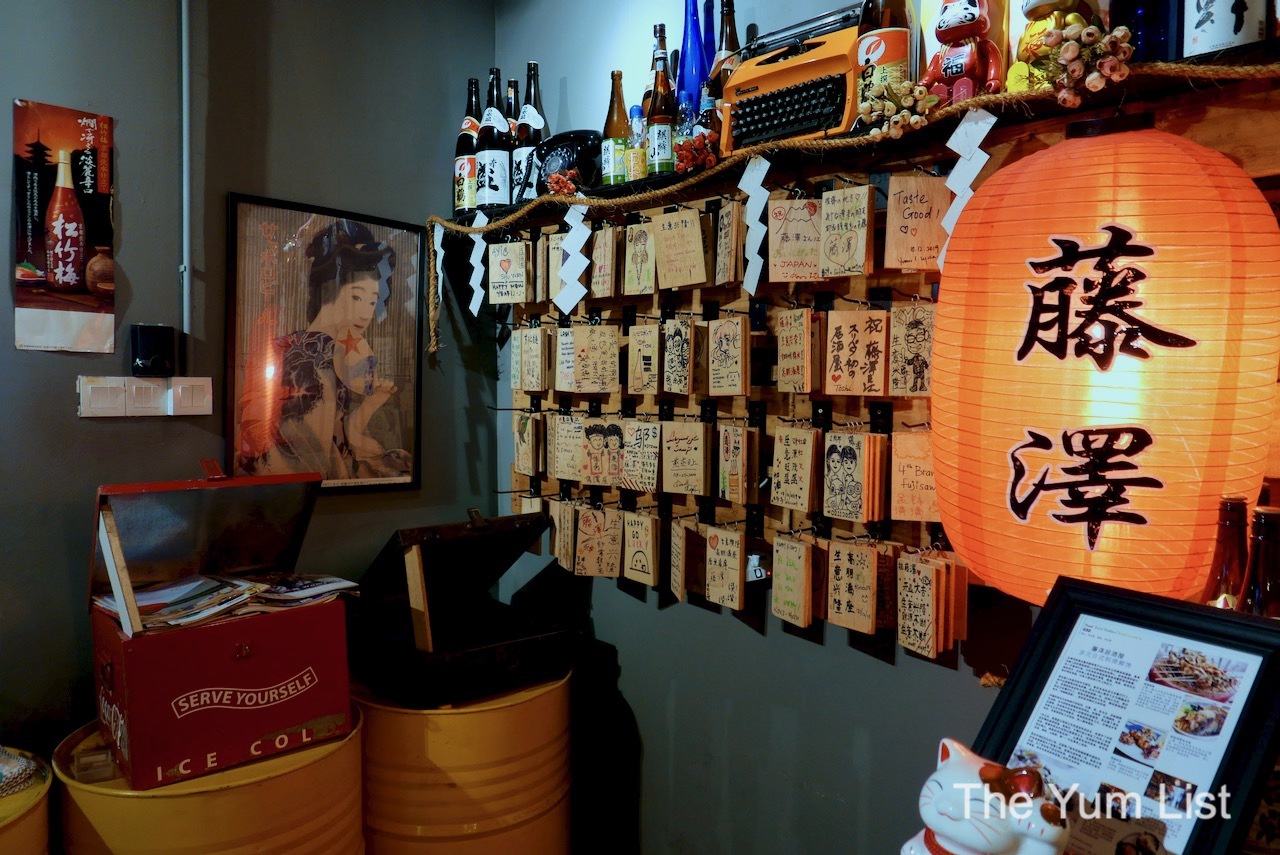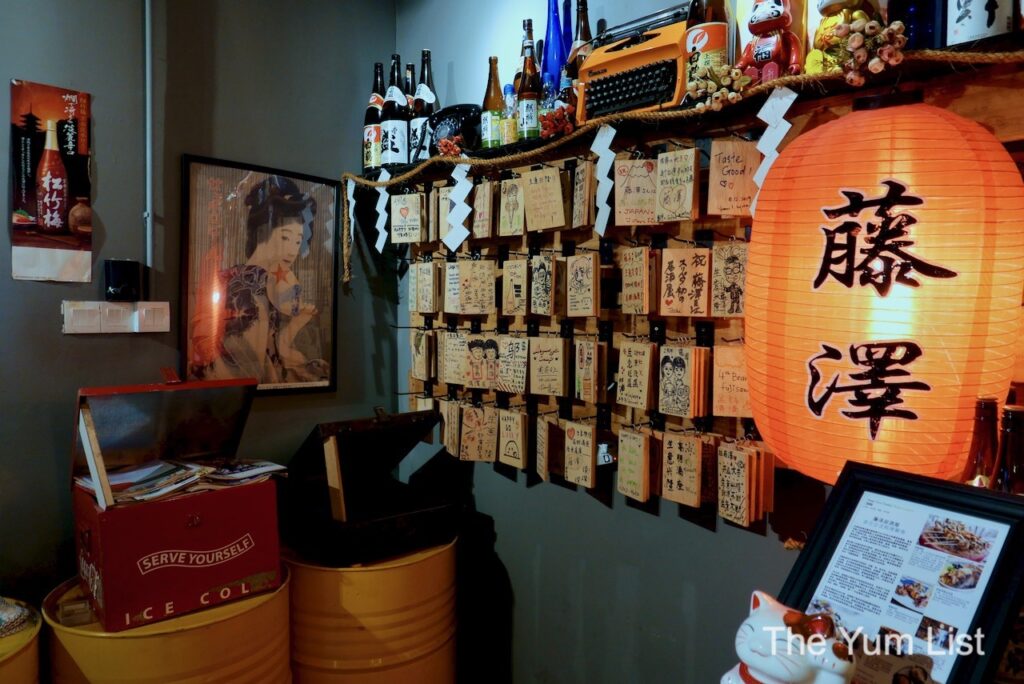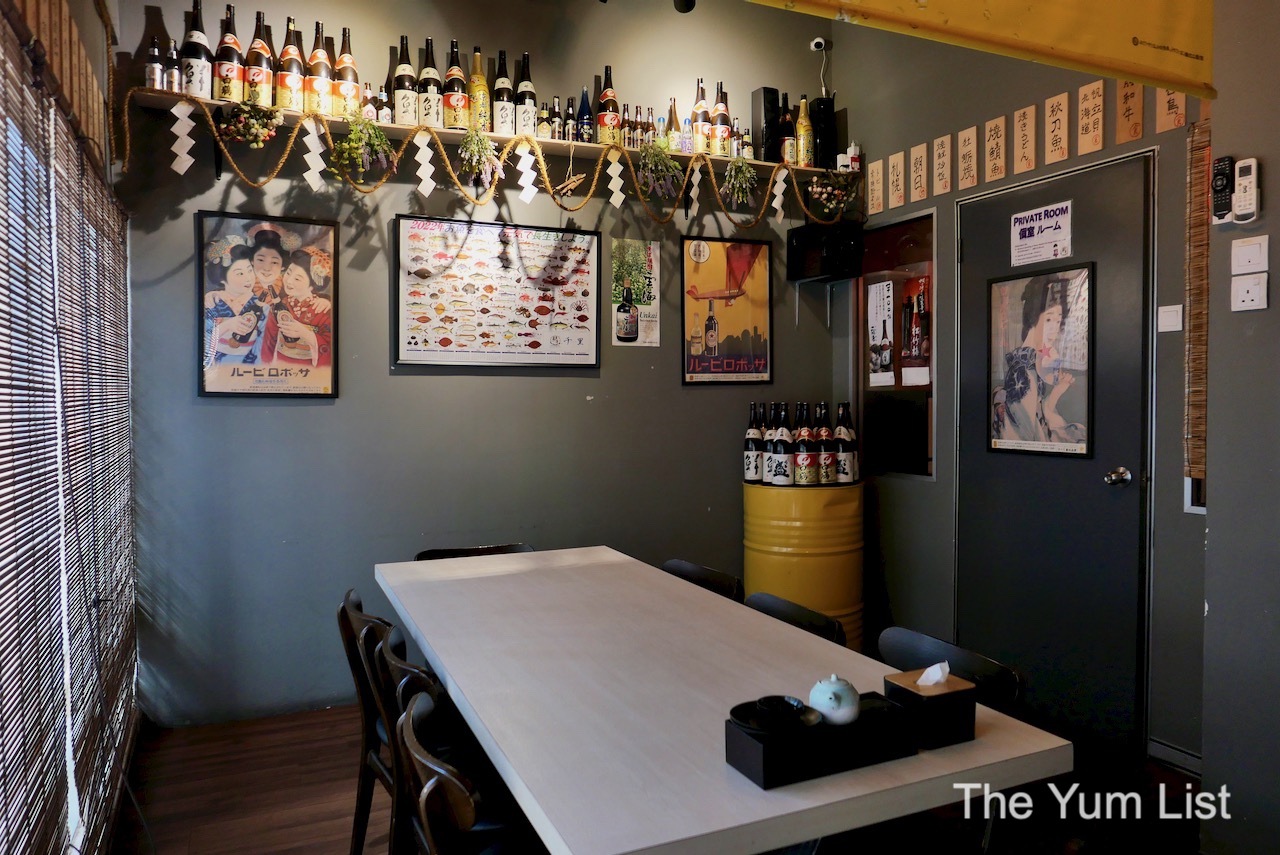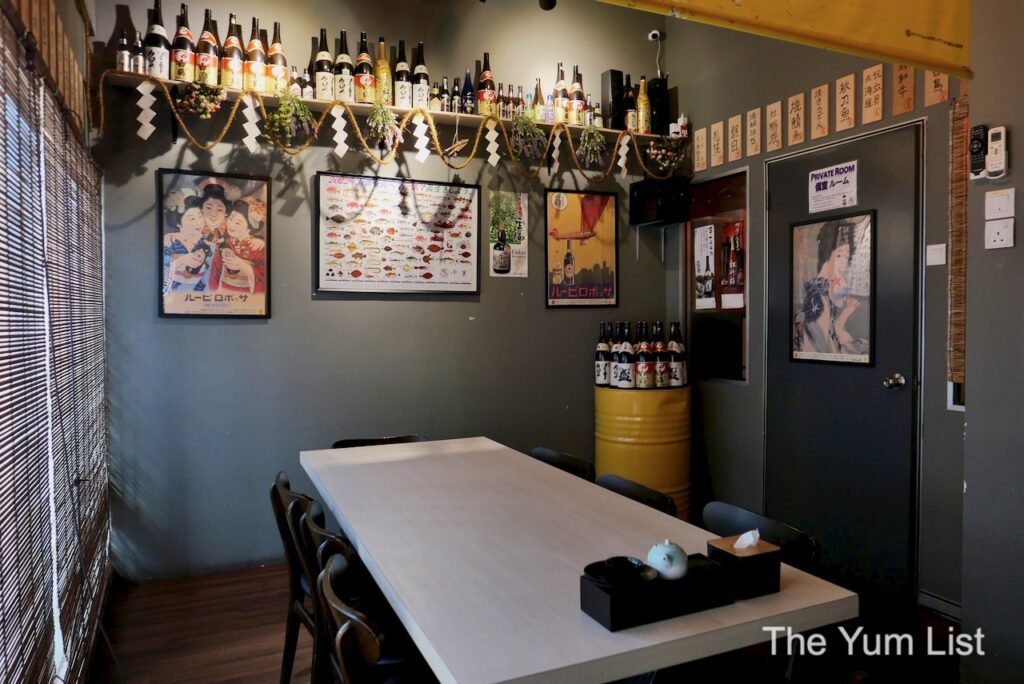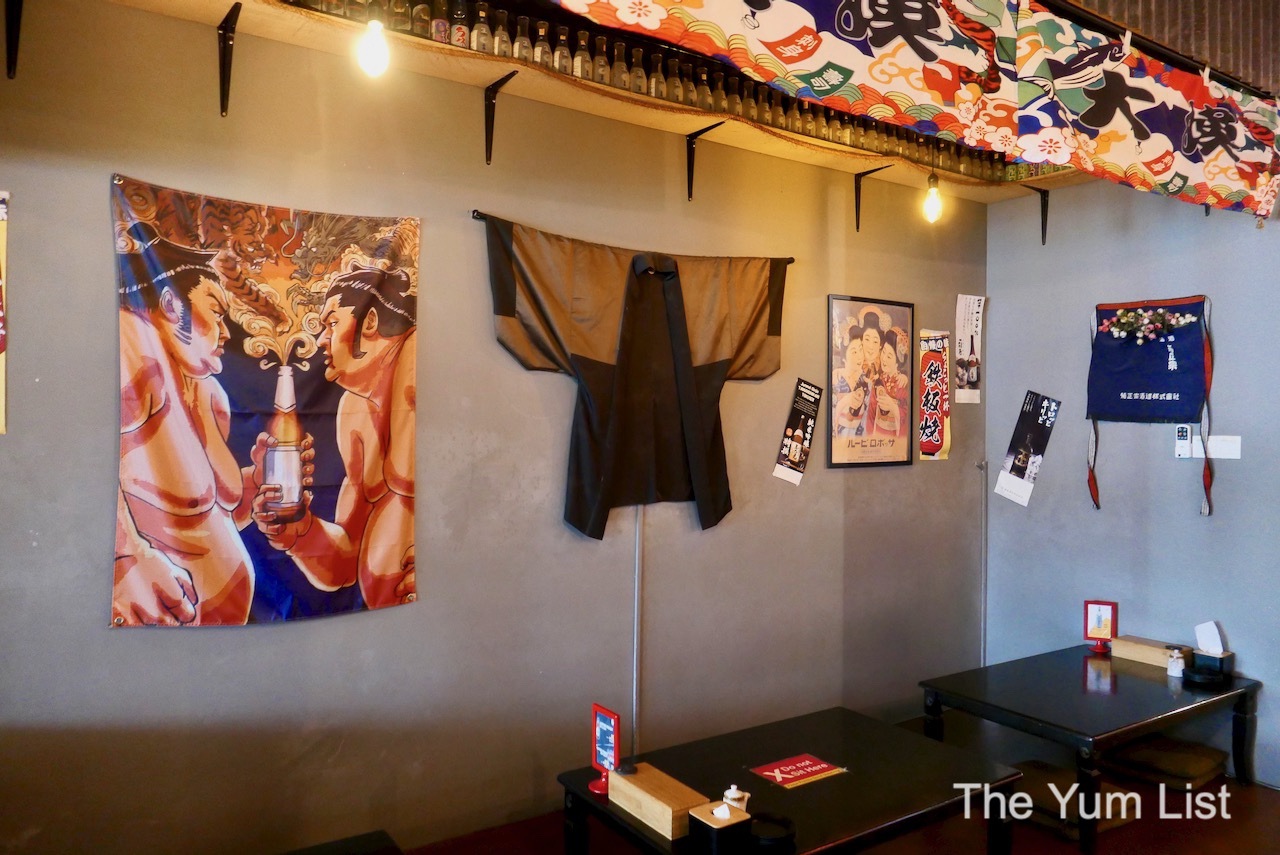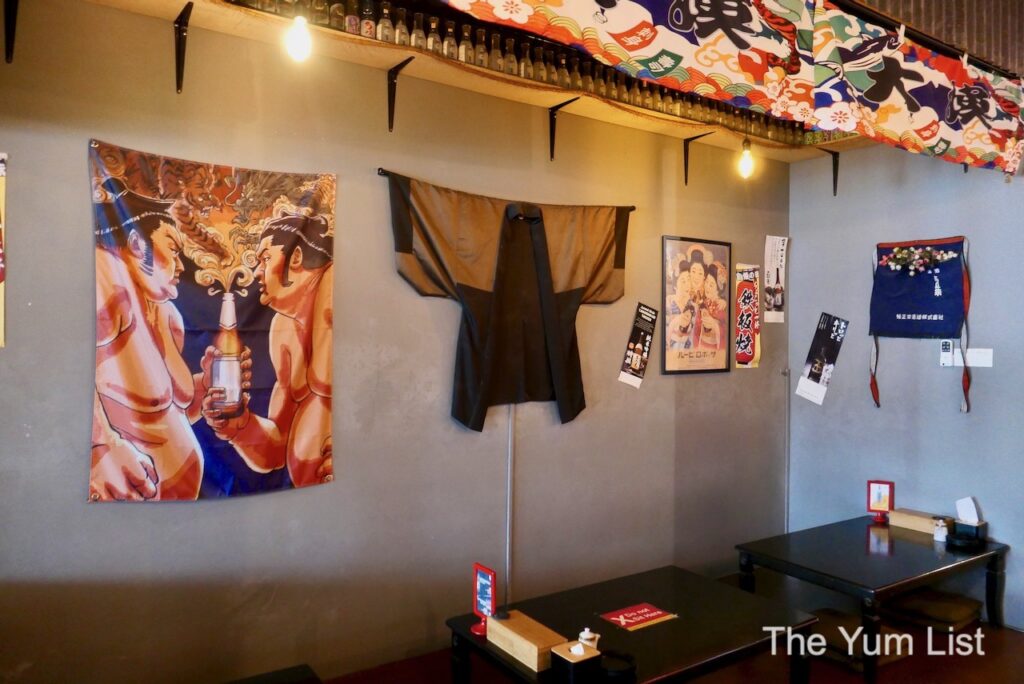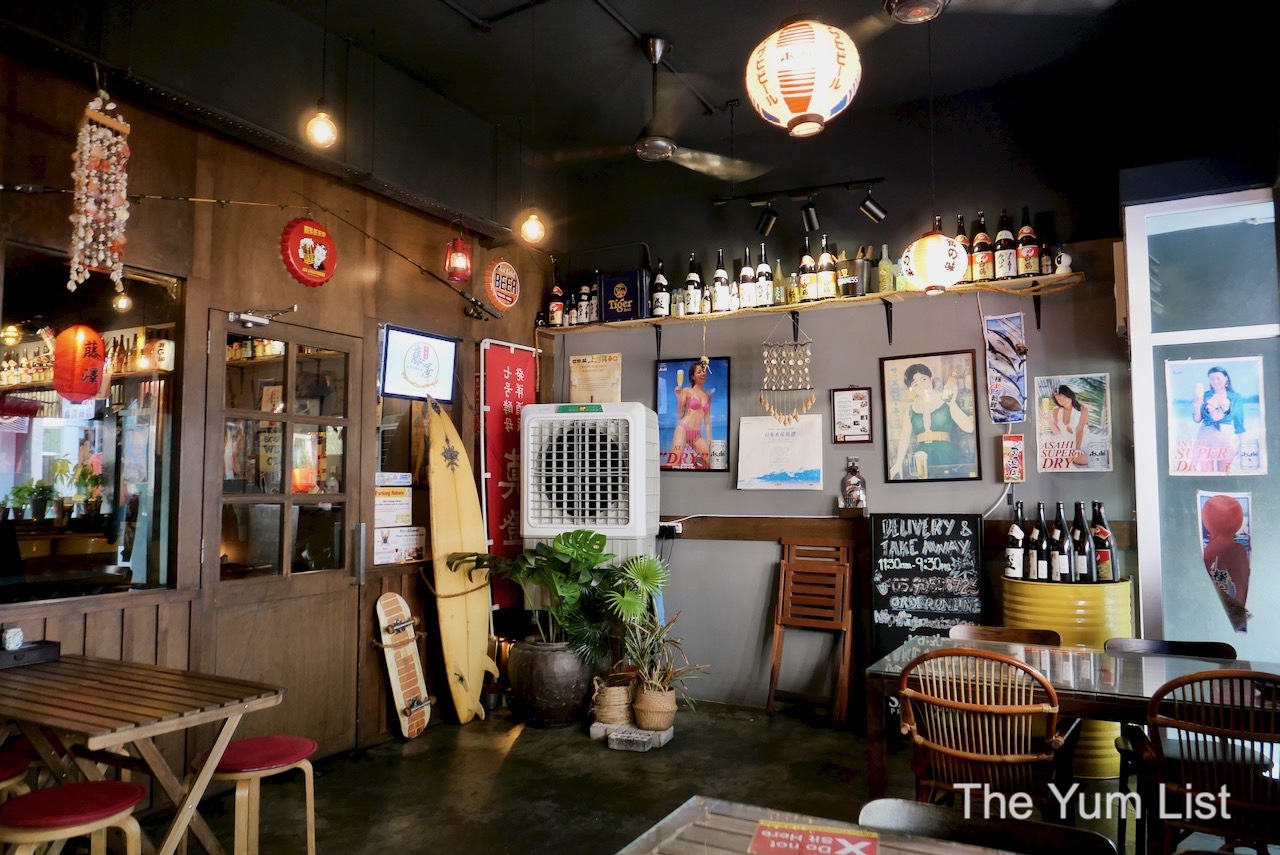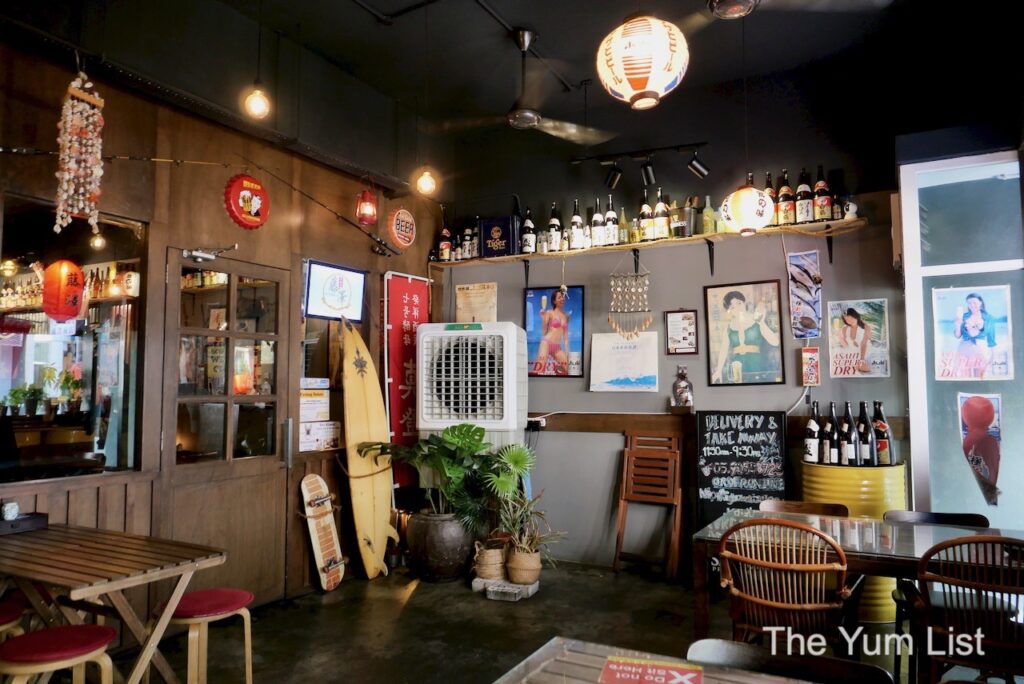 Fujisawa Izakaya Drinks Menu
Settle in with a drink, alcoholic or otherwise. As it was the end of a long workday, we went for highballs, sake and craft beer. If you'd like to expand your palate, it's a great idea to get the 3Kind Sake Tasting (RM 69). This gives you an ice-filled tray holding three carafes of Sake, Umeshu and ShoChu – made with rice, plum and sweet potato, respectively. Drinking straight spirits is not normally something I can do without extreme facial contortion. However, the Umeshu is pleasant to sip. For those with a stronger palate, the ShoChu will excite, and for those just wanting popular tradition, the Sake won't disappoint.
The Okinawa Highball (RM 23.90) is the best of both worlds, alcoholic and easily drinkable. The whisky base is topped up with soda, and a slice of fresh watermelon makes a tasty and vibrant garnish. They even have a deal where you can buy four and get one for free.
Additionally, Fujisawa Izakaya stocks several craft beers from Japan. Hitachino Nest Beer is available in four flavours – White Ale, Saison Du Japon, Red Rice Ale and Espresso Stout. I think Mon was just as taken by the pretty rose hue of the Red Rice Ale (RM 31.90) as she is with the complex layers of flavour, including rice, malt and hints of strawberries.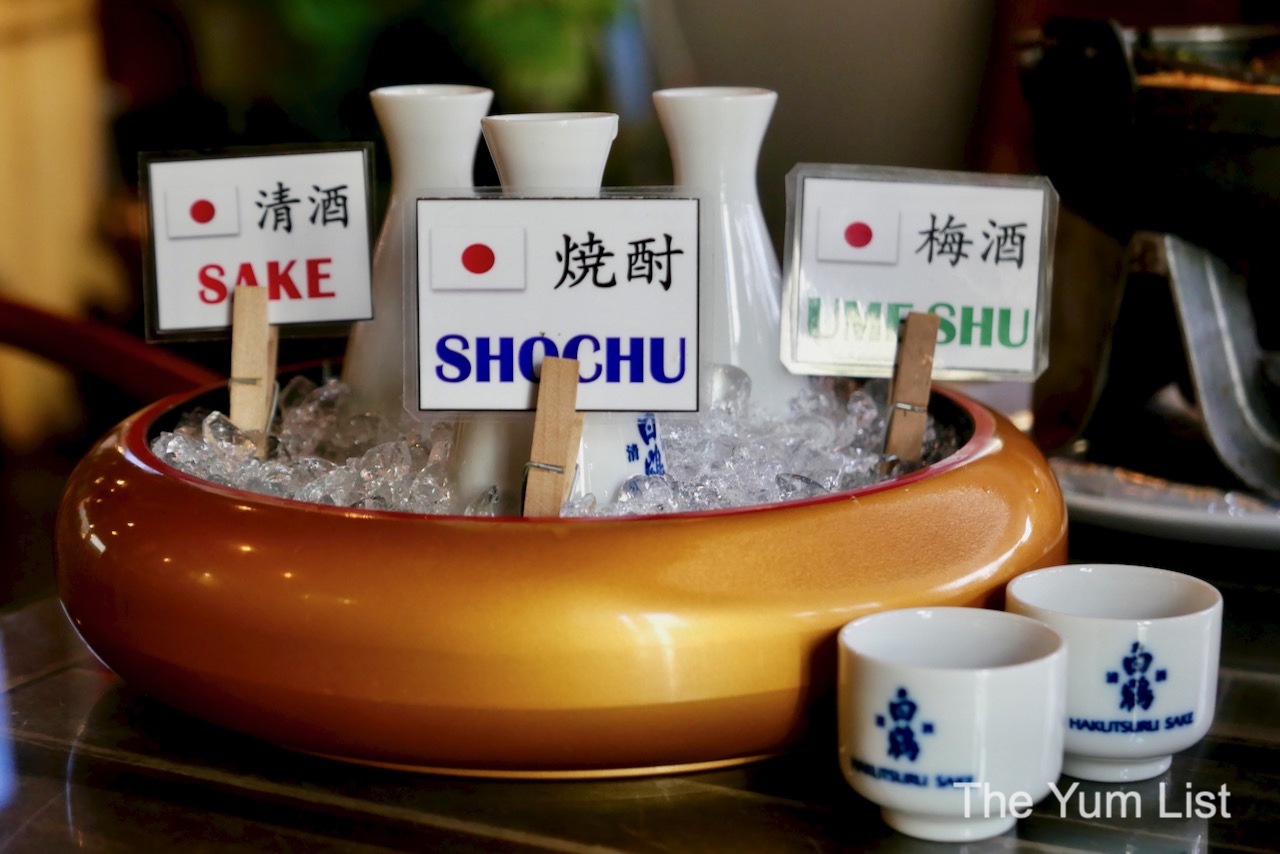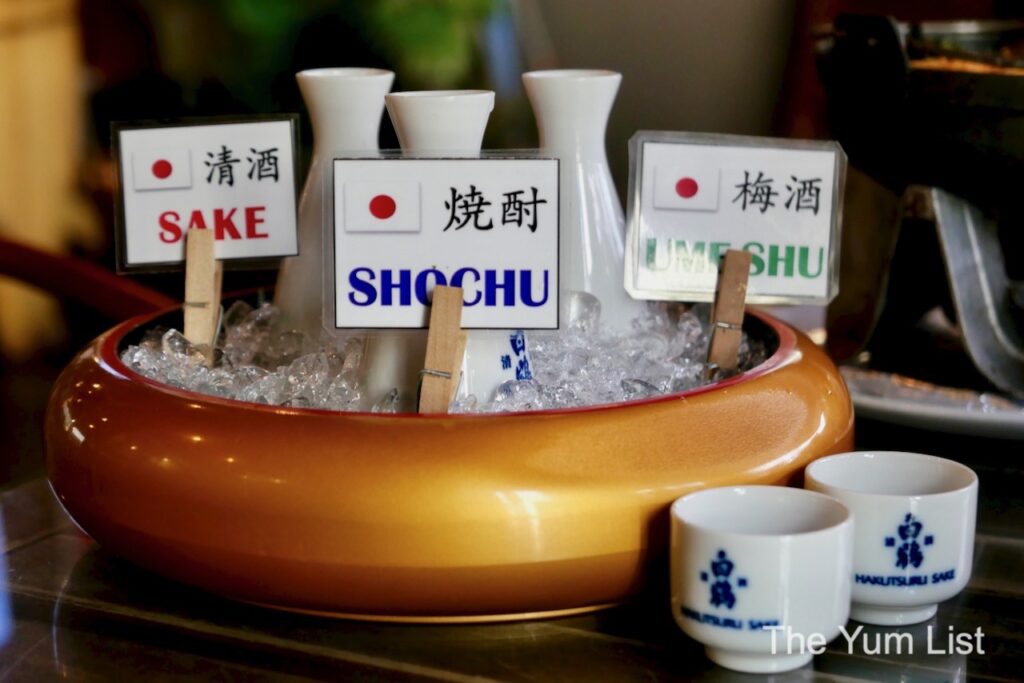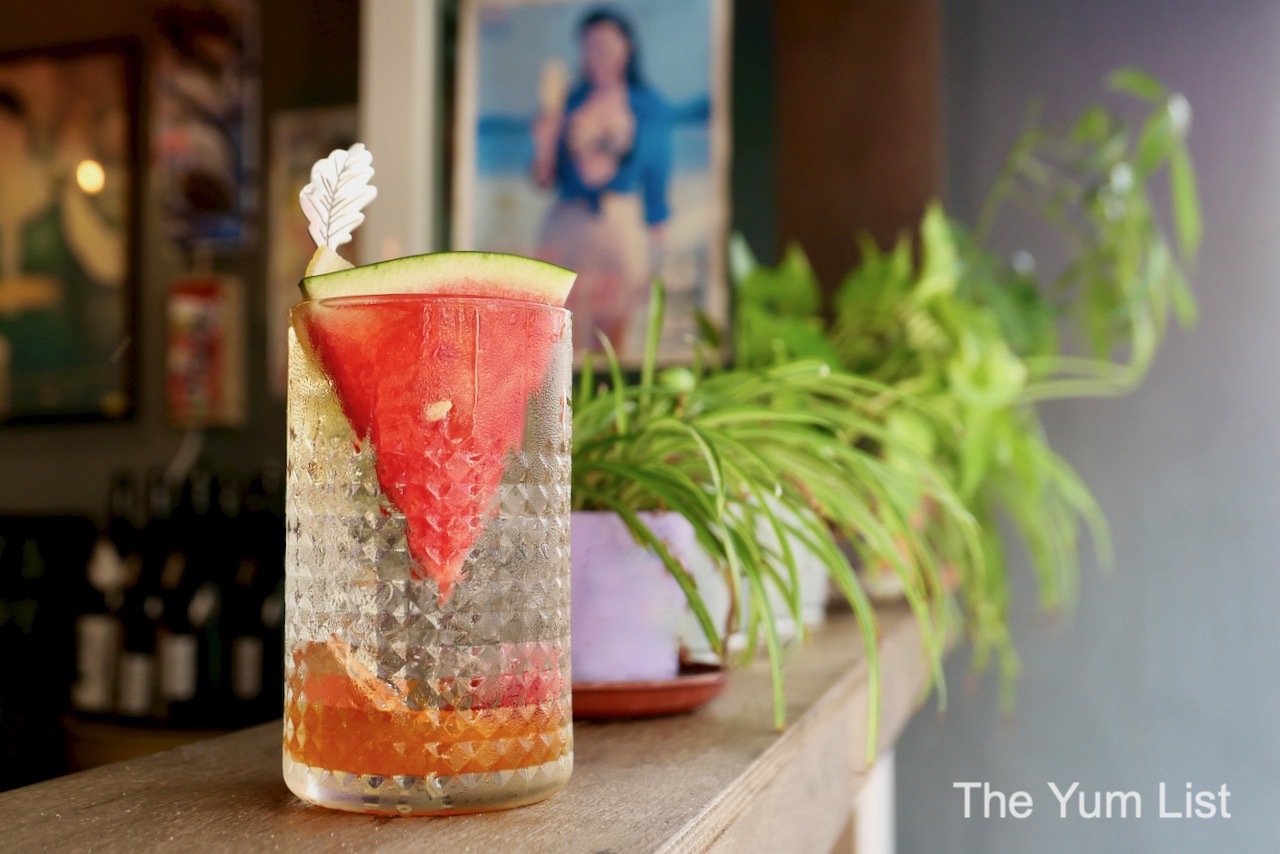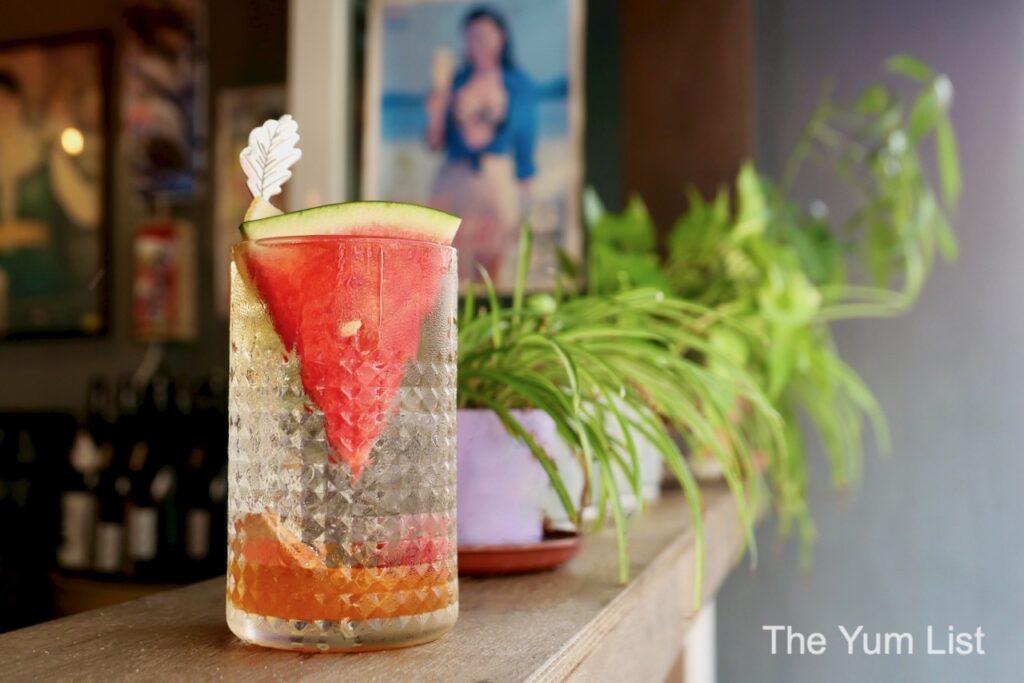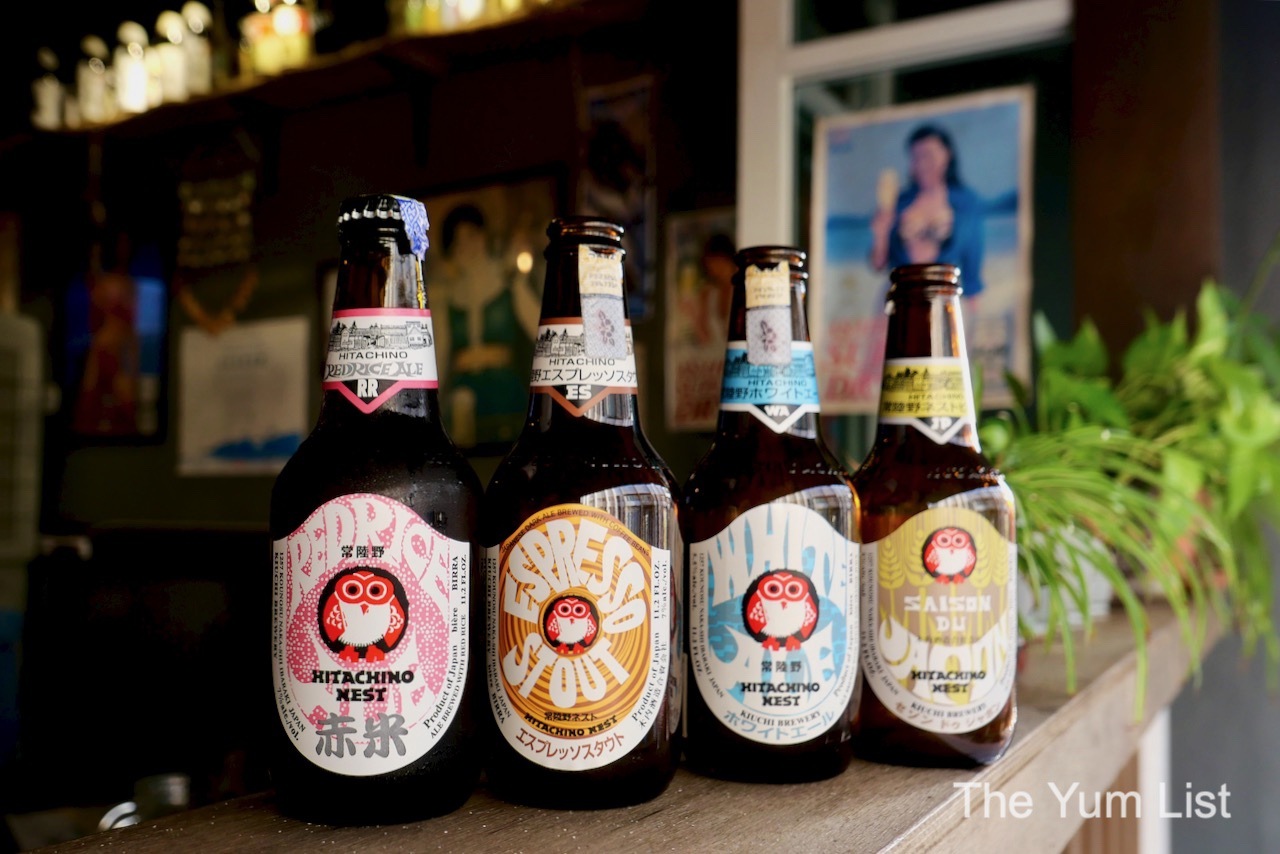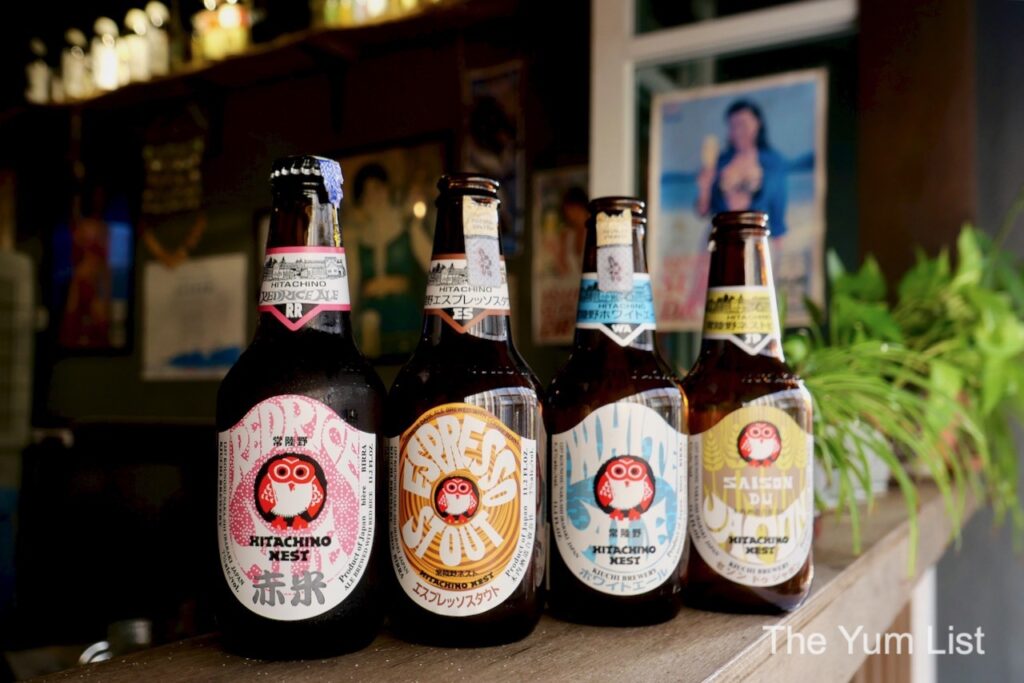 Fujisawa Izakaya Food Menu
Appetizers
We think the scrumptious pan-fried Chicken Gyoza (RM15) and Charcoal-grilled Oyster (RM18.90 per piece of RM99 per half dozen) are an excellent place to start. The gyoza coats were crisp with a vinegar kick from the dipping sauce – lip-smacking good. The oyster is a USA breed but lives in the aquarium until requested, making it frighteningly fresh. It arrived at the table in Instagram-worthy fashion on its own portable charcoal-burner giving the guest full control of the doneness. Mon was quite happy with this on its own, but I liked it best with a dab of sauce.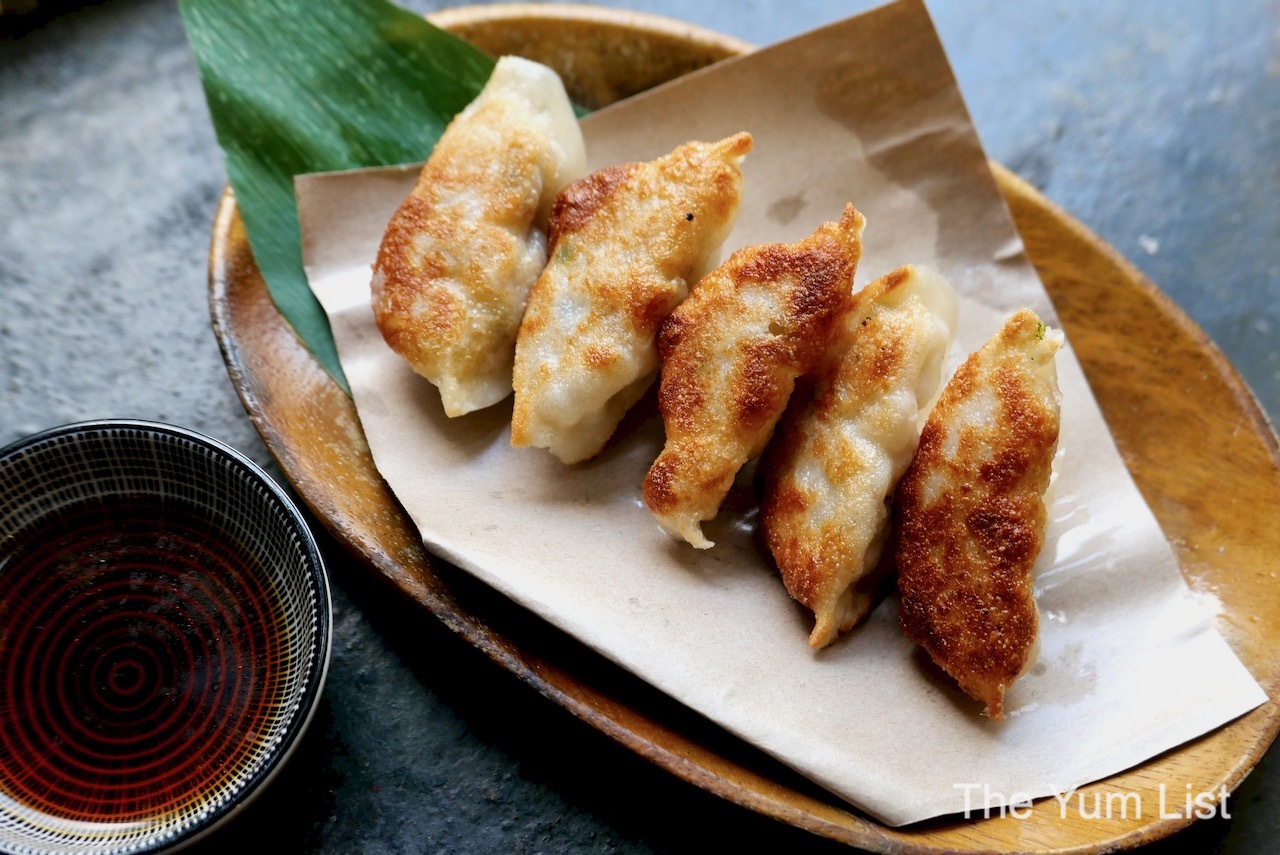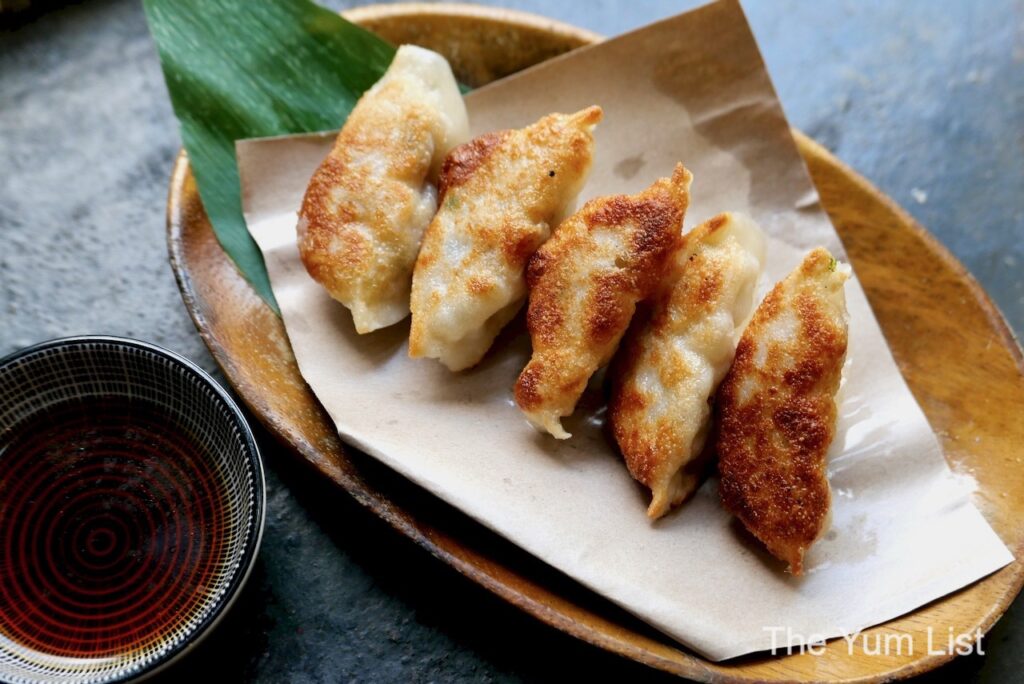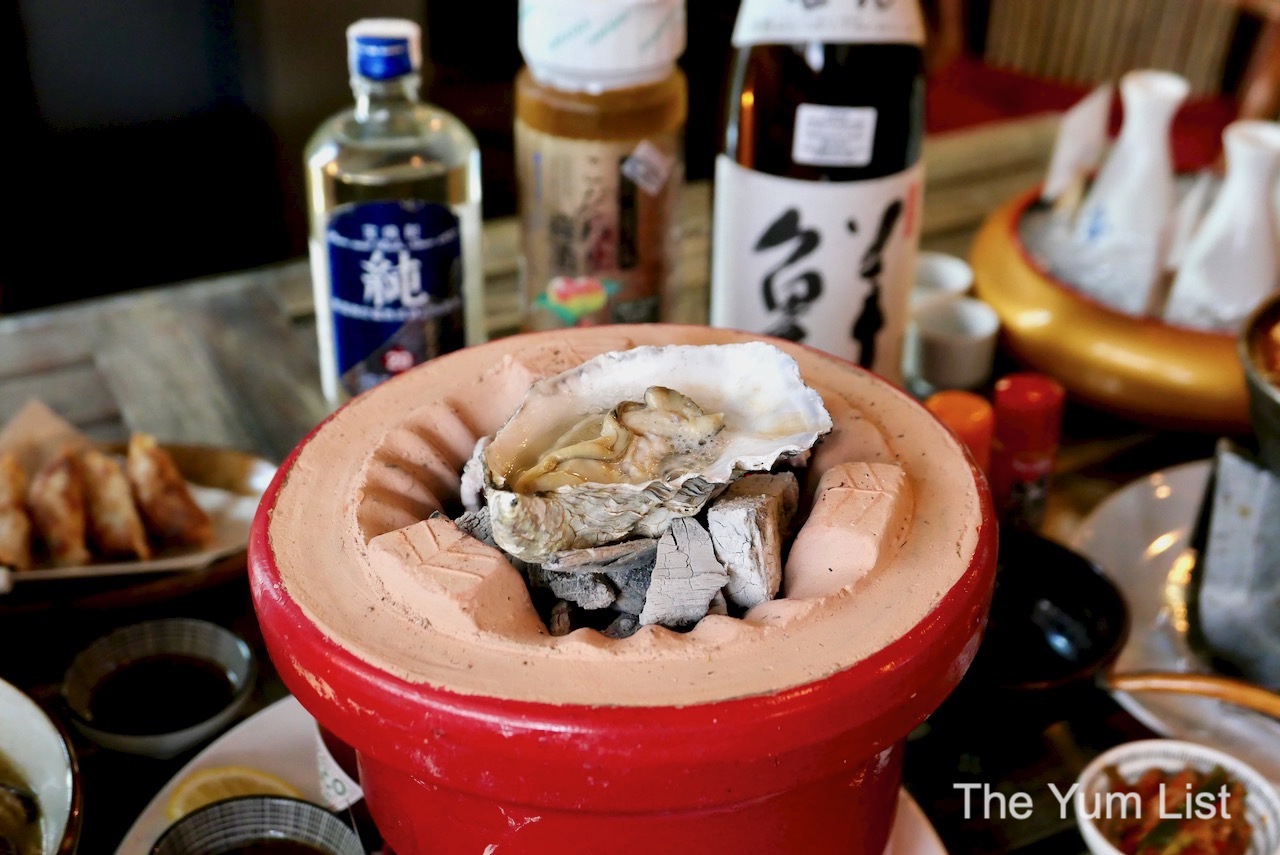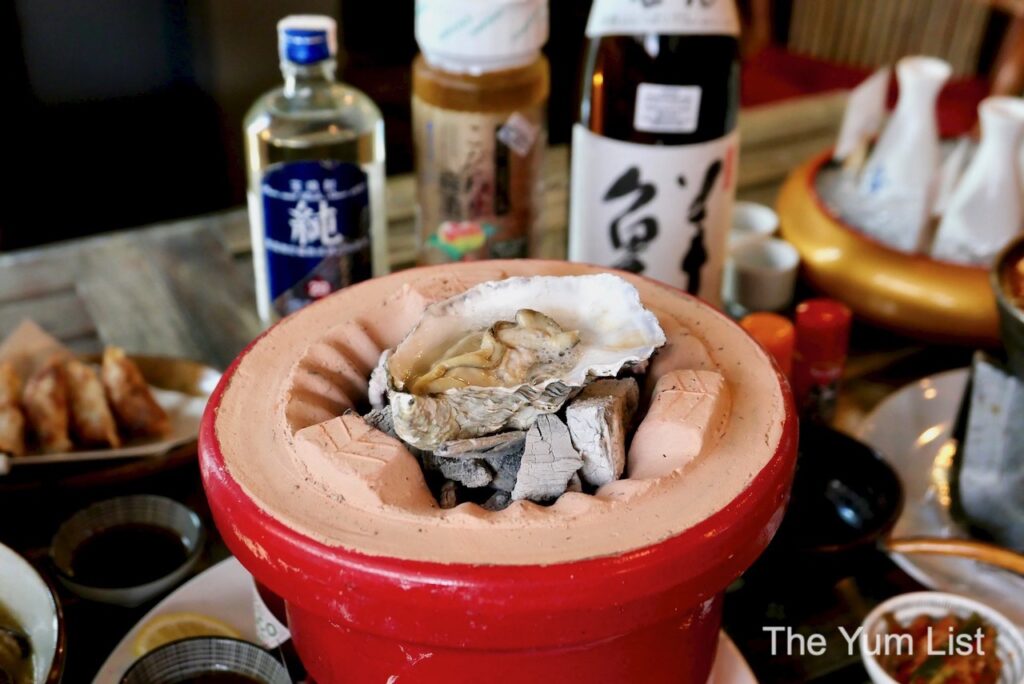 Sharing Plates
Fujisawa Izakaya is a great place to meet friends and share some food. And, they have a great sharing plates section to match. Sushi Mori Kiku (RM 59.90) offers a tray of superbly fresh classics beautifully presented. Get your cameras ready. This is one pretty platter including Salmon, Shiro maguro, Tako, Ni Hotate & Tobiko, Unagi, Tobiko, Ama Ebi, Inari, Tamago, and Aburi Unagi Mako. I can confirm all the rice is of a consistently high standard. They do not skimp on the sushi vinegar either, creating the desired sour and slightly sweet and salty rice taste with a mildly chewy and sticky texture. The raw fish is tender and fresh with the salmon, in particular, being buttery and the octopus (tako) very thinly sliced, bringing out the sweetness. Speaking of sweet, I loved the tamago (rolled omelette) with its traditional sweetness and fluffy texture.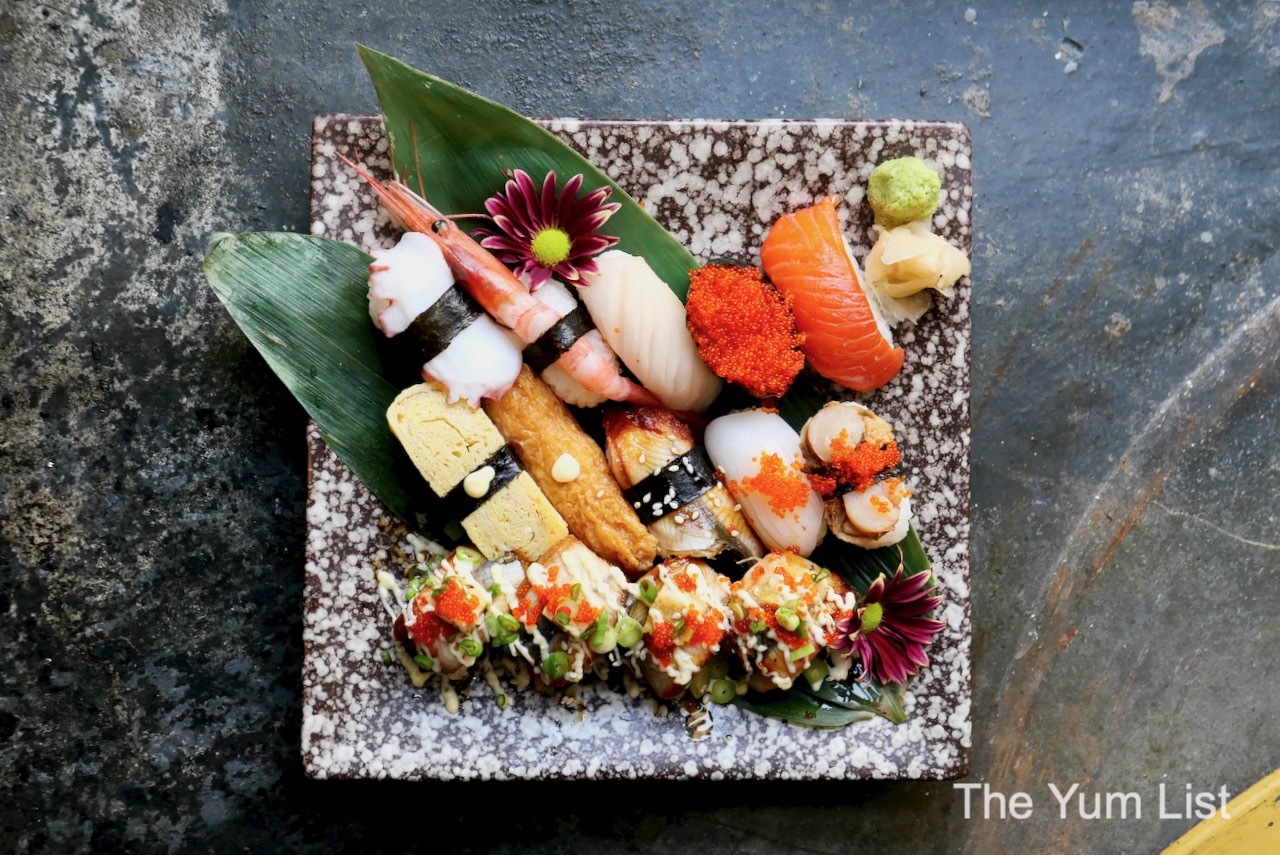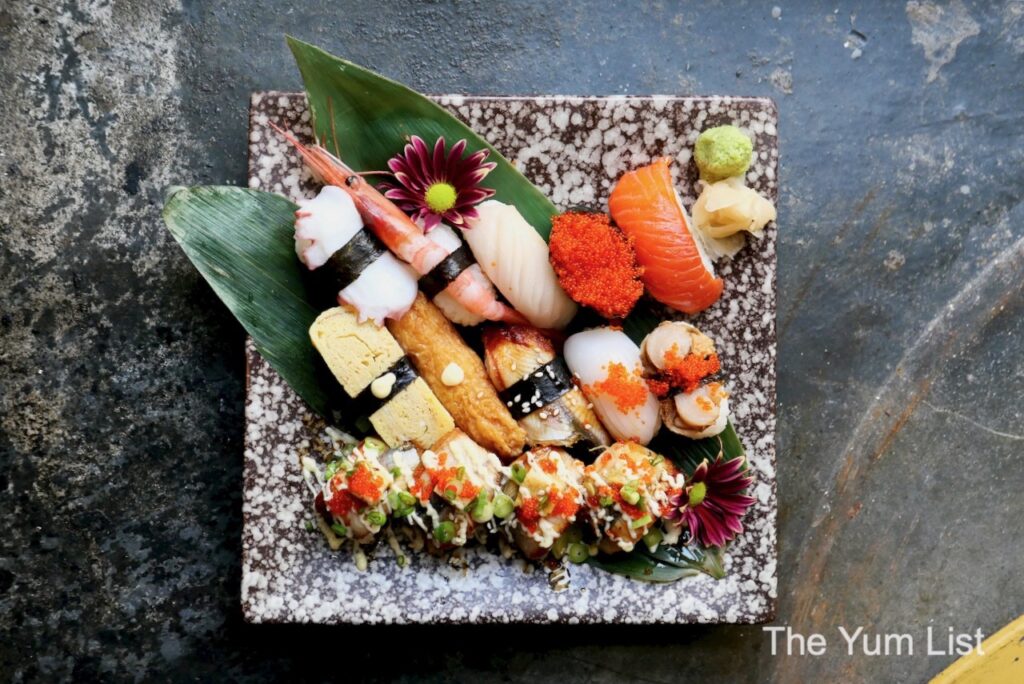 Skewers, Kushi Yaki (RM 3.90 – 12.90 per skewer) are perfect to be shared and washed down with craft beer. There are many potential skewer combinations, with a minimum order of six. The Kushi comes with a serving of onigiri. We tried eight different types; Waygu (RM12.90), Salmon Belly (RM10.90), Tori Teriyaki (chicken, RM 6.90), Mushroom (RM4.90), Ebi (prawn) (RM5.90), Tamago Yaki (rolled omelette, RM4.90), Zucchini (RM3.90) and Japan Age Ball (fish ball, RM3.90). The prawn is whole and stuffed with roe, so it'd be a challenge to half with someone, but also a good excuse not to, as in my humble opinion, it is the best skewer.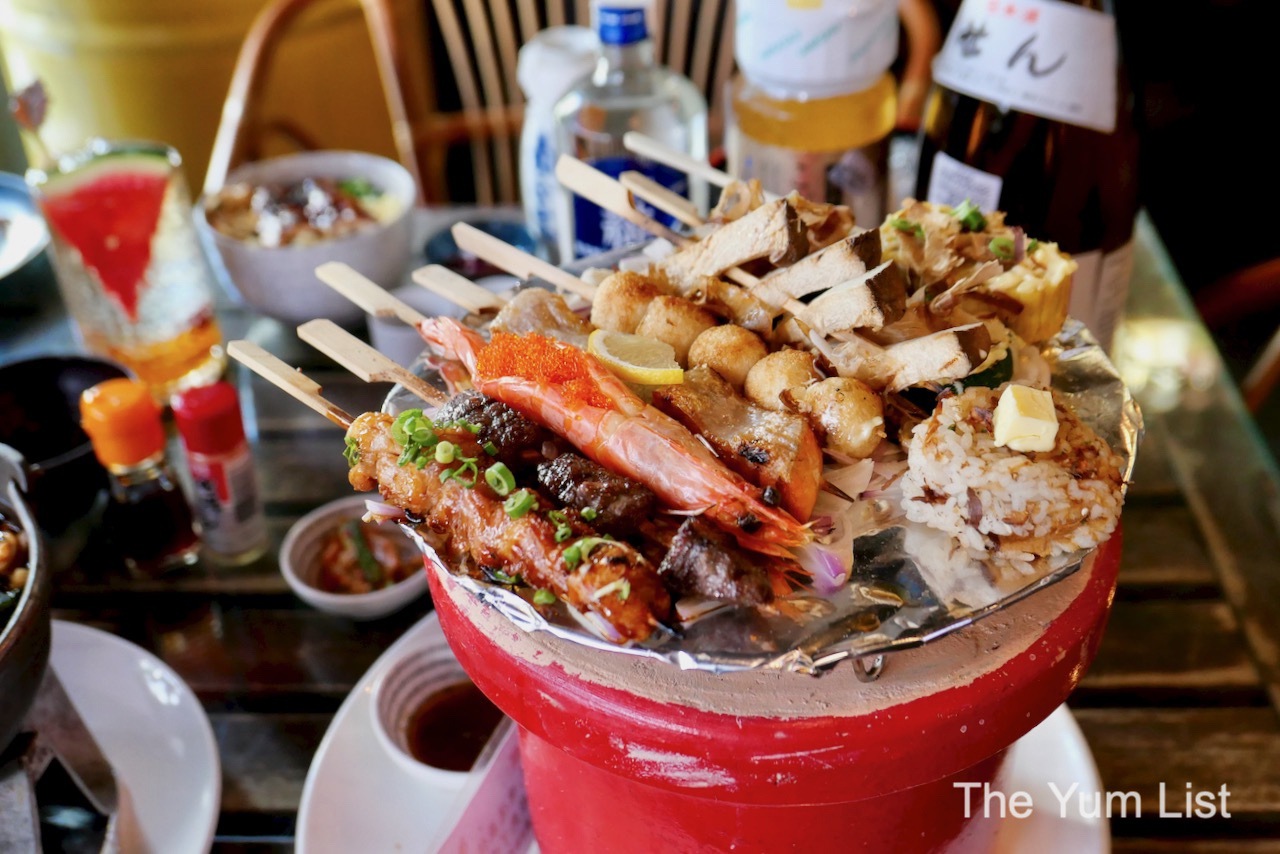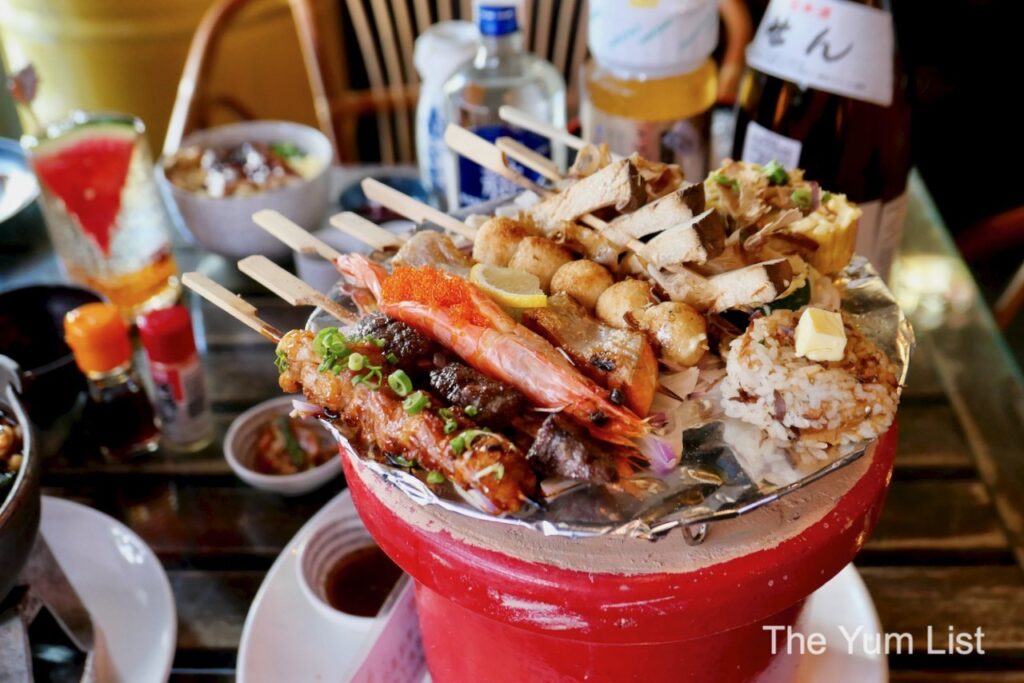 Single Main Meals
Fujisawa Izakaya also offers a variety of meal-in-one bowl options. We sampled the Unagi Chazuke (RM 35), Salmon Kama Kimuchi Nabe with Udon (RM 29.90), and Niwatori Sapporo Ramen (RM 27). The Unagi Chazuke was soft and slightly sweet with a caramelized smoky dressing. The green tea soup that you pour over the rice compliments the crispy spring onion garnish on top. Because of this dish, I now believe all rice should be served with green tea.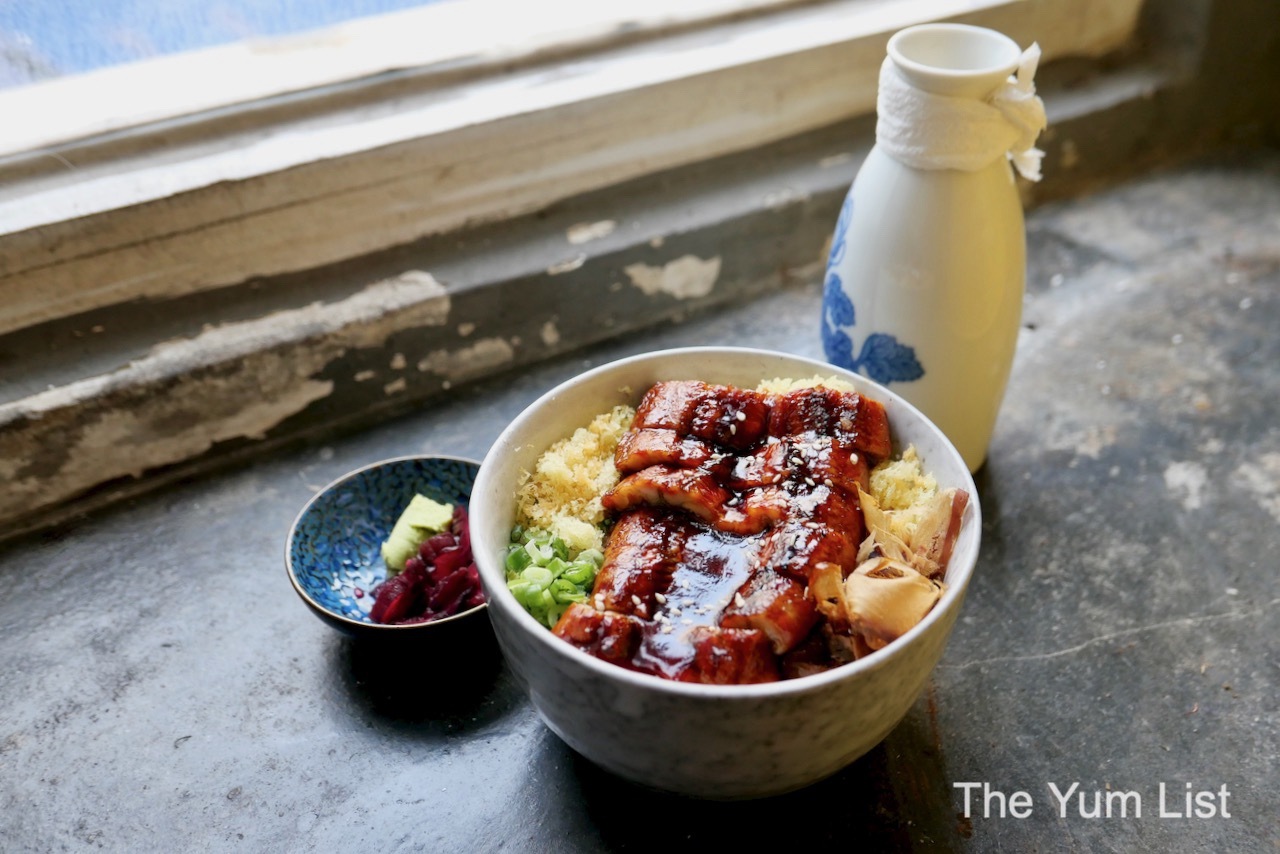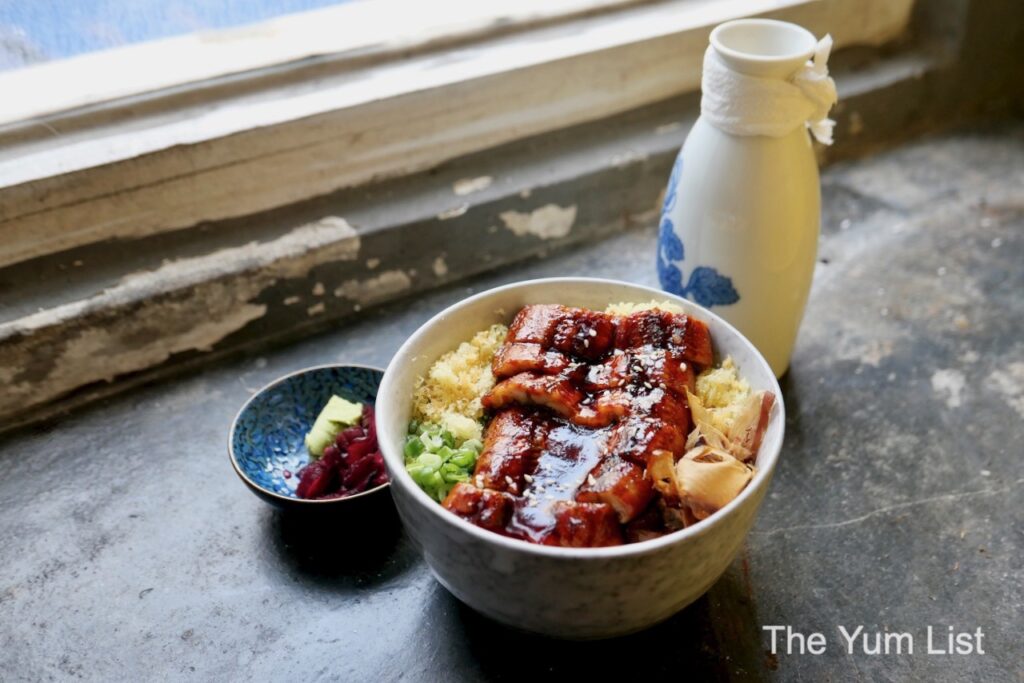 If you're after a noodle soup instead, you will enjoy the Niwatori Sapporo Ramen, which was miso-based chicken ramen. It's a signature meal for the restaurant, so you know it's good. In my mind, it's the Japanese equivalent of chicken soup you'd request your mum to make when feeling unwell – warm, comforting and nourishing.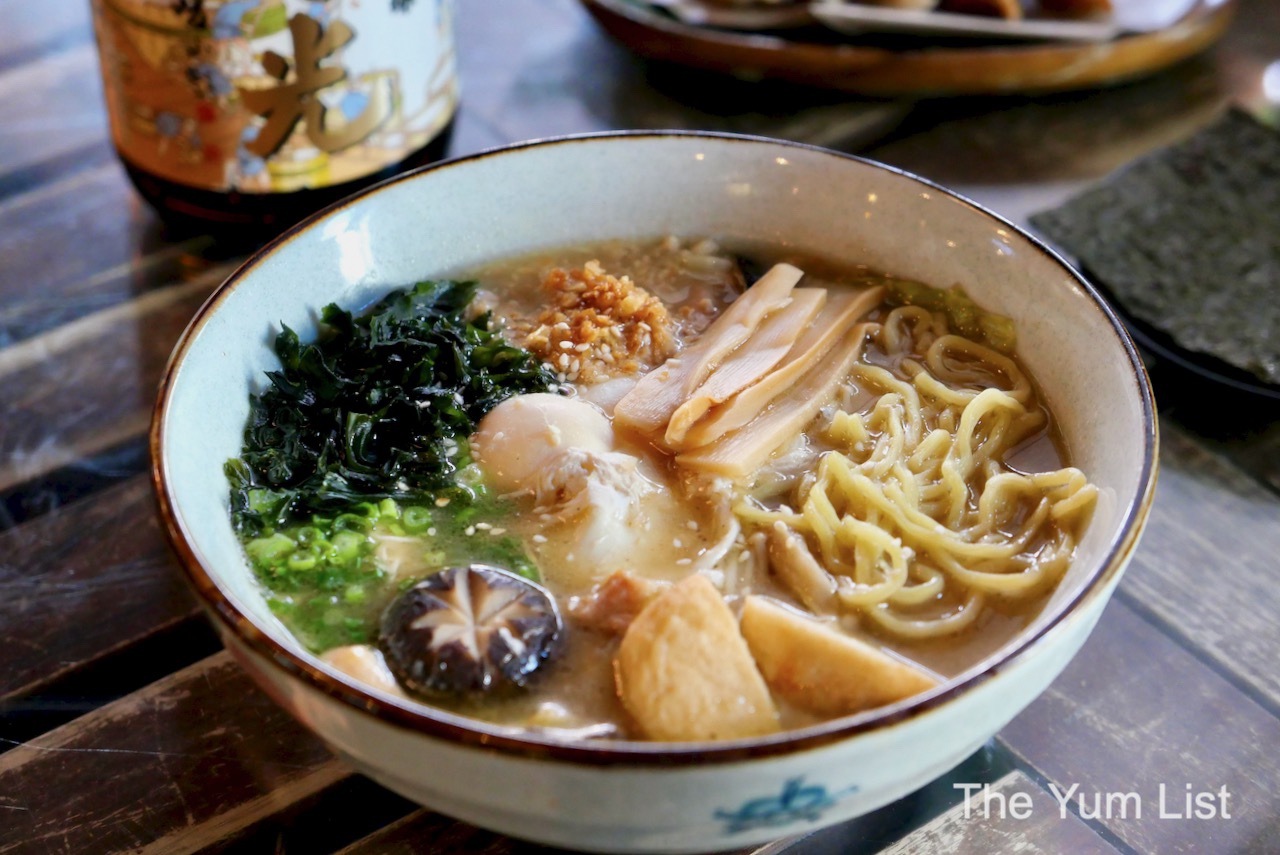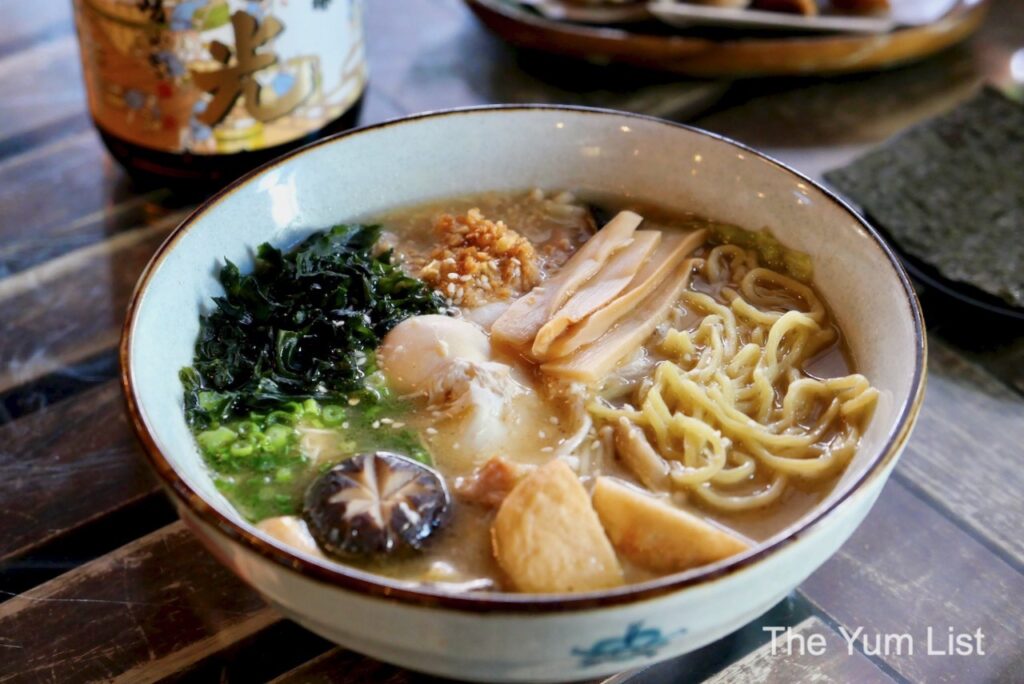 However, our all-time favourite is the Salmon Kama Kimuchi Nabe with Udon. Kimuchi, which is very similar to kimchi, but you're not allowed to say so because one is Japanese and the other Korean. I wholeheartedly recommend selecting the udon instead of the rice because udon, in general, is awesome, and the team at Fujisawa Izakaya keep them fat and chewy while absorbing the delicious flavour of the broth. The bowl has a lovely depth of flavour, and the balance of sweet, spicy and mildly sour encourage us to continue spooning back for more.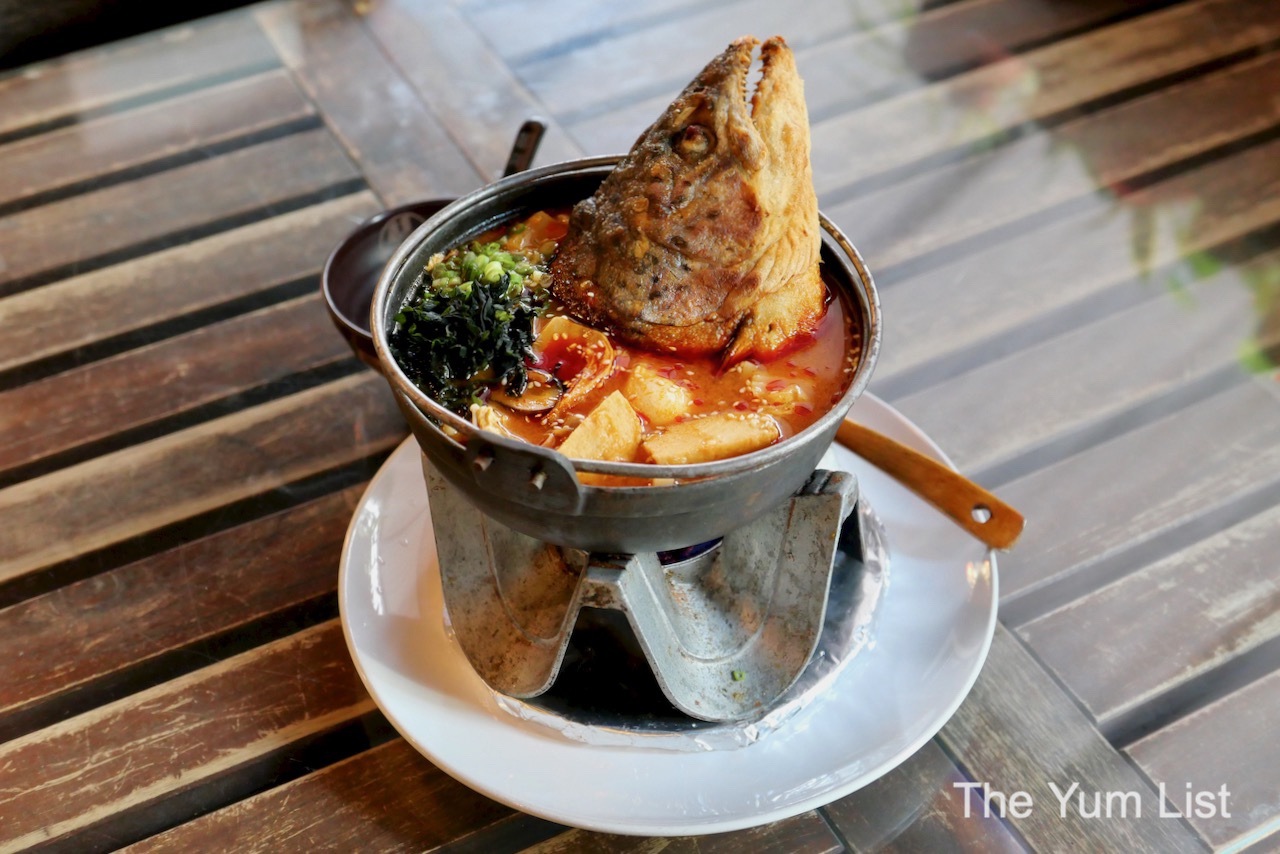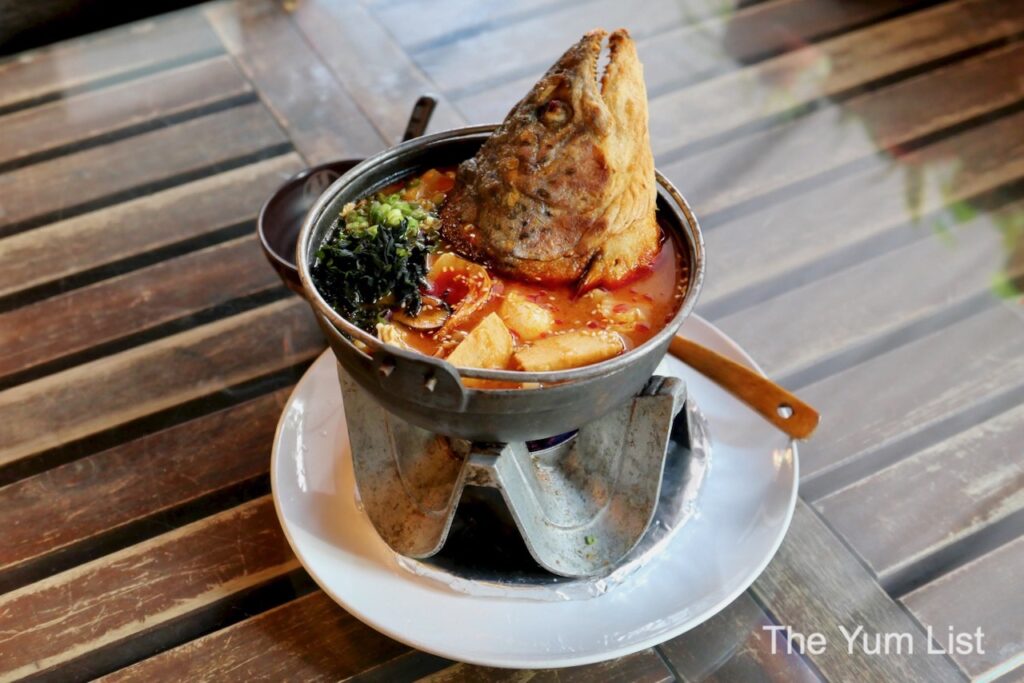 Dessert
I had my eye on Fujisawa Izakaya's avocado ice cream for dessert, but it is so popular it sold out by the time we got there. Instead, I had the Japanese Burnt Cheesecake (RM 16.90), which was a crustless cheesecake, rich and creamy with a lighter texture than a regular baked cheesecake. I happily crooned over it whilst eating.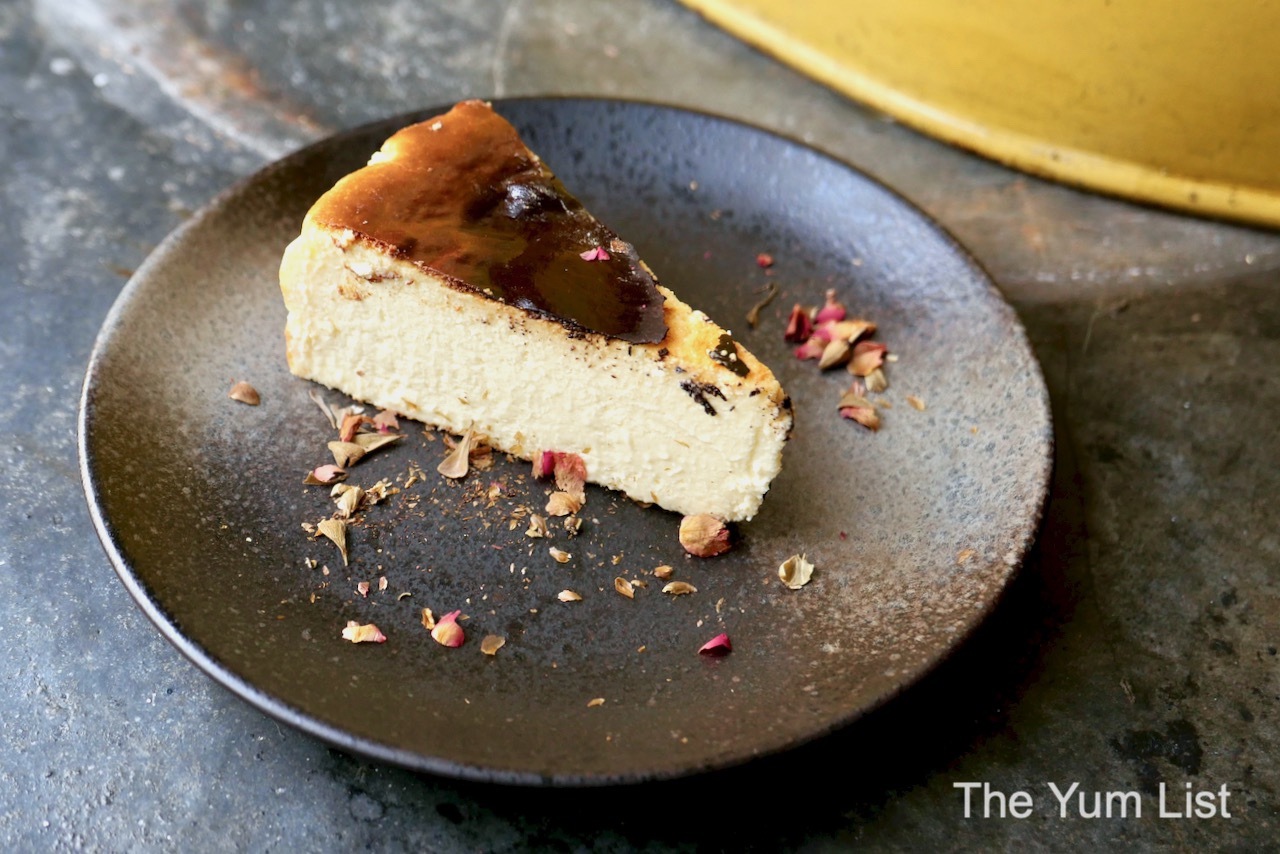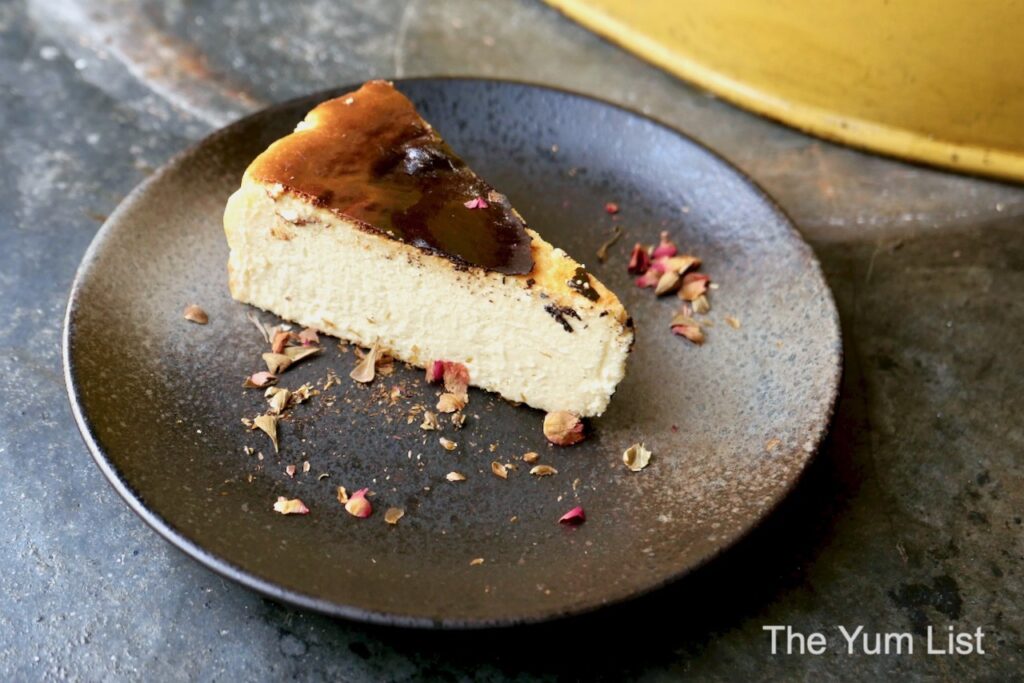 Reasons to visit Fujisawa Izakaya: a casual yet unbelievably fresh meal after work. A place to relax with friends as you share some food and drinks. The pet-friendly balcony. Must try the salmon kama kimuchi nabe, pretty sushi platters and the fresh oysters (sashimi or grilled). Great variety of booze to complement the meal.
Fujisawa Izakaya
12-1, Jalan Radin Bagus 1,
Bandar Baru, Sri Petaling
57000 Kuala Lumpur
+603 9054 8723
Fujisawa Izakaya Sri Petaling Opening Hours
Sunday-Thursday 12-3 pm, 5.30 to 11 pm
Friday- Saturday 12-3pm, 5.30 to 12am
Find more Japanese restaurants in KL here, and stay up-to-date with the latest gourmet and travel recommendations for Malaysia here and here.