Gesuto (Guest): Chef Mario's Auteur Japanese-European Restaurant
Words: Meg Alice
Photos: Monica Tindall & Supplied
Gesuto is like an auteur film where the director is viewed as the dominant and singular vision for the creative force driving it. In this case, all parts of Gesuto are directed by Chef Mario Kesemeyer. This German-born, French-accented, Italian-named auteur with a Malaysian uncle is the force of nature behind Gesuto. He had a vision: Contemporary Japanese cuisine.
While Mario trained in and ran Michelin-star restaurants in Germany, he wanted to break out with his own venture. Since 2020 Gesuto has been the platform for his passion. He has been fascinated by Japanese food and culture since he was a child. He sees parallels to his native Germany, focusing on precision, attention to detail, and discipline. Here, his dream is translated into Gesuto, serving his own style of Japanese-European cuisine. (If you want to read about Chef Mario's precision, check out our recent review of Gesuto's afternoon tea experience.)
Gesuto is somewhere between fine and casual dining. The dishes are comprised of premium fine-dining ingredients, but with larger portions and the number of components is cut down to allow distinct bold flavours to emerge. The set menus are also narrowed down to four or five dishes instead of 10 to 12. I gravitate to this style of restaurant as I have come not to appreciate traditional fine dining, which I find too fussy and expensive at the cost of taste.
Monica and I are treated to parts of Gesuto's premier menu which is ongoing, although Chef Mario is always tweaking it. I put Gesuto in the top few of all the restaurants that I have reviewed for The Yum List not only for the food but the complete package of ambience, vision, and integration of expert cocktails and a well-chosen wine list and sake selection.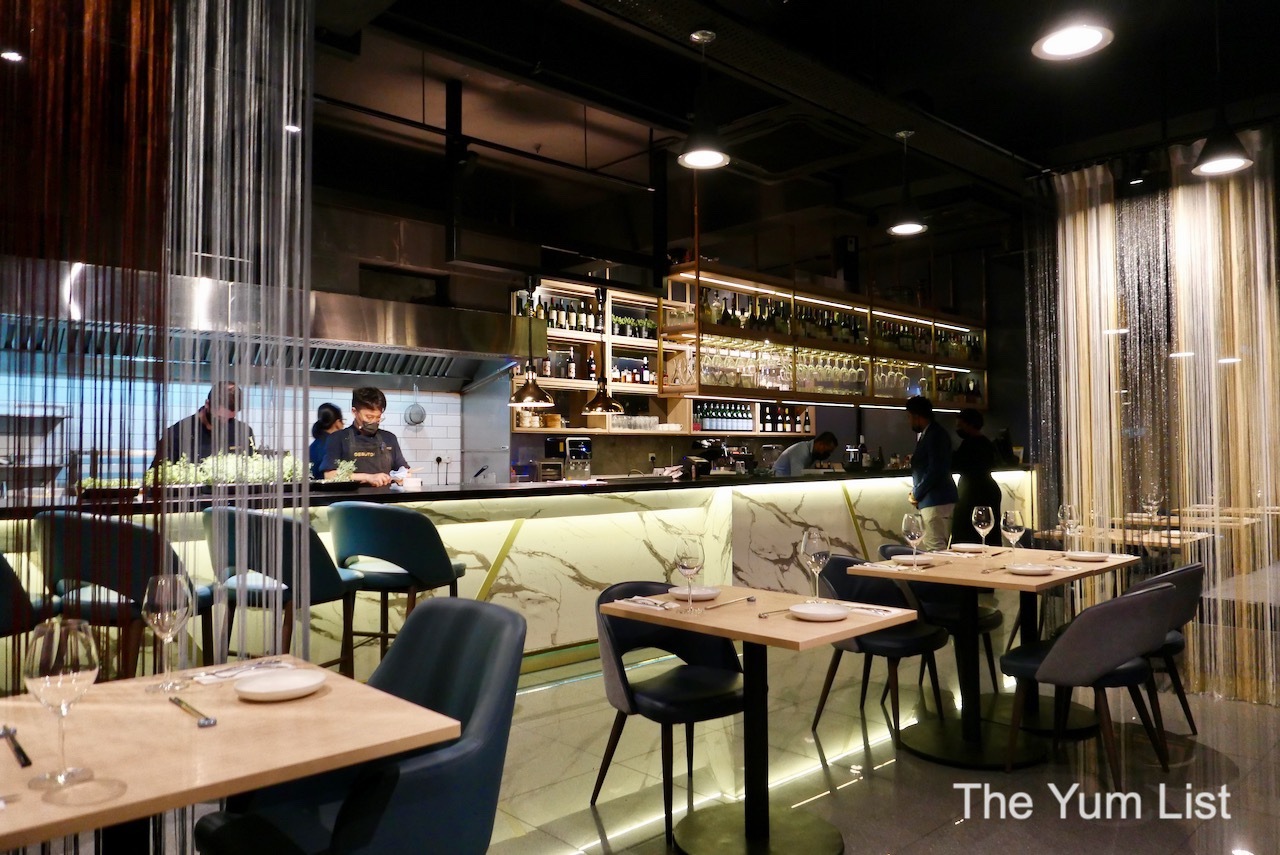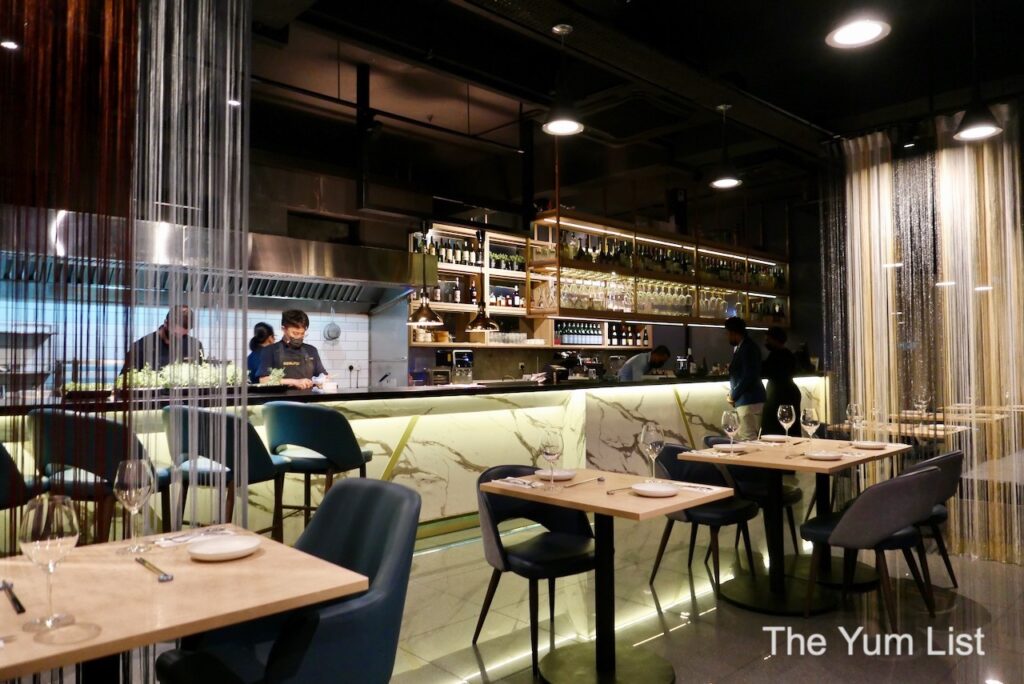 Ichi – First: Kaki Kyabia / Oyster Caviar
We start with a plump Irish oyster accompanied with gold flakes, sturgeon caviar, and a garlicky Japanese tosazu sauce. The gold and caviar are fine-dining indulgences, but it's the umami sauce that I remember flavour-wise.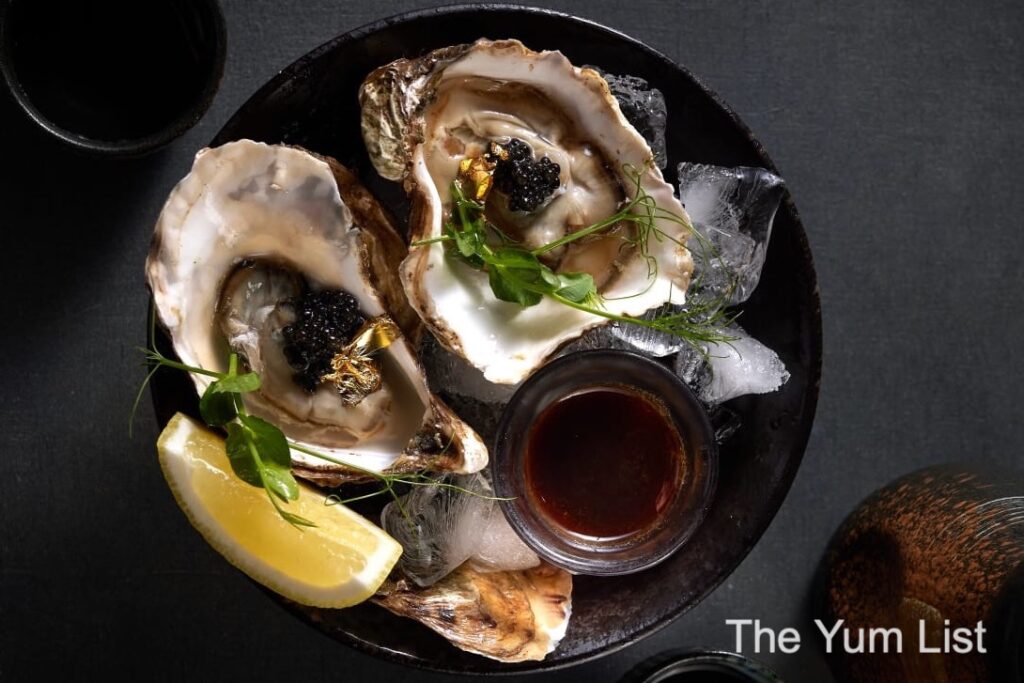 Ni – Second: Lobster Mozaiku / Lobster Mosaic
We split the lobster for the second course. It's hard to get a good quote out of Monica. She doesn't comment on the food, leaving that to us writers. I surmise this is because she doesn't want to bias us. Also, it's hard to impress her with something new or something that jolts her taste buds.
Monica announces to Mario that this is the best lobster dish she's had in Malaysia. I feel the same, but I've only had a handful of lobsters in Malaysia compared to Monica. This Maine-imported lobster, cooked to perfection, tastes like the OG lobster. Most of the time you are served lobster, you get good texture but a diluted lobster taste. It's like the flavour dies with each day the lobster is living outside Maine waters, but somehow Gesuto overcomes this.
The lobster is served with a saffron dashi sauce and foam. The lobster and saffron are both delicate flavours; thus, neither overwhelms the other. For additional texture, the dish also features kyuri (Japanese cucumber), carrot, mango and a tuille. As the namesake of the dish, it is a mosaic of complimentary bites.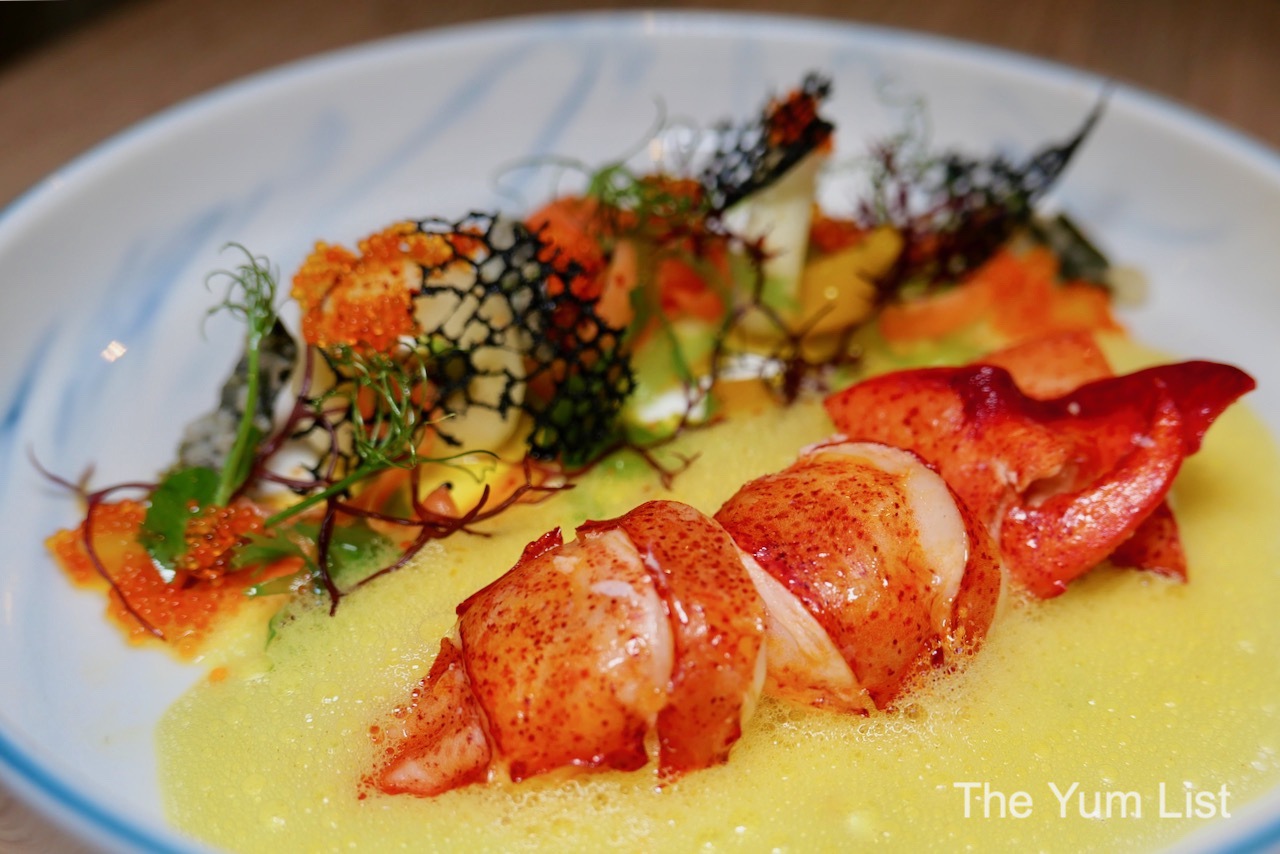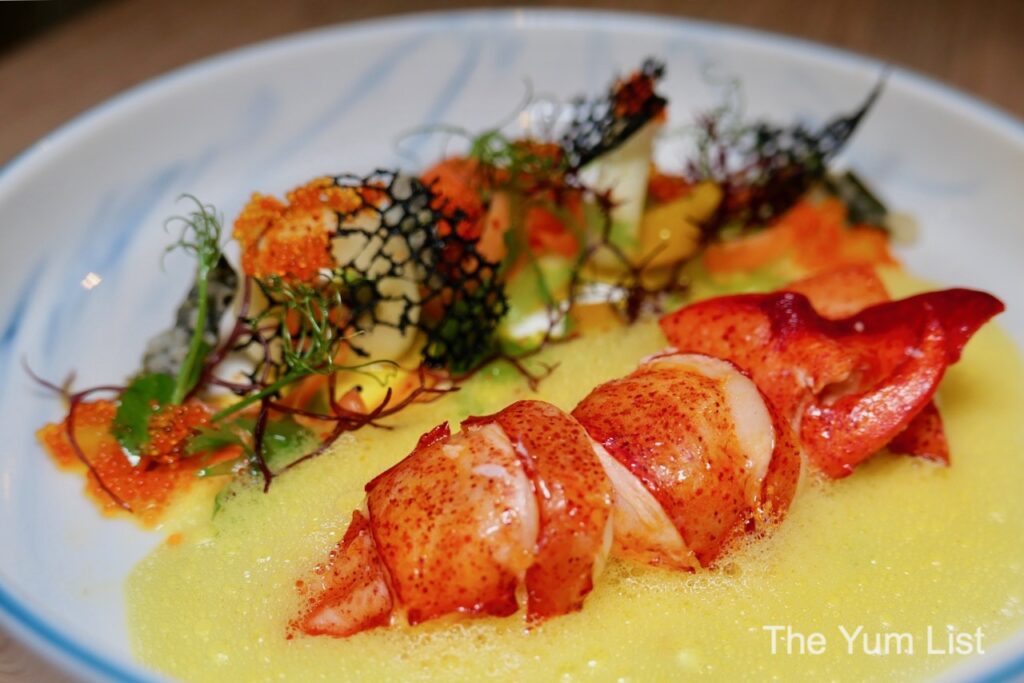 San – Third: Ahiru No Shokupan Unagi (Foie de Canard and Eel)
Our third course is a brilliantly composed dish pairing duck foie gras with barbecued teriyaki eel. I haven't seen this done before, but the two ingredients act beautifully together. The meaty foie gras needs a touch of sweetness like the eel. However, both are buttery proteins; therefore, the dish also needs the tartness from the granny smith apple to cut the richness. The black truffle addition is just another reminder that we're eating with decadence. This dish exemplifies Japanese-European fusion.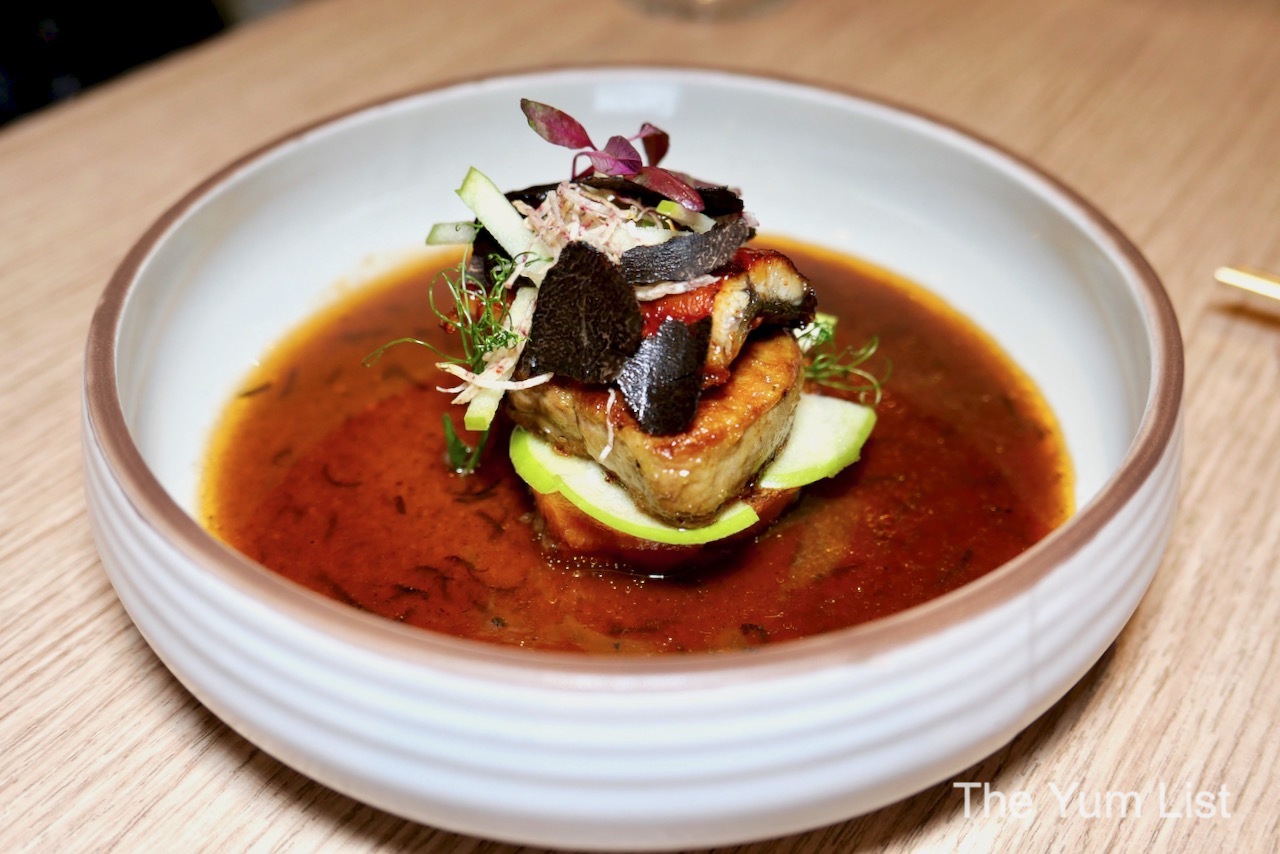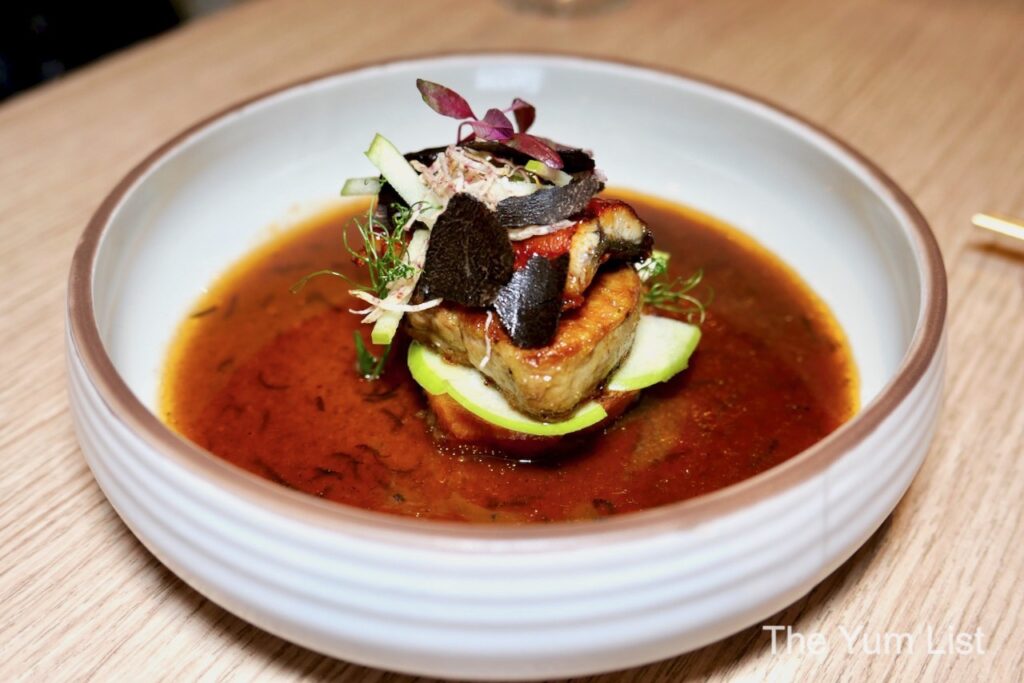 Shi – Fourth: Tara No Sumibiyaki (Black Cod)
Monica and I share the two main courses offered on the premium menu. First, we try the black cod accompanied with a hearty pumpkin sauce, which deviates from the cod advertised on the menu. Chef Mario is playing with how to serve his binchotan charcoal-grilled cod. The dish also highlights amaranth popcorn which is a high-protein gluten-free seed popped like popcorn. It adds crunch while the pumpkin sauce brings earthiness. Bonita jelly rounds out the flavours.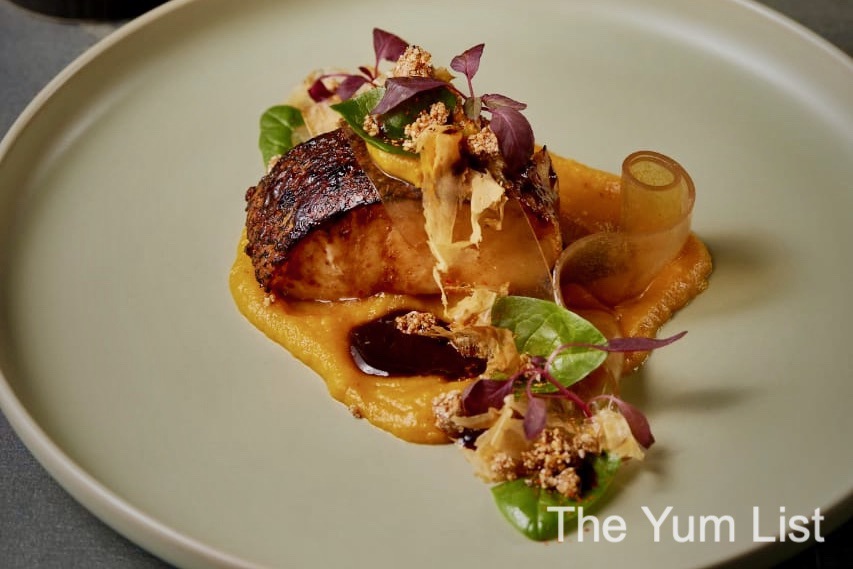 Shi – Fourth: Ramurosu Kochujan (Herb-crusted Lamb)
The second option for the main course on the premium menu is the herb-crusted lamb. The herb crusting is the star with its farm-to-table flavours. The lamb is marinated and served with gochujang sauce, a popular fermented Korean condiment that is spicy from the red chilli paste but slightly sweet from the glutinous rice. For something to absorb the spicy sauce, the dish is paired with sweet potatoes cut like discs and cooked slightly al dente.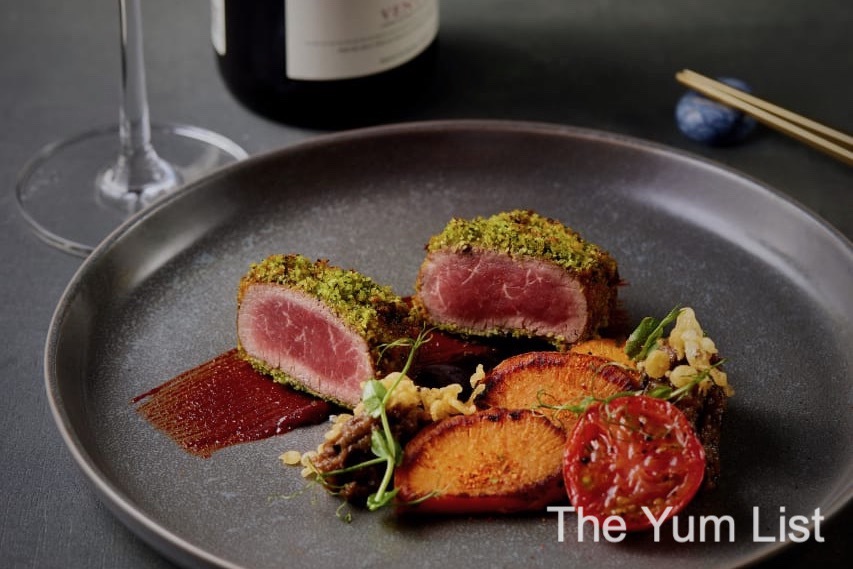 Go – Five: Ichigo Migaki Sakura (Strawberry Dessert)
I love a simple dessert like a perfect strawberry. Gesuto uses Japanese imported strawberries for this dish paired with coconut ice cream and meringue. It reminds me of strawberry shortcake from my childhood.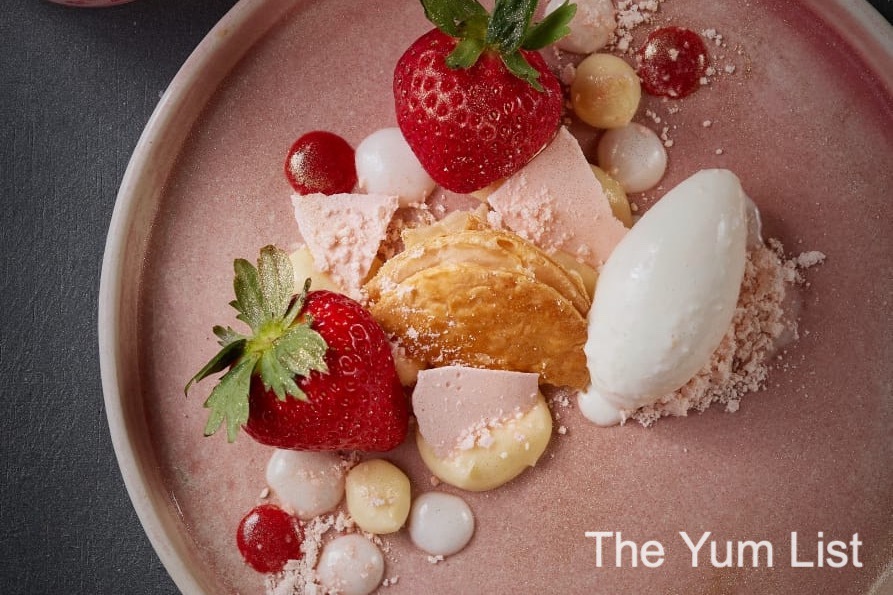 Gesuto Cocktails
Gesuto has its own dedicated mixologist, Swapan. We try the Cool Kuri, a sake and gin-based cocktail with cucumber and citrus. As described, it is sensual with delicate and refreshing flavours. We also try the Aperol Spritz and Mimosa. It is 100 per cent accurate that the mimosa is made with fresh-squeezed orange juice. While these ladder cocktails are traditional brunch drinks, there is no reason not to enjoy them all day.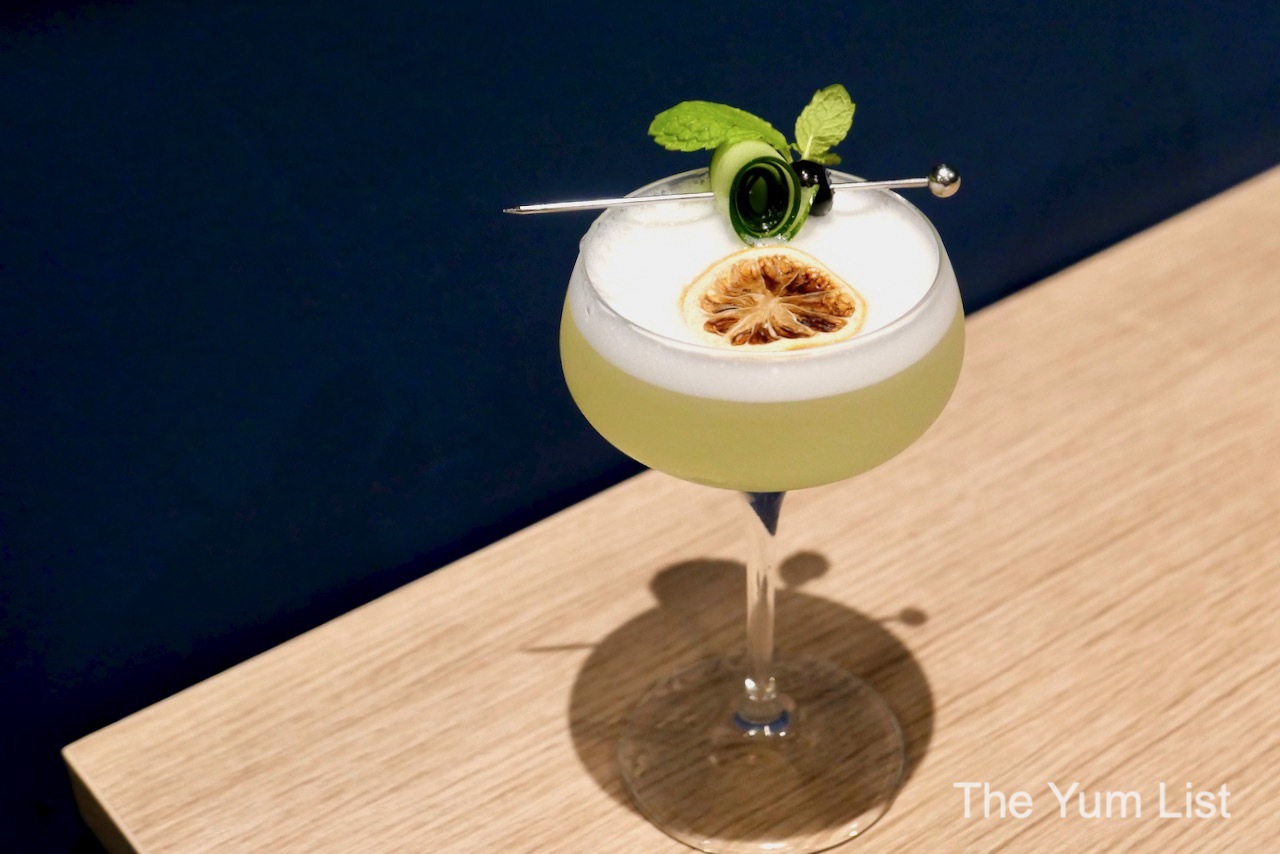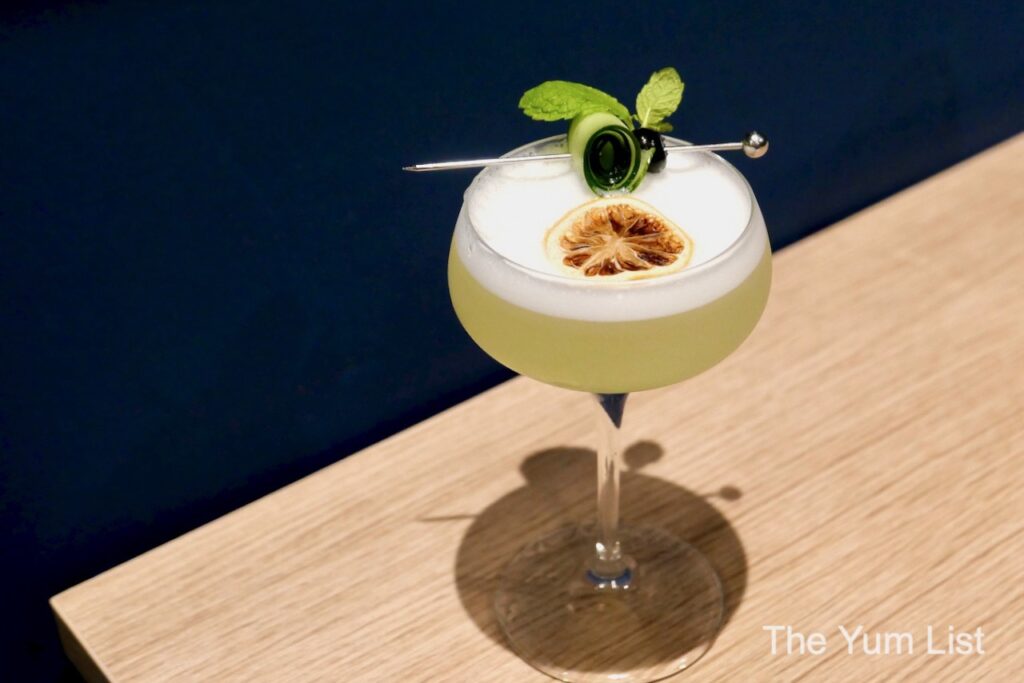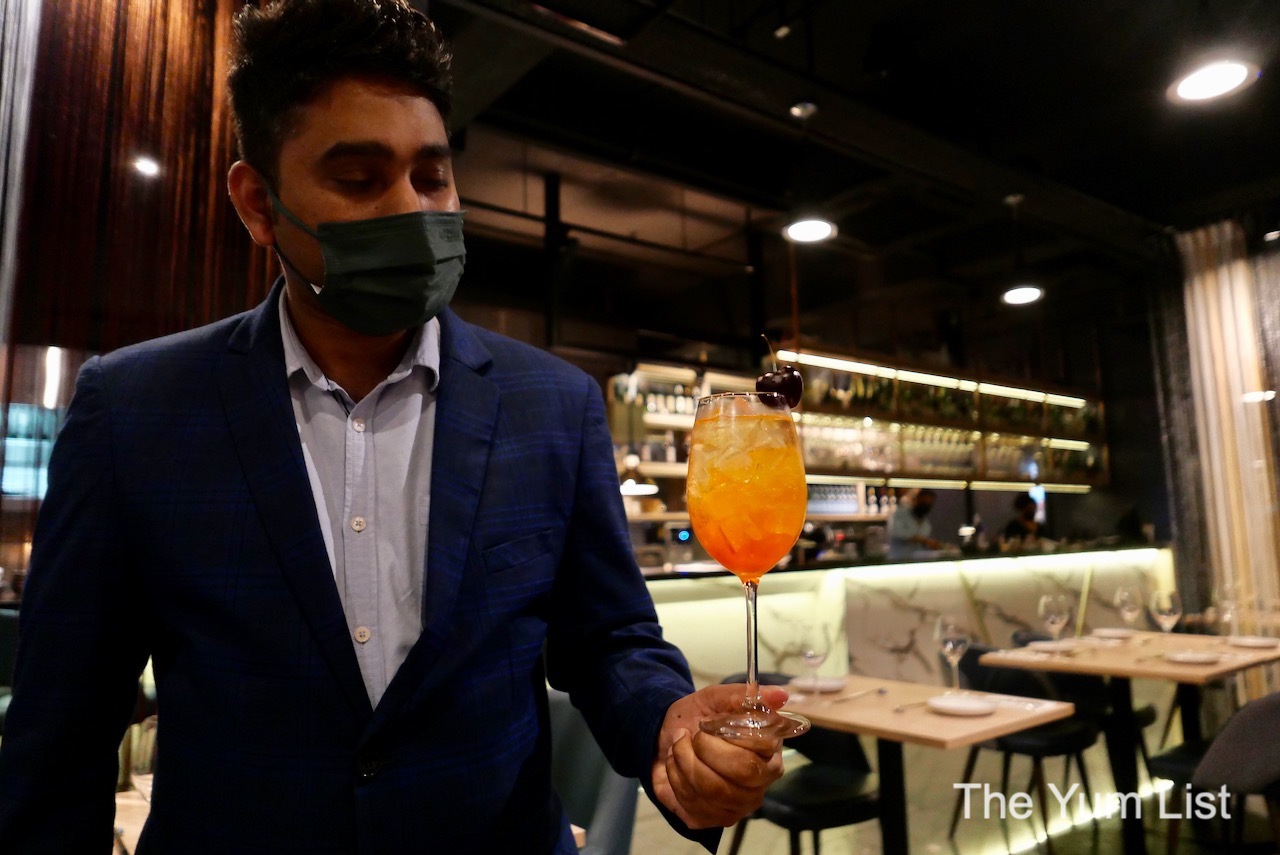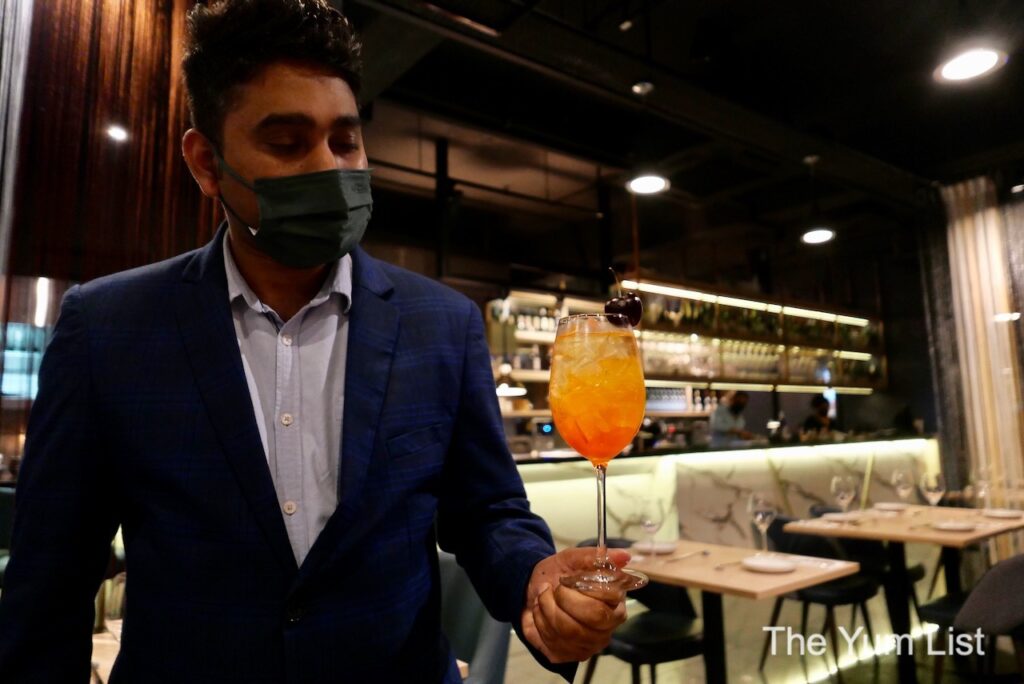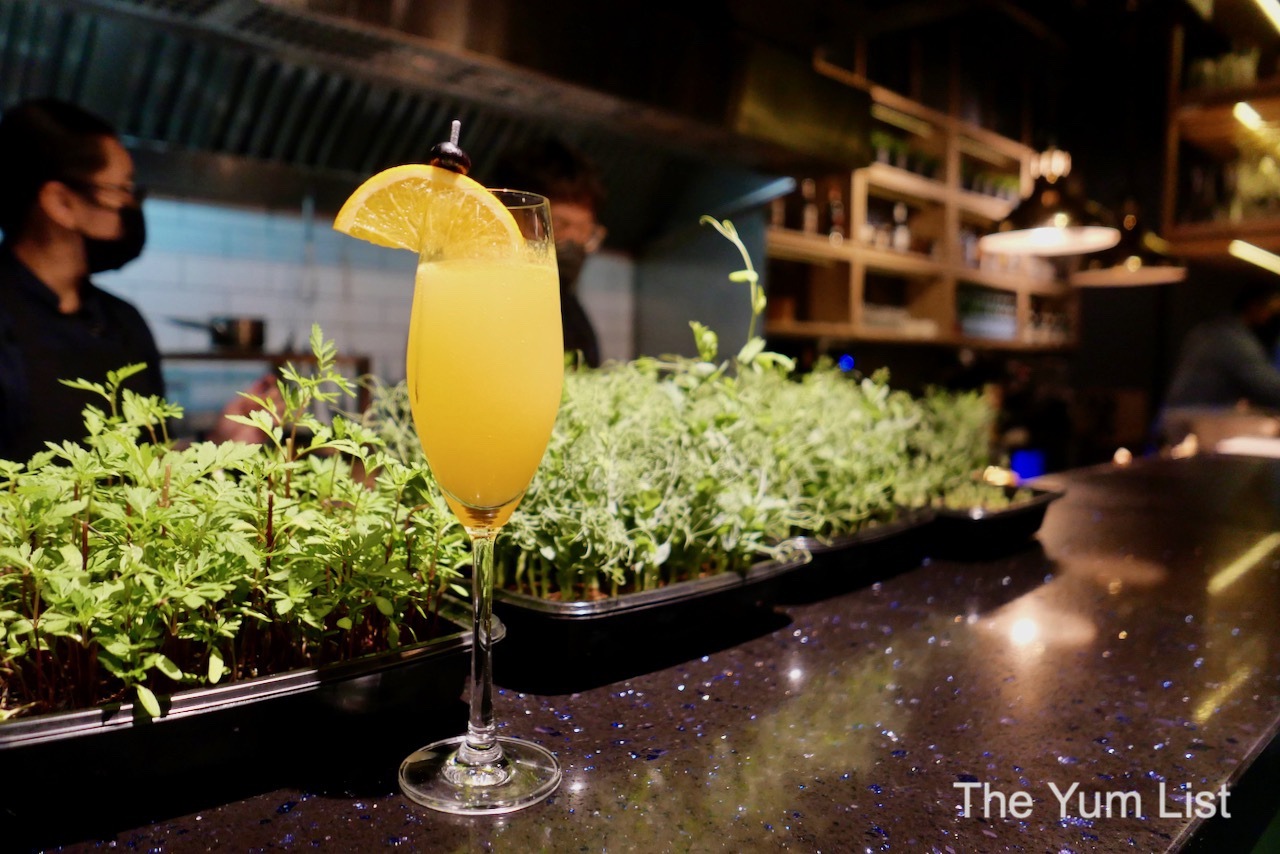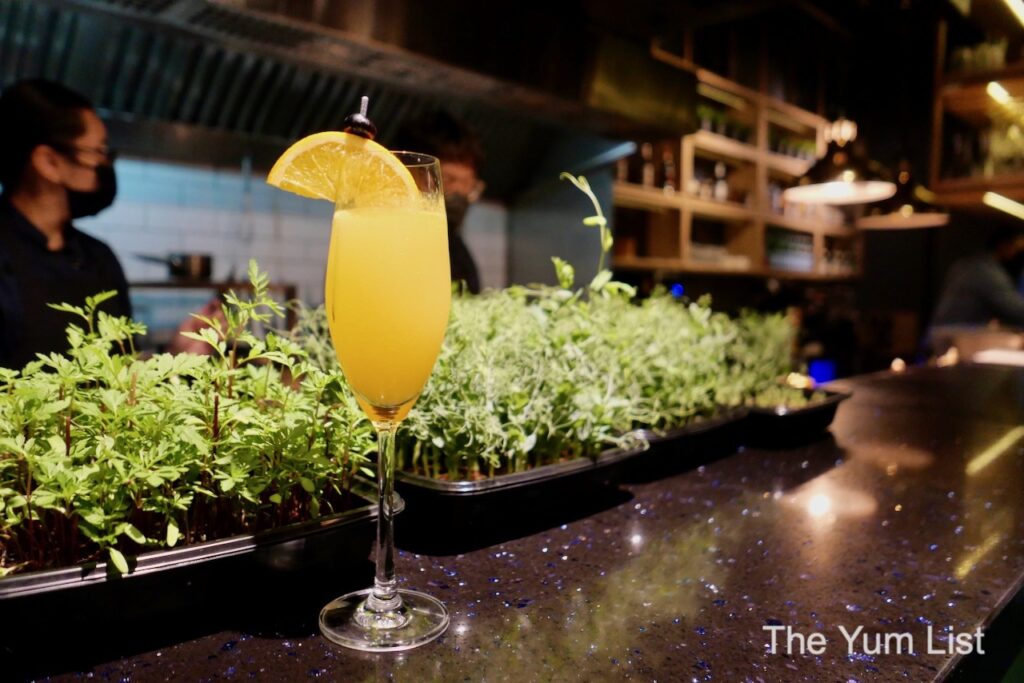 Gesuto – Purple + Wine
Restaurant Manager Dharmen offers us each a glass of Moulin de Gassac's 2018 Cabernet Sauvignon from Languedoc in southern France. The oaky and earthy flavours are excellent with the lamb and foie gras. It prices at RM39 for a glass and RM188 for the bottle.
While we enjoy the cab, it gets upstaged by the purple wine. As a special treat, Chef Mario opens a bottle of Purple Reign to pair with the dessert. This organic white blend of Semillon and sauvignon blanc grapes is unique because of its lush purple hue. Hailing from Margaret River in Western Australia, the wine is made with natural botanicals to minimize sulphites, creating a vibrant purple colour. The taste is subtle and minerally. It is lovely with any dessert calling for a softer wine but would also make a great quaffer or aperitif. Purple Reign is being offered as a limited-time promotion for RM198 per bottle.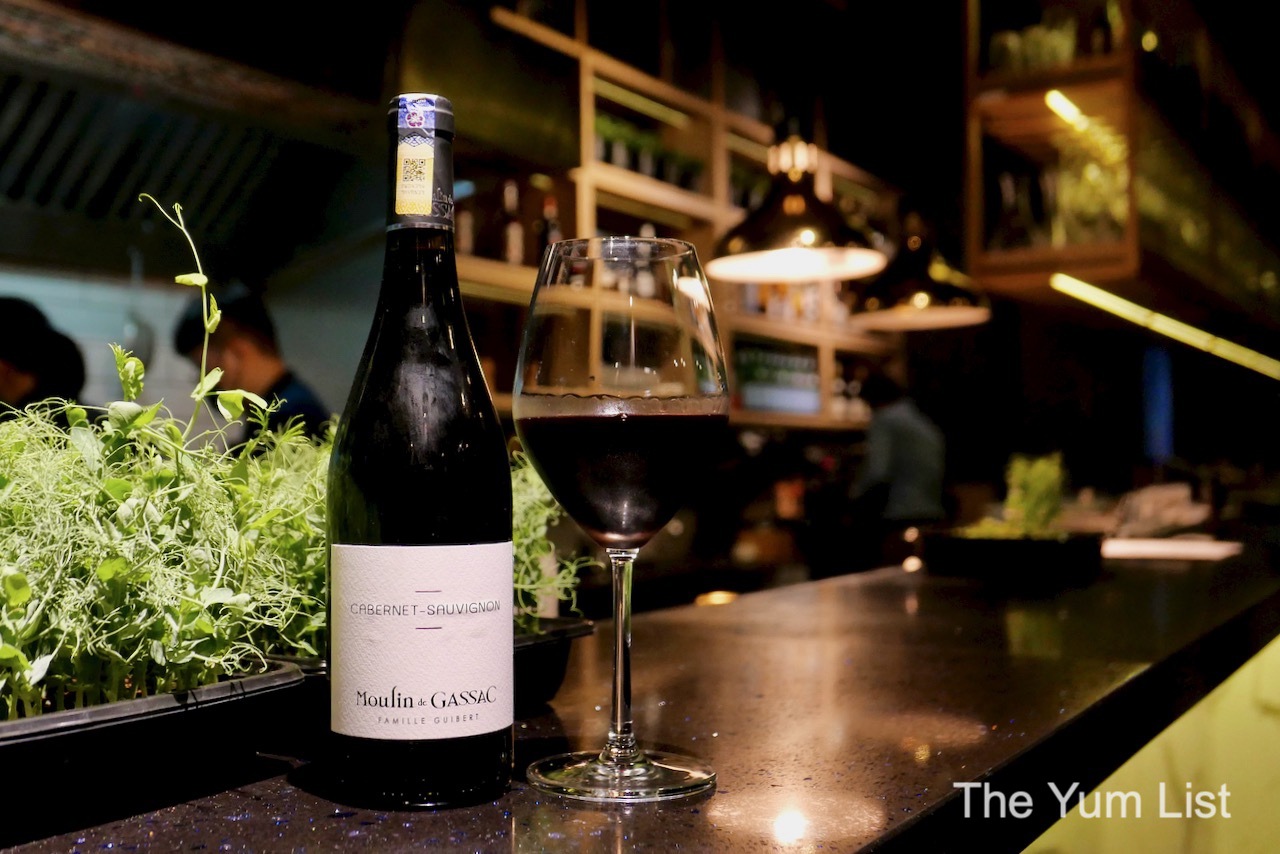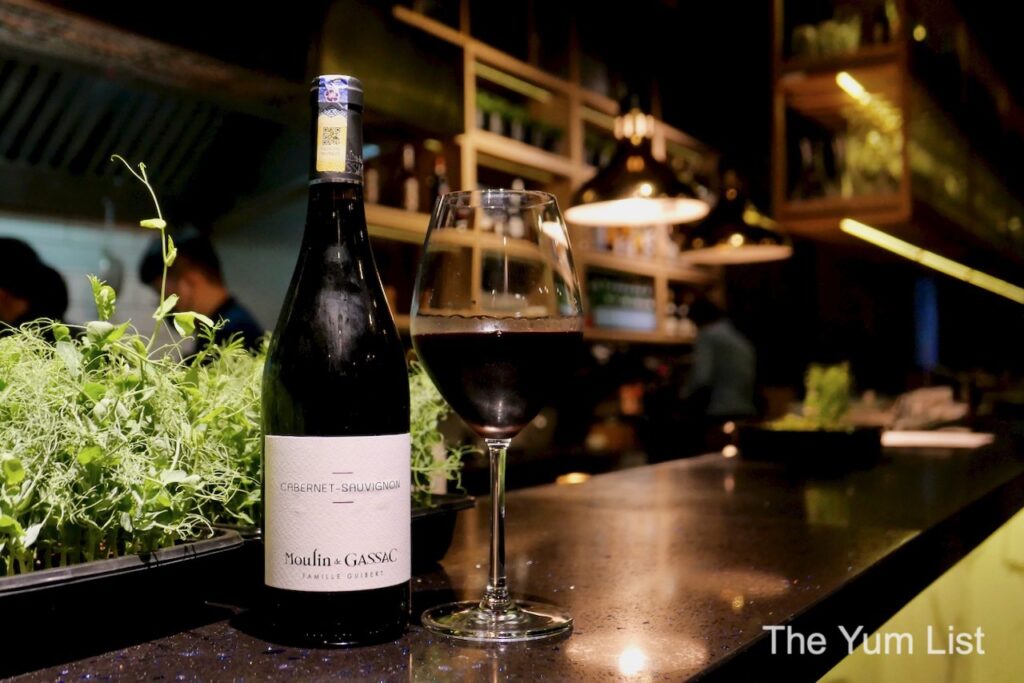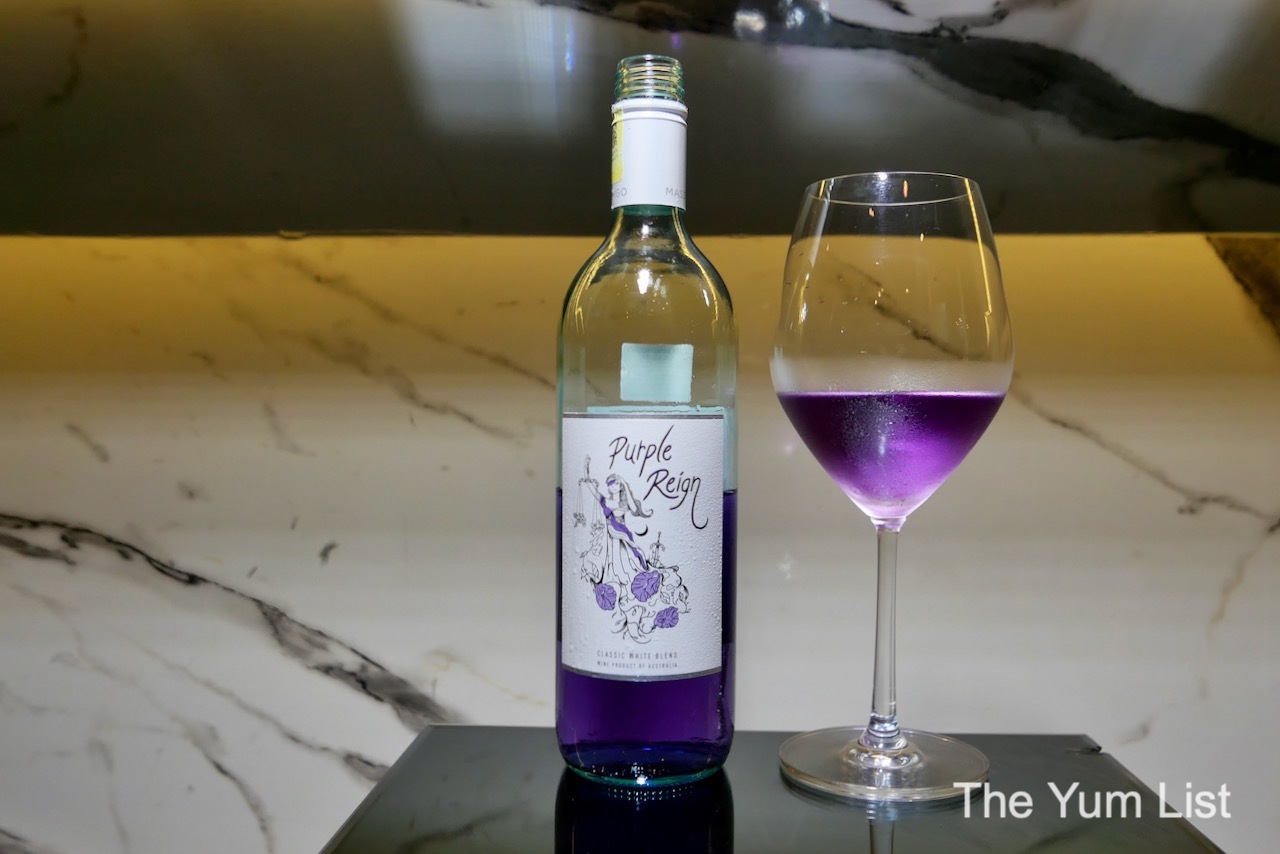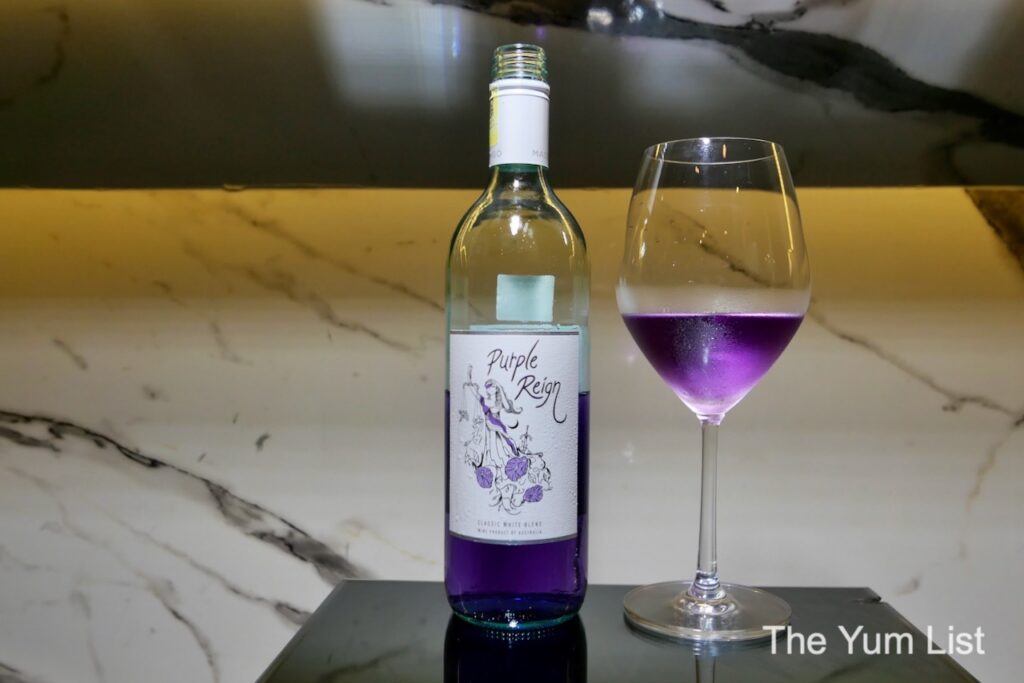 Gesuto Post-Dinner Musings
The ongoing five-course premium menu is offered for RM 499 per person. There is an upgrade option for the main course to A5 Japanese wagyu with shaved black truffle for an additional RM 158. You can also opt for the four-course premium menu skipping the "ichi" (first course) for RM 438. The Chef Selection menu, which rotates monthly, is a set four-course (RM 218) or five-course (RM 248) meal with the option for a wine pairing at RM 128 per person. There is also the a la carte menu, which includes a vegetarian section and a wide variety of items from the charcoal grill. Entrees on the a la carte menu range from RM 65 to RM 75.
Reasons to visit Gesuto TTDI: Reasonably priced Chef Selection menu, the lobster, foie gras and eel, well-conceived cocktails, wines and sake in casual ambient. Great team – special thanks to hostess Jamaican-Malaysian Keira, mixologist Swapan and RM Dharmen.
For Gesuto and many of The Yum List-reviewed restaurants, if you're concerned about COVID, visit early in the week or early in the evening when restaurants are less frequented. You may end up sharing a glass of Purple Reign with the chef (appropriately social distanced).
Gesuto – Japanese-European Restaurant TTDI
No 24, Lorong Datuk Sulaiman 1, Taman Tun Dr Ismail
60000 Kuala Lumpur, Wilayah Kuala Lumpur
Gesuto Opening Hours
Lunch: Friday-Sunday at 12 – 2.30 pm
Afternoon Tea: Friday-Sunday 3 to 5 pm
Dinner: Every day from 6 pm
Find more Japanese restaurants in KL here, and stay up-to-date with the latest gourmet and travel recommendations for Malaysia here and here.