Beauty Unearthed Menu
A Collaboration Between Landscaper Inch Lim and Chef Philip Leong
Words: Meg Alice
Photos: Monica Tindall
I'm back at Nobu KL for my fourth Yum List review and thrilled to see its evolution. A couple of things are different on this visit. Monica and I are tasting a special spring a la carte menu, not one of Nobu KL's monthly tasting menus. Long-time Head Chef Philip Leong has collaborated with world-renowned Malaysian landscaper Inch Lim to create these unique dishes. While the menu is designed to celebrate the Japanese Sakura flower, it also puts Malaysian ingredients at the forefront.
The result is a departure from Nobu international classics venturing towards farm-to-table all while honouring the Nobu ethos. Inch Lim's love of the earth seems to have unearthed a beautiful new side to Chef Philip. Like the cherry blossoms, this menu is fleeting. Try it before it ends on 30 April, although we try to convince Chef Philip to keep two dishes in particular–the coconut pearl and heart of palm–which you won't find anywhere else in Malaysia.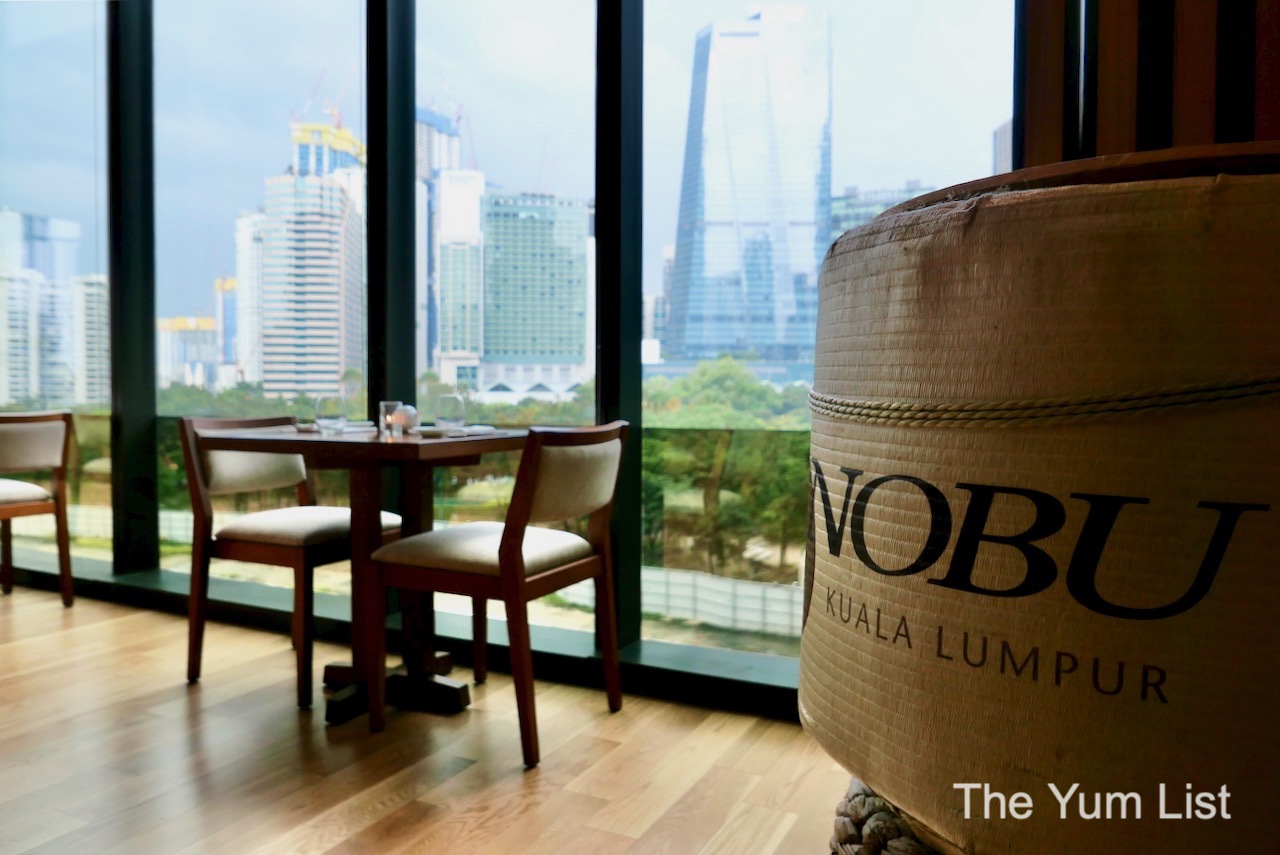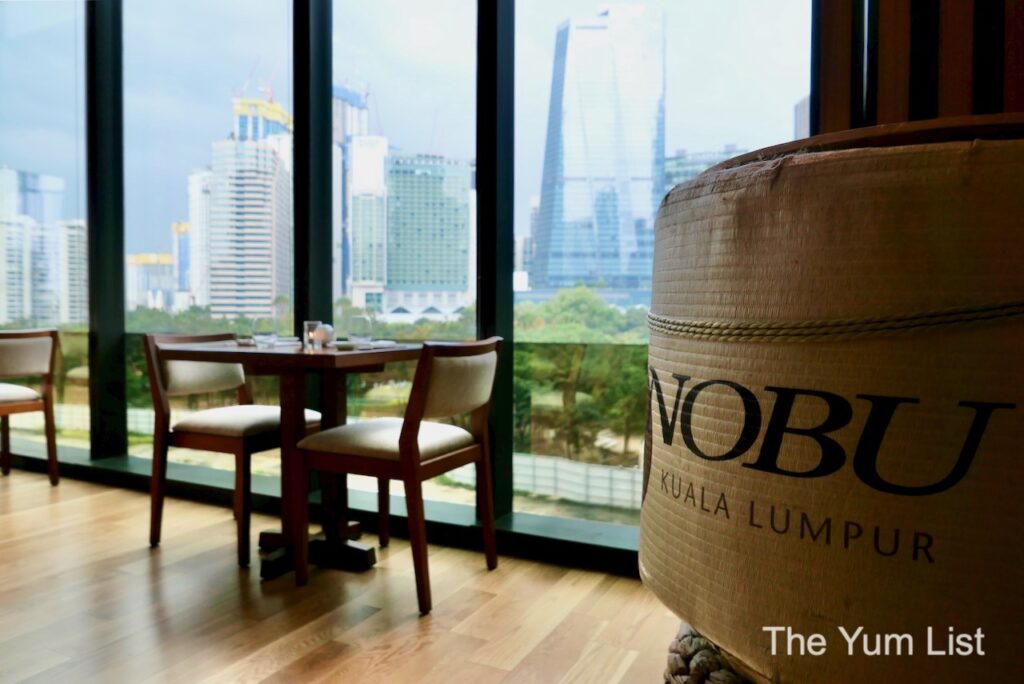 Beauty Unearthed Menu – Nobu KL
Madai Sakura Sushi and Foie Gras on Sakura Monaka (RM 150++)
We start with the cold menu items and, more specifically, Head Sushi Chef Masami Ouchi's (Chef Masa) creation of a twist on sushi and foie gras sandwich (header photo). Chef Masa pays us a visit at the table. He's a man of few words, but he was bubbling with enthusiasm for this menu and his dish, which has allowed him to branch out from strictly sushi.
The sushi is a madai (sea bream) wrapped in bamboo leaf and accompanied by a dab of sakura flavours. The foie gras terrine infused with umeboshi (plum vinegar) is served as a sandwich in a sakura-inspired pink monaka shell. The sandwich accoutrements are a raspberry jam and yuzu marmalade, adding a pop of citrus. I've seen Nobu KL use the monaka shell before with desserts, but it works better in this savoury dish serving as the vehicle for the foie gras.
Pen Shell Clam with Sakura Ebi and Mash Potato (180++)
The pen shell clam, cut up like scallops, is paired with baby-dehydrated ebi (shrimp) and is presented in its ginormous pan shell. This is a super fun dish juxtaposing the big clam and mini ebi, as well as highlighting seafood items that you don't get to see too often, like the pen shell. To finish it out, the clam and umami-forward shrimp are interspersed with cauliflower and microgreens abed a smear of mashed potatoes.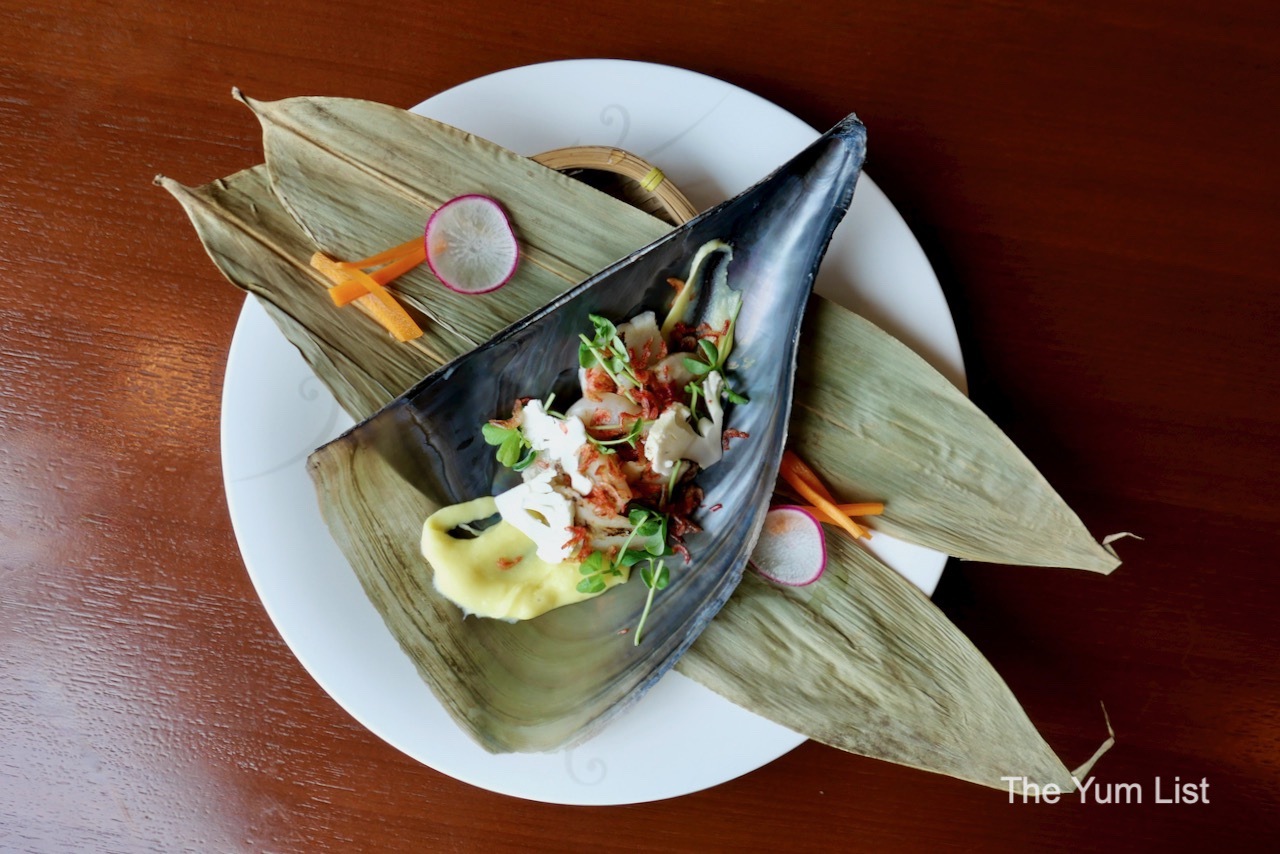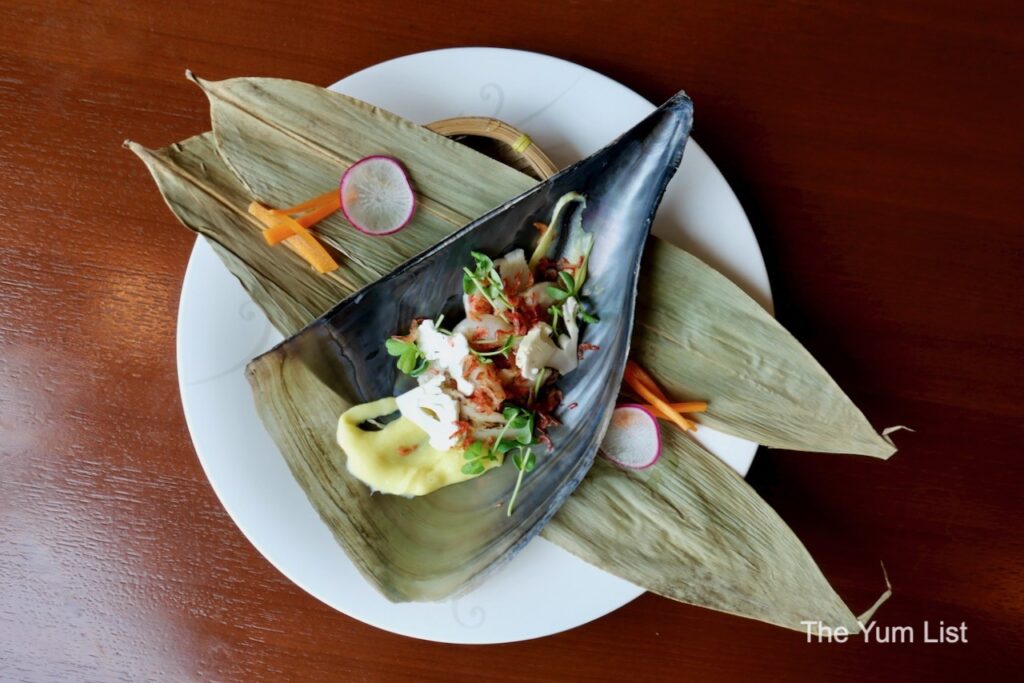 Heart of Palm Dry Miso Salad (RM 95++)
This is a fascinating and very dry shredded salad that our server Leela explains has made appearances on Nobu KL's menu before.
This version takes advantage of local ingredients like the heart of palm. It is accompanied by bell peppers, chopped chives, and dry miso. We graze on this salad, admiring its unusual texture and unapologetic dryness, with the only hint of dressing being the yuzu truffle oil. This earthy salad is a keeper.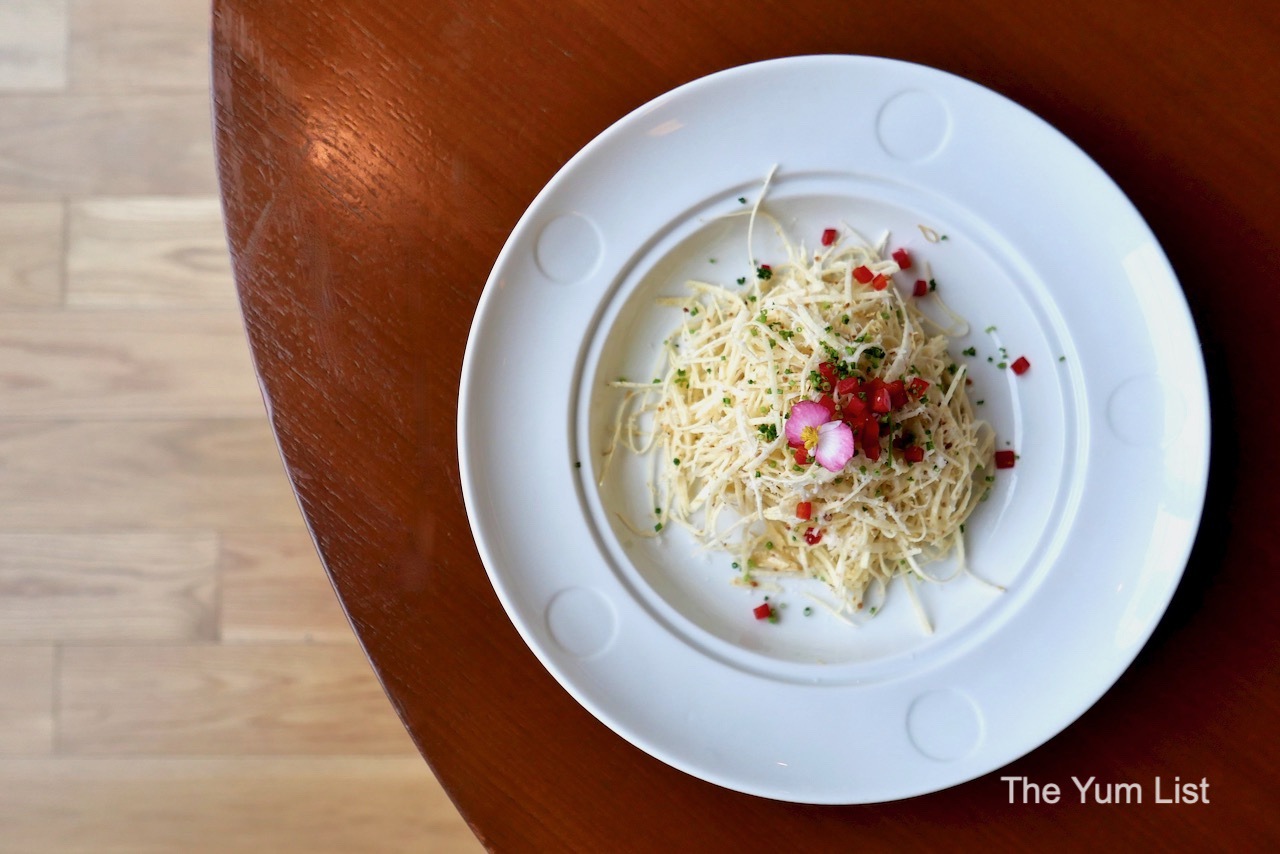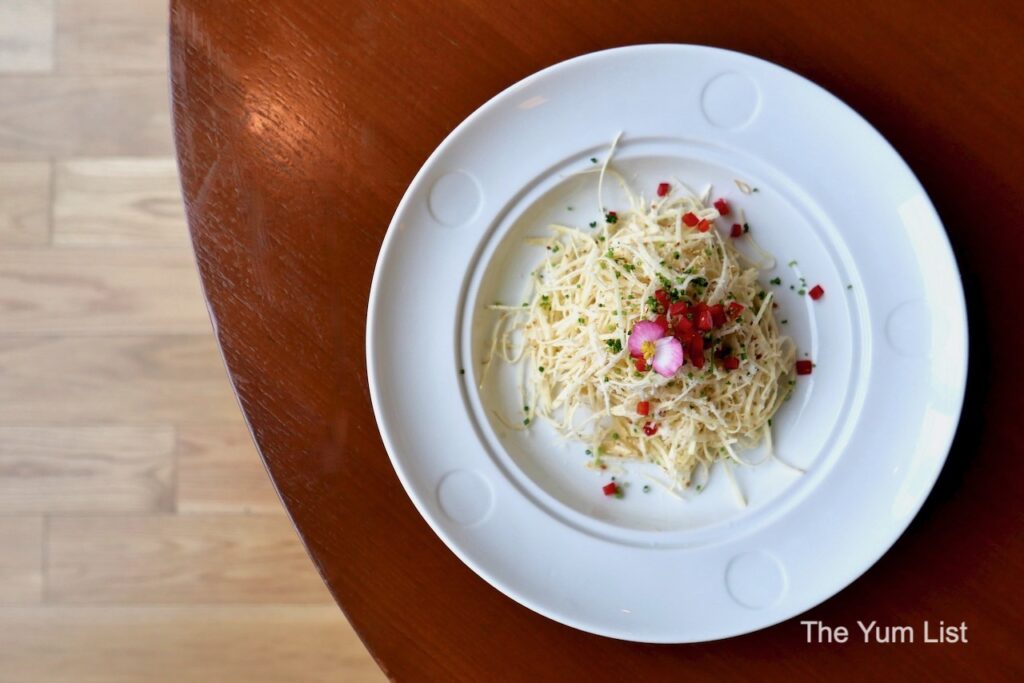 Ceviche with Coconut Pearl (RM 90++)
Coconut pearl is the edible spherical sponge sprouting at the bottom of a mature coconut. They are not normally produced or sold for food production. Chef Philip, in collaboration with Inch Lim, has gone out of his way to source coconut pearls and re-purpose them as vegetable ceviche. Coconut pearl is naturally watery, making this dish a stroke of genius and something you won't find anywhere else.
The ceviche is accompanied by onion, coriander, quinoa, and cucumber. Perhaps from the coconut, there is a slight creaminess binding the ingredients together. The ceviche is served in the original coconut shell, a resourceful way to use the entire plant. Chef Philip didn't think he could keep this creation on the menu beyond April, given the difficulty in procuring the coconut pearl. Of all the dishes we try on the April menu, the coconut pearl ceviche highlights Chef Philip breaking new grounds.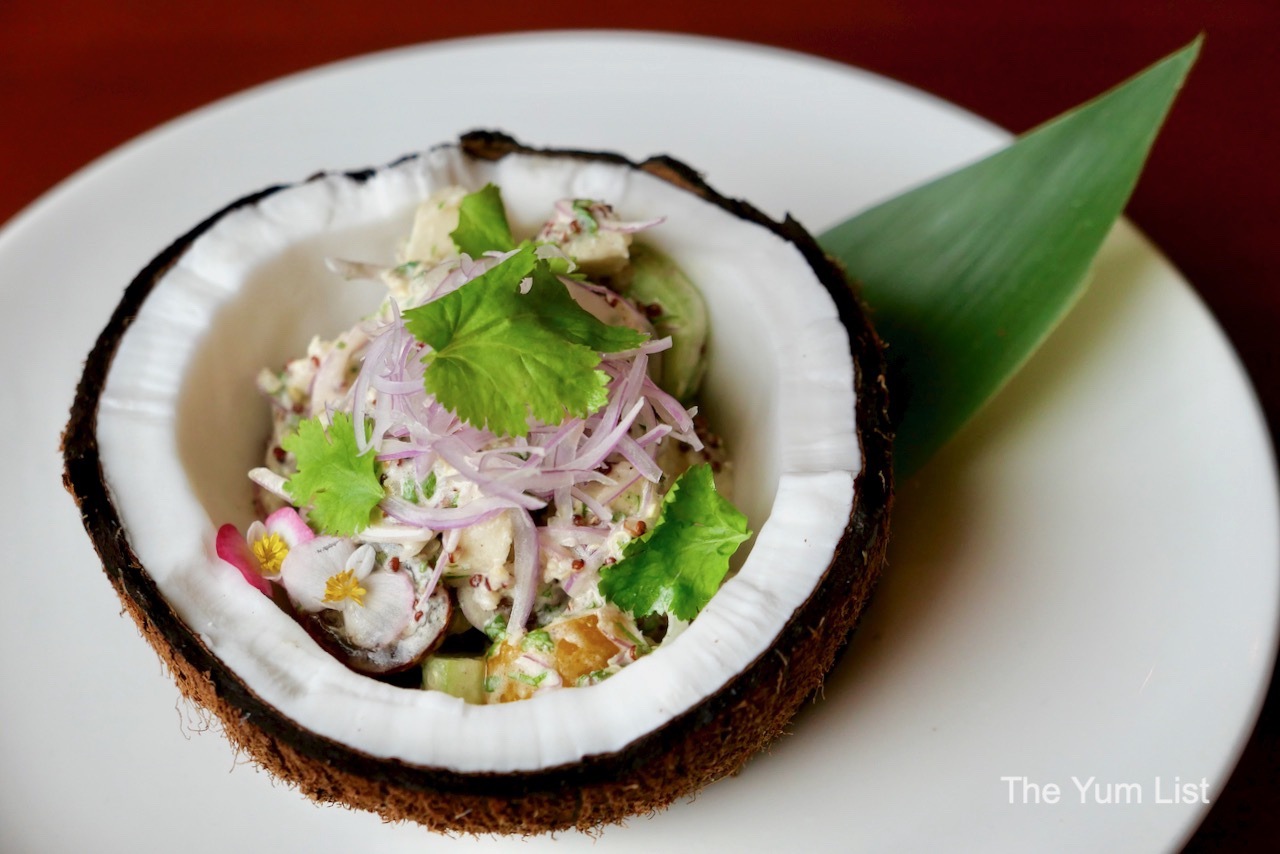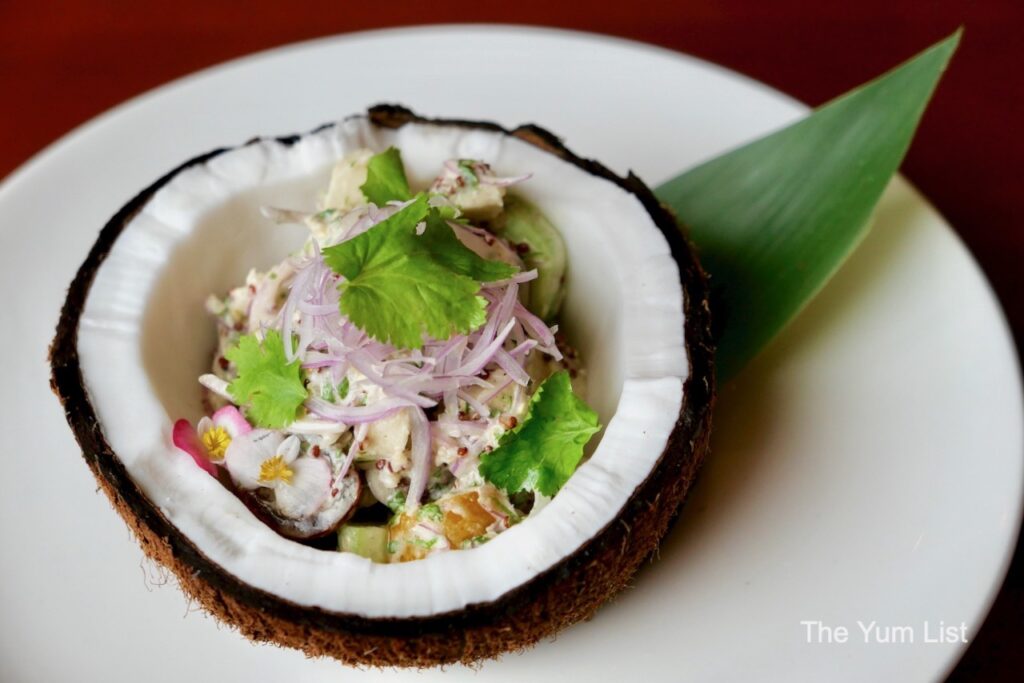 Chilean Seabass with Sakura Sauce (RM 170++)
Moving to the hot menu items, the Chilean seabass is presented to look like sushi with dark nori seaweed embracing the fish. The rice is doused with butterfly pea giving the blue streaks you see in the pictures. The sauce is sakura inspired, thus the beautiful pink colours. The fish is marinated with sakura salt, pan-seared, and served on a crisp sakura leaf. With orange roe and microgreens, this dish features every colour of the rainbow.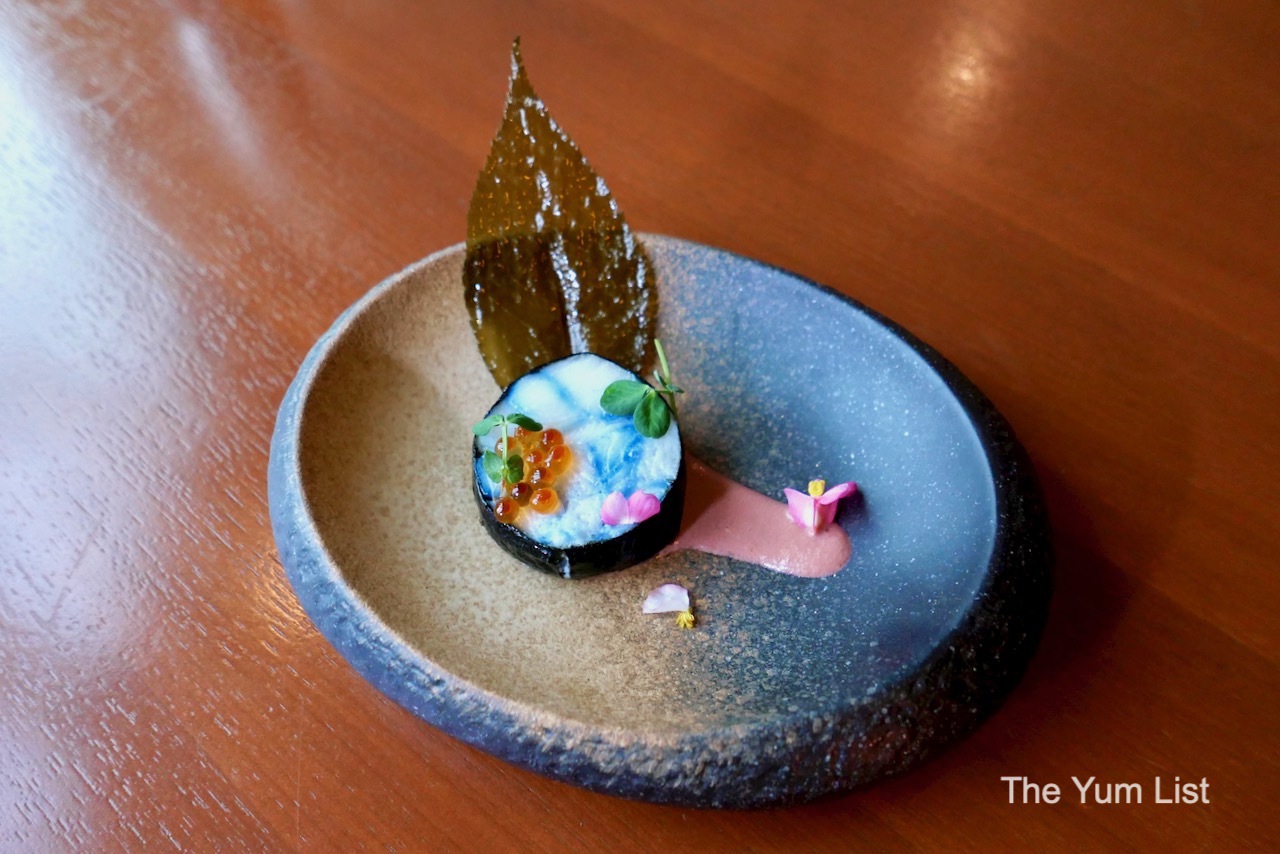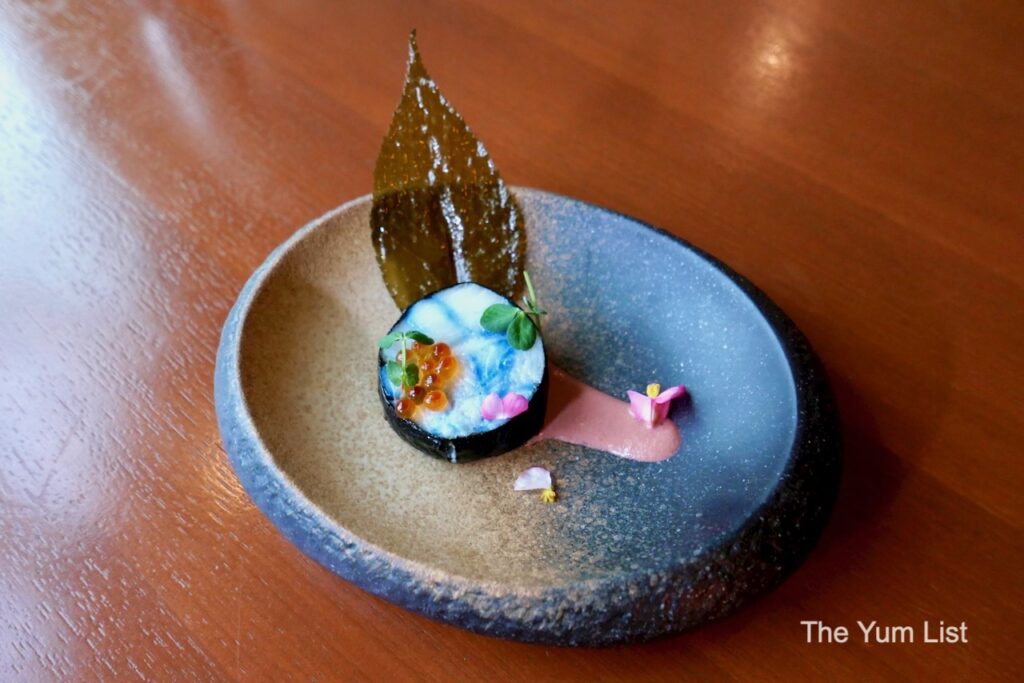 Grilled A5 Japanese Wagyu Sirloin with Butterfly Pea Goma Sauce (RM 350++)
The grilled wagyu is another vibrant dish featuring a medley of garden ingredients including radishes, tomatoes, herbs, and sakura flowers. The sauce is a sesame goma mixed with the same butterfly peas used in the Chilean seabass giving it a deep blue hue. I especially enjoy the wagyu crumble.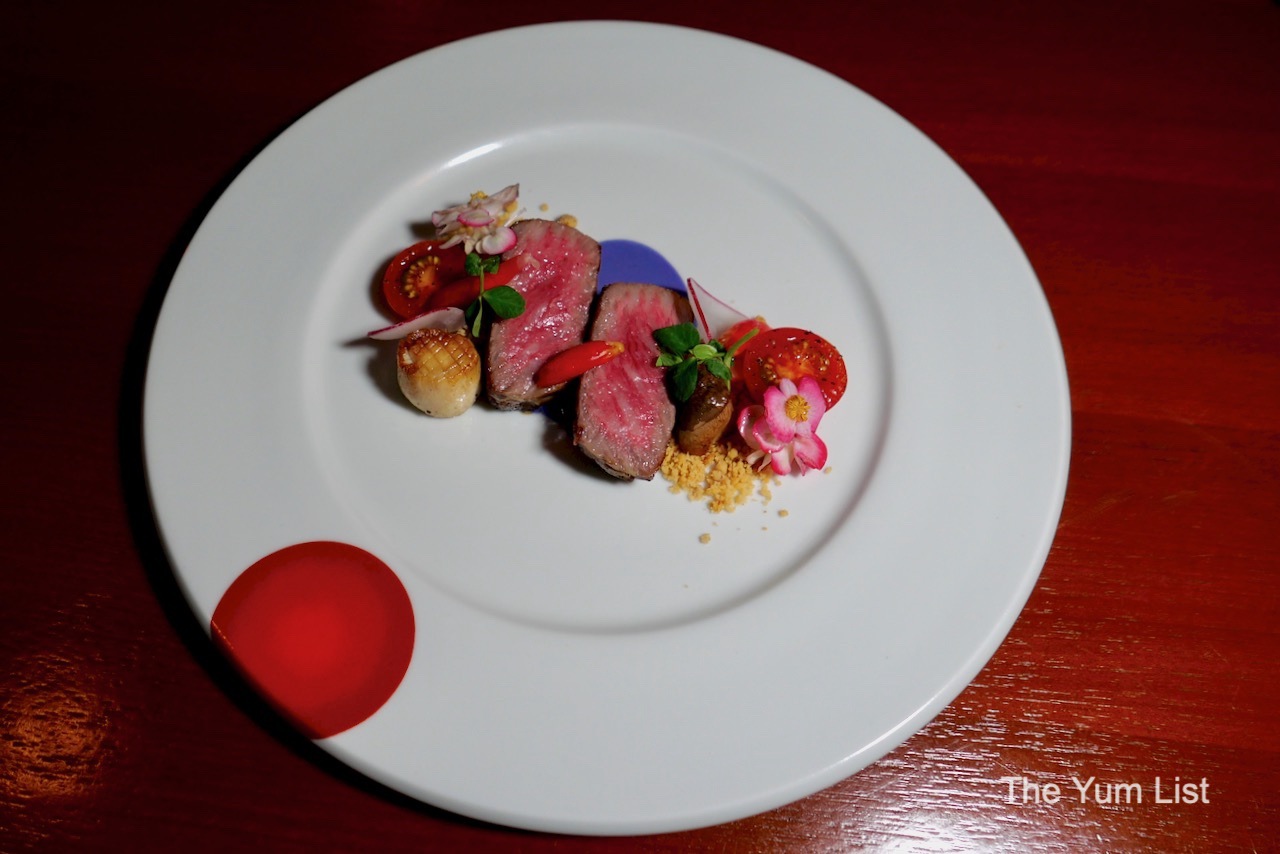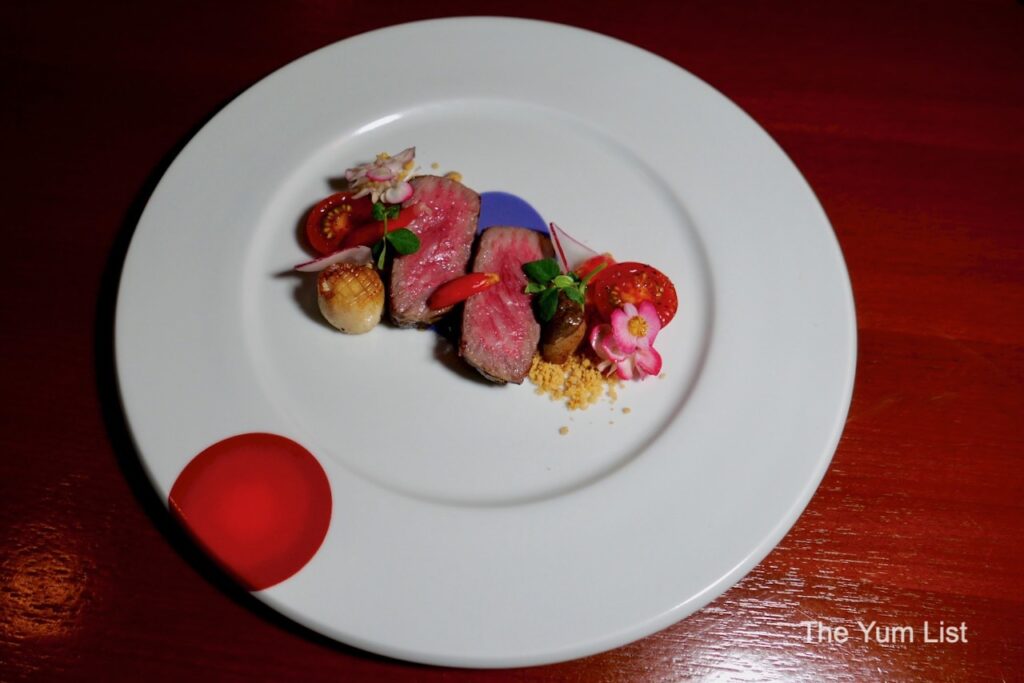 Strawberry Chocolate Bar with Sakura Ice Cream (RM 55++)
Monica and I sample both desserts on the Beauty Unearthed menu. This first is a very composed dessert with many components, the two main ones being the chocolate bar and sakura-tea ice cream. Ironically, our favourite part is the crispy rice puffs accompanying the dish rather than the featured items. This might be because the rice puff is crunchy and neutral, serving as the vehicle to marry the variety of tastes, including strawberry, tea, sakura, chocolate, and hazelnut.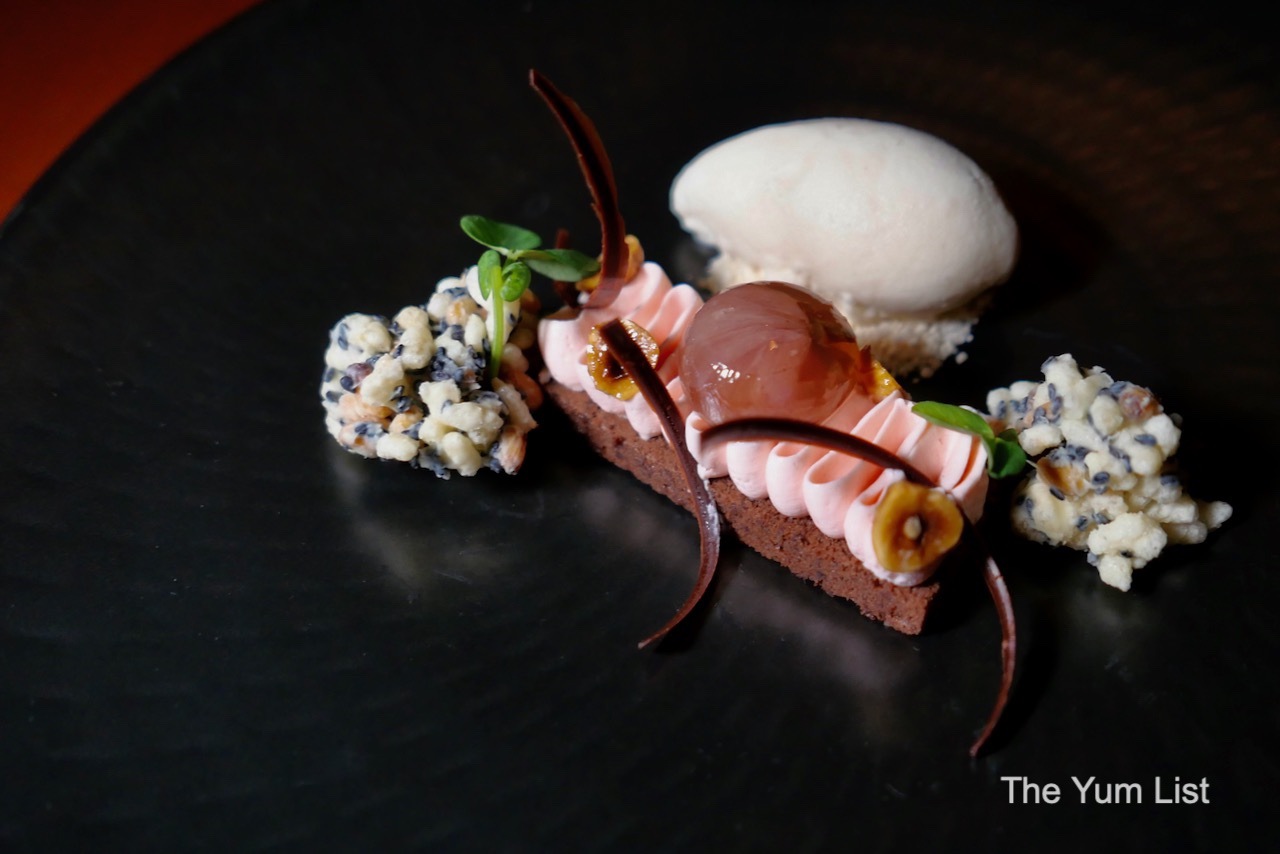 Purple Potato Cheesecake with Yuzu Apple Aloe Vera Compote (RM 55++)
The second and final dessert is cheesecake unusually made from purple sweet potatoes. The cheesecake "crust" is an almond biscuit and features a milk chocolate layer on top. The yuzu-apple-aloe vera compote adds brightness and cuts the richness. It sits on a bed of cherry leaves. A chocolate-shaped tree is an added artistic element with red cherry crumbles, reminding us that the sakura is the inspiration for this meal.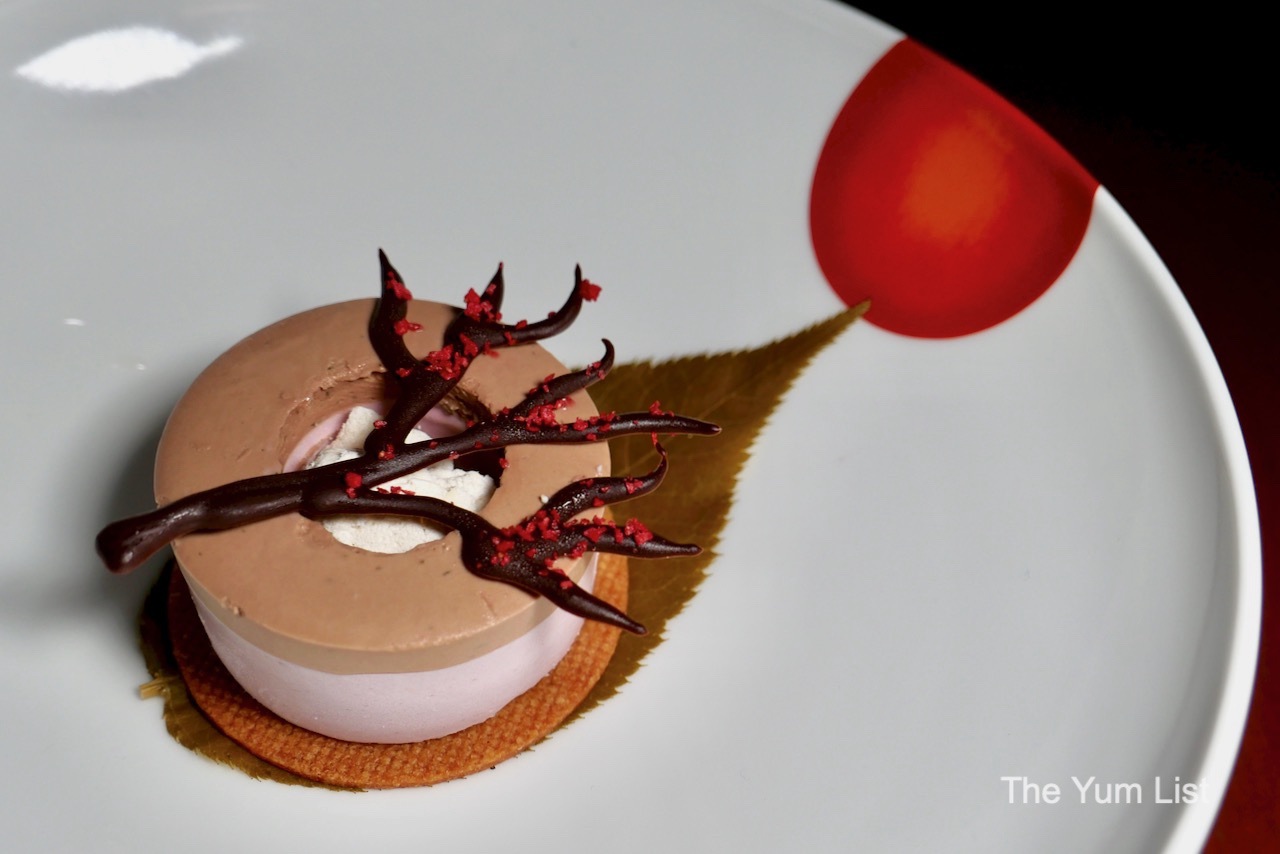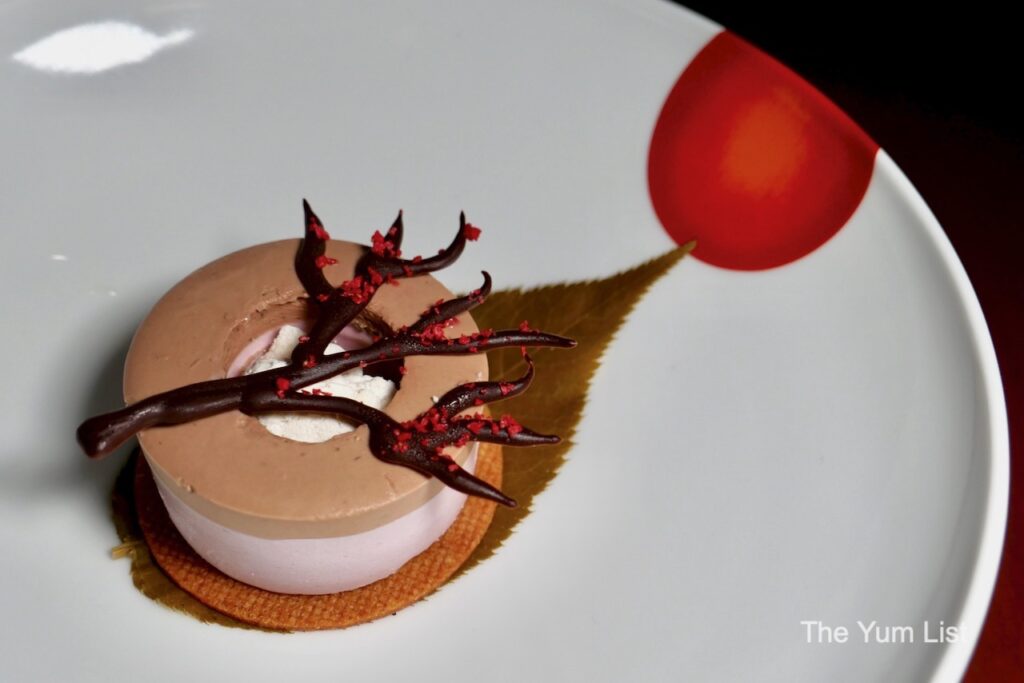 Cocktail of the Month: "Pine April" (RM65++)
The featured drink of the month is Pine April, a vodka-based cocktail with torch ginger flower, pineapple, lime juice, and triple sec. It has a floral profile and a frothy texture. This drink captures the spring spirit and complements the cold dishes on the Beauty Unearthed menu. We learn it is the creation of Nobu KL's new bartender, Raduan from Kelantan, who recently joined the team.
Monica and I also enjoy the Nobu classic and our long-time favourite, the ultra-clean Matsuhisa Martini, comprised of Ketel One vodka, Hokusetsu sake, and ginger. A visit to Nobu would not be complete without the Robert DeNiro standby drink.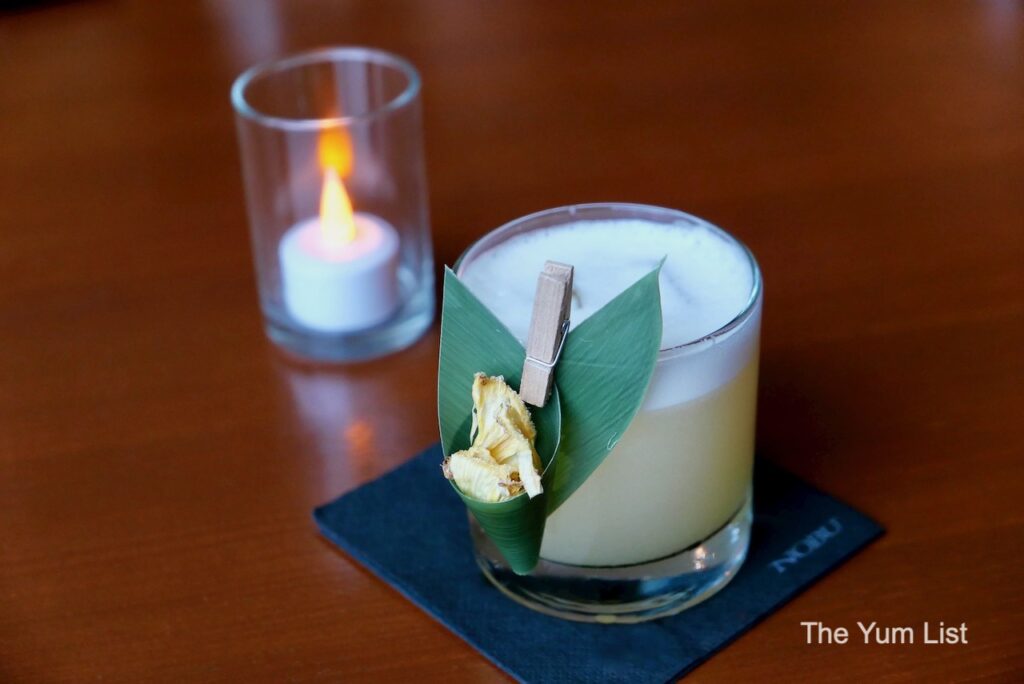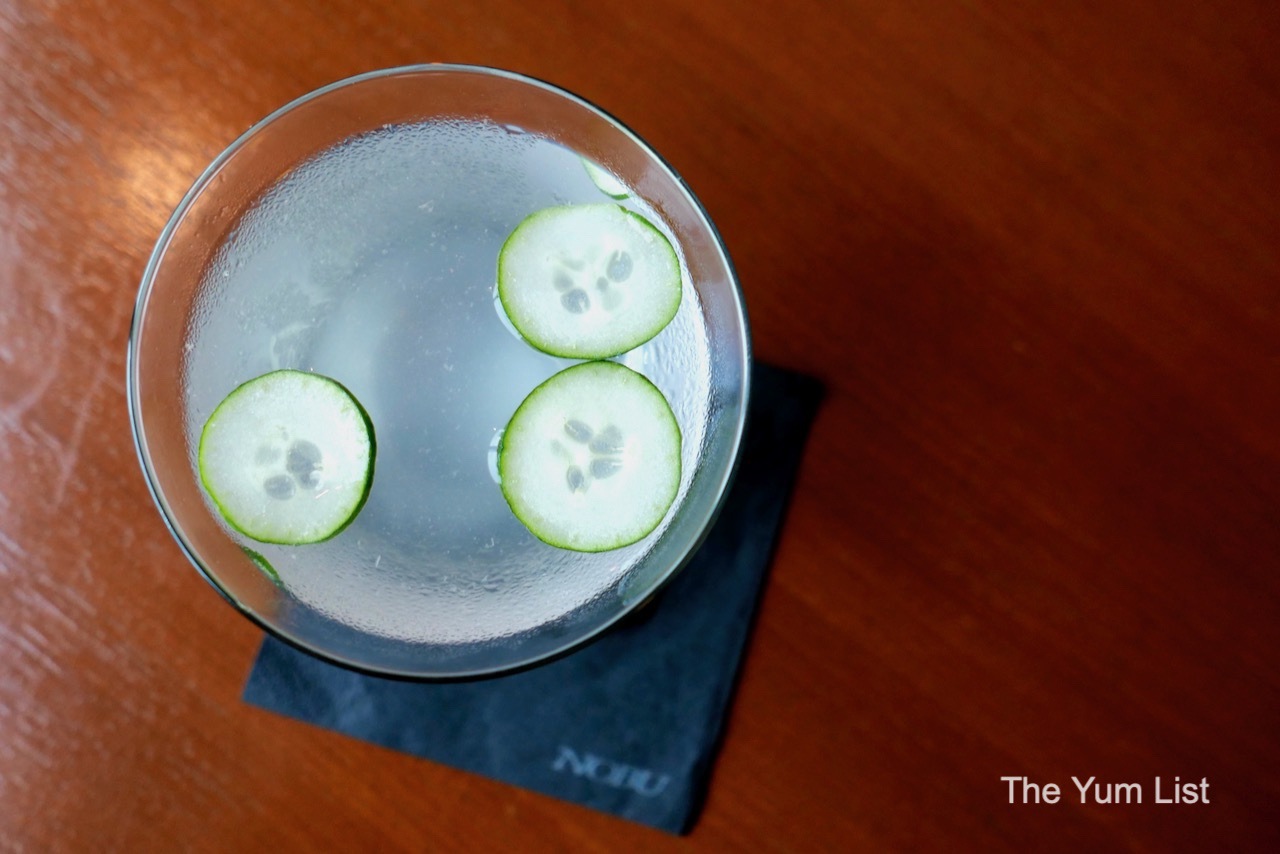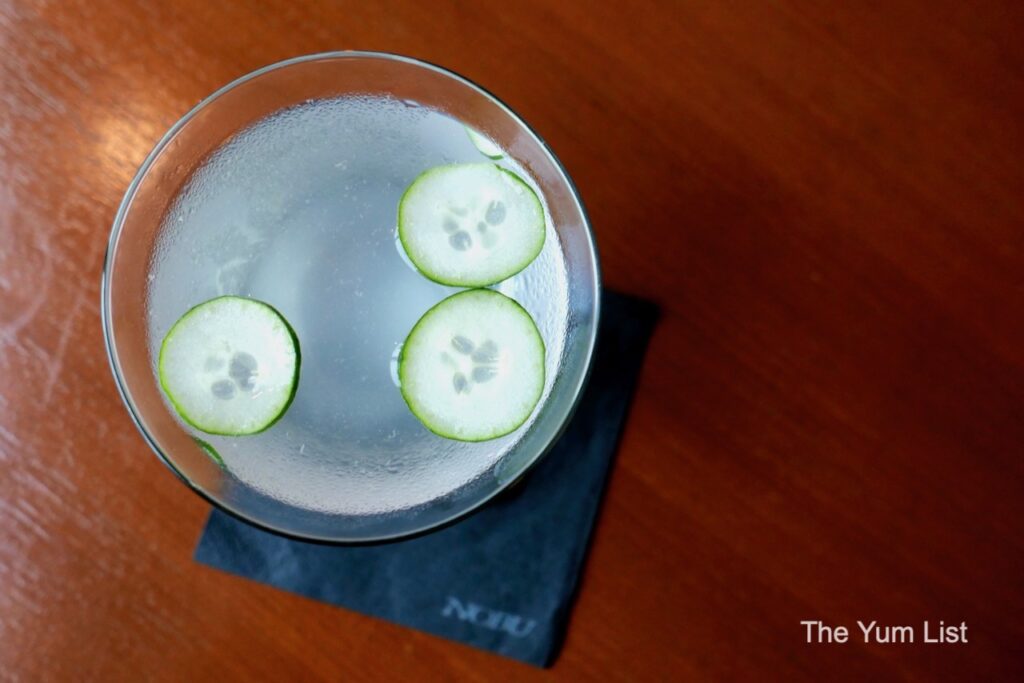 Logistics and Other News
Sadly, long-time Nobu KL General Manager Gopi Kanala has transferred to Nobu Singapore. This is a big loss for Nobu KL, a big gain for Nobu Singapore, and we wish Gopi all the best. The new GM is long-time Nobu member Alexander Tito. We congratulate him on the promotion. In addition to the collaboration with Inch Lim, I surmise these changes contribute to the fresh new menu items. We are grateful that some things don't change, like senior staff member Leela who walks us through the meal, sharing her food wisdom.
Beauty Unearthed Menu
The Beauty Unearthed a la carte menu items are available now through 30 April. Monica and I shared one of each dish except the opening sushi and foie gras sandwich, which would have been near impossible to split. This made a well-proportioned meal for two if you skip the desserts, which pushed us into food coma territory. Surprisingly, it was the non-seafood items of the Heart of Palm and Coconut Pearl that we enjoyed most for capturing the spring spirit.
Reason to try the Beauty Unearthed Menu: Gold standard for consistent quality sushi and seafood dishes in KL, Chef Philip and Chef Masa venturing in new directions such as partnering with the landscape artist Inch Lim, the Heart of Palm Dry Miso Salad, and Coconut Pearl Ceviche while it lasts.
Nobu Kuala Lumpur
L4A-05, Level 4A Shoppes at Four Seasons Place KL
No.145, Jalan Ampang, 50450 Kuala Lumpur, Malaysia
+603 2380 0028 or WhatsApp +6019 389 5085
[email protected]
Nobu Kuala Lumpur Opening Hours
Dinner: 6.00pm – 10.30pm (Daily)
Lunch: 11.45am – 2.00pm (Monday – Friday)
High Tea: 1.00pm – 4.00pm (Saturday – Sunday)
Find more Japanese restaurants in KL here, and stay up-to-date with the latest gourmet and travel recommendations for Malaysia here and here.