The Experience 005: Balik Kampung
Monica Tindall
It's been far too long between visits to Super Secret Social, but we are honoured to have our schedules aligned tonight. Our hosts, Jonathan Sebastian and Nicolas Grisé are just as passionate about local, sustainable and organic food sourcing as we are. Additionally, they share a fondness for natural and biodynamic wines – it's a match made in foodie heaven.   
With SSS born a pandemic baby, the gentlemen were blessed with an abundance of local produce. Over the various lockdowns, many Malaysians decided to grow their own vegetables, so the supply of what they love – local, zero-carbon miles – was aplenty.
Part of the allure of Super Secret Social is the private dining experience. The address is not revealed until your booking is confirmed, and even the menu is a surprise. We arrive at the location and have no trouble with parking. Do be advised, though, to fully embrace the wine-paired experience, it's better to Grab. The table is simply but elegantly dressed. Navy blue placemats, golden dragonflies holding rolled napkins, and a giant arrangement of dried flowers decorate the table. It's a suitable canvas for the art on a plate that is about to come.
The Experience 005: Balik Kampung
The Experience 005: Balik Kampung menu embraces a love of Malay recipes and also honours Jonny's warm relationship with his late grandmother. Responsible for his methods in the kitchen and exploration of kampung cuisine, the memory of his grandma has influenced much of this meal.
Nico explains that the wine pairing features chemical-free wine from small producers. Organic, biodynamic and natural wines dominate the line-up. Nico has a preference for small family winegrowers. He likes to invest in farmers, those that tell the story of the soil.
Ulamak!
The seven-course journey begins with a signature cocktail that acts as an aperitif and sets the stage for the menu. On a base of gin, the mix is a blend of jaggery, coconut milk, ulam raja, bitters and egg white. It's thick, almost like a blended salad, with a herbaceous finish and fresh profile.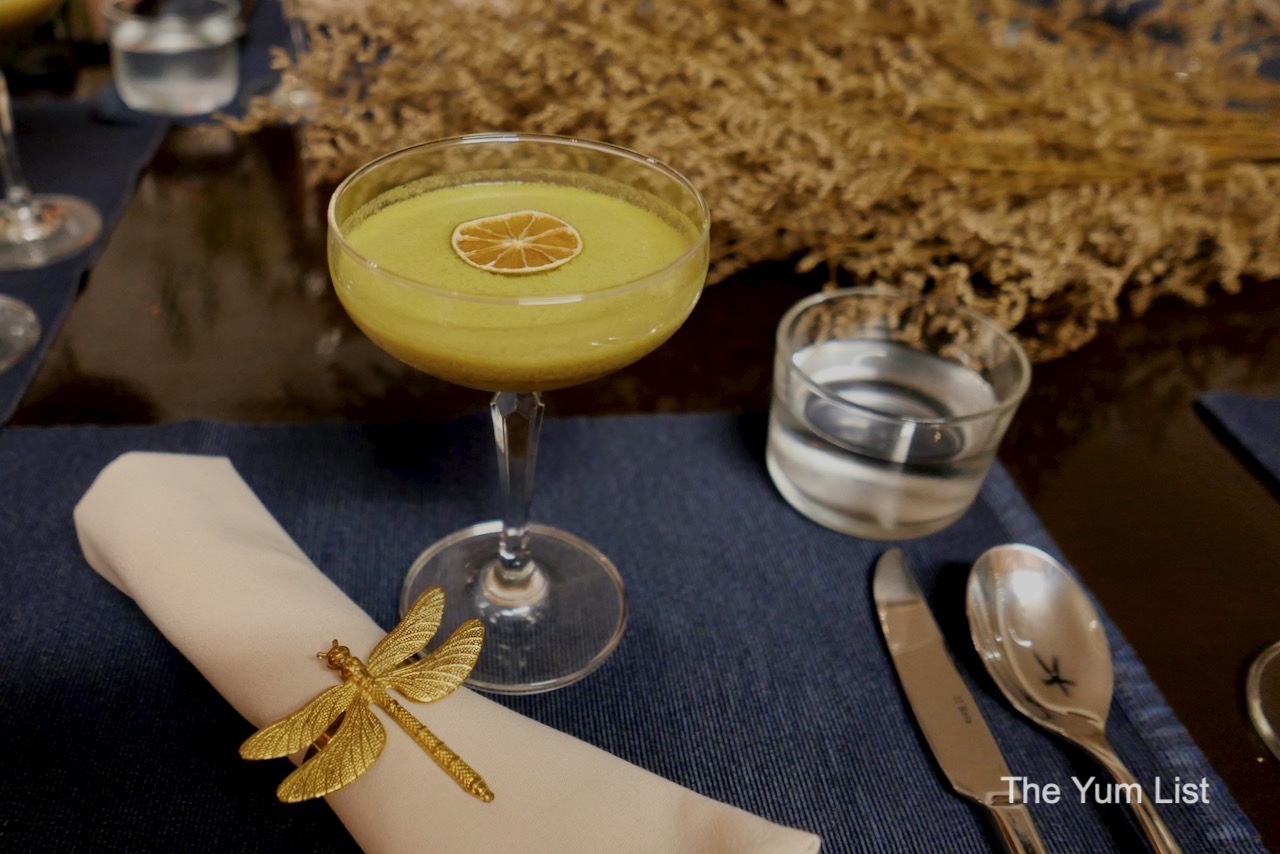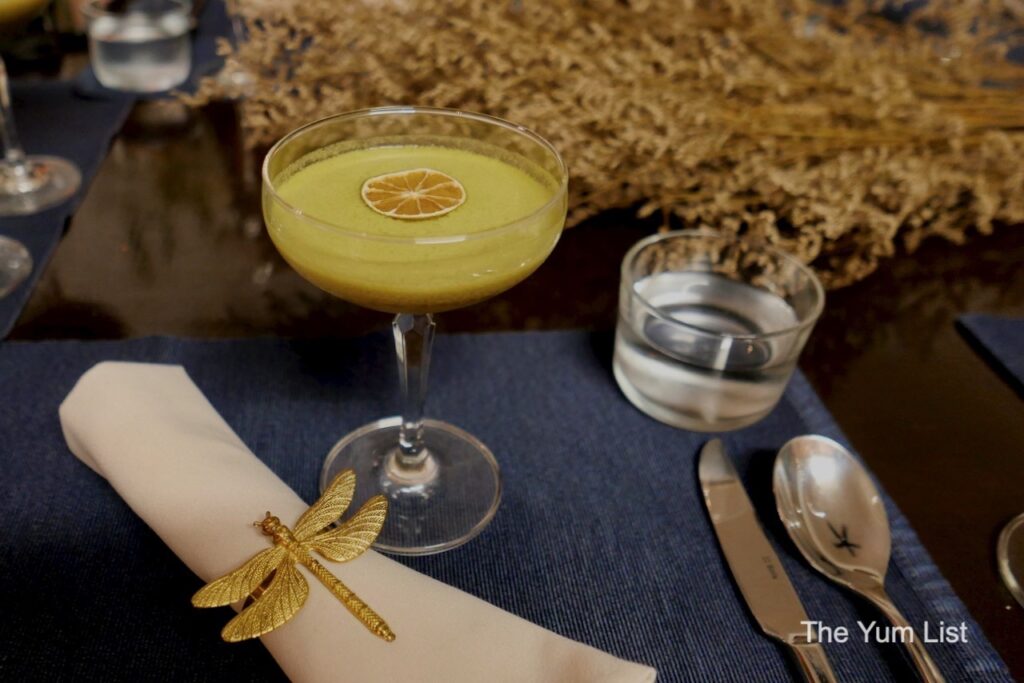 Keropok & Sambal Tiga Rasa
It's accompanied by a recipe hailing from an 11-year old Jonny. Three types of sambal – green (salted fish), red (sambal belacan) and yellow (freshly fermented jungle durian) – are best scooped up with the partnering crackers. Sourced from an artisan at the TTDI market, a trio of flavoured keropok – fish, rice and melinjo (a nut native to SE Asia and the Pacific) – are wonderfully crispy.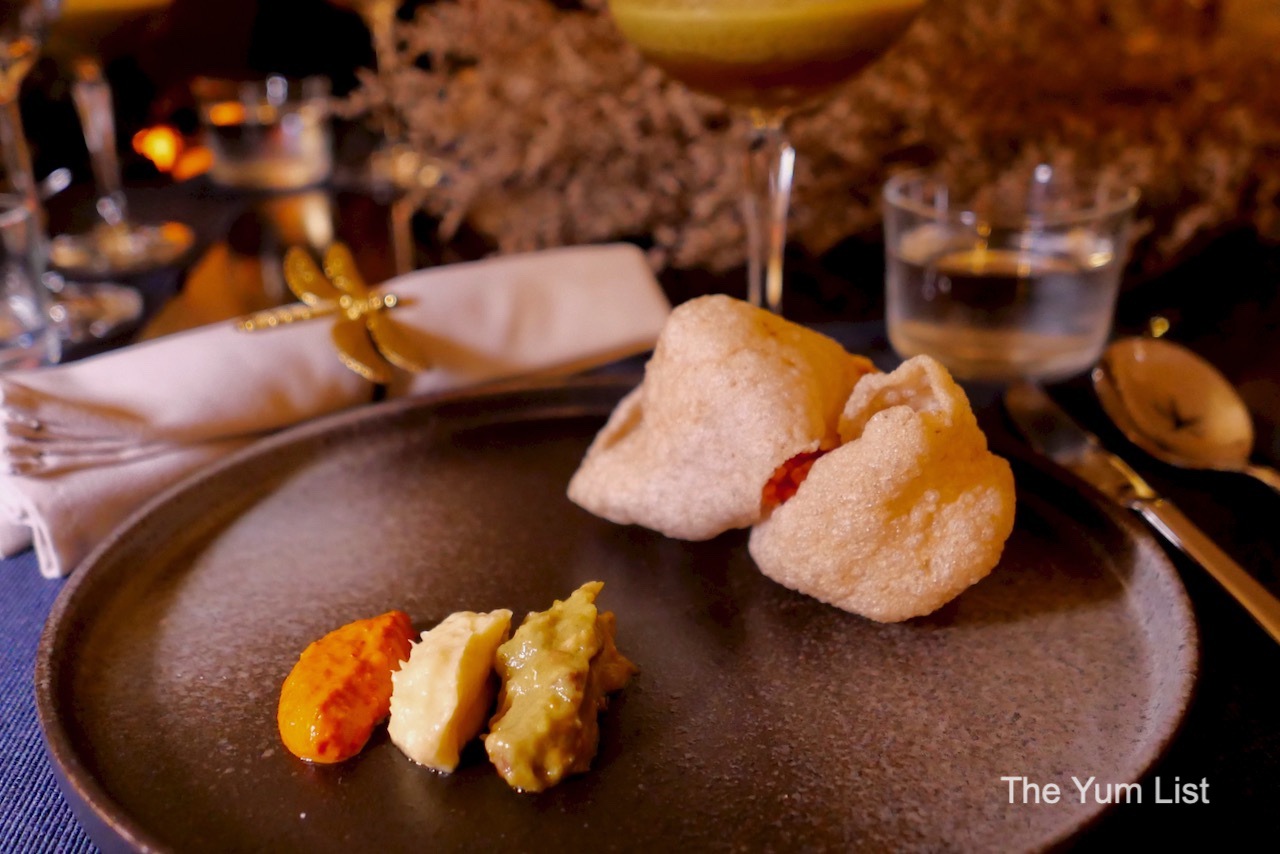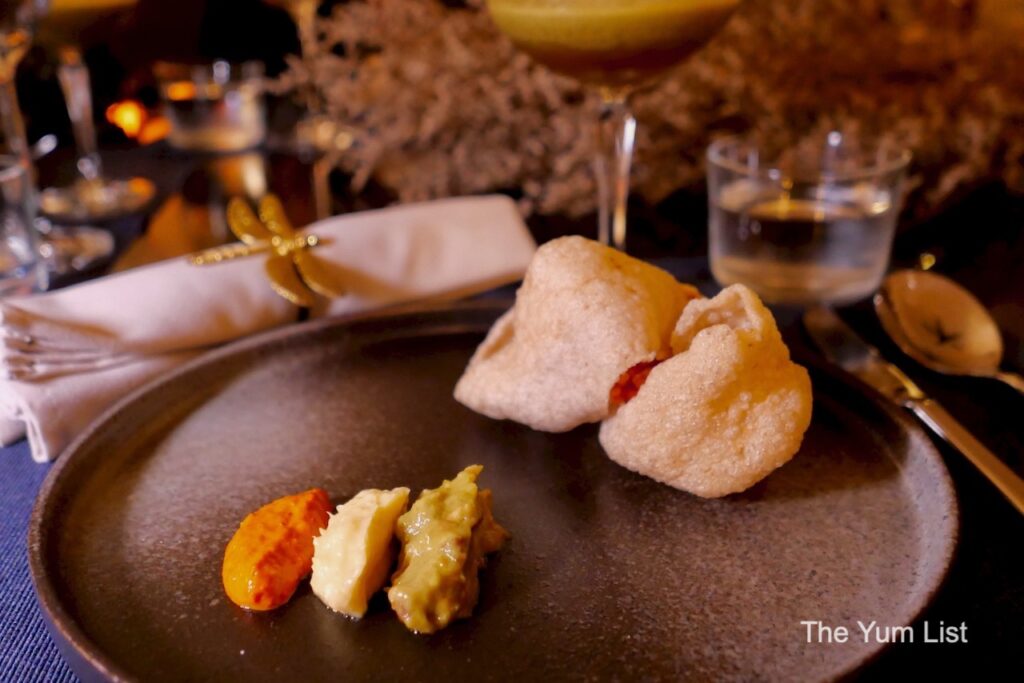 Mooru Ais Melayu
A green, textured liquid with kesum and kulim oil is mildly salty and acts as a palate refresher in the transition to the next course.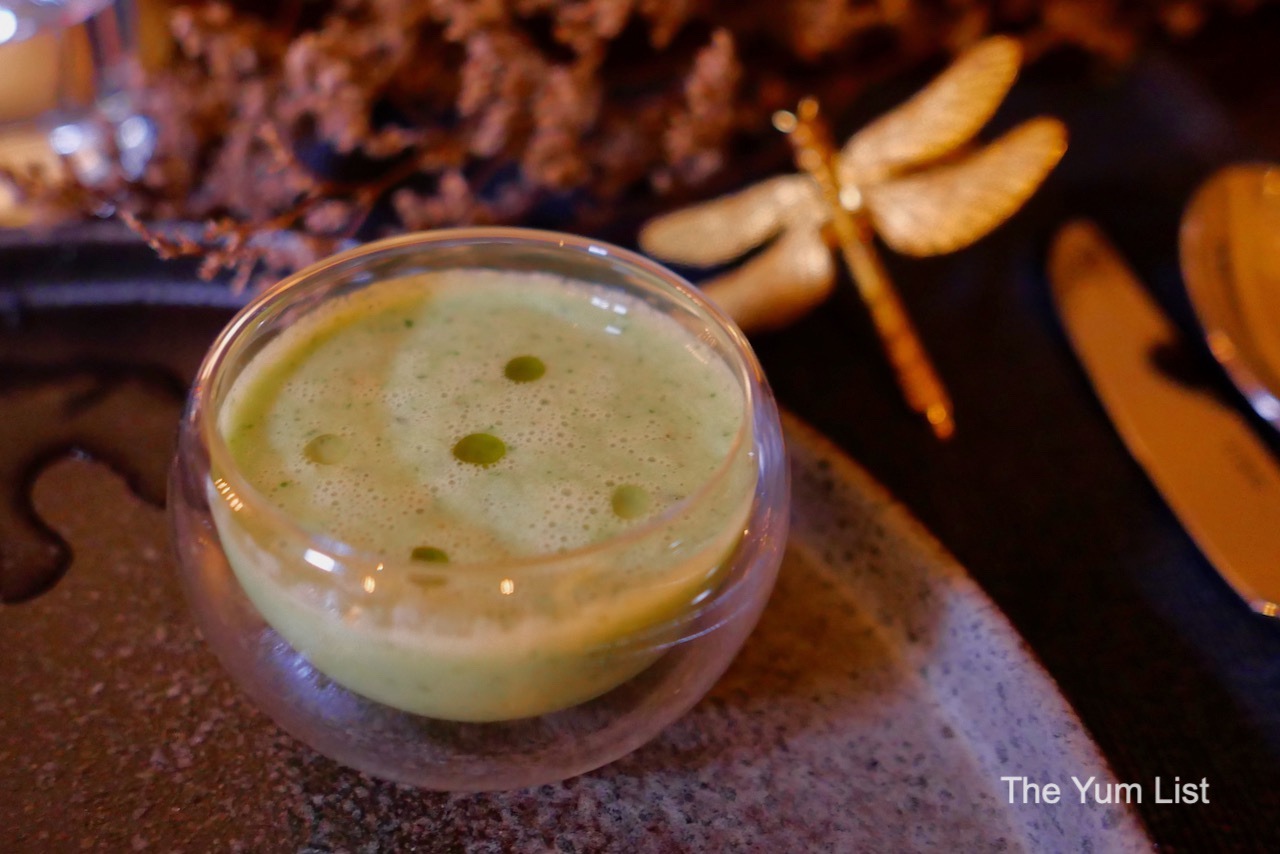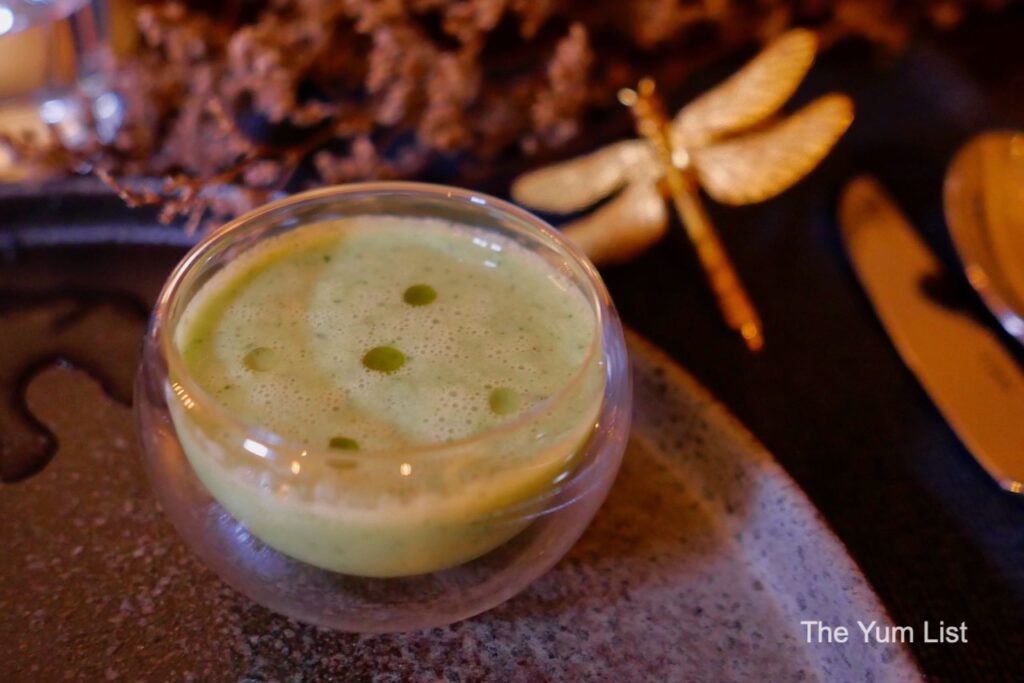 The Experience 005 – Pulut Goreng
A smell wafts from the kitchen, and we all lift our heads in unison, as if the Pied Piper were calling us to action. This is Jonny's reimagined arancini ball – smoked fish sauce, daun kentut (fart leaf – yep, stinky), daun kaduk (betel leaf), raw mango and fish eggs. It's best picked up with two hands and eaten as a sandwich. It's a great contrast of texture with the leaves, crispy coat and creamy middle, and quite lovely with the sour notes of the accompanying wine.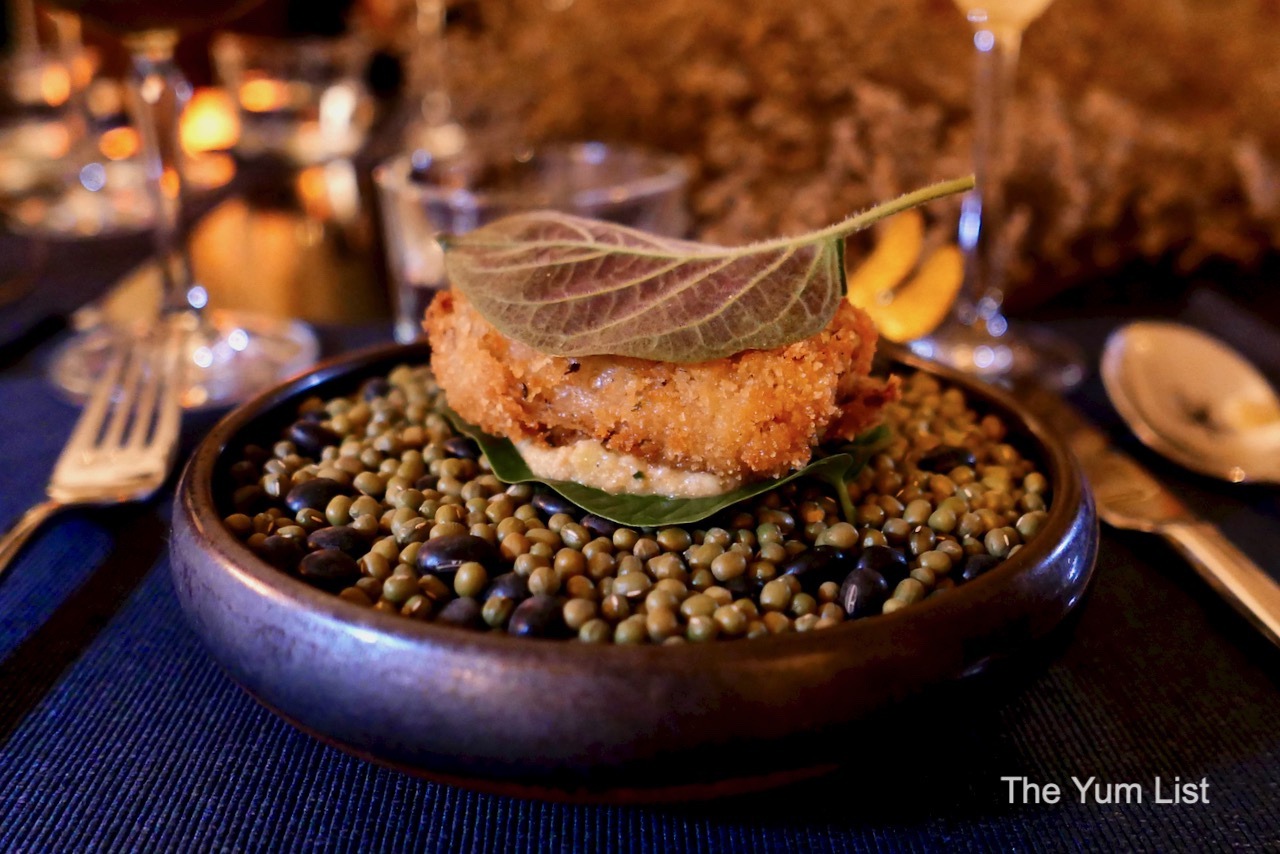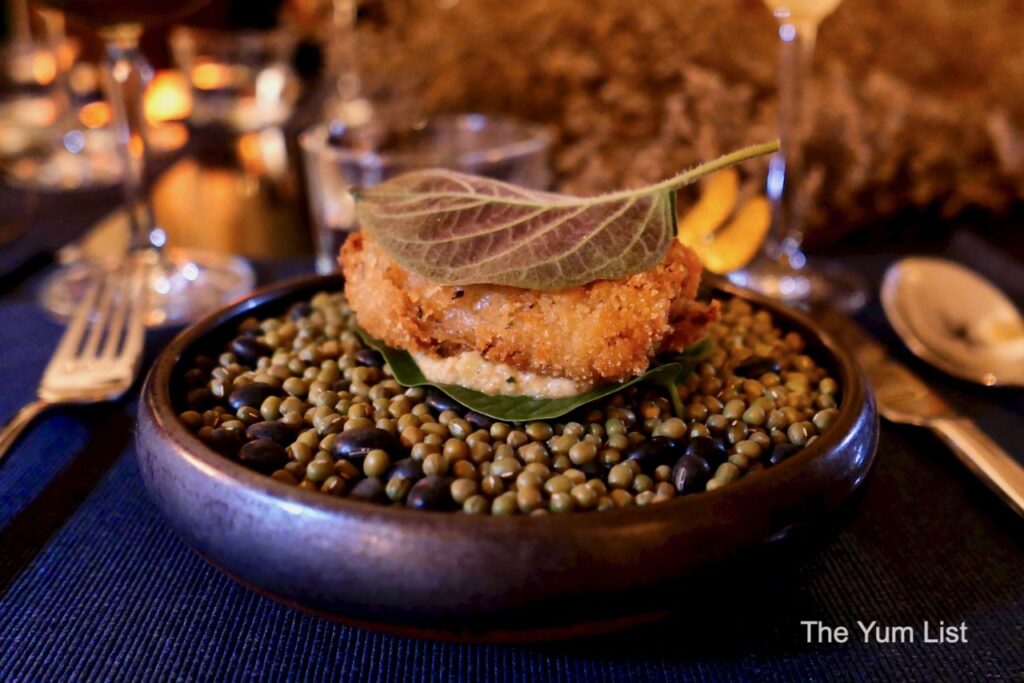 Jérôme Lambert "De l'Air" 2017, Loire Valley, France
Our first wine for the evening, Jérôme Lambert "De l'Air" 2017 is a Chenin Blanc from Loire Valley, France. The Pet Nat method of fermentation in the bottle creates delicate bubbles, providing a fresh start and slicing through the richness of the arancini ball.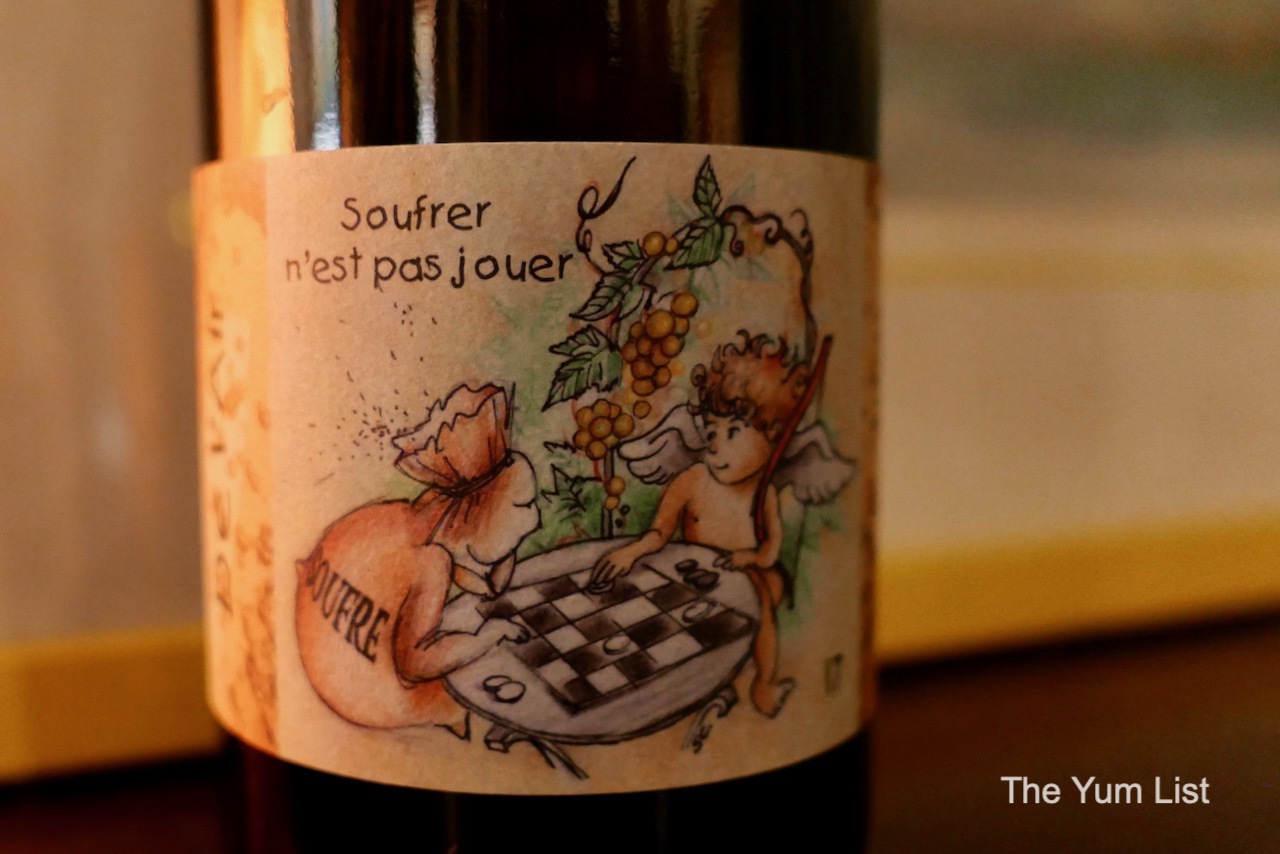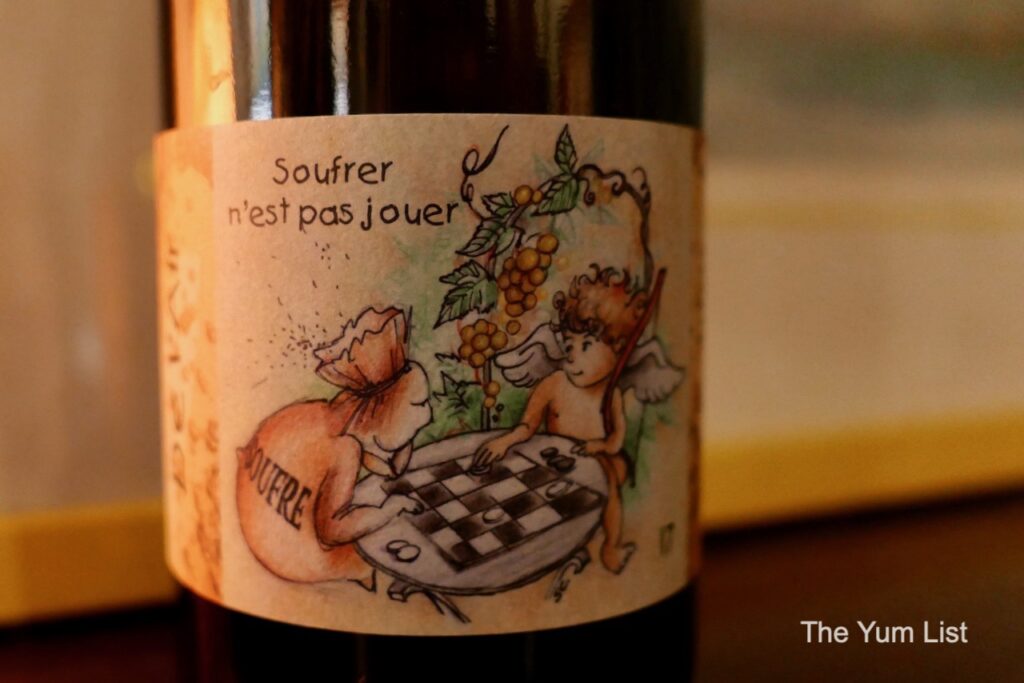 Okrabu
Raw okra kerabu (one of the only fresh salads in Malay cuisine) is inspired by a farm visit to a local producer where Jonny picked fresh seed pods straight off the plant. The sliced green is hidden under a coconut veil with an ikan bilis (anchovy) tuile. Lemongrass, ginger torch, pegaga and selom all make an appearance in the flavour profile.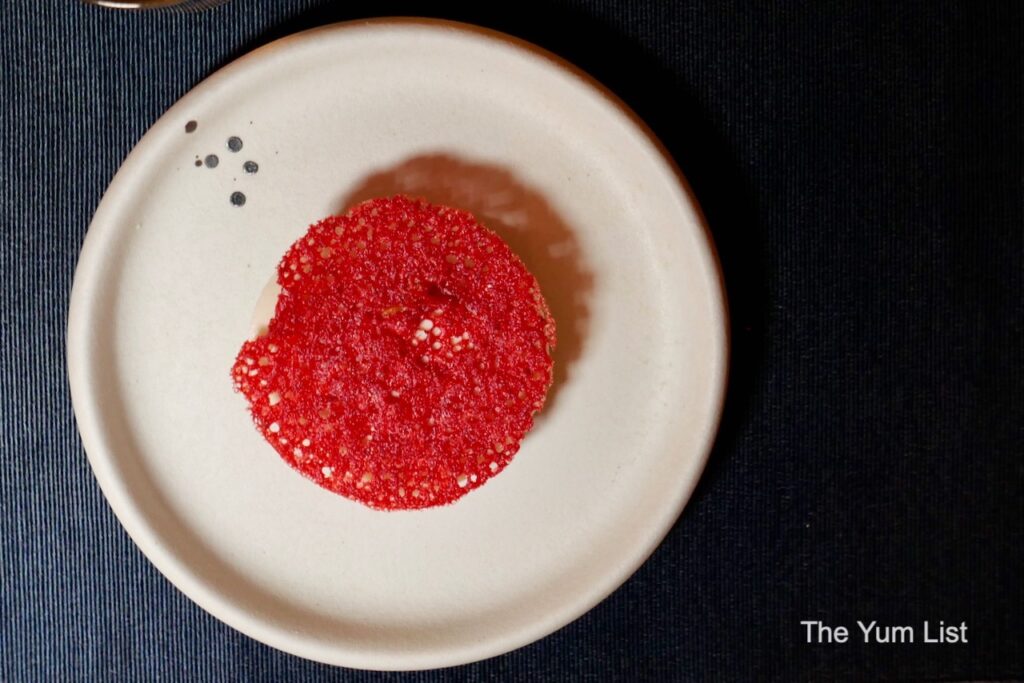 Château Bouscassé by Alain Brumont "Les Jardins Philosophiques" 2016, Madiran, France
The next wine, Château Bouscassé by Alain Brumont "Les Jardins Philosophiques" 2016, Madiran, also hails from France. A blend of Petit Corbus and Petit Manseng, it offers generous fruit and flowers on the nose, with structure in the palate and a smooth lingering finish. It's an excellent showcase of indigenous grapes, much like Jonny's use of native ingredients.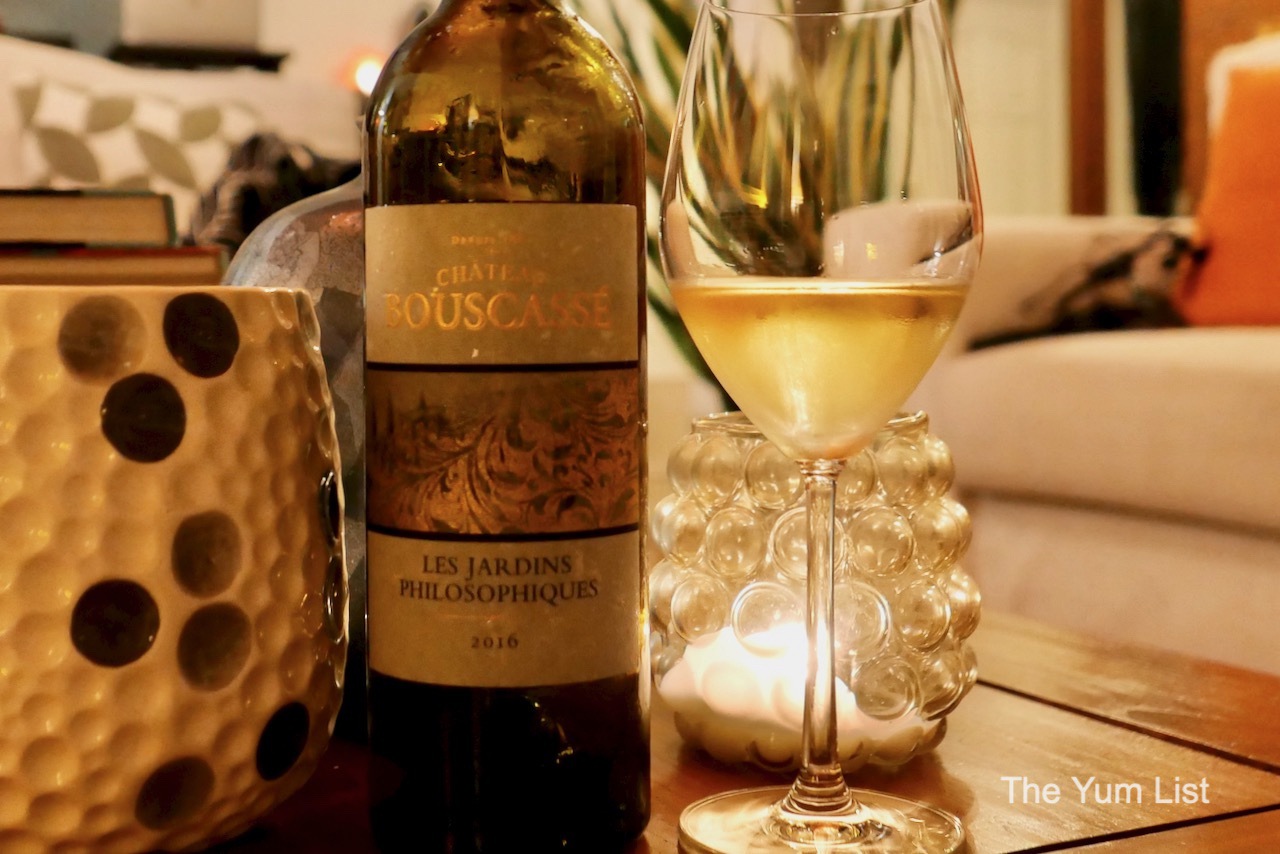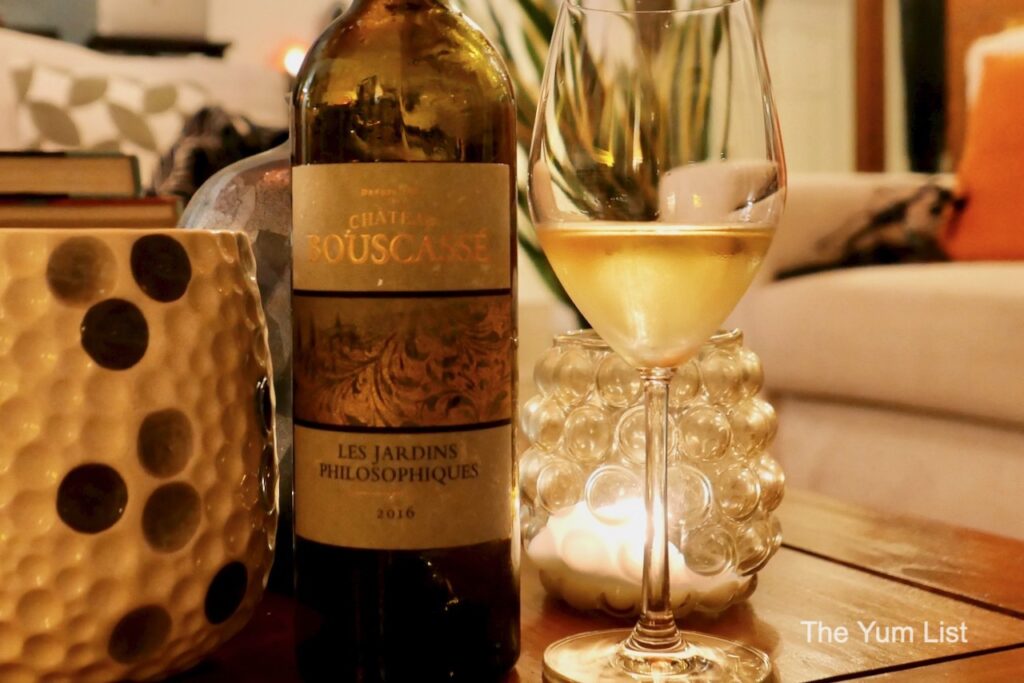 The Experience 005 – Catnip
Caught not too far from KL, the Temerloh red tail catfish is smoked and duck fat-glazed in this course. It's so fresh, it doesn't need to be fully cooked and the dehydrated pineapple and dill garnish elevates its freshness. Crunchy cubes of organic slow-roasted turnip are delicious with daun pegaga beurre blanc, chilli padi and dill caviar. It's wonderfully smoky, playing well with its wine mate.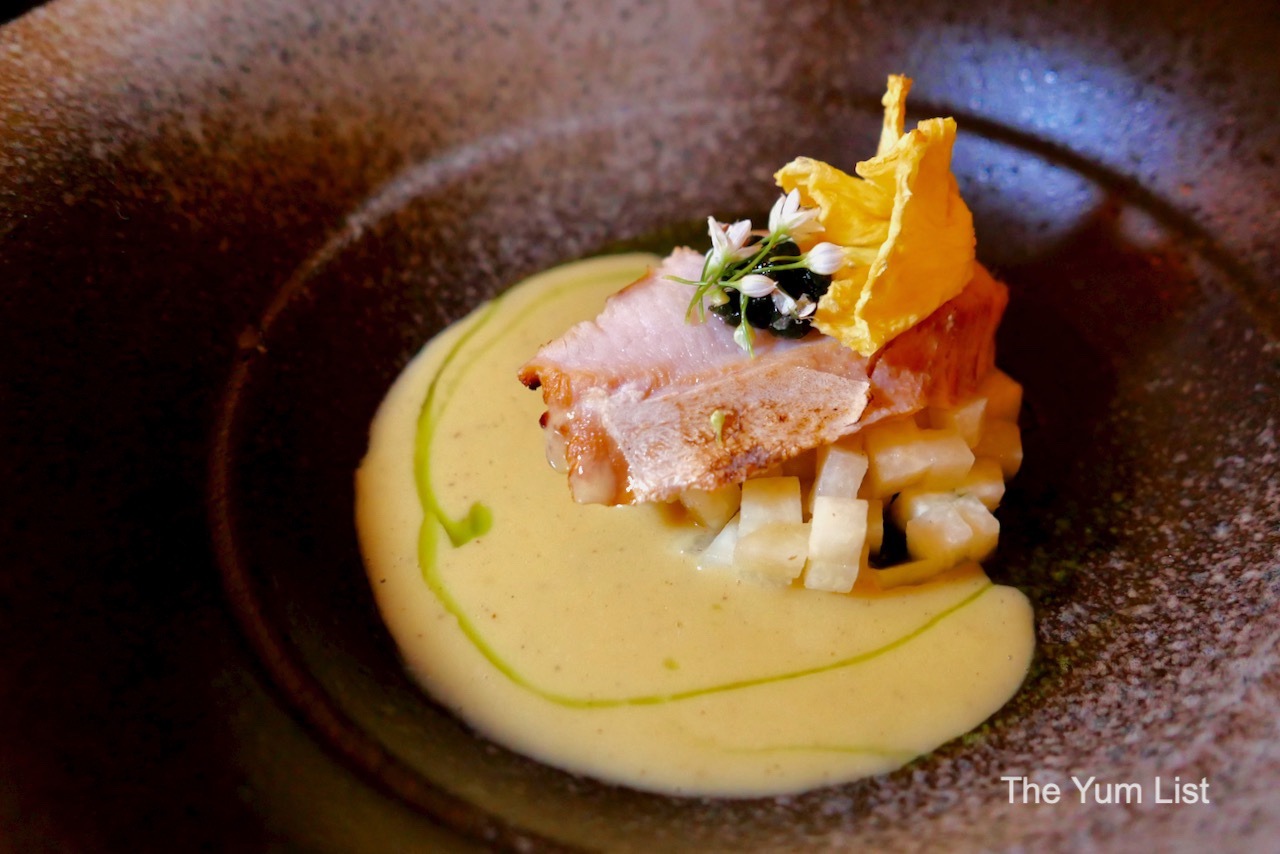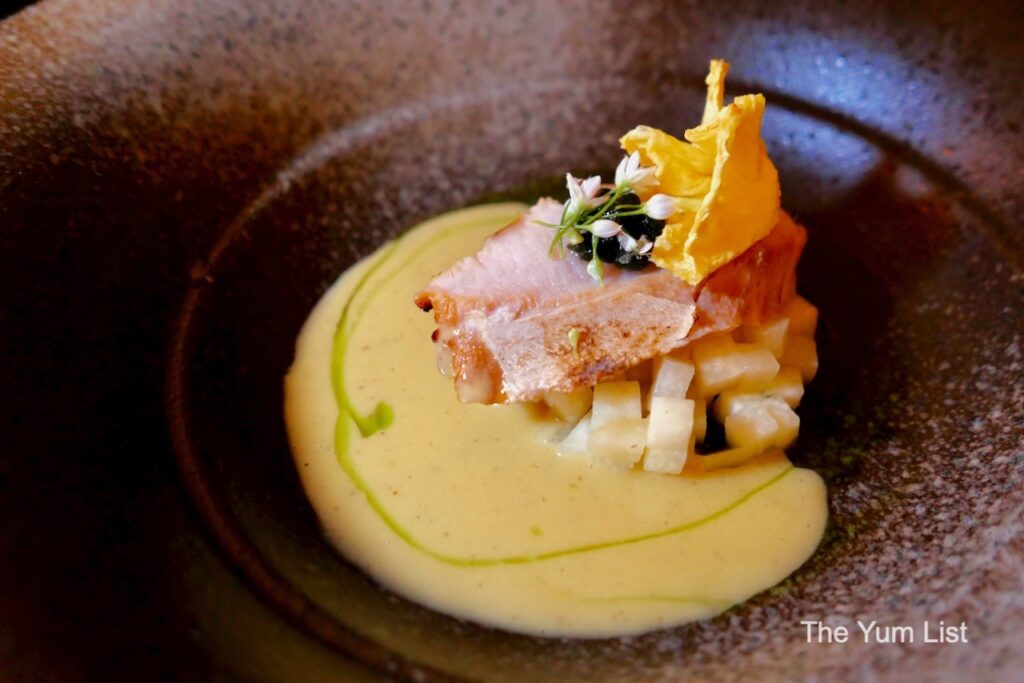 Clot de l'Origine by Caroline and Marc Barriot "Les Quilles Libres Blanc" 2017, Languedoc- Roussillon, France
The high altitude of the Pyrenees mountains and closeness to the Mediterranean Sea influence the freshness and minerality of the Clot de l'Origine by Caroline and Marc Barriot, "Les Quilles Libres Blanc" 2017. Grenache Blanc and Grenache Gris grapes gift a bouquet of stone fruits and minerality, which is mirrored in the palate. The full milk body of this white supports fatty fish and the beurre blanc while keeping the purity of the fish. Its white peach and pear notes marry well with the pineapple.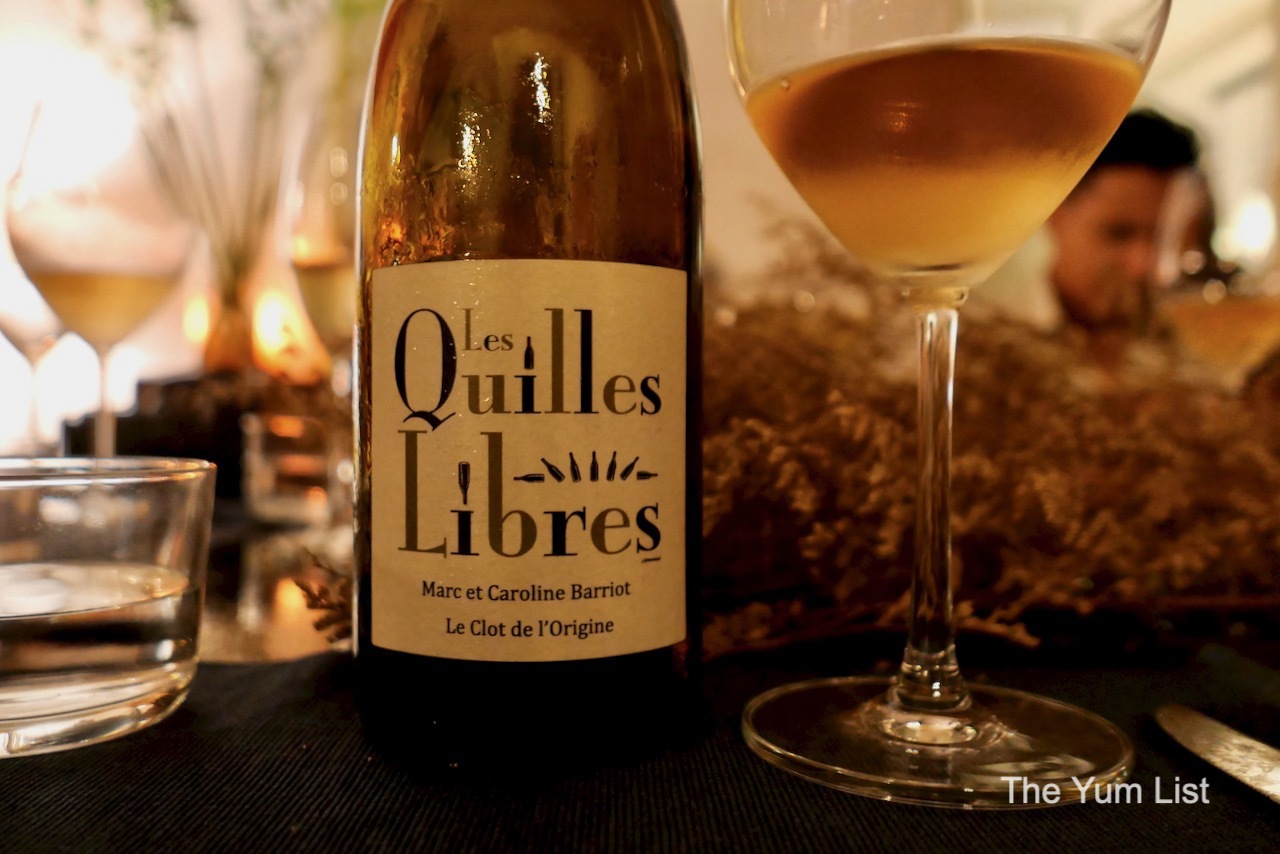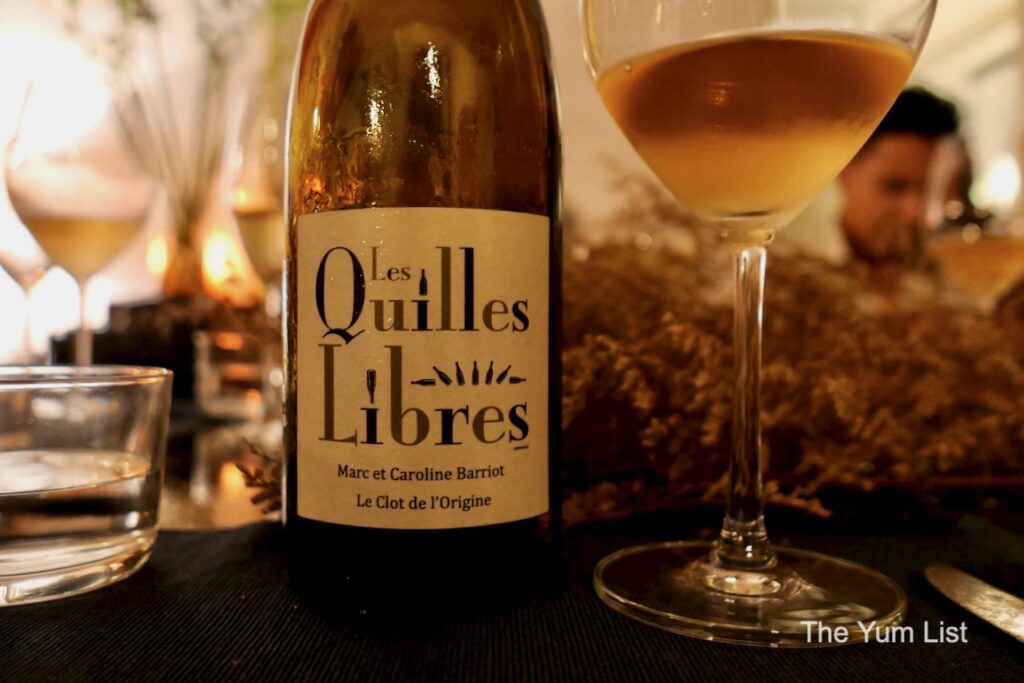 Biodynamic Bubur Lambuk
Biodynamic Bubur Lambuk is a bowl of pure comfort. This rice porridge is flavoured with chicken skin powder, salted duck yolk and spring onion oil. The catfish head of the previous course was boiled down with lots of spices to make an aromatic stock. This is a firm fave amongst our fellow diners.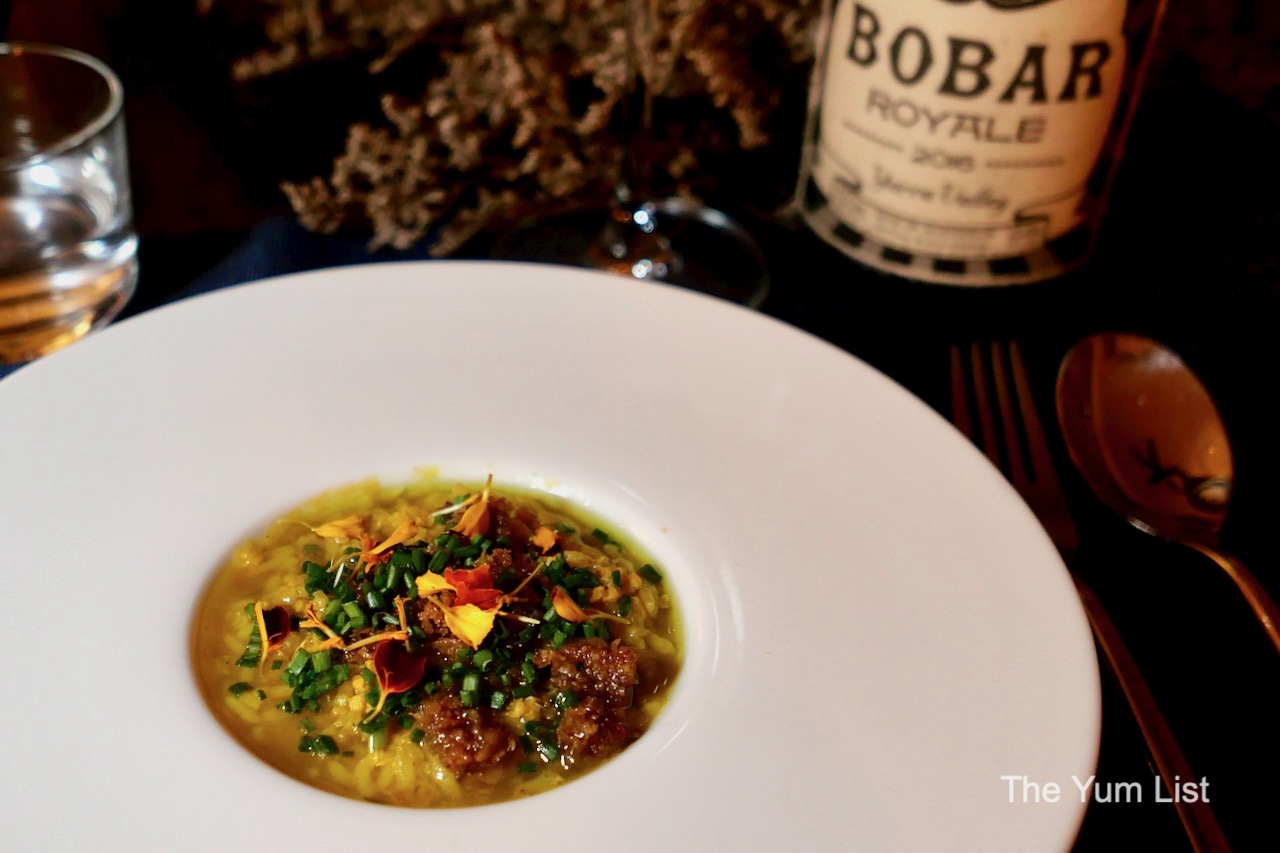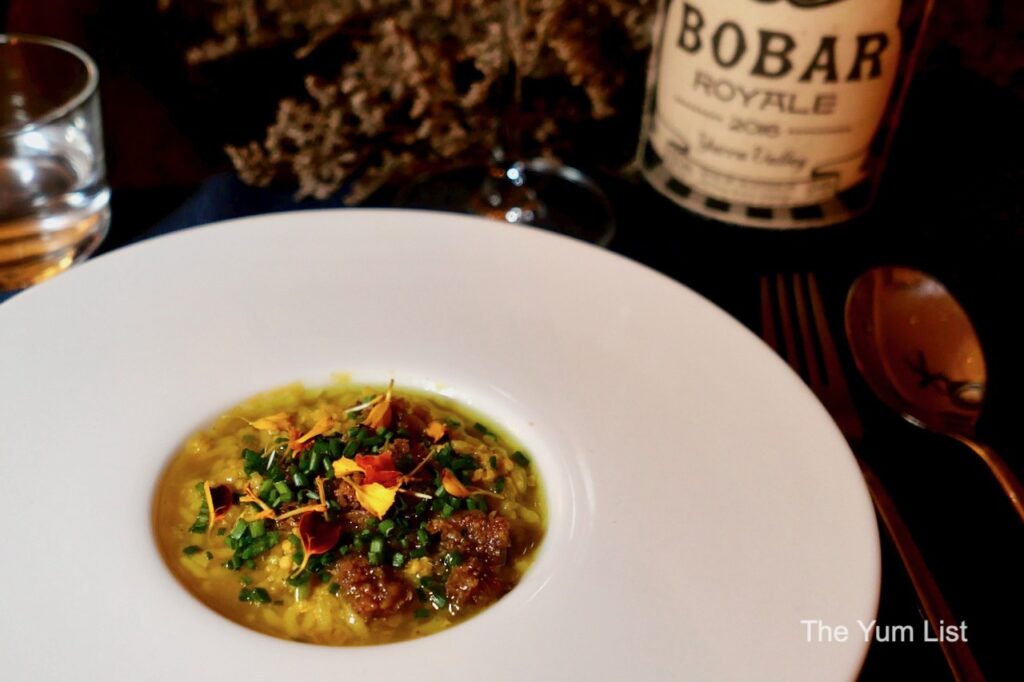 Bobar "Royale Chardonnay" 2016, Yarra Valley, Australia
Nic thinks he has found the perfect match for the porridge in the Bobar "Royale Chardonnay" 2016 from Yarra Valley, Australia. He chose it because it adds dried fruits and nuts to the already charged porridge. The combo creates a multi-layered gustative experience that hits everything – salty, sweet, bitter, umami, acidity, nutty and herbal.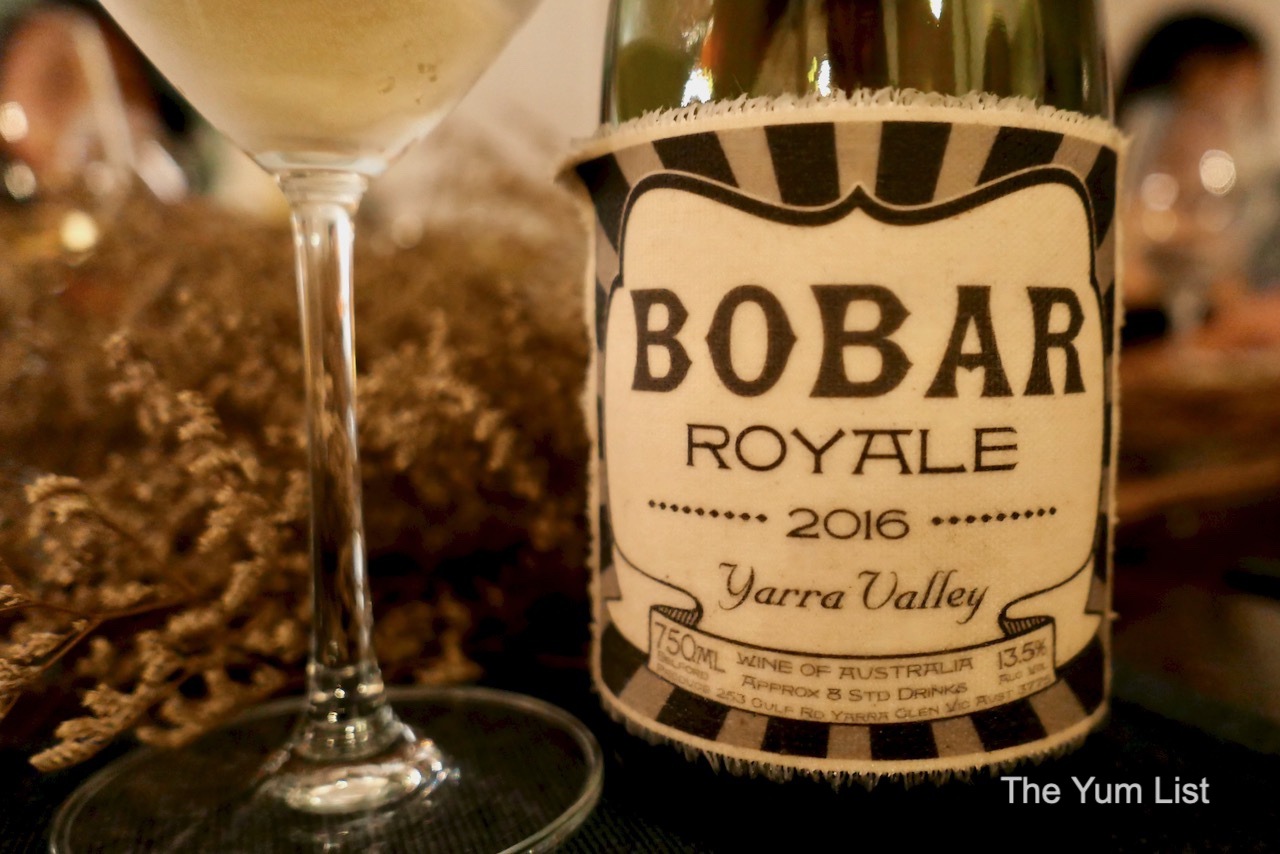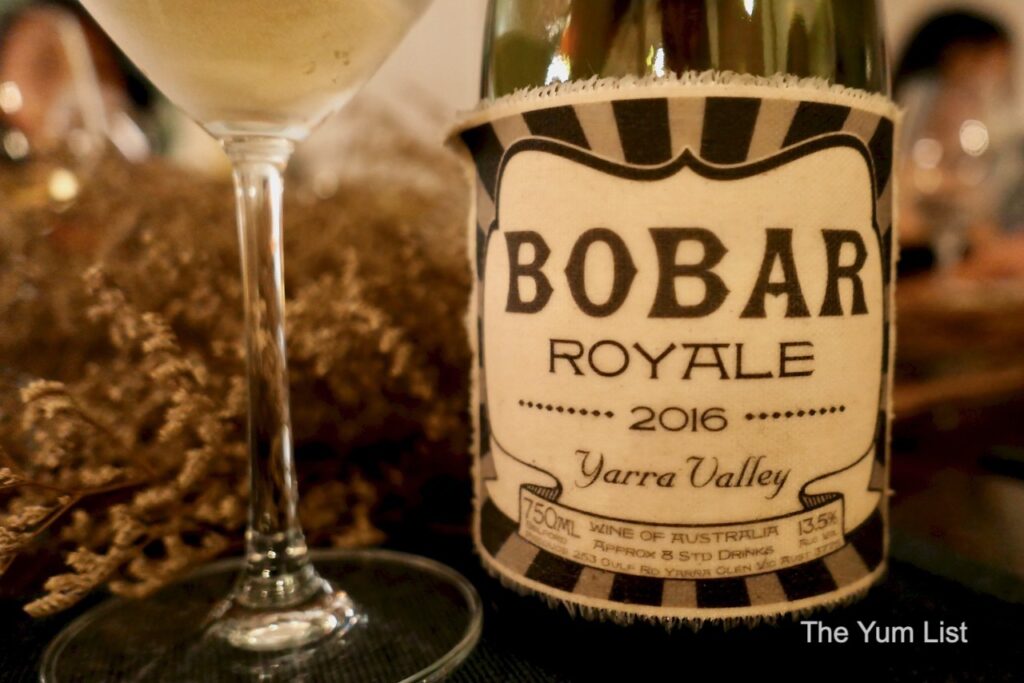 Daging Masak Merah
We're all surprised at just how tender the local tenderloin beef is. We've had locally raised meat before and quite enjoyed it, but it was always in something that was cooked for a good duration, such as a stew, to break down its toughness. This is an unexpected turn in the almost rare serving. It's matched with kerisik beef jus, chayote, local habanero and burnt garlic, and budu butter.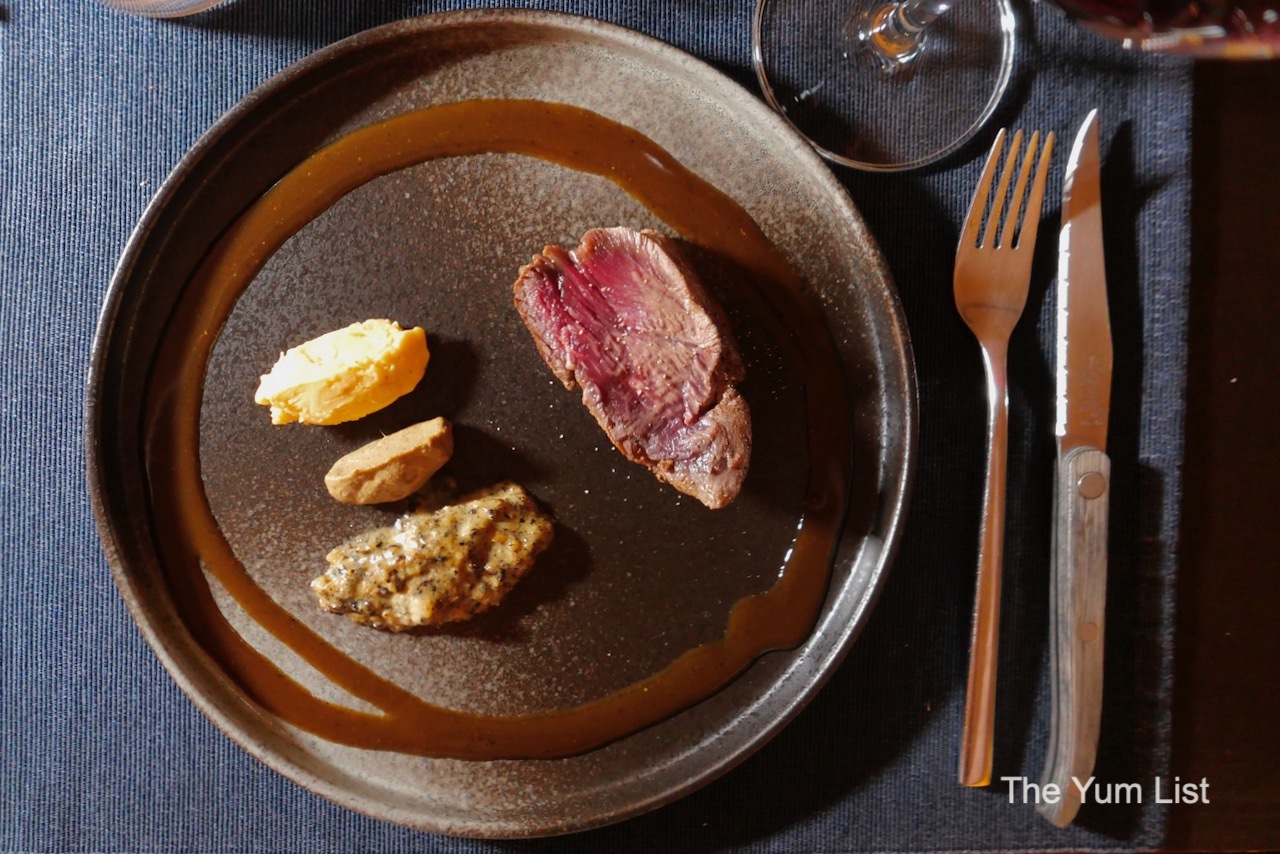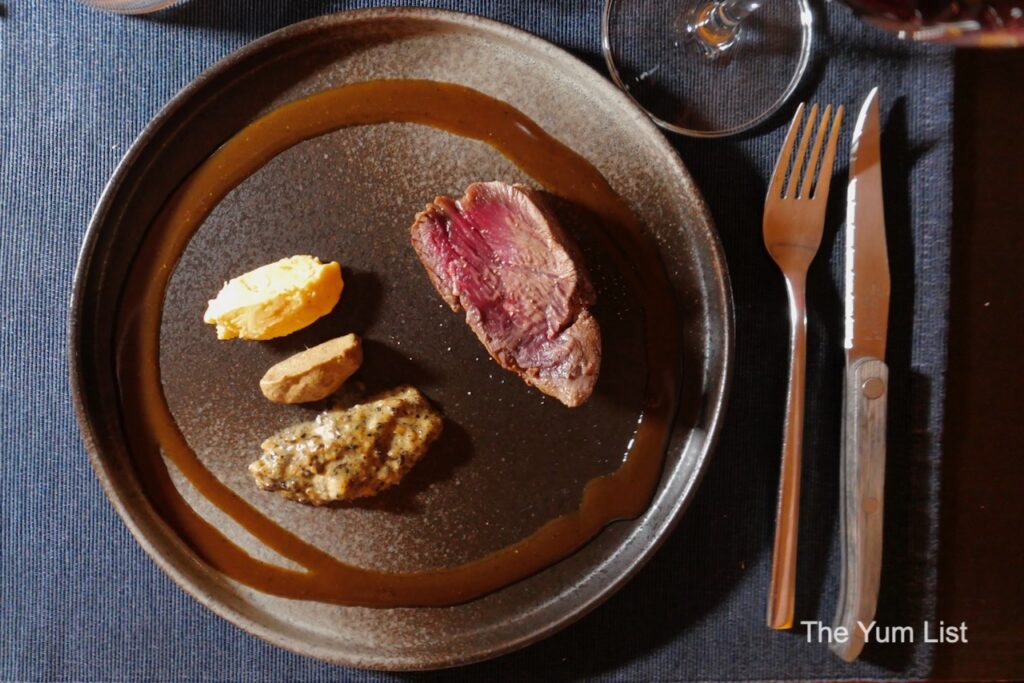 Jean-Paul Tollot & Anne Gros "La Ciaude" 2018, Minervois, France
We move to a red wine, Jean-Paul Tollot & Anne Gros "La Ciaude" 2018 from Minervois, France for the beef. The blend of Syrah, Carignan and Grenache was chosen because it doesn't overpower the meat. Instead, it supports with smooth tannins, a roundness in the mouth and a touch of blackberries.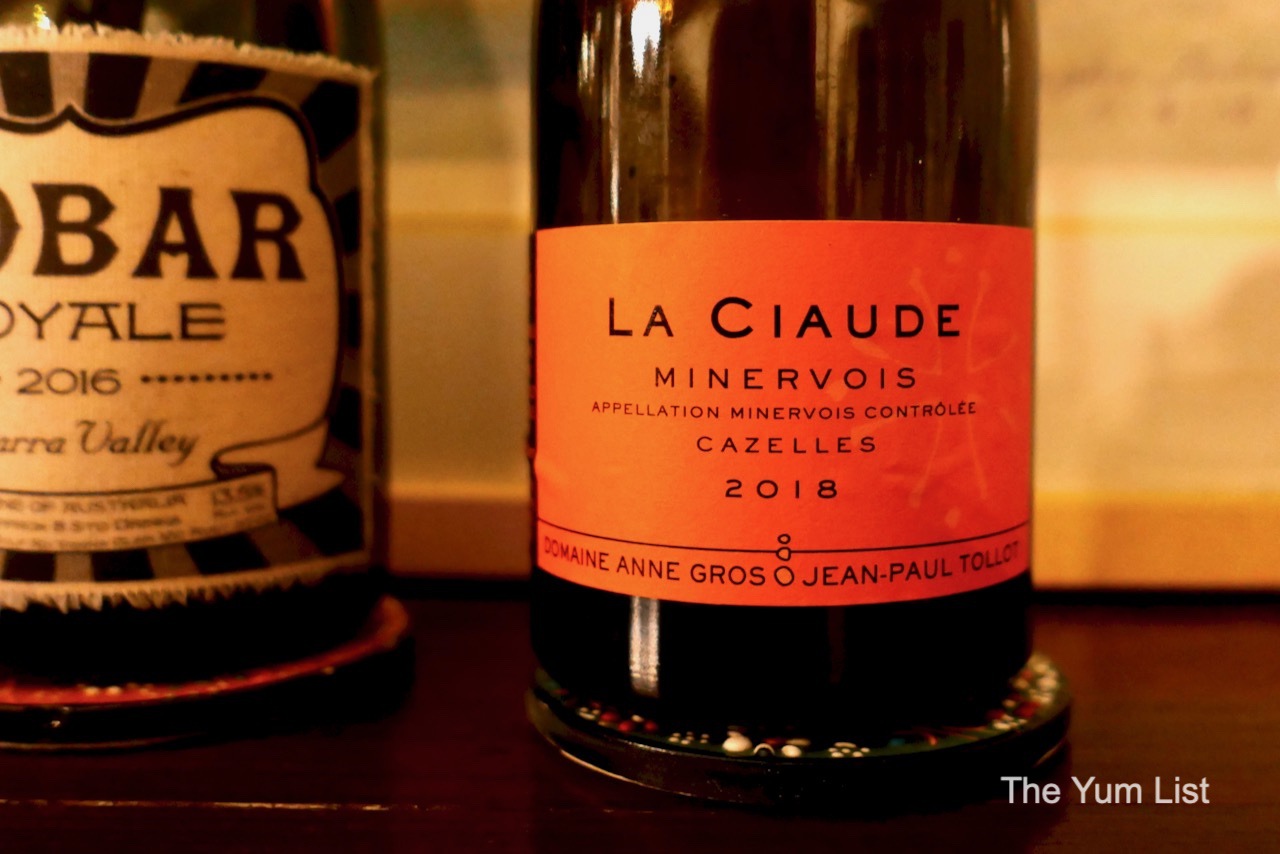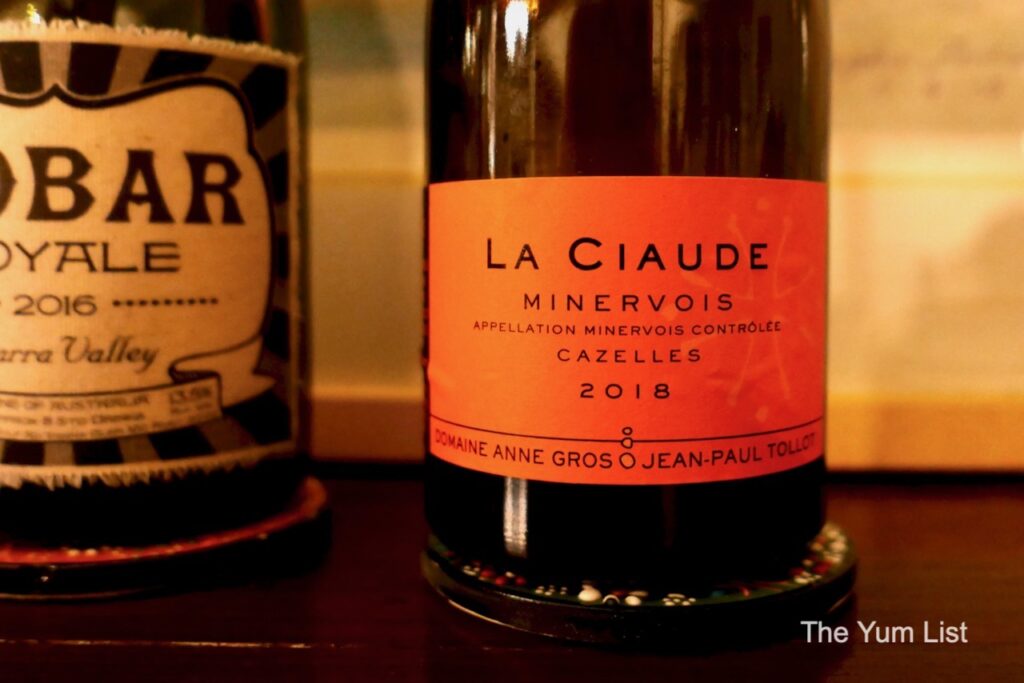 The Experience 005 – Kuhnye
Such a meal much end with kuih (Malay dessert), and the coconut pudding with ulam raja ice cream, coconut and gula crumble is something special. It's Jonny's take on the beloved onde onde (screwpine dough, palm sugar and coconut) and tepung pelita (rice flour custard with pandan and coconut).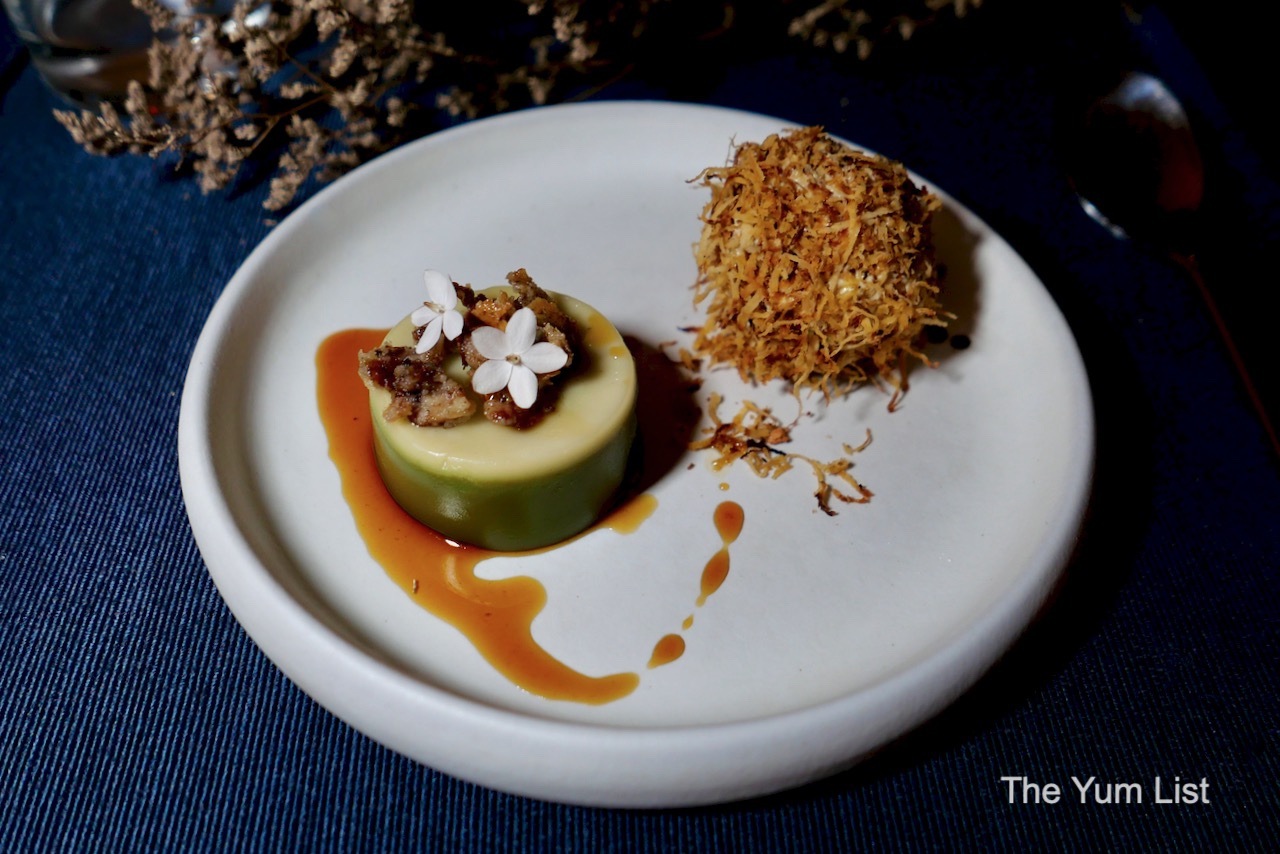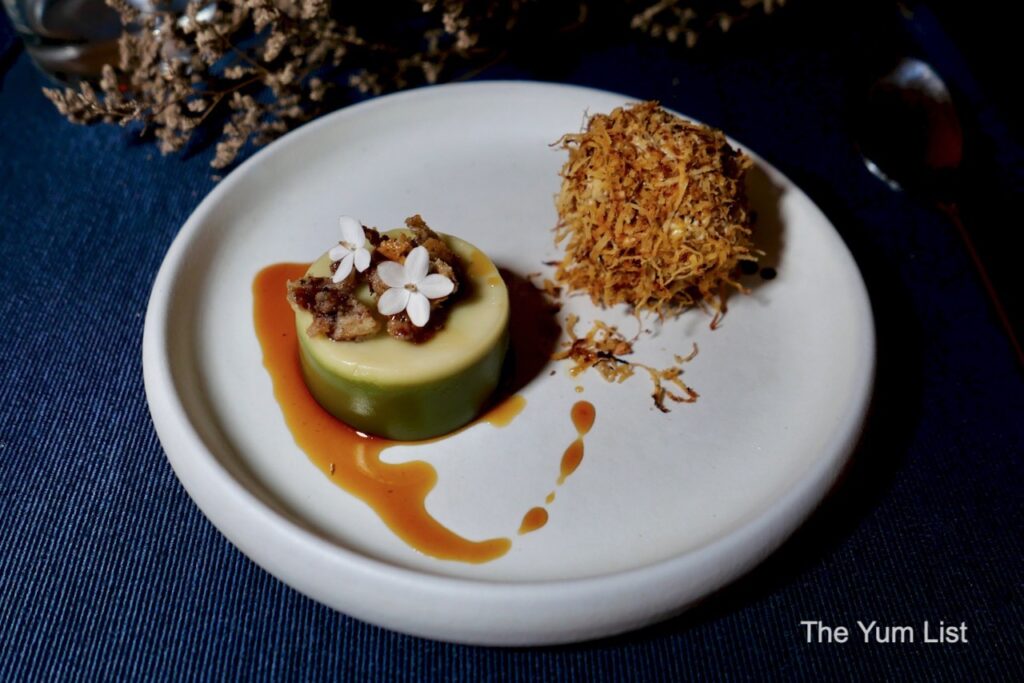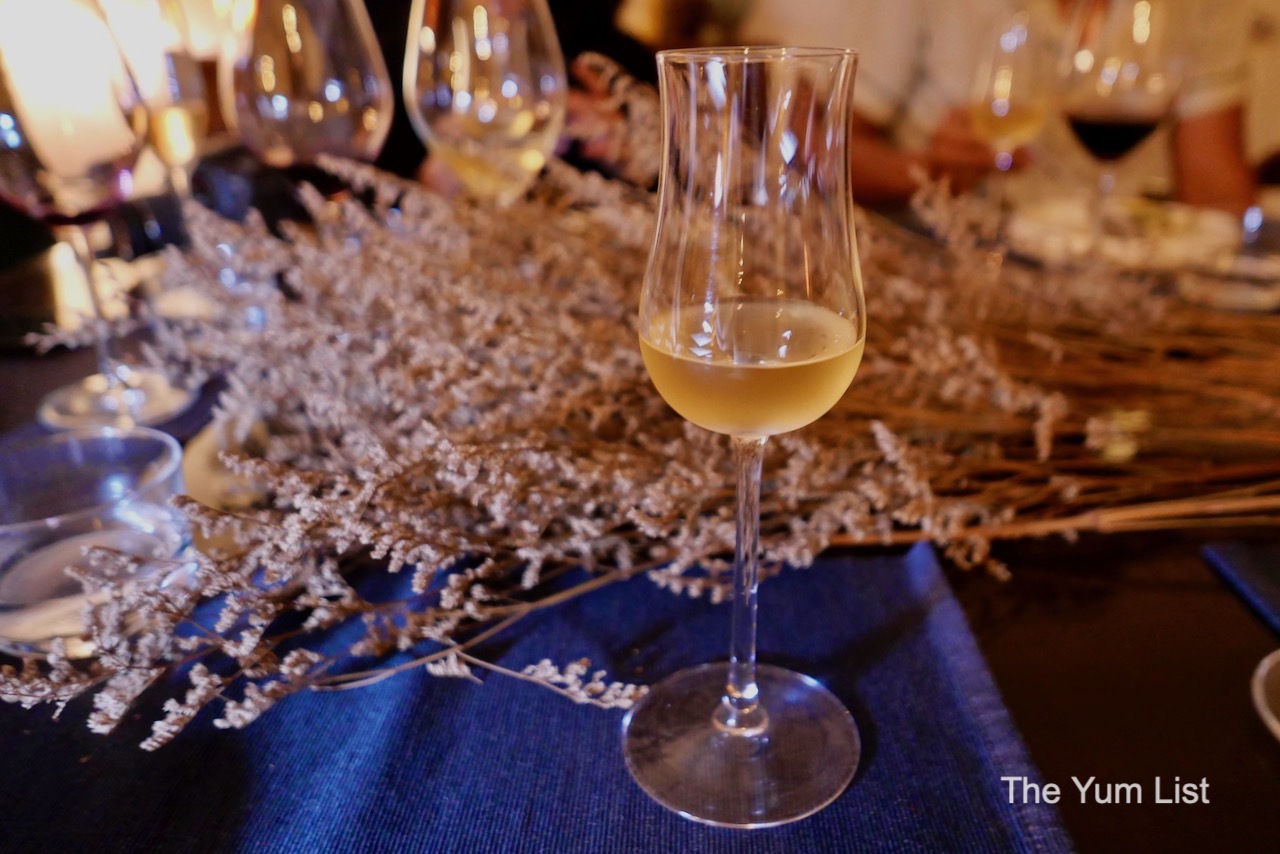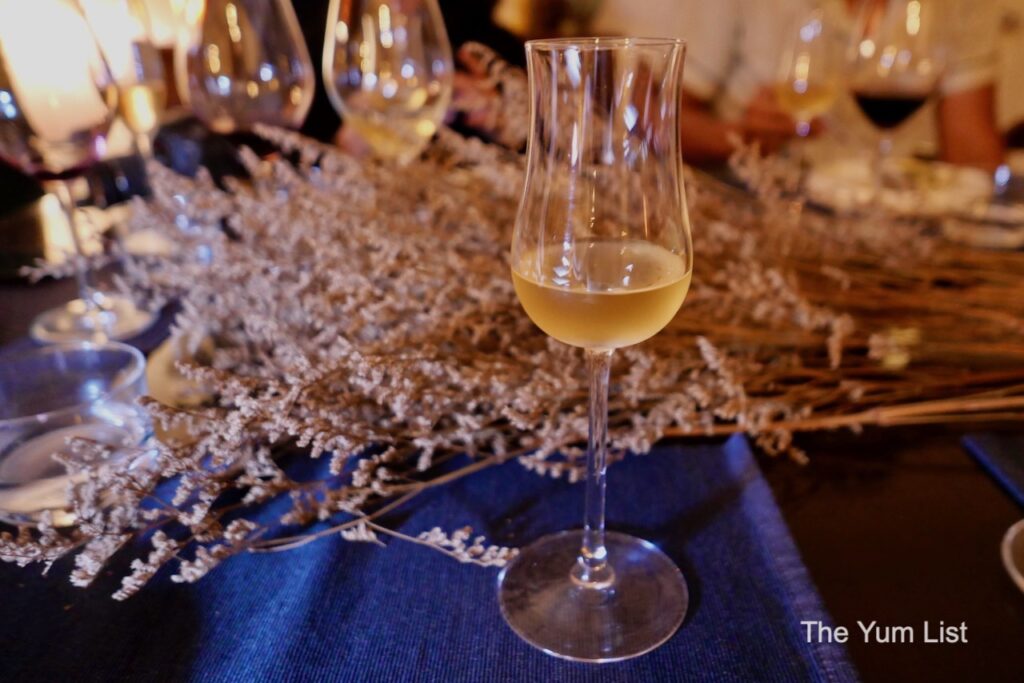 The Experience 005: Balik Kampung
Advance reservation is essential to get a seat at the table for The Experience 005: Balik Kampung. Click on the button below for reservations.
If you can't wait until SSS has a table available, look out for their special collaboration happening this week with the other SSS – Small Shifting Space – on the 21st, 22nd and 23rd of April. Super Secret Social will be doing a pop-up featuring an eight-course dinner paired with five glasses of wine for RM 550.
Reasons to try The Experience 005: Balik Kampung menu by SSS: innovative cuisine; exciting hosts; excellent wine pairing.
Super Secret Social supper club KL
Secret Location
Instagram @SuperSecretSocial
[email protected]
+60 14 2658630
Find more contemporary dining experiences in KL here and stay up-to-date with the latest gourmet and travel recommendations for Malaysia here and here.