Cheong Somm – Biodynamic Wine Bar
Words: Meg Alice & Monica Tindall
Photos: Rich Callahan
There's nothing more enticing than a neon red sign in a sparsely lit tucked away corner of a place like REXKL, especially when that sign says "Cheong Somm." For those expats new to Asia, cheongsams are the tight silky Chinese dresses originating from Shanghai and symbolizing modern Chinese women in the 1920s. When you see this sign, you will be drawn into Alison Christ's new biodynamic and natural wine bar perched just above the ground floor of REXKL.
I (Meg) have the pleasure of visiting Cheong Somm on its opening nights on the first and second of April. Cheong Somm will surely be the next "it" place as well as a long-time favourite "drop by" while you're visiting Chinatown for either shopping or for dinner. Cheong Somm features one long slate-grey bar with a wine chiller tub in the centre, several standing tables, and a sofa sitting area for a larger group. Each station will be conducive to its own type of conversation and socializing. Rotating artists supply the abstract and bold artwork which surrounds the red neon sign. Alison will also gather local artists for live art performances, depending on the night.
Alison has hand-picked the wines imported from around the world. She is a Certified Sommelier with the Court of Master Sommeliers, and if you know her, you never pick the wine because she has impeccable taste. (The Somm in Cheong Somm is a double entendre for a sommelier.) Alison would rather drink a lukewarm softdrink than bad wine. She focuses on the cutting edge of the wine industry—biodynamic and natural wines—a growing niche yet still hard to find in Malaysia. She has recruited F&B expert, Moon, to help staff the bar along with two hip-hop artists – Parsa-el and Q-dwag! If your tip is big or orders particularly large, they might gift you with a bit of freestyle rap, as they did for Monica on her first visit.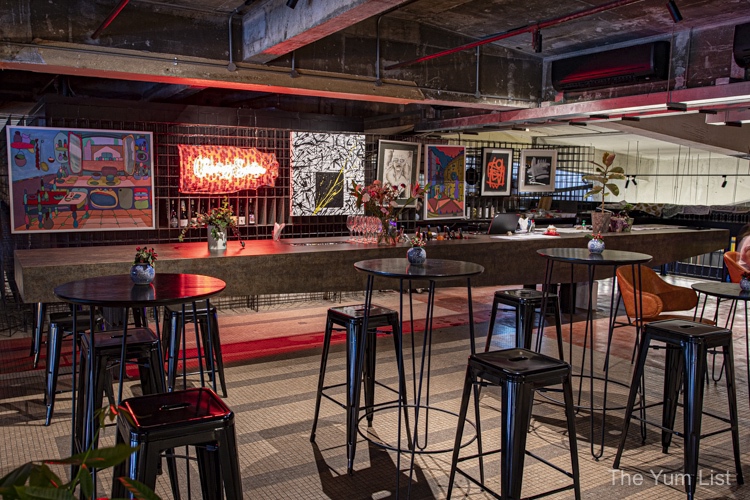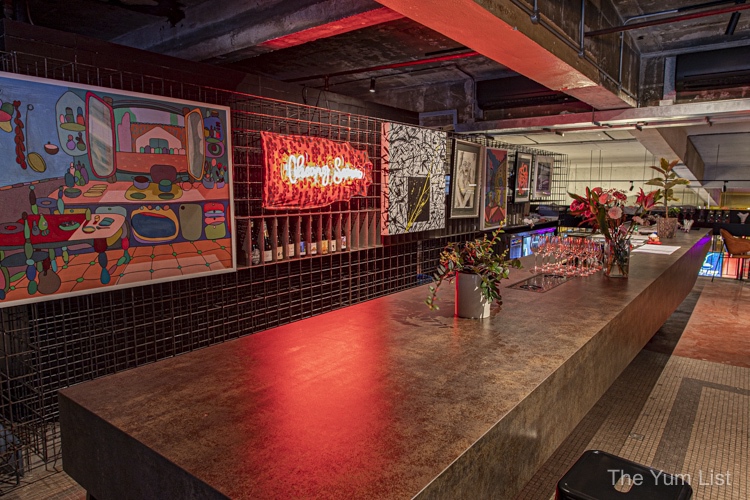 Cheong Somm Food Menu
As Meg mentioned, when Alison Christ is in the house, the most sensible thing for me (Mon) to do, is just let her choose the line-up. Cheong Somm's snack menu of cheese, charcuterie and dips is specially curated to go perfectly with wine. (If you'd prefer something more substantial, you are welcome to purchase a bottle of wine and take it downstairs to the hip food court.)
Both the Hot Spinach & Artichoke Dip (RM 50) and Duck Rillettes are house specialities. The former is a garlic-forward punch of spinach, artichoke, mozzarella, Parmesan and duck fat. A kilo of cheese and another kilo of artichokes go into this mix! The rillettes feature seasoned duck slow-cooked submerged in fat for several hours before being shredded. Both are fantastic with the Tommy Le Baker sourdough slices served in house.
Adding on to the dip, you could go with The Platter (RM 95), consisting of the above-mentioned rillettes, an assortment of cheese and cold cuts, pickles and sourdough. Alternatively, customize your own plate with a selection of gourmet charcuterie and European cheeses. I'm a big fan of Manchego, a sheep-milk cheese from Spain, and Meg gives her thumbs up to the Jamon Serrano.
Really, though, if you're going to settle in, why not go the whole hog and finish off your tastings from the Cheong Somm food menu with a beautiful bowl of Giant Sicilian Green Olives (RM 20) and White Anchovies with Sourdough (RM 30). This is also a fabulous excuse to try some drops from the "Sweet" section of the wine menu, such as the Valdespino "El Candado' Pedro Ximenez, Jerez from Spain.
Alison's passion is for natural wine, as much as her keen taste buds are for the soil. Part of this understanding leads to her commitment to living a sustainable lifestyle. We find this not only in her selection of labels but also in tableware and cloth napkins – nothing single-use here.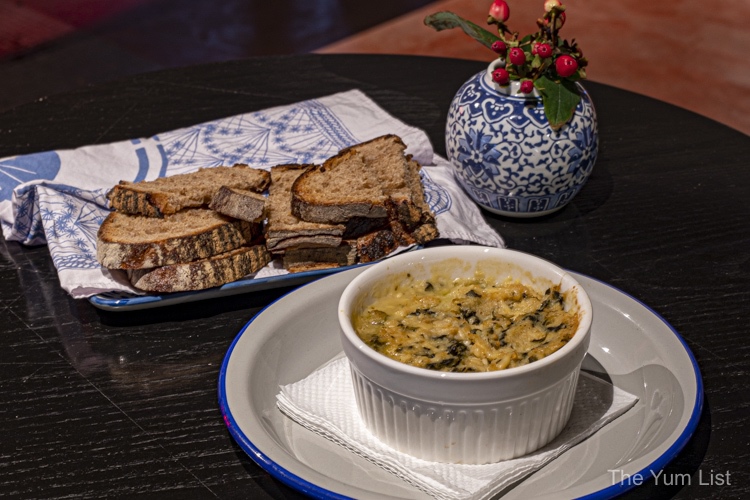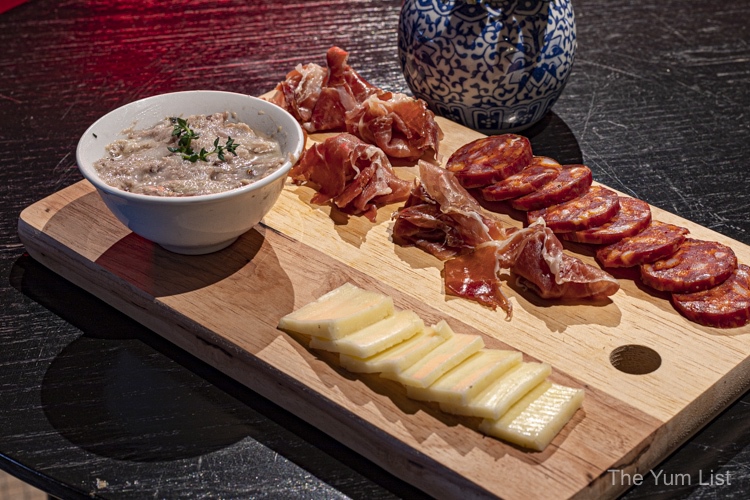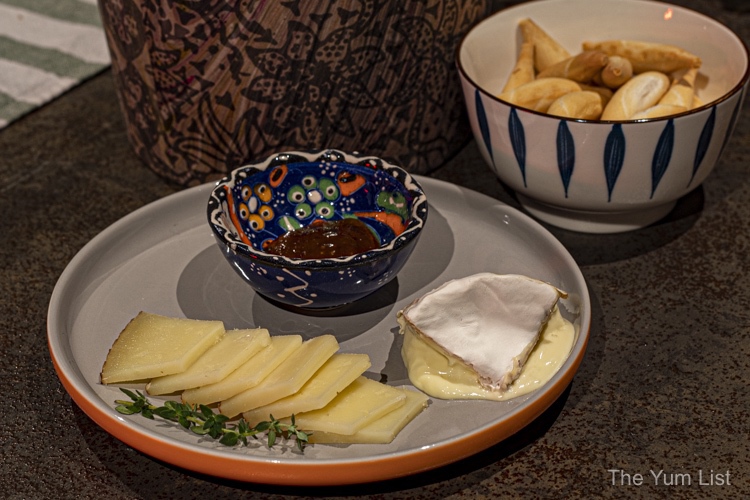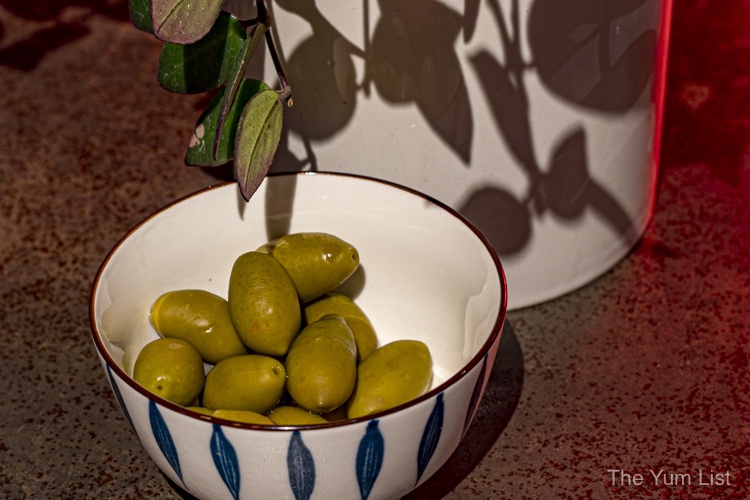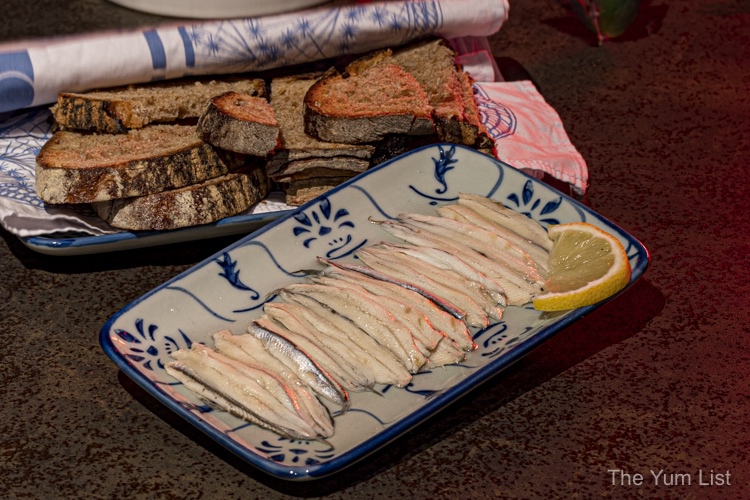 Cheong Somm – Natural Wine Bar, REX KL
The wine program at Cheong Somm highlights organic, biodynamic, natural and sustainable wines. For those who have tasted a limited range of natural wines and might not have enjoyed them, this wine list includes something for all palates. It's not solely natural but broader to include multiple small, family-owned producers that are doing something good for the planet. It's the perfect fit for the REX KL community, embracing the love, work, and heart the two Shins (founding architects of the space and concept) have built.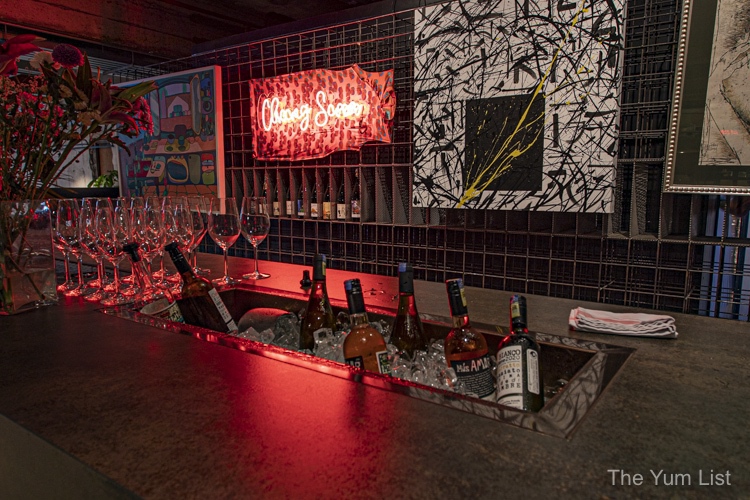 Wine by the Glass
Seven wines are currently available by the glass – white, red, rose, orange as well as three sweet wines.
We begin with one of my favourites, Clot de L'Origine 'Trouble Fait,' 2017 from Maury, France (RM 38). The wine hints at the bother you might encounter in overconsumption in its blurry label and cloudy appearance. Humour aside, this is a very pleasurable glass with a pale copper-amber hue, rich aromatics of South-East Asian herbs and flowers, and a juicy, bright palate. Marc Barriot produces this wine with no sulphates using biodynamic methods. Additionally, no egg has been used in the fining of the wine, so it's also vegan.
I'm hoping to make it to Sicily this year so I am particularly excited to be introduced to the Ciello Bianco, Catarratto, 2020 (RM 38) from the Italian island. The Vesco family have done much to bring the grapes from this region international acclaim. Combining traditional and modern methods to bring out the best from the ancient rocky soils, their wines have proven to have wide appeal. Picked young, the catarratto grape exhibits freshness and bright acidity. A slight maceration on the skins gifts an extra element, according the wine its pale amber tint. I like this with the softer cheeses, such as the Brillat-Savarin.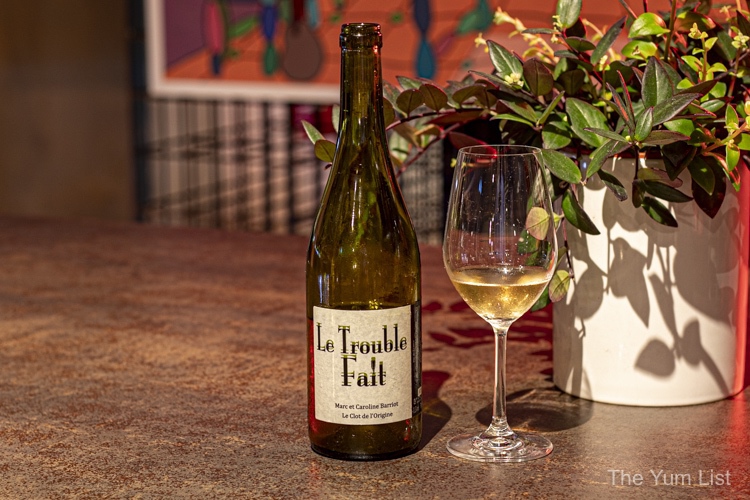 Wine by the Bottle
Wine by the bottle ranges from a reasonable RM 200 a bottle to RM 1200 for a magnum of Pol Roger Reserve Brut. We've resolved to make a night of it, continuing with a bottle of Carrick, 'Death of Von Tempsky, 2019 from Central Otago, New Zealand (RM 250), and end with an old-world red, Damien Coquelet 'Les Bourrons' Chiroubles, 2017 (RM 330) from Beaujolais, France.
The NZ white is organic and natural, reflecting its label contrasting ancient themes in a modern setting. The Riesling is a little cloudy in the glass, made from bunches left unpressed for 170 days. It's fresh with some zesty lime and sediment in the bottle. Unfiltered, unfined and with no additives, it's the most natural way to appreciate fermented grape juice as wine.
You might say that our final bottle, a cool old-world red is from a hot new young thang. A precocious Damien Coquelet began learning the ins and outs of wine growing and making at the age of 10! By the time he was 20, he had launched his own Domaine and very own vintage in 2007! His 'Les Bourrons' Chiroubles that we're now sipping comes from hand-harvested Gamay grapes, fermented in whole clusters. The lights have been dimmed at the bar, so it's challenging to judge the colour, but Alison says ruby-garnet is a good description. Black fruits and cranberries are abundant on the nose and on the palate. With a little air, minerality weaves its way in too. I like this with the Gruyere and Brillat-Savarin cheeses.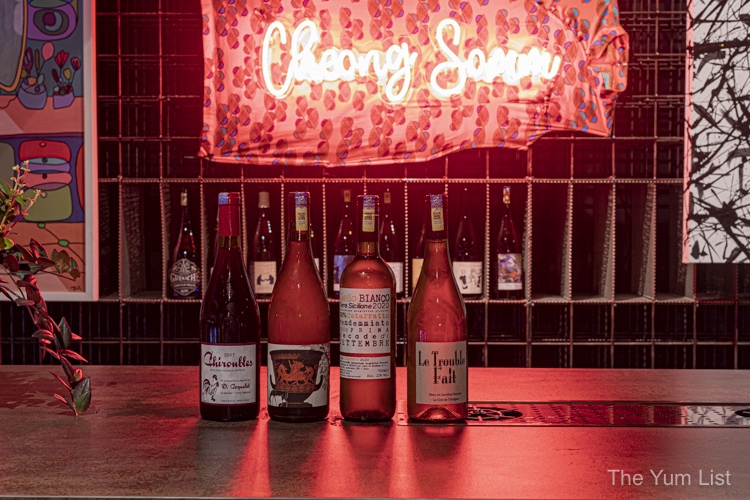 Other Drinks
Sparkling water, Tummy Tonic and Mezcal are alternatives to wine at Cheong Somm. In fact, one of the hip-hop artists uses a shot of the latter as a boost of courage just before an impromptu performance. Rich approves of the Lush Bowl Tummy Tonic (RM 18) with lemongrass, Bentong ginger, organic honey and lime. You could also choose the Lush Bowl Passion Tonic (RM 18) with tamarind, alkaline water, organic passion fruit, and honey.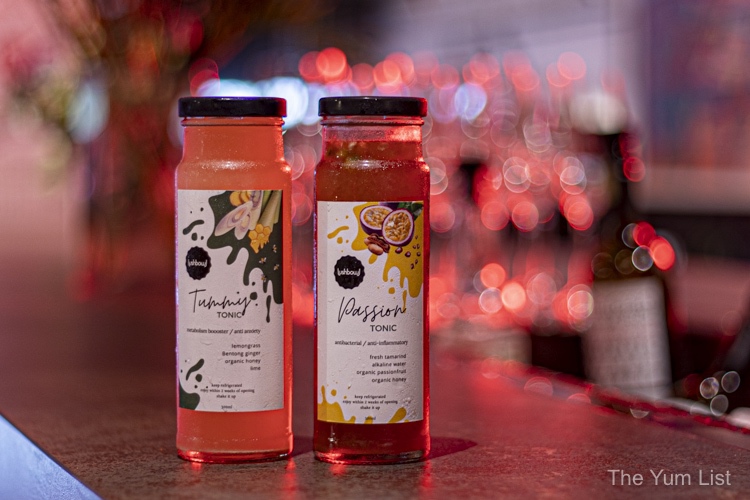 Special Events at Cheong Somm
In line with the REX spirit, Cheong Somm will host monthly collaborations. The one to sign up for next week is a Champagne and noodle pairing on April 28th! In coming months, look out for partnerships with Super Secret Social, Jama and Eden Daus. The guest chef dinners seat a maximum of 35 people, so be sure to book in fast. Connect via WhatsApp or social media contacts below.
Cheong Somm Review
Alison has a natural connection with her guests. She floats between tables, making recommendations and telling the story of each wine upon request. People know her and seem to be here because of her. They invite her to share a glass with them, and what an honour it is to share a toast with the chief somm. Rave, the wine bar's resident canine, hangs out off to the side. However, he welcomes a rub and attention from dog-loving guests, given half the chance. Cheong Somm is a happy place to be. Whether you're a KL resident or a visitor to the city, you're sure to enjoy a glass or more at KL's soon-to-be hottest wine bar.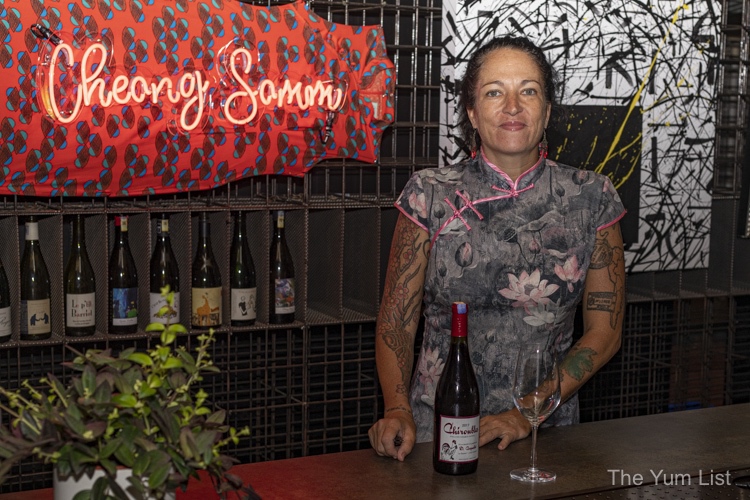 Reasons to visit Cheong Somm: Meeting Alison Christ; the cool vibe in REX KL; not only access to but the expert guidance in biodynamic, natural, organic and sustainable wines; a great stop before or after having dinner in Chinatown; 15% discount on take-home bottles.
Cheong Somm wine bar
Mezzanine above the entrance steps of REXKL
80 Jalan Sultan, Chinatown
50000 Kuala Lumpur, Malaysia
WhatsApp: +60 18 236 2516
[email protected]
Follow Cheong Somm on Instagram @cheongsomm
Cheong Somm Opening Hours
Tuesday – Sunday: 5 pm-midnight
Come Tuesday to Saturday to see Alison.
Check out The REX Bar revamp here, new eateries in REXKL here, find more cool spots in Chinatown KL here and stay up to date with the latest food and beverage happenings in KL here and here.