Chef Eden Daus at Home Personal Chef Experience
Words: Alison Christ
Photos: Monica Tindall
Have you ever had a talented young chef come to your home and prepare an extraordinary meal for you and your friends or family? Would you like to? Well, we found the right guy for the job. His name is Chef Eden Daus, and he's 24 years young, born and raised in Malaysia. Eden will do all the work, all you have to do is show him to your kitchen, and you can go about your busy day as usual. Monica and I thought this sounded too good to be true, so we needed to experience it ourselves.
I arrive at Monica's apartment to a beautifully arranged dining table set for four. Monica takes me into the kitchen and introduces me to the chef. Chef Eden greats me with a smiling (under the mask) baby face, and I won't lie, I was a little concerned about his ability to pull this off at such a young age. I already had a peek at the five-course menu, and from reading it, I thought the chef must have decades of experience. After our quick introduction, we get right to business… popping bubbles! We open Monica's birthday present, my favourite sparkling wine, Raventos i Blanc from Conca del Riu Anoia, Spain. It's made using the same method as Champagne, but it's at a lovely everyday drinking price point.
Chef Eden Daus Private Chef Experience
We sit down at the table to find a "menu" with a scan-able code printed on it. Chef comes to the table and tells us to put our camera over the code and what we find is a fun course description using icons, no words (for example, an oyster shell or a coconut). Chef tells us that we should play a game and guess what the menu items will be. We sip on some bubbles and guess about the icons while Chef retreats to the kitchen to ready our amuse-bouche.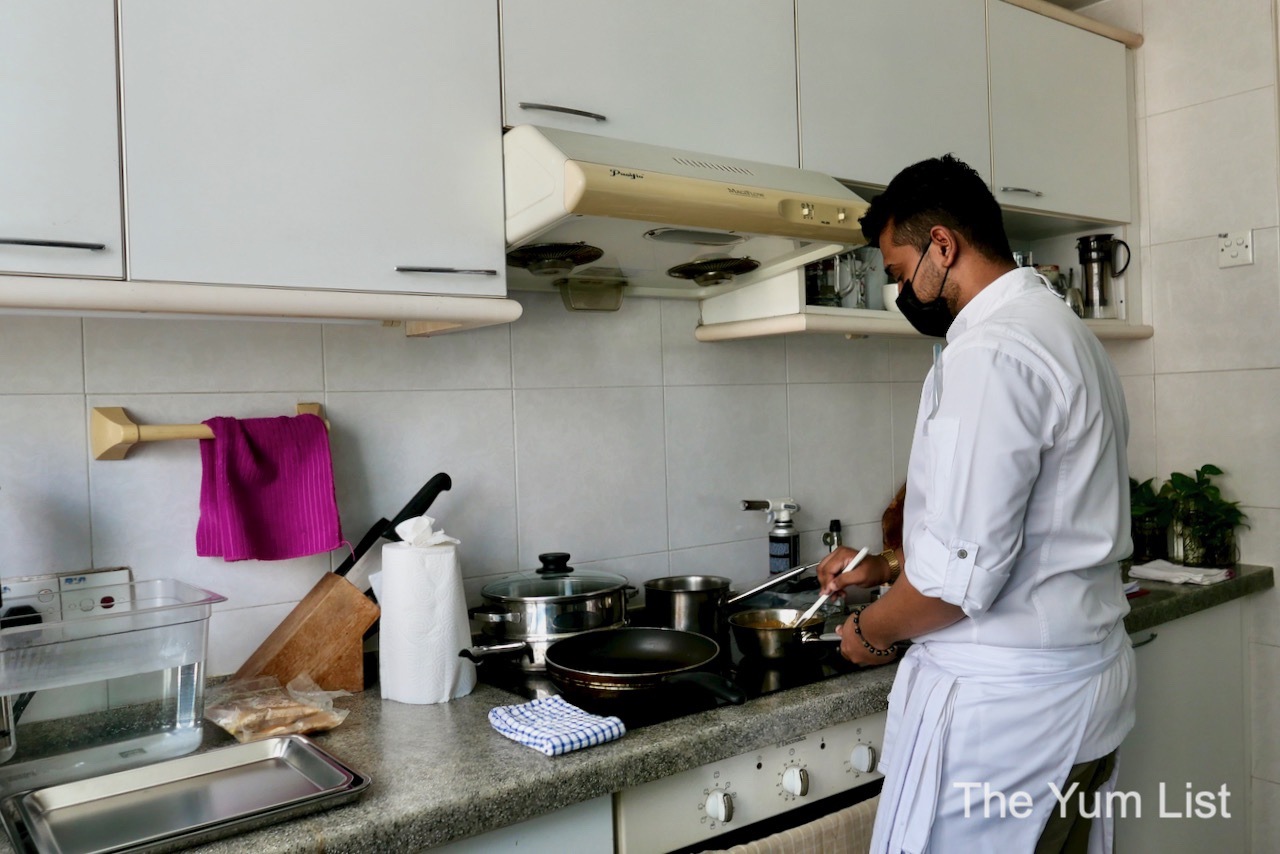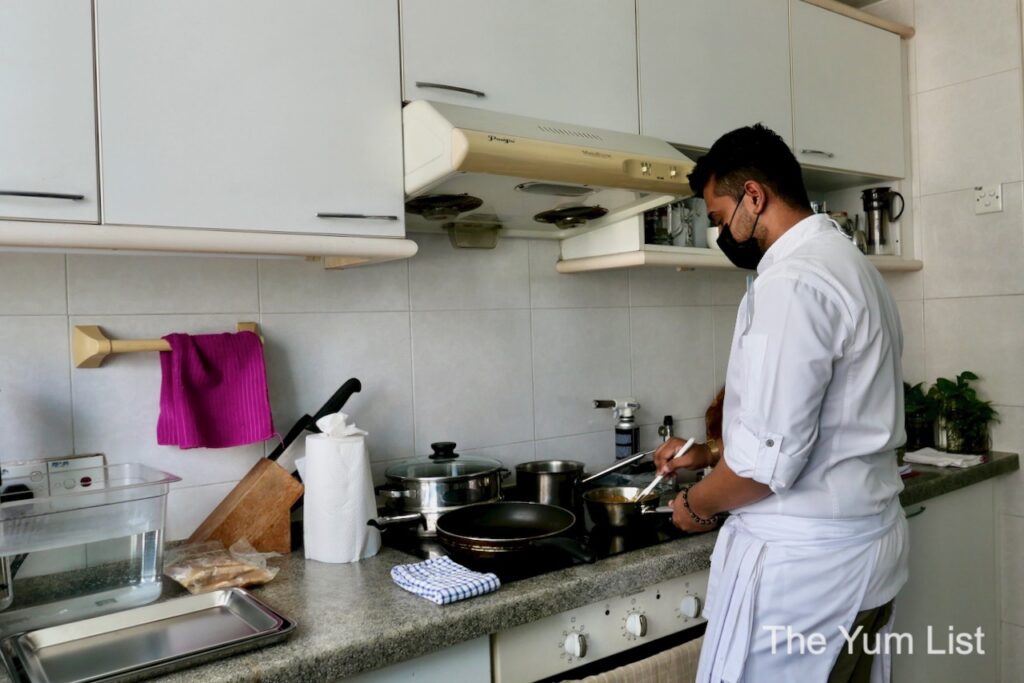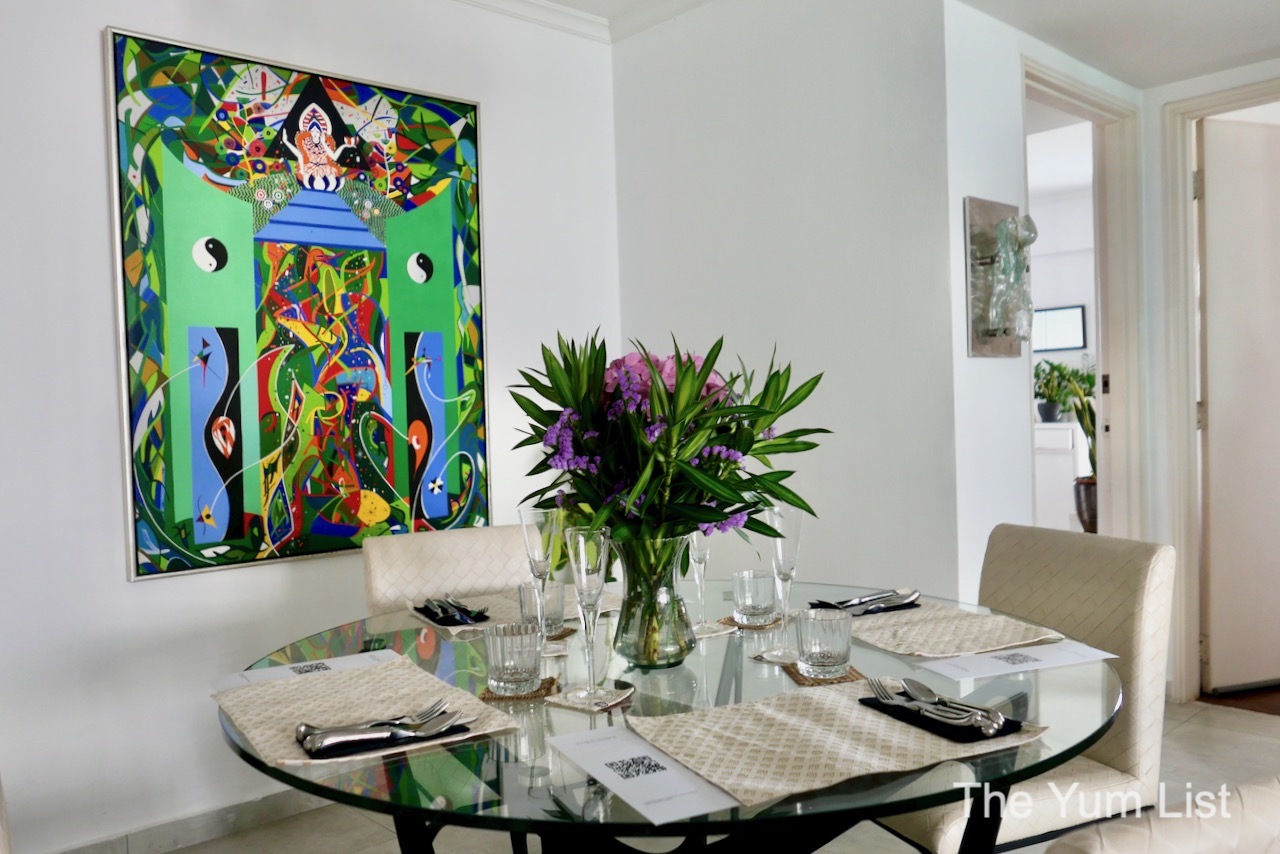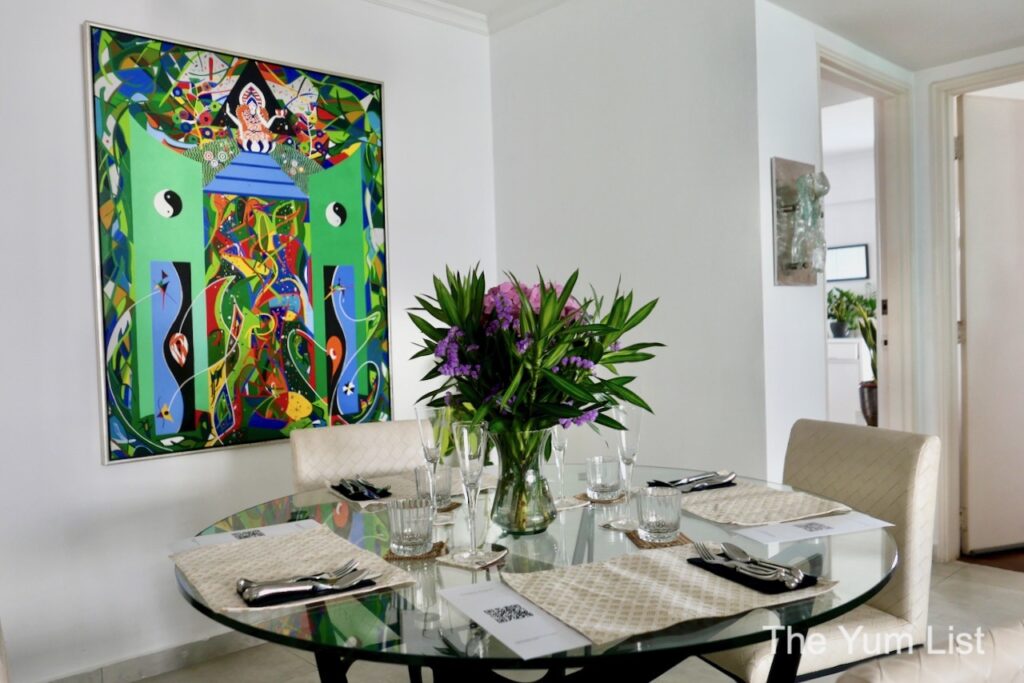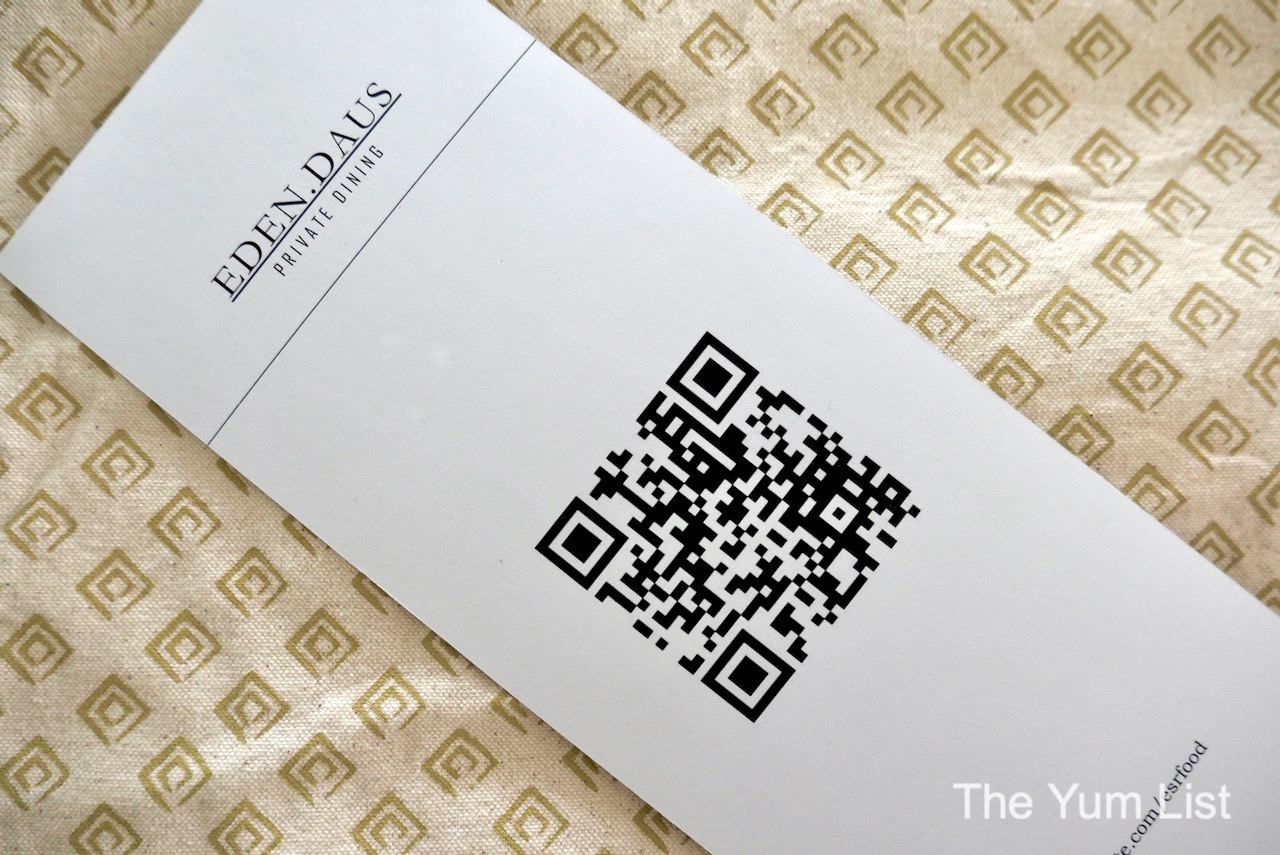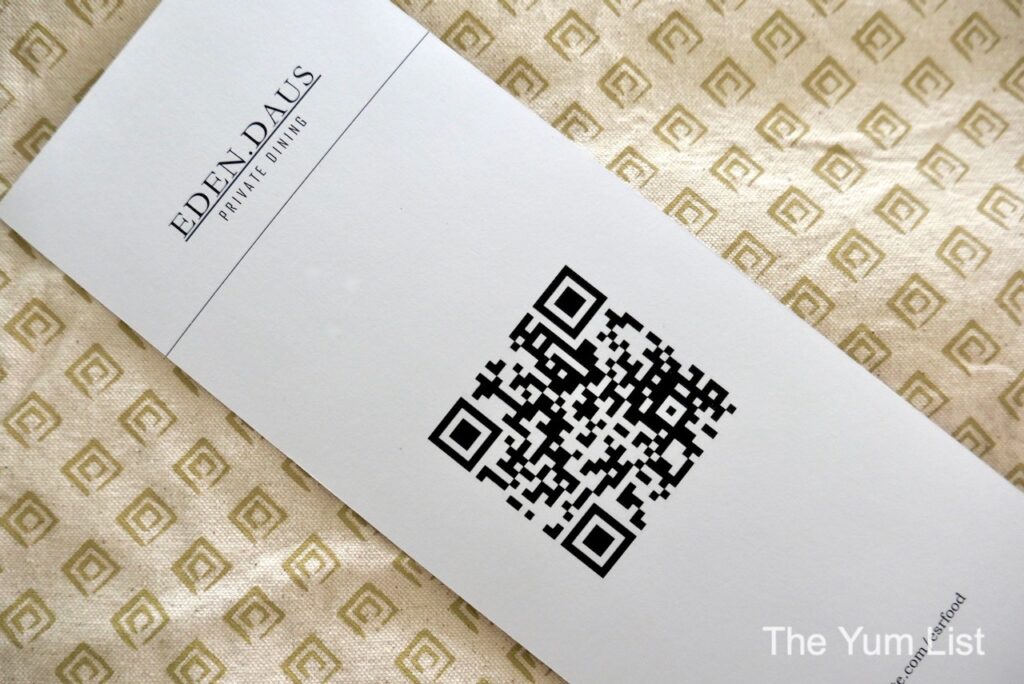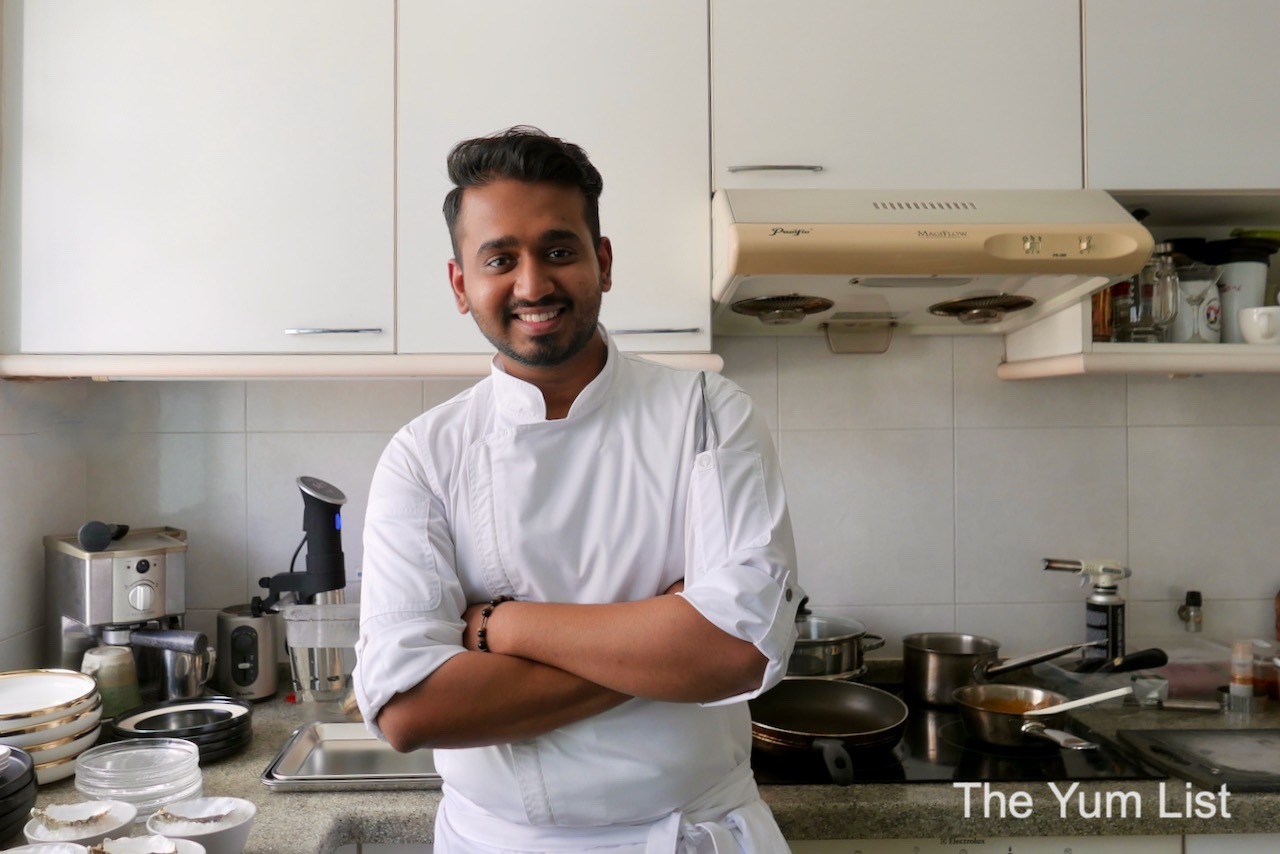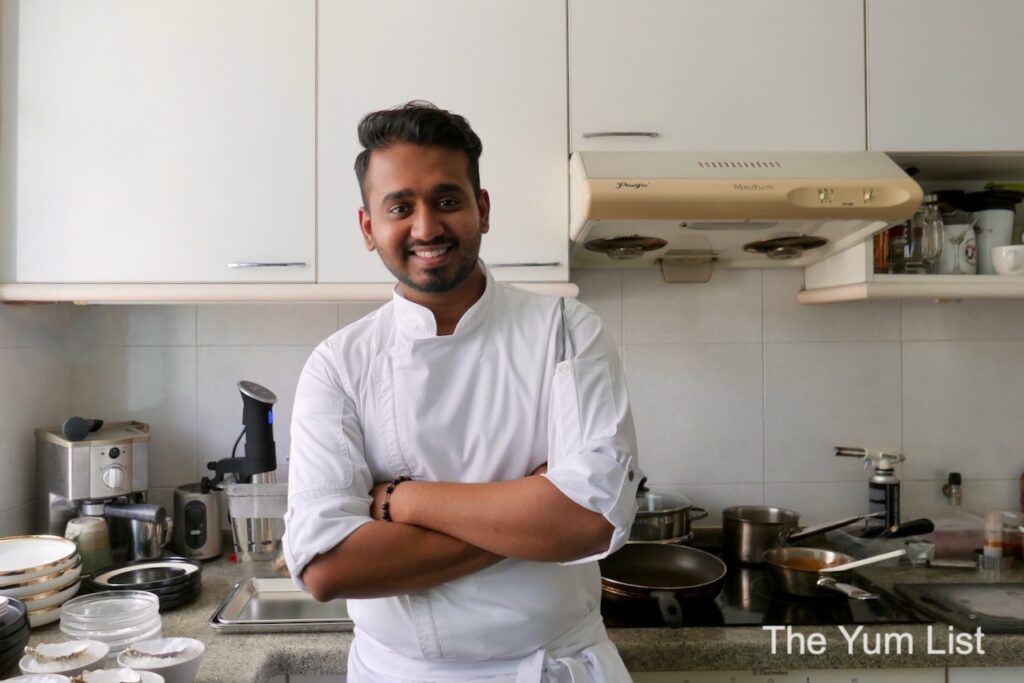 Oyster Asam Pedas Explosion with Tomato Snow
Chef's assistant serves us our first course, followed by Eden who describes, quite eloquently, what we are about to put into our mouths the Oyster Asam Pedas Explosion with Tomato Snow. The open oyster shell sits on a bed of rock salt, and inside isn't just an oyster. It's a liquid ball filled with a piece of oyster in a beautifully flavourful, sour and spicy classic Malaysian sauce nestled between a sweet tomato granita. The experience is initially a little uncertain, and then once I swallow everything in the oyster shell in one go, it is amazing. There is indeed a light and pleasant "explosion" as the asam opened up and mixed with the icy granita. The sweet and sour and spicy all mixing together is divine. This is the moment I realize that I should never judge a book by its cover and that this 24-year-old chef is 100% capable and talented. I can't wait for the next course to arrive.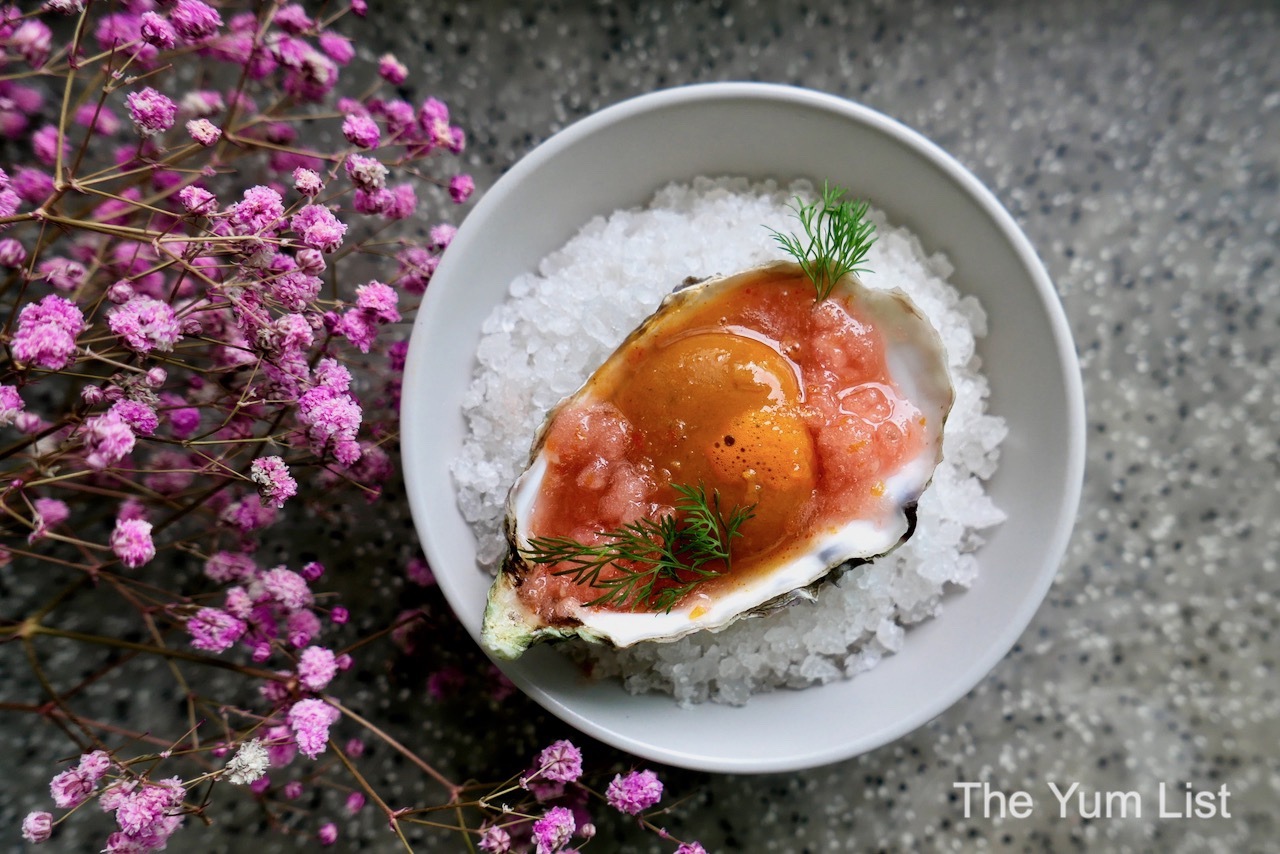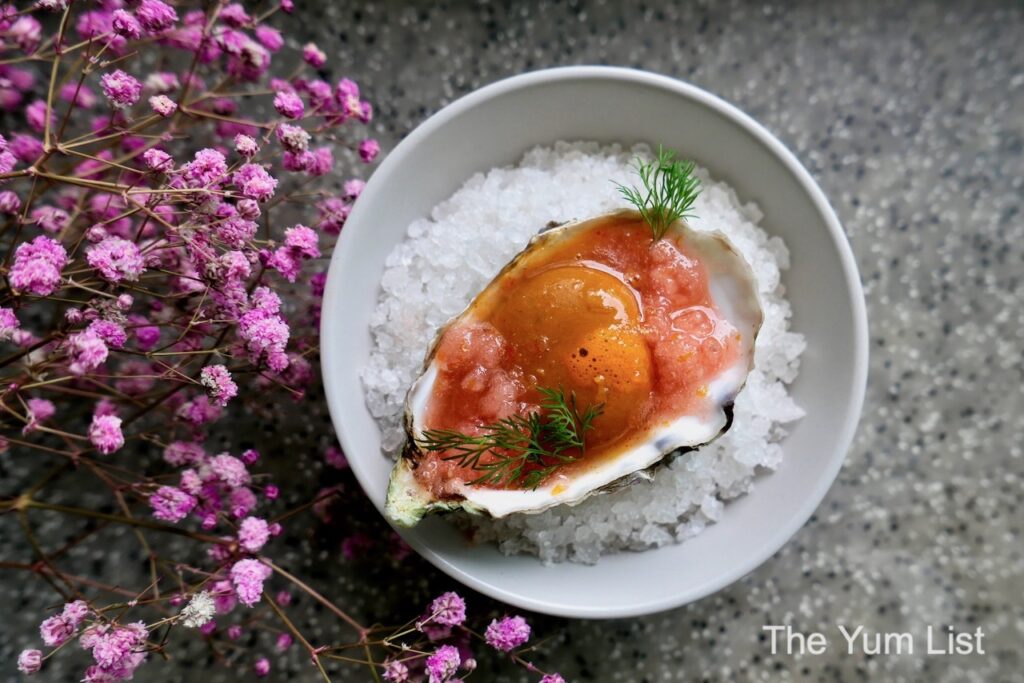 Kerabu Jantung Pisang with Coconut Sheets and Coconut Gel
Perfectly timed, the Kerabu Jantung Pisang with Coconut Sheets and Coconut Gel is served, and again chef Eden comes out to explain what we will eat next. There is a piece of artwork sitting on our plates. A white, thin, round disc is sitting on top of something unseen, with pretty editable marigolds placed on top. I stick a fork right in, eager to see what lays beneath. The white sheet is made of coconut cream, oh how I love coconut cream. To my delight, the secret below also has coconut in a contrasting preparation, more like shredded coconut with banana blossom and local kampong vegetables. Kerabu in Malaysian cuisine is typically is a dish of mixed vegetables, and Jantung Pisang are banana flowers. I look up a few minutes later, and all of our plates have been wiped clean, not a speck of food left. Later I ask if the dish is vegetarian, and he says there's some fish in it for extra complexity. Still, of course, he can prepare it vegetarian if requested. Either way, we love it!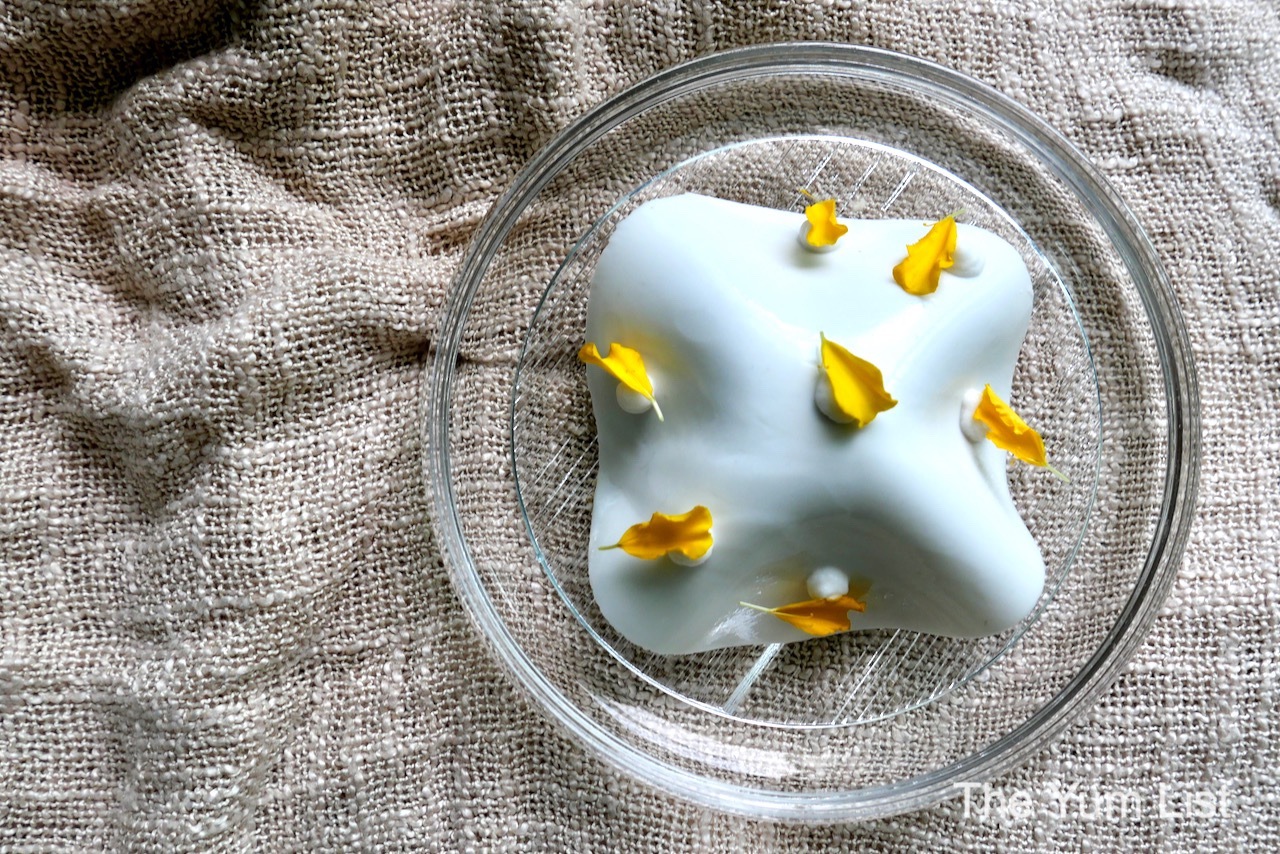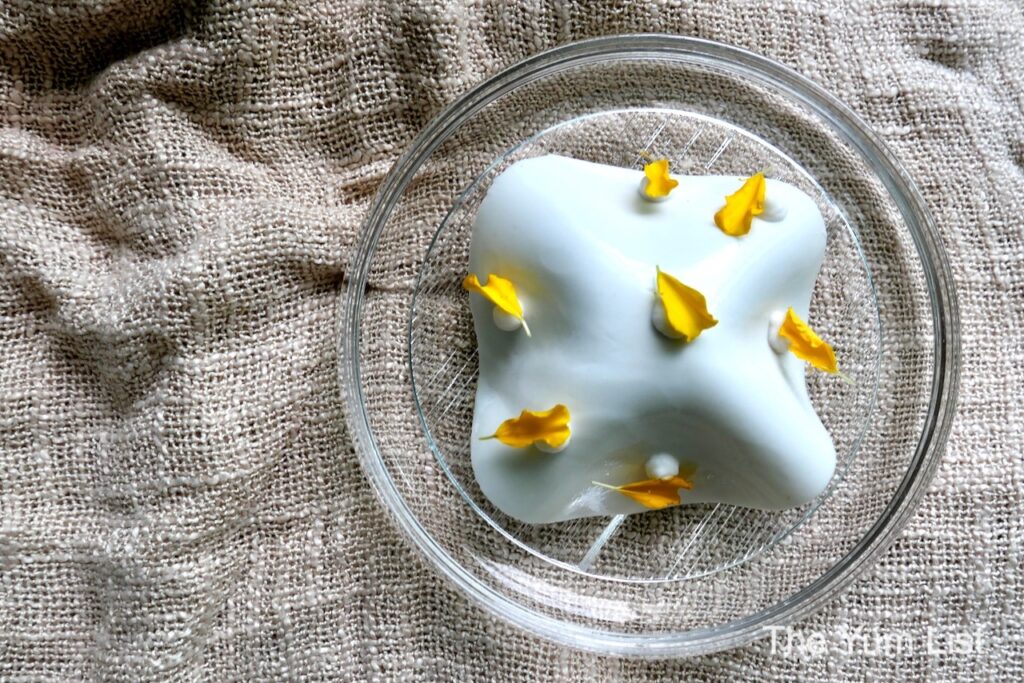 Ikan Bakar with Pickled Pumpkin
Next, we have the pleasure of experiencing the Ikan Bakar with Pickled Pumpkin (Catch of the Day). Ikan Bakar is a way to grill fish typical in Indonesia and Malaysia. Our catch of the day happens to be a generous piece of fresh Sabah Red Snapper with pickled pumpkin on top. The light sauce is delicious with a hint of heat, which the pickle balances out. Three courses in, and we are feeling great; everything is pleasurable and healthy.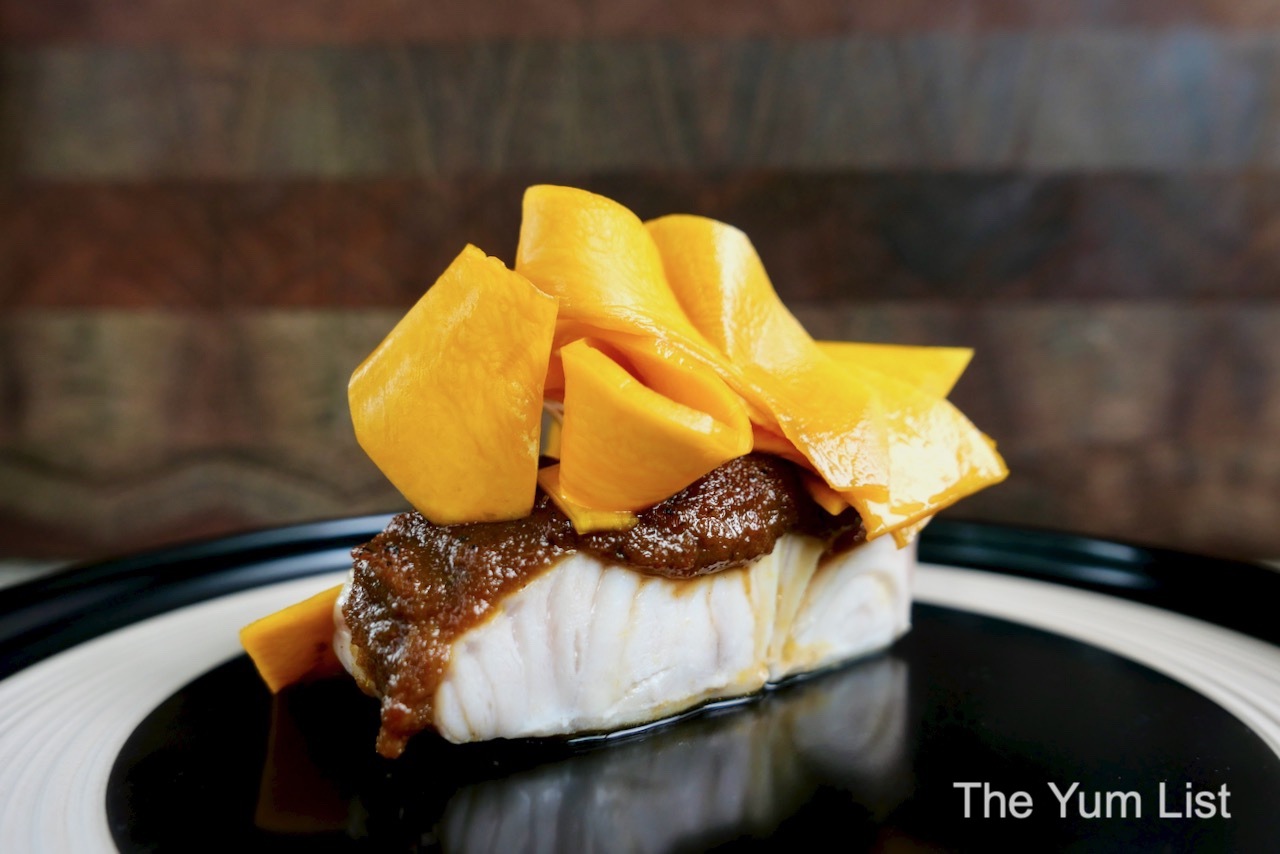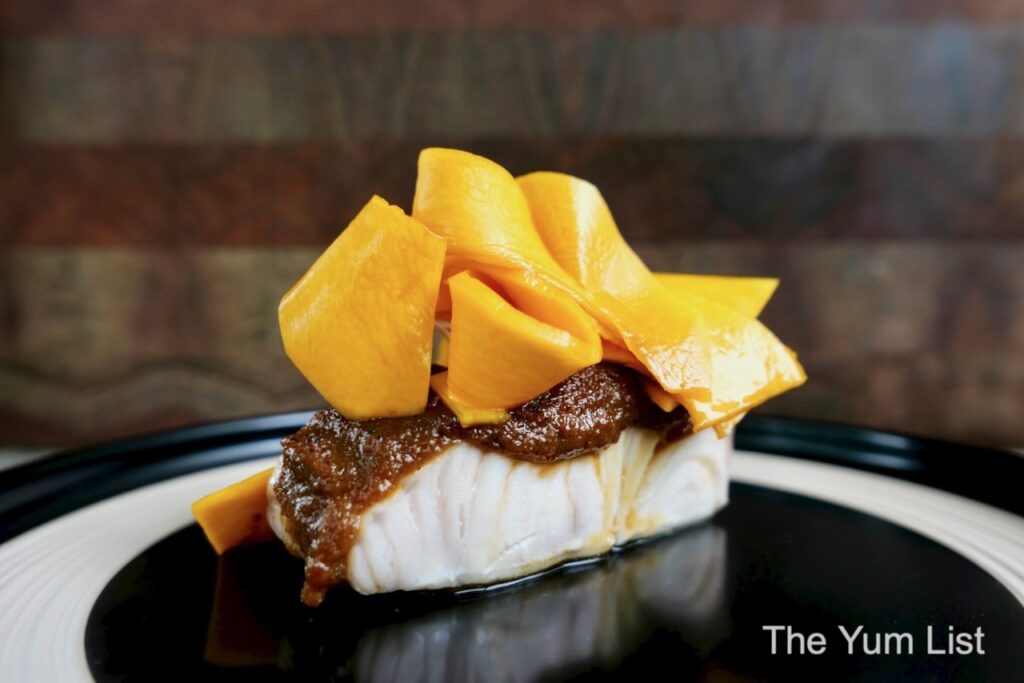 Sous vide Country Chicken breast with Buluh Nasi Dagang, Dagang Sauce and Dagang Powder
Our last savoury course arrives; the Sous vide Country Chicken breast with Buluh Nasi Dagang, Dagang Sauce and Dagang Powder. This dish is less artistic than the first three but stunning in its simplicity; a lone chicken breast atop a thick sauce visually reminiscent of milk chocolate. Next to the plate, we have bamboo filled with coconut rice and a small dish filled with dagan powder; crispy bits of coconut that went under a mortal and pestle. We are taking great pleasure in spooning out our coconut rice and sprinkling the powder on top (the rice labour of love, has taken over 12 hours to prepare). Mixing everything together, the coconut balances with the spice of the sauce, which is not chocolate at all, but a decedent blend of lemongrass, galangal, turmeric, shallot and garlic. The chicken has been sous vide to perfection. Again there's not a drop of food left on anyone's plate.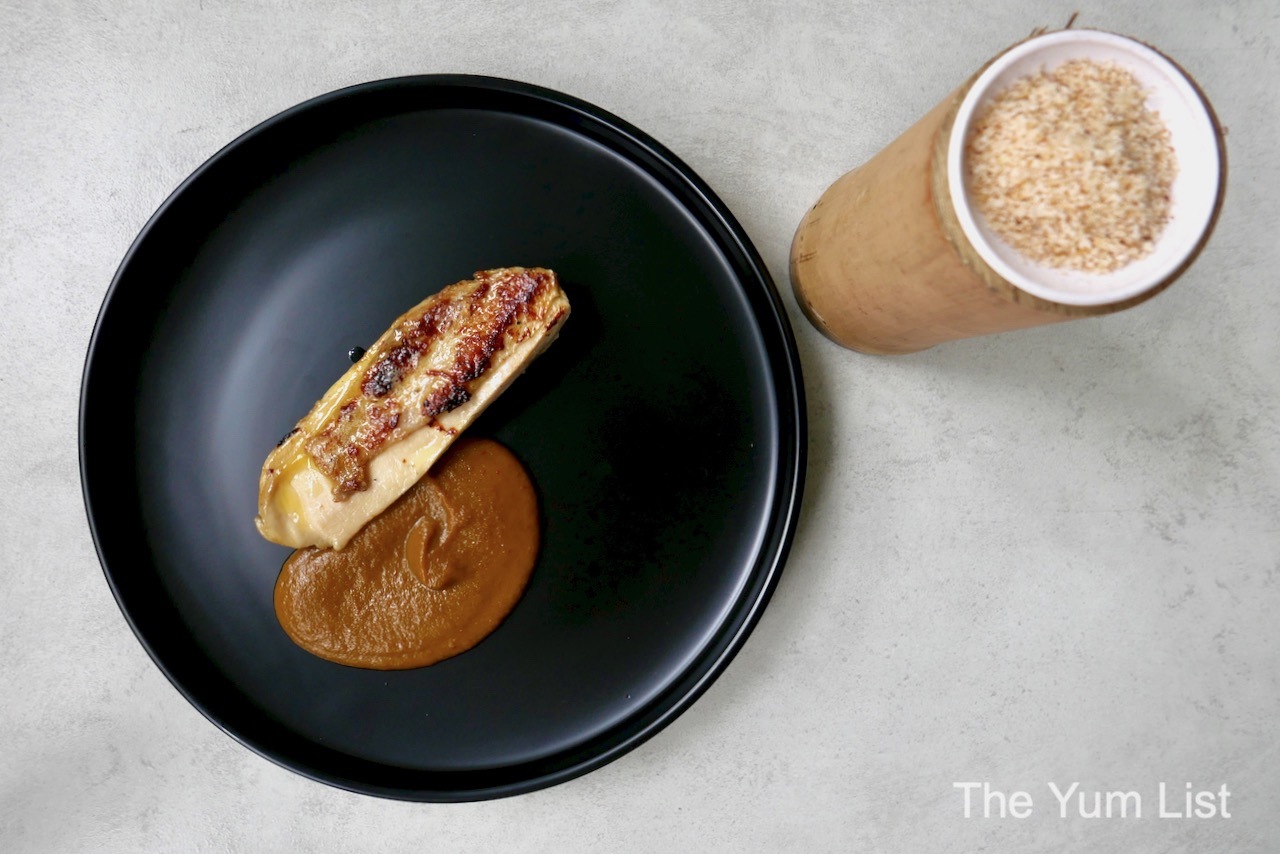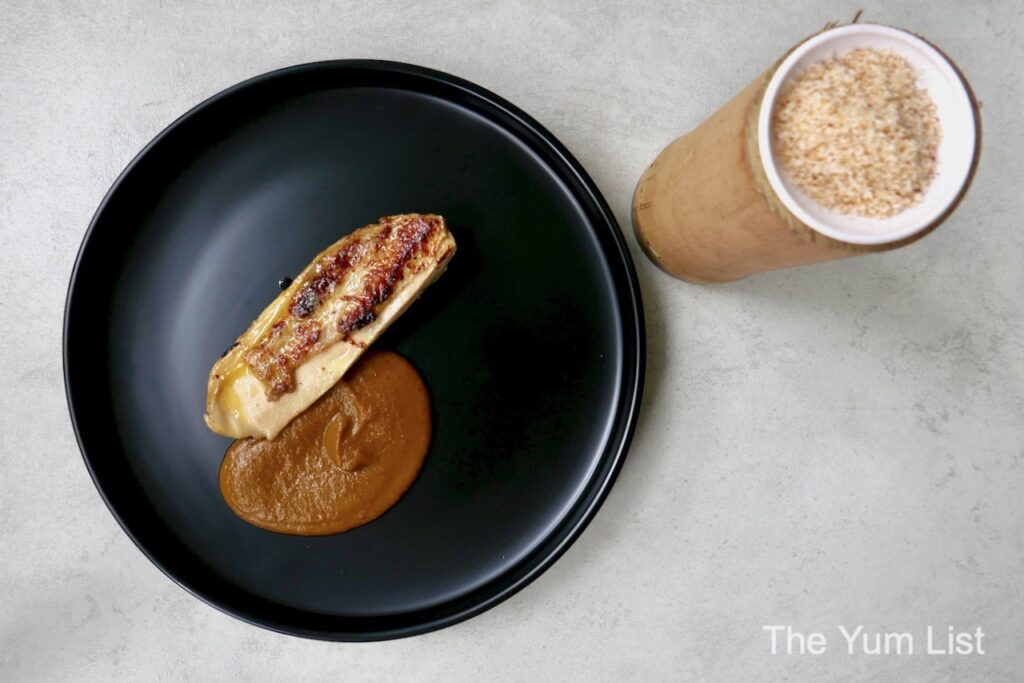 Chocolate Hazelnut Mousse with Mix Nut Tuile and Vanilla Chantilly
Sadly, we are prepared for the last course of the day, dessert. No one wants this meal to end. The Chocolate Hazelnut Mousse with Mix Nut Tuile and Vanilla Chantilly does not disappoint. It's again beautifully presented and delicious. The mousse is sweet and creamy with a rich, velvety mouthfeel.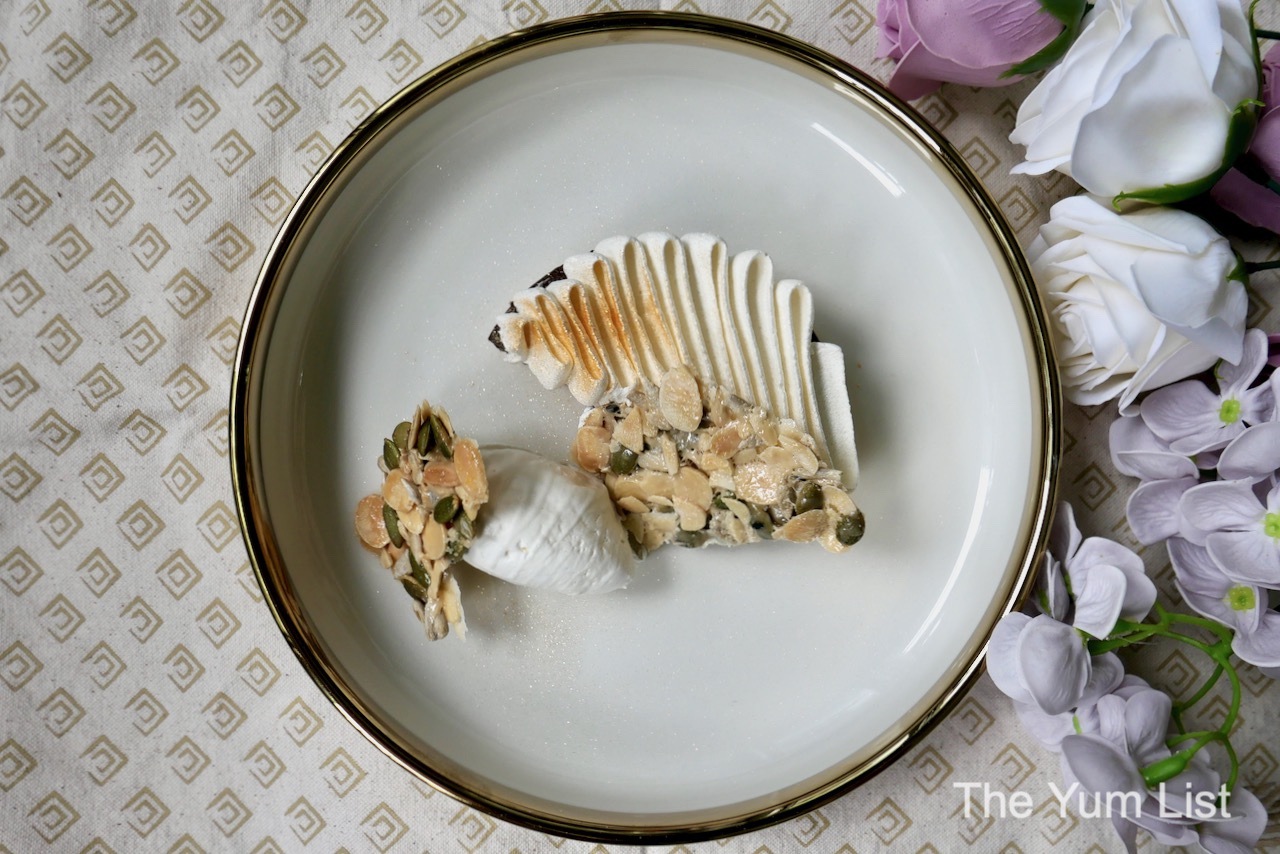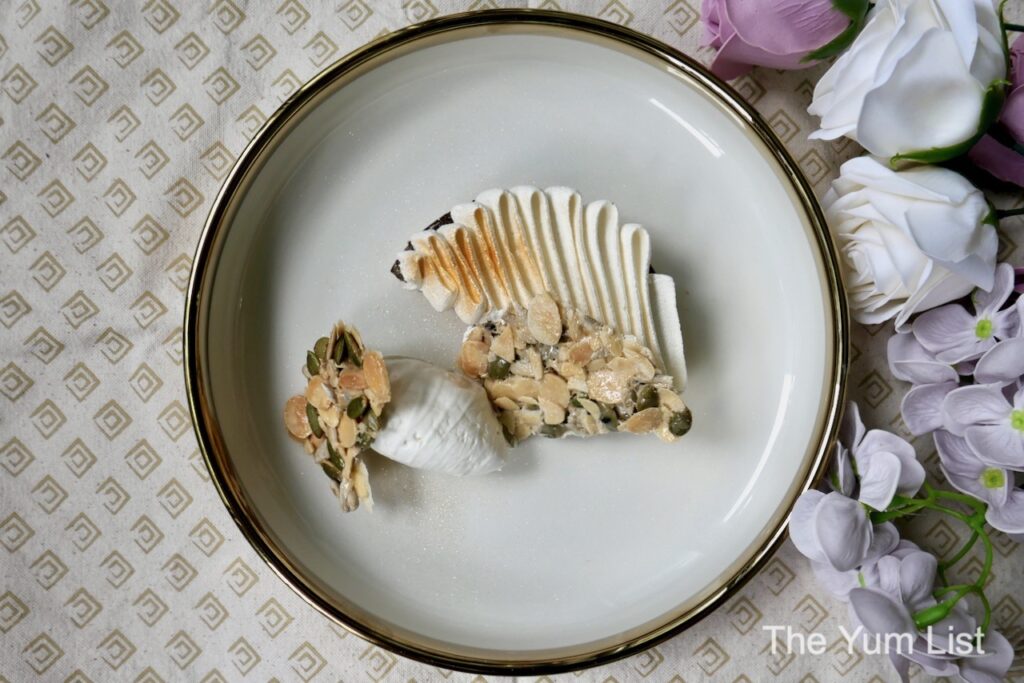 Chef Eden Daus at Home Personal Chef Experience
After dessert has been cleared, chef Eden Daus comes to sit with us for a chat. I'm so happy to hear his story and ask him a ton of questions. First, I must know how he became so passionate about cooking, and he explains he is inspired by people's pleasure. I love that so much. He tells us a story of when he was 10 years old, his mom was still sleeping, and he made her a cheese sandwich and brought it to her in bed. She was so happy and enjoyed it so much. Watching her eat that sandwich with a huge smile on her face, he knew right then and there what he was destined to do… become a chef and bring joy to people through his food. So, while he may not have decades of experience, he does have almost 14 years on the path, which is quite impressive. Besides cooking for his family, he has worked with some great chefs, including Vietnamese chef Tommy Tran, celebrity chef Malcolm Goh and most recently at Nadodi. Chef Eden Daus is Malaysian with a mixed Thai – Pakistan background, and he loves to bring those influences to the table.
If this meal sounds great to you, then please reach out to chef Eden Daus. He can cater from 2-15 people in your home. He brings his assistant and absolutely everything you need, including the plates he serves the food on. They need a few hours in your kitchen before the meal to prepare (many hours of prep are done before they arrive). You don't have to lift a figure. Monica told me after I left that her kitchen was spotless, even cleaner than they had found it. The sanitary practices were impeccable throughout the entire meal. The five-course menu is RM 340 a person, and there's also a vegetarian option for RM 270 a person. If you would like to add on a wine pairing, Chef Eden can arrange for that as well.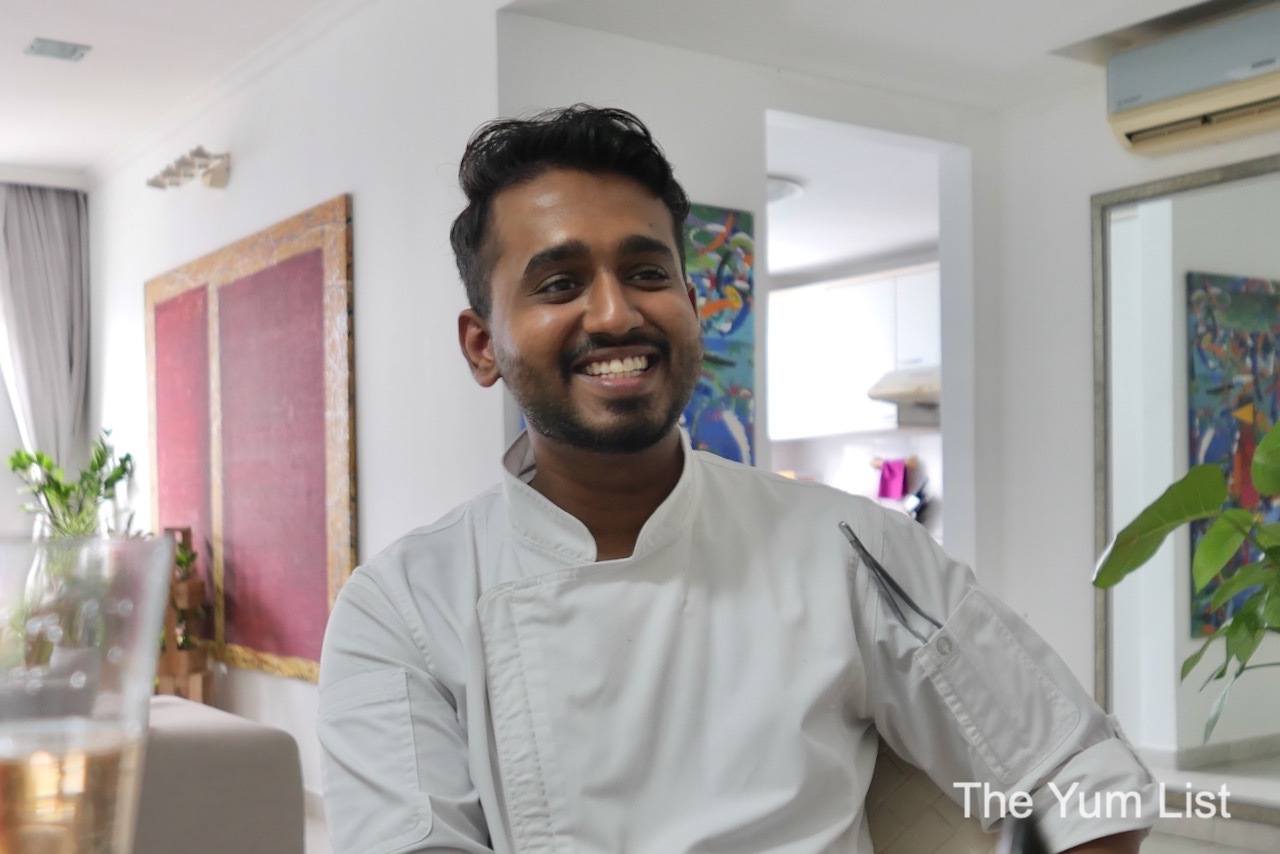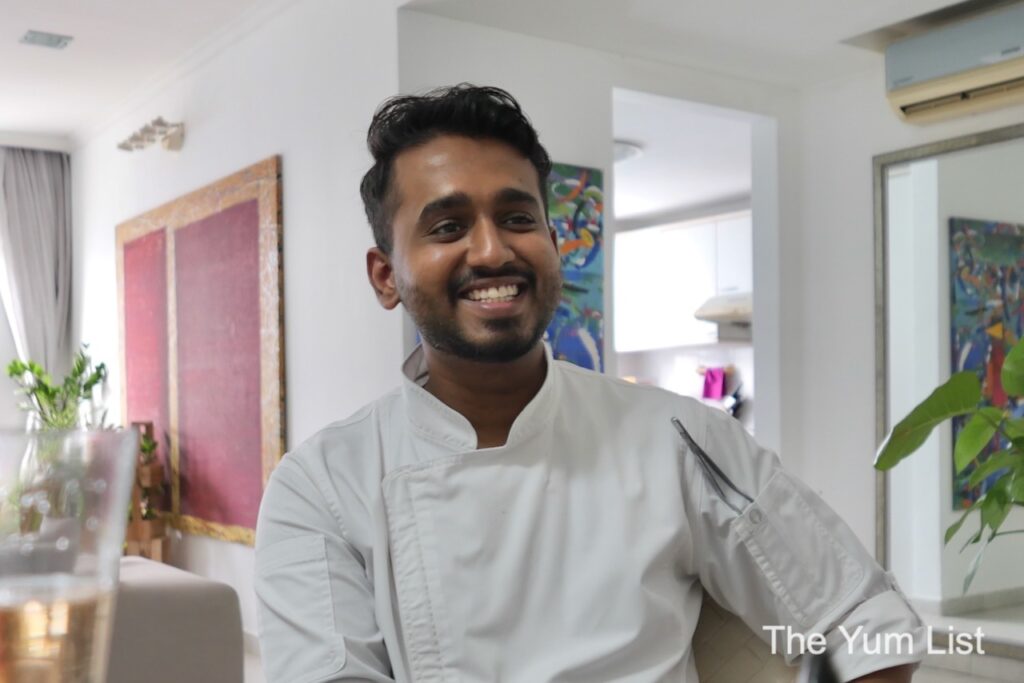 Reasons to book a private dining experience with Chef Eden Daus: amazing food (beautifully presented and delicious), don't lift a finger, spotless kitchen, impeccable service, fabulous for entertaining friends in your home.
Chef Eden Daus Contacts
+60 13 457 6640
Instagram
Find more ideas for special occasions here and stay up-to-date with the latest gourmet and travel recommendations for Malaysia here and here.