Aposto KL, Contemporary ItalianTTDI
Words: Sathya Selvarajah
Photos: Rich Callahan
With rave reviews everywhere, it's hard to believe Aposto KL has only been open for a few weeks. What is there to say that hasn't already been said? After spending an evening here, I understand the applause entirely. Helmed by Chef Chu Wei Sin, Aposto is Italian for 'it's all good'. And trust me, it is all good.
Nestled in TTDI, Aposto is an Italian restaurant that serves the classics with a twist. Fusion usually means combining different cuisines, but Aposto is a little different. It's Italian food, yes, but prepared with techniques of different cuisines Chef Chu has learnt in his decades of experience. As he says, the best way to handle fish is the Japanese way. The French have the best methods for making sauces!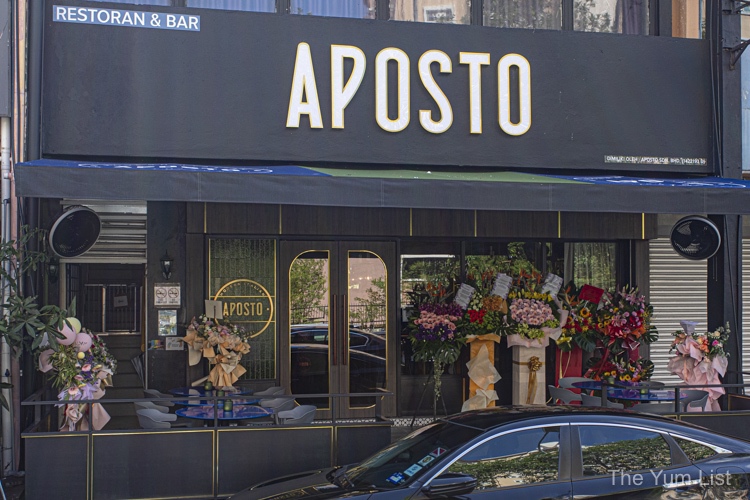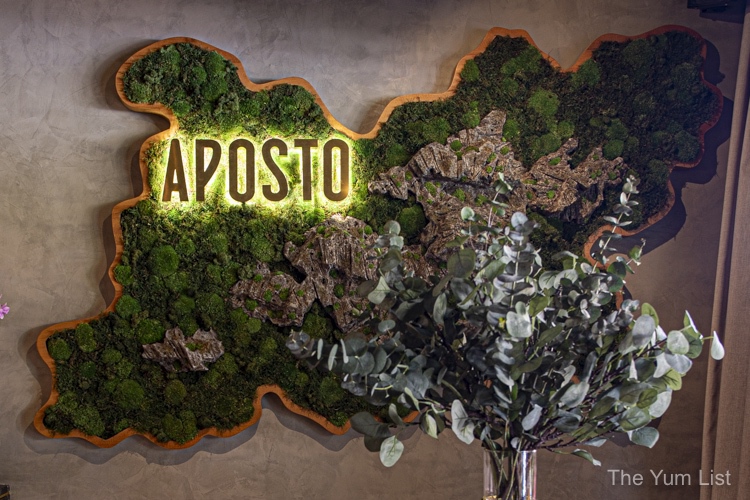 Aposto KL
Everything about Aposto is from the heart. Don't believe me? Just listen to Chef Chu speak for 30 seconds, and you'll know what I mean. He's worked his way up from waiting tables at a cafe to all around the world, working in different parts of the kitchen. Chef Chu built Aposto from scratch. It isn't just another over-the-top restaurant with money to throw on fancy menus and a nice setting. It's a place created with heart and attention to detail. That's the thing. Aposto isn't just a new restaurant in KL. It is the culmination of Chef Chu's life experiences and the little things he's picked up along the way.
What makes Aposto special is that it's classy yet unpretentious, with cheeky details all over the place. As you walk in, you're greeted with a moss wall on the right that's a map of TTDI. There is an actual cross-section of a real honeycomb on display on the corner of the bar, because why not?! The honey drips into a bowl that they use for their dishes. My favourite part is the picture facing you in the men's washroom of a man with a playful smile saying "E tutto?", meaning "That's all?"
Now we talk about the food!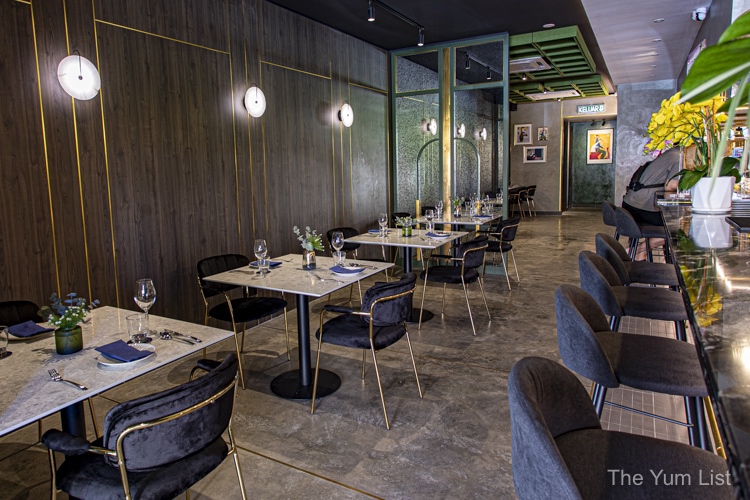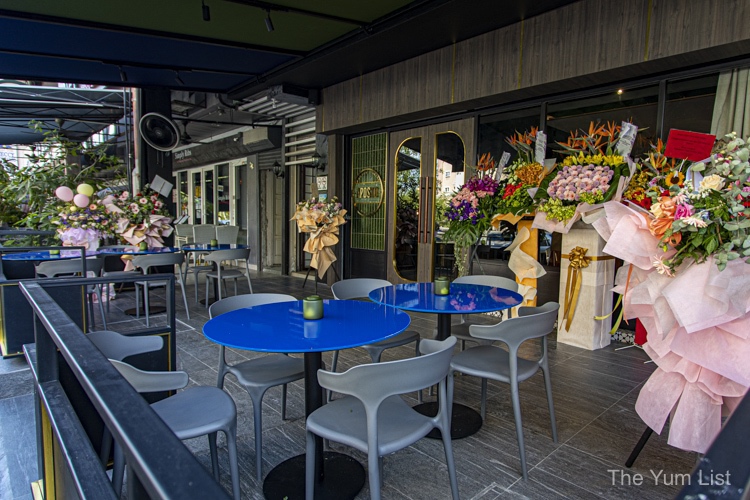 Aposto KL Menu
Chef Chu was preparing the Burrata Caprese (RM65) as I walked in, like a rocket scientist on a mission. It's easily my favourite appetiser here! Burrata is imported from Sicily and placed on a bed of heirloom tomatoes from Cameron Highlands. Homemade basil oil and 12-year aged balsamic vinegar are lightly drizzled to top it off. It's light, clean, and everything seamlessly goes together.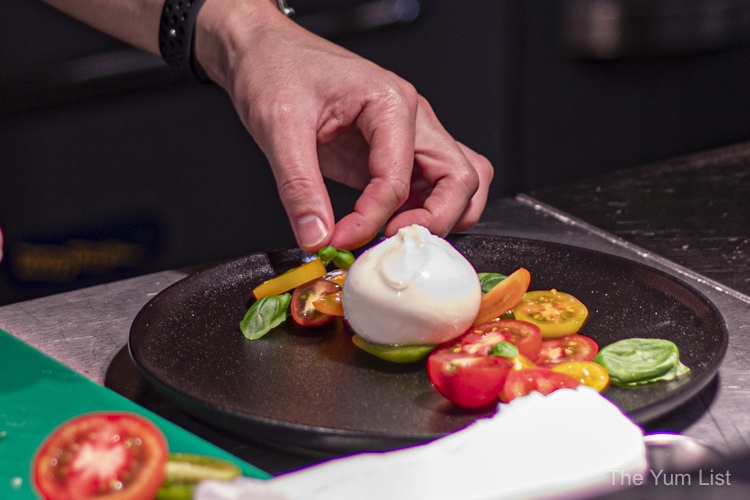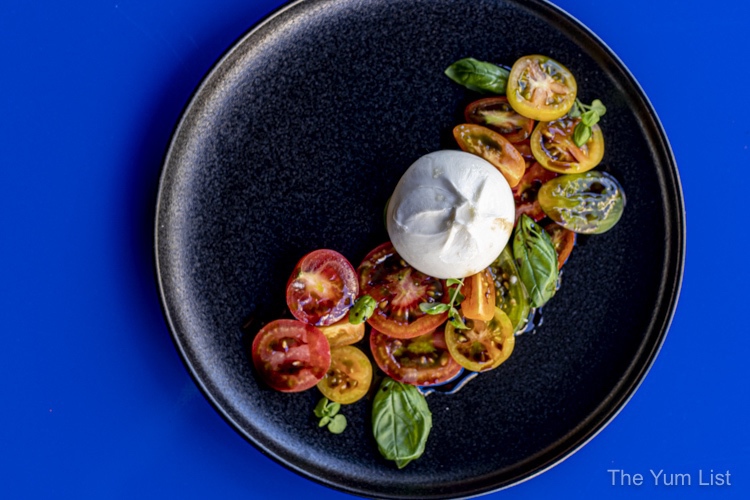 "The prawns need more height," says Chef Chu to his team as they plate our appetisers, sprinkling puffs of black rice on it after. The Black Tiger Prawn Polpette (RM36) is a must if you like prawns. The meatballs are prawny in flavour, doused with tomato sauce and creme fraiche. The shells have been cooked down with the sauce to bring in more flavour, which gives a deeper red with more flavour than you bargained for! The meatballs are soft to the bite and quite huge, so don't stuff the whole thing in your mouth like me!! Pace yourself, baby.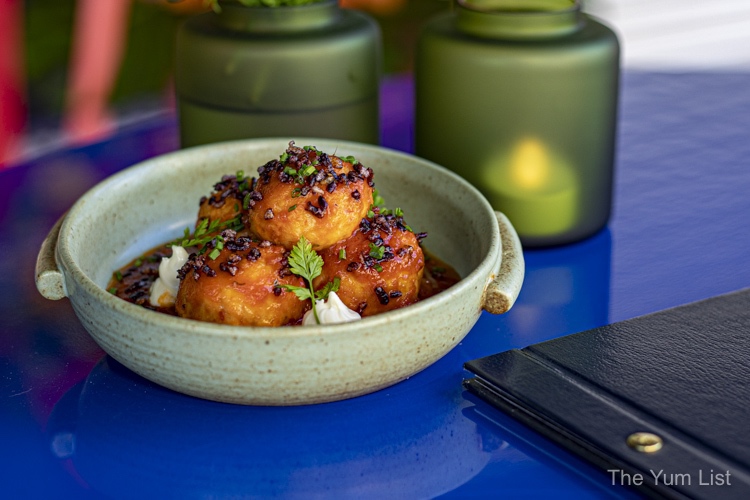 If you love all things sashimi, you will love the Scallop Carpaccio (RM88). Japanese sashimi-grade scallops are surrounded by four different types of seaweed and a passionfruit vinaigrette infused with kombu. The scallops are plump and huge! The zing of the passionfruit makes a splendid combination we've never quite had before.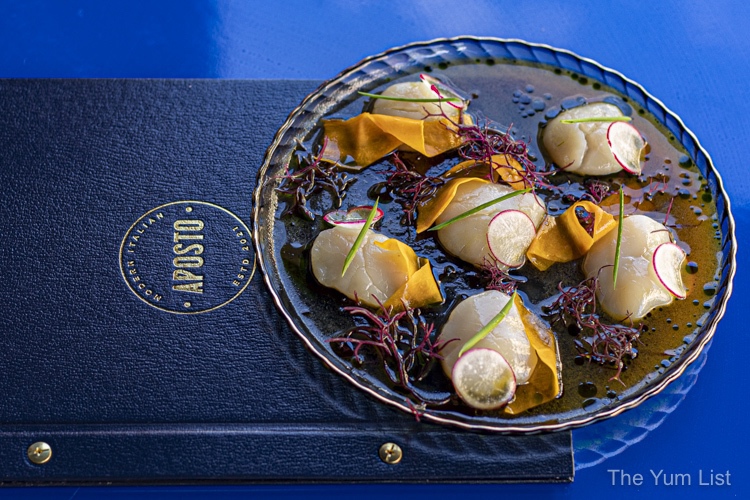 Adding in touches from his childhood, Chu's Saba On Toast (RM34) is a homage to the tuna sandwiches he used to eat growing up. The saba has been pickled, then blowtorched with brown sugar on top of toasted ciabatta. It's layered with gremolata, feta and pickled olives. It's salty and crunchy, and the acidity of the fish is well-balanced with everything else.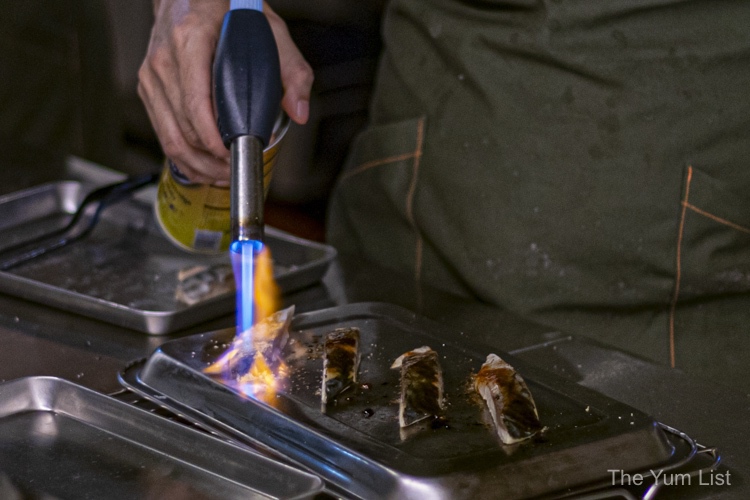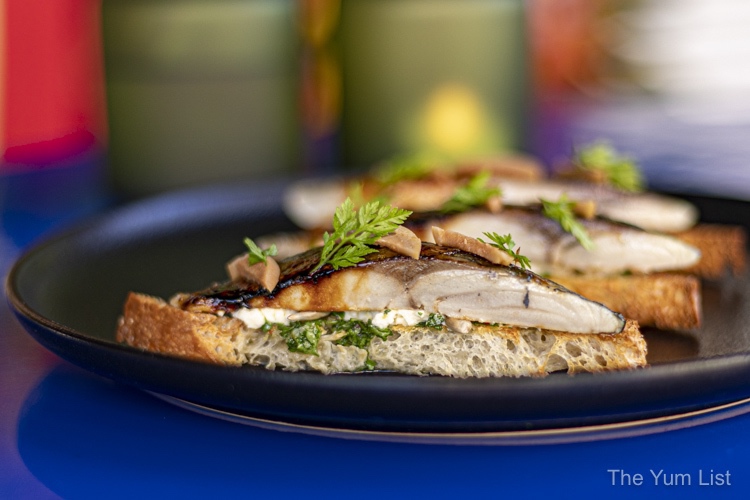 Vegetarian Options
Chef Chu's mother-in-law is a vegetarian, explaining the extensive vegetarian dishes available at Aposto. Their Mushroom & Pesto (RM28) comes with charcoal-grilled king oyster mushrooms on a bed of homemade pesto and toasted pistachios. Together with some pickled white shimeji mushrooms for some zing and pop of flavour too! The Eggplant Parmigiana (RM36) is a simple dish that's creamy and light! Lasagna lovers will appreciate this. Crumbed & fried eggplants, tomato sauce and mozzarella! chefs kiss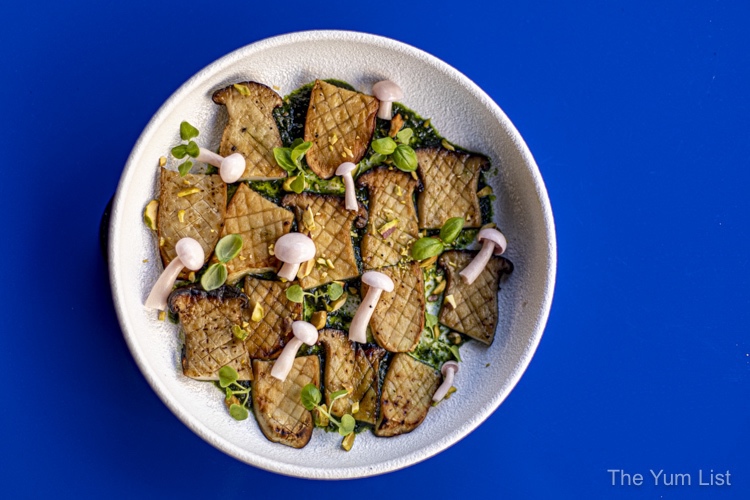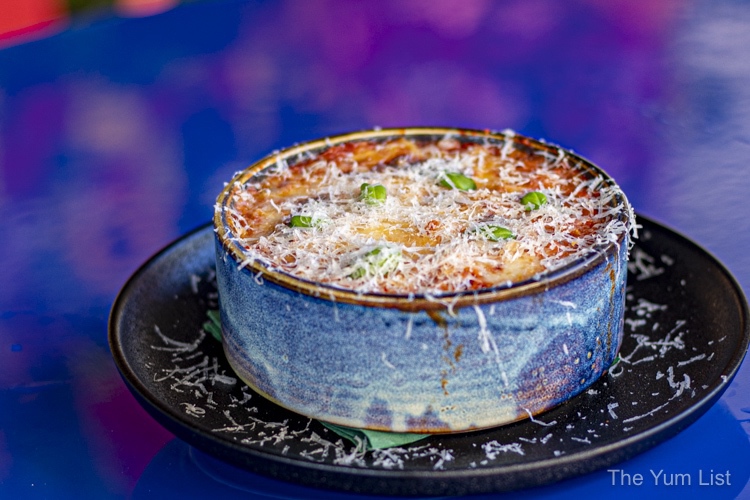 Handmade Pasta
All the food at Aposto is meant to be shared, and the portions are generous. We started with some of the pasta. The 16-hour Braised Duck Pasta (RM56) was an interesting dish. Hand-cut Maltagliati translates to 'badly cut' pasta with duck ragu and pumpkin purée. Mix everything first! The pasta is light and thinly cut to accommodate everything else's richness. The Mushroom Agnolotti (RM58) is another meat-free dish, with mushroom duxelles, ricotta and Parmigiano! These small pasta pillows are an umami bomb. You can opt to have shaved truffles on top too!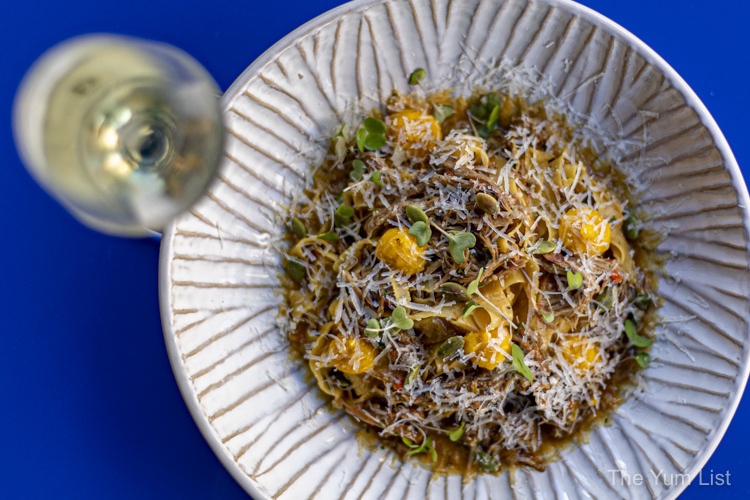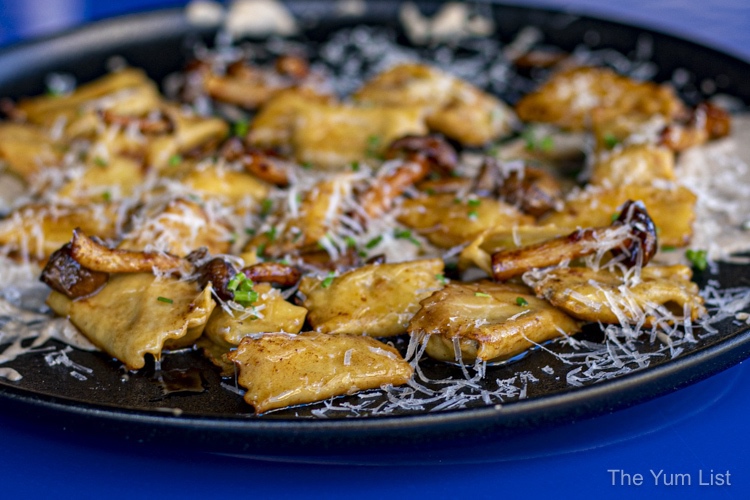 Italian Mains
The Lobster Spring Risotto (RM298) was controversial to me and challenged everything I thought I knew about risotto. I was waiting for something heavy and rich! Lobster, like Chef Chu says, is usually tied to heavier dishes for extravagance. This dish is pleasantly the opposite. It's subtle and meant to highlight the natural flavours of the lobster. It features freshly flown-in Boston lobster, edamame and bisque foam for added taste and pizazz. The lightness of the risotto and lemon juice truly does divert all your attention to the torched lobster! It was light, thoroughly enjoyable and honestly changed my perspective on how food can be.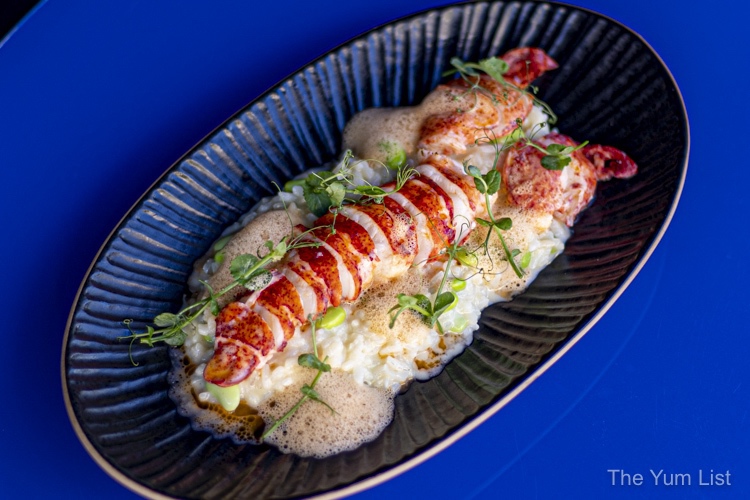 The meat section in the menu does not disappoint! The 18-hour Braised Beef Shortribs (RM168) in a balsamic soy glaze with creamy polenta is bound to be a favourite here. The ribs were rich without being gamey. They swirled in my mouth more than I chewed! Not surprising, as they take a four-day process to make.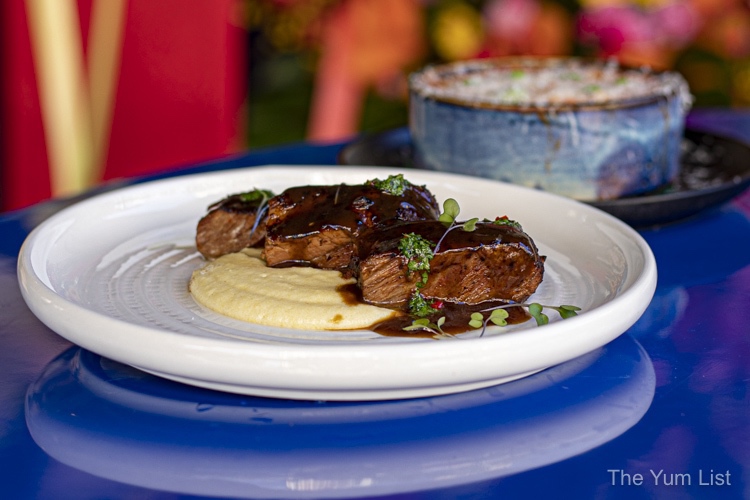 Having spent time in New Zealand and the US, Chef Chu knows that there are two types of steak fans – those who like to chew and those who want it to melt in the mouth. If you like a meatier steak, you can opt for the MB5+ Wagyu Sirloin 200g (RM180). If you prefer something more buttery, choose the Japanese A5 Wagyu Sirloin 150g (RM398)! It's rich, creamy and fatty. Everything you'd expect in a Japanese cut! All that fat is balanced with some pomme puree, that signature aged balsamic and smoked dijon.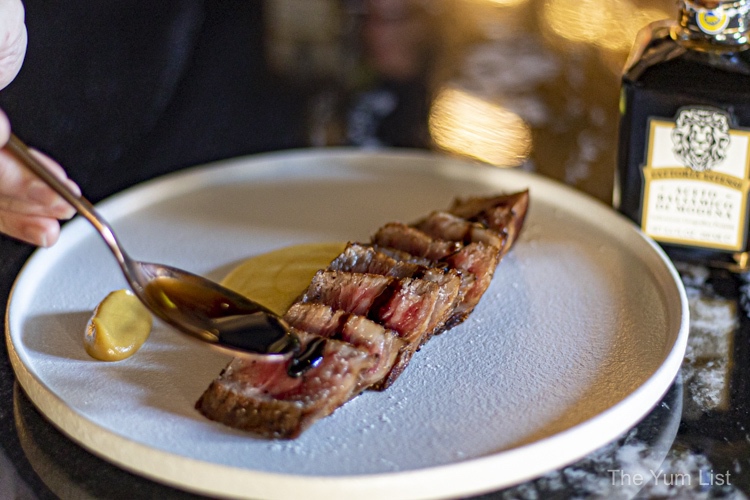 Aposto KL Desserts
We were served three Italian desserts to cap it all off, and I have to confess you could come here for sweets alone and be perfectly satisfied. The Tiramisu (RM36) was a gastronomical adventure! Take everything you know about tiramisu and toss it out the window for a bit. This dish has the same essence but is executed in a way you've never seen before. Surrounded by a thin crisp shell, mascarpone is layered inside with coffee meringue chunks and some chocolate crema to give it that extra oomph. I can foresee the videos of people breaking the tiramisu that will saturate Instagram, because I did the same… A bonus fact about Aposto is that their dining tables were specially selected to not have a glossy finish, so there's no glare in your pictures! We told you this place is well thought out!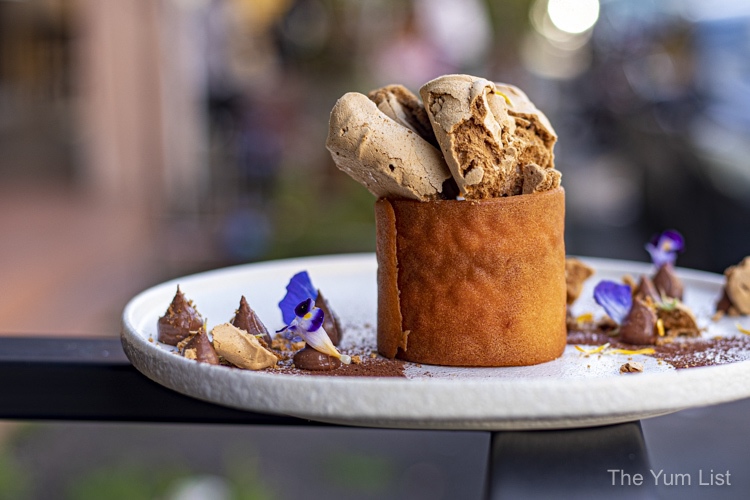 The Torta Caprese (RM34) is a flourless chocolate cake made with ground almonds and Valrhona chocolate. Whey sorbet made from the excess liquid of their homemade ricotta balances out the sweet. It's an Italian twist on brownies with ice cream on top!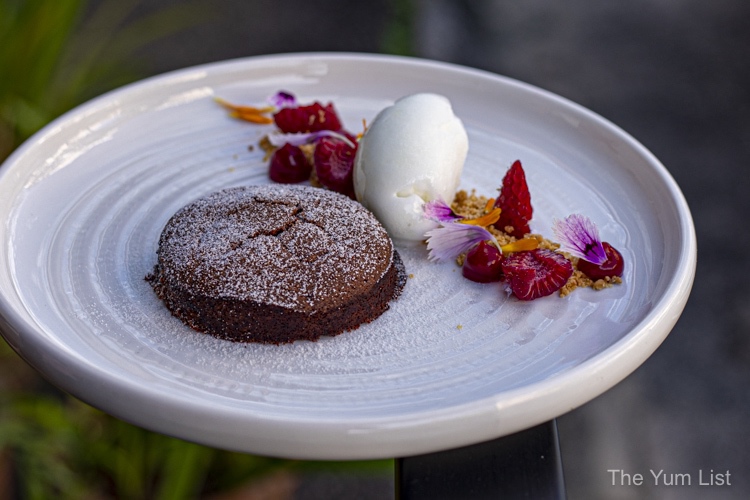 Now for my favourite dessert – the Honey Panna Cotta (RM34). Panna cotta is infused with a few slices of orange peel to bring out a little citrusy flavour. It's topped with blackberries, white wine jelly and pieces of that beautiful honeycomb on display at the bar! It's light, balanced and a wonderful ending to our evening at Aposto KL.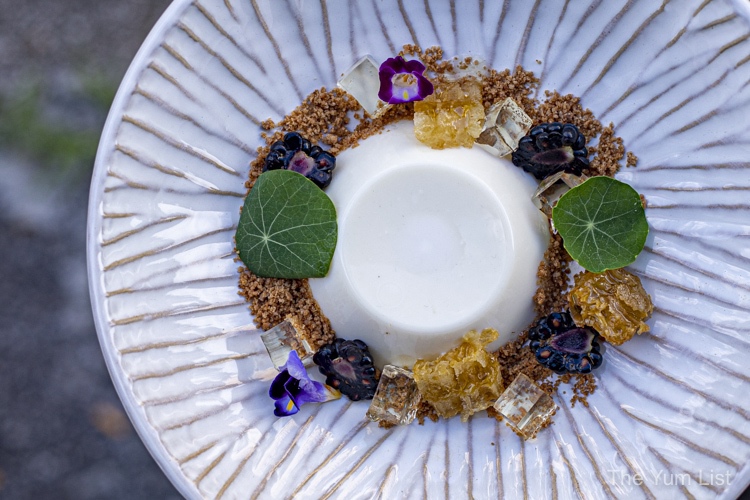 Aposto KL Drinks
The drinks at Aposto KL are as interesting as the food. Fans of a good Bloody Mary will love the Tomato Sunrise (RM24)! My favourite thing is that it has no water inside at all! The liquid is actually blended tomatoes that have been filtered till transparent, with orange, thyme and soda! The iced flowers are a nice touch. I'm just waiting for the cocktail version of this!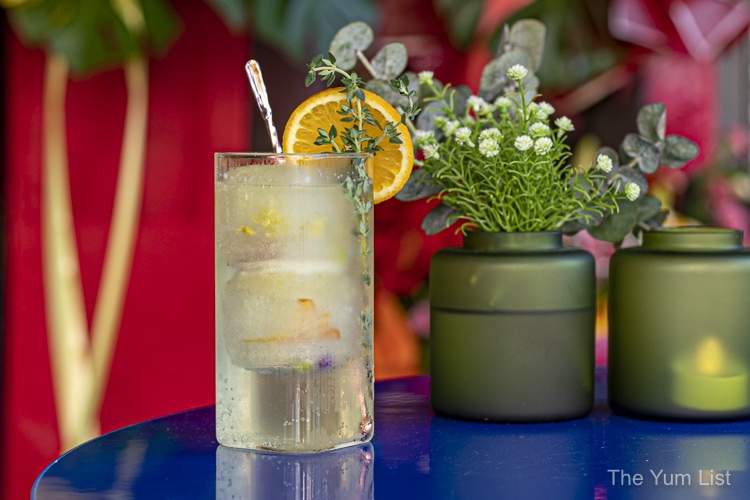 If you're all things healthy, Beet You Up (RM25) will beat up any correlations you've had about the tradeoff between health and taste. Red beetroot, maple syrup, lemon and ginger ale make this a lovely concoction with beetroot foam to top it off.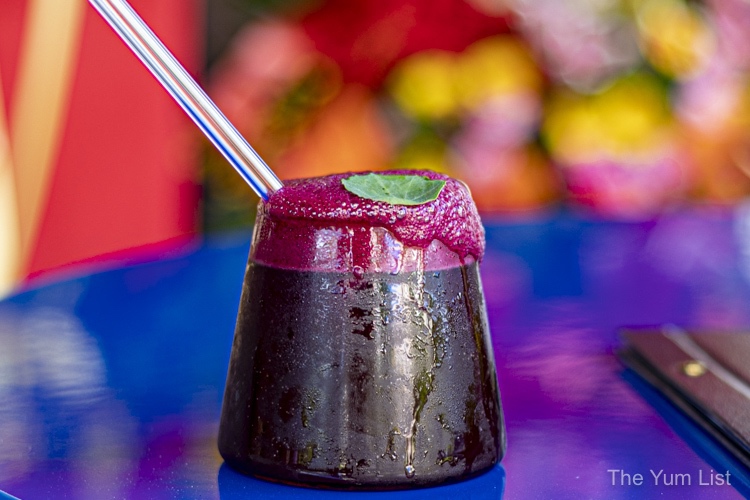 Lychee Something Something (RM22) is a cheeky name. It's served over a lychee ice ball with calamansi, lemon juice, lychee syrup and soda – great for hot KL afternoons.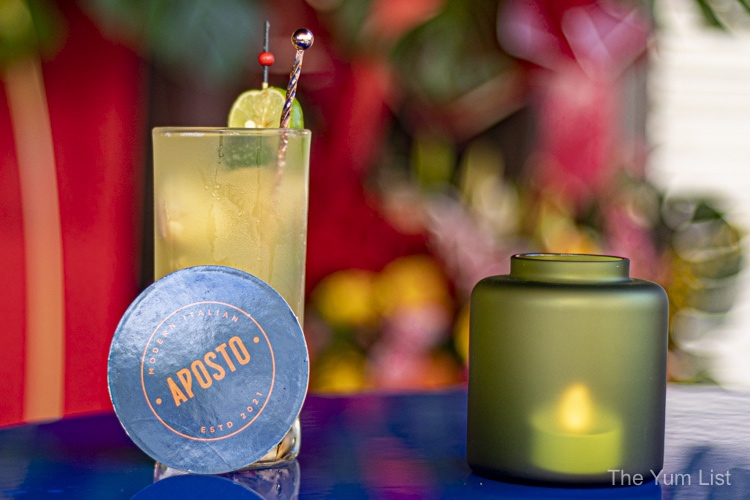 A bottle of Belstar Prosecco (RM260) accompanied us throughout our evening. Notes of pear, green apple, grapefruit and brioche make for some nice bubbles to go with all that food! Their wine list is simple and well-curated, separated into New World and Old World reds and whites! All their glasses of wine are below RM40!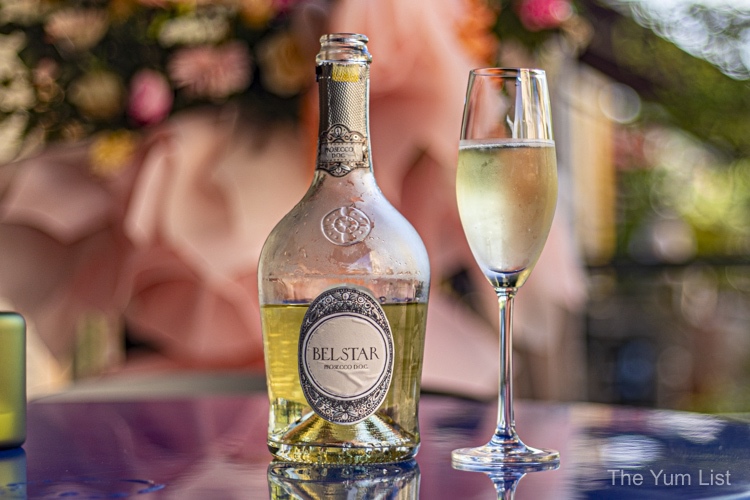 Aposto KL Review
All in all, our experience at Aposto KL was fantastic. With techniques of the world channelled into Italian cuisine and tremendous attention to detail beyond just the food, I wouldn't be surprised to see it remain a star for decades to come. It is a playful yet serious display of Chef Chu's life's work. There is a little something here on the menu for everyone, regardless of your budget. You don't have to spend a bomb if you don't want to. A uni kid on his first date will have an equally good time as a business mogul with change to spare. Like the name says, È tutto a posto! It's all good.
Reasons to visit Aposto KL: a contemporary take on Italian fare; a menu that does not price out anyone; an extensive selection of vegetarian dishes; have to try their handmade pasta and don't miss the tiramisu!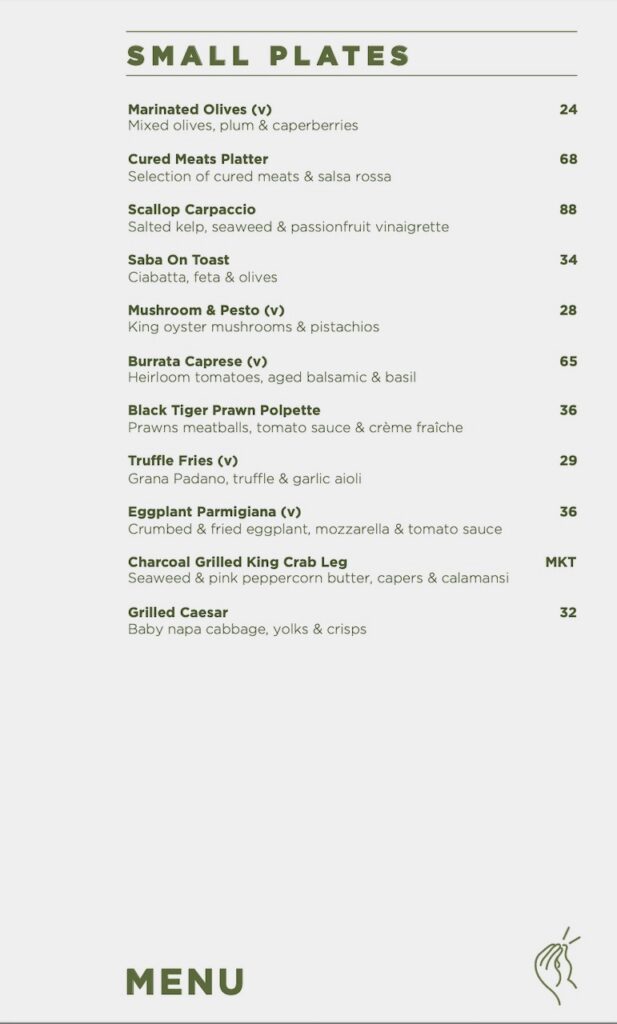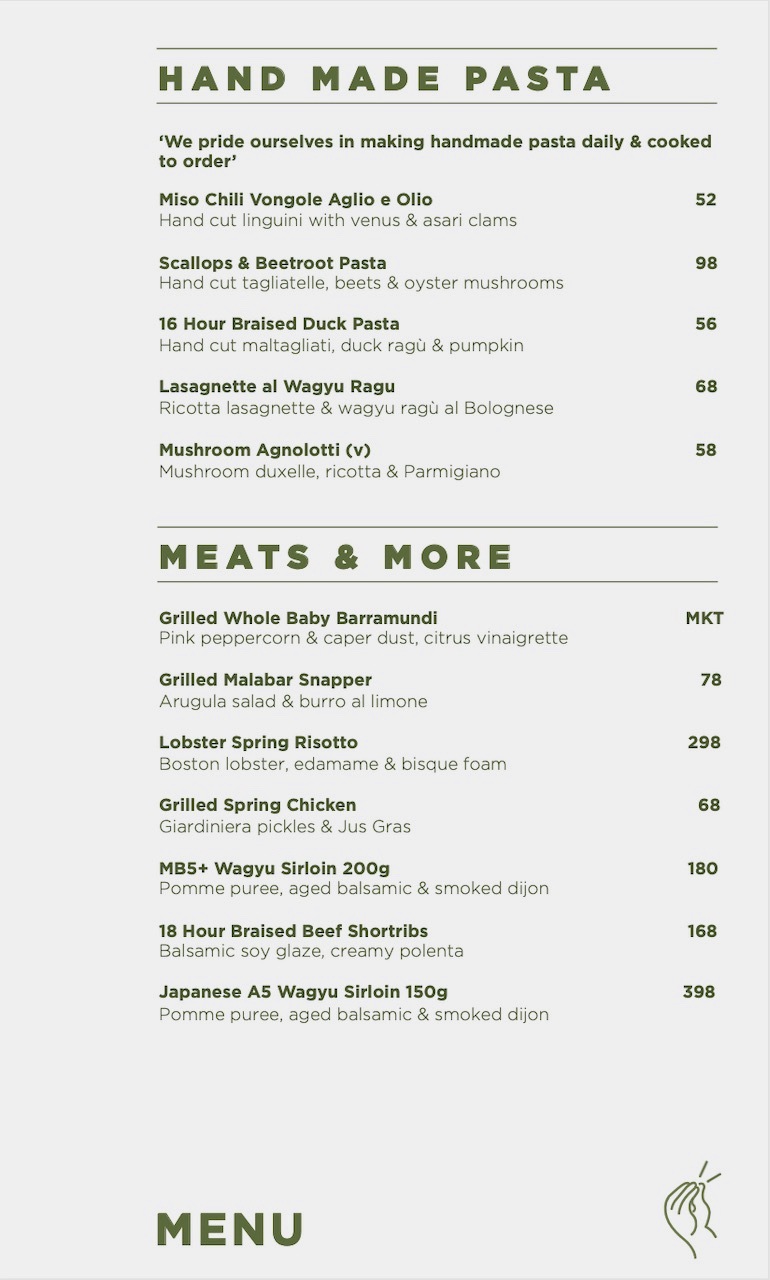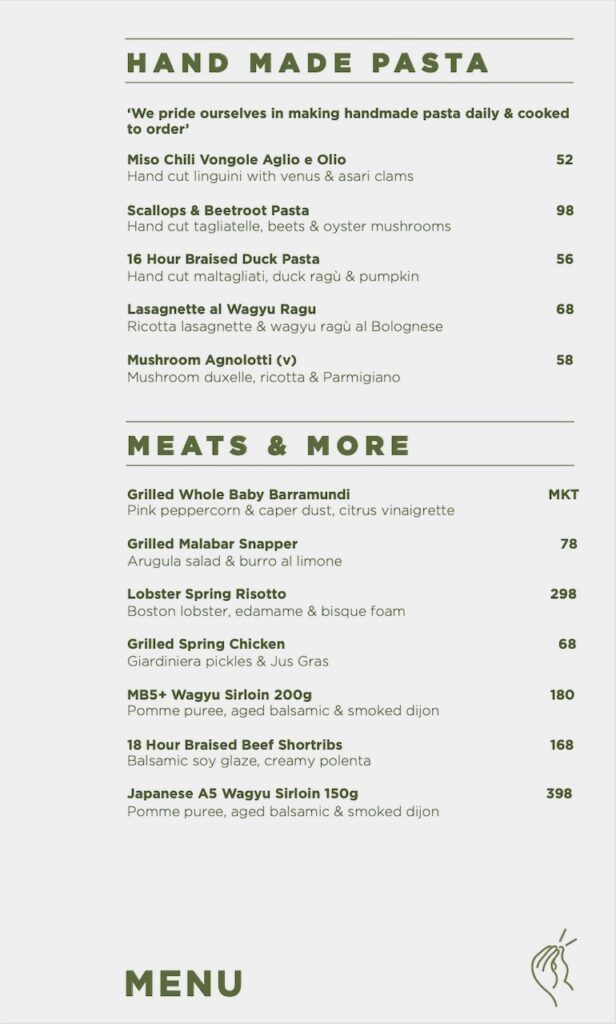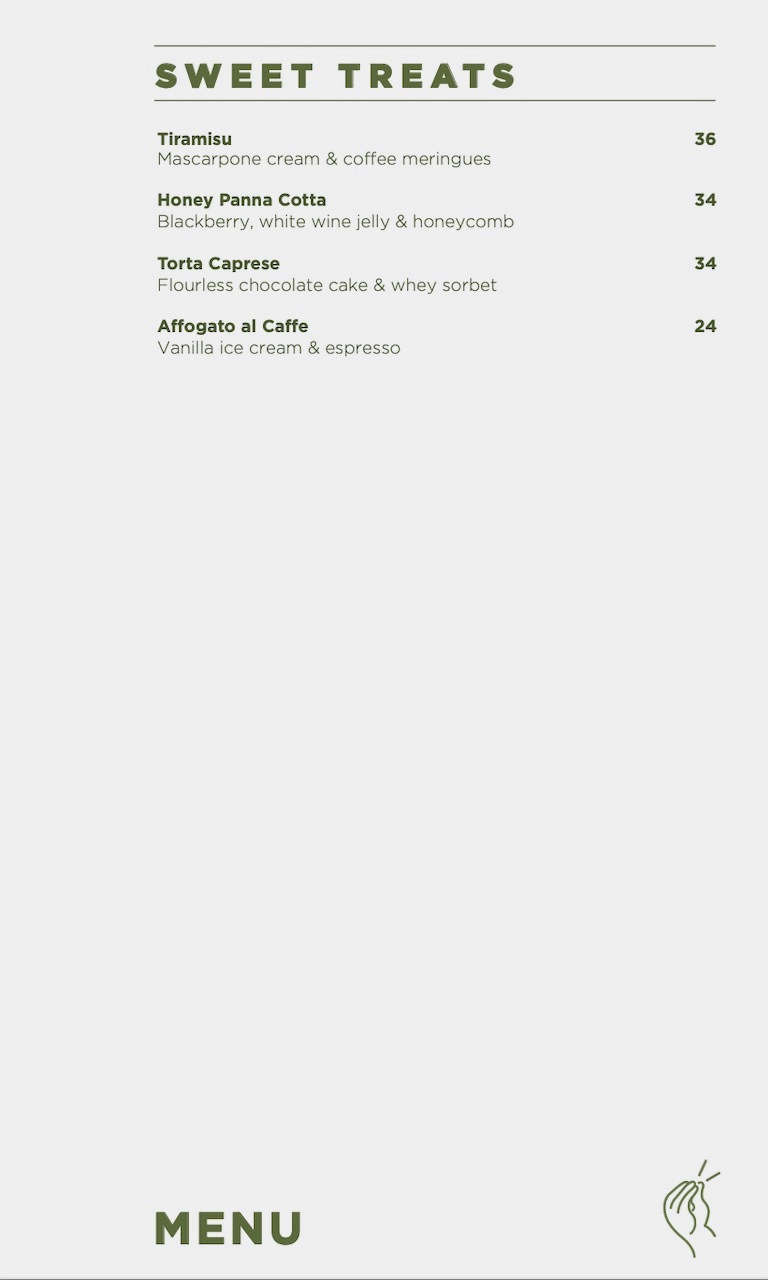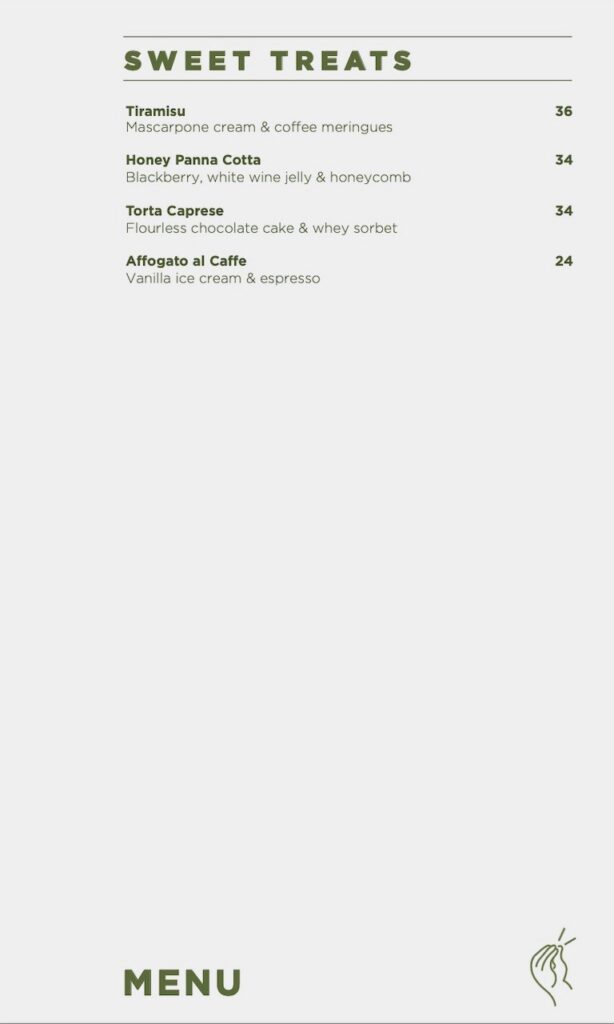 Aposto KL
38, Lorong Rahim Kajai 14,
Taman Tun Dr Ismail, 60000 Kuala Lumpur, Malaysia
+60102824990
Instagram @aposto.kl
Aposto KL Opening Hours
5.30pm-11pm (10.30pm last call)
Closed on Mondays
Find more restaurants in TTDI here and stay up-to-date with the latest gourmet and travel recommendations for Malaysia here and here.