The First Chapter Speakeasy- TTDI
Words: Monica Tindall
Photos: Rich Callahan
The First Chapter Speakeasy – "There's no bookstore quite like it." 
University pals Shawn Luke and Ben Nair dreamed of opening a secretive speakeasy while studying in 2014. Careers as a barista (Shawn) and a financial contract manager (Ben) kept each busy for quite some time until they moved over to the bar scene. Shawn gained extensive management experience with some of KL's hottest bars. At the same time, Ben sharpened his shake under the tutelage of the legendary team at Omakase + Appreciate. With all books in order under a solid Dewey Decimal System, The First Chapter Speakeasy opened its pages in TTDI in October 2021.
Ben and Shawn loved the idea of traditional speakeasies in the prohibition period having a front as a legitimate store. Combining this with the many chapters in their own lives, it made sense to conceal themselves behind a book store. With speakeasies being hidden, it wouldn't be fair to give you too many clues as to how to get here, right? Let me just say, "Meow," and the bookshelf at the end…
Once inside, there are several sections with studded leather couches and coffee tables for small gatherings, as well as a handful of chairs at the bar, which is my preferred seat for the witnessing the mixology action.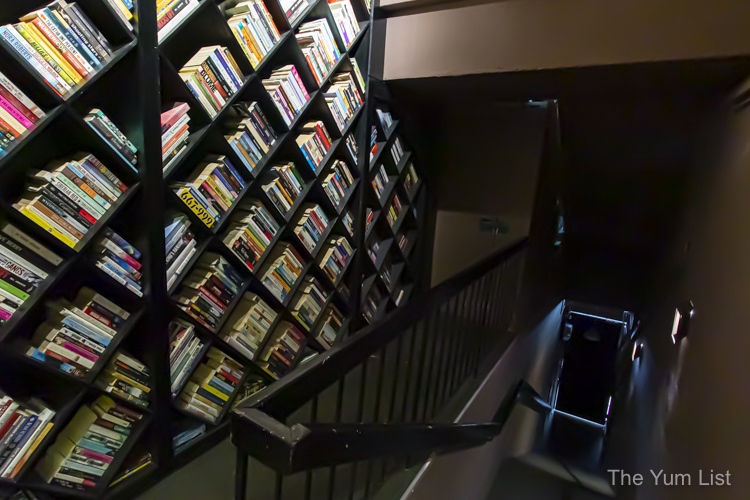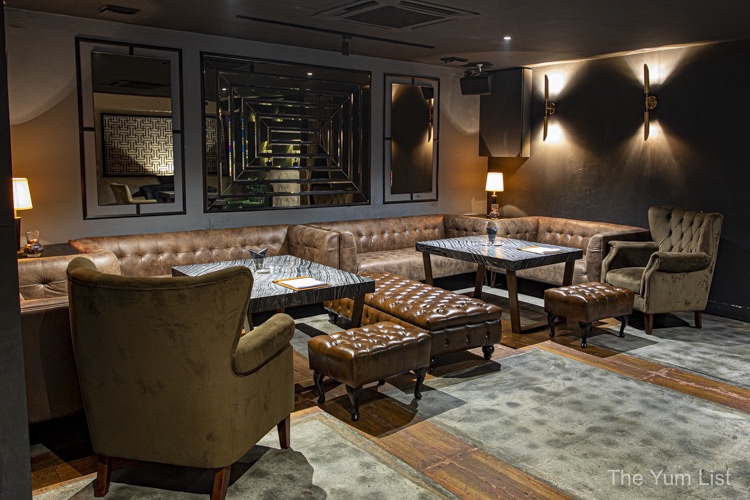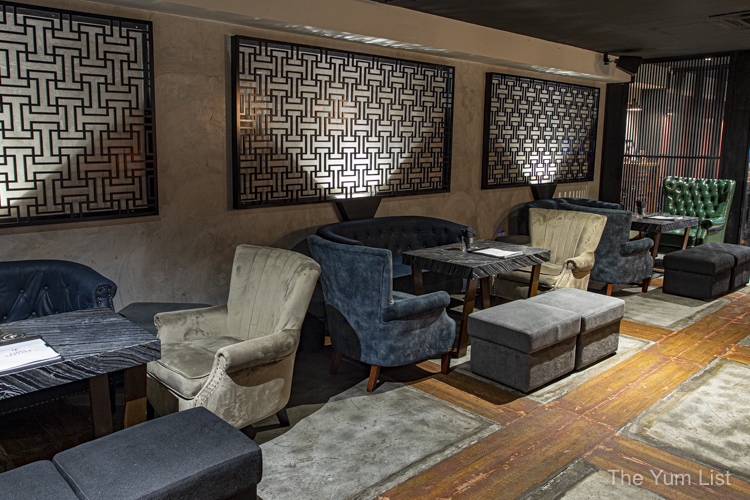 The First Chapter Craft Cocktail Menu
The First Chapter Speakeasy's cocktail menu builds on the classics, local culinary delights and pop culture. Ben doesn't hide the fact that many of the inclusions are based on his personal tastes, including number one on the list, Ben's Margarita.
Ben's Margarita
I find it hard to go past a Margarita to ease into a bar. Its sharp, fresh finish takes the edge off the outside heat, and its citrusy twang opens the palate. Ben's Margarita (RM 38) is based on a double shot of Don Julio Reposado Tequila with Cointreau, fresh lime, organic agave syrup and sea salt balancing out the spirit. Ben loves a margarita but is not such a fan of too much citrus or the salt rim. So, he softens the edge with the cactus syrup and sprinkles a few grains of salt into the liquid, rather than the rim.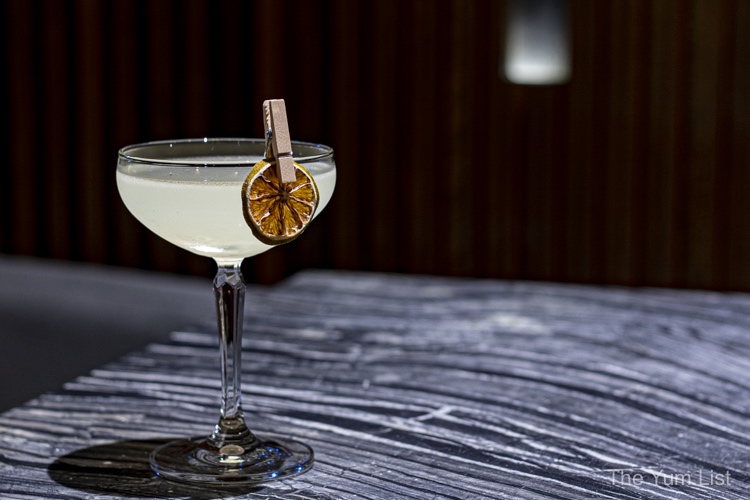 The Russ
Gin lovers would be well-advised to order The Russ (RM 38). Tanqueray gin, black tuak, house-infused raspberry-blueberry tincture, aquafaba (chickpea water giving the same foamy effect as egg white but vegan) and lemon are a riff on the classic Clover Club. Dry vermouth in the original is replaced by black tuak. The textured frothy top is achieved with a reverse double shake – first dry, then over ice. And, "Who is Russ?" I ask. Ben replies, "We're still waiting to meet him."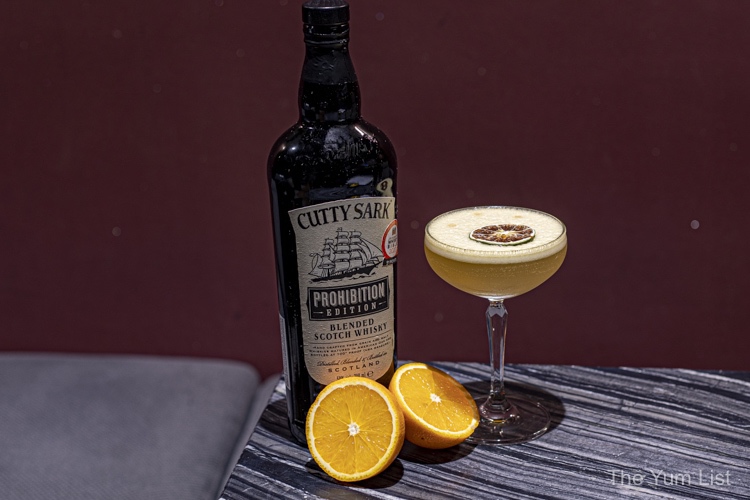 The First Chapter Speakeasy Infused Gins
Gin is another of Ben's loves as he enjoys the complex aromatics of the spirit. As such, he plays around with gin infusions and currently has two successes on the menu – rose and chrysanthemum (RM 42). The former requires just the right species from France to have a delicate floral, rather than bitter, appeal, and the latter is warm, sweet and tangy. They're served in opulent bowl glasses over pristinely clear, block ice from Coley. Rosebuds and juniper berries garnish the first, and charred Chinese liquorice tops the second.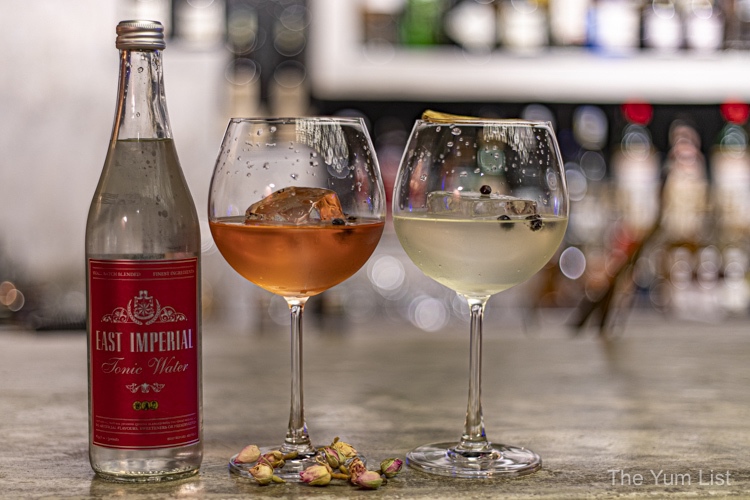 Four drinks in, and we're feeling fine! "Hydration is key," says Ben as barback Chisty hands over more water. It's true! From the moment of our arrival, we've been served a bottomless glass of water – a much-appreciated protocol. Meanwhile, Shuvo, backing Ben at the bar, shakes up two canisters at once, showing his guns and timing for the upcoming bevvies.
The Mandarine
The Mandarine (RM 38) stems from the team's love of all things Oriental. The incorporation of high-proof Cutty Sark Prohibition Whisky (50%), Cointreau, yuzu syrup, fresh orange, aquafaba and fresh lemon produces a wonderfully citrusy mouth-filler. This is Ben's take on a whisky sour with a touch more citrus and the Cutty Shark taking a stand in the flavour profile.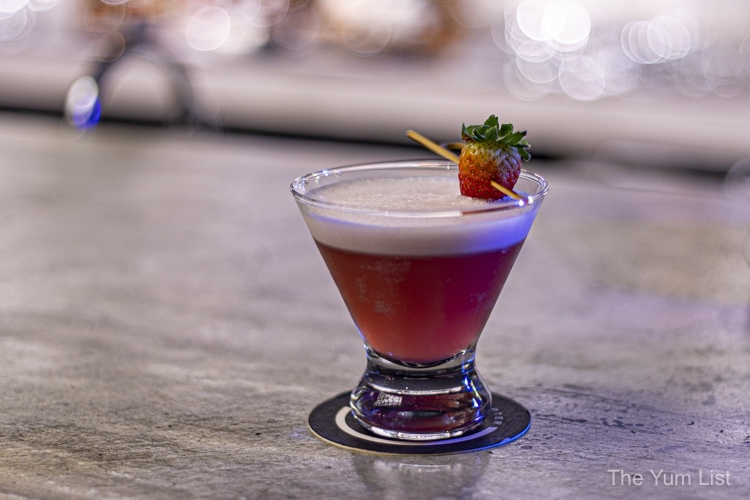 Regina George
Mean Girls, look out! Regina George (RM 38) is in the house. Grey Goose, aquafaba, lemon, and, raspberry and bubble gum tincture lead to a sweet yet balanced cocktail – too sweet for me, but a big hit with hubby.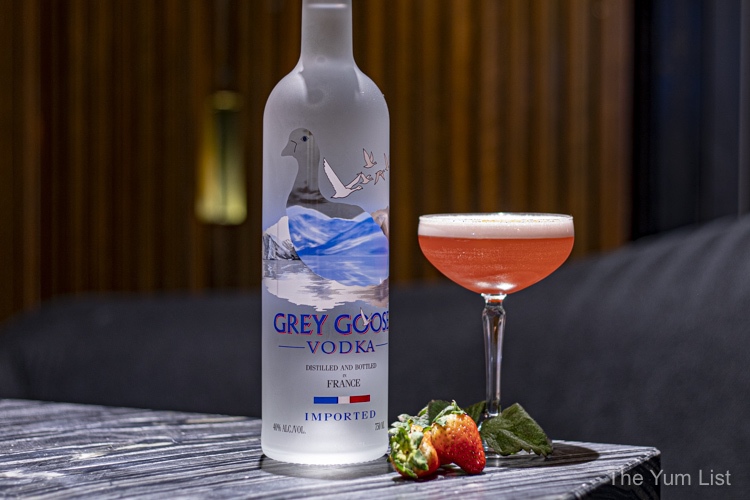 Wake Me The F*@k Up
Using a cold drip coffee from a nearby café, Wake Me The F*@k Up (RM 35) is a mood booster. House-infused vanilla vodka takes the edge of the bitter brew, while Kahlua augments the caffeine kick.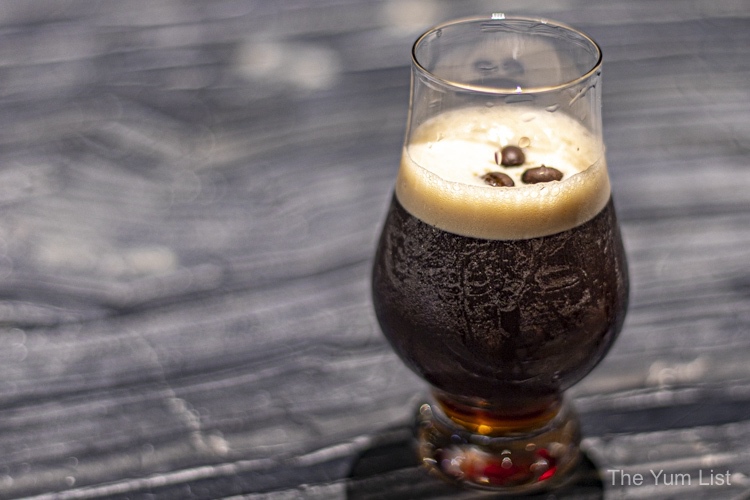 Payasam
Proving the cocktail list offers something for everyone (even those who don't have old and sour, aged and bitter tastebuds like mine), the Payasam (RM 30) presents a take on the classic Indian dessert. With Crème De Menthe, Crème de Cacao, house-infused coconut cream and Fernet Branca, it tastes just like an After Eight dinner mint.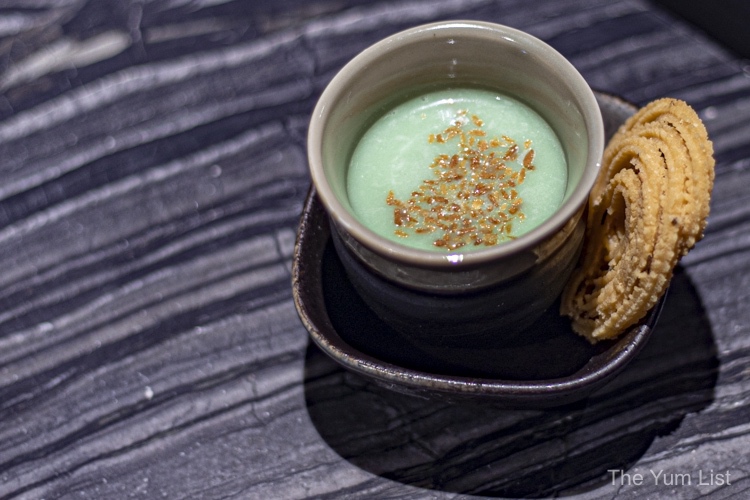 Off The Menu
You just need to complement the bartender or give a big tip, and you can get an off-menu cocktail. I'm not sure what we did to deserve such a privilege, but we are having a very good time. Shawn is in charge of the tunes. We're happily debating the best versions of all of our favourites, ready to embarrass ourselves with some shaky dance moves and most likely singing louder than we should. Perhaps the off-menu creation, a variation of a pisco sour, was designed to fill our mouths for a minute or more of silence. It's a touch more citrusy than the original and garnished with a Maraschino cherry. The price of off-menu mixes depends on the spirits used (as well as how nice you are to the bar staff, the size of your tip, and possibly if you've given Ben a compliment about his hair today).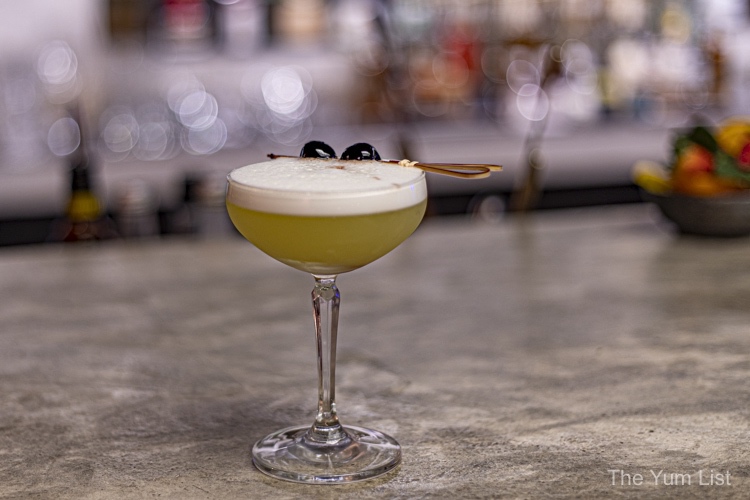 The First Chapter Speakeasy Food Menu
The First Chapter Speakeasy's food menu guarantees to soak up the booze with its deep-fried bites. Fries with Chilli Mayo (RM18), Breaded Onion Rings with Tartare Sauce (RM18) and Fried Button Mushrooms with Garlic Sauce (RM20) are small bites for sharing, ensuring you'll lick your fingers before turning any more pages in the text. The menu is quick and easy to handle.
For something a little more substantial, try the Gula Melaka Chicken Cutlets (RM22) or the Trio of Beef Sliders & Fries with Honey Mustard & Chilli Mayo (RM48). Both are straightforward to manage but with a little more protein, holding more space in the stomach. The first, replacing chicken wings, is a tasty but more elegant way to eat the popular bar snack. They're sweet and addictive, but it's the sliders that turn our page. They are absolutely delicious. A fat patty with loads of caramelized onion and a fab sriracha mayo and honey mustard dressing is wedged between brioche buns. They are worth the dribble creeping from the corner of our mouths.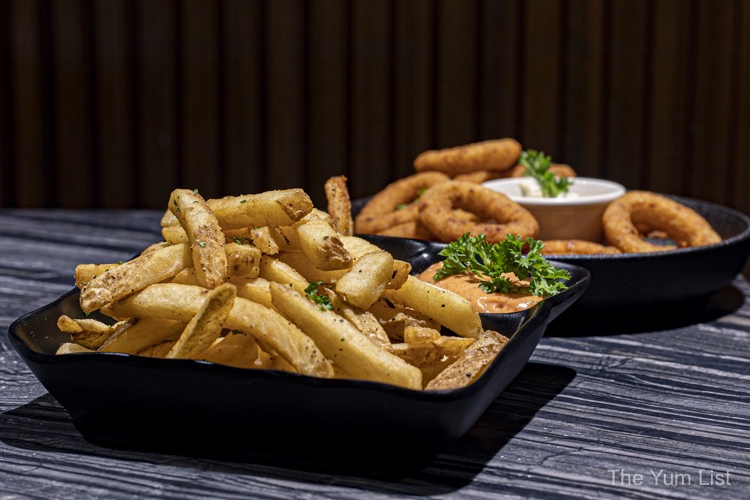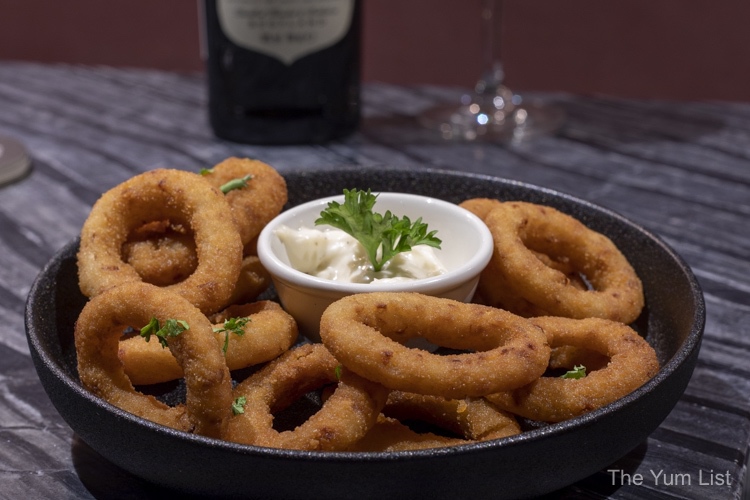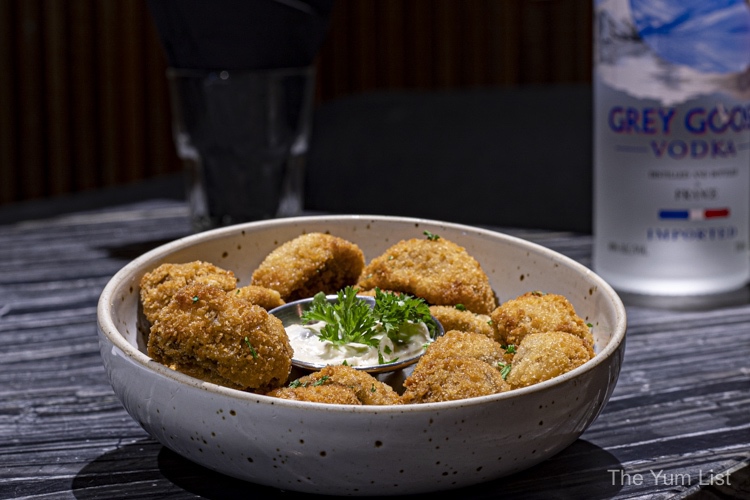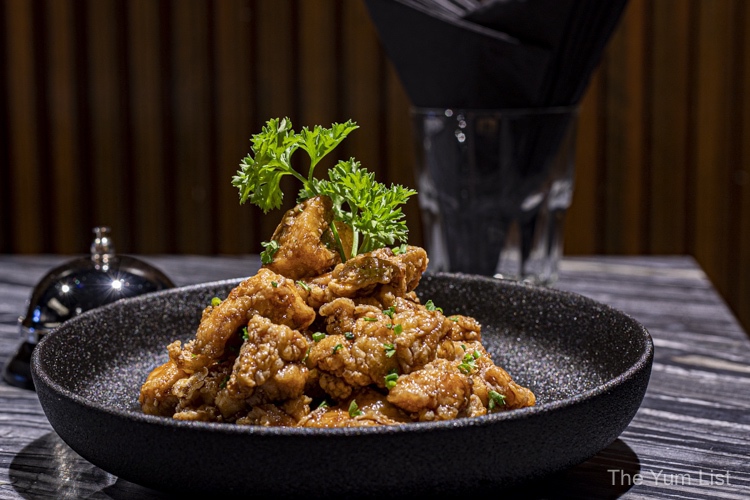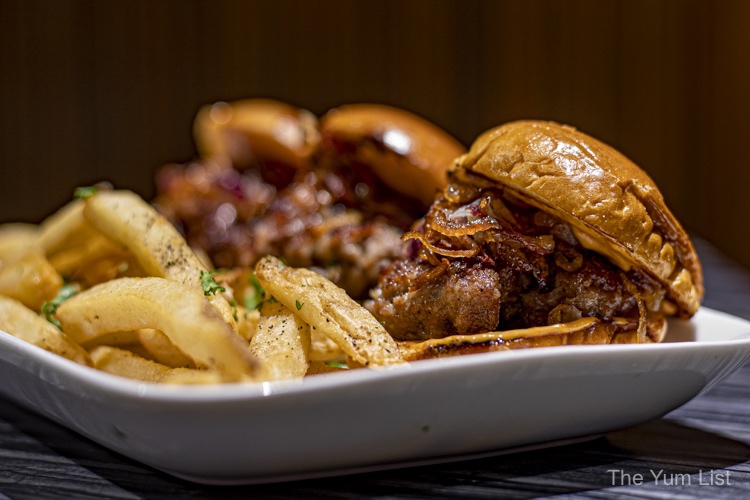 The First Chapter Speakeasy Review
Delighted by the first edition of adventures at The First Chapter Speakeasy, we look forward to seeing what twists and turns the plot might take in the sequel. Look out for the next release in Damansara Heights!
Daily happy hours run from 5 pm to 8 pm, where you get craft cocktails, draught beer, and bottled wine discounted 50%!
Reasons to visit The First Chapter Speakeasy: isn't it always a thrill to find a new hidden bar? Well-balanced cocktails, fun and hospitable bar team, my love is for Ben's Margarita, but if you have a sweeter tooth, you might enjoy the Regina George and Payasam. Eat the beef sliders. Fantastic happy hours!
The First Chapter Speakeasy
139a, Jalan Aminuddin Baki
Taman Tun Dr Ismail, 60000 Kuala Lumpur, Malaysia
(*Look for the black door next to Kitten Cottage.)
+6 011-23192556
@thefirstchapterspeakeasy
*Reservations are essential. You'll get the passcode with your reservation.
The First Chapter Speakeasy Operation Hours
Tuesday – Saturday 5 pm – 12 am
Find more KL bar recommendations here, and stay up-to-date on the latest gourmet and travel happenings around Malaysia here and here.