Sip Society – Take Life One Sip at a Time
Words: Monica Tindall
Photos: Rich Callahan
Nestled in the heart of Aman Suria Tropicana in PJ, Sip Society presents a hidden bar focusing on value-for-money craft cocktails, whisky and wine.
The interior has a contemporary art deco edge with geometrical shapes and shiny metals. It's well put together with a palette of rich autumn colours, wall-sized murals and velvety sofas. Electro swing jives from quality speakers giving an upbeat, classy vibe with a bit of sass! Later in the evenings, live music performances feature talented local artists. Don your heels, paint on some bright red lippy and get ready to swing your skirt!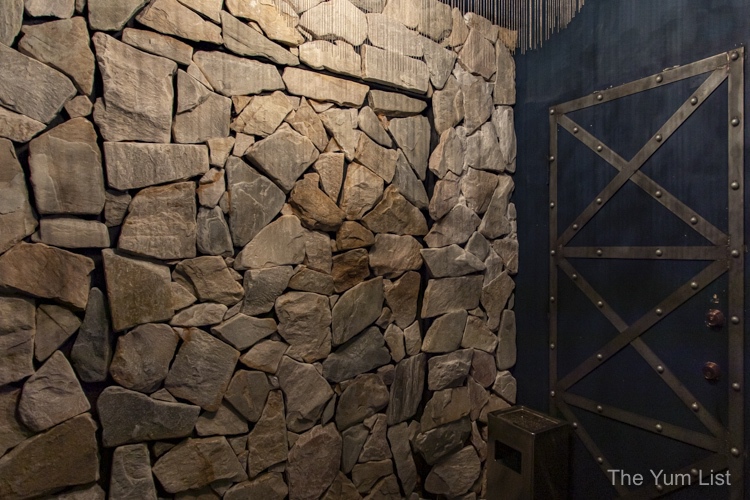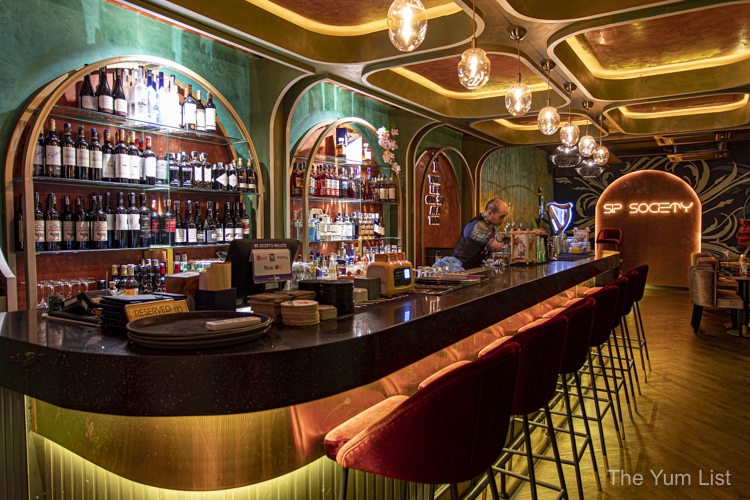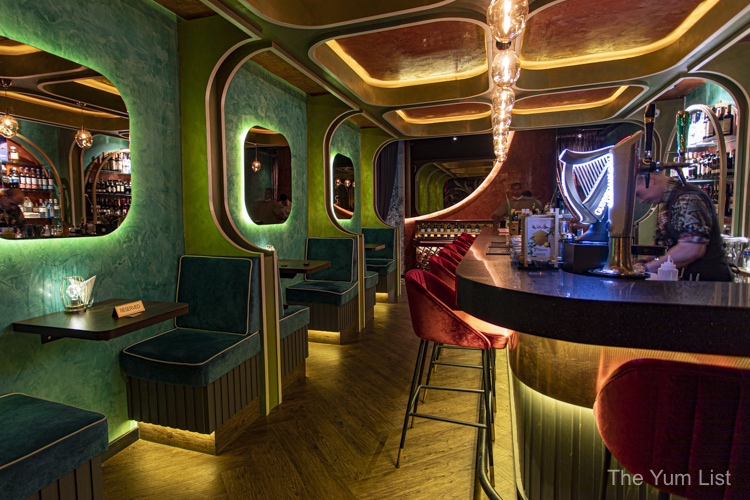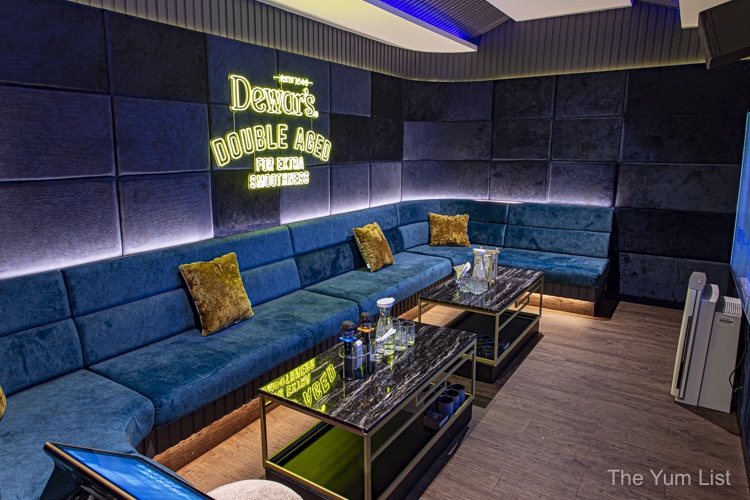 Sip Society Speakeasy Bar PJ
Cocktail Menu
Using bottom-shelf spirits, the team at Sip Society keep cocktail prices reasonable. It's one of only a few bars in the city where you can find quality craft cocktails for well under RM 40. If you have a flair for mixology, which Sip Society's head bartend James definitely does, there's no need to use more expensive bases that are often hidden by companion ingredients anyway. James has a love for poetry and literature, and you can see this subtly woven into the stories behind each creation.
Our first refreshment is the Umeshu Martini (RM 35). Showcasing umeshu (Japanese plum liquor), orange liqueur, yuzu bitters and habanero syrup, it's double shaken over ice with egg white to create a foamy surface. Fantastic start.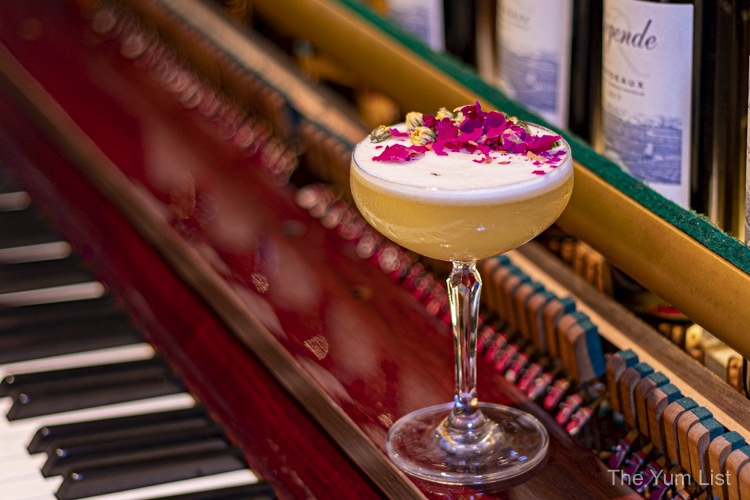 Bartender Rohana created the Tiki Sip (RM 35). It's kafir lime-infused rum, overproof rum, pineapple puree, blood orange and fresh lemon juice shaken over ice with kafir lime leaves. Including the leaves in the shake increases the aroma and intensity of the drink. Fruity and refreshing, rum and citrus are a classic combo. Pineapple, pandan and kafir leaves garnish the highball glass with a verdant tropical appeal.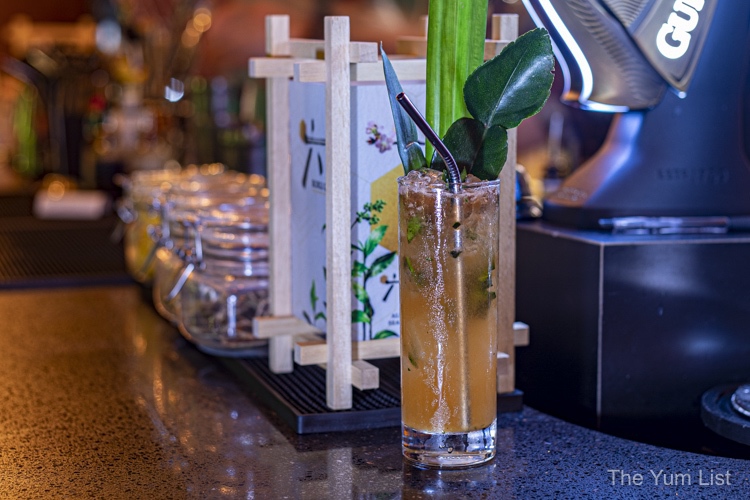 The Apocalypse (RM 36) is not near the disaster it sounds. It's actually quite a beautiful drink created for a mate's wedding. Perhaps the catastrophe at hand is the fact that he didn't end up tying the hook. While the personal love narrative didn't develop, James thought the creation still deserved a moment. Orange blossom (once used to perfume the French court) provides wonderful aromatics, and the thick carpet of dried osmanthus and rosebuds topping the deep mauve drink makes for a smashing presentation.
Cocktails of Mass Destruction
Continuing with the cocktails of mass destruction (off-menu, it's a secret Resistance, tell bartender James that you're "in The Yum List know"), Armageddon (RM 36) is once again quite the opposite of what you might imagine. Another arresting beauty, the highball glass is garnished with dried rosebuds, and the contents are given an attractive purple hue thanks to butterfly pea. Gin, Cointreau, lemon, floral mix – orange blossom, lavender, chrysanthemum, rose, and butterfly pea – cream and milk, cross the line between cocktail and dessert.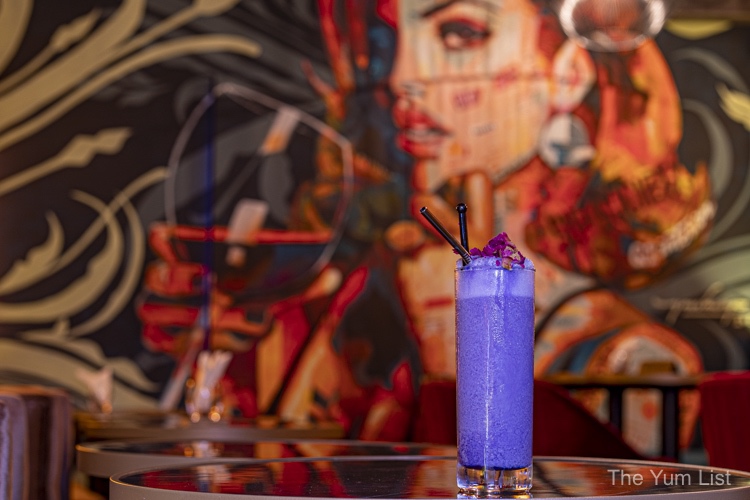 Sip Society x Roku Gin
Our last craft cocktail for this session celebrates spring and new beginnings in a collaboration between Sip Society and Roku Gin. Until the end of April, you can find a trio of Sakura-inspired cocktails. We try the Konohana (RM 40) featuring Roku gin, Cointreau, yuzu puree, lemon juice, orange blossom, yuzu bitters, egg white and umeshu. They come together to form an incredibly floral beverage. It looks pretty served in a coupe glass and adorned with a geisha hairpin.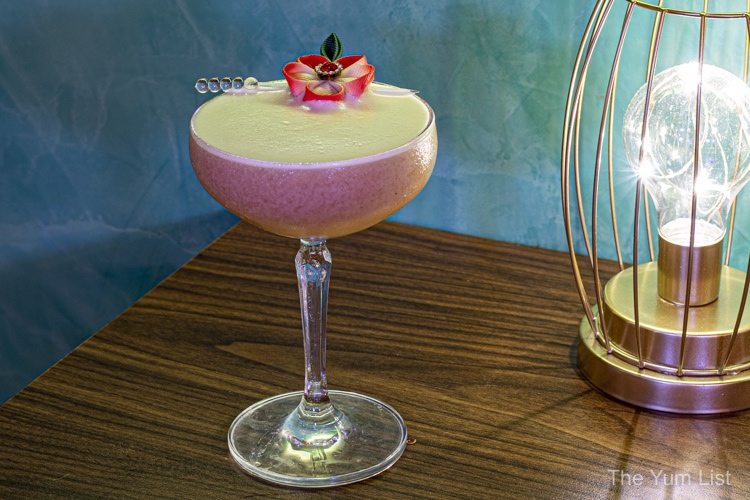 Food Menu
While the food menu is secondary to the beverages, it is curated to satisfy both Eastern and western preferences and ensure you don't need to go anywhere else to complete your evening out.
Clancy Brothers Said, "Beer, Beer, Beer, Battered Tiger Prawns" (RM 30) is one of Sip Society's most popular orders. The thick, crispy batter puffs around large, plump prawns. They're best dunked in the house-made tartare sauce and an excellent plate for sharing. The Quesadilla (RM 30) cut into three is another easy plate to divide amongst friends. They're thick with fajita-grilled chicken, tomato, cheese and salsa. Substantial and delicious bites, these will allow you at least another drink or two. More tasty finger food is found in the Greek Lamb Souvlaki Kebabs (RM 38). Boneless lamb shoulder pieces come on four skewers with salsa and mint sauce for dipping.
If you have more of a meal in mind, both the Blackened Salmon (RM 45) and Sze Chuan Chicken (RM 26) should keep you satiated. The first is more western in style, served with curly fries and grilled veggies, while the latter is quite saucy with a good hit of spice, best soaked into the fragrant rice.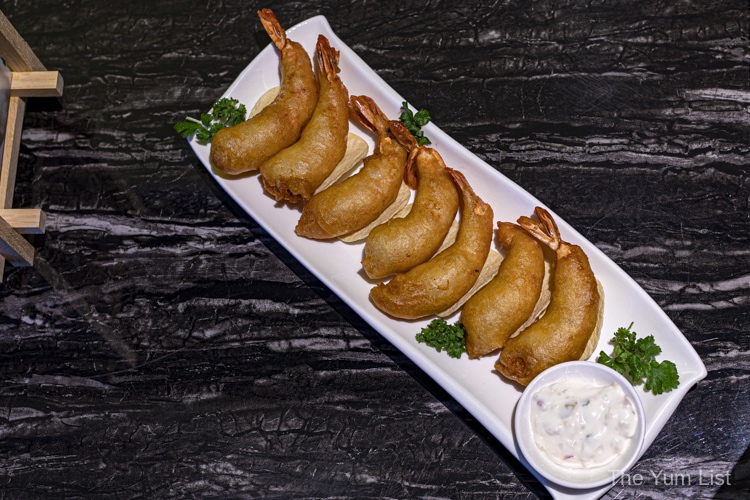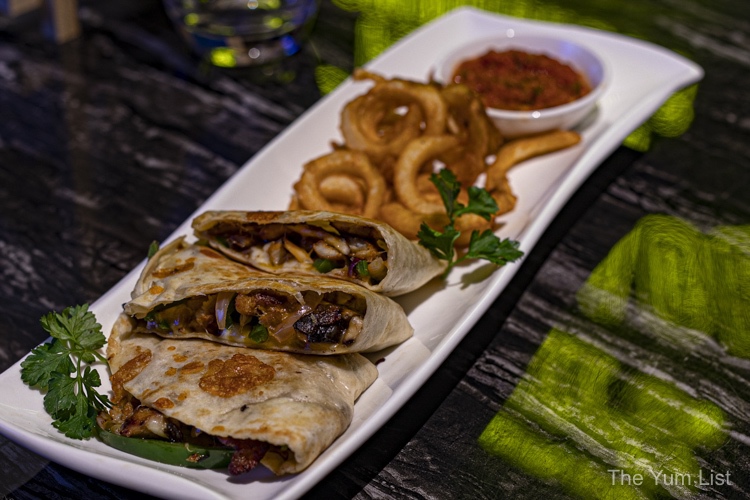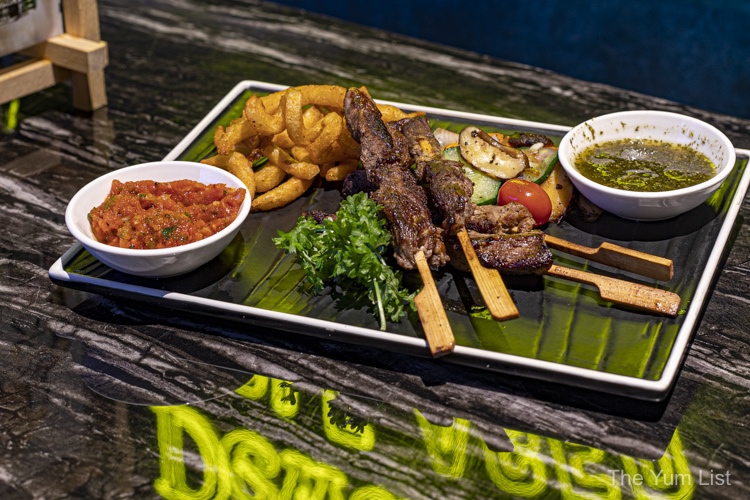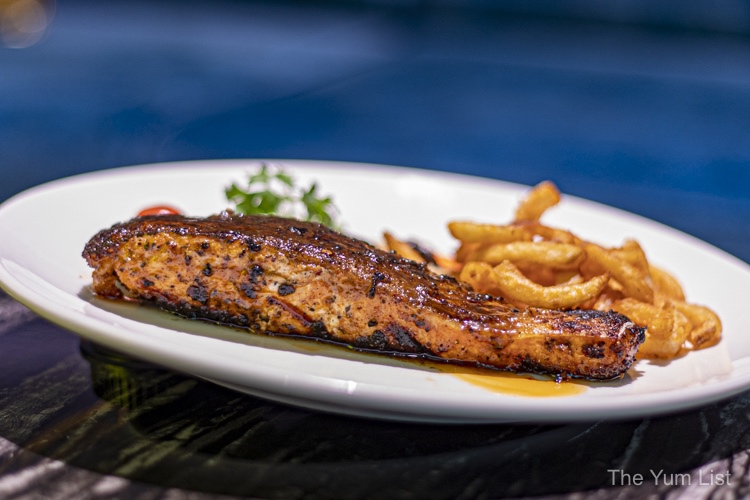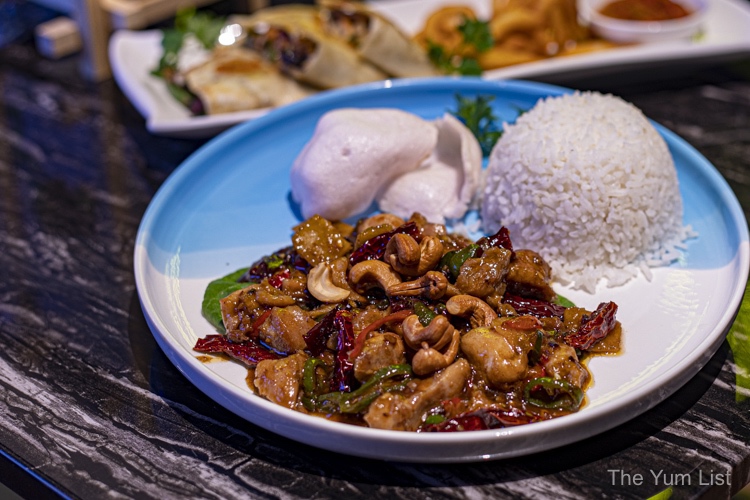 Sip Society Review
We've had an upbeat evening at Sip Society. Well-priced craft cocktails, thoughtful service, and a fun and spirited setting unite to make a great evening out.
Reasons to visit Sip Society: upbeat, classy and fun setting; love the electro-swing playlist; great craft cocktails that are reasonably priced; ladies get a 20% discount on all bottle buys on Wednesday nights.
Sip Society
18, Jalan PJU 1/43, Aman Suria,
47301 Petaling Jaya, Selangor, Malaysia
www.facebook.com/sipsocietymy
+60 10 202 1663
Sip Society Opening Hours
Daily 4 pm – 1 am
Find more KL bar recommendations here, and stay up-to-date on the latest gourmet and travel happenings around Malaysia here and here.