Dusun by OpenHouse
Words: Meg Alice
Photos: Rich Callahan
Welcome to Dusun by OpenHouse, the latest restaurant by Andrew Wong and Brian Quirk. They now have six establishments under the Hospitality by ACME group, including Dusun, OpenHouse, a beer cafe and Acme Bar x Coffee. Andrew joins Monica, Rich, and me for lunch to introduce their most recent concept, which opened in March 2022 to raging success.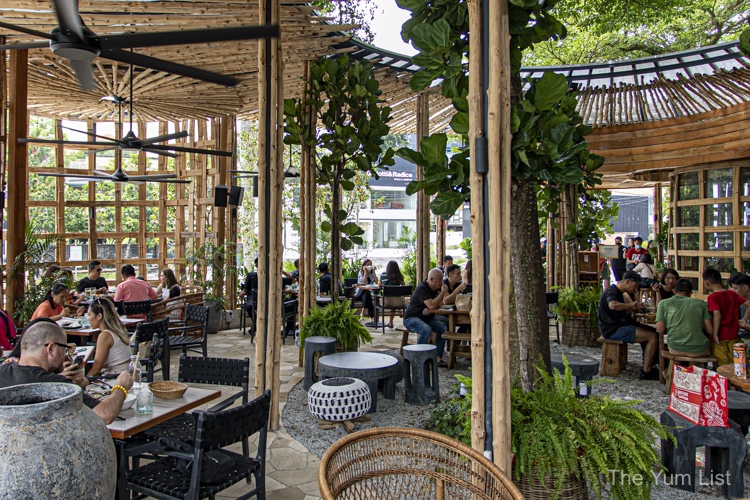 Dusun and OpenHouse's Mission
The penultimate addition to the group's portfolio, OpenHouse, laid the foundations for Dusun. OpenHouse's mission in revitalizing Malaysian ingredients and heritage recipes gave the team a solid understanding of technique, culture and produce. It is only with a firm knowledge base that one can innovate. Even the greatest artists, such as Picasso, first mastered classical techniques before developing a revolutionary new approach. With the groundwork set, the team set forth to evolve the concept into something more casual, creative and modern.
The result is Dusun, where the dishes are Malaysian flavours with contemporary twists such as tacos, sandwiches, and pizza. Maintaining traditional bakar, or barbecue, as the central theme, the only cooking elements used in Dusun's kitchen are the wood-fired grill using mangrove wood and a wood-smoked oven. This gifts diners with a wonderfully enticing aroma but presented the team with significant challenges. In modern kitchens, the temperature can be controlled precisely at the touch of a button. However, with charcoal and fire, chefs need to relearn the skills and intuition of the past, learning to "read the flame and the heat." Certain design elements were also required to ensure the indoor kitchen didn't get smoked out. Additionally, to offset wood burned in Dusun's kitchen, the team donates to the Malaysian Nature Society to replant trees for every one used.
Offsetting their wood use is not the only mindful practice the team implements. They also strive to source most ingredients locally, reduce waste and take their sorted recyclables to a nearby centre. Furthermore, they bottle their water in reusable glass, doing away with thousands of tonnes of single-use plastic. Consumers should be pleased too, as the price is far less than commercially labelled bottles, a mere RM 5 for 1 litre of still or sparkling. Dusun donates RM 1 to a charity or foundation for every bottle sold, which you can help nominate online. Being mindful of people and the environment is not at the sacrifice of delicious food. We enjoy a healthy, nutritious Malaysian-style lunch at Dusun and perhaps enjoy it even more so, knowing the impact of our choices has been considered.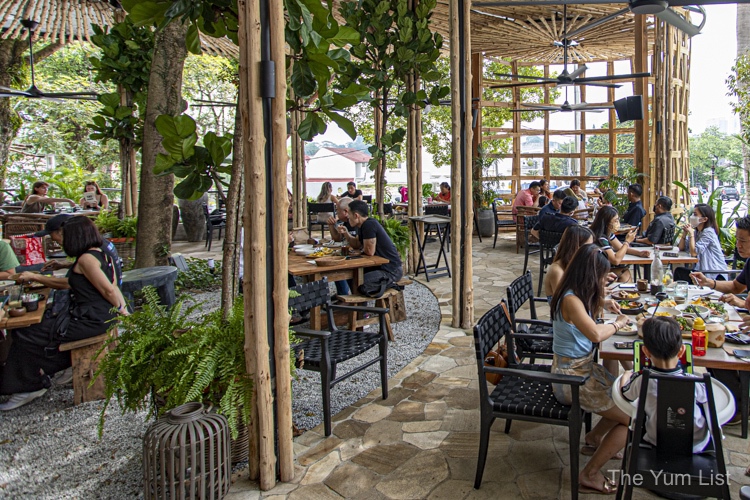 Dusun Location
Located in the corner lot of Bangsar Shopping Centre where Chilli's used to be, Dusun sports a spectacular layout. Many customers are initially drawn in because of the restaurant's attractiveness (expect queues on the weekends). Brian, an architect by training, designed the orchard-like canopy overhead providing a cool, shady venue ("dusun" means orchard). Natural materials feature strongly here with stone pavers circling the circumference filled in by loose grey pebbles. Natural wood tables, rattan chairs and exposed brick are complemented by potted ferns and fiddle fig trees. It's nothing short of breathtaking.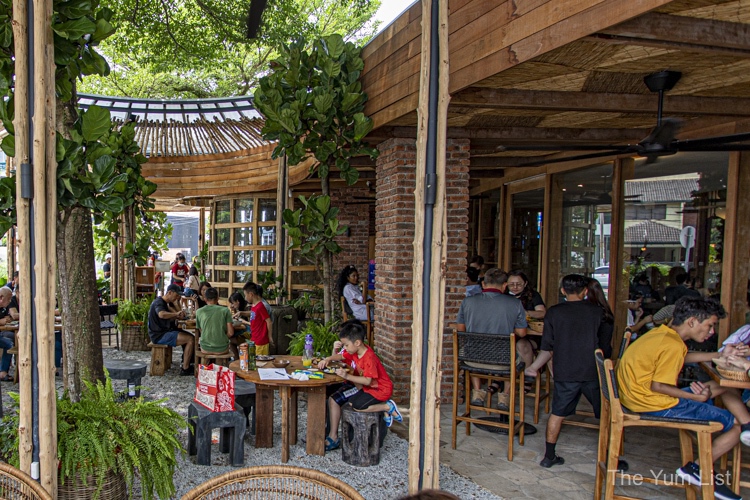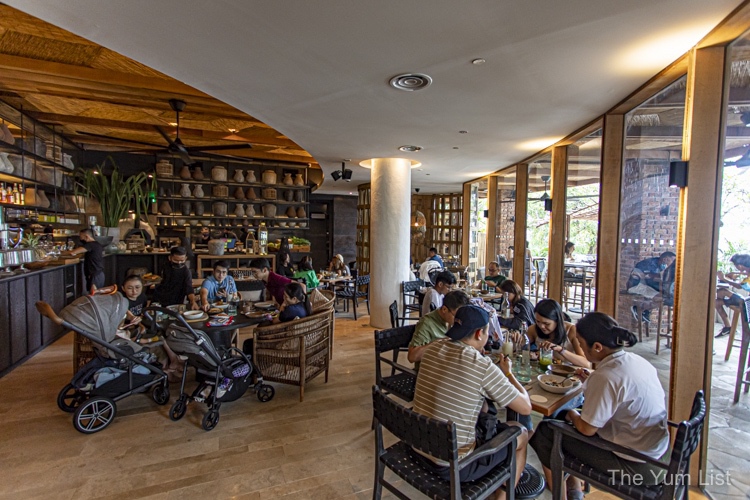 This + That (Starters and Single Dishes)
The starters and single dish menu is chalked full of brunch-y delights embracing punchy flavours such as charred salted sardines and melons with prawns. While keeping true to Malaysian ingredients, several dishes are presented western-style such as the minced chicken in a taco and laksa Johor served as spaghetti.
Finding it challenging to decide as we want it all, we ask Andrew to make the selections for us. I'm pleased with his first pick of Smoky Rojak Paku (RM 27), as I secretly hoped it would be on the list as I covet Malaysia's fiddlehead fern shoots. The dish also includes chopped prawns, cockles, and coconut sambal. The grilled prawns and cockles give the recipe a rich umami finish. The kasturi lime is the hit of acid that brings it together, creating a bright and lively dish to whet our appetites.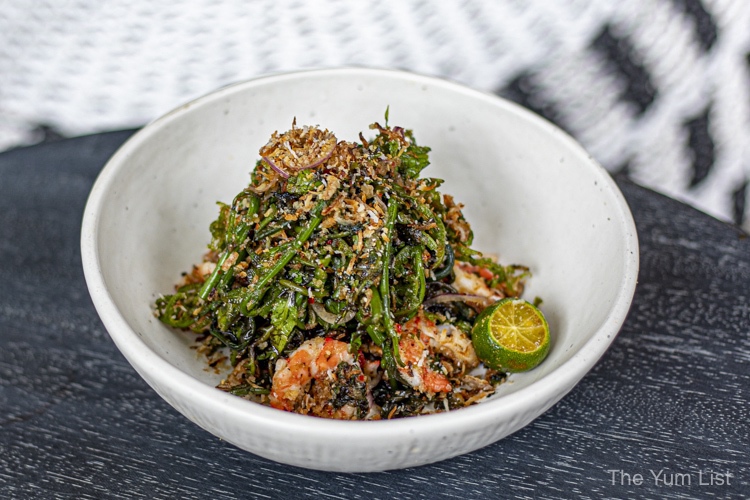 Soup + Salad
Knowing Monica loves salads, Andrew chooses two for us, the Jicama Jungle Kerabu (RM 25) and Dusun Village Salad (RM 25). The Jicama salad uses a kerabu dressing, which is a traditional Malaysian salad dressed in lime, sugar, and chilli. The village salad most closely mimics a Western-style salad with green leaves and croutons. The grapefruit is the magic ingredient and is smartly juxtaposed with the sweet balsamic date vinegar.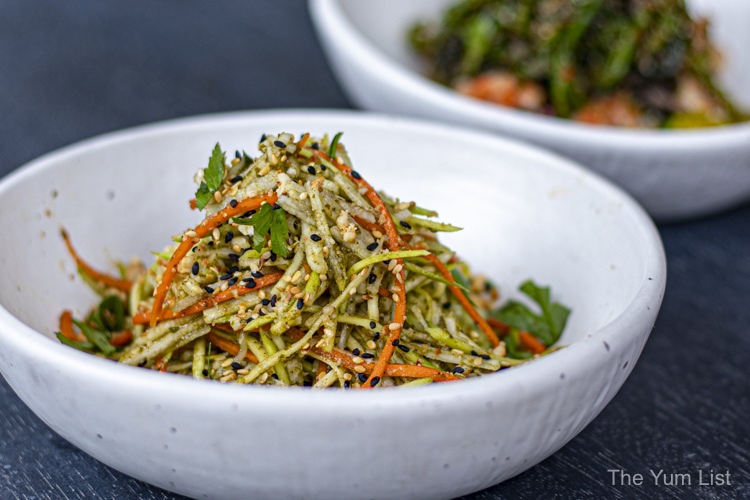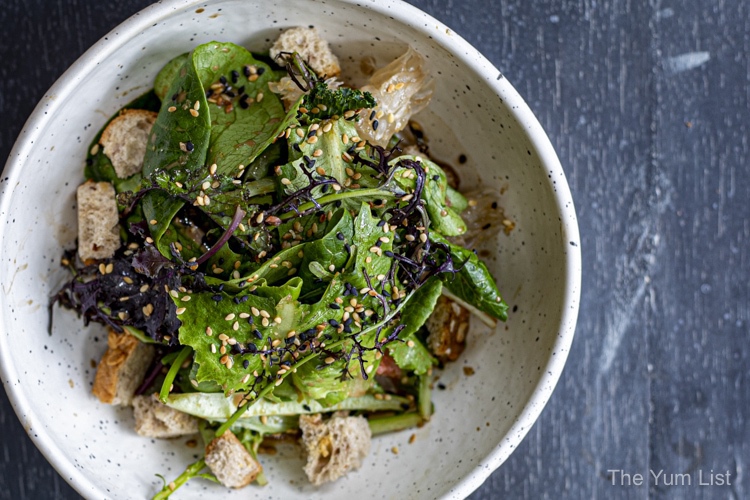 We also try Dusun's featured soup, the Smoked Mushroom Soup (RM 33). Using foraged mushrooms, the soup tastes expensive and rich with its deep forest, earthy notes. I try kulim oil for the first time, which is drizzled on top. Kulim oil is a revelation. I don't know why it's not as ubiquitous as olive oil with its nutty, garlicky flavours.
Kulim oil is used throughout Dusun's menu, including being served as a dipping oil for the ulam bread in the smoked bread basket starter. It comes from the nut of the kulim tree, indigenous to Malaysian rainforests. You can read more about the tree on the Taman Tugu Project website.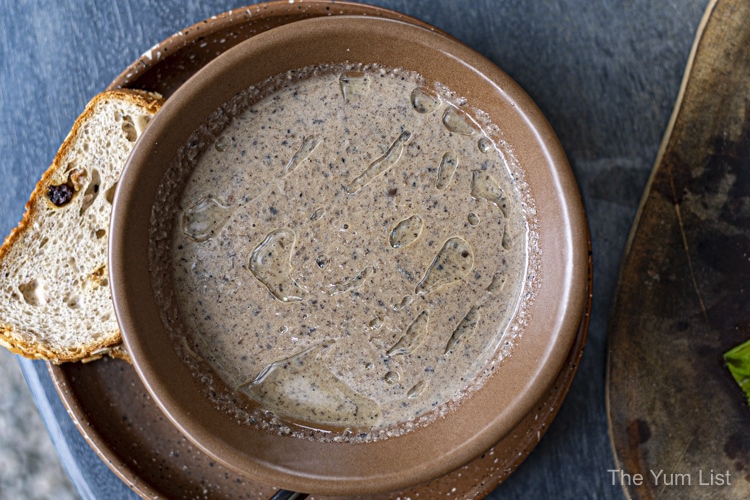 Api — Fire Grill
The Neraka Tiger Prawn (RM 59) and Fire Chicken Chop (RM 39) are both tasty and filling choices from the fire grill. The prawns are plentiful and accompanied by neraka sambal. Neraka translates to hell in Bahasa, which captures the level of heat in the spices coating the locally sourced prawns. I could eat these prawns all day long. They're the Malaysian version of a Cajun crawfish cookout. The micro ulams or microgreens are no throwaway garnish either. They are fresh, deliberate, and not to be forgotten.
The Fire Chicken Chop is one of those chicken dishes I take for granted on menus, which is why I wouldn't usually order it. I'm grateful that Andrew selected it, though. The fire grill cooking method infuses the chicken with deep layers of char. We devour this dish in minutes as it is impossibly inviting and homey. I appreciate Dusun's liberal use of carbs. The chicken comes with sweet potatoes that are wood smoked.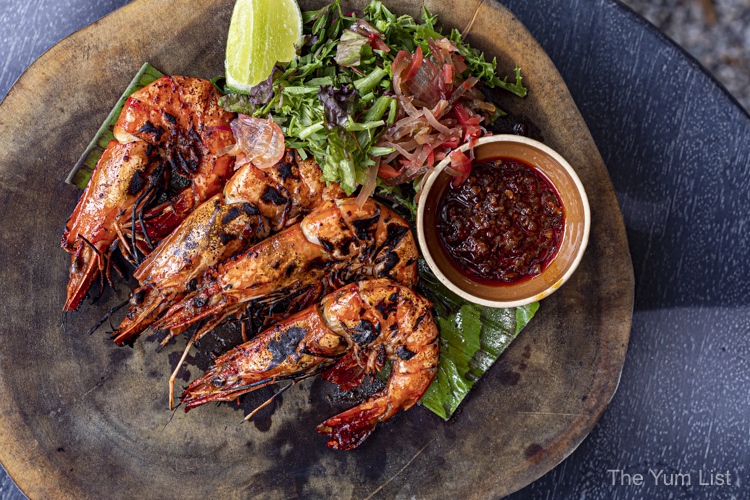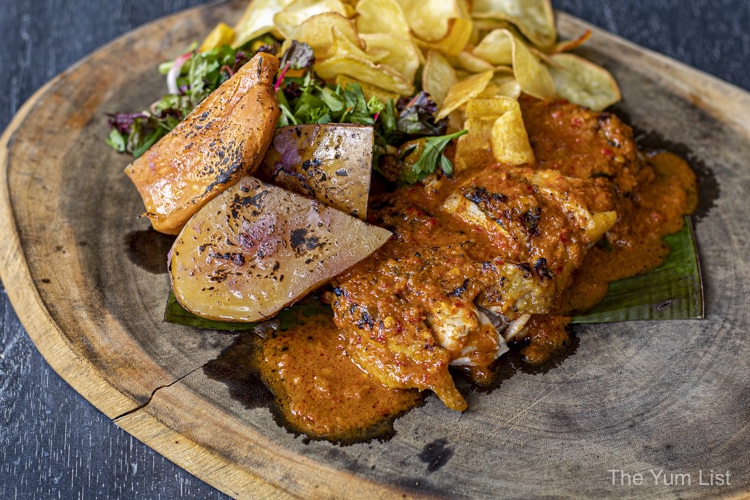 Asap — Wood Smoked
Speaking of wood-smoked, our final dish is the Smoked Chicken Rice (RM 39) which is entirely different from the Fire Chicken Chop. This recipe is softer, juicier, and has more character, thanks to Bentong ginger and soy sauce. The Adan rice (a local variety cultivated by the indigenous inhabitants of the Borneo Highlands) sops up the juices. We can't get enough of it. Both chickens are readily shareable, being pre-cut for everyone to snatch their pieces. I revert to using my fingers at this point in the meal.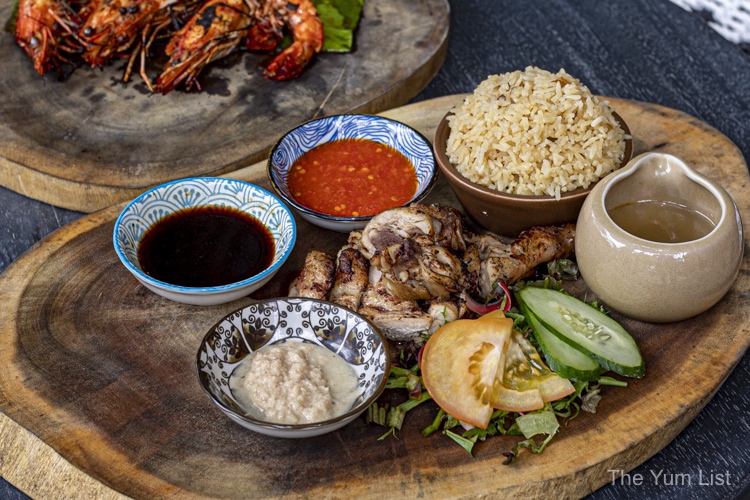 Sides
As mentioned, the team at Dusun is not afraid of carbohydrates and is bringing them back with a vengeance. There are no wilted spinach and sad broccoli amongst the side dishes. Instead, Dusun offers two types of rice: Borneo Highland Keladi and Adan white rice infused with my new favourite, kulim oil. There is also cassava, another starchy root vegetable.
We try the Leaf-Smoked Trio (RM 7) of yellow, white, and purple sweet potatoes. I find these potatoes satisfying and nurturing. They make me want to go on a long run as I can feel my muscles filling with glycogen. I forgot how good complex carbohydrates make you feel. They're maligned in the skinny fine-dining world. More of these, please.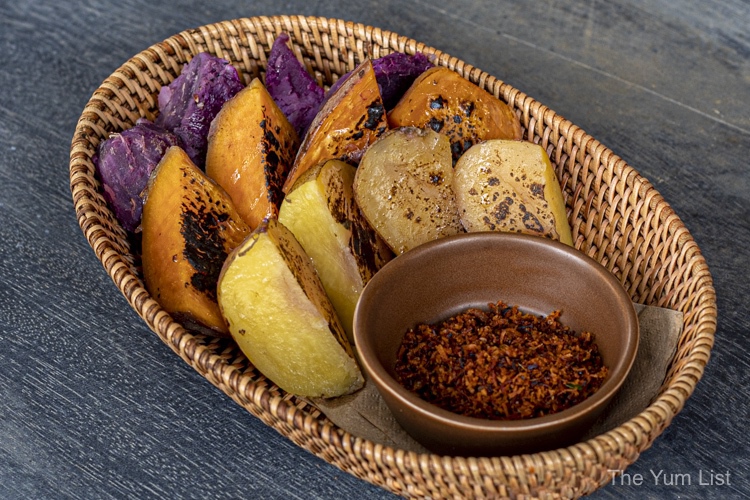 Dusun Desserts
We're grateful for the team's tireless searching and insistence on bringing heritage recipes into the spotlight. Without it, we would have never discovered Sira Ubi Kayu (RM 19). There is nothing better than a dessert that is not too sweet, and this tapioca from cassava root soaked in sugarcane is just that. It's sticky and dense, and the sprinkling of desiccated coconut makes it even more enticing.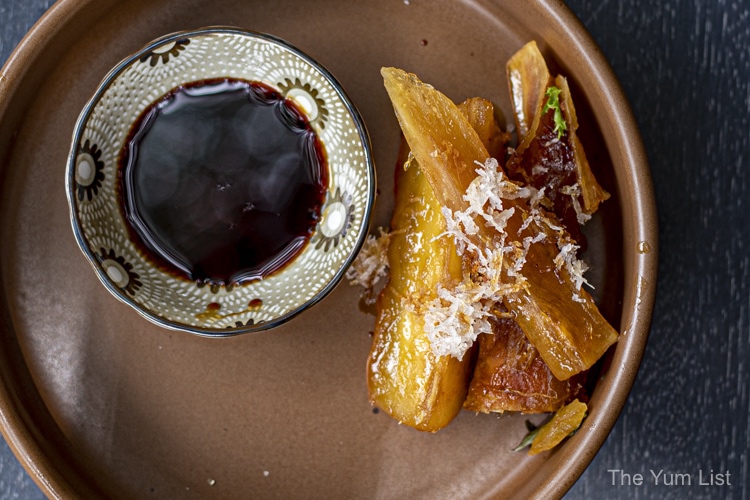 Dusun Drinks Menu
Dusun takes beverages seriously, offering an entire page of coolers, carafes, cold-pressed juices, barista coffees, and alcoholic tipples. Monica tries the Ulam Iron (RM 17) from the cold press detox options. It is the greenest of green in colour and tastes like a grassy bomb. The ingredients are ulum raja, pegaga, cucumber and apple. Ulam raja is a special medicinal plant with a pungent flavour. Pegaga is my favourite Malaysian green with thicker green leaves (it's also supposed to be great for your skin, bonus!). Rich orders the cold-pressed carrot juice (RM 15) which is the exact opposite on the colour scale being the orange-est of all oranges. It tastes like a thousand carrots pressed into an elixir.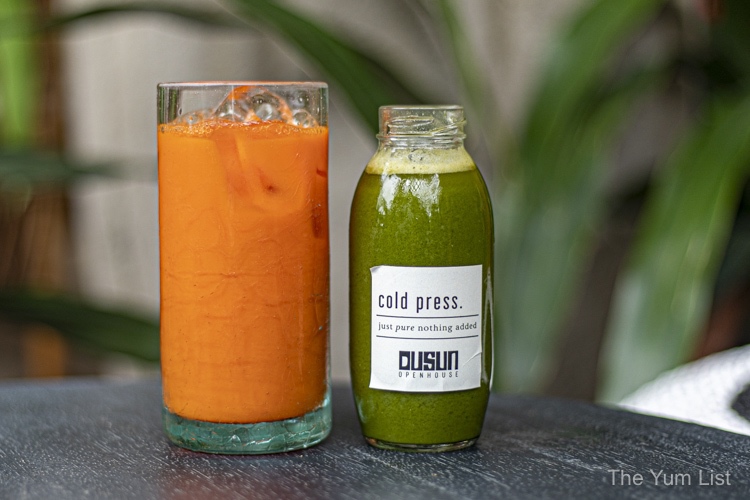 I request the Mezcarita (RM 49) because I am attracted by the description of grilled mango, spicy chilli, and smoky mezcal. It lives up to these ingredients in spades. Next time I'll give the Pegaga Fizz a whirl, given my love of the leaf.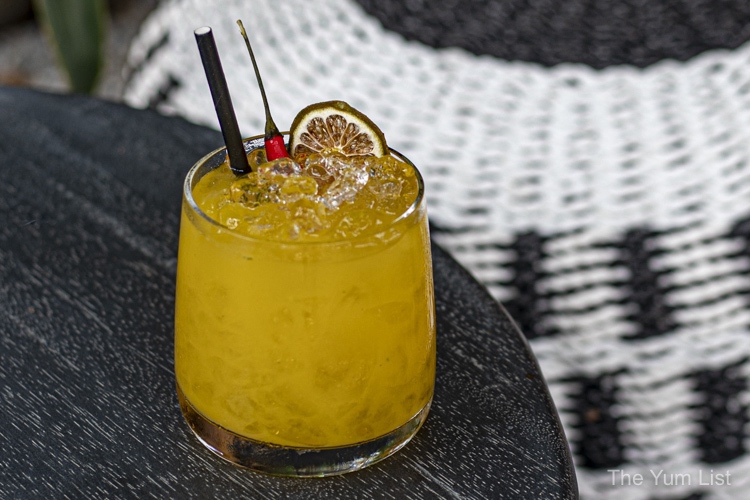 Monica and I also sip on the fresh, fruity Famille Perrin La Vielle Ferme Rose (RM 39 by the glass, RM 189 by the bottle). Dusun keeps its wine menu unfussy by offering only three wine options (red, white, rose) from the Famille Perrin winery in Rhone Valley, France. This is smart as these are excellent, cost-appropriate wines from a leading organic winery. (The label is cheerful too.)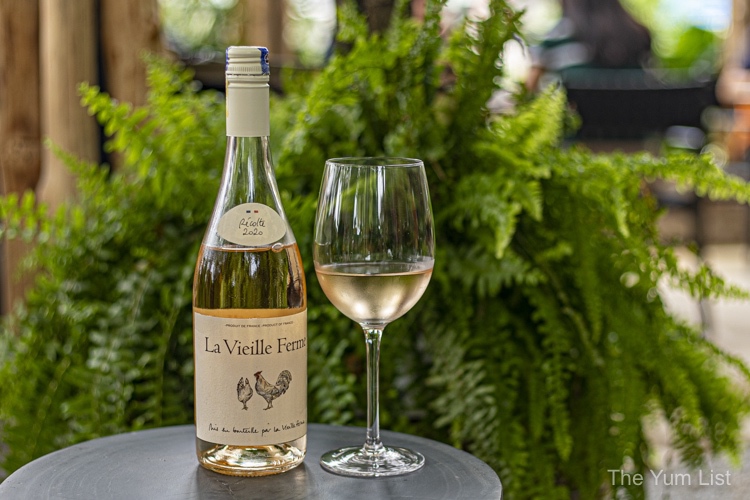 Logistics and Other News
Dusun by OpenHouse is not on Grab yet, so to navigate, program any location in the Bangsar Shopping Centre on Jalan Maarof. It is located on the outer part of the mall, and the bulk of the restaurant is outdoors (where Chilli's used to be). Make sure to step inside the restaurant too to see the grill.
Besides the larger grilled platters, almost all Dusun dishes are priced under RM 40, and the pizzas are RM 49. Kids roam freely in this family-friendly setting. You'll see some of the reviews mentioning the wait for available tables. Dusun has opened to wild success, and rightfully so. The line moves quickly, and it's worth a short wait at peak weekend brunch hours, or come at off-peak times if you'd rather get straight in.
Reasons to visit Dusun: Stunning setting; a unique and contemporary tribute to the rich flavours of Malaysian barbecue; we loved everything from the grill, especially the chicken and highly recommend trying the Sira Ubi Kayu for dessert.
Dusun by OpenHouse
G9A Bangsar Shopping Centre
Jalan Maarof, 59000
Kuala Lumpur, Malaysia
www.facebook.com/dusun.oh
Dusun Opening Hours
Daily 11 am to 10 pm
Dusun resets its kitchen between 3 pm to 5.30 pm for dinner and offers pizza, drinks, and desserts only during this period.
Stay up-to-date on the latest gourmet and travel happenings around Malaysia here and here.