Dapur Tunku at OpenHouse in KLCC
Words: Alison Christ Photos: Monica Tindall
If you're a Malaysian citizen, a long time expat in KL (like Monica and I), or you're brand new to Malaysia, we can all benefit from an inspiring dive into the history of the Malaysian food culture offered by OpenHouse. The culture truly does express "a land full of contrasts and diversities," as the sign says upon entering Kuala Lumpur via highway. One that's inspired by an era when religion wasn't dictating what people ate and multiple cultures melted together on the plates of the locals.
OpenHouse
The open-house concept of inviting your friends and neighbours of all walks of life into your home to try your grandmother's famous rendang or your sister's dhal is beautiful and should be encouraged. I suppose it could be reminiscent of Thanksgiving in the States. I quizzed a few of my Malaysian friends to get to the heart of an open-house. Sharif and Victor got passionate about the subject saying an open-house transcends religion; it's a journey and a celebration of community. Every house has its culinary specialty, and you already know which house you are looking forward to for each specific dish. Tunku Soraya tells me, "for Malaysians, the concept of the open-house is integral in our festivities and is part of our sense of community. It's the time when friends, family and neighbours are welcomed into our homes, to feast, to celebrate and to reinforce our strong bonds that make us such a unique nation." Chef Danial says, "an open-house is a way to bring people together creating an intimacy in a casual setting, of course surrounded by food!"
Dapur Tunku
Monica and I are about to take an "open-house" journey through Dapur Tunku (Tunku's Kitchen) to share the emotions of many generations of love passed down from one person to the next. We sit down at our table at OpenHouse located at the foot of the Petronas Towers to share an experience together with a fork and a spoon. It's the first time the restaurant has been able to open in over four months. I'm enveloped in this feeling of family, of Thanksgiving, of an open-house.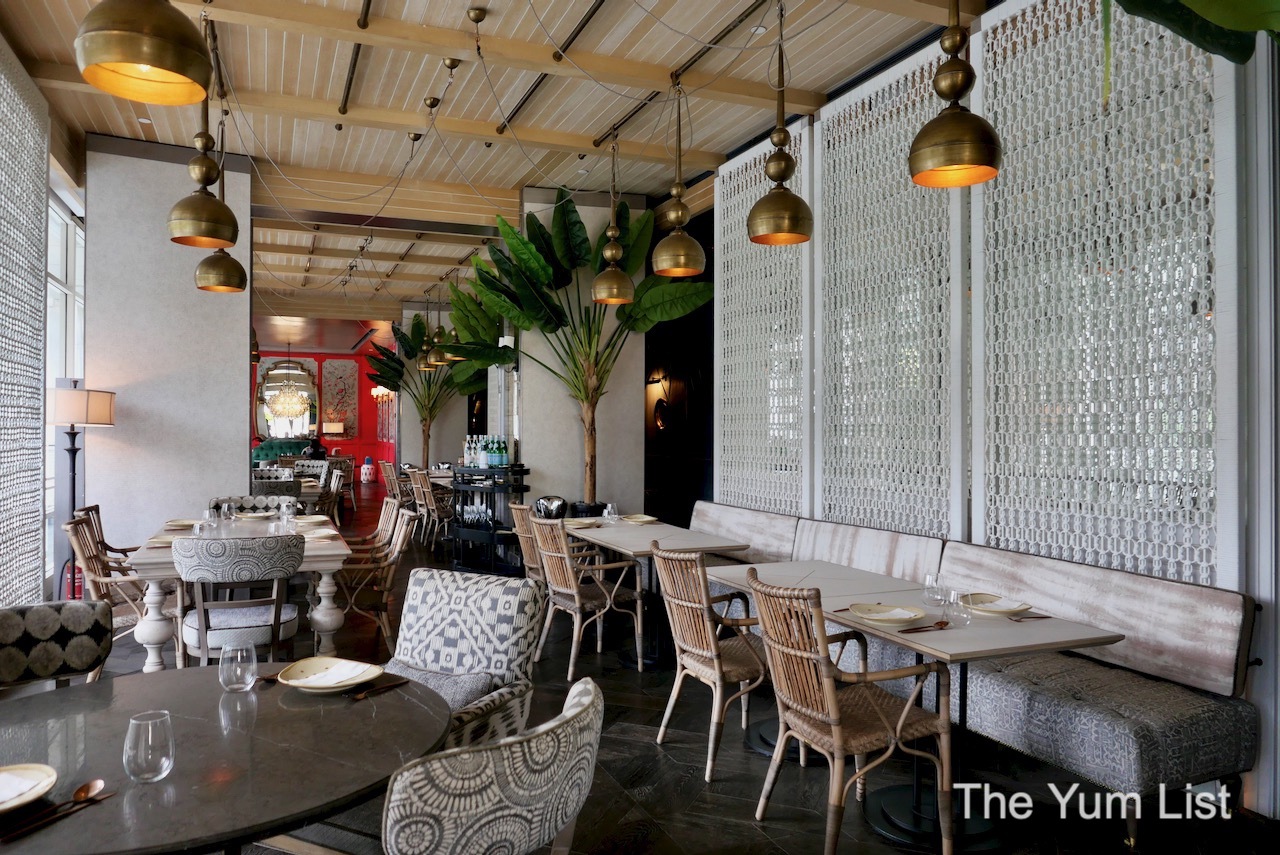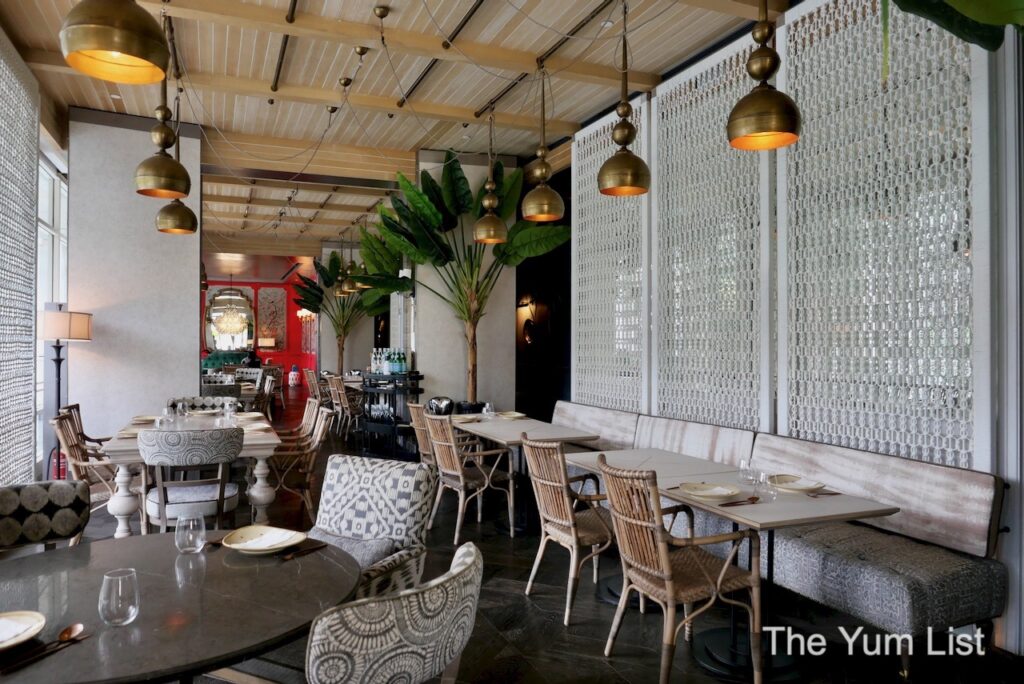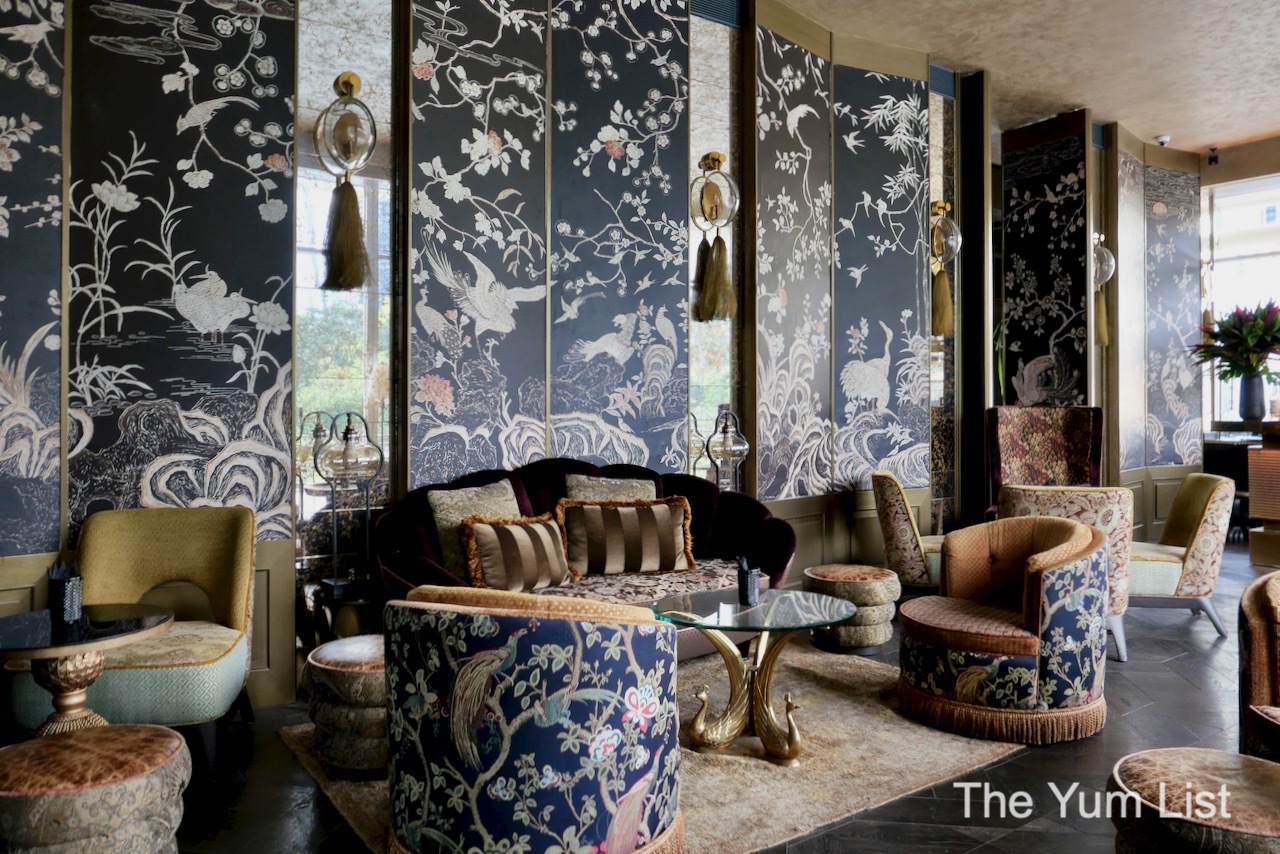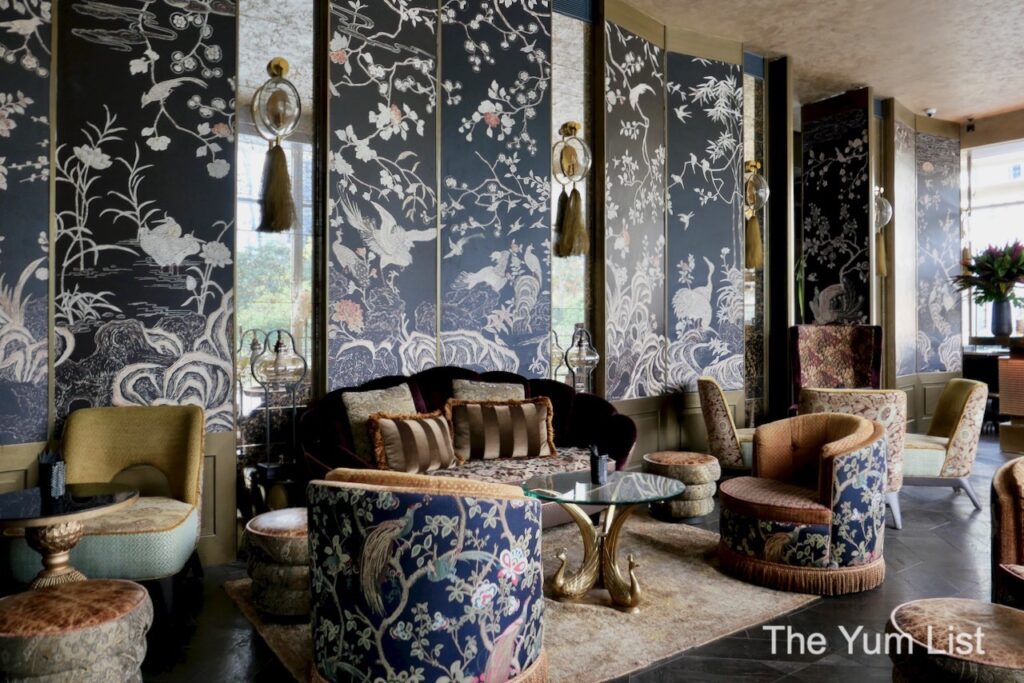 The seasonal menu we are about to share is inspired by the kitchen of the Founding Father of Malaysia, sometimes regarded as the "architect of Malaysia," YTM Tunku Abdul Rahman, who served as Malaysia's Prime Minister for 13 years. As a student in England, Tunku honed his skills in the kitchen and cemented his love for cooking. He was not only a foodie but was an excellent cook. Over the years, Tunku spent his free time in the kitchen perfecting the dishes he loved, which had influence from the north of Malaysia, his Mothers Thailand influence and his father's heritage.
OpenHouse has the great honour to collaborate with YTM Tunku Dato Paduka Khadijah Tunku Abdul Rahman and Datin Sri Sharifah Menyalara Hussein, who helped recreate and share Tunku's recipes. Chef Azli and the team of OpenHouse have done an excellent job in recreating his favourite dishes to help keep his memory and Malaysian traditions alive.
There's really no need for an exaggerated description and elongated opinions of our tastebuds because every single dish we try is sublime. The spoon is our favourite tool to scoop up all the sauces and left over goodness from each dish. Everything is served family-style in the centre of the table. All the dishes are beautiful and visually pleasing. We have a hard time deciding what to eat first.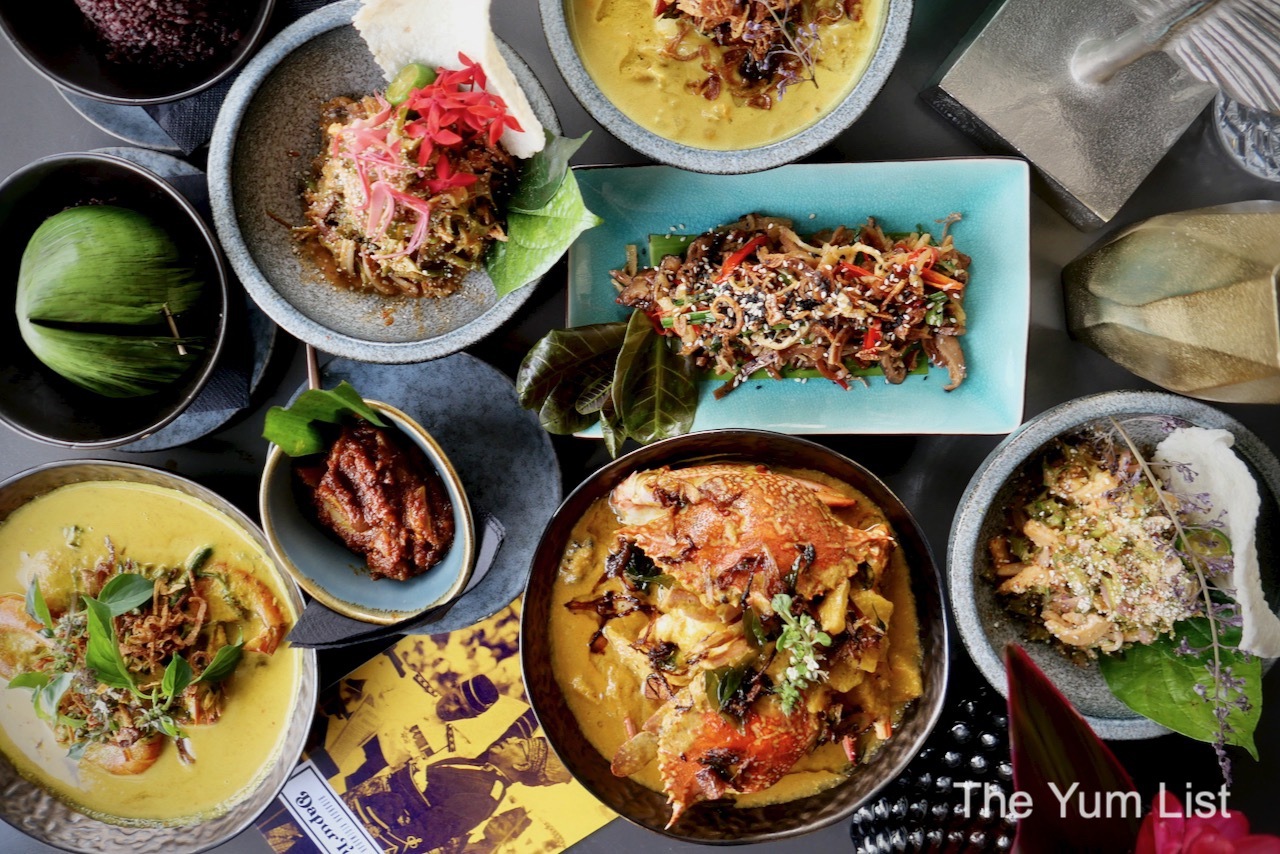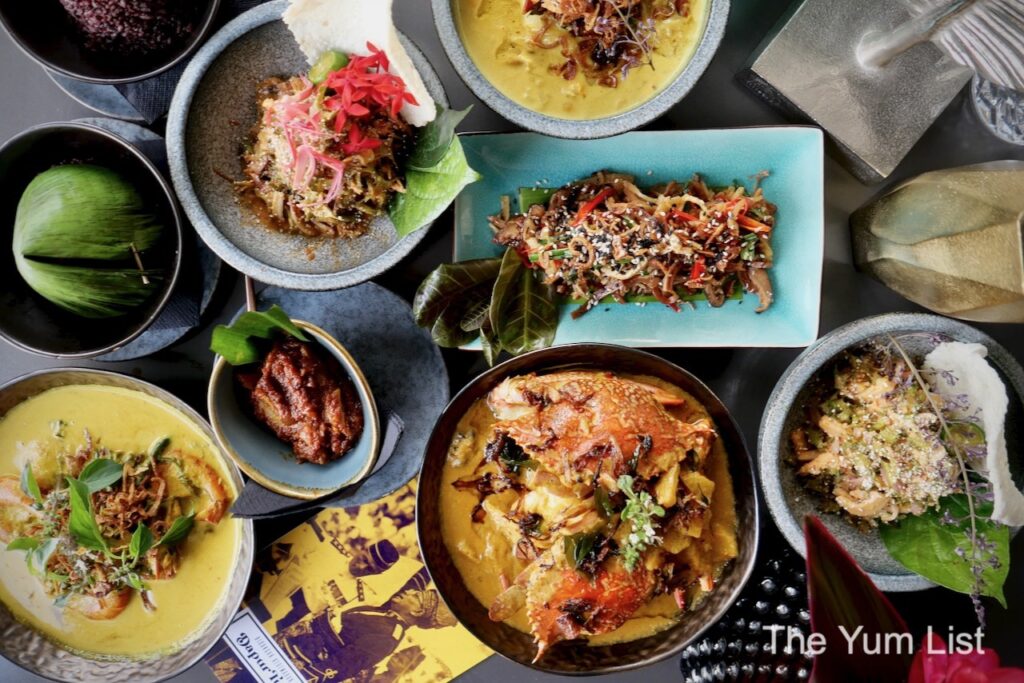 Dapur Tunku Menu
I go in for the Gulai Ketam Dengan Nenas (RM 55), a generous bowl of flower crab, pineapple cooked in coconut curry, lemongrass and ginger. The crab meat is fresh and fluffy, and the curry sauce is divine. Don't be afraid to get a little messy with this dish. I pour spoon full after spoon full of this sauce on top of Steamed Borneo Highland Rice by Langit Collective (RM 15.) Honestly, after 10 years living in Asia, I had no idea that rice could be so amazing. These little, stubby bits of deliciousness do their only job to perfection… absorb all of this epic crab curry and don't leave a drop behind, please. I try a bite of this Sia or red rice on its own, and I'm happy. Luckily there's still a feast in front of us.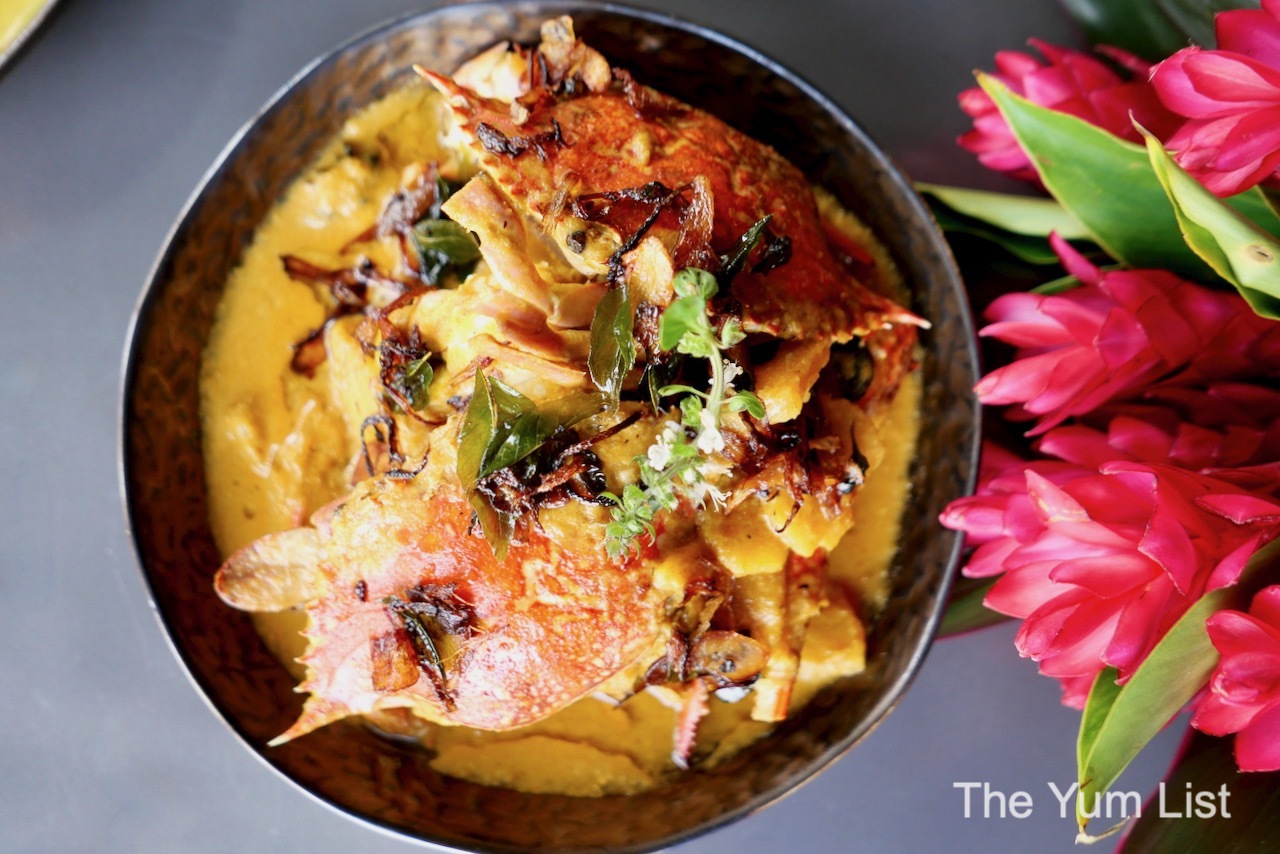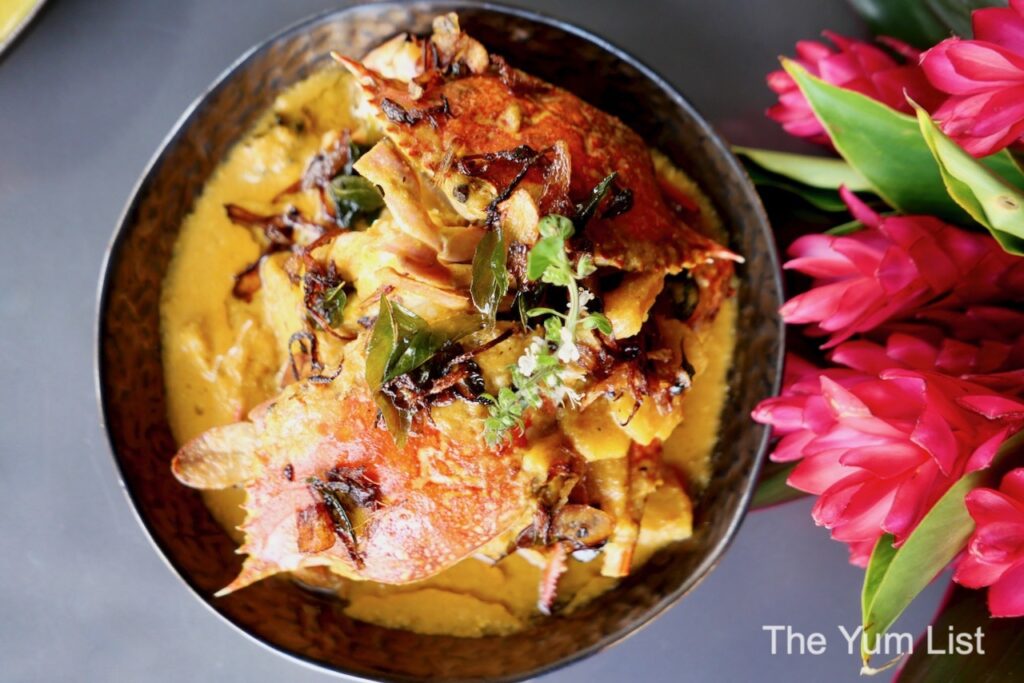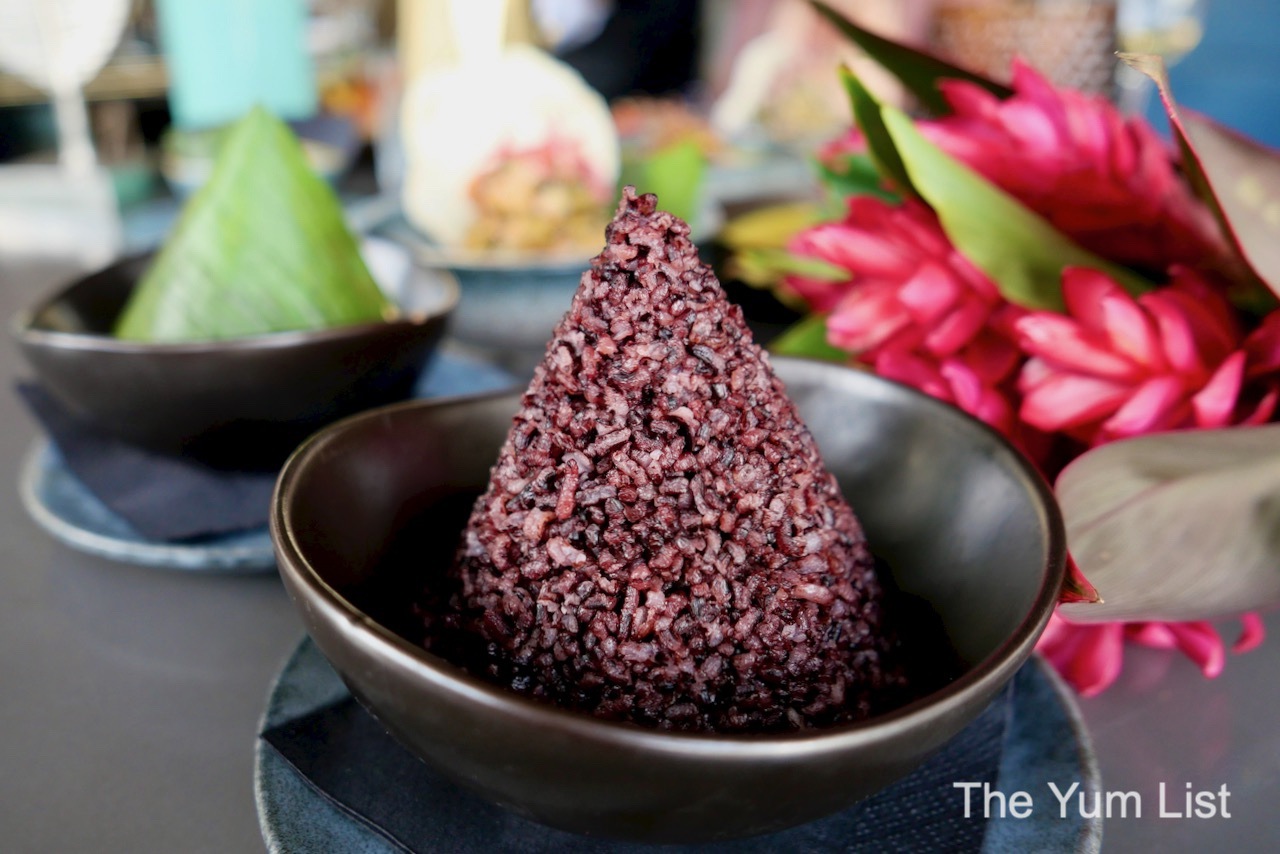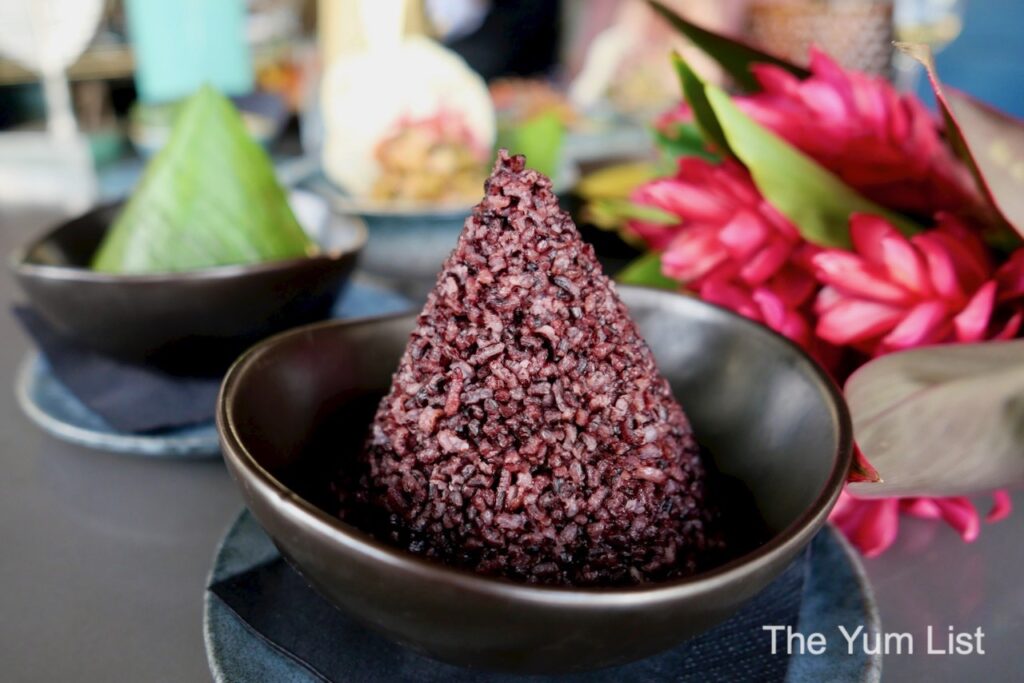 The Sambal Jering (RM 13), made from stinky beans, shrimp paste, tamarind and chilli, hits all of our tastebuds; sweet, spicy, sour, umami, salty. Next, I try the Kerabu Perut or Cockles & Kacang Botol (RM 25), beef tripe or cockles, winged bean, chilli paste, dried rice, shrimp paste, and lime. Our host recommends we try this dish with either cockles or tripe. Monica and I say in unison, "cockles!" Andrew says he felt the same, but the tripe is good and worth experiencing. We agree and aren't disappointed. The flavour and consistency are very pleasing. The cockles are amazing; I'm still voting cockles. But you should live a little and try the tripe!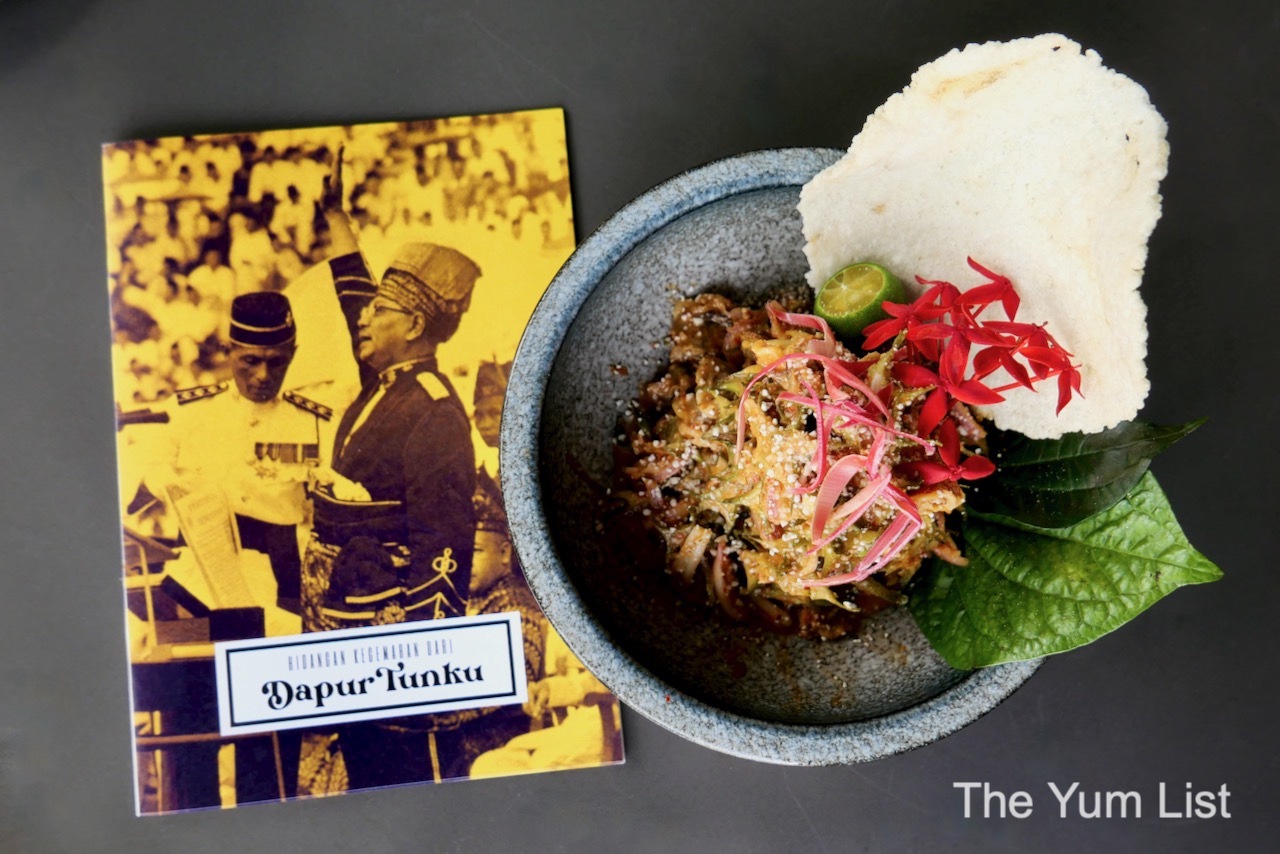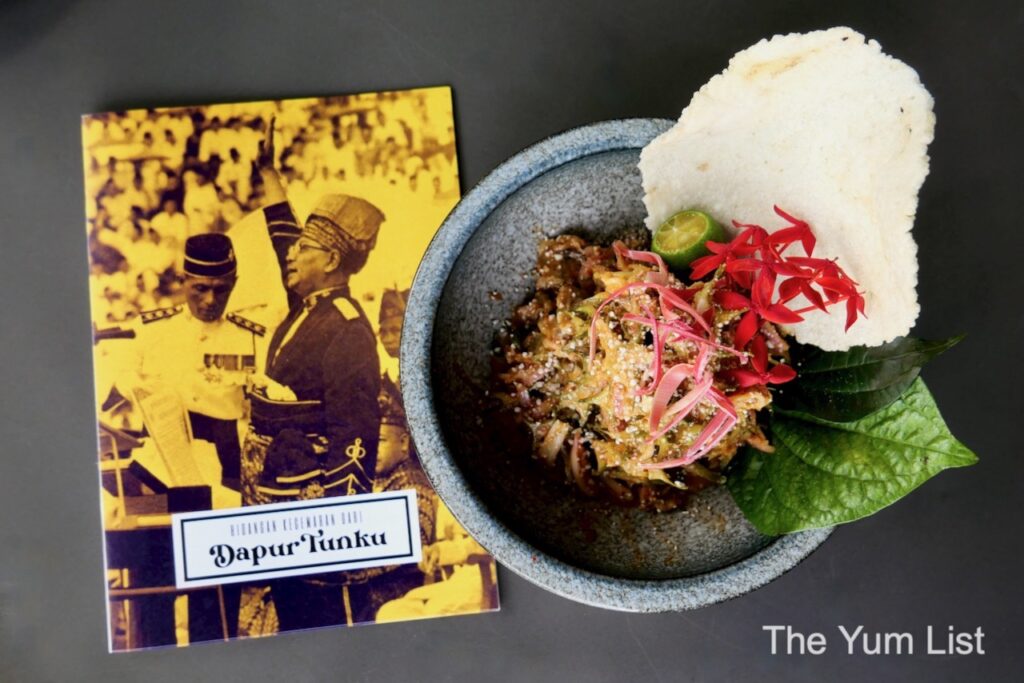 Mains
Sengkuang Goreng & Sotong Kering (RM 37) with jicama, dried shrimp, mushroom, dried chilli and squid is next. I'm a foodie, but I'm not the Anthony Bordain adventurous eater type. This is a dish I wouldn't have picked on my own, but I'm so glad we are experiencing this. It's like I'm living on the edge (of my palate). I keep going back for more. The umami with lingering flavours of the sea is divine, the jicama gives the dish an awesome consistency, the squid is so tender. We love it all.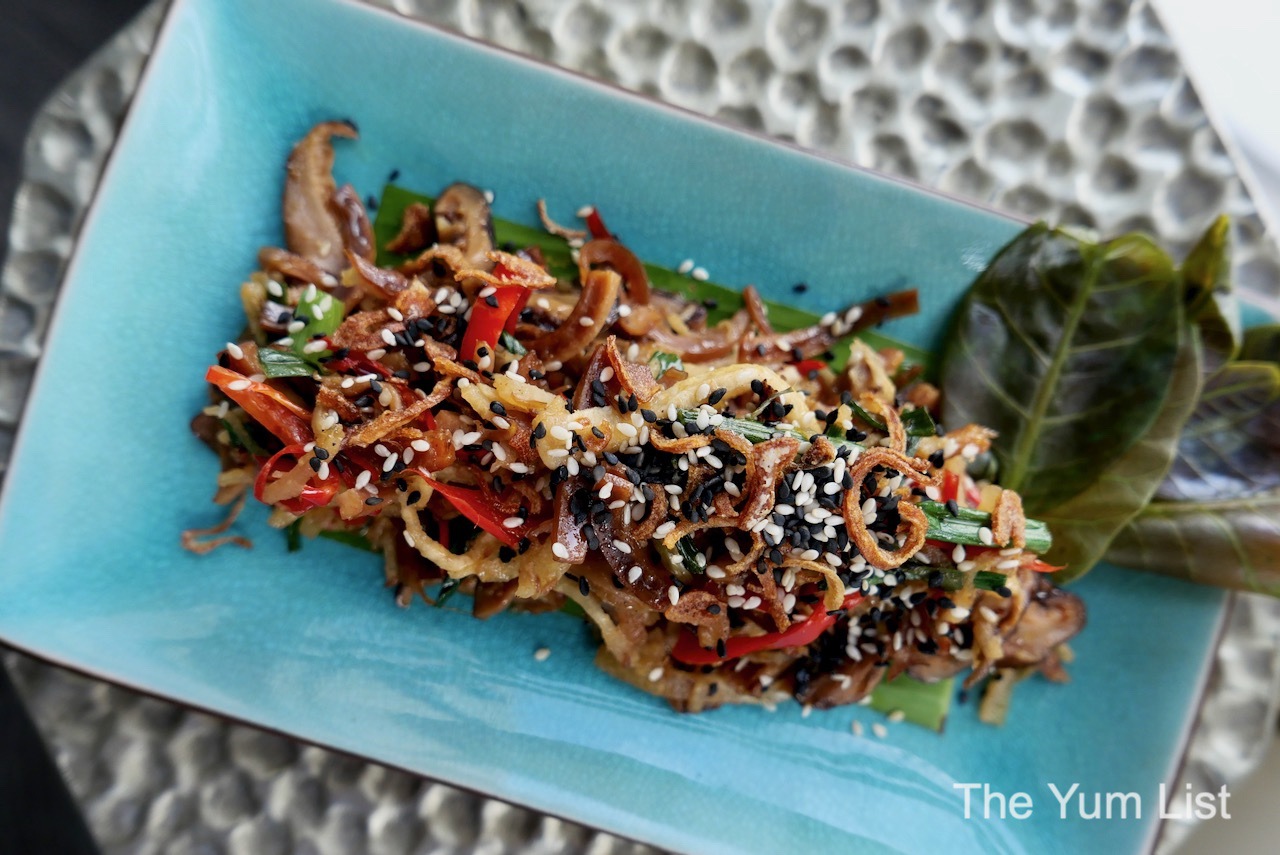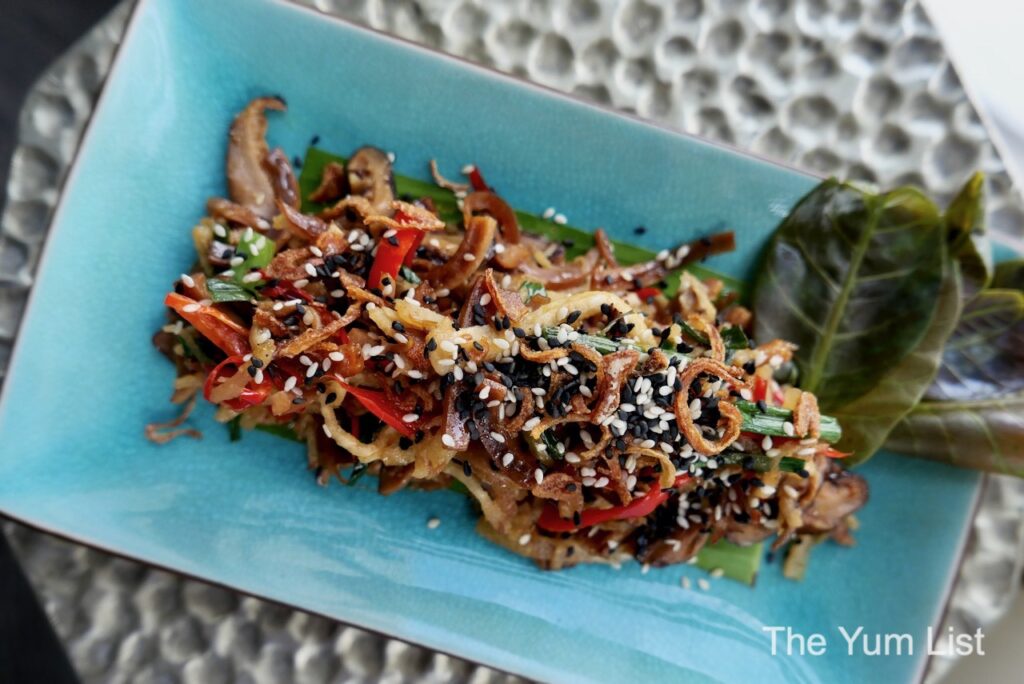 Telur Itik Masak Kuning Dhal (RM 35) is a duck egg cooked in light coconut milk, yellow lentil, green chilli and curry leaf. Eggs may be disputed as the perfect food… I'd have to agree. This duck egg is almost beyond description. It's firm and flavourful with a wide-reaching white and a beautifully cooked yolk. Oh my! It's so delicate and delicious, and again the sauce of coconut and curry leaf is epic. Thanks to the Sia rice, nothing is left behind.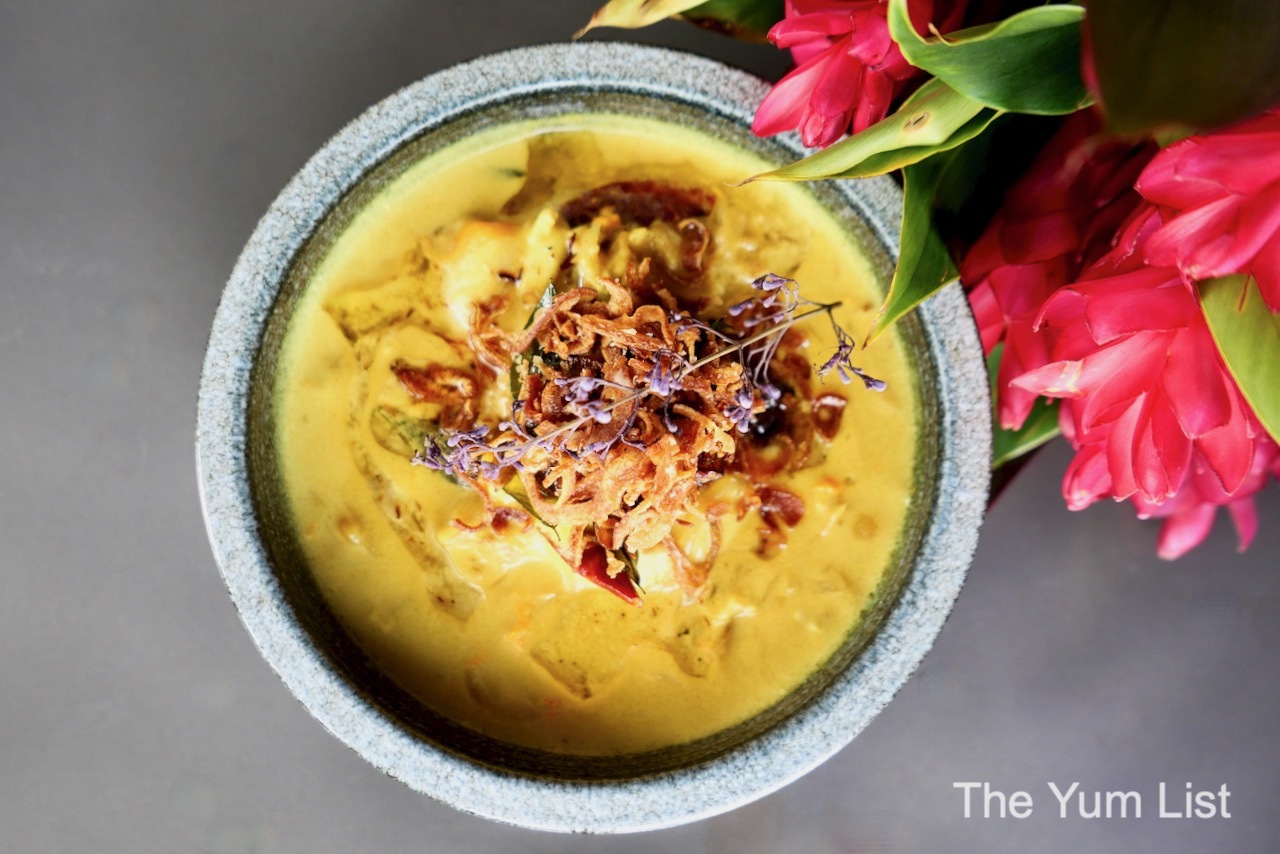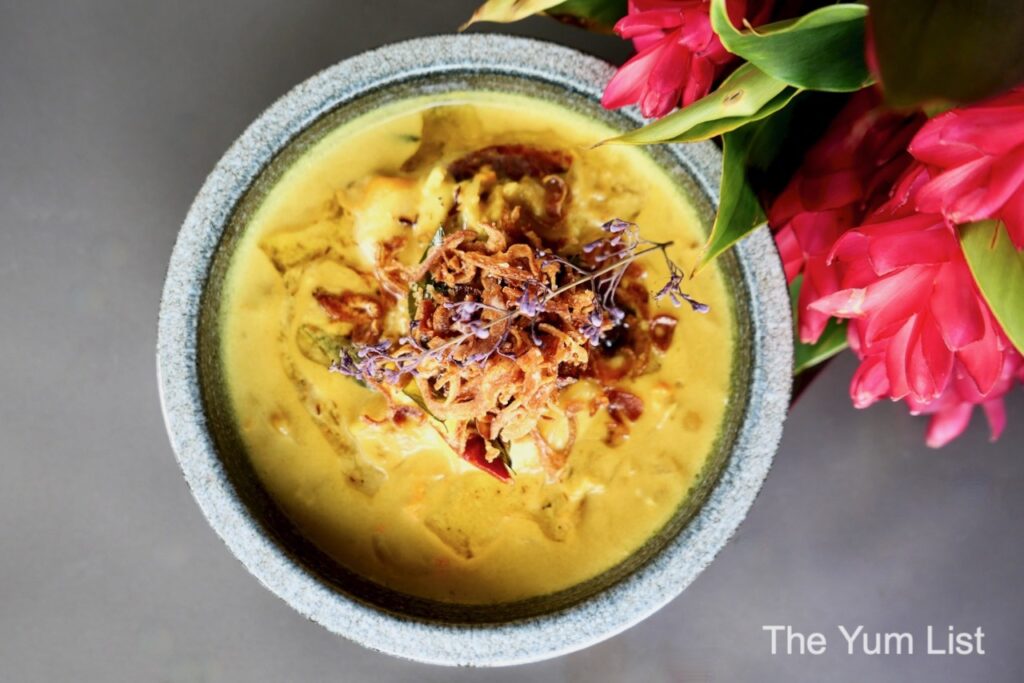 Masak Lemak Pucuk Paku & Udang (RM 39) is a fern shoot cooked in coconut gravy, birds eye chilli with fresh tiger prawns. The prawns are indeed fresh out of the water and cooked to a perfect degree. The gravy is hard to resist, and I just want to pick the bowl up and drink the rest, but we're sharing, so I'm forced to behave and use my spoon. Thank goodness there's more rice. I can greedily ladle on the gravy and save it for dessert. But wait, there is a real dessert…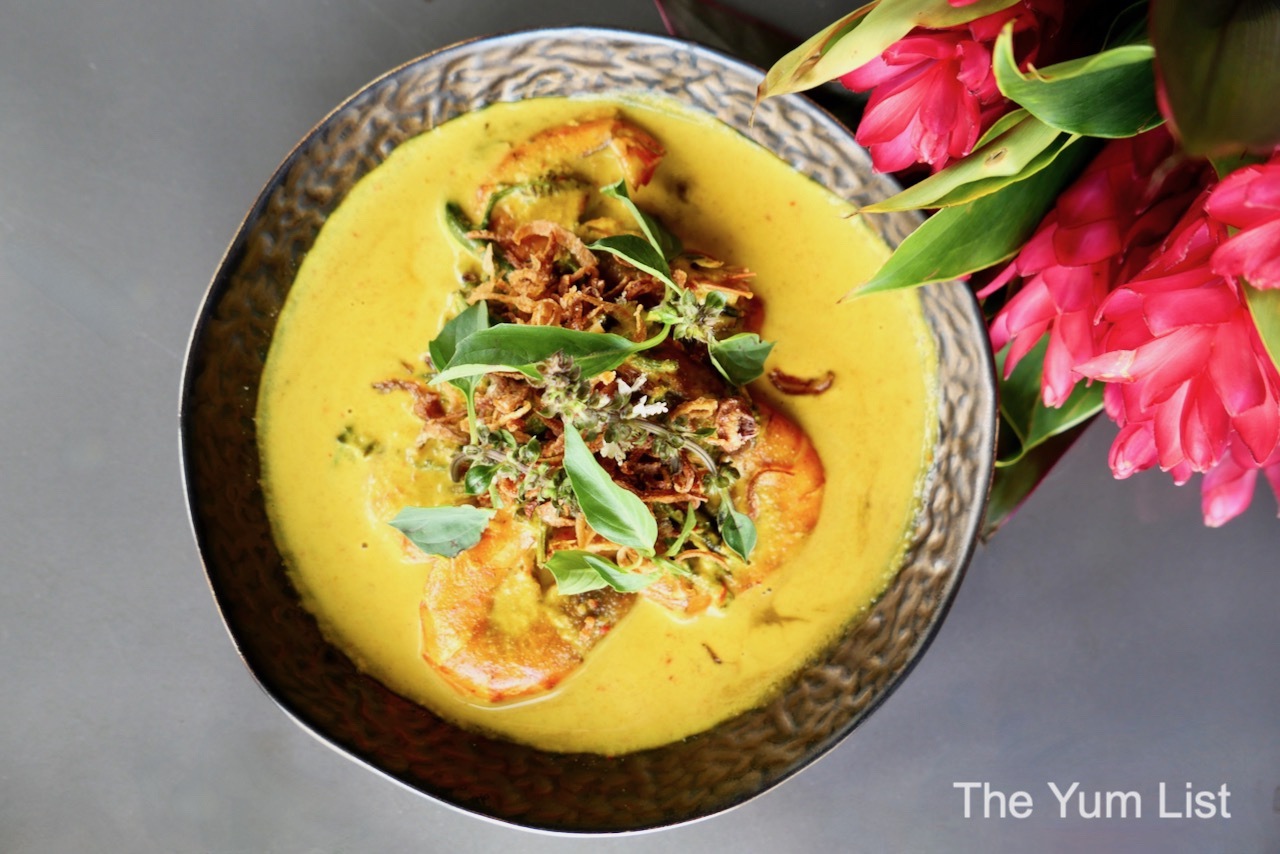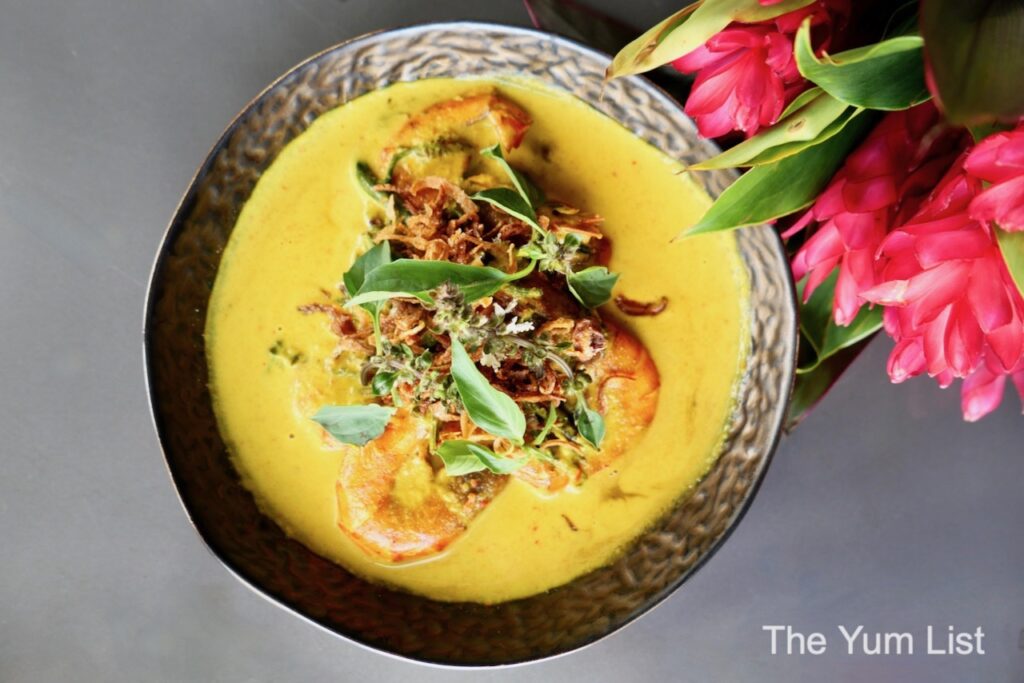 Dessert
Dessert is one option – Pengat Pisang Raja (RM 19) caramelized village-grown banana, coconut milk. And it is absolutely all that is needed. I'm not a sweet tooth kind of girl, so when I say I'd love the curry sauce on rice for dessert, I mean it (if there's wine left, of course). Seriously this Pendat Pisang Raja should be ordered before the meal. "Hi, can we have dessert first?" It's sago pearls, gula Melaka and a hard-to-find banana, usually growing wild in the kampong. It's best eaten when cooked (like a flavourful mini plantain). But the best is coconut milk. It reminds me of this glorious coconut pudding I had in Thailand once and could never find again. I've been dreaming of that. I'm going back to OpenHouse to have dessert for lunch tomorrow.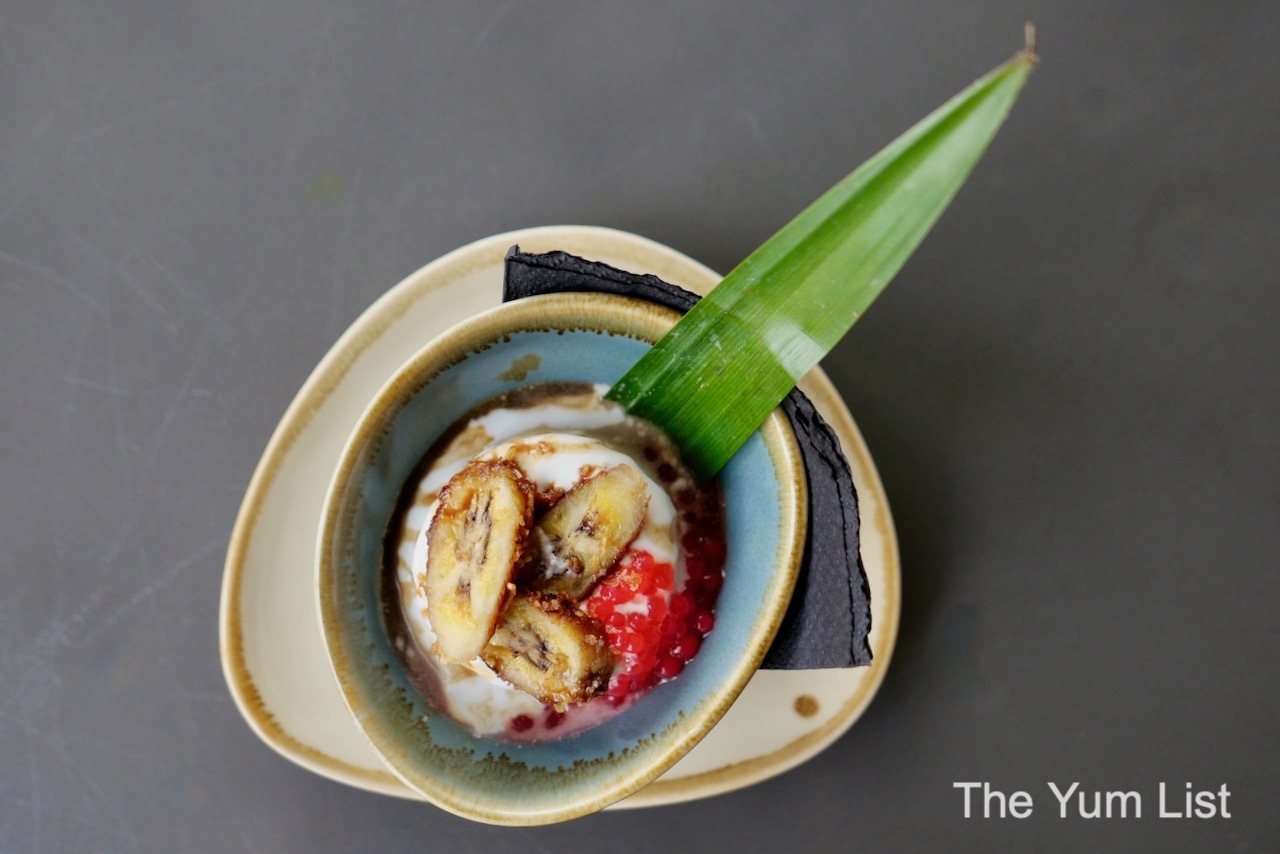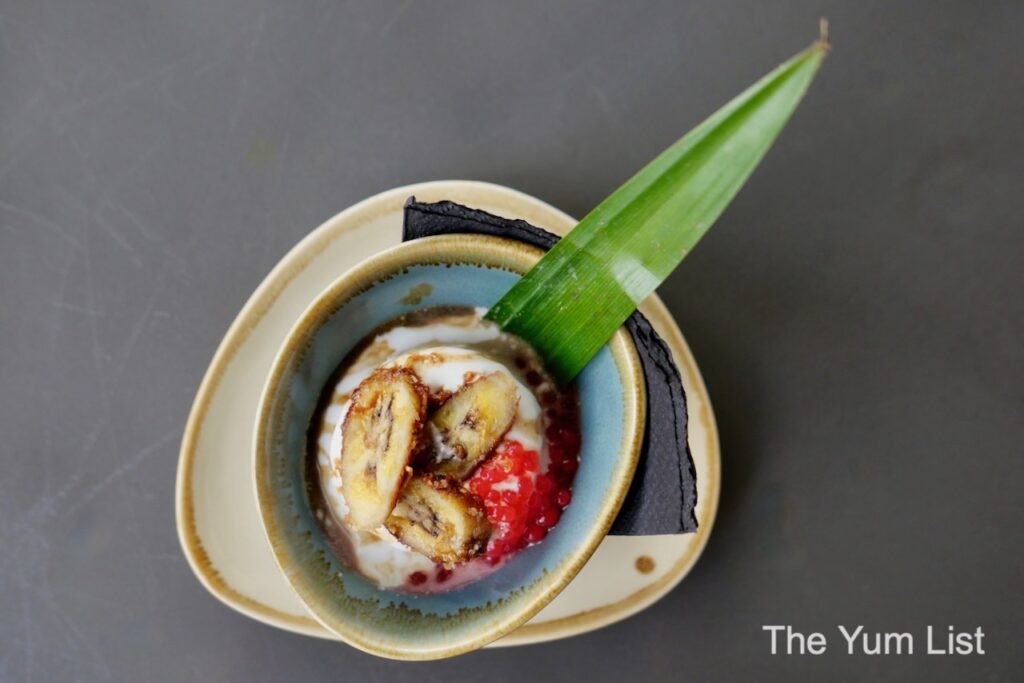 Of course, no meal is complete without our favourite beverage, wine! Our server recommends us a bottle of white Delas, Saint-Esprit Côtes Du Rhône, France 2019 (RM 179), which is delicious, complements every single dish and has a nice price.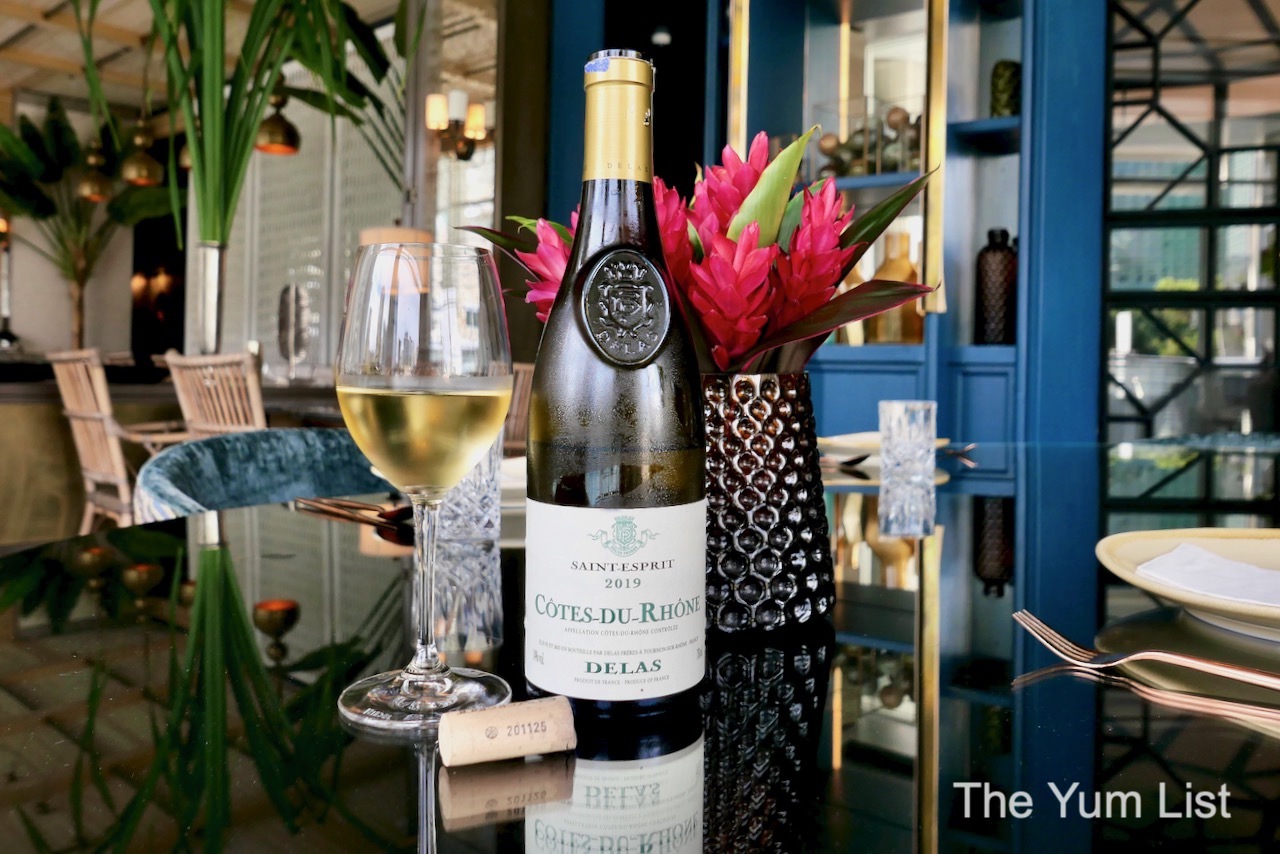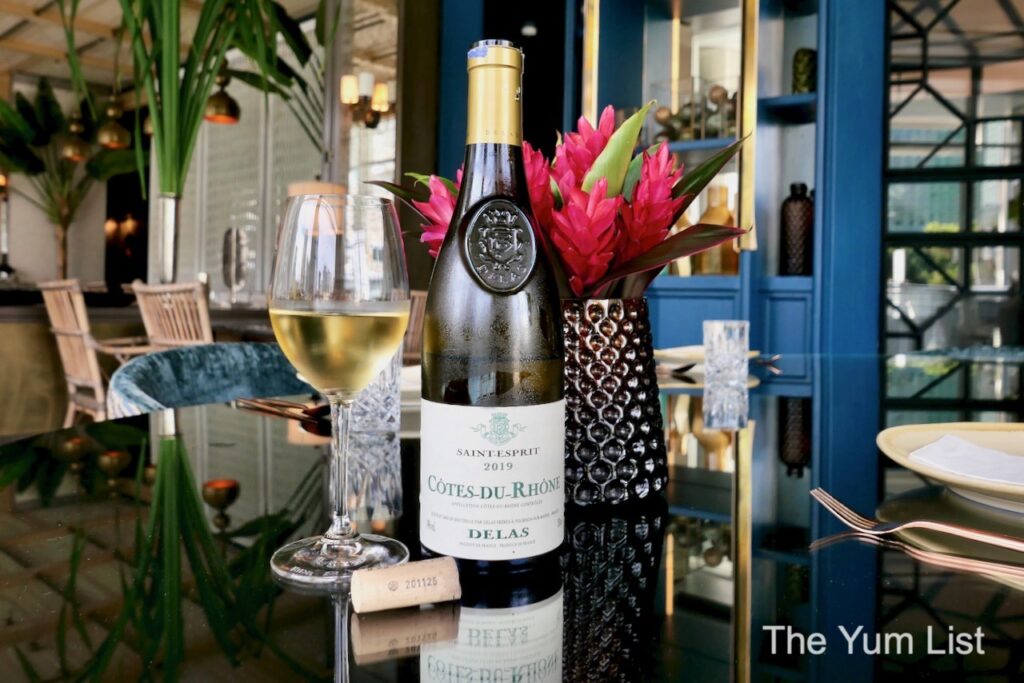 We are sad for this meal to be over but so inspired and emotionally invested in our experience. This special menu will last at least until October 31, after which time key dishes will remain on the menu. I am definitely going back, and I hope you will too.
Reasons to try the Dapur Tunku menu at OpenHouse: experience the rich culinary culture of Malaysian cuisine, amazing food cooked with love, awesome service, beautiful and intricately designed interior, the duck egg, pengat pisang raja, 10% of proceeds from this special menu goes in aid of the Malaysian Red Crescent until October 31.
OpenHouse
G48 Suria KLCC | Lakeside
Kuala Lumpur 50888, Malaysia
+603-2162 0888
OpenHouse Operation Hours
11 am-midnight
Love the stunning interiors in this restaurant? Create your own with incredible and varied designs from Everwallpaper.
Find more restaurants for special occasions here and stay up-to-date with the latest gourmet and travel recommendations for Malaysia here and here.