d'Alti Gusti
Words: Monica Tindall. Photos: Rich Callahan
What makes a memorable dining experience? Is it the setting, service, wine list, attractive plating, company, food, the chef? I'd dare say sometimes one of these can be exceptional making a memory stick. Still, more often than not, it's the subtle interweaving of all combined. The gentle layering and connection of all such parts ascertain fond recollections and a desire to return again and again. Such was our recent dinner at d'Alti Gusti in Section 21.
d'Alti Gusti – Private Dining Experiences KL
A concept born from the pandemic, d'Alti Gusti presents a range of private dining experiences, including seasonal table d'hôte menus, laid back aperitivo cocktail evenings, and bespoke fine-dining line-ups. Set in a bungalow in Section 21, the dining room is cornered by a marvellous open kitchen, centred with a stylishly dressed table, and surrounded by a collection of good times in the form of wine bottles. Comfortably seating between 20 and 30 people depending on SOPs, it's a fine choice for intimate get-togethers and celebrations.
Food and beverage industry veteran chef Simon Phillips partnered with cousin and former pilot Luis Sek when they relocated to Malaysia due to the pandemic. Taking over Luis' home, the pair began by importing fine truffle products from Italy by Giuliano Tartufi. Although excited themselves about the range, they soon realized the majority of home chefs didn't know how to use them. Cooking classes morphed into private dining sessions and brought the duo to today, offering products, courses and experiences.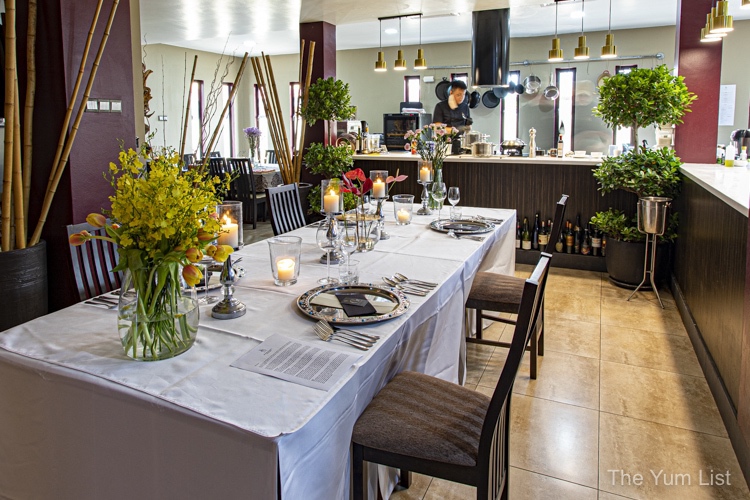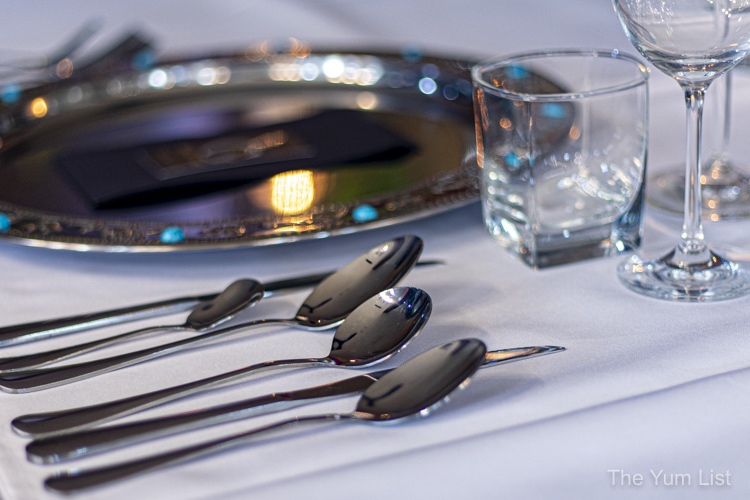 The Pandemic & Changing Needs
Chef Simon saw an opportunity in the pandemic. "For years, we had a dining community that's overly obsessed with pretty plating and Instagrammable dishes. This pandemic is changing the way people appreciate dining with friends and family. Things are more intimate. It's about food that joins people with a story they can relate to. That makes something like d'Alti Gusti viable and needed."
The team at d'Alti Gusti is now celebrating a year of dining, and one of the things I've heard repeatedly is the value guests place on interaction with the chef. As a seasoned professional in hospitality, Simon easily converses about the menu, leading diners through the story of the food. His narrative is traditional yet imaginative, founded in classic recipes but with his own flair added to the equation. Saluting his formative years learning the trade in Florence, his love for "real" Italian food is reflected in flavour and presentation. Both Simon and Luis echo Italian nonnas in their firm conviction that "no one shall leave hungry."
Menu
The menu at d'Alti Gusti changes roughly every six weeks. Currently, Festa Della Nuova Vita – Autumn 2021 is on the table and will be available until the first week of November.
Five courses are priced at RM 350+ per person, and the seven-course line-up with caviar and the Barolo sorbet is going for RM 460+ per person. A lovely benefit of dining at d'Alti Gusti is that there is no corkage charge. You can bring your own wine, call ahead and ask the team to arrange wine pairing for you, or even design a menu around a collection of wine you've been saving for a special occasion.
Festa Della Nuova Vita – Autumn 2021 – d'Alti Gusti
Aperitivo Freddo
Our Italian stroll starts with Il Colosseo. Just as the Lego rendition of the same in the entryway comes together in layers to build the whole, so too does the pasta sfoglia and its fillings. Alternating noisettes of artichoke, olive and summer truffle, and San Marzano tomatoes ensure that no matter how you slice it, you'll get one of each in every bite. The structure is shaded with a crisped slice of salame ungherese, and in its shadow sits crumbled amaretti. Chef Simon advises the best approach is to take a "fork and spoon and destroy it." Sweet, savoury, buttery, a mild tang, they all merge with a sip of the Domaine Laroche Chablis Premier Cru Les Beauroys, 2015 in our glasses. Taste buds ignite.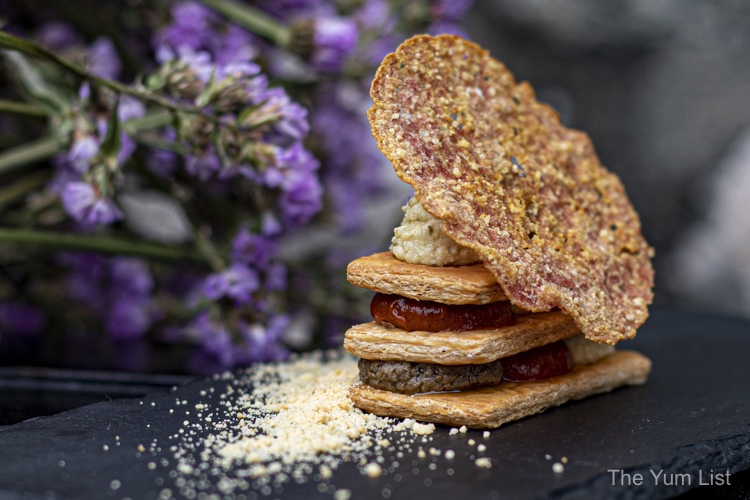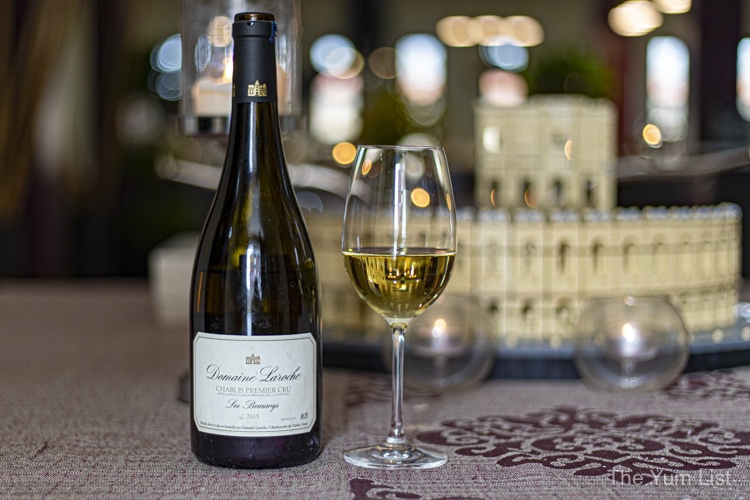 Aperitivo Caldo
There's a direct stream from the frypan to my nose as the next dish is prepared. Sous chef Jonathan has just pan-seared Hokkaido sashimi-grade scallops and dressed them with white chocolate ganache. Precious white truffles hint at the upcoming winter in the crème anglaise, which is both earthy and salty from slivers of Pecorino Romano tuile that have fallen in. The name Caviale sulla Neve (caviar on snow) comes from the match of caviar and white chocolate. At first, you might think that it's the contrast of the sea and the sweetness of the chocolate that makes them such fine mates. However, dig a little deeper into science, and you'll find that both share the same compounds, amines, assisting the flavours to meld together into one heavenly profile.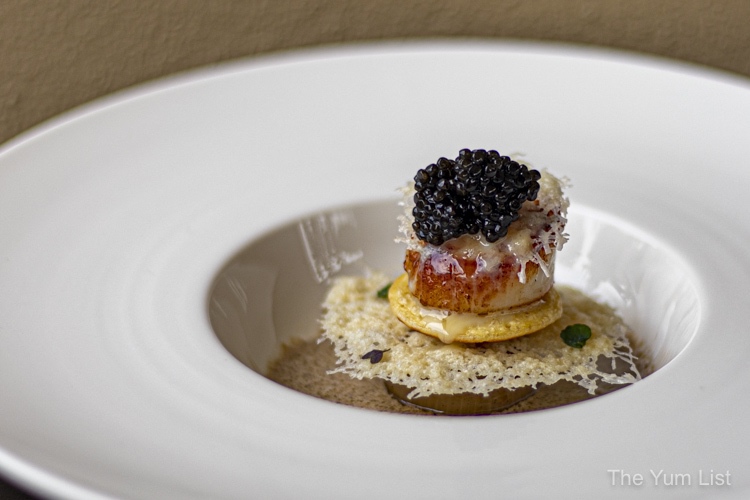 Antipasto
Cappuccino Sottobosco is no ordinary mushroom soup. Chef Simon dreamed up this creation, remembering ambles in the forest on crisp winter mornings. He wanted to mimic the layers of the undergrowth – earth, leaves, the forest floor. It's based on wild mushrooms and marsala. Next, there's porcini-soaked milk foam, and the surface is dusted with porcini powder. Finally, and in a nod to his British upbringing, a slice of almond biscotti lays across the cup, ready for a good dunking.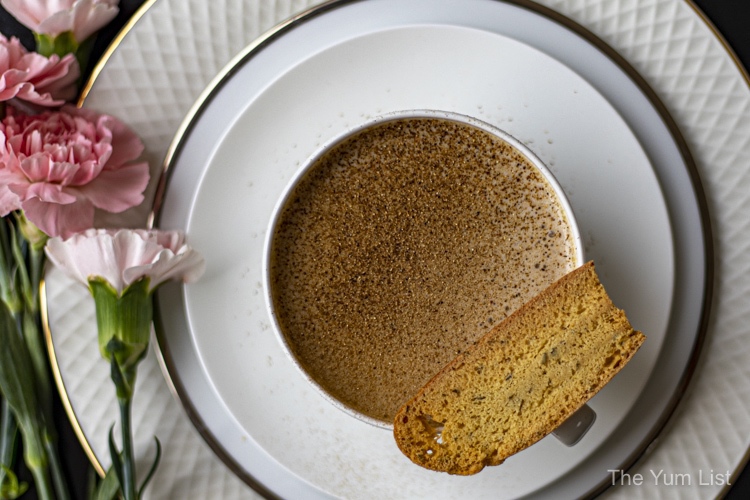 Primo
Etna, the pasta course, sees a cone of black truffle linguine spilling lava of smouldering all'arrabbiata sauce. A plume of porcini foam surrounds the caldera, and a glazed chilli springs from the top as if a flame escaping the vent. Crumbled crispy duck skin boulders sit at the base as if demonstrating the aftermath. The arrabbiata is given depth with the use of port. Allow it to sit in your mouth to appreciate the character.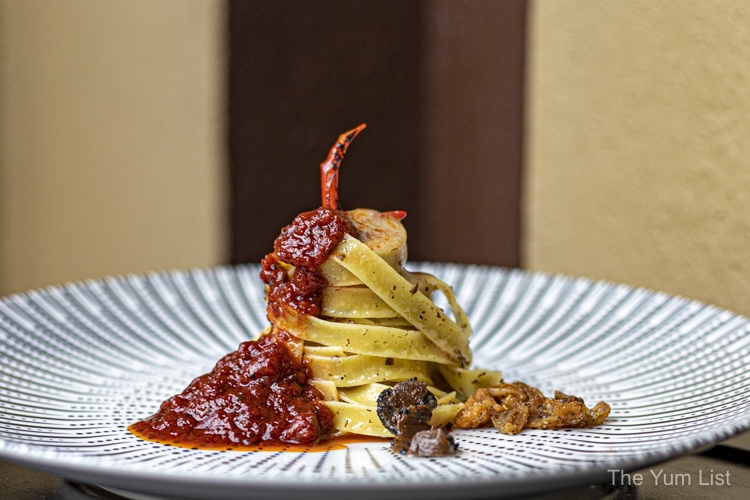 d'Alti Gusti – Intermezzo 
Piquant morello cherries macerated in the earthy tannic tones of Barolo in a refreshing sorbet provide intermission with the Sorbetto Barolo. A complement of crisped prosciutto candied in marmalade would make Paddington Bear ever so happy. At the very least, it makes us smile.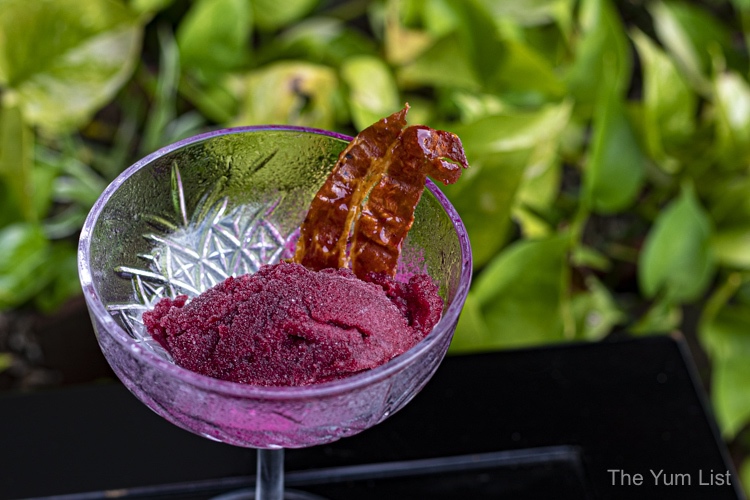 Secondi
The first main course choice is Agnello Sant'Agnese, one of four dishes made for the Papal household during Easter. You are literally eating history with each bite of the tender braised lamb shank richly herbed in the traditional Roman sauce. Drops of aged balsamic lift the warm, comforting recipe. Oxidized potatoes and zucchini and carrots char-grilled with summer truffle honey side the plate. Rosemary marries them to the lamb, and we're pleased to report not a single soggy veggie on this plate.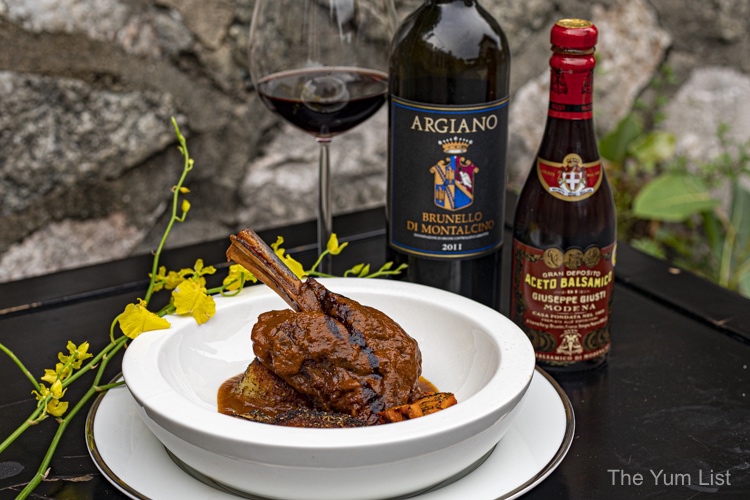 The second choice of main, Il Segreto di Papa Borgia, takes a detour from tradition. The conservative diner would be well-advised to choose the lamb. However, a more liberal palate might find adventure in the secreto strips of Iberico. Imagining the two major trade ports of Malacca and Rome in the 1570s, Chef Simon takes creative license to envision something familiar but unnameable.
The pork is encrusted with a glaze of spiced balsamic vinegar and gula Melaka. It explodes with fattiness in the mouth. Bentong ginger, cacao nibs from Pahang, coriander and gula Melaka go into the sauces, forming something that is not Malaysian yet oh so familiar. It's like the word that is on the tip of your tongue, invoking memories but not yet titled. Sweet, sour, salty, fatty – they all conjure a feeling of déjà vu.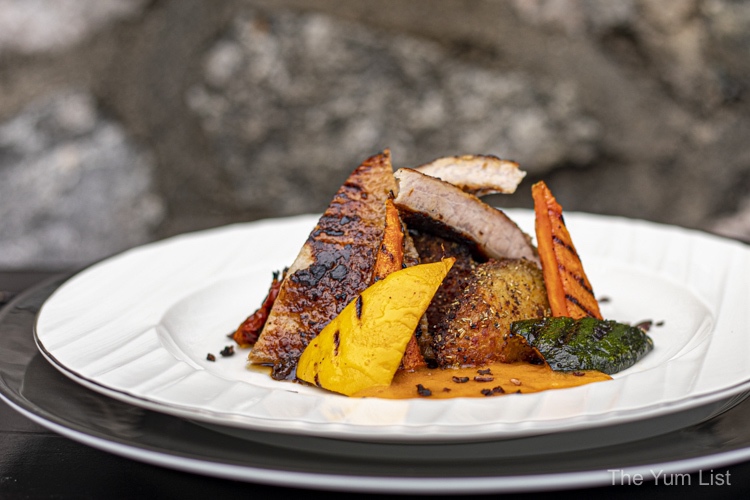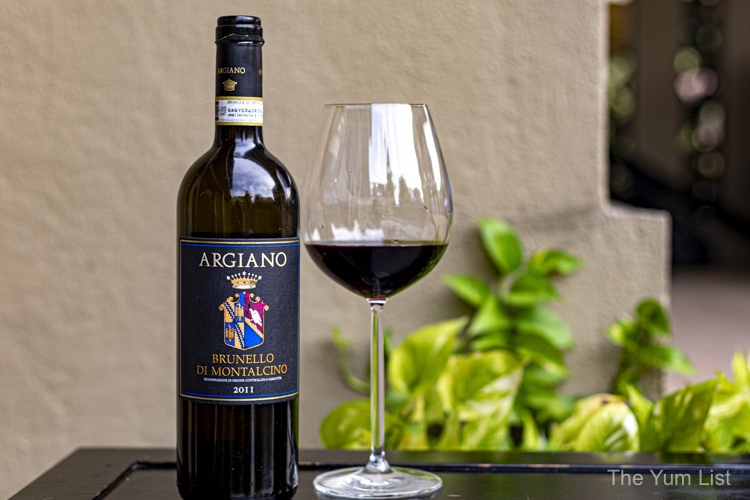 d'Alti Gusti Dolce 
Chef Simon has unapologetically told of his ugly tiramisu from the start. With his cooking foundations formed in Italy, he can't bear to see it served any other way than directly from the tub it was set in. Not only does the style it is presented remain unchanged, so too does the recipe. There is not a single spoon of whipped cream here. It's 100% mascarpone. The team at d'Alti Gusti make their own. It's rich, dairy, alcohol – something you'd be happy to clog an artery for. Minimal sugar has been used, allowing the Marsala wine and Tia Maria to mingle without interference in the cream and sponge-like biscuits.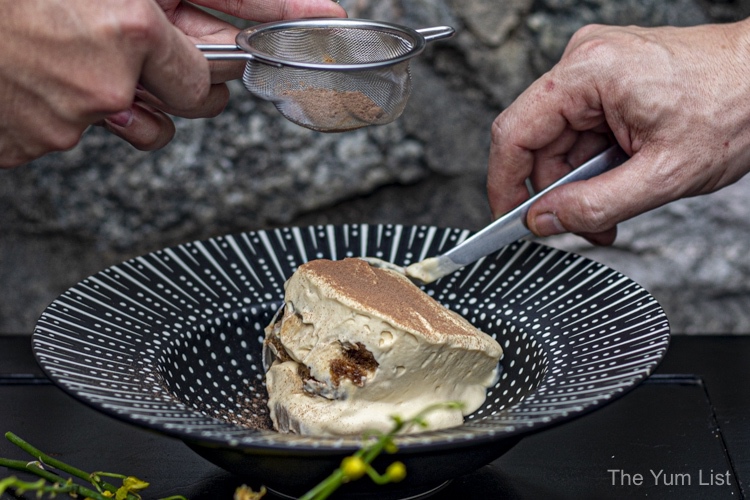 Chef Simon leaves us with some final words. "It's all about the food. It's all about where the food comes from and being as faithful to those tastes as you can. If you can be authentic with that experience, then you are making real food that feeds you, satisfies you and makes you part of its story."
To Take Home – Giuliano Tartufi Range of Truffle Products
Before heading out, you might like to browse the extensive range of Giuliano Tartufi truffle products. Alternatively, place an order via their online shop. Making a great place to start for the home chef or a gift for your favourite gourmet, the Essenziali, Fine Dining Starter Kit (RM 450) carries Giuliano Tartufi's most sought after products.
The Essenziali Fine Dining Starter Kit contains:
Black Truffle Sauce 180g
White Truffle Infused Extra Virgin Olive Oil 250ml
Porcini and White Truffle Cream 160g
Specialty Summer Truffle Pesto 170g
Tomato and Summer Truffle Sauce 190g
Summer Truffle Slices 50g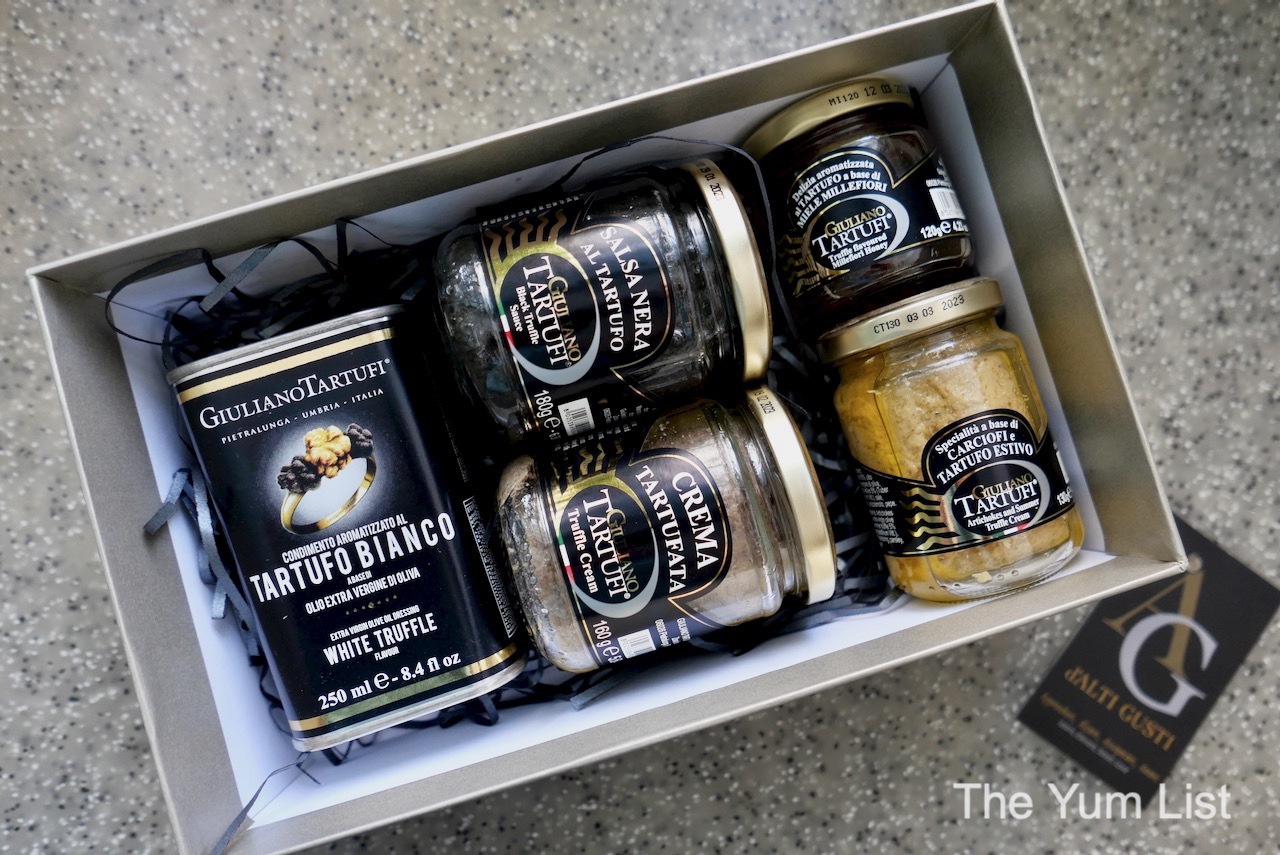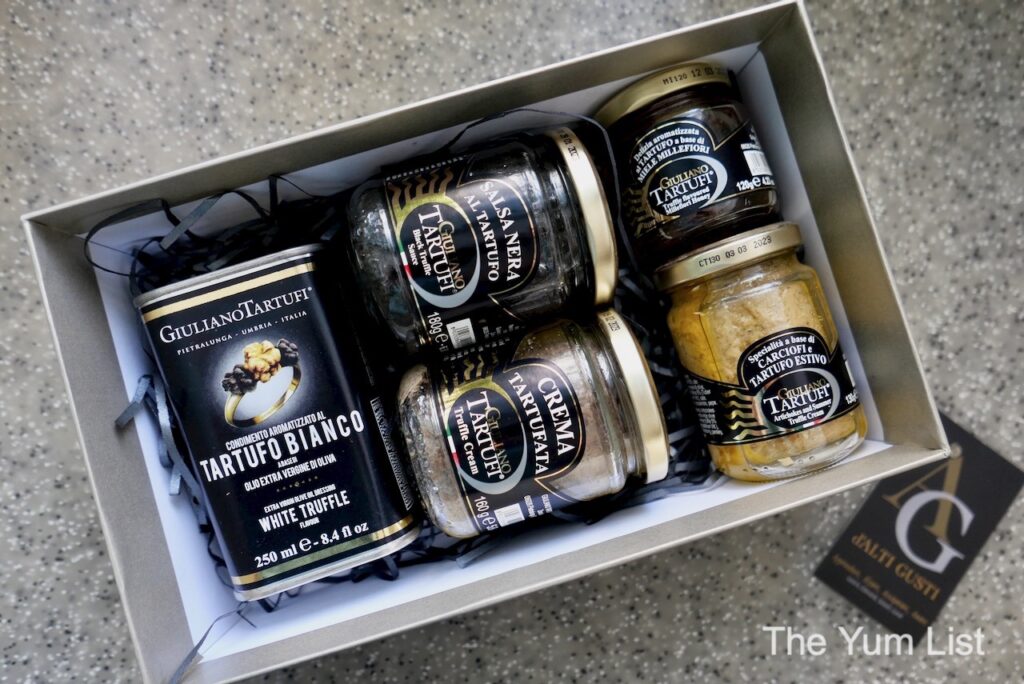 Reasons to visit d'Alti Gusti: private dining done exceptionally well; Italian flavours and portions; stylish setting; an intimate experience with a passionate chef; pick up some premium truffle products while there.
d'Alti Gusti
8 Jalan 21/7, Section 21,
46300 Petaling Jaya, Selangor, Malaysia
+6 011 1020 0380
Find more restaurants for special occasions here and stay up-to-date with the latest gourmet and travel recommendations for Malaysia here and here.