Gekko Dining
Words: Matt Brown
Photos: Monica Tindall
The beautiful and intimate space that is Gekko Dining will allow you to really relax, slowing everything down so that you can savour the impeccable tastes and surroundings. As soon as you enter this upstairs location in Damansara Heights, you feel a change in mood. The elegant interior, full of industrialised elements of stone, steel and wood, plays such an important role in setting the mood for this restaurant and bar that it has two meanings in its name – the first being the Japanese word for 'moonlight', while the other references the little lizards that are often considered guardians of peoples' homes. Sam Kinugawa, formerly of The Bar at Empire Damansara and Bar Shake, is the brains behind this new offering to lovers of Japanese food (and cocktails).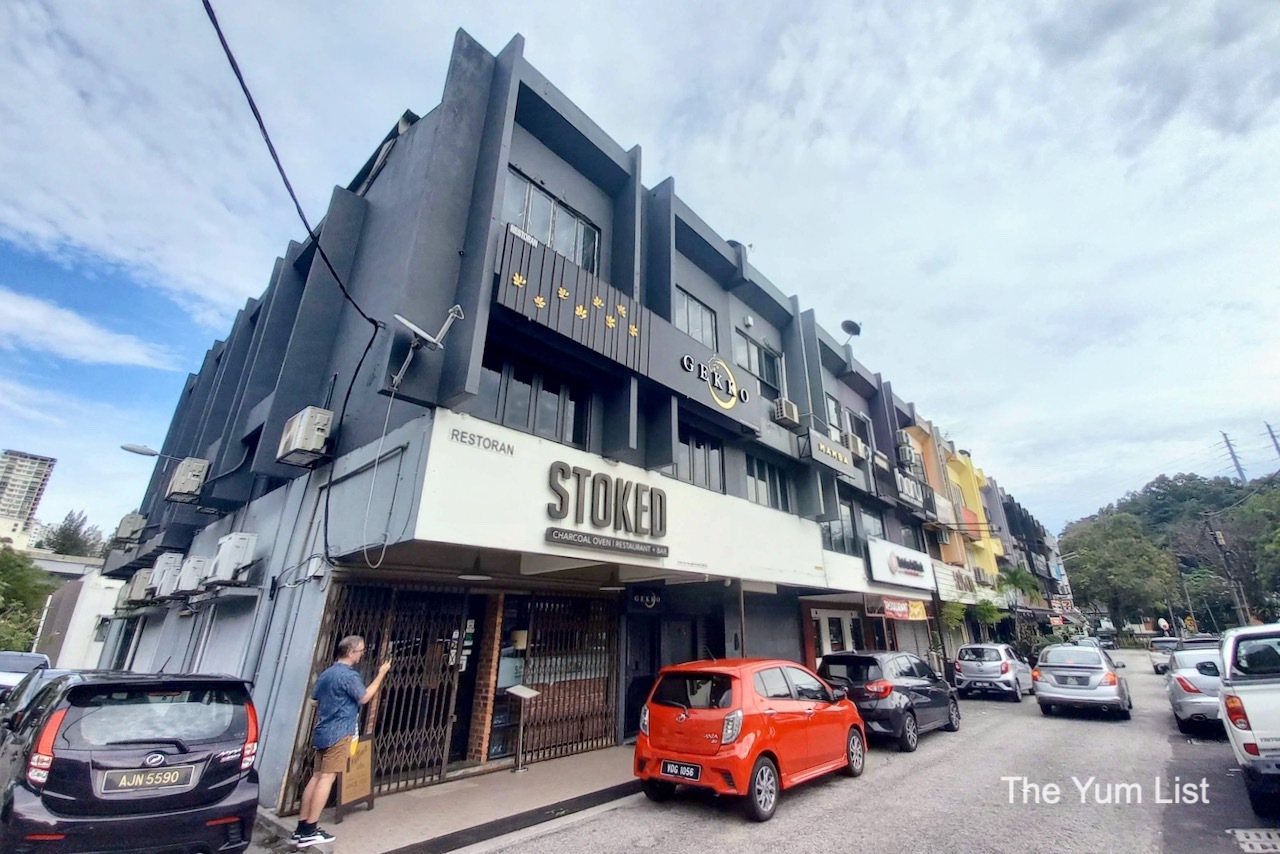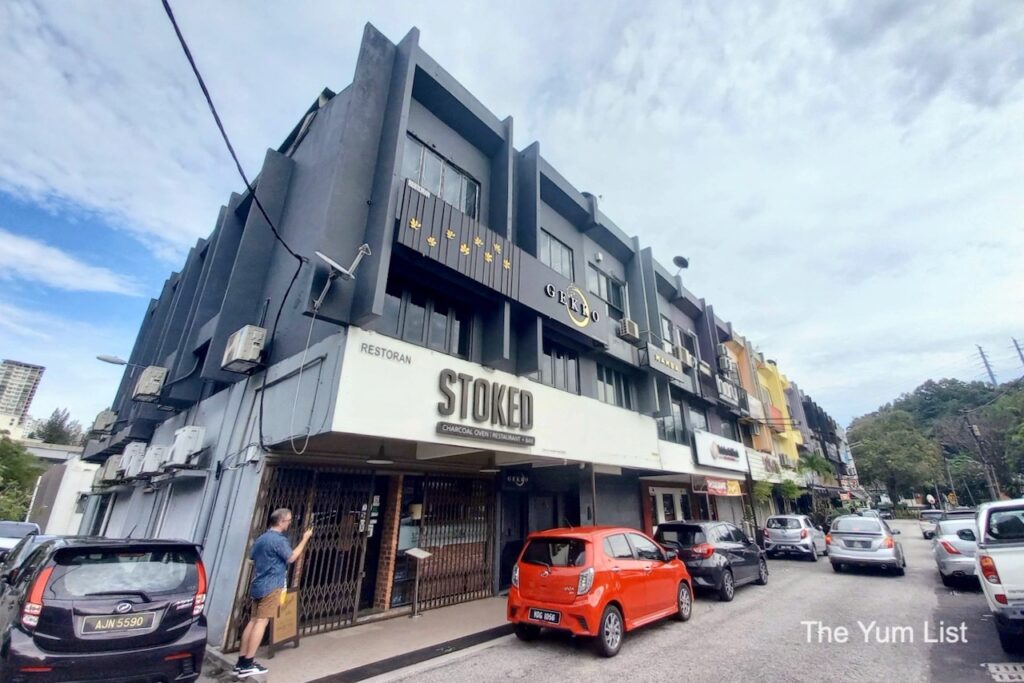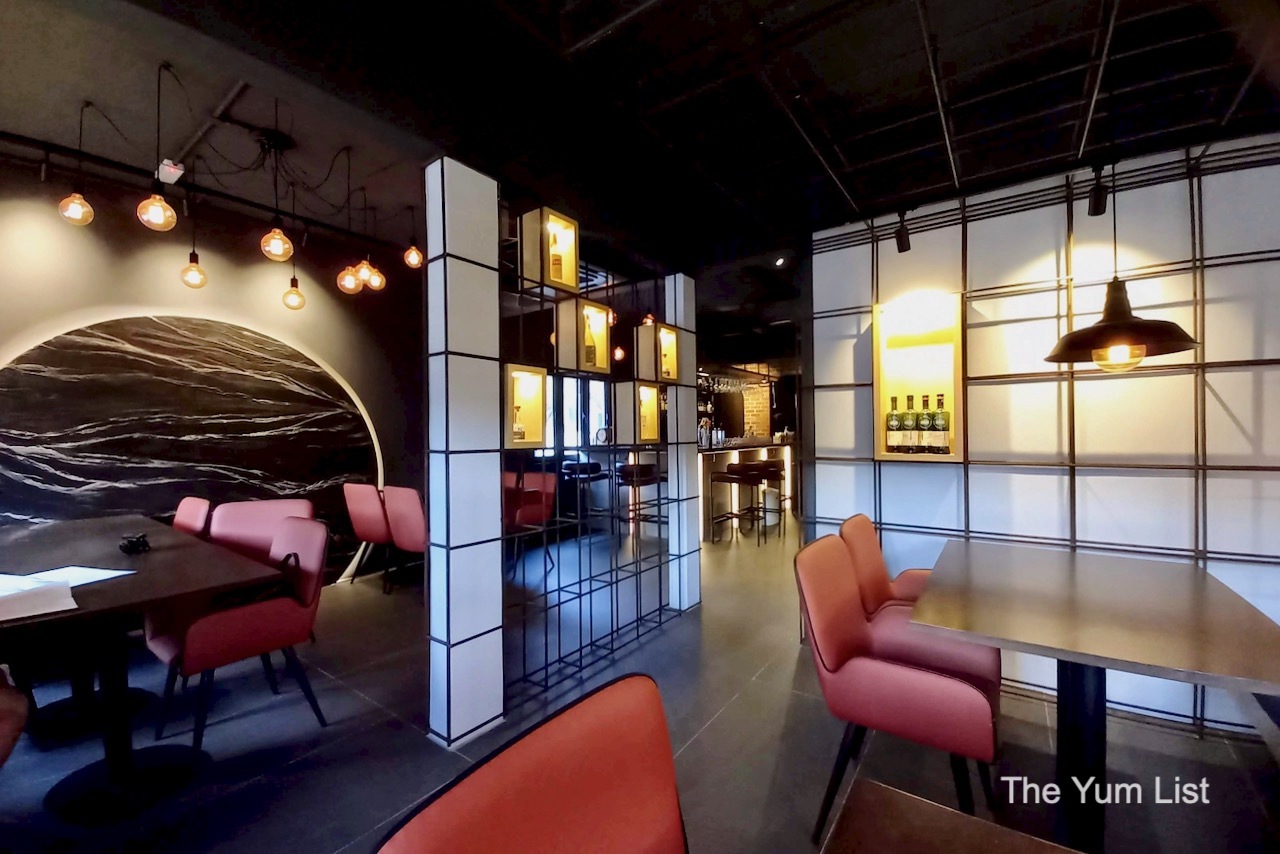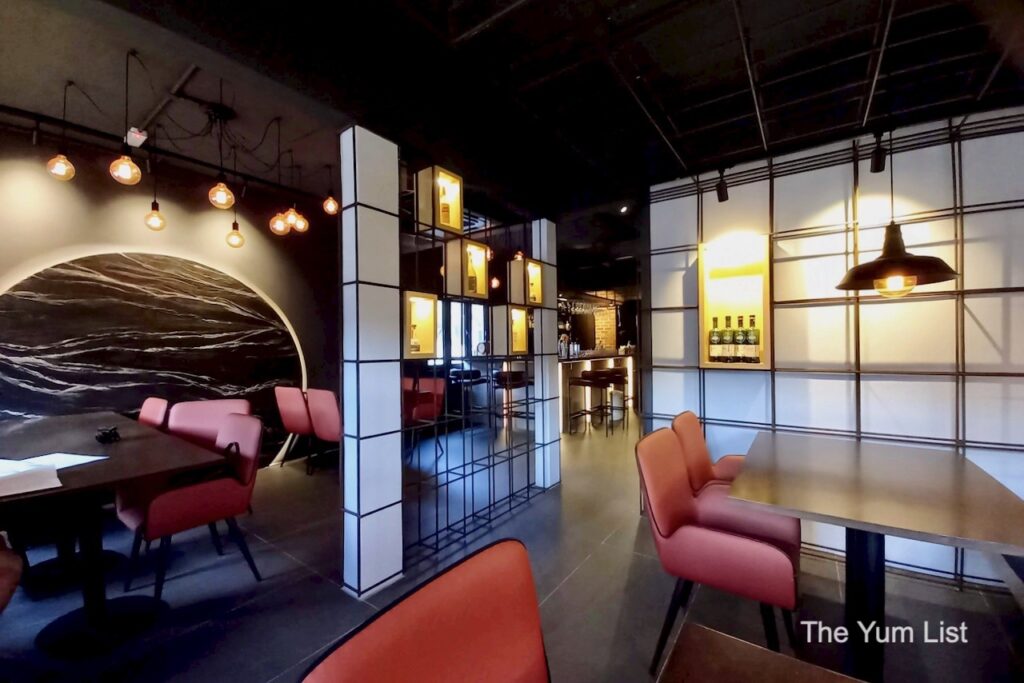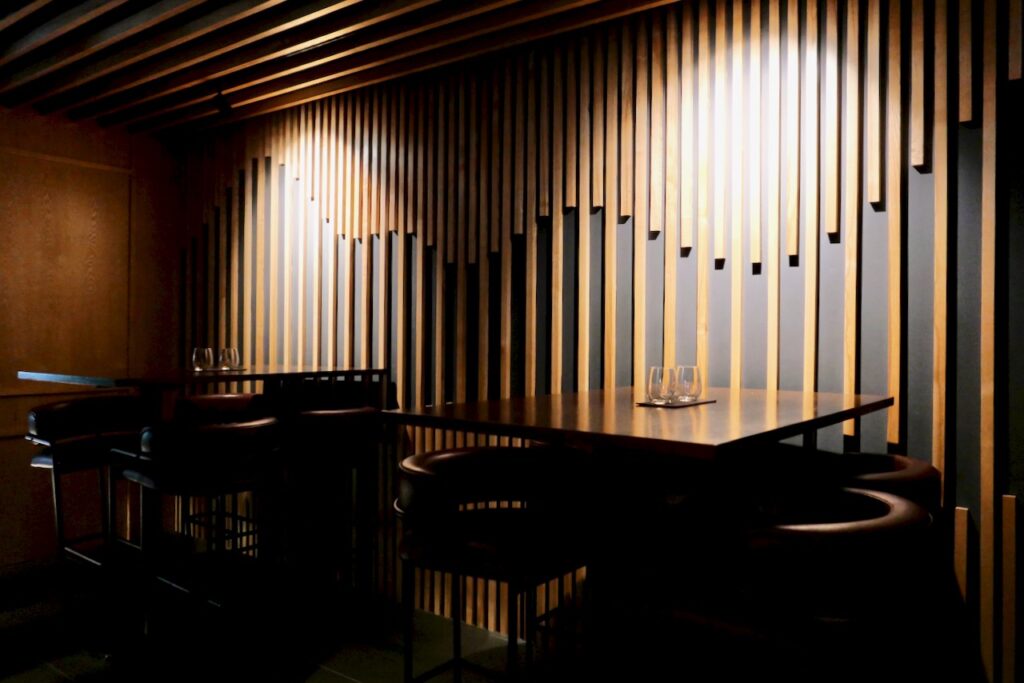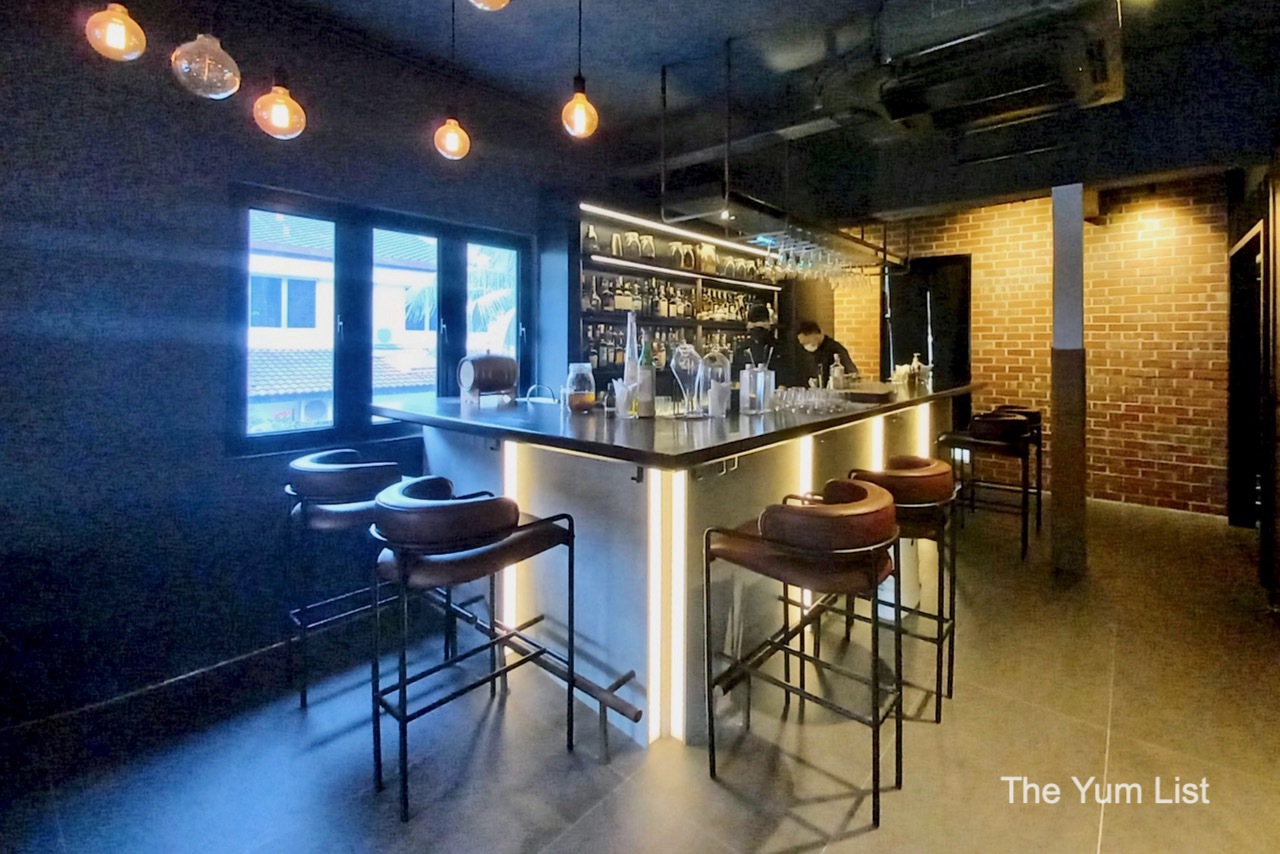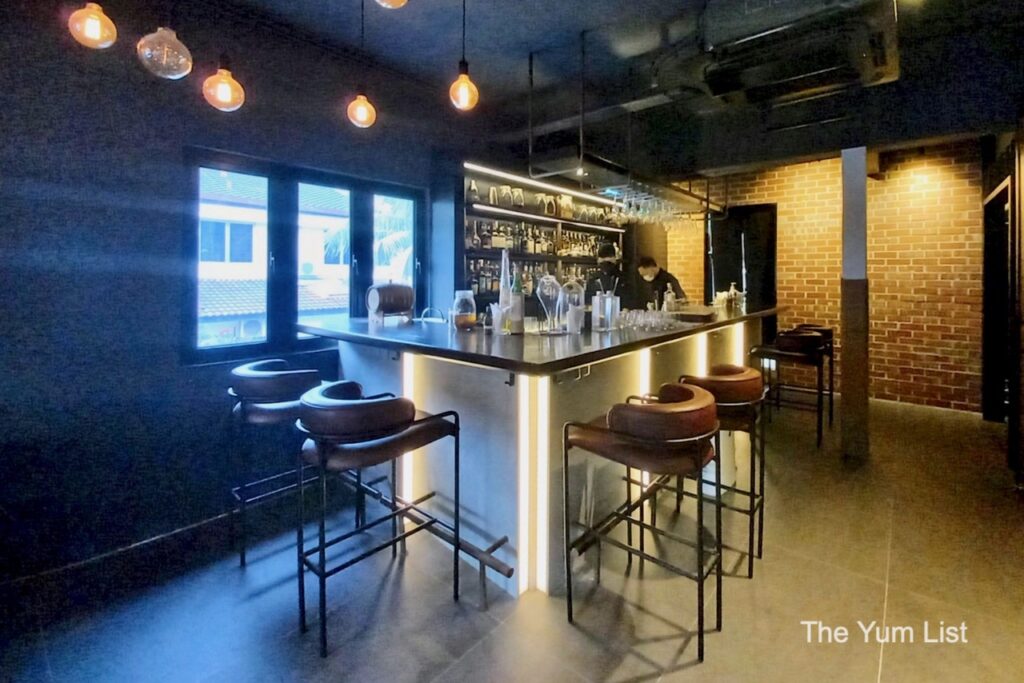 Gekko Dining Menu
The main part of Gekko is a well thought out space for couples or larger parties to enjoy an ambient evening of chilled out tunes and some of the comfiest furniture I've experienced in a KL restaurant. The eating options are all tempting from Chef Ryusuke Higuchi's kitchen, starting with the Bao Burgers. We sampled the Greenland Halibut Katsu bao (RM18), the Australian Waygu Kalbi bao (RM20) and the Unagi with egg (RM24). All were very tender and light, which complimented the flavours in our exceptional drinks.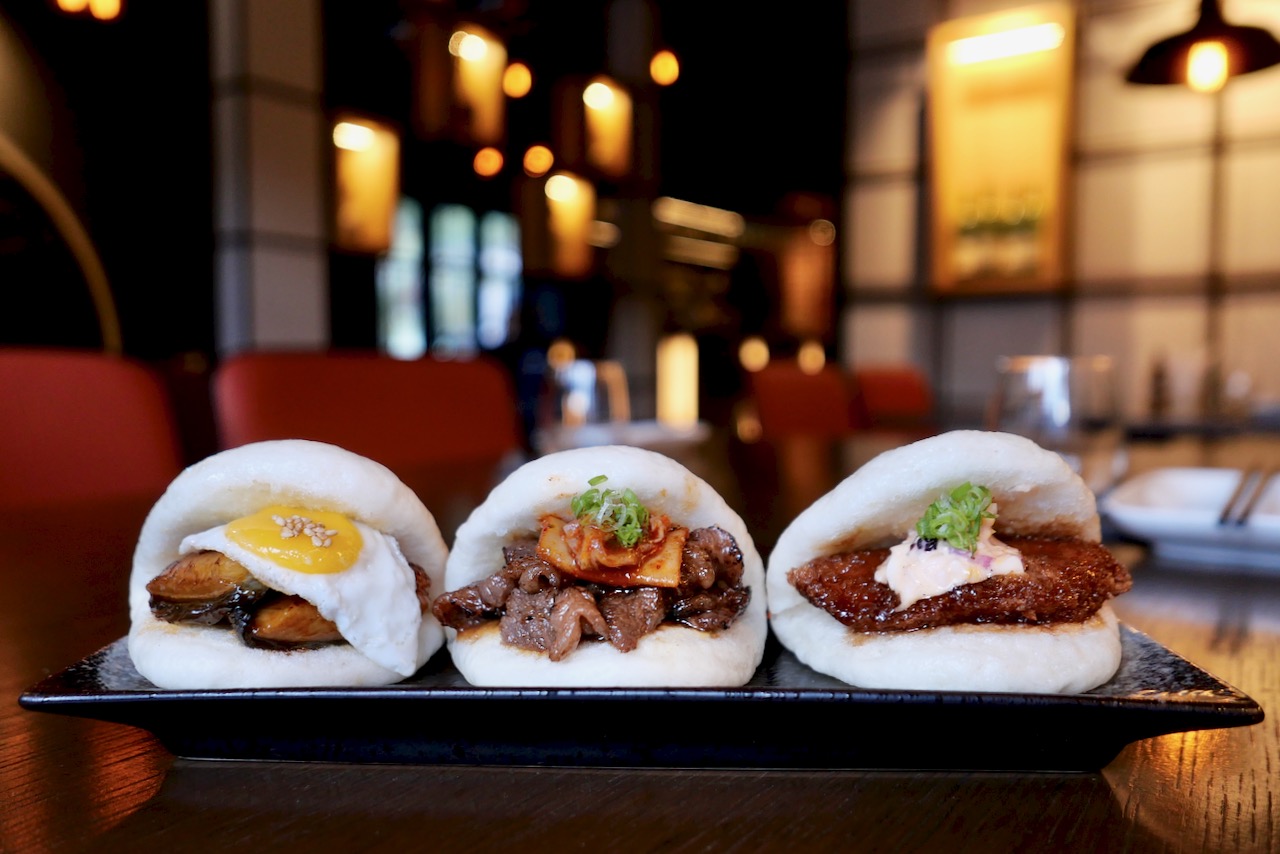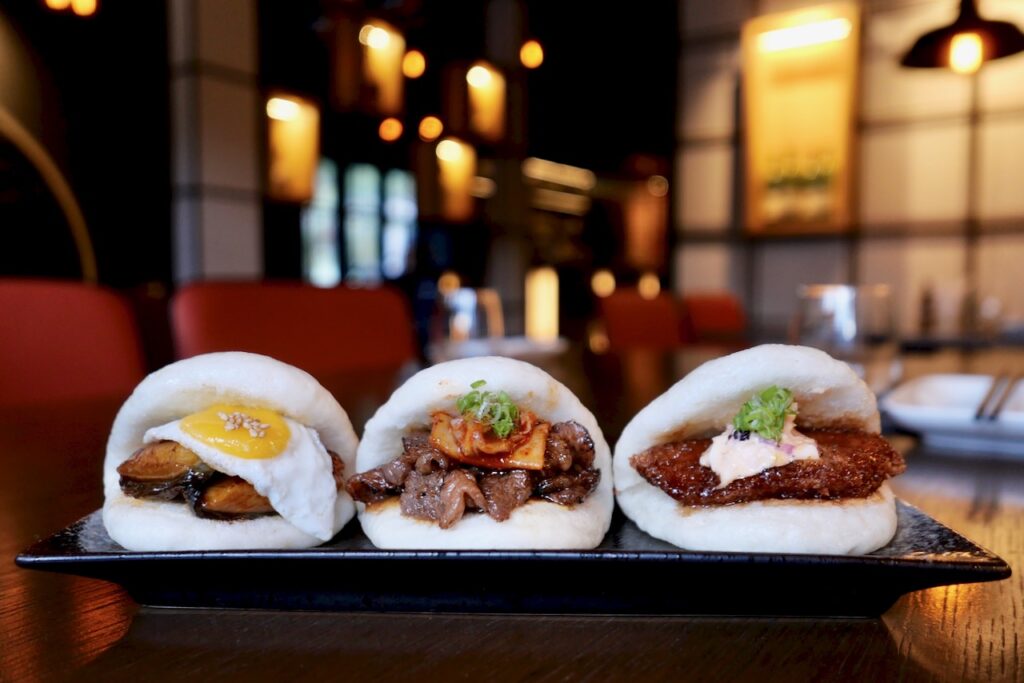 The Lava Roll (RM32 for 4 pcs) is a fresh combination of shrimp tempura, tuna and avocado with spicy chilli sauce. The Number 9 Roll (RM32 for 4pcs) comes with a crunch inside from the cucumber, salmon and avocado filling and is topped with tempura flakes. The caramelised soy sauce really elevates every bite taken.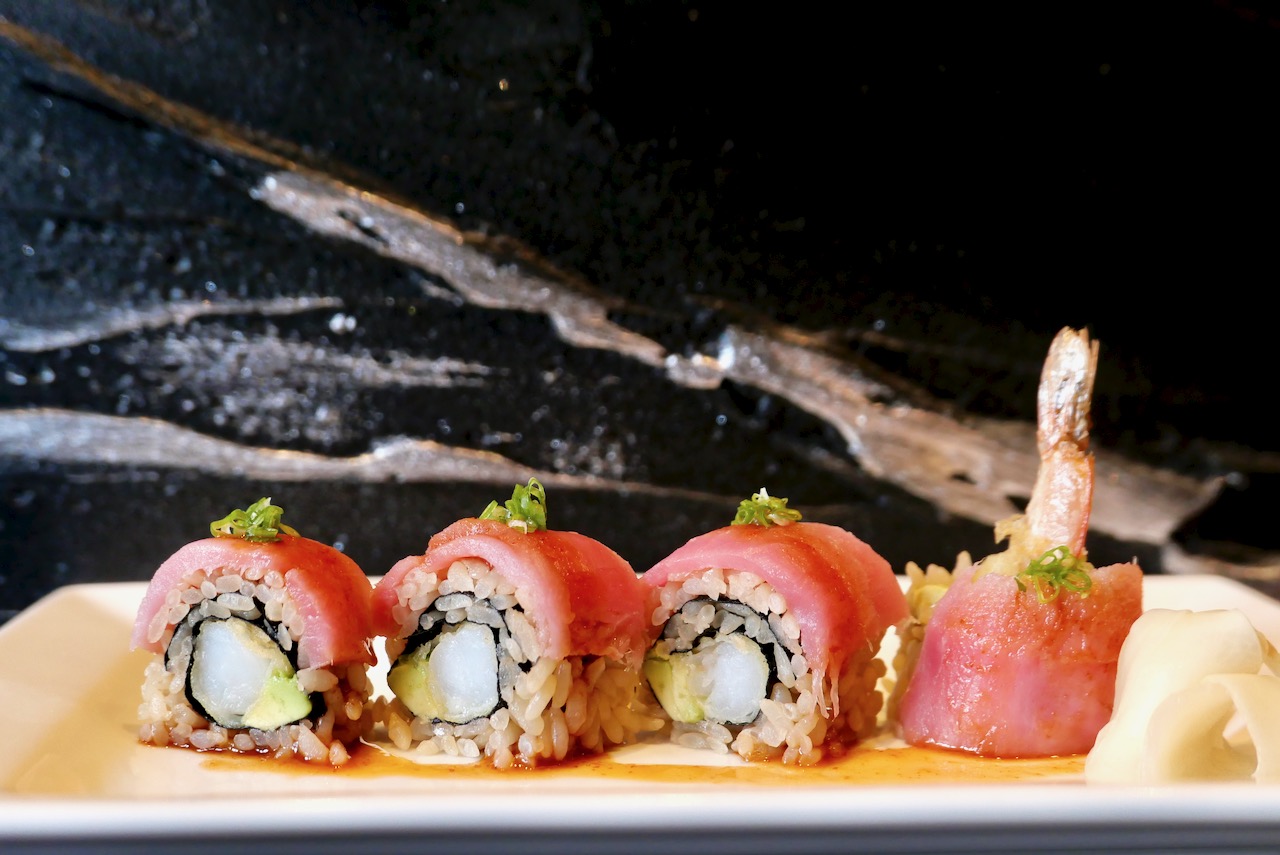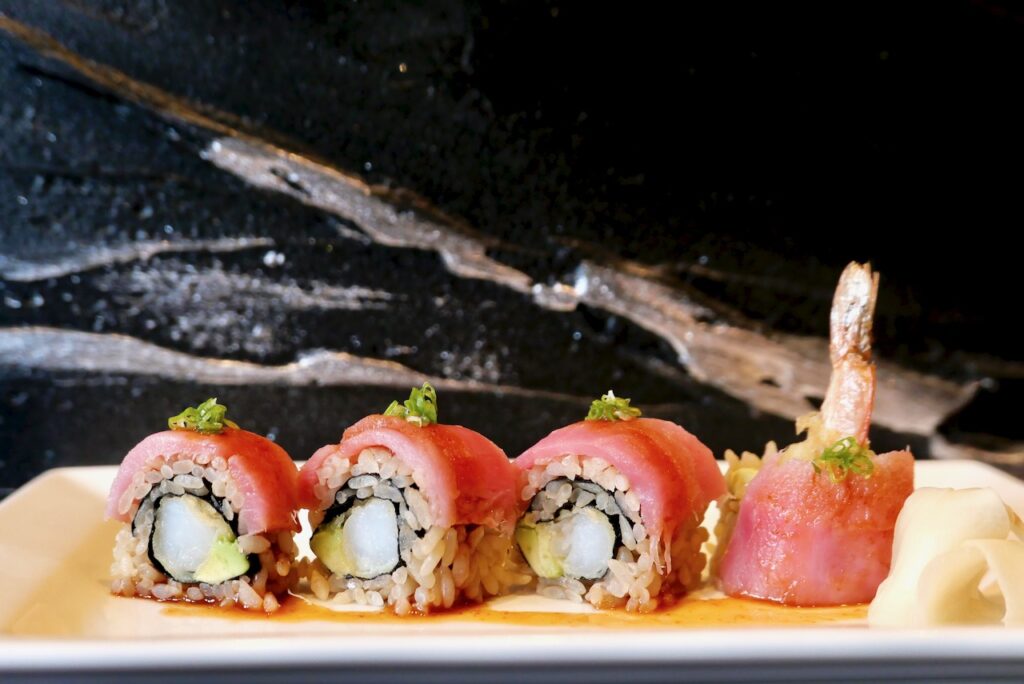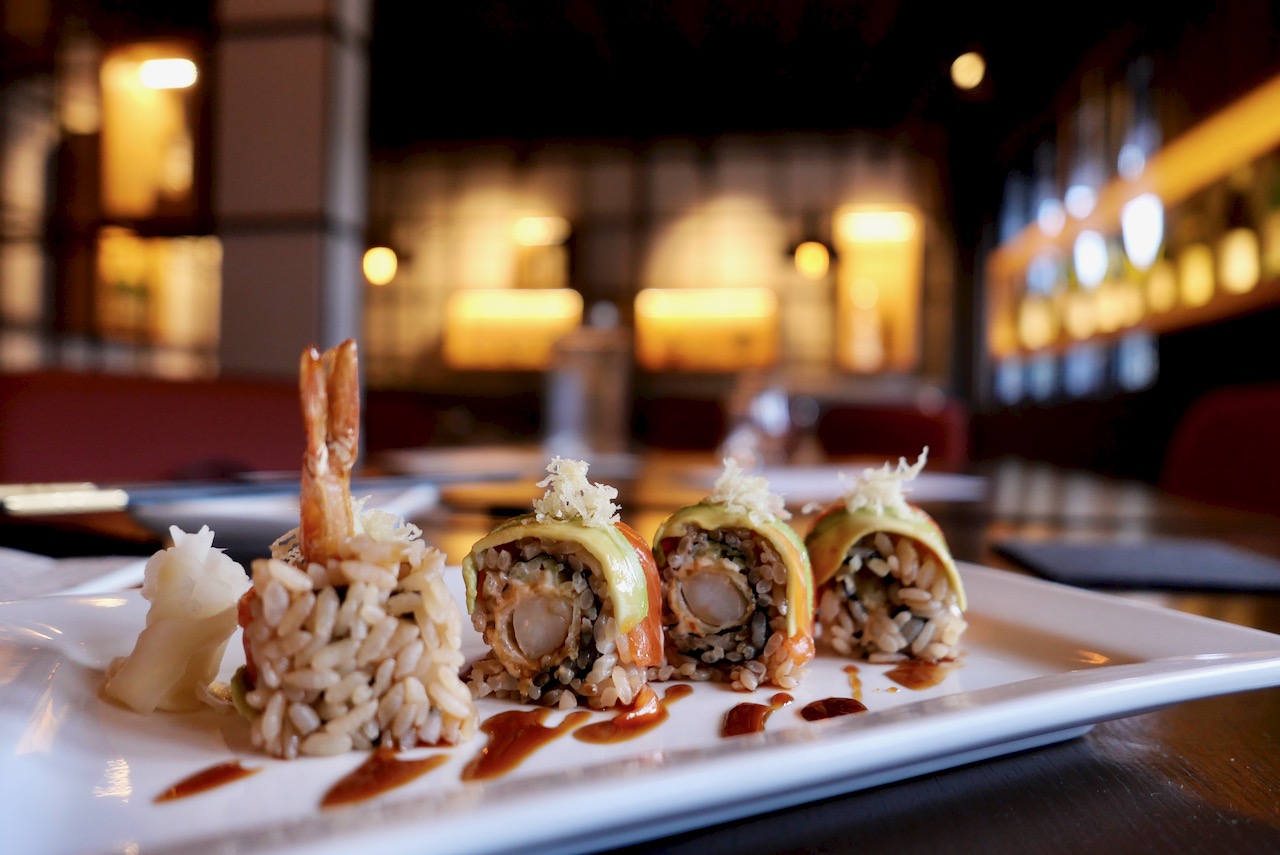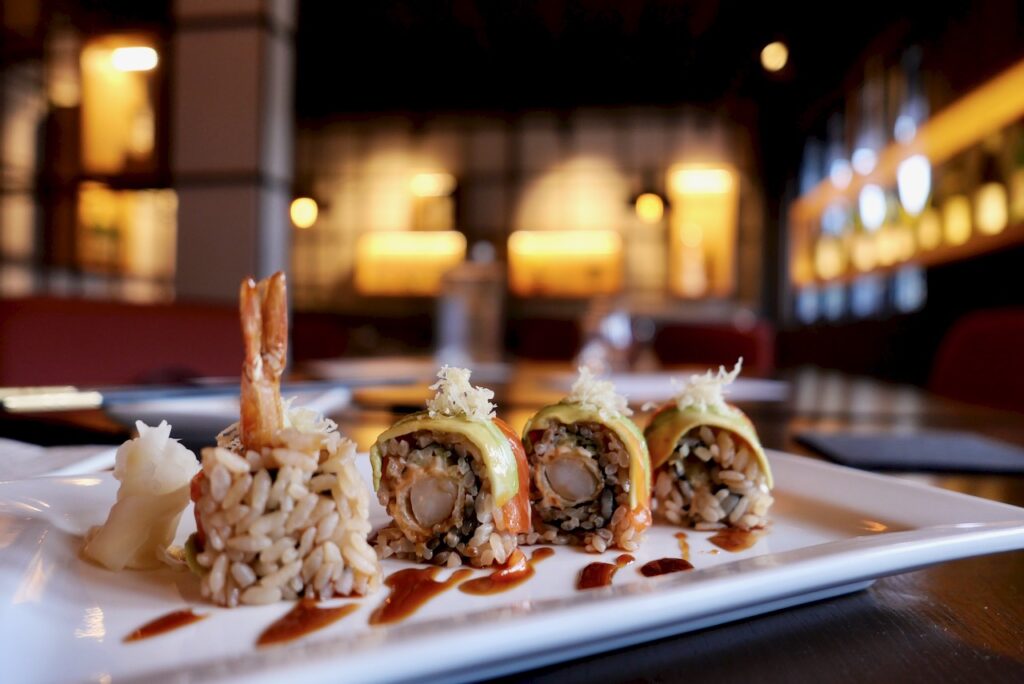 Hidden at the back of the space is a newly opened and very private omakase bar, where a select few patrons can sit down to an 18-course meal of special ingredients and incredible tastes. Whether you're after an epic journey of taste and culture or want to keep it simpler with some delicious off the menu items and some incredible drinks, you will find that Gekko Dining offers a world of choice in its intimate space.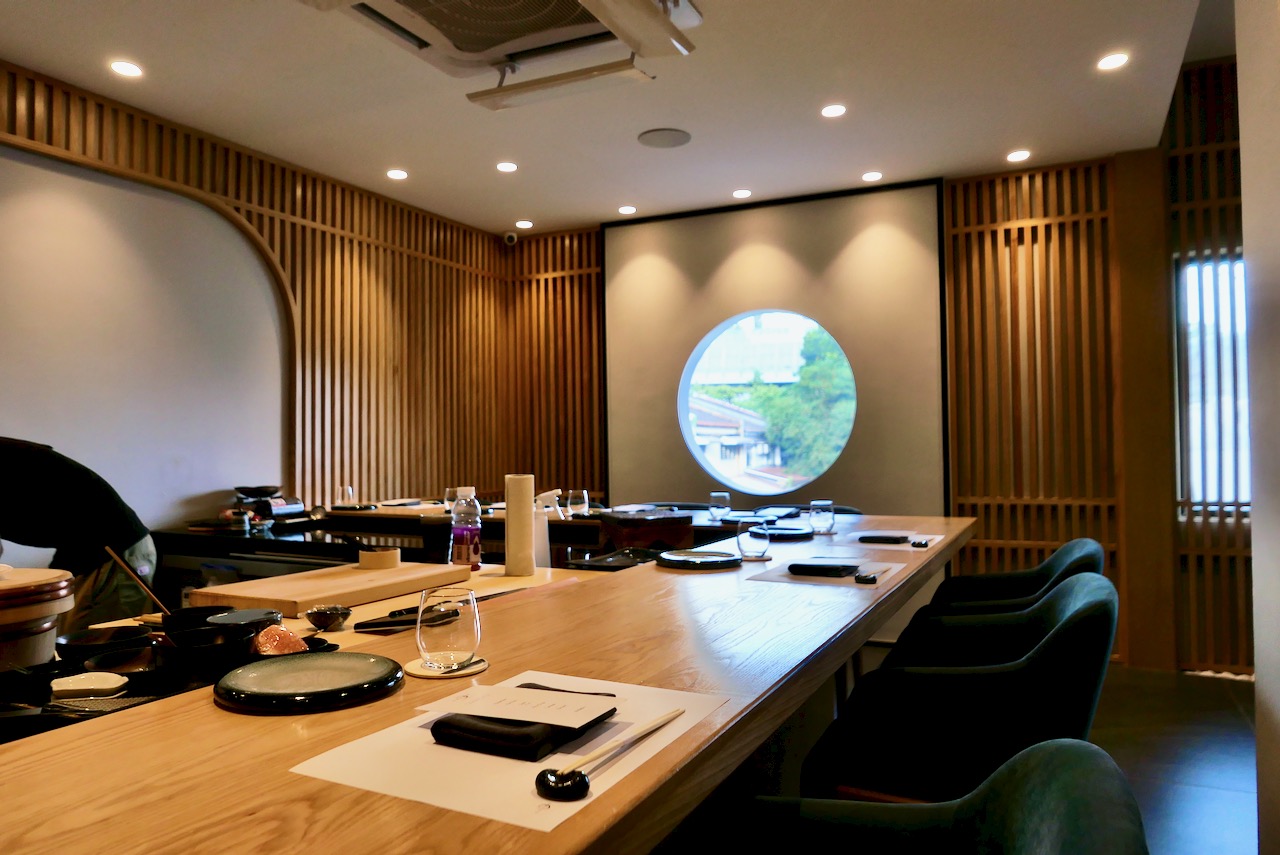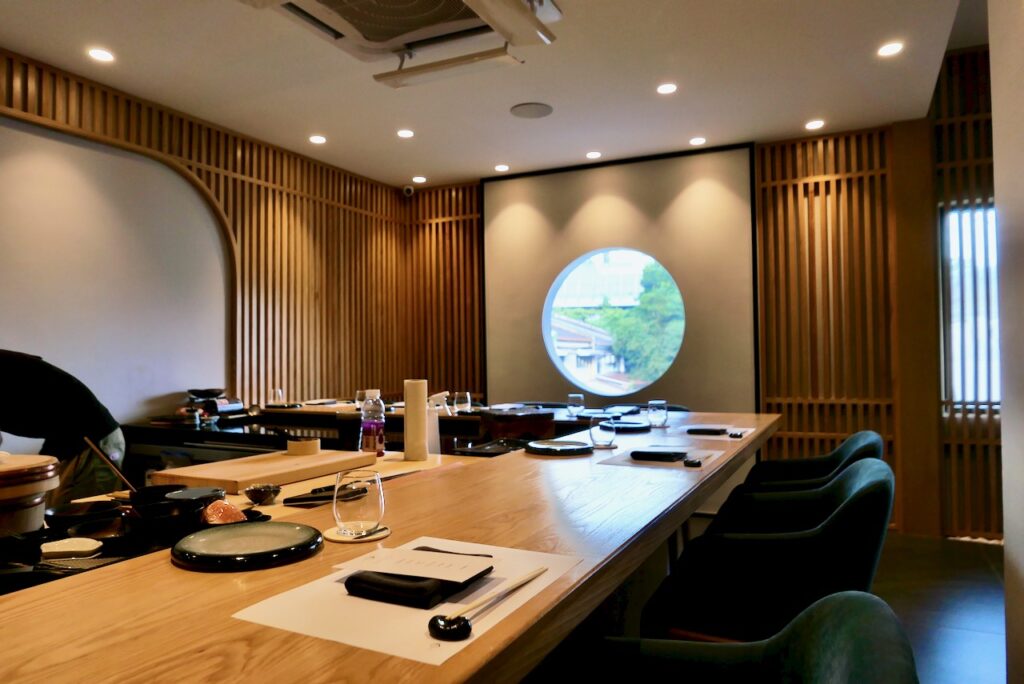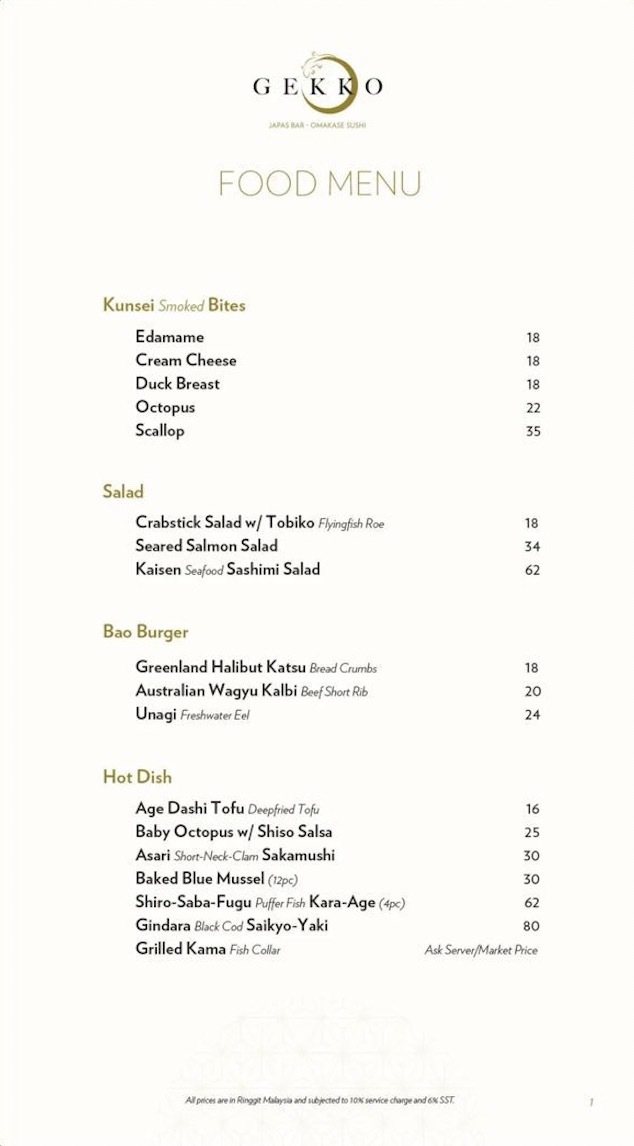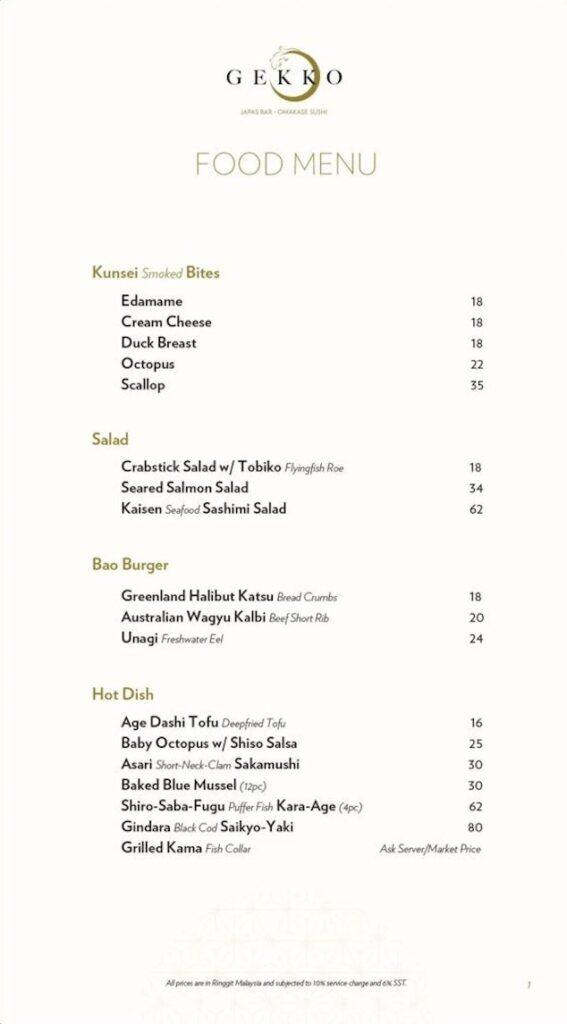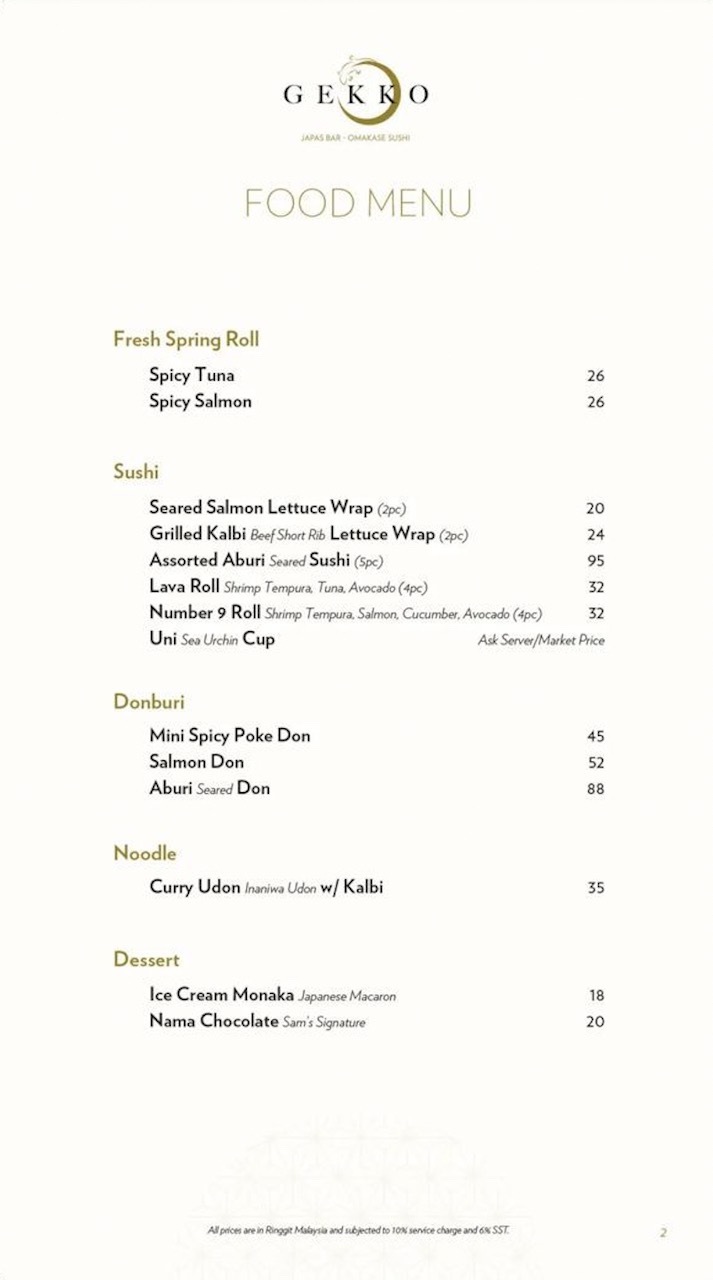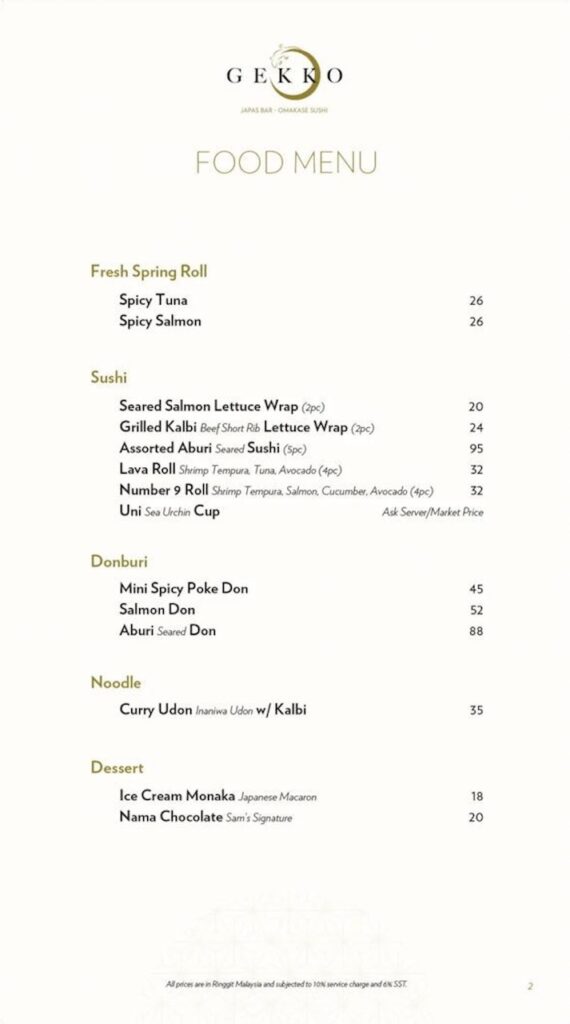 Cocktails
Sam has been famous and developed quite a following over the years for his cocktail creations. They no doubt inform the menu, but there are a couple of other special things happening behind the bar at Gekko. The first is the addition of head bartender Raz, who in 2021 placed in the Global Top 25 Bartenders in the Hennessey My Way competition. This year, she's already been included in Malaysia's Top 10 Bartenders, so you know that you're in good hands. Clarence rounds out the team mixing it up at Gekko, and all are highly knowledgeable and enthusiastic about providing just the right addition to your evening in liquid form.
Sam's famous Signature Fruit Mangosteen Saketini (RM45) is possibly the freshest cocktail in all of Kuala Lumpur. Made of mangosteen juice squeezed through a cheesecloth upon ordering, this is an impossibly smooth blend of juice and sake to take the time sipping. Enjoying the show of the creation of a number of the cocktails on offer will become standard at Gekko, where there are so many housemade ingredients – homemade tonic syrup, tomato juice, kimchi and whiskeys infused with ingredients such as jackfruit and ciku, you'll want everyone in your party to order something different just to get across all of the creativity and diverse flavours.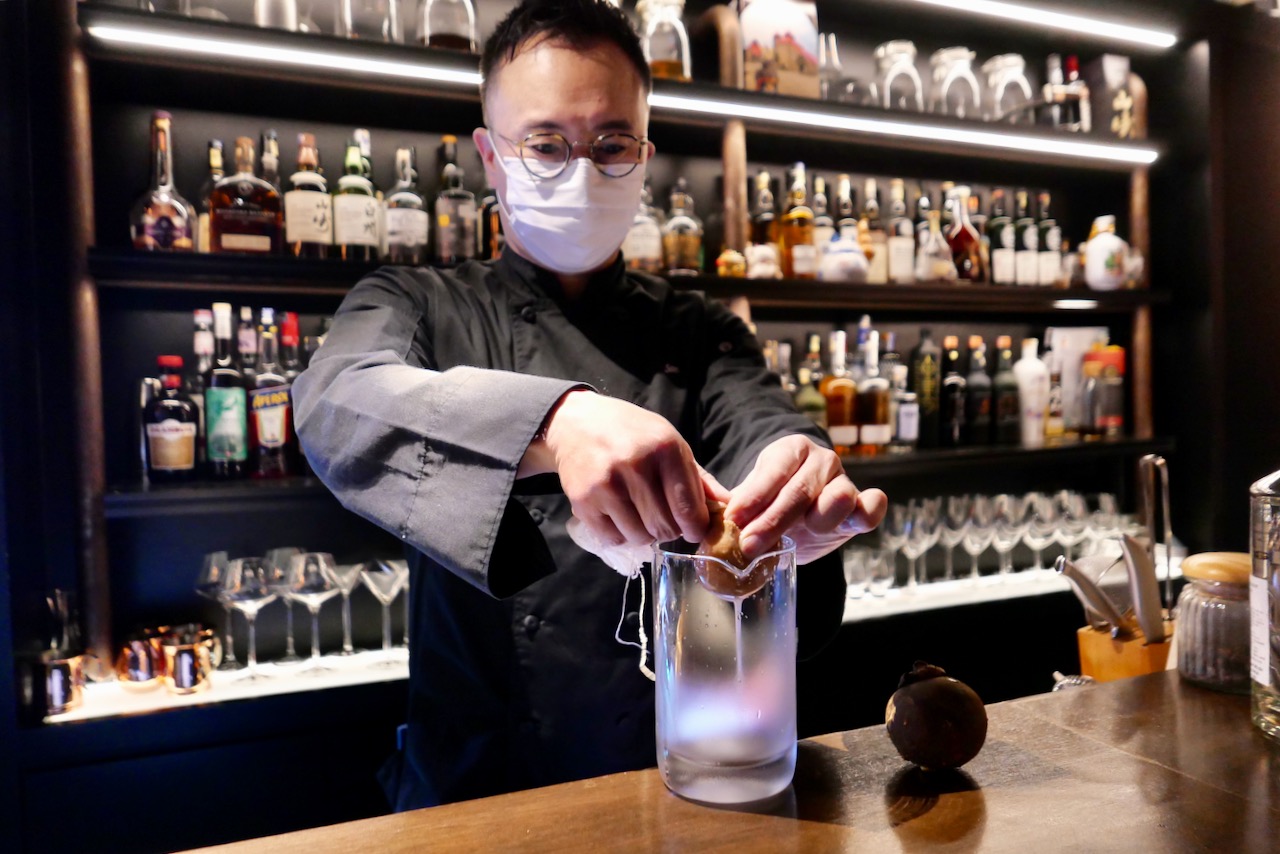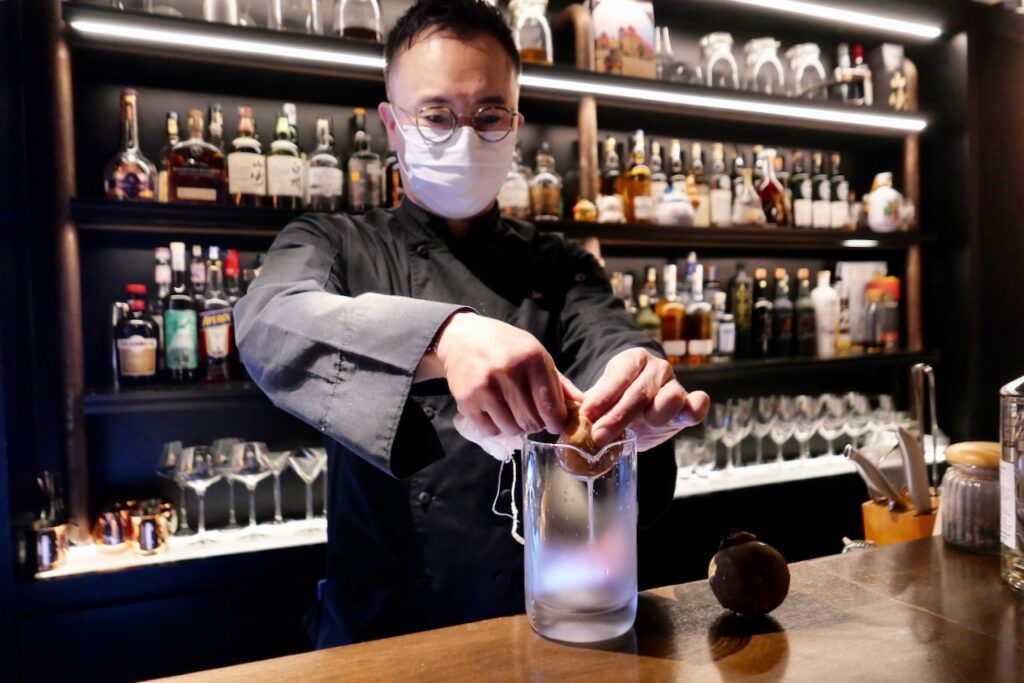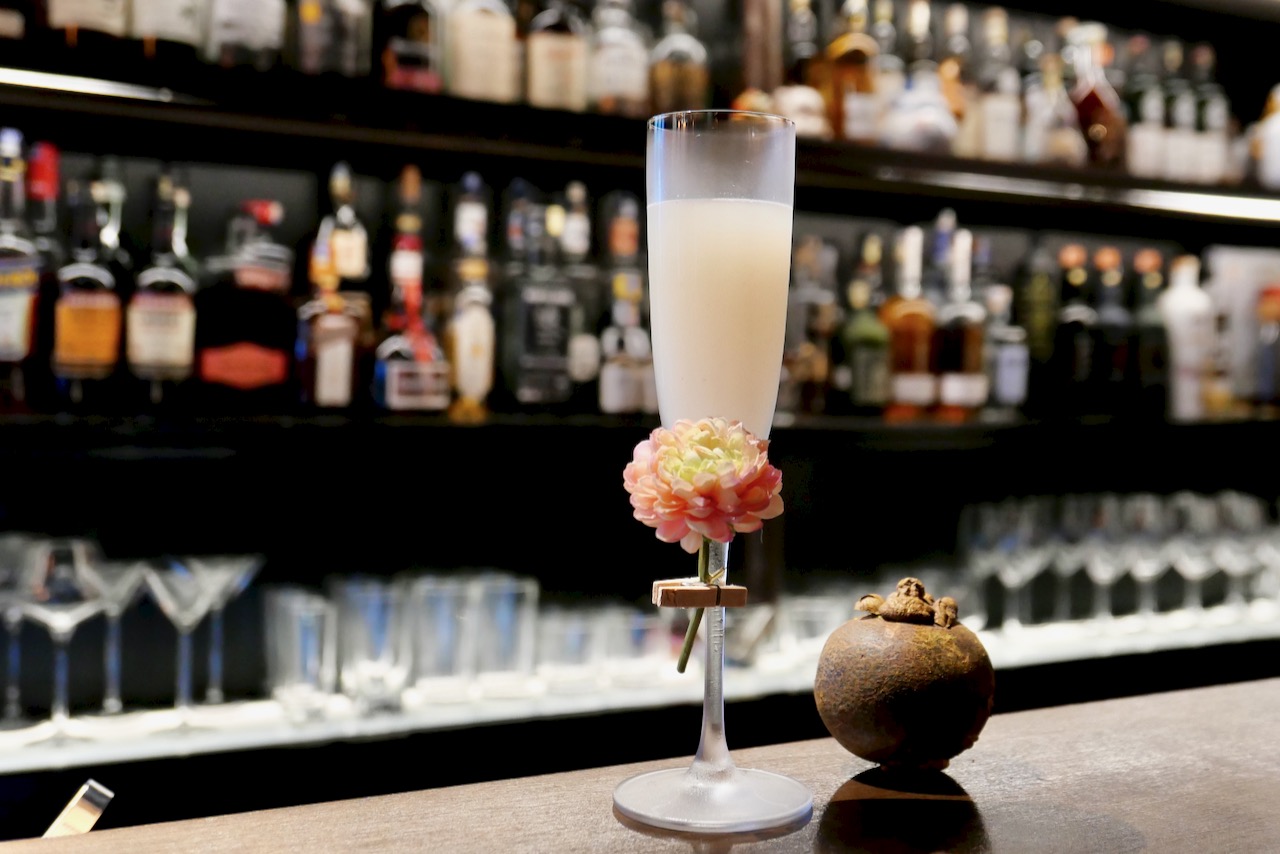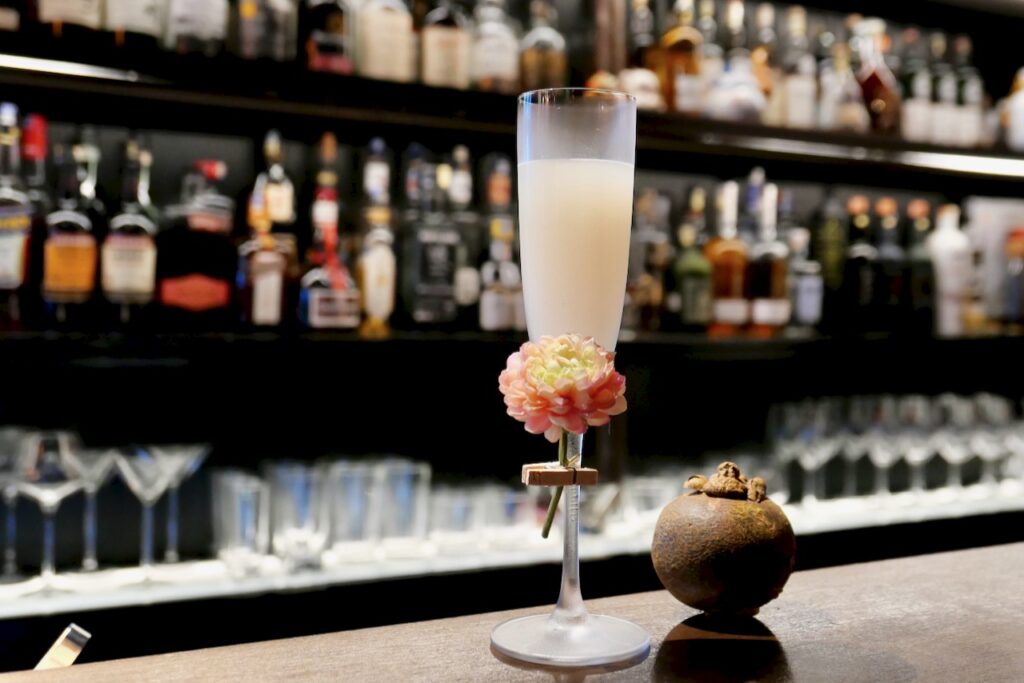 A classic Old Fashioned (RM55) uses green tea-infused whiskey with Japanese sugar dissolved in bitters. A Barrel-Aged Whiskey Highball (RM40) is infused with Ciku (also known as Sapodilla), where the fruit sits in the whiskey for at least a week as the natural sugars and flavours mix together for another smooth drink with a taste of honey lemon.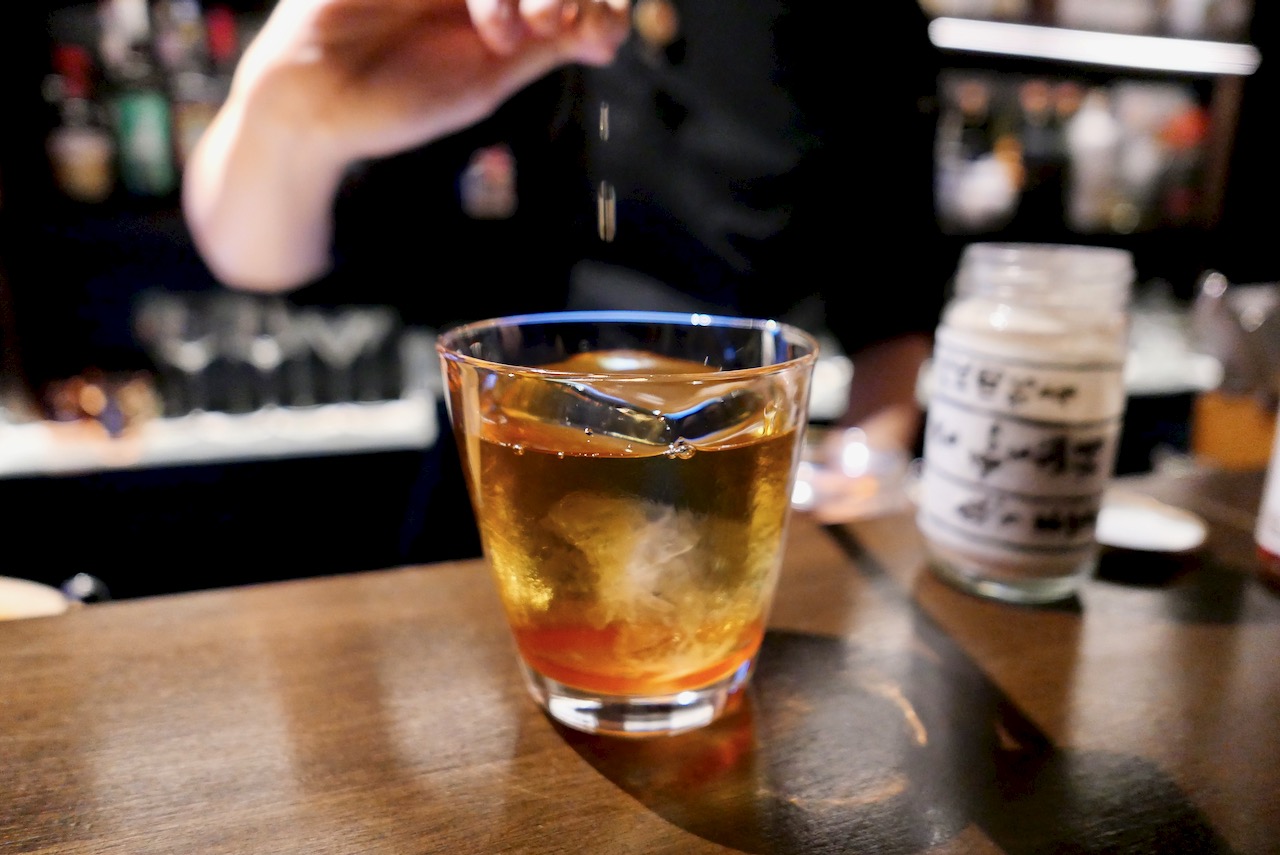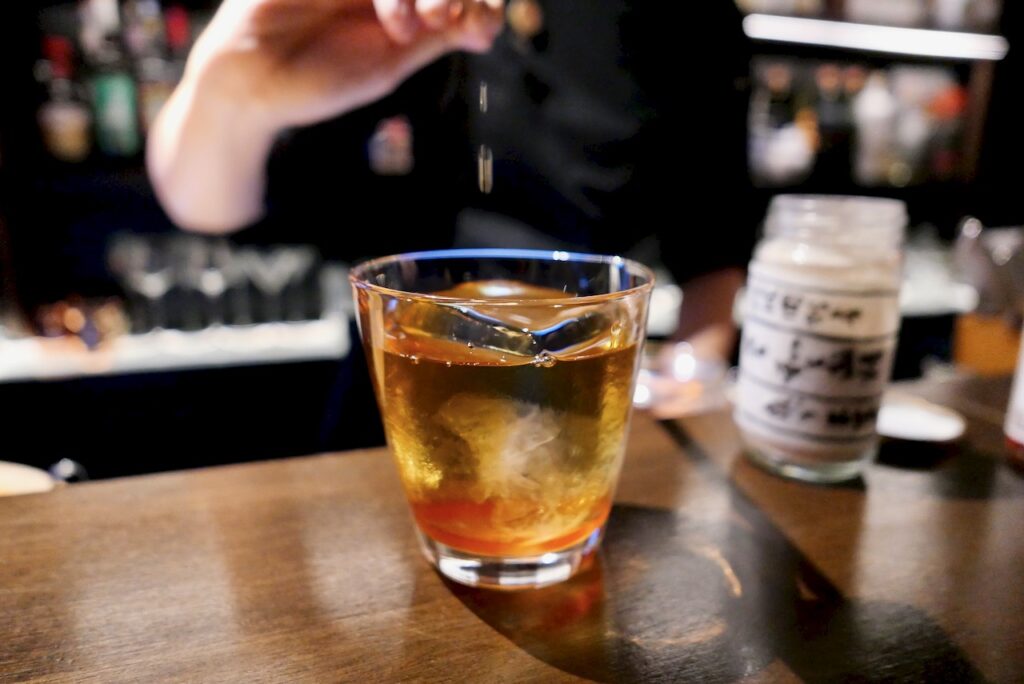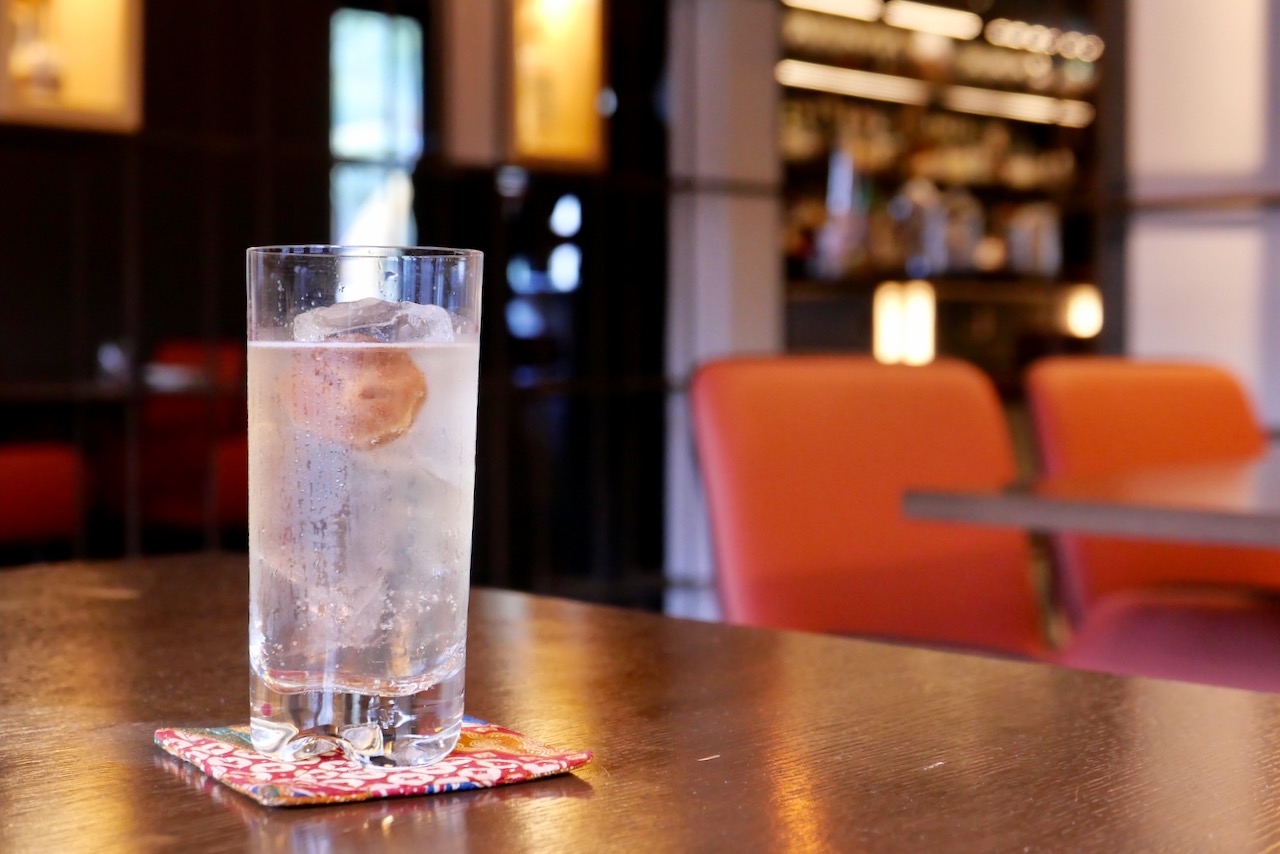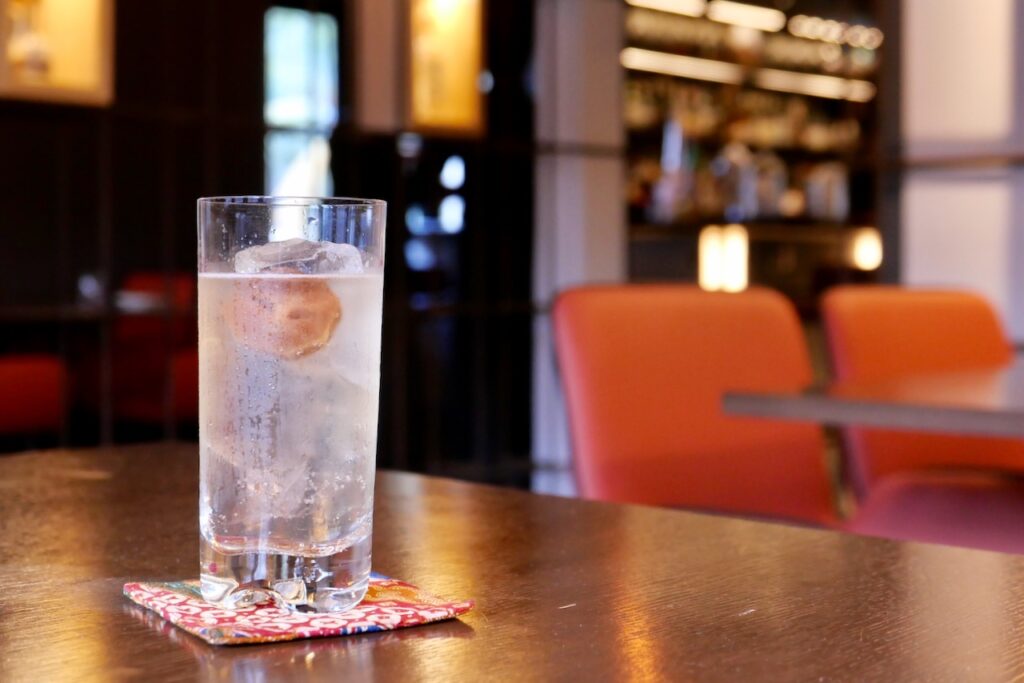 A Gin and Tonic (RM38) uses the housemade tonic syrup to great effect in a subtle and clean take on another classic cocktail. All are complemented by the impeccable ice that is also made in-house (not as easy as it sounds) and chipped in bespoke style for every drink created. Those touches make every aspect of Gekko Dining so memorable and delightful.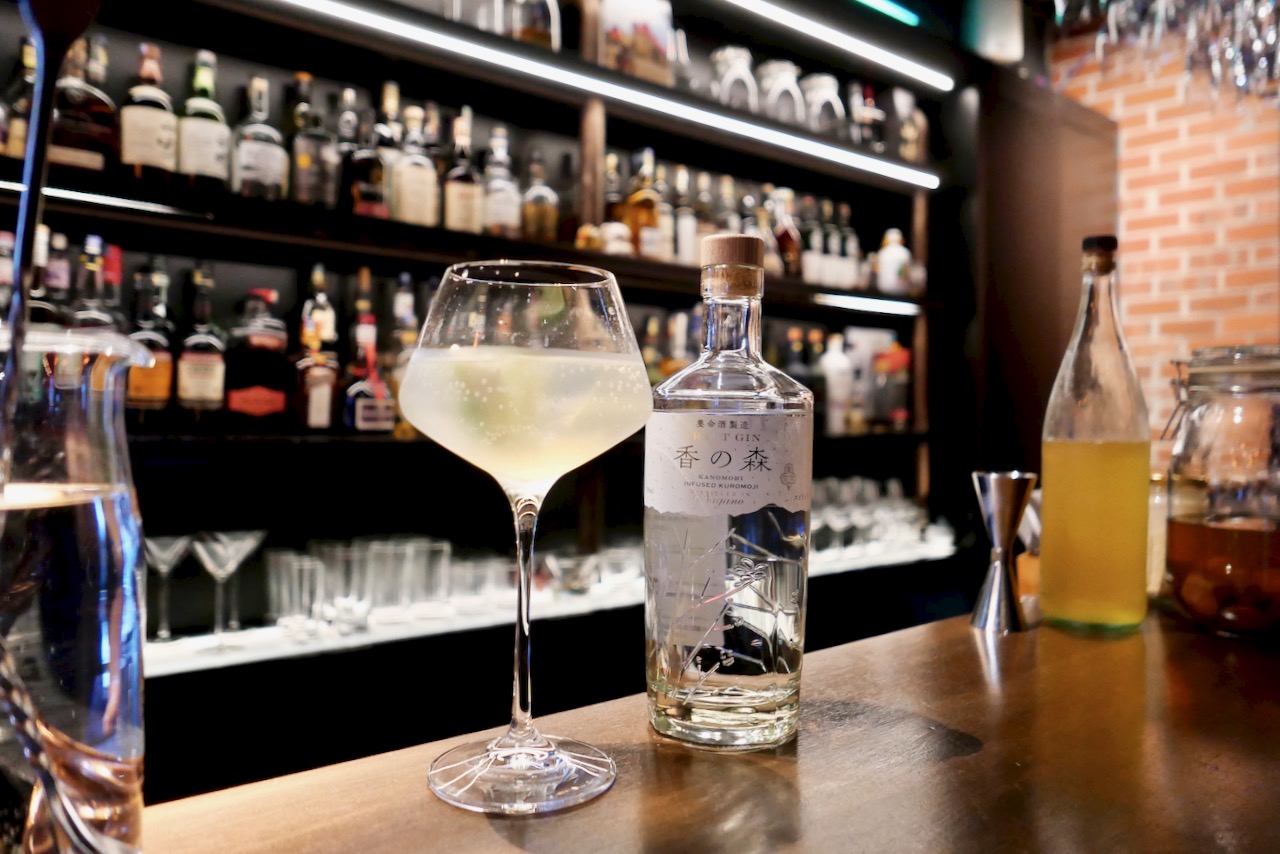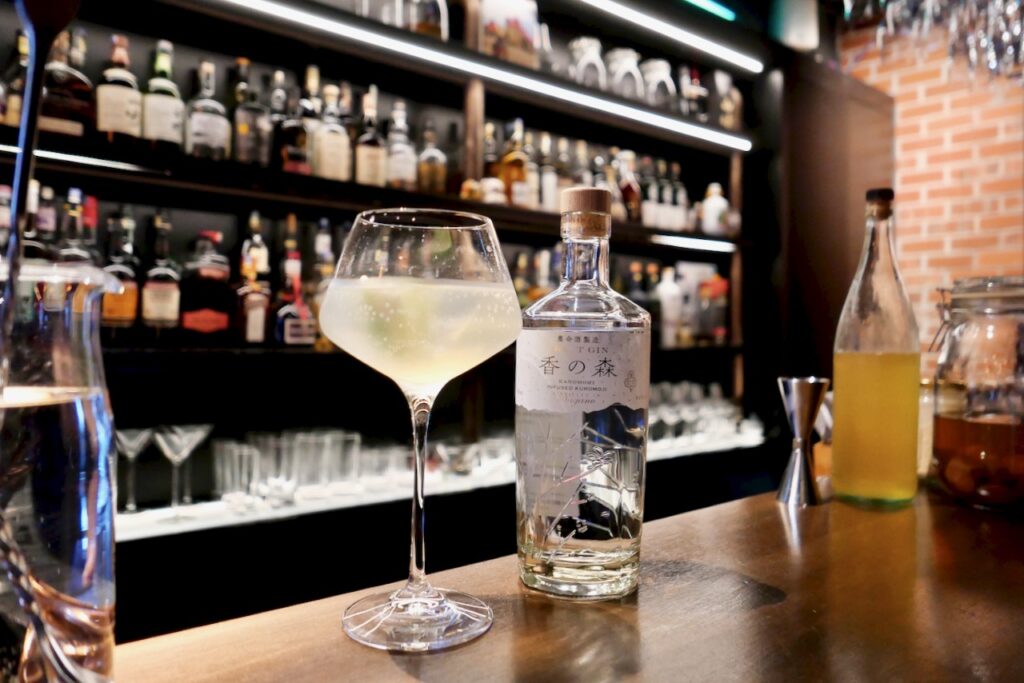 Sam's love of French wines is evident in the selections available for those wanting to move off cocktails, as well as the offering of Omakase cocktails – simply speak with the staff about what particular flavours you crave, and they will be able to whip up something to hit the spot.
Reasons to visit Gekko Dining: the experience of being here has stayed with me for a while and for the reasons listed here, but I think that the main reason to visit is to experience the care taken by the team at Gekko Dining in all that they do. From the layout, furniture, soundtrack and lighting (not to mention the gorgeous moon-inspired stone circle on the wall), to the well-prepared and thought out items on the menu for both drinks and food, you will experience something special here, whatever the occasion. Matt is now an avid fan of a mangosteen Saketini, while Monica enjoyed the tea elements in the Old Fashioned. Gekko Dining may be relatively new, but word is spreading fast – make your reservation for an exceptional night out sooner rather than later.
Gekko Dining
120A, Jalan Kasah, Medan Damansara,
50490 Kuala Lumpur, Malaysia
Phone: +60 10 275 1800
www.instagram.com/gekko.dining/
Gekko Dining Opening Hours
Tuesday – Sunday: 5 PM – 12 AM
Reservations required
Find more KL bar recommendations here, and stay up-to-date on the latest gourmet and travel happenings around Malaysia here and here.