Horizon Grill
Words: Han Sen Hau
Photos: Monica Tindall
Let's begin with the elephant in the room. Yes, the view from the 58th floor of Banyan Tree Kuala Lumpur is spectacular. No doubt it would be foolish to not take a panoramic shot of the city when you are at the Horizon Grill, even when much of the city is blurred by haze. It would just be like film noir, and you're the hardened vigilante overlooking silhouettes of skyscrapers with a glass of wine in hand. Indeed, there's a certain charm and romanticised prestige to be found in sipping rosé at that height, regardless of the weather forecast.
But surely, no restaurant would dream of banking on just the view in order to cement its standing among the country's finest, or rather, tallest. It would be a shame if that were true, for it would only validate the often unfair stereotype that a great view is equivalent to a lacklustre dining experience. Aeroplane food, anyone?
Thus, we strip Horizon Grill of its most obvious attraction, which we couldn't fully enjoy anyway due to the oppressive temperature at midday, and focused instead on its offerings designed and presented by its new chef de cuisine, Francesco Fedrighi. Formerly based at Marini's on 57, Chef Francesco literally worked his way up to the 58th floor at Banyan Tree to commandeer the restaurant's not-so-obvious yet incredibly impressive Santa Maria Grill. A quick peek at the menu exposes his drive to perfect established standards; the names are familiar, but the ingredients listed offer a glimpse of his unique interpretation.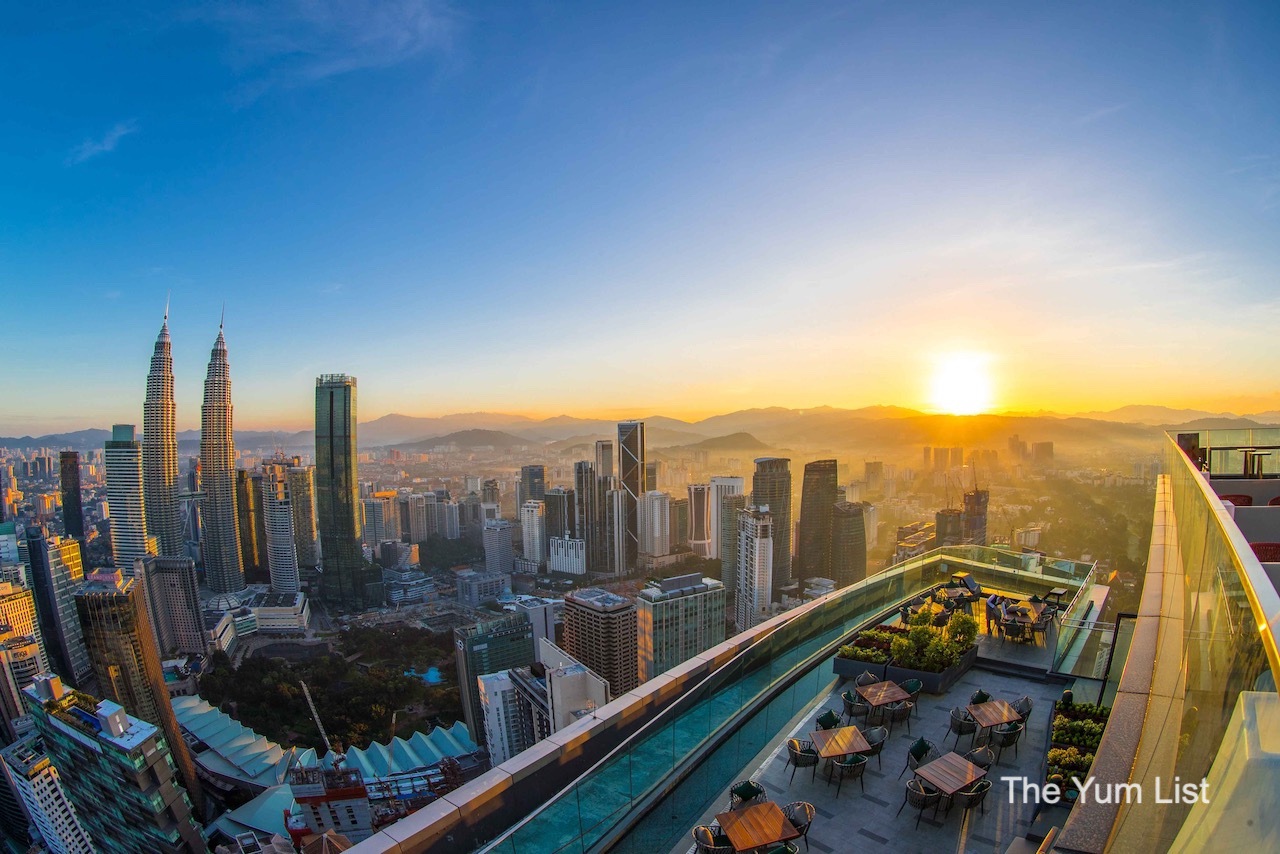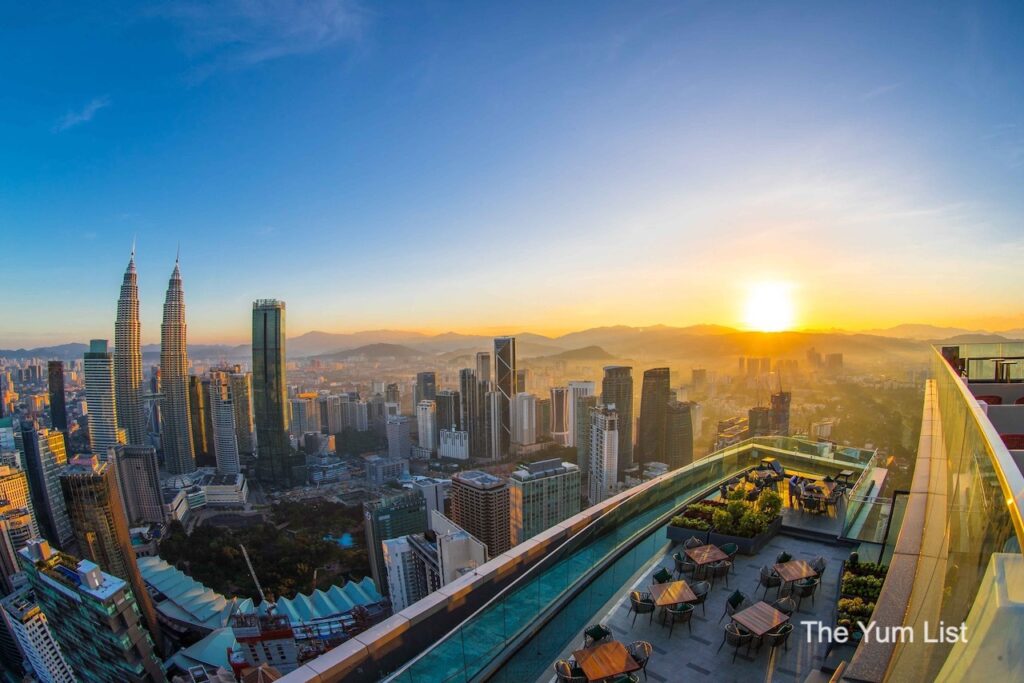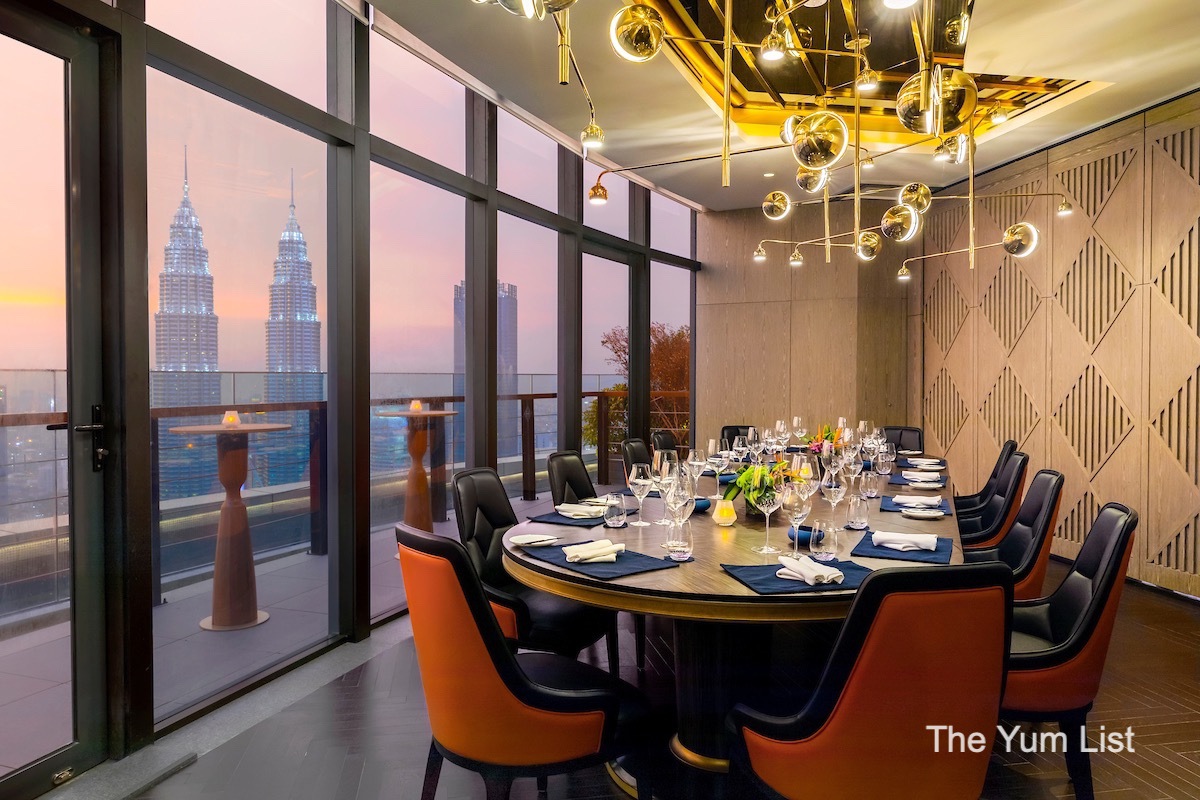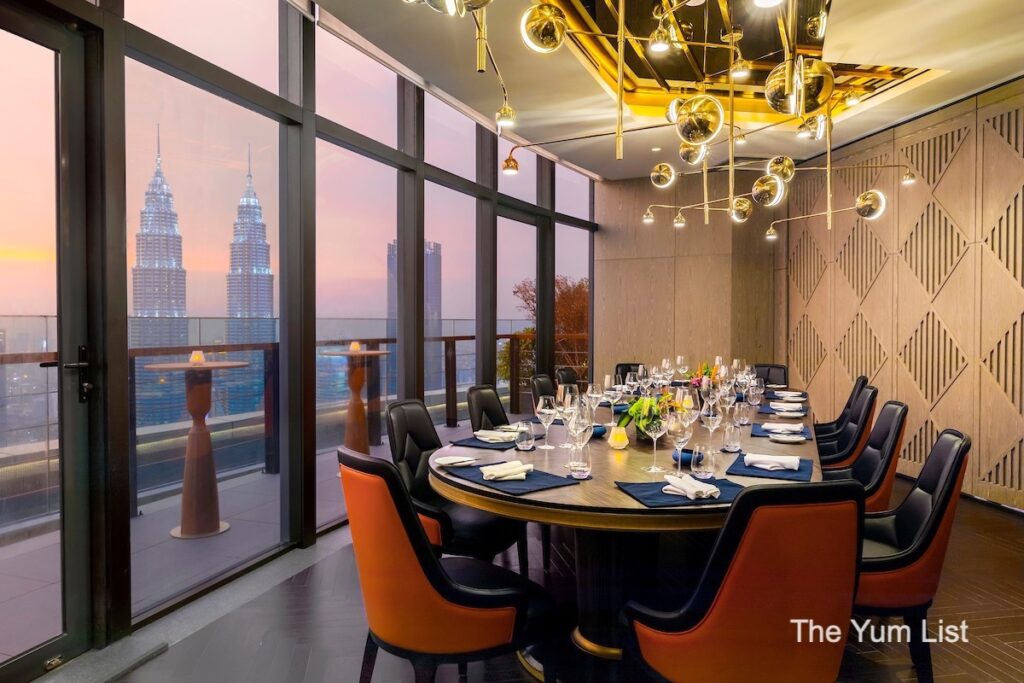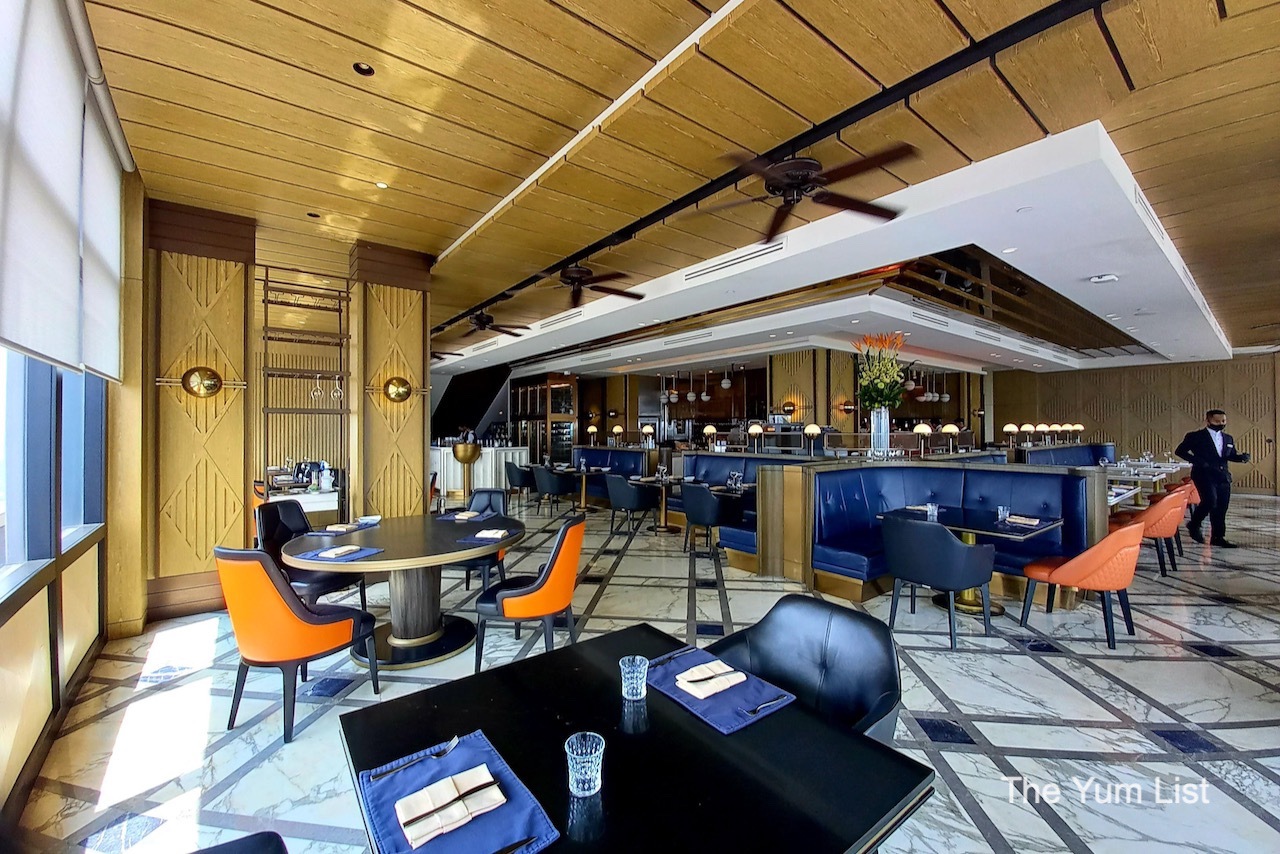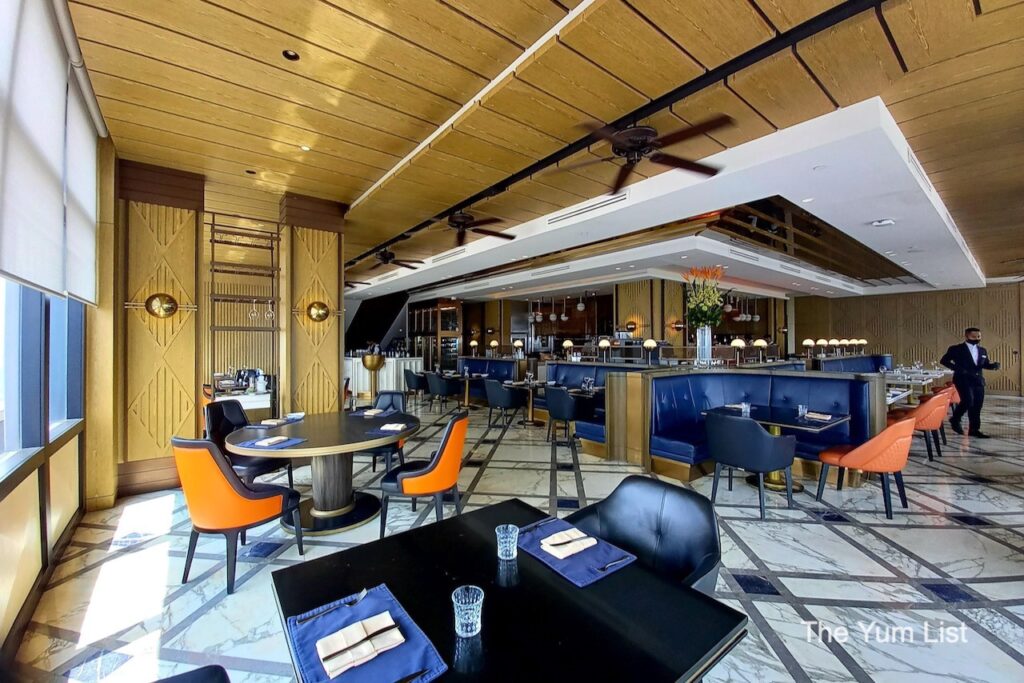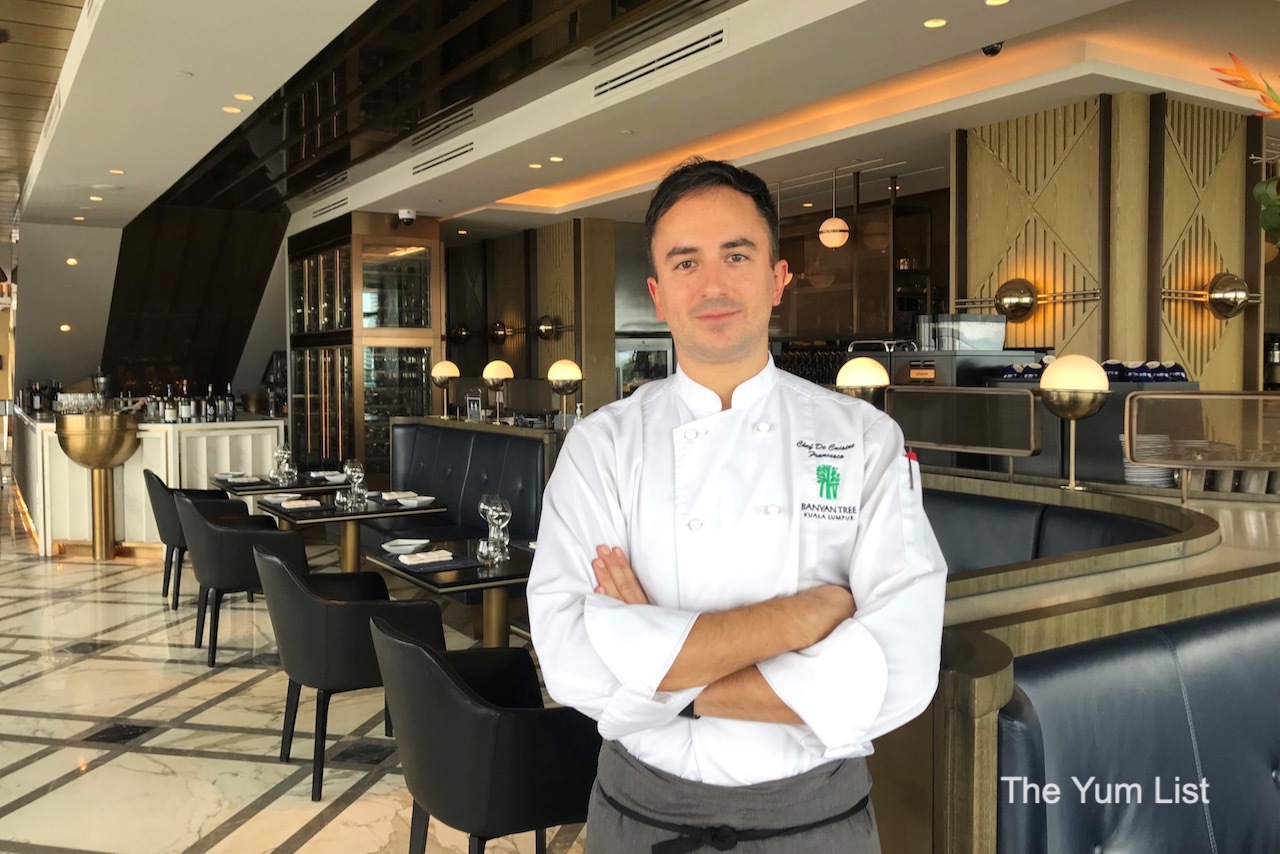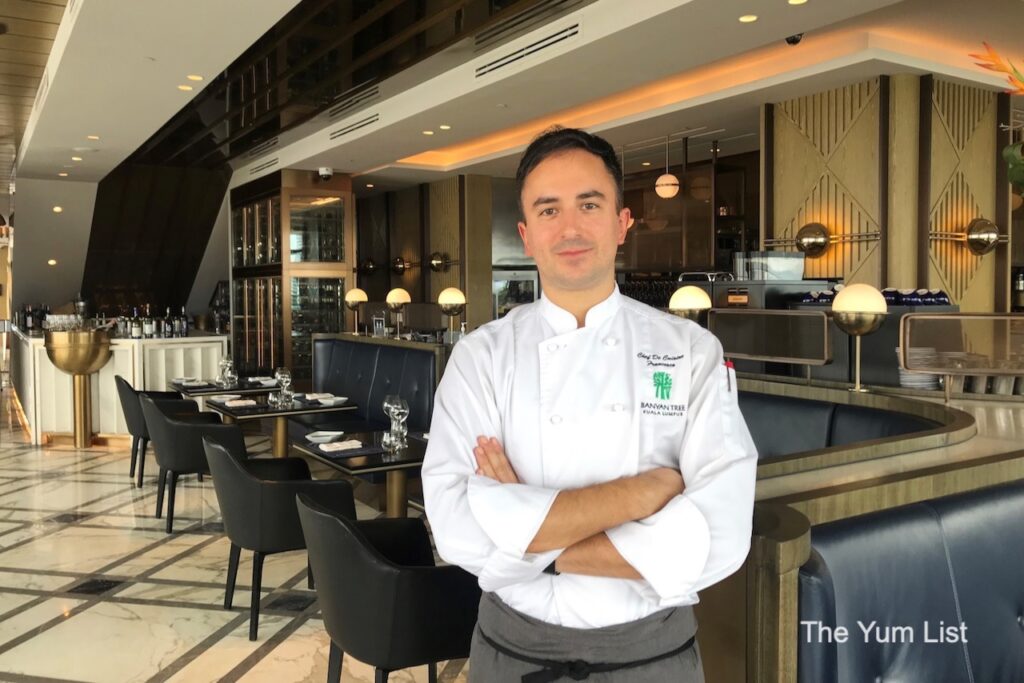 Horizon Grill Menu
After our appetites were whetted with a bread selection (my vote goes to the rosemary focaccia), we commenced our revelry with a work of art, the Tuna Tartare (RM77).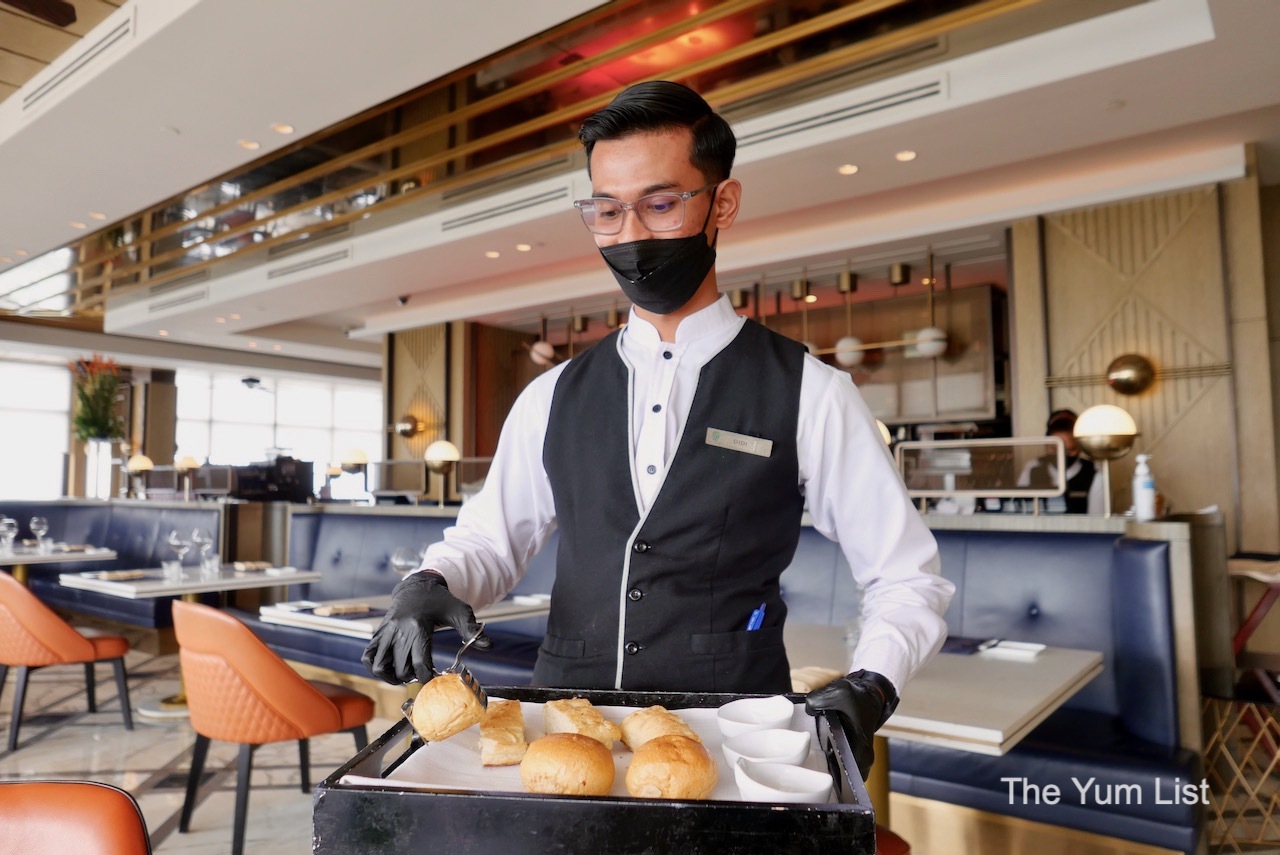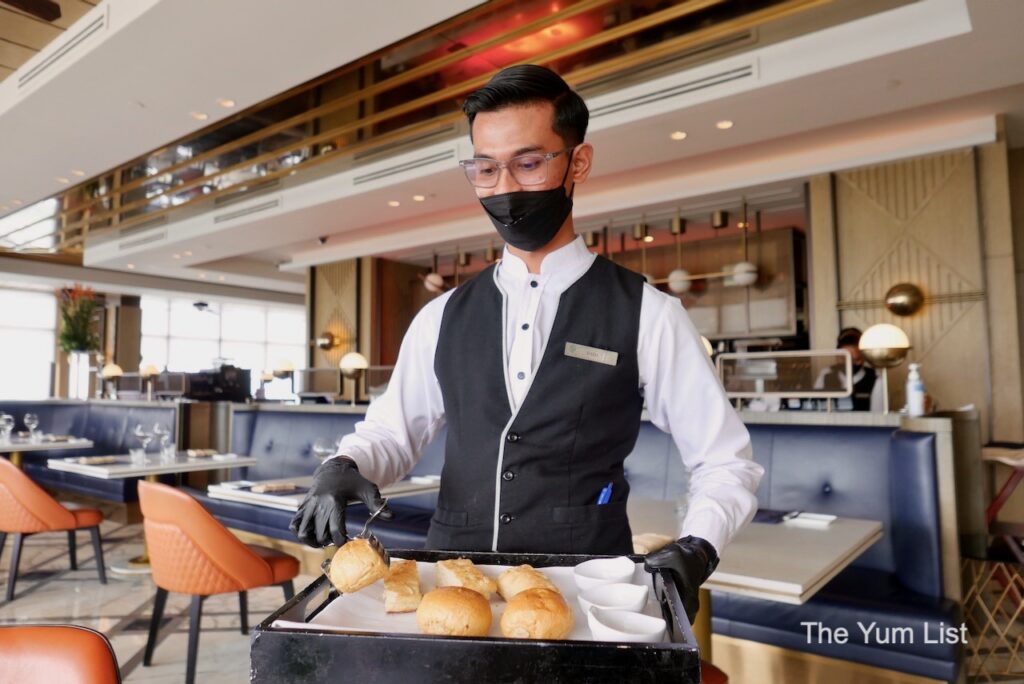 First Course
There's much to admire in this playful appetiser: its colours, the Gaudí-esque (as in the architect) fishbone biscuit, and the slippery strips of raw tuna that feel like the silkiest udon. How the entire assemblage is able to rest undisturbed atop an orbicular avocado purée that retains its shape from kitchen to table is pure artistry that can only be crafted from the hands of Chef Francesco. This little overture is predominantly creamy from the tuna and avocado purée, though like every start to a successful symphony, it delights with little surprises such as the inclusion of citrusy yuzu kosho to cut through the savouriness and crunchy, crushed pistachios to eliminate the monotony.
We had the tartare with a light and vivacious Chateau Miraval Rosé (RM64/glass; RM318/bottle) that resets the palate with every sip, making it an ideal complement to the bolder tartare. Celebrity wine or not, the bottle is as easy on the eyes as it is on the tongue, and you would be forgiven for starting your day with a glass of this instead of coffee.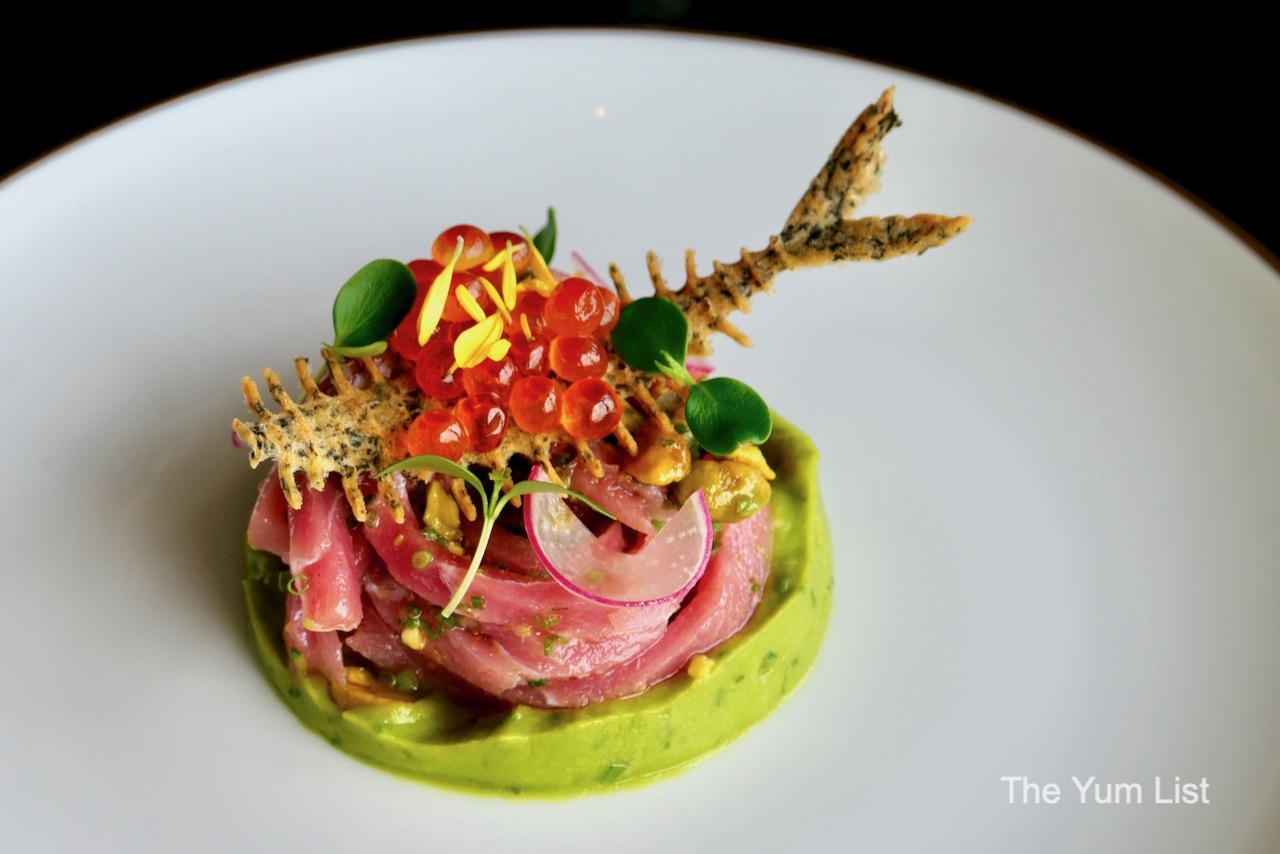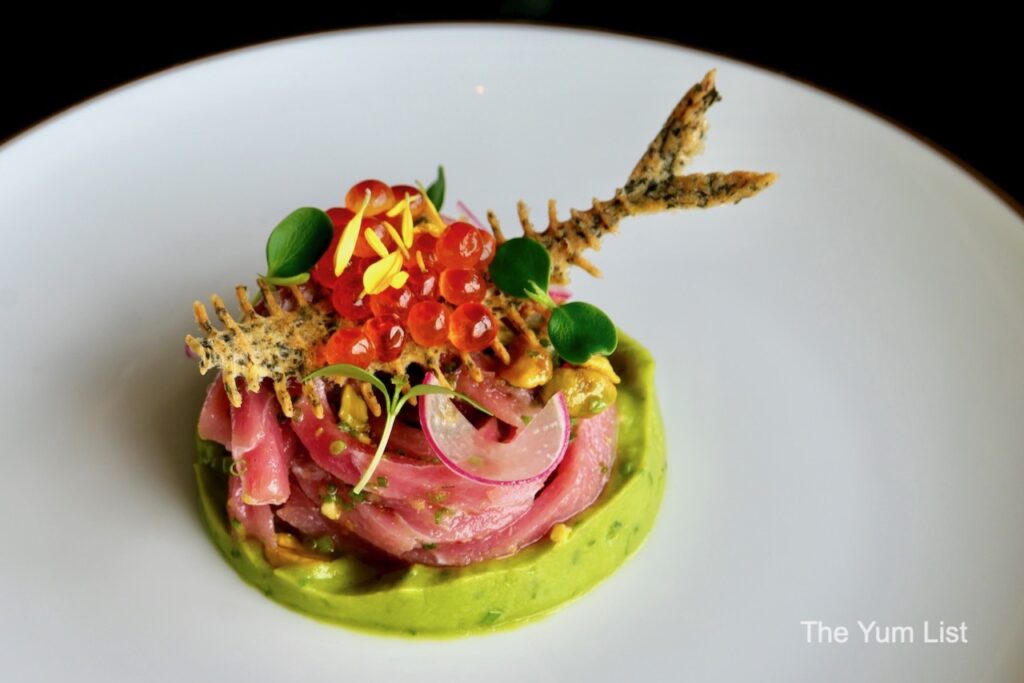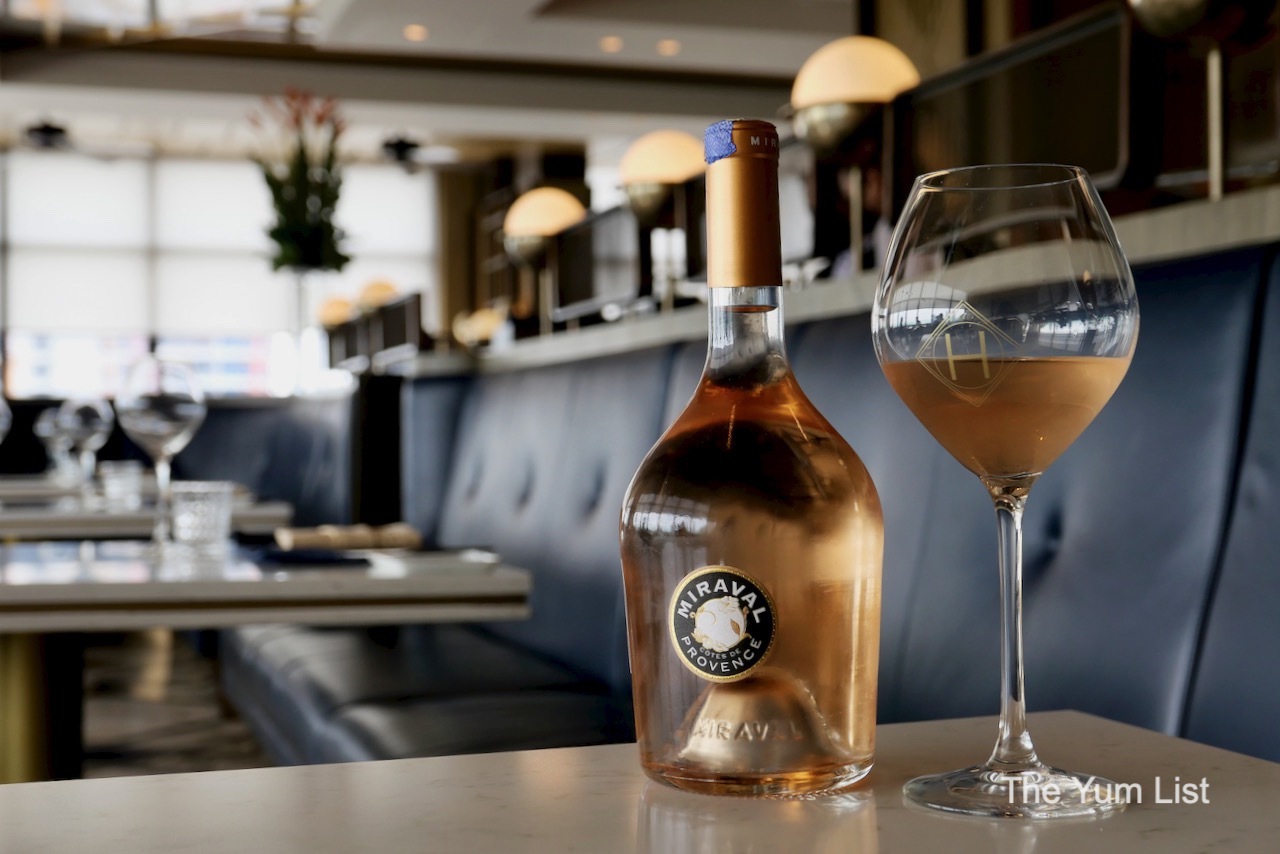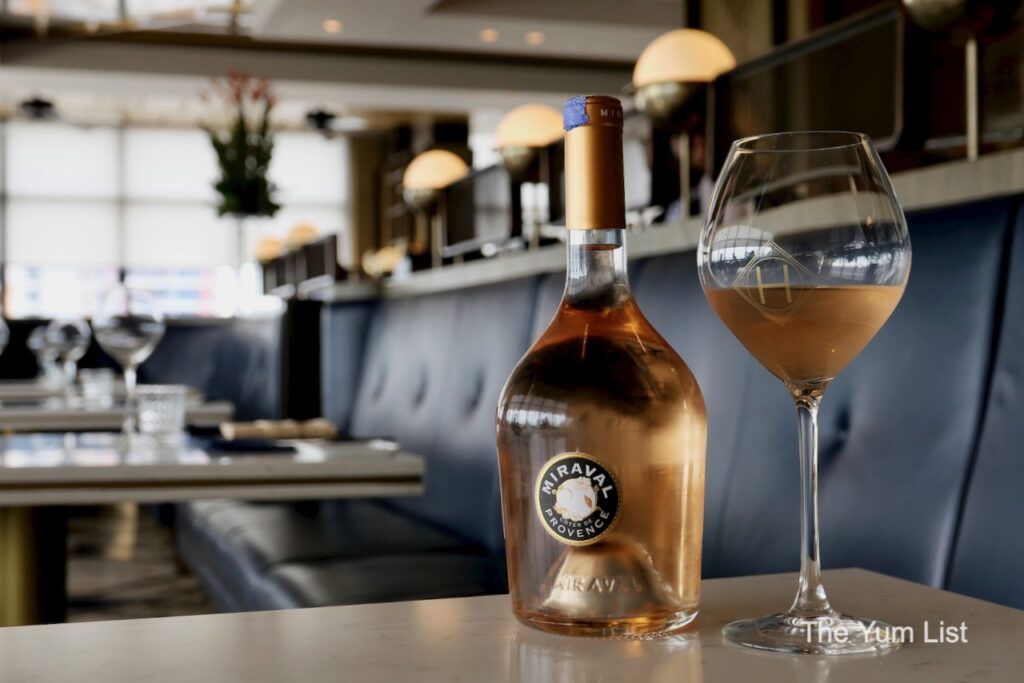 Second Course
Foie gras seems de rigueur for a number of establishments that we've visited recently, and while Horizon Grill's Pan Seared Foie Gras Escalope (RM136) is no exception to the rule, it is memorable for Chef Francesco's addition of caramelised apple pearls. Resting atop a bed of brioche that soaks up an intense Perigourdine sauce, the buttery foie gras is best enjoyed with a single apple pearl in every bite. Like the earlier yuzu in the tartare, the apple pearls inject a little bit of sweetness into the dish, and the quantity informs you to enjoy the liver in six mouthfuls.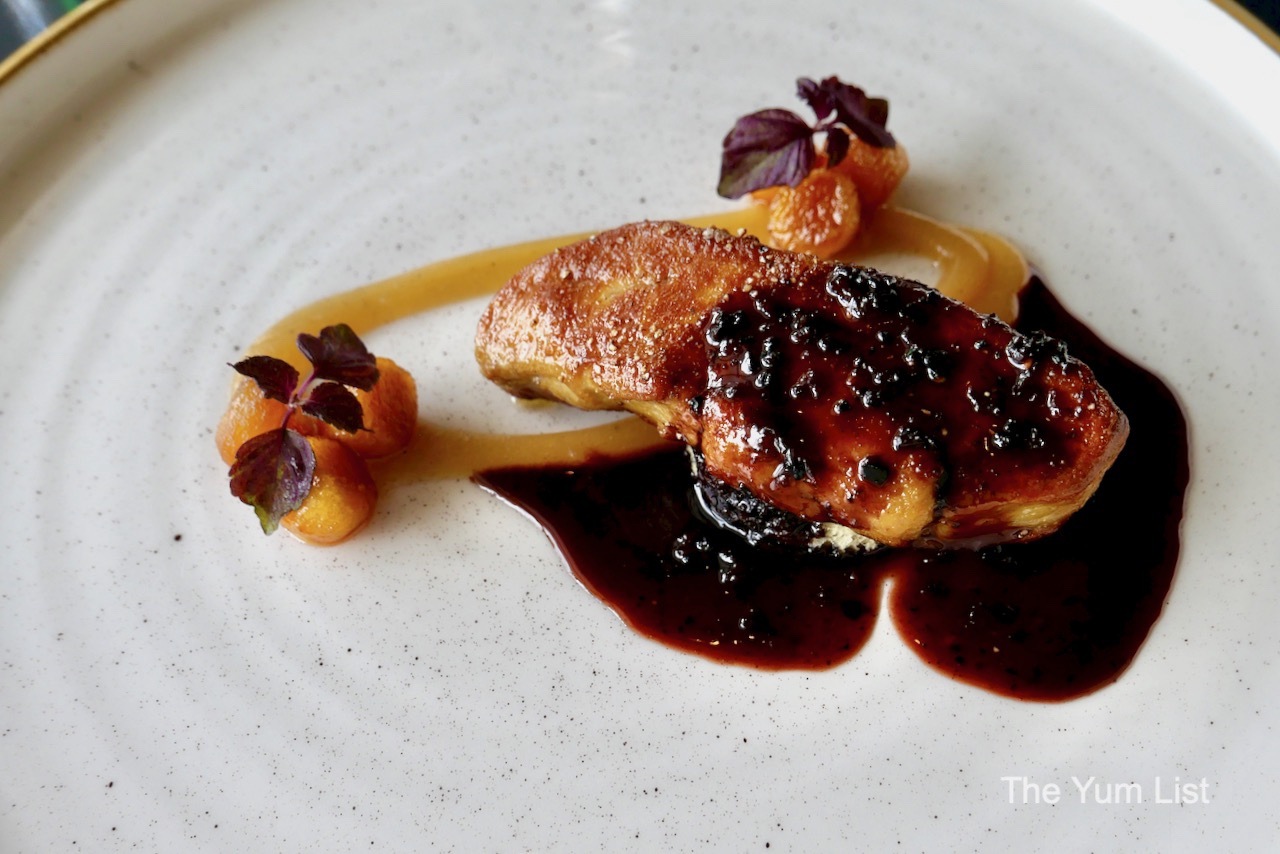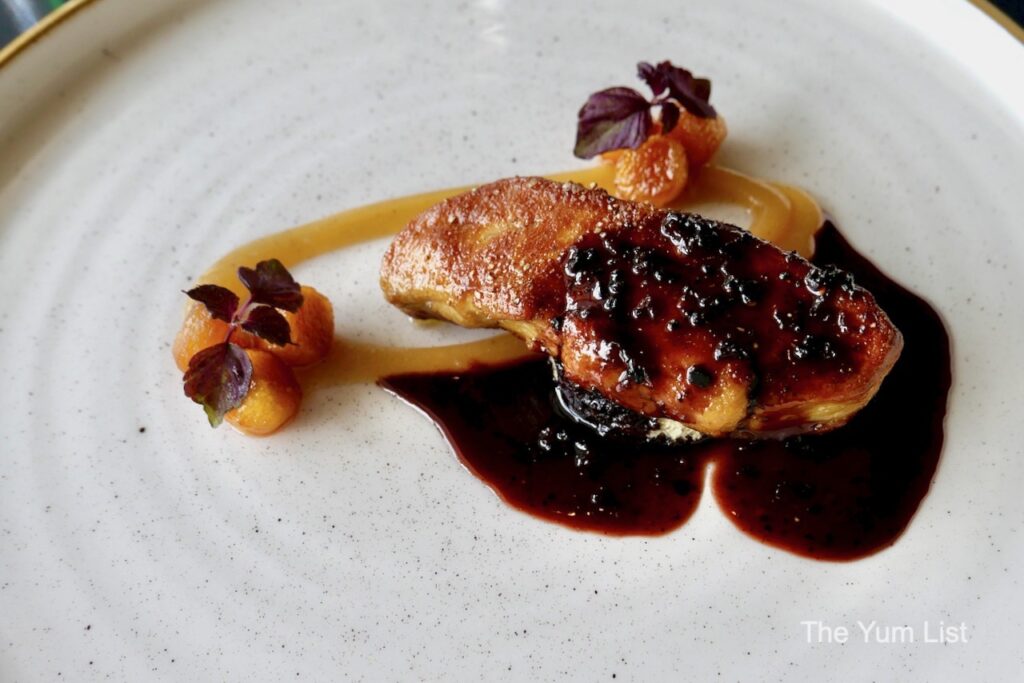 Third Course
Done with the light appetisers, we then moved on to the heavier mains, beginning with the impressive Risotto Bouillabaisse (RM624). The portion you see in the photo serves three, though the pan is enough for two on any other day. With thick cuts of barramundi, Hokkaido scallops, octopus, and a whole lobster, the bouillabaisse is rich in every sense of the word, especially when you could smell the Iranian saffron wafting out of the risotto. Most of the seafood pair well with the aromatic risotto, and I especially like how the fish absorbs much of the stew on one side while retaining its crispy skin on the other. However, I could eat the octopus on its own as it stands out in flavour and, more shockingly, texture which I could only describe as being similar to a very specific type of fish tofu, only firmer; not an experience I thought I would get out from chewing on octopus, but a strangely welcome one.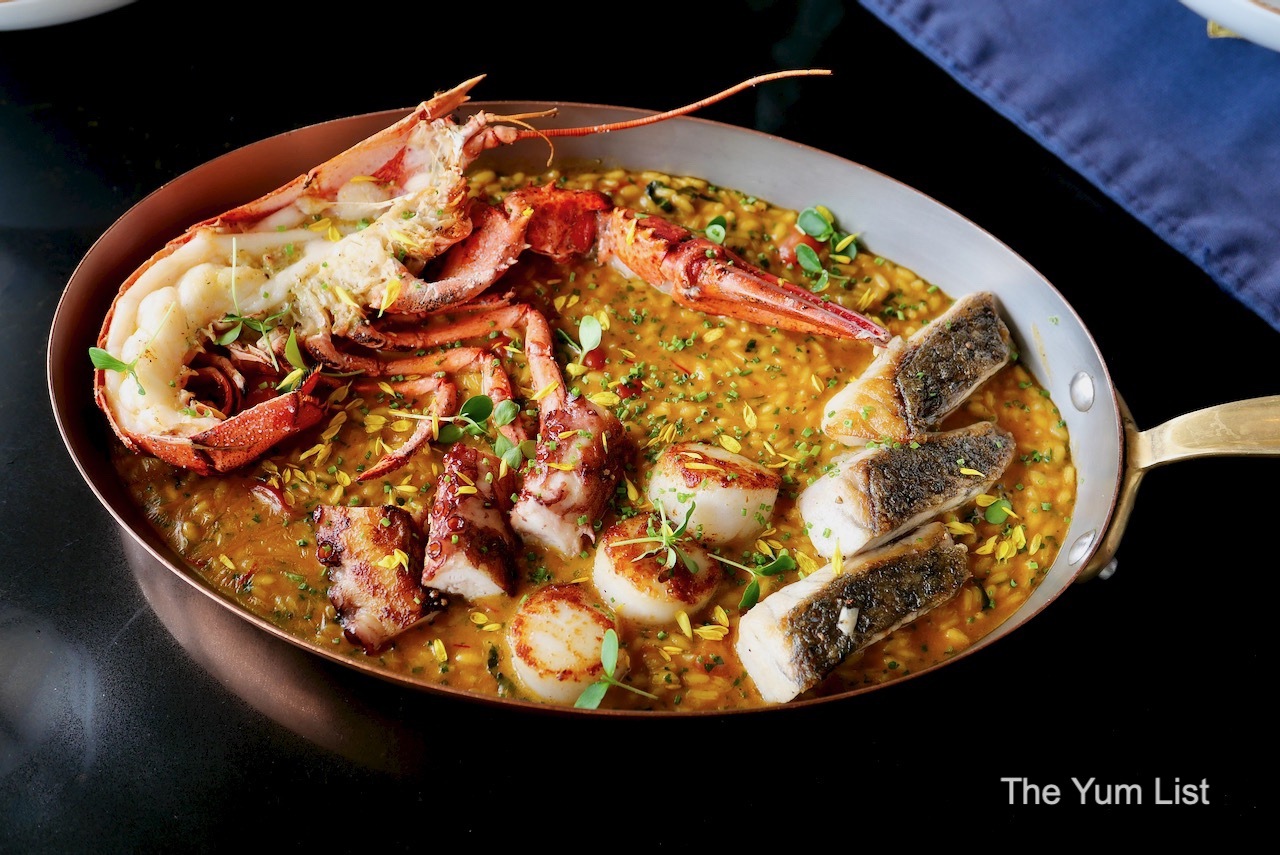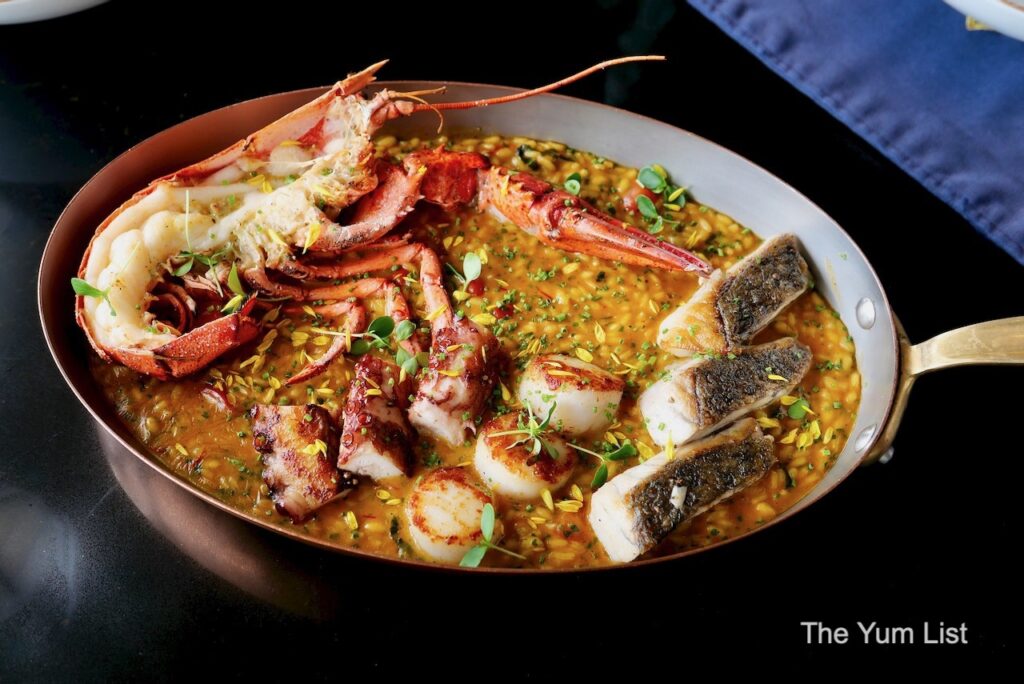 Horizon Grill – Main Course
Of course, no visit to Horizon Grill will be complete without an order from its Santa Maria Grill, especially the beef, which we were fortunate enough to indulge in. After selecting our preferred knives from a box, we were presented with three different cuts from the menu: the quintessential Angus Pure Ribloin (RM458/300g), a Kyushu F1 Sirloin (RM420/200g) melting in its own fat, and the crème de la crème Rubia Gallega (RM795/1,000g – Bone-in Sirloin). Every order of the grilled meat comes with your choice of sauce and one side dish. For the sauce, we had the Peppercorn Trio, Béarnaise, and Chimichurri (RM22 when ordered individually); for the side dishes, we had the Sautéed Forest Mushroom (RM41), Grilled Green Asparagus (RM41), Brussel Sprouts with Smoked Duck (RM41), and Mashed Buttery Potato (RM22).
So, what makes the Santa Maria Grill so special? Due to the grill's manoeuvrability, operators are able to control the amount of heat that cooks the meat, which means each cut of meat is enveloped in a gentle smokiness that tickles the nose, and none of them is ever at risk of being charred and overdone at the right hands. In fact, all the meat we had off the grill could be enjoyed on their own, as they are with a pinch of salt and pepper rubbed onto them, to the point where you might even forget about the accompanying condiments. A little goes a long way when it comes to the saucy trio we had, but there's always a danger of overwhelming the meat with too much dip. That said, I liked the chimichurri the most for its verdant profile and uncommon coupling.
As for the meat, the Angus Pure Ribloin is a great standard for steak lovers, while the Kyushu F1 Sirloin tantalises with the expected melt-in-your-mouth quality you would demand in all Wagyu beef, but it's the exotic Rubia Gallega that just hits differently with its mahogany complexion and extraordinary flavour. By the time it arrives on the table, the Galician Blond has probably lived an enviable life in the Spanish meadows, where it's allowed to graze for years on end, resulting in a unique marbling that isn't as rich as Wagyu but astonishingly more tender than an Angus. In other words, you're essentially devouring a fat, old cow, though it's not a pejorative in this case.
Of the four sides that came with the meat, I enjoyed the Brussel Sprouts with Smoked Duck the most, despite my inner child yelling in scorn over this famously smelly vegetable. Lightly sizzled and tossed in with bits of smoked duck, I would happily order another plate of this to enjoy between bites of the beef.
On the wine to go with the beef, we had an easy 2019 Cameron Vale Cabernet Sauvignon and discovered the eye-opening 2019 Dark Horse Merlot (RM53/glass; RM239/bottle). True to its name, the Dark Horse Merlot arrived without much fanfare but left me reaching for the bottle with its oaky bouquet and chocolaty finish. Call me biased, as I do tend to prefer Merlots over Cabernets, but I wouldn't be waxing lyrical over this vintage if it didn't steal my attention away from the Rubia Gallega, which it pairs beautifully with.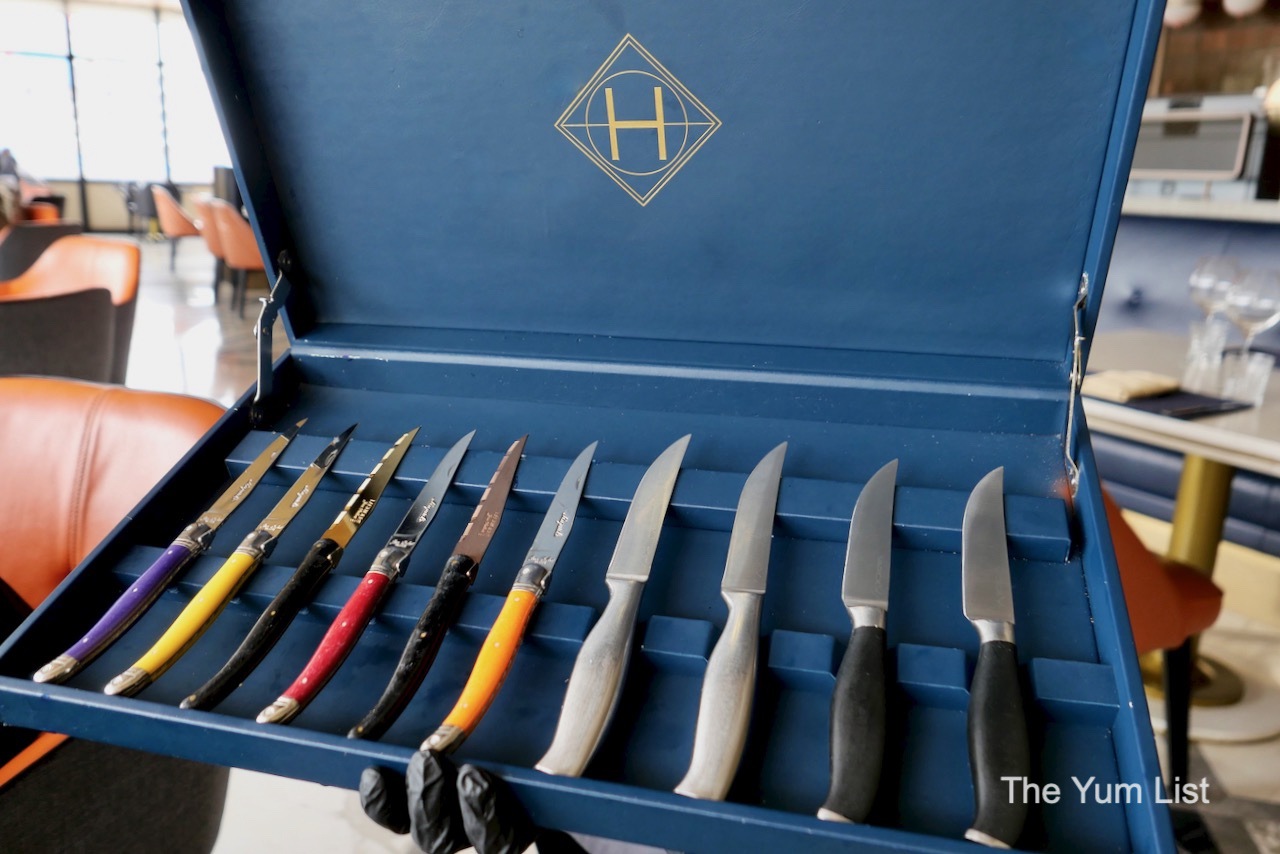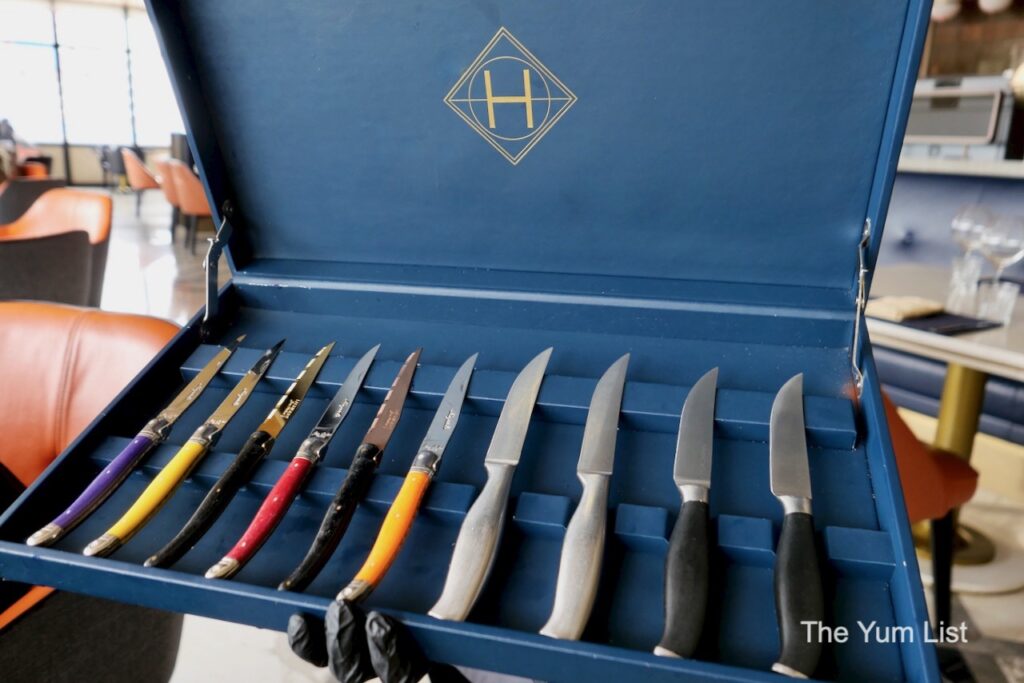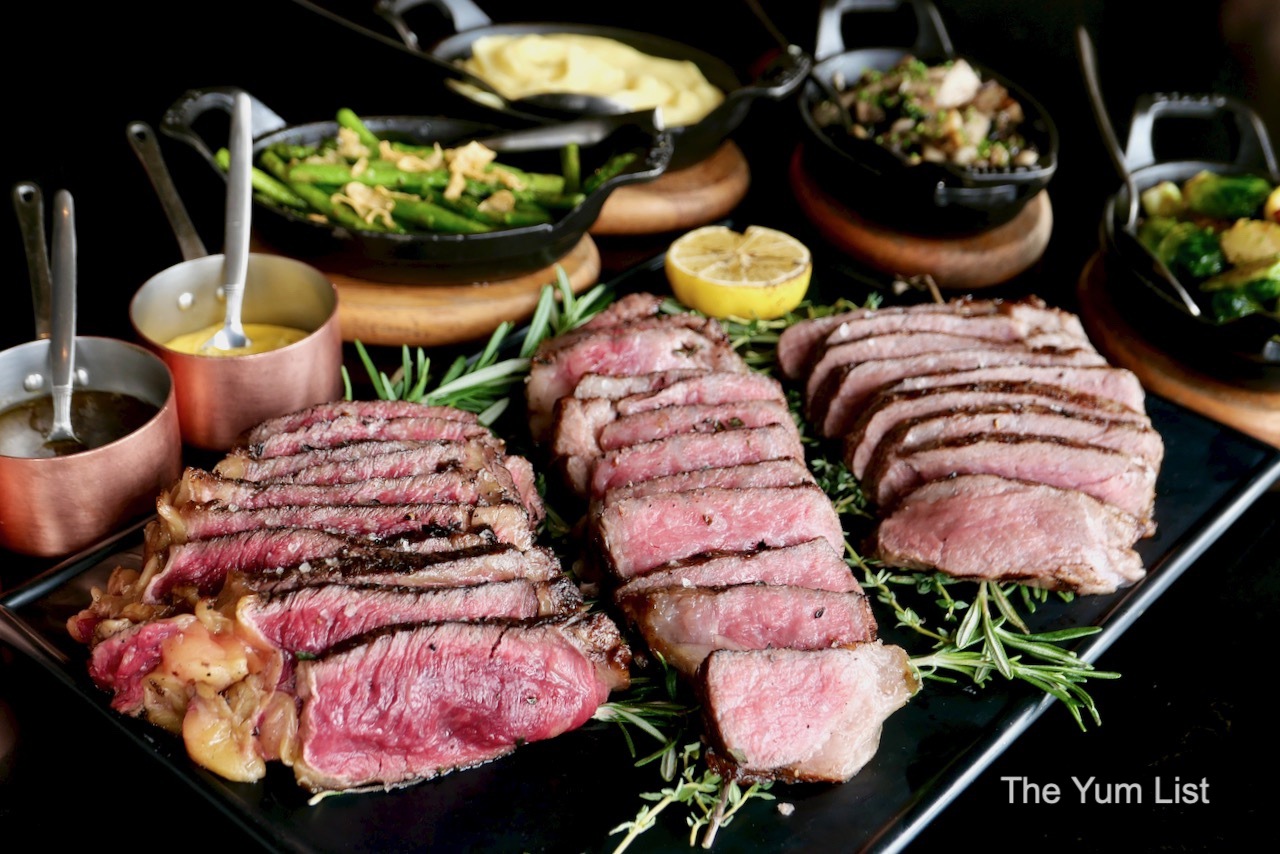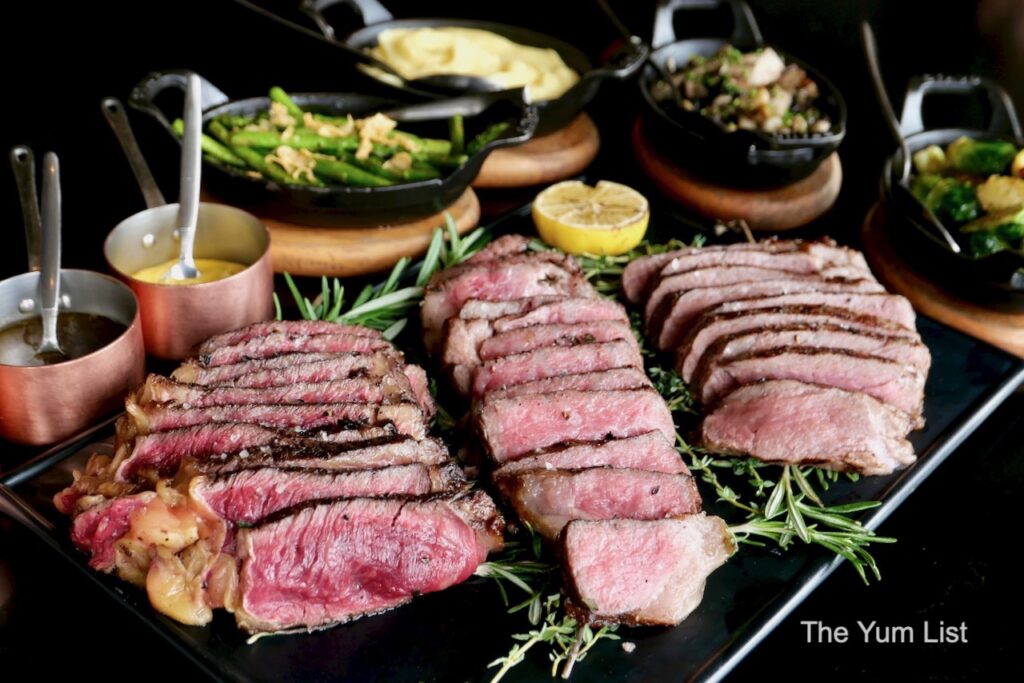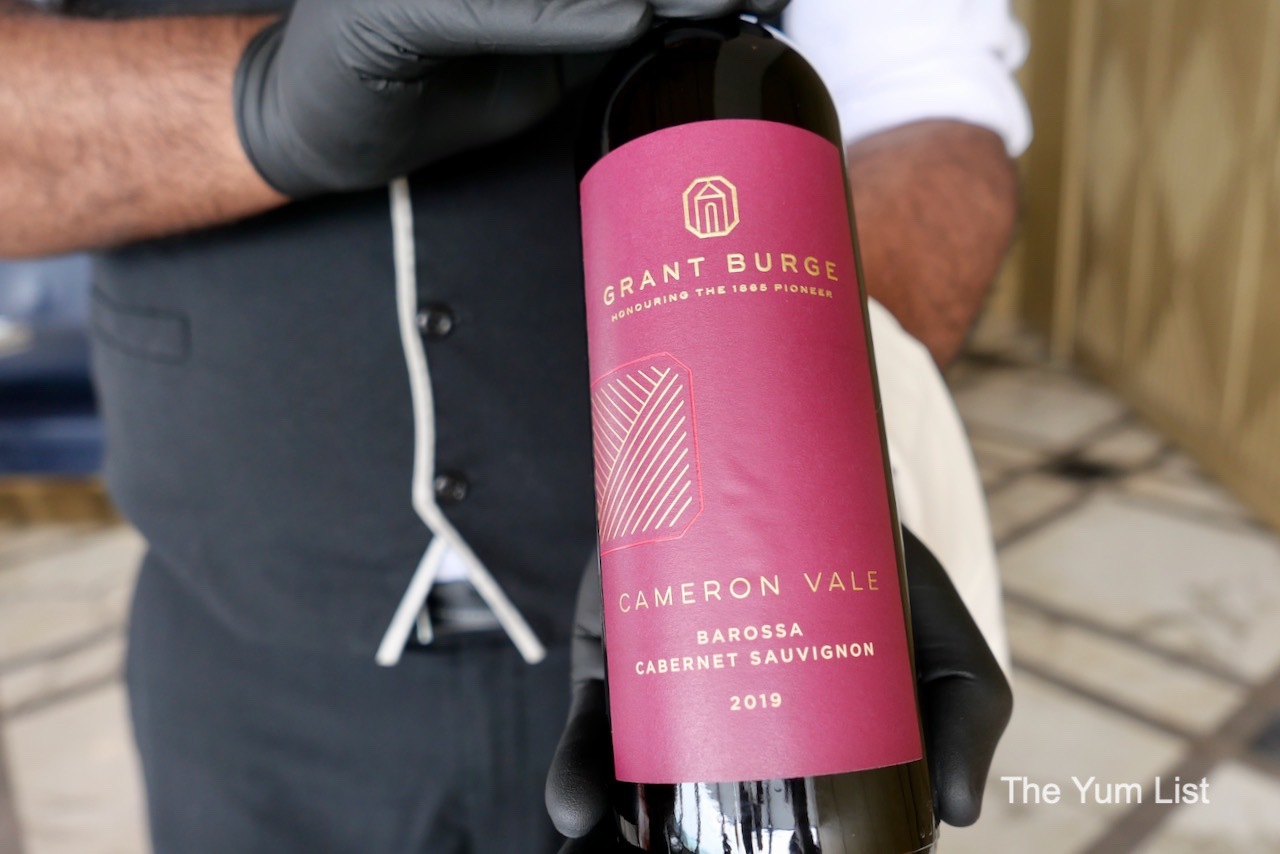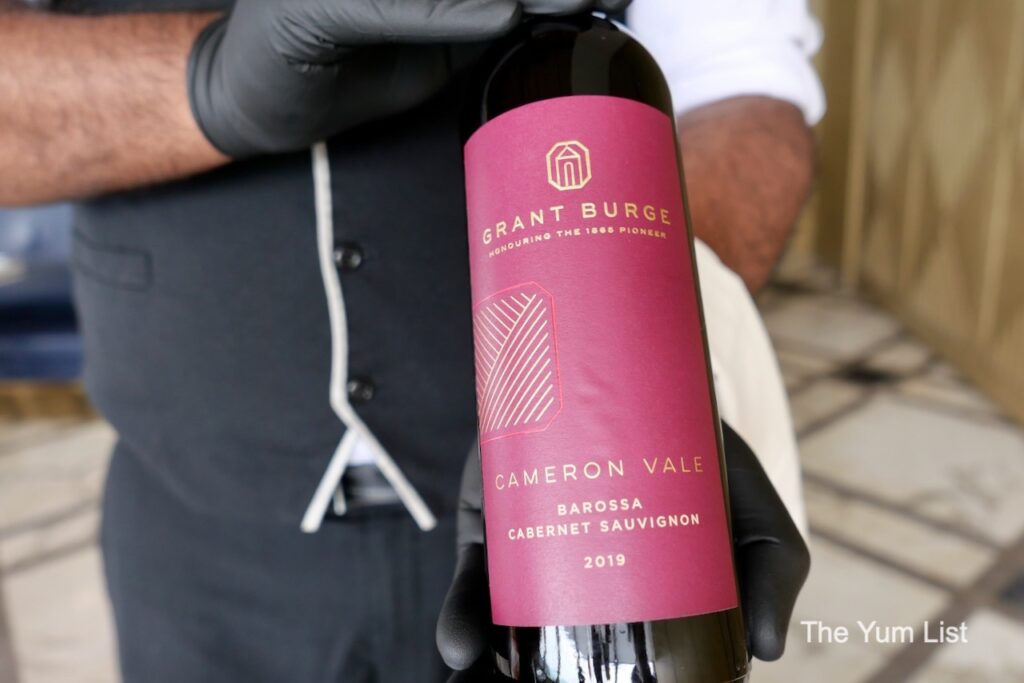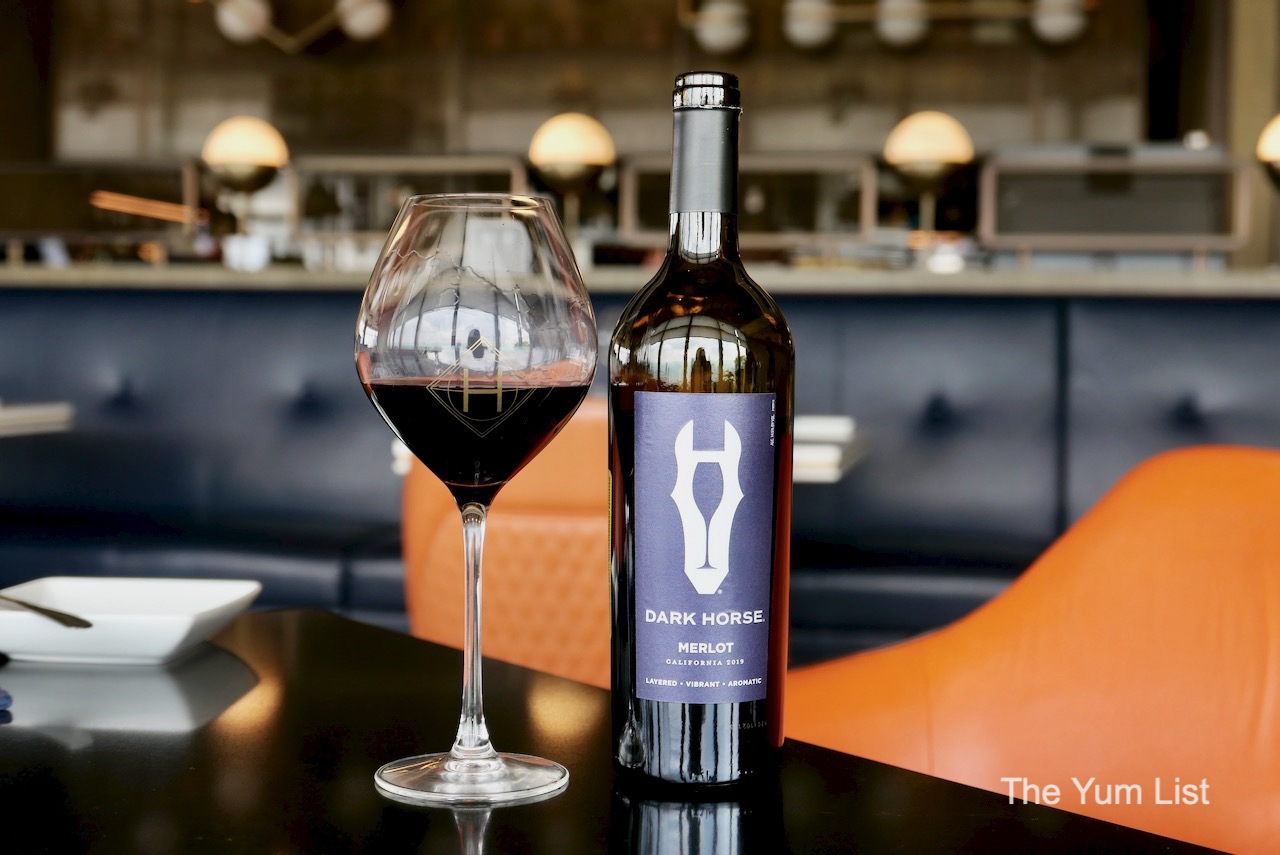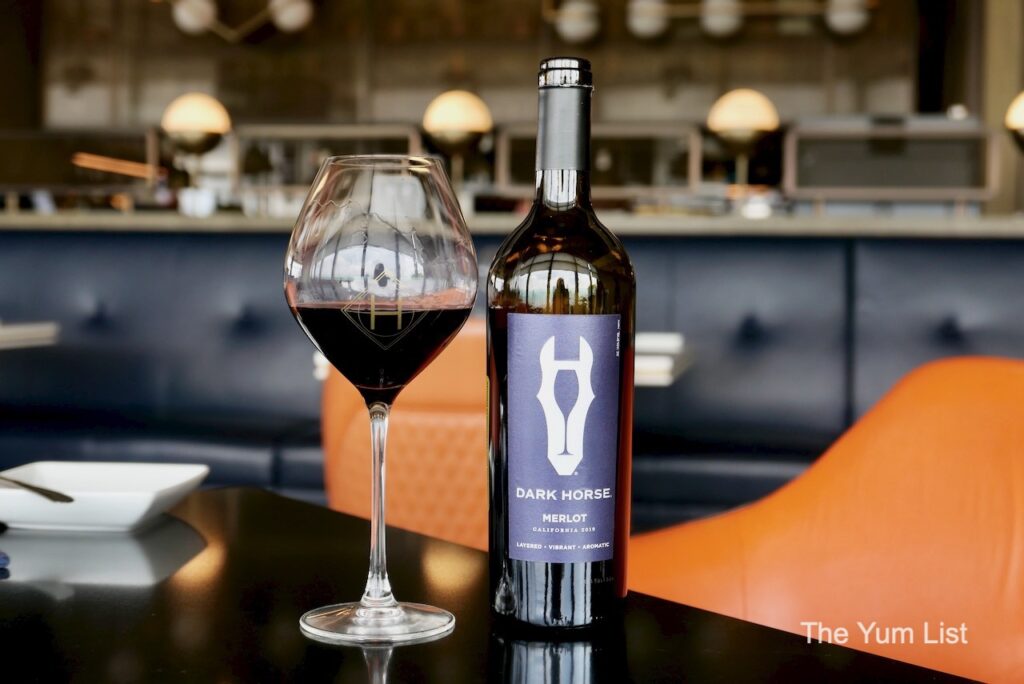 Dessert
After the amount of protein we've had, even the dainty Chocolate Tart (RM41) as the final course of the day looked significant. But with 70% Valrhona and homemade hazelnut ice cream on the line, it would be a crime to not finish this in five bites. And what a perfect crime it was as it wrapped up our rendezvous at the Horizon Grill, with a very happy and very exhausted Chef Francesco beaming from ear-to-ear as he sat down to conclude his lunch rush with us.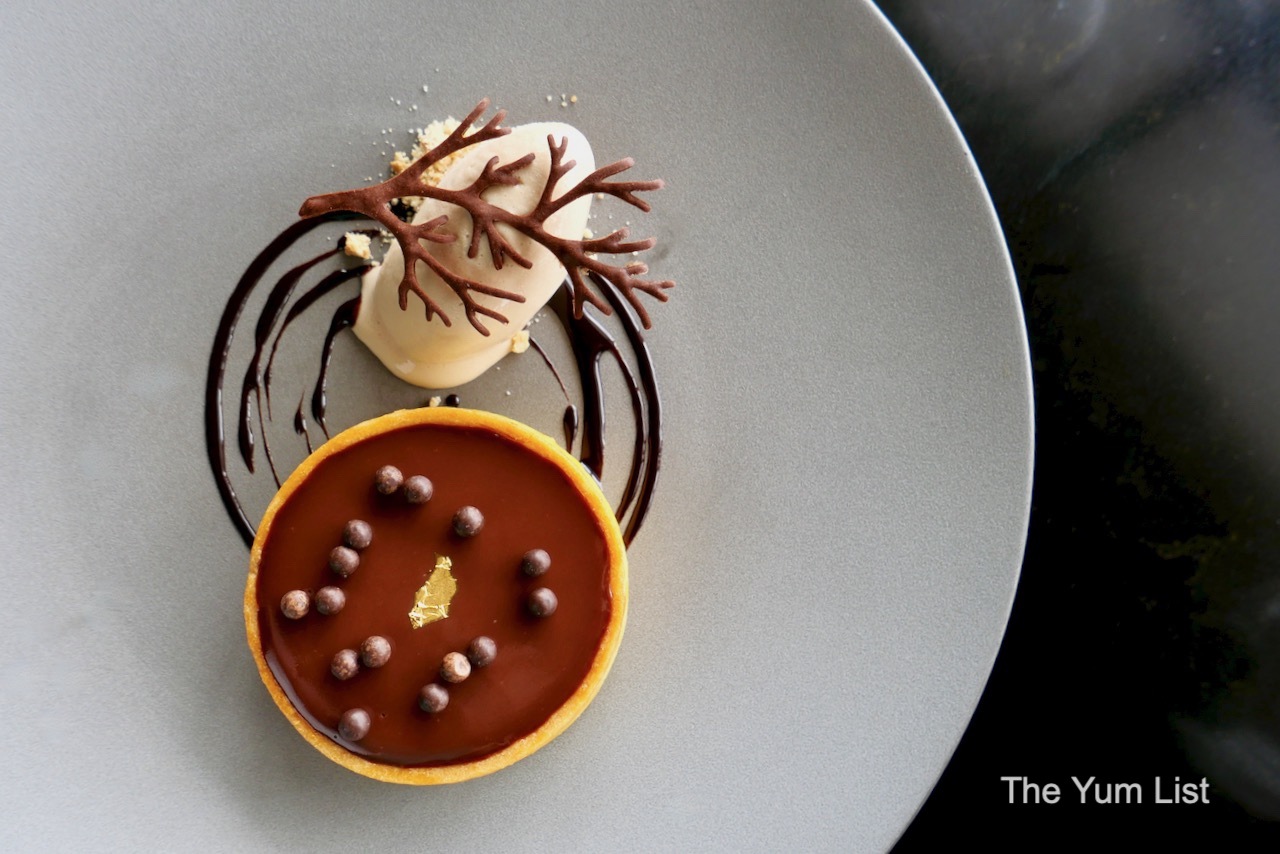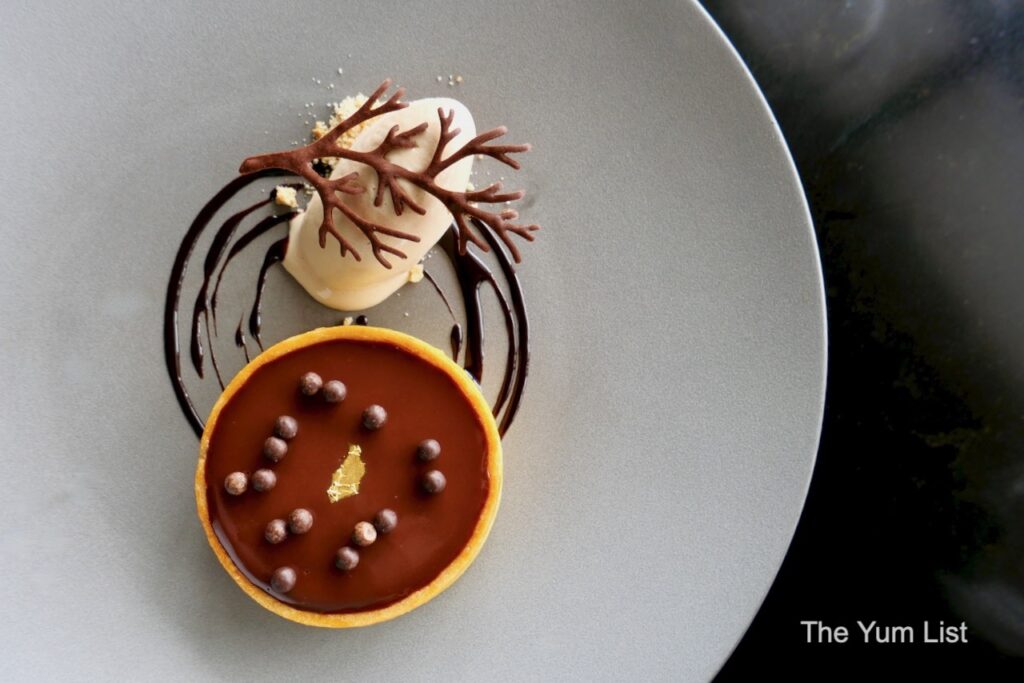 Final Thoughts on Horizon Grill
If you're ever looking for a place to cinch a business deal or to propose, then you can't go wrong with the Horizon Grill. With a menu as impressive as its view, the restaurant lives up to the Banyan Tree brand and is set for an exciting future with Chef Francesco at its helm. Special thanks to Rachel, who entertained all our questions and requests, sommelier Suraya for the wine, and F&B Director Julian for helping us conquer the bouillabaisse and grilled meat.
Reasons to visit Horizon Grill: Great for meetings and special occasions, with a handful of private rooms that can be reserved and customised to suit your needs; Rubia Gallega; Risotto Bouillabaisse; the small yet salient Brussel Sprouts with Smoked Duck; we focused more on the food than the atmosphere for this review, but there is no doubt that the Horizon Grill is near the top of the list for "Places to See Fireworks on New Year's Eve" due to its unobstructed view of the city.
Horizon Grill
Level 58, Banyan Tree Kuala Lumpur
2 Jalan Conlay
50450 Kuala Lumpur, Malaysia
+6 03 2113 1821
Horizon Grill Opening Hours
6:30am – 10:30am (Breakfast)
12:00pm – 2:30pm (Lunch)
6:00pm – 10:30pm (Dinner)
Find more restaurants for special occasions here, and stay up-to-date on KL's food and beverage scene here and here.