Italian Wine Dinner
Monica Tindall
Strato is often overlooked in the handful of beautiful restaurants and bars at Troika Sky Dining. Sitting next door and upstairs to Claret wine bar, the Italian restaurant benefits from the group's well-chosen wine list, options for alfresco dining, city views, expertly prepared food, and friendly waitstaff.
I'm glad to be reminded of Strato with an Italian Wine Dinner, one of many events the team habitually curate. The menu is a one-off creation allowing the kitchen some fun in experimentation and regulars a detour from the established menu.
Aperitivo
We begin with a classic aperitif, the Aperol Spritz. Recognized immediately by its vibrant orange hue, this Italian staple is a 3-2-1 recipe. Three parts prosecco, two parts Aperol and a dash of soda. It looks most attractive, served in a long-stemmed wine glass with a generous bowl and an orange slice garnish. Individual servings of thick slices of focaccia served with a sun-dried tomato paste are an excellent start. The bread has been lightly toasted, and the olive oil from the dip sinks right in.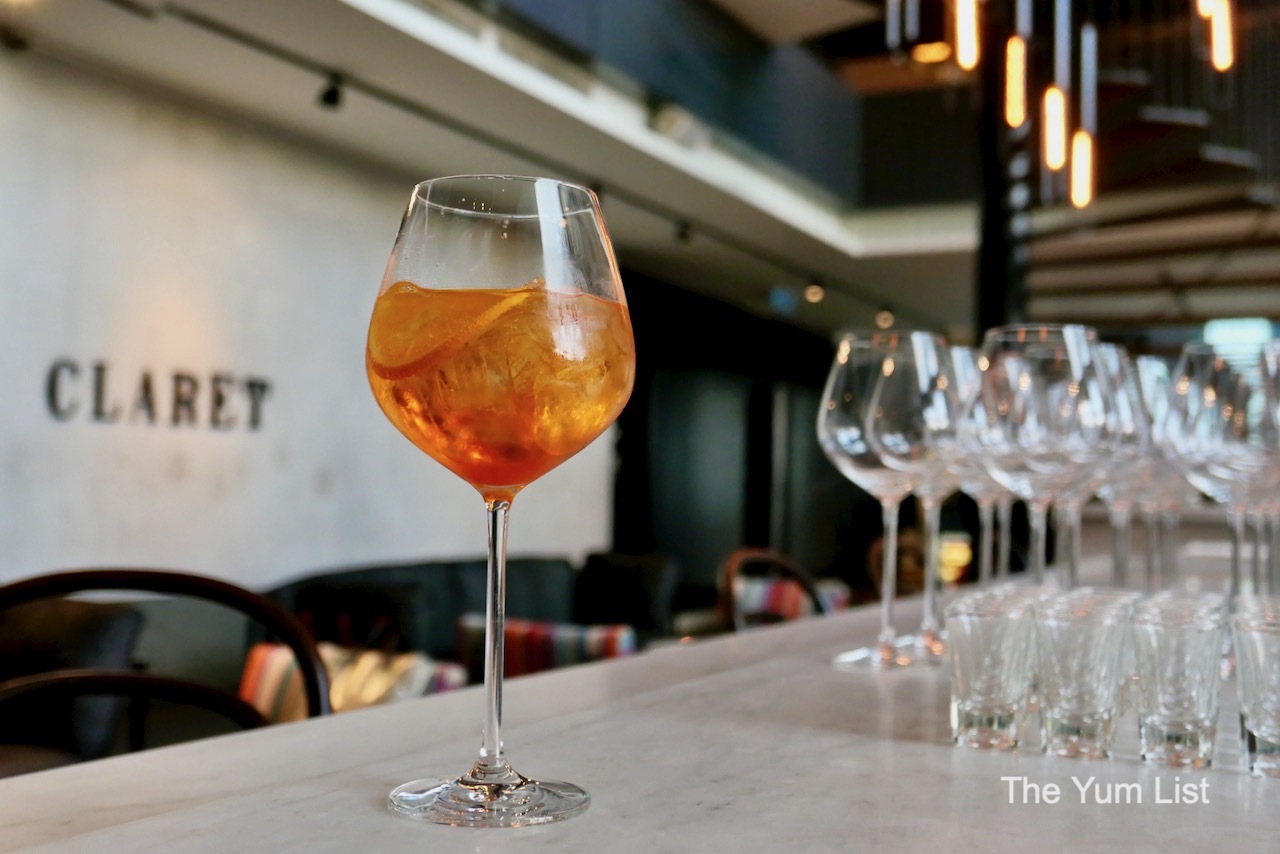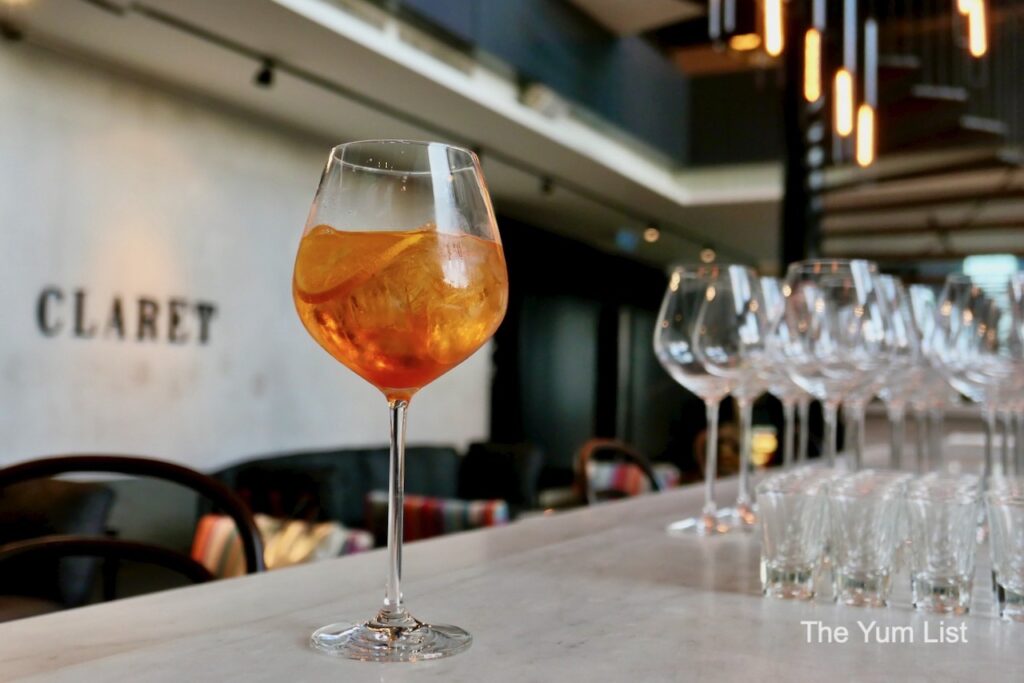 Italian Wine Dinner – Tuna
Our entrance, Spice Tuna Carpaccio, Avocado Cream, Green Chilli Gremolata and Vincotto, sets the stage for the rest of the meal. It's elegant, places high importance on produce quality, and is expertly balanced. The fish is tender with a light salt sprinkle on the edge. The avocado cream provides a layer of creaminess, and the cucumber cubes freshen the palate. The chilli is subtle, just enough for flavour, but delicate enough to allow the fish to shine. I'm surprised that the fish is local. It's fantastic. More of these local beauties, please.
Perhaps the most well-known Italian white, a pinot grigio, serves the tuna well. Allegrini's Corte Giara, "Pinot Grigio delle Venezie," DOC, 2020 is a bright straw hue in the glass. Nuances of pear and citrus in the bouquet are mirrored in the palate. It's a dry wine with medium-plus acidity, which slices wonderfully through the creamy notes in the tuna.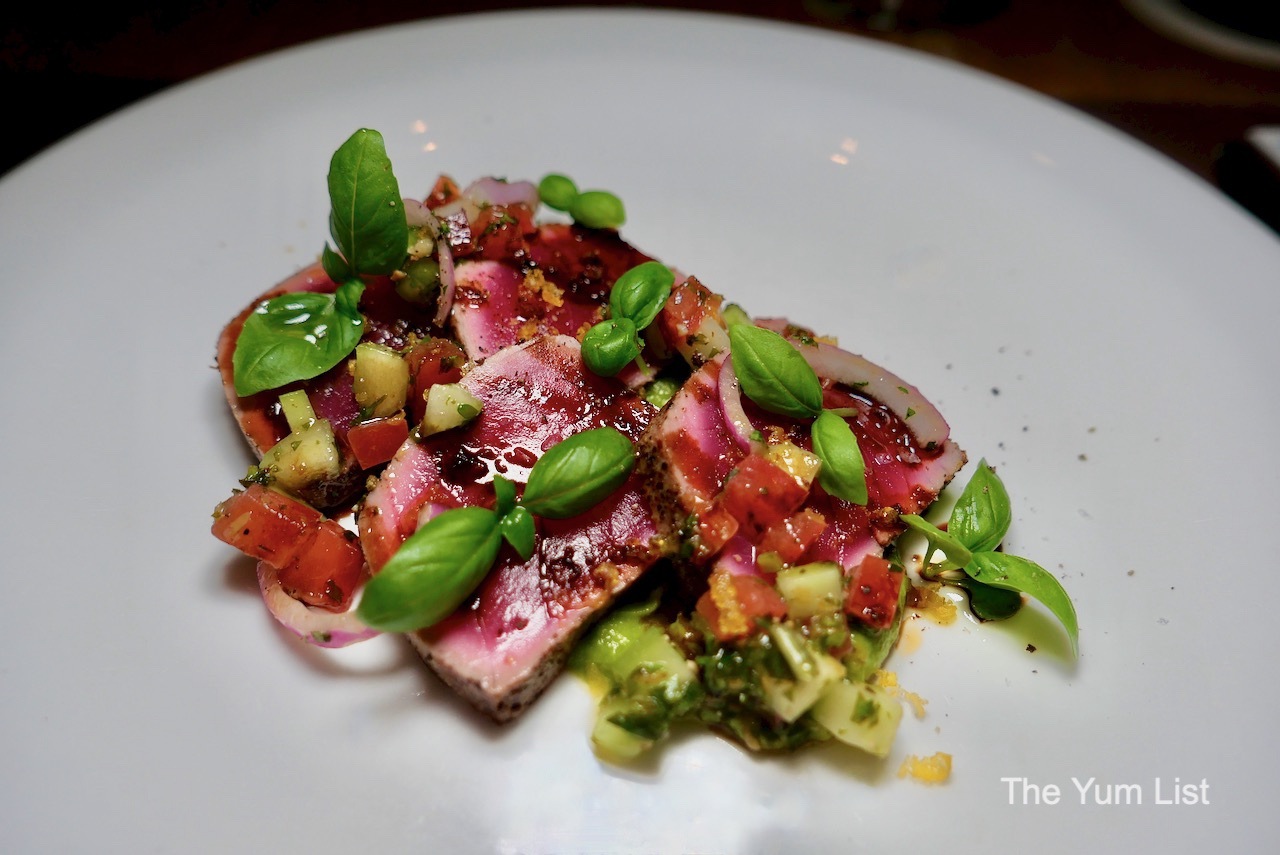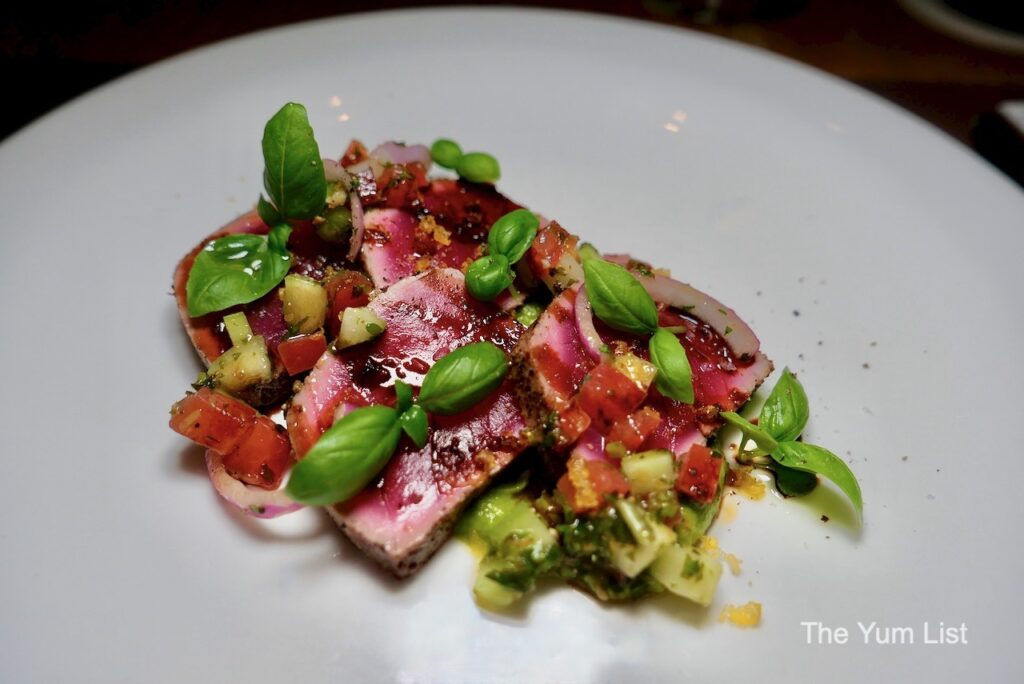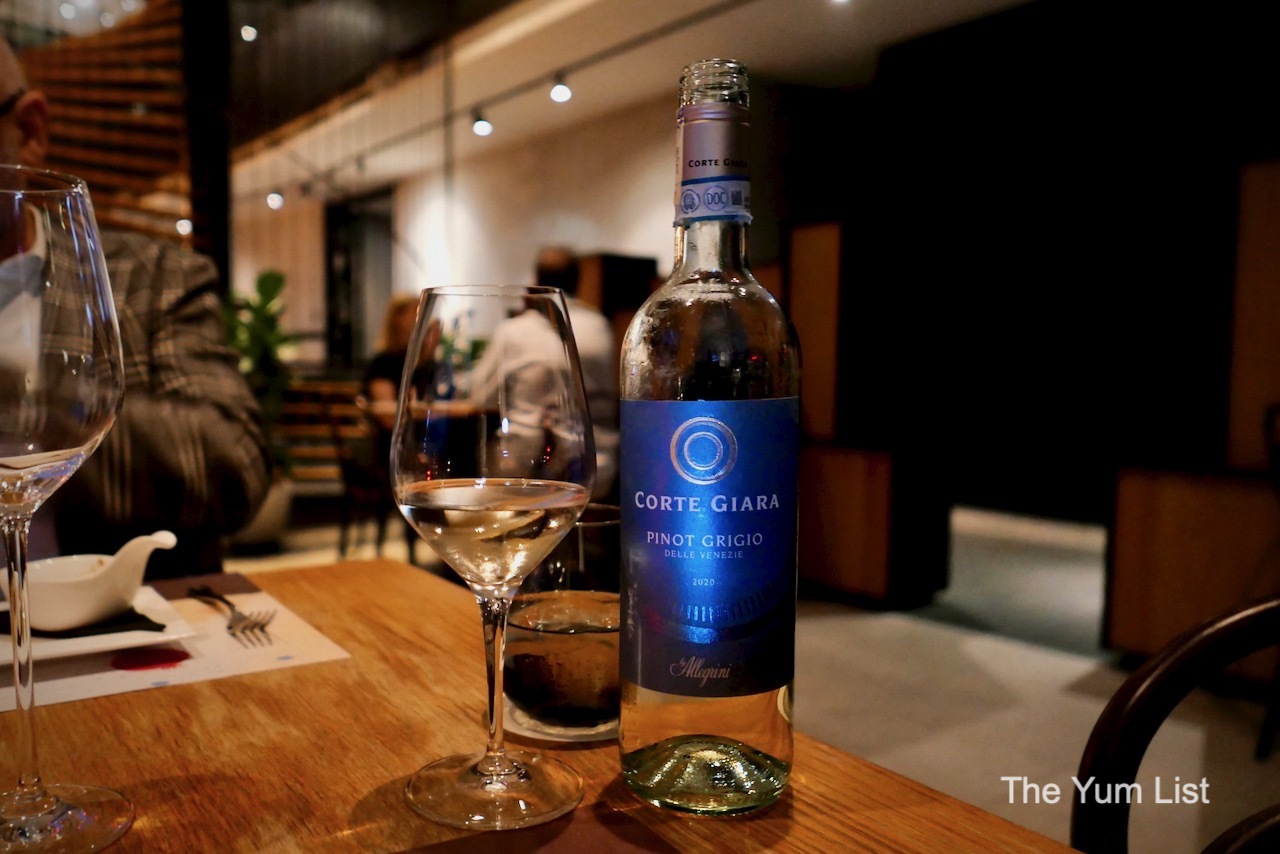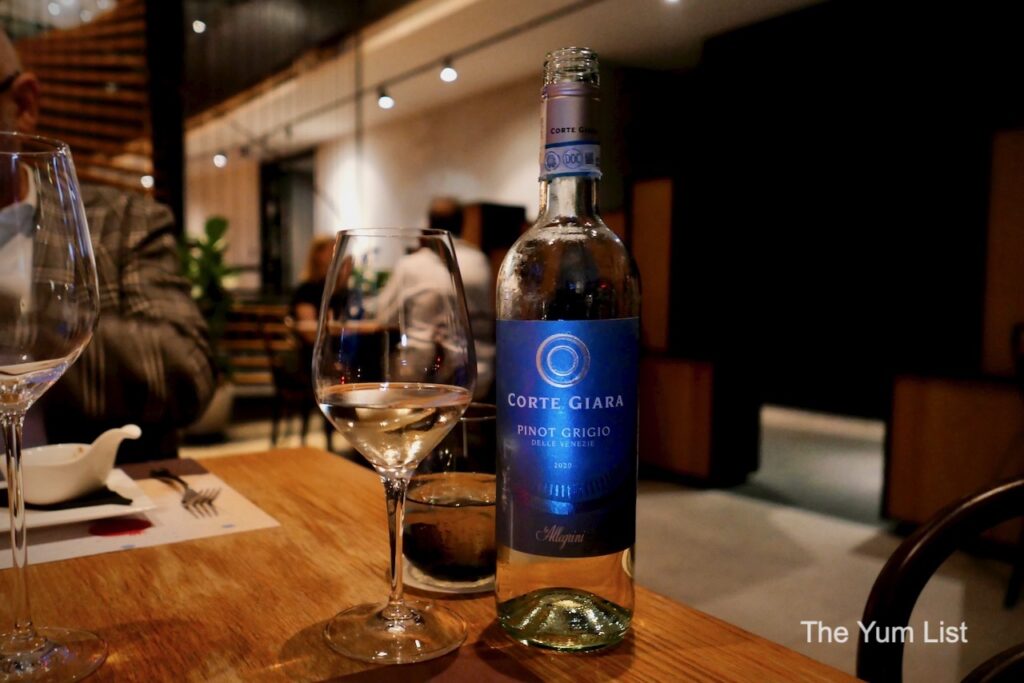 Scampi
The second course showcases how good a bisque can be when done just right. In the Charred Scampi, Stracciatella Mozzarella and Pasta Sheet, the Salsa di Bisque Sauce provides a foundation for the rest of the ingredients. It's creamy, mildly sweet, buttery and intense all at the same time. The pasta sheet is terrifically thin and holds two tender, bouncy scampi. Our spoons clink the bottom of the bowl repeatedly in an attempt to scoop up every last drop.
Another wine from the north of Italy, Palazzo Maffei "Lugana" DOC 2020, offers a similar straw shade in the glass as the pinot grigio but with some flecks of green. Made on the Trebbiano grape, it's fresh and balanced with good structure, making it an ideal mate for the small langoustines. This white is an excellent food wine but so delicious that I'd also be happy sipping a few glasses on the balcony unaccompanied on a warm afternoon. Confirming my thoughts, my dining mate remarks, "I've never had a bad time or a bad wine here. It's always good."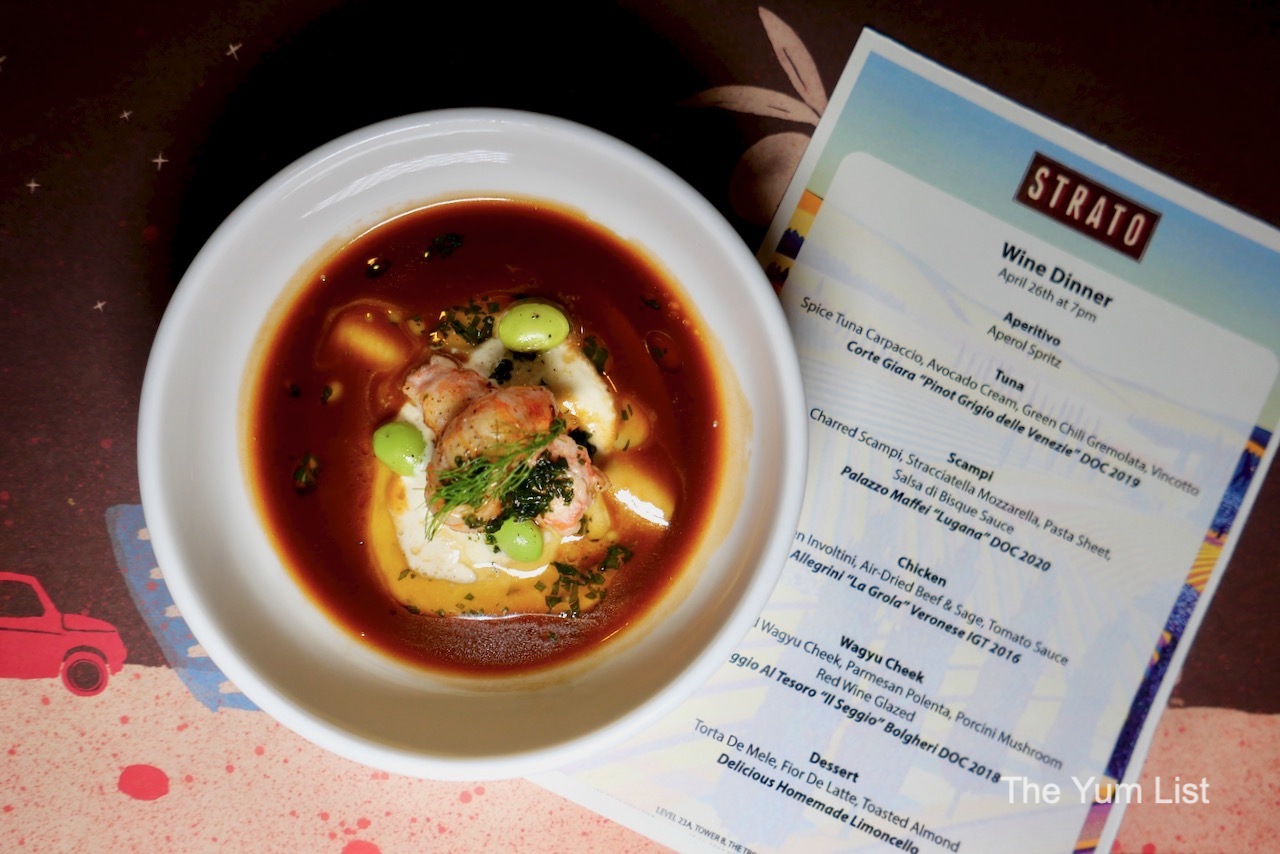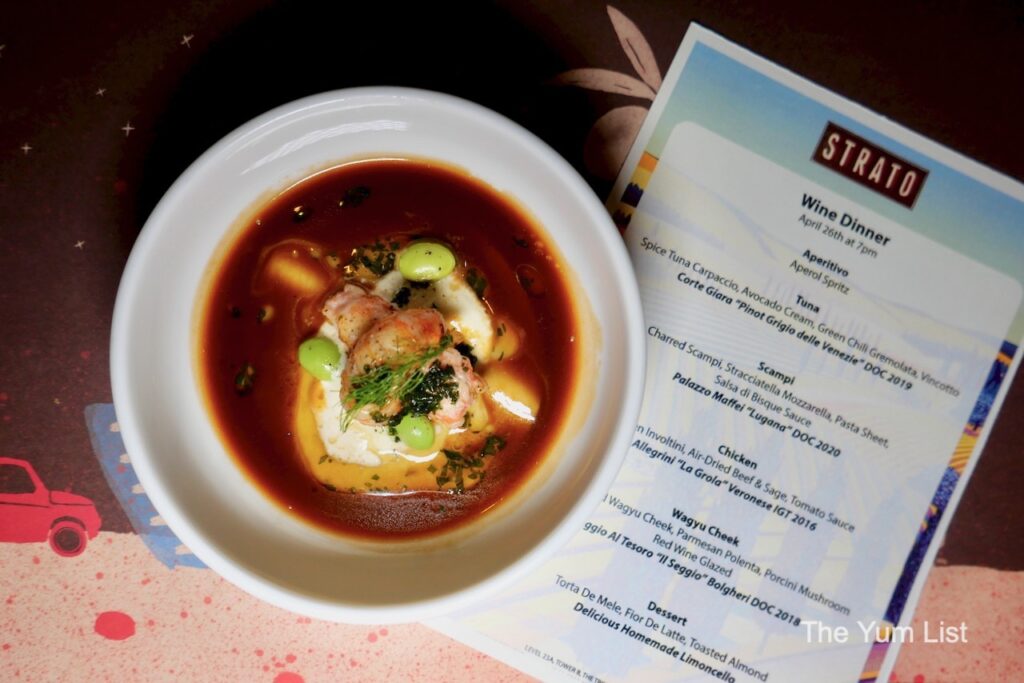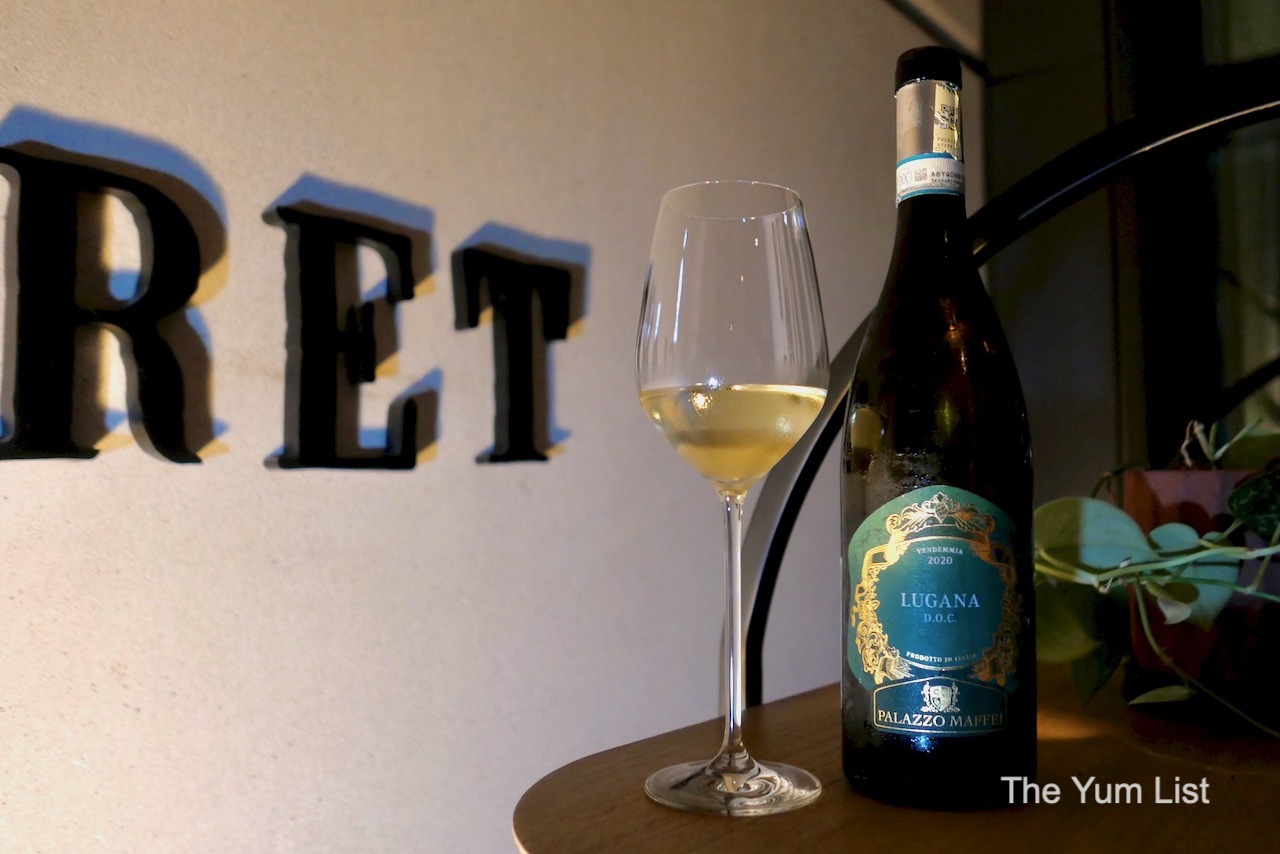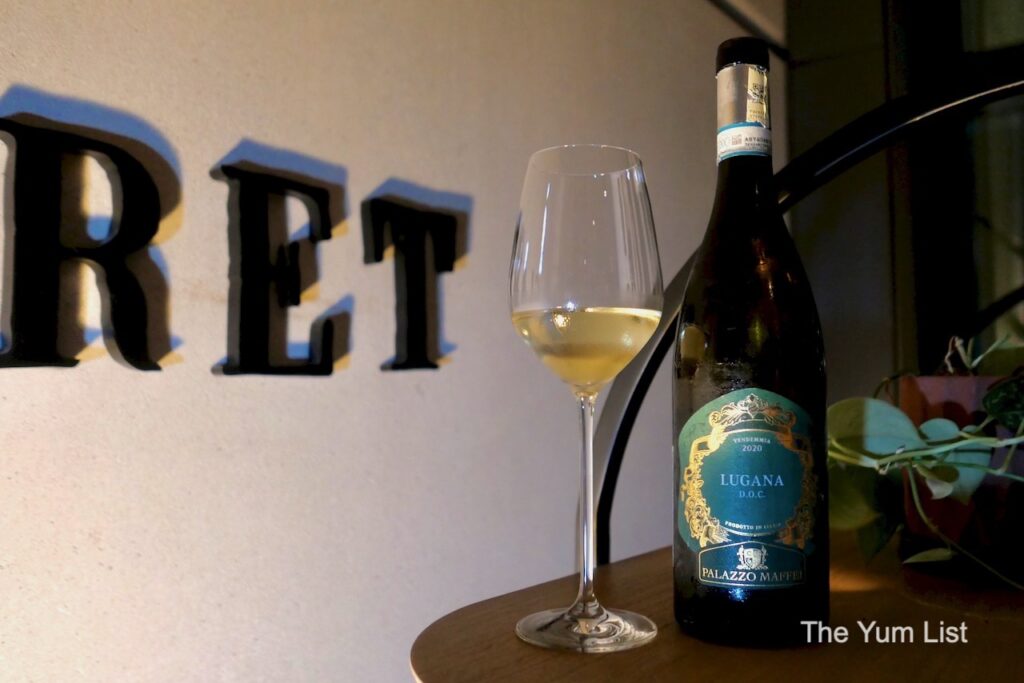 Italian Wine Dinner – Chicken
Usually, involtini are little rolls wrapped in something such as bacon or cheese. However, in Strato's Chicken Involtini recipe, air-dried beef and sage are layered in the middle of a chicken fillet, making it more of a sandwich than a roll. This allows for the skin to be crisped until golden, so we enjoy the benefits of the layers in addition to a slight crunch on the top. Leggy stems of broccolini lay across the crown, contrasting the rich, red tomato sauce both in hue and freshness.
Our wine partner stays in Veneto as we turn to red with Allegrini's "La Grola" Veronese IGT 2016. This Corvina blend is almost opaque in the glass, a deep ruby shade. Given the advantage of an hour decant, the nose is abundant in dark fruit, some chocolate and layers of spice. Its medium-full body coats the mouth with more fruit and velvety tannins. It's particularly lovely with the chicken's rich tomato sauce.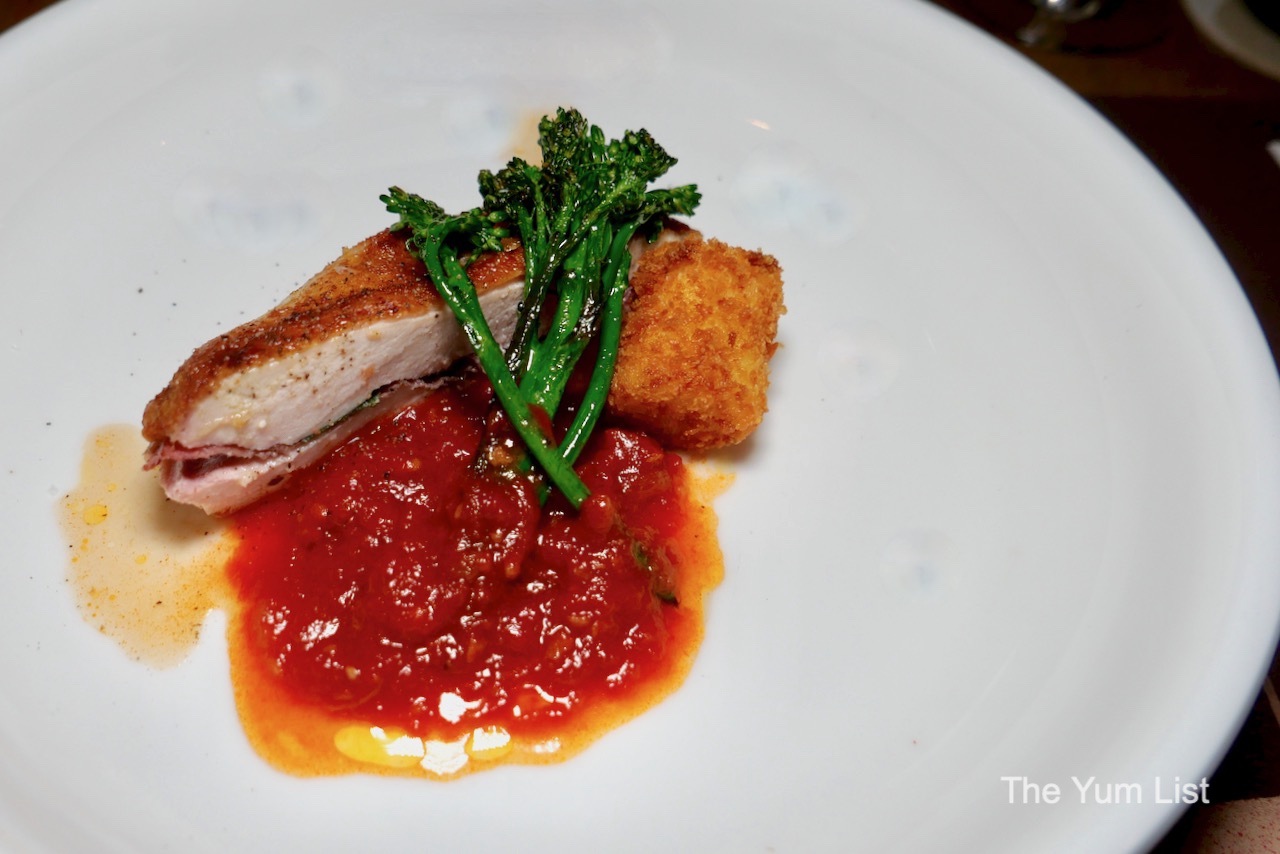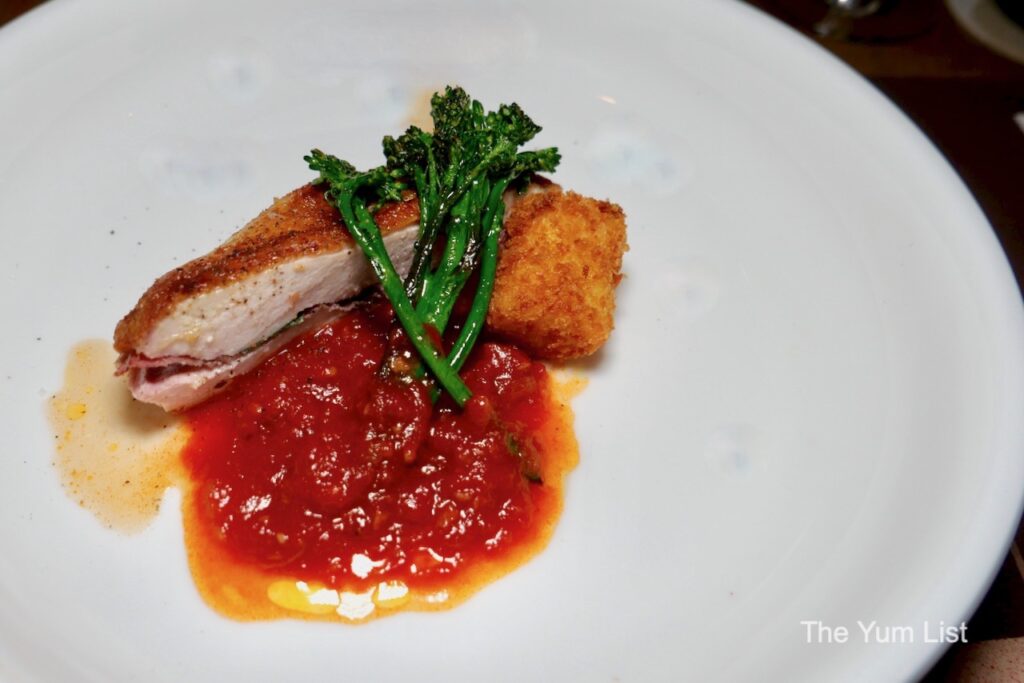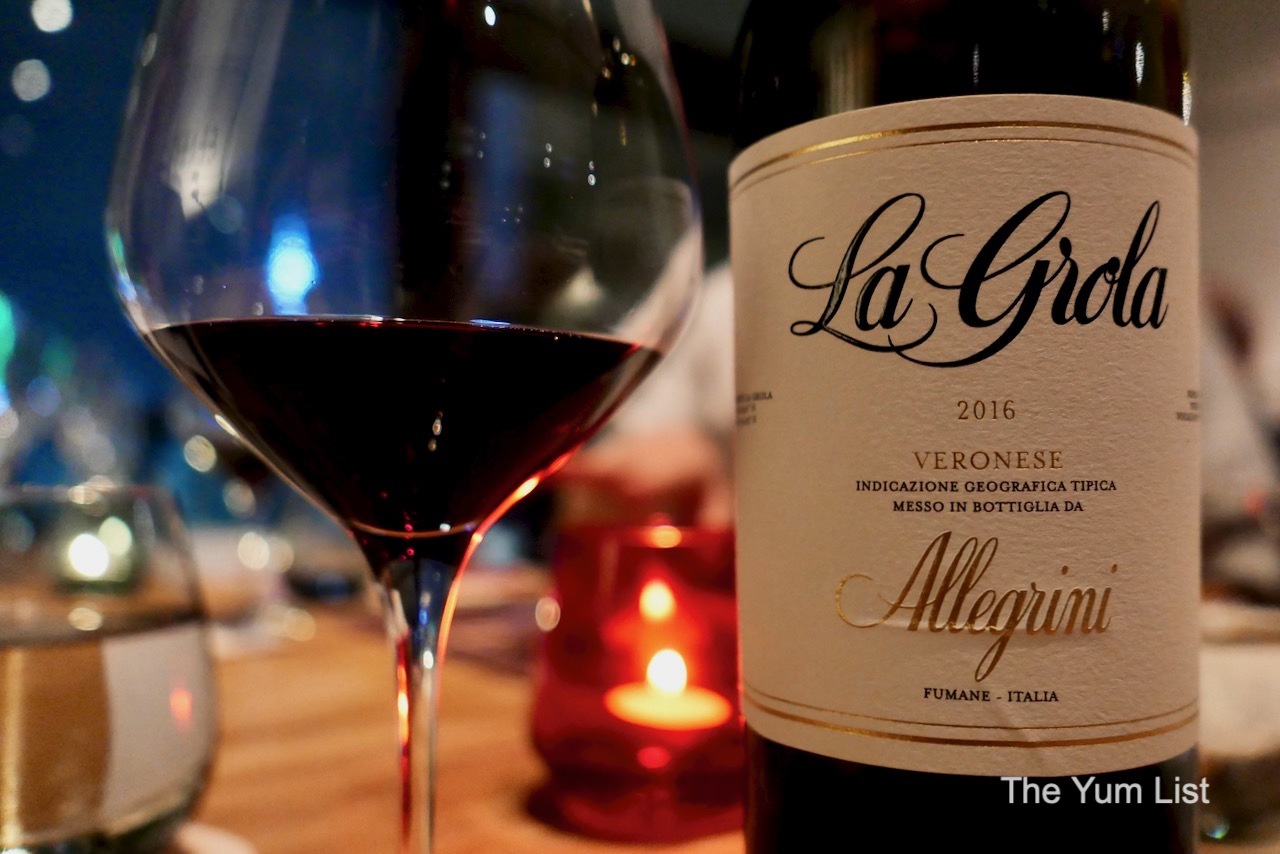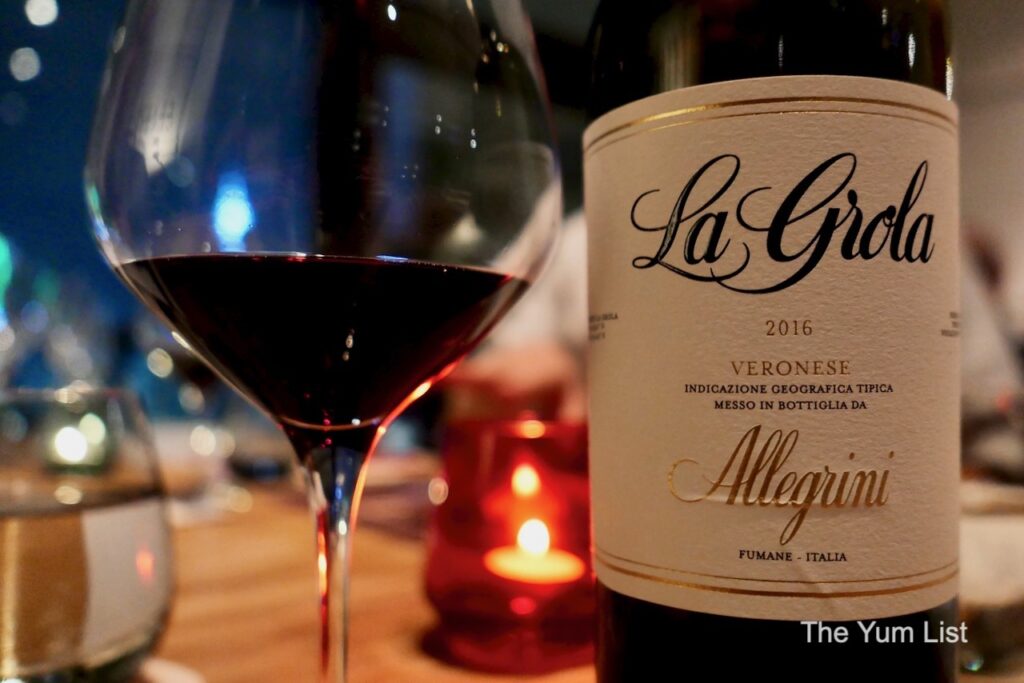 Wagyu Cheek
We've been working our way to full. The Slow Braised Wagyu Cheek, Parmesan Polenta and Porcini Mushroom Red Wine Glaze ensures our stomachs are completely satisfied. The trick of preparing beef cheeks, like a good painting, is to know when to stop. If you push them too much, they will fall apart. A little less, and they're not at their optimal quality, mere threads of meat held together by fat.
I must pause for a moment and pay tribute to my delightful dining dates, who, with the introduction of the fourth wine, have become increasingly helpful in offering descriptions of the food. From "I've not had something so nice in a long while. Is there somewhere I could take a nap?" to "Kissed by a cow," "Like velvet slippers gently beating me," and "there it sat in all its gelatinous glory," I'm hard-pressed to choose a single elucidation. We raise our glasses in a toast to the Strato team and their excellent wine and food pairing.
Leaving Veneto we head to central Italy with a glass of Poggio Al Tesoro "Il Seggio" Bolgheri DOC 2018. A blend of merlot, cabernet sauvignon, cabernet franc and Petit Verdot, it's the boldest wine of the night. Standing alongside the mouth-filling wagyu with a full body and loads of fruit, the wine carries elegance and refreshing acidity all the way to the conclusion. One of my dinner companions gets the final words, "Well done, Strato, the taste from the Bolgheri has left me all aquiver."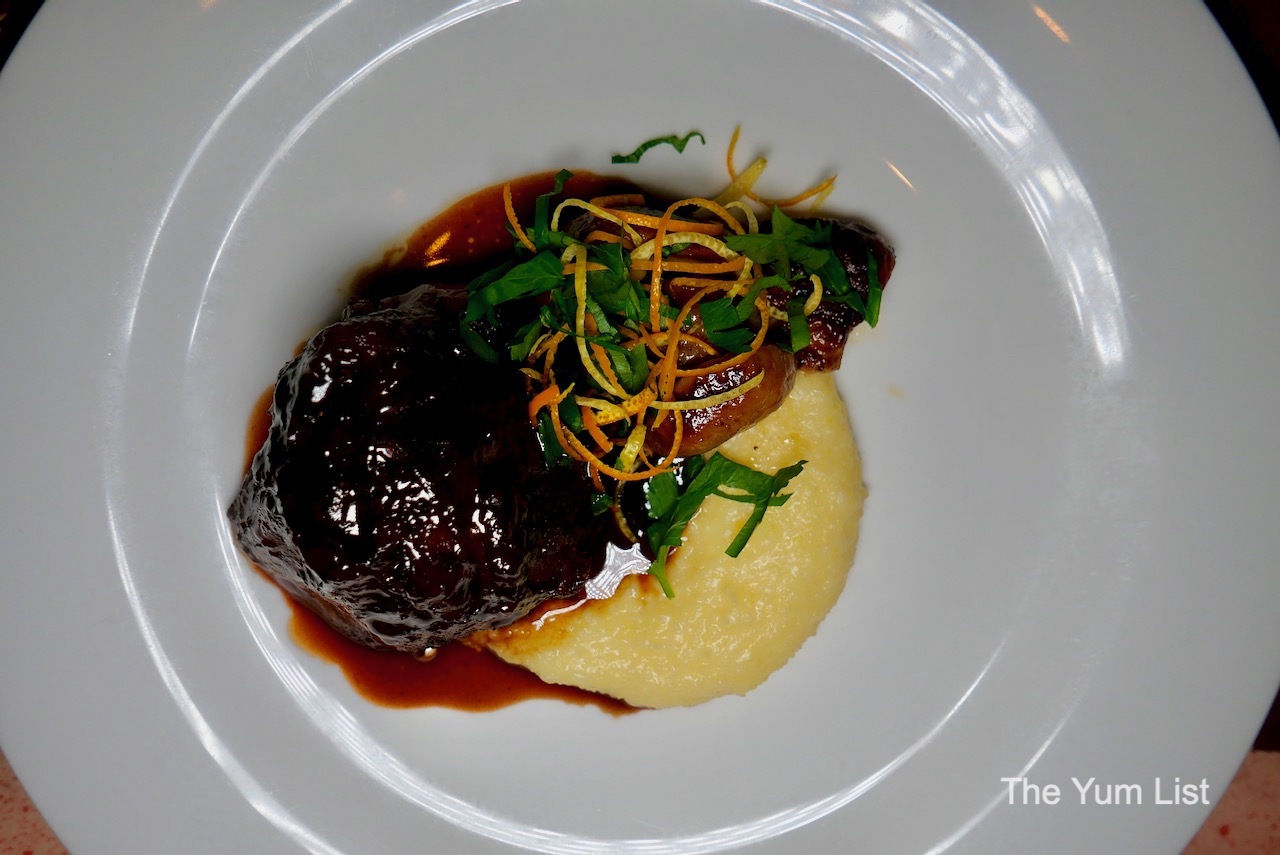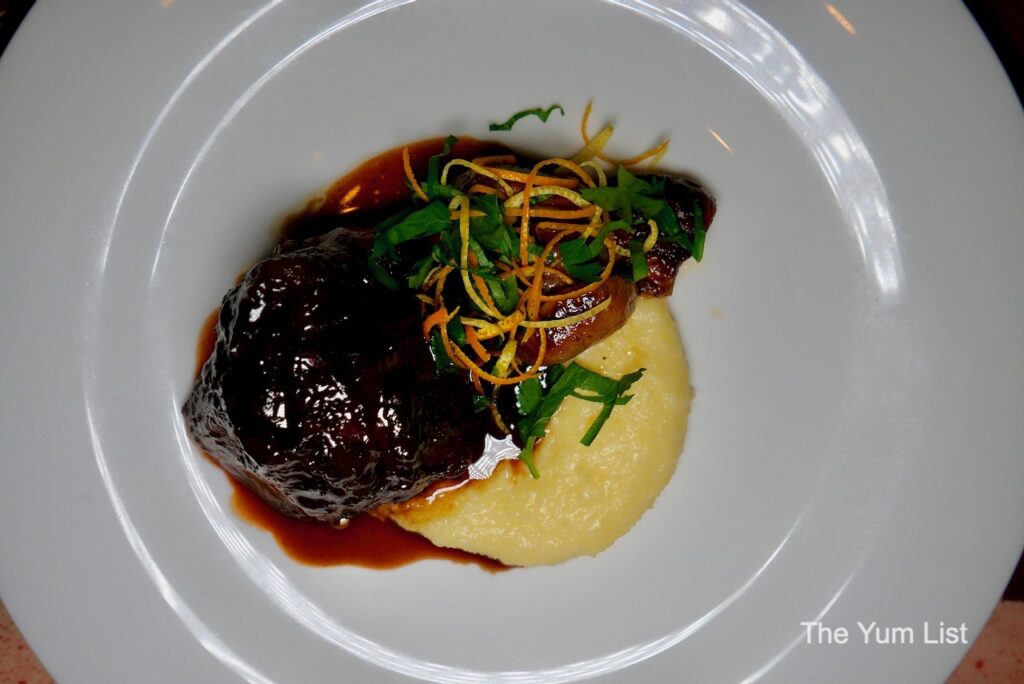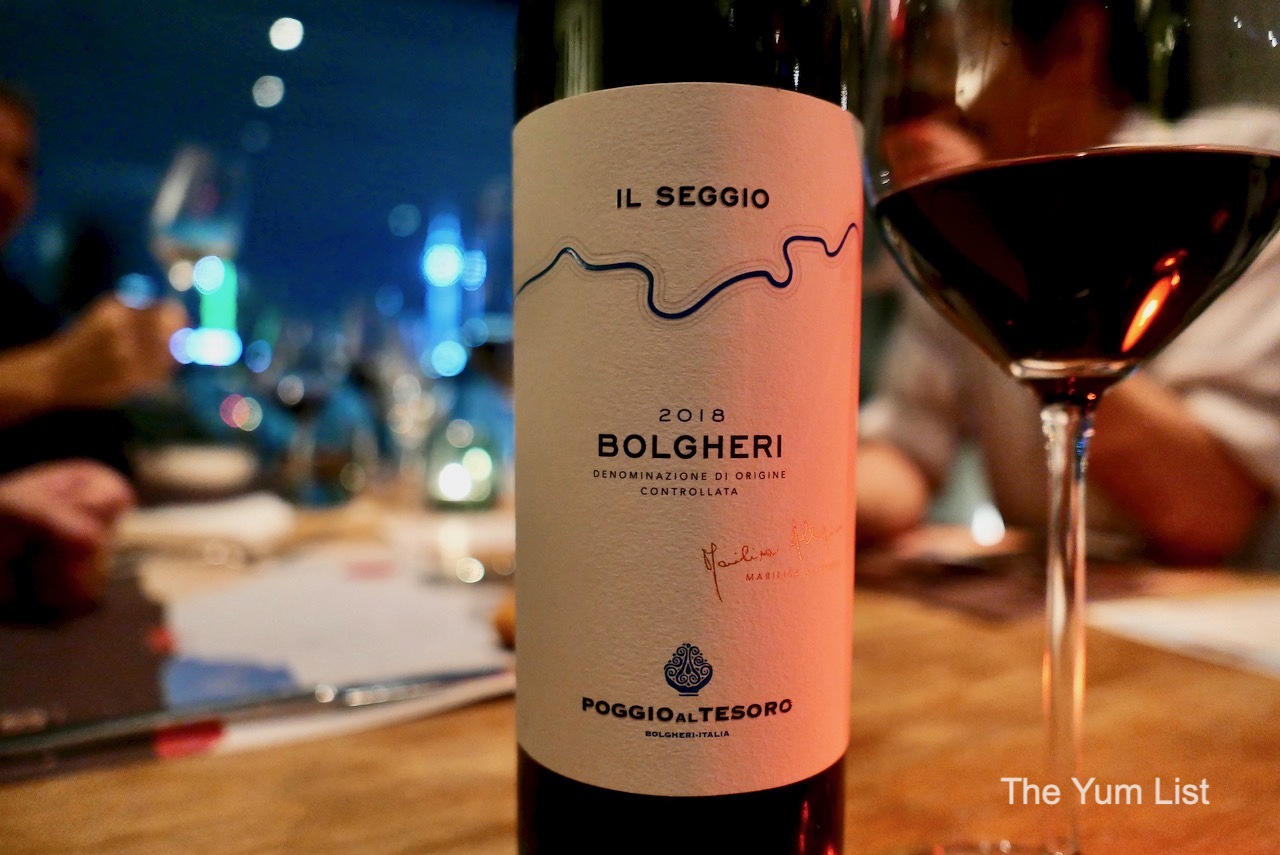 Dessert
If it weren't for the fact that there was delicious homemade limoncello on the menu, we might skip dessert. However, courtesy demands a food mate, and it's Torta De Mele, Fior De Latte and Toasted Almond that partners the lemon liqueur. While the tart is well made, the seeming simplicity of the milk ice cream has our attention. Made with only milk, cream and sugar, there is nothing adulterating the flavour. The preparation must be precise as there are no additional ingredients to cover any miscalculations. The limoncello is sharp, not overly sweet, a sterling ending to a well-timed and balanced meal.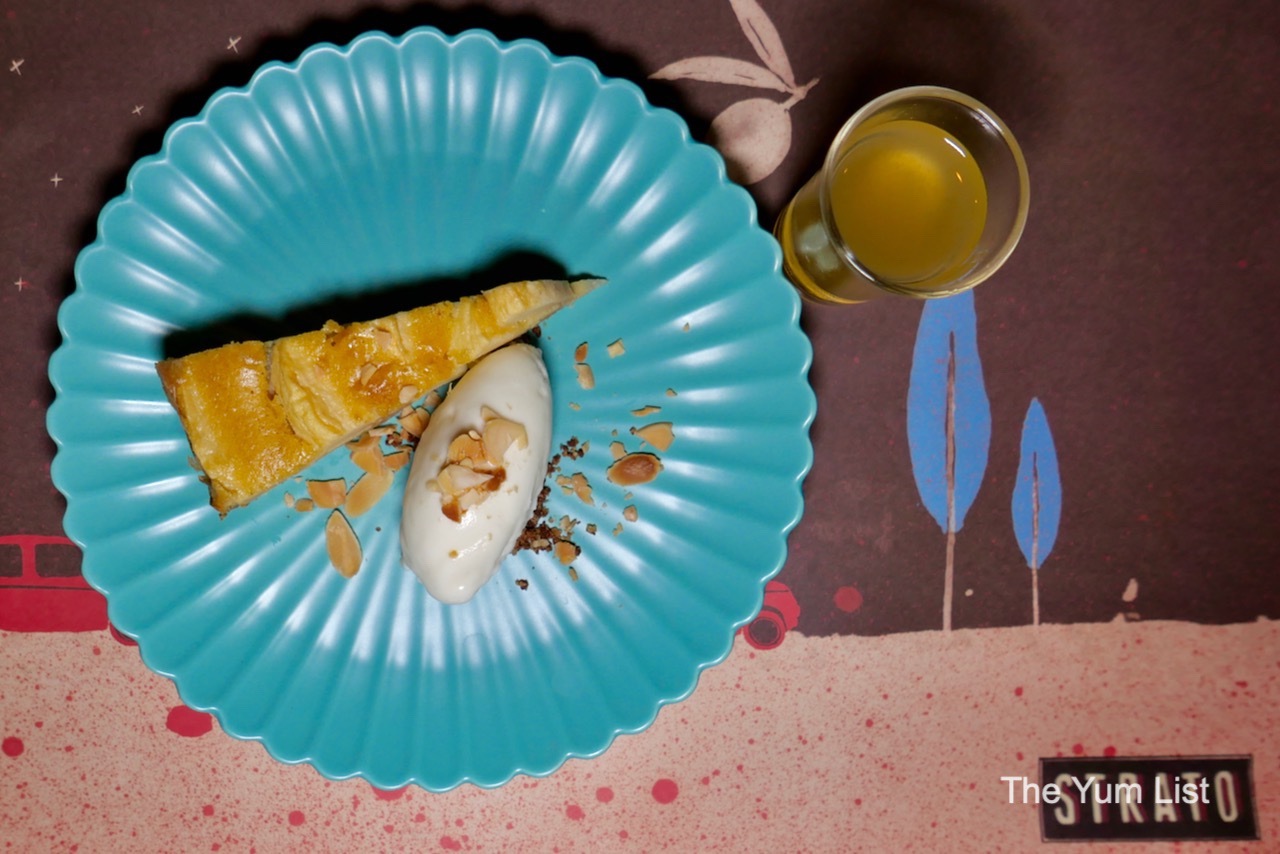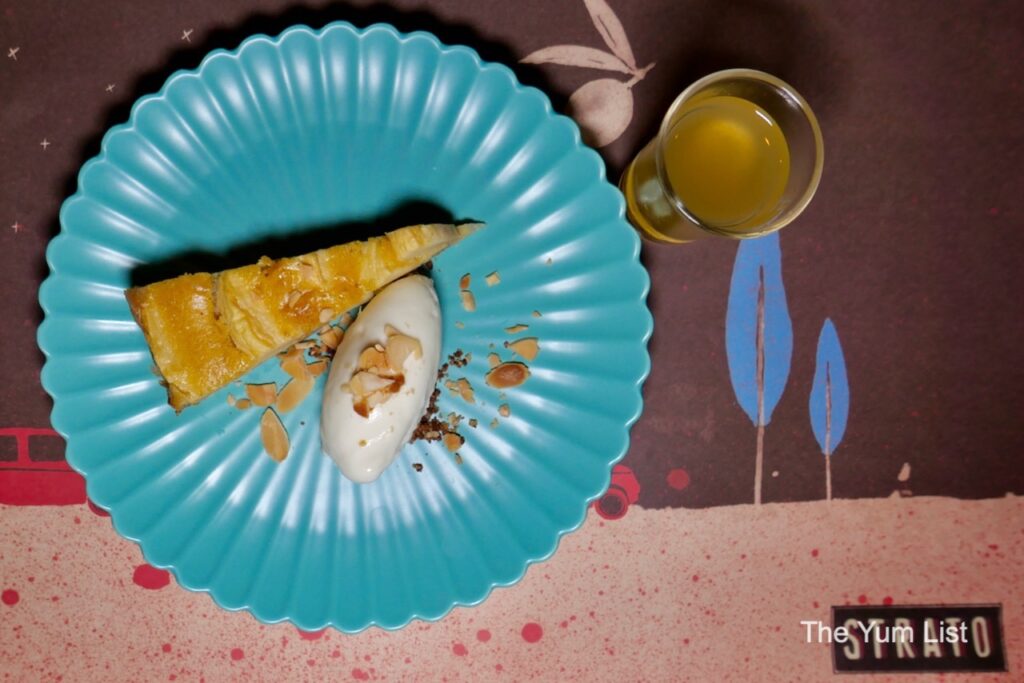 Reasons to visit Strato: a solid menu of Italian favourites with innovative sparks and twists on recipes thanks to the use of seasonal and local ingredients, quality wine and dinner events, comfortable yet stylish location with the option of alfresco dining.
Strato at Troika Sky Dining
Level 23A, Tower B, The Troika
19 Persiaran KLCC
50450 Kuala Lumpur, Malaysia
+6 03 2162 0886
www.facebook.com/StratoAtTroikaSkyDining
Follow Stratos' social media pages to learn about upcoming Italian wine dinners. If you'd like to purchase any of the above wines, call The Fine Wine Merchant on +603 722 1808 and ask for Wayne.
Stay up-to-date on the latest gourmet and travel happenings around Malaysia here and here.