8 Kia Peng Suites
Monica Tindall
For anyone staying in Kuala Lumpur for more than a couple of days or expats relocating to Malaysia, I don't know why you would book a hotel over a serviced residence. The inclusion of a washer-dryer, kitchen, space of a suite or small apartment, as well as daily cleaning, services and facilities is an obvious win.
8 Kia Peng Suites
8 Kia Peng Suites, a newly opened serviced residence in the heart of Kuala Lumpur, is a convenient and reasonably priced stay. The location is within easy reach of shopping, restaurants and entertainment, the pool is magnificent, and the staff are helpful and friendly.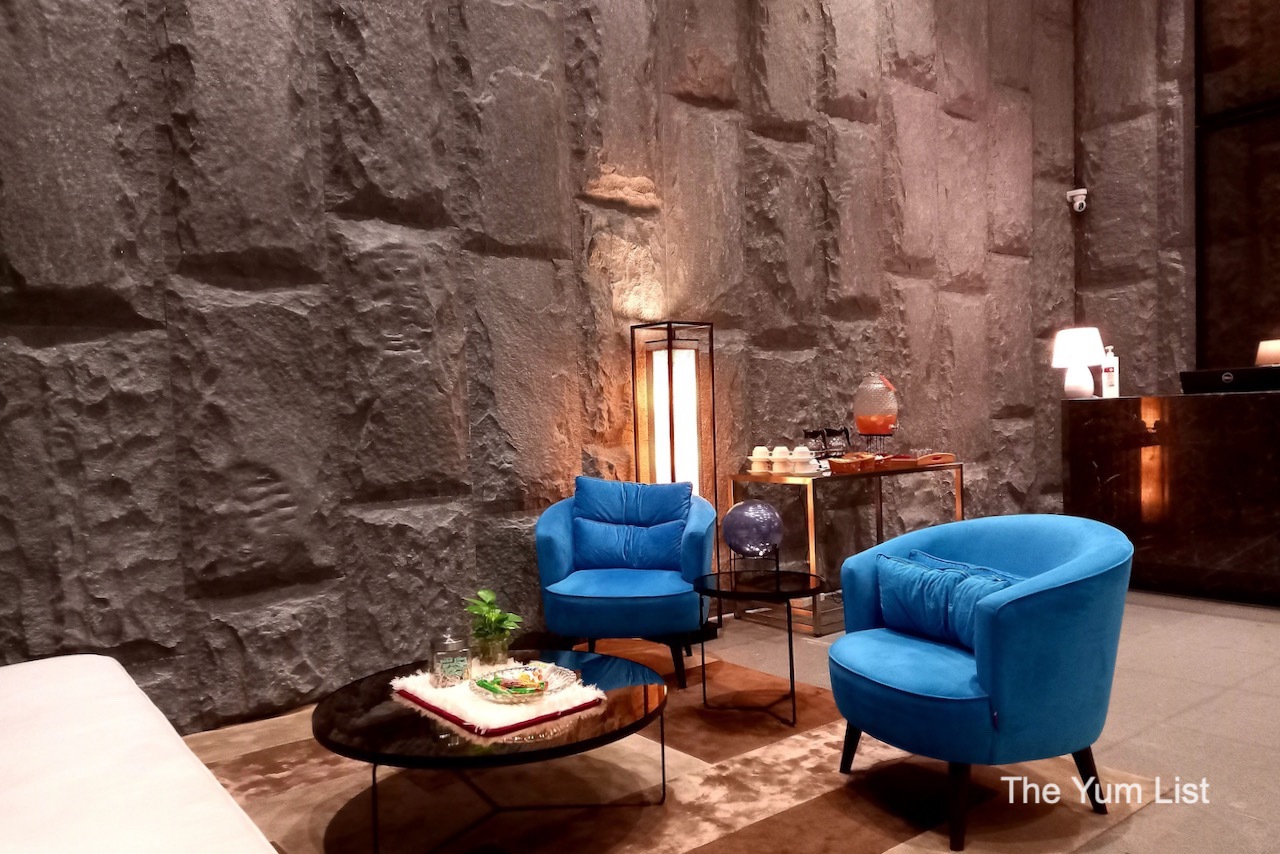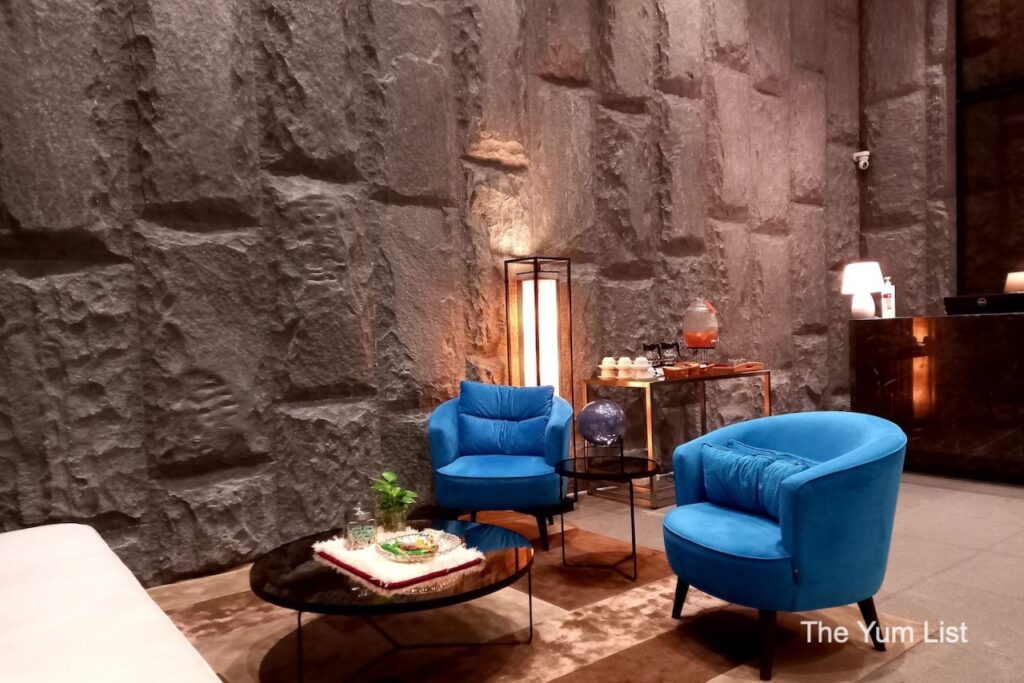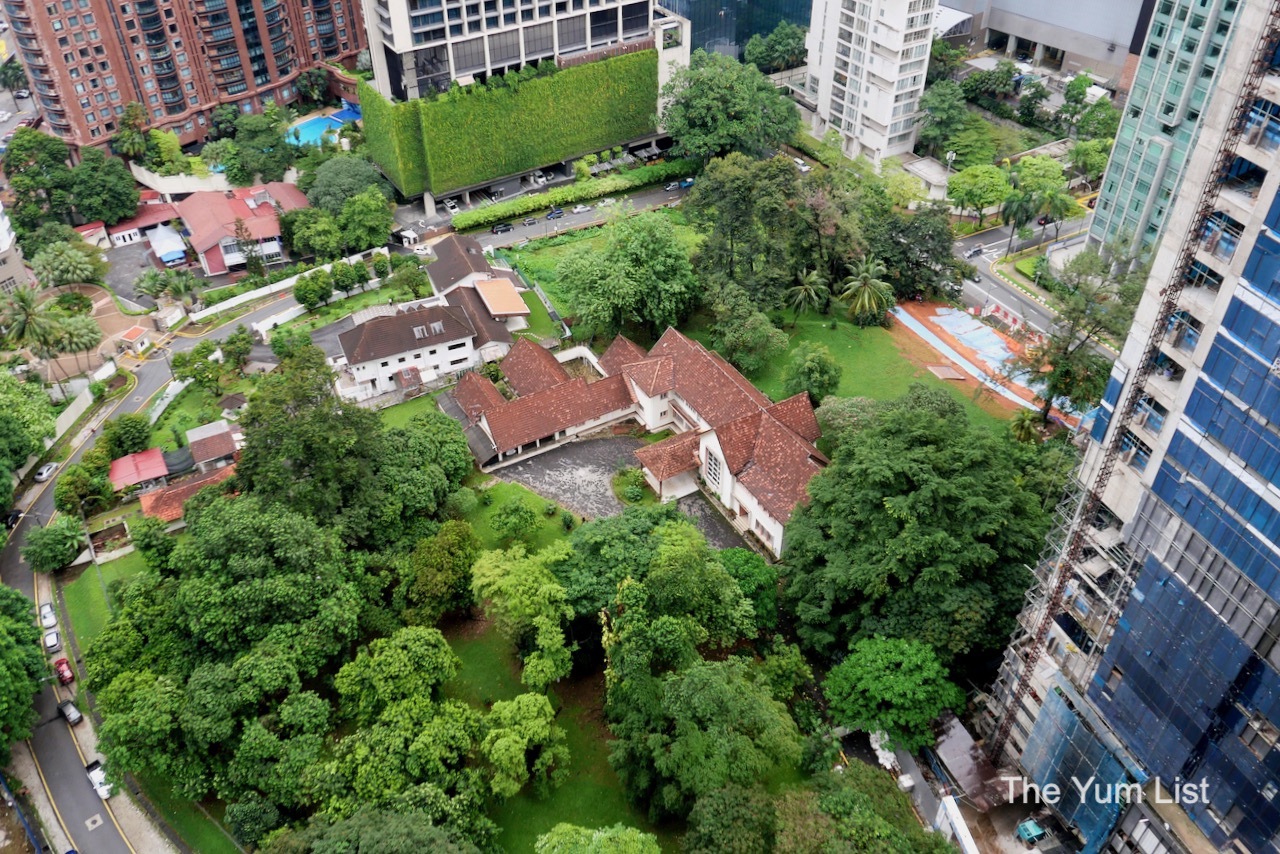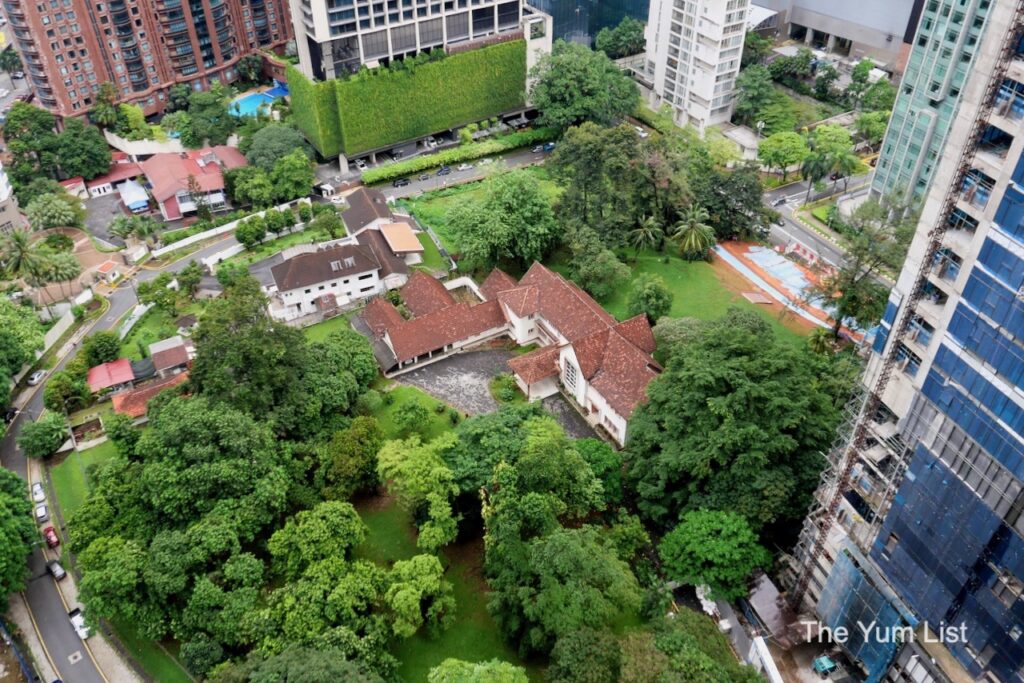 Serviced Residences Location
8 Kia Peng Suites is situated between KLCC and Pavilion shopping malls in the heart of the city. Pavilion is 900m, and two left turns away, while KLCC is about one kilometre and accessed via the covered walkway under the Convention Centre. Both are some of the city's best-known shopping malls with the full service of restaurants, shops, spas, beauty services and entertainment within. KLCC park is in the vicinity, and the LRT station is also accessed under the mall.
8 Kia Peng Suites KLCC
Our week-long stay is in a 1+1 Suite containing a king-sized bedroom and ensuite, living room and kitchen, a utility cupboard with a washer-dryer, as well as a guest bathroom and small second bedroom. Both the bedroom and the lounge area contain huge Smart TVs. The bedroom houses a desk, and the latter holds a couch, coffee table and bar seating at the kitchen counter.
The kitchen boasts a full-size fridge, microwave, hotplate and kettle and is equipped with a saucepan, frypan, plates, mugs, water glasses, a chopping board, kitchen knife, and cutlery. The materials are not extensive, but we're able to borrow extras such as simple wine glasses and a bottle opener upon request.
Bathrooms are provided with soap, shampoo, conditioner, body wash and both bath and pool towels. The kitchen and laundry are also supplied with detergent. It really does make longer stays easy.
An added bonus of the rooms is the possibility of opening windows. There are so few hotels in KL where this is possible. It's lovely to have the opportunity for natural ventilation, especially when the weather is good. Depending on which tower you're in, you can also marvel at the city's skyline with the Petronas Tower and KL Tower in the frame.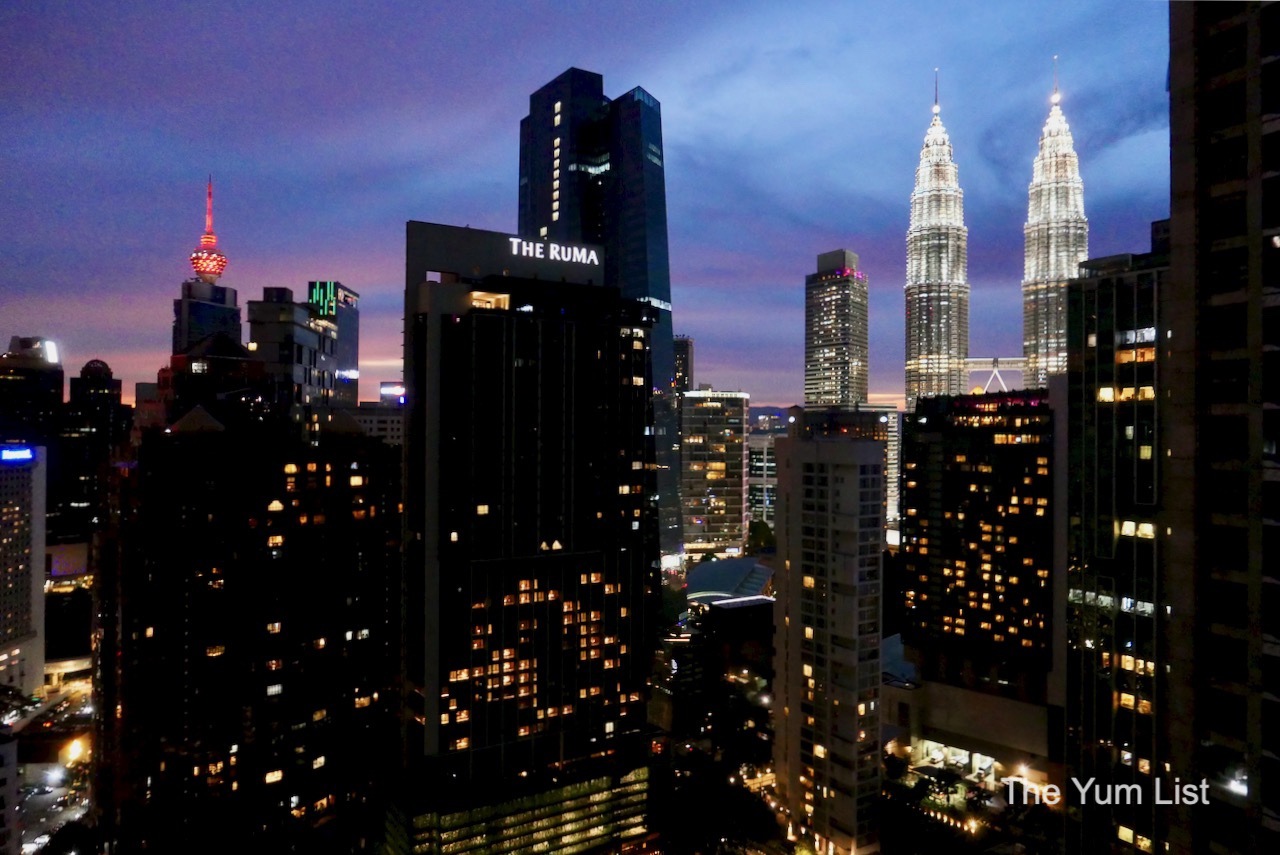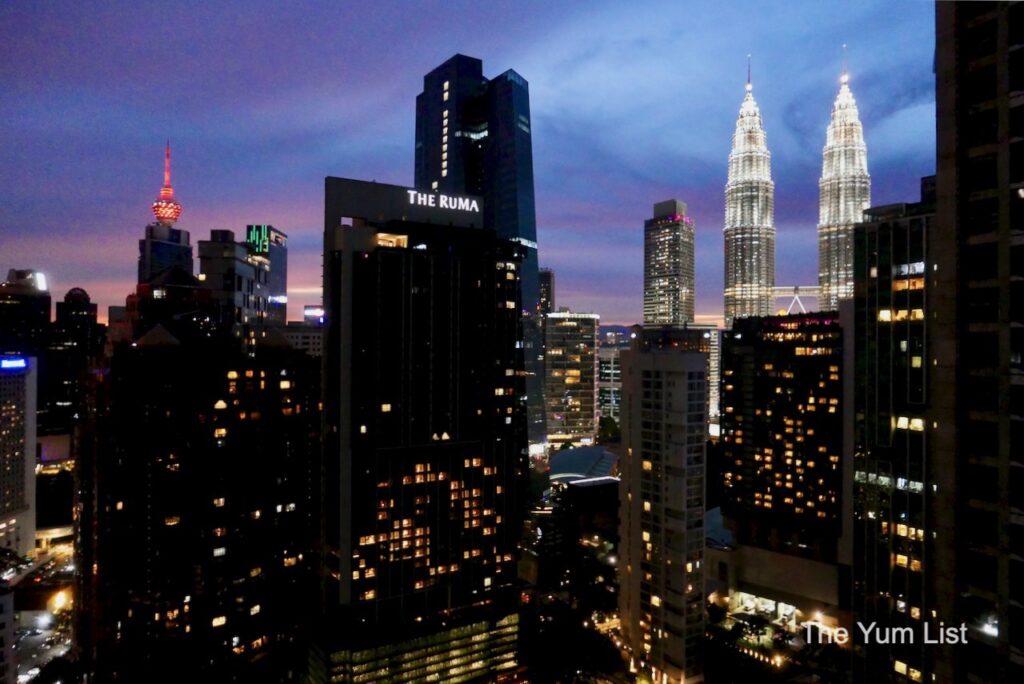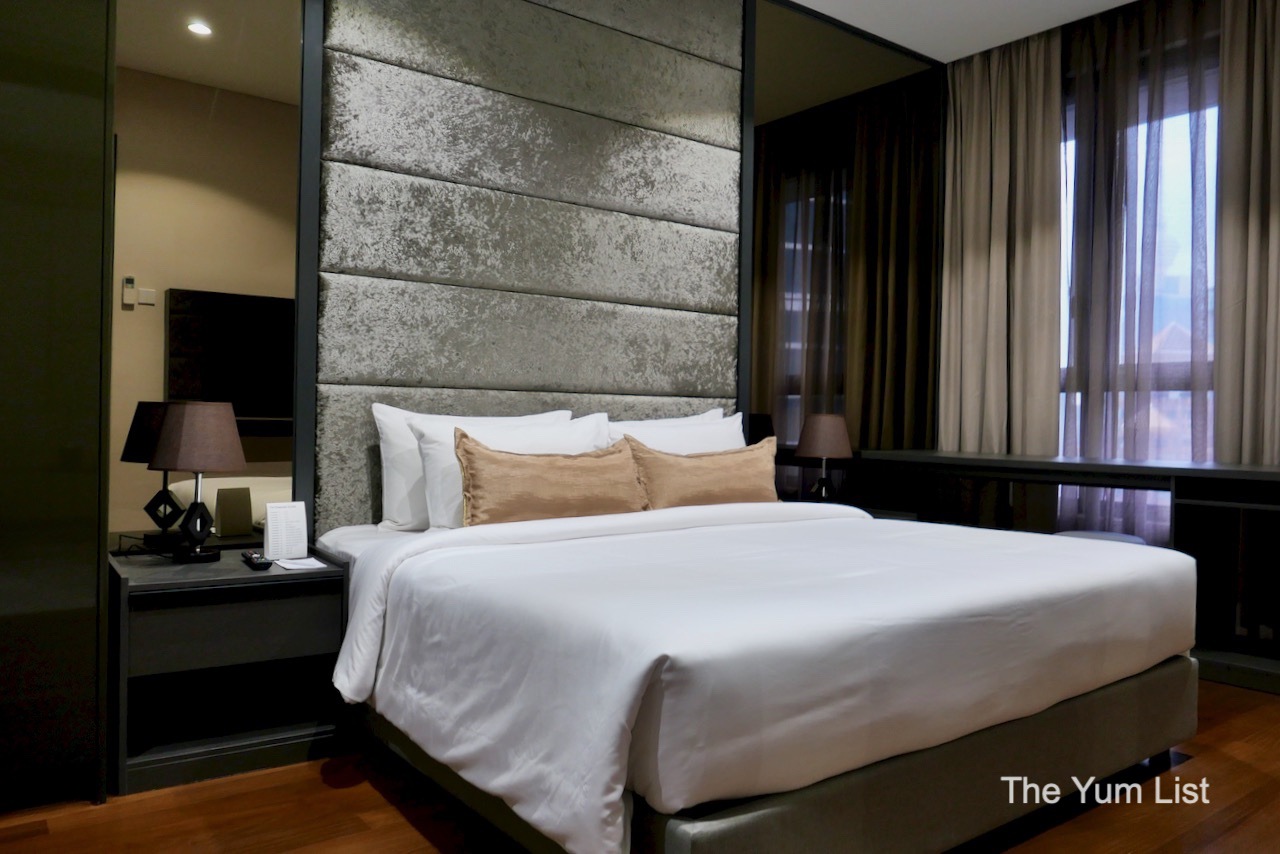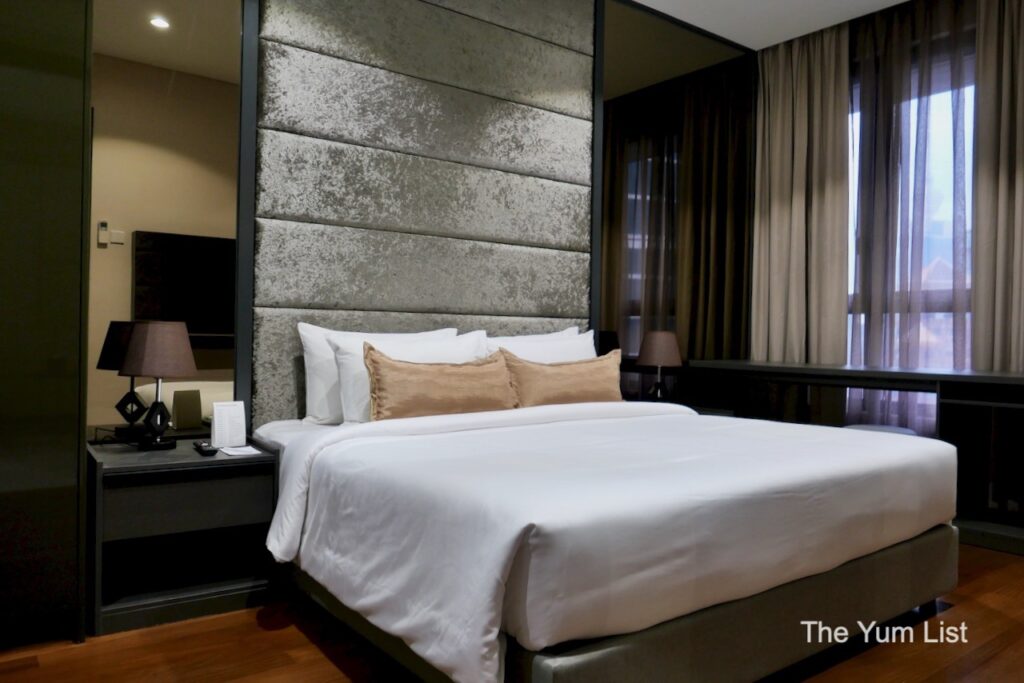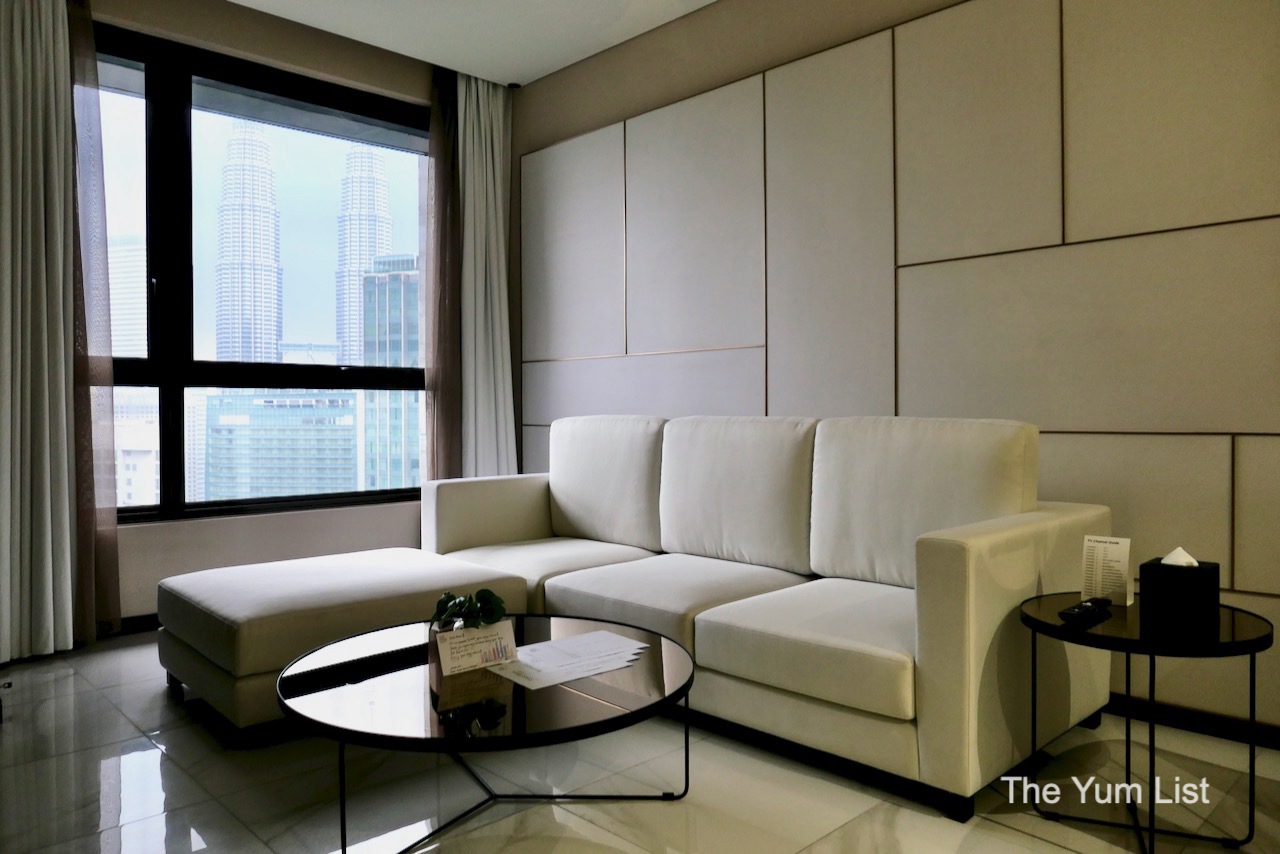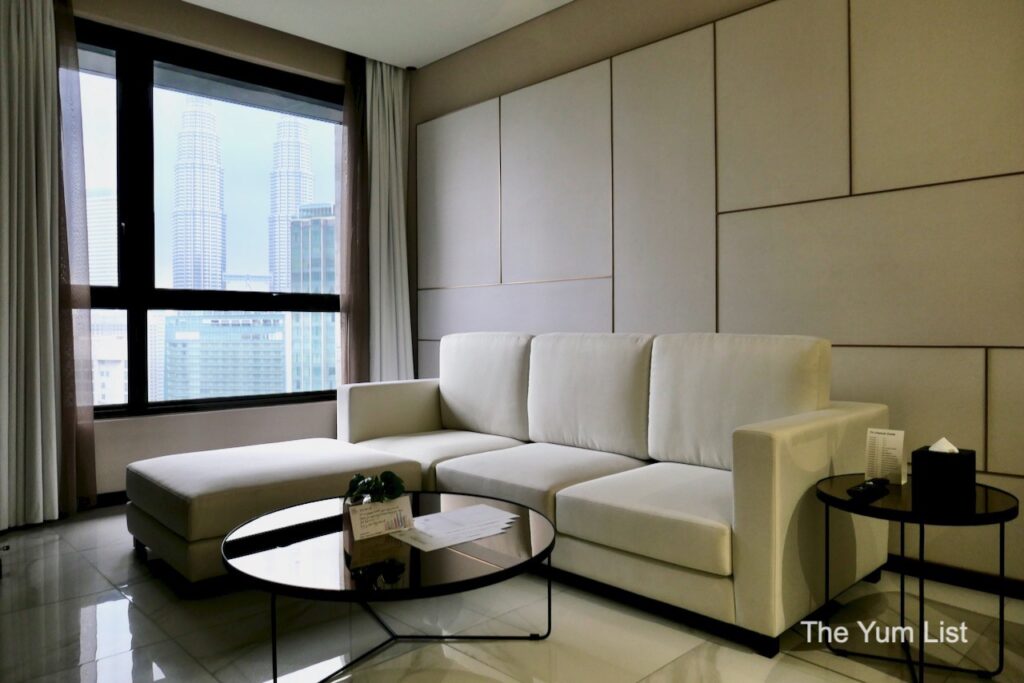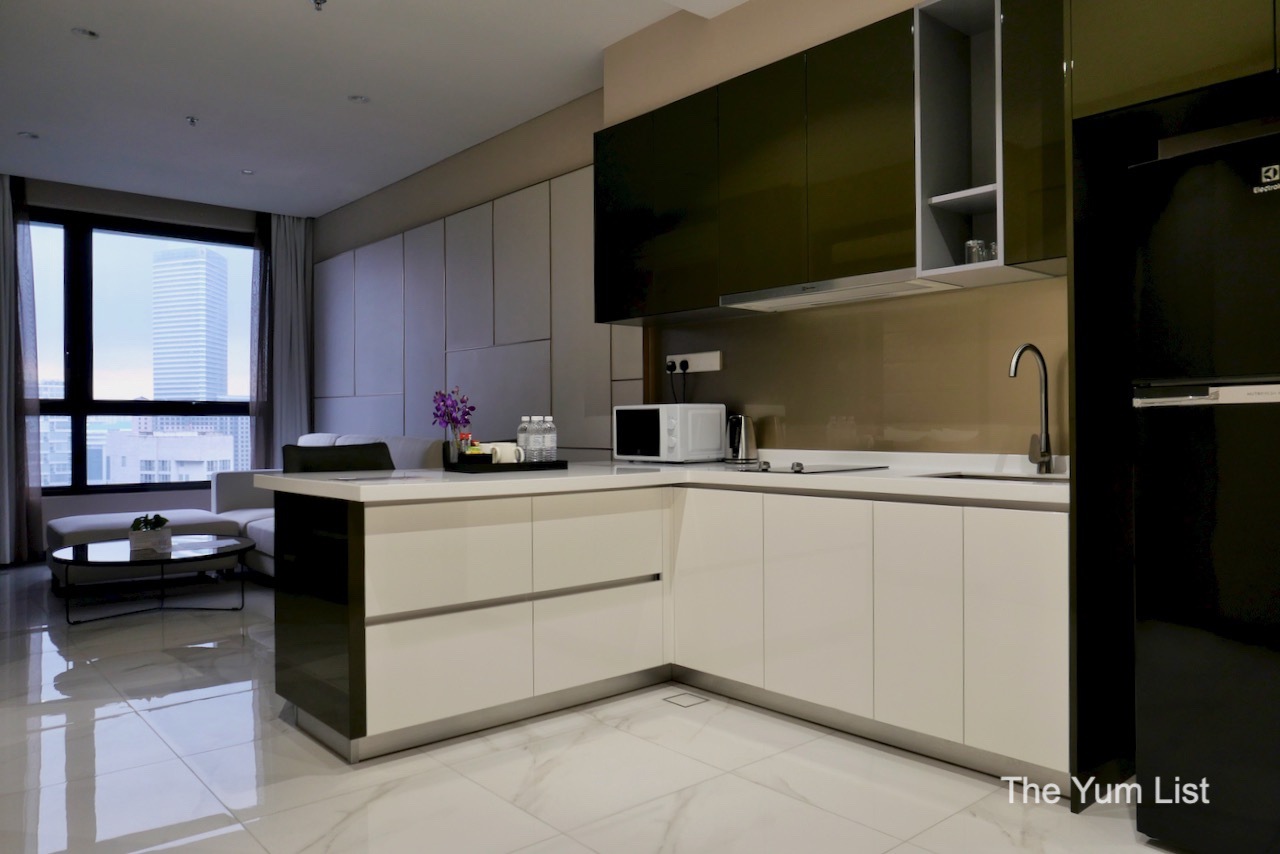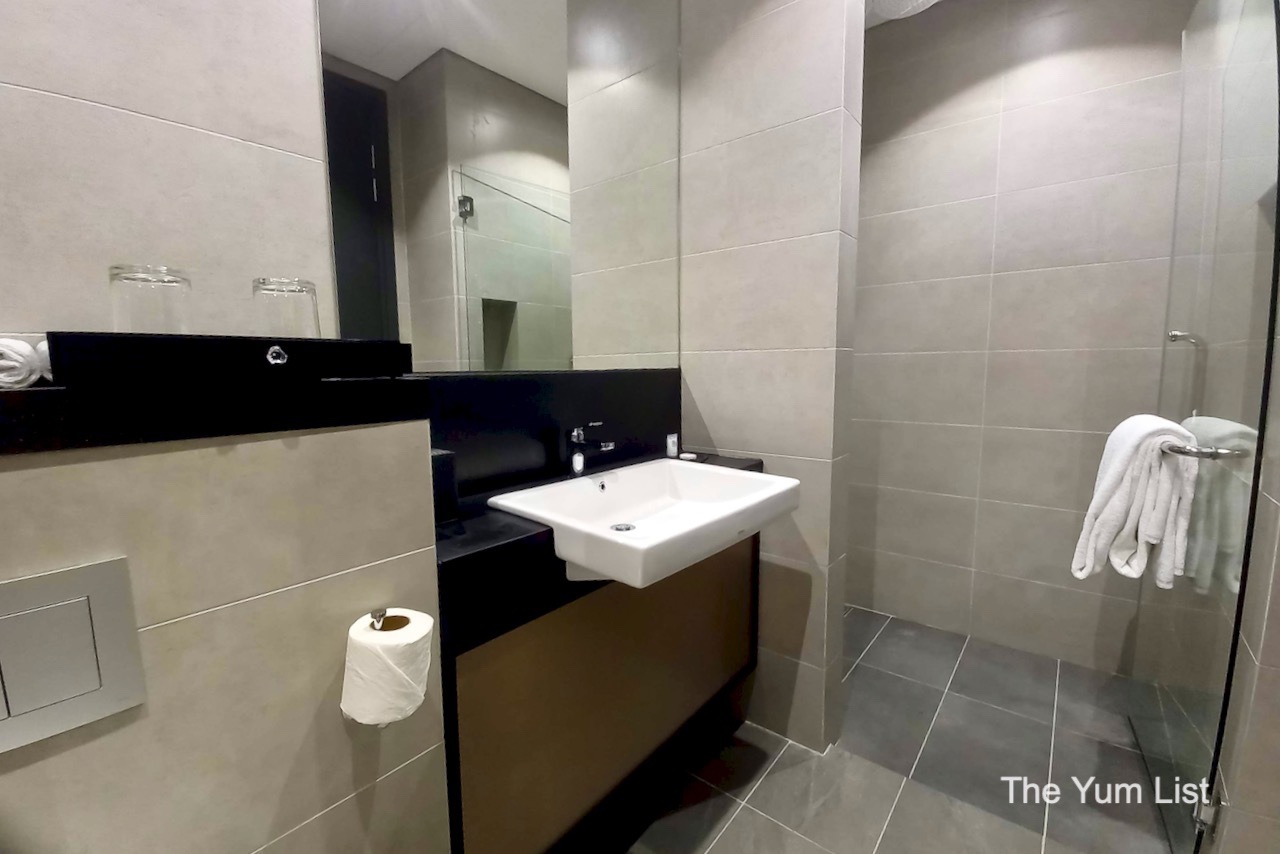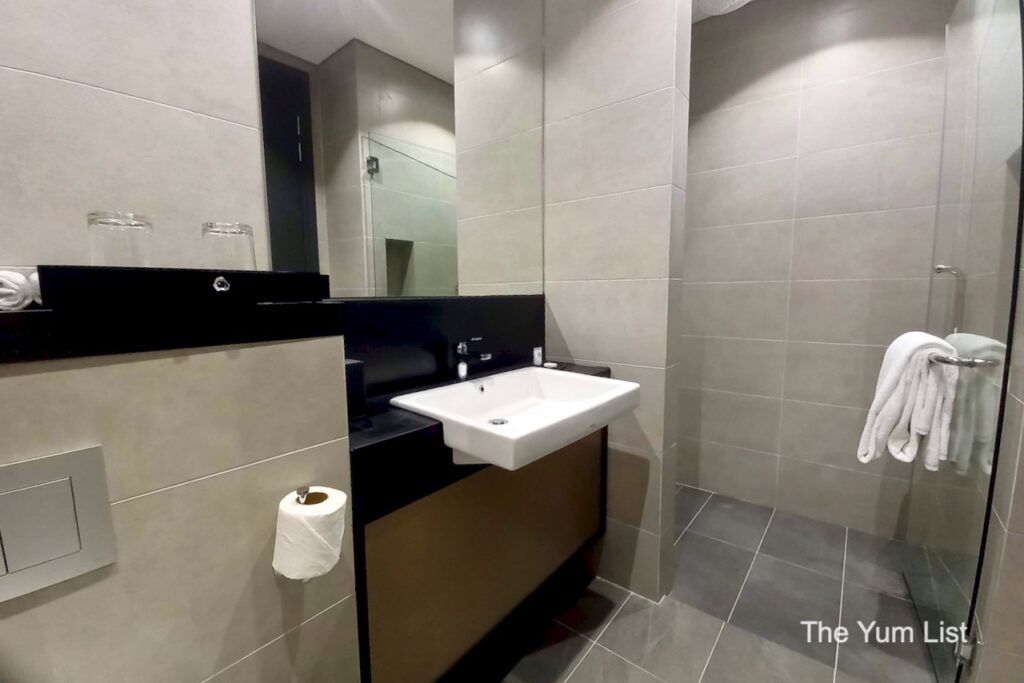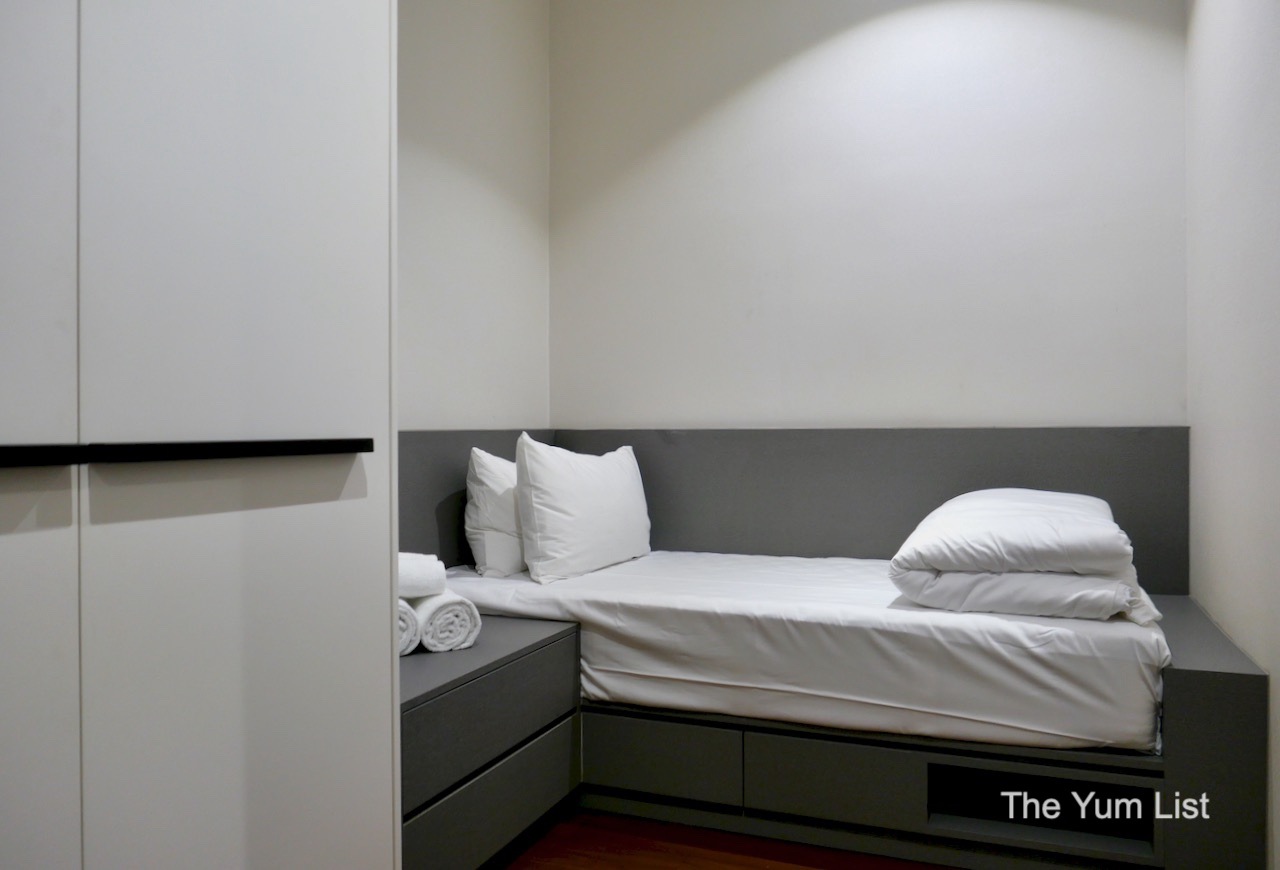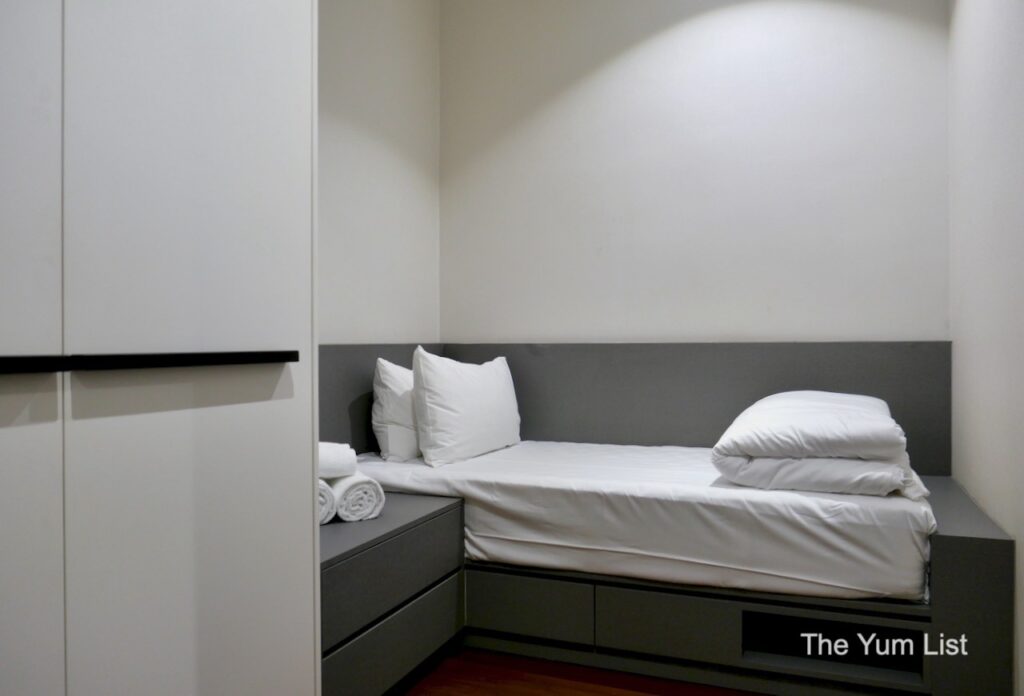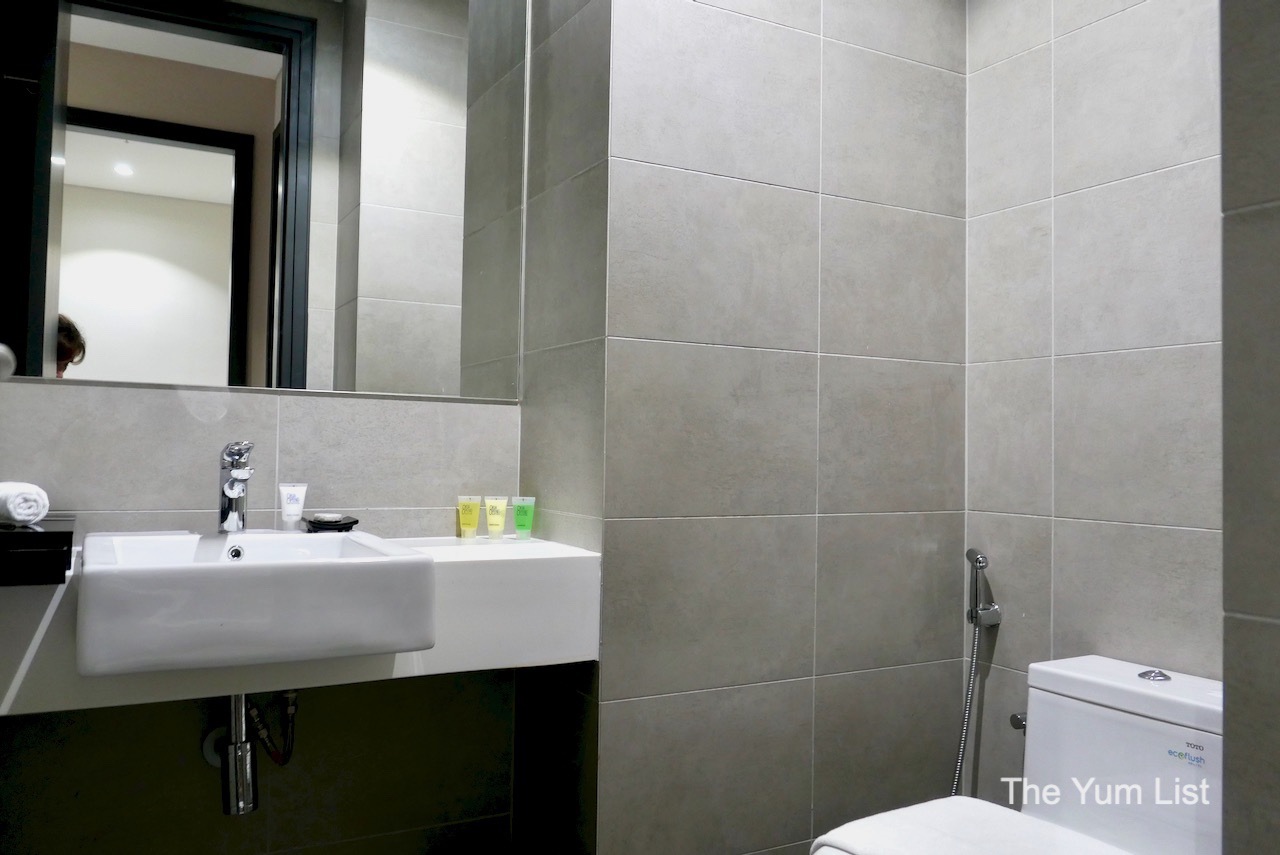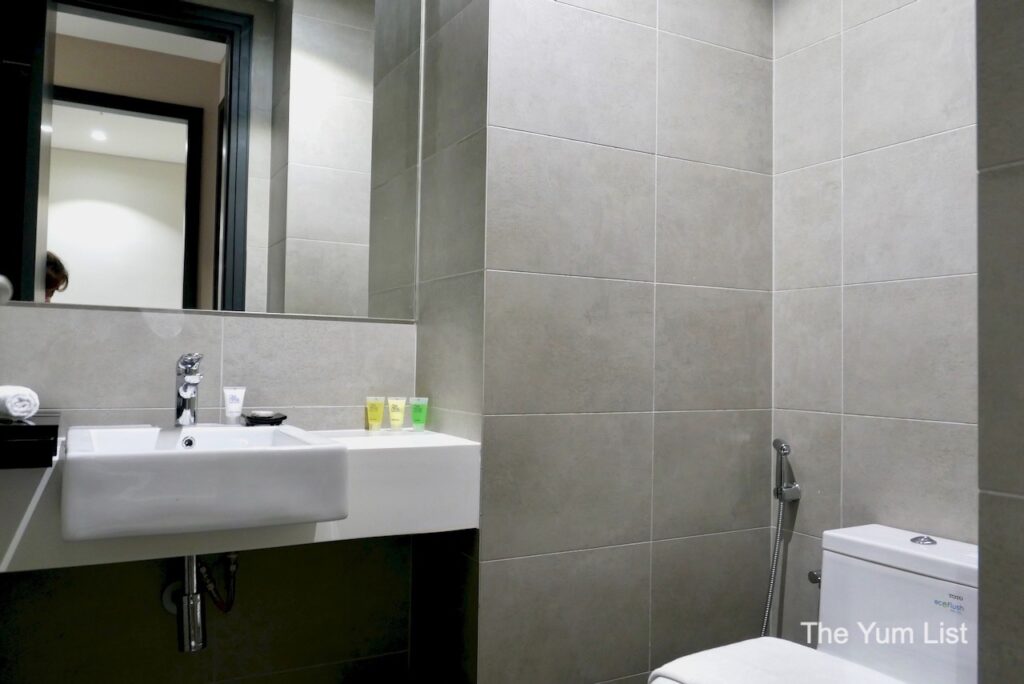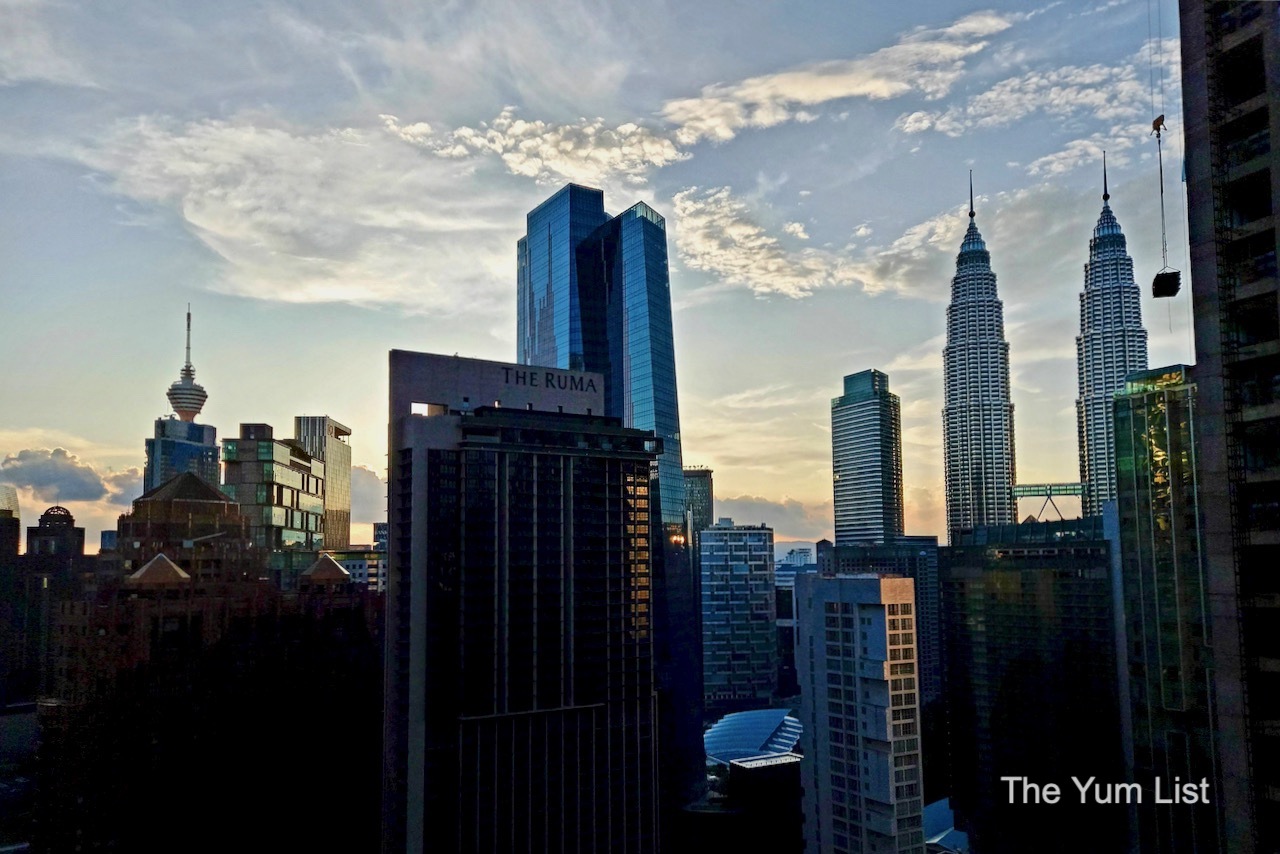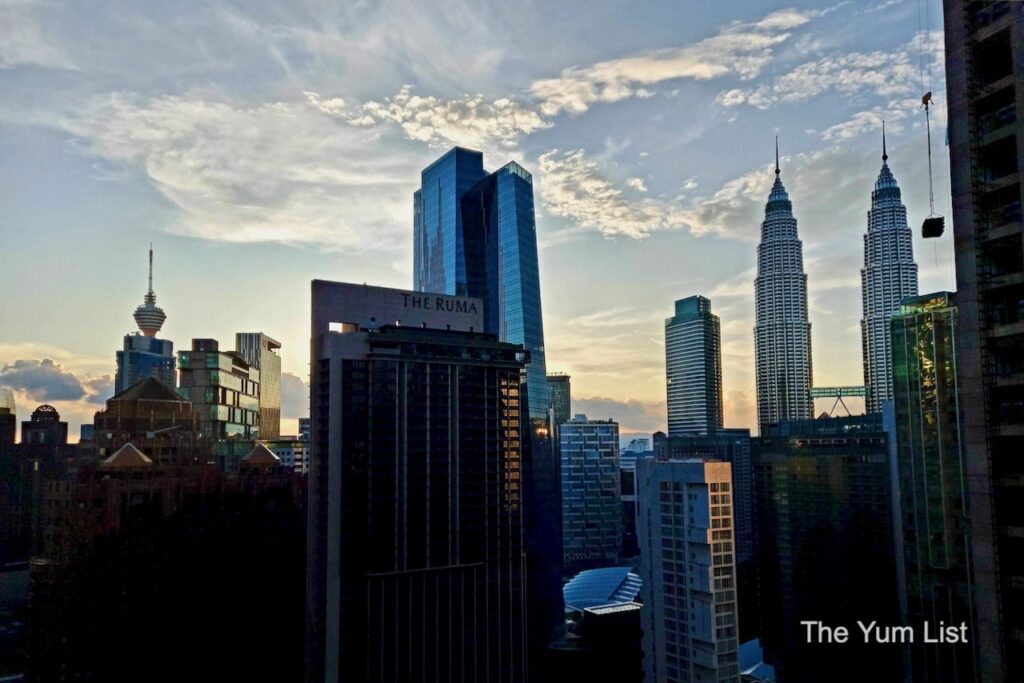 Facilities
8 Kia Peng Suites boasts several facilities making stays here even more comfortable. The Olympic-length infinity-edged pool on the eighth floor is nothing short of magnificent. Overlooking the city, it feels as if we're swimming in the sky. There are several recliners lining its edge, but a definite highlight is an annex that juts out, seemingly over the edge of the building, with built-in bubble jets. I go early morning on the weekends and have the entire pool to myself. It's something special.
Additionally, I appreciate having 24/ 7 gym access. If a gym is not supervised and you need card access, I can't understand why all hotels and residences wouldn't allow entry at any time of day. Well, at 8 Kia Peng Suites, they do, which means I get can a workout in at 5 am before I head off to work at 6:30 am. It's not a huge fitness room, but it's walled with windows making it appear bigger than it is. It has sufficient cardio and strength equipment for my needs – a treadmill, cross-trainer, stationary bike and rowing machine for cardio and a combination of free weights and machines for strength work. KLCC park, with its padded jogging track is only a 10- minute walk away, a convenient location to get in a run.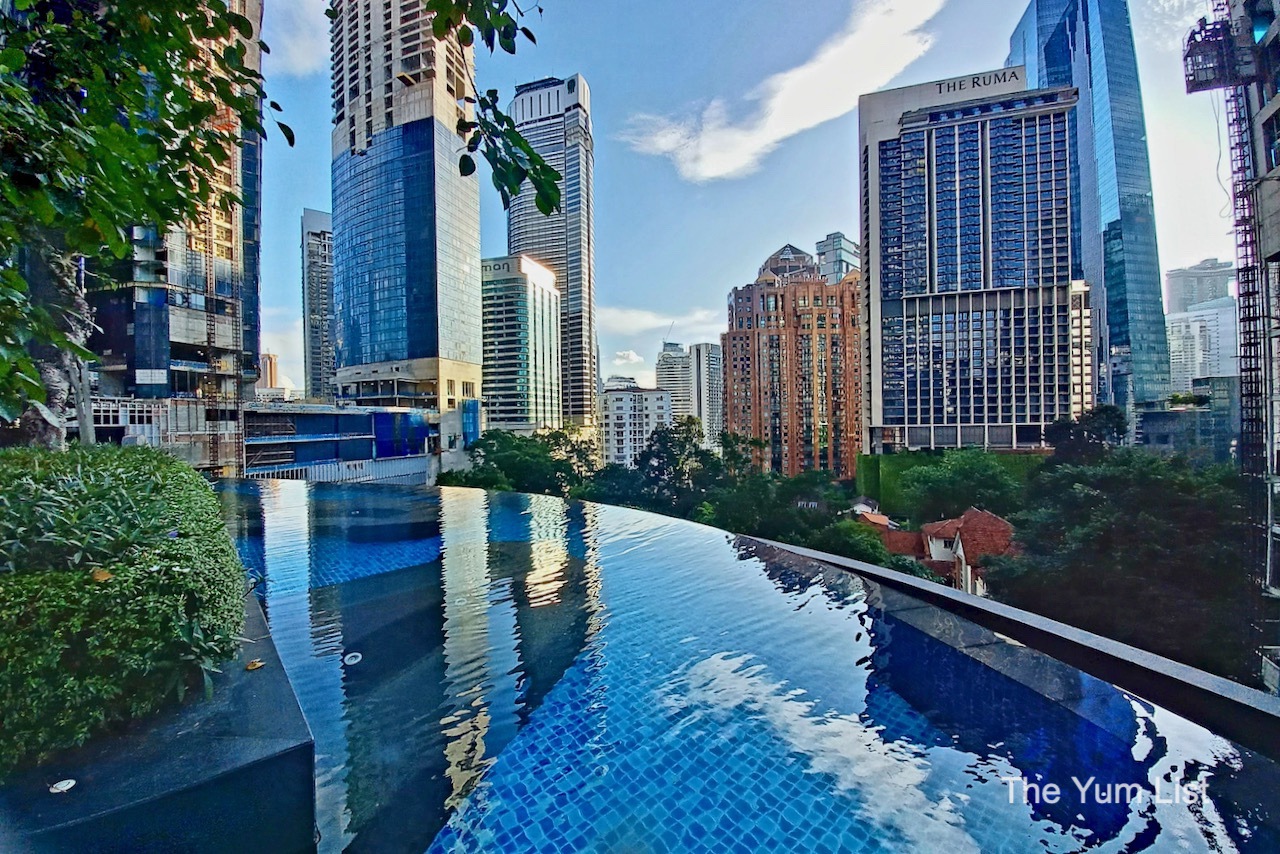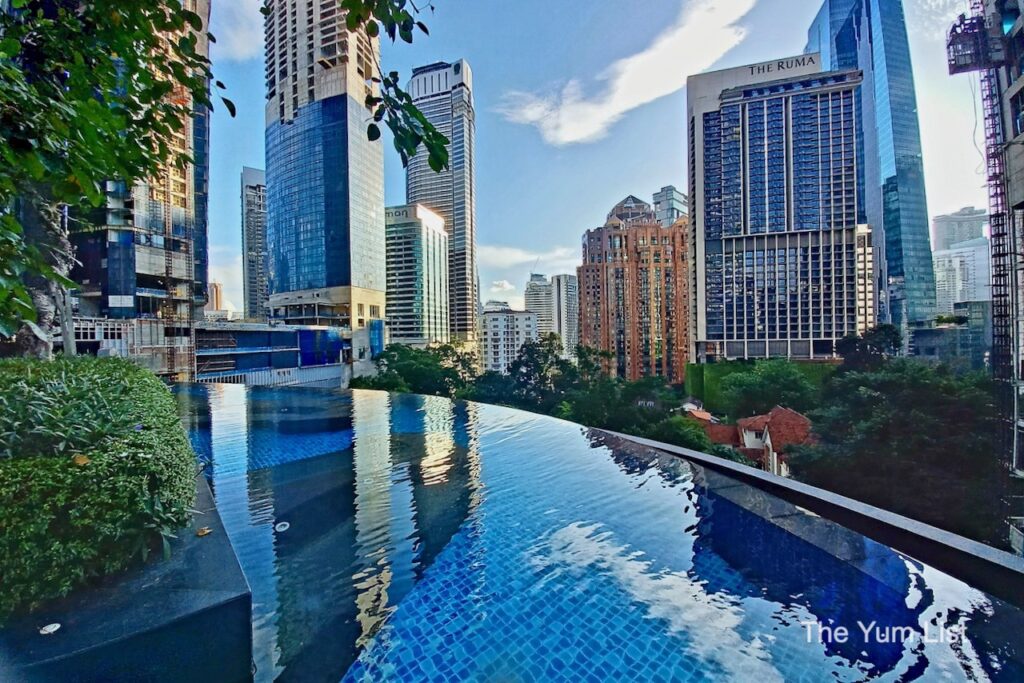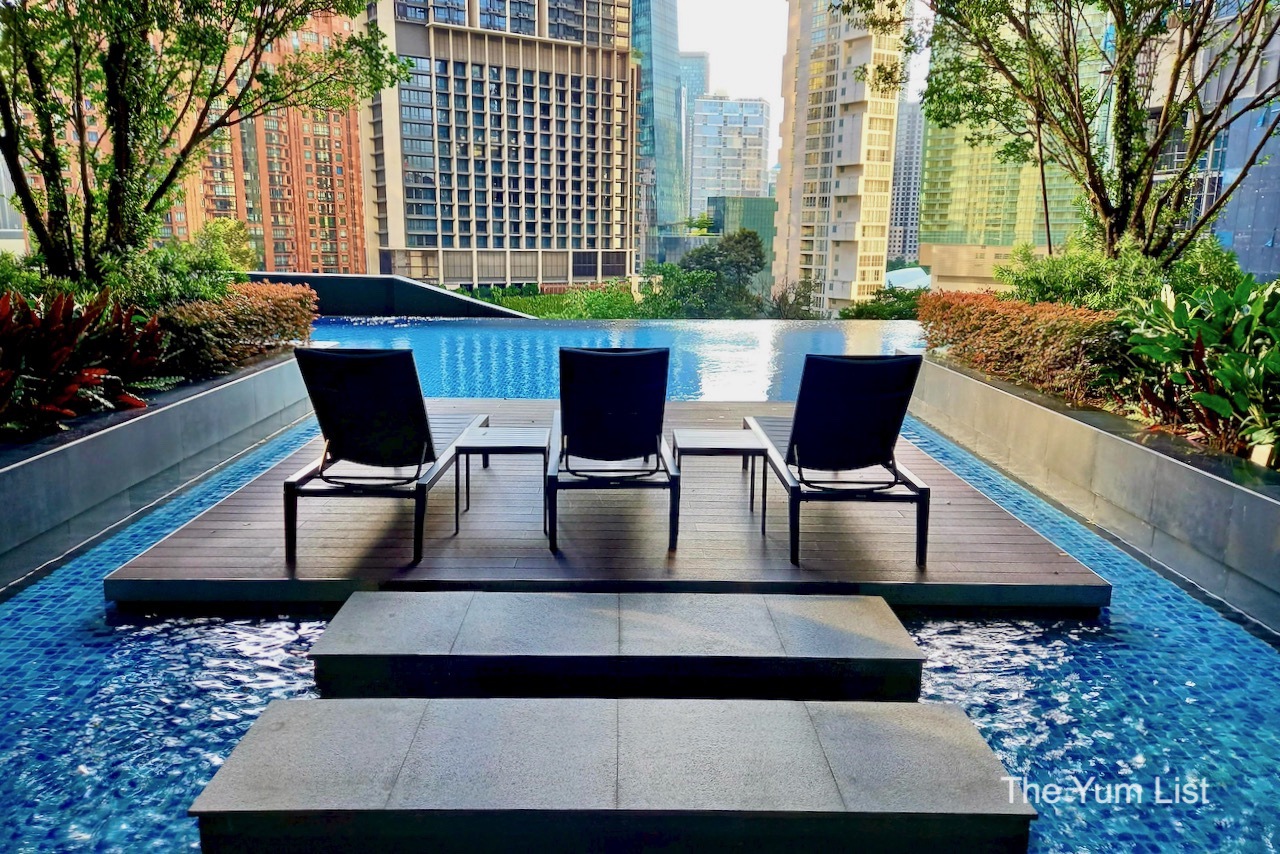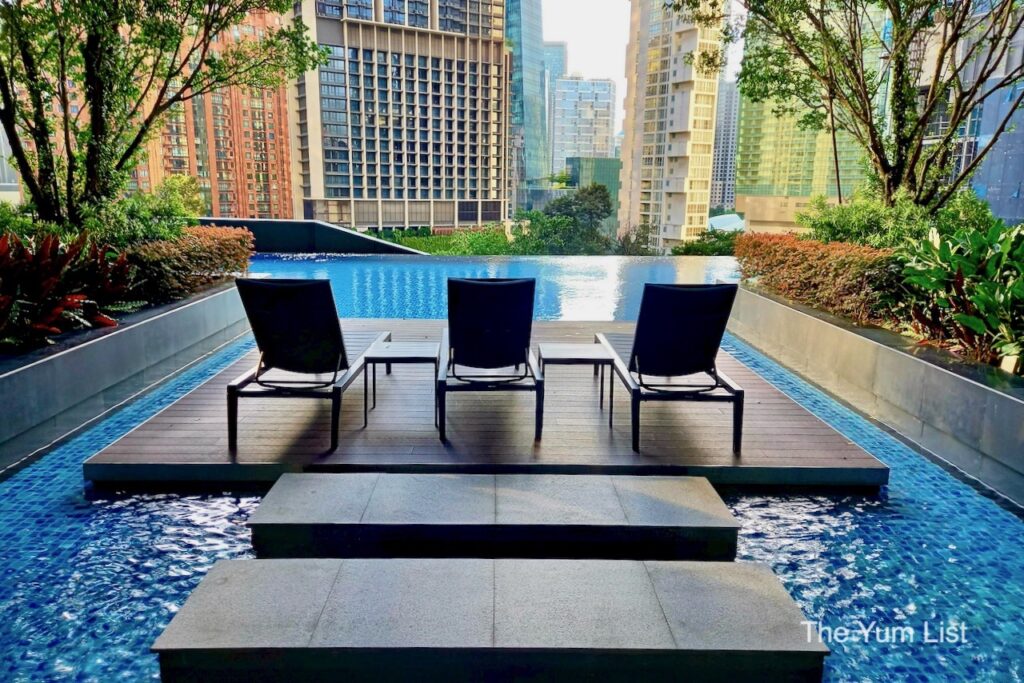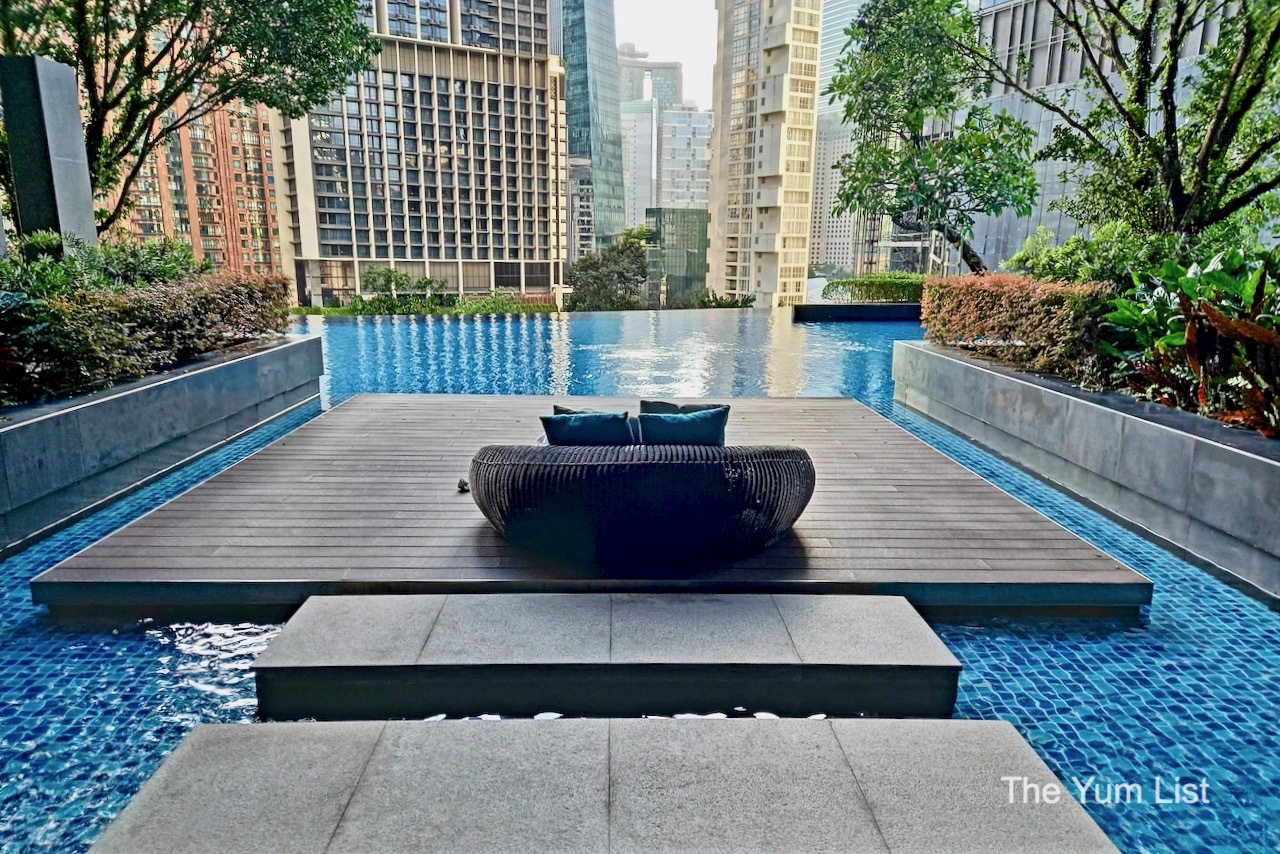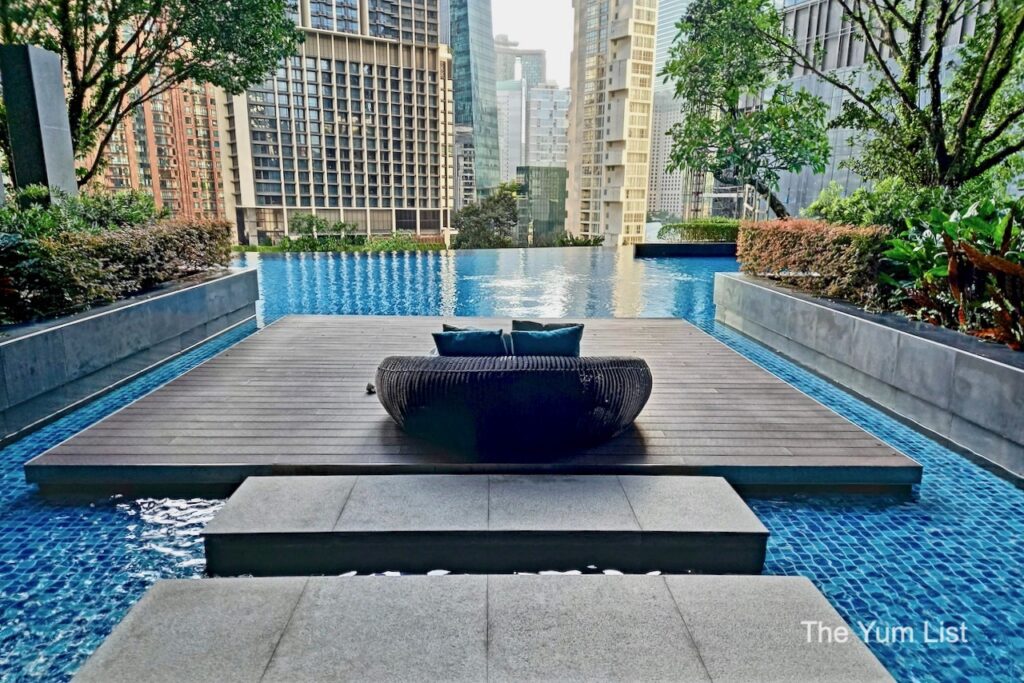 Breakfast
Sky Lounge @ 46 is where we take breakfast daily. Throughout the day, you can purchase a limited menu of snacks and drinks. Food is ready at 6:30 am with a rotating selection of local favourites such as nasi lemak, curry and rice, porridge and noodles. Eggs are made to order, and there's some melon, salad and sliced white bread. The drinks selection includes some fresh juice, tea and coffee from an automated machine.
As I depart for work early, the staff member on duty, Terry, is kind enough to prepare my egg order in advance. He allows me to grab and go a morning meal with my own reusable containers. I fill up my portable mugs with coffee and back up my eggs with curry and veg. When I have more time to linger on the weekend, I still arrive earlyish (8 am) to avoid the peak crowd drifting in closer to 9 am.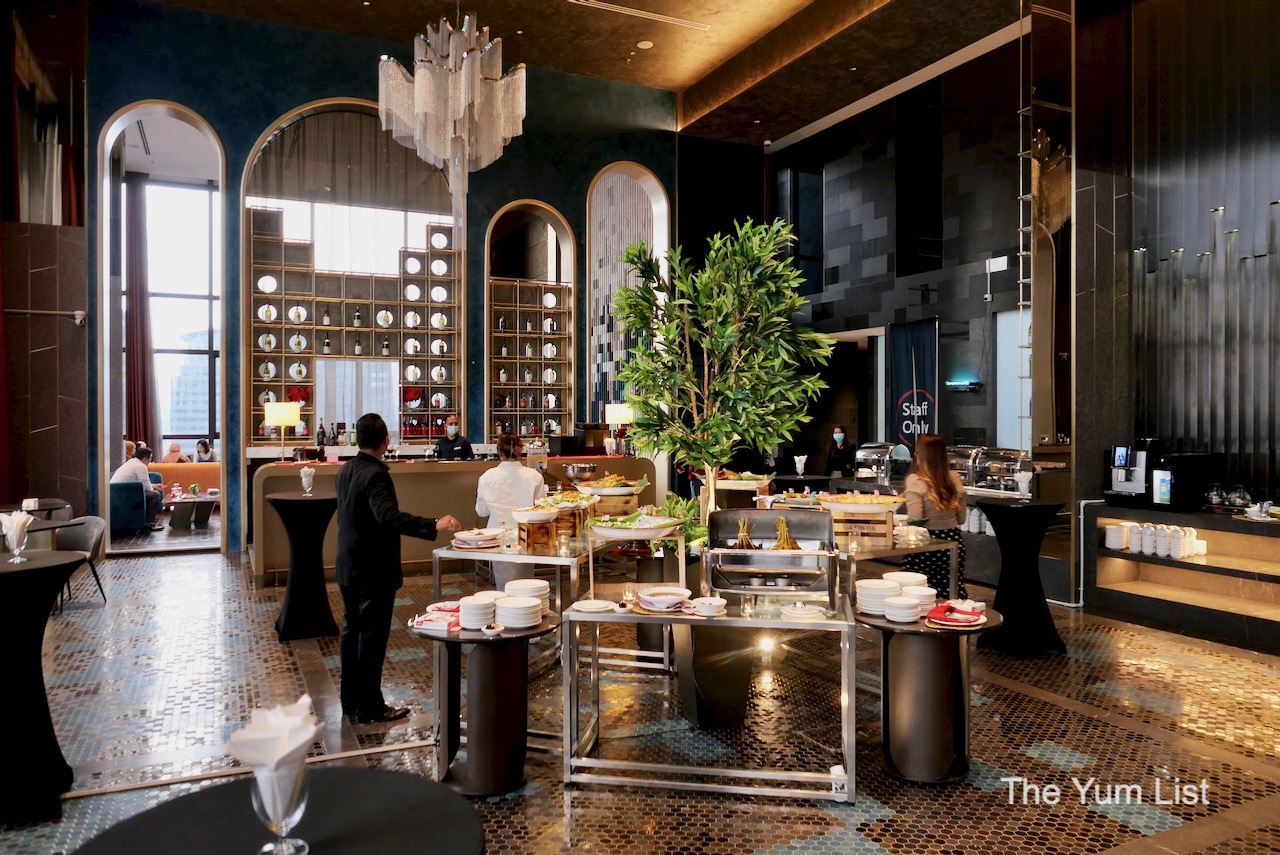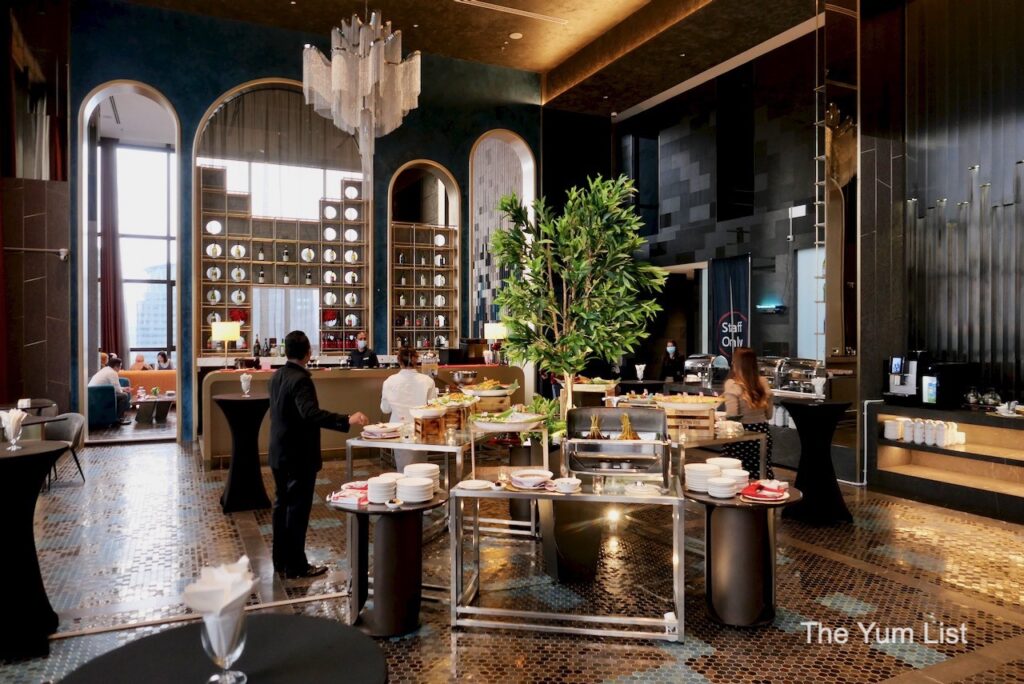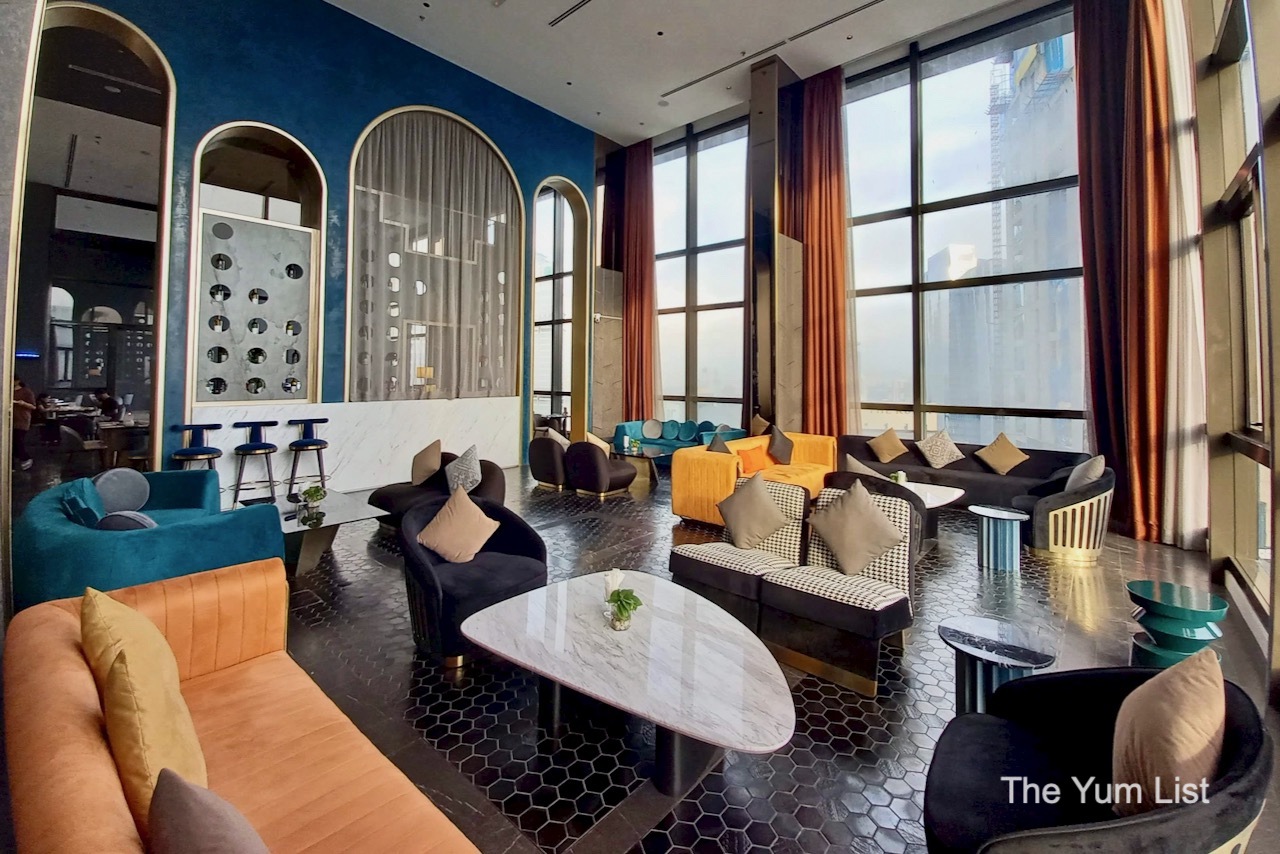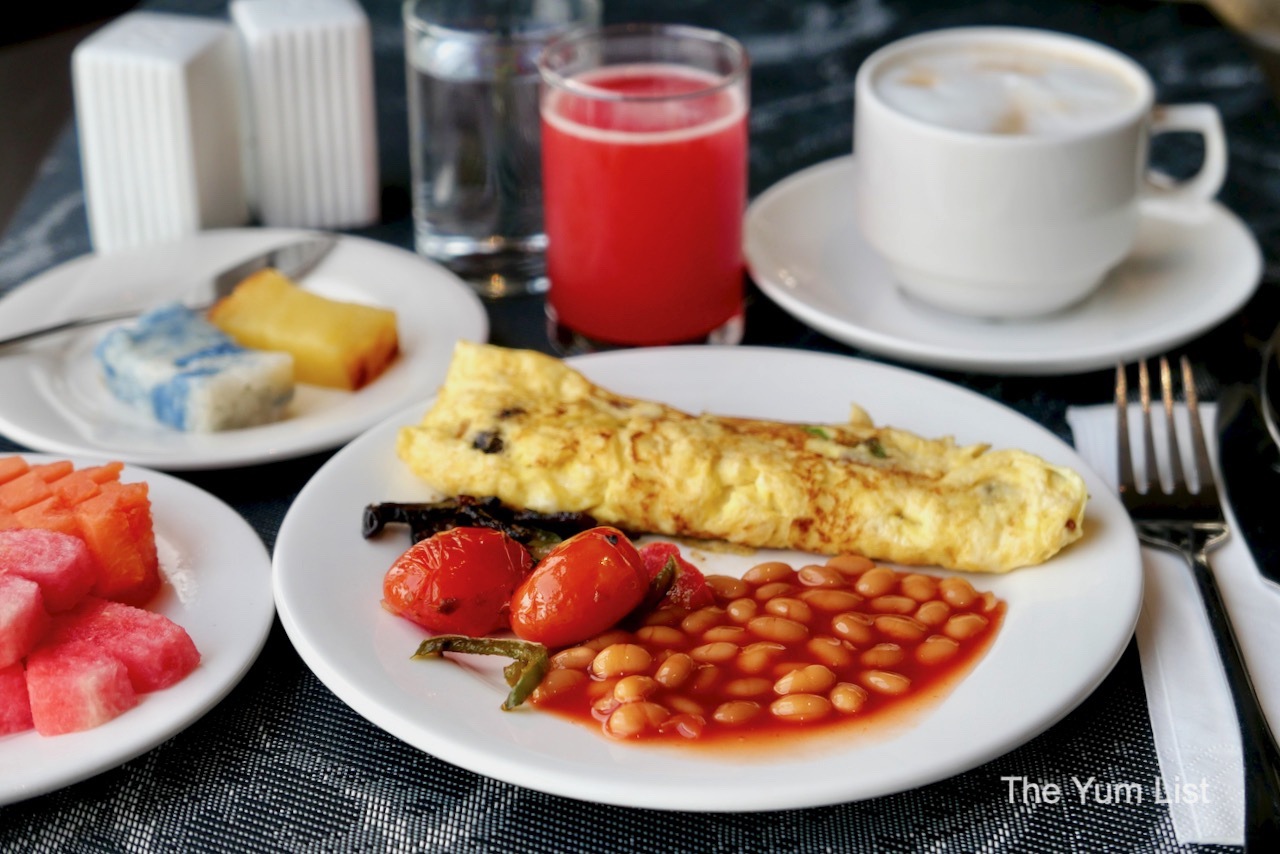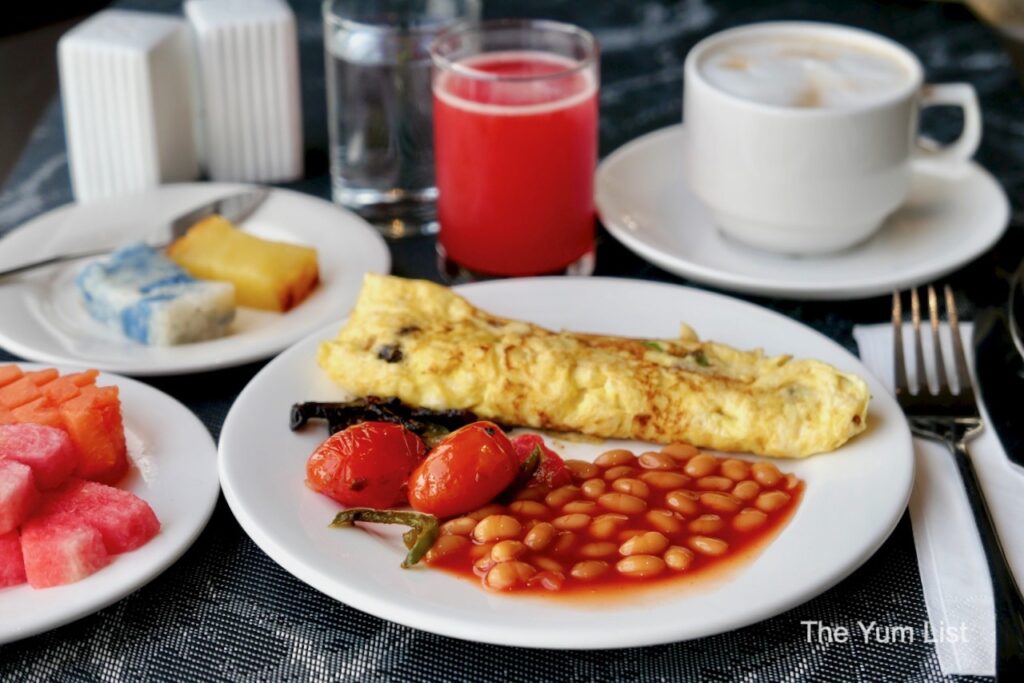 Opening Offers 8 Kia Peng Suites
8 Kia Peng Suites is running a couple of excellent deals at the moment. Stay in a 1+1 Suite for RM 359 per night with breakfast for two or RM299 for the room only. Alternatively, take on a larger 2-Bedroom Suite with breakfast for four for RM 459 per room a night or RM359 without food. Buffet breakfast can be added on at any time for RM 50 nett per adult, and RM 25 nett per child, available daily between 06.30 and 10.30 am. The Sky Lounge on the 46th floor is open for light bites, beer, and wine daily from 11.00 am to 09.30 pm. Outside customers can currently take advantage of a 10% discount, while in-house guests enjoy 15% off on all menu items except bucket beer.
8 Kia Peng Suites Review
8 Kia Peng Suites offers functionality, a convenient location, city views, an Olympic-length pool and friendly service with value-for-money deals. Honestly, for this price, I don't know why anyone staying in KL for more than a couple of nights would stay in a hotel over a serviced residence like this! You get double the space and facilities for the same, if not better, rate.
Reasons to stay at 8 Kia Peng Suites: magnificent Olympic-length pool; excellent location; the convenience of washer-dryer and kitchen; daily cleaning service; friendly helpful staff; value-for-money opening promotions.
8 Kia Peng Suites
8, Jalan Changkat Kia Peng,
50450 Kuala Lumpur, Malaysia
+6 03 2707 1288
Facebook
Find more recommendations for hotels in Kuala Lumpur here and stay up-to-date on the latest gourmet and travel happenings around Malaysia here and here.