Beauté Library
Monica Tindall
Beauté Library is a light, bright beauty centre in Mid Valley offering a professional range of facial treatments. They use a mix of technology and manual techniques making for highly effective and relaxing sessions.
Beauté Library, Mid Valley
Guests are welcomed in a small reception at Beauté Library with a cup of warm jasmine tea. A calming palette of white and gold, paired with soft music, composes a pleasant atmosphere. Every appointment begins in a private room with a consultation where you enter your data and some photos of your face into a tablet. Once complete, a consultant joins to discuss your concerns and find the treatment right for you. Today, I try the 24K Nano Gold Facial and PicoSpot. Both are priced fantastically for first-time visitors – savings in the hundreds!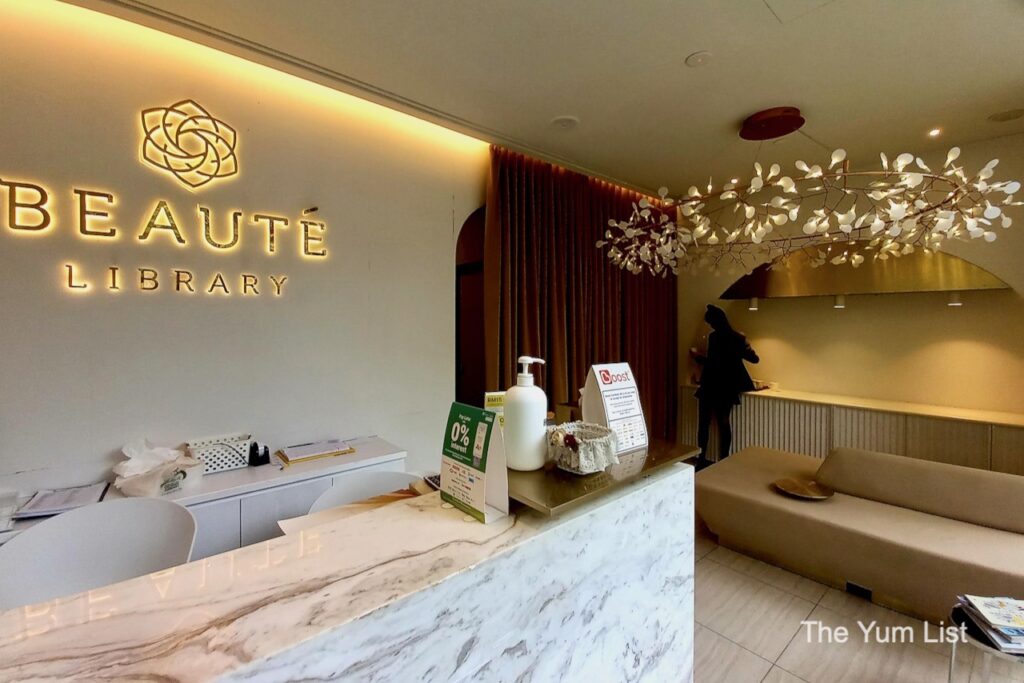 24K Nano Gold Facial
First-time guests can try the 24K Nano Gold Facial (90 mins) for RM 68 (usually priced at RM 430). If you love it, Beauté Library has packages where you can buy several for a reduced price. Depending on the individual's skin, it's generally recommended as a monthly treatment.
I change into a wrap and leave my clothes, shoes and bag in an open wardrobe inside the treatment room. The bed is soft, and a warm blanket covers it, making it ideal for snuggling under and unwinding throughout the session.
Two elements are key to the success of the 24K Nano Gold Facial – ultrasound technology and 24k gold nano formula. The frequencies of the sound wave technology (1MHz to 3MHz) penetrate below the surface of the skin, priming the skin for absorption of the gold elixir up to ten times faster than through manual manipulation. The ultrasound stimulates circulation and increases cell metabolism. In conjunction with the gold preparation, it claims to assist in diminishing wrinkles, reducing dark eyes and puffiness, refining pores and brightening skin tone.
My therapist Rachel takes me through the 90-minute session. It begins with the removal of make-up, a double cleansing, a rose face scrub (soft, attractive scent), steaming and extraction, eyebrow shaping, HA cream mask, gold elixir application and ultrasound, a light face and neck massage, shoulder massage while a floral mask seals in the treatment, and finishes with toner, HA moisturiser and sunscreen.
It's certainly a relaxing treatment, and for sure, my body and mind benefit even just from the 90-minute rest. However, before and after photos show a noticeable difference in hydration and reduced redness too. My skin feels soft and supple following the 24K Nano Gold Facial.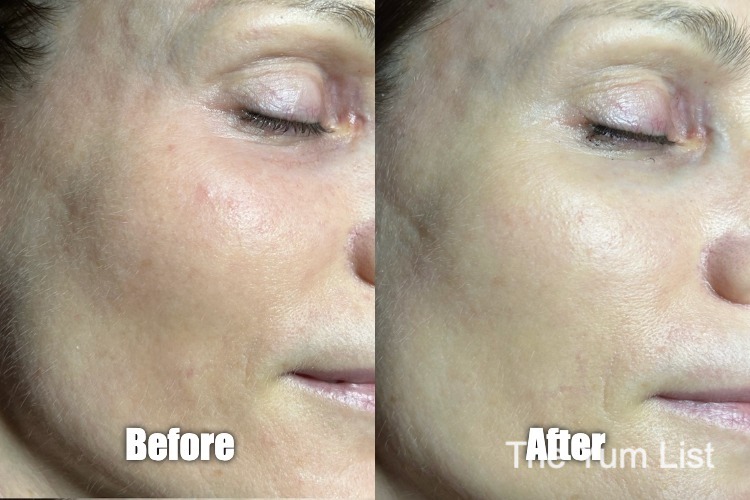 Beauté Library – PicoSpot
The PicoSpot (40 mins) utilises the most advanced laser technology currently on the market. The laser generates thermal energy in ultra-short pulse durations of one trillionth of a second. It improves skin elasticity, reduces pore size and strengthens the epidermal layer of the skin. It's ideal for melasma, acne scars, large pores, age spots, pigmentation, wrinkles, birthmarks and freckles. With numbing cream applied 20-minutes before the session, it's relatively painless, and there is little to no downtime. 
Rachel applies the numbing cream prior to the Pico laser treatment, and I get in a short nap in my cool, dark room while waiting for it to take effect. The numbing cream makes my face feel a little weird but also makes the therapy comfortable. After the cream is removed, the hand-held nozzle is passed over the full face twice and a third time honing in on specific spots and discolouration. There's a slight tingling feeling and a mild burning smell. It's fairly fast and concludes with a cooling mask.
My skin is a little red immediately following the laser session, but not enough to prevent me from going out socially. The redness completely disappears by the next morning. Rachel advises me to moisturise well, suggests a nightly mask for four days, and, of course, insists on sunscreen for maximum recovery. On each visit, you should notice changes to the skin, but optimum visible results are usually achieved in three to five sessions, depending on individual skin. It's recommended to be taken at one-month intervals.
The PicoSpot too is available at an incredible price for first-time guests, at RM 188 for two sessions! The regular price is RM 2880 per treatment! I guess the team at Beauté Library are confident that you'll love it so much that you'll keep returning.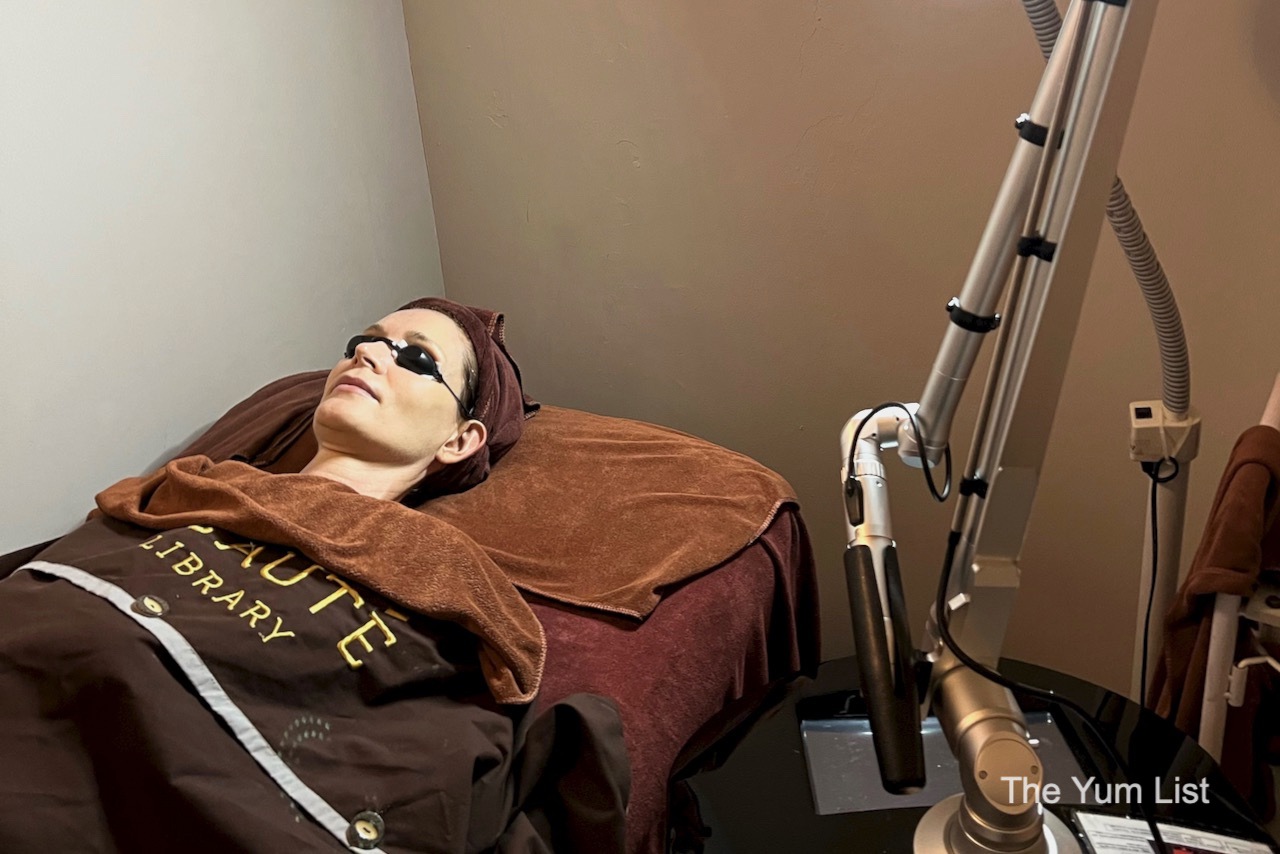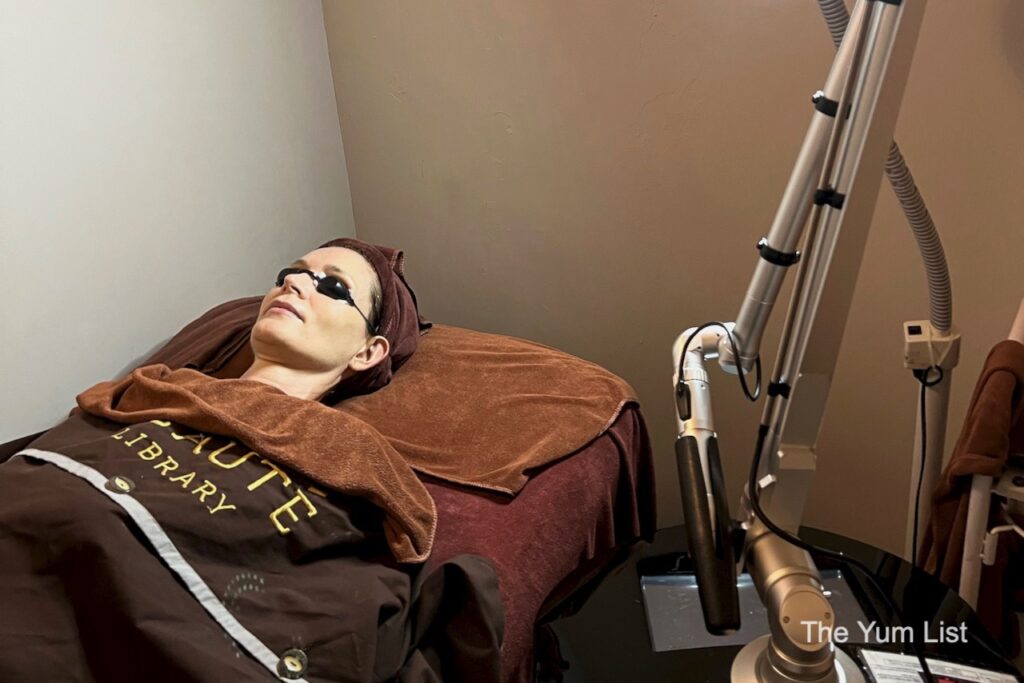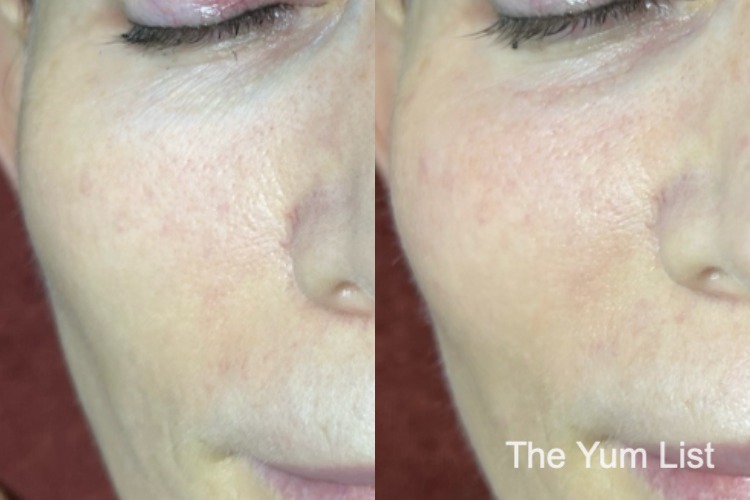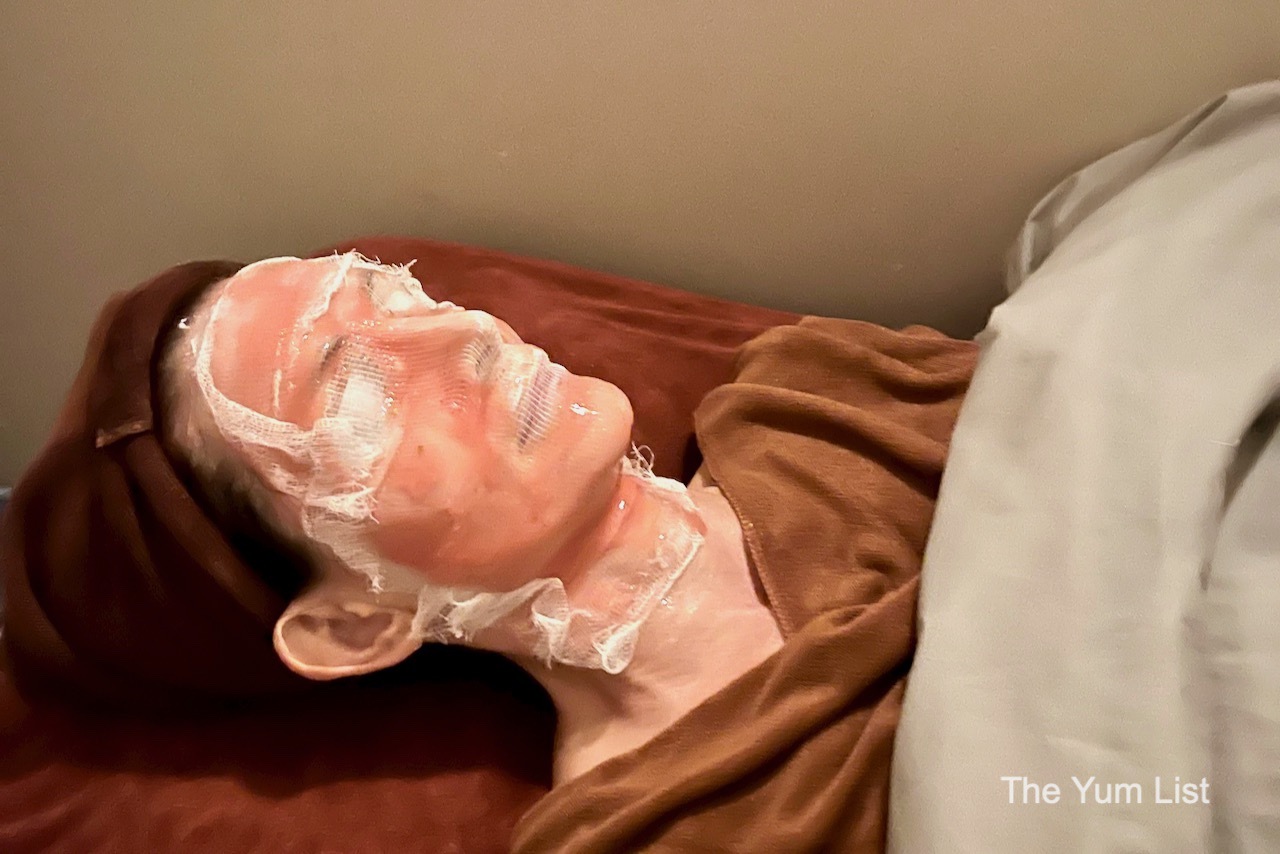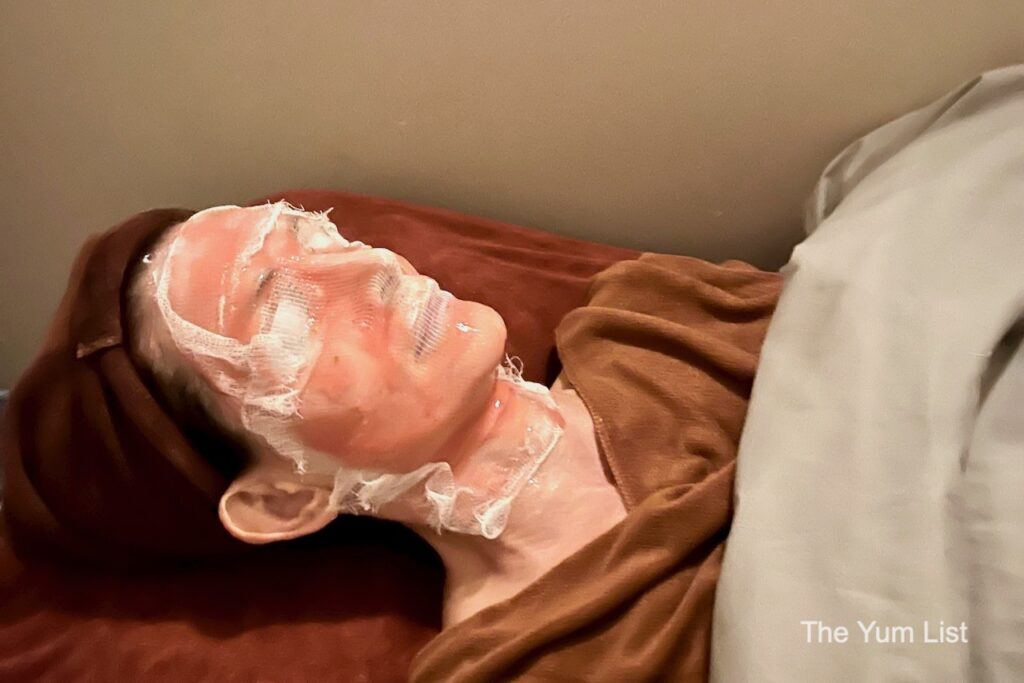 Products
In addition to a solid range of effective facials, Beauté Library also sells products to help with skin maintenance at home. Some items are available in-store, and all of them are available online. I'm most interested in the anti-aging collection for my age and concerns.
24K Gold Hydrating Concentrate
My first pick is the 24K Gold Hydrating Concentrate (RM 230). I had such a great experience with the facial that I'm keen to prolong the effects with similar products in my daily routine. This is a "luxurious moisturising formula made with 24-karat colloidal gold beads suspended in rich hyaluronic acid. The microscopic size of colloidal gold beads penetrates deep into the skin to protect against free radical damage that causes aging, while potent hyaluronic acid locks in moisture and fills in fine lines for smoother, more youthful-looking skin." Sounds great to me!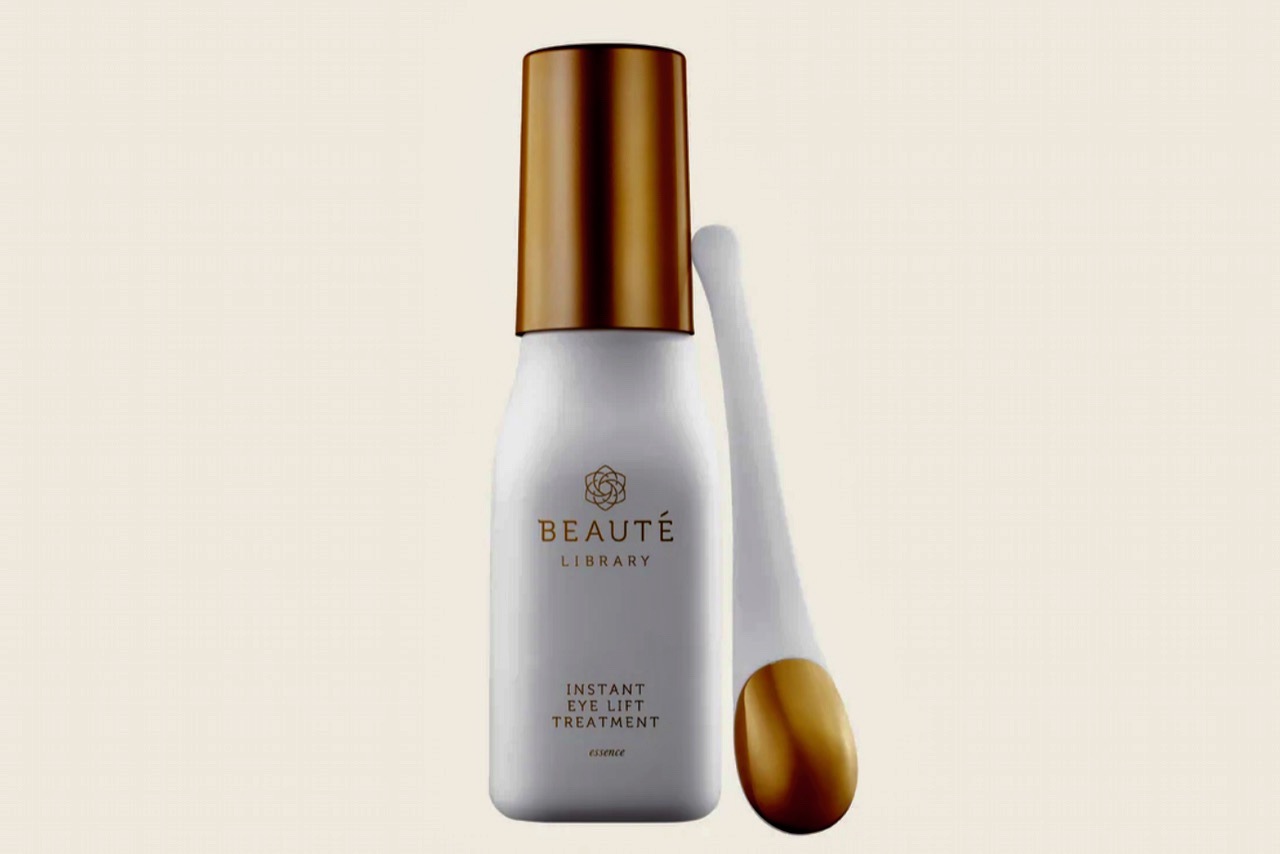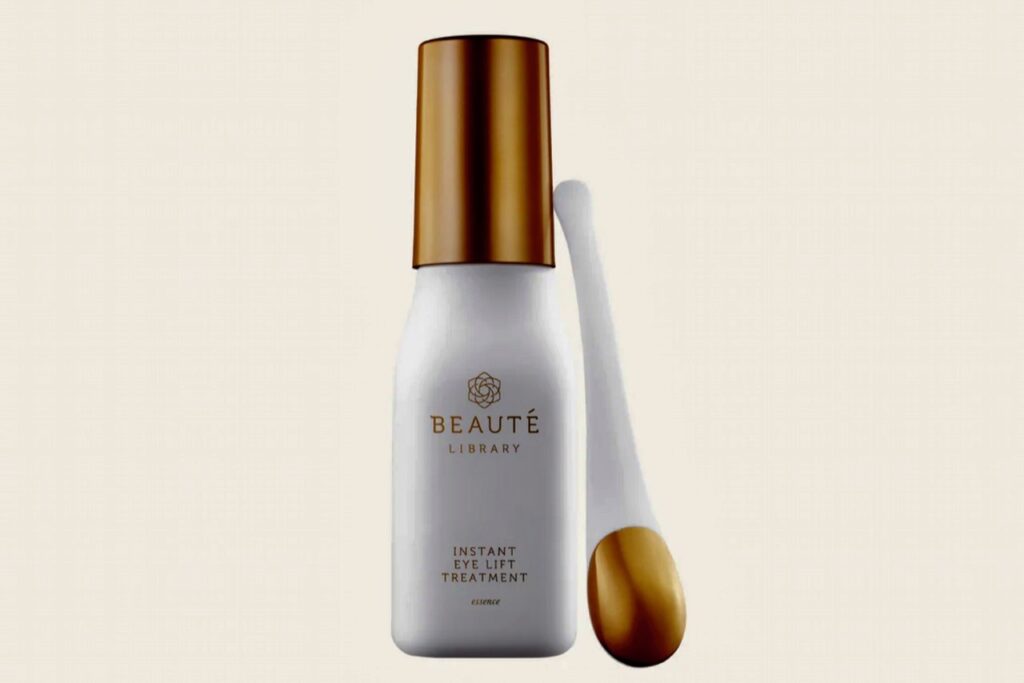 Anti-Wrinkle Concentration Essence
I chose the Anti-Wrinkle Concentration Essence (RM 400) for obvious reasons! These drops are supposed to slow down the onset of wrinkles with their rich, absorbent essence deeply penetrating the skin. Collagen and Vitamin C come from the key ingredient of okra, while wild yam extract serves to tighten skin texture and smooth out fine lines. Strong antioxidant properties further prevent signs of accelerated ageing by protecting skin from UV sun damage.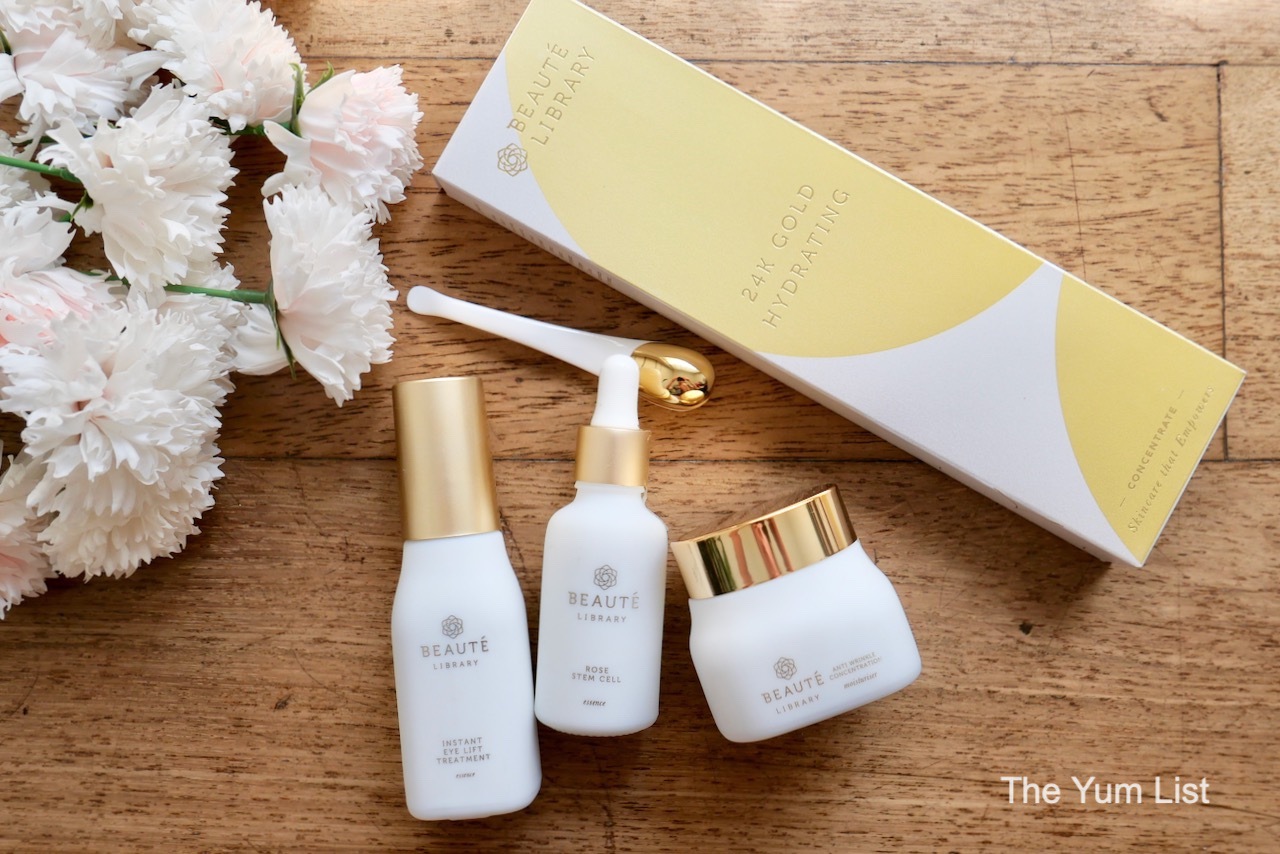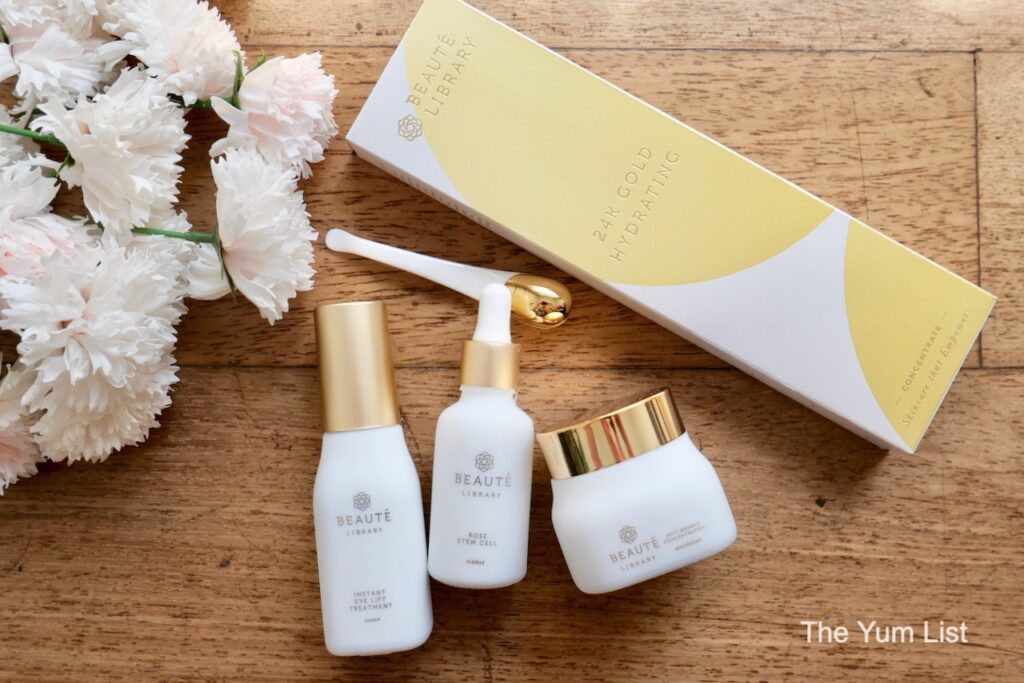 Instant Eye Lift Treatment Essence
Thirdly, Beauté Library's Instant Eye Lift Treatment Essence (RM 400) is perfect for tightening the delicate skin surrounding the eyes. Plant-based active ingredients, hydrolysed rice bran protein improves the skin's elasticity and tensile strength, and hydrolysed collagen works on texture. Furthermore, hyaluronic acid and saccharomyces cerevisiae extract boost hydration and protect from free radical damage. It comes with a 24-karat gold spoon applicator for enhanced anti-aging benefits.
Lastly, Rose Stem Cell also works on refining the appearance of wrinkles and fine lines, protects again free radical damage caused by UV exposure, and hydrates skin, leaving it more plump and supple.
Beauté Library Review
Beauté Library specialises in facials combining the latest in technology, skilful therapist technique and high-quality products. The setting is clean and pleasant, and the staff is gentle and kind. I had a great experience here and would certainly return for monthly skin maintenance.
Reasons to visit Beauté Library: fantastic offers for first-time guests; a professional range of effective facials incorporating the latest in technology and manual technique; high-quality products you can purchase for follow-up care at home.
Beauté Library Mid Valley
Unit 57-G, The Boulevard, Mid Valley City,
Lingkaran Syed Putra, 59200 Kuala Lumpur, Malaysia
*Take a Grab to Starbucks Mid Valley, walk across the path towards the fountain, turn right and walk to the end of that row of shops. Beaute Library is on the left.
+6 03 2283 3318
+60 17 928 0072
Beauté Library Opening Hours at Mid Valley
Monday to Friday: 11 am to 8 pm
Saturday, Sunday & Public Holidays: 10 am to 6 pm
Beauté Library can also be found at One Utama, Setiawalk Puchong, Desa Parkcity, Taipan Subang Jaya, Mytown Shopping Centre, Ekocheras Mall, Kota Damansara.
Find more on the spa and beauty scene in Malaysia here and stay up to date with the happenings around KL here and here.