Bug's Paradise Farm
Words: Rebecca Cannon
Photos: Monica Tindall
With school holidays already here or fast approaching, deciding what to do to keep the children occupied can be stressful. Thankfully Bug's Paradise can engage, educate and feed you and your entire family. Don't worry, Bugs is just the name, not the food on offer. Bugs Paradise Farm is located just 10km from KL in Puchong, Selangor. It gives it a vacation feel without hours of wasted travel time.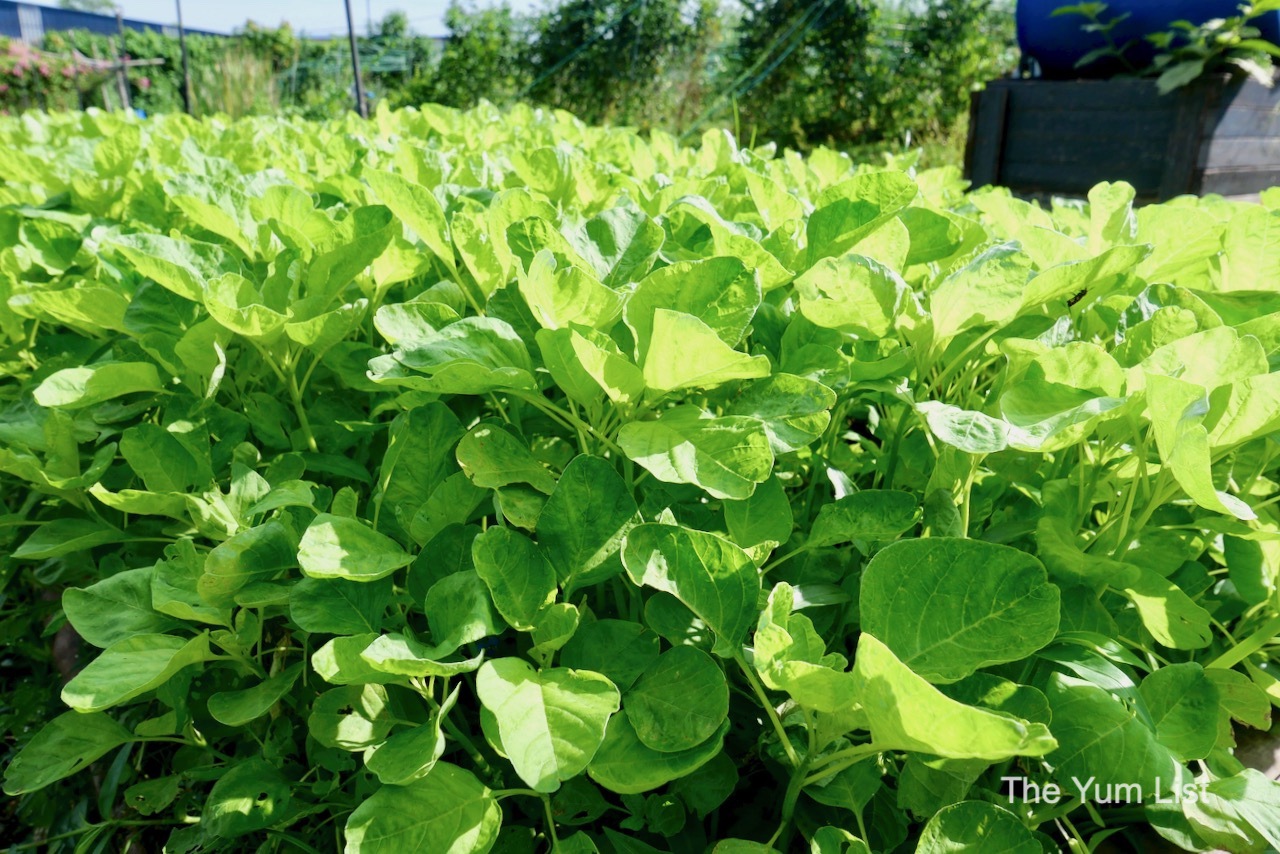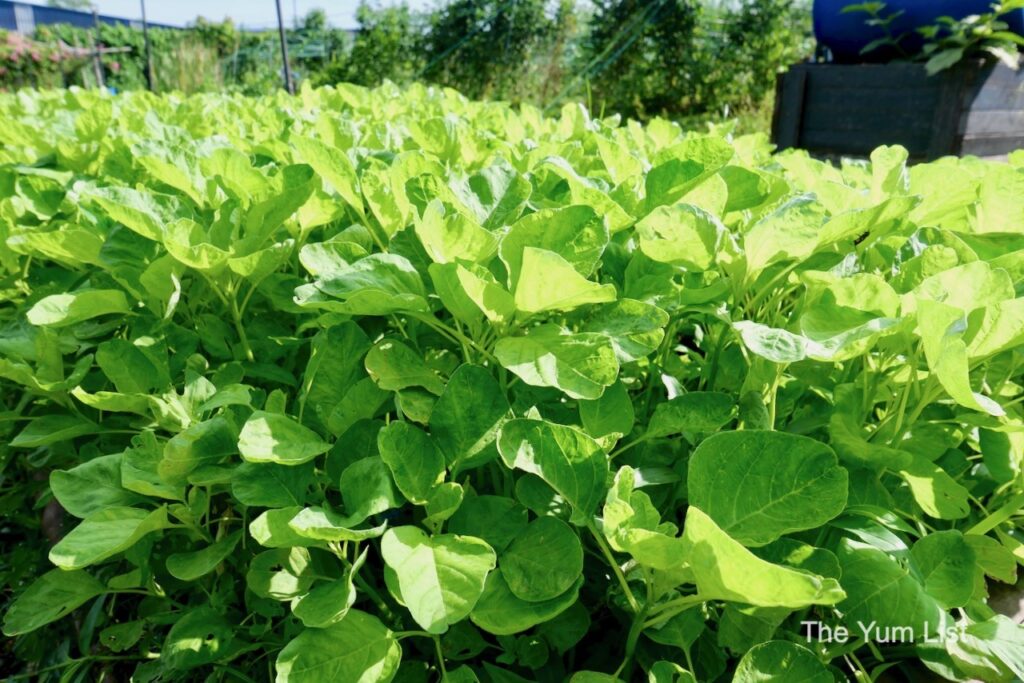 Bug's Paradise Farm, Puchong
Farm Tour, Other Activities, and BMS Organics
For those keen to learn about what organic farming is and how it's done, you can join a farm tour at 9.30 am on the Weekends (RM38). This tour is interactive, and your little ones can wander all over while the older ones listen to the guide. I might do better describing this tour as immersive rather than interactive as you get to not only walk through the nursery, fields, and ponds but also handle worms and cultivate your own plant, complete with a name tag. The tour aims to change people's mindset surrounding bugs and plants. Instead of seeing an insect and thinking I must buy pesticides, after the tour, you'll instead think, what's wrong with my plant and how can I fix it? As well as the tour, there is a daily farmers' market of fresh produce and a well-stocked BMS Organics shop. Some weekends include a Bazaar complete with activities such as painting for the kids. Despite being a vegetable farm, your children can run around admiring the ducks, chickens, rabbits, and pet birds whilst you sit back and relax with a meal.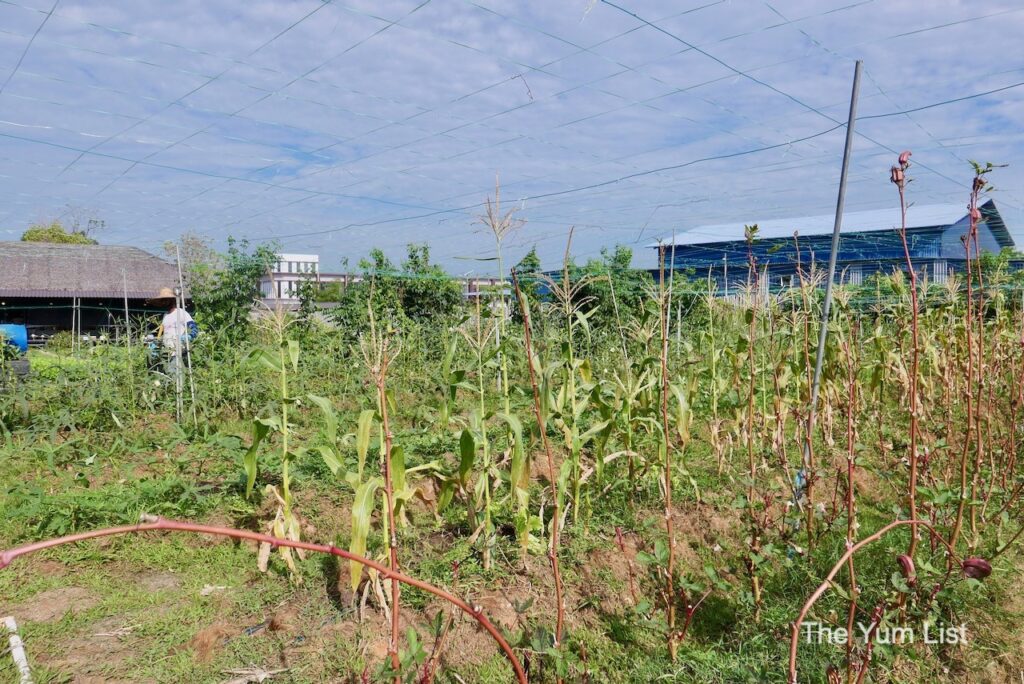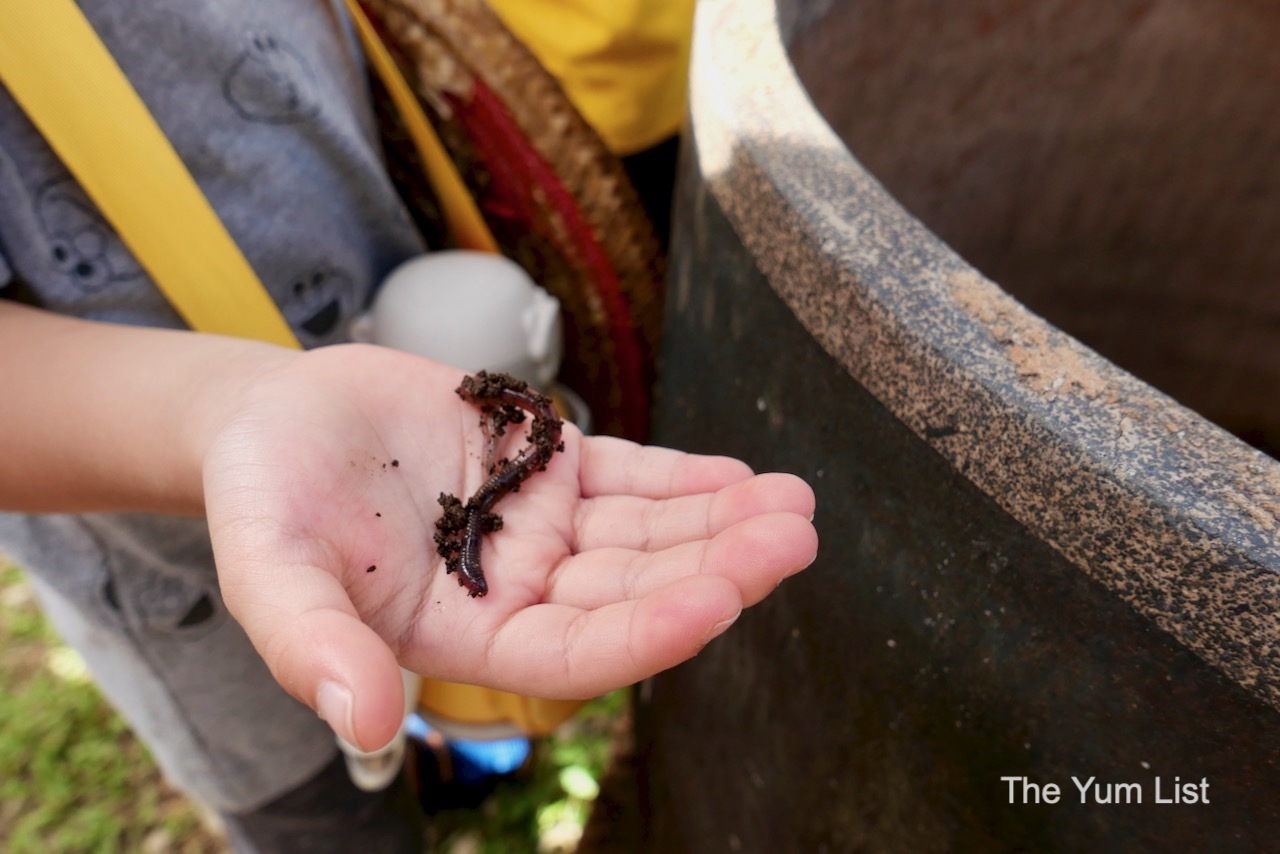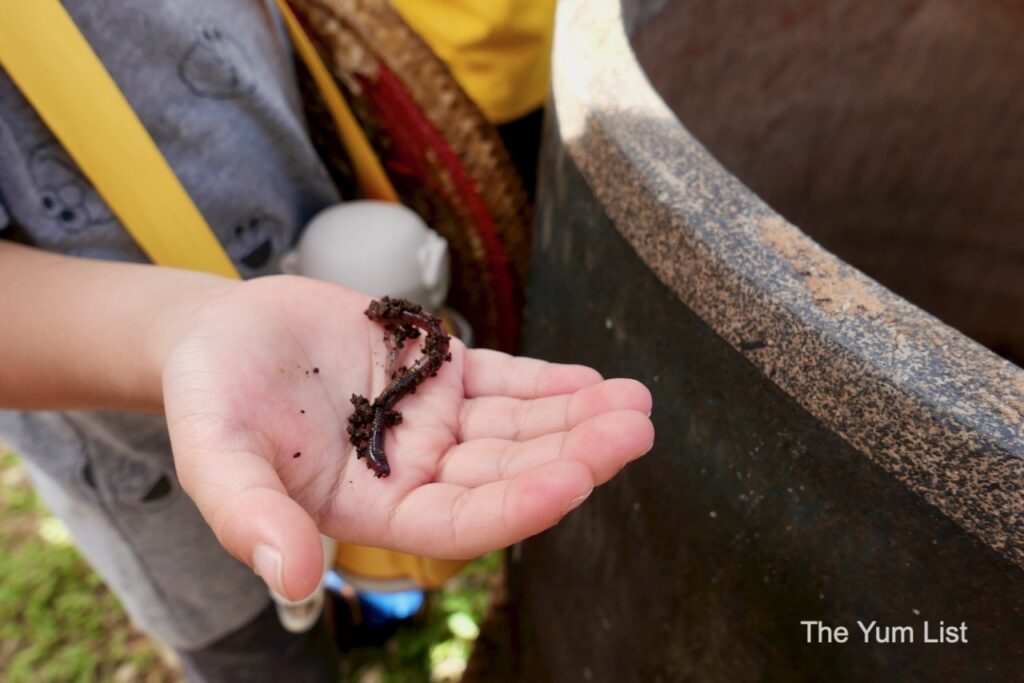 Menu – Farm Hot Pot
The Farm tour includes a vegetarian hot pot lunch, which can also be purchased ala carte for RM25.90. There is no better finish to your farm experience than cooking your own hot pot with fresh vegetables picked minutes before. Farm items include massive buds of organic broccoli, crisp cabbage leaves, and eggs. Five varieties of broth are on offer; kimchi, miso, kombu, oat-based milk, and black pepper, if you purchase the steamboat separately. The farm tour comes with a mini steamboat and kombu soup.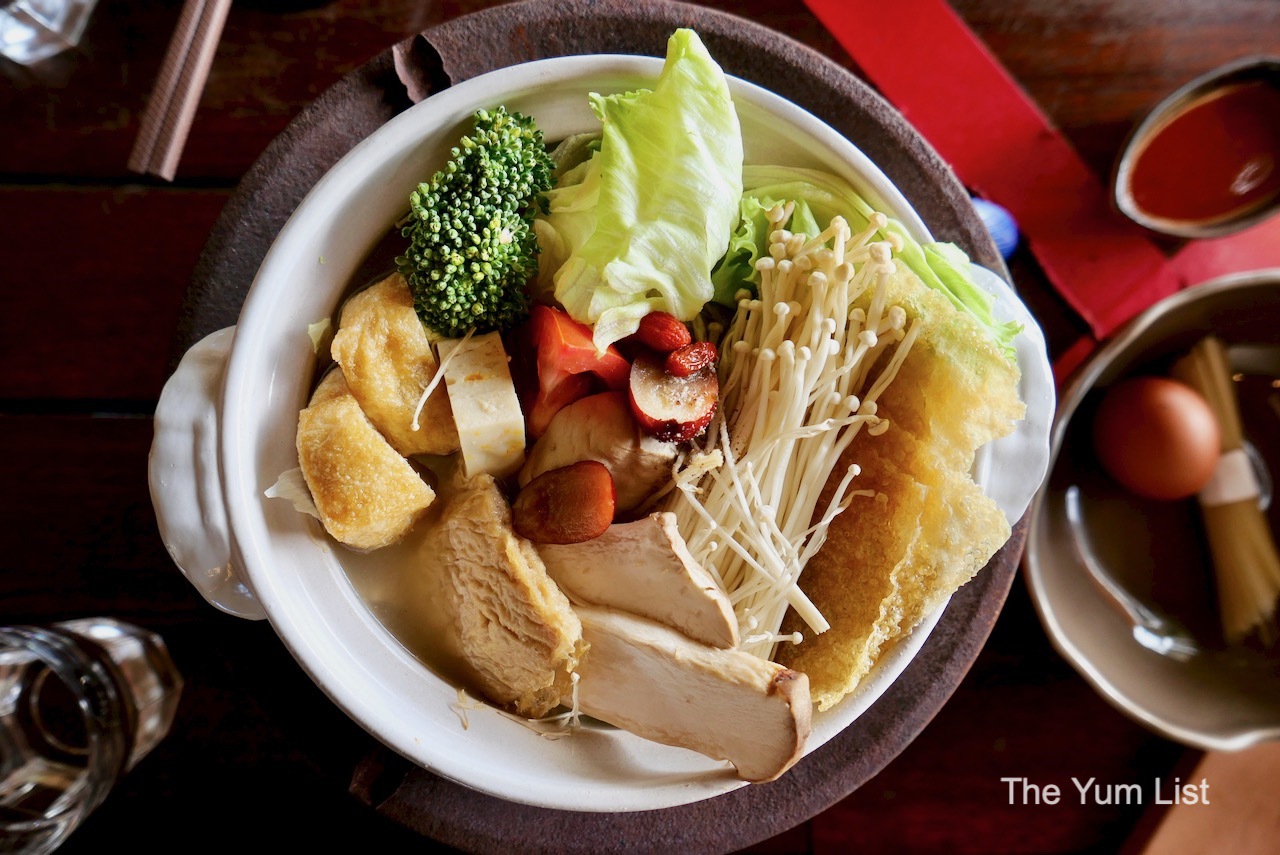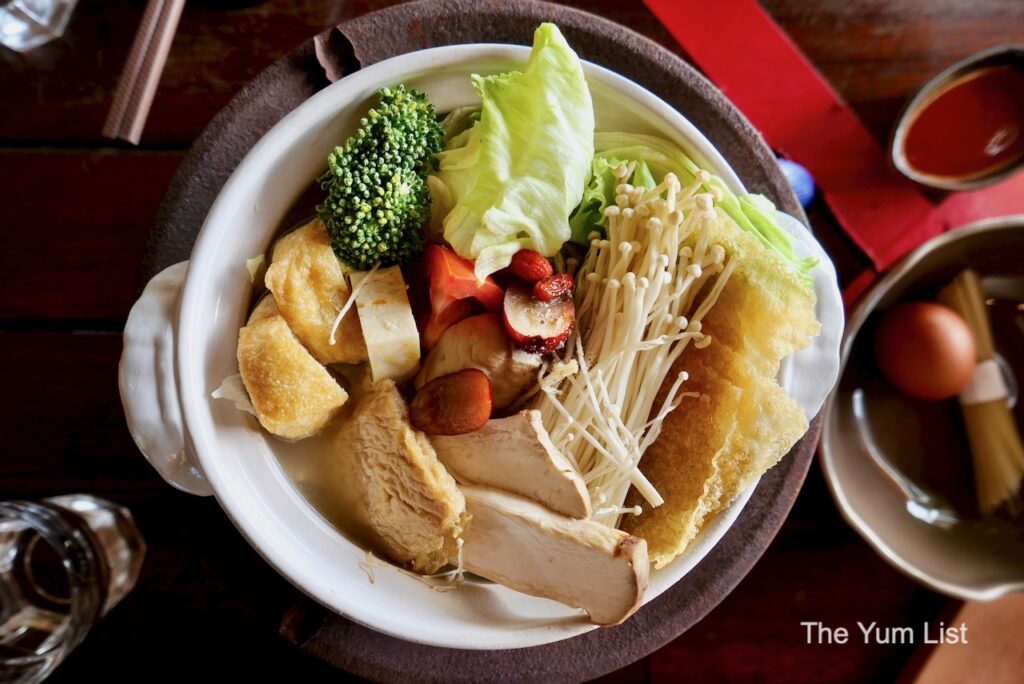 Bug's Paradise Farm – Food Vendors
Bug's Paradise Farm also rents some of its space to four other food vendors that follow their philosophy of wholesome vegetarian, organic eating. We sampled something from each.
Oat Story
I believe Malaysia's most consumed drink to be bubble tea, which is a bit strange given the high rate of lactose intolerance in the country. Oat Story provides a completely plant-forward experience that everyone can and does enjoy for these classic milky tea drinks. In Only Oak Milk Bubble (RM8.90) the milk is made from organic, Chinese-grown oats. Thus removing all problems of uncomfortable bloating and gastric upset. The traditional 'near plastic' bubbles, which admittedly are the best part of bubble tea, have been replaced with equally delicious konjac jelly with non-refined sugar. This delicacy is sweet, high in fibre, low in calories, and is something your body can process. Your intestine lining will thank you as you chew away. If you prefer matcha, there are Matcha options, hot (RM11.90 ) and cold (RM14.90). If fruit tea is more your style, we recommend the Oolong Mango (RM13.90), complete with mango pieces as 'bubbles'. The favourite of this group, though, was the Purple Sweet Potato (cold, RM14.90, hot, RM11.90). It was the perfect mix of sweetness, creaminess, and fun. Speaking of fun, Oat Story also offers desserts; Oatsome Pudding (RM4.90) and ice cream, including Oatsome Fountain Cup (RM18.90). The pudding is a quick bite to finish a meal with a Japanese feel to it from its sweet red bean topping. The Fountain Cup is a castle of ice cream and toppings, a challenge to eat by yourself or a nice thing for you and your friends to share to bring your meal to a close.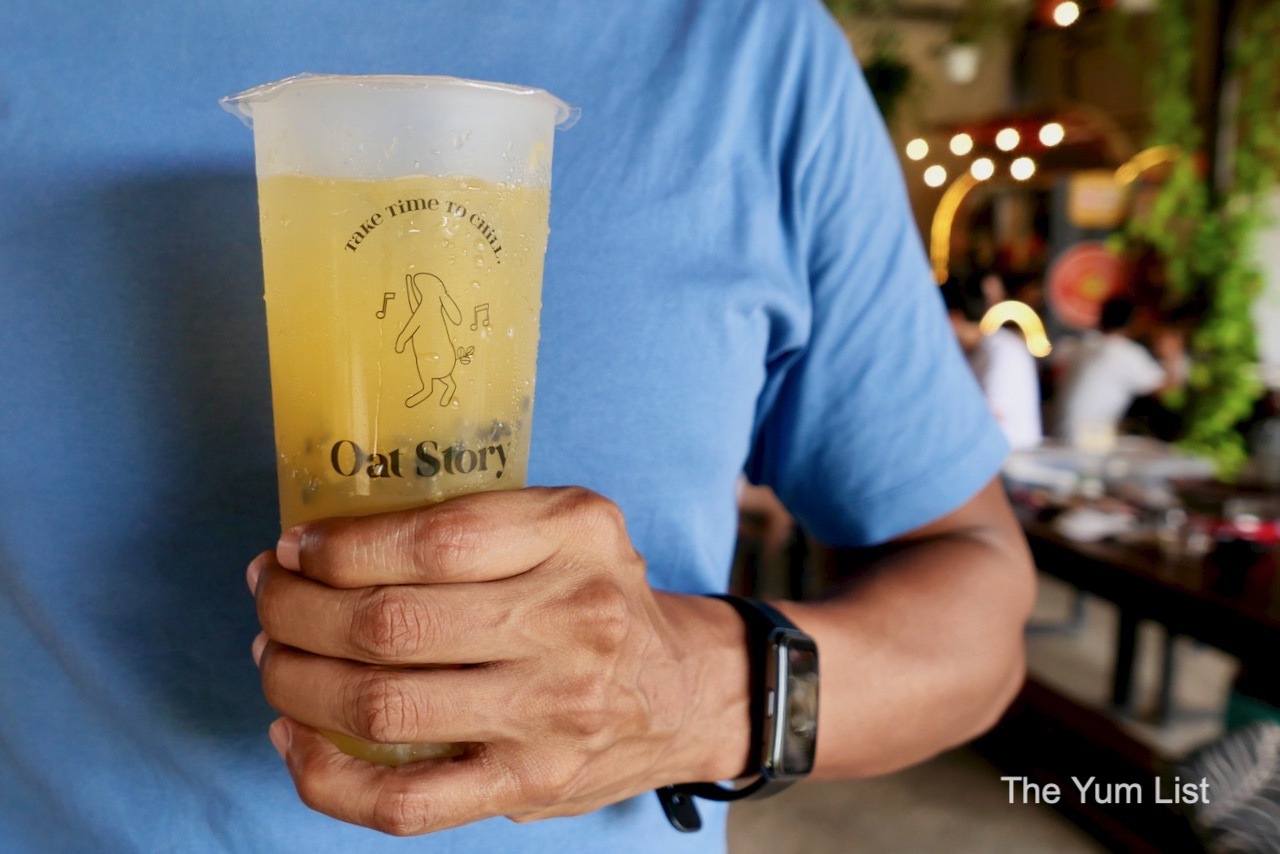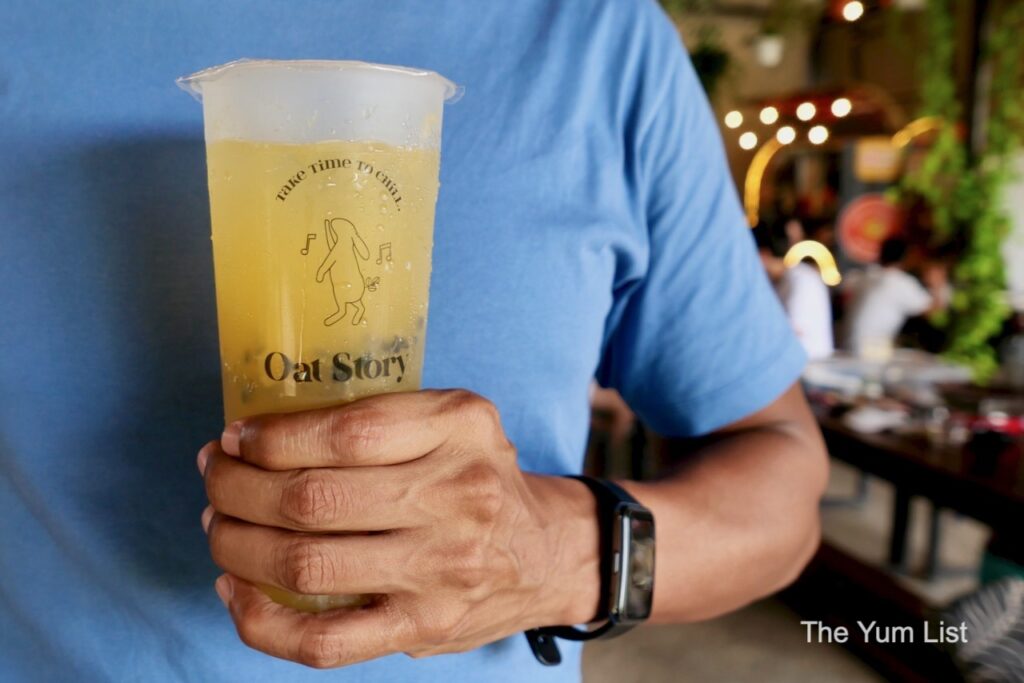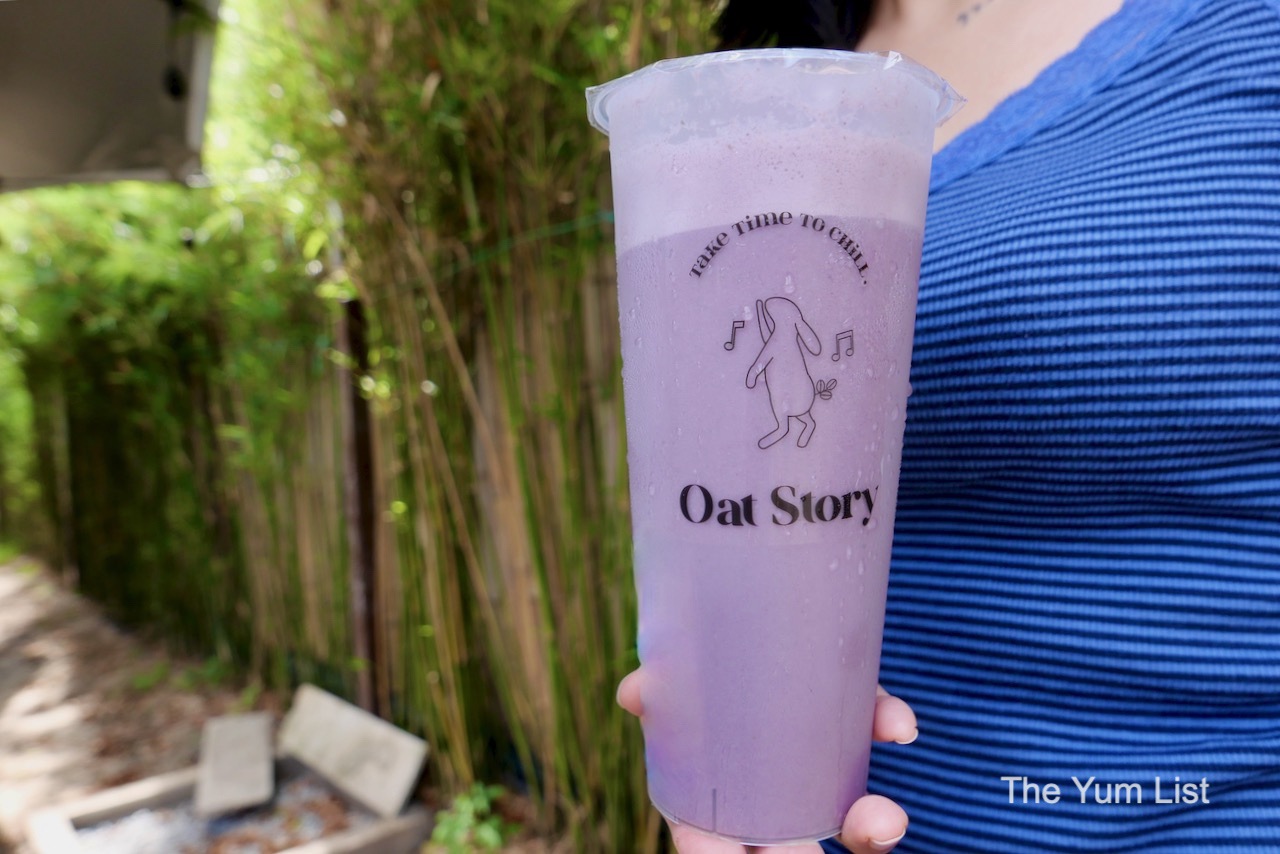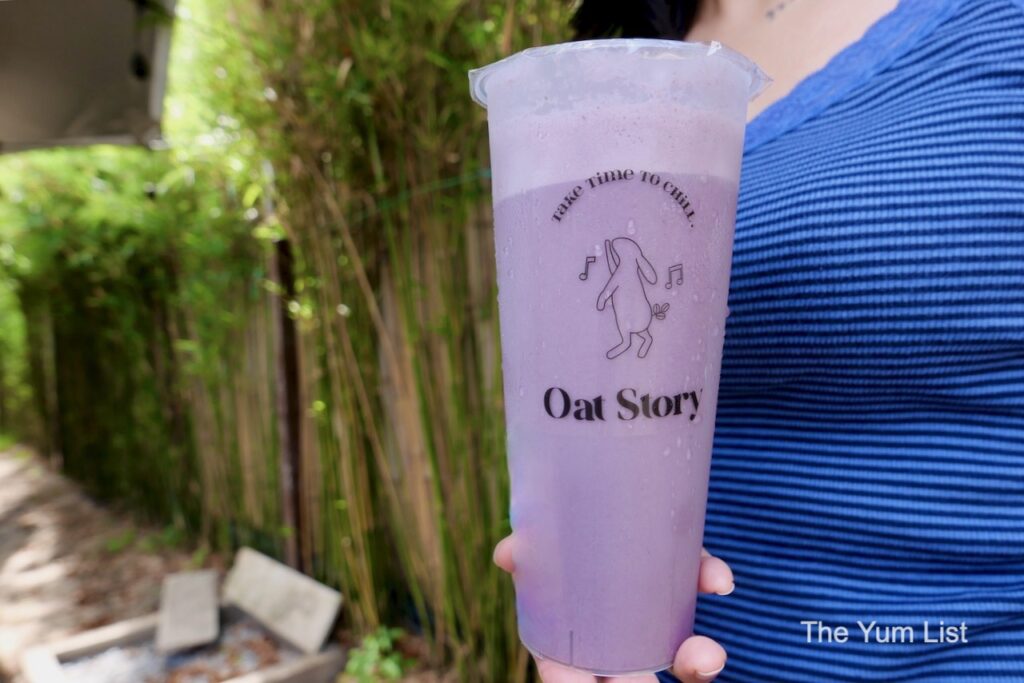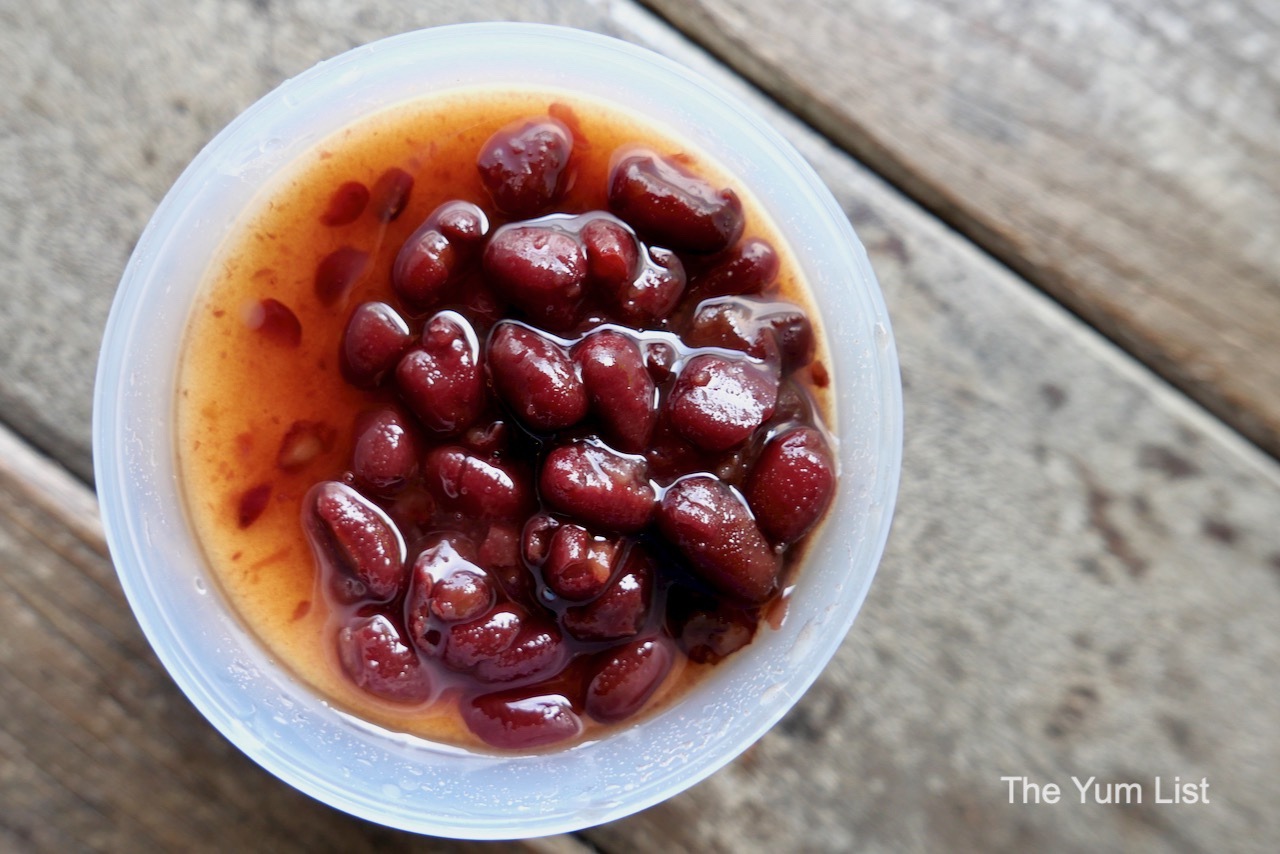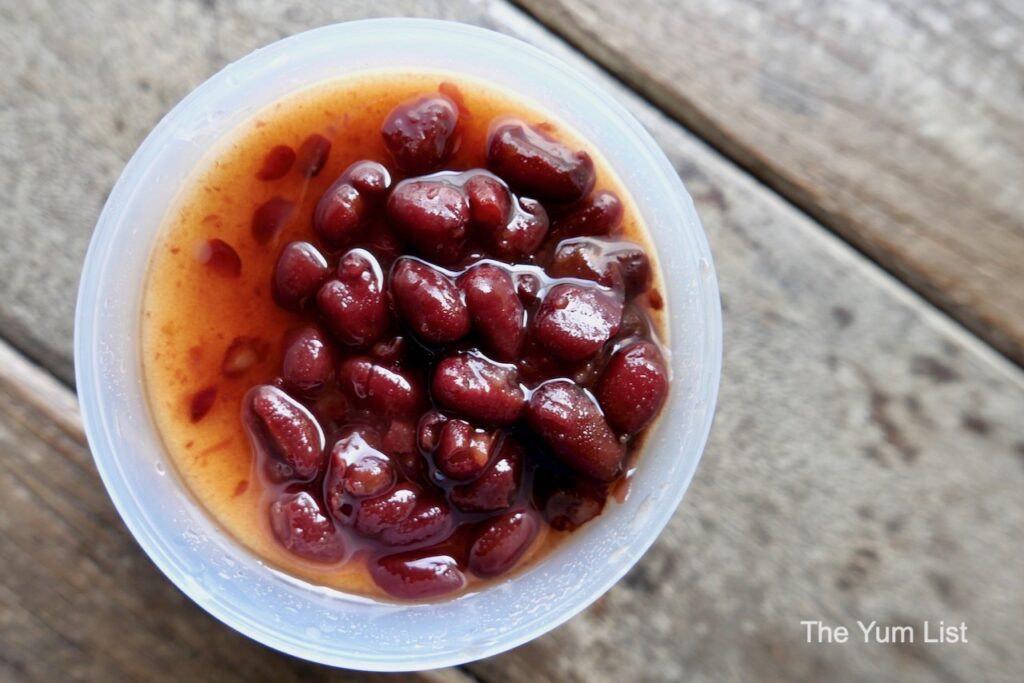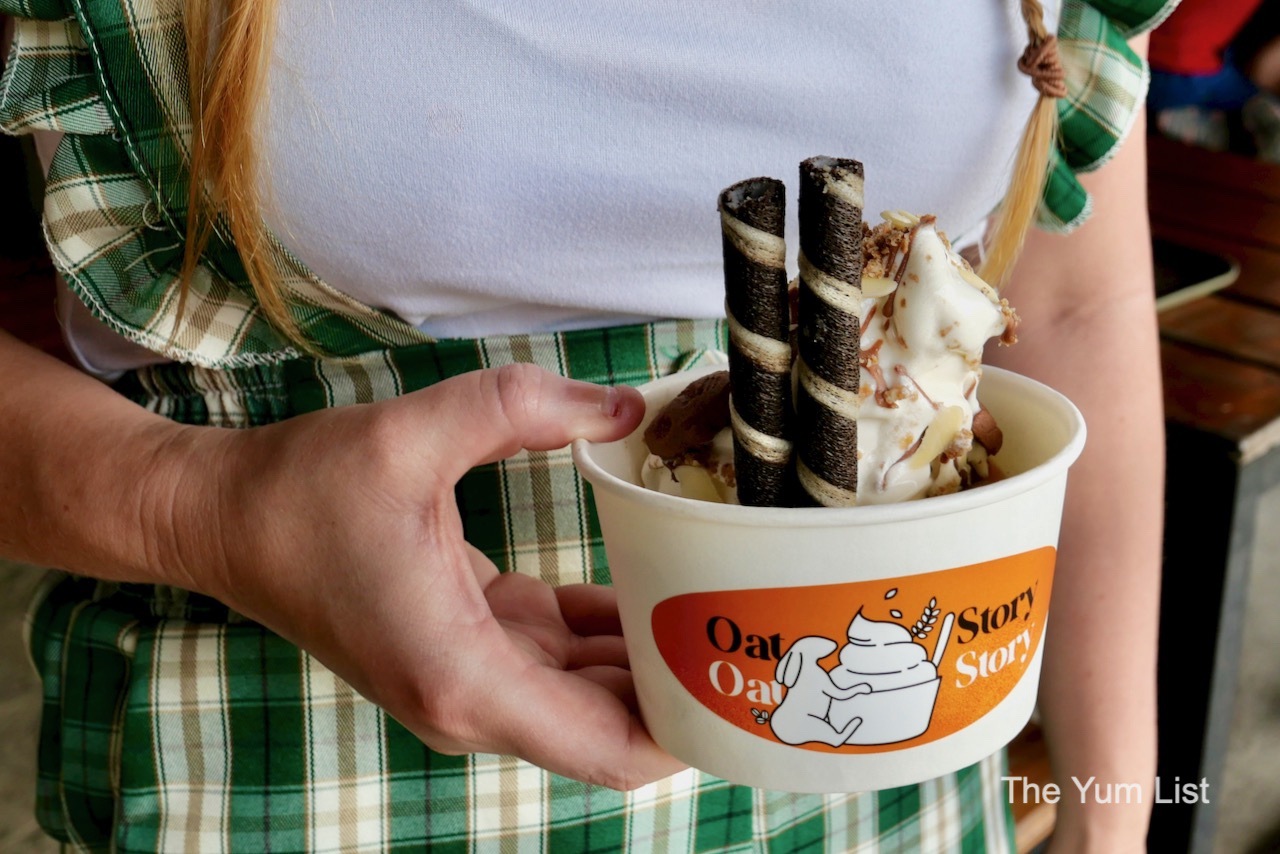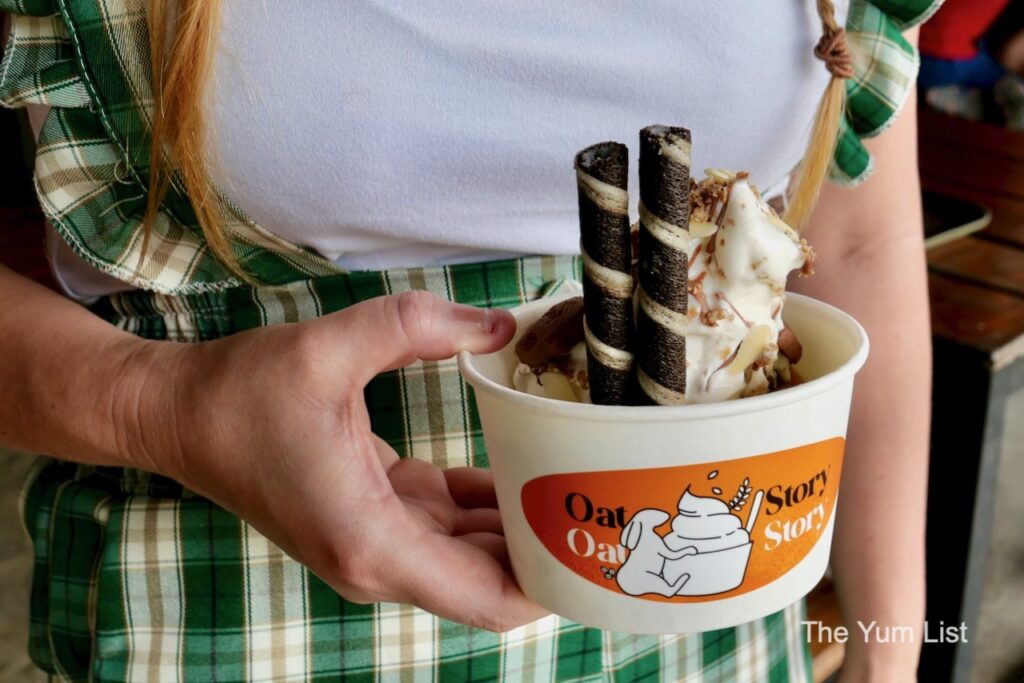 Yooky
Yooky is a sourdough shop that sells loaves and, importantly for the lunch and dinner crowd, charcoal-baked sourdough pizzas. More new things I learned at Bug's Paradise farm is that you can make a pumpkin sourdough, and it tastes delicious! Our group couldn't resist trying the Veggie Lover (with Onion, RM27), which has a tomato sauce base, mozzarella cheese, mushrooms, capsicums, and onions with a drizzle of extra virgin olive oil. It was a treat that didn't leave you feeling gluggy afterwards.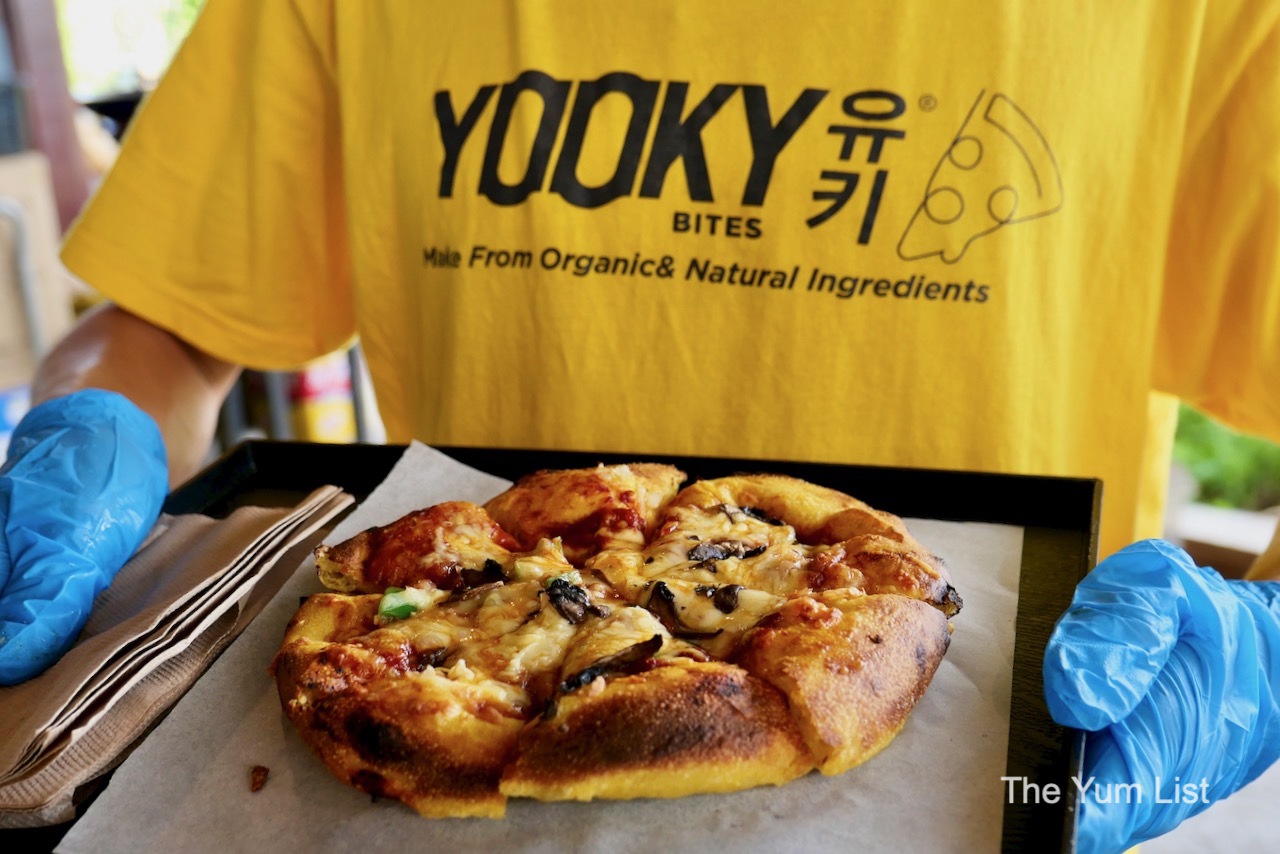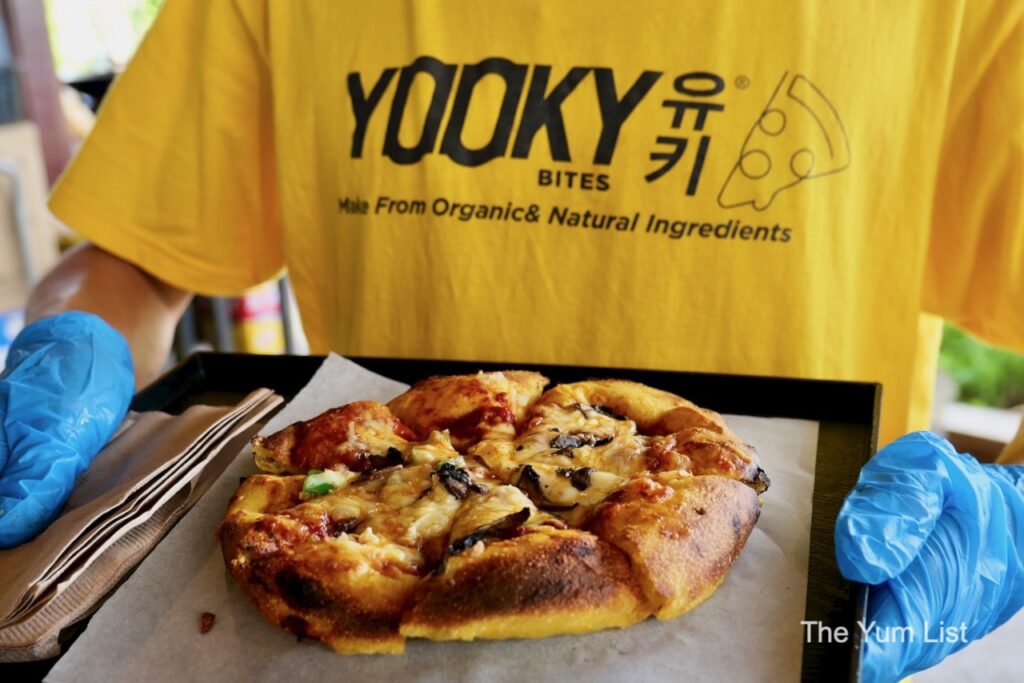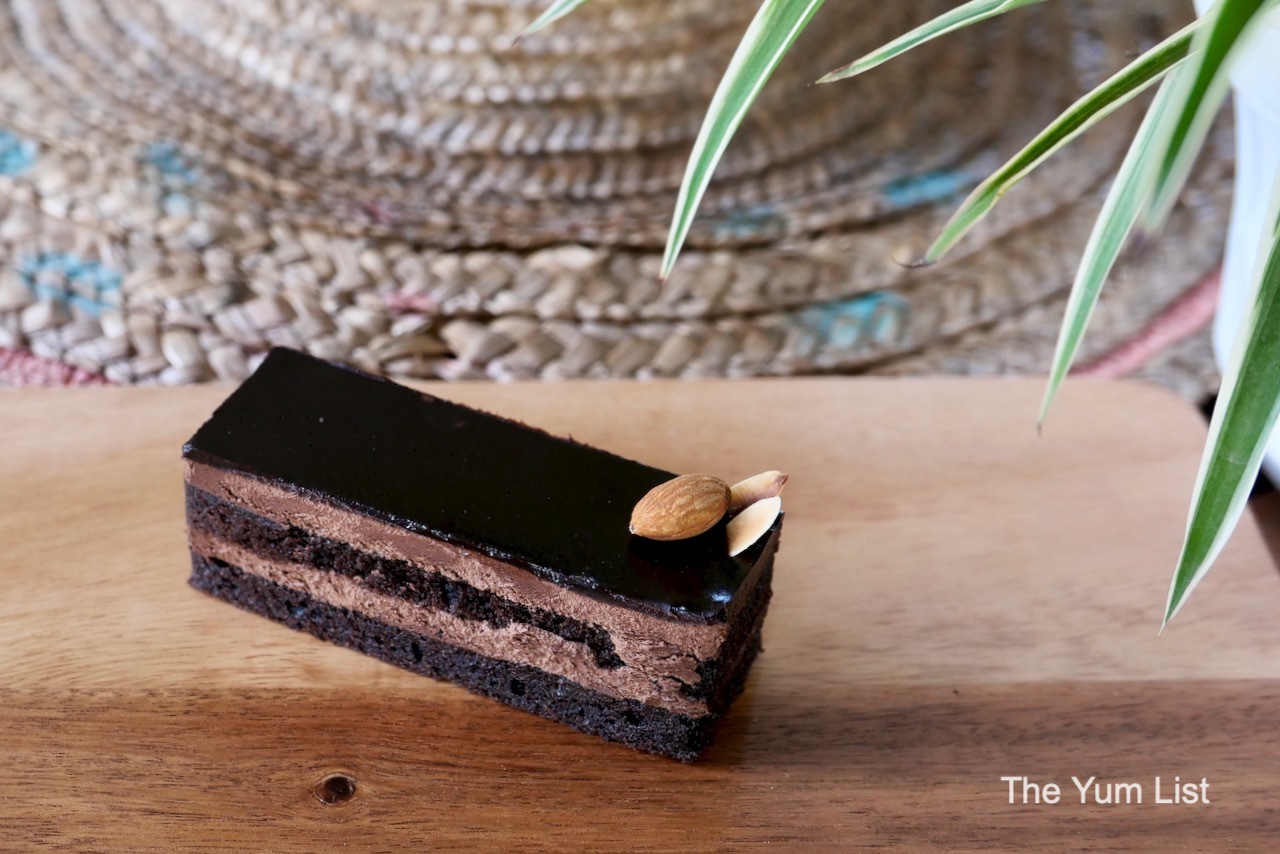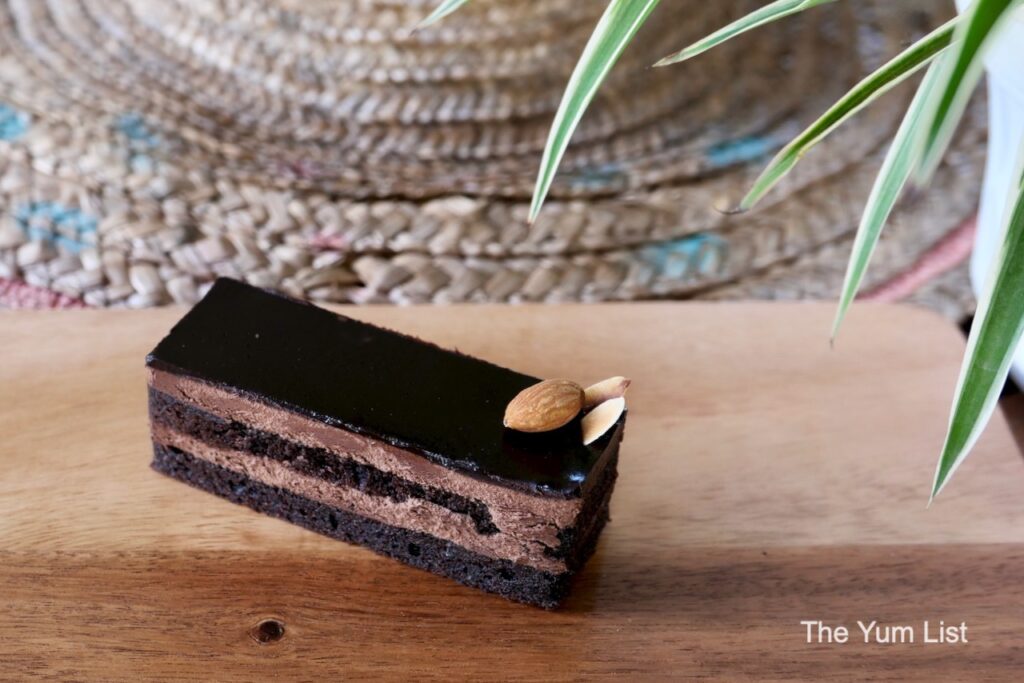 Veco Burgers
Continuing with the western-inspired cuisine, Veco Burgers offers vegan burgers with chips and onion rings. We tried the Fishy Cucumber Burger (RM24.90) and the Black Pepper Beetroot (RM25.90) as well as the aptly named fries; Curlier is Better (RM13.90). The Fishy burger has the taste of fish without the saltiness of the sea. The Black Pepper Beetroot was my favourite for its twist on the traditional beef with a golden hash brown in the middle and sweet potato bread to compliment the beetroot relish. Both patties are made locally from soy protein.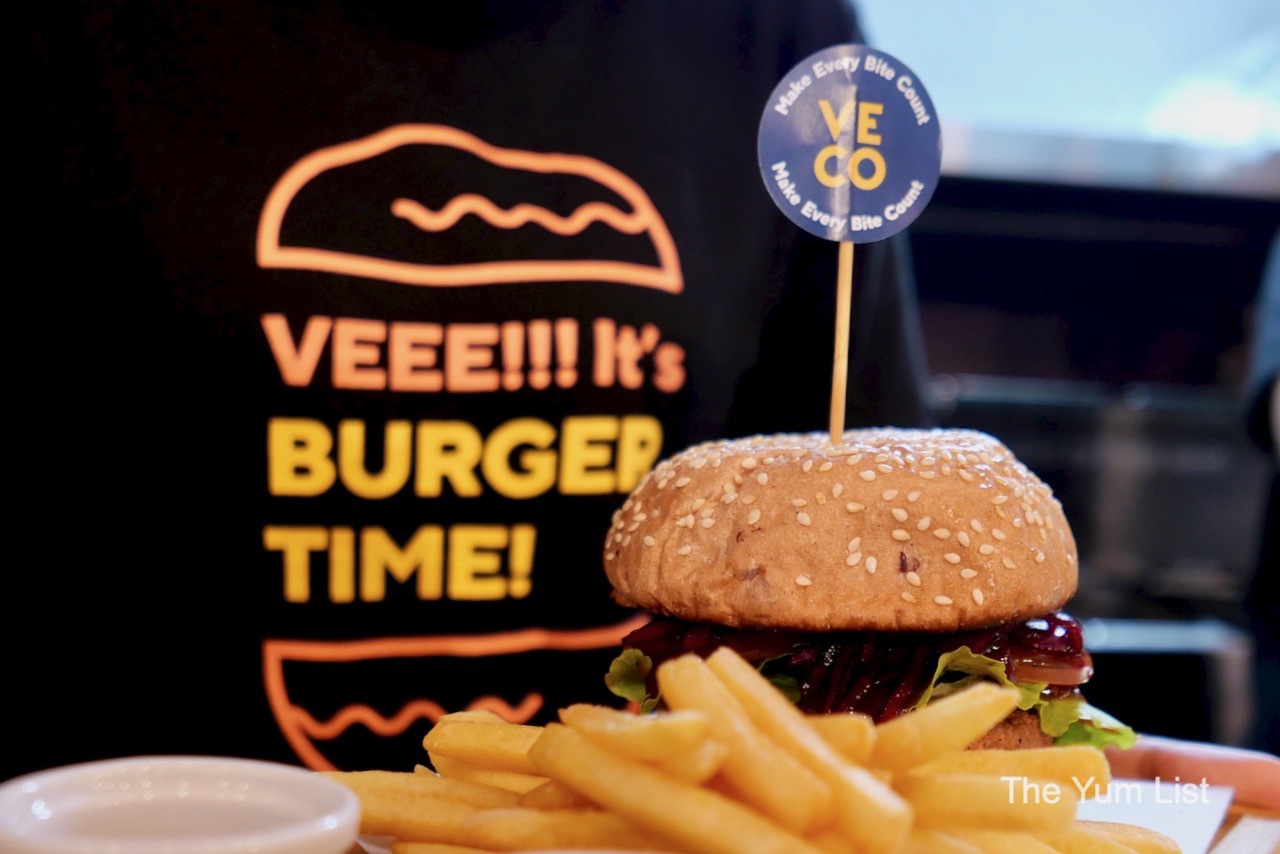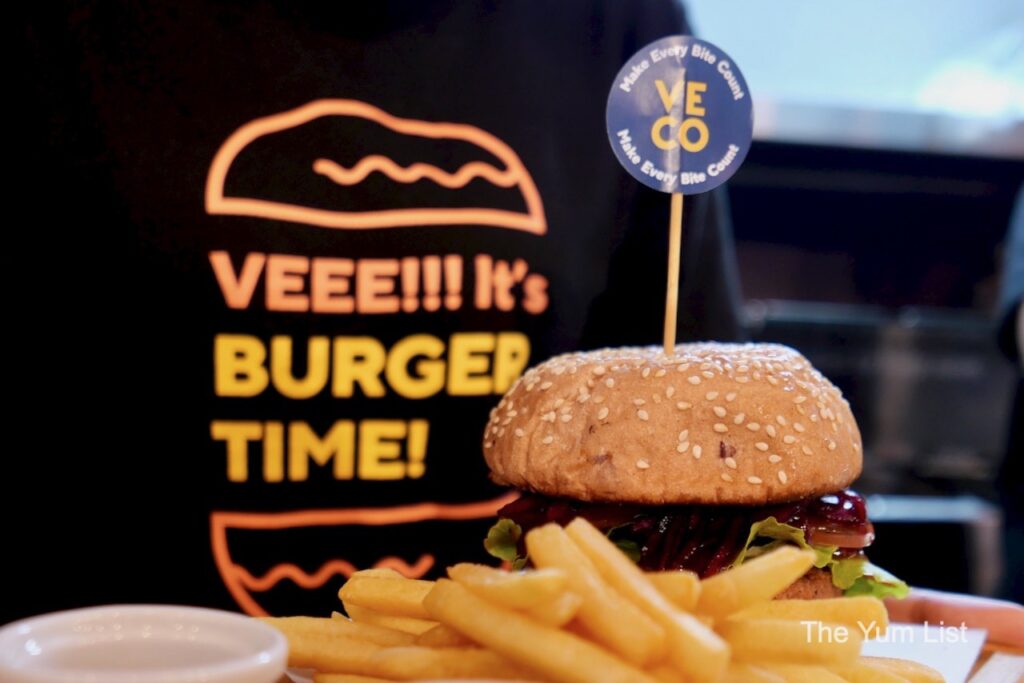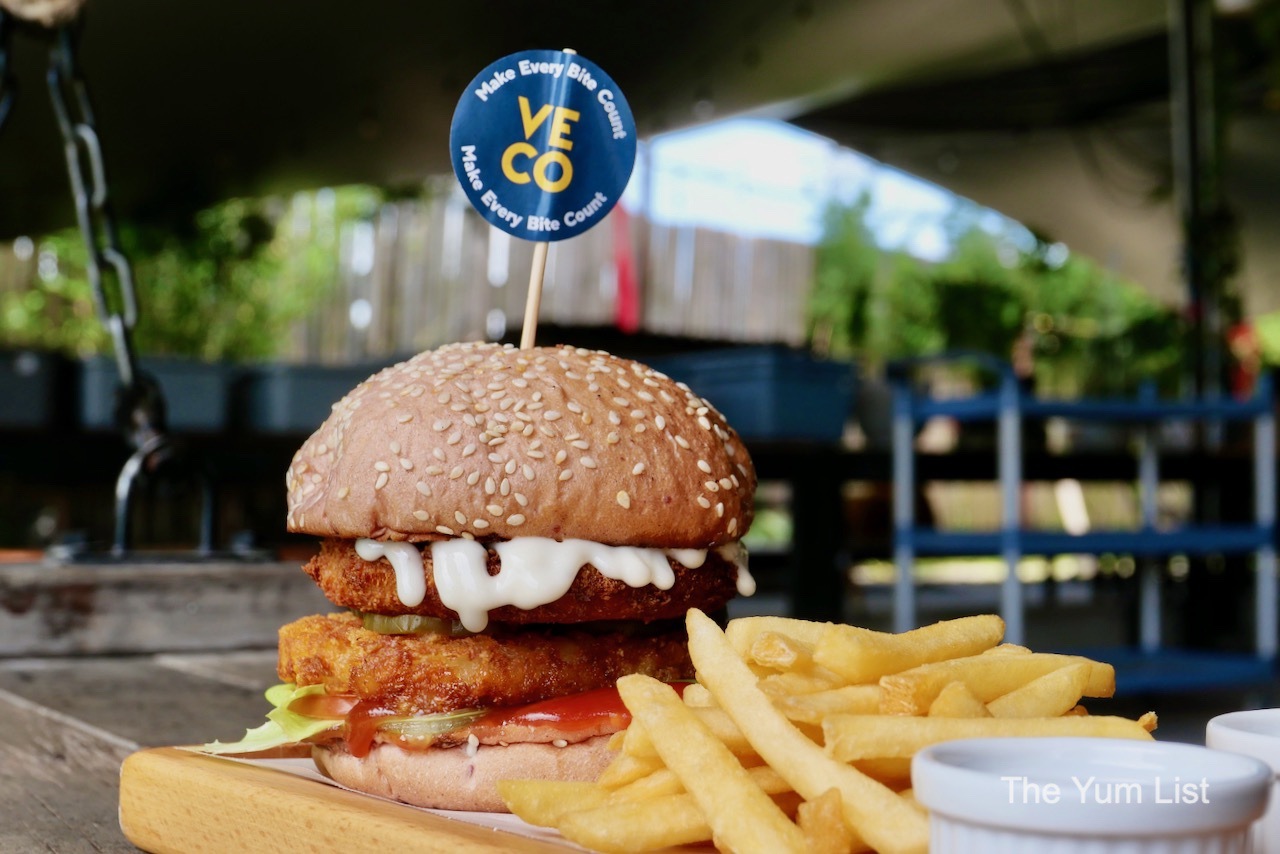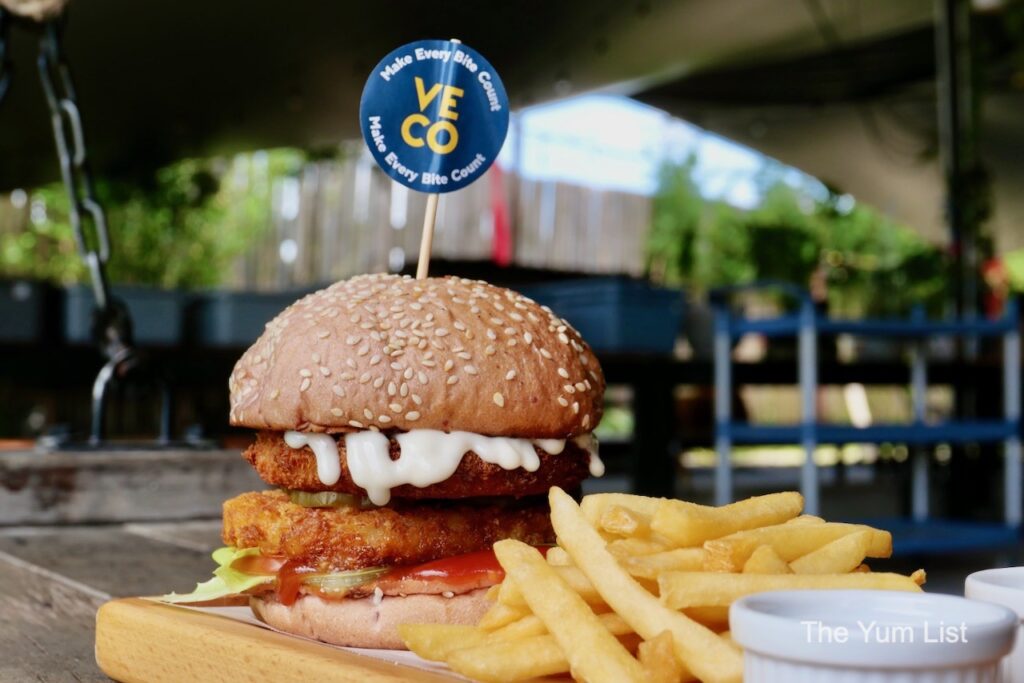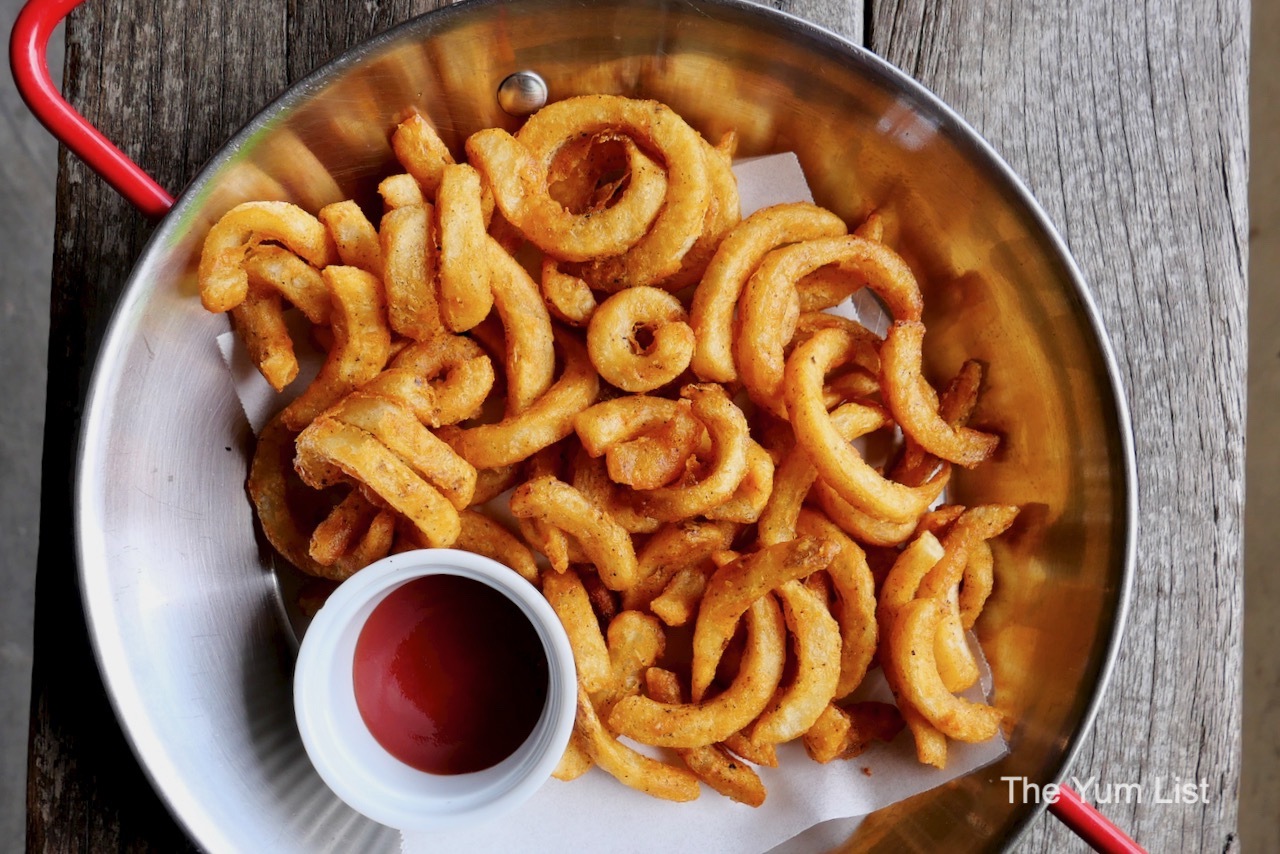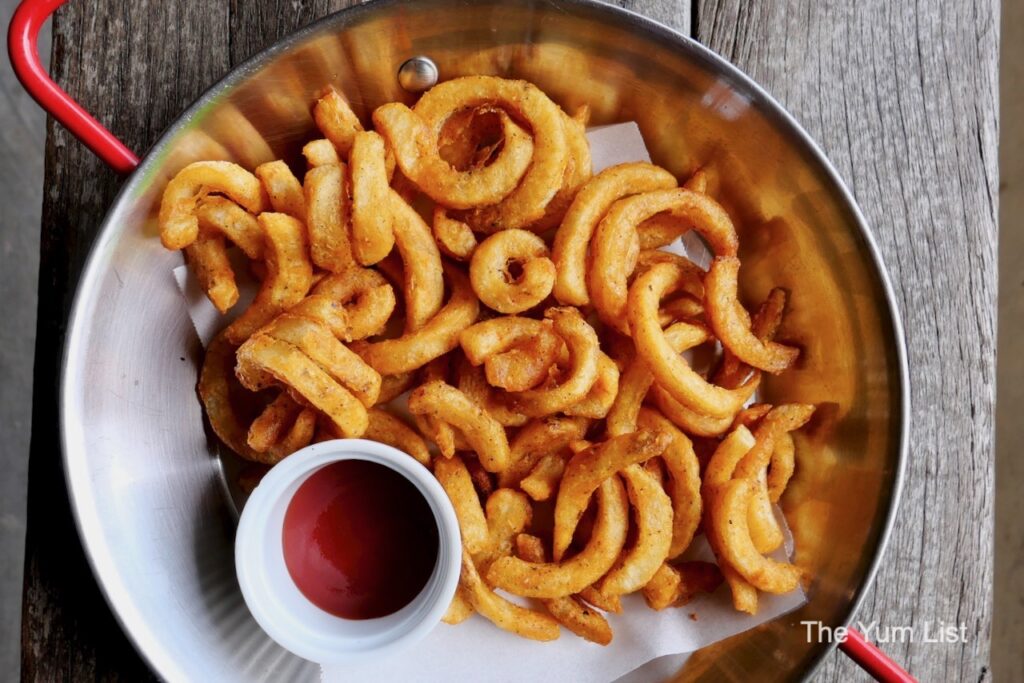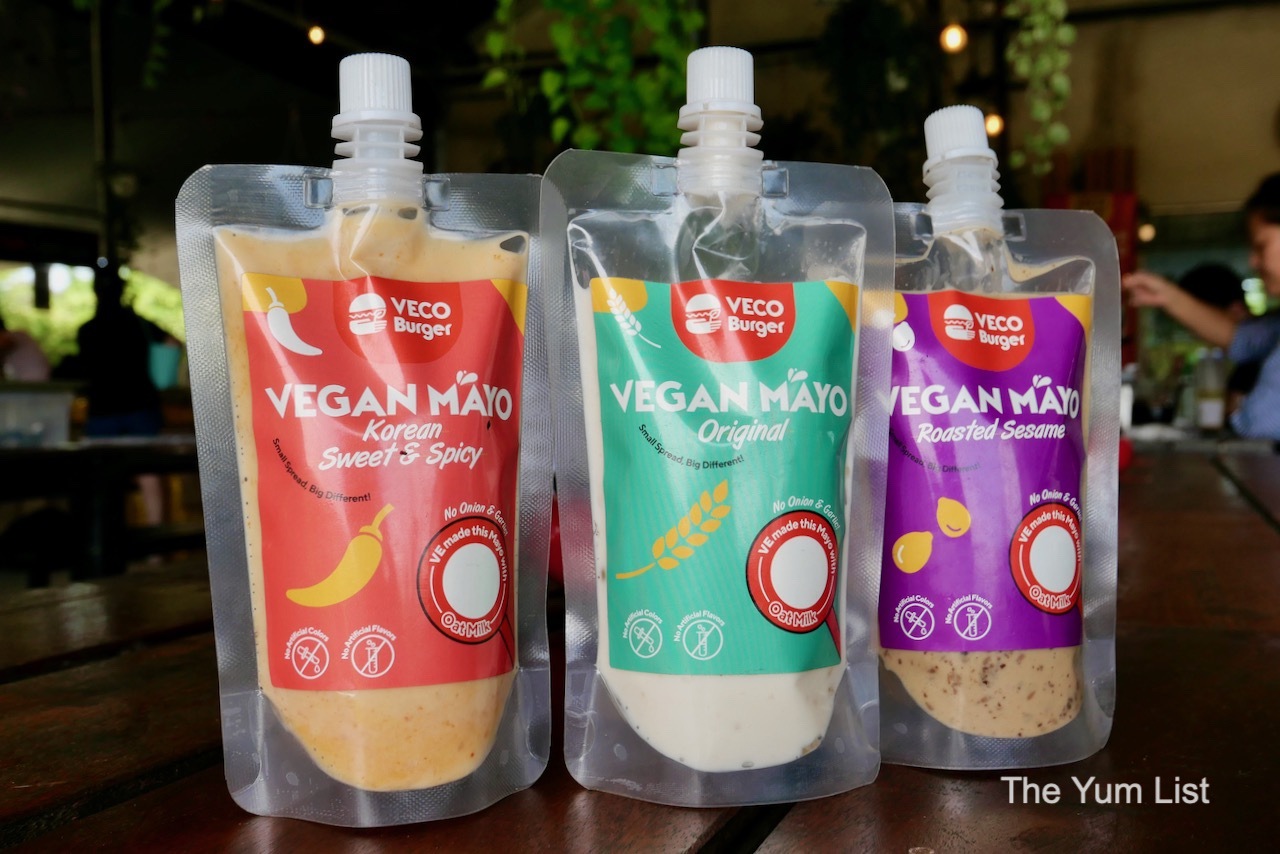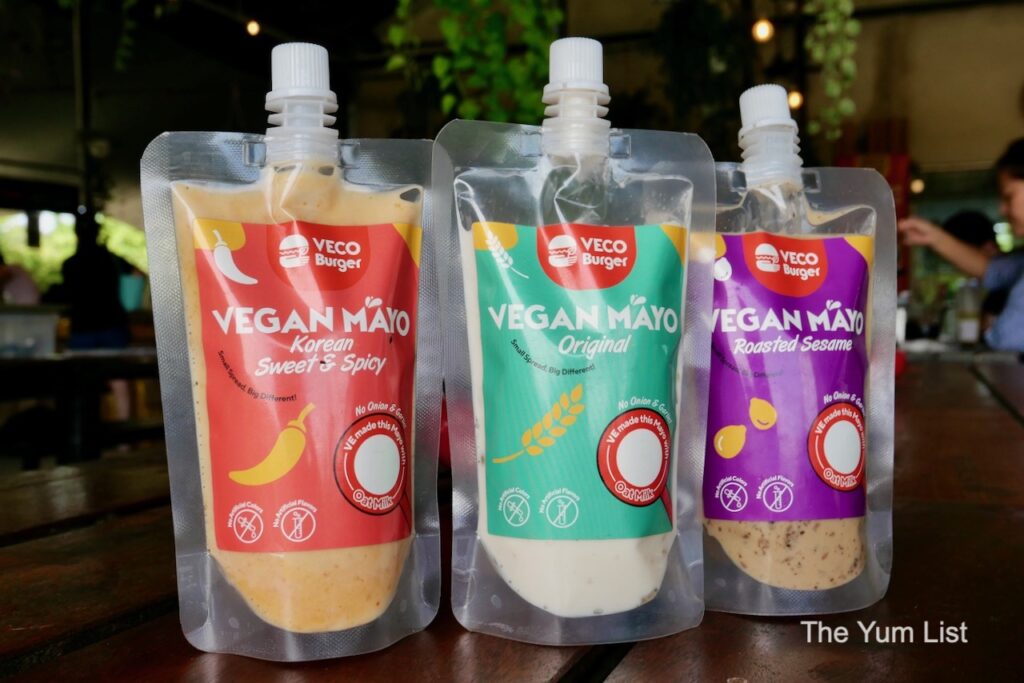 Bug's Paradise Farm Review
In conclusion, Bug's Paradise Farm is a fun day out for all; foodies, curious, young, and the young at heart. It was a shame to travel back to the city after enjoying the sun, laughter, and good food. There are lots of tasty plant-based options here, and you don't have to be vegan to enjoy them.
Reasons to visit Bug's Paradise Farm: a great half-day out with family, lots of healthy, tasty plant-based options.
Bug's Paradise Farm
Jalan Pulau Meranti, Kampung Pulau Meranti
Puchong Selangor, 47120, Malaysia
+6 016 210 1033
[email protected]
Website
Bug's Paradise Farm Opening Hours
Wed – Fri (12 pm – 10 pm)
Weekend (11:00 am – 10:00 pm)
Monday & Tuesday (Closed)
Farm Tour: 930am – 12:30pm (Weekend/Public Holiday only)
More vegetarian and vegan food in KL here and stay up-to-date with the latest gourmet and travel recommendations for Malaysia here and here.