Vivid Menu – Altitude, Sydney
Monica Tindall
The team at Altitude, Shangra-La Sydney's modern Australian grill, is featuring a vibrant menu to celebrate the city's world-renowned light festival, Vivid.
With a spectacular outlook over the iconic harbour, Altitude is a prime position to get a bird's eye view of the excitement. From here, you take in the Harbour Bridge, Circular Quay, The Rocks, Luna Park and Sydney Opera House, all in their jubilant glory decked out in a constant motion of colour. The glass-walled restaurant is the epitome of panorama-porn, tempting more than solely Insta-addicts into a snapping frenzy. However, all shot and captured; it's not only tourists who dine here but a throng of locals who know that Altitude is more than just a pretty view.
Seasoned chef de cuisine Michele Menegazzi finds inspiration in the diverse produce found in local seas and soil. Using contemporary cooking techniques, he has curated a Vivid menu applauding the outstanding quality and variety of Australian ingredients. Partnered with the Iconic Wine Pairing, those views and proficient staff, the complete experience is nothing short of show-stopping.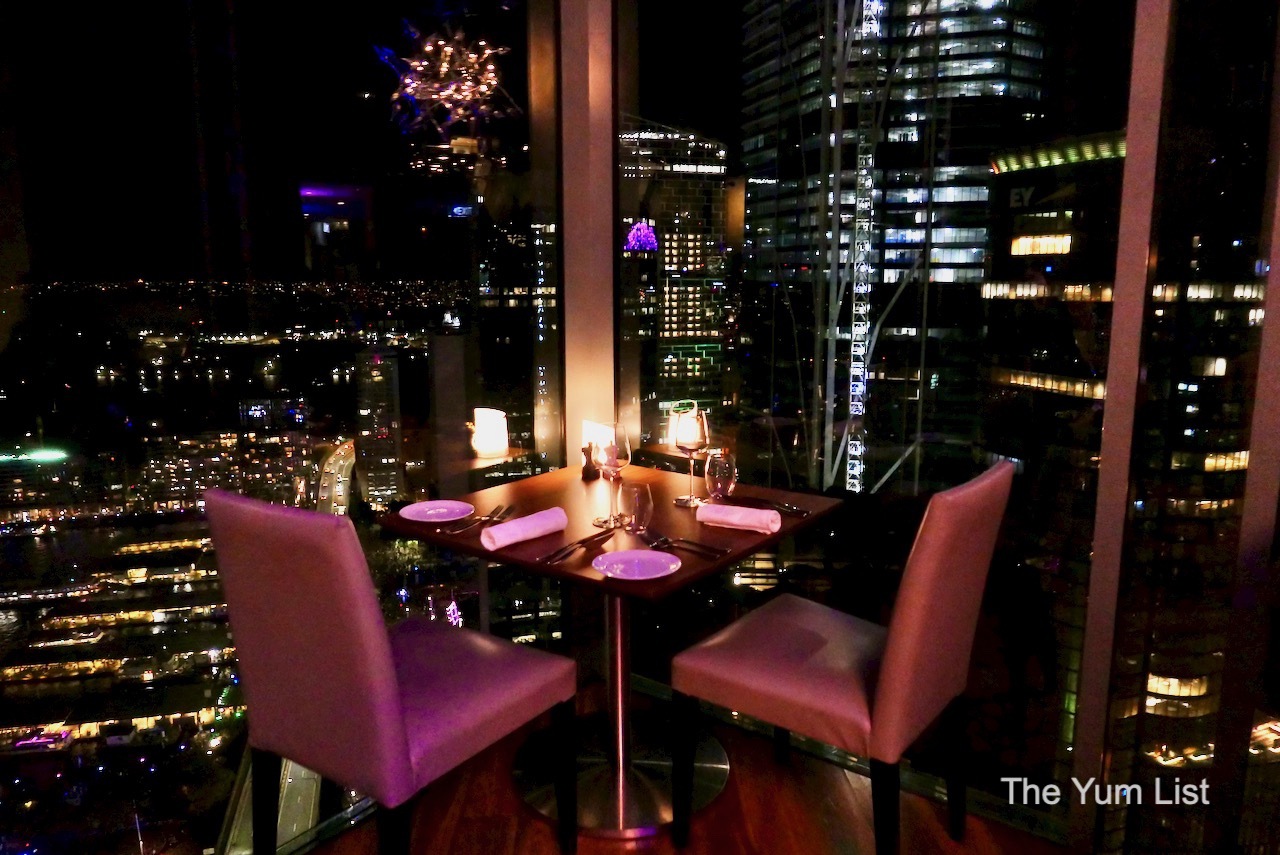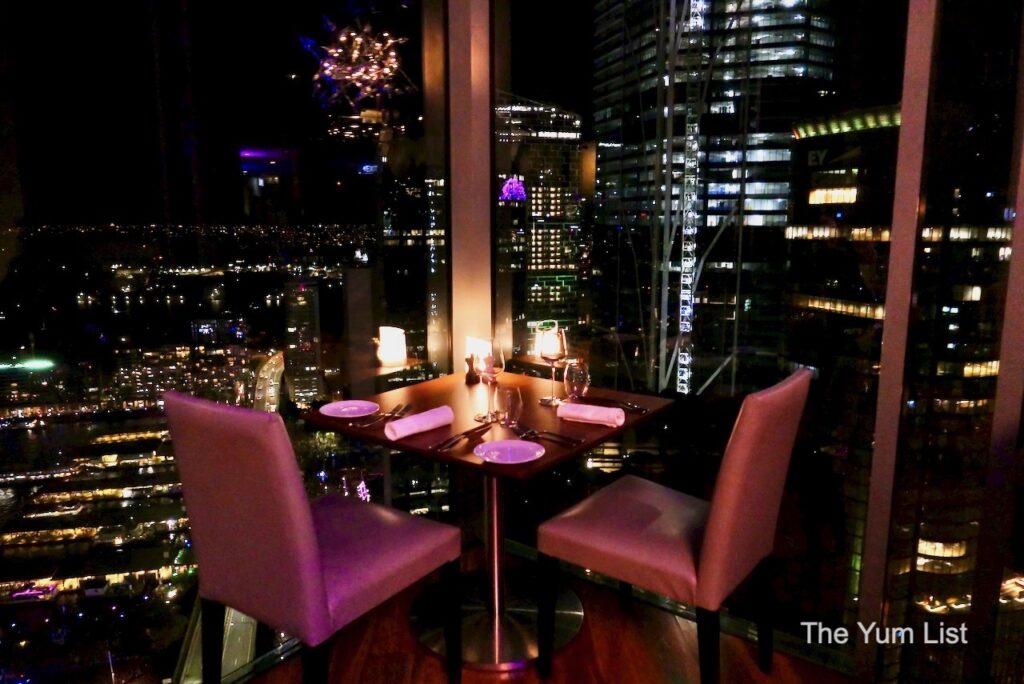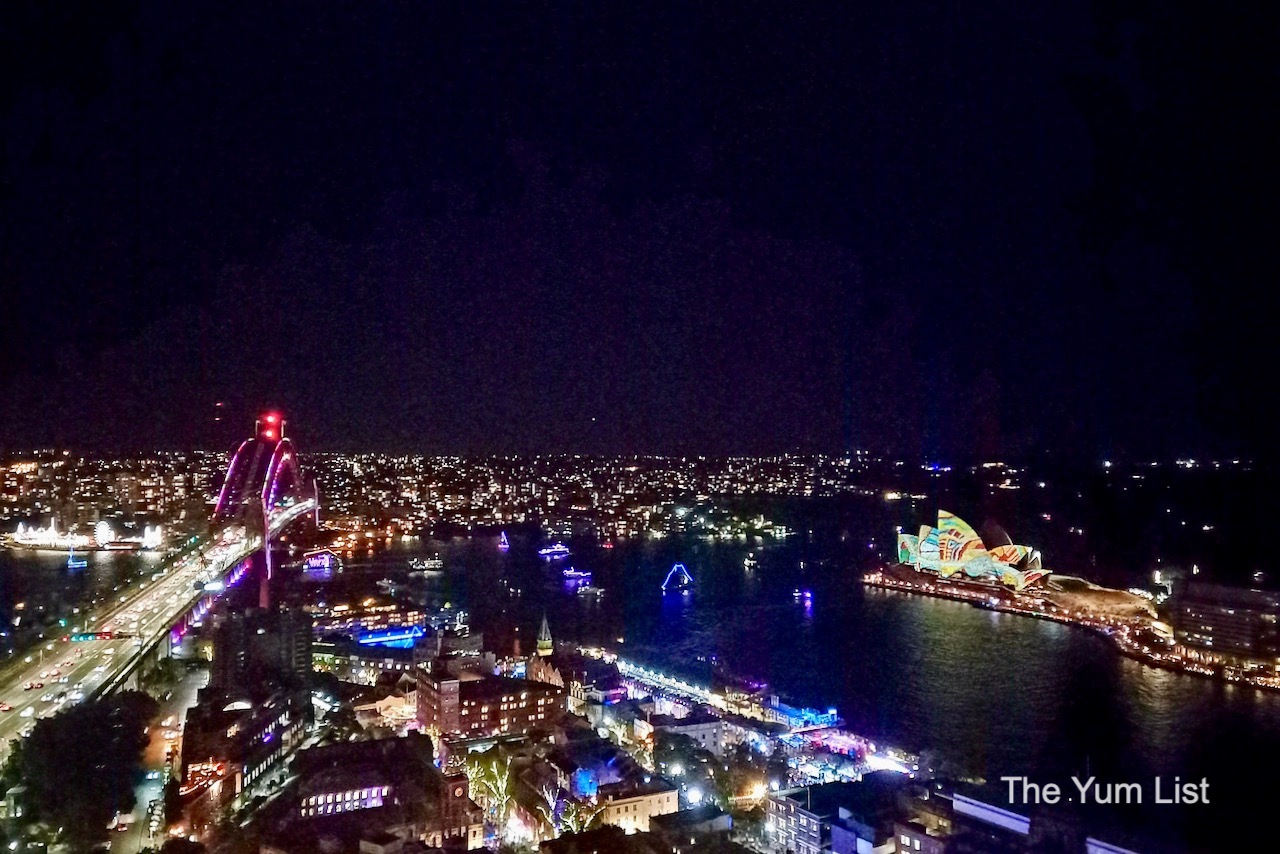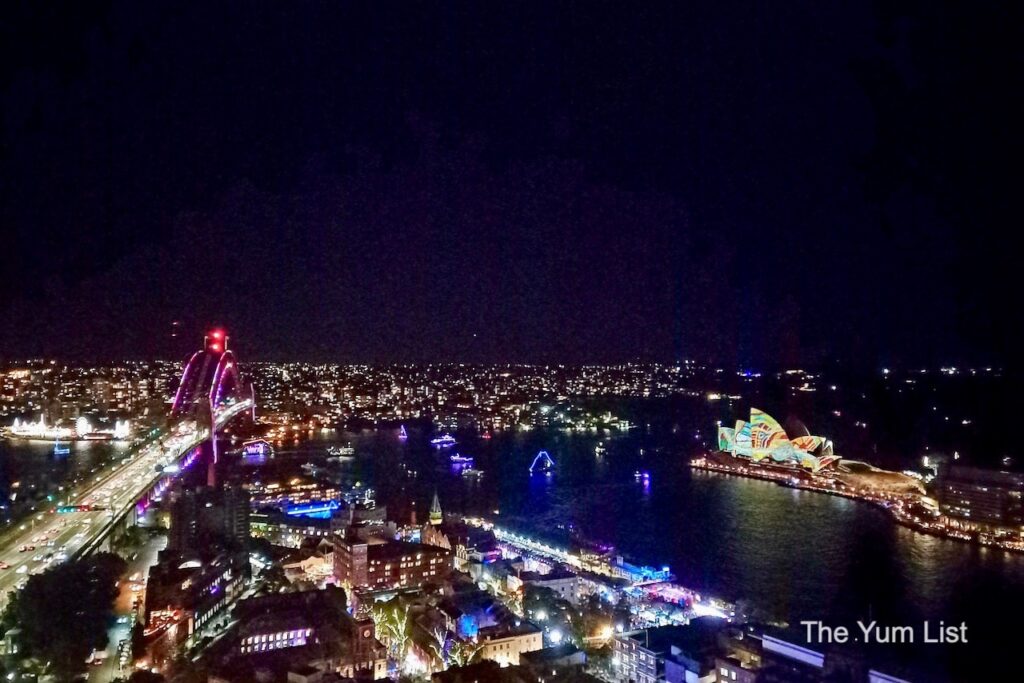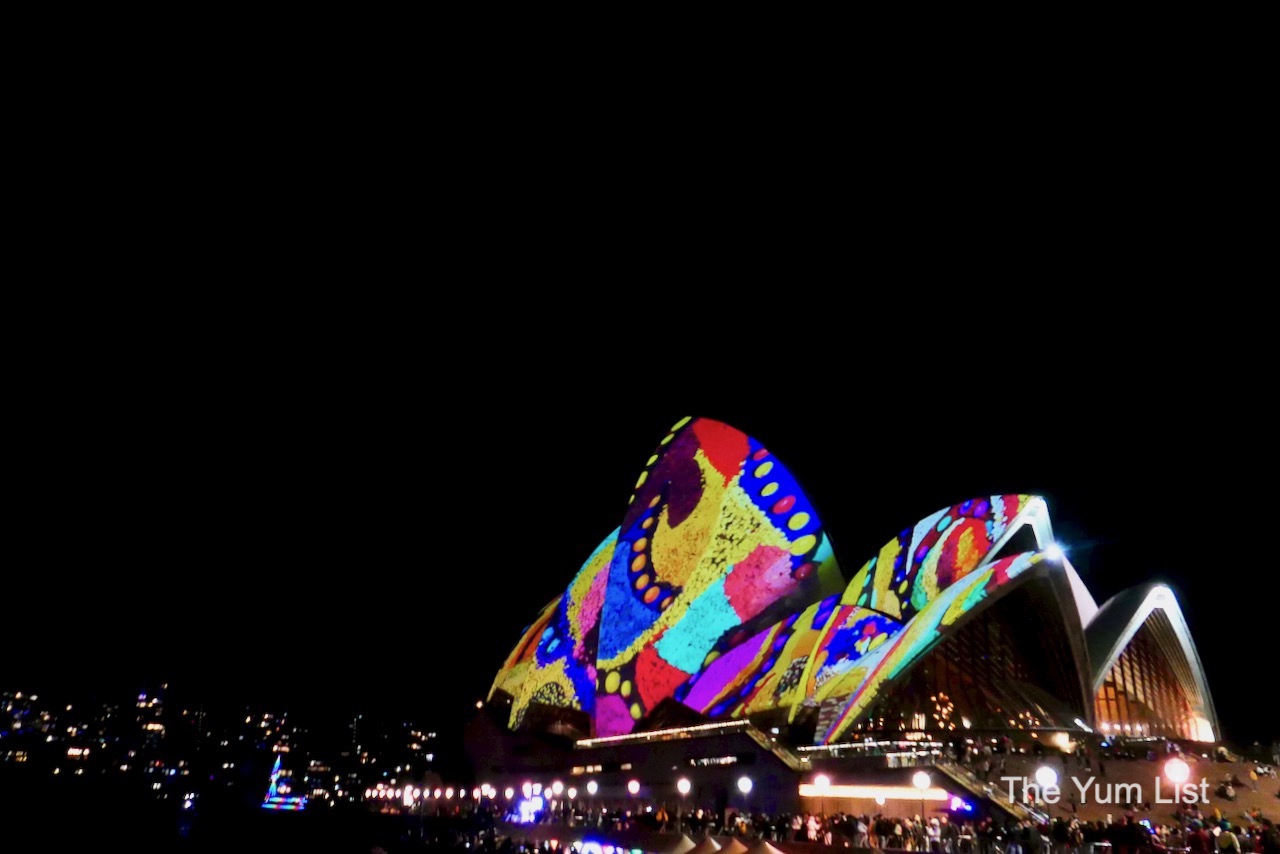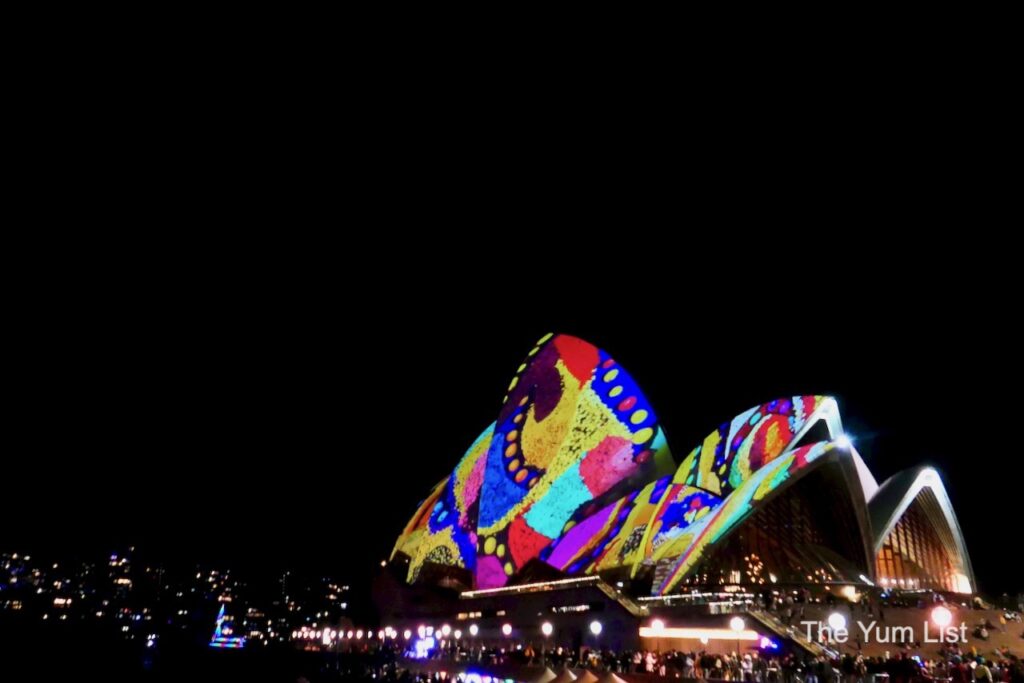 Vivid Menu at Altitude, Sydney
Testimony to the skill of the chef (and the somm), the food and wine menu soon distract us from the Vivid lights. We launch with a warm bread selection – charcoal and sourdough baguette – and a glass of Jarretts Prosecco from Orange, NSW. The blend of chardonnay and pinot is a wild ferment, which produces an alluring fine mousse and lightly fruity appeal. My dining mate, Mel, confirms its charm, "I'd buy that," taking another sip.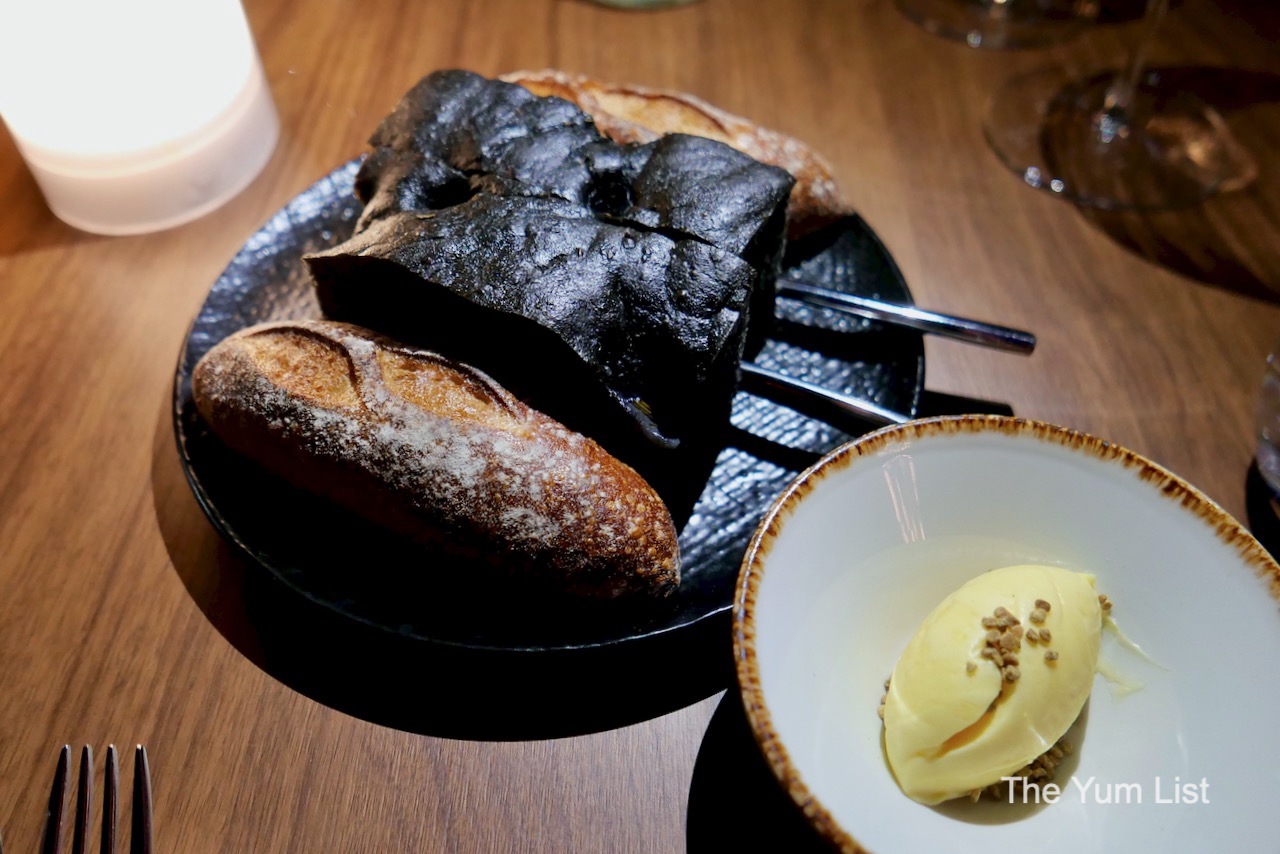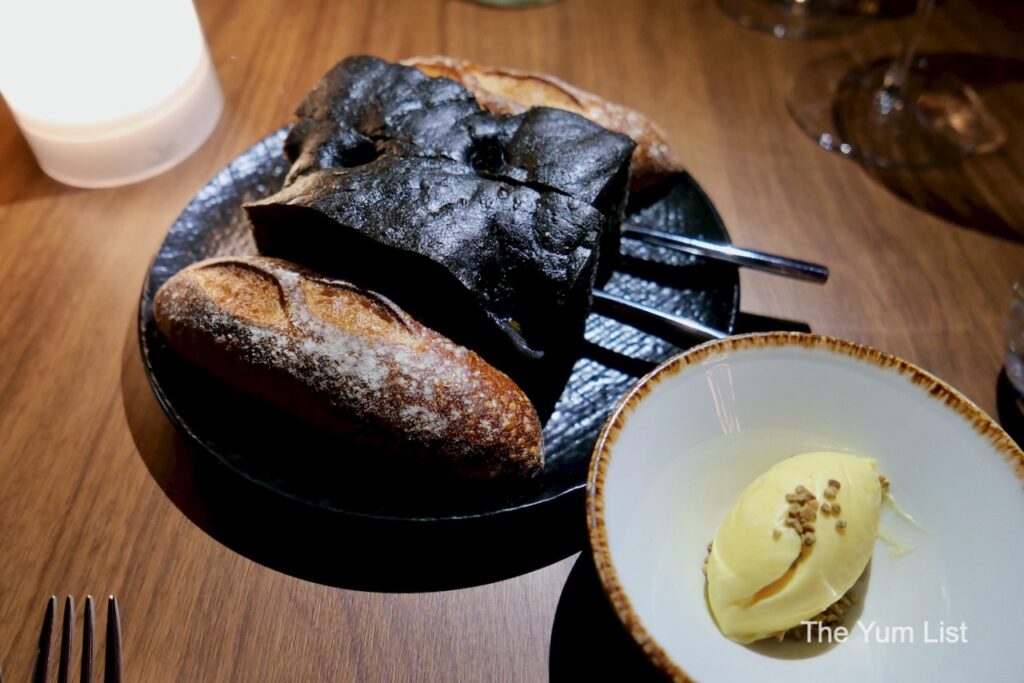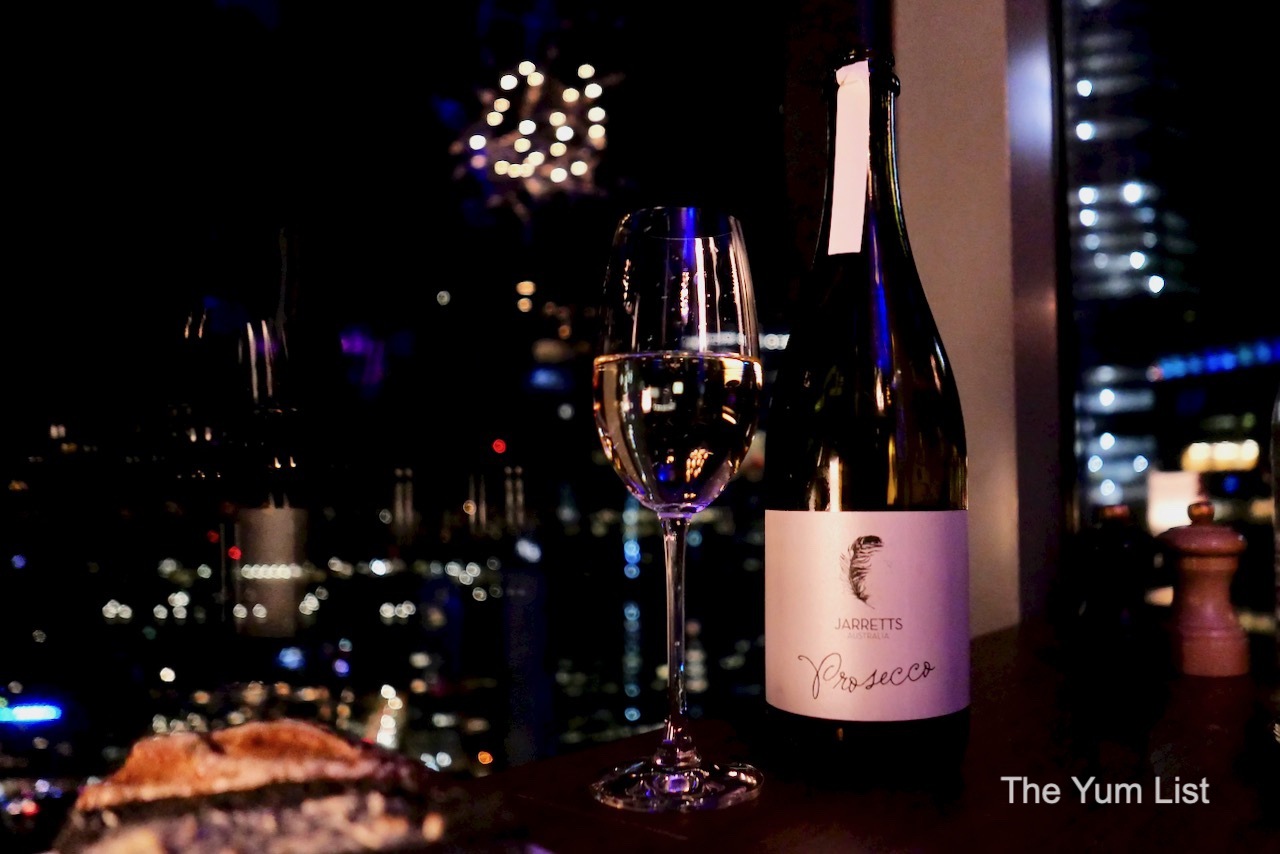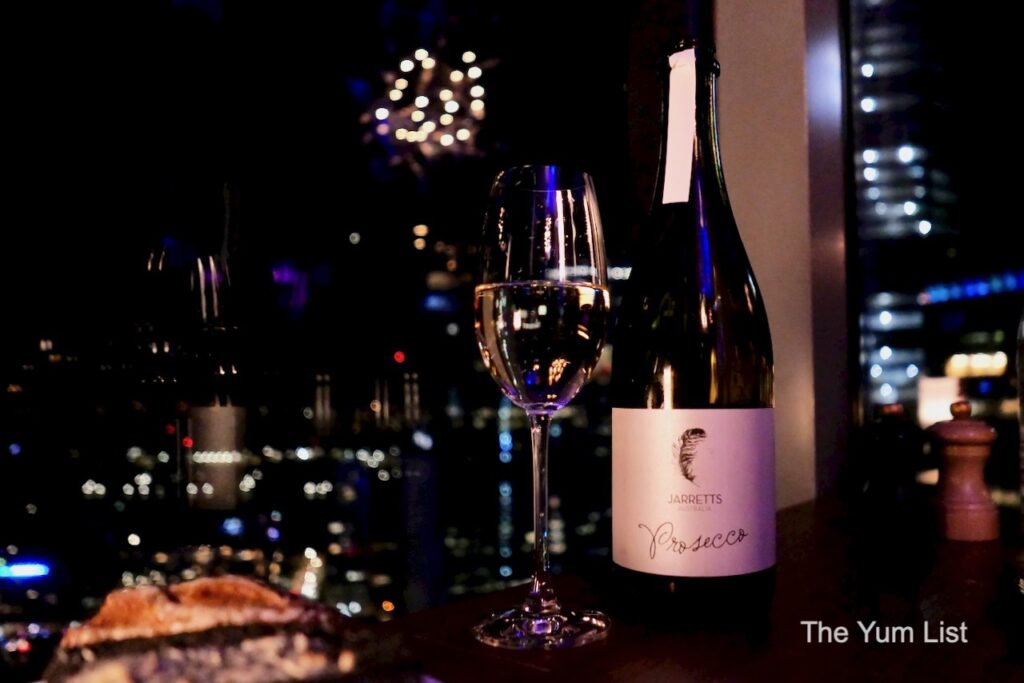 Entrée
We expected the Smoked Cashew Ricotta to be delicious, but it scored above the mark with its companions of salt-baked beetroot, nashi pear, coriander seed, crispy herbs and Geraldton wax. The last ingredient, a flower from Western Australia, is similar to lemon myrtle in profile, zesty with citrus notes. The dish is great on its own, but the wine mate brought out a little smokiness, ensuring our first combo full marks.
2021, Jim Barry, Florita Riesling from Clare Valley, South Australia, is a fantastic introduction to the iconic wine pairing. Third-generation family-owned, Jim Barry's flagship Riesling is one of Clare Valley's most collected wines. Halliday Wine Companion scores it 97 points! From one of the area's oldest vineyards, the grapes are hand-selected from individual rows, ensuring only the finest go into production. The Riesling is a gogo in crisp citrus, a light stony minerality and spring flowers. Intense and lingering seductively in the finish, this beauty could age for another 20 years. Good luck finding it in the stores – everywhere we look is out of stock. You'll have to come to Altitude to get a sip.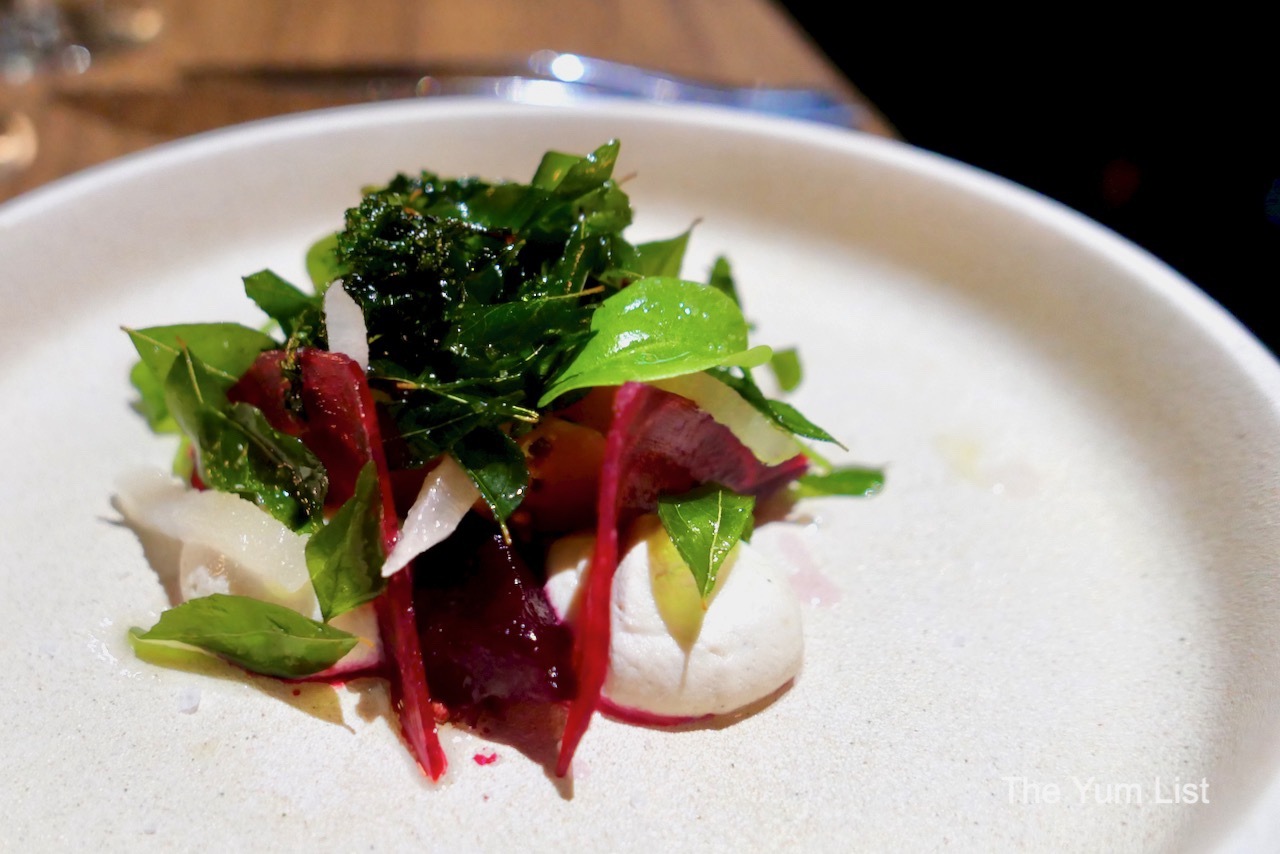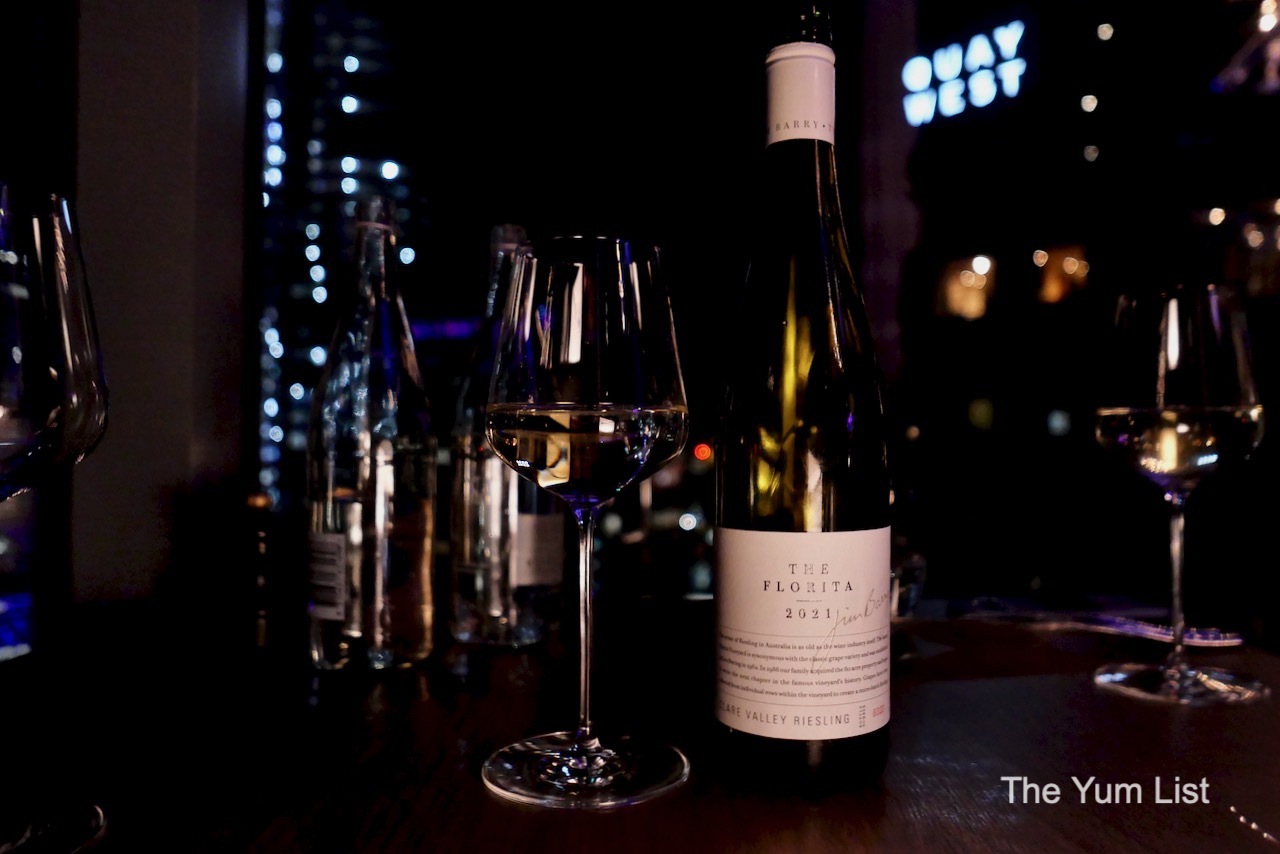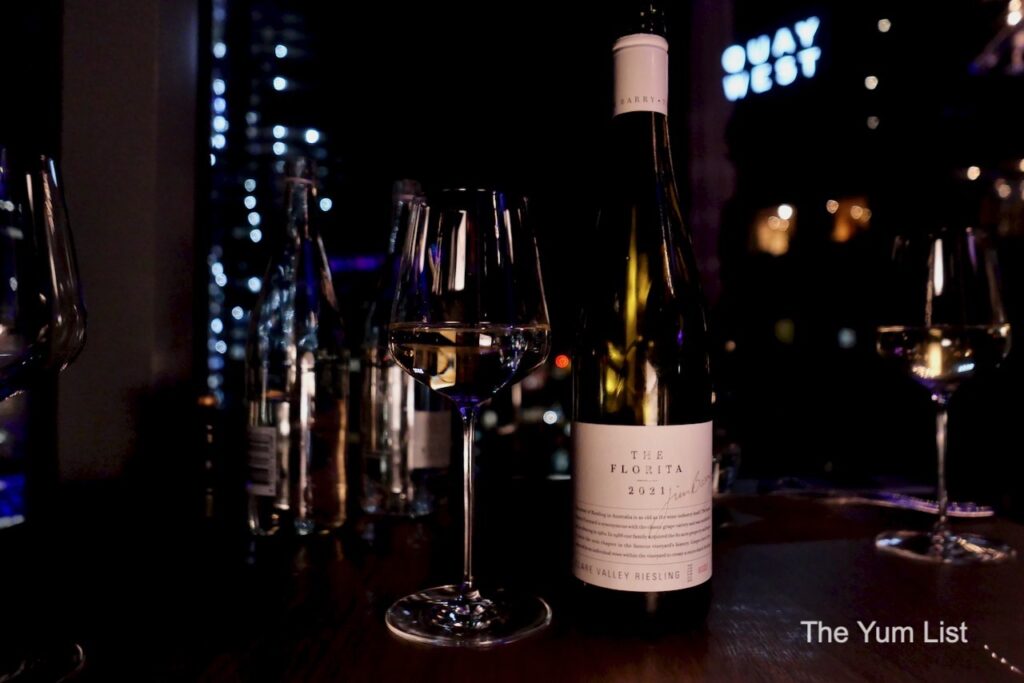 Both the ricotta entrée and the following BBQ Celeriac play with a contrast of texture. However, where the first is creamy and garden-fresh, the latter is earthy and warming. Shaved sleepy rosettes of the celeriac root cooperate with burned parsnip, curry aioli, king mushroom, crispy nori, sesame oil and puffed grains to create a toasty profile perfect for winter.
The wine accomplice is another win with the minerality of the 2021 Lark Hill, Grüner Veltliner, Canberra NSW, playing well with the earthiness of the appetiser. Pre-pandemic, I spent some time in Austria, where the grape is the country's most significant white. I'm curious to see how it goes in Aussie soil. Lark Hill vineyards are farmed using biodynamic principles working towards sustainability and bringing out the best of the grape. Their Grüner Veltliner has beaut acidity, making it an excellent food wine. Fig, herbs, white pepper and minerality in the bouquet carry over to the palate. I'd say the grape has settled in well.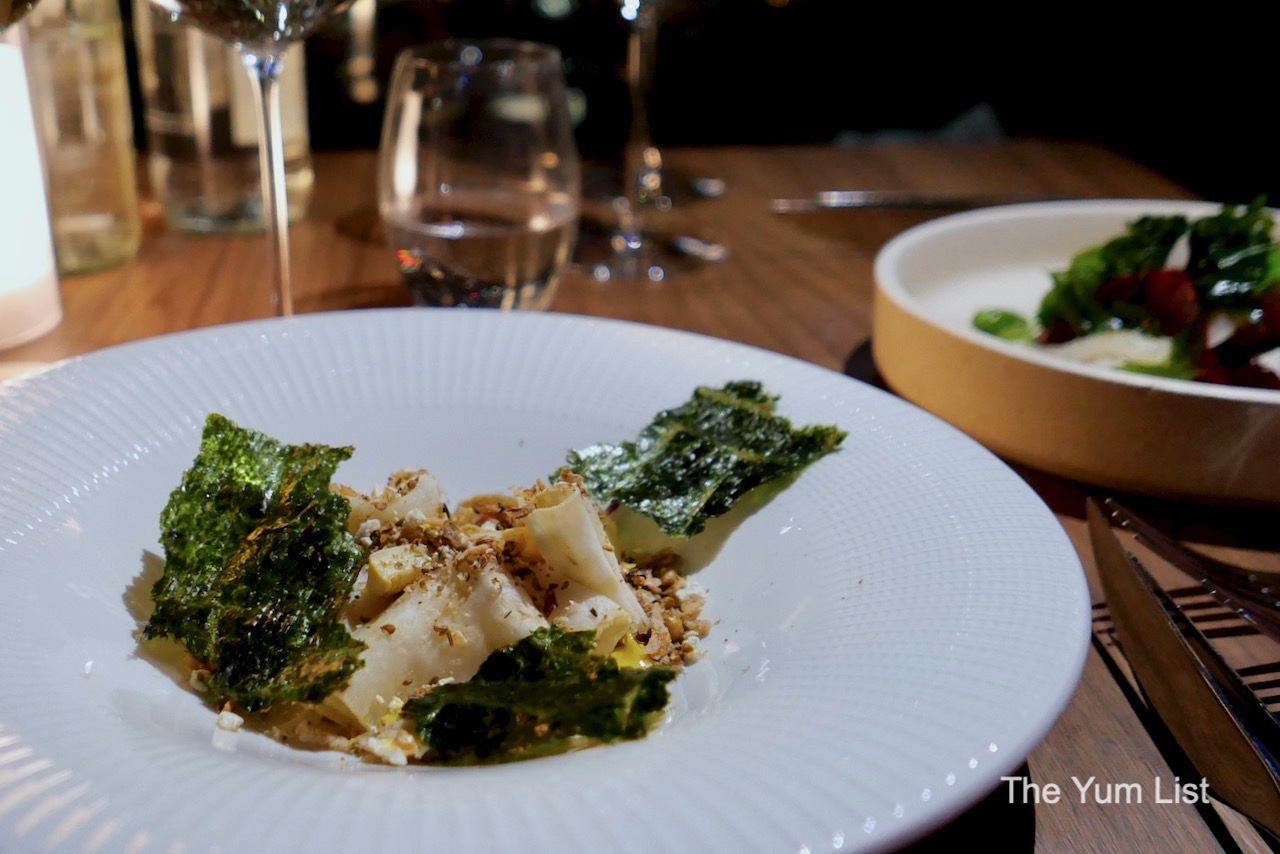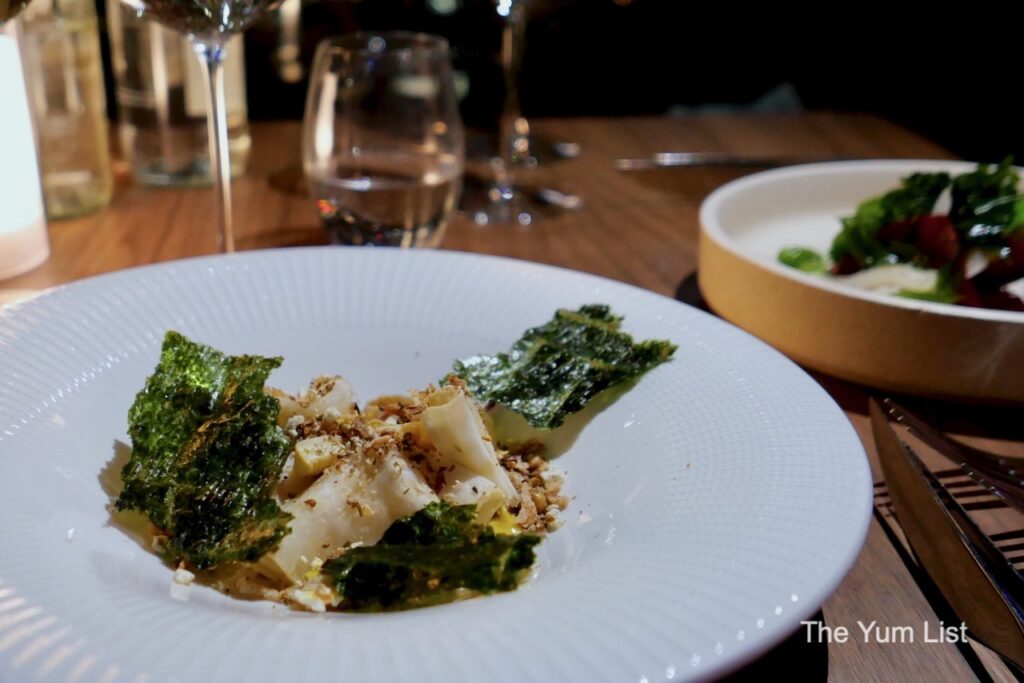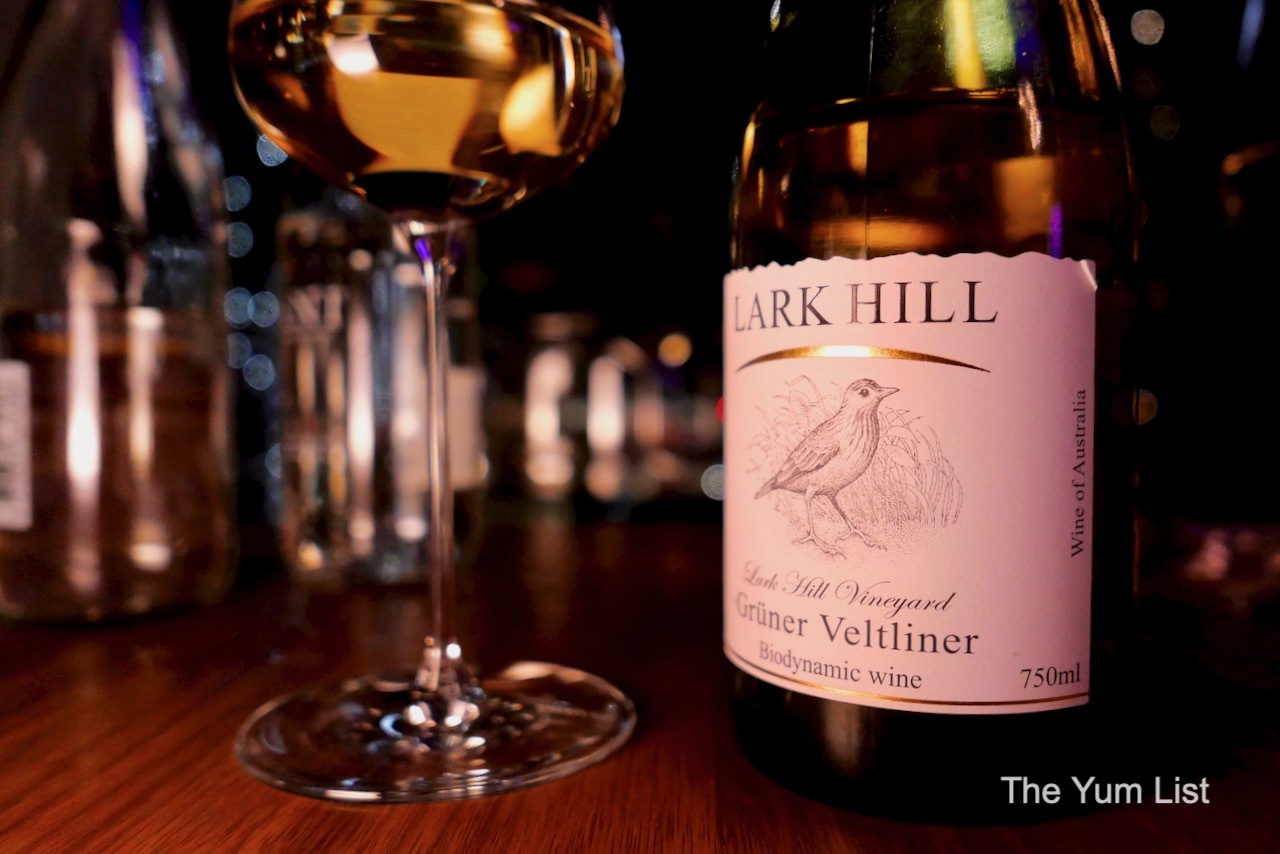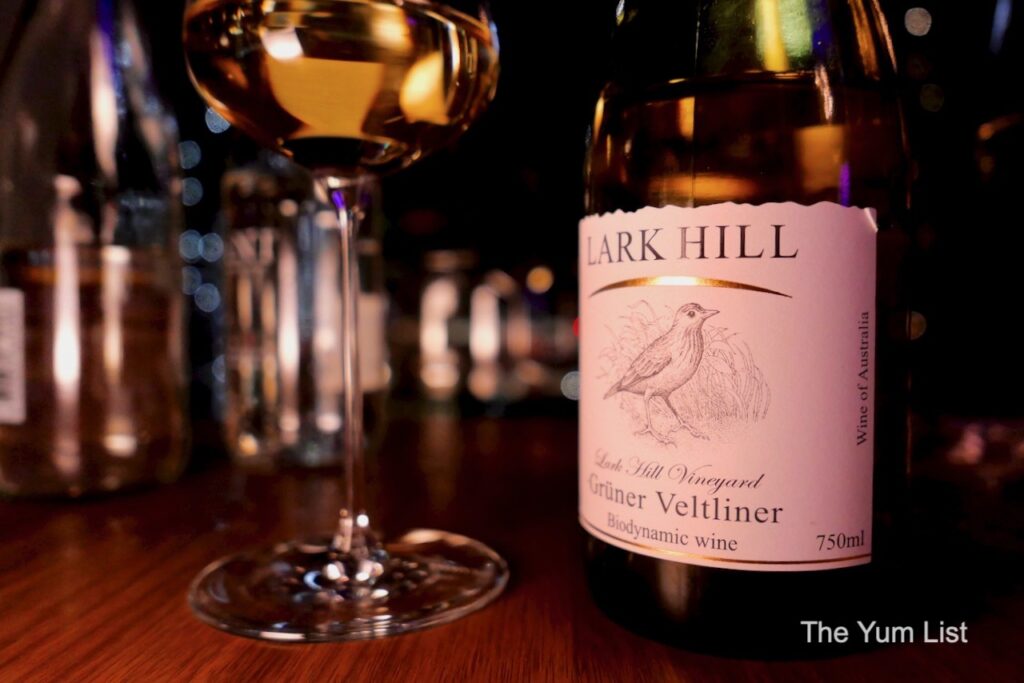 Main Course
If you order nothing else from this menu, make it the Glass Crackling Pork Belly! "Glass" and "crackling" are understatements. This is a thing of sheer luxury. The exceptionally thick crystal-like skin is counterbalanced by soft, fatty, salty flesh. Our teeth crunch down loudly confirming its goodness and bringing a smile to every bite. Foie gras, celeriac puree, pickled rhubarb, marinated blood plum and amaranth are thoughtful sides but outshone by the protagonist on all accounts.
The salt and fat in the pork are balanced with the next wine, a fruity and poised grenache. Burgeoning attention to nourishing the soil through the use of biodynamic practices is not only restoring the earth but bringing out the best in grapes. The small-batch 2020 Yangarra Estate, Ovitelli Grenache, from McLaren Vale, South Australia, is no exception. Not only is the winery biodynamic certified, but 2016 Halliday Winemaker of the Year, Peter Fraser, is at the helm, and they've been named International Winery of the Year twice already! The grenache is held in a ceramic egg-shaped vessel, encouraging natural convection and homogenous fermentation. We find berries and earth in the bouquet, followed by more of the same in the palate with a lovely savoury elegance and fine tannins leading to a long, winding finish. It's another 97-pointer in the Halliday Wine Companion.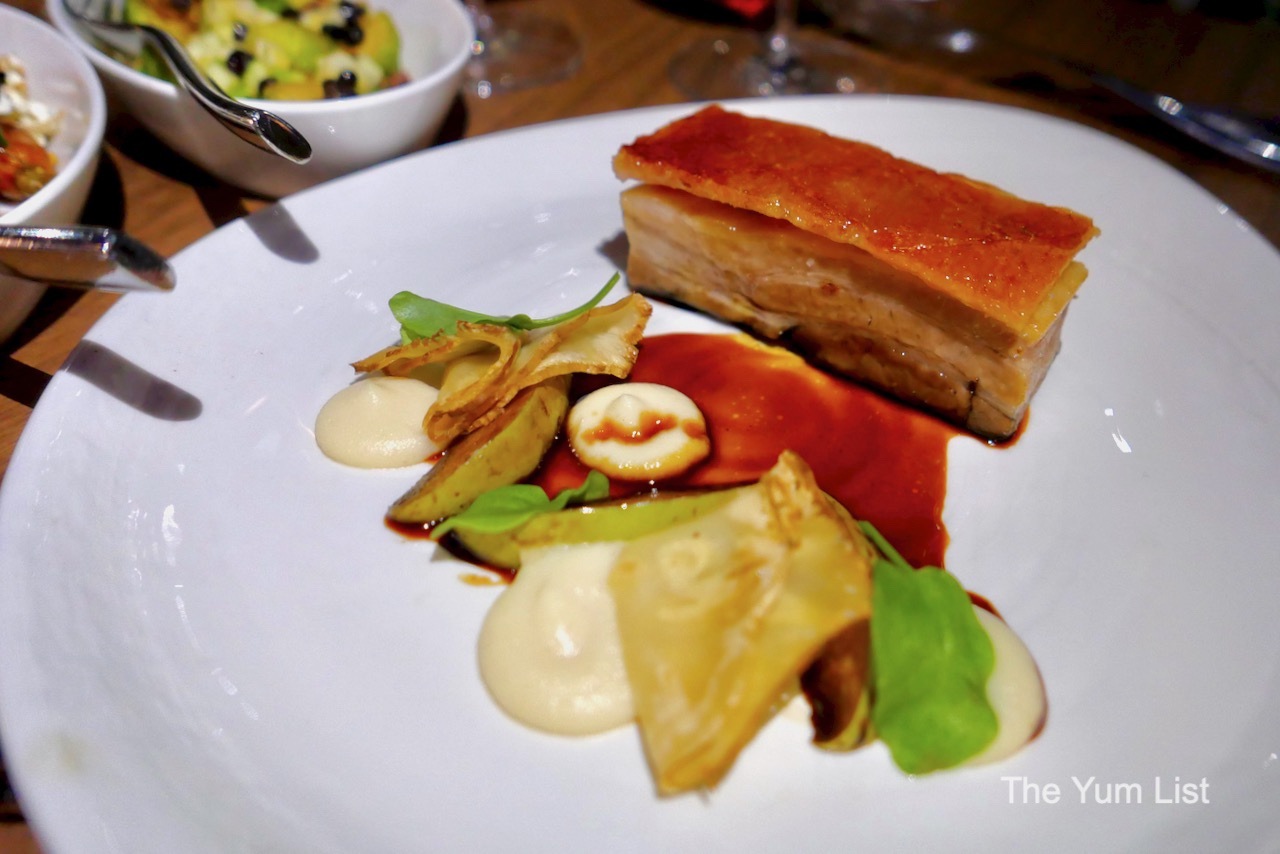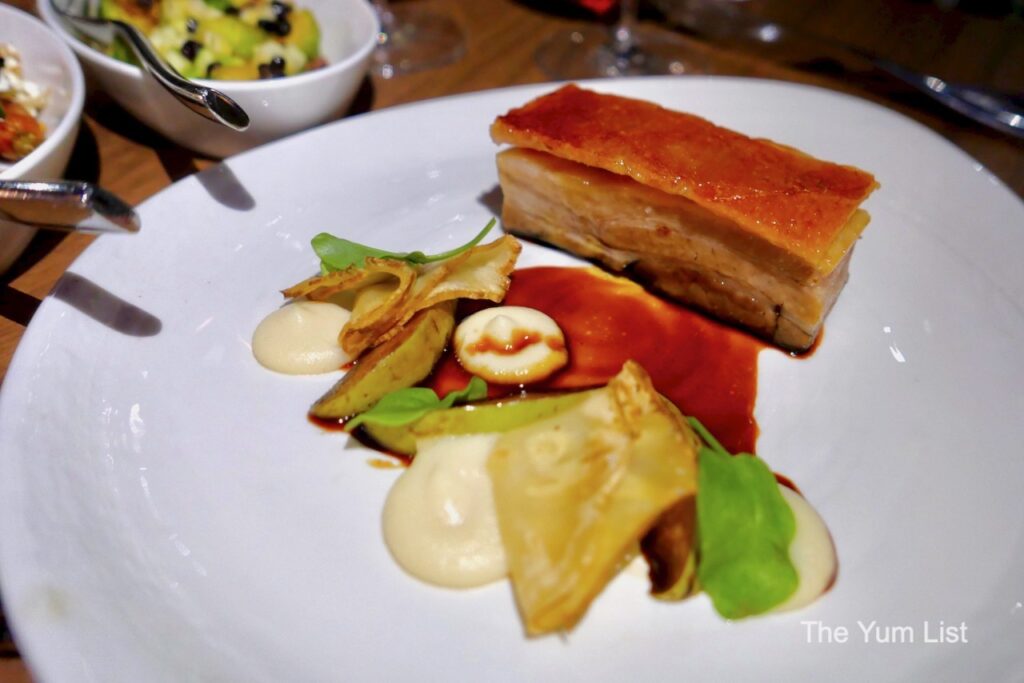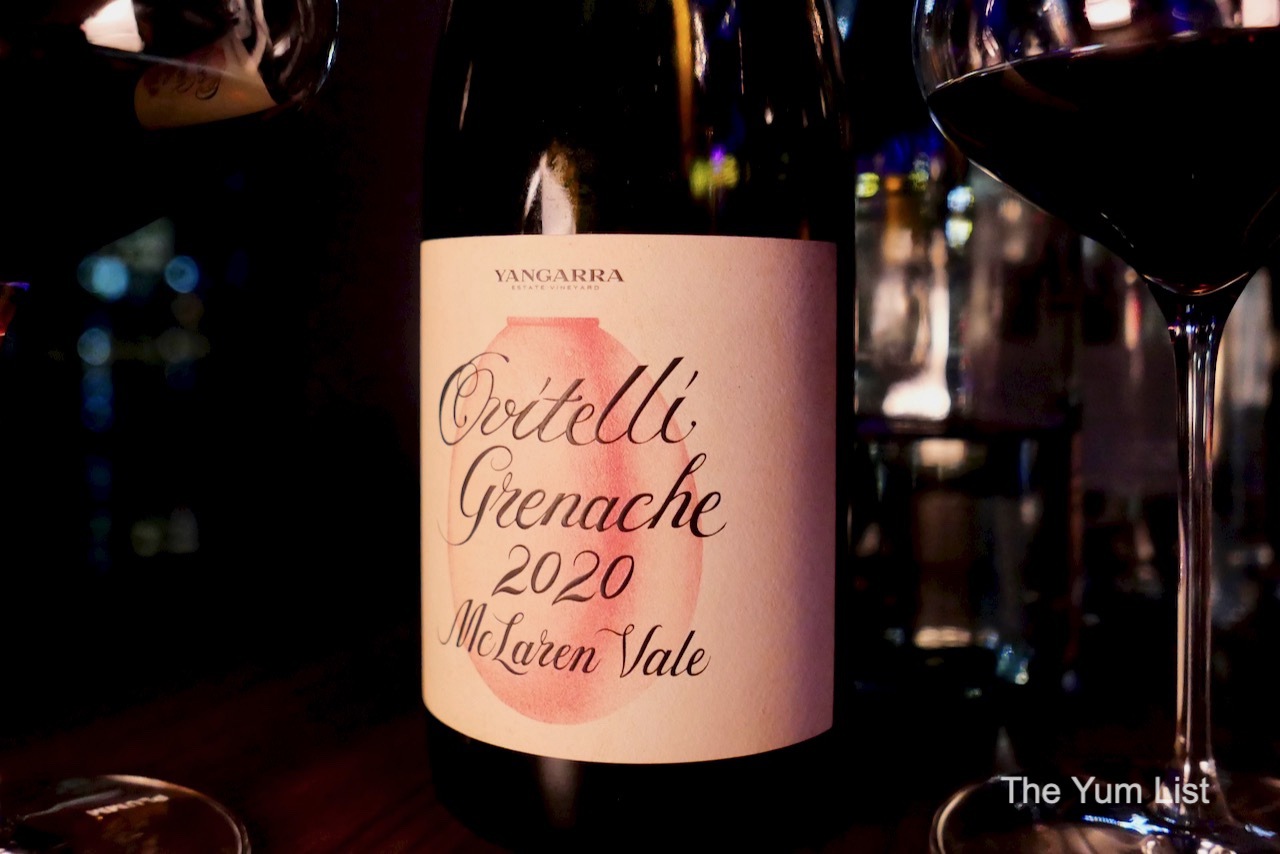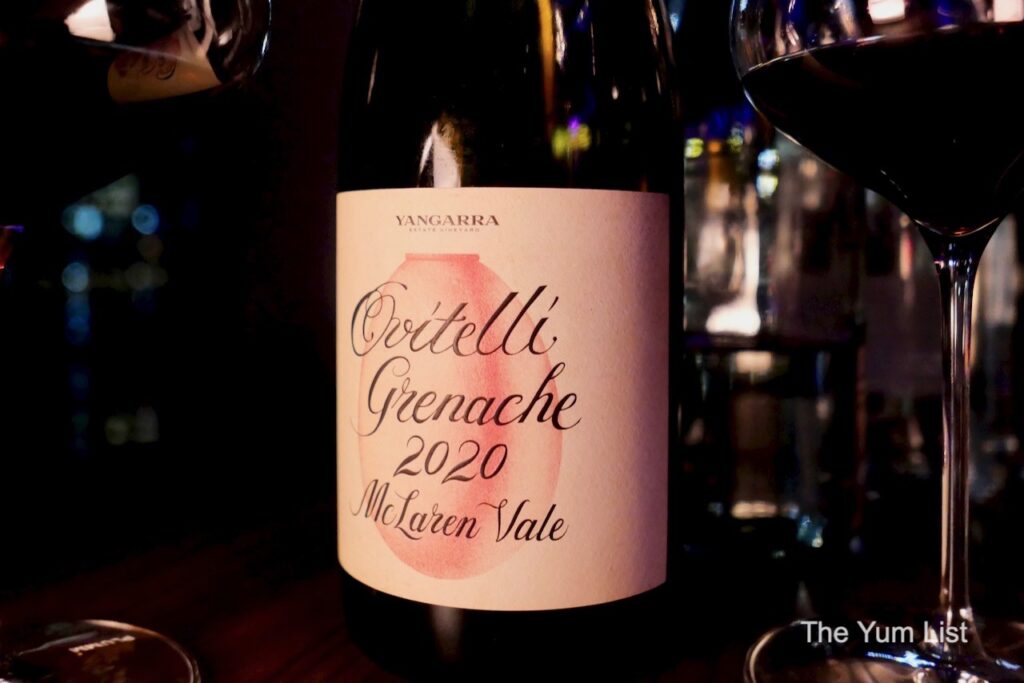 We're pleased to report that every course has a decent vegetarian option. In this Vivid menu, it's the Roasted Pumpkin Risotto that's plant-forward. The rice maintains a good chew, and the pumpkin has a little firmness juxtaposing the almost-burnt cream, crispy sage and pine nuts.
Mark and Andrie Whisson harnessed the cool climate of Piccadilly Valley in Adelaide Hills to produce what critics claim to be the best vintage of pinot noir to date and our risotto partner, the 2012 Whisson Lake, White Label. Pinot noir is the sole focus of the organic, cool-climate vineyard. The end result is a top-notch drink – layered, delicate, dark fruit, spice, truffle, bright, juicy and furnishing impressive length.
With these incredible pairings, we can see why Altitude was awarded the prestigious 3-Glass rating from Australia's Wine List of the Year Awards, 2021. Some of the beauties served here are so good, that they cannot be found on shelves or online anymore (we've tried!).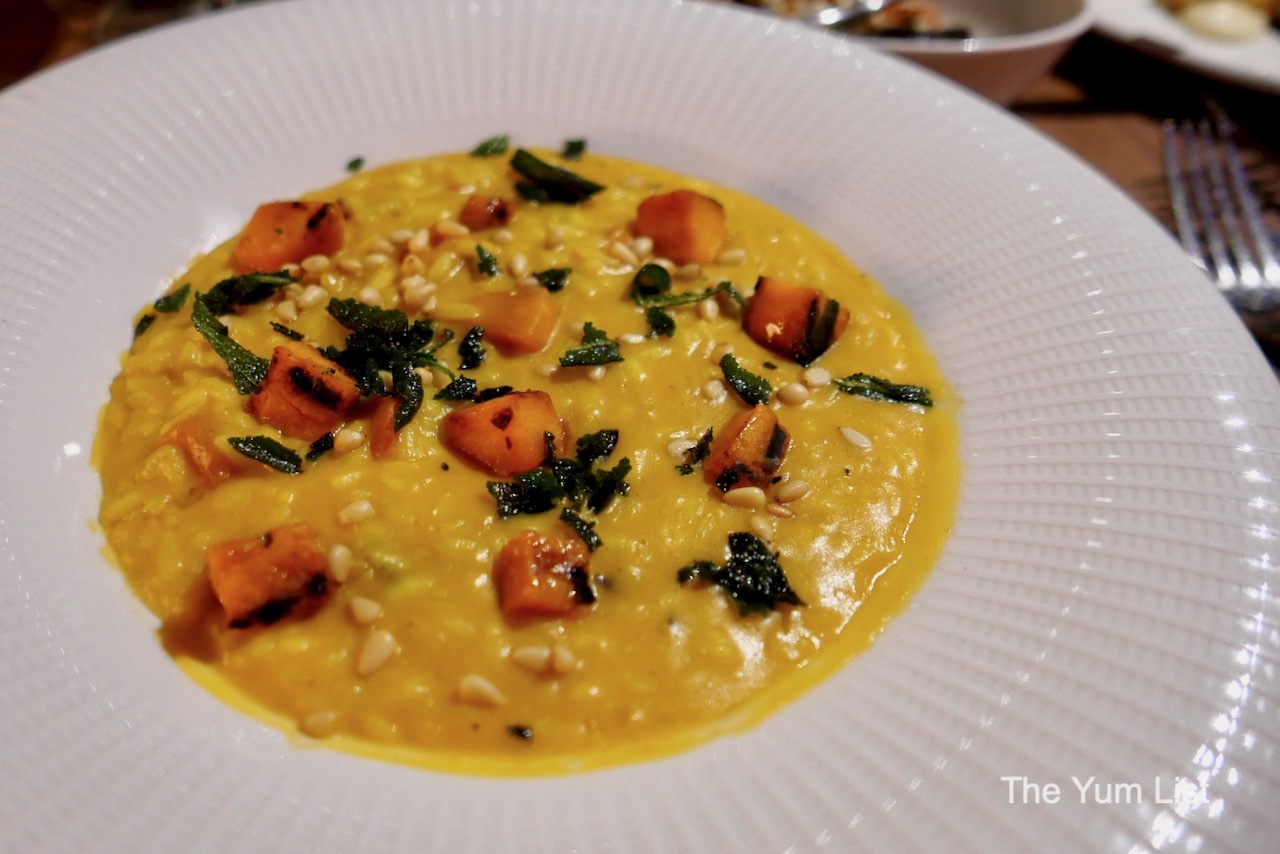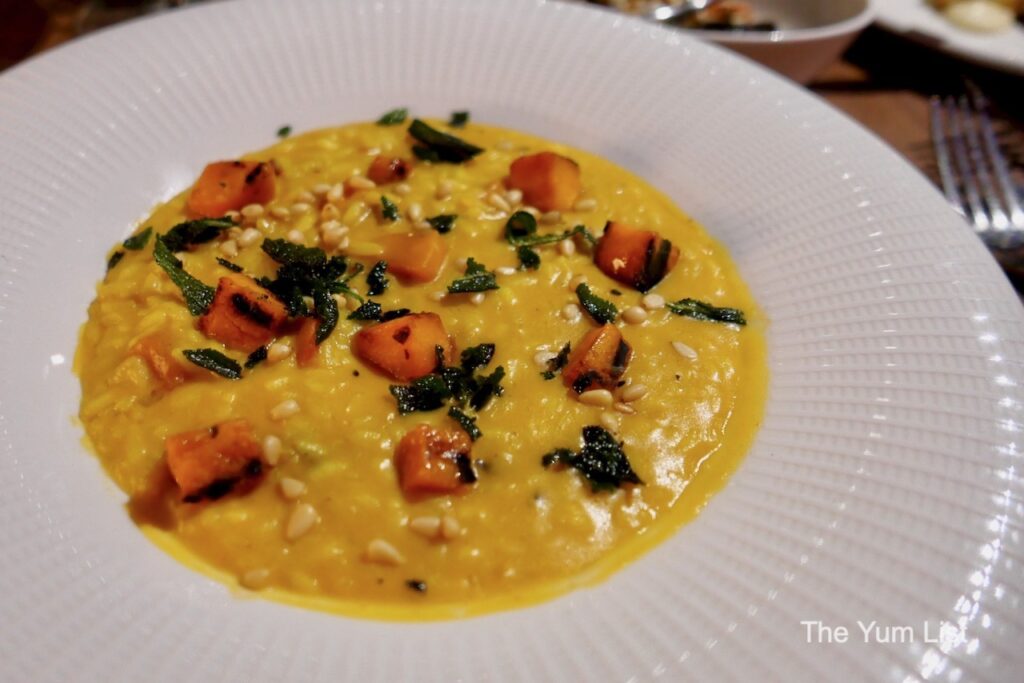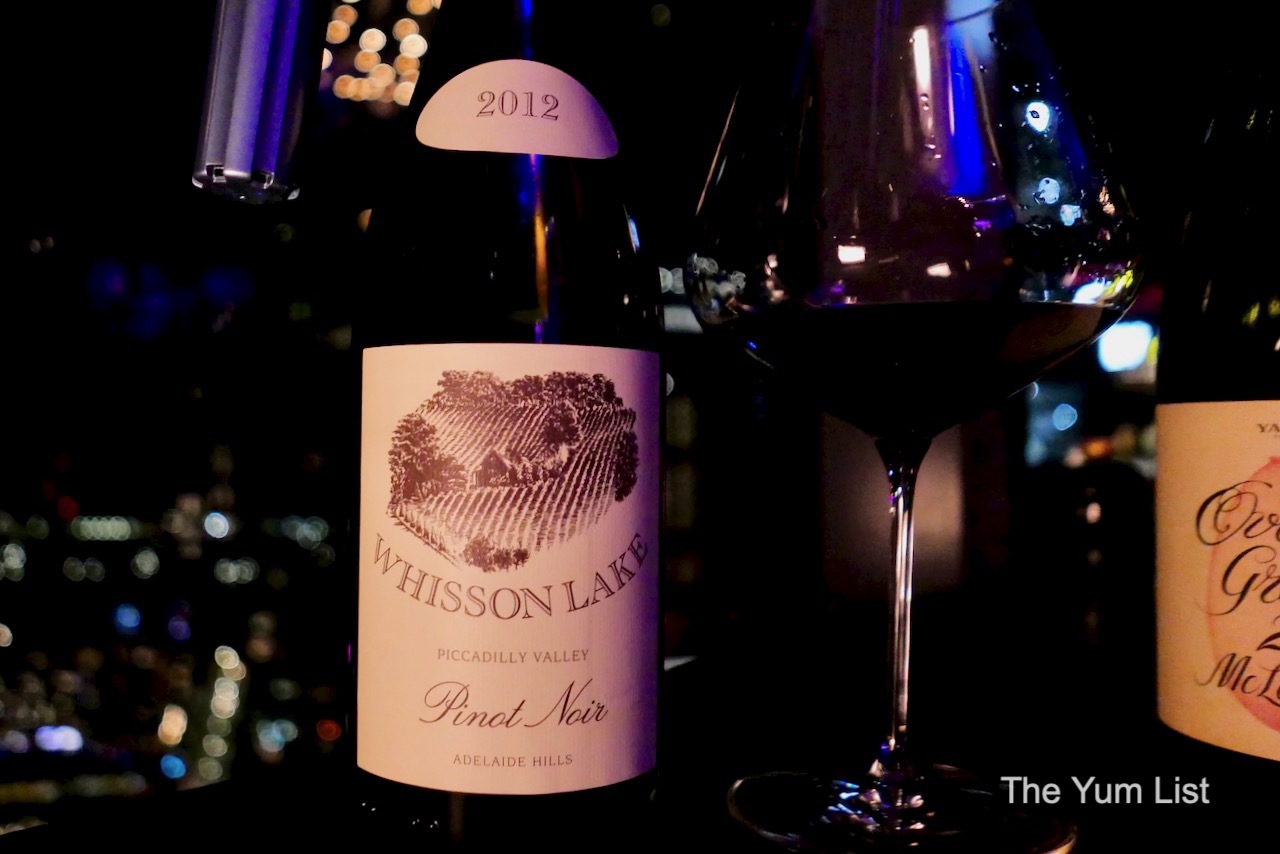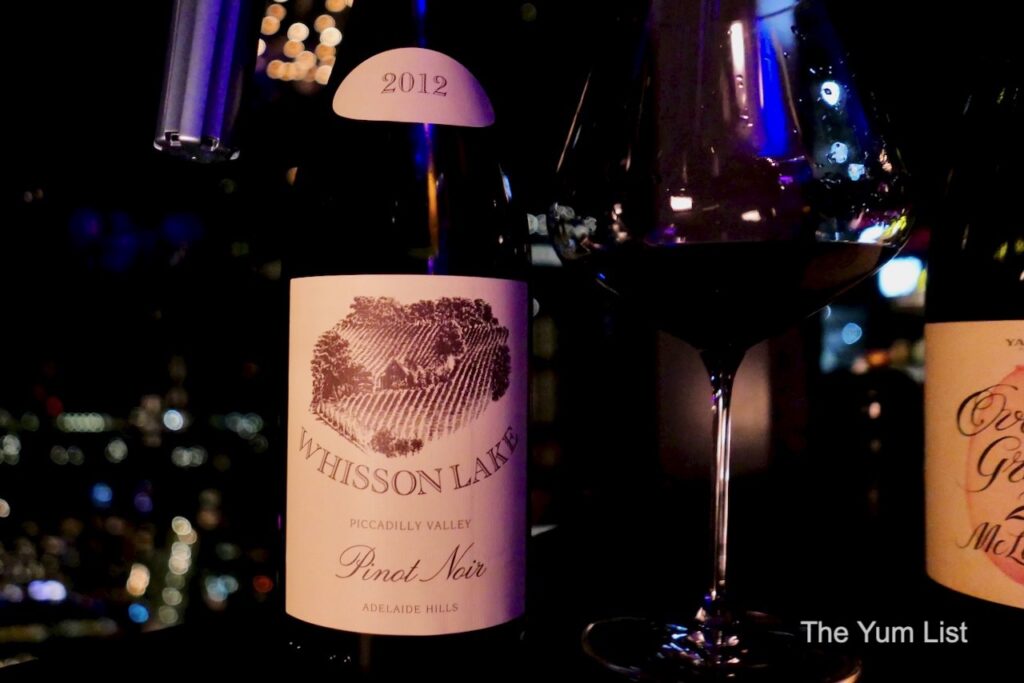 Dessert
Of the desserts on the Vivid menu, the Yuzu Mousse is probably the lighter conclusion. It's a pretty mound topped with apricot compote and chamomile meringue on a coconutty base. Fairy floss sits like a messy tuft of hair on the sunrise lime sorbet, connecting a little whimsy on the plate to the shimmering lights on the harbour.
The versatility of Riesling shines in this menu offered at both the start and the conclusion. To end, it's the 2021 Frogmore Creek, Iced Riesling, Coal River Valley TAS. Tassie is known for its cool climate and hence slowly-ripened grapes, and Southern Tasmania is particularly chilly. So cold, in fact, that the grapes freeze on the vine! The grapes are pressed frozen (hence the name iced wine). This results in concentrated flavours full of rich fruit while maintaining enough sharpness to provide equilibrium. Dried stone fruit comes to the nose with a honeyed palate harmonised by lime. It's another popular drop amongst wine connoisseurs and hard to find in stores. Savour every sip.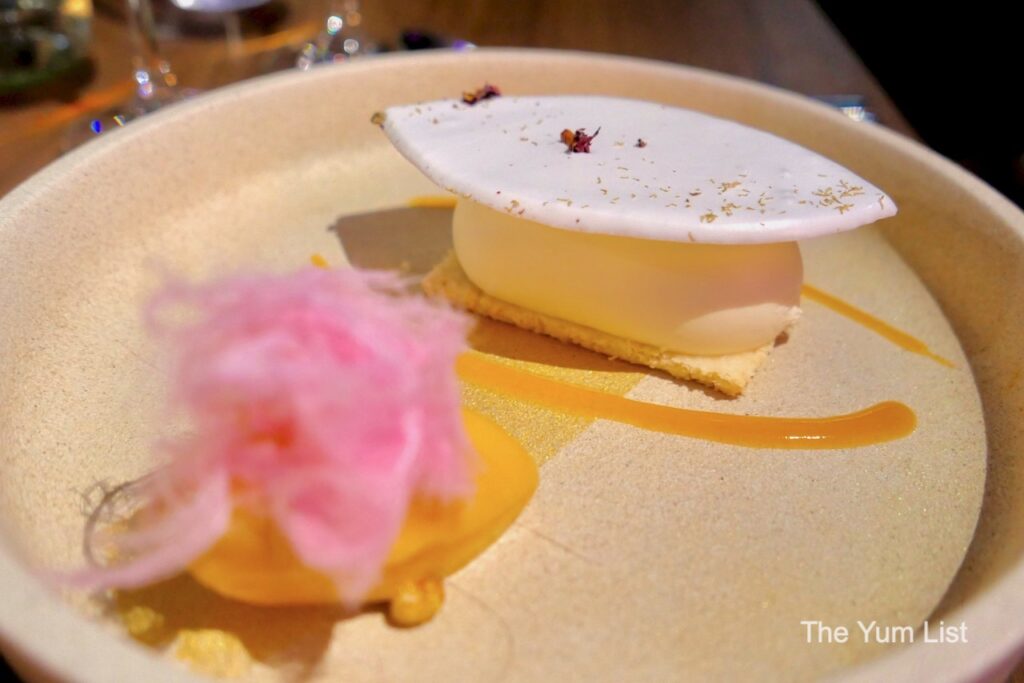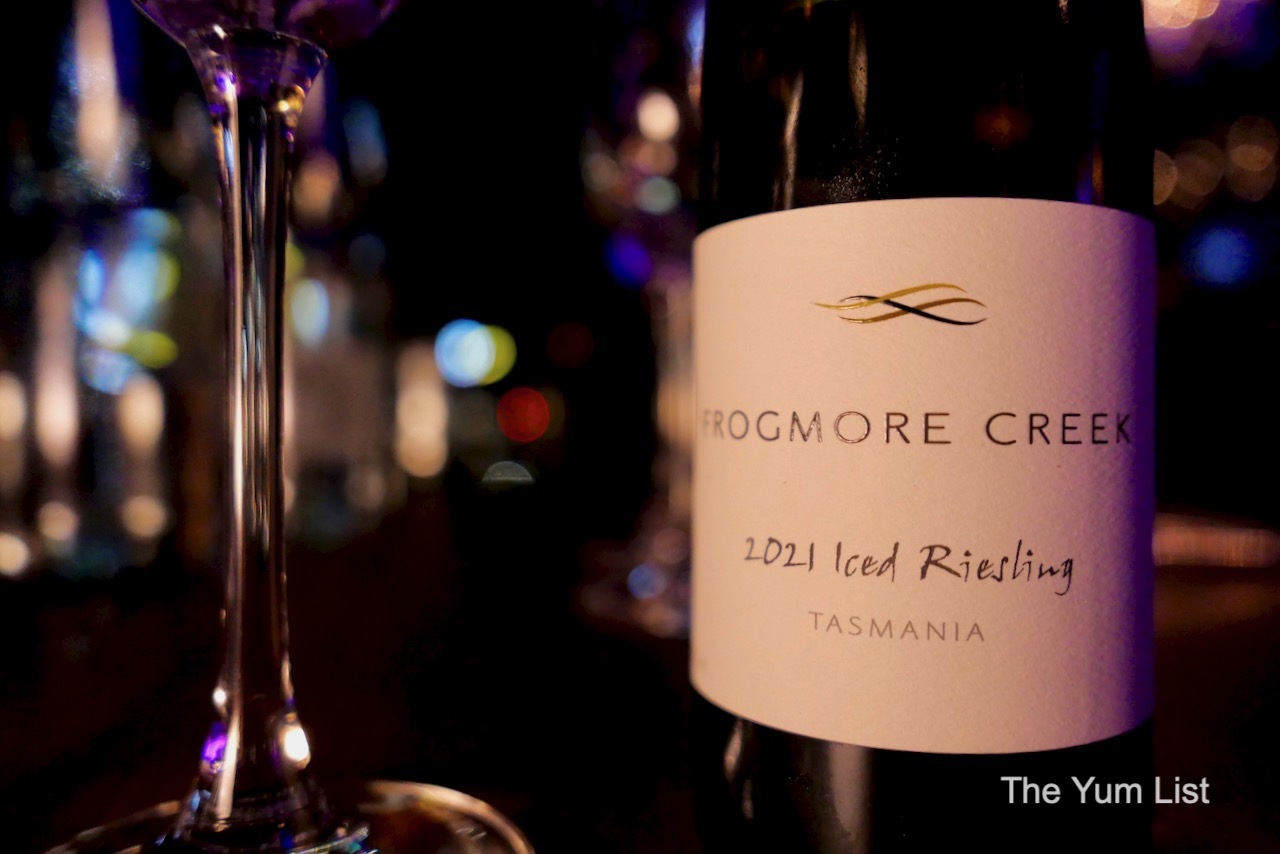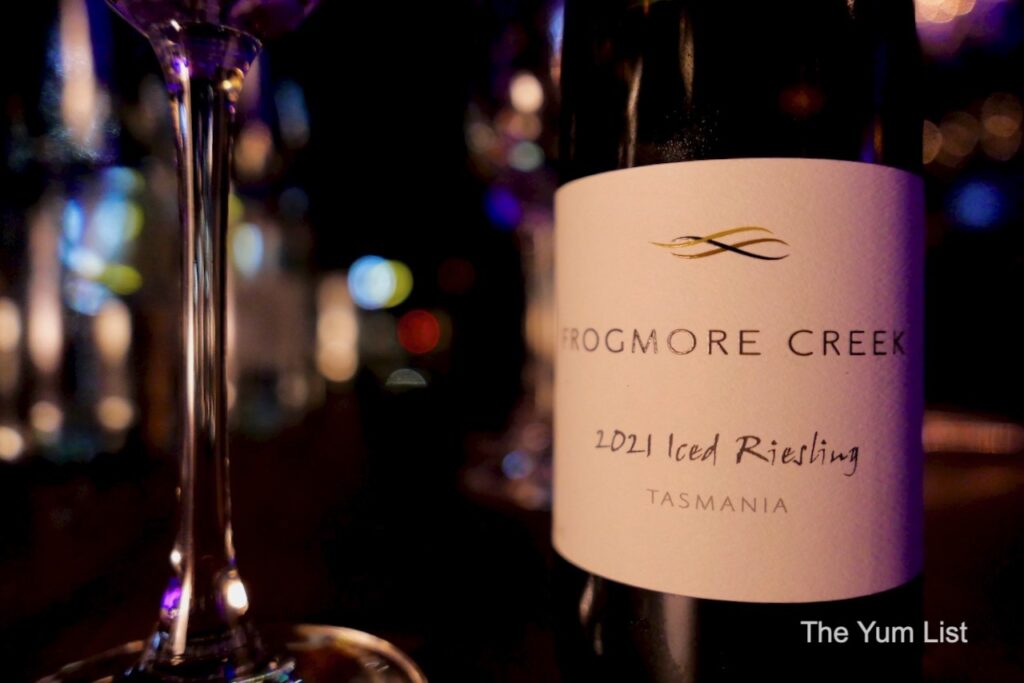 If you have a serious sweet tooth, I challenge you to take on the Caramelised Quince. It's supported by intense dulce de leche, Davidson plum biscuit, wattle seed gelato and a flamboyant crest of caramelised sugar.
The wine matches the dessert in intensity, causing a tug-of-war in the quest to be monarch of the mouth. My savoury-preferring palate would be happy for another glass of the preceding grenache, but my dessert-loving Mel fully embraces the double dose. We return to McClaren Vale for the final wine with the 2017 d'Arenberg, The Noble, Botrytis Semillon Sauvignon Blanc, from South Australia. Tropical fruit, marmalade, citrus and herbaceous notes on the nose pave the way for a viscous palate balanced by exciting acidity.
Our attention once again returns to the lights dancing on the harbour. No doubt, this has been a memorable night, but dinner at Altitude would surely be a highlight of any visit to Sydney.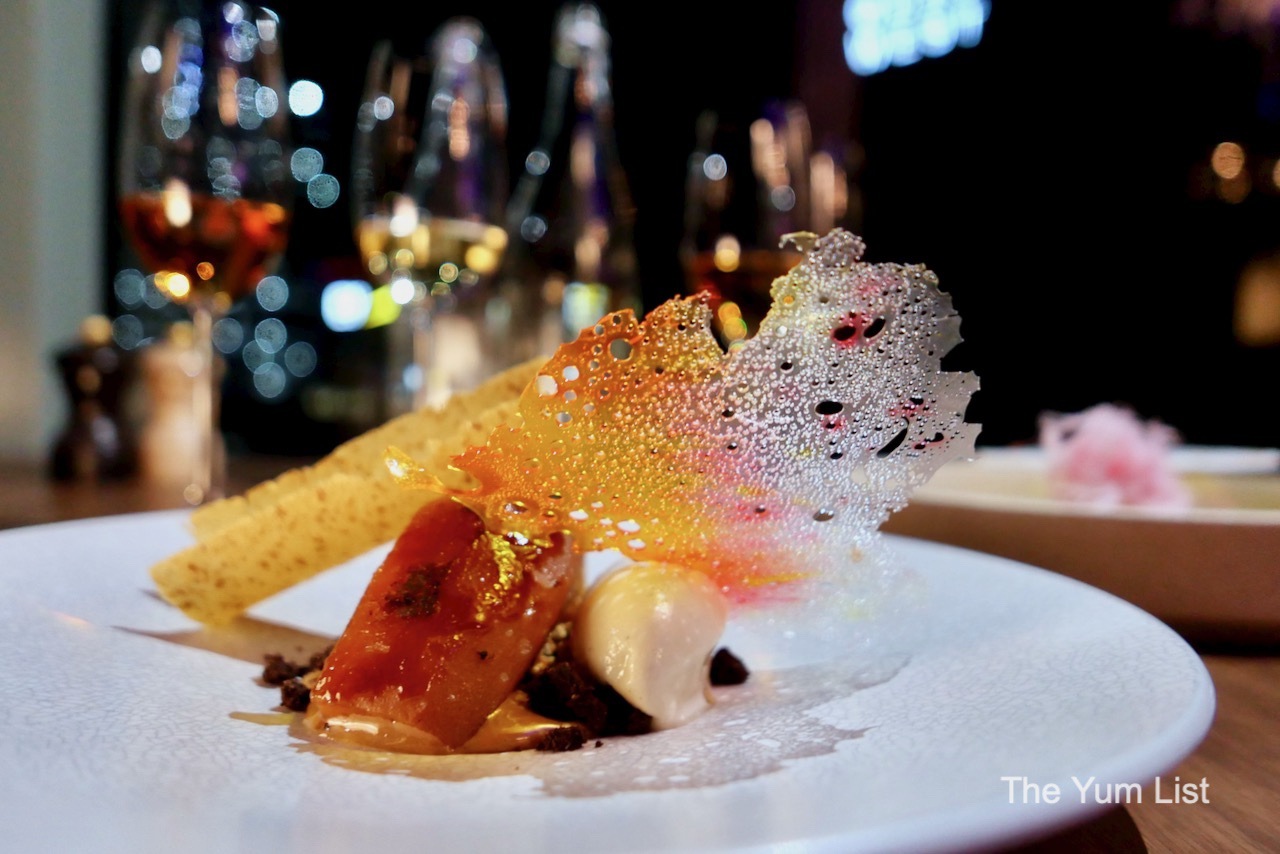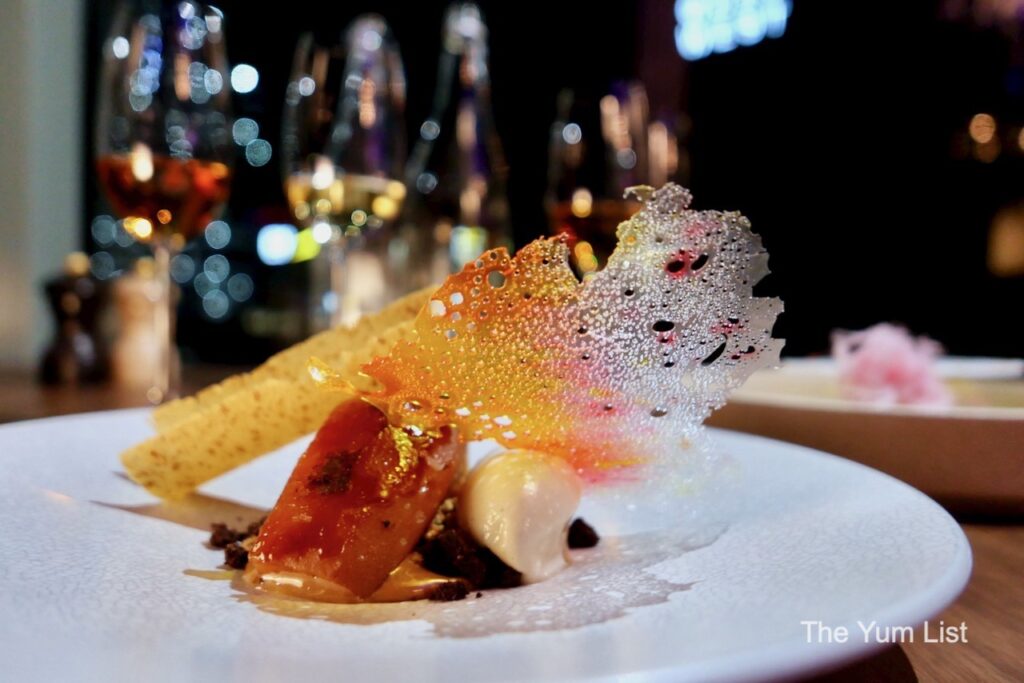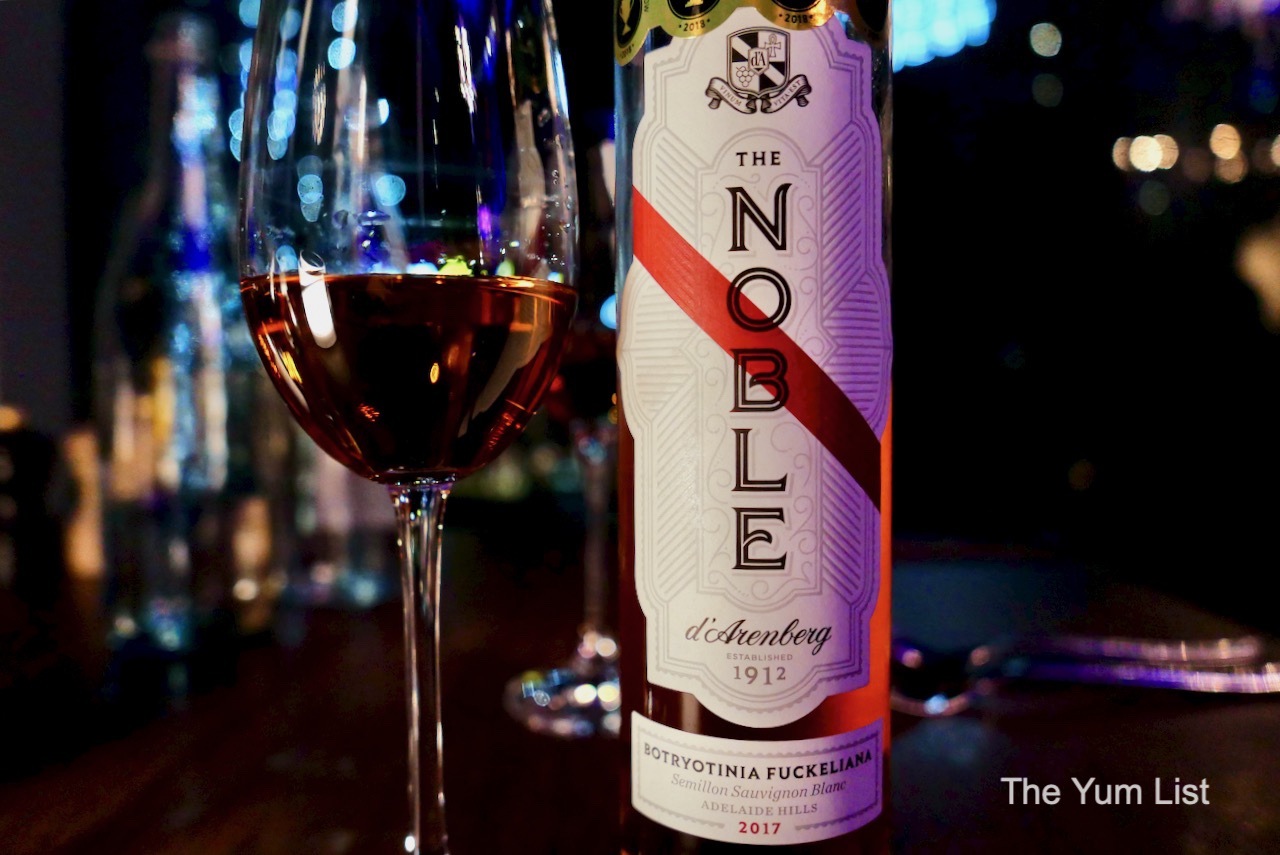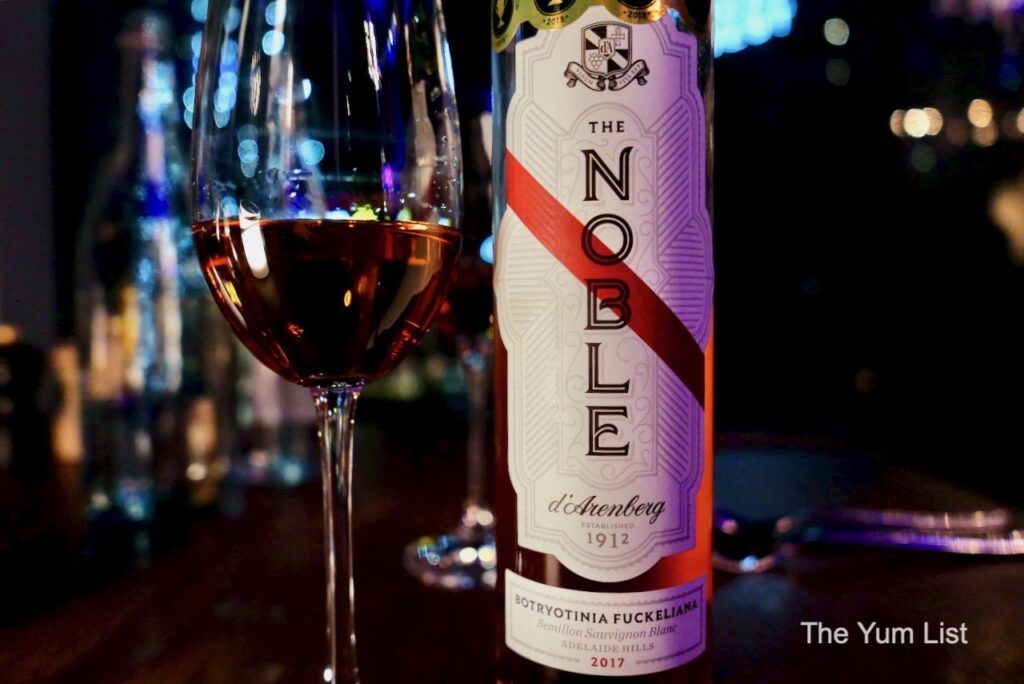 Vivid Menu at Altitude, The Details
The Vivid menu at Altitude is available until June 18, 2022. Two-Courses ($135 AUD) can be matched with either the Sommelier Wine Pairing ($65) or Iconic Wine Pairing ($95). Three-Courses ($165) can also be paired with the Sommelier Wine Pairing ($85) or Iconic Wine Pairing ($135). Prices are quoted in AUD. A 15% surcharge applies for Sundays and Public Holidays. A minimum spend of AUD 250 per person applies for a guaranteed window table. Three-course option ONLY on Friday and Saturday.
Reasons to try the Vivid menu at Altitude: spectacular views and a menu to rival them; wine lovers must try the iconic wine pairing to get a taste of some of the best Australia has to offer.
Vivid Menu at Altitude
Level 36, Shangri-La Sydney
176 Cumberland Street, The Rocks
Sydney, NSW 2000, Australia
+(61 2) 9250 6000
[email protected]
Altitude Operating Hours
Breakfast
Monday to Friday: 7 am – 10:30 am
Saturday and Sunday: 7 am – 11 am
Lunch
Monday to Sunday: 12 pm – 2 pm
Dinner
Sunday to Thursday: 6 pm – 10 pm
Friday and Saturday: 5:30 pm – 10 pm
Sundays and Public Holidays incur a 15% surcharge. For Public Holiday hours, please get in touch with the hotel.
50% discount on parking when dining. Receipt to be presented to valent with a maximum of four hours discounted.
Find more recommendations for travel to NSW, Australia here and stay up-to-date with the latest gourmet and travel recommendations for Malaysia here and here.