Puteh Beach Bar Kuantan
Monica Tindall
Puteh Beach Bar in Kuantan was born from the desire of three friends who dreamed of a relaxed party place similar to spots they'd spent many fond times in Bali. Originally, founders Alex, Olanda and Victoria put the establishment together with 50 seats, thinking that if no one came, at least they'd have a venue where they could hang out with friends. It turns out many others had a similar desire, and the bar opened to overwhelming success. Seating went from 50 to 270 with a semi-open pavilion unfolding down to the beach with umbrellas, lounges and high tables best occupied late afternoon or evenings.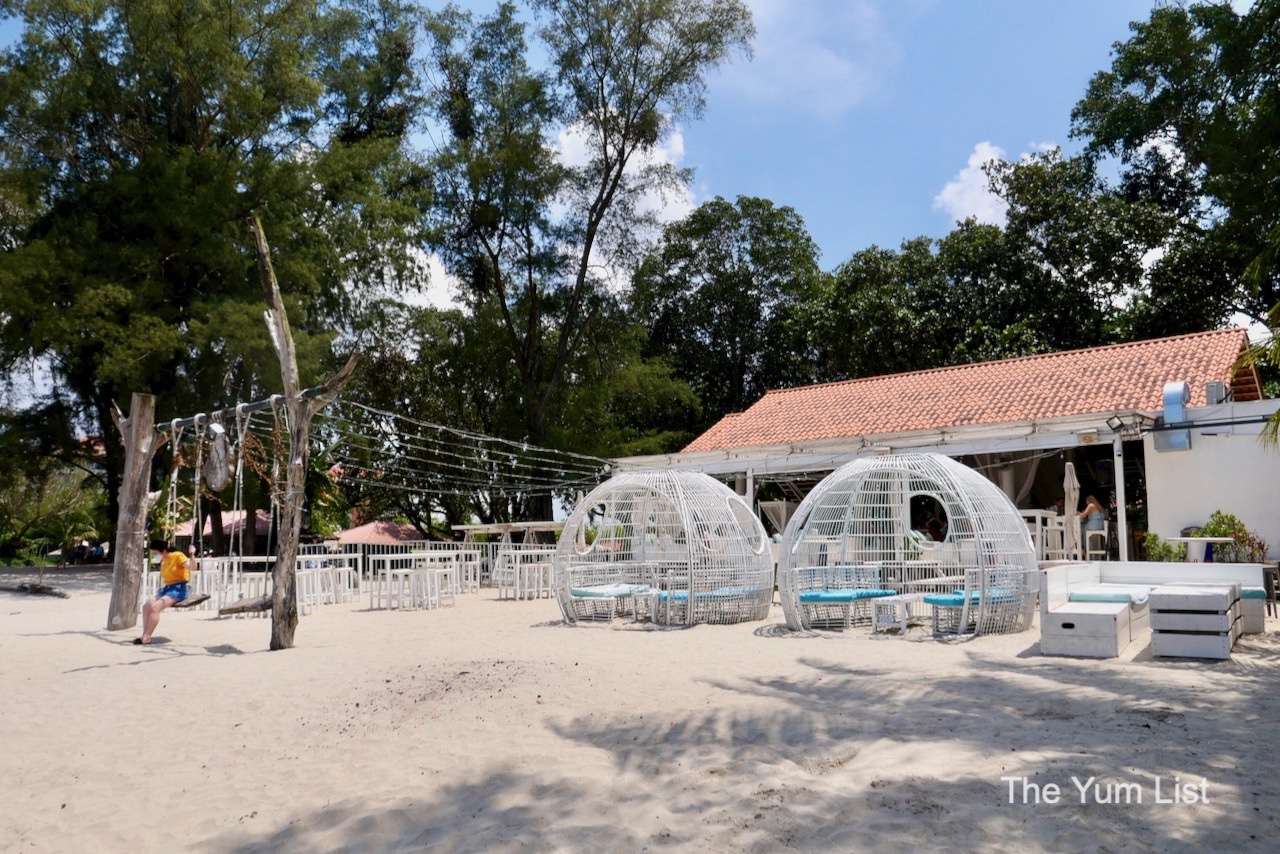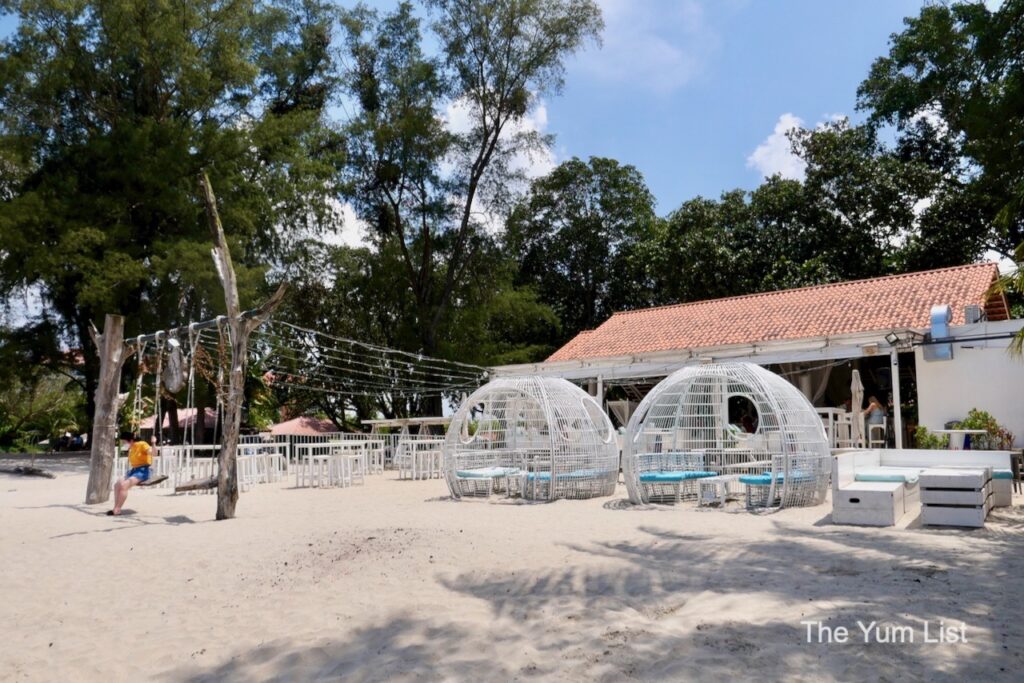 Puteh Beach Bar Kuantan
Located on the beach of Adena Beach Resort, Puteh Beach Bar is a short walk through the hotel grounds. There's a pretty stretch of beach that it sits on with beautiful old trees bordering the sides. Living up to its name (Puteh means white), the frame, tables and chairs are all white, with light curtains softening some areas. Pale blue cushions add a splash of colour. We visit at lunchtime so take a table in the main pavilion in the shade. A sea breeze keeps things fresh, and we're happy to be close to the bar and flair bartender, Sham. Scenery, food and service are all pleasant here, but what really takes the party vibe up a notch is the excellent sound system (the founders have an events production business and the quality of their product shines through here), music selection and fun Tom Cruise-style Cocktail act that goes on behind the bar.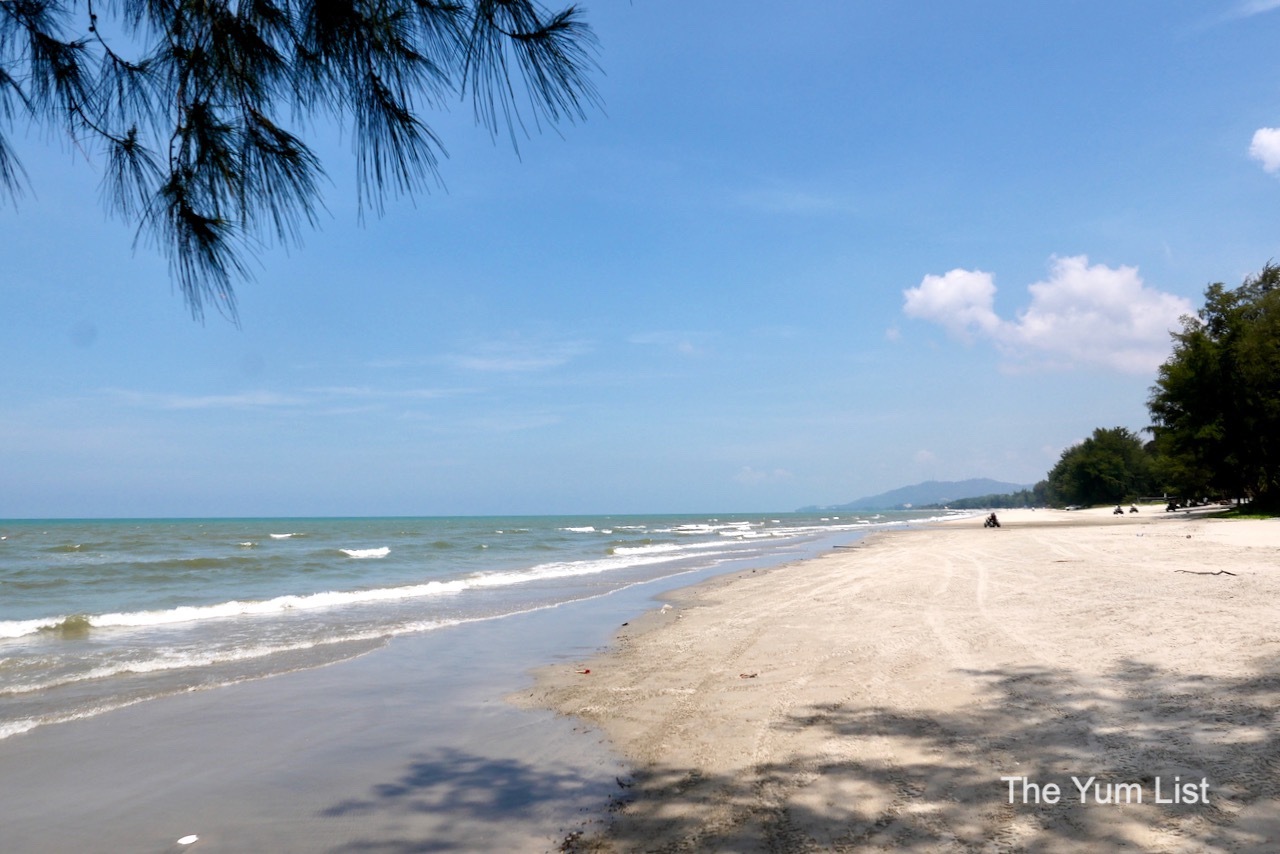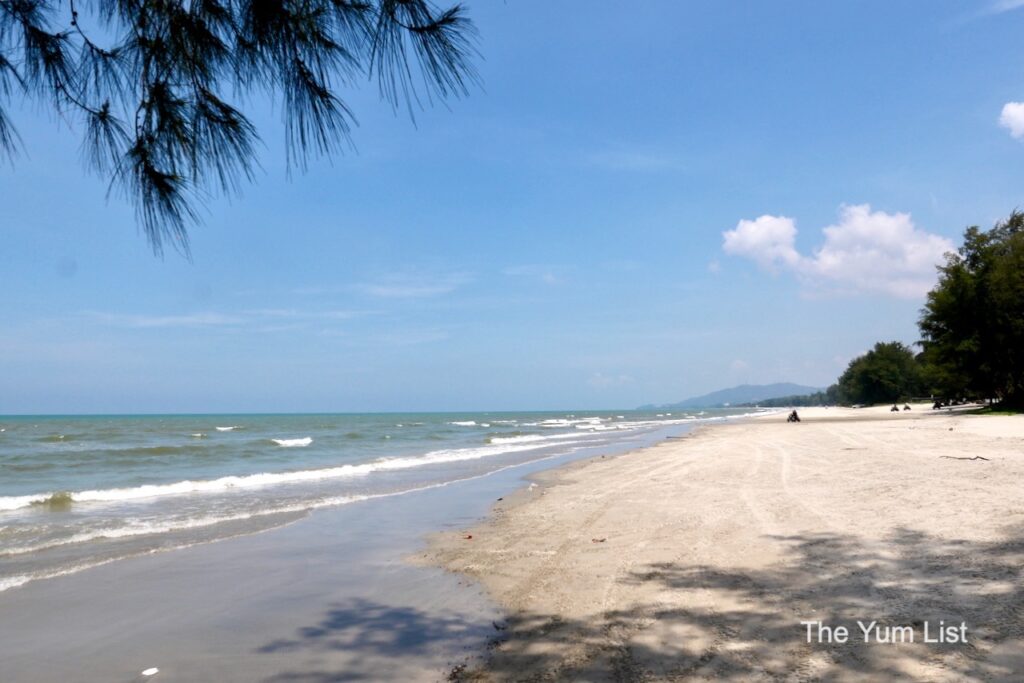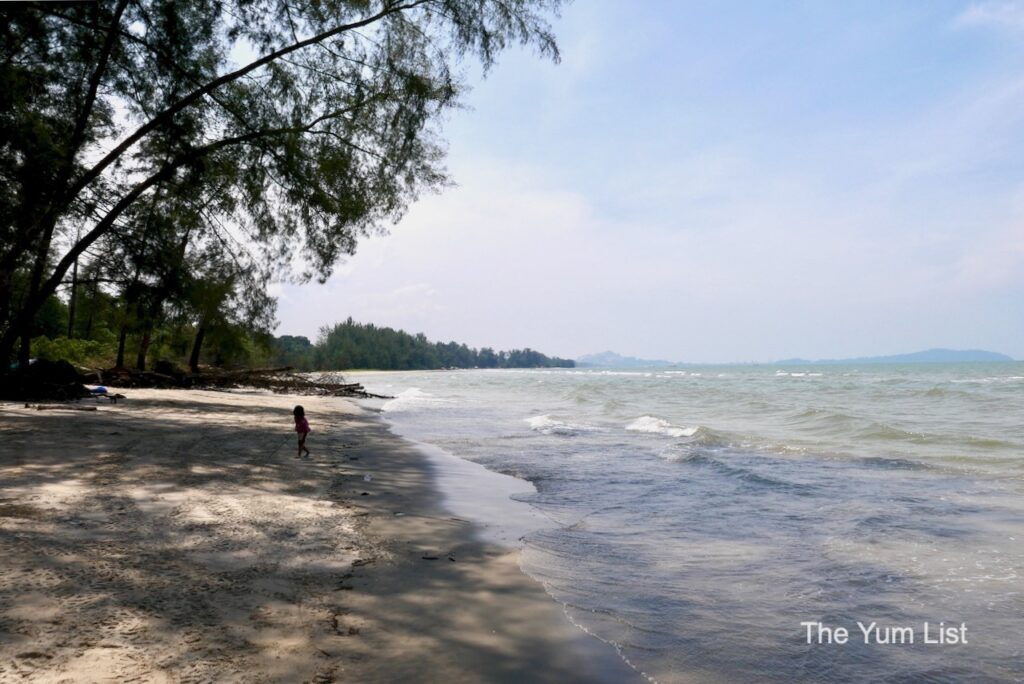 Drinks Menu
When the mood takes him, Sham is known to juggle up to six bottles at a time. Other party tricks involve fire and shots giving extra pizzaz to social gatherings. Show or not, the drinks menu at Puteh Beach Bar is extensive, with plentiful alcoholic and non-boozy options.
Hubby has a vibrant strawberry mocktail and Virgin Mojito (RM 20) and gives both a thumbs up. Sham makes me a special Margarita with Herradura Tequila, Grand Marnier, fresh lime and plenty of ice. He also remembers our fondness for his Piña Colada, which is made of rum, fresh pineapple and coconut, and served in the pineapple shell from which the juice came!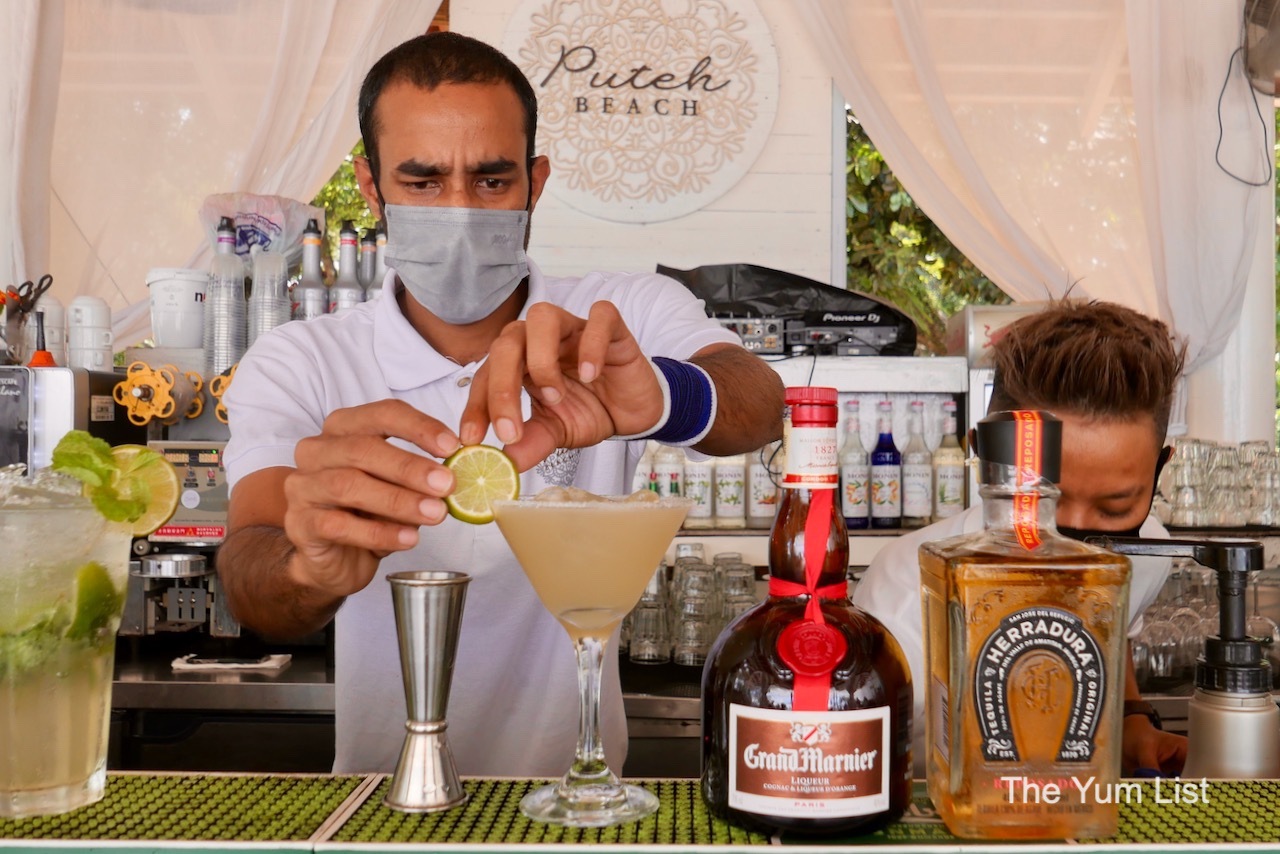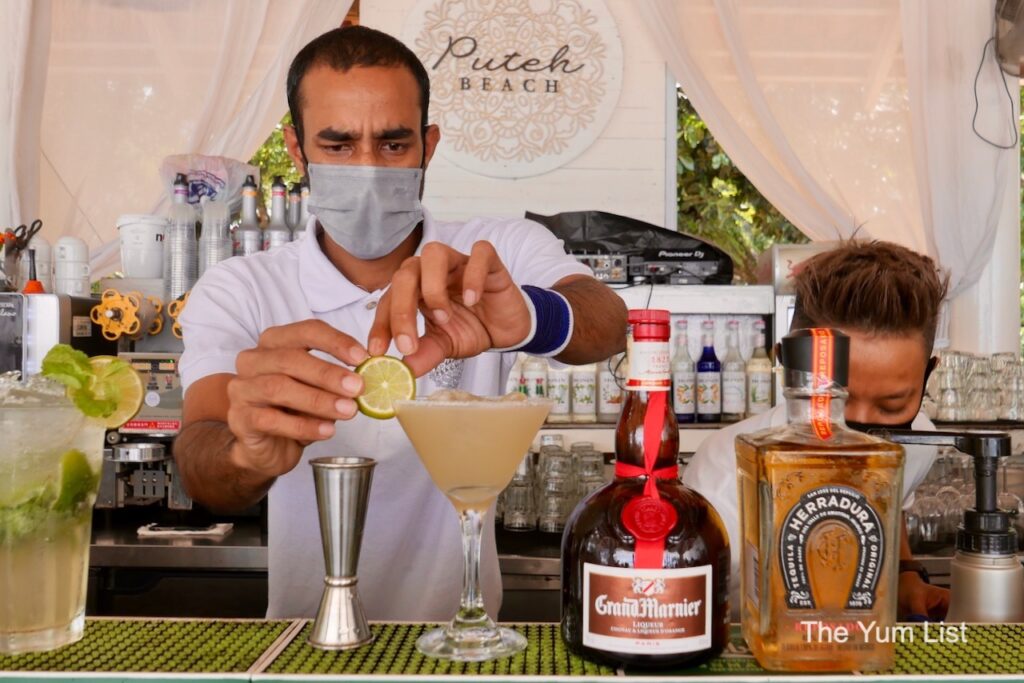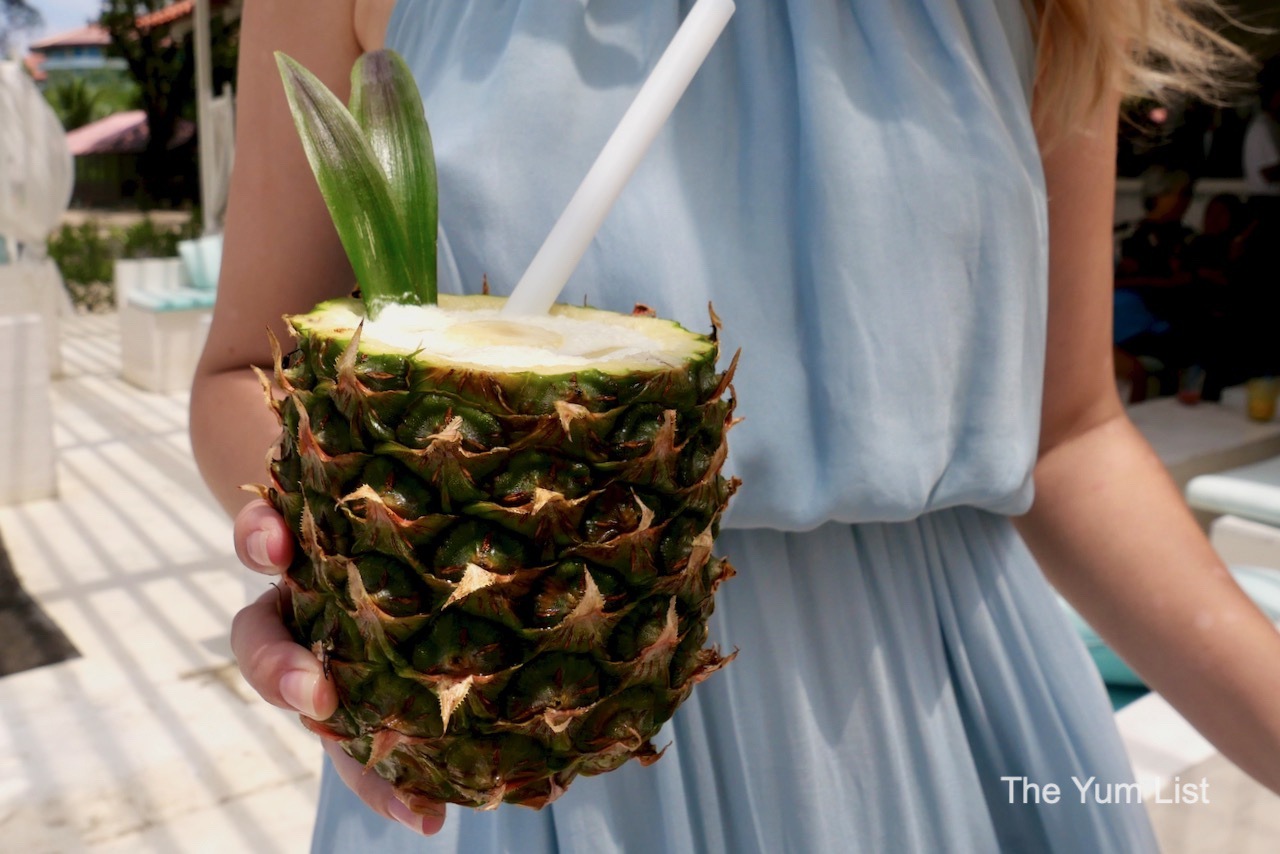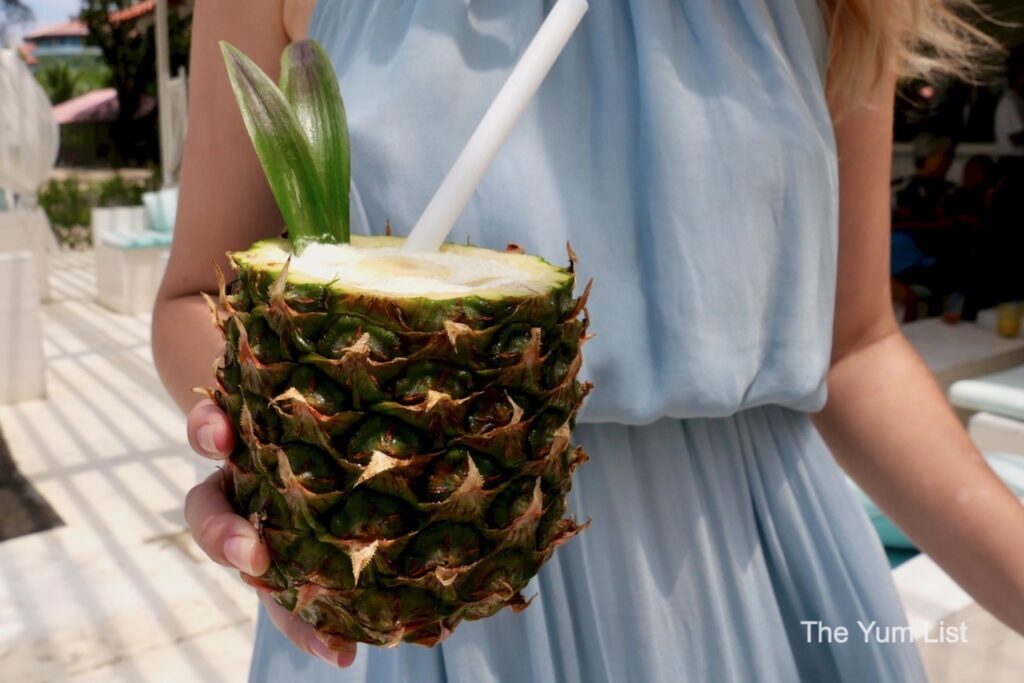 Puteh Beach Bar Food Menu
The food menu is as extensive as the beverage menu, with both local and international favourites prepared with fresh ingredients. We're always on the lookout for what might not be available elsewhere, so hone in on the Mexican section of the food menu.
Mexican
No one is claiming to offer authentic Mexican cuisine here. Still, the recipes found in this section make excellent beach bites, are easy to share, and are highly satiating. If you're planning on having a couple of drinks, these are flawless dishes to line your stomach.
Chicken Burritos (RM 28) is value for money for the plump tortilla wrapping chicken, bell peppers and onions. It's toasted, making it lightly crispy, and served with guacamole, pico de gallo and fries. We use the avocado as a dip for the fries and also like to scoop it onto the burrito.
You can ask for chicken or vegetarian Quesadillas (RM 32). We pick the meat-free recipe filled with basil pesto, bell peppers, onions, cheese and pico de gallo. Again, the portion is generous and a terrific order for sharing.
The Sizzling Fajitas (RM 40) also offer a choice of ingredients, this time beef or chicken. We take the red meat and are satisfied by the plate of sizzling, tender strips mixed with onions and bell peppers in a black pepper sauce. Soft flour tortillas make excellent vessels for wrapping the beef with guacamole, pico de gallo and sour cream.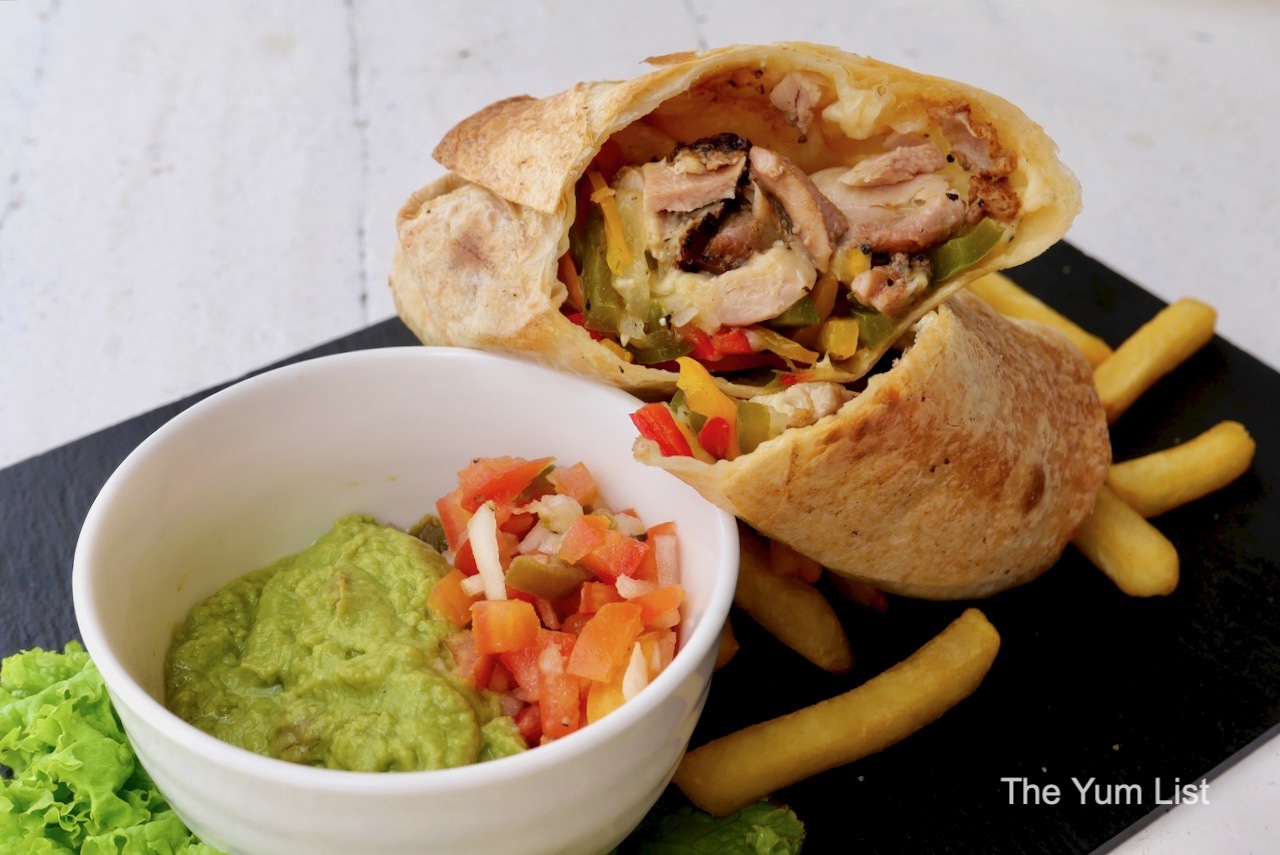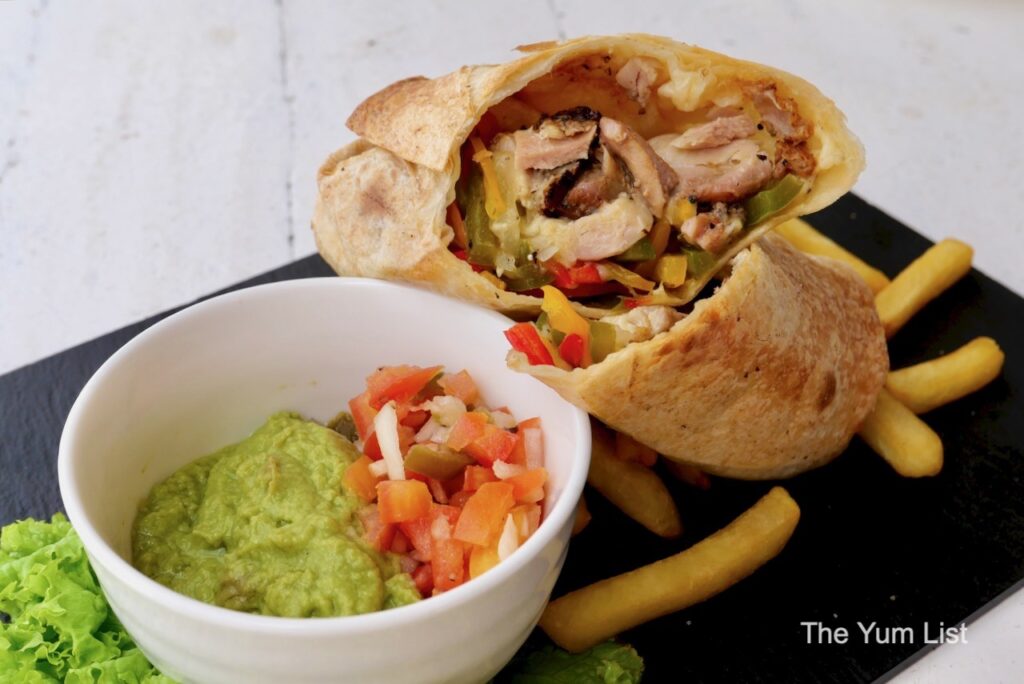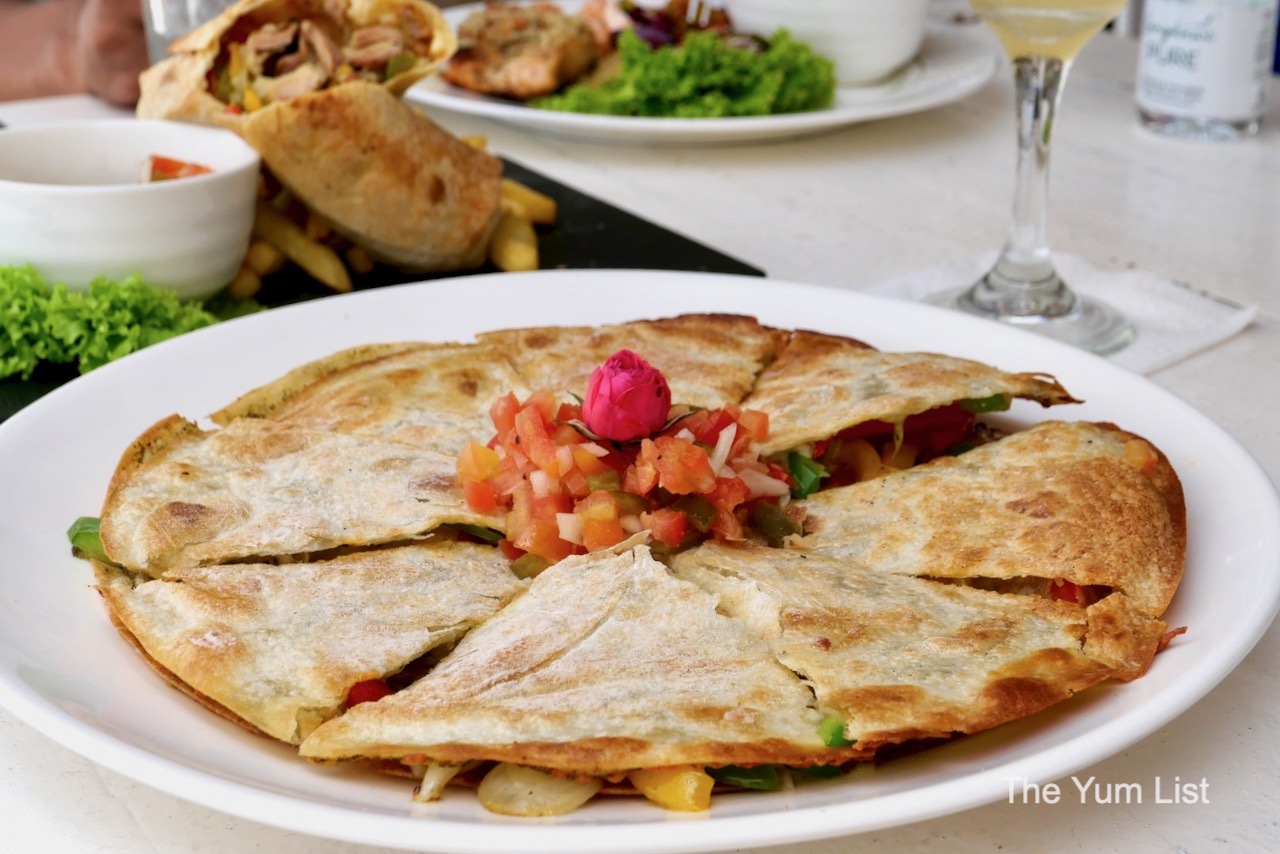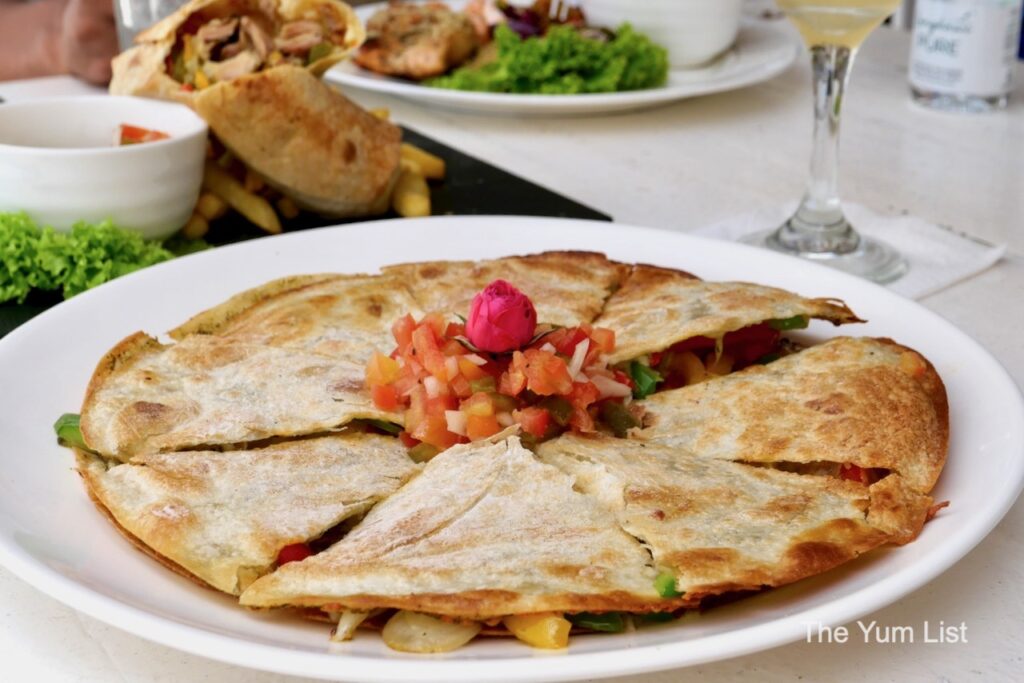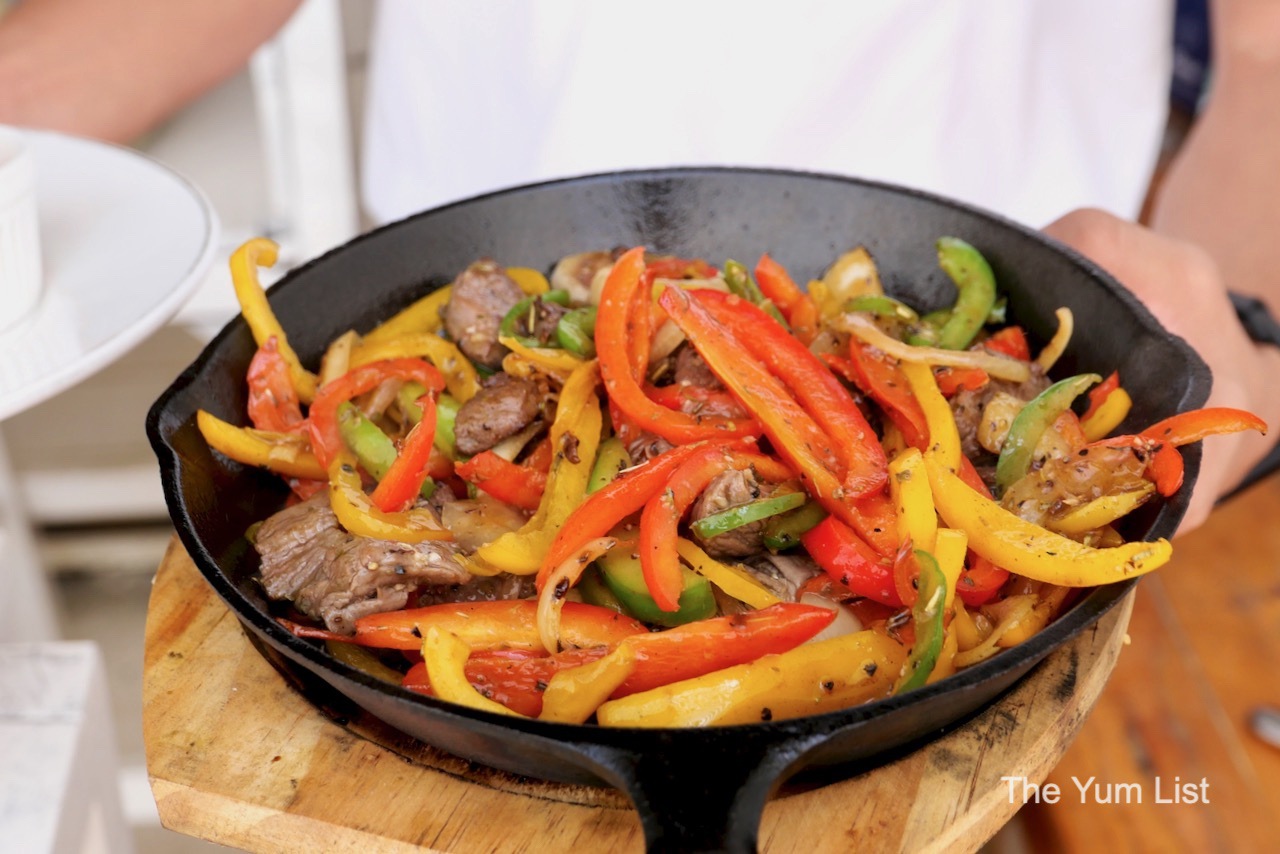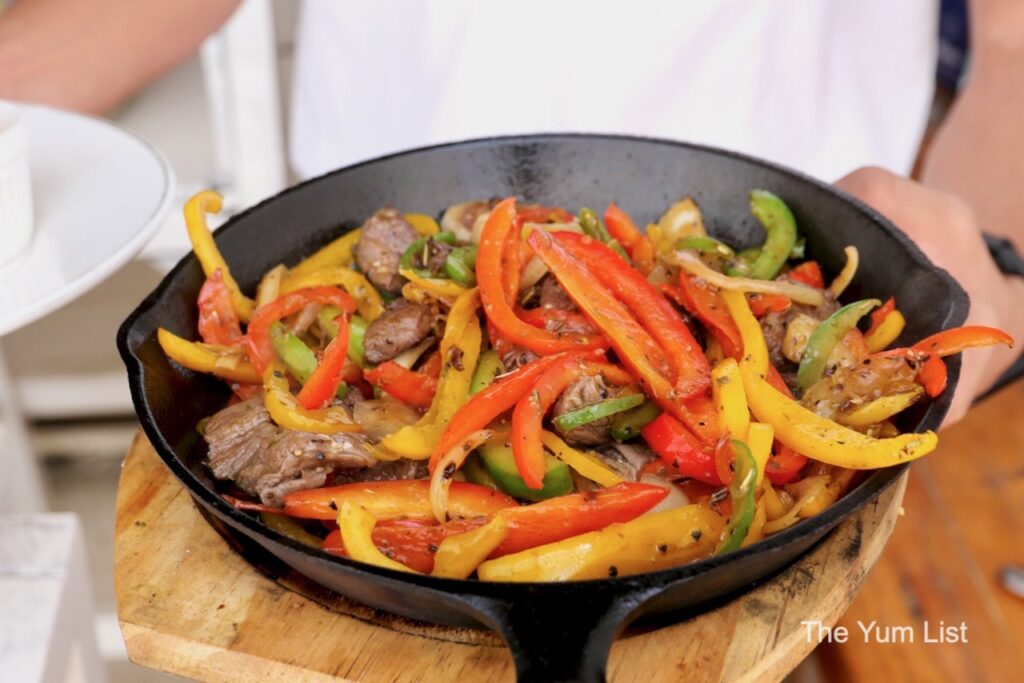 Mains
As mentioned, the menu is wide, and you could spend several sessions here trying something different on every visit. The Pan-seared Salmon Fillet (RM 48) appeals to our western palates (though note there is a good list of local recipes for picking). It's a sizable portion accompanied by roasted vegetables, couscous and the kitchen's signature Puteh spicy buttercream sauce. We ask for the sauce on the side, allowing us to monitor the level of heat and richness. It's another gratifying order.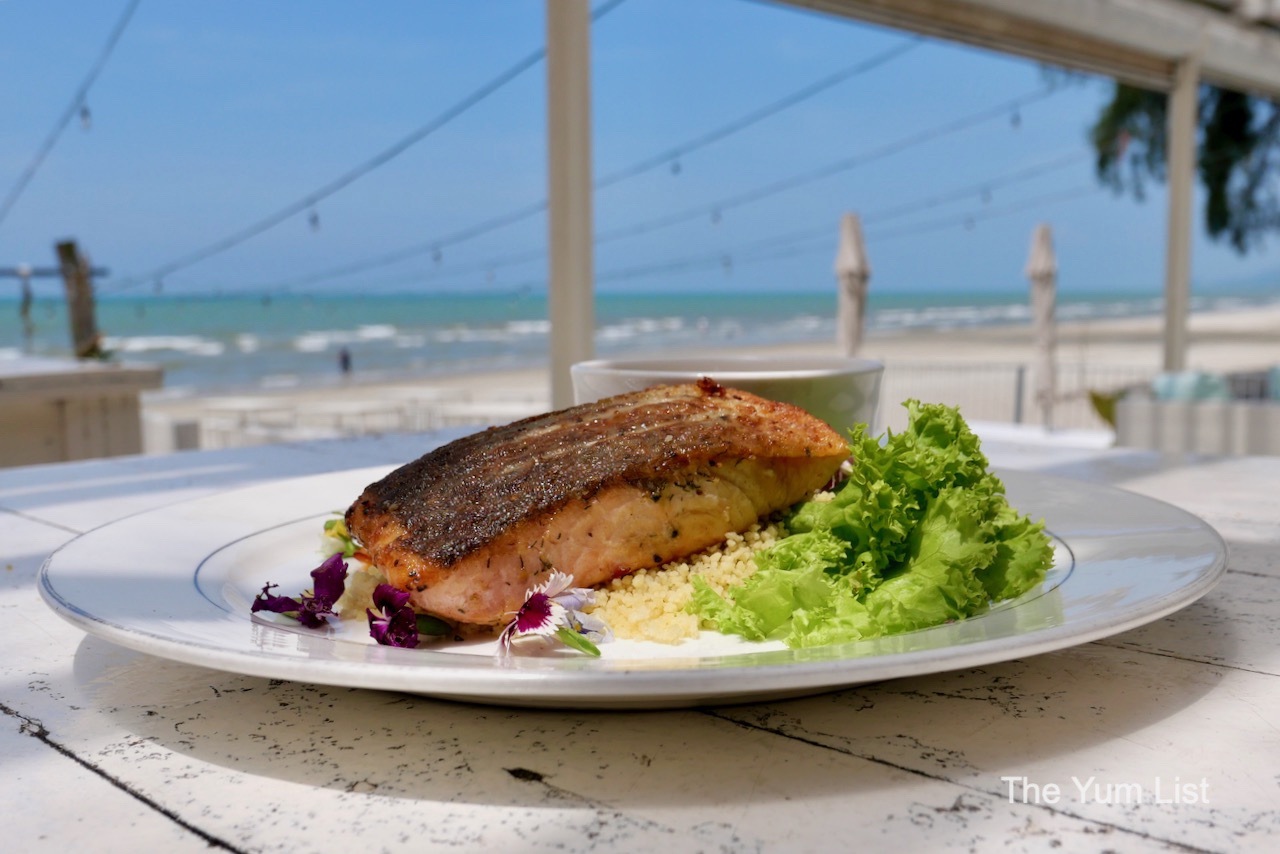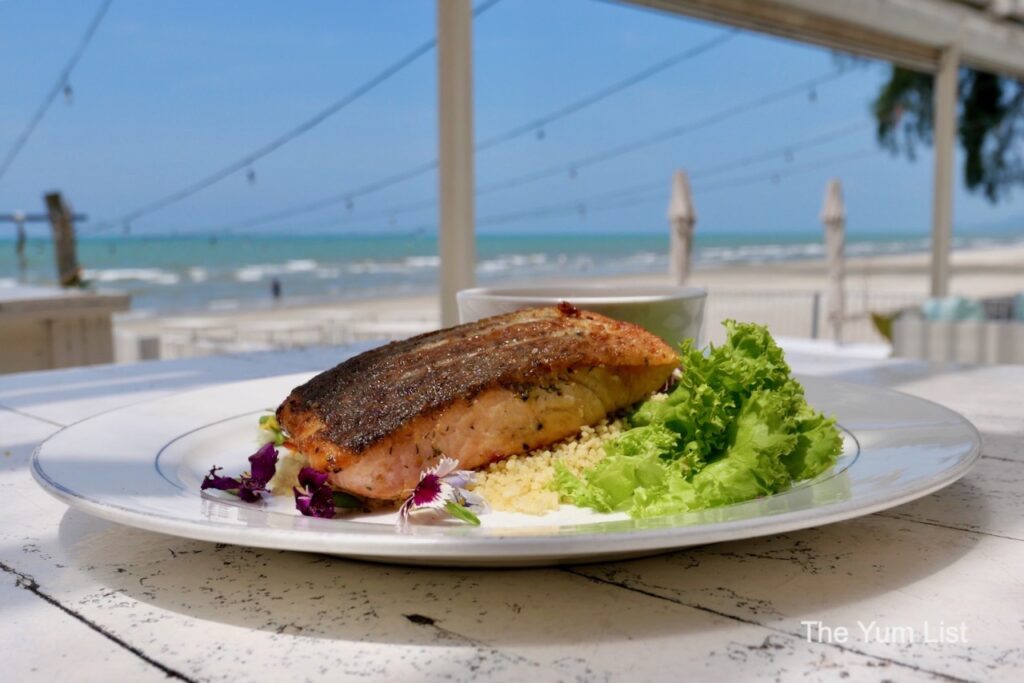 Puteh Beach Bar Review
We've had a great food and beverage experience at Puteh Beach Bar. The menu provides enough variety for a group of friends or family to order from, and all be satisfied. The cocktails were delicious, and the bartenders had no problem customizing our orders. I expect this would be an unreasonable ask on crowded nights. Still, it wasn't a problem on the relaxed afternoon we visited. With a fantastic sound system and well-thought-out playlists, the open breezy building and pretty beach views, it's a fun all-around experience. If you're around Kuantan or Cherating, it definitely merits a visit.
Reasons to visit Puteh Beach Bar: a pretty location right on the beach; awesome sound and music; quality and varied menu; good cocktails; the chance to enjoy a little bit of flair bartending by bar master Sham.
Puteh Beach Bar
Adena Beach Resort Off Jalan Kuantan – Kemaman Sungai Karang
Pantai Balok, 26080 Kuantan, Pahang, Malaysia
www.facebook.com/putehbeachkuantan
+6 017-774 1097
*Parking at Adena Beach Resort (Just to the left of the guardhouse)
Puteh Beach Bar Opening Hours
Daily 11:30 am – 12 am
Find more bar recommendations here, and stay up-to-date on the latest gourmet and travel happenings around Malaysia here and here.