Fresh Pasta Kuala Lumpur
Words: Nichole Ong
Photos: Rich Callahan
Osteria Gamberoni, located in the lively Chow Kit area, prides itself on authentic Italian taste based on expertly composed dishes, handmade pasta, and the freshest ingredients. Since opening a year ago, it has attracted a steady stream of customers growing exponentially through word of mouth. It is a great place to enjoy a simple but classy meal with friends or family.
Fresh Pasta Kuala Lumpur
Since its opening, Osteria Gamberoni has procured a special pasta machine from Italy, enabling them to become one of the only Italian restaurants in Kuala Lumpur to make dry pasta in their upstairs kitchen. (Several restaurants make fresh pasta on-site, but rarely do you find dry pasta also made in-house.) Each pasta dish is a testament to the craftsmanship that Italian Chef Daniele and his team put into the dishes, with various techniques showcased across the menu. Osteria Gamberoni offers a refreshing departure from the popular Bolognese, carbonara, and aglio olio styles served in the rest of the city (although these can be made on request and some are available on the set lunch menu). They opt instead to showcase the diversity of traditional pasta and sauces found in Italy. We had the pleasure of sampling a variety of these recipes, as well as drinks, appetisers, and desserts.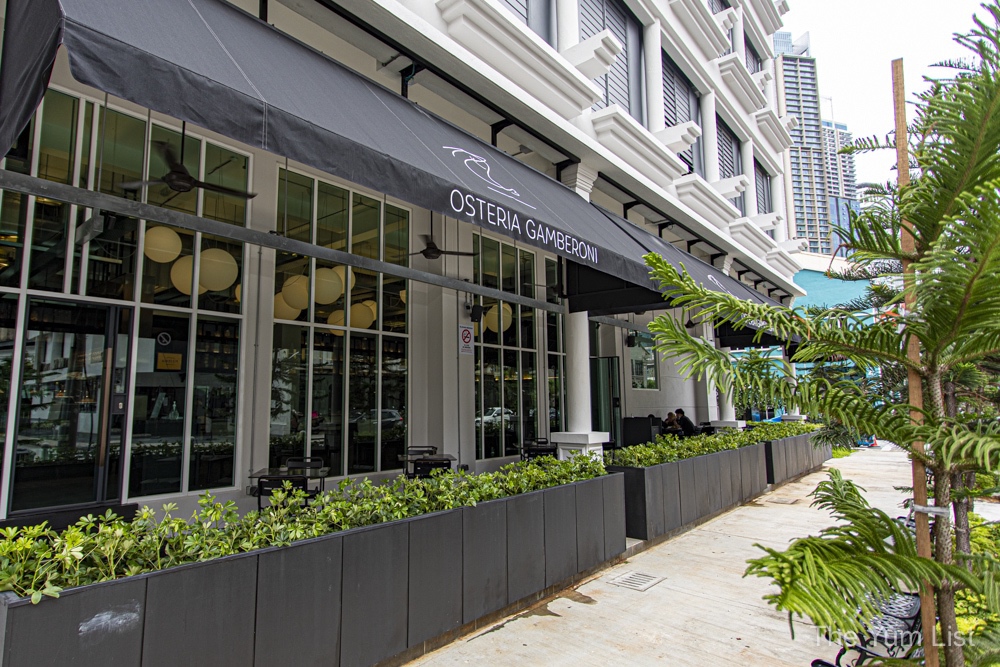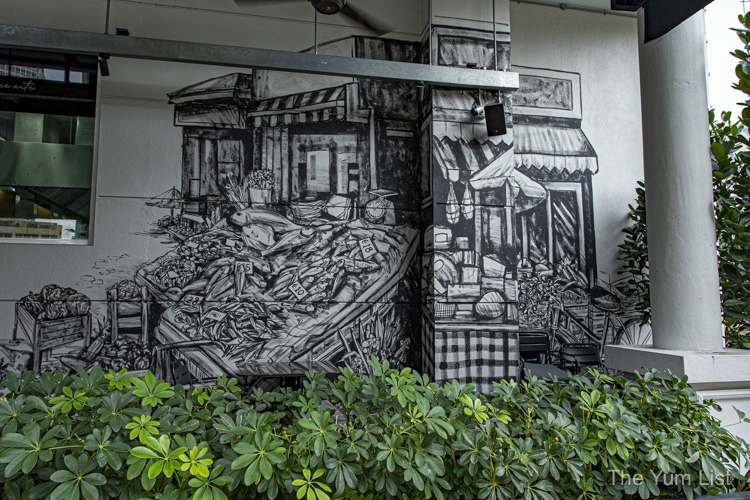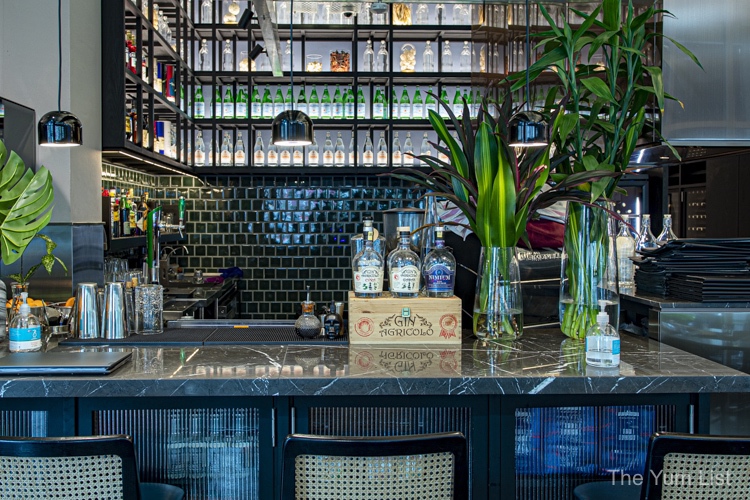 Osteria Gamberoni Drinks Menu
Osteria Gamberoni offers a good variety of drink options, both alcoholic and non-alcoholic. Sugu, the bartender, treated us to a tropical Raspberry Vodka Cocktail (RM 36). As the name suggests, it was a vodka-based raspberry drink with the addition of Campari for a bittersweet flavour and limoncello for a sweet, zesty kick, topped with soda water. The end result was an attractive pink coloured drink that paired perfectly with a hot day.
We also sampled the Negroni Bianco (white negroni, RM 36)), which featured Agricolo Blagheur Gin, an Italian herb gin from the Piedmont region with a rich herbaceous taste. The addition of Saint Germain liqueur resulted in a unique drink that was sweeter and more botanical than a classic Negroni.
Osteria Gamberoni's house pouring wine, Tordecolle Sauvignon Blanc (RM 32 per glass), described as citrusy with an alpine mineral twist, paired fantastically with the Sogliola Alla Mugnaia and is also a worthy recommendation.
Despite it not being breakfast (the appropriate time for milk consumption according to the Italians), we also sampled a Latte and Cappuccino. Made with the consistent Lavazza blend, the coffee was foamy and rich. The biscotti served alongside provided an excellent pairing. Chef Danieli tells us their coffee is popular with local Italians, with a regular group stopping by on the weekends for coffee and bomboloni (classic Italian doughnuts).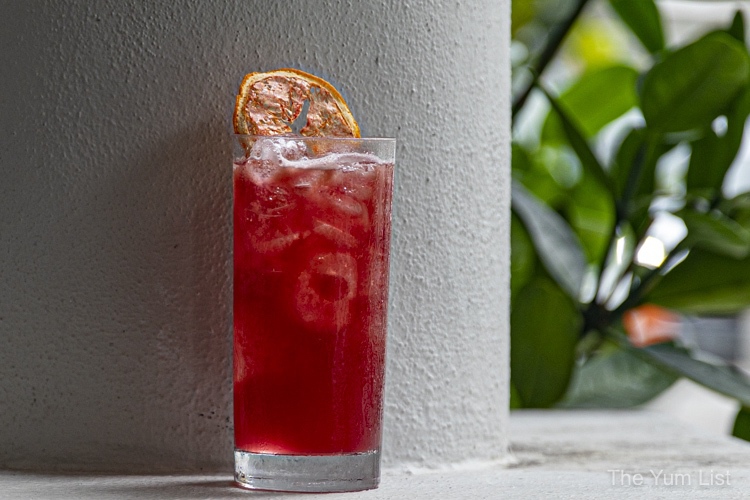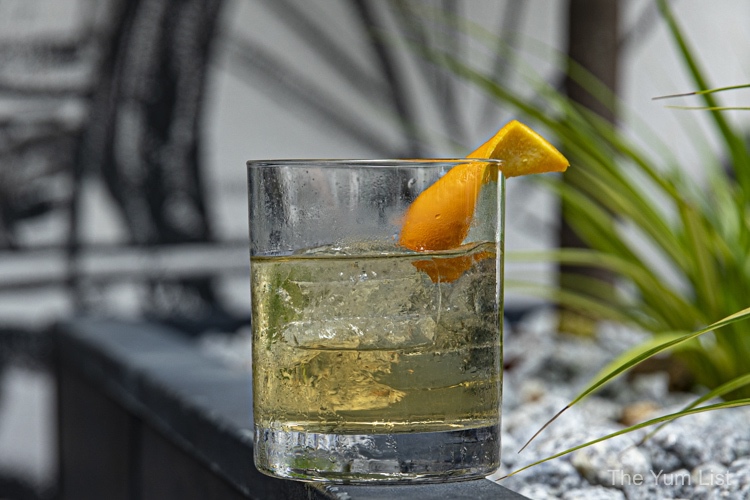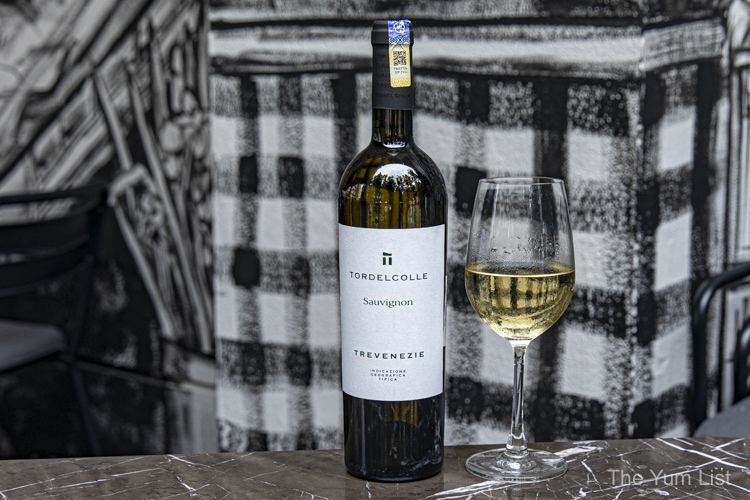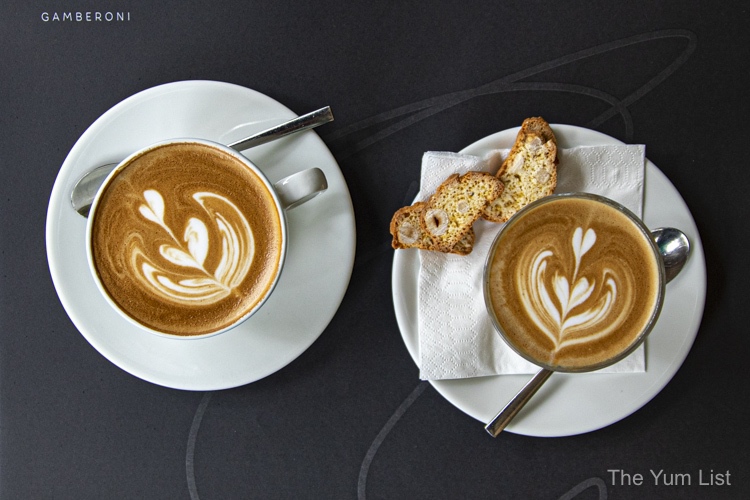 Osteria Gamberoni Appetizers
We sampled Osteria Gamberoni's Pannacotta al Parmigiano e Tartare di Salmone (RM 52), a savoury twist on the traditionally sweet pannacotta topped with fresh salmon tartare. The pannacotta was creamy and smooth, with the savouriness complimenting the salmon delightfully. It is a recommended appetiser for those looking for a pleasantly surprising and clever dish to start their meal.
Of note is also the Cestino di Pane per Due (first basket free, RM 6 per refill), freshly baked bread with tomato seasoning which came with olive oil and balsamic vinegar.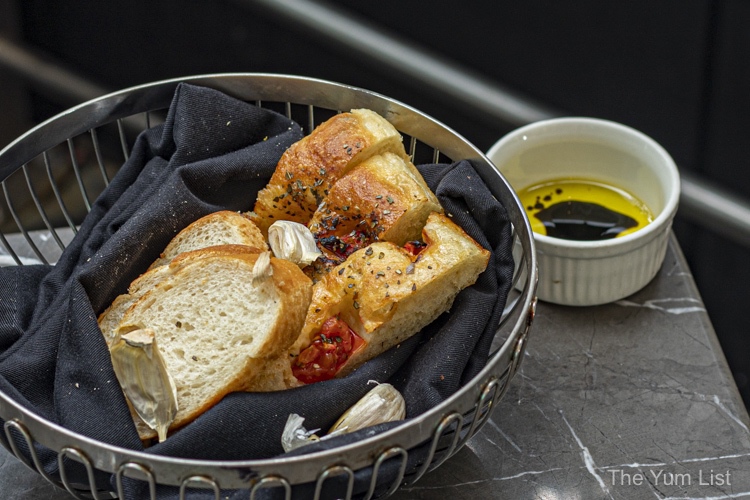 Osteria Gamberoni Salad
The Insalata di Gamberi (RM 62) showcased Osteria Gamberoni's selection of fresh greens, sourced from BoomGrow, a local tech farming company delivering 100% organic vegetables, picked and delivered on the same day. While expecting quality vegetables, I was still pleasantly surprised by how crisp the ingredients were. The greens were made better by the knowledge that they had been sustainably sourced, a result of supplier BoomGrow's research into sustainably guaranteeing food supply through technology. The salad was elevated by the tiger prawns, also freshly sourced, which were well seasoned and paired with lemon dressing to bring out the overall freshness of the ingredients without overpowering them.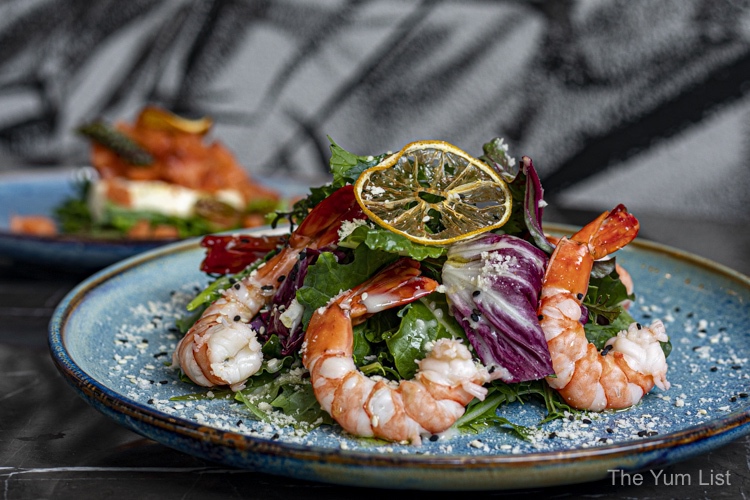 Fresh & Dry Pasta Kuala Lumpur
The discernible distinction of a dry pasta dish made freshly in house was evident in our tasting of Osteria Gamberoni's Conchiglie al Ragù di Polpo (RM 82), a shell pasta with tomato-based traditional Italian ragu sauce paired with fresh octopus. The shell pasta, cooked to a perfect al dente, created a delightful pocket that released sauce when bitten. As for the sauce itself, the traditional ragu infused with the octopus flavour made it ideal for seafood and pasta lovers. The dish was topped with capers, adding a suitable finishing touch.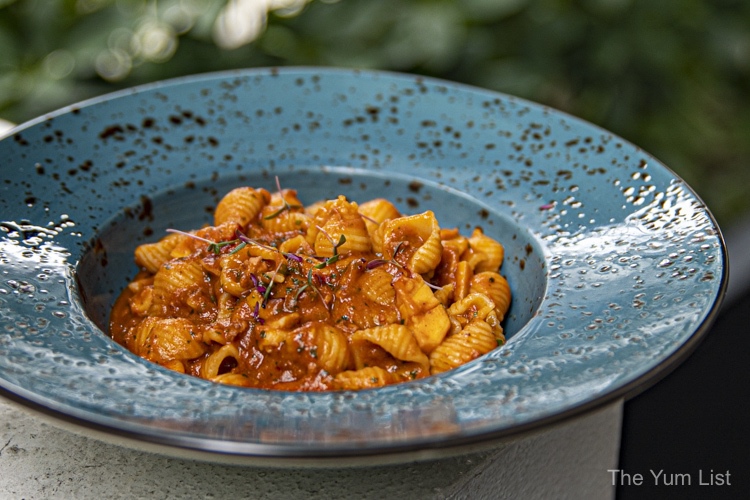 Fresh Pasta Kuala Lumpur
Originating from the coastal town Nerano on Italy's Amalfi coast, the Fusilli Nerano (RM 52) is the perfect vegetarian option. As is the standard at Osteria Gamberoni, the spiral pasta was crafted to the ideal size and shape and cooked to a firm and chewy texture. The parmesan and provola gave the dish the right amount of cheesiness and nestled within the spirals to create a gratifying bite as well as a satisfying cheese pull when lifted. Using heirloom zucchini to top the pasta added a nice crunch to the dish, with basil adding a fresh kick as well.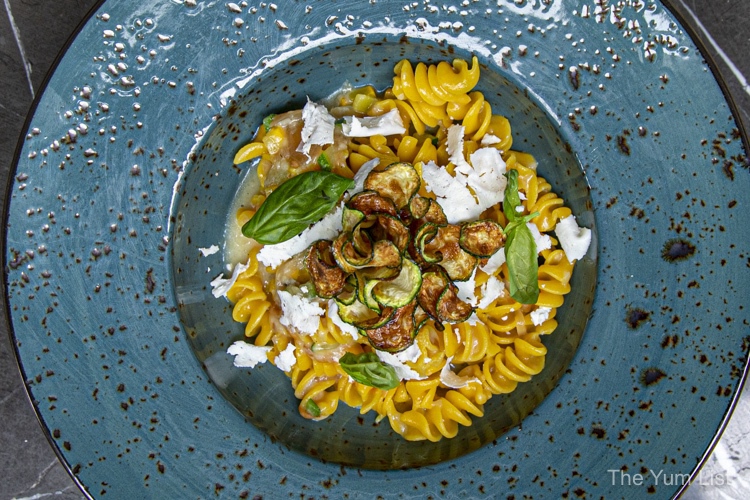 Osteria Gamberoni Secondi
We were delighted to sample the Sogliola alla Mugnaia (RM 150), a treat as quality sole fish is a rarity in KL. Sourced from the Northern Mediterranean, the sole was fragrant and fresh. A variety of textures were showcased in a single bite, with the meat tender and juicy underneath the skin. The skin was crispy and well-salted. Seasoned with lemon flour and butter, the Sogliola alla Mugnaia is a must for those who appreciate a fresh, quality seafood dish.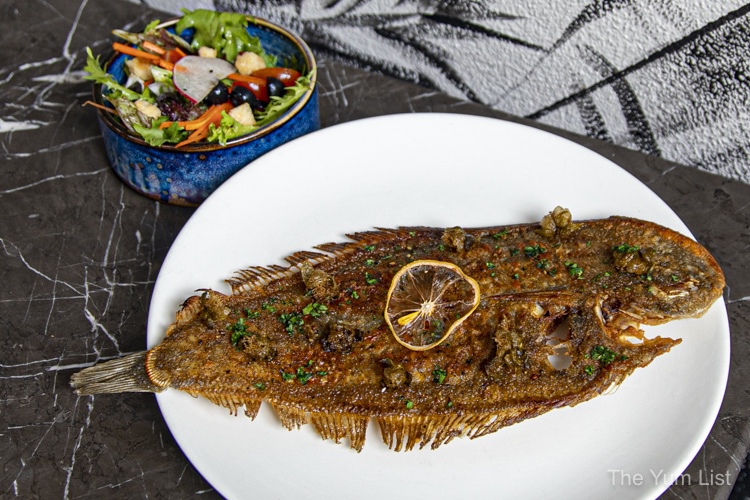 Osteria Gamberoni Special Menu
Osteria Gamberoni's special menu is based on seasonal ingredients, varying during the week. This week, it showcased clams from Italy, freshly delivered the previous Friday. We enjoyed the Pasta Alla Vongole (RM 78), black squid ink spaghetti with Italian clams. As always, it is clear that the pasta was made in house and cooked to the optimal texture. The squid ink added an eye-catching pop of colour to the dish and a unique saltiness that was perceptible but not too overwhelming to the rest of the components. The dish was an overall excellent addition to the existing menu.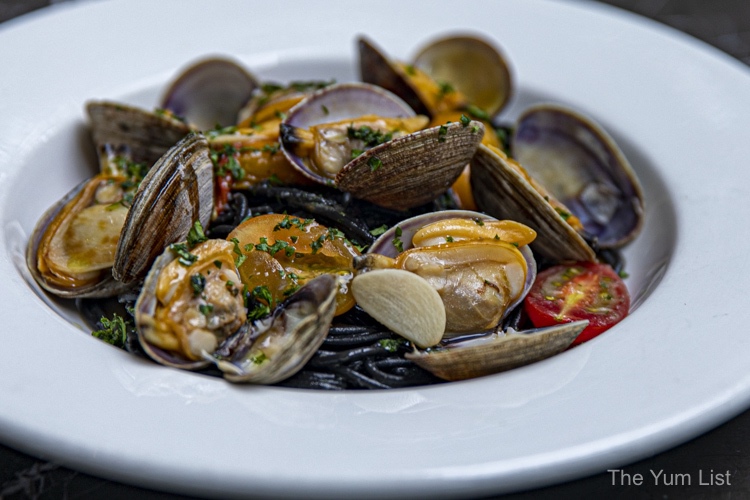 Osteria Gamberoni Dessert
Osteria Gamberoni treated my sweet tooth to the Selezioni di Gelati (RM 46). Plated beautifully with three gelato flavours at the centre, this dessert was a superb end to a wonderful meal. The strawberry gelato was sweet but packed an amount of freshness unique from other iterations of strawberry ice cream. I particularly enjoyed the texture of the stracciatella, with the addition of shaved chocolate complementing the light vanilla flavour well. Finally, the pistachio flavour was a balanced combination of earthy nuttiness with a sweet touch for those looking for a nuttier flavour. The dish was also plated with crumbly waffles and cookies, which paired well with all three flavours, as well as fresh fruit to round off the whole experience.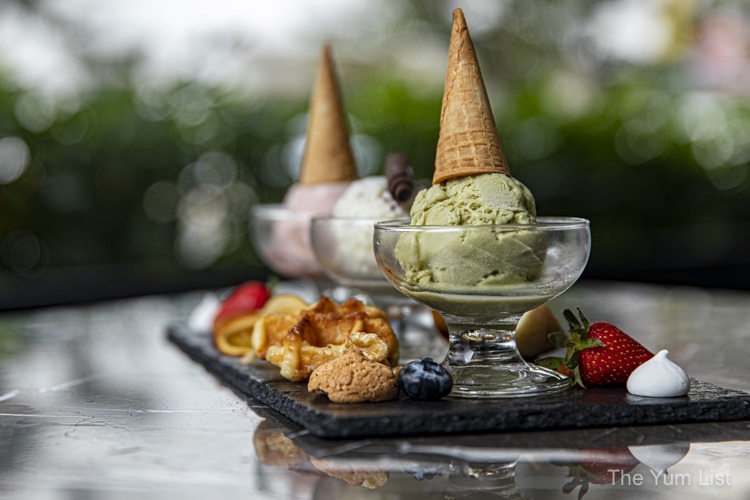 Reasons to visit: one a few, if not the only restaurant to make both dry and fresh pasta in-house in Kuala Lumpur; seafood; great value, authentic Italian food; quality drinks and an open and classy atmosphere; we greatly appreciated the hospitality from Chef Danieli, restaurant manager Simona, and bartender Sugu as well as prompt service from the waitstaff.
Osteria Gamberoni, Italian Restaurant, Chow Kit
Yap Ah Shak House, 17 Jalan Yap Ah Shak
50300 Kuala Lumpur, Malaysia
+603 3602 9727
www.facebook.com/osteriagamberoni
Osteria Gamberoni Opening Hours
Monday to Sunday: 11am – 3pm, 5pm – 11pm
Book two weeks in advance for Friday and Saturday.
It is also recommended to book visits to secure a table during the week.
The special menu varies weekly based on seasonal ingredients.
The set lunch menu (2 courses for RM32) is available Monday to Friday from 12 pm – 3 pm.
Find more Italian restaurants in KL here and stay up-to-date on the latest happenings in KL's food and beverage scene here and here.