Herb Library Ubud
Monica Tindall
On one of Ubud's principal streets, Jalan Jembawan, Herb Library is easy to find. The open-walled restaurant facing the street is a welcoming haven of rattan chairs and splashes of aquamarine blue, all enveloped in a canopy of green. And green is the theme here. Sourcing 90% of its ingredients locally and serving a decidedly plant-forward menu, this restaurant is not only good for the earth but great for your mind and body too.
Herb Library Ubud
I spend a delightful afternoon here with friends as well as enjoy several breakfasts as part of the package at the adjoining Adiwana Resort Jembawan.
Herb Library Food Menu
Plants are the stars of the show here, with plentiful options for vegans and vegetarians. However, omnivores need not fear as several dishes include fish and chicken. I'm all about the plant-based choices, while my two dining companions are happy to find some fish on their forks.
An unusual twist is the replacement of the common bread basket with a bowl of veggies, fruit and dip. It's a guilt-free start and means there are no regrets about finishing the bread before the meal begins.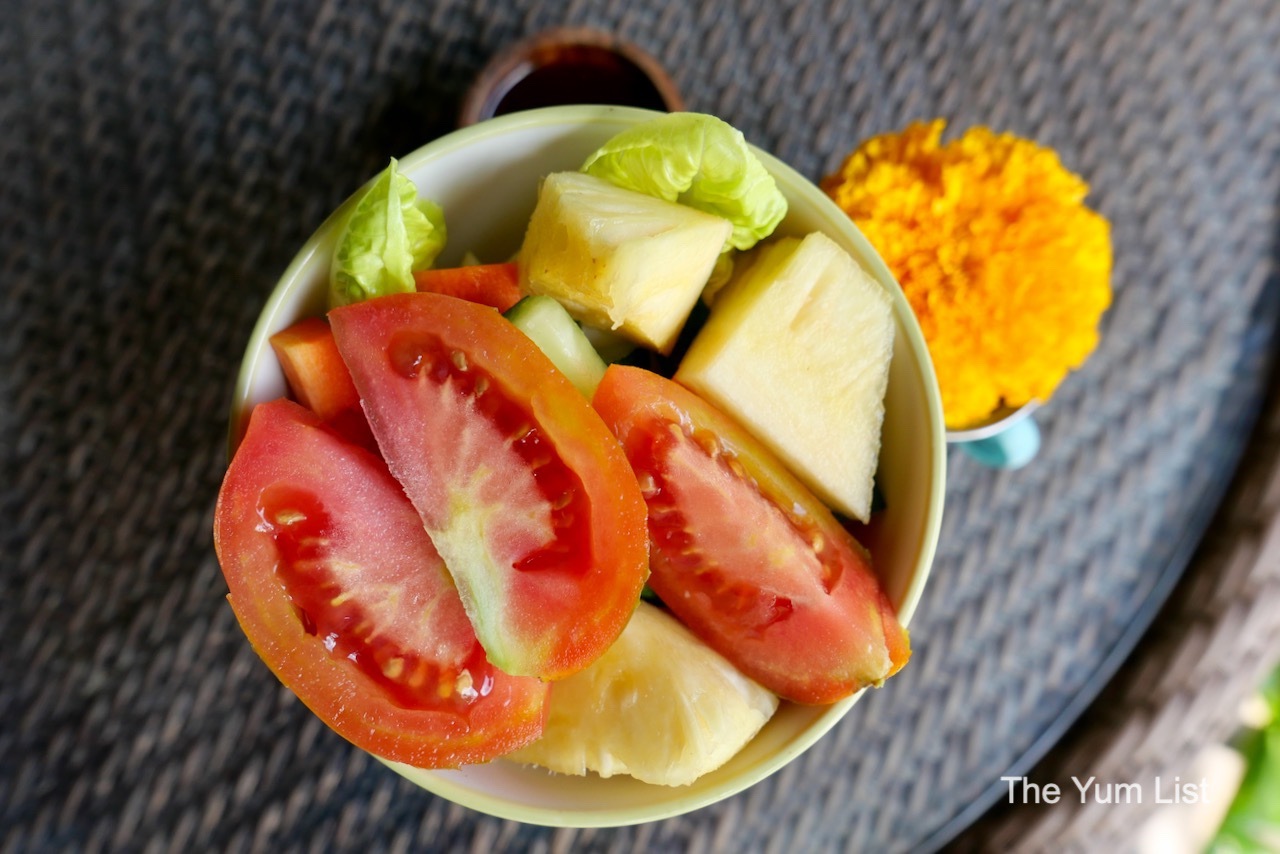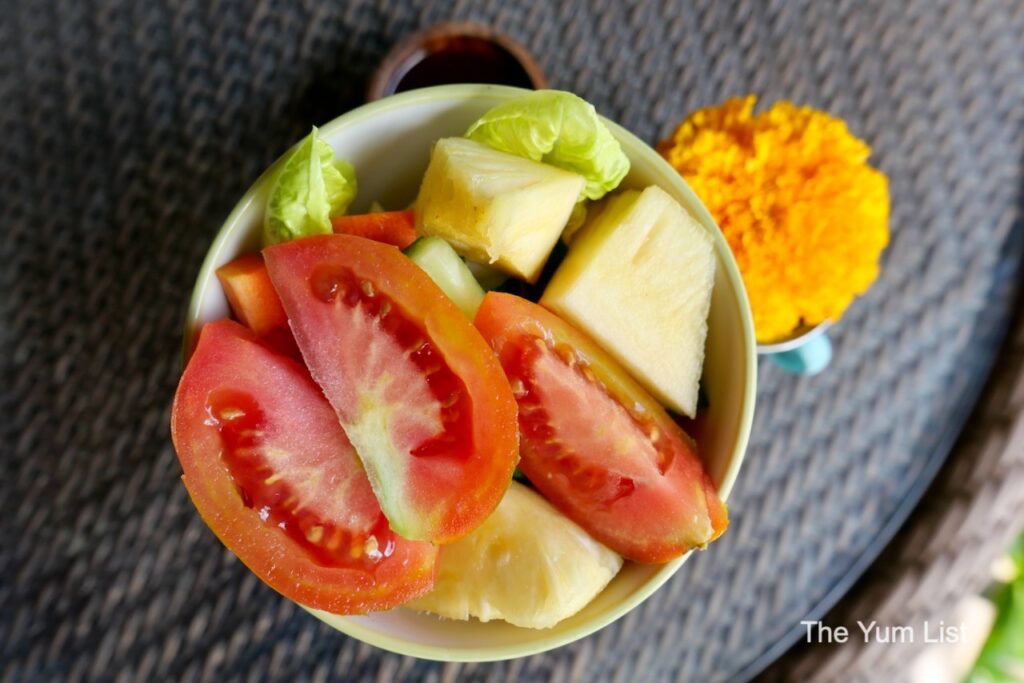 Vegan Recipes
I fill my desire for nutrient-rich meals that nourish with the Meanest Greenest Bowl (IDR 59K) and the Moringa Superfood Soup (IDR 42K). The first is loaded with viridescent veg – avocado, grilled broccoli, coriander, turmeric cauliflower, kale, baby romaine, frisée lettuce, spirulina, nuts, seeds and coriander in a lemon tahini dressing. It's exactly as it sounds – chock-a-block full of crunch and texture and guarantees your insides and outsides will be happy.
The soup is a swirl of locally-grown moringa amongst a turmeric-yellow broth. This miracle herb is packed with antioxidants and said to decrease inflammation and pain, amongst many other qualities. It's bulked up with kidney beans, grated coconut, sweet corn and Balinese spices. Love it.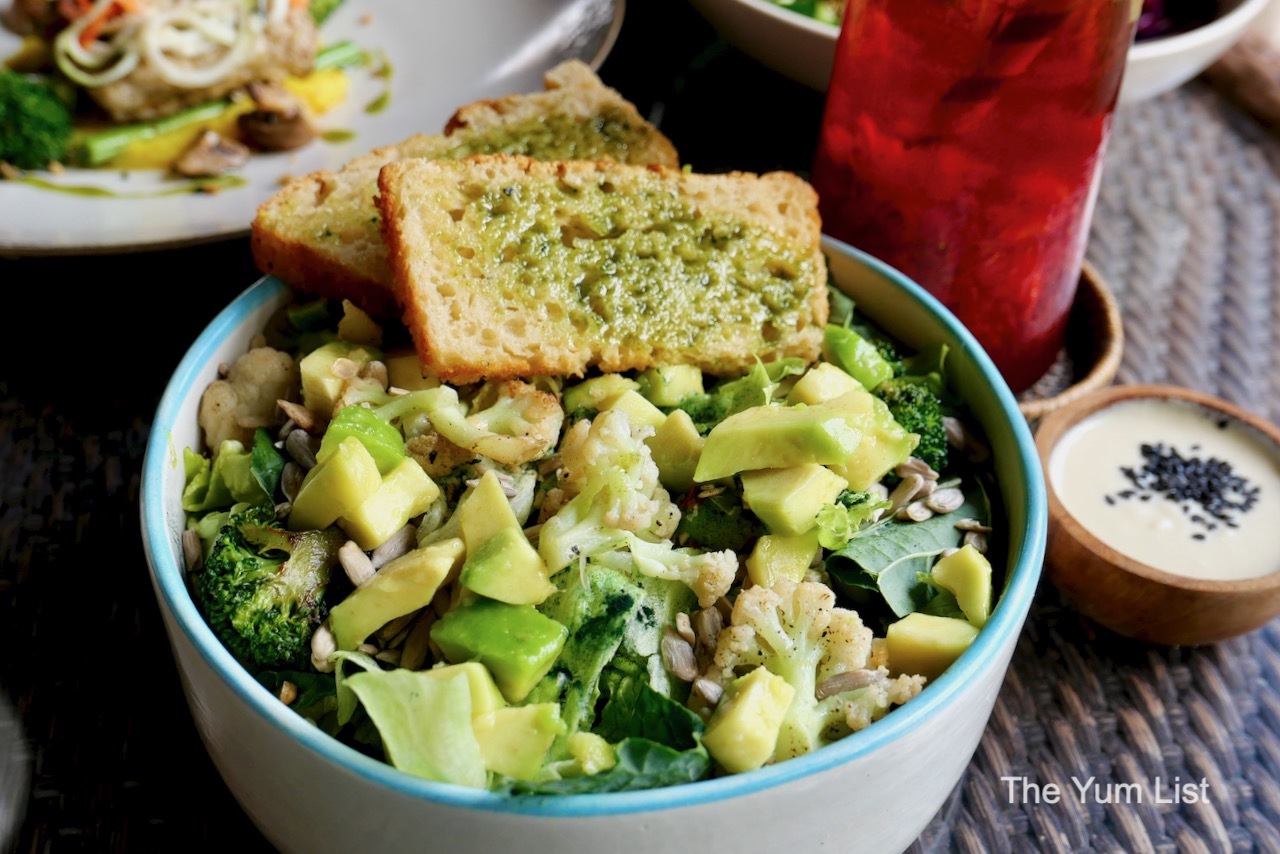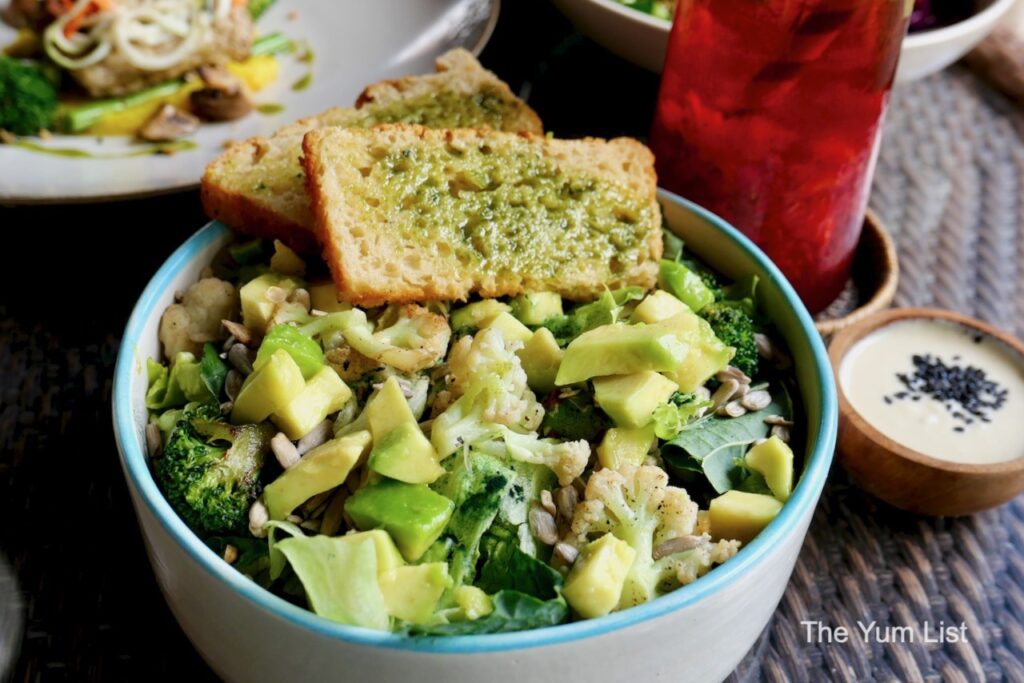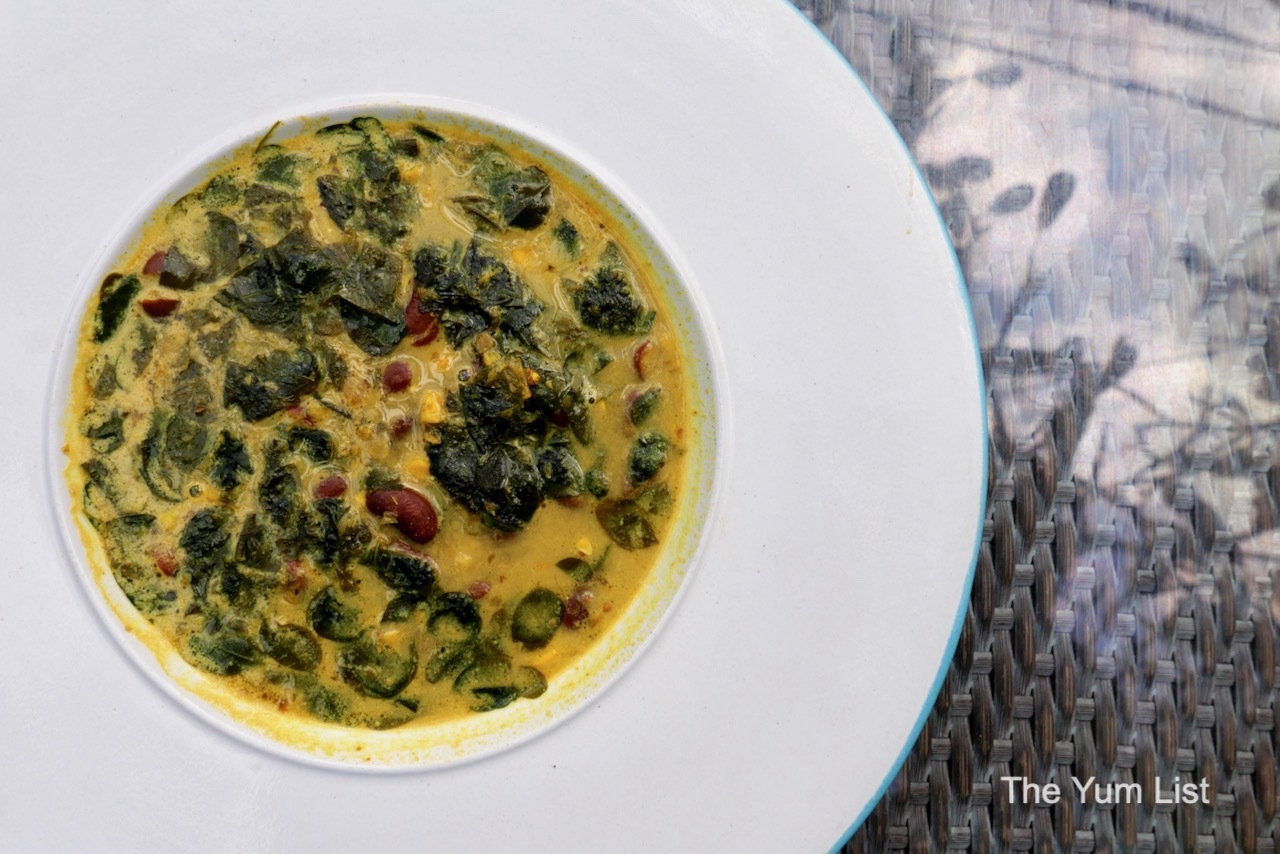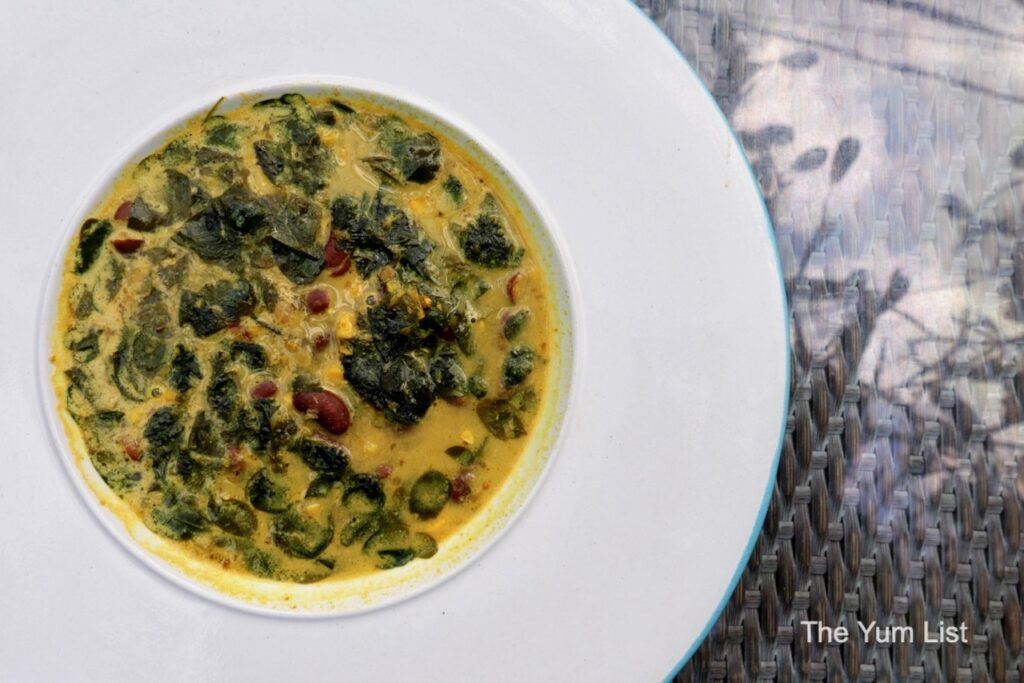 Omnivore Options
My friends add meat to the menu with two fish dishes. Both still are heaped with veggies, but the addition of tuna and barramundi adds a bit more substance. The Inamona Poke Bowl (IDR 79K) features seared tuna chunks, ginger, garlic, soy, edamame, rice, red cabbage, cucumber, tomato and avocado in a teriyaki cashew mayo. The Barramundi Steak (IDR 110k) sees a grilled fillet supported by yellow mashed potato and an artistic tangle of vegetables and herb pesto on top.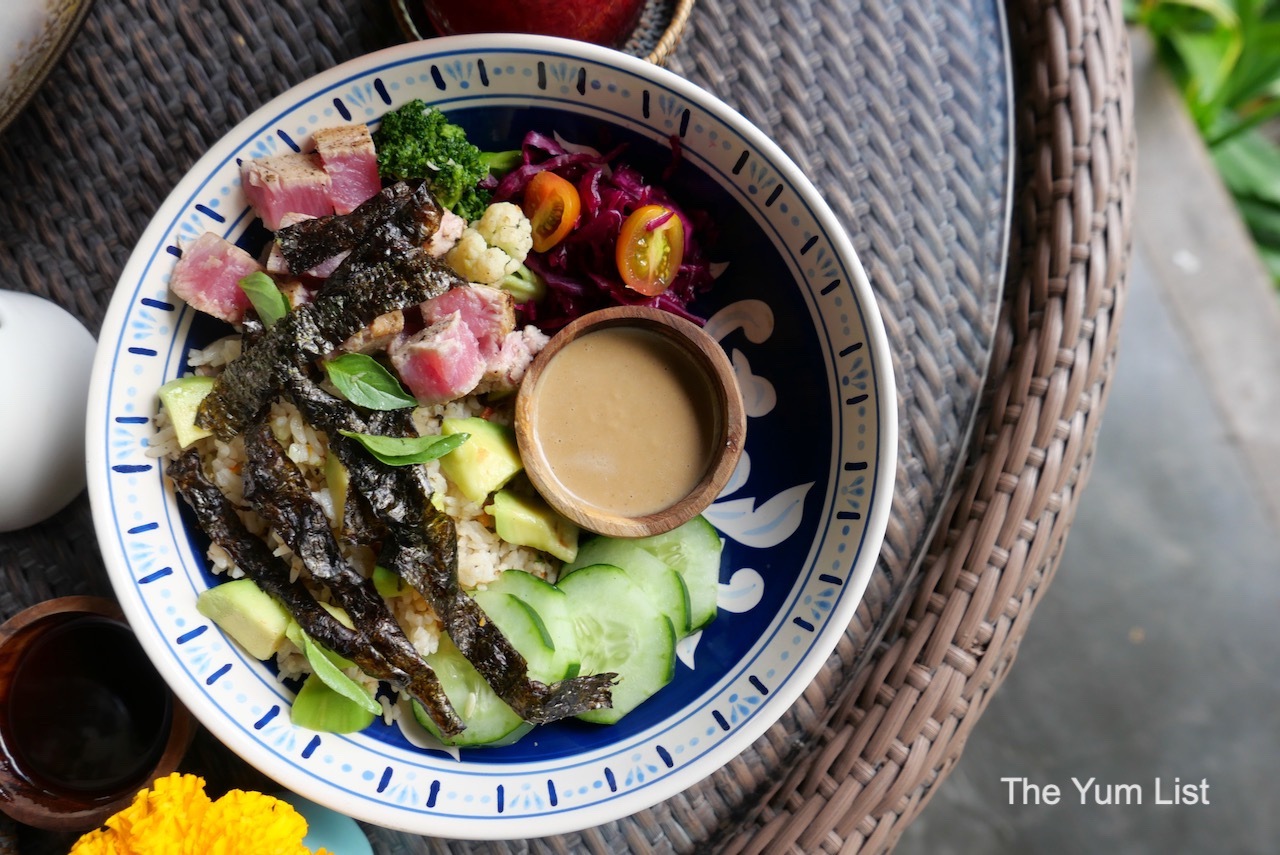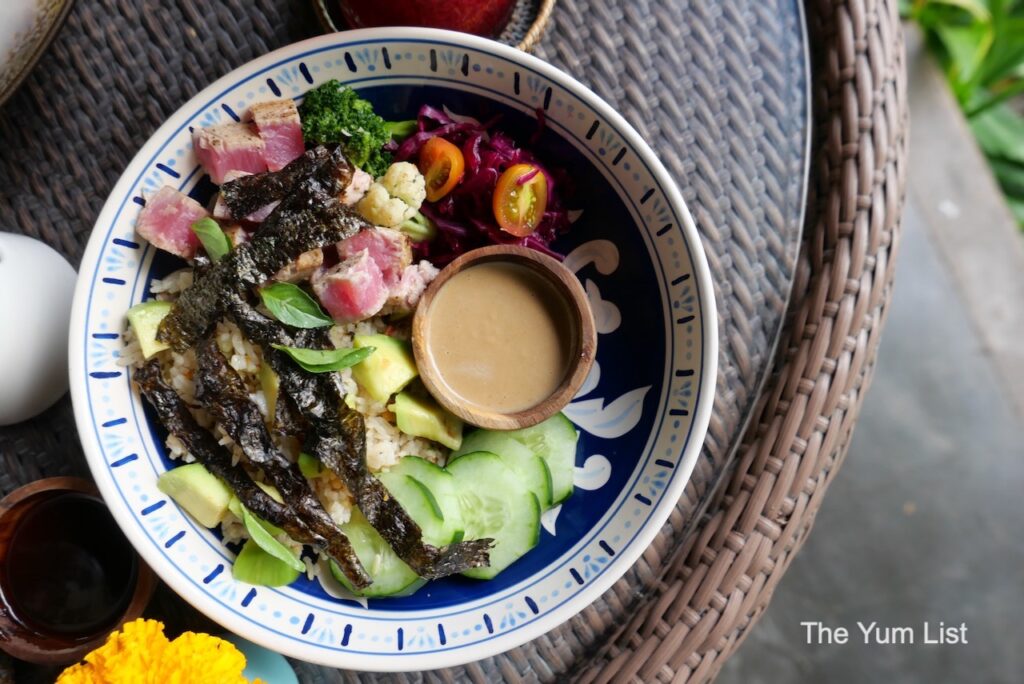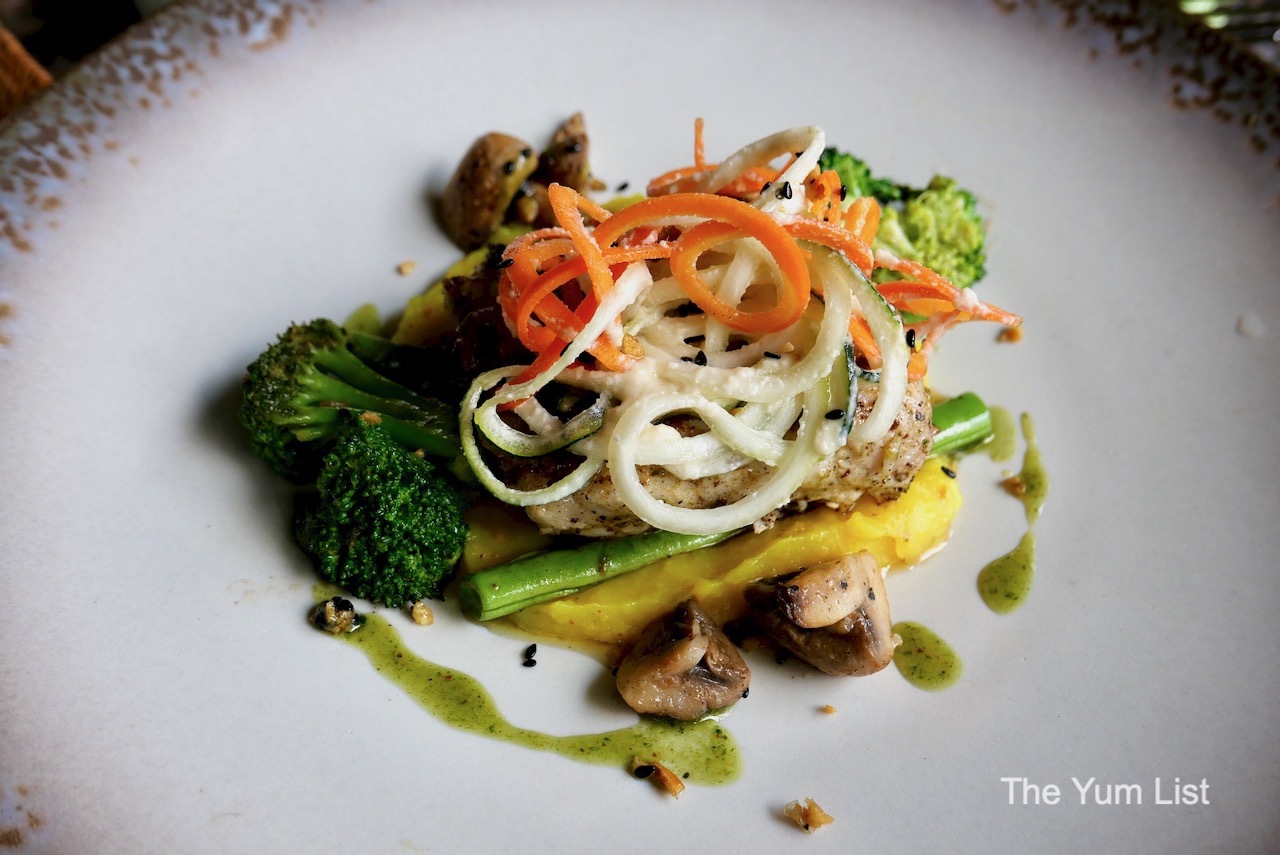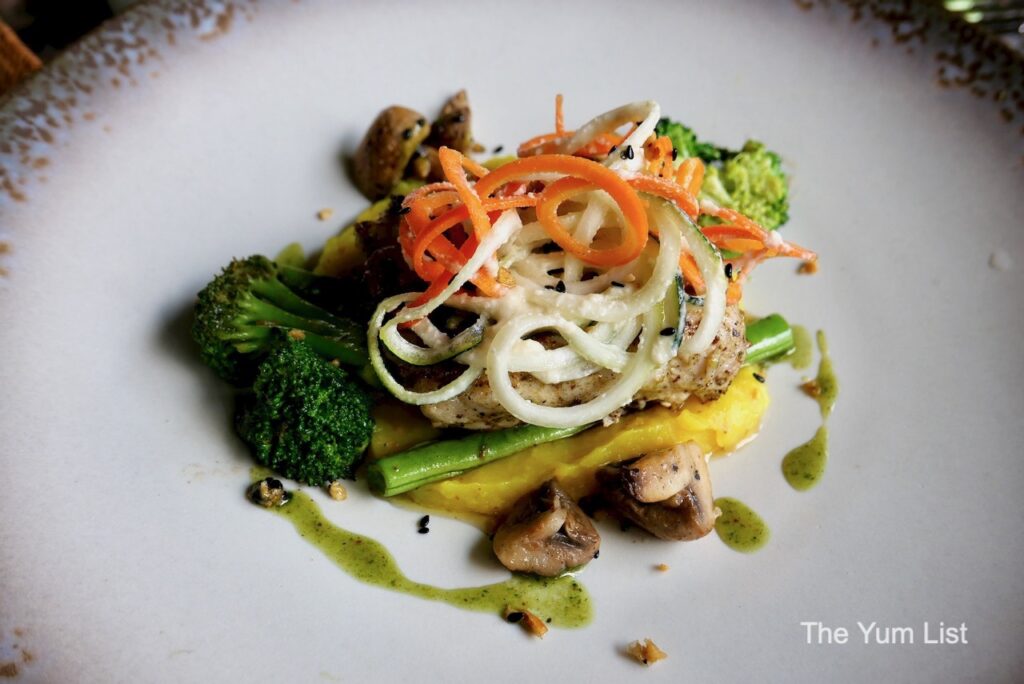 Heavenly High Tea
A beautiful afternoon pick-me-up is found in the Heavenly High Tea (IDR 110k for two people). The three tiers steer well clear of the traditional scones and cucumber sandwiches. Instead, expect to find a miscellany of Balinese sweets and savouries. Of note are the pandan pancakes wrapping palm-sugar-soaked coconut, as well as a whole bunch of plant-forward savoury options to balance out any guilt.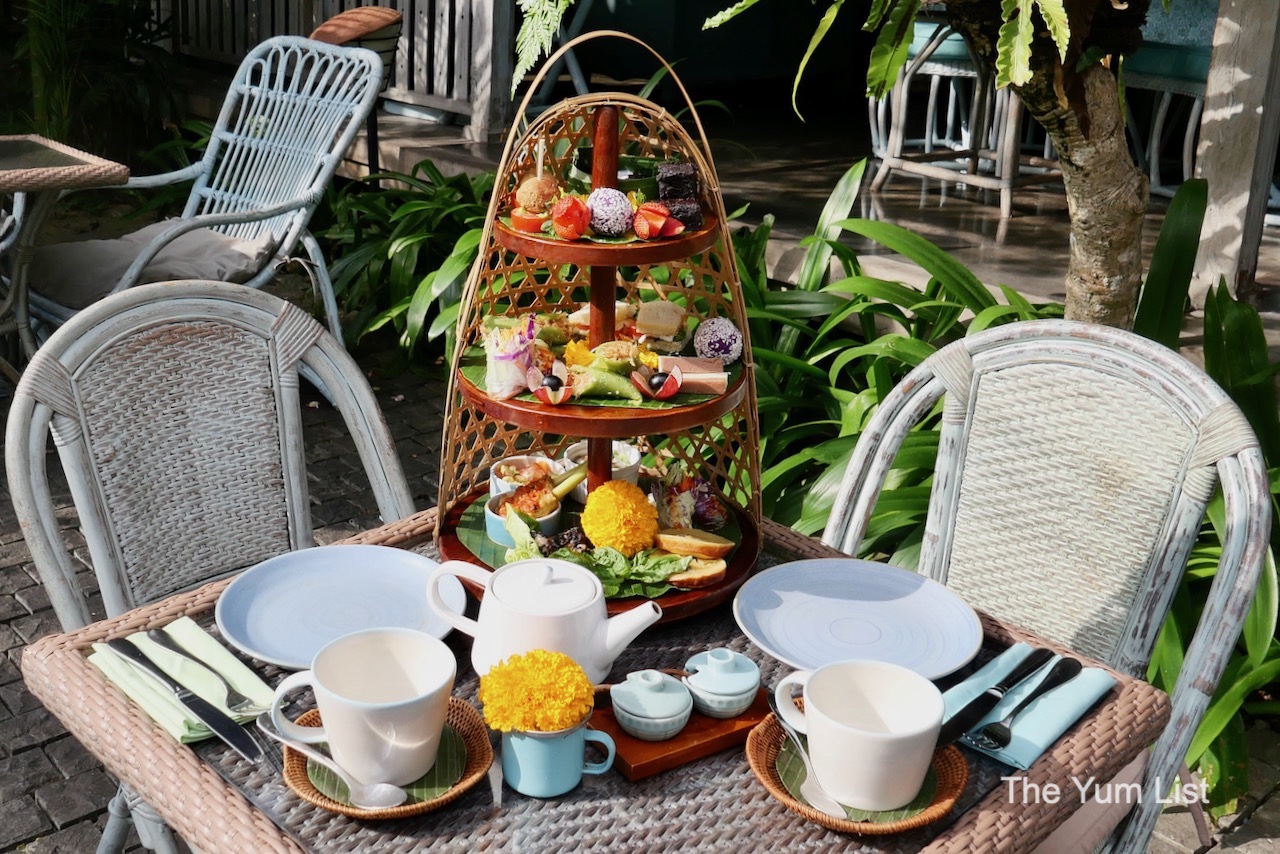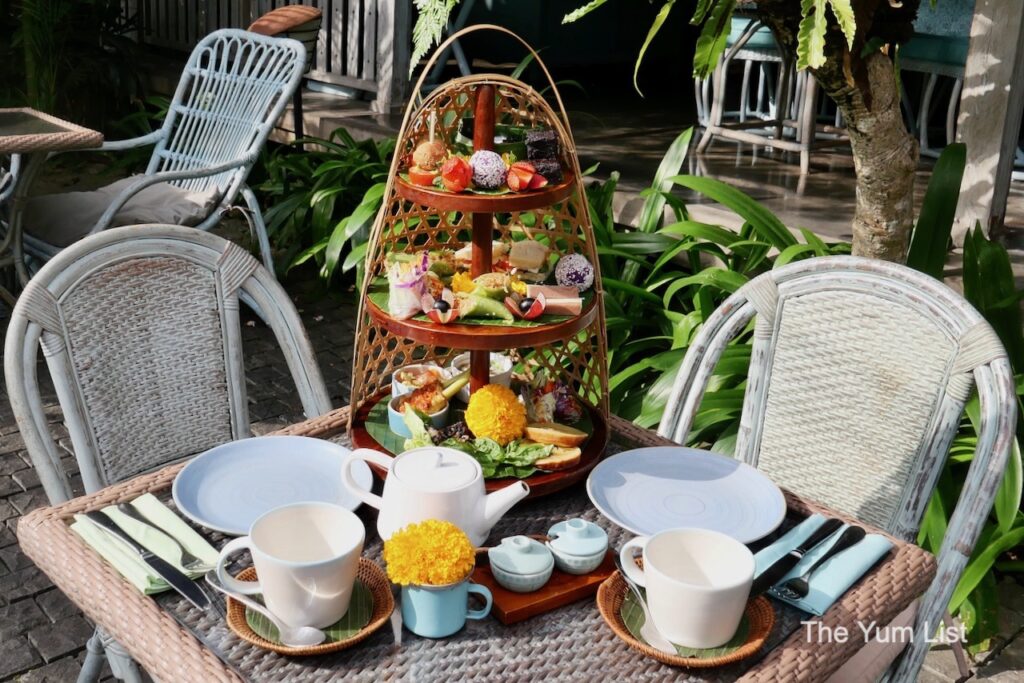 Breakfast at Herb Library
As mentioned, I'm fortunate to have the Herb Library as my breakfast locale over my stay in Ubud. The hotel breakfast includes a choice of one main with juice, coffee or tea, and a bread basket or fresh fruit. One morning I have the Mint Coco Juice with pineapple, lemongrass, mint and coconut water. On the other, I find the Red Gem with watermelon and mint super refreshing. While there are both western and local flavours as options, I'm all about comfort food in the mornings so its the former for me. Day one it's Big Vegan Healthy Bowl with baby potatoes, sauteed mushrooms, greens, a grilled tomato and vegan bread. Day two its the Green Great Sandwich – brown bread stuffed with potatoes, baked beans, local veg, hummus, a poached egg, a grilled tomato and basil oil.
Drinks Menu
I love the drinks menu almost as much as I do the food. There's a whole bunch of cocktails, spirits and wine, but today I'm excited about the vast selection of health tonics. With something for every ailment, from lack of energy to insufficient sleep, there is a blend, mix or concoction here to assist.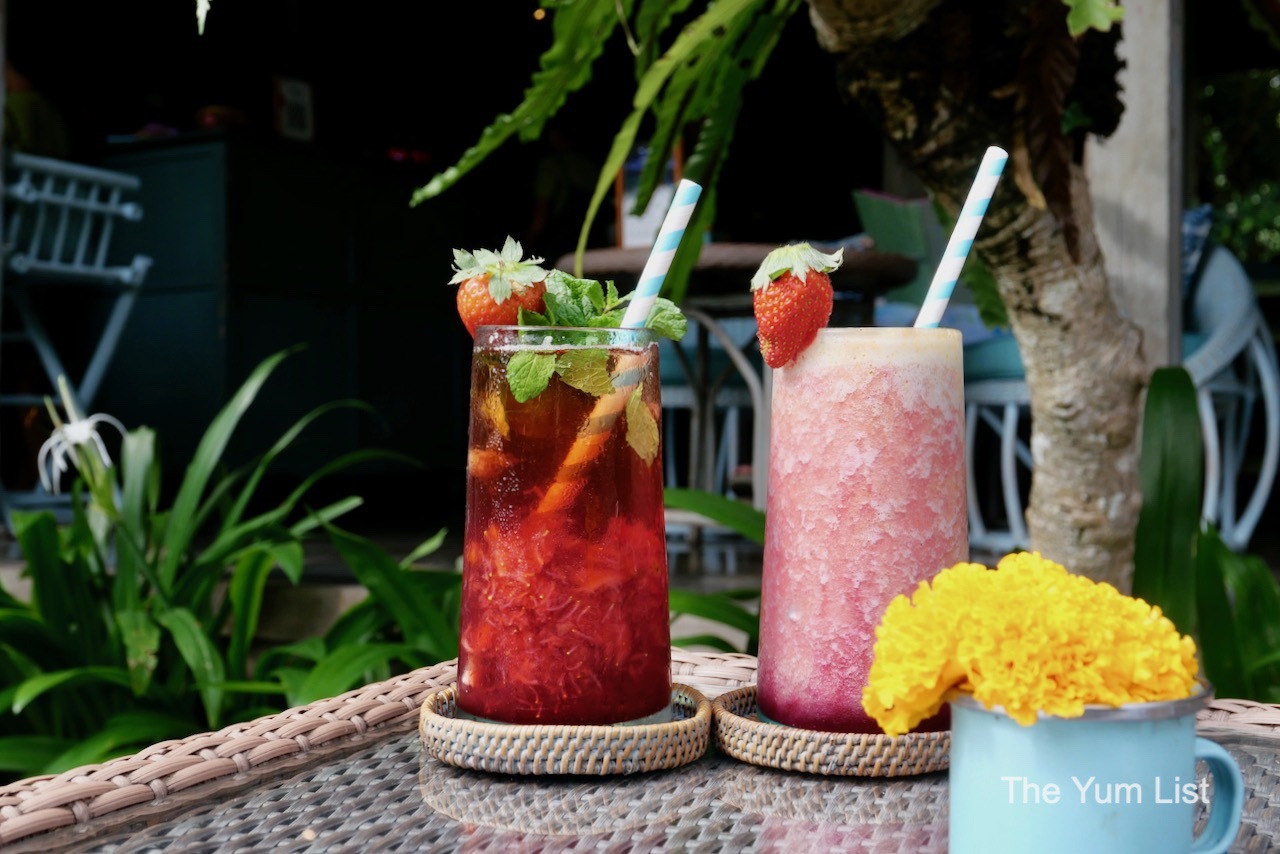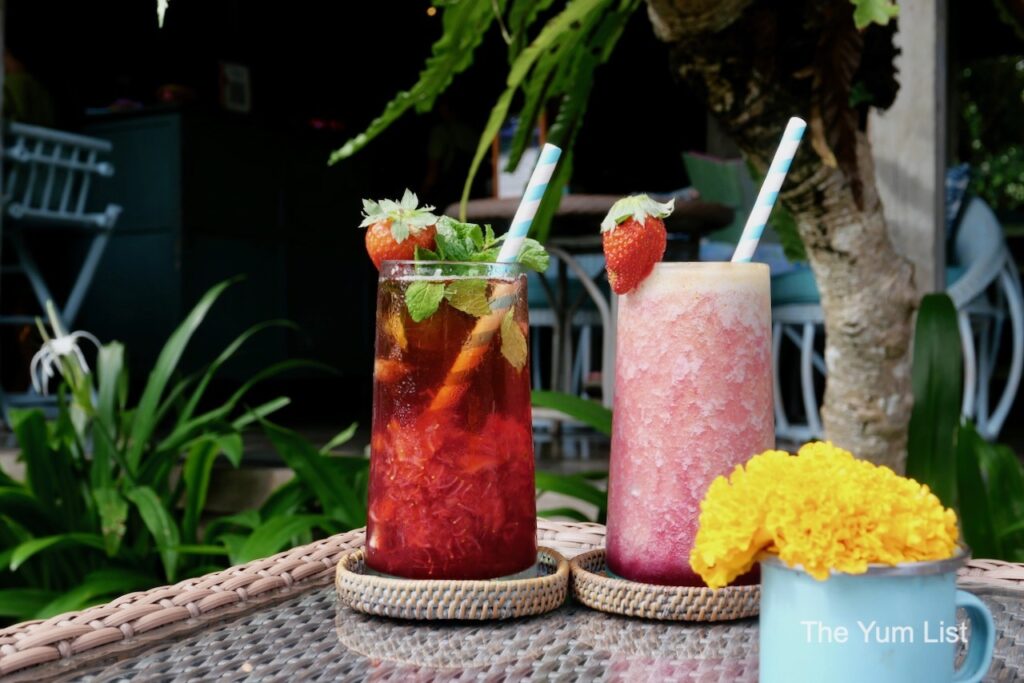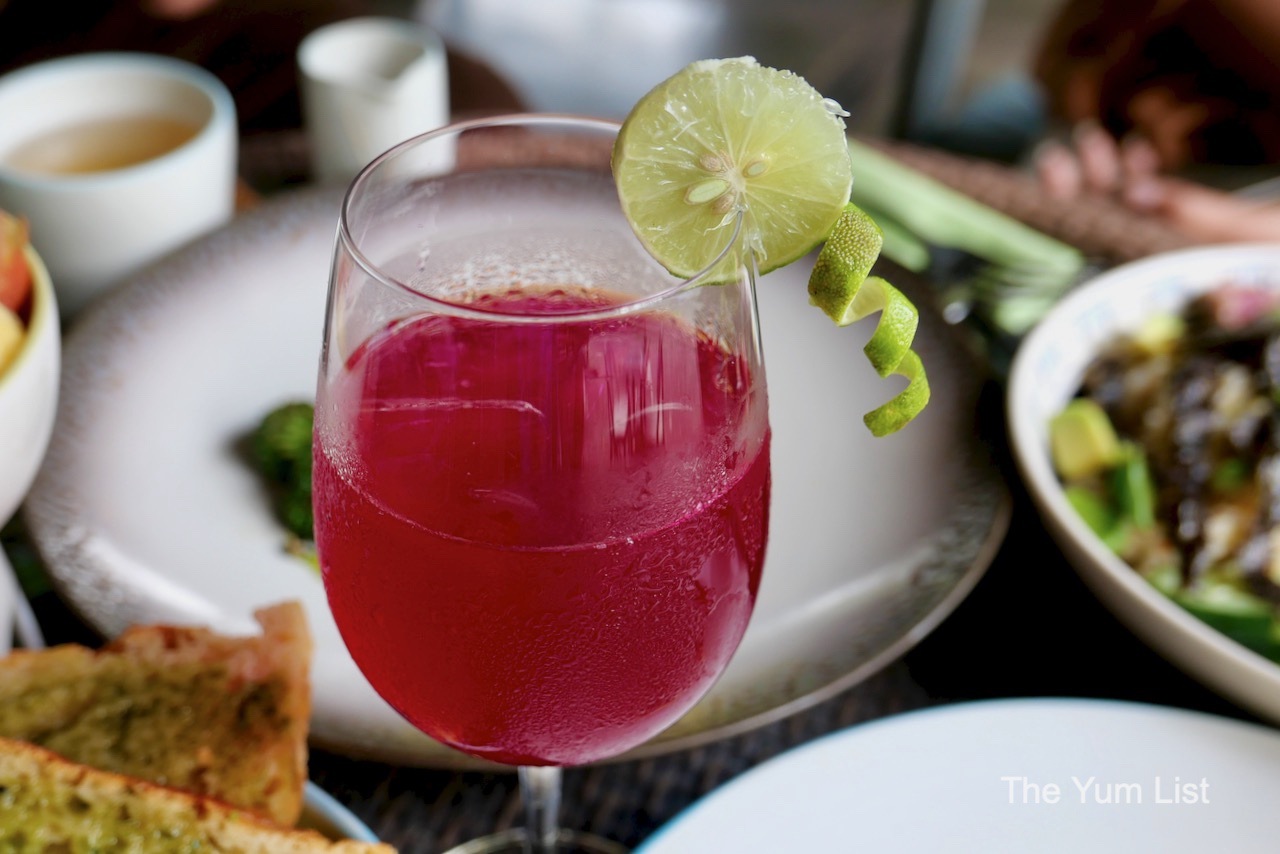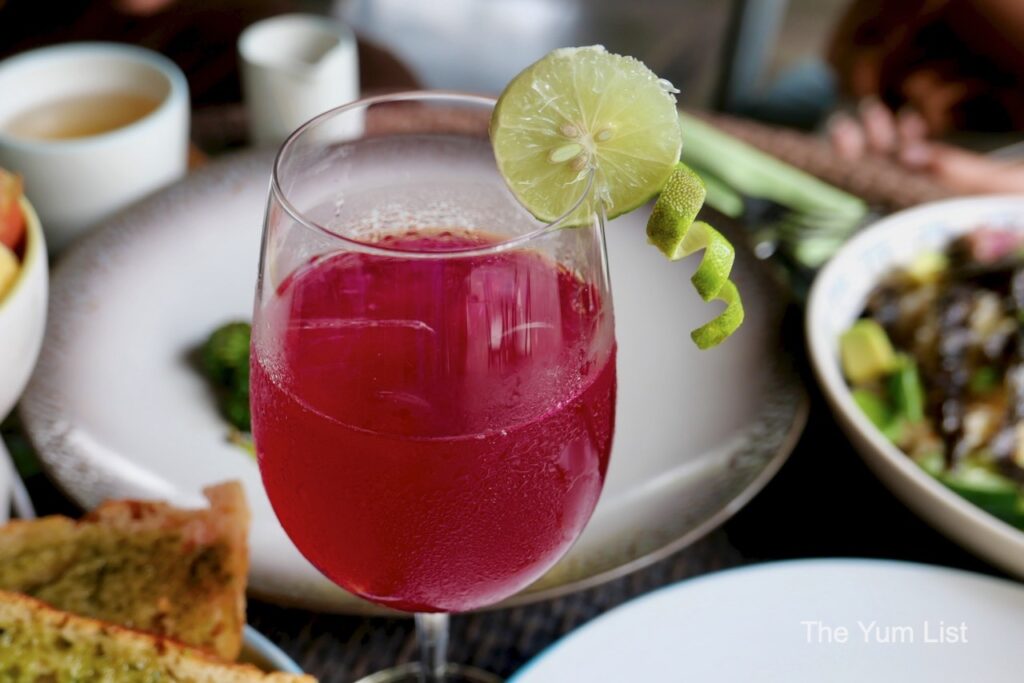 Herb Library Review
The Herb Library is a pleasant, bright and breezy location easily located in the centre of Ubud. There's much to please plant-based eaters here but also enough to bring your meat-eating partners along without complaint. They have a fantastic drinks selection, both boozy and nutrient-rich. I would dine again here in a heartbeat.
Reasons to visit Herb Library Ubud: a lovely open-walled concept enveloped by green; fresh, healthy and delicious plant-forward menu including meals for vegans, vegetarians and omnivores; signature Balinese warm service.
Herb Library – Cuisine by Nature
Adiwana Resort Jembawan
Jl. Jembawan, Ubud, Kecamatan Ubud,
Kabupaten Gianyar, Bali 80571
+62 821-4704-8515
www.herblibraryubud.com
Herb Library Ubud Opening Hours
Daily 7 am – 11 pm
Find more gourmet travel recommendations for Bali here and stay up-to-date with our latest gourmet travel finds here and here.