Andaz Bali
Monica Tindall
The vibrant, contemporary sister of Hyatt Hotels, Andaz Bali, is an excellent showcase of modern Balinese culture.
Nestled in the mature landscape of Sanur, Andaz Bali mirrors a chic Balinese village, summoning guests to appreciate the old while delighting in the new. Respecting the environment, the beachfront resort was built around prevailing vegetation, taking care to minimally impact its natural home.
I already know I don't want to leave before reaching my villa. The abundant greenery and wide-open spaces are immediately calming. Additionally, cool fresh temperatures and dry July air (the best time to visit Bali) are incredibly inviting. Couple that with those extraordinary Balinese smiles and warm service, and this is undoubtedly a piece of paradise.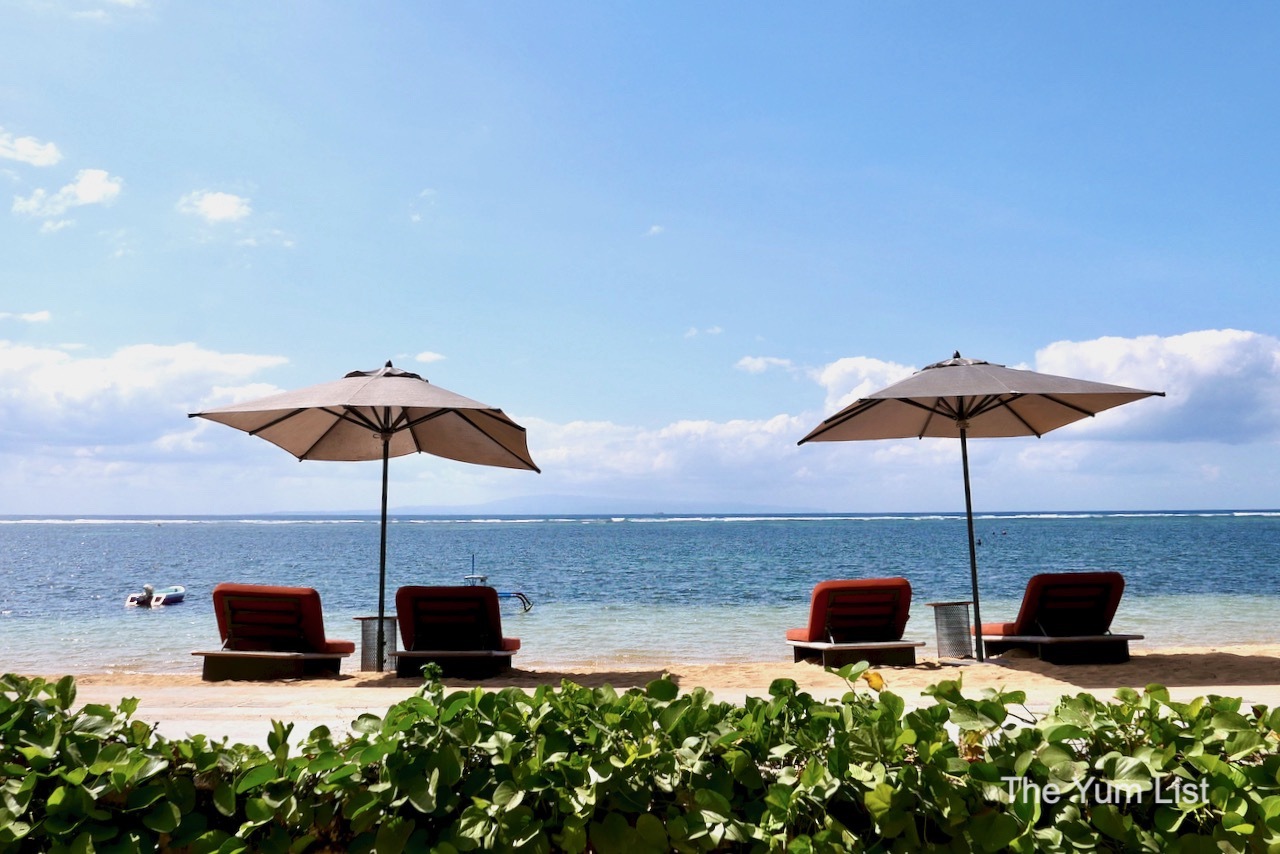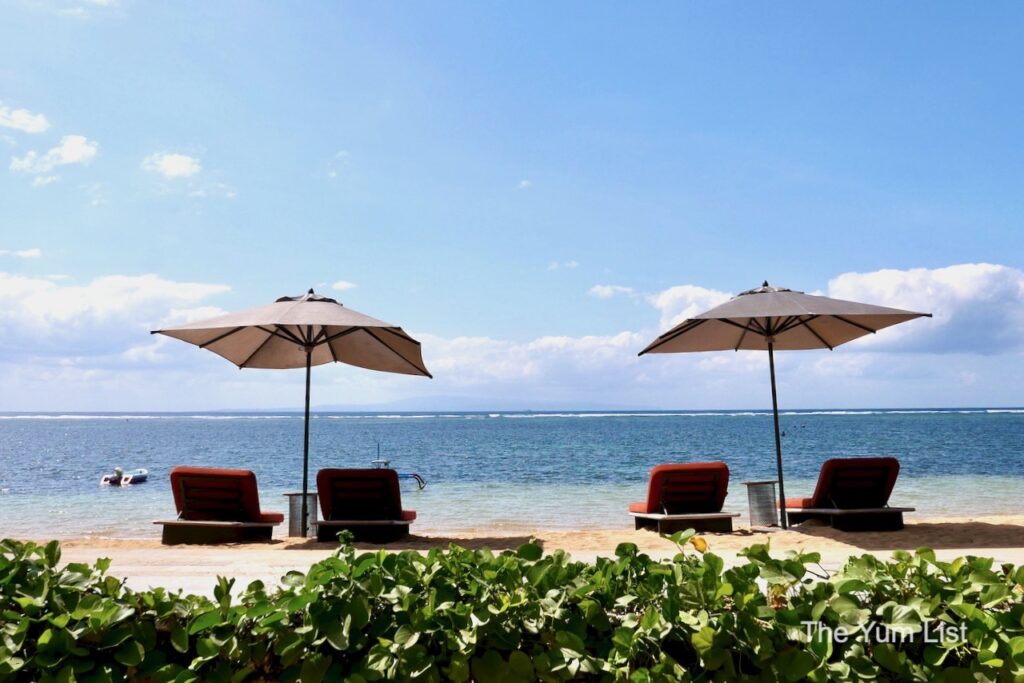 Rooms, Suites & Villas at Andaz Bali
With rooms beginning at 66 square metres, the sense of space in Andaz Bali's accommodations is evident in even entry-level digs. Clustered around courtyards, the 127 rooms, suites and 22 villas feel much smaller in numbers and larger in size. All rooms and suites offer a generous balcony and luxurious amenities, while the garden and beach villas provide the ultimate in peace, privacy and expanse. Learning well from Balinese design, all accommodations can be combined into a compound, giving flexibility to large families and groups.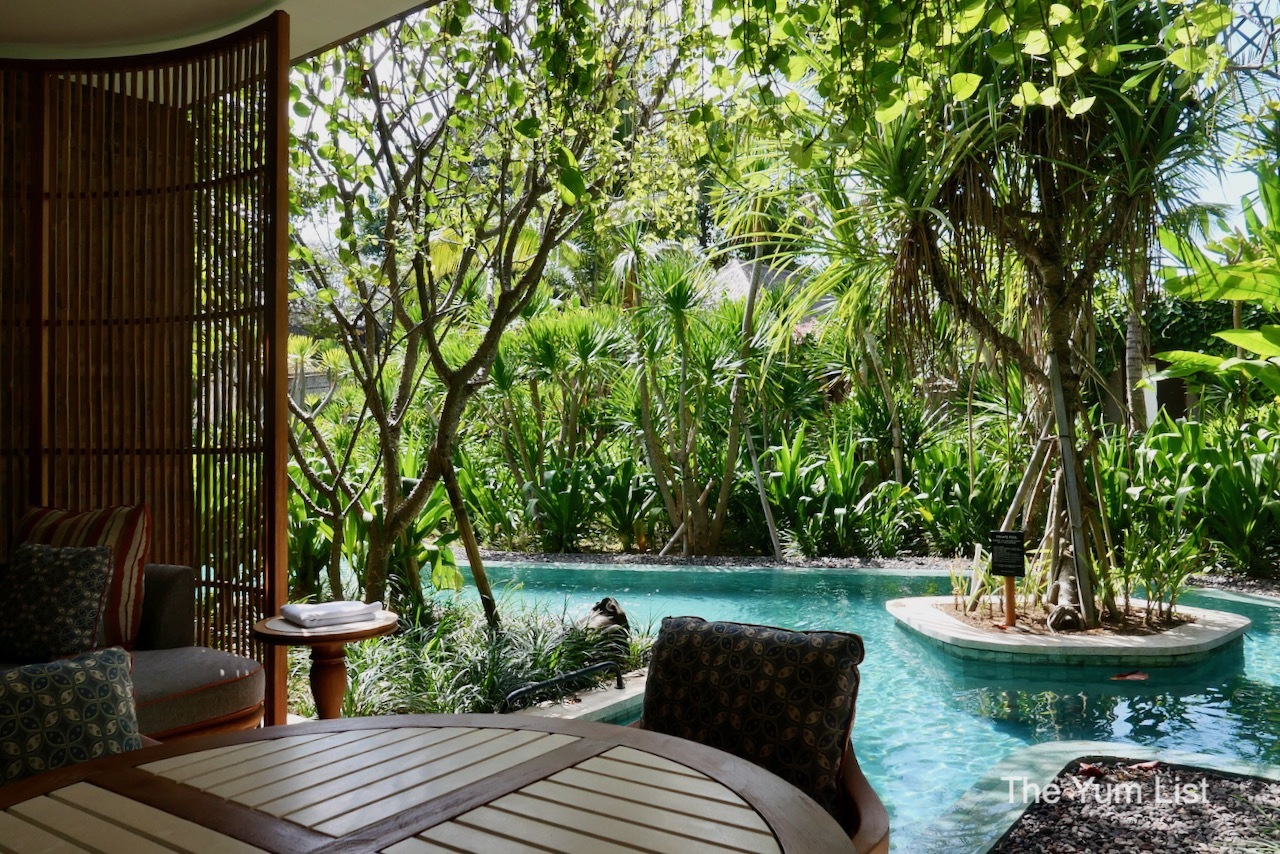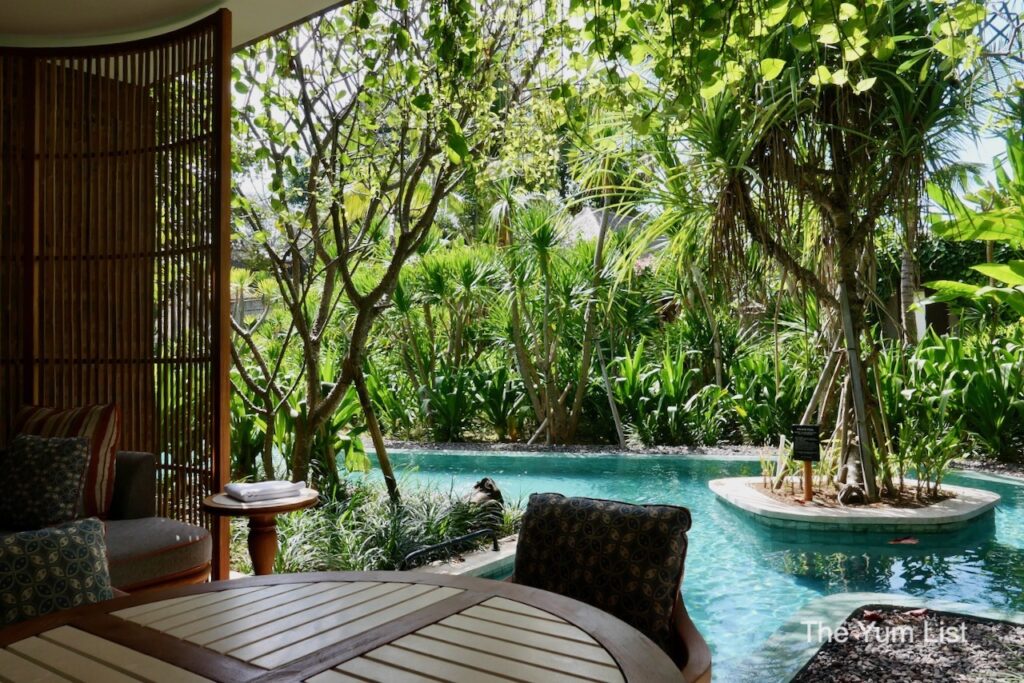 One Bedroom Garden Villa
I'm in a One-bedroom Garden Villa for three days. Diverse artifacts of Balinese life, both old and new, decorate the interior with an eclectic vibe. Cherishing craftmanship over age, no matter what their generation, weaves an artistic thread linking the individual pieces into an integrated concept.
The glorious 234-square-metre villa with a private pool is my idea of heaven. It's the ultimate privacy, perfect for a wellness getaway to recharge. Besides the private pool with sunbeds, it also contains a master bedroom with a king-sized bed (super comfy), a bright living and dining room, a pantry and a lavish bathroom. Without delay, I draw a giant bubble bath. It's going to be tough deciding where to dip over these next few days. Furthermore, it can be connected to the villa next door, creating a two-bedroom stay if desired.
What's more, is that everything is labelled! There's no guessing which switches turn on the miscellany of lights, fans and air-cons – each is clearly marked. Wi-Fi is high-speed. You could work from here without a problem (unlike many small hotels we've stayed in). There are plugs and places to charge everywhere. It's a five-star full-service experience on all accounts.
All the luxurious amenities that you'd expect are provided, such as a 65-inch flat-screen TV (huge!), individually controlled air-conditioning, ceiling fan, in-room safe, iron and ironing board, plush robes and slippers, hairdryer, kettle, coffeemaker and a pantry with a microwave. That sure is convenient if you can stay a little longer. However, the food and beverage options at Andaz Bali are more than sufficient to entice you out of the room and away from instant noodles for a while.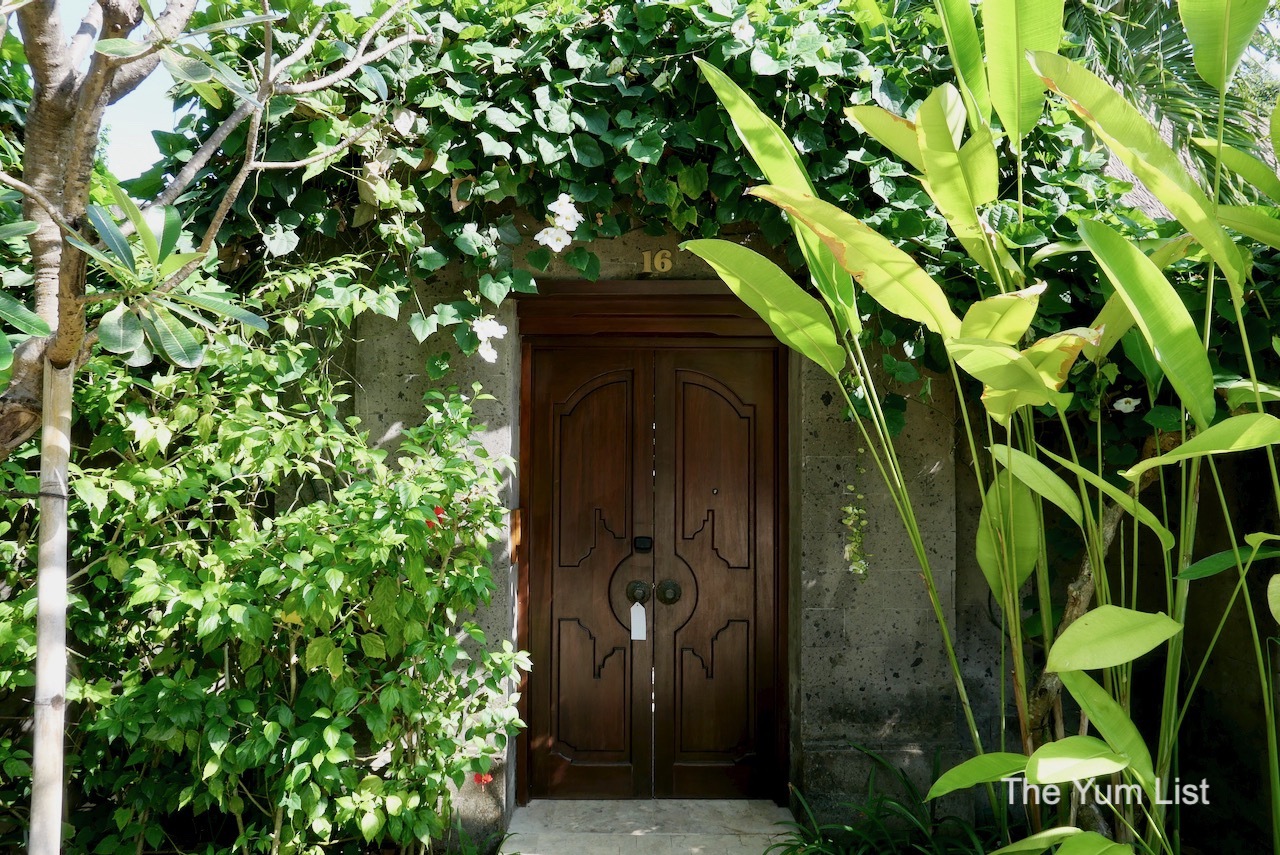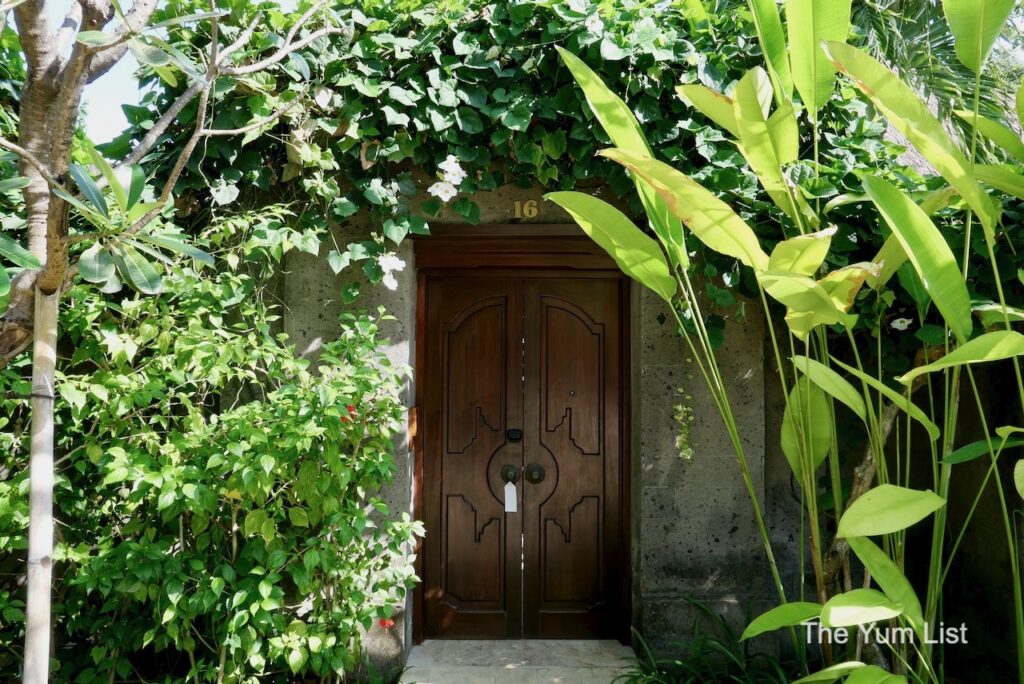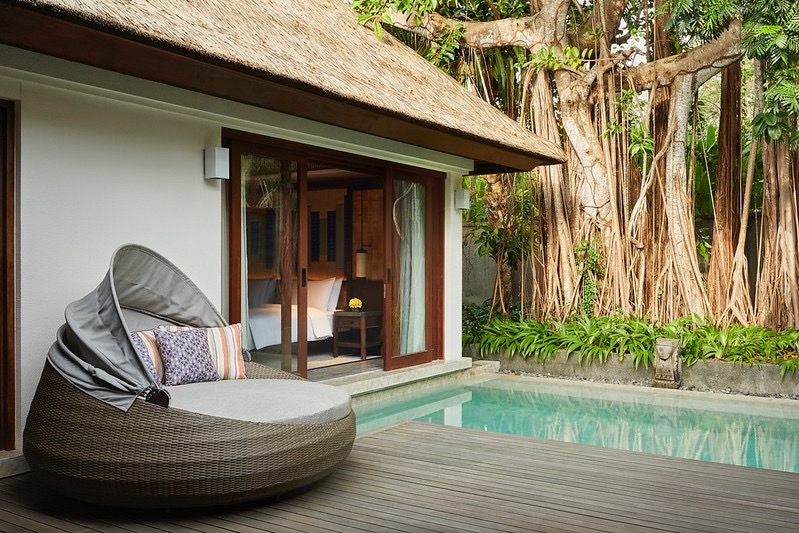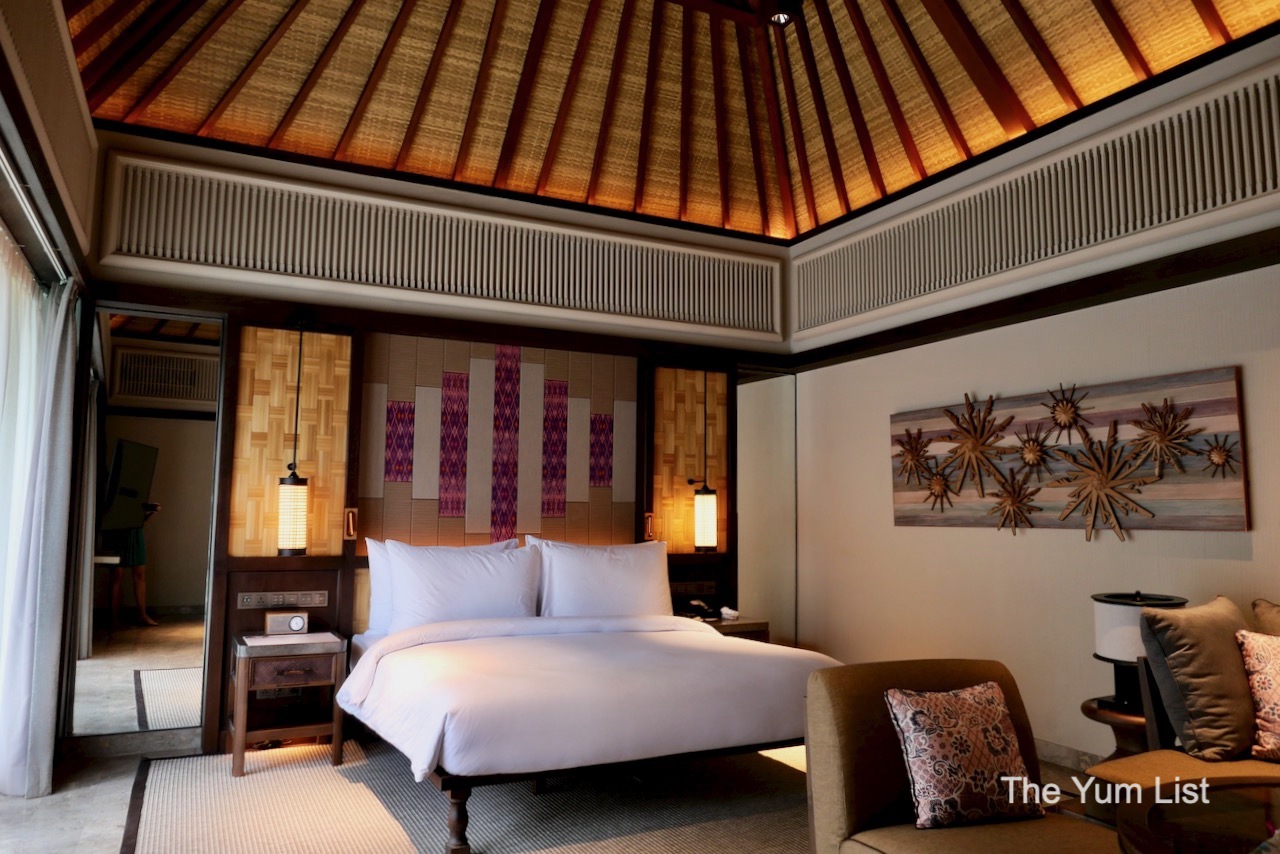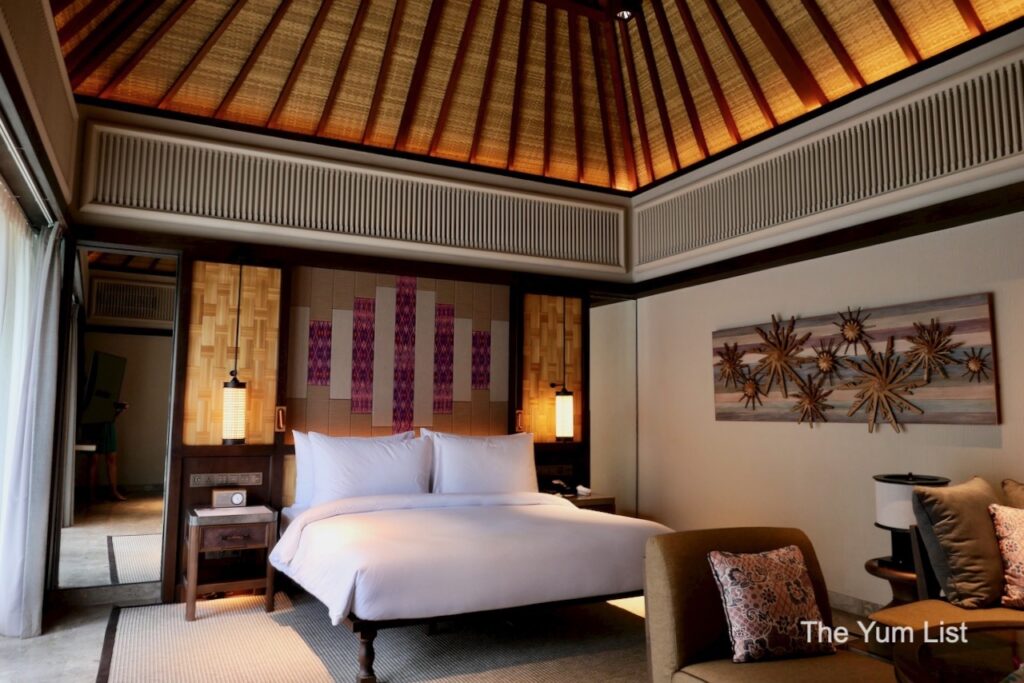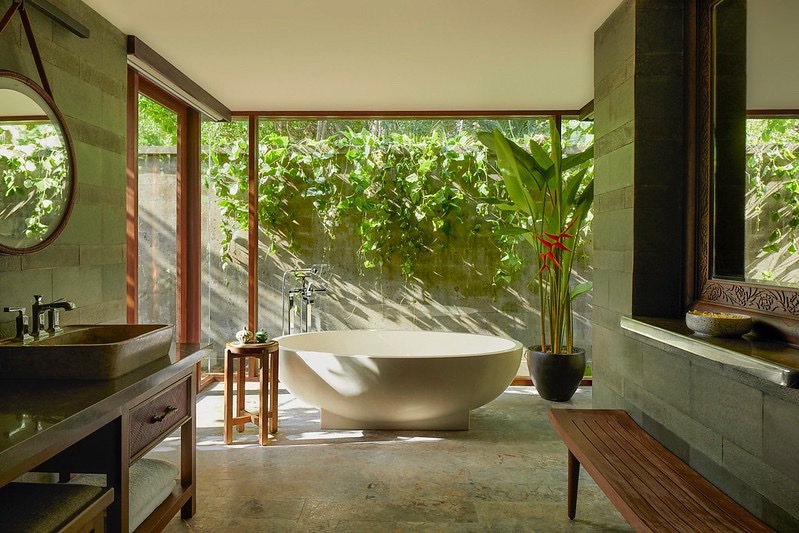 Restaurants & Bars – Andaz Bali
The restaurants and bars at Andaz Bali have a common theme of a relaxed, communal setting. They're stylish in design but fun in nature, inviting a sense of playfulness and a cheerful vibe.
Village Square Breakfast
Village Square is Andaz Bali's location for breakfast. Blue Oven and Wok Wok open up to offer plenty of seating for guests to dine at their leisure. It's fabulous, not a buffet; everything is table service. You can have unlimited orders of anything from the extensive menu, served directly in manageable plated portions to your table.
There's so much here that it would take a month to try it all. I make a good attempt, though, working my way through some western selections one morning and Asian flavours the next. Expect full gourmet recipes, items you might find in a hip Melbourne café. Smashed avocado, kefir yoghurt, onsen eggs, souffle pancakes, your choice of mylks, jamu and so much more. Really, it's worth staying at Andaz Bali for their breakfast alone.
And, who doesn't love a bubbly breakfast? Every weekend, guests can join for IDR 544,500 per person, including unlimited sparkling cocktails, ala carte dishes and pool access. It sounds like something even guests not staying in-house might like to take up.
Breakfast: 6:30 – 11:00 AM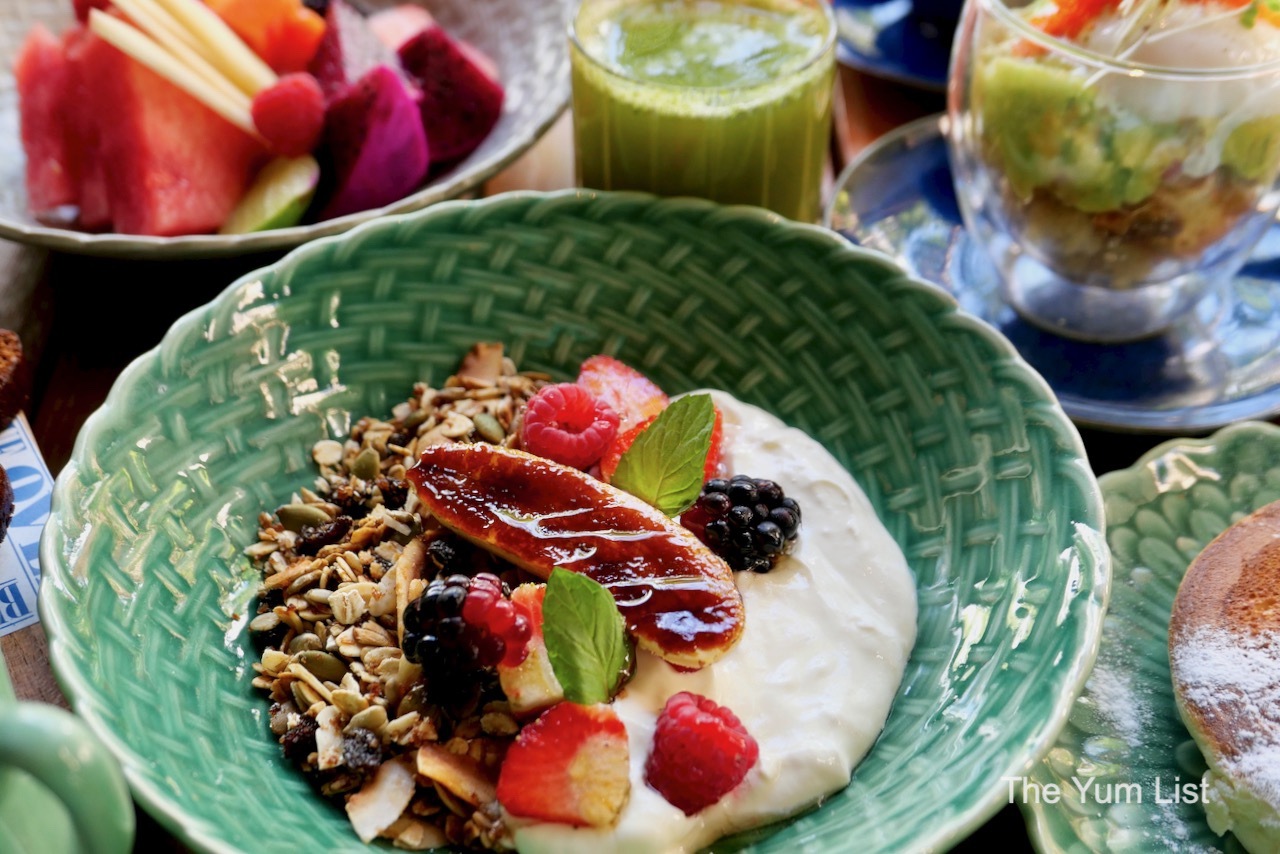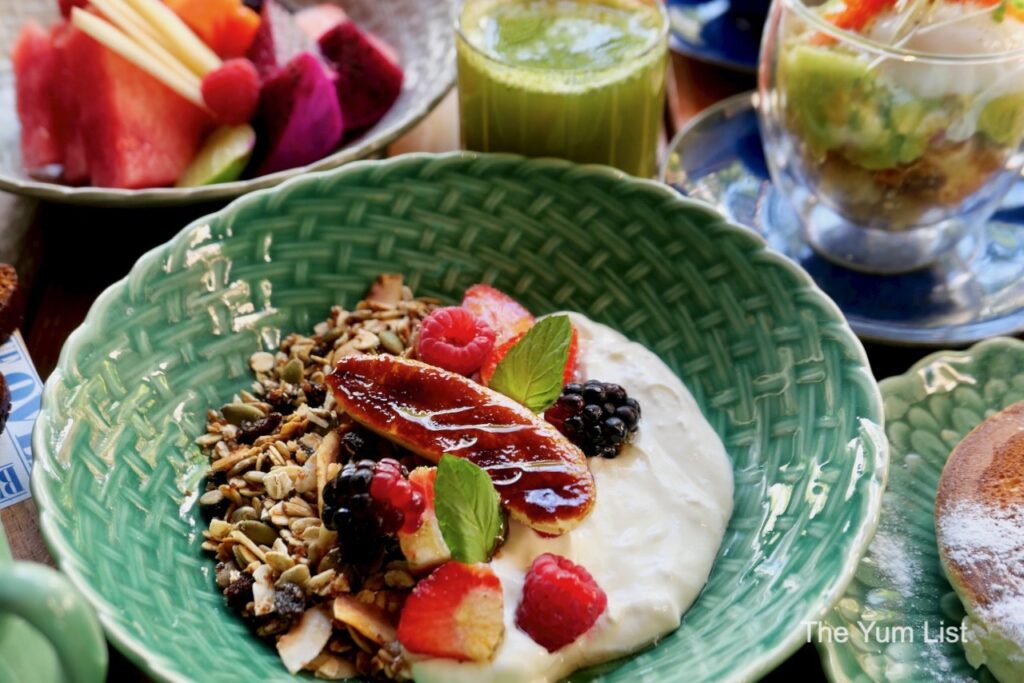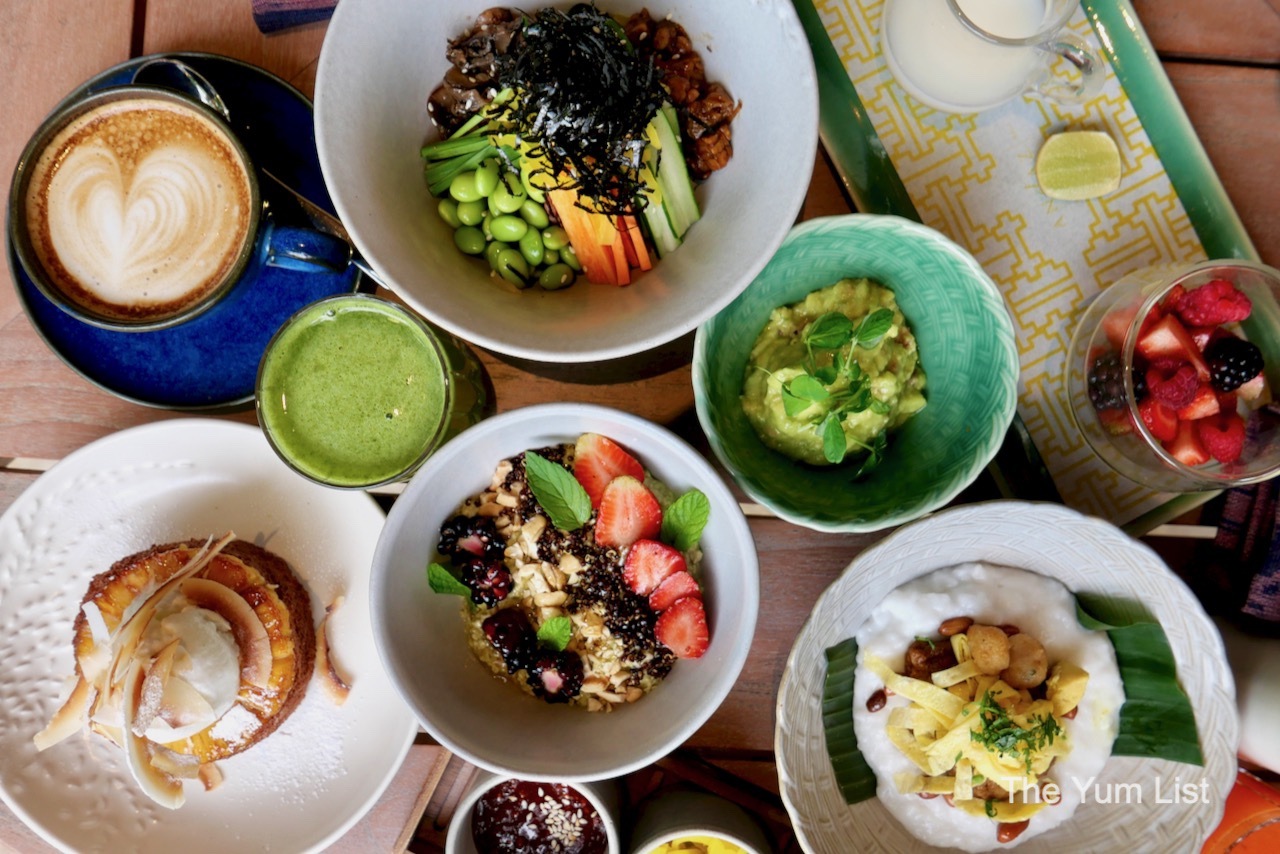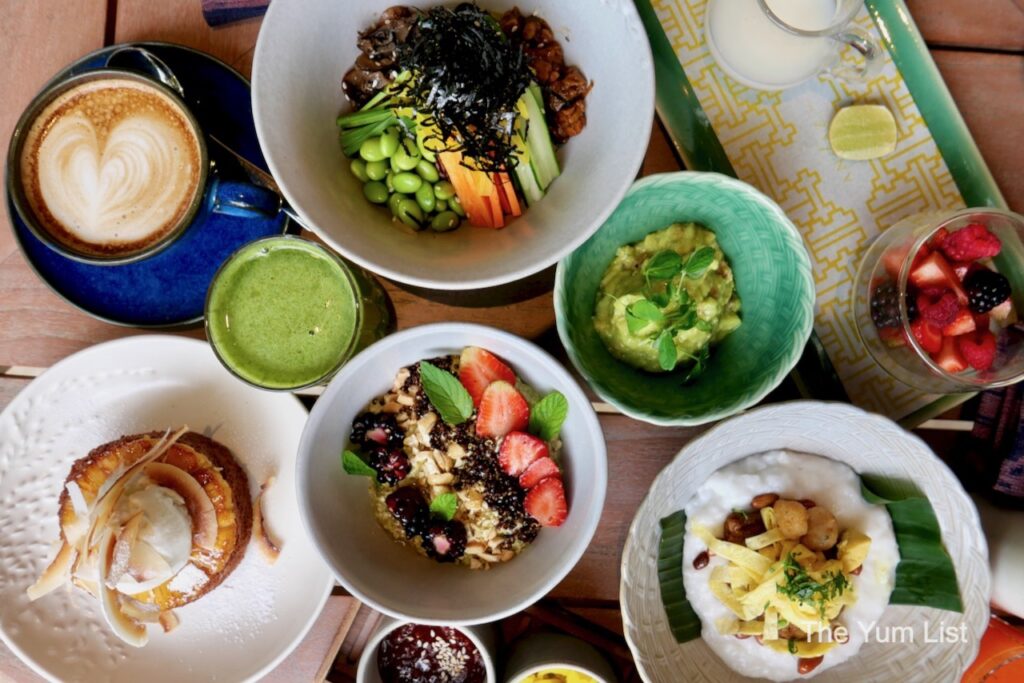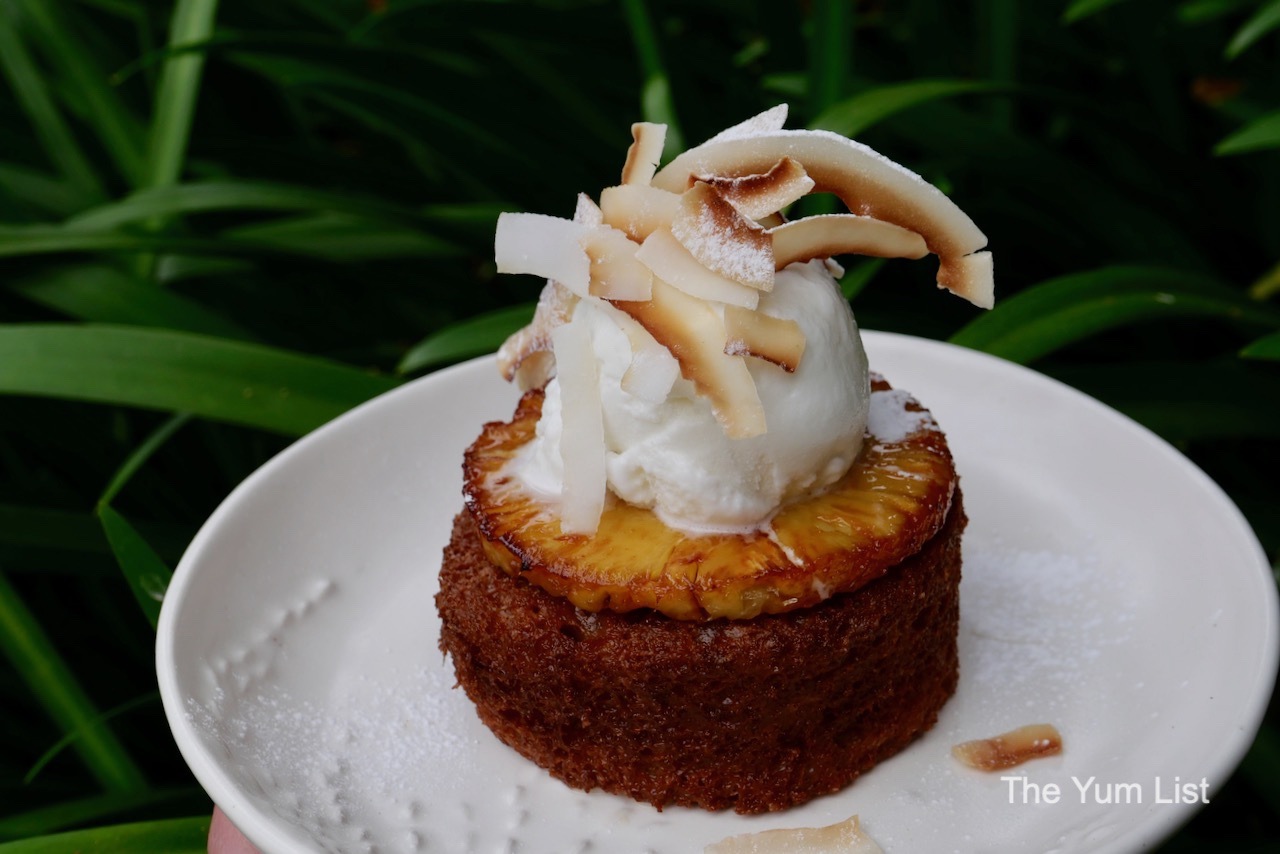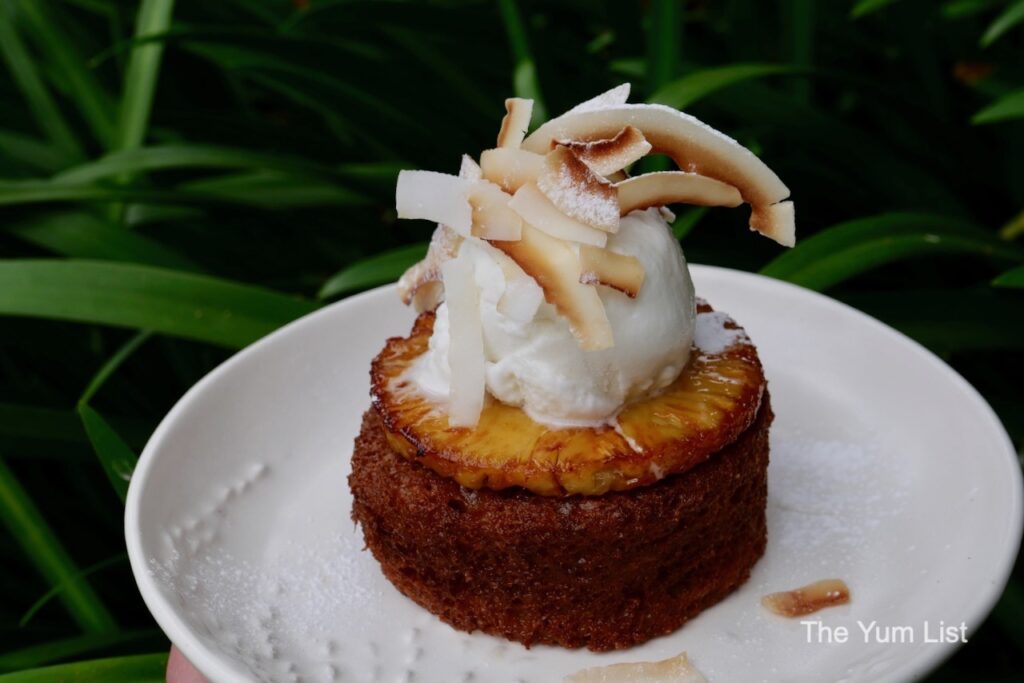 Blue Oven – Mediterranean Cuisine
Blue Oven serves Mediterranean cuisine enveloped in sea-inspired shades of blue. The open-walled restaurant is delightfully designed with solid wooden tables of varying heights, giant chairs, soft hanging lanterns and fiery torches flickering outdoors. Guests can look forward to classics such as seafood paella from Spain and claypot roast chicken reminiscent of the French countryside in portions perfect for sharing with family and friends.
I turn immediately to the veggie options – I'm thrilled that the plant world is celebrated here. To begin, Green Beans with lemon, chilli and hazelnuts give me my greens for the day. They're fresh and crisp, exactly how beans should be done – not a single over-boiled limp pod here. Gnocchi is an all-time favourite and even better when it's pumpkin and sweet potato! Seasoned with bell pepper and sage, it's a tasty and filling recipe. If I had tummy space, there's much more here I'd order here. Cauliflower with Madras curry and pumpkin seeds, and Barley Risotto with cucumber and daikon would be the next hits for sure. Meat-loving hubby would also be happy here with Red Snapper accompanied by kale, pomegranate and salsa verde, or Lamb Kofta with labneh, oregano and pickled chilli.
Lunch & Dinner: 12:00 – 9:00 PM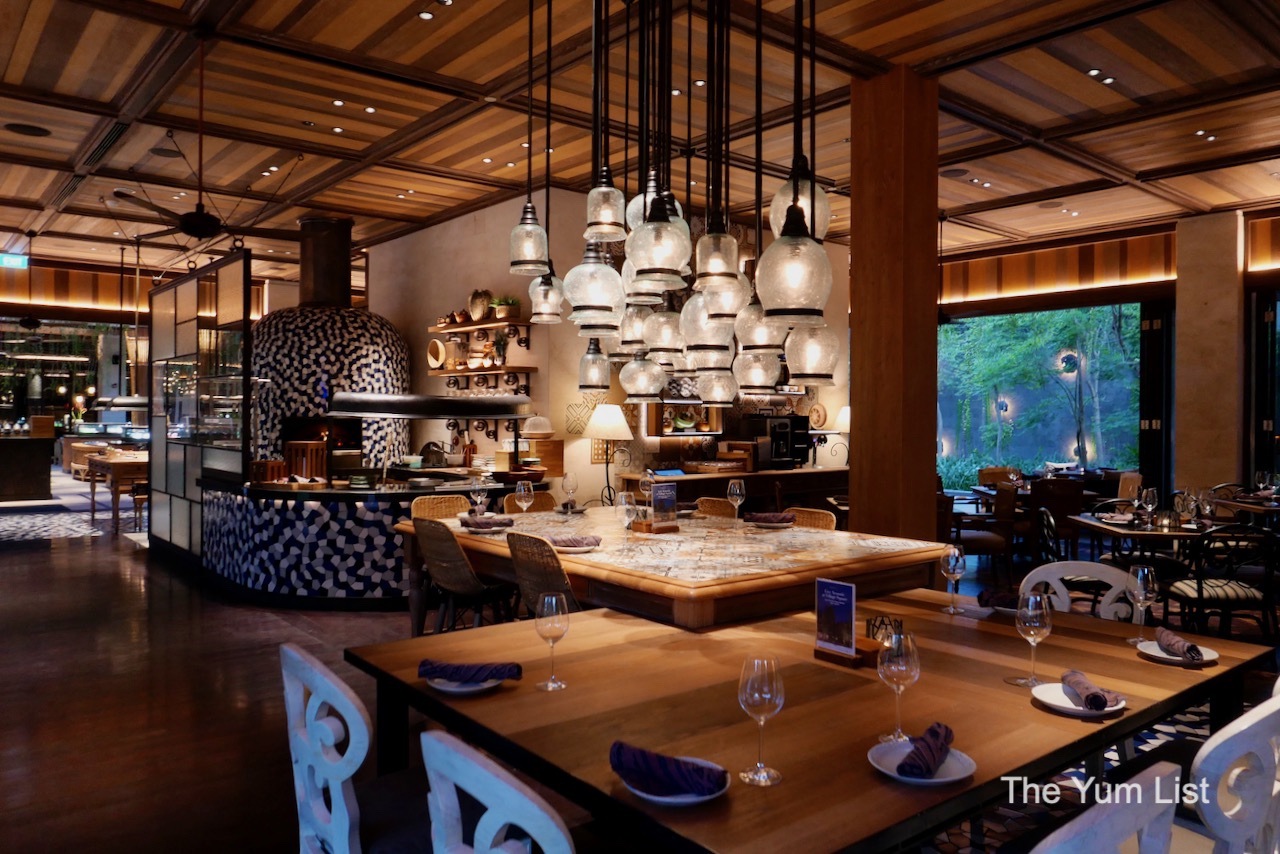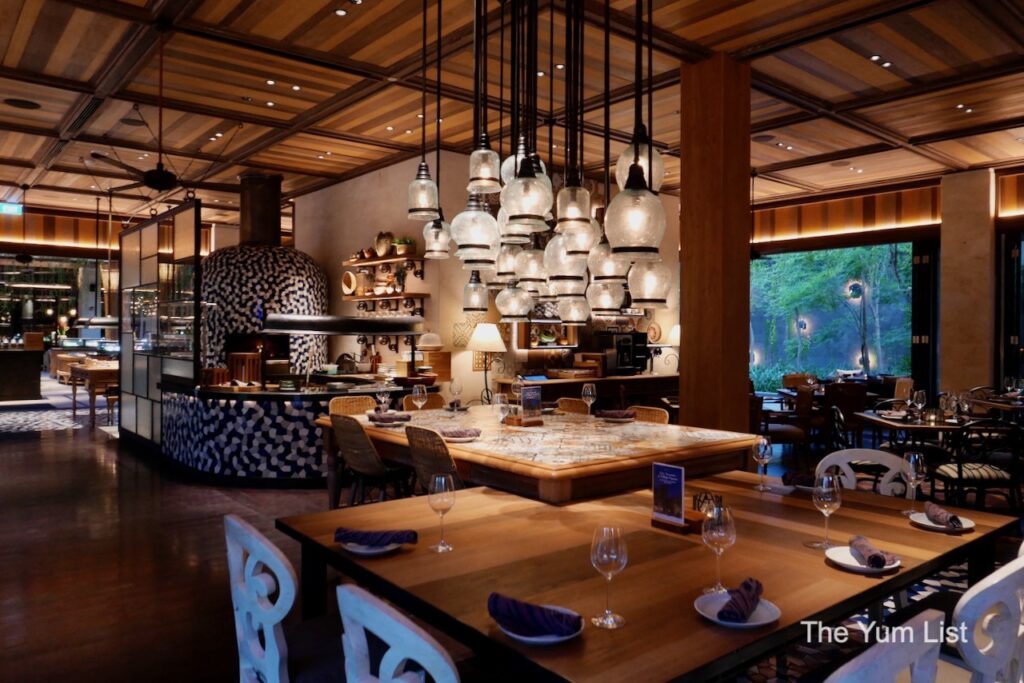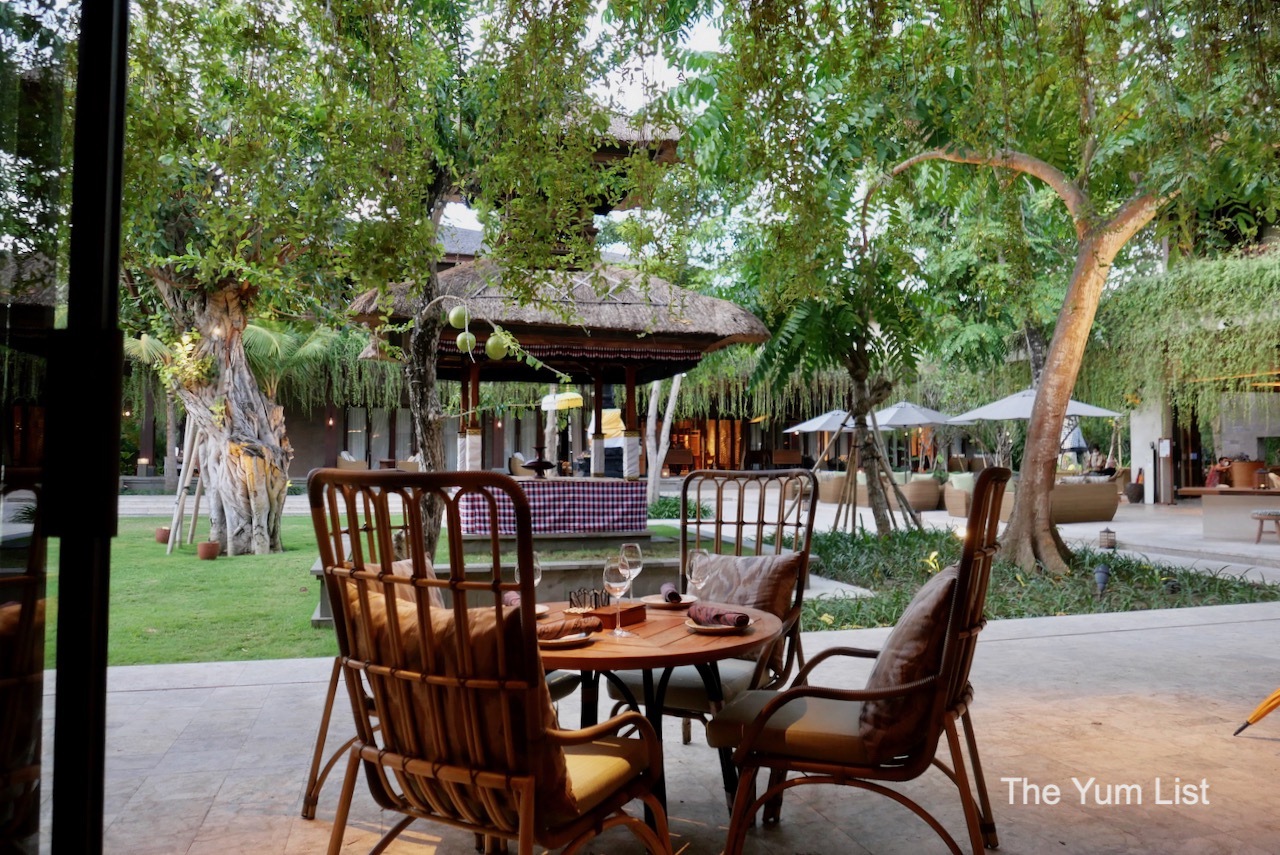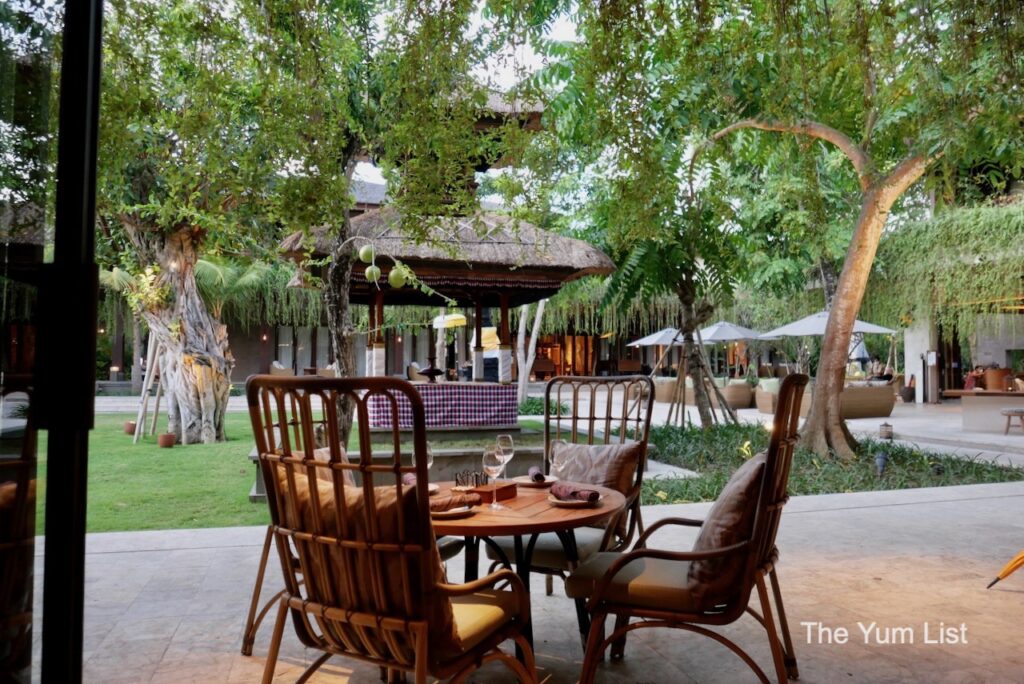 Wok Wok – Indonesian Cuisine
As the name suggests, the local technique of firing dishes up over the wok produces a comprehensive menu of Indonesian comfort food at Wok Wok. Here you'll find recipes from around the archipelago and a good number of Balinese favourites.
The great thing about Wok Wok is that you can order half portions. That's good news for small eaters, kids or some of us who like to try several dishes from the menu. Mie Goreng Cakalang comes highly recommended for good reason. These fried egg noodles are tossed with smoked cakalang fish, sambal rica rica, an egg and vegetables. Ensuring my daily green intake, I take Tumis Kangkung, water spinach with soy, garlic and ginger on the side.
Lunch: 12:00 – 6:00 PM
Dinner: 6:00 – 9:00 PM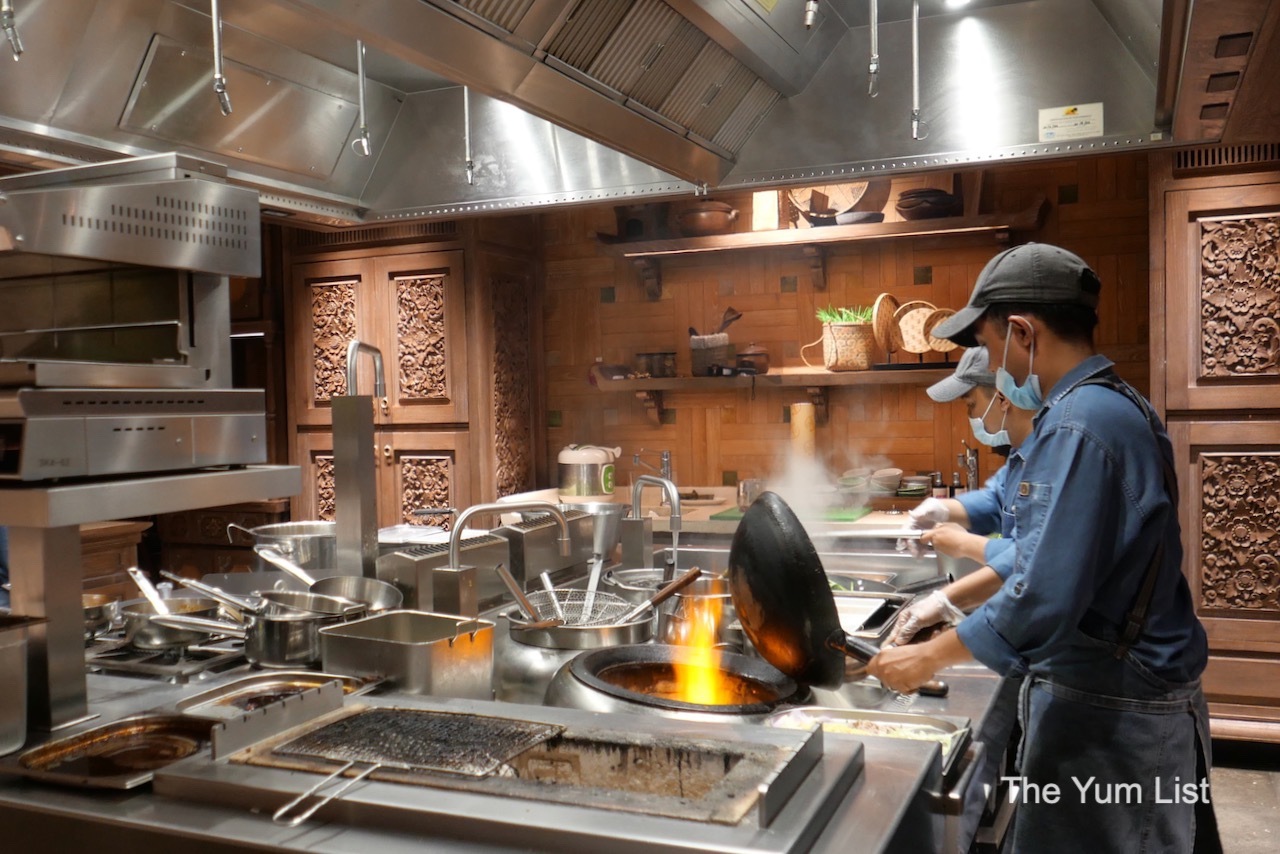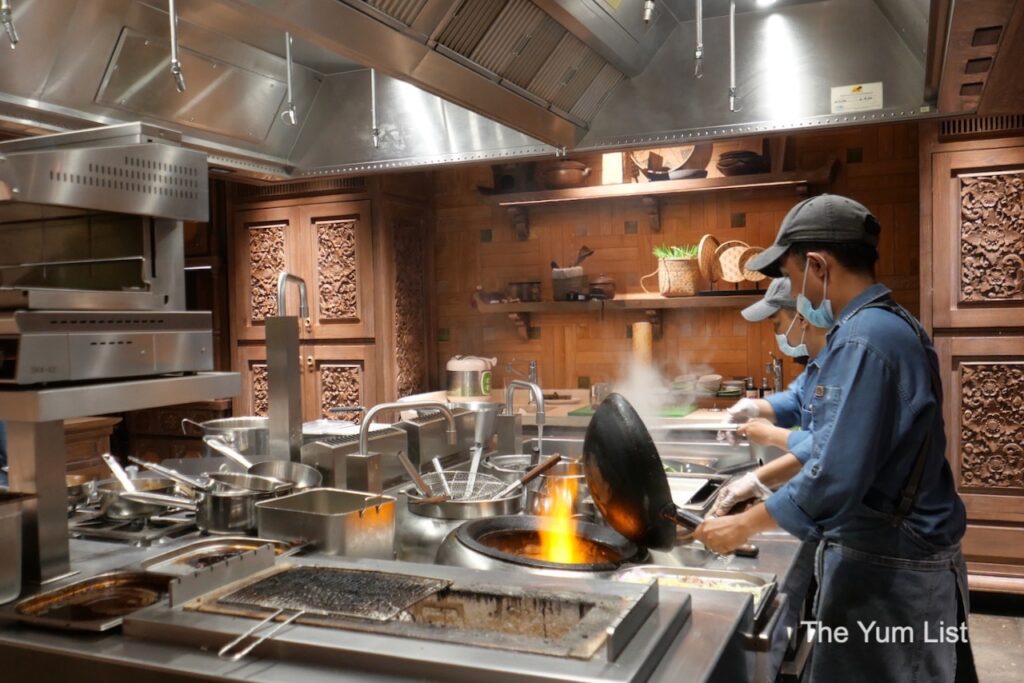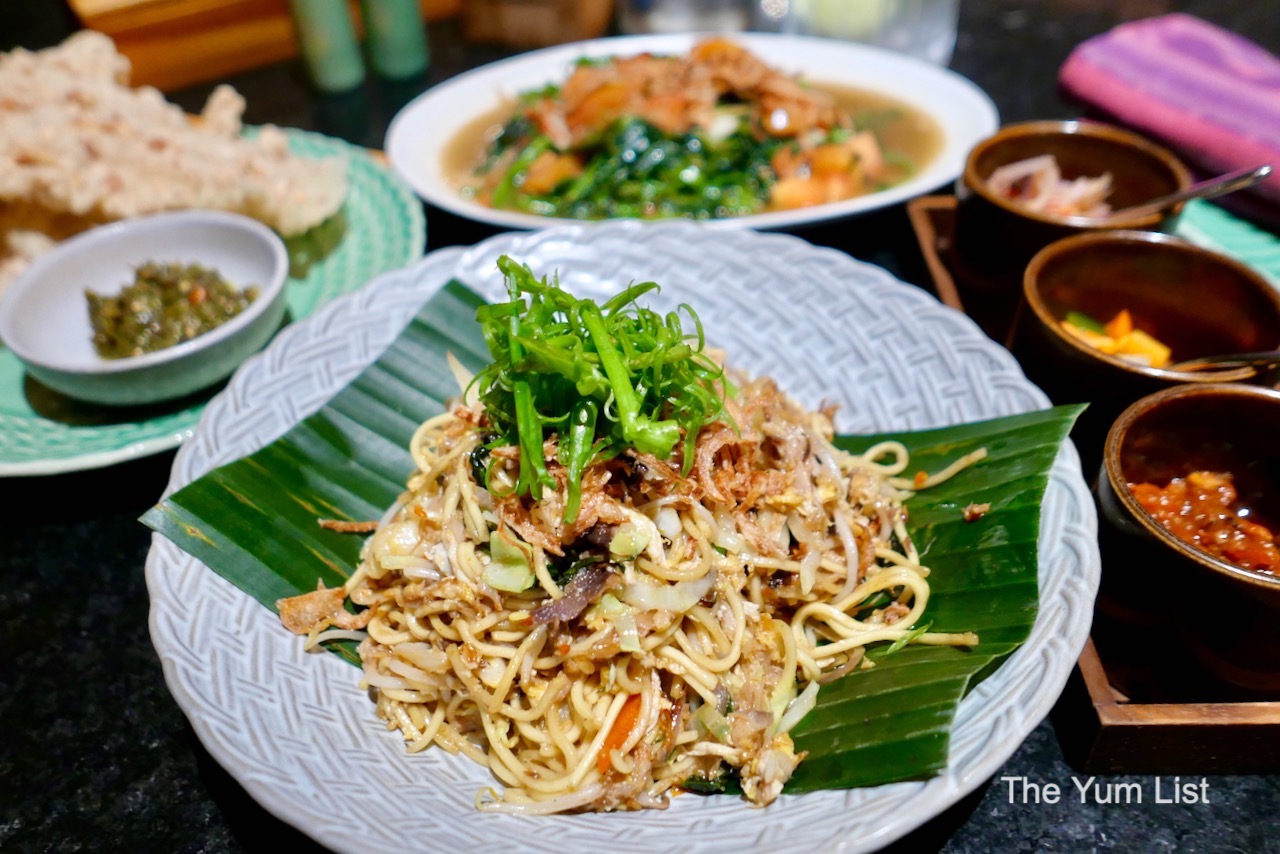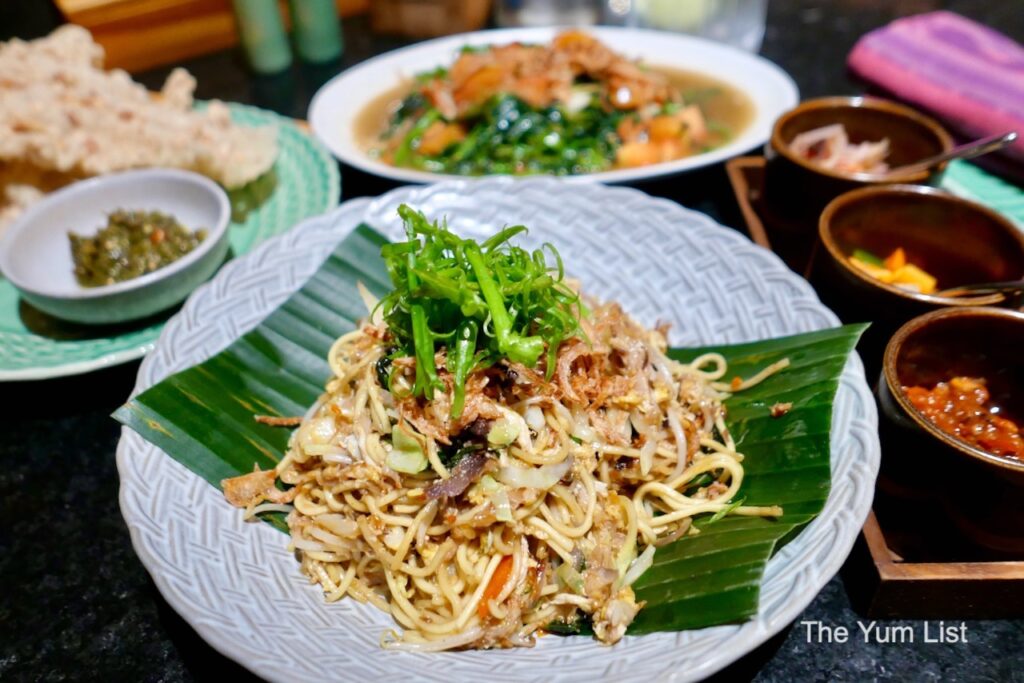 Fisherman's Club – Seafood & International Cuisine
You couldn't ask for a more appropriate location for a seafood restaurant than the Fisherman's Club. Bali Andaz's beachfront restaurant serves light bites, meat, and the fruits of the sea caught daily by local fishermen. Grilling on coconut husks showcases the traditional style of barbecue and imparts a fabulous smokiness to recipes. At any time of day, the Fisherman's Club is great for a cocktail to pair with food, but at night the mood picks up with music and a vibrant beach club vibe. Do bring a tie for your hair; the sea breeze is fabulous here, but meals are best enjoyed minus your hair.
Besides seafood from the grill, the Fisherman's Soup is a signature made with white fish, cucumber, tomato, lemongrass and kemangi. Vegans can also enjoy the seaside without the animal protein with several options, such as the Green Salad Bowl loaded with broccoli, avocado, shitake mushrooms and quinoa in a ginger cashew dressing. You might also consider giving Andaz Bali's Pale Ale a sip. The resort's own beer, it's the perfect sipping material on a warm afternoon.
Fisherman's Club also invites outside guests to join the table. Their Table Brunch from 12:00 – 5:00 pm every Sunday is worth an RSVP. Serving an unlimited menu of ala carte premium meat and seafood with complimentary pool access and kids' activities, it sounds like a good time for the whole family. The brunch is priced at IDR 490,000 ++ (food only) per adult or IDR 740,000++ for brunch and a free flow of wines, cocktails, beers and non-alcoholic drinks.
Lunch & Dinner: 11:30 AM – 10:00 PM
Sunday Brunch: 12:00 – 5:00 PM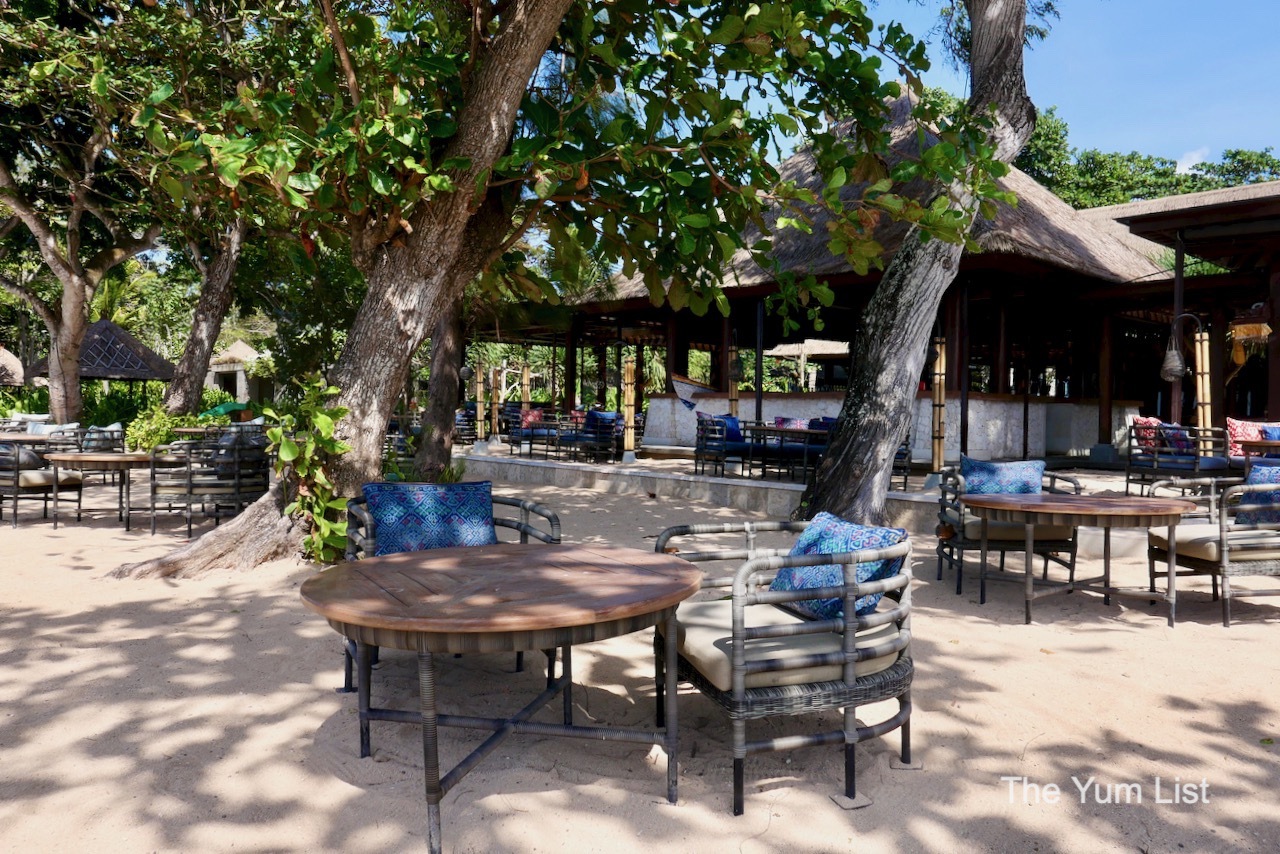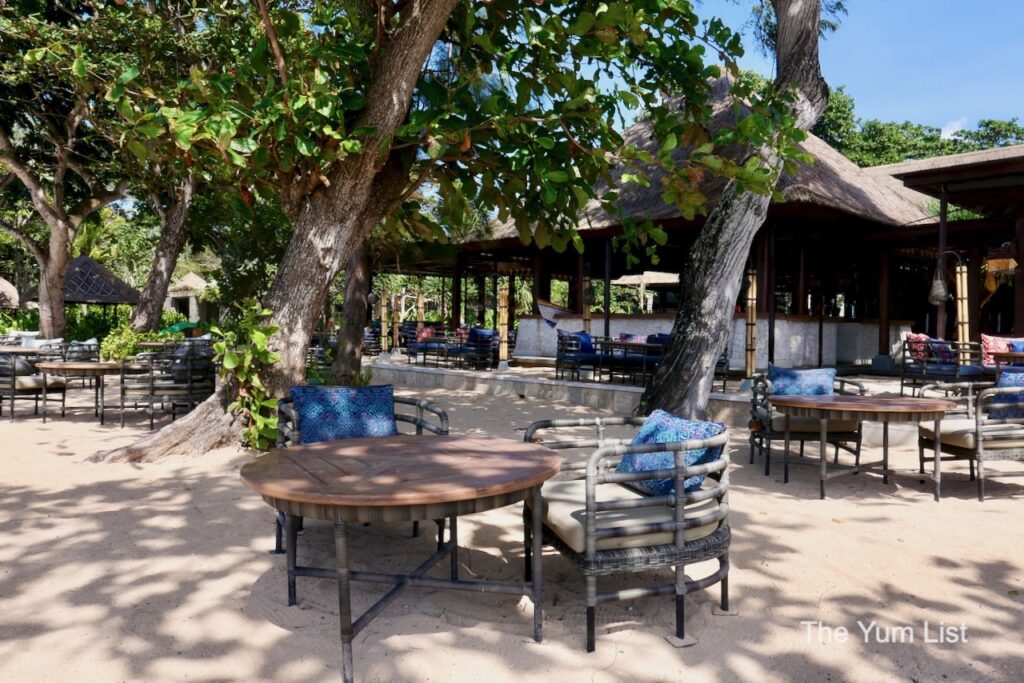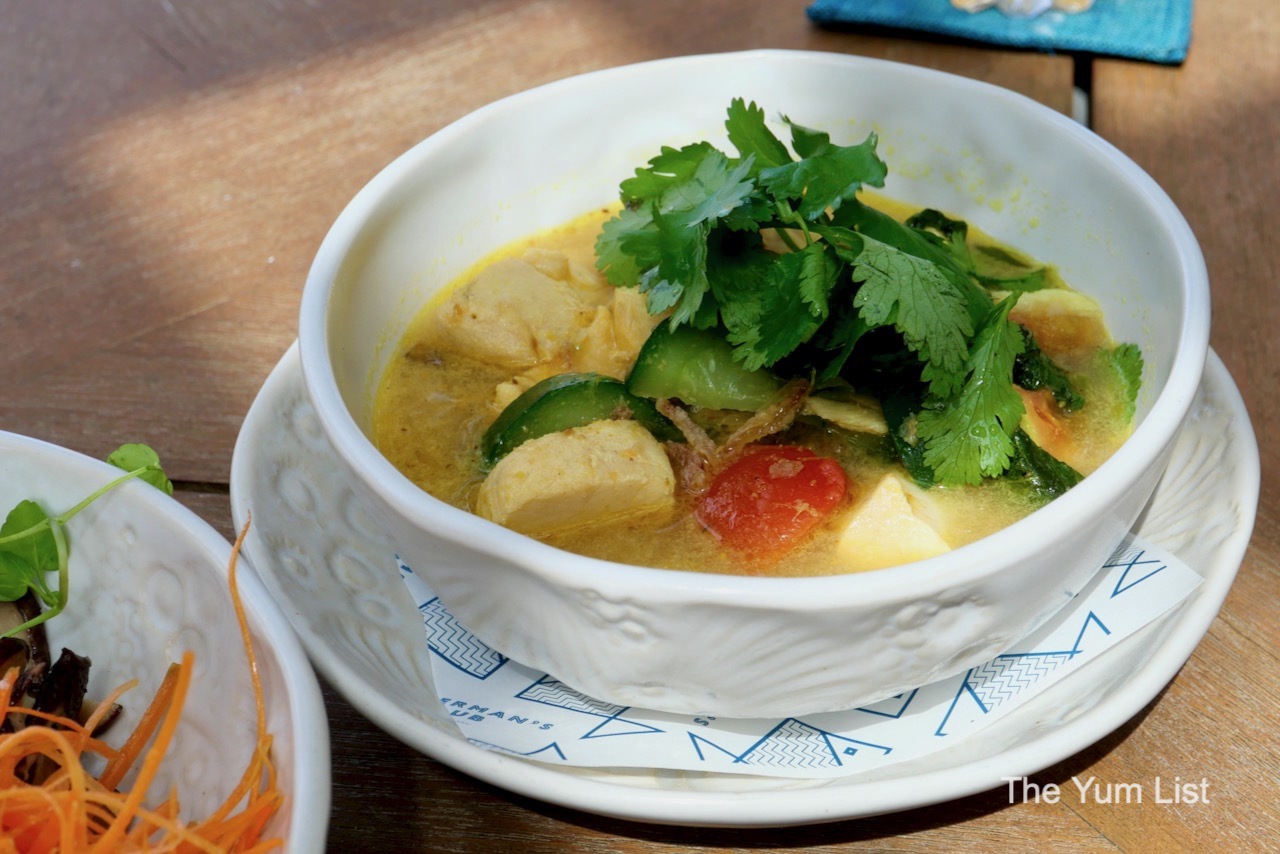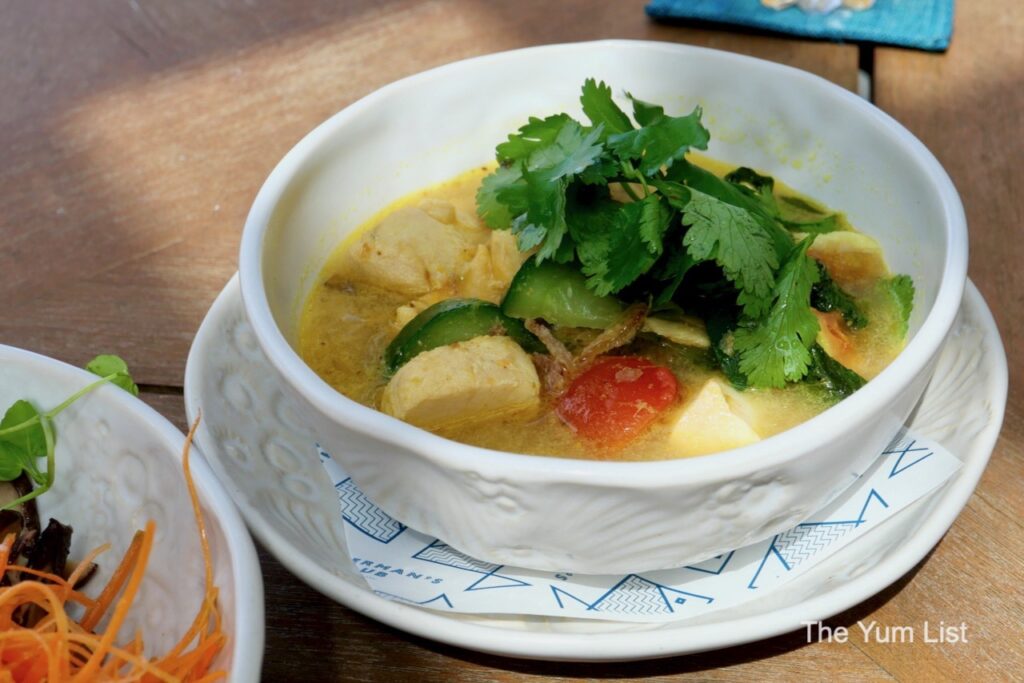 Facilities
Shankha Spa
Brunch sounds good, but I'm quite content to avoid children on this holiday. Shankha Spa guarantees a peaceful environment with Sanur's biggest wellness complex composed of ten spa villas, a 24-hour fitness centre, sauna, steam room, yoga studio and hydrotherapy pools. They offer a variety of massages, facials and body scrubs and wraps. My favourite is always a massage, and the Balinese technique of deep long strokes is just what my body needs. My masseuse is highly skilled; her method is strong, confident and professional from start to finish.
You don't need to book a treatment to use the facilities, though. All hotel guests are welcome to use the facilities. The adults-only pool is a haven of tranquillity, and I'm excited about the outdoor hot and cold dipping pools with bubble jets.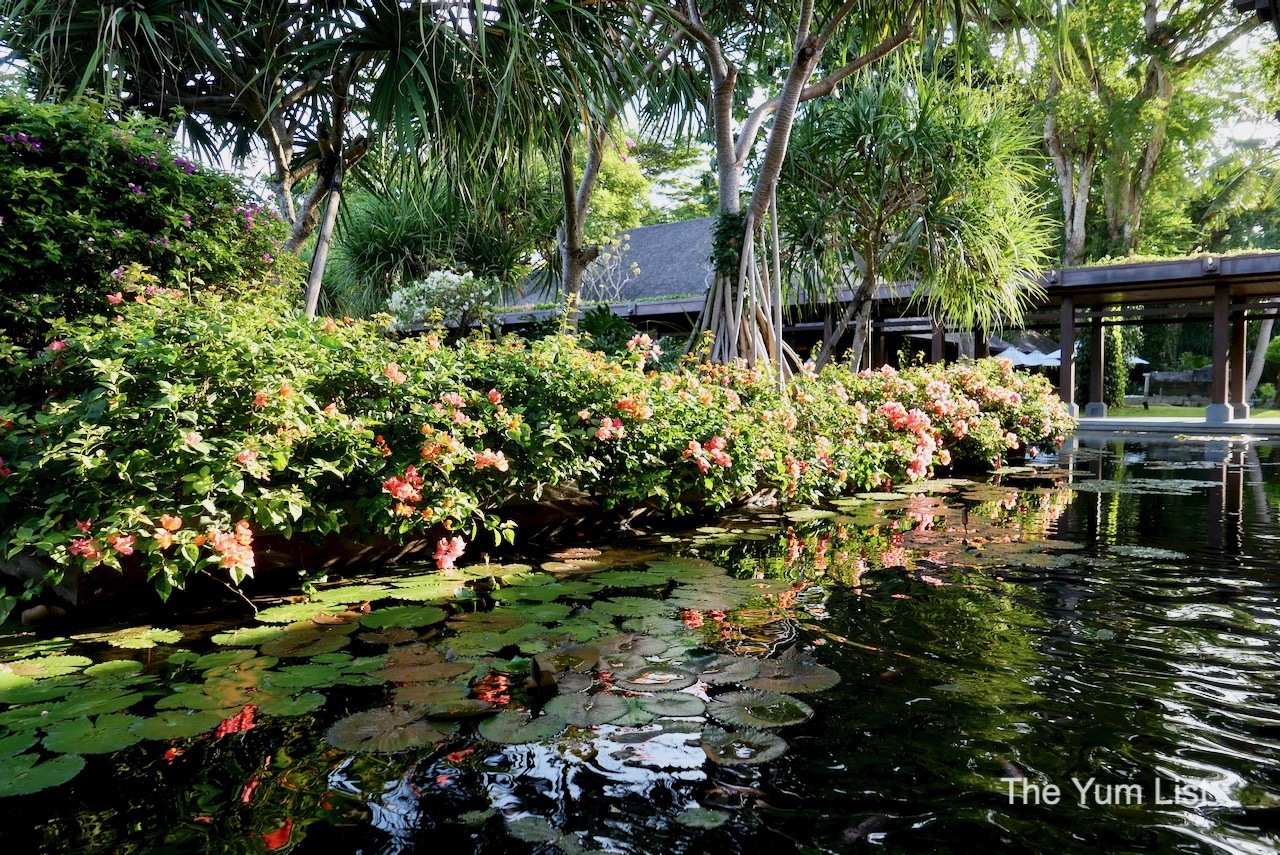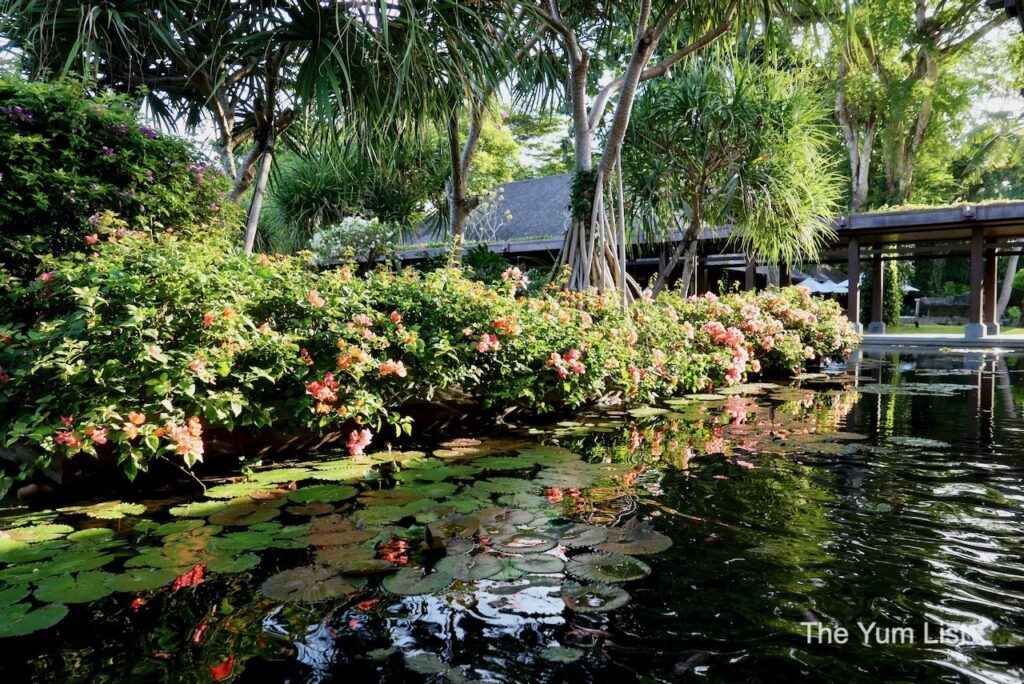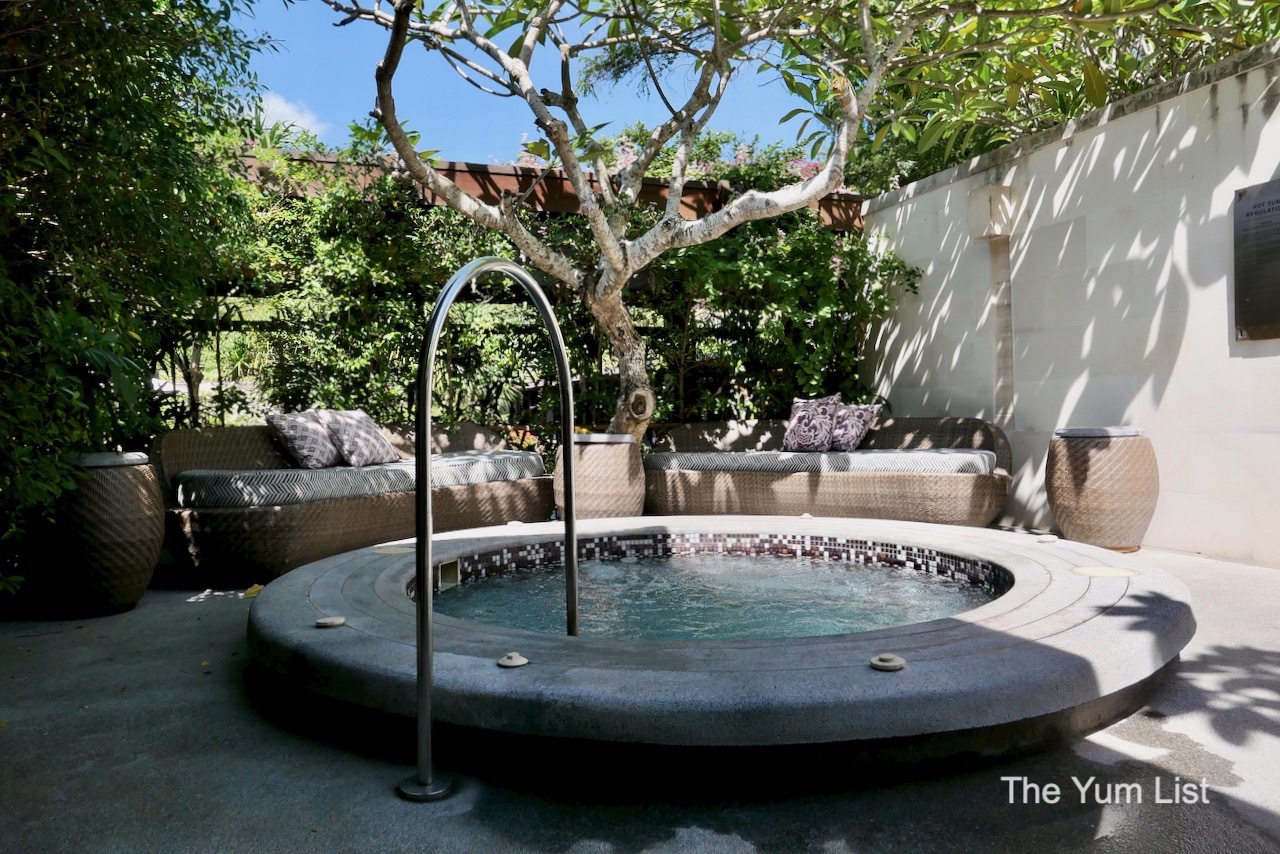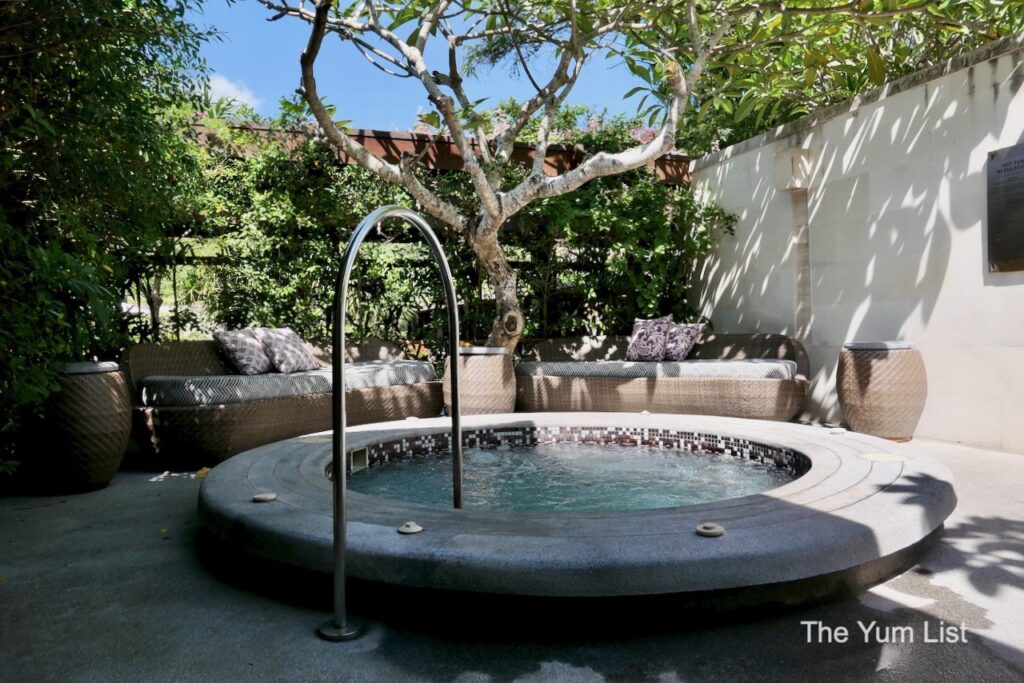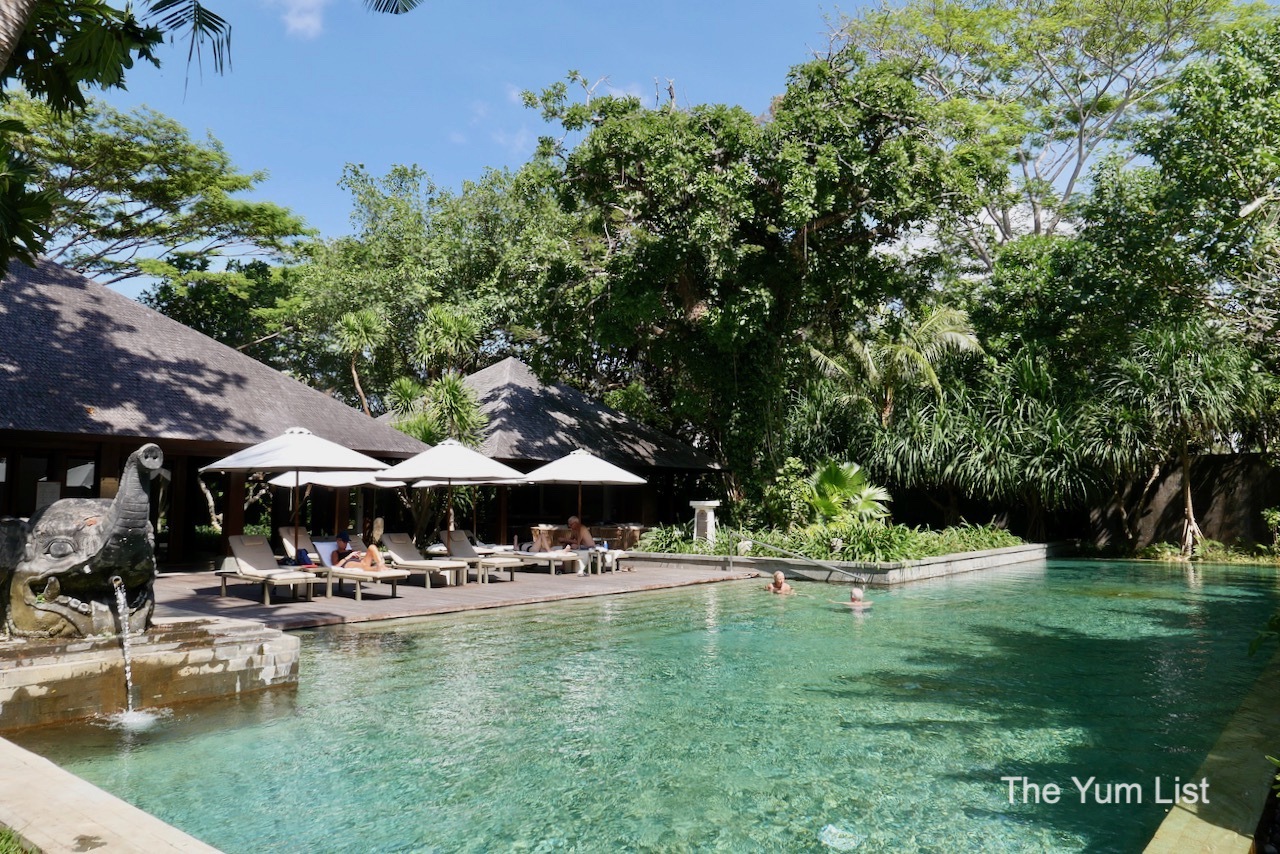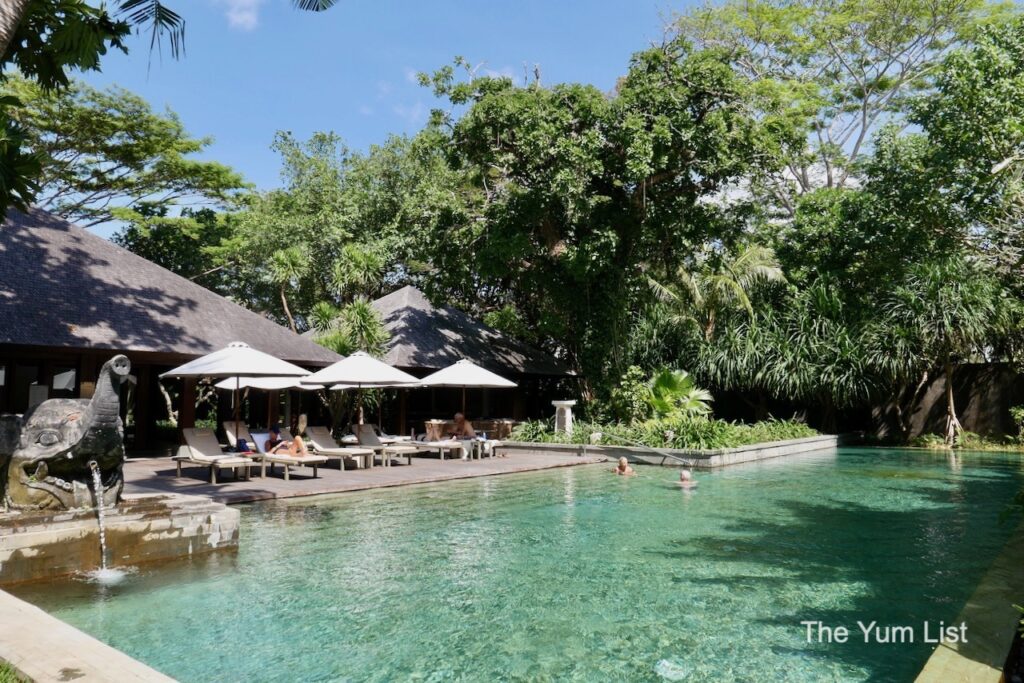 Swimming Pools at Andaz Bali
Andaz Bali holds not one, not two, but three swimming pools (that's four options, including my own private plunge pool), each with unique design. For action-packed fun, head to Liang, the ocean-facing pool. Alit is great for families with kids, but you've probably guessed by now that my time is spent at the adults-only Santhi pool, a hidden sanctuary amongst lush greenery.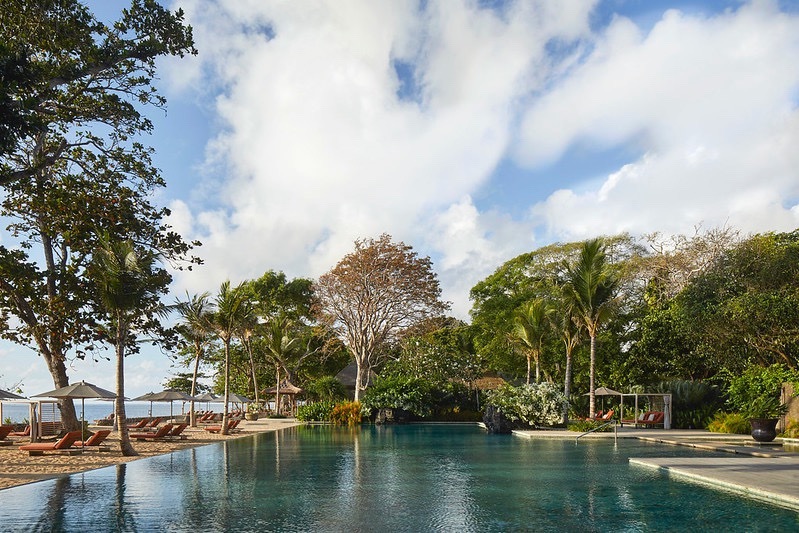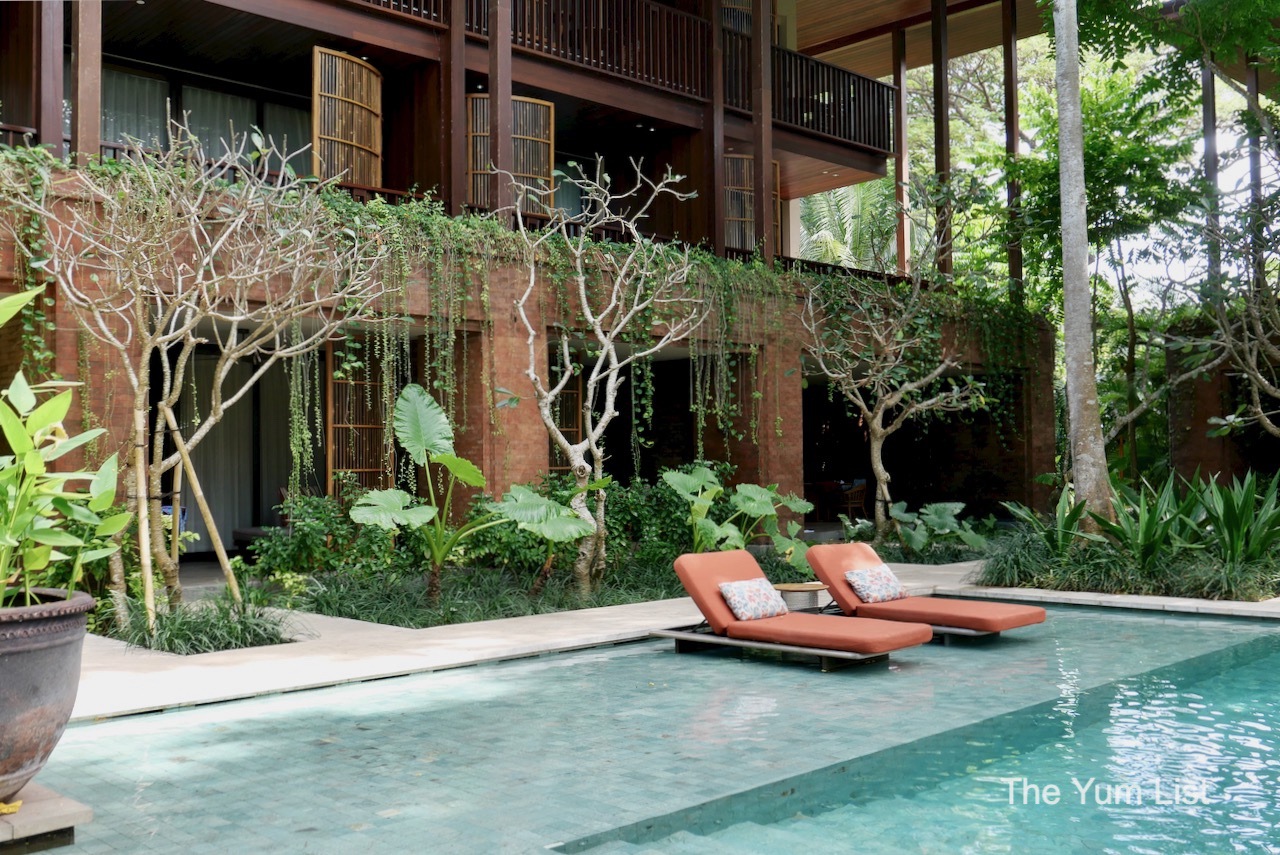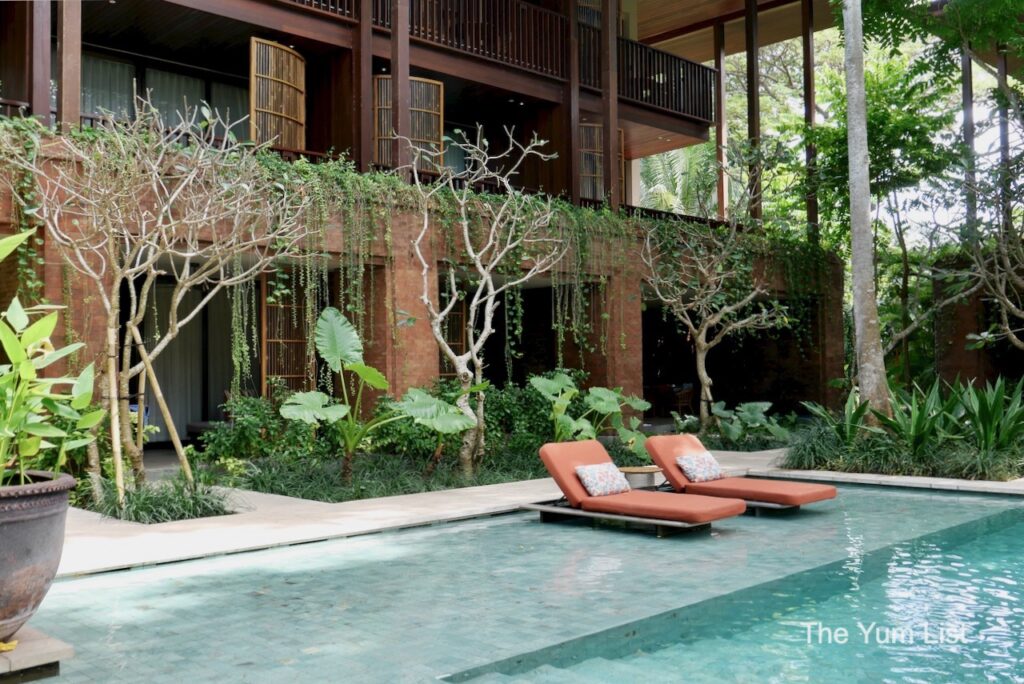 Andaz Bali Review
My time at Andaz Bali has been superb. I don't want to leave. There's so much to do (or not) here. Two nights is not enough. Stay for a week. It's a beautiful escape.
Reasons to stay at Andaz Bali: a beautiful property enveloped in lush greenery; spacious accommodation; contemporary Balinese design; direct beach access; excellent food and beverage options; lots happening in the surrounding area of Sanur; gracious Balinese hospitality at its best.
Andaz Bali
Jalan Danau Tamblingan 89A, Sanur
Bali 80228, Indonesia
+62 361 3201234
www.hyatt.com/en-US/hotel/indonesia/andaz-bali/dpsaz
Find more travel recommendations for Bali here and stay up-to-date with our latest gourmet travel finds here and here.