Panggung KL
Words: Sathya Selvarajah
Photos: Monica Tindall
In an era where the trend is for dark, mysterious and hidden, Panggung KL is a breath of fresh air. Set on a prominent corner in Chinatown near the popular muraled laneway, Panggung KL is hard to miss. It looks like a movie theatre right out of the 1920s on the outside, illuminated with lights when it gets dark. And the inside? The inside makes me feel like I'm in the Roaring 20s, and I'm in for the show of a lifetime.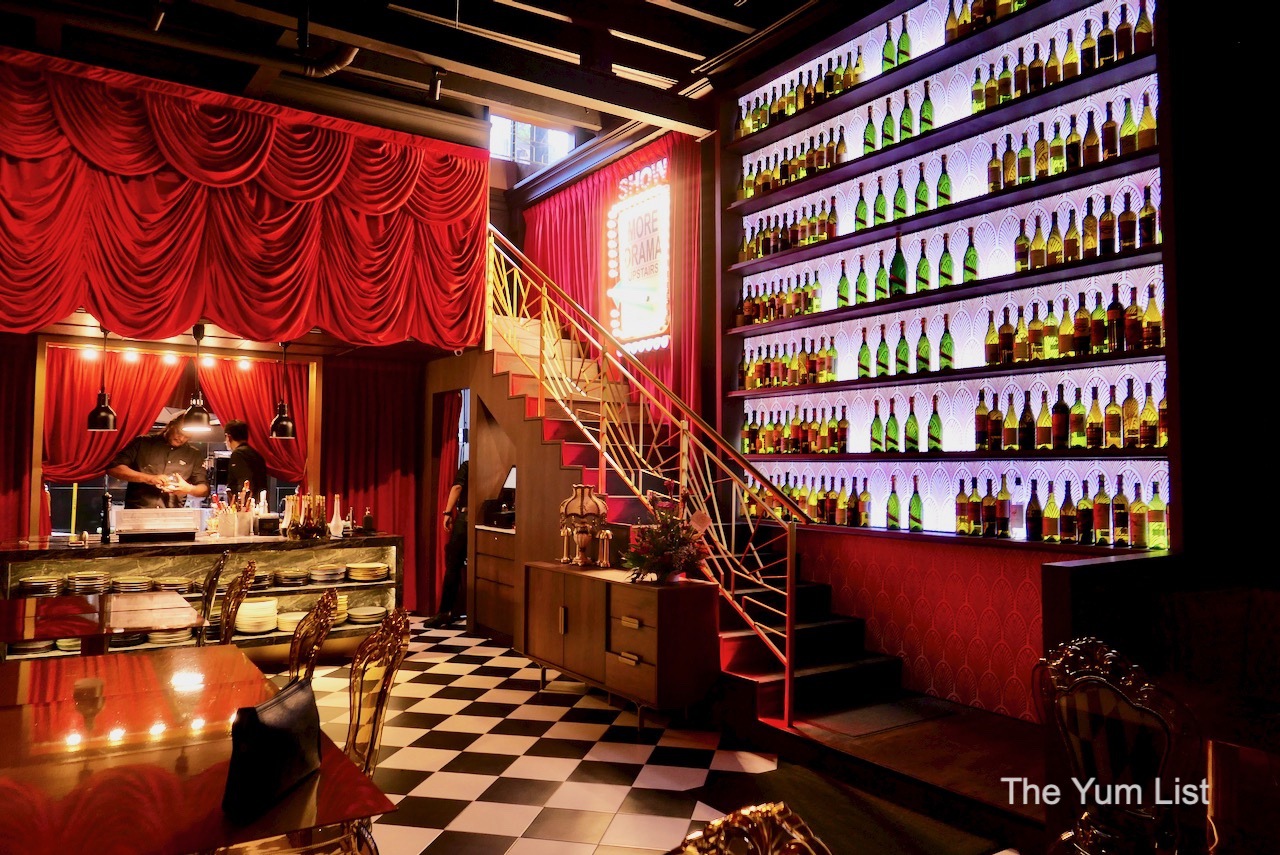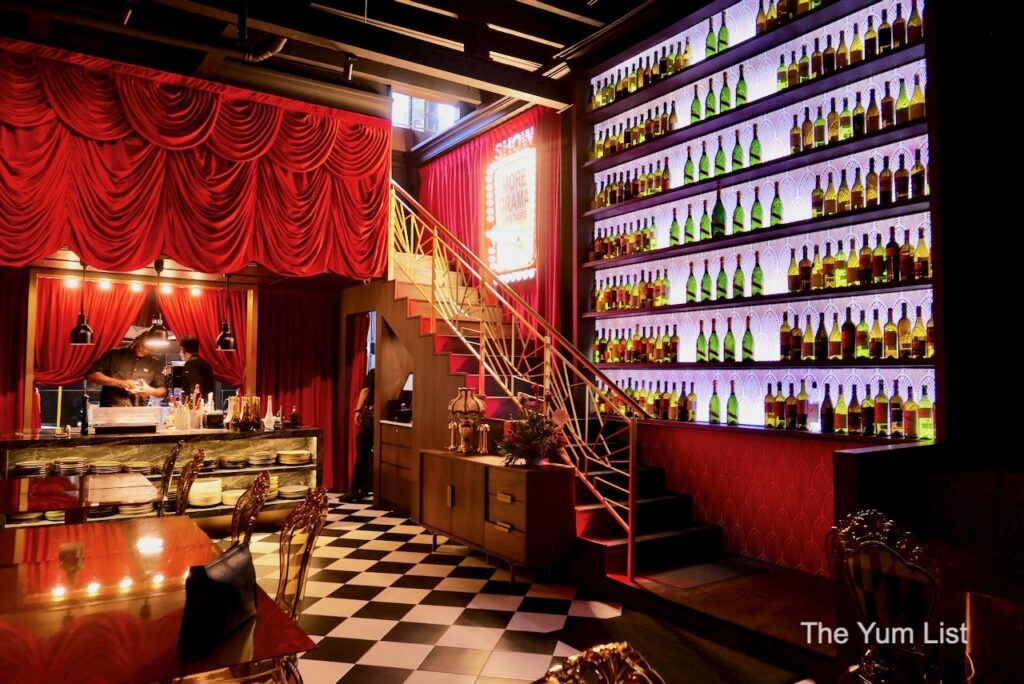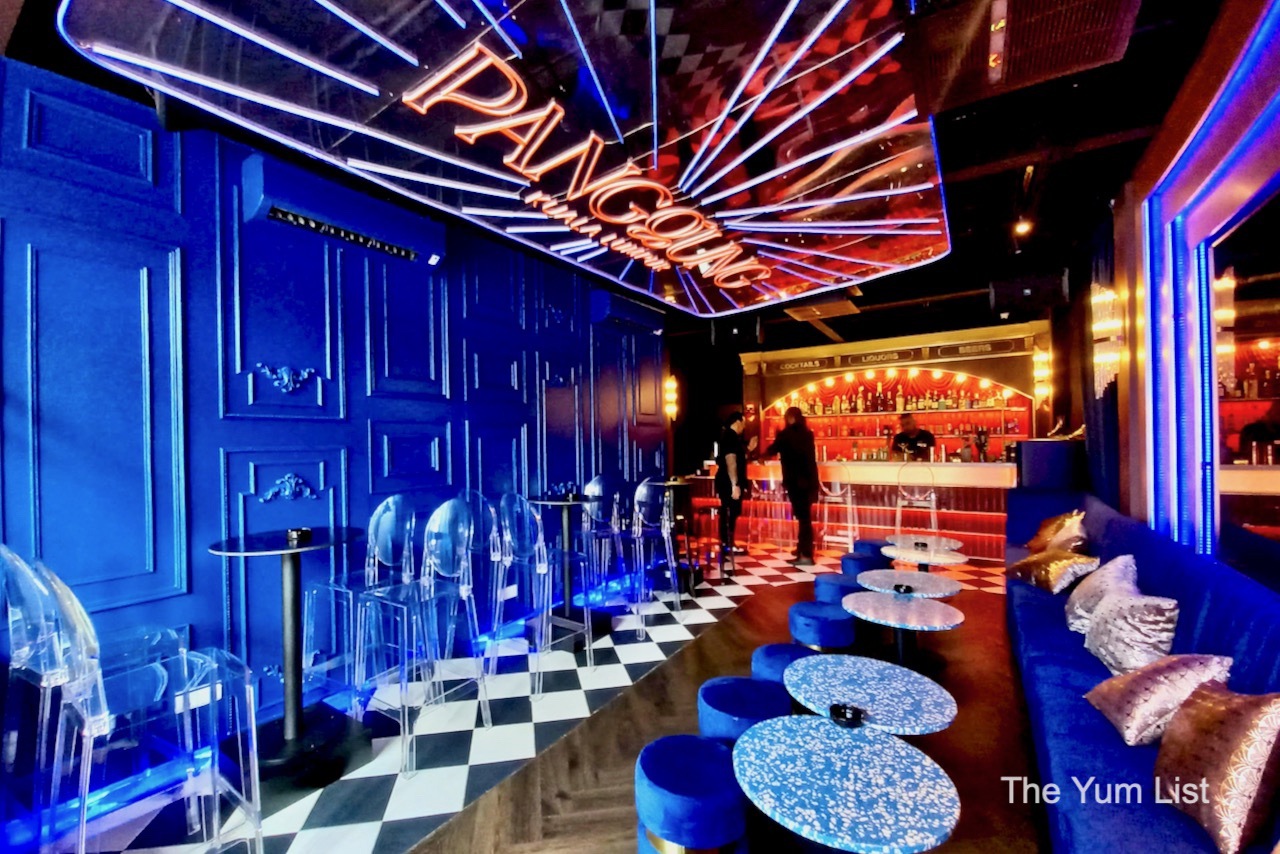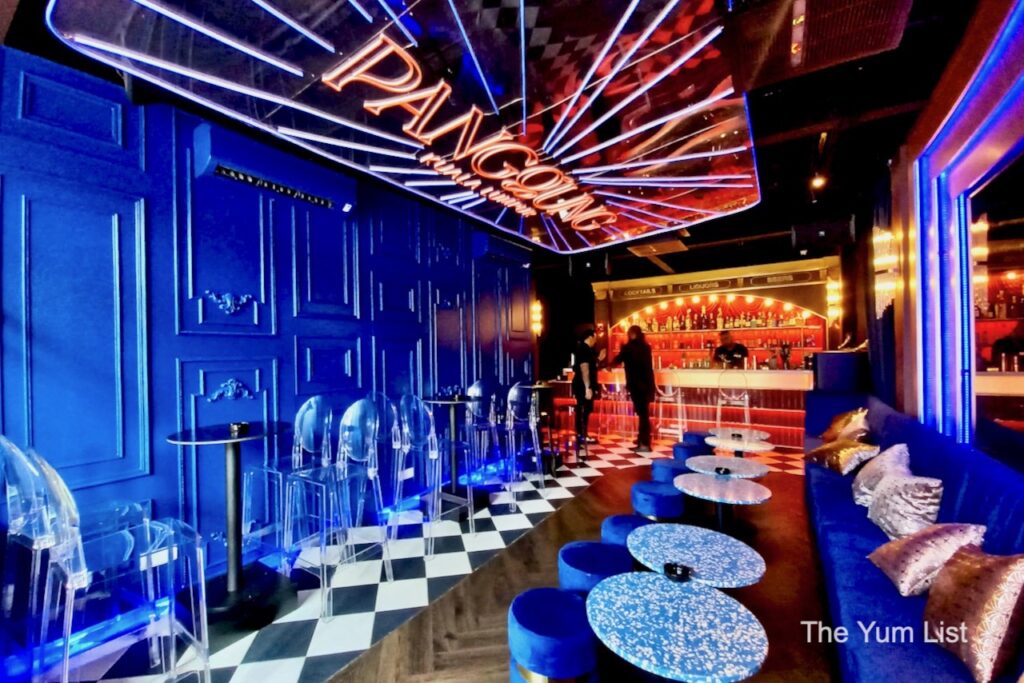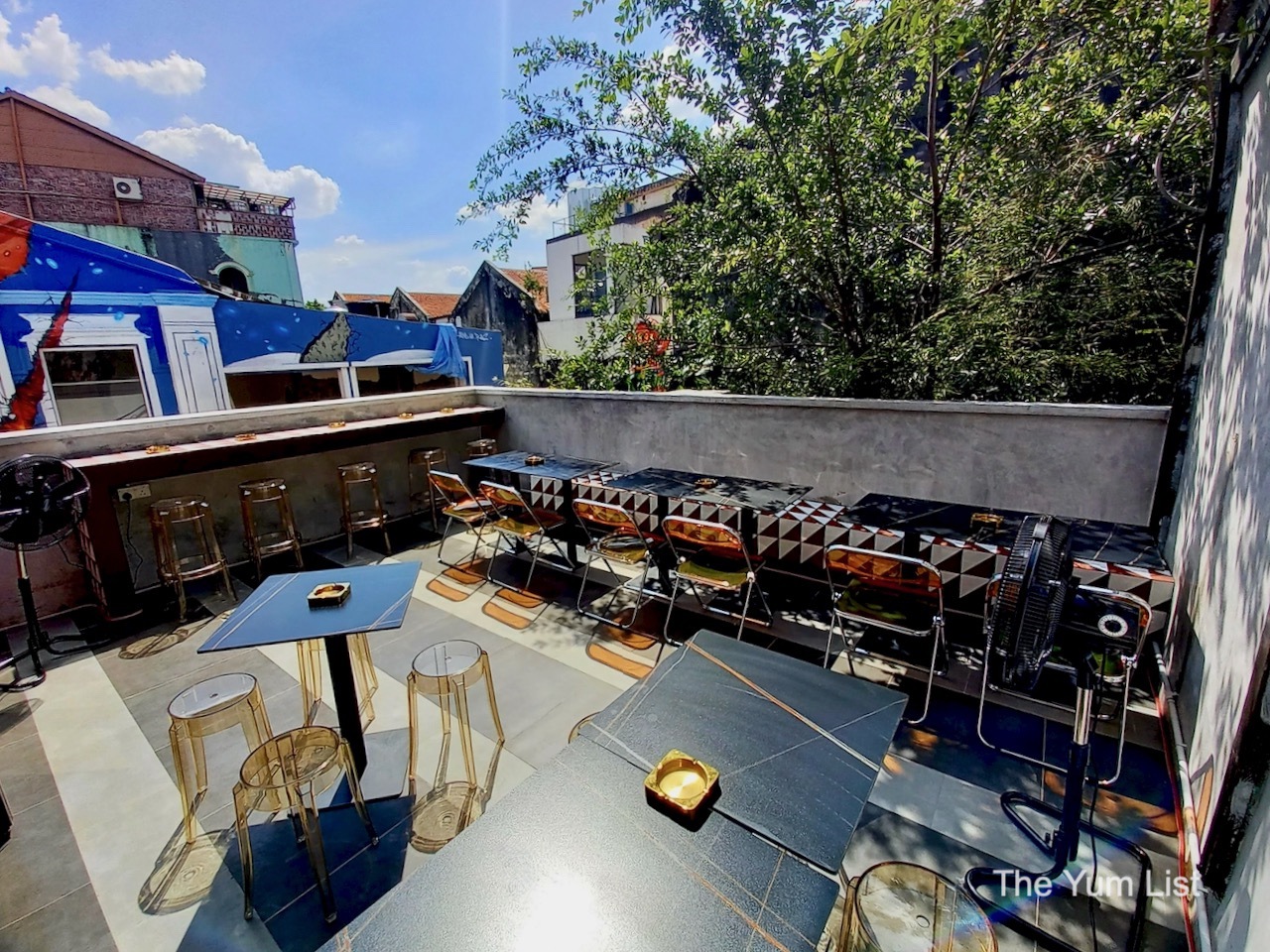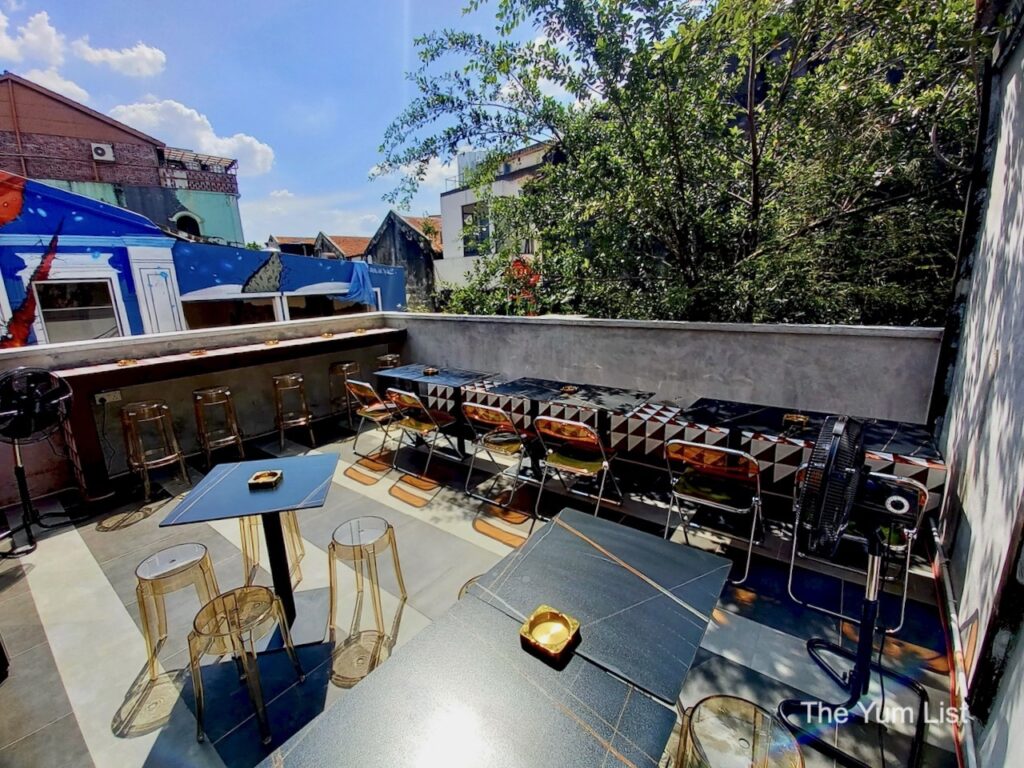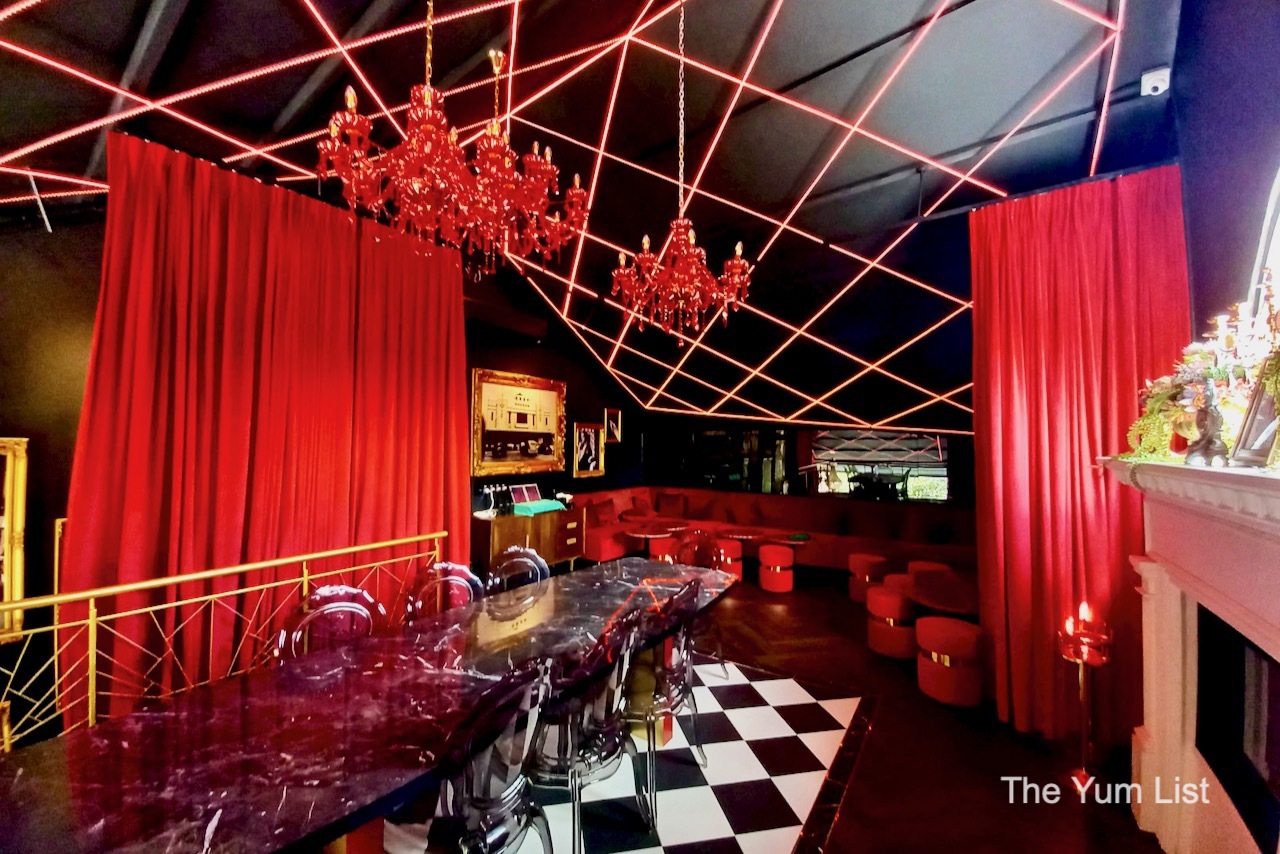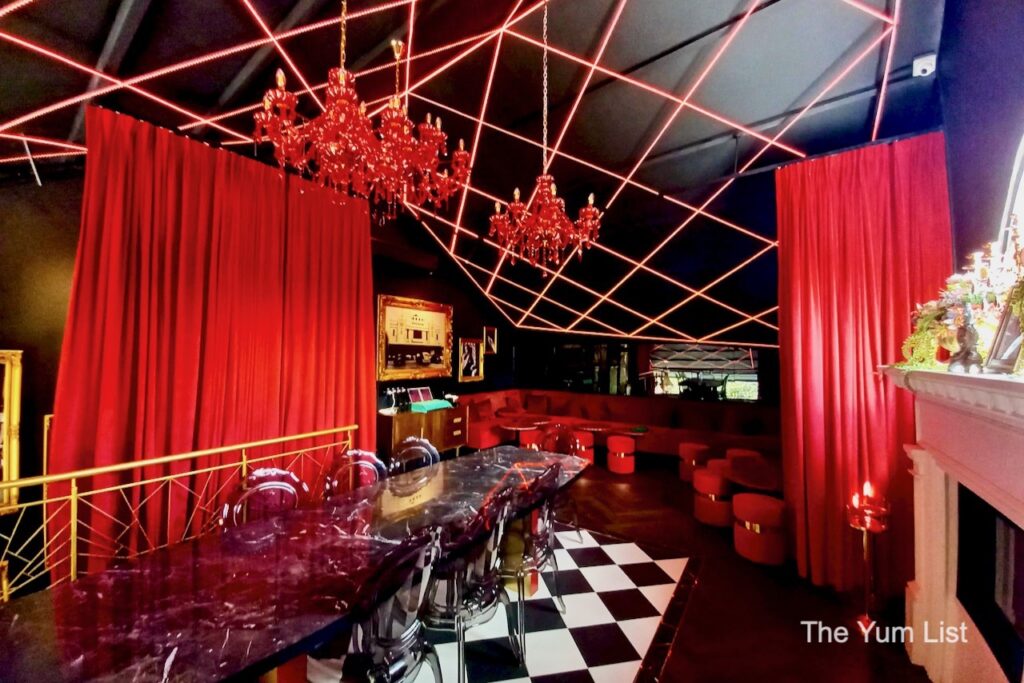 Panggung KL
I used to resent the fact that I'll never know what life was like when Sinatra was alive and in his prime. When lavish parties and rambunctious attitudes were at their peak. It's fitting that it's 2022 right now because it feels like the Roaring 20s are back and better than ever.
Everything about Panggung is over-the-top (without being tacky), and I absolutely love it. Its walls are adorned with black and white photos of the likes of Marilyn Monroe and Audrey Hepburn, and even the old Madras Theatre in KL, where it drew inspiration from originally. There's velvet everywhere and quality jazz playing in the background.
There are three floors, with the ground floor being the restaurant. The second floor is where the real bar action happens, with plush velvet seating inside and an outdoor terrace. The third floor is the private area where you can book out the space for more intimate affairs (or mob meetings). Every single person on the team is the cream of the crop and was personally chosen by Kevin Koh, the operations manager who's been in the F&B scene for more than a decade. It's no wonder that everything about Panggung KL is so well thought out! What do you get when you have a team with almost 100 years of combined experience and a total of 15 awards? You get a place that's fully booked out for weeks even before they've officially opened.
Drinks Menu
Panggung translates into 'theatre stage' in Malay. It's only fitting that all of their cocktails are aptly named after some of their favourite movies. Every drink comes with its own star-studded entrance, and no two are the same!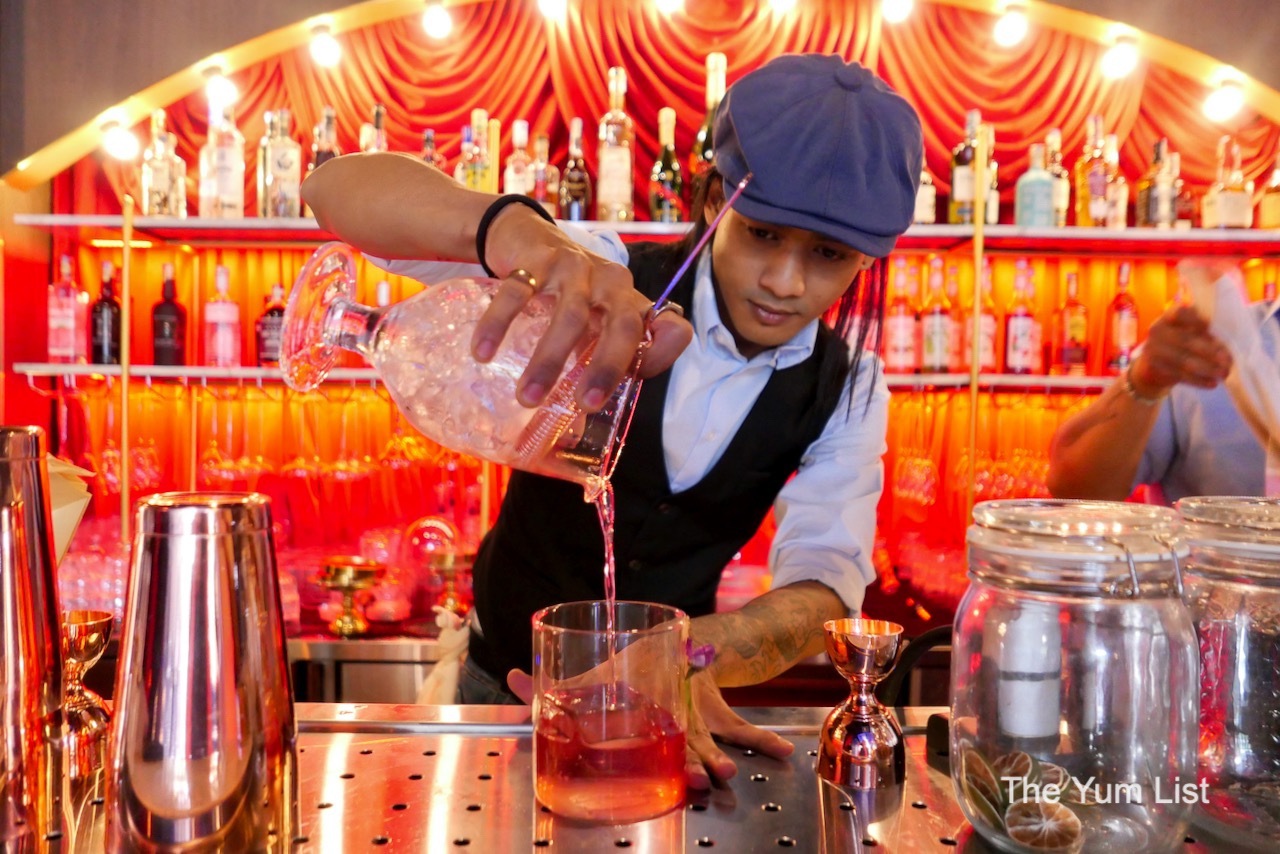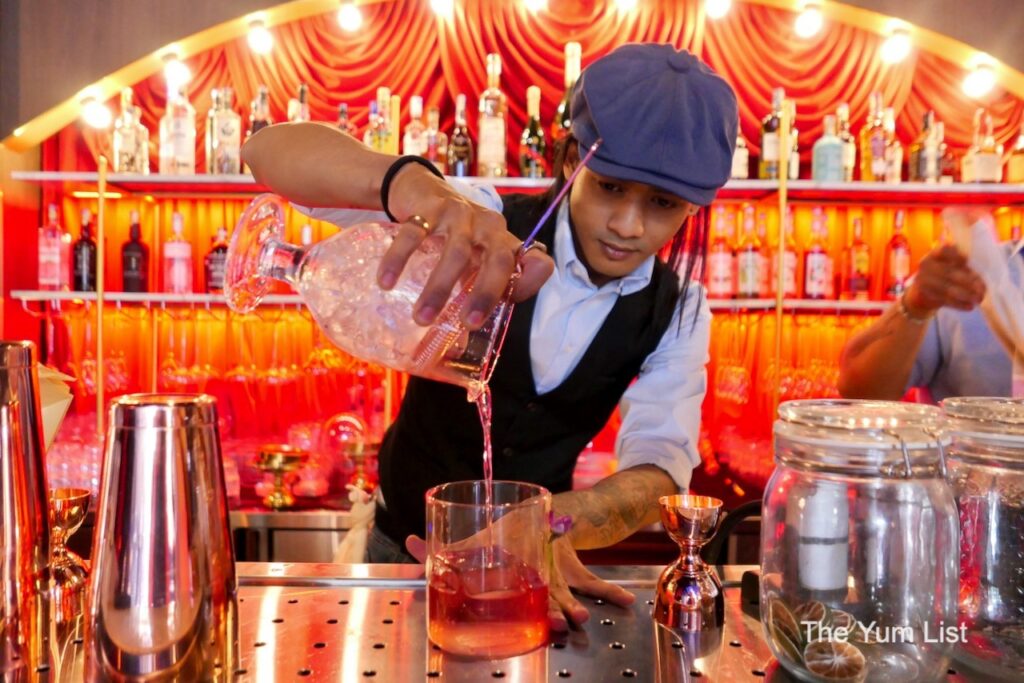 The first cocktail we tried was called IT (RM 50). Based on the horror movie, it has rum, elderflower, thyme and a little lemon for balance. An easy favourite for anyone who likes their drinks with a little tang. But wait… the bartender begins to spray some red foam on top, with red berry and coconut inside. Next comes my favourite part that had me sold about this place from the start. He ties a helium balloon to the glass. Helium balloon? I'm a seven-year-old trapped in a 26-year-old body, so of course, I was excited. BUT WAIT… they tell us that even the balloon is infused with elderberry! Elderberry-infused helium?! Have a sip of your cocktail and inhale some helium. It's mad. The helium voice is a bonus.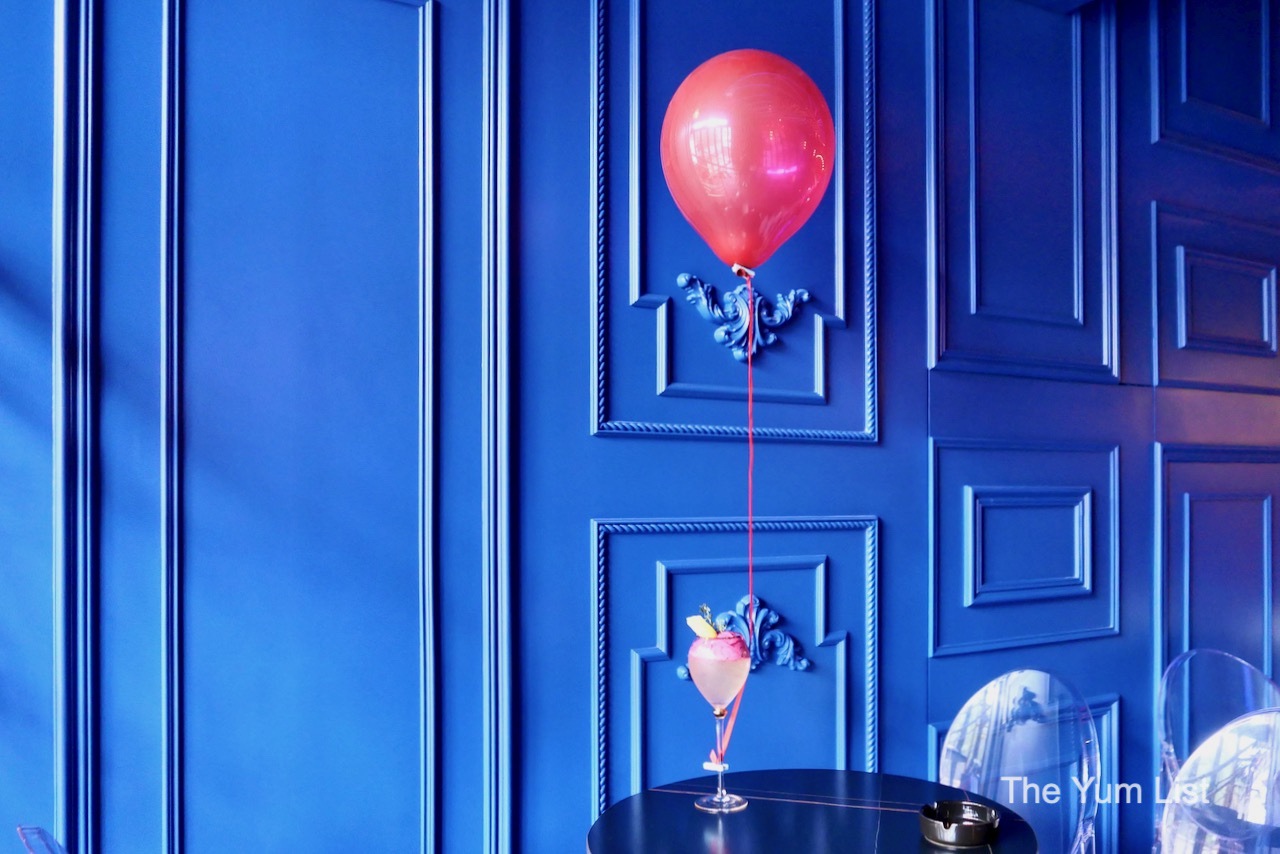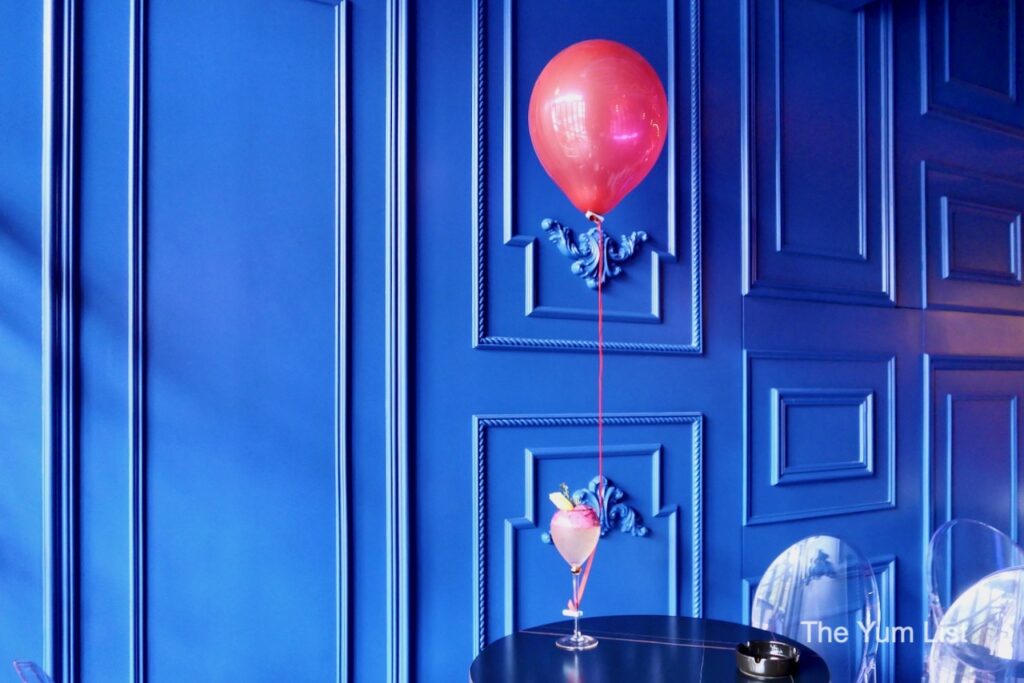 Off to a great start; the show goes on! I see bartender Daus stirring in something pink, old-fashioned style. It's called Harry Potter (RM 50) – peanut butter infused with Jameson Whisky stirred with strawberry served in a smoked dome and magic wand! The wand even lights up, and smoke blows out of the dome. Magical indeed. We were pleasantly surprised by this one. It tastes like a peanut butter and jelly sandwich in a cocktail. I expected something sweet, but this was not sweet at all. It's a properly infused cocktail that's on the stronger side with all that whisky goodness.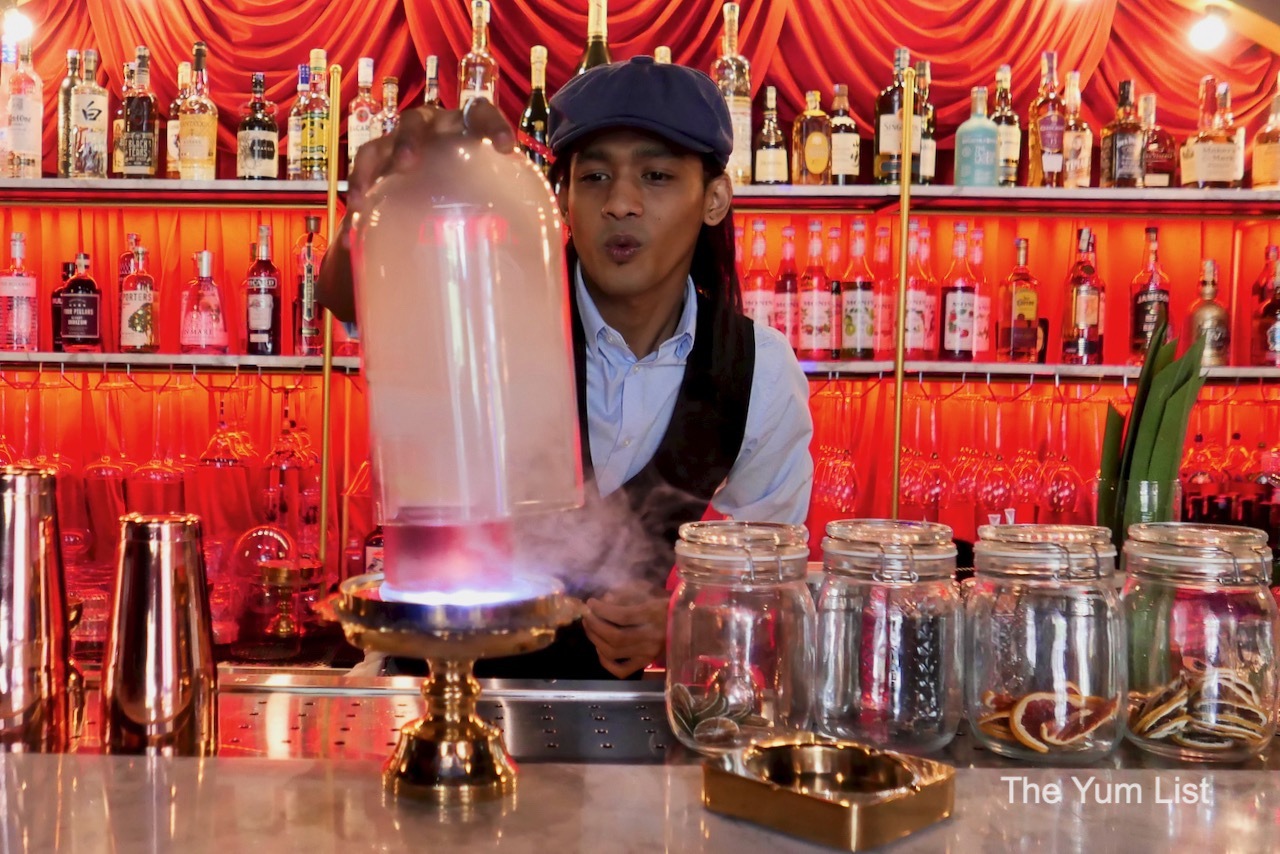 The Origami (RM 50) is daringly bold, and it works – fat-washed sesame with vodka, yuzu and lemon, with some egg white for depth. It's like a sesame rice cracker in a cocktail, if that's your thing. The yuzu cuts through the richness of the sesame. It's tangy, balanced and oddly refreshing.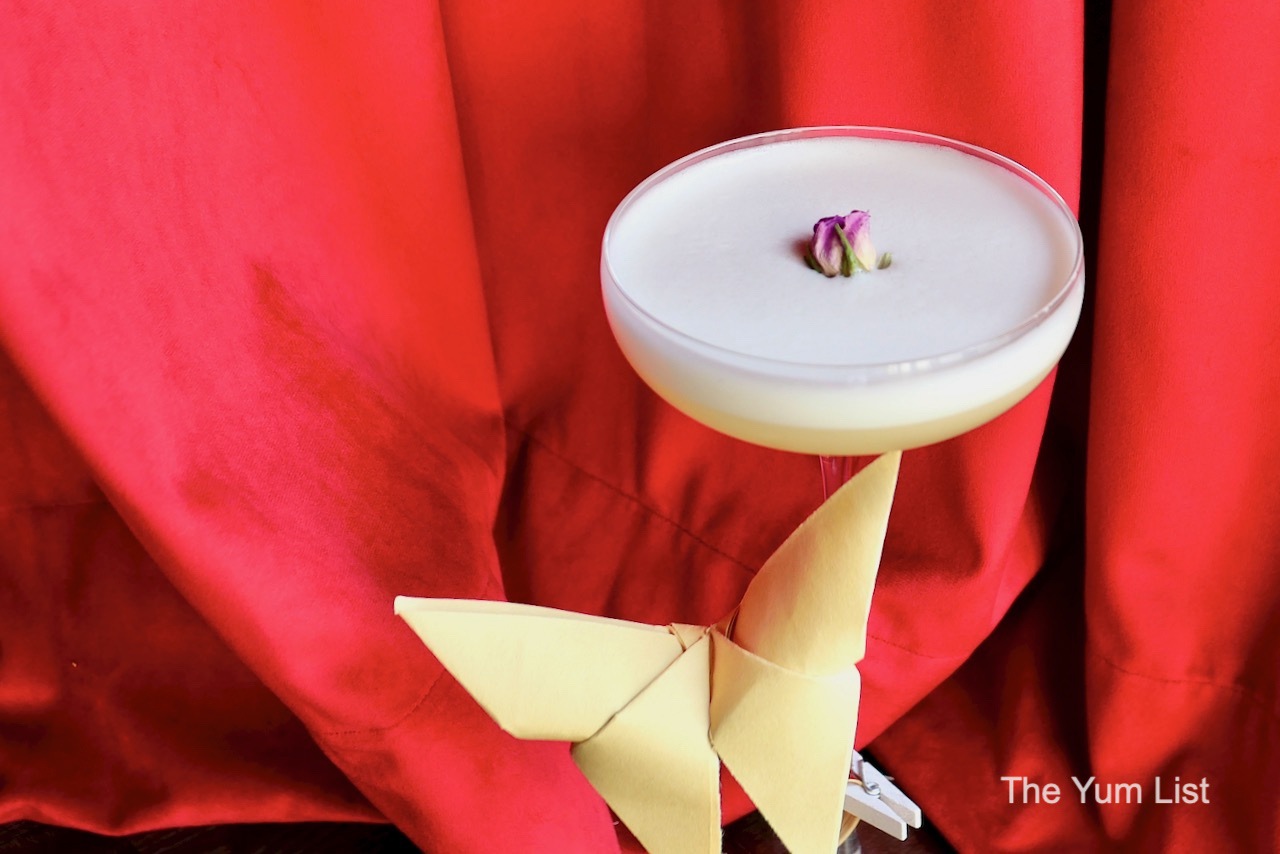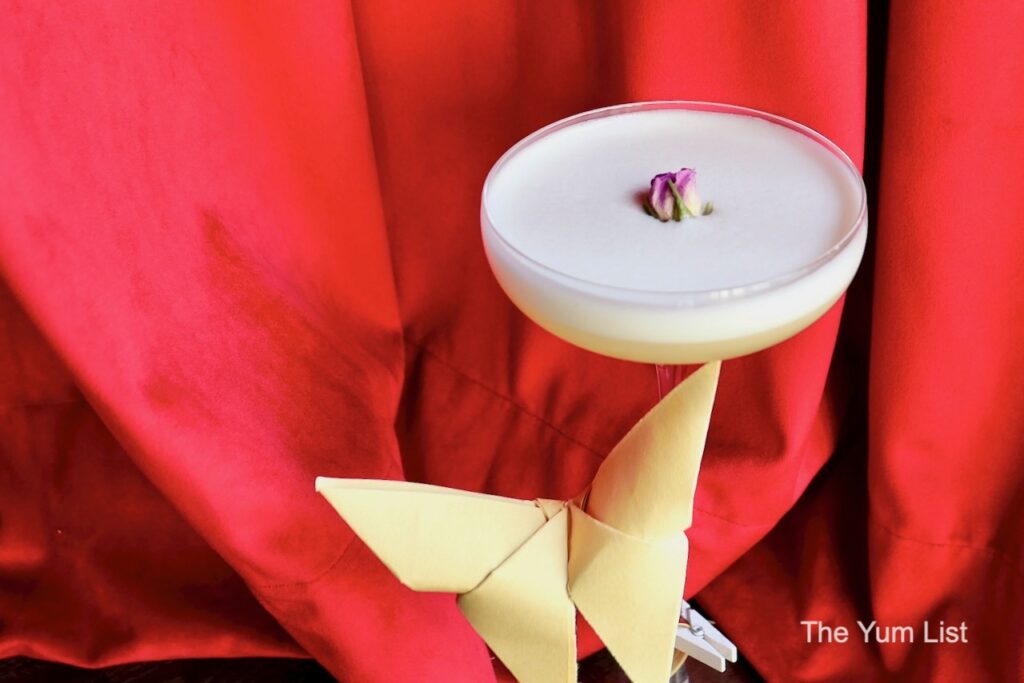 Kevin cheekily whispers to me, "Bro, I think you'll like this one. It's called the Pineapple Express. (If you know, then you know!) The Pineapple Express (RM 50) is a pina colada with some sexy plot twists such as pineapple and cinnamon-infused rum, with Midori and homemade kaya jam. It's served in a full-sized proper glass bong that you pour onto a rotating glass. It tastes like a Cinnabon in a cup. I love these fellas!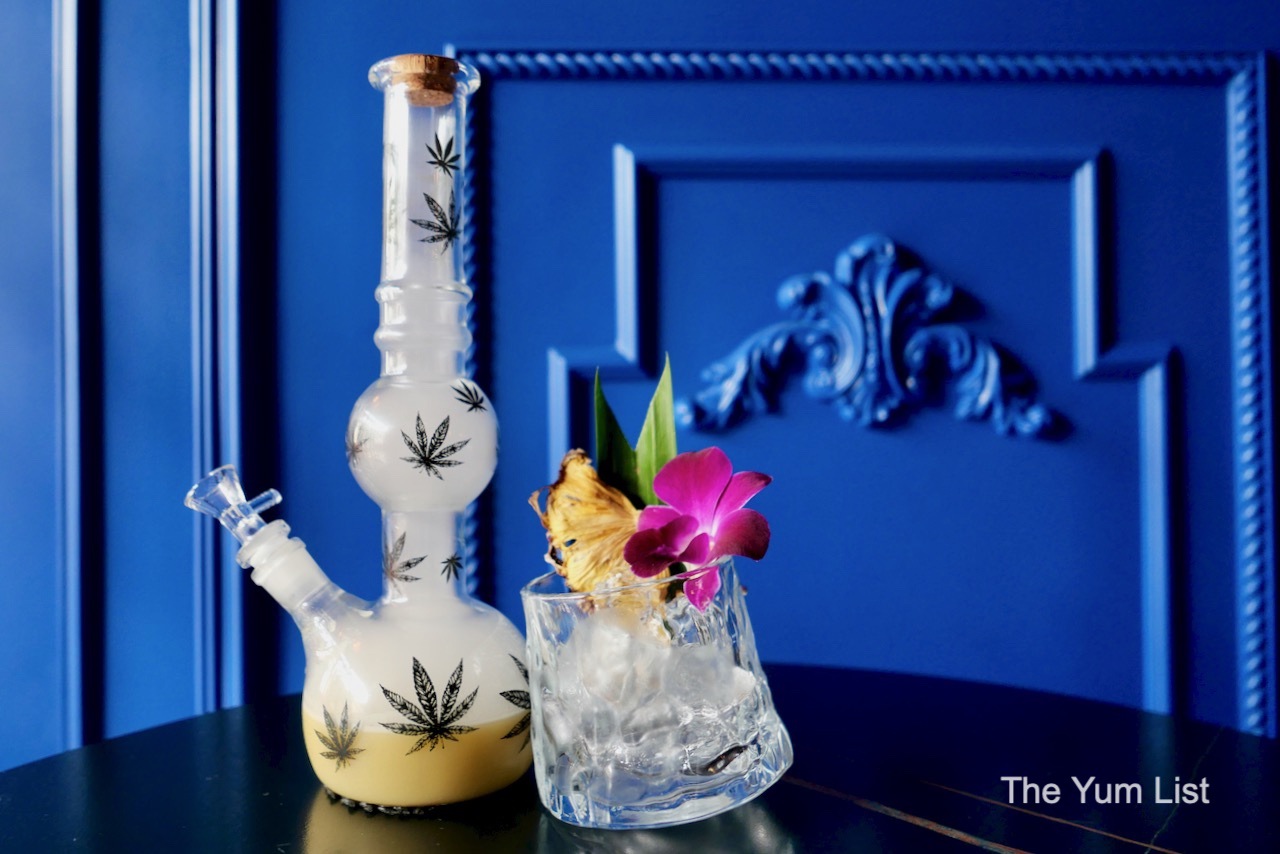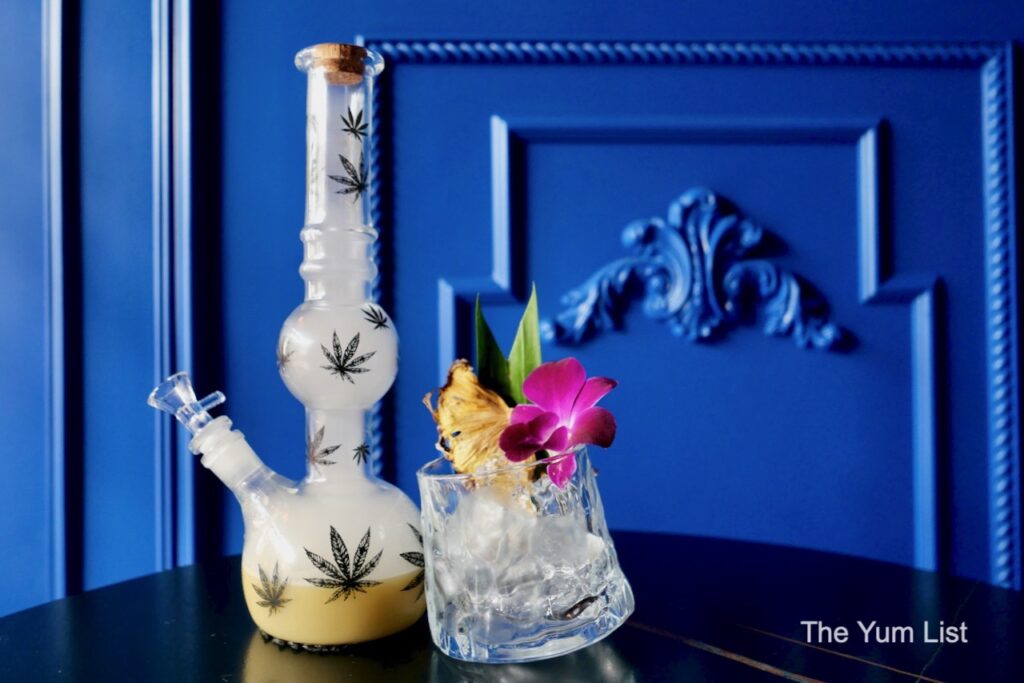 We end with some mad shooters. The Purge (RM100 for a tray of 6 six or RM22 per shooter) has Bacardi Rum infused with berries, topped with black salted caramel foam. It's served on a smoky plate with a mask. As I said, every drink is a show on its own. What sets Panggung KL apart is that everything is infused in-house. The lads graciously let me behind the bar to see all their concoctions. I had a shot of their Duck Prosciutto Vodka and Kopi Liqueur that they use for some cocktails, which were fantastic.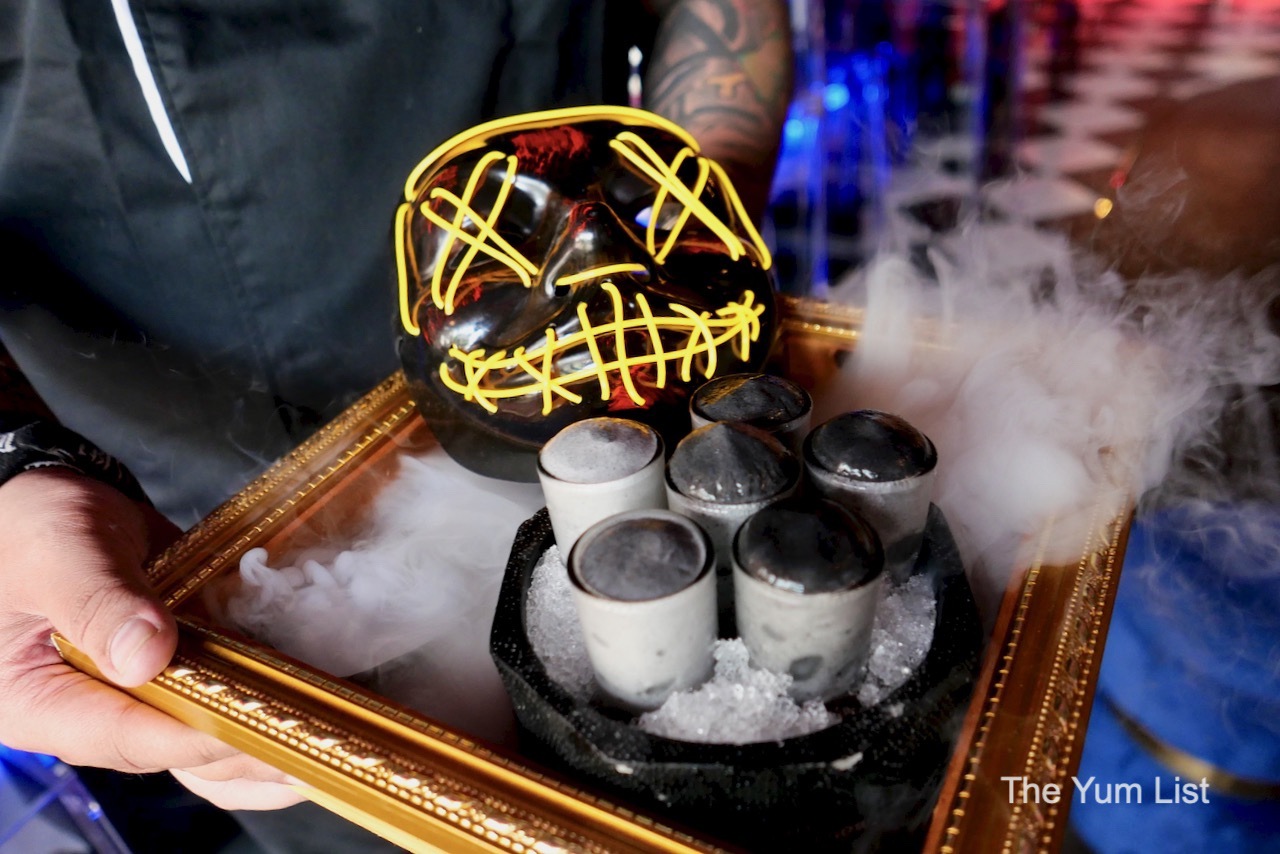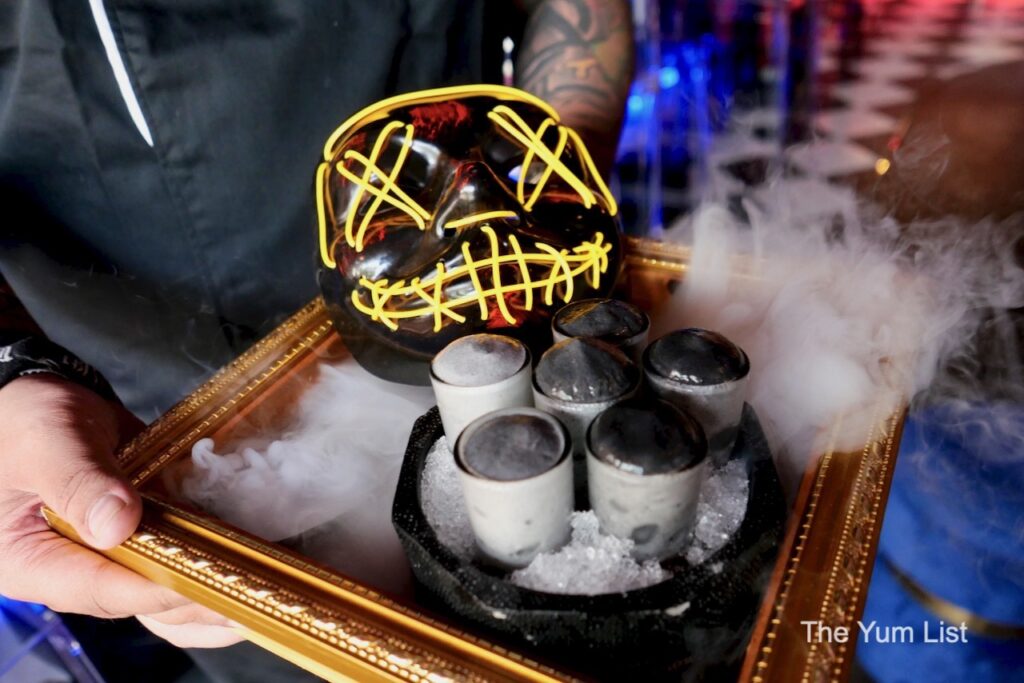 Panggung KL Food Menu
You'd be right to go for the drinks alone, but the food here is as equally good. We tried some tapas, and everything was brilliant. The Assorted Patés (RM 45) instantly made us fans of Chef Prakash, the experienced head chef. It comes with three dips: sundried tomato, mixed olive, and our favourite, aged black garlic aioli. The house-made charcoal focaccia bread has notes of garlic, rosemary and thyme. The flavours are smoky and go well with the drinks.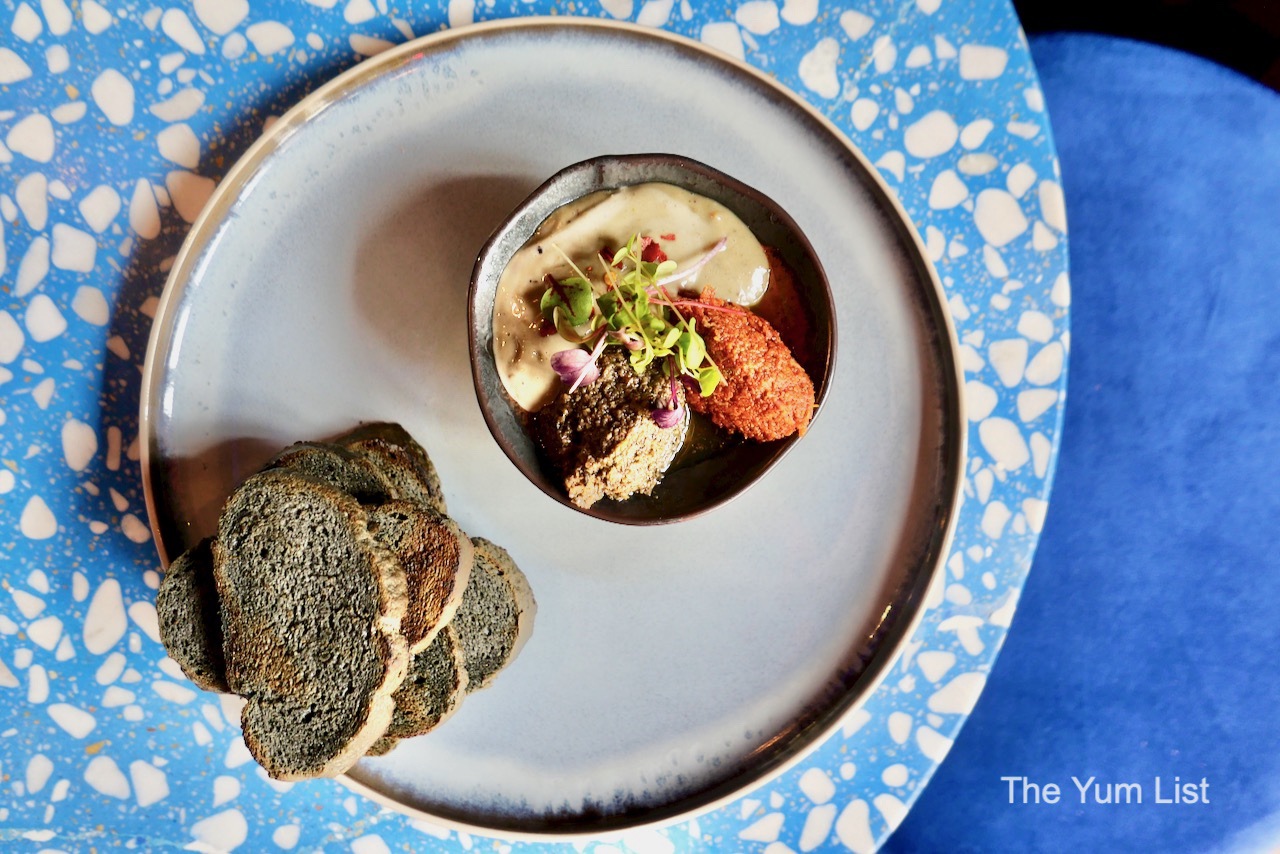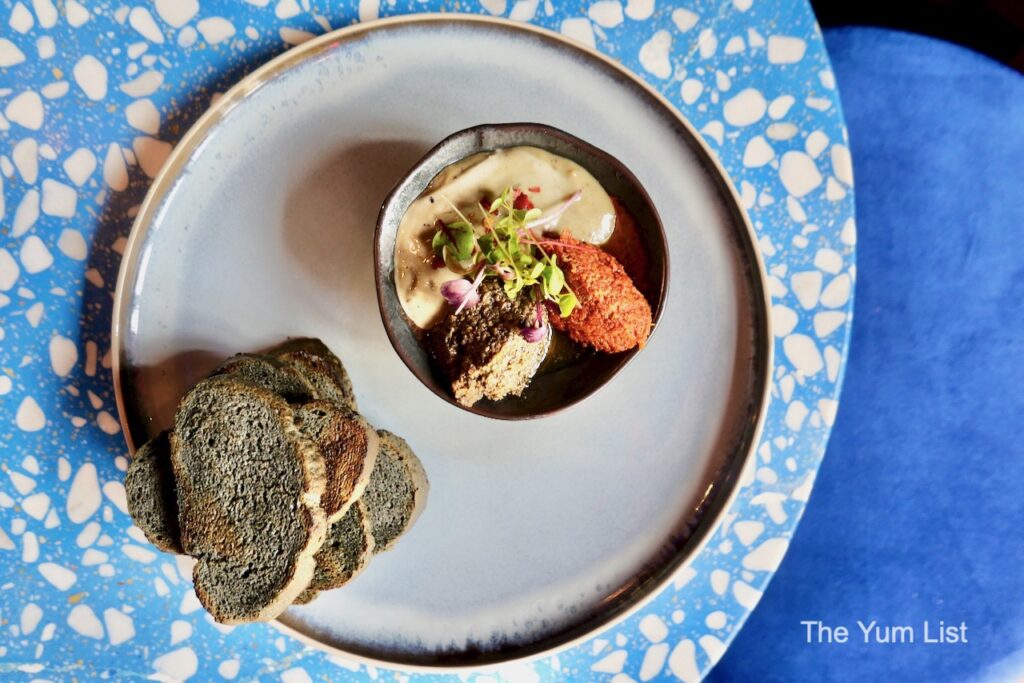 The Lime Chicken Skewers (RM 28), aka chicken satay, went down so easily. The meat was juicy and threaded with mixed peppers and onions. Avocado aioli and rum-soaked lychees gave extra punch. We can see why Chef Prakash's nickname is the Thirsty Chef! It's even etched onto his uniform. He loves infusing alcohol into everything he cooks, which is why Panggung KL is only for people 21 and above.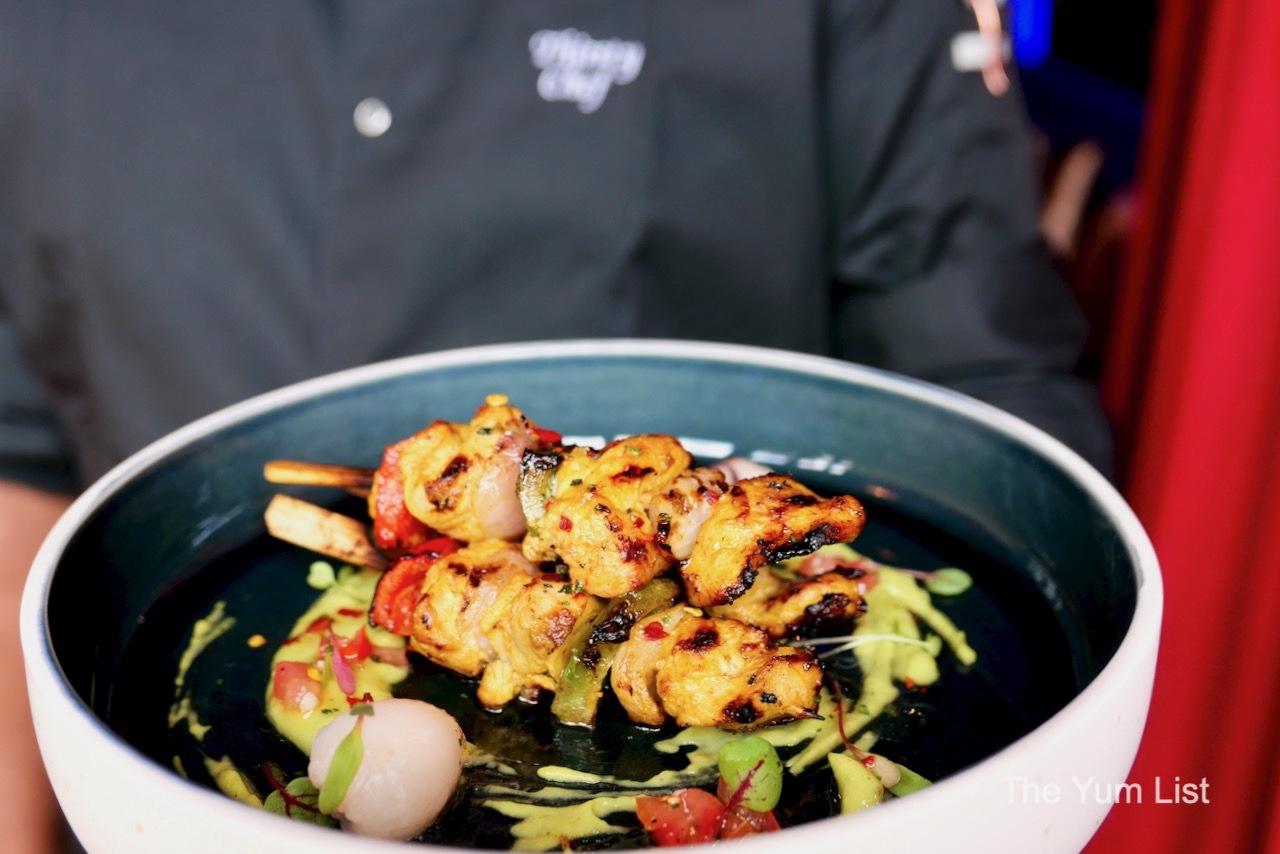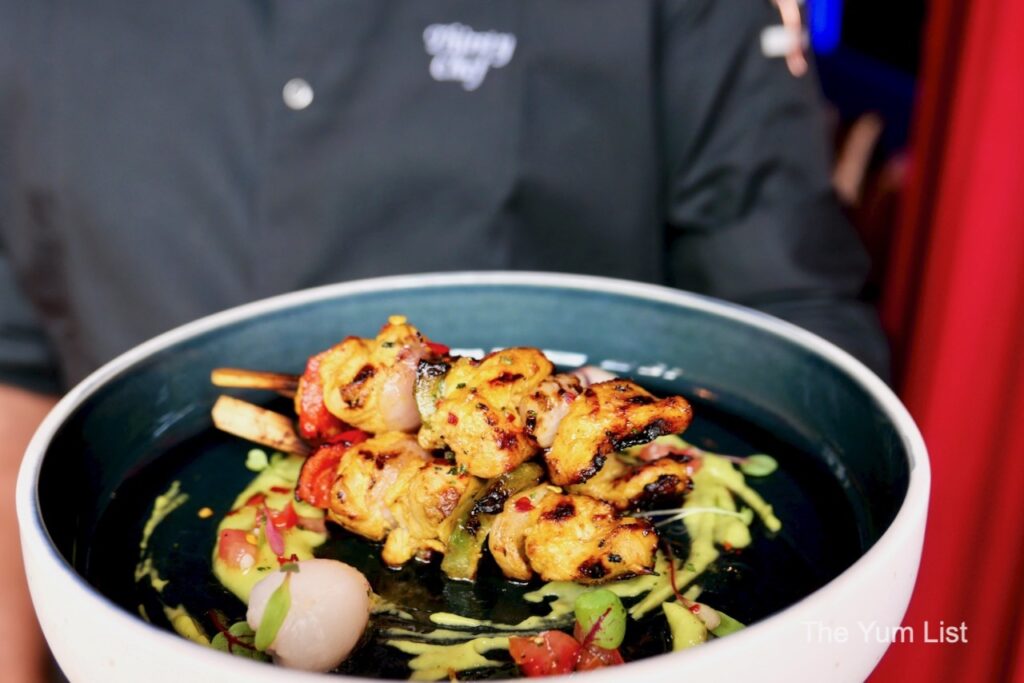 The Willow Weed Prawns (RM 45) disappeared in less than 30 seconds. The prawns sizzled in olive oil, garlic and willow weed, with bread for soaking up the sauce. The Char Siu Lamb Ribs (RM 55) were my favourite dish of the day, though – lamb ribs glazed with honey, soy, brown sugar and rice wine, served with crisped jalapeno peppers. Every bite was coated in that delicious glaze, and the jalapeno gave it a nice kick.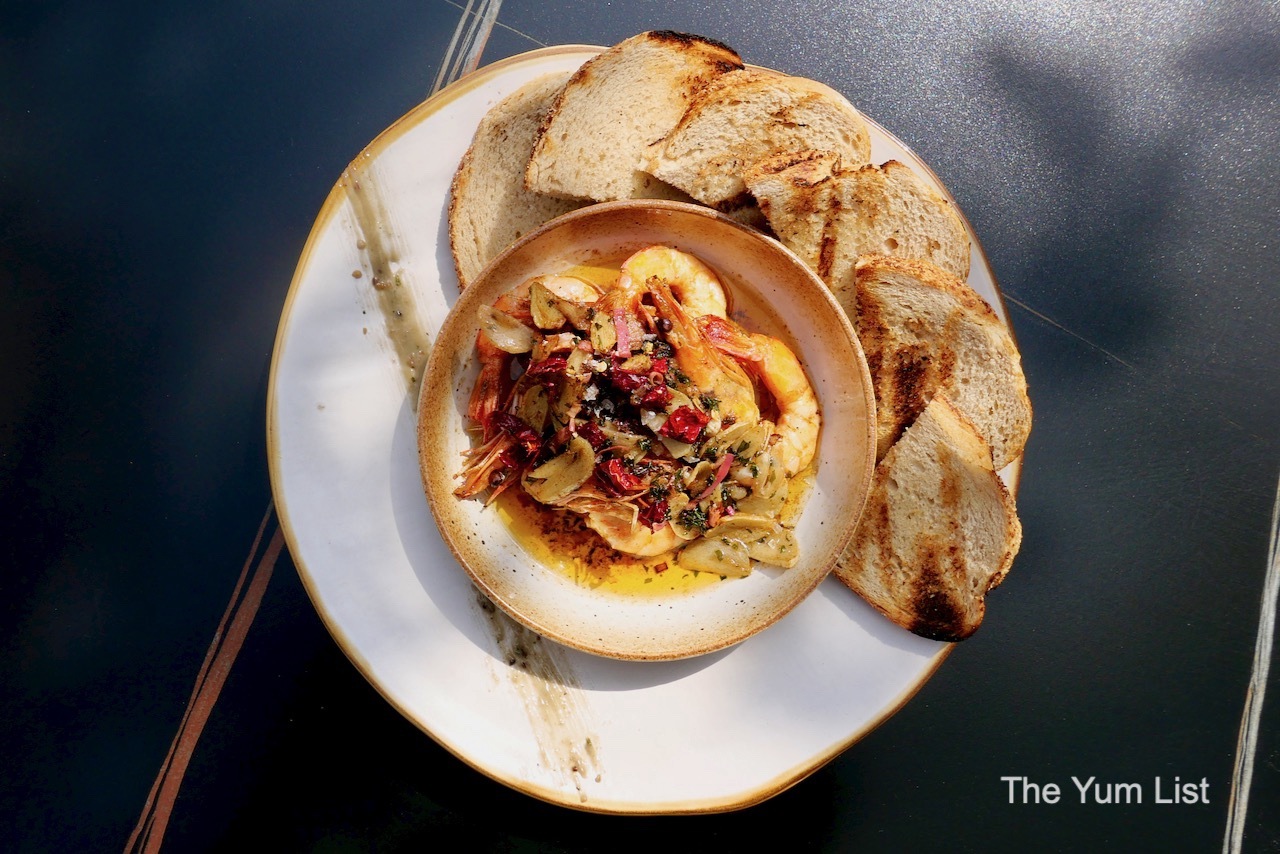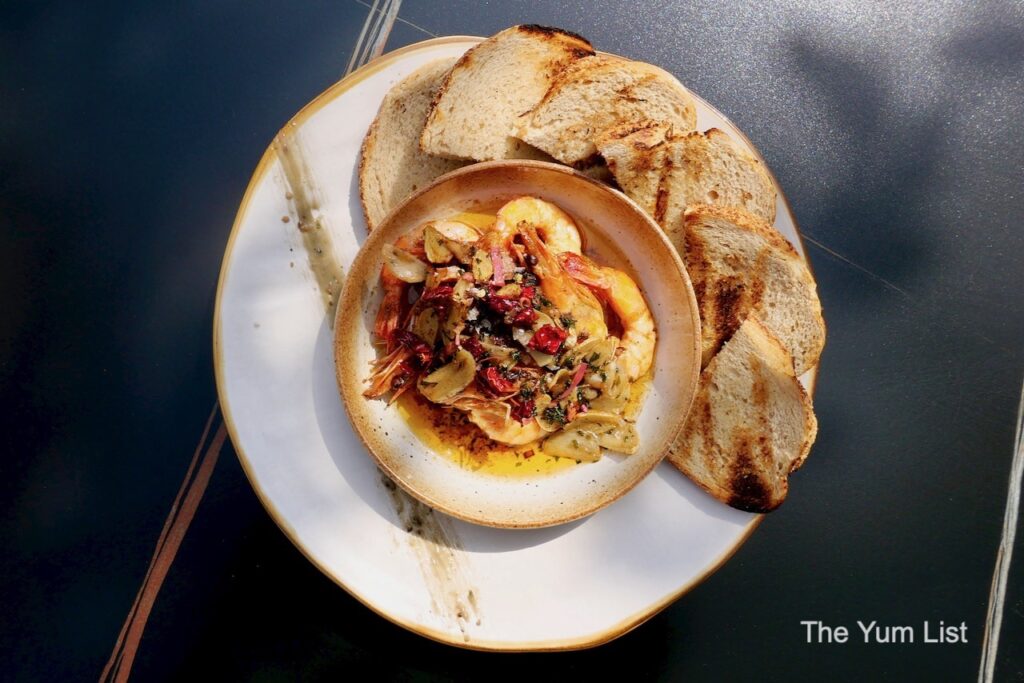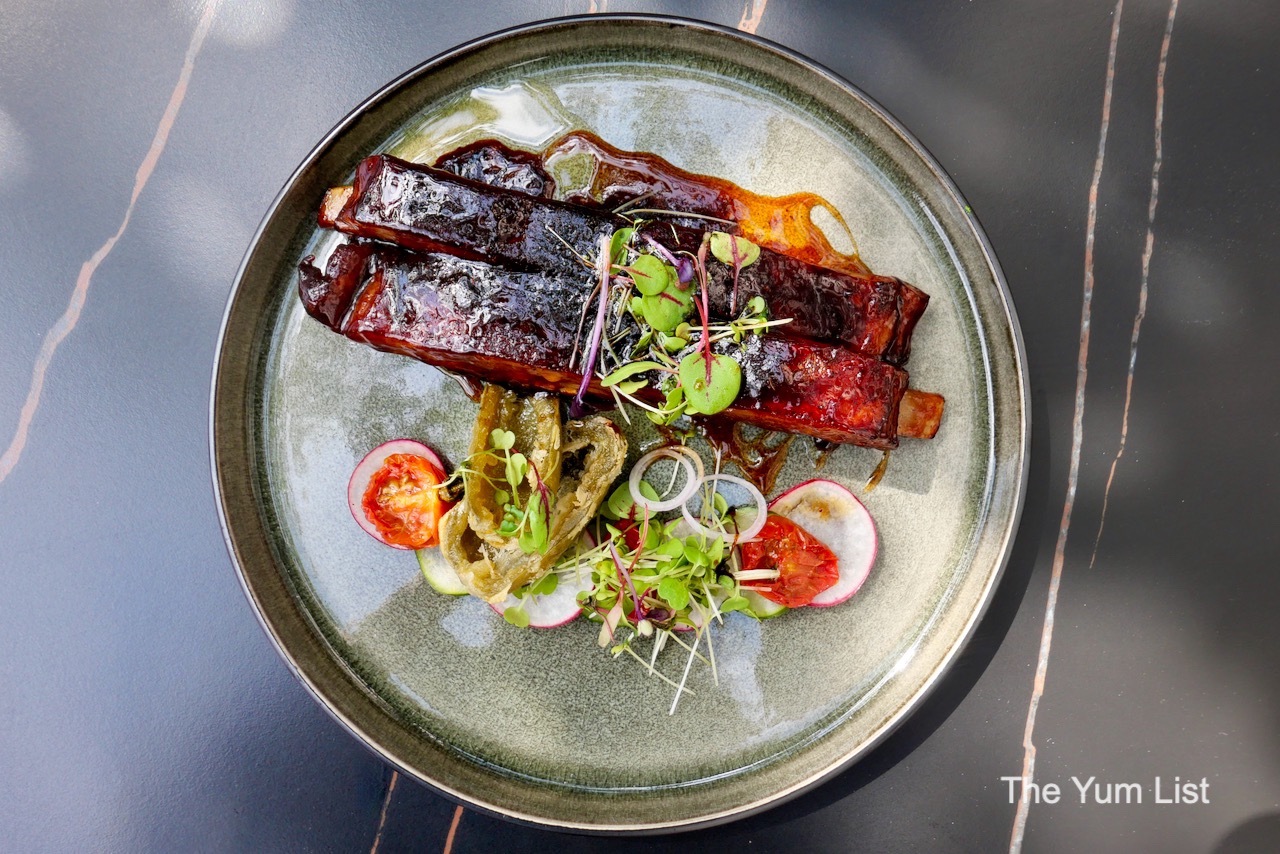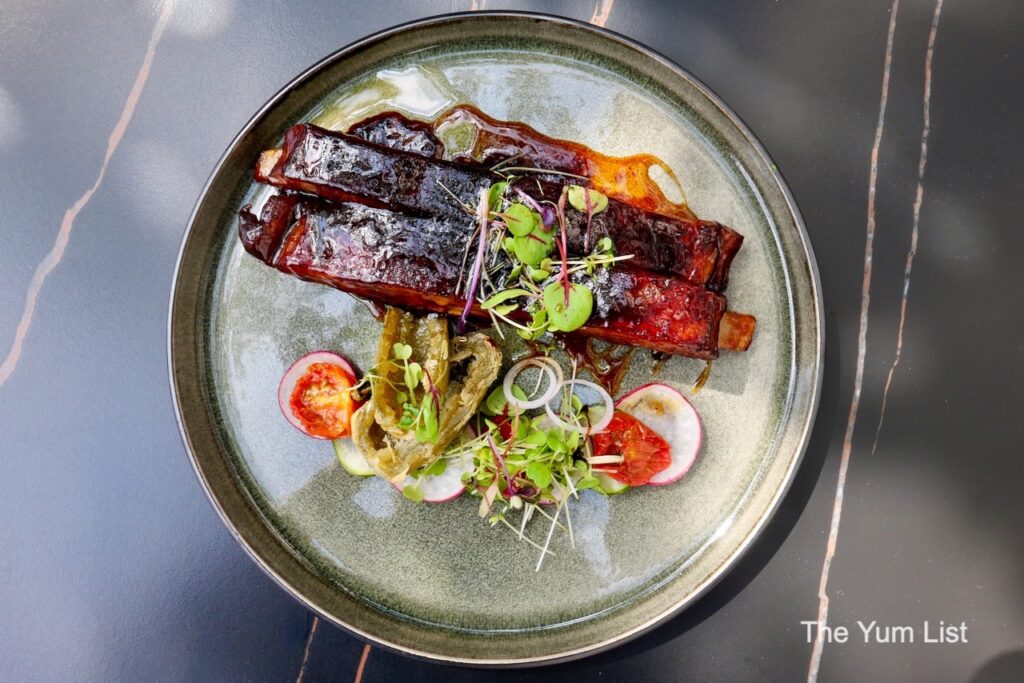 Lastly, Latok-Latok (RM38) is also known as vegan caviar! These sea grapes came with cured kyuri (Japanese cucumber) and red caviar, served with a habanero and calamansi lime dip. The dip packs a punch, and it goes so well together with the sea grapes.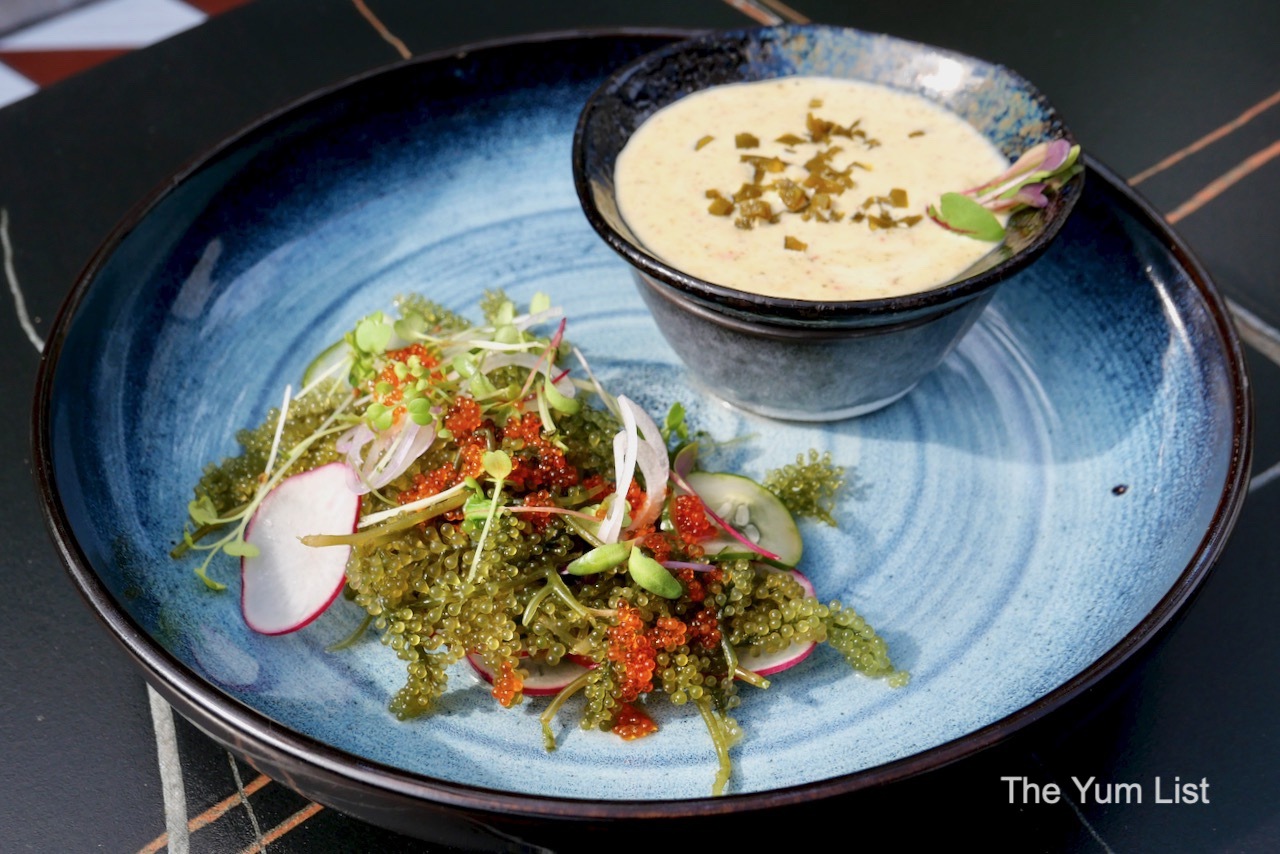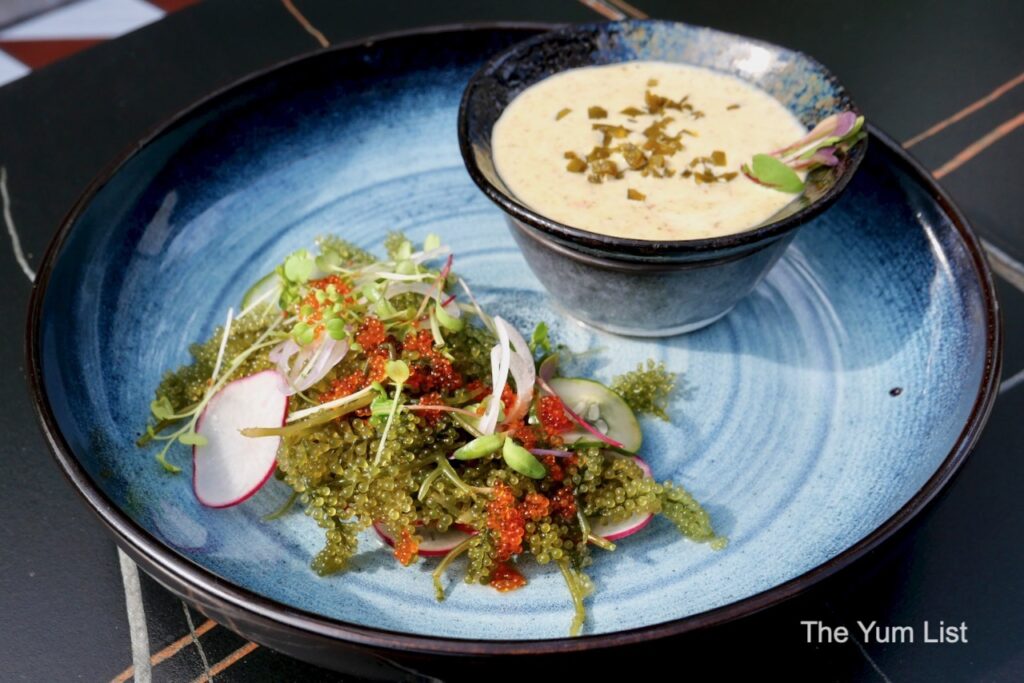 Panggung KL Review
All in all, Panggung KL is what KL needs right now. It's loud, ostentatious and full of flair in the best way. With a team this strong and food and drinks that have exceeded all expectations, it's my new favourite space.
Reasons to visit Panggung KL: bright, flashy setting; all of the cocktails are fun with some twist guaranteed to spark conversation; good food; great team.
Panggung KL Bar & Restaurant
3, Jalan Balai Polis,
50000 Kuala Lumpur, Malaysia
+6010 943 6228
www.facebook.com/PanggungKL
Panggung KL Opening Hours
Tuesdays to Fridays: 4 pm till late
Saturdays & Sundays: 2 pm till late
Find more KL bar recommendations here, and stay up-to-date on the latest gourmet and travel happenings around Malaysia here and here.