Rosinita Olbia – Gourmet Sardinian Tapas
Monica Tindall
How exciting is it when you discover a restaurant in the most unexpected of places serving phenomenal food? That's precisely what we found at the newly opened, Rosinita, a gourmet tapas restaurant in Olbia.
Like a sapling sprouting between cracks in the footpath, Rosinita is a rose in a plaza with character. In front of the central post office and surrounded by graffiti-painted walls, Rosinita is a refreshing and calm oasis. Pale salmon walls are the background to white chairs and umbrellas outdoors, while vibrant artworks and an alluring wine fridge populate the air-conditioned interior. Music plays unobtrusively in the background, enlivening the setting but not interfering with conversation.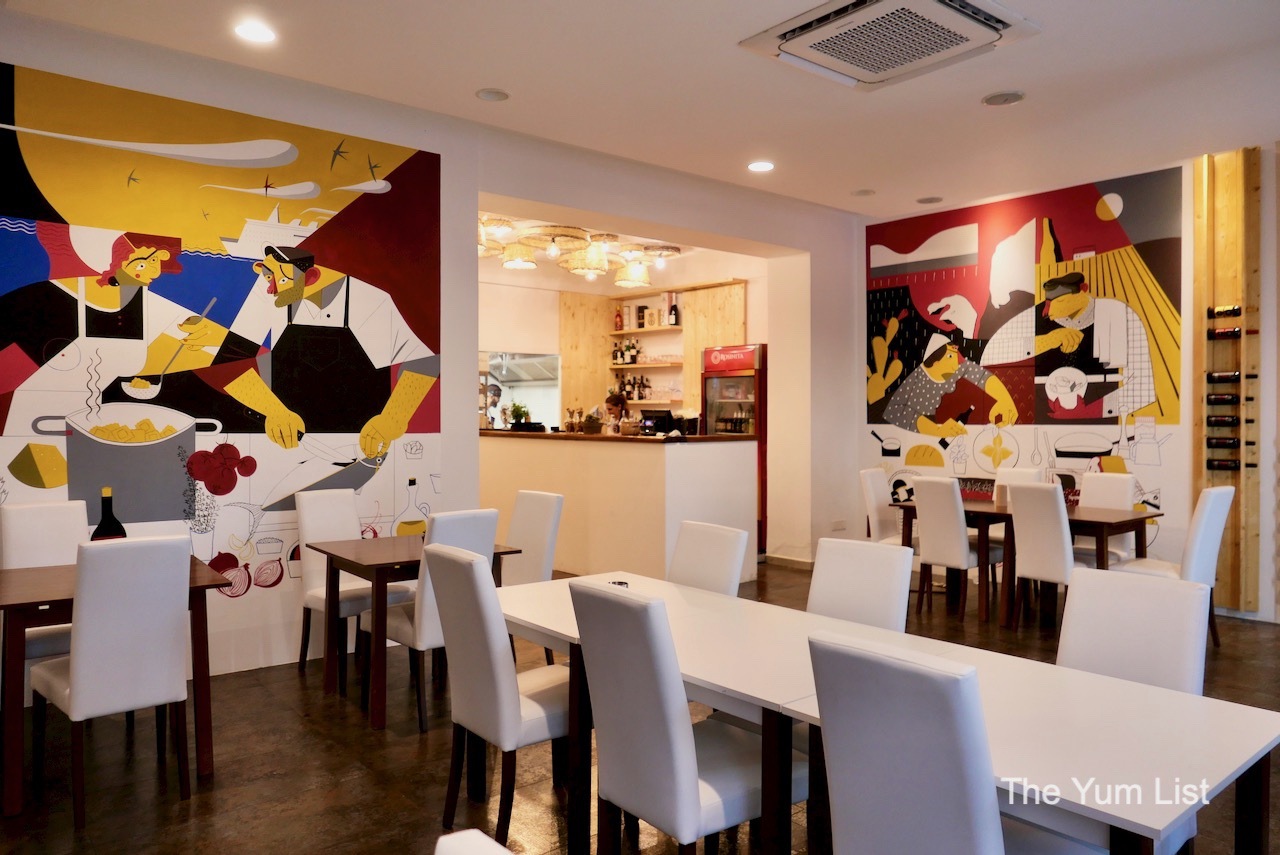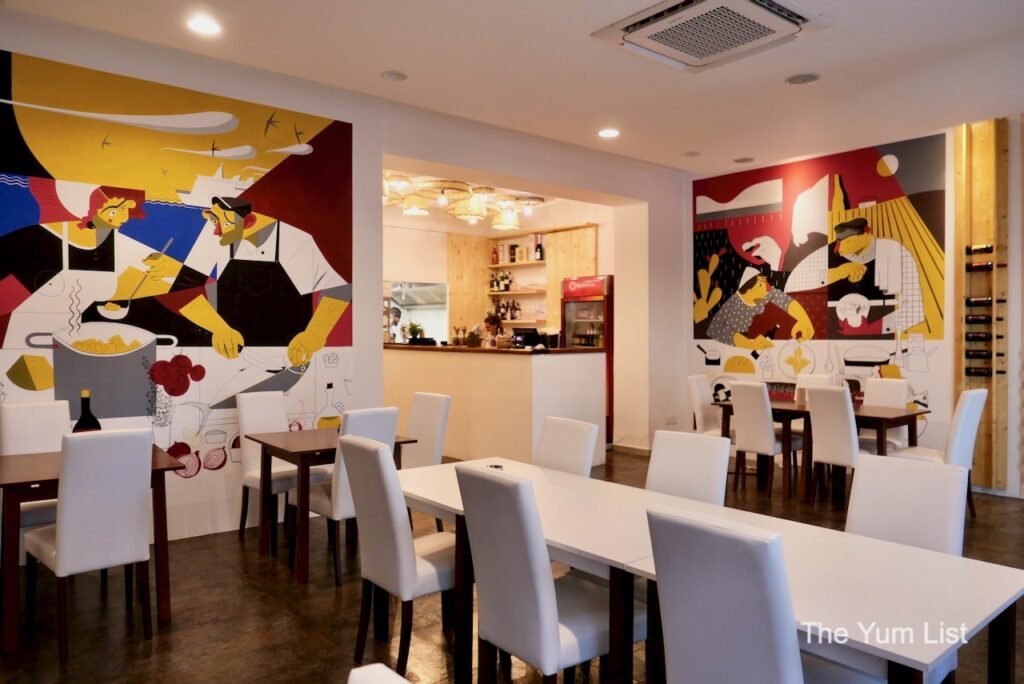 Rosinita Olbia – Gourmet Sardinian Tapas
Opened for just over a month, Rosinita in Olbia is sure to capture the summer tourist crowd. Chef Ugo Chierroni wants to offer guests a taste of Sardinian on small plates. The menu is full of local flavours spruced up with chef Ugo's flare.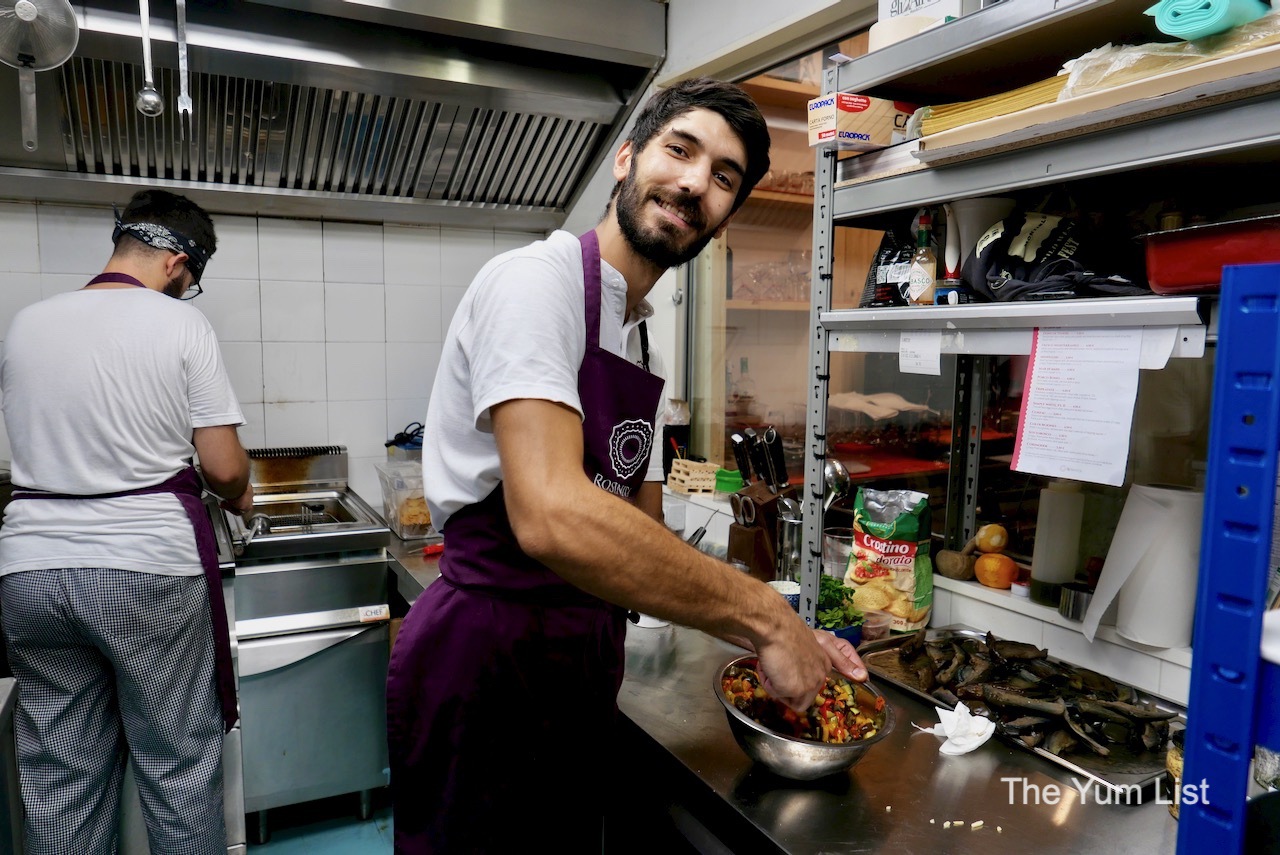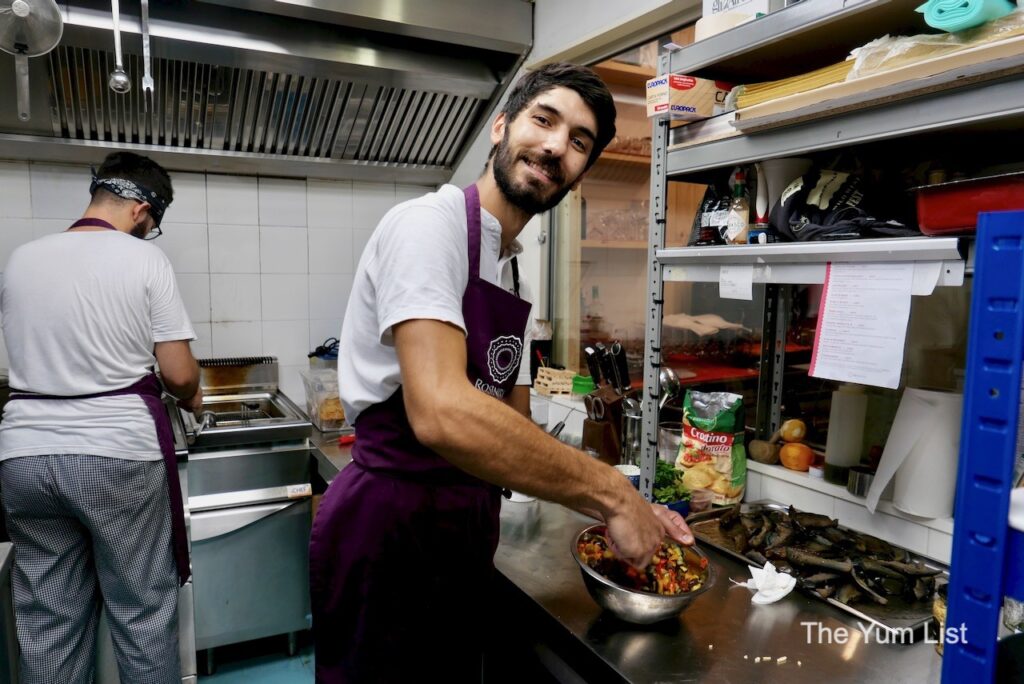 Cocktails – Shake Your Sensations
At the end of a tour of Sardinia with a mission of discovering the island's best wines, spirits and liqueurs, I'm quick to note Rosinita serving an Aspide Spritz (€7.00), not Aperol. The Sardinian distillery, Silvio Carta, makes everything from scratch, from nature with nothing artificial. In fact, everything in their wines, spirits and liqueurs are grown on their land or foraged wild around their Oristano home. As such, the Aspide Spritz is smooth and delicious. Additionally, Silvio Carta's Aspide is topped up with Villa Sandi's prosecco (another of our Italian loves). Order this drink. It's awesome.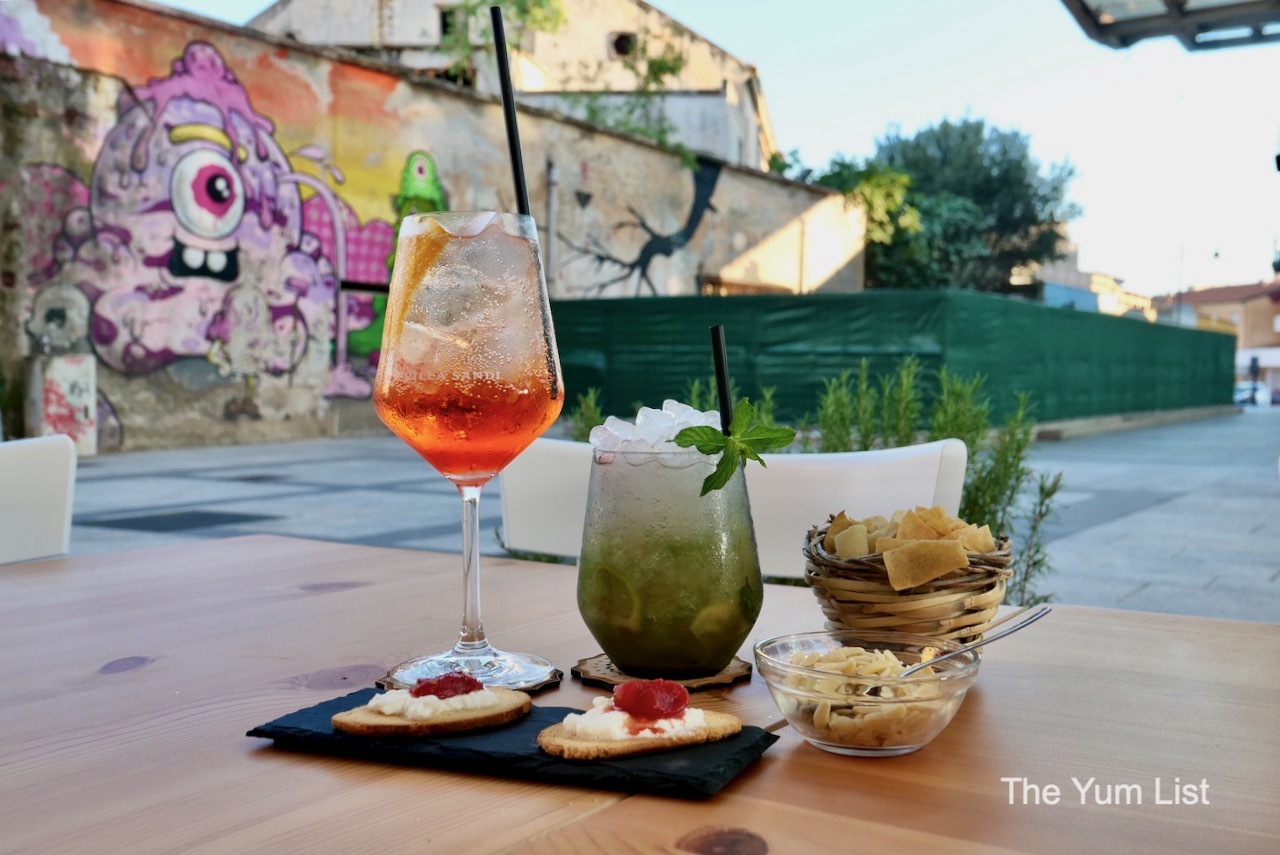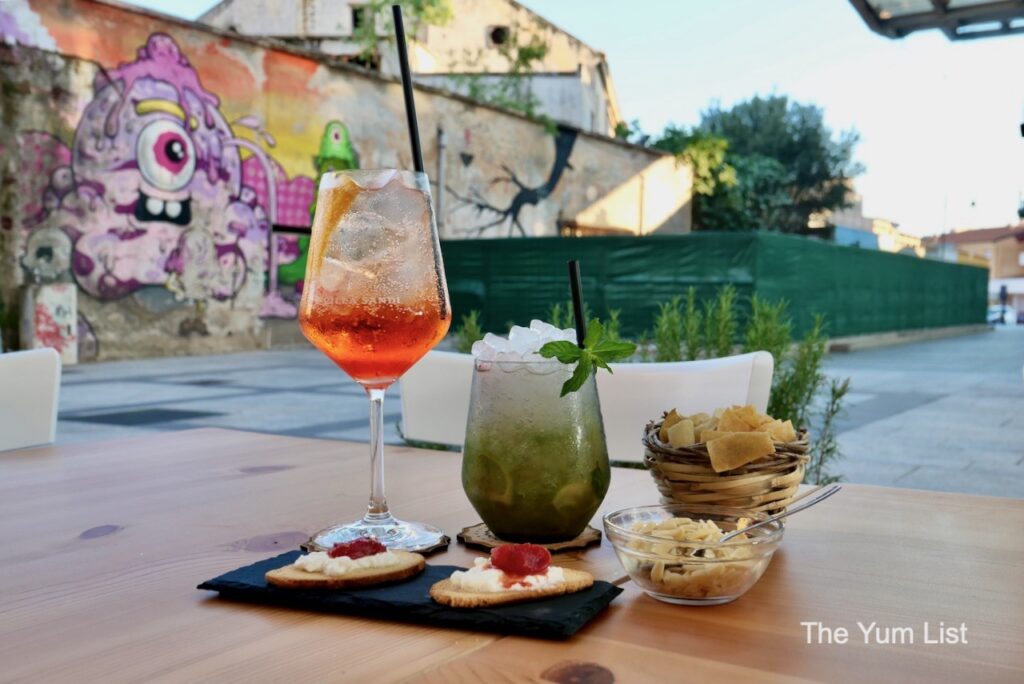 Now that the drinks menu has my attention, I take a closer look. Rosinita also offers an entire range of local gin. Thinking rose, I order the Pigskin Pink (€10.00). It comes with Fever Tree Mediterranean Tonic and garnishes of sliced lime, peppercorns and rosemary. Alice, the bartender, knows her stuff!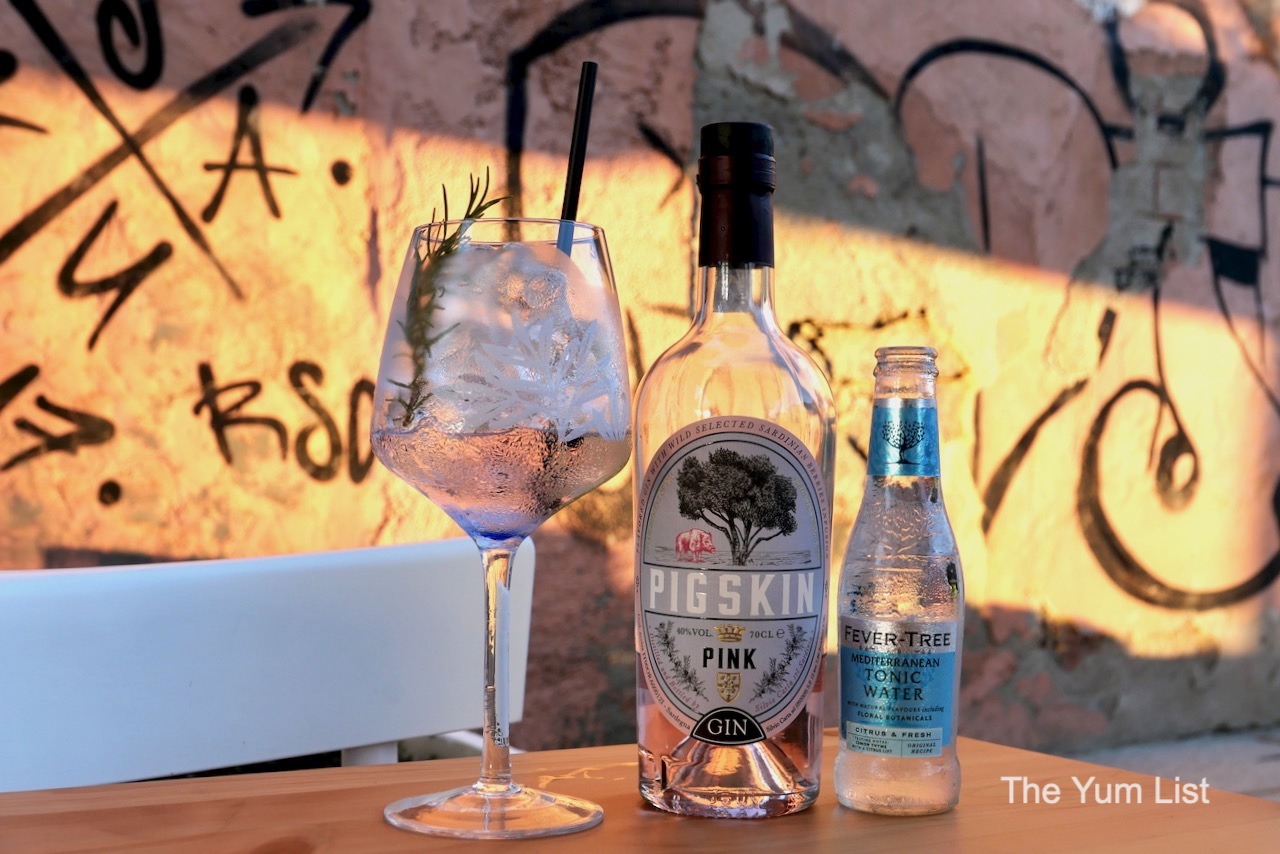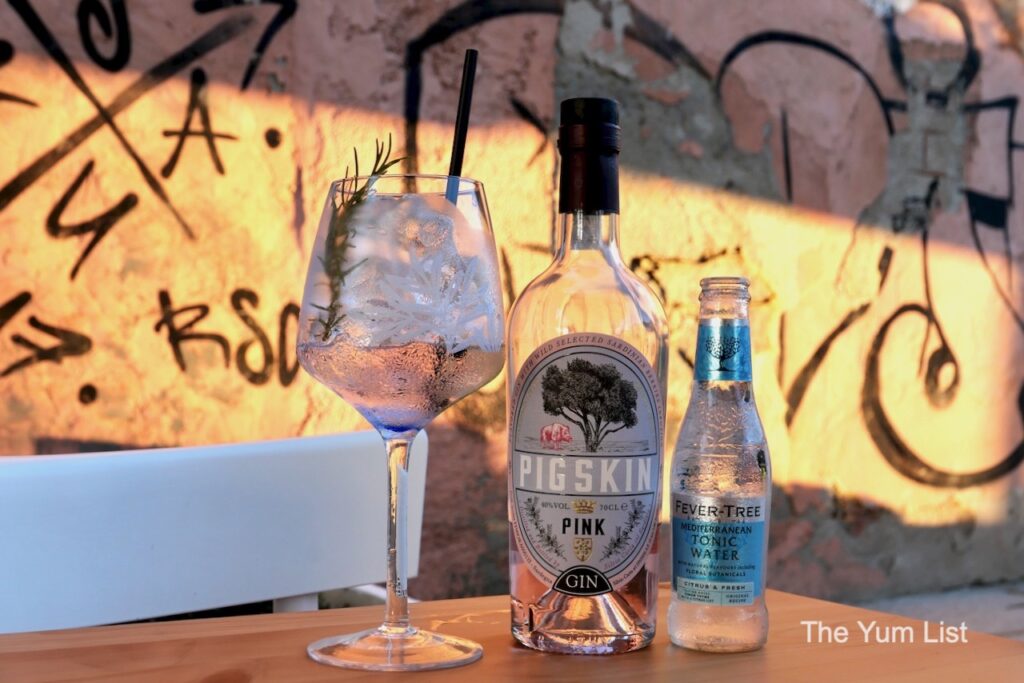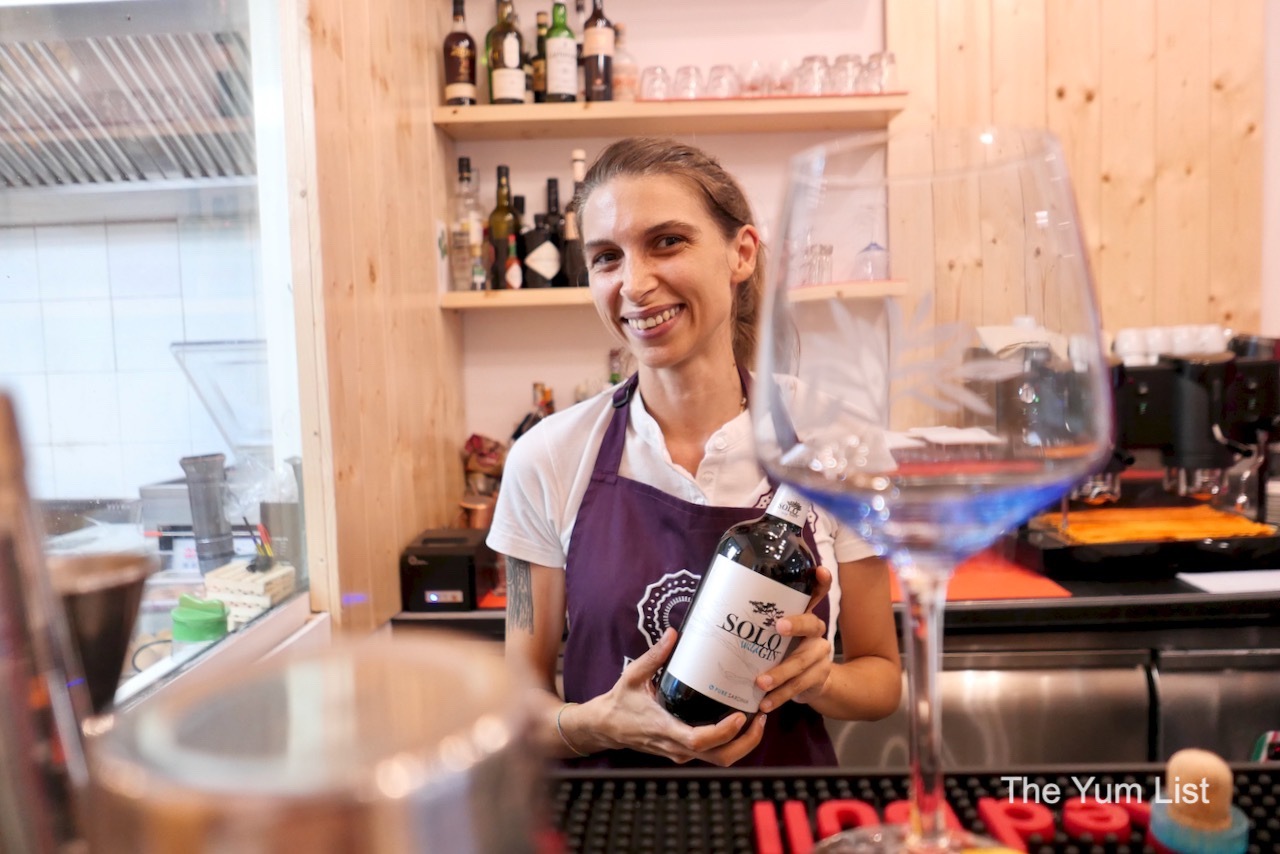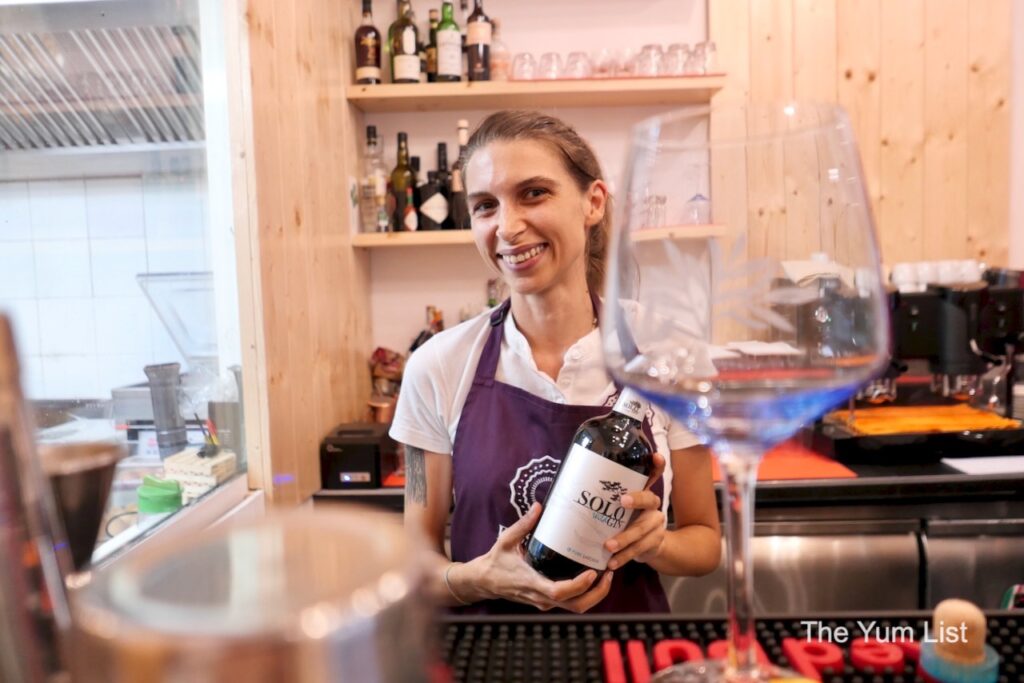 Licanzas – Gourmet Tapas
Waiter Ettore helps us with the menu with some recommendations for our taste preferences and also tips as to what looks attractive in photos (thank you very much). Tapas at Rosinita highlight local produce and flavours. Eating here is a fantastic way to taste across Sardinia without the need to roll back to your hotel on your over-stuffed stomach afterwards.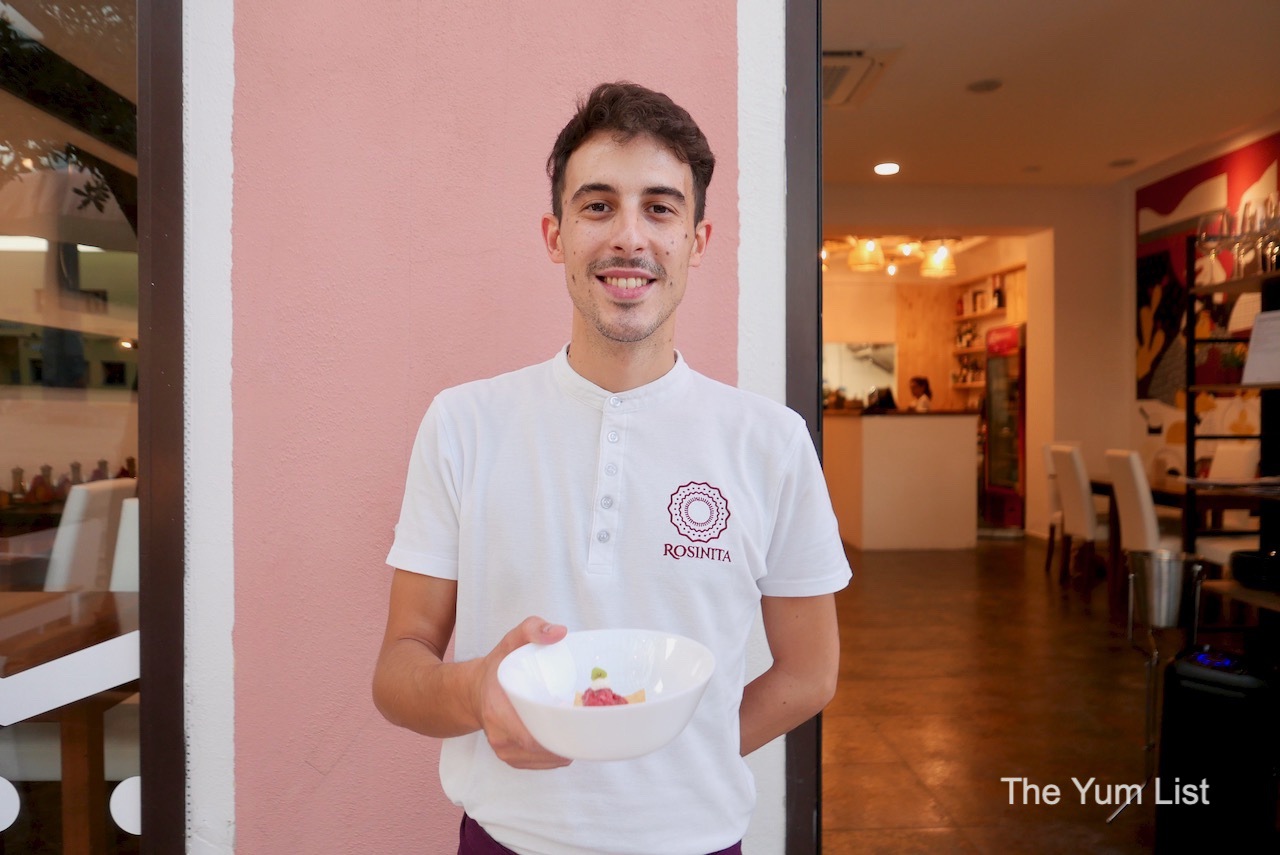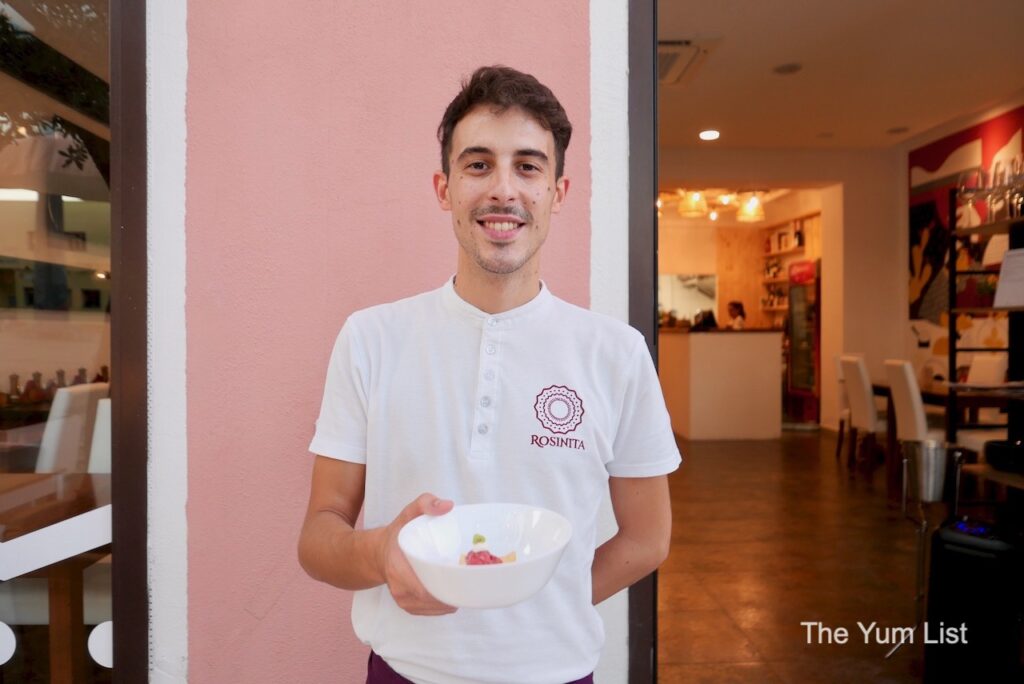 Rosinita Menu
Dono di Venere (€3.50) sets the bar for the rest of the meal. Presented in a white bowl, the contrast of sous vide red prawns, spicy pea puree, and lime burrata served in a shell of puffed black rice is eye-catching, to say the least. It's the flavours, though, that come together so well in the mouth that makes this a memorable beginning.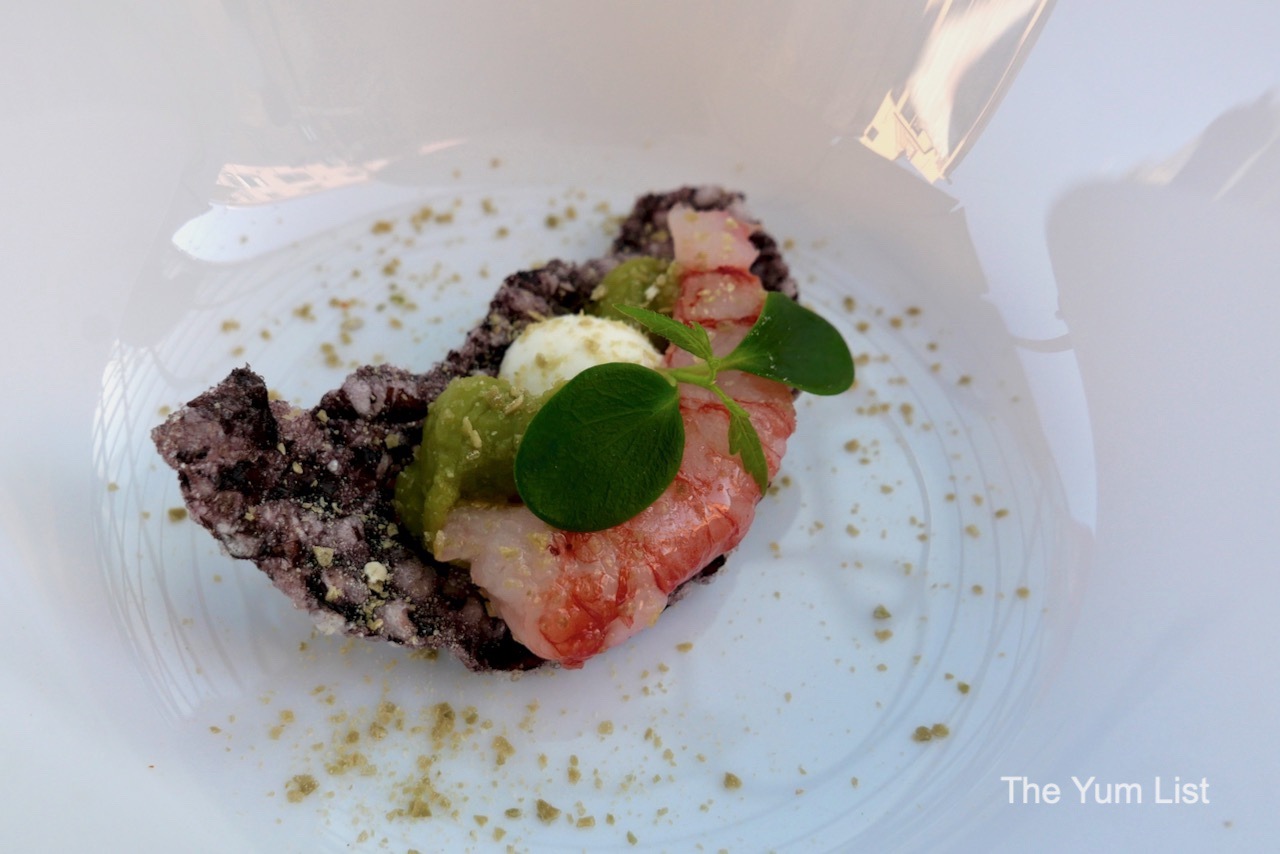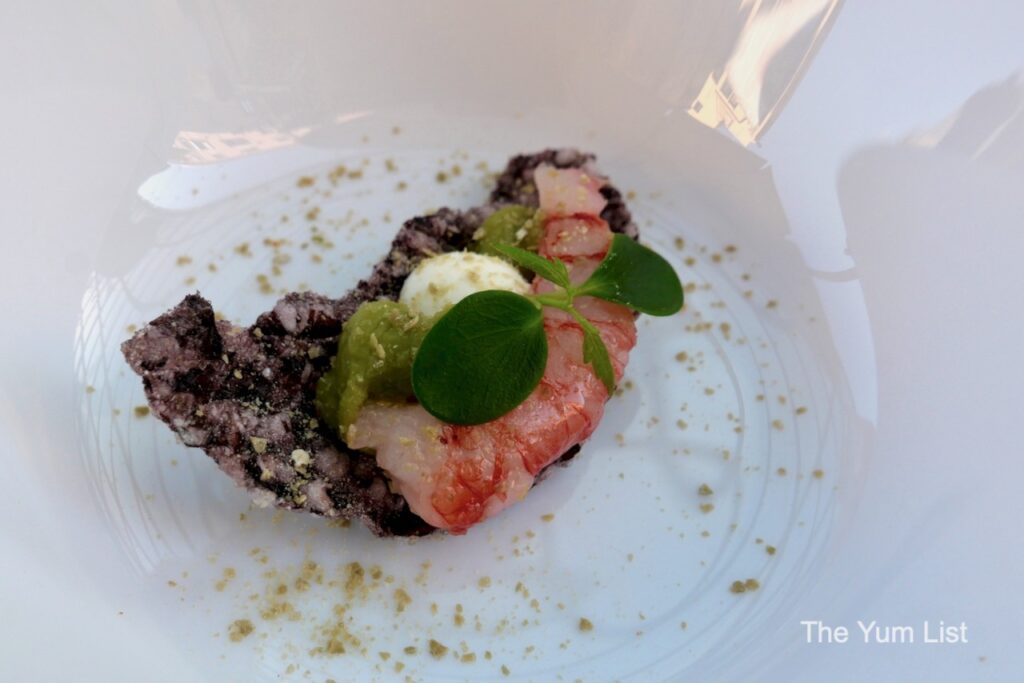 Next, Fresco Mediterraneo (€4.00) comes with a little tableside theatre. The mildly spicy gazpacho with Mediterranean herbs is poured atop a bowl of seafood crudites of the day. The red splashes in the bowl, and we can't wait to mix it all and add some crunch with the accompanying puffed fregula cracker.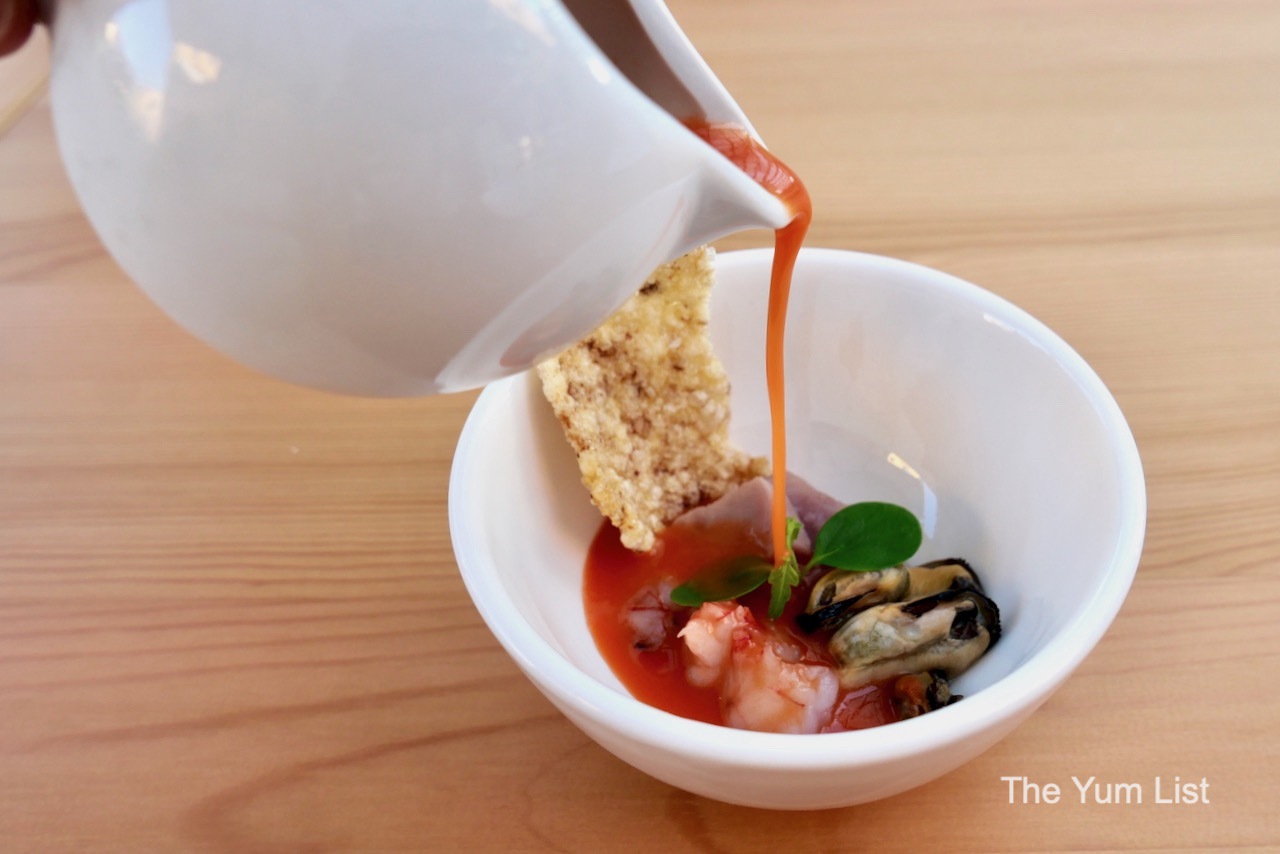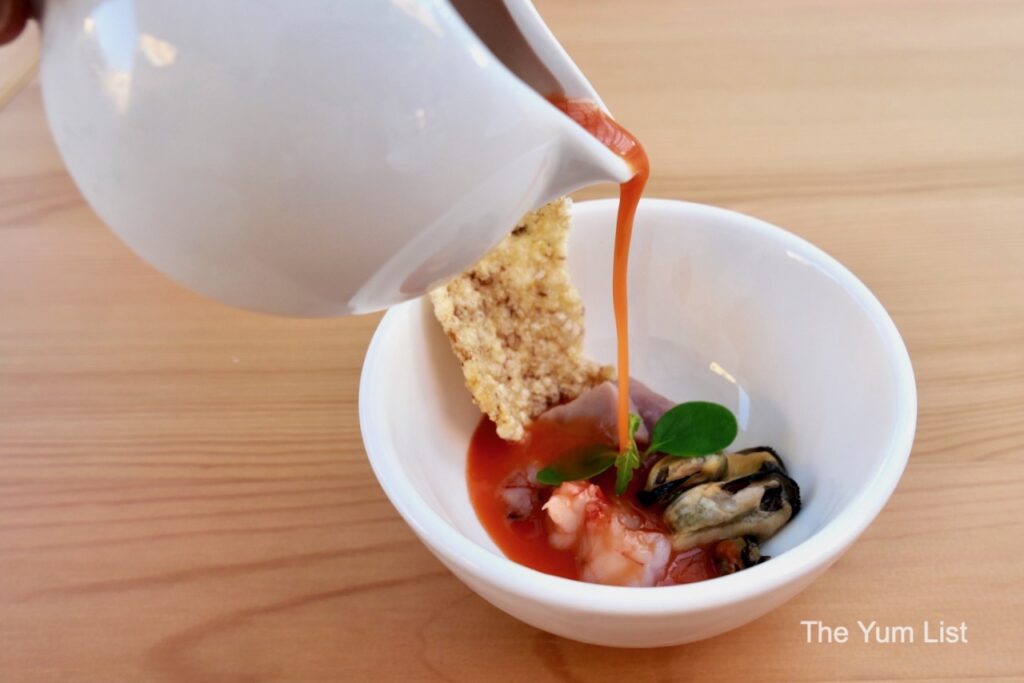 You can't have tapas without pork, right? Rosinita delivers with their Porco Rosso (€4.00), sous vide pork belly served with a spicy smoked tomato sauce. The pork features alternating layers of juicy fat and flesh, and that smokey sauce, oh my sweet heavens!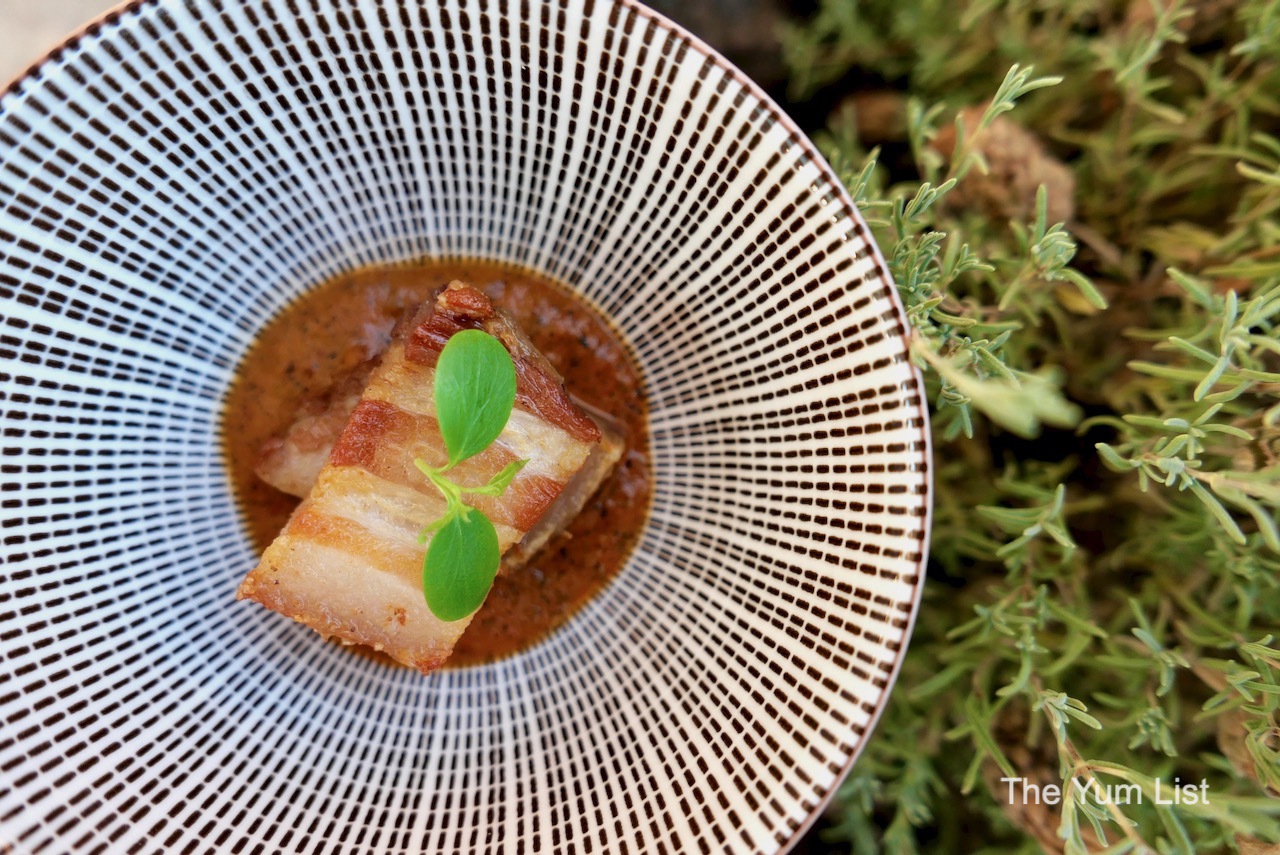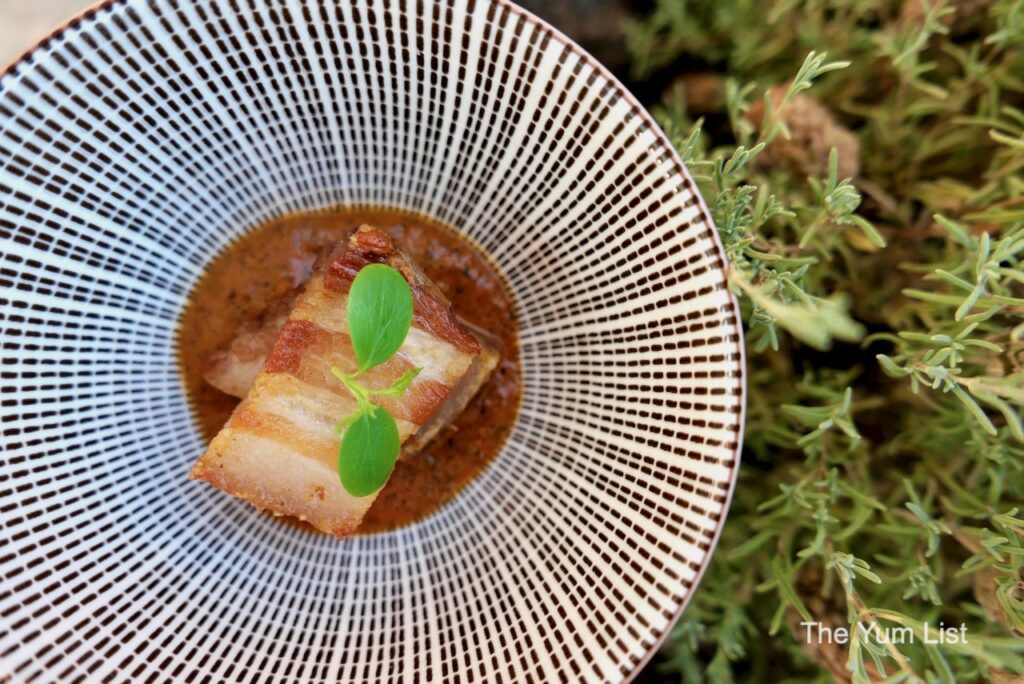 What looks like a seemingly simple dish, Triplatate (€4.00), has actually been cooked three times! The hand-cut potatoes have been sous vide, roasted at 120 degrees and then fried at 180 degrees. They are crisp and moreish, and the blue cheese sauce offers a seductive tang causing us to repeatedly dip back in.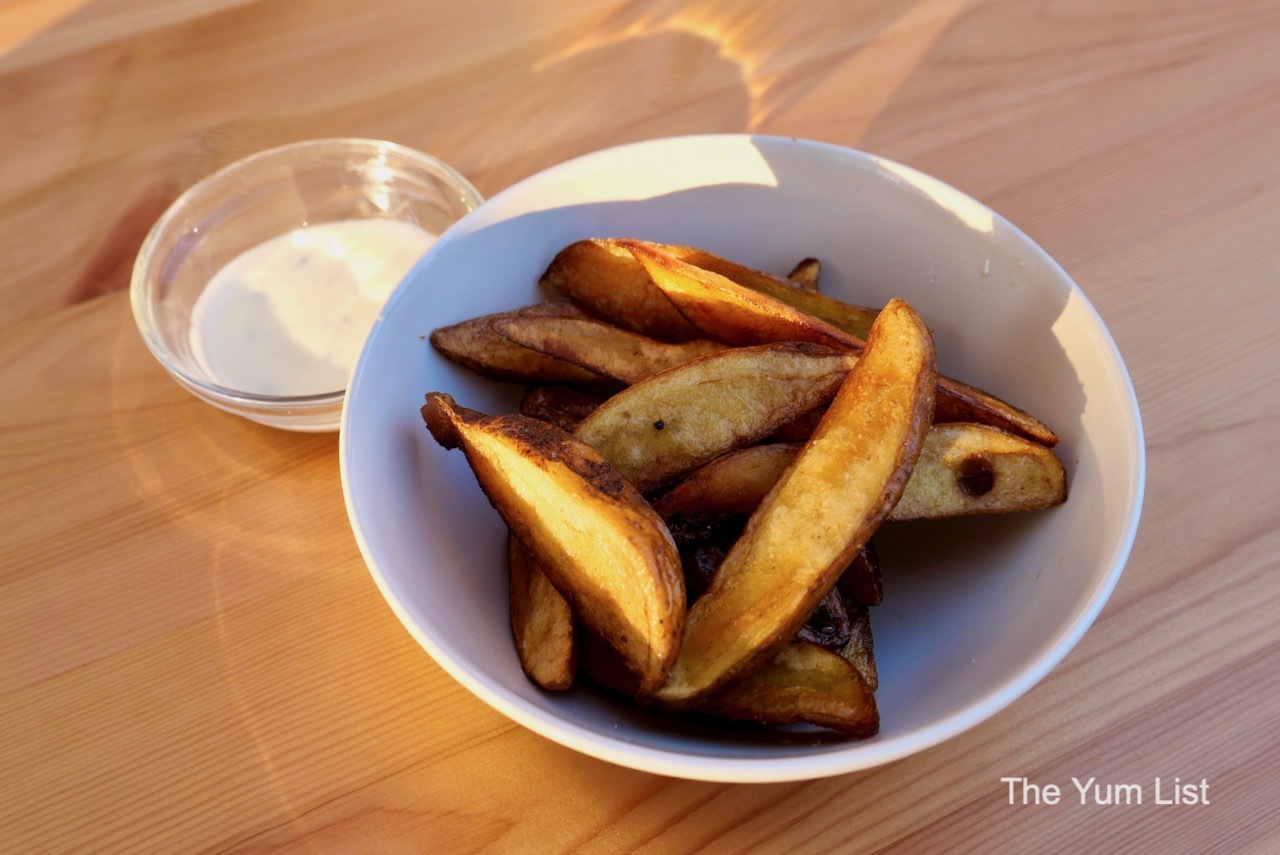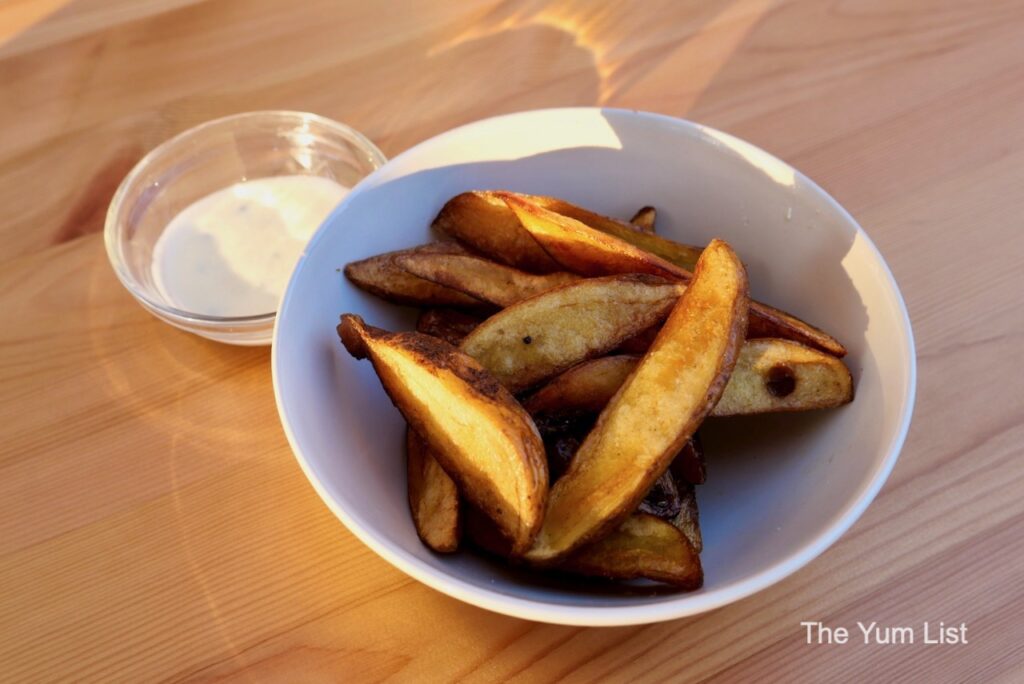 A surprise tapa arrives, the Chef's Special of the day. Inspired by what is fresh from the market, chef Ugo has put together slow-cooked octopus with stracciatella cheese, tomato confit, caramelised onion and fried fregula. Those fregula crisps could be a new trend.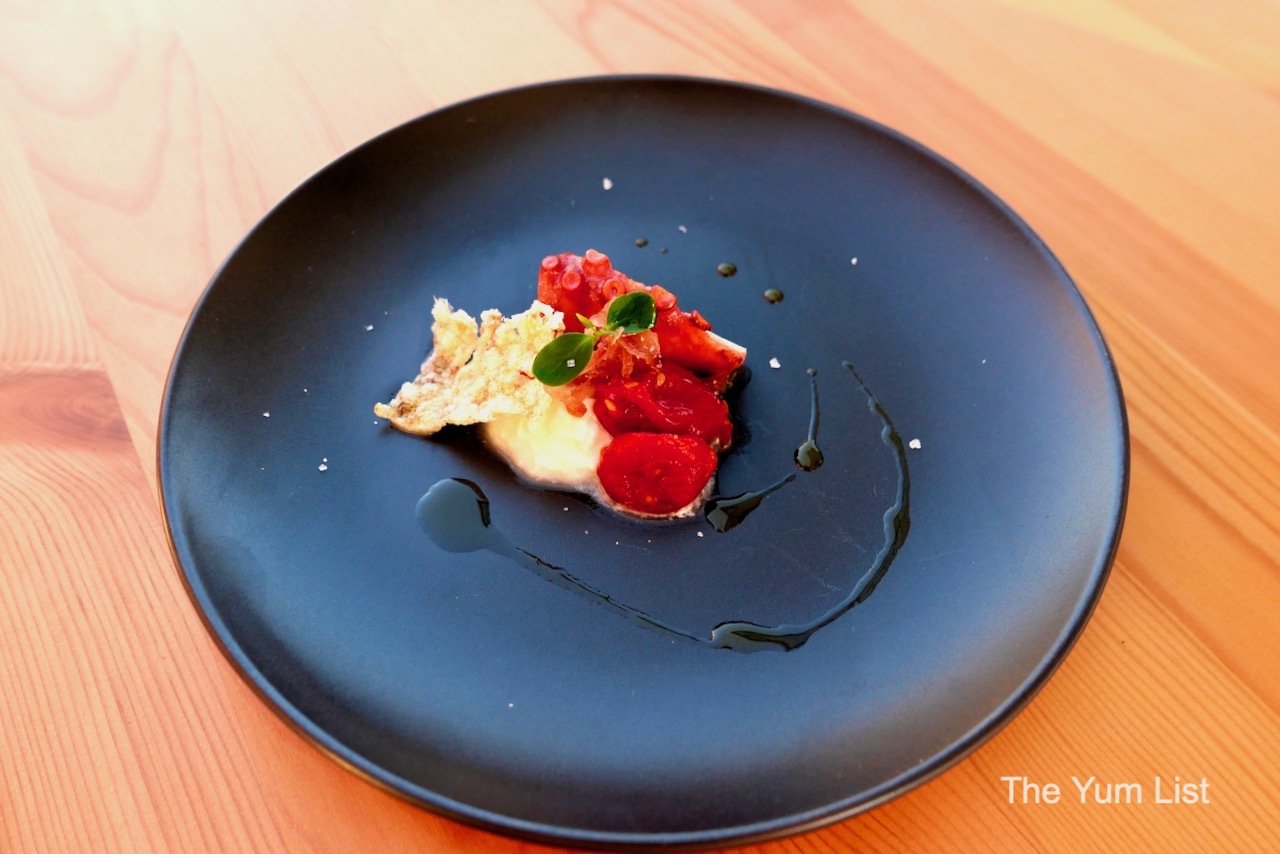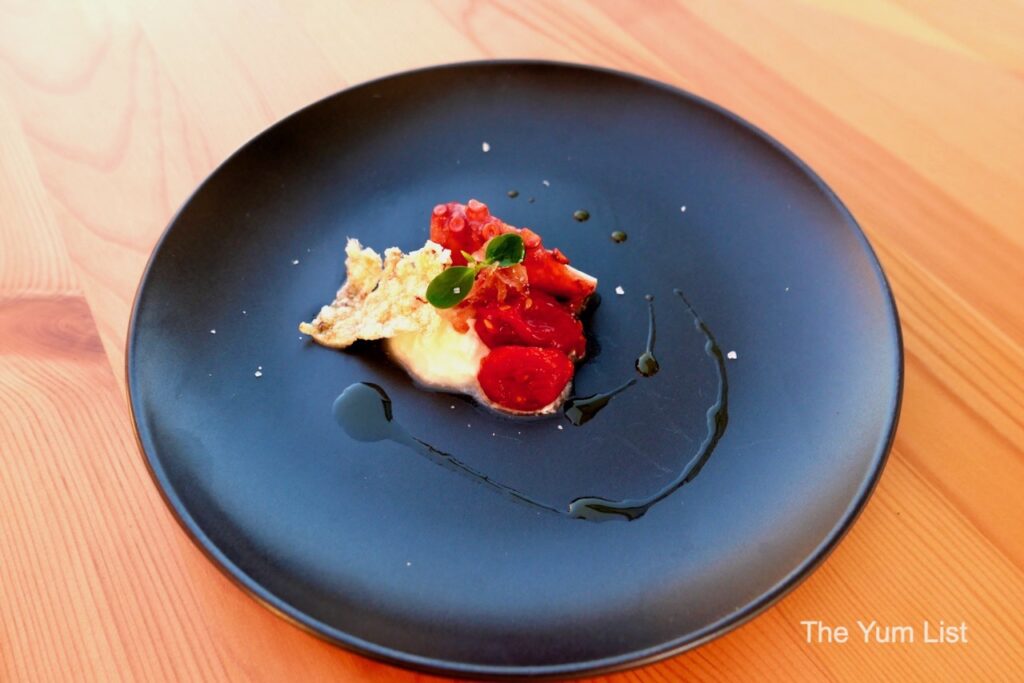 I thought I knew culurgiones (a fat Sardinian ravioli style pasta stuffed with potato) and already had a fond affection for them. However, Rosinita's Colourgiones (€4.50) are something special. Deep-fried, these pasta parcels are stuffed with soft potato and served with the day's selection of dipping sauces, in today's case, garlic and basil aioli. Yummo!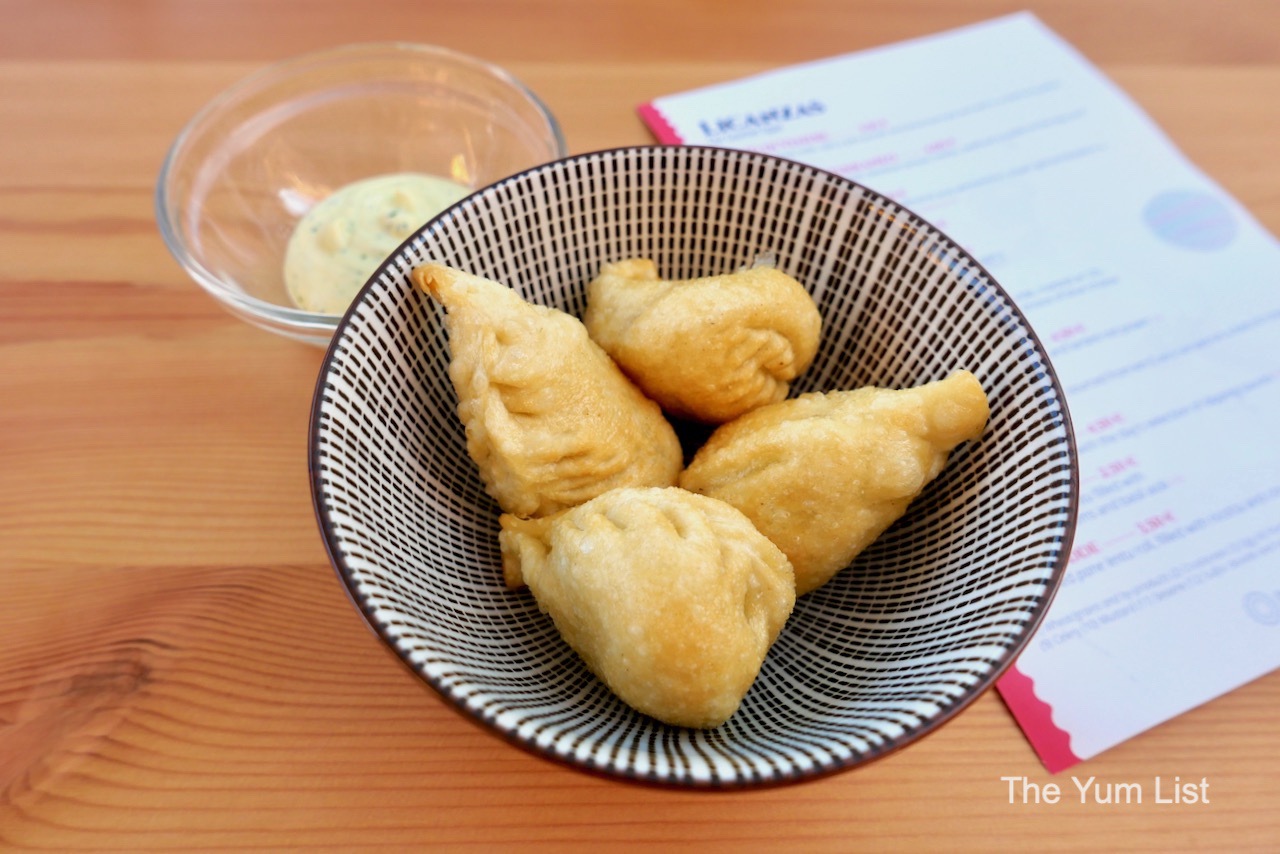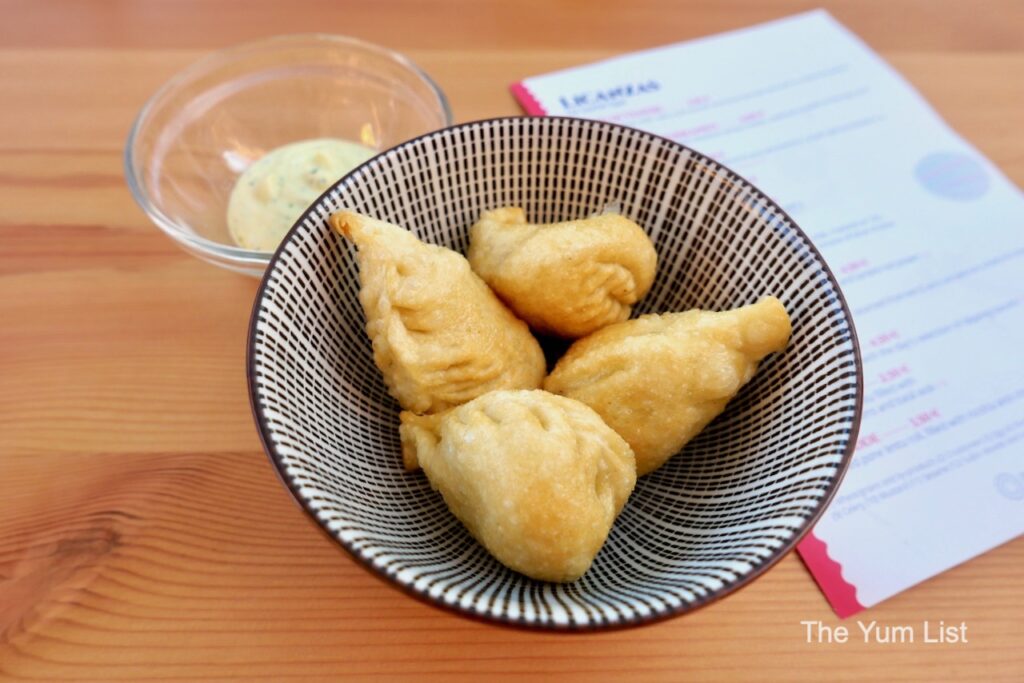 You haven't tried beef tartare until you've tried Rosinita's version, Menduleri (€3.50). The raw beef is combined with an almond and Vermentino cream, offering complexity, creaminess and an elegant nutty finish. The delicate crisp is light in the mouth, supplying a light crunch.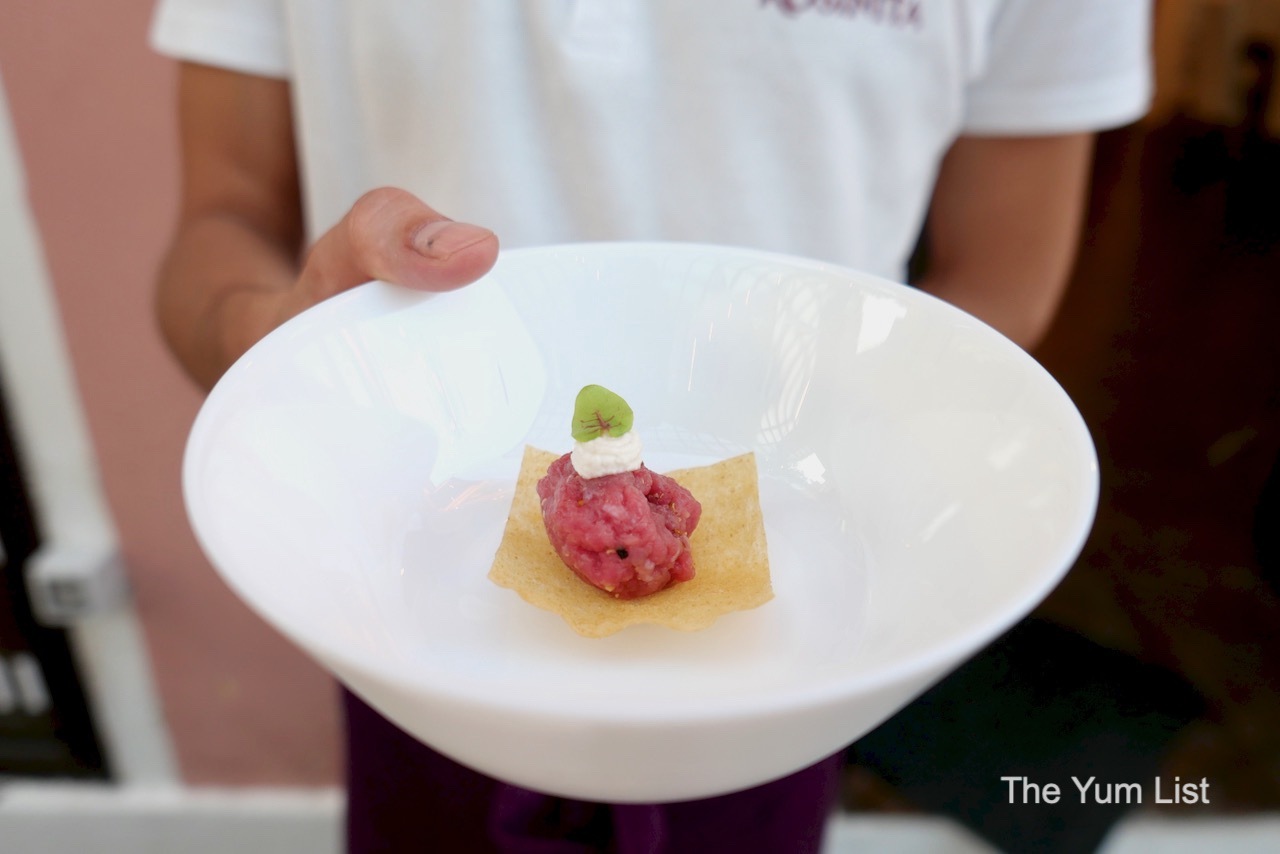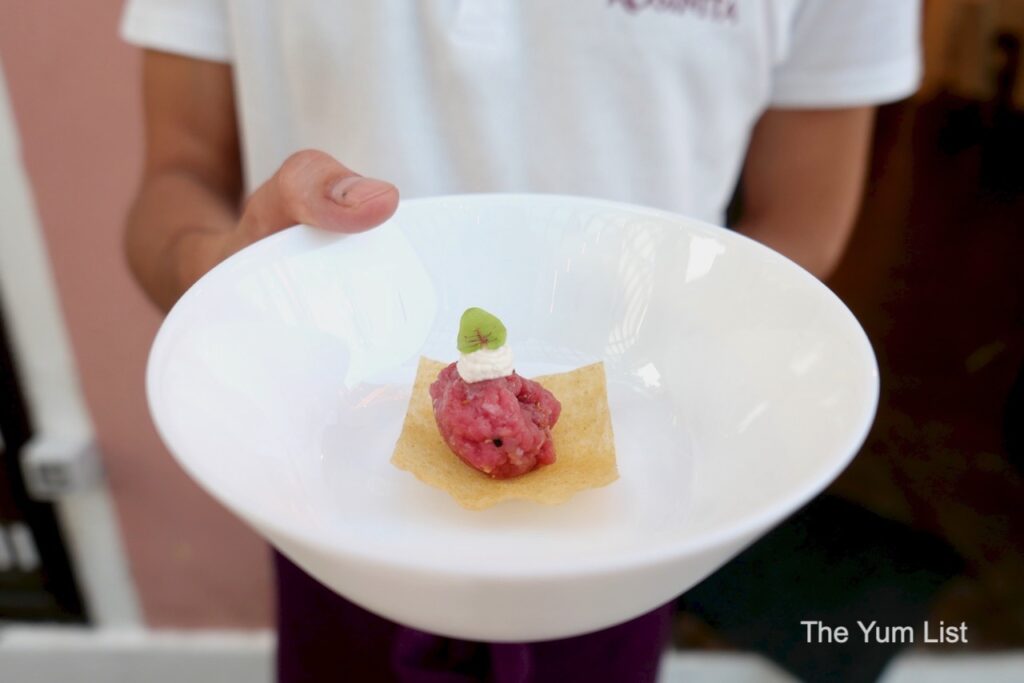 We finish our savouries with some veg and the traditional Sardinian flatbread, Cunzau (€3.00). Sous vide seasonal vegetables sourced less than a kilometre away come on a bed of paper-thin, crunchy fried pane lentu. It's fresh and tasty.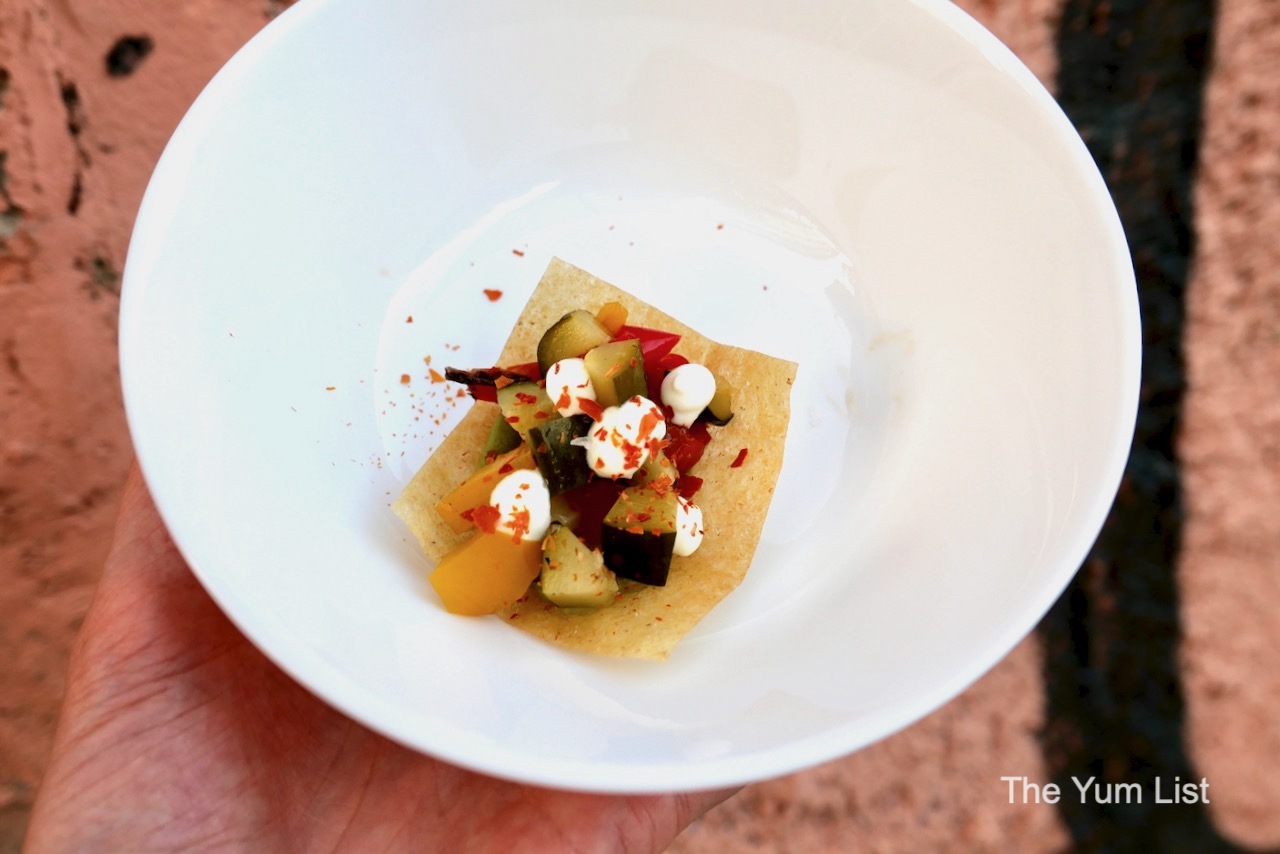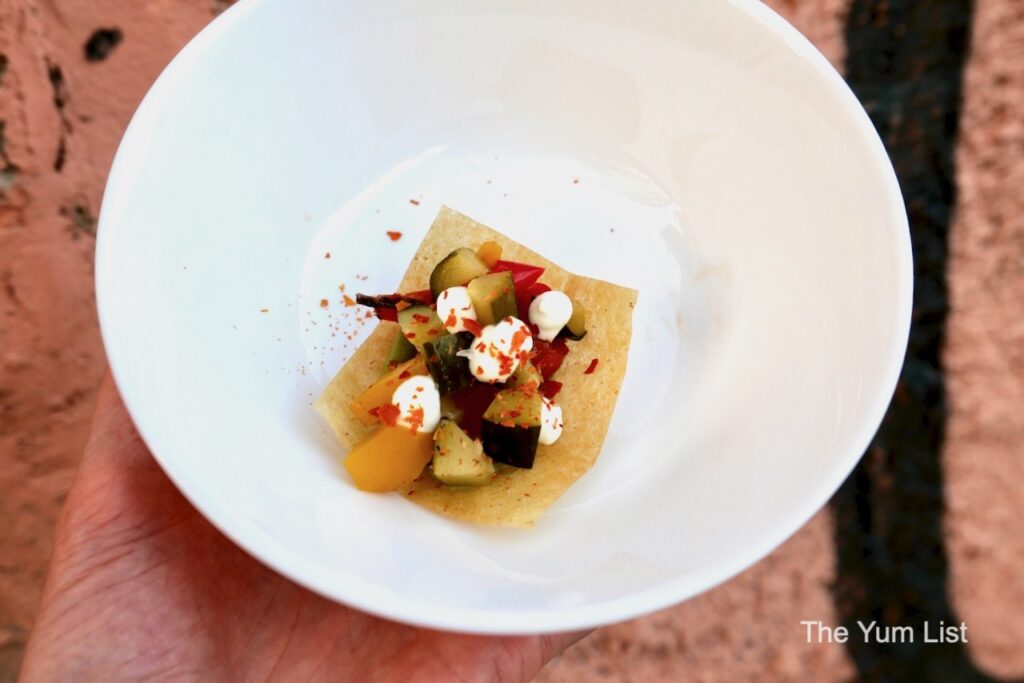 There's one dessert on Rosinita's menu, so the picking is a breeze. Coromodde (€3.5) is the team's take on the Sicilian sweet speciality of cannoli. Crispy-fried lentu (the local flatbread pane carasau before it's roasted) rolls are filled with ricotta and citrus honey. These graceful bundles are just right to end the meal, even for a non-sweet tooth such as me.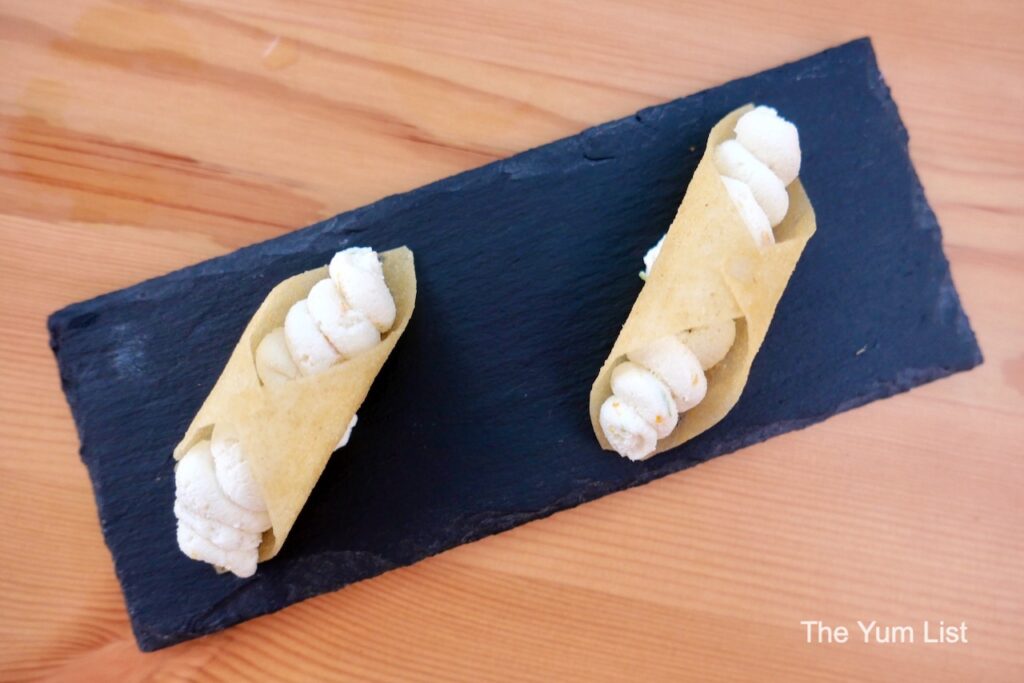 Tasting Plates
You can also take the pain out of choosing by ordering one of Rosinita's Landscapes & Paths – platters grouping various tapas into Landfare, Seafood, Landfare & Seafood and Chef's Proposal (we don't mind the chef proposing to us any day;-).
Reasons to visit Rosinita Olbia: an unexpected find in the city centre; wonderful dining alfresco in the summer surrounded by street art and the cool Mediterranean breeze; delicious Sardinian tapas; focus on local produce and beverages.
Rosinita Olbia
Piazza Mercato 6, 07026, Olbia
Sardinia, Italy
@rosinita.olbia
Rosinita Olbia Opening Hours
Tuesday to Sunday: 4 pm-midnight
Find more tips for the best travel experiences in Italy here and stay up-to-date with our latest gourmet travel finds here and here.