Sella & Mosca – Alghero
Monica Tindall
"Like the eyes, the palate will also love this land."
Sella & Mosca's story begins over 120 years ago when an engineer, Mr Sella, and a lawyer, Mr Mosca, first laid eyes on the uncultivated land around Alghero. These two Piedmontese adventurers gave the soil new life, and to this day, the honesty of the land is expressed in production.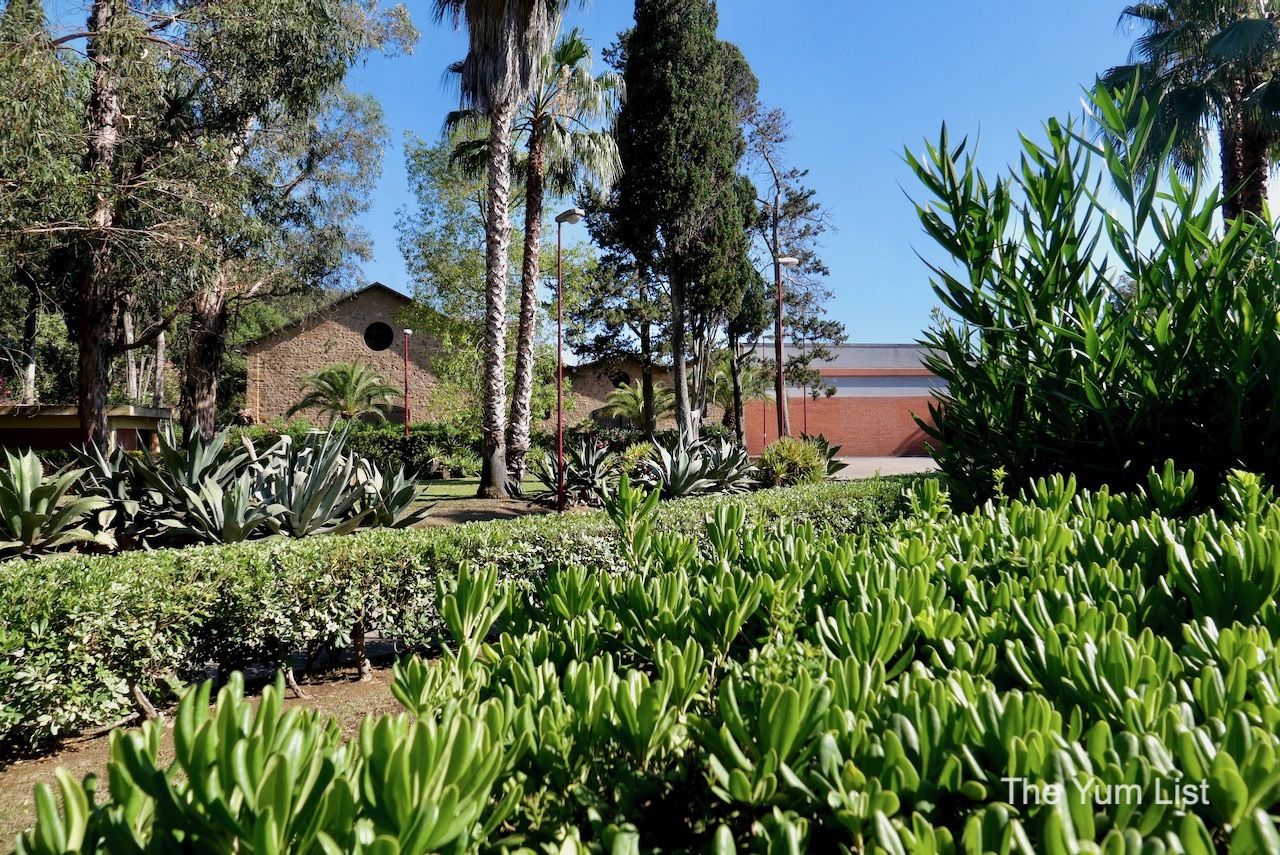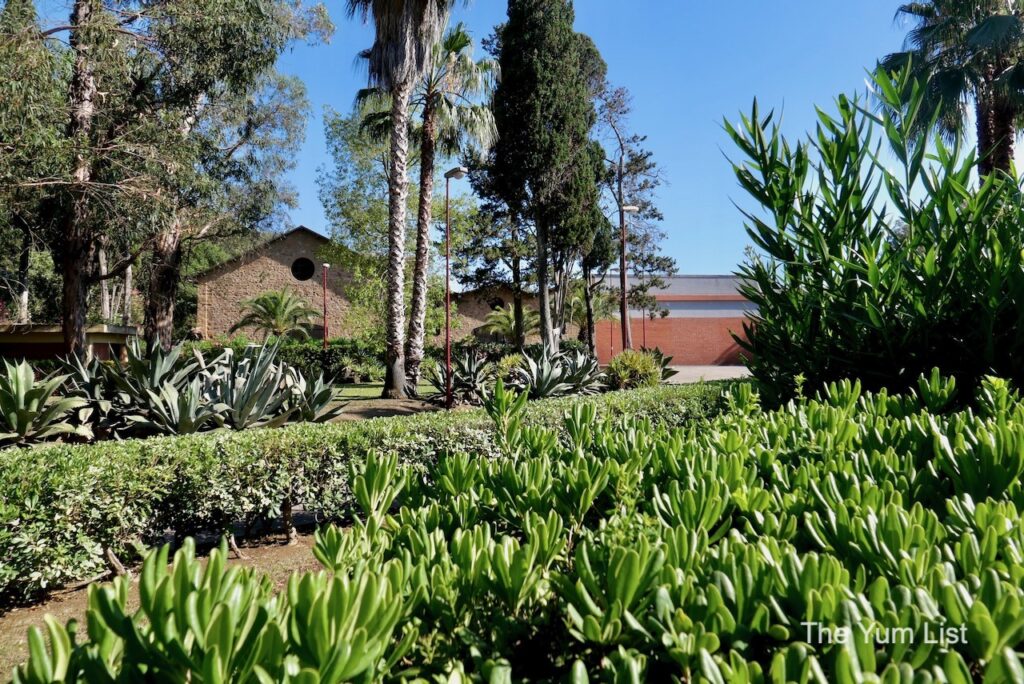 Sella & Mosca Winery, Alghero
Initially, the property on the north-western coast of Sardinia was established to foster grapevine rootstocks to be exported to other parts of Italy and Europe. Phylloxera had devastated over 70% of vines in France but Sardinia, isolated from the mainland, provided a haven to harvest the baby vines.
Shortly thereafter, major works commenced on the land. Vines were planted, a winery, worker house, school and small church were built, and 12 ½ acres were set aside to conserve Mediterranean flora.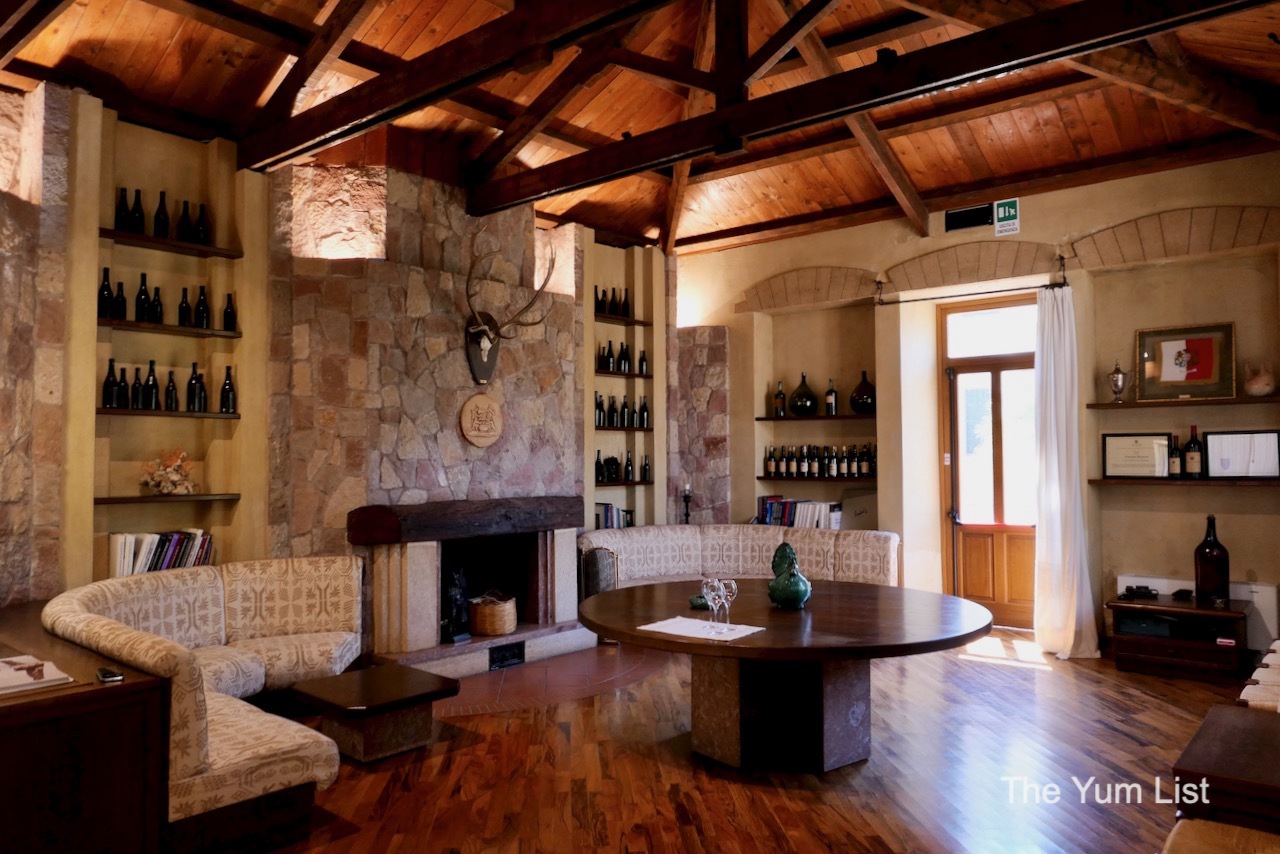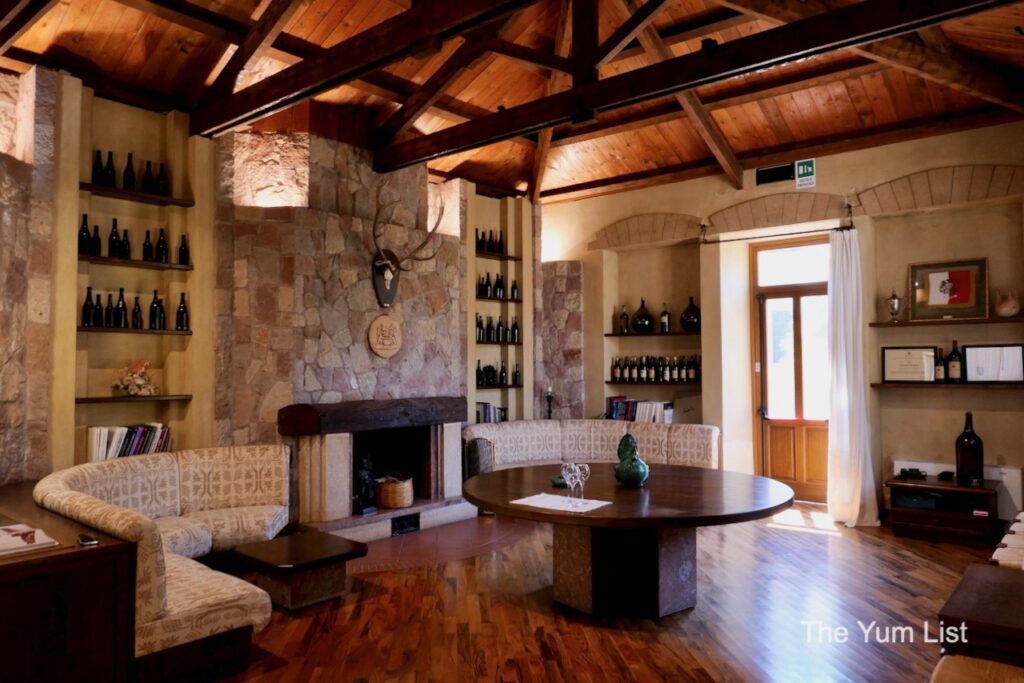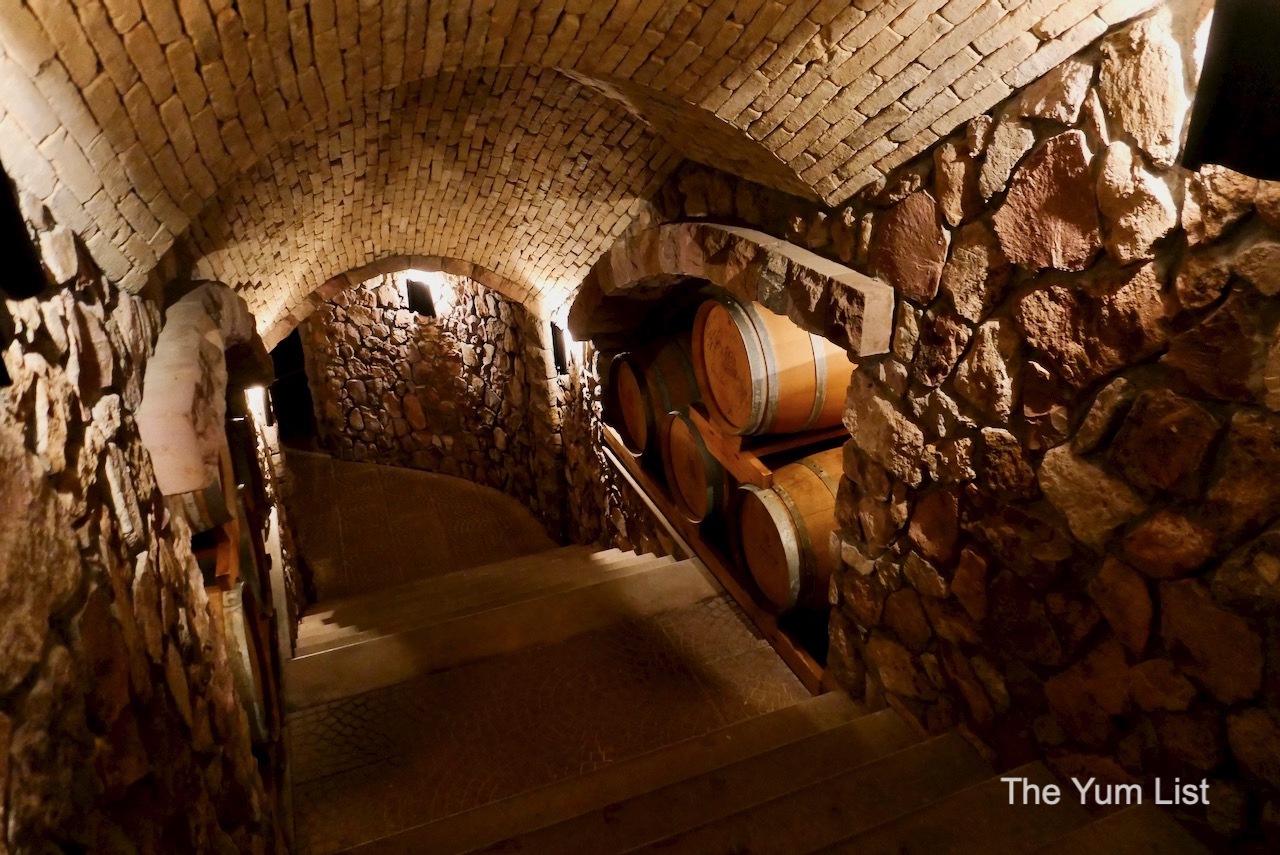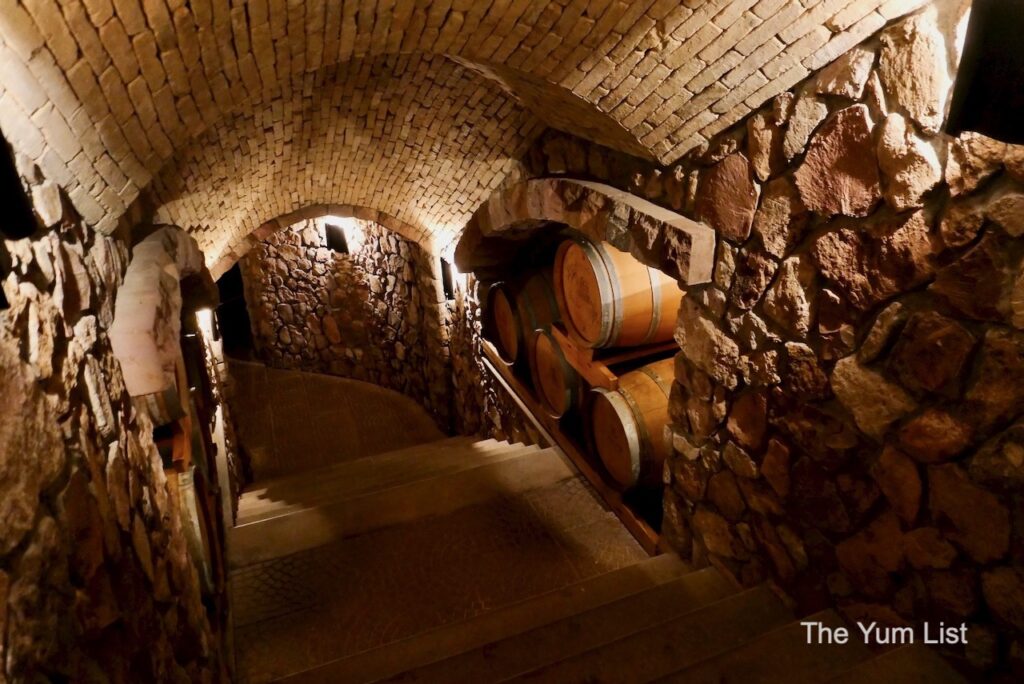 Terroir
Sella & Mosca's 650 hectares of scrub and vineyards make them one of the largest in Europe. Mirroring the local culture and terroir, wines are robust and full of character. Covering three DOCs – DOC Alghero, DOCG Vermentino di Gallura & DOC Carignano del Sulcis – you get a good taste of Sardinia here.
DOC Alghero
The principal and largest of the vineyards is DOC Alghero. They envelop the winery with all of the equipment and processing happening in the dead centre of the estate. The calcareous, clayey and sandy soils of Nurra are rich in iron and met with a sea breeze. Here we find Vermentino, Torbato, Sauvignon Blanc, Cannonau, Cabernet Sauvignon and Monica grapes.
DOCG Vermentino di Gallura
The primary grape cultivated in this region, Vermentino, benefits from granite and the slopes of Monte Limbara. Maritime influence and a hilly breeze foster fine, well-structured grapes in Gallura.
DOC Carignano del Sulcis
Lastly, Sella & Mosca has six hectares of land in DOC Carignano del Sulcis. Between the Iglesiente mountain range and Capo Teulada, is the home of Carignano. The soil is mineral-rich and sandy, and the microclimate causes the grapes to ripen earlier, bestowing good tannins and a soft structure. Most say the best Carignano on the island comes from this region.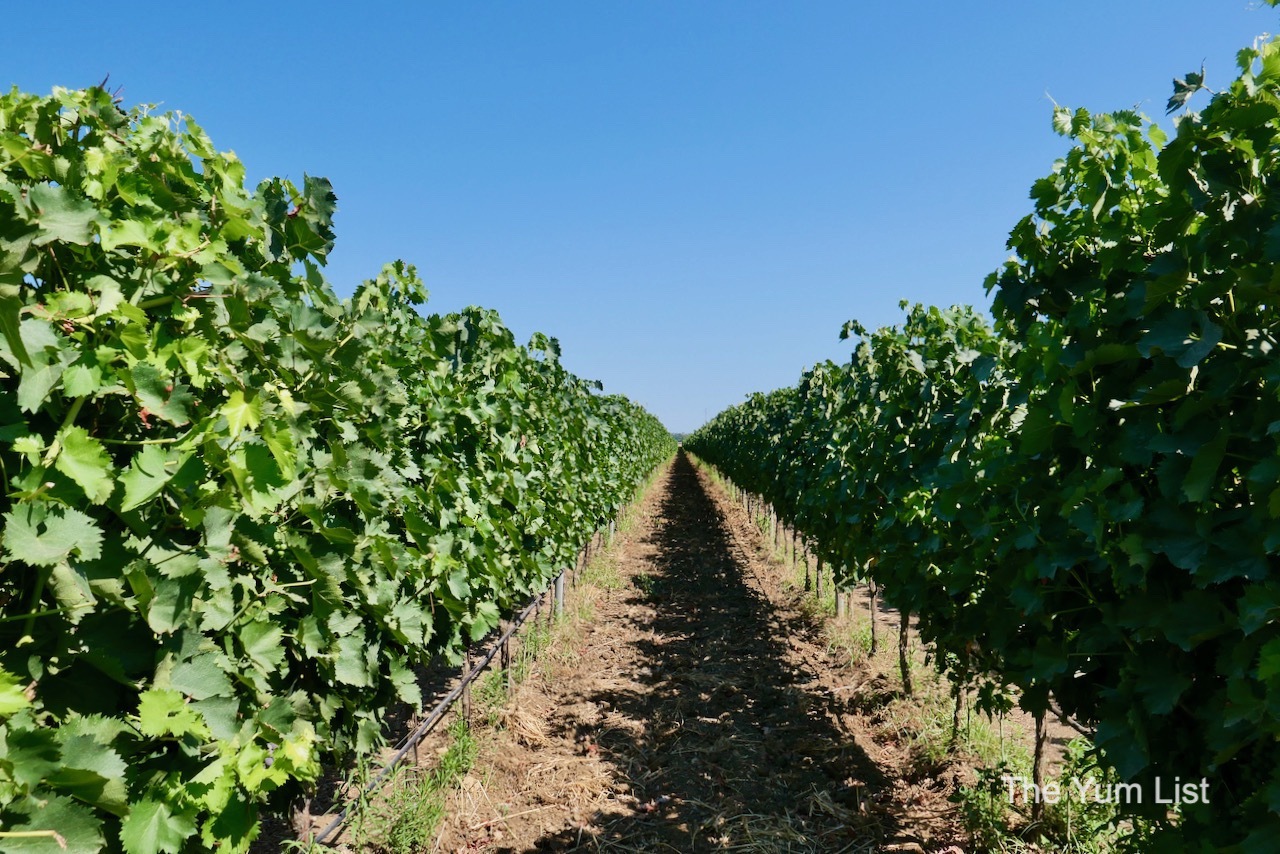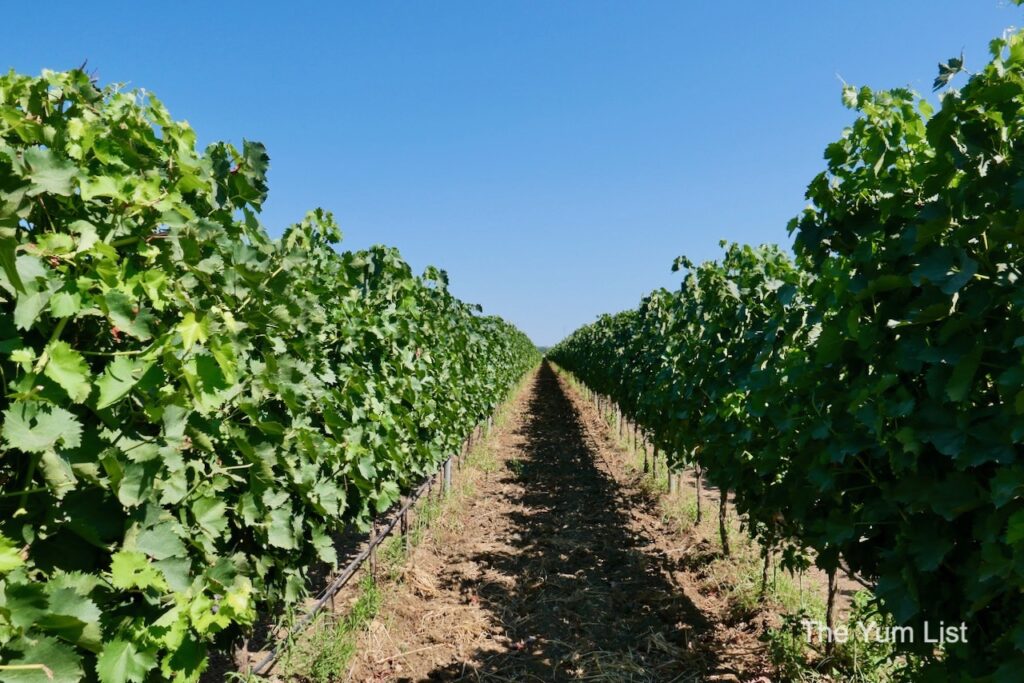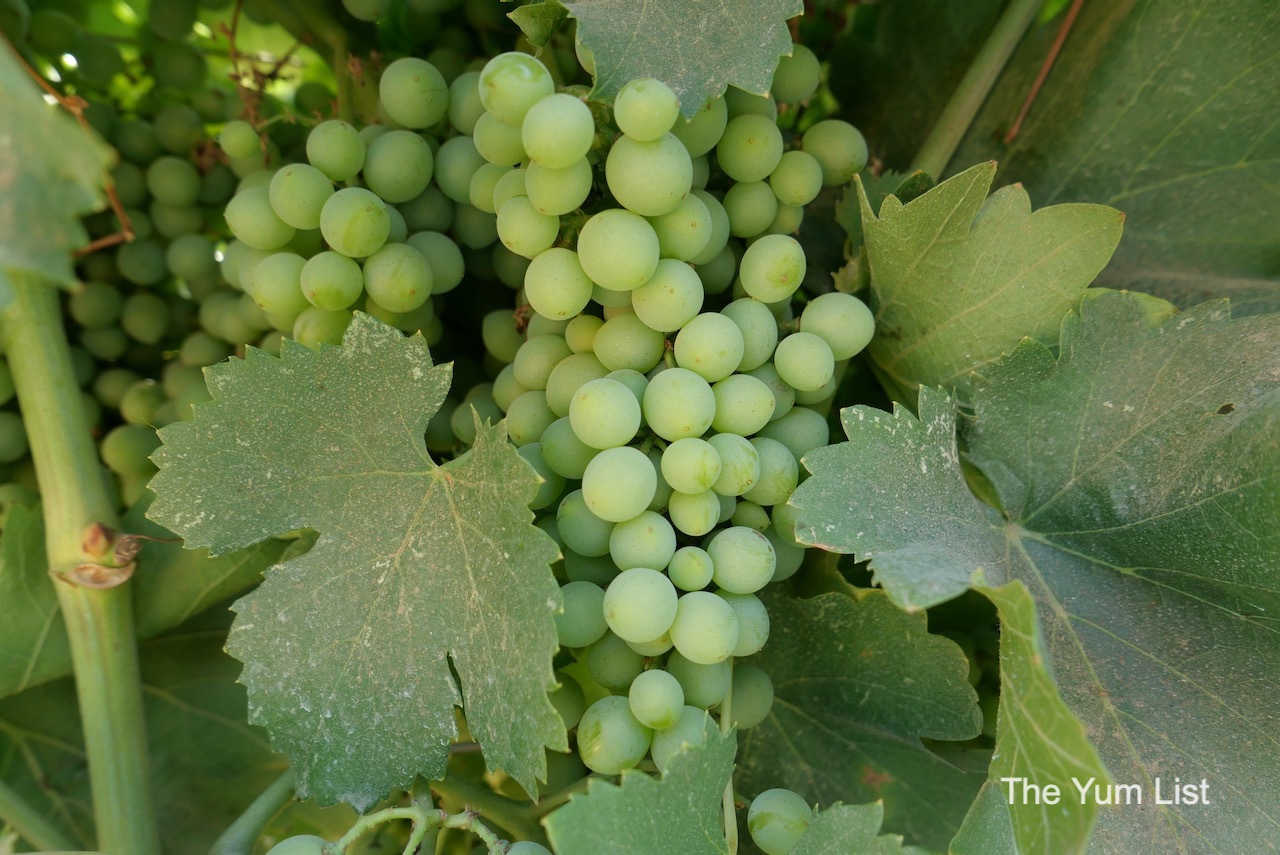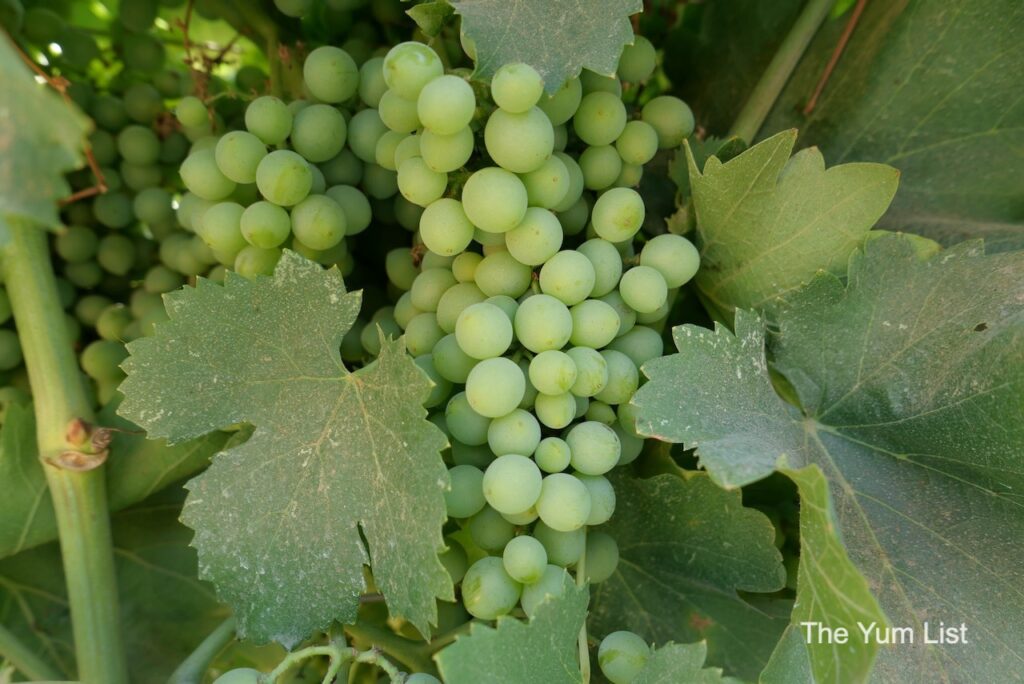 The People
Giovanni Pinna has been the estate's winemaker since 2000. He combines his scientific knowledge thanks to a master's degree in oenology and a PhD in microbiology with his passion for expressing the character of Sardinia in every glass. Additionally, he works hand-in-hand with Giuseppe Caviola, one of the country's premier consultants, consistently gaining acclaim for their wines. Ownership is by Terra Moretti Vino, also known for their hand in Franciacorta estate and Bellavista. This team is dynamite, benefiting from both expertise and funding.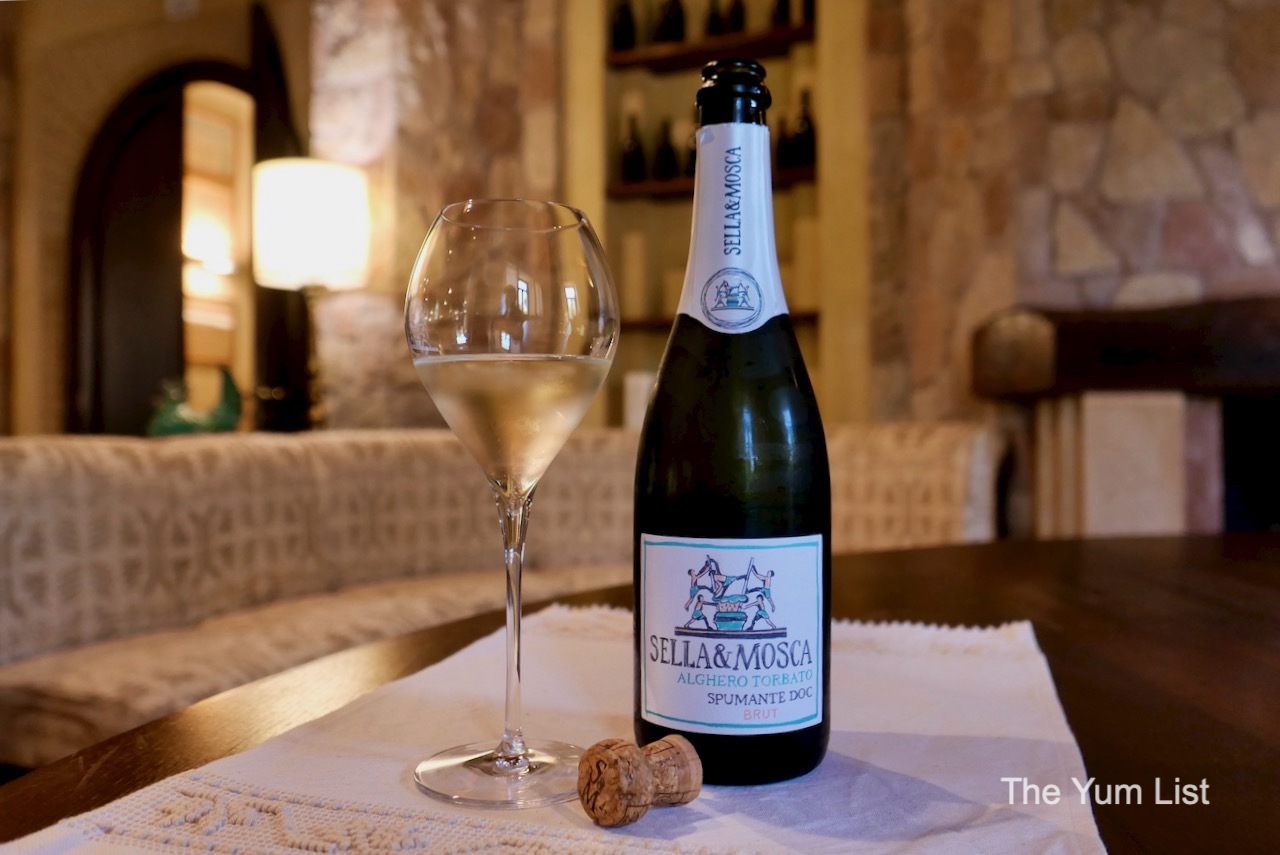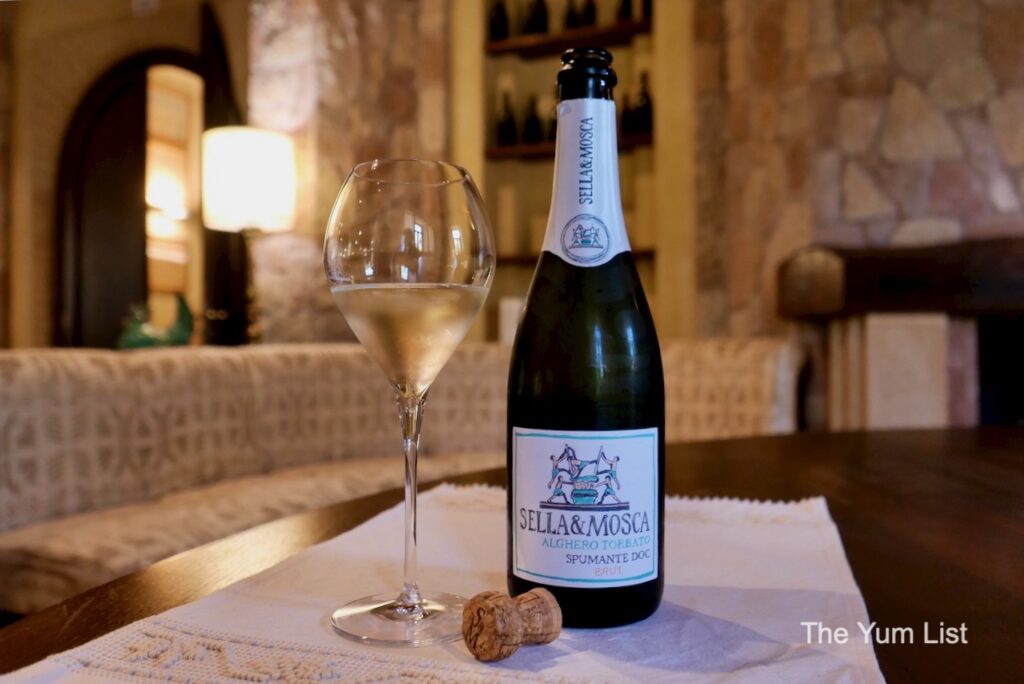 Nature Enhanced with Technology
On-site Winemakers Antonio and Giovanni reveal advanced use of technology in managing the vineyards and wine production. Soil and weather conditions are all monitored electronically, and the vines can be watered (or not) accordingly. There's even a device that traps insects using pheromones and reports back to base with images of quantity and breed. The same goes for winemaking. Long being forward-thinking production, the cellar is rich in cutting-edge science and equipment, sure to make many a winemaker envious. As we walk through the various sections, we see evidence of how the winery continues to advance over time, constantly updating and staying top of their game.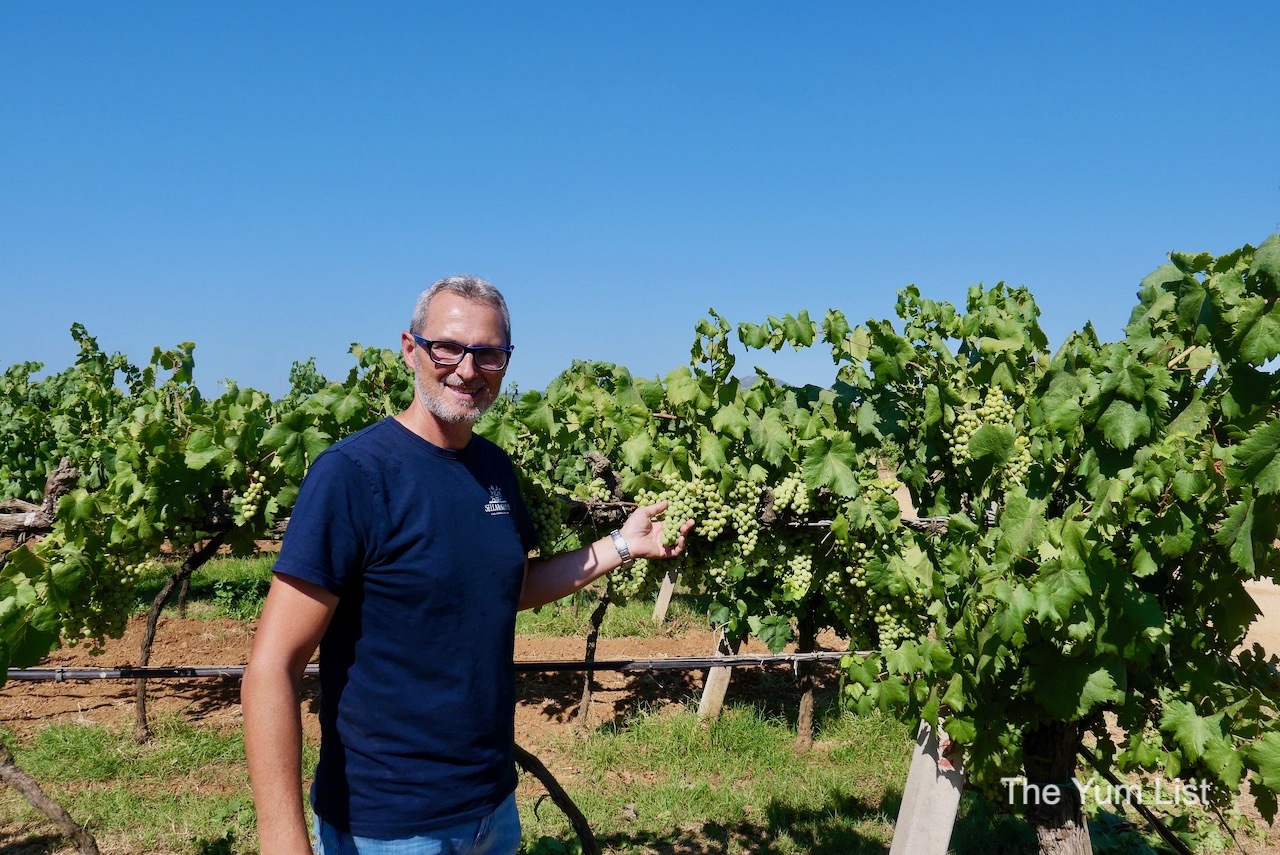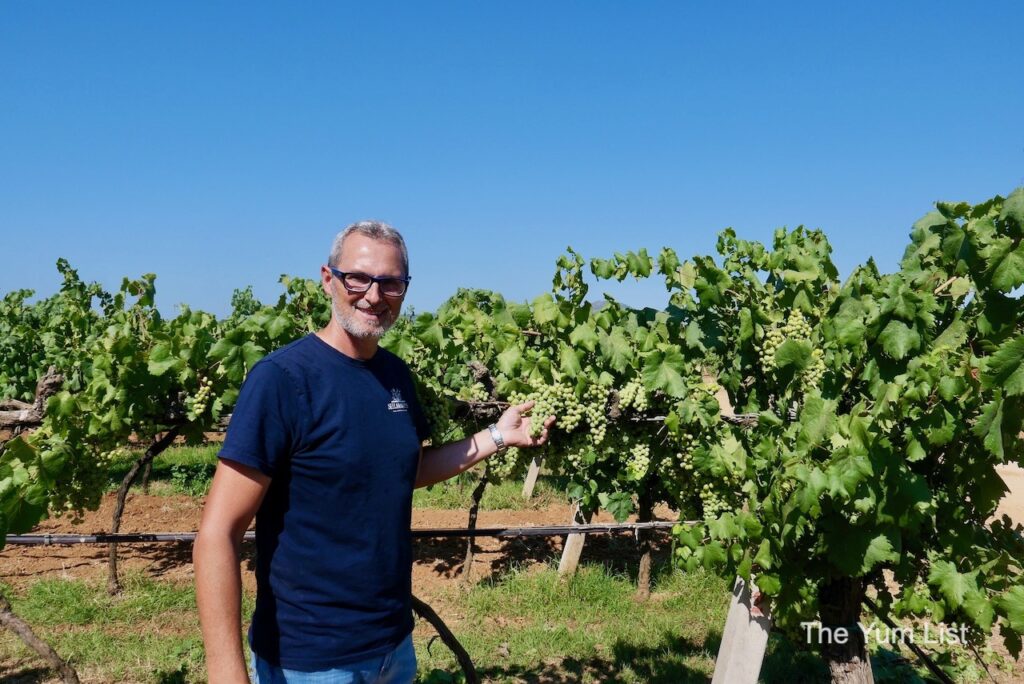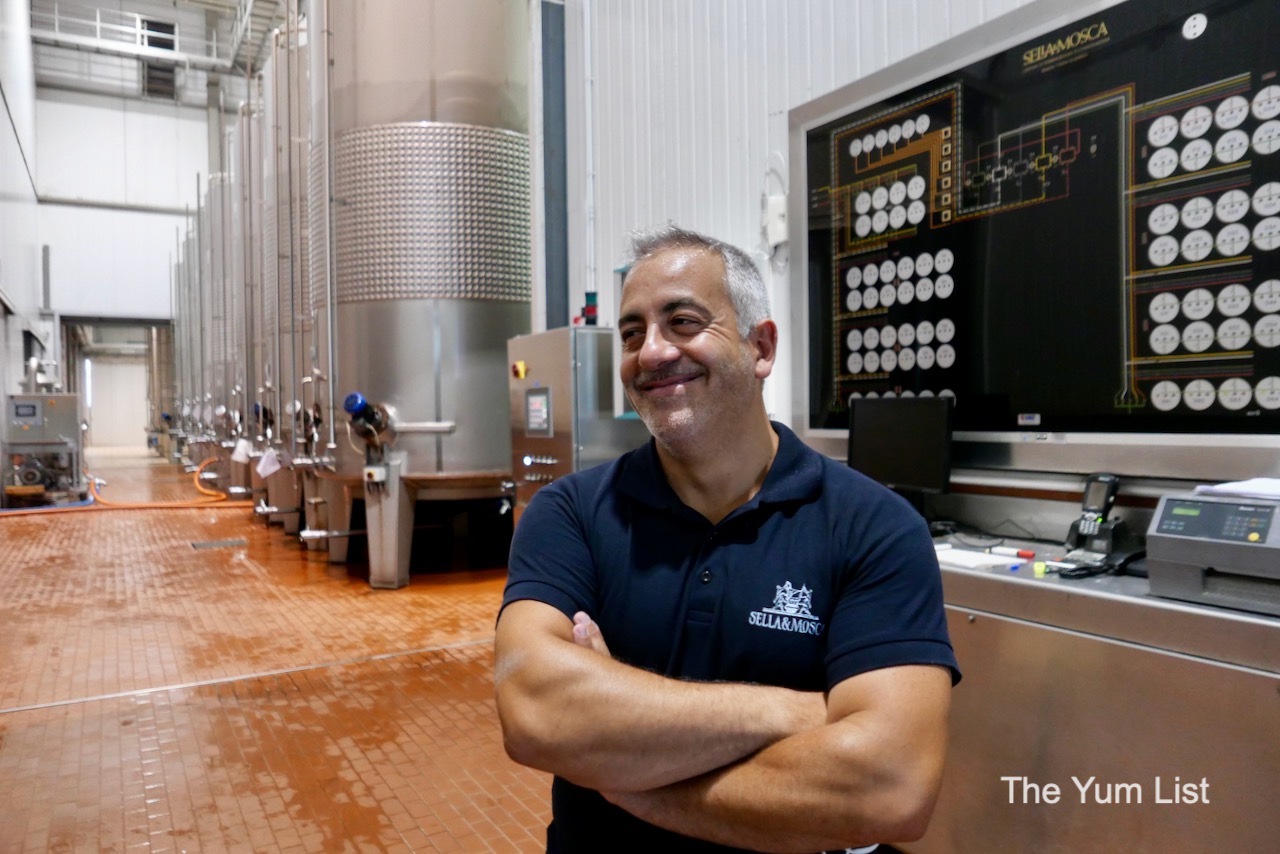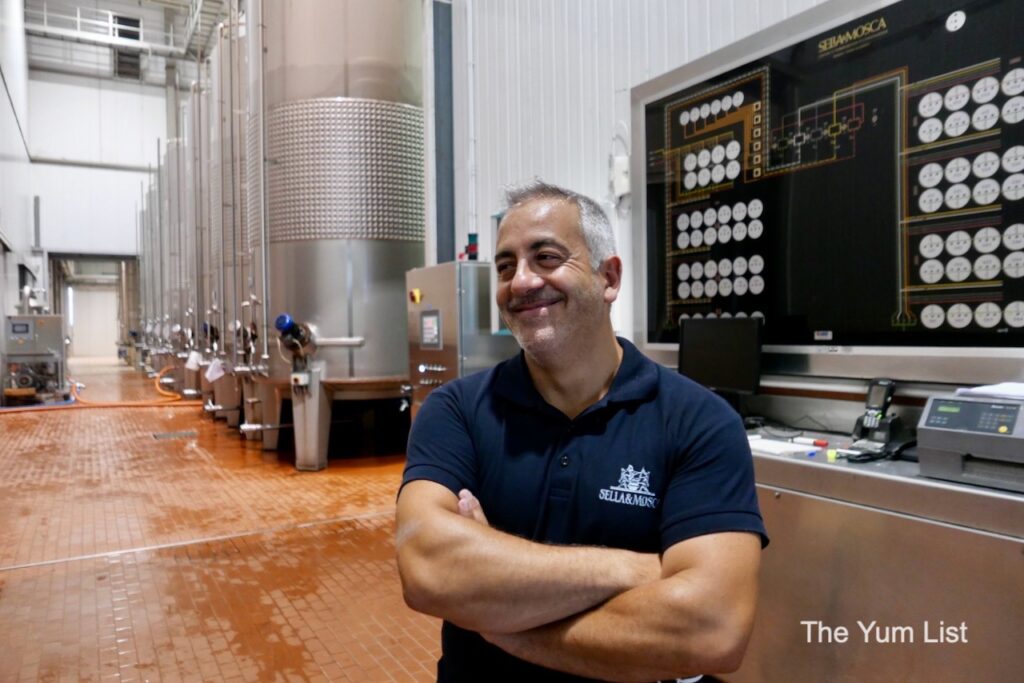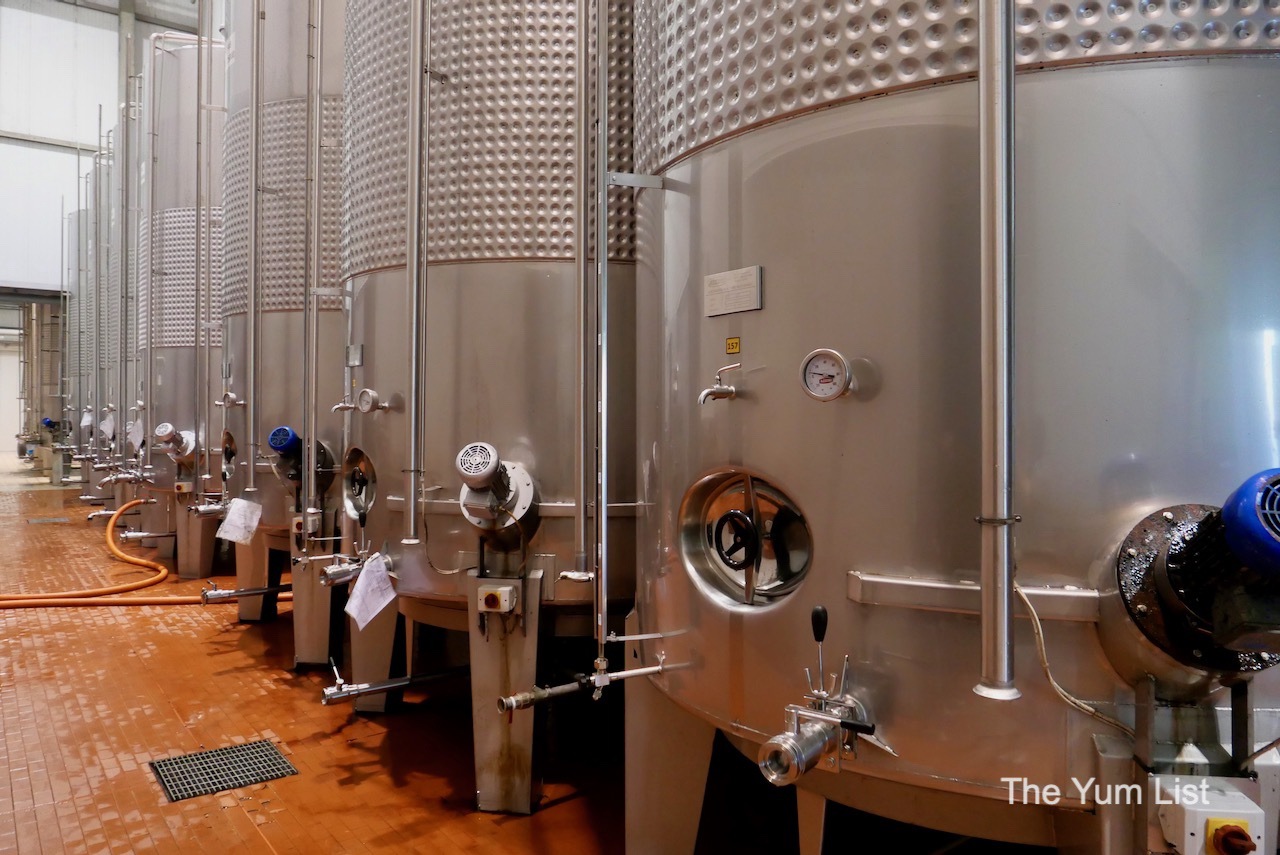 Wines
Winemaker Antonio and Public Relations Manager Antonella take us through several tastings of Sella & Mosca's white and red wines. The range is vast; there's much to discover here.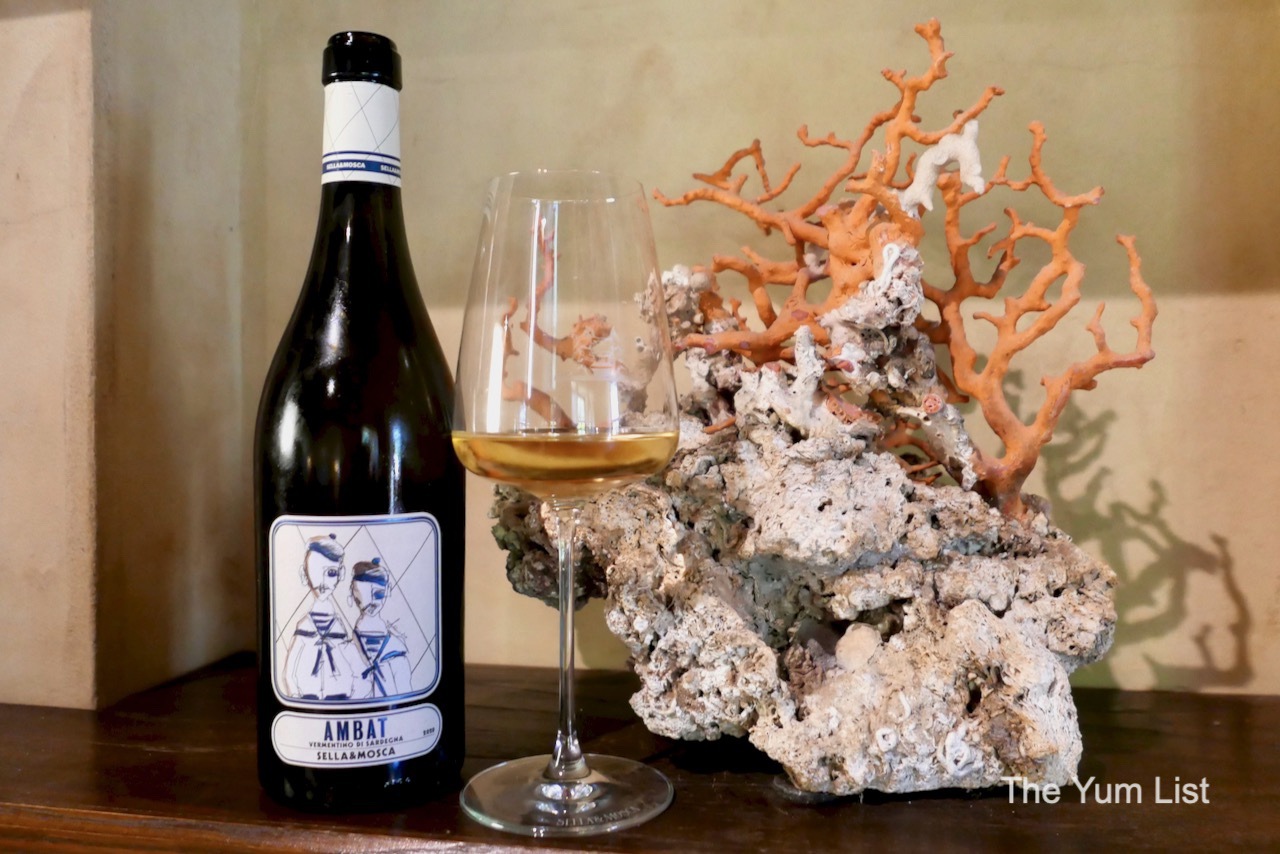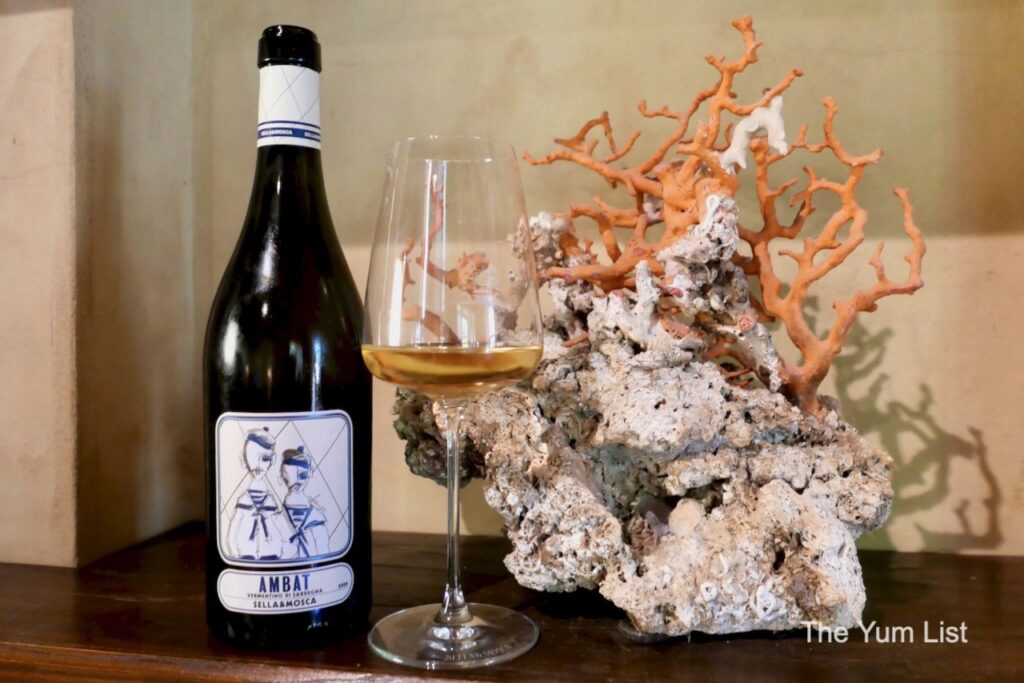 Vermentino
As mentioned, the primary plots of vineyards are in Alghero, so the majority of Vermentino grown is DOC Sardinia. However, a smaller hectarage in Gallura also produces Vermentino di Gallura DOCG.
Sella & Mosca, La Cala Vermentino di Sardegna 2021
La Cala Vermentino di Sardegna (12.5%) is best appreciated in its youth. It's an easy-drinking wine, great for summer weather. Perfumed with fruit and floral notes, it follows through smooth in the mouth with more fruit, acidity and just a touch of bitterness in the aftertaste.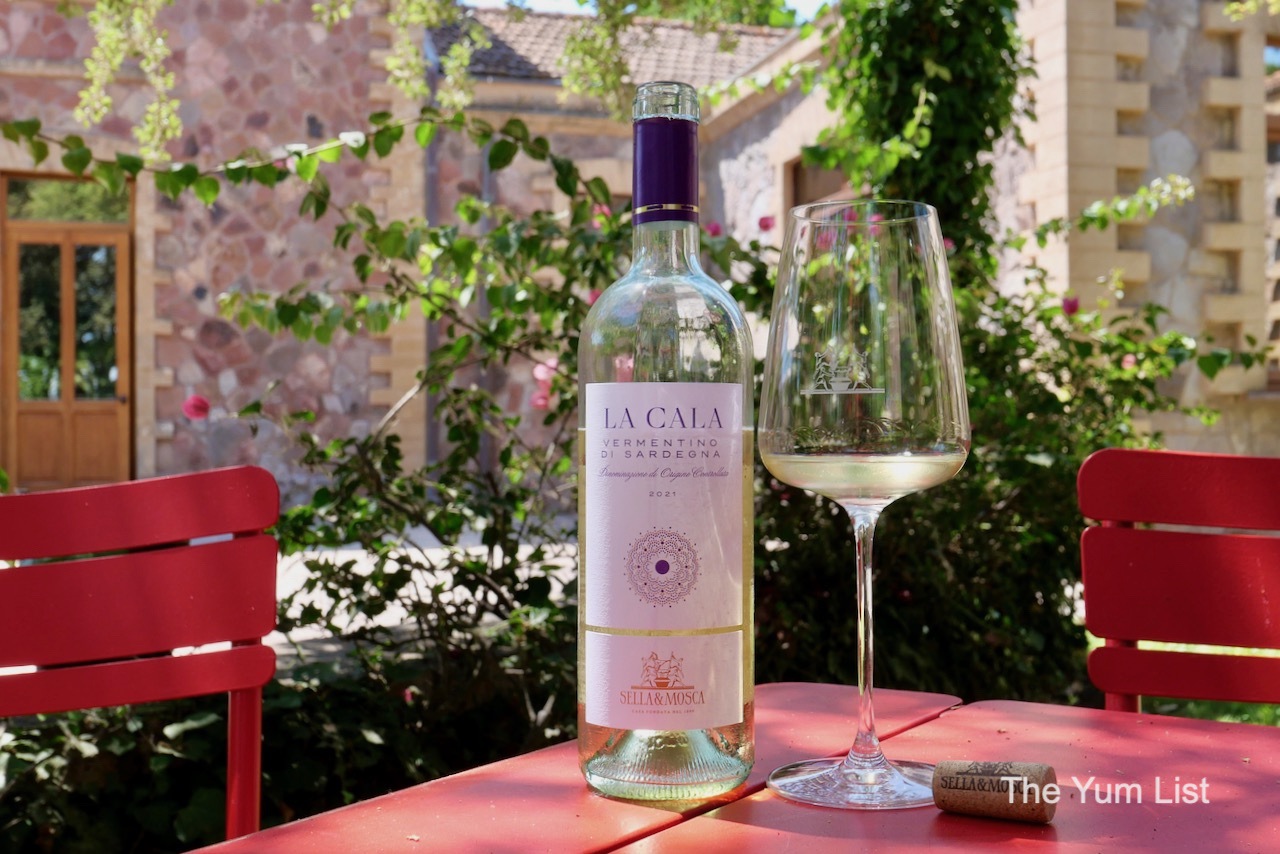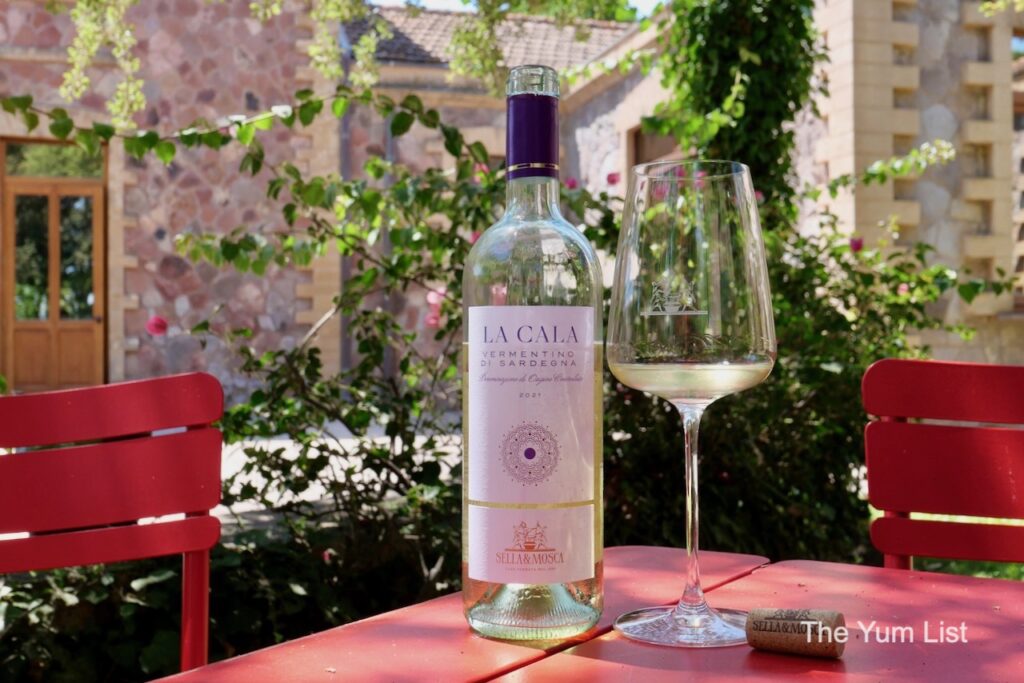 Sella & Mosca, Cala Reale Vermentino di Sardegna 2021
The Cala Reale (13.5%) is made from a pickier selection of grapes, making a stronger expression. More distinctive, and not as light, it offers similar characteristics to La Cala with a tropical influence. It feels just a little more important, so while you might drink La Cala alone or with food, the Cala Reale might take you further into a meal.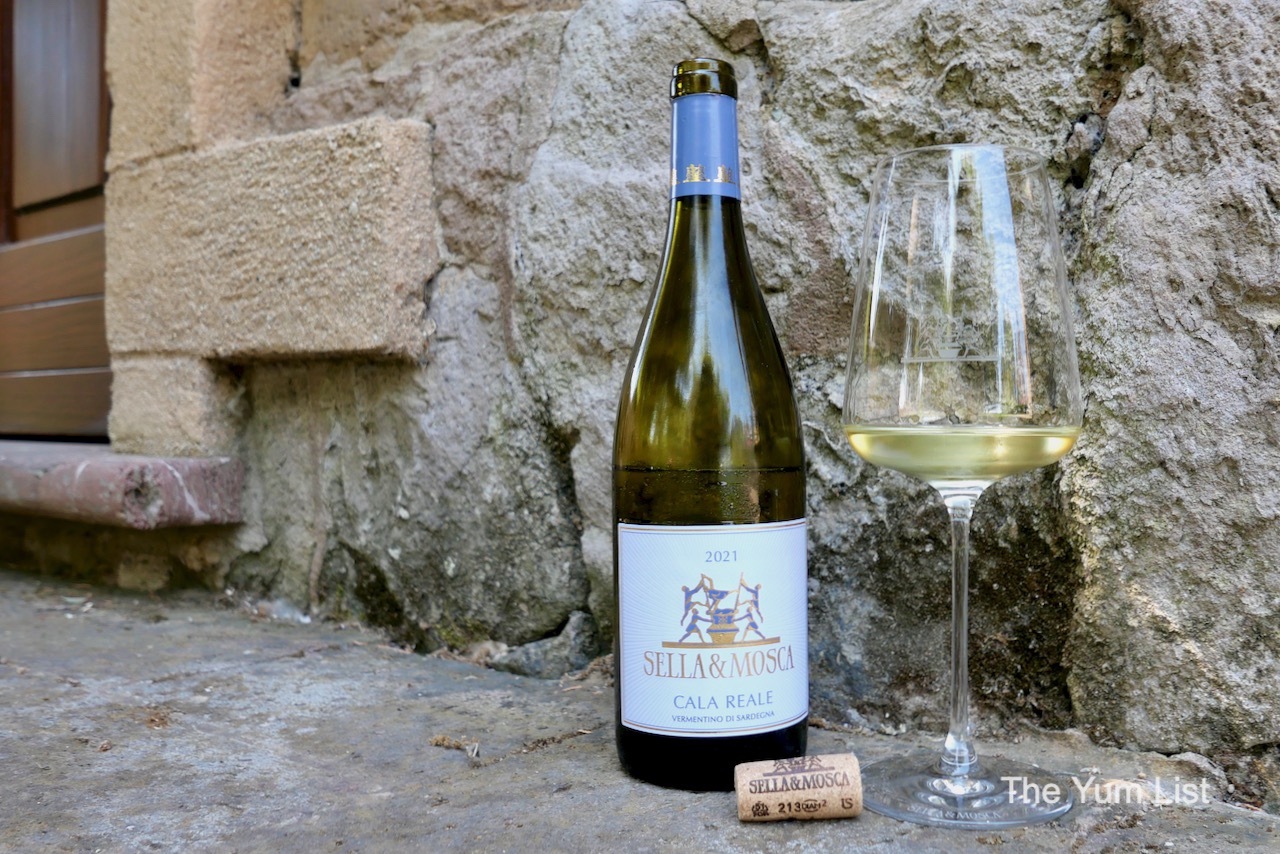 Sella & Mosca, Monteoro Vermentino di Gallura 2021
Coming from the distinctive, granite-rich soils of Gallura, the Monteoro (14.5%) is augmented in colour and, as such, bottled in clear glass to show off its beautiful hue. The colour is also reflected in its name, Golden Mountain. The perfume is like walking through the Mediterranean scrub just after the rain, rich in vegetation typical of the island with hints of rosemary and thyme. The scents come in waves, much like the wind blowing in different directions bringing various notes to the nostrils. Of course, there's distinctive minerality and a lengthy conclusion, considered the best expression of the grape.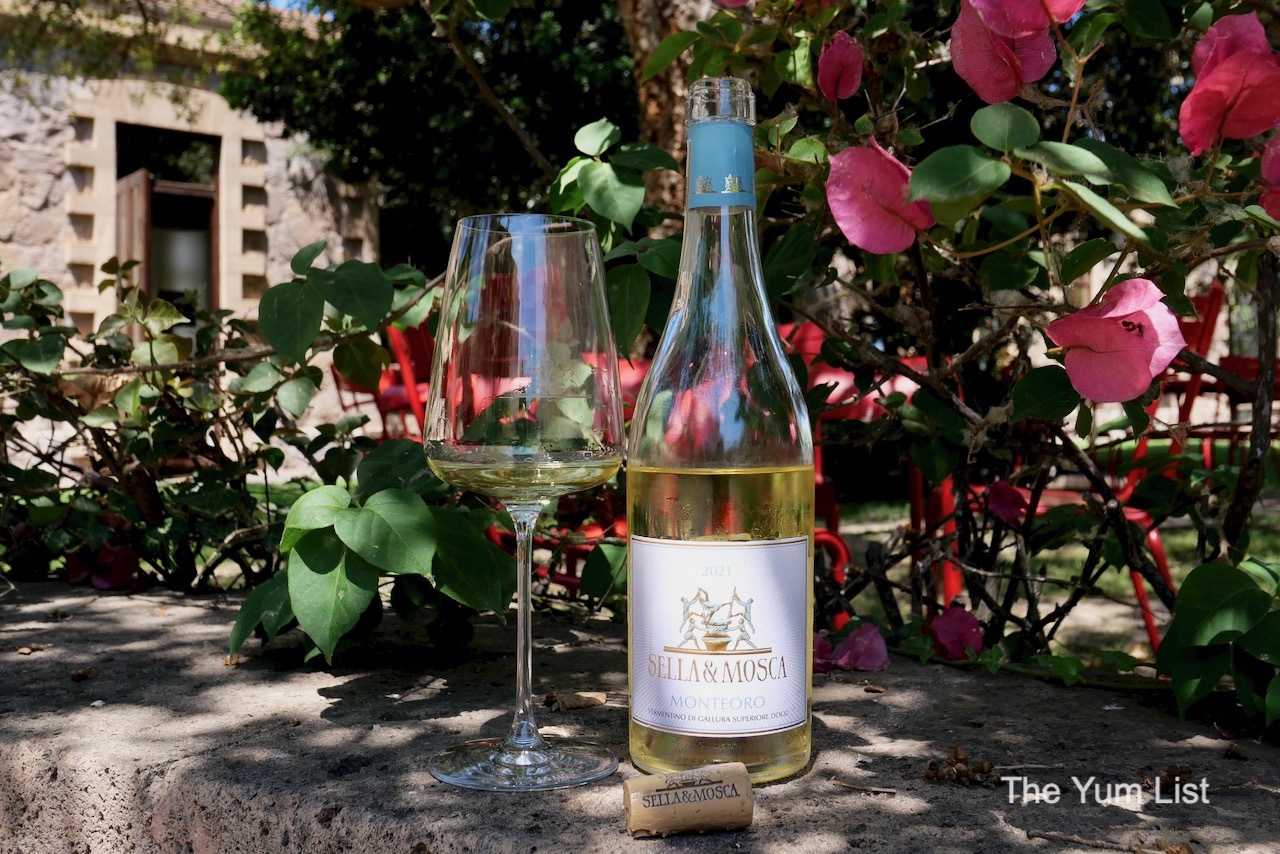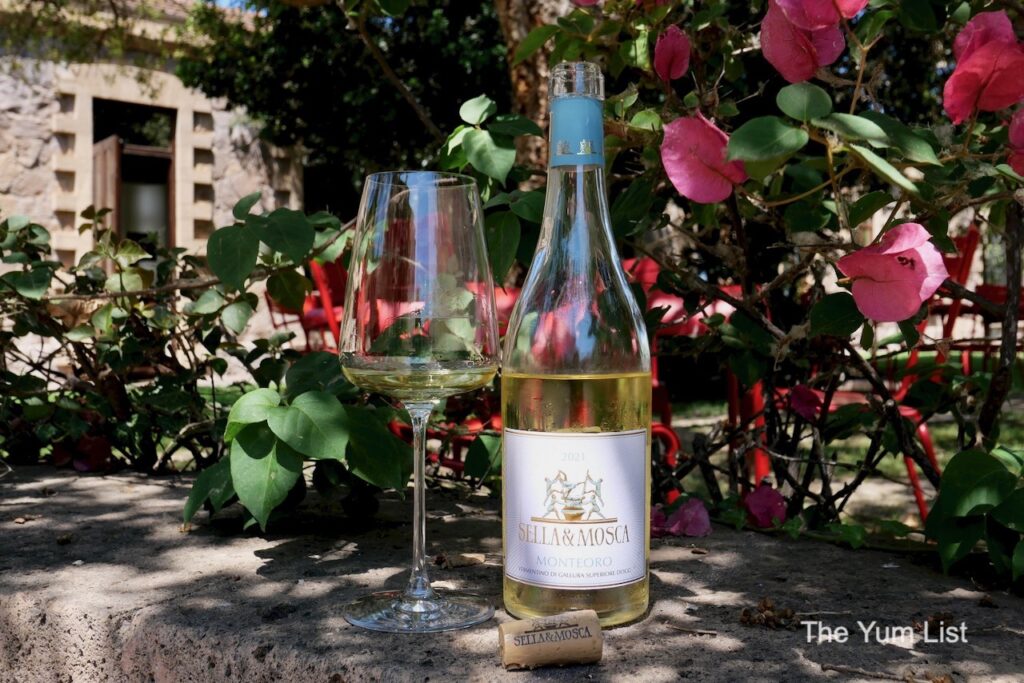 Alghero Torbato
The first Torbato vintage was in 2007, and our mini vertical tasting shows its potential for ageing with tastings from 2021 back to 2015. Lining the glasses up, it's interesting to see the evolution of colour becoming more intense with age. All in this line-up (with the exception of sparkling) are made in the same way, with 15% aged in wood for around eight months, furnishing a minimal, delicate presence. Until recently, Sella & Mosca was the only winery producing this grape. It's something distinct, a defining part of the company's identity.
Sella & Mosca, Oscari, Torbato Sparkling, 2017
Isn't the best way to begin just about anything (including a tasting) with a glass of bubbly? Sella & Mosca's Oscari, Sparkling, 2017 was given its name and label design by internationally-acclaimed local designer Antonio Marras. Made with the Torbato grape using the Champenoise Method, the character on the label is an exuberant dandy, a Sardinian who recently returned from France, changing his name from Oscar to Oscari. The wine spends 24 months on the lees, showing the longevity of this grape. It's deeper in colour than sparkling made with the Charmat Method and produces smaller bubbles. Dried fruit and spice are present on the nose. In the mouth, it's lively with bright acidity and mineral notes leading to a long, persistent finish. It reminds me a little of apple pie.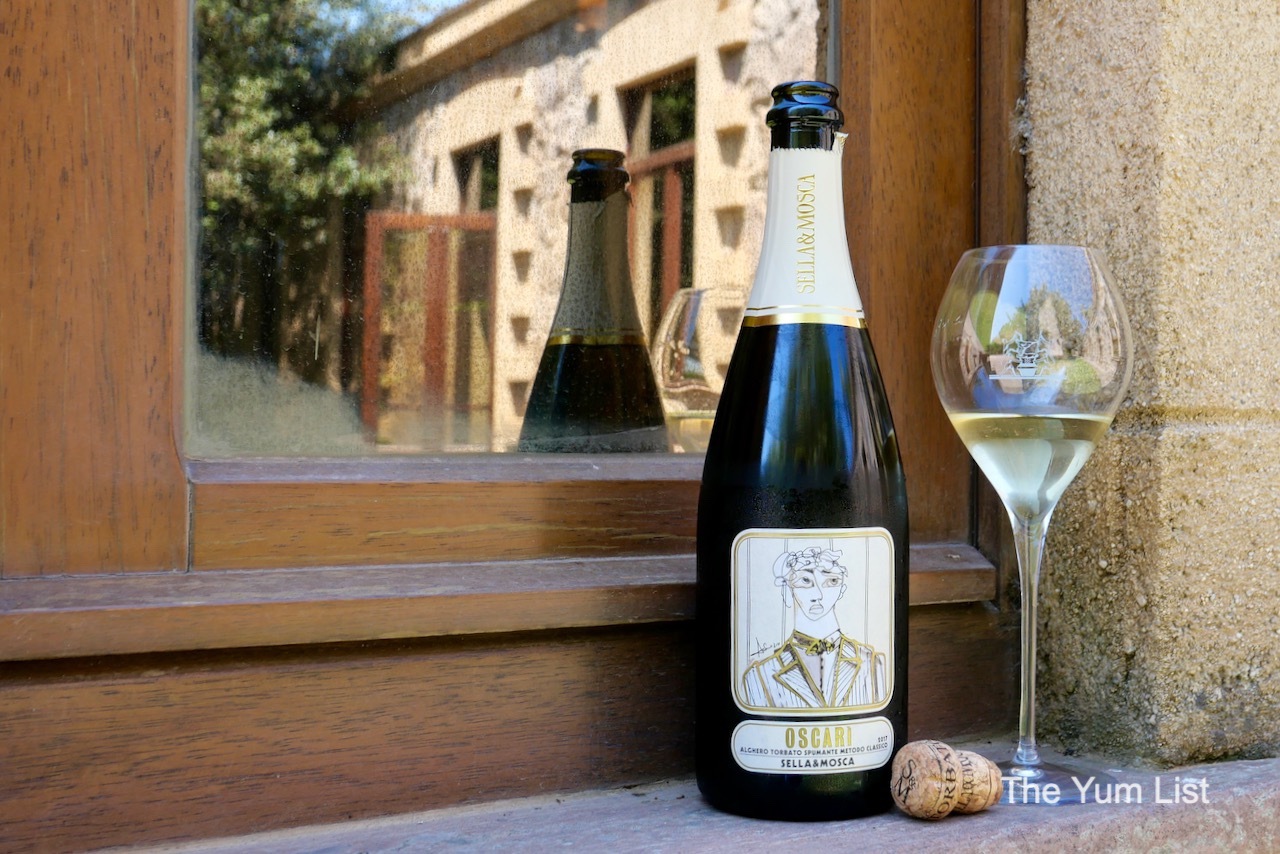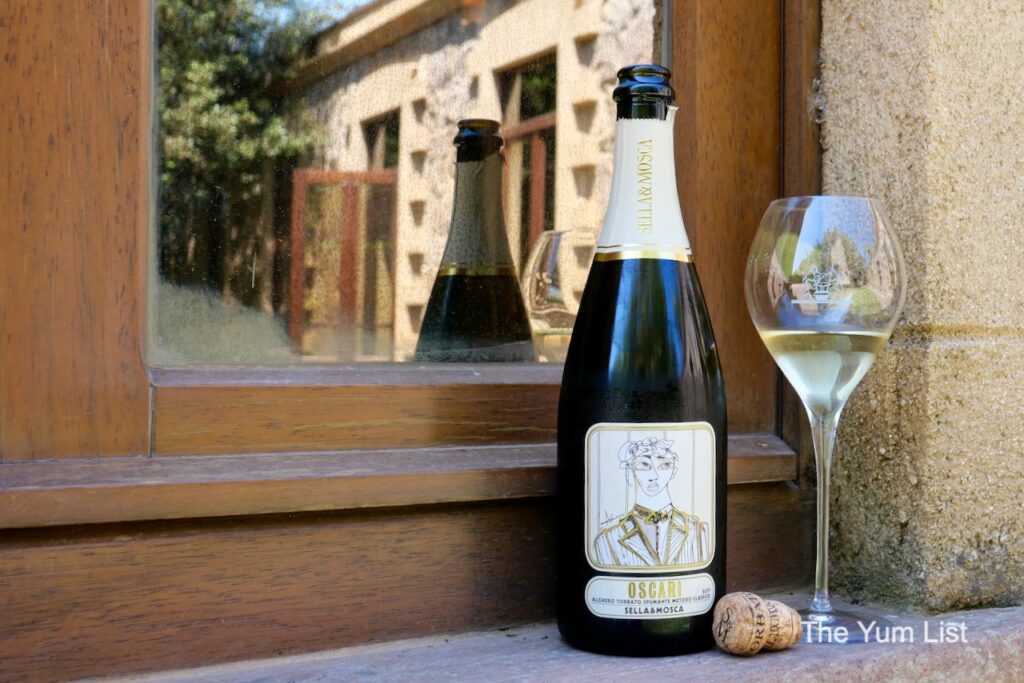 Sella & Mosca, Alghero Torbato, Terre Bianche Cuvee 161, 2021, 2019, 2017 & 2015
Sella & Mosca's, Alghero Torbato, Terre Bianche Cuvee 161 garners its name from the 161 stainless steel tanks used in its first year of production. Looking for something familiar to compare this new grape to, we consider Vermentino. The Torbato is darker in the glass becoming more intense with age. The bouquet is also more intense, much like the difference between eau de toilette and fine perfume. There's more minerality, a faint saltiness and structure, but it's soft at the same time.
As the wine ages, the bouquet turns toward candied fruit, with honeyed aromas and the introduction of Mediterranean herbs such as liquorice. It's rounder, smoother and more robust with a lingering finish. The oldest, 2015, is a little reminiscent of Riesling with a thread of petrol detected. Climate change is noted in the flavour with the introduction of a cold mistral wind arriving in spring (which didn't previously occur), reducing production. It also brings a certain saltiness, enhancing the palate and aromas.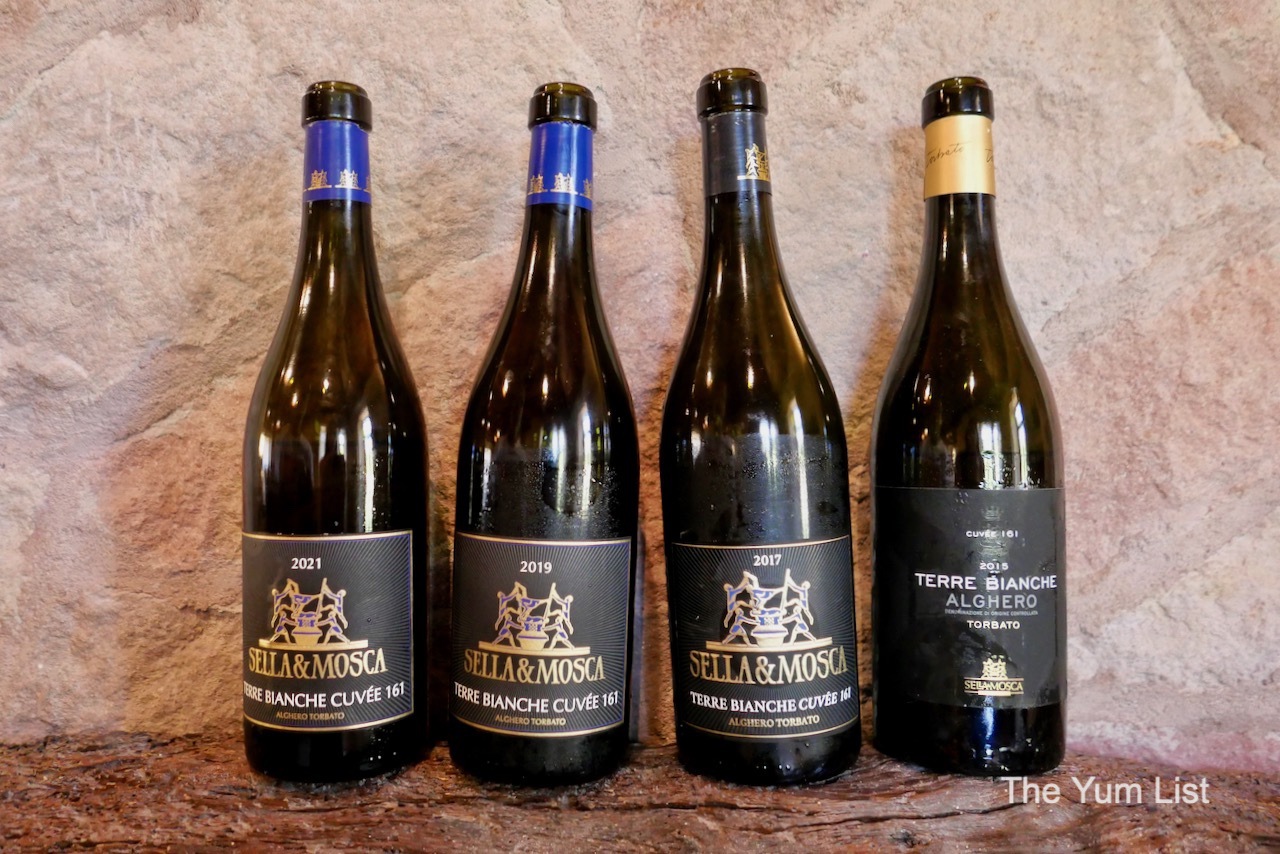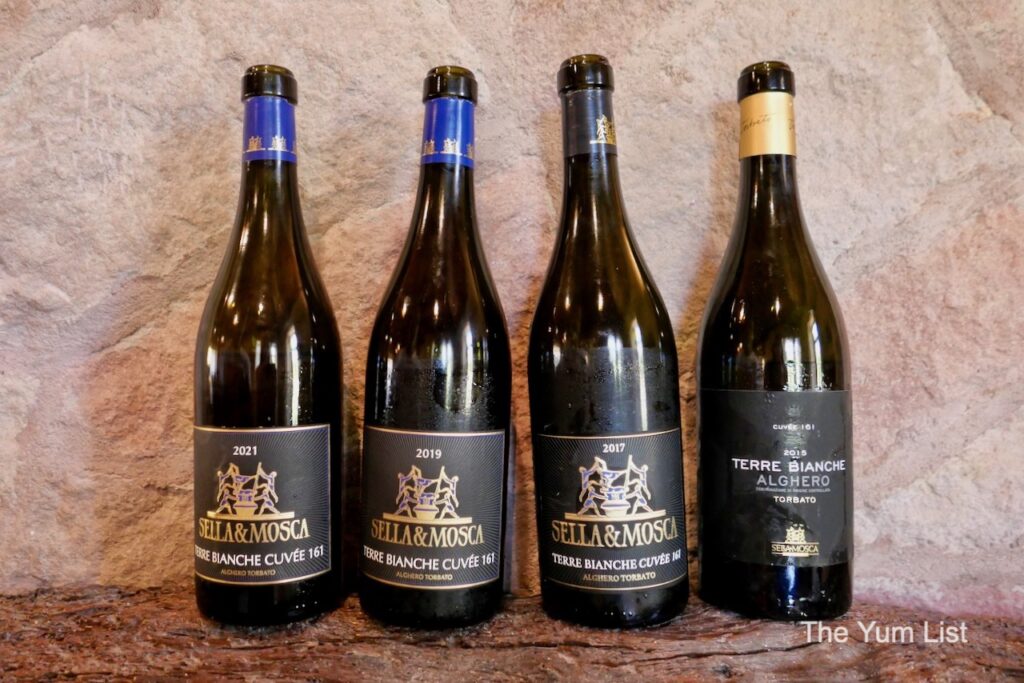 Red Wine Sella & Mosca
Reds are next with Cannonau, a blend, and a special series of Cabernet Sauvignon, which even gets its own dedicated cellar and museum.
Sella & Mosca, Mustazzo, Cannonau di Sardegna, 2018
We see Antonio Marras's hand reappearance in the design of the Cannonau di Sardegna label, The Moustache (15%). Mamoiada, where the grapes grow 600-700 metres above sea level, brings a wide temperature range, positively affecting the colour and aroma of the wine. In one of several ethical projects, purchasing grapes from this small village aims to provide work for young people who might otherwise leave for the city. The wine is relatively light in the glass, translucent enough to read the newspaper headlines through. Its youth shows in its pink rim. It might look like pinot noir, but there's no forest floor here. It's vibrant, fresh and lively with attractive fruit and violet notes.
Sella & Mosca, Tanca Farra, Sardegna Alghero Rosso, 2018
The Tanca Farra is darker in the glass, an immediate sign it's a blend, in this case, Cannonau (50%) and Cabernet Sauvignon (50%). Sella & Mosca was one of the first companies to produce cabernet sauvignon, first as a blend in 1982 and later as a single grape in 1989. On the nose, fruitiness is present, but there are also herbaceous elements. The cabernet sauvignon reduces the fruitiness a little and gives importance to the wine. The team recognize Cabernet Sauvignon as appealing to a more international market. It offers elegance and structure, similar to comparing a cocktail dress to a ball gown. The cab sav increases aging potential, and each grape is first aged separately in barriques and later blended in the bottle.
Vertical Tasting of Marchese di Villamarina
One of the most prized lines by Sella & Mosca is Marchese di Villamarina, a select production of cabernet sauvignon. It even has a dedicated cellar and museum. Cannonau is known as the king of the vines in Sardinia, so the introduction of cabernet sauvignon in the 80s was something unexpected. Due to the Mediterranean climate conditions, it's distinctly different to the Bordeaux style, making it quite unique.
Sella & Mosca, Marchese di Villamarina, Alghero Cabernet Sauvignon, Riserva, 2016, 2012, 2008 & 2004
The goal for the Marchese di Villamarina line is elegance over power. Fermentation lasts about two weeks, followed by ageing for two years in French barriques. The fruit typical of the grape is felt, but it's tempered by warmth and Mediterranean spices, some anise and vanilla. 2016 was an excellent vintage. The 2012 sees the aromas augmented with the fruit lessening and balsamic starting to show through. In the 2008, the tannins continue to smooth, and here, you find more earthy notes, leather, forest floor, medium-plus acidity, and a longer finish. Lastly, the 2004 was a pillar vintage. It's layered, integrated and smooth. If you can get your hands on this one, don't miss the chance.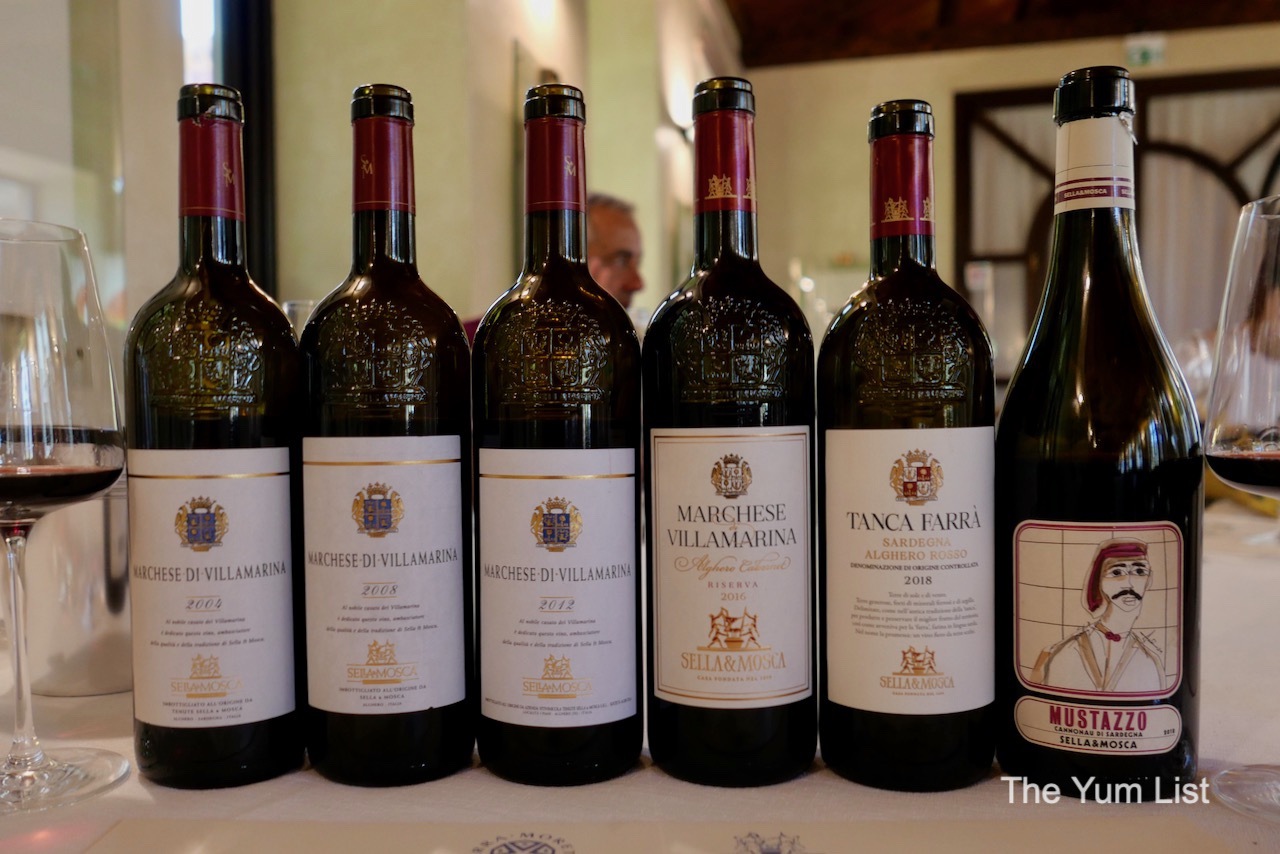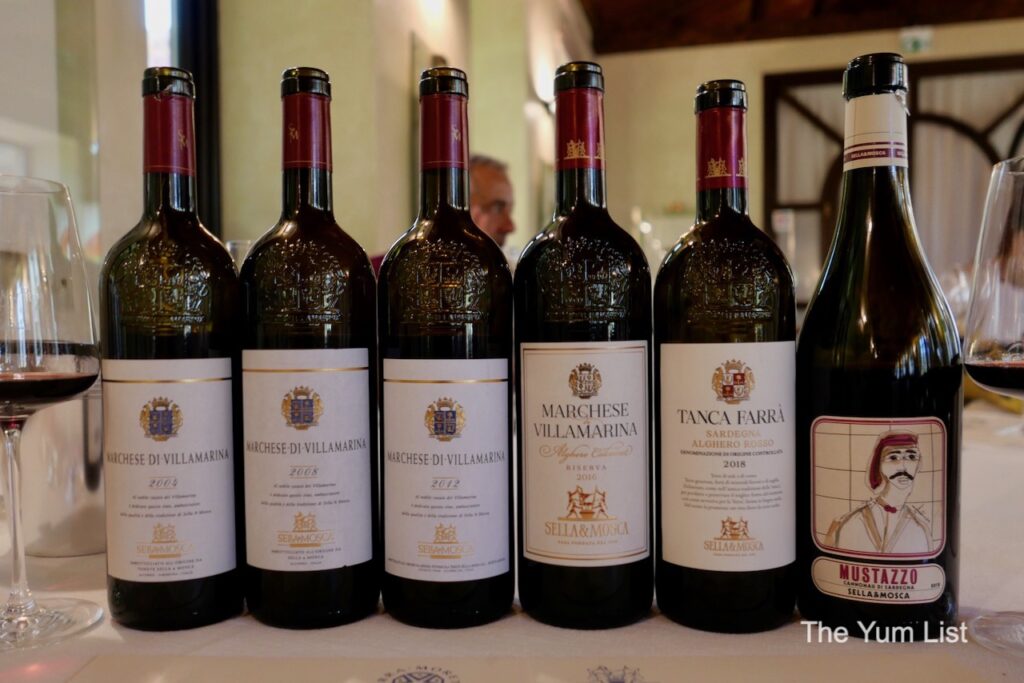 Sella & Mosca Winery Visits
If you'd like to visit Sella & Mosca in person, you can reserve a slot year-round, Monday to Saturday and choose between English and Italian languages. Each visit lasts for between one and three hours and is priced between 15 and 50 Euros per person (maximum 20 people). The Tradizione tour includes a visit to the Historic Cellars and a tasting of two wines. The Innovazione includes a visit to the Historic Cellars and the Villamarina's Cellar with three wines and a selection of local specialities. The Territorio adds in a visit to the museum honouring the archaeological finds discovered when building the estate, a walk along the vineyards and an additional wine. Additionally, Thursday evenings, there's live DJ music, offering an upbeat vibe and a good crowd. Alternatively, the wine shop is open on weekdays, and here you can taste wine by the glass in the tasting room adjacent to the wine cellar.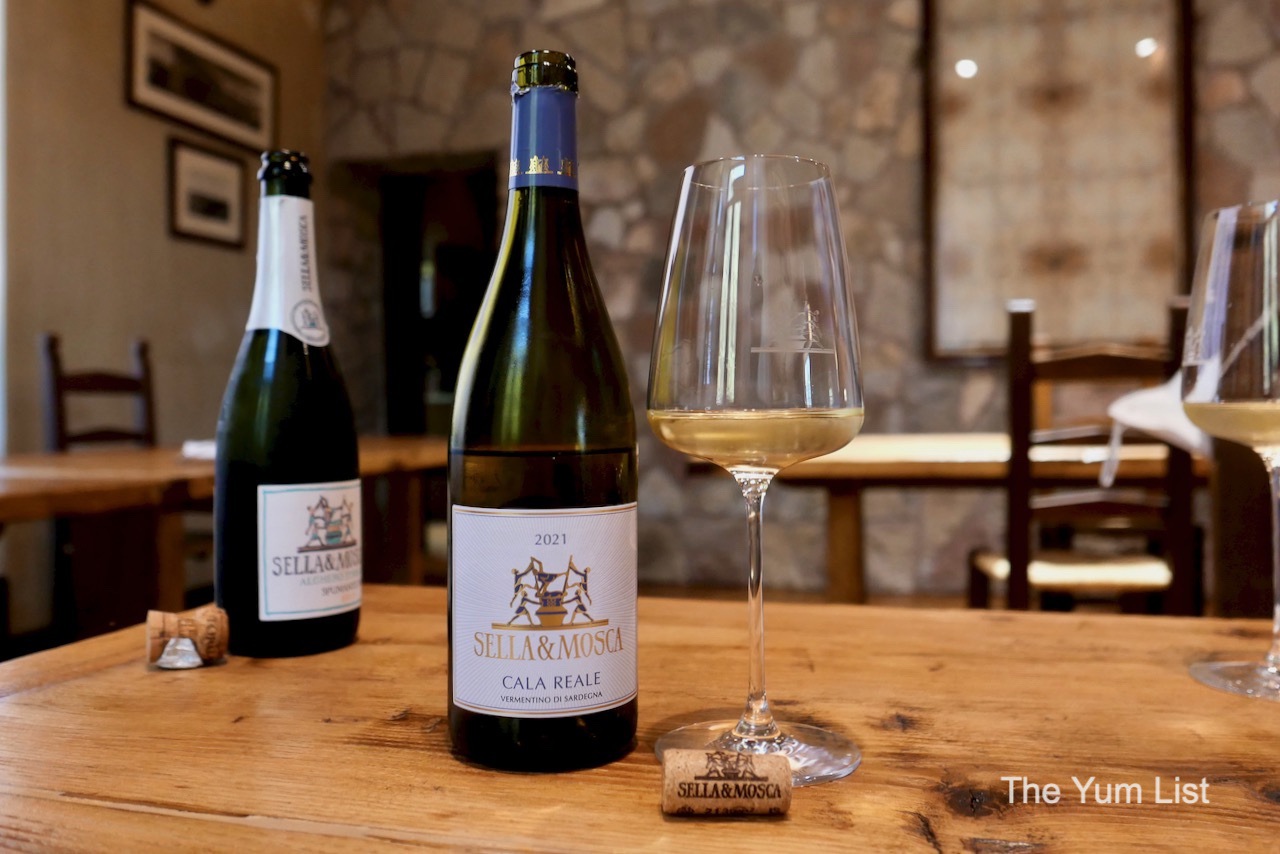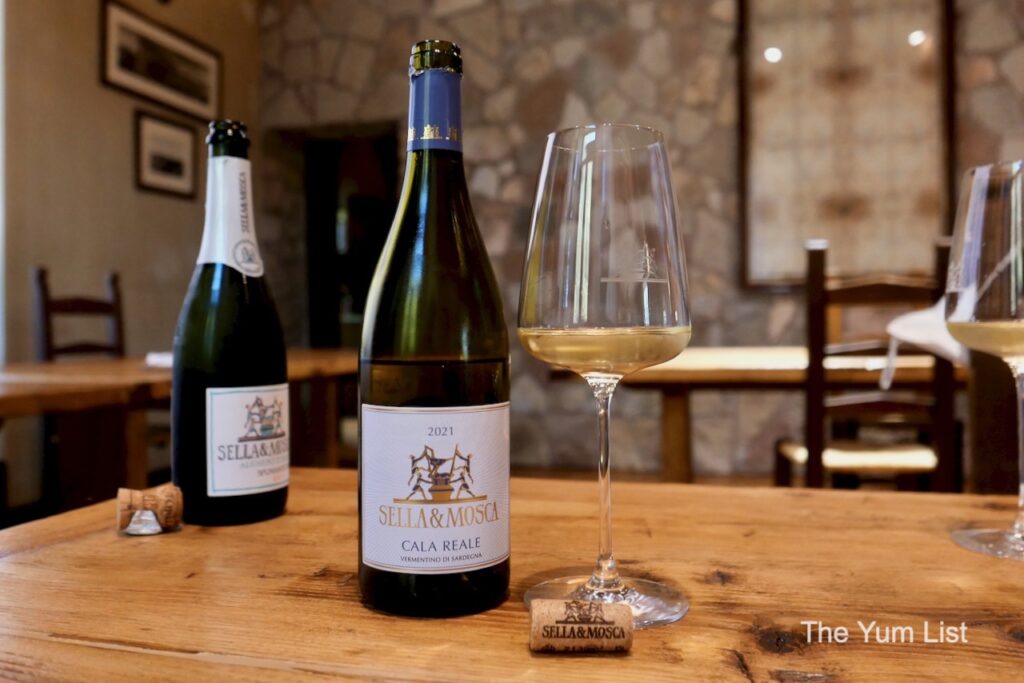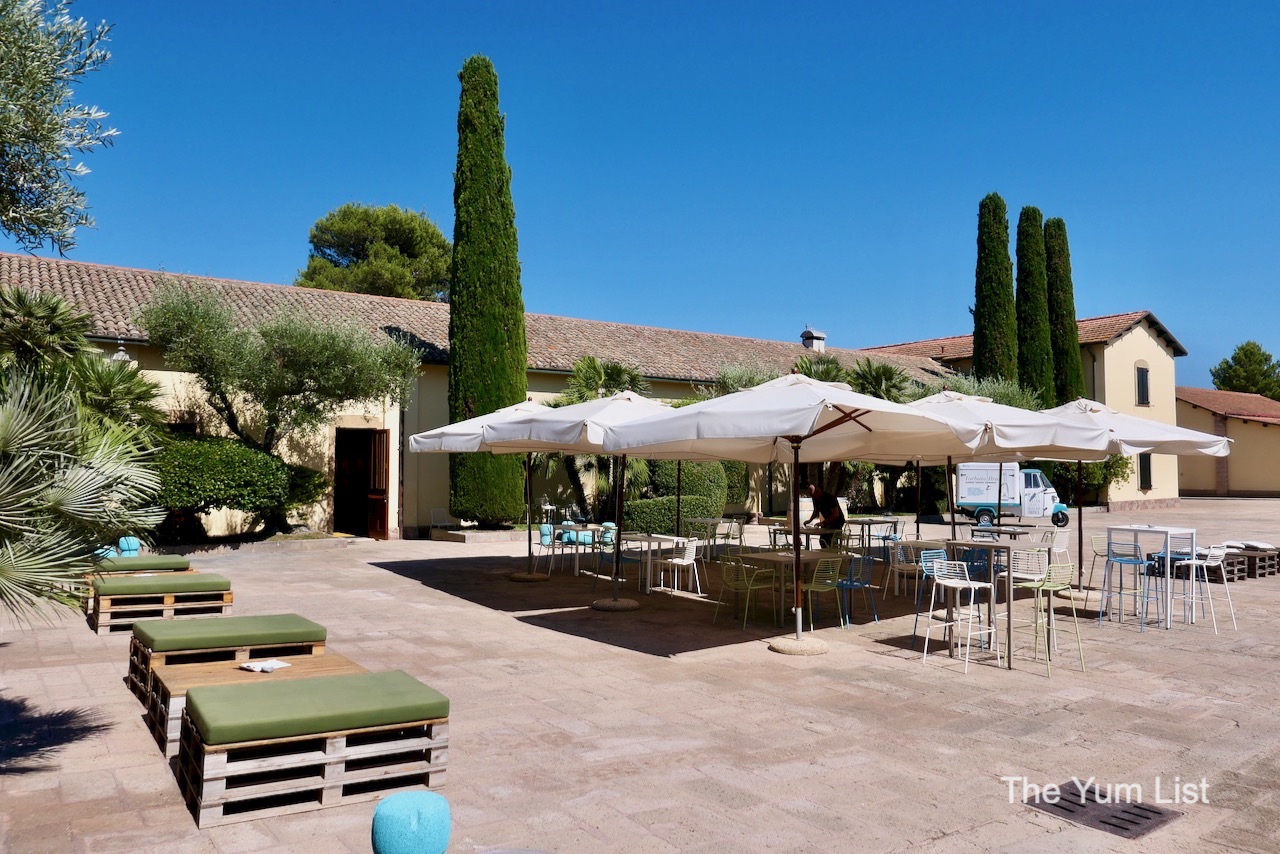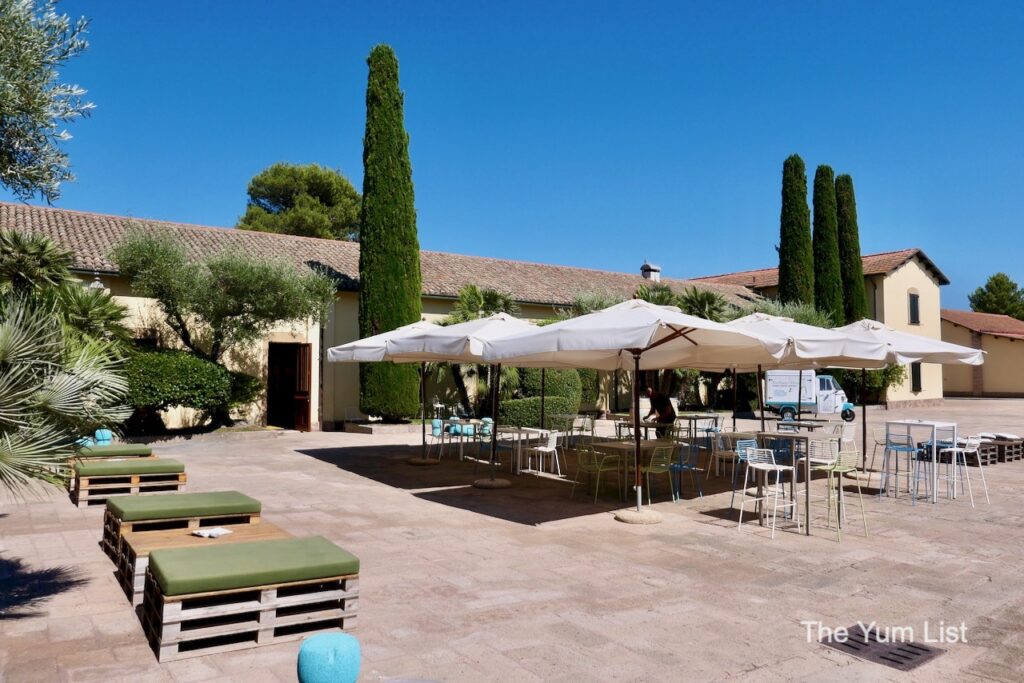 Casa Villamarina Tenute
For those wanting a fully immersive experience (or wanting to drink freely without having to drive), Casa Villamarina Tenute offers charming accommodation in the centre of the estate. We spent a lovely few days here and can't recommend it highly enough. Check out their digs here.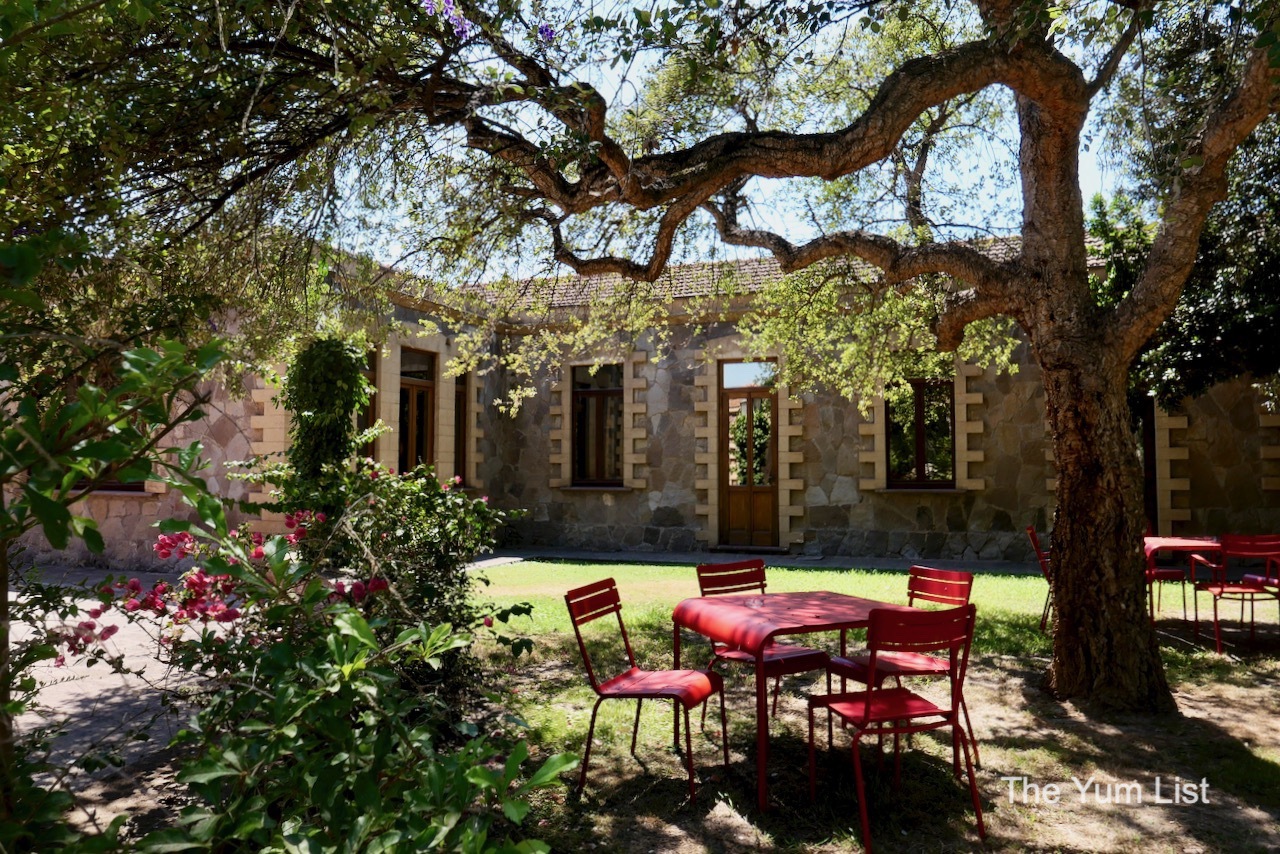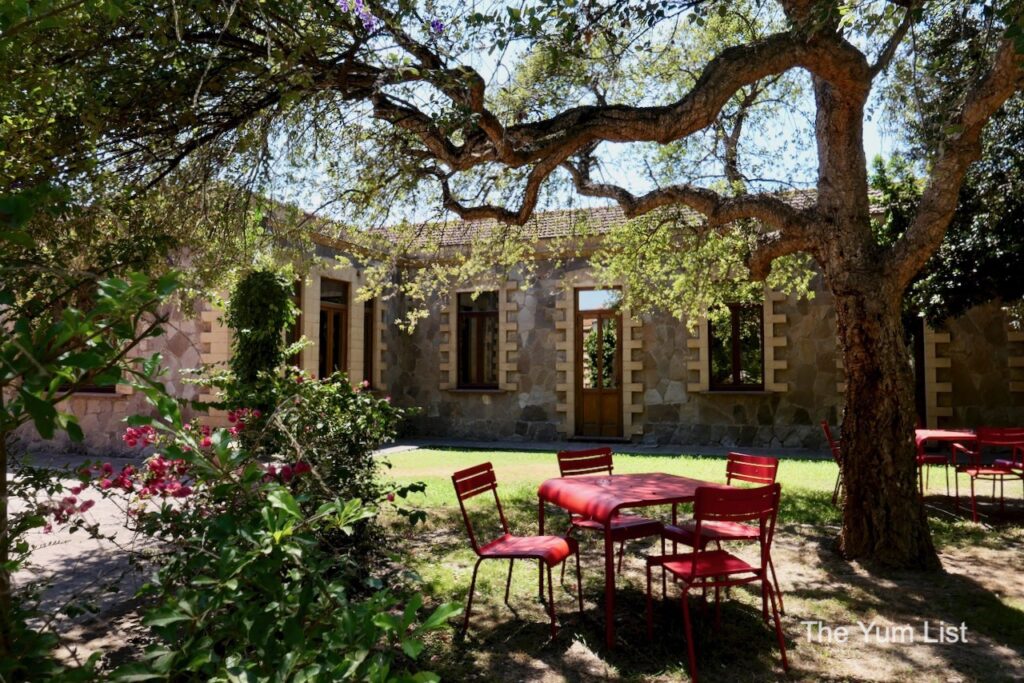 Reasons to visit and drink Sella & Mosca Wines: a stunning estate lined with oleanders and beautifully manicured gardens; nature enhanced by the latest in technology; must try their Torbato line, Oscari sparkling, and red wine lovers shouldn't miss the Villamarina series.
Sella & Mosca
Winery – Tenute Sella & Mosca SRL
I Piani – 07041 Alghero, Sassari
+39 079 997700
[email protected]
https://www.sellaemosca.com/
Find more tips for the best travel experiences in Italy here and stay up-to-date with our latest gourmet travel finds here and here.