The Experiment 006 – SSS
Monica Tindall
Super Secret Social's supperclub, held in an undisclosed location, continues to evolve, now delivering guests The Experiment: 006 menu. As is their promise, ingredients are sourced with great care, attempting local, sustainable and organic supplies where possible. Even their beverage pairings are thoughtfully picked, seeking producers who tread lightly on the earth.
Rendition number six, The Experiment is like a gourmet walk through a pasar malam (Malaysian night market selling fresh produce and ready-to-eat food). Jonny introduces himself and his partner, Nico, "I'm going to be cooking for you, and Nico, well, he makes you drunk." The night begins with laughter and even though the guests at our communal table have newly met, the ice has been broken, and chatter builds.
The Experiment 006 – SSS
To Begin
You often see the "soy milkman" at the entrance of a pasar malam, and this is the inspiration for Experiment 006's beginning. A cocktail served in a rocks glass is a mix of soy milk soaked in toasted glutinous rice, pink pepper and star anise, rose-infused Bacardi white rum (reminiscent of sirap bandung) and sugar cane syrup. Roasted chestnuts (another common find in the night market – you can often smell them a block away cooking in a big black drum) and candied nutmeg make great nibbles.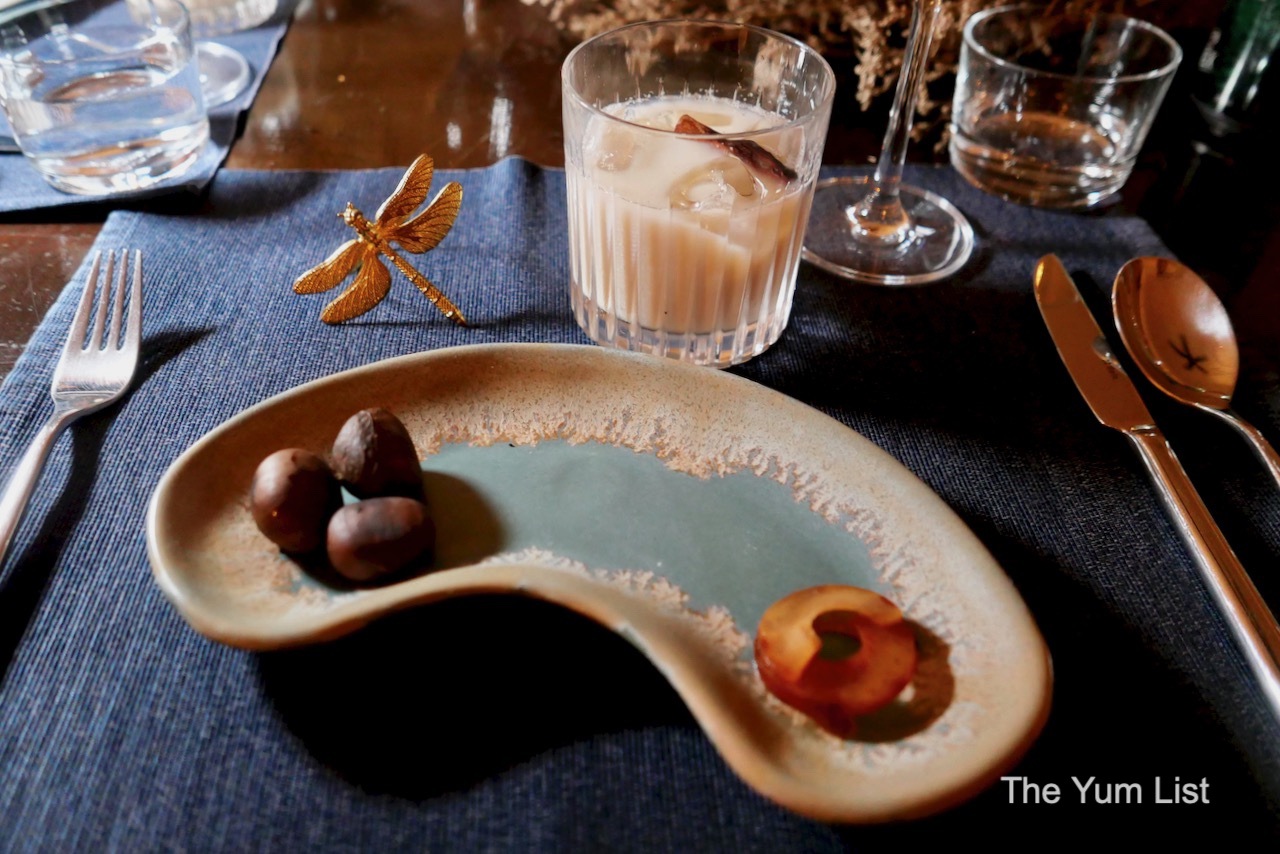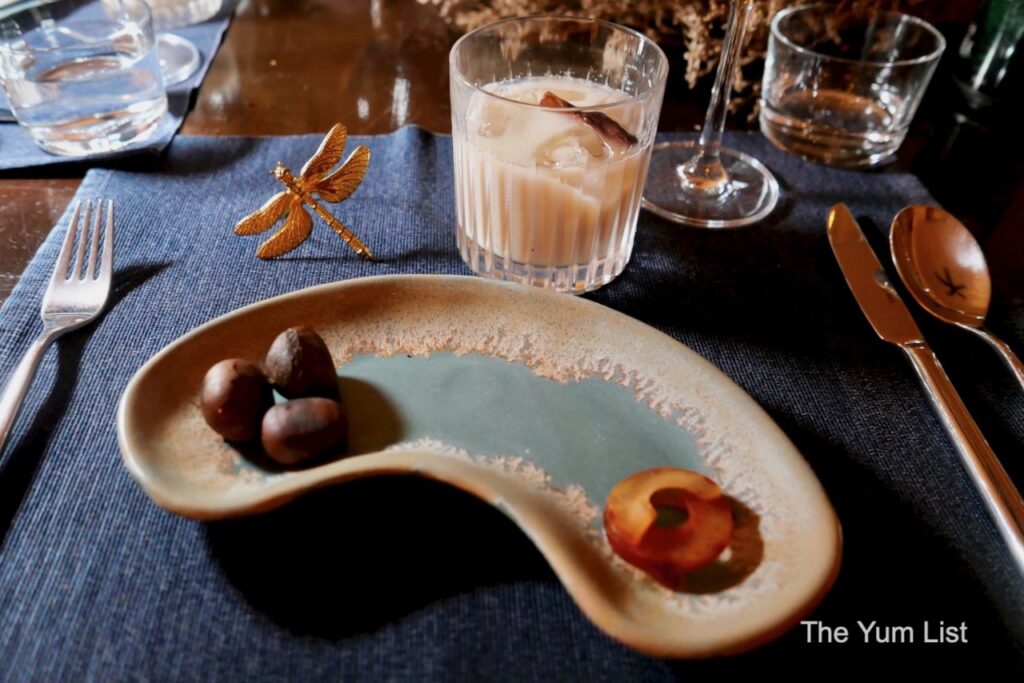 First Course – The Experiment 006
The first course is a take on Nonya yam cake; every reputable market has a lady selling them. Here Jonny has combined kueh orh with wild-caught Sabahan prawn hinava (Borneo's version of ceviche) with bambangan (mango native to Sabah), micro coriander, vinegar, bitter gourd and topped it with pink begonia flowers.
It's partnered with prawn head tea – something I'd never imagined myself drinking. Despite the initial hesitation over the name, it's actually quite delicious. Brewed with lemongrass galangal, ulam raja, ginger and mangosteen oil, it's an excellent mate to the first course. My dining buddy confirms, "Sometimes the best things sound incredibly unappetizing but are exactly the opposite." Everyone is quietly sipping, a good sign.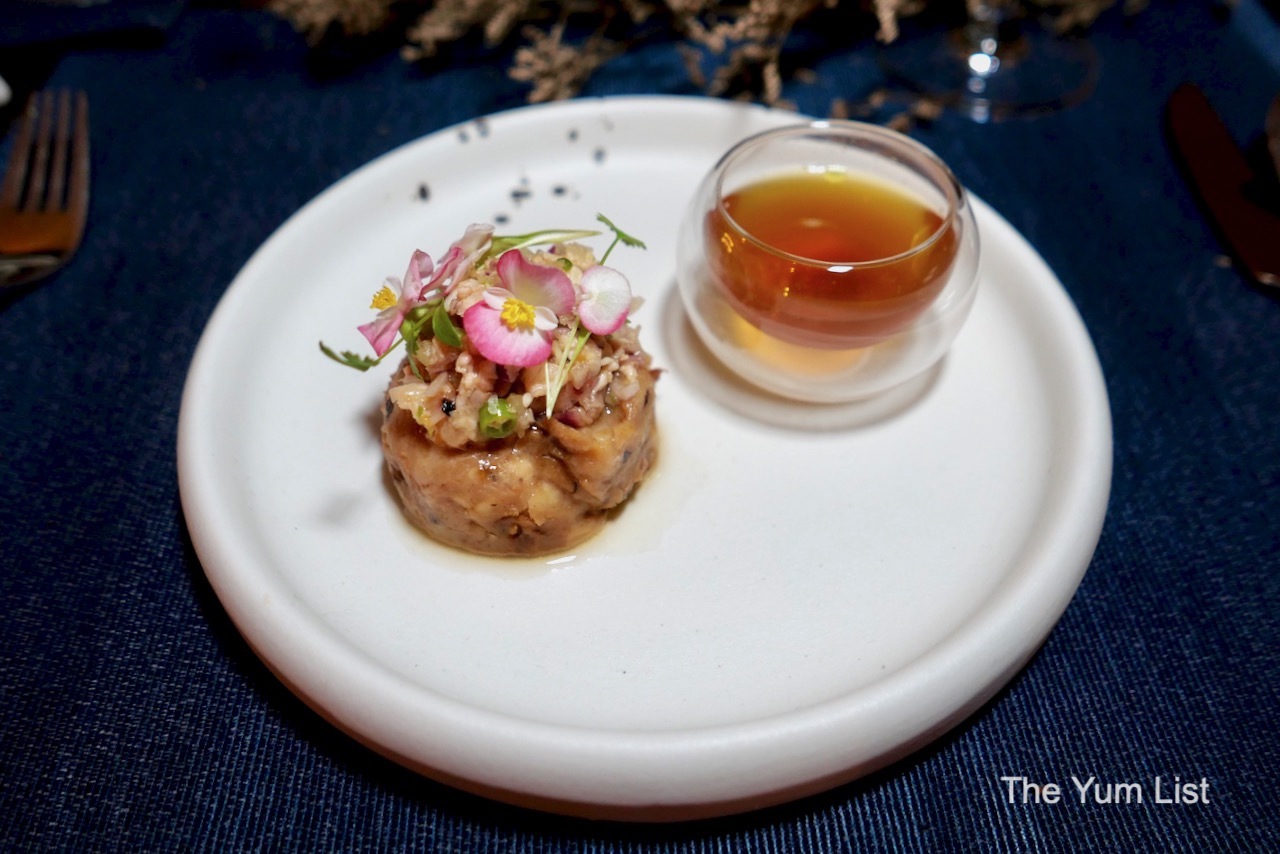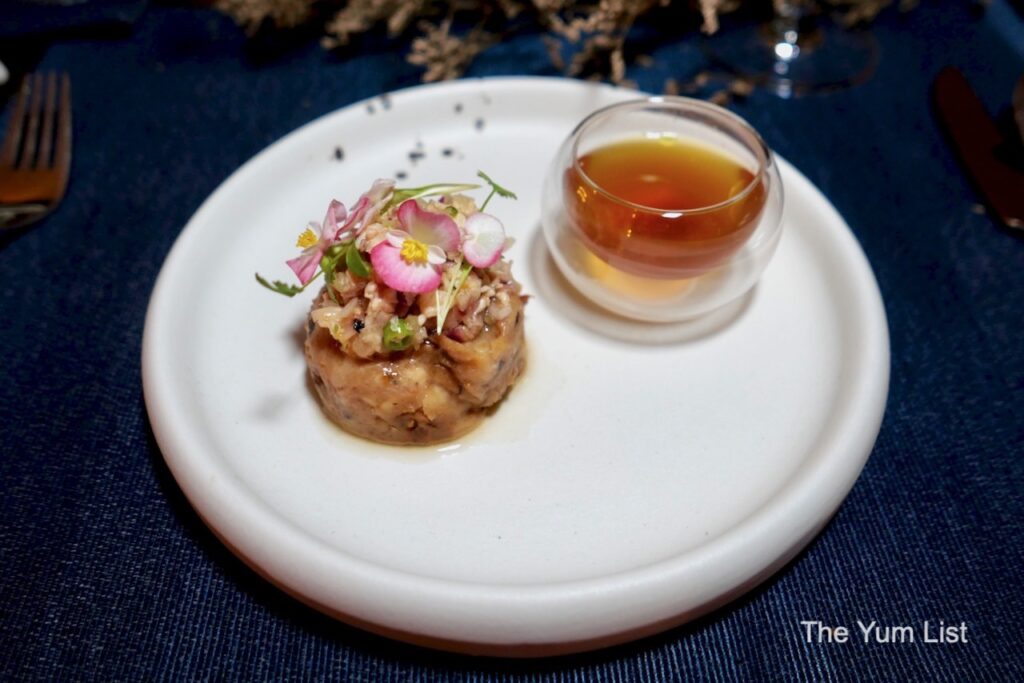 Second Course
An oyster omelette with savoury meringue, local oysters, habanero and garlic oil, spring onion purée and miso hollandaise is an initial hit of saltiness and sharpness. Habanero creeps up, sneaking down the back of the throat, letting its presence be known only after swallowing. Dill and carrot microgreens add a splash of colour to the crown.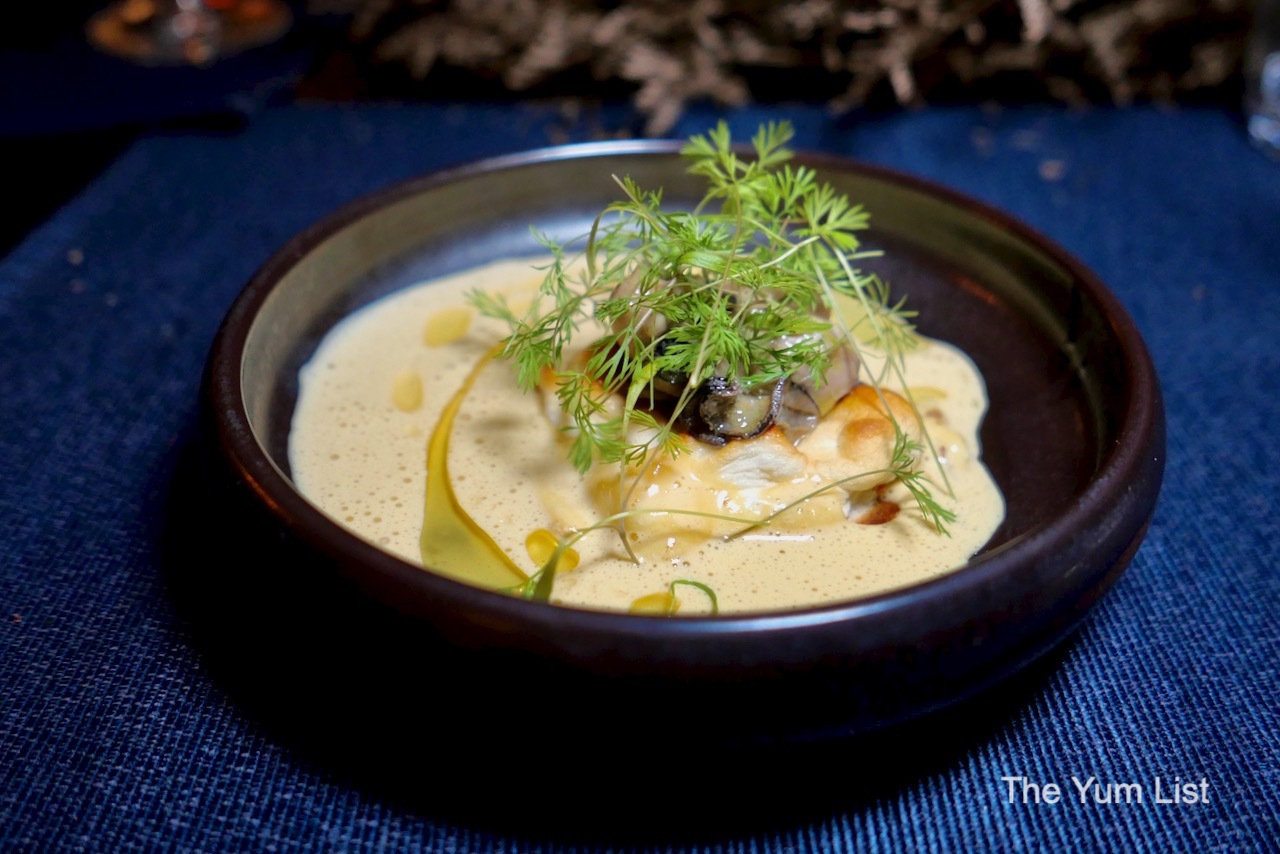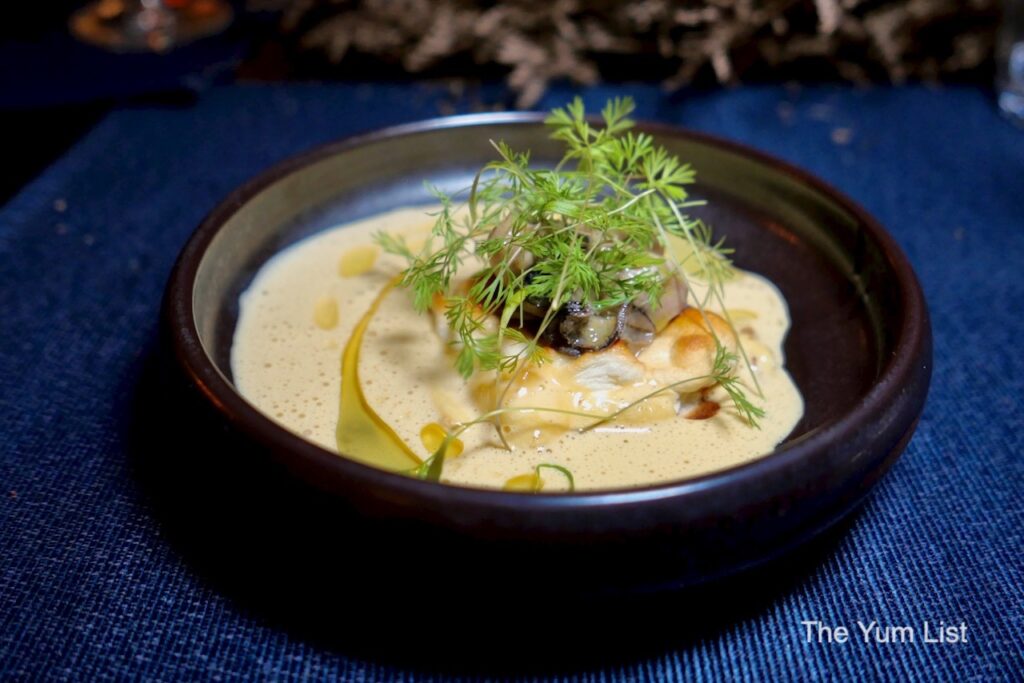 Third Course
In an attempt to pimp Jon's least favourite dish at the pasar malam, yong tau foo, he's created a recipe to excite even the least enthusiastic. There's no flabby sauce here; it's full of punch that continues to linger long after swallowing. Charleston peppers have been stuffed with chicken and catfish, micro mustard greens, and crack sauce fermented three ways. It certainly makes us stand to attention.
An indigenous grape, Melon, grown in the appellation of the same name (once part of Chablis), provides the first wine pairing. It has a similar minerality to chardonnay from the area but more greenness. It goes particularly well with the Charleston peppers that are spicy and green at the same time.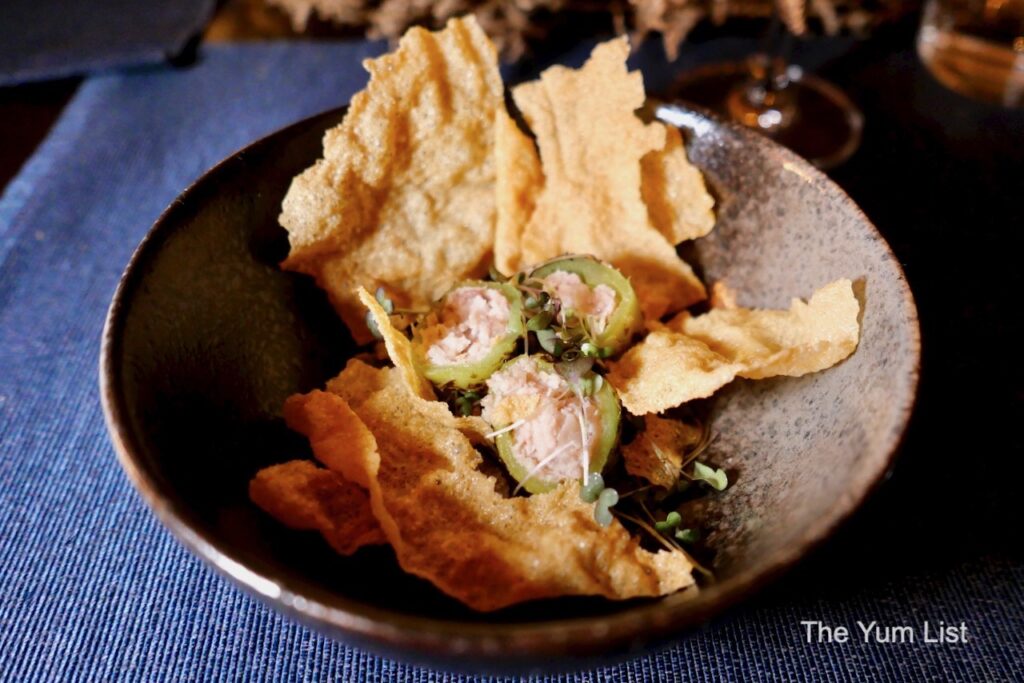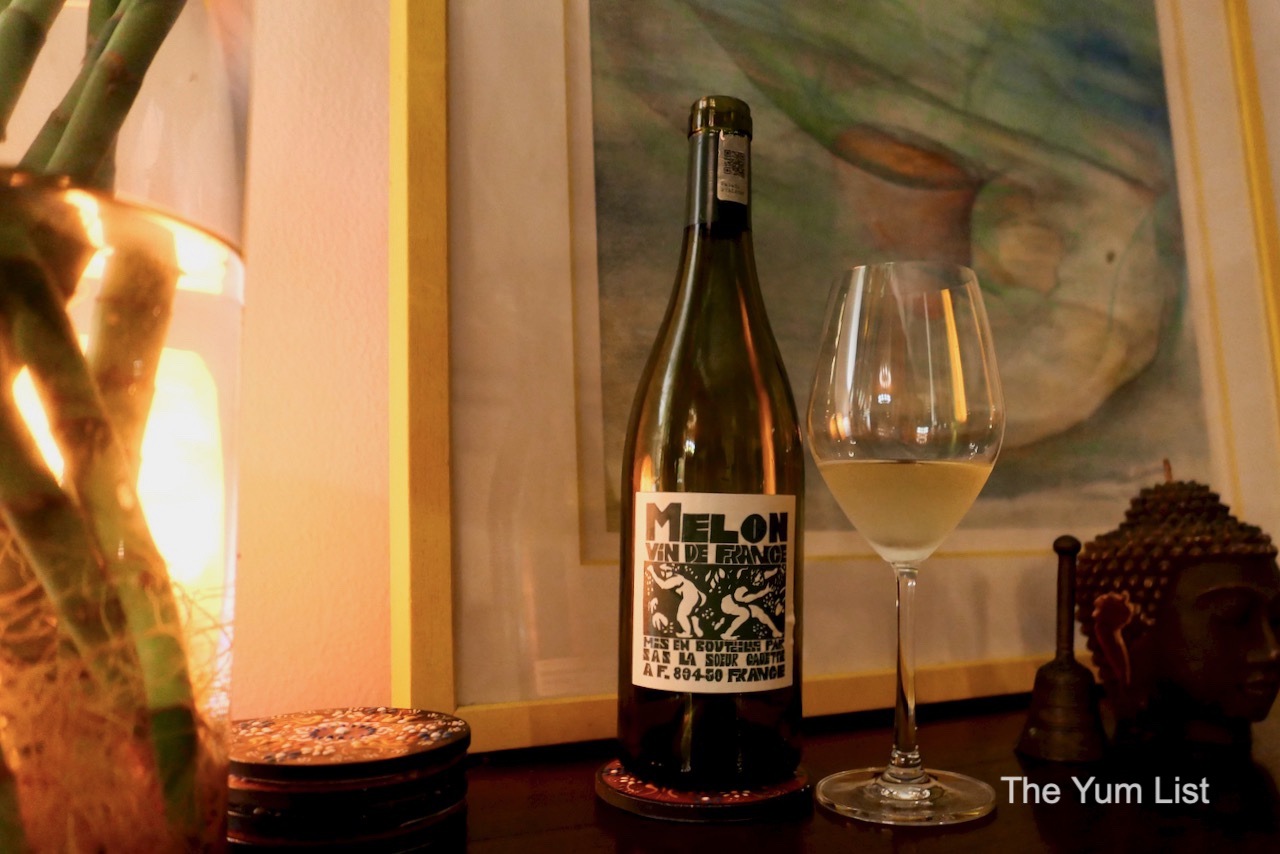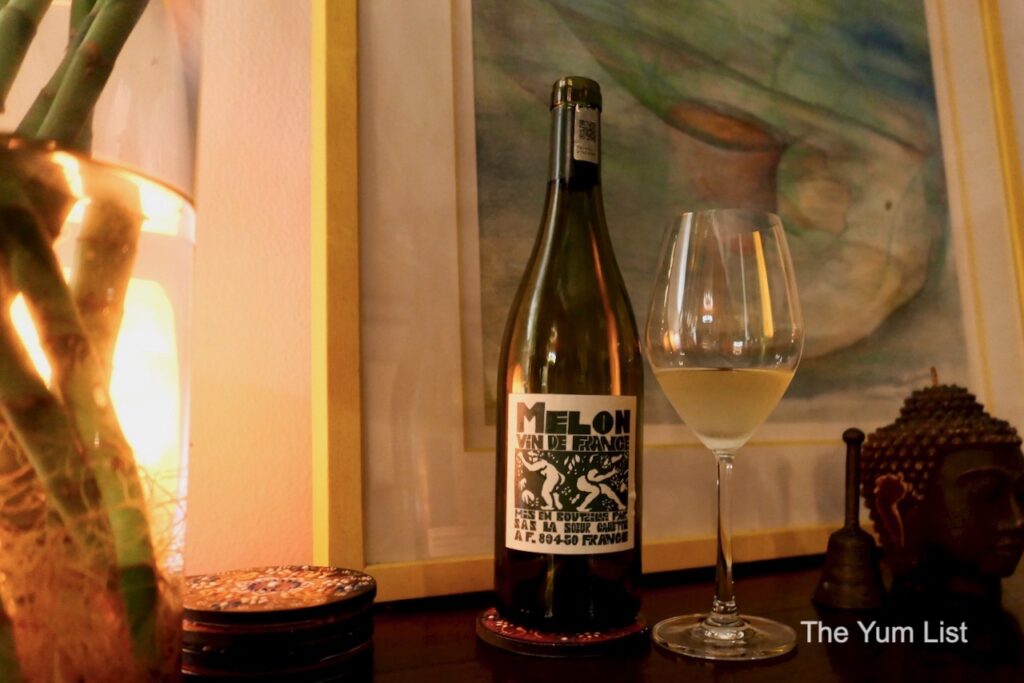 Fourth Course
Another beloved icon, char kueh teow, gets a cheeky revamp with noodles made on strips of Sabahan squid. The seafood has been sliced, then cooked in a 60-degree ghee bath and generously covered in a charred sauce with lime-cured egg yolk, fresh sunflower sprouts, onion and Chinese chive espuma.
Mixing things up a bit, the craft beer Misty Miyagi, was chosen as the beverage mate for this round. It's a natural beer, so a little cloudy in the glass. Known as a hazy IPA, it's bitter, a bit hoppy, and fresh and causes the smokiness of the noodle sauce to return.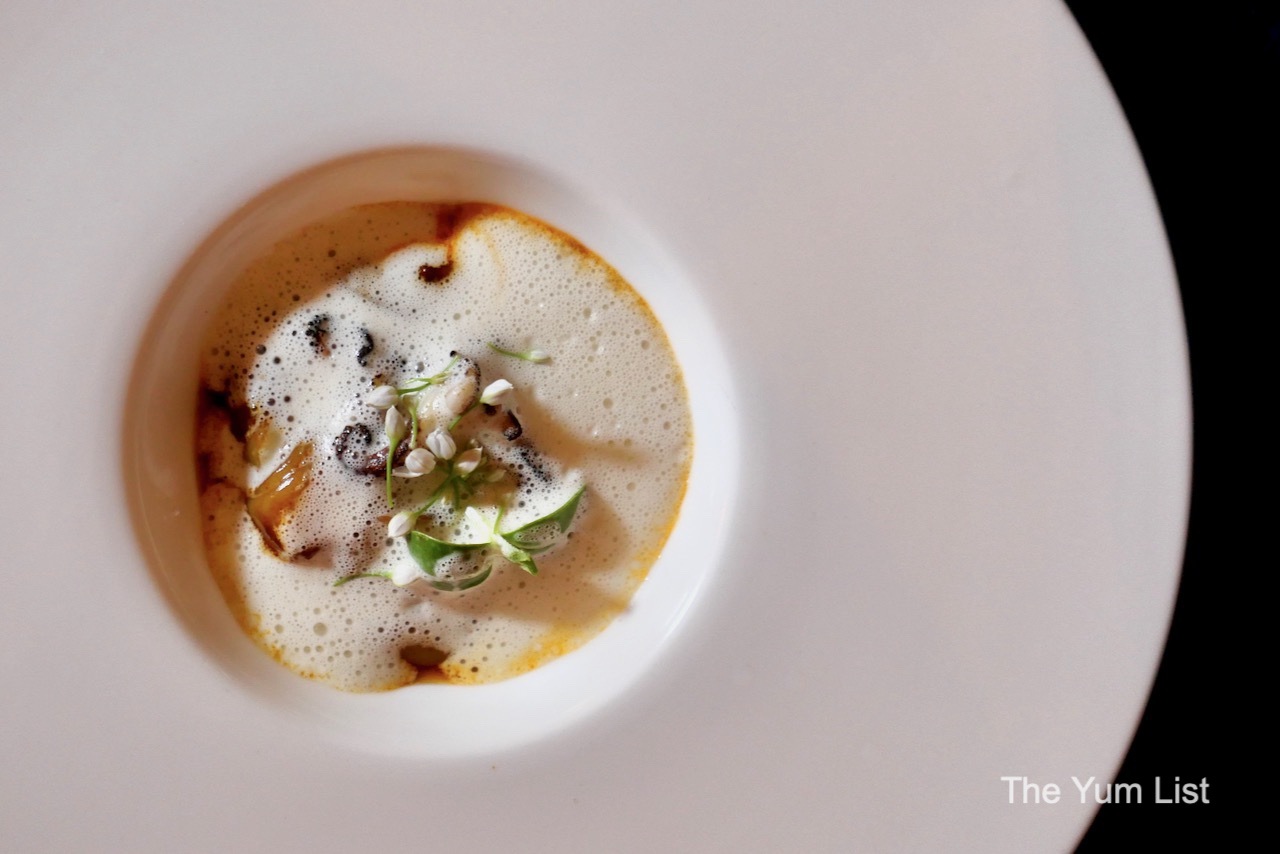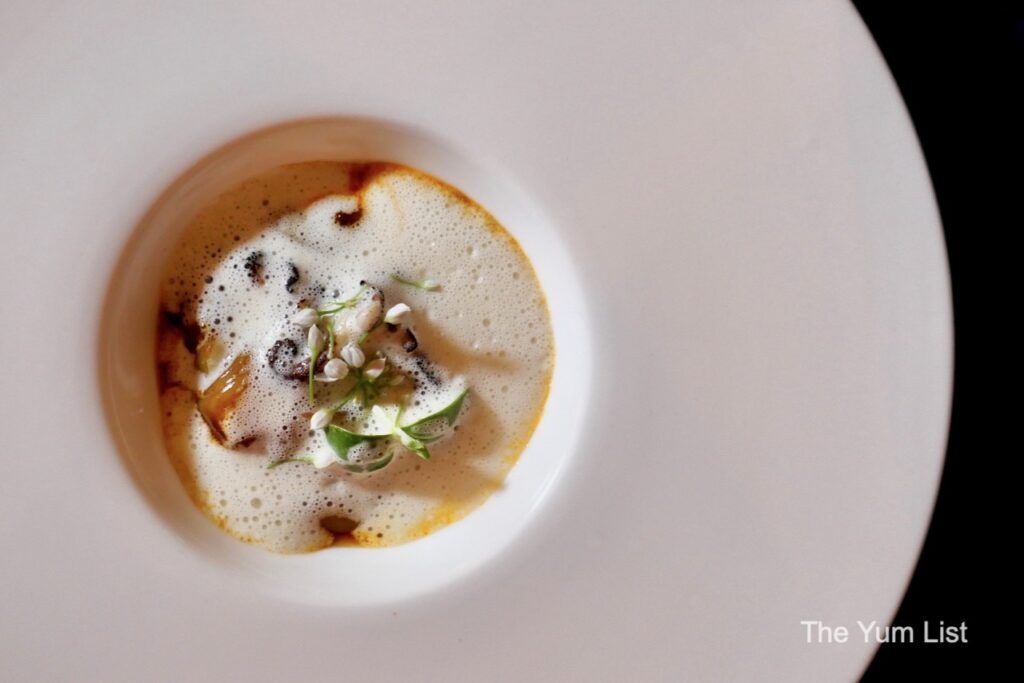 Fifth Course – The Experiment 006
Once scoring in the top 10 of CNN's "The World's Best 50 Foods," assam laksa brings us to the fifth course. This twist, the assam lakshroom, features braised lion's mane mushrooms providing a meaty texture in the assam laksa stock. Pickled papaya salad is key in the freshness here. Laksa consomme, petis udang and daun kesum (local herbs) oil and shallots pickled in calamansi also contribute to the recipe's brightness. The sauce has been thickened with a splash of coconut milk. Jonny creates a Malaysian version of the famous Italian bottarga by curing and dehydrating mackerel and shaving it on top. Fellow diners comment on its freshness, saying they could eat more of this than a regular bowl of laksa.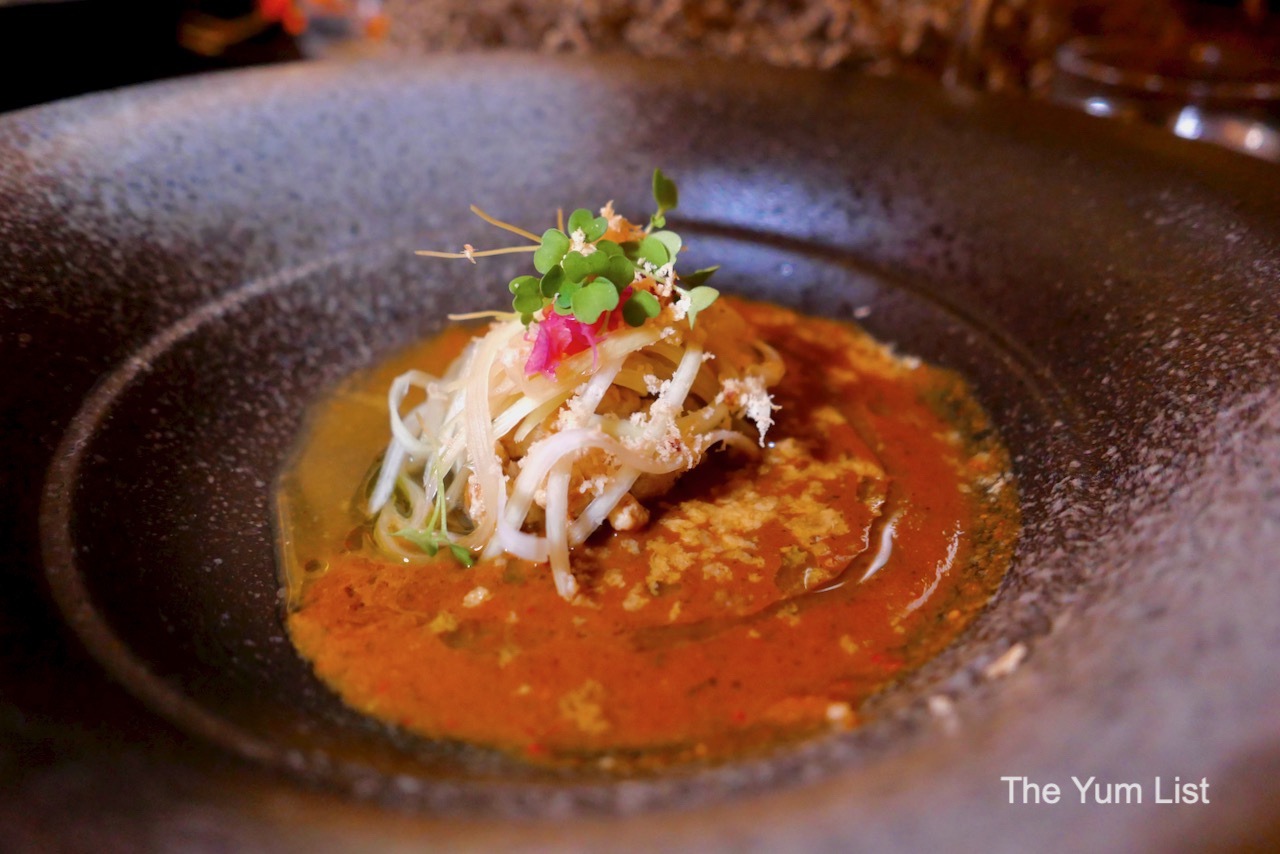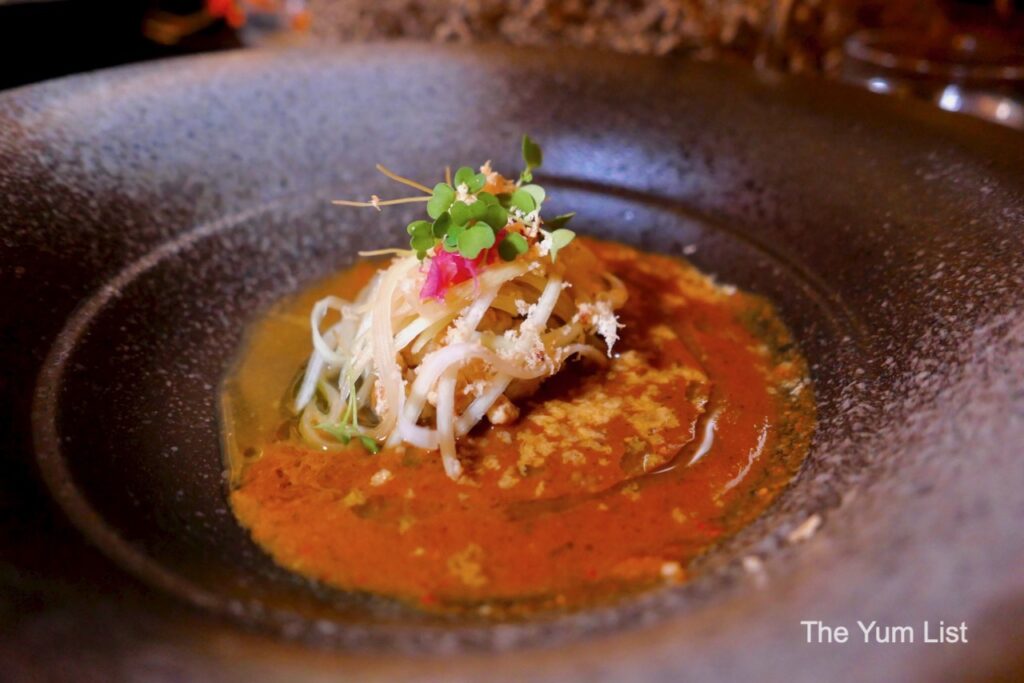 Sixth Course
The crescendo of the savoury courses is my favourite, basically a fancy edition of chicken rice. Strips of salt-baked chicken (brined, aged and baked in a clay pot) sit atop a small mound of biodynamic red rice cooked in butter (mixed with daun kentut), pickled raw banana blossom, dried prawns and nuts, cashew nut leaf sambal (habanero and chilli padi), pickled ginger and micro coriander.
The popular orange wine, Tangerine Dream, 2021, gives the dish freshness. It just arrived a few months back in KL, and already, it has just about disappeared from shelves. Luckily, Nico is on top of the news and acquired supply early in the game. The small amount of skin contact causes a touch of tannins gifting the wine a little structure and strength to stand alongside the chicken's seasoning.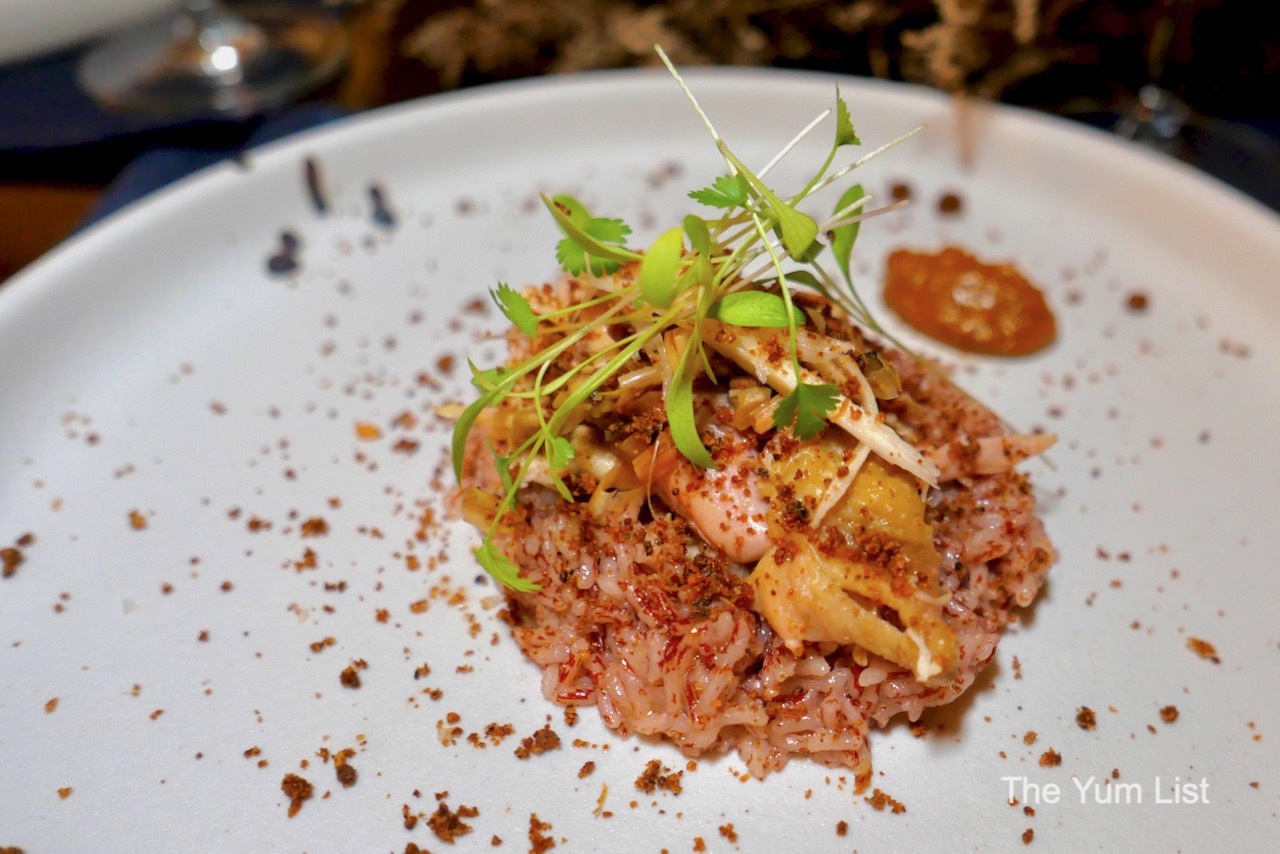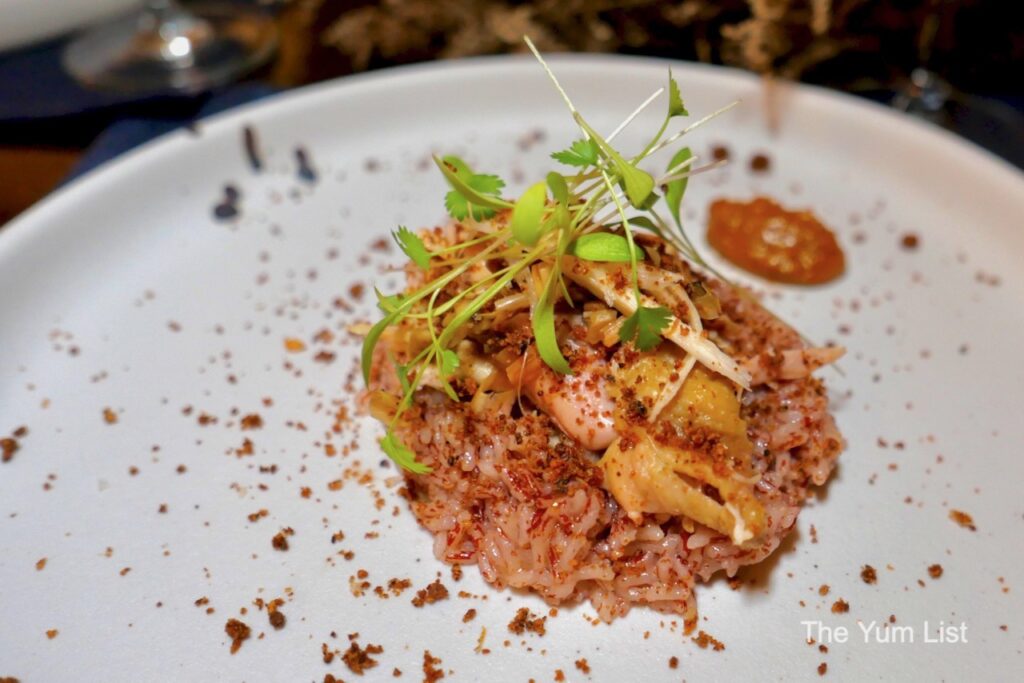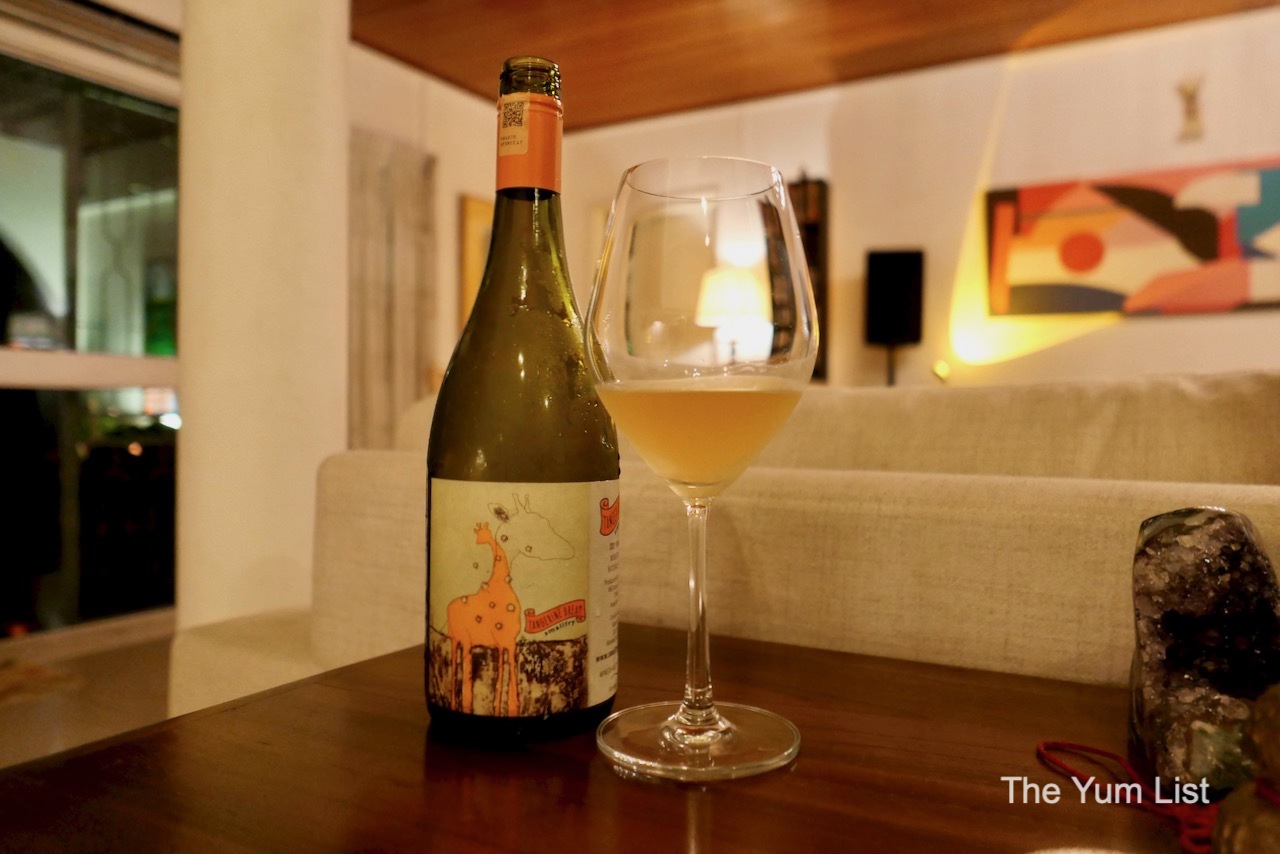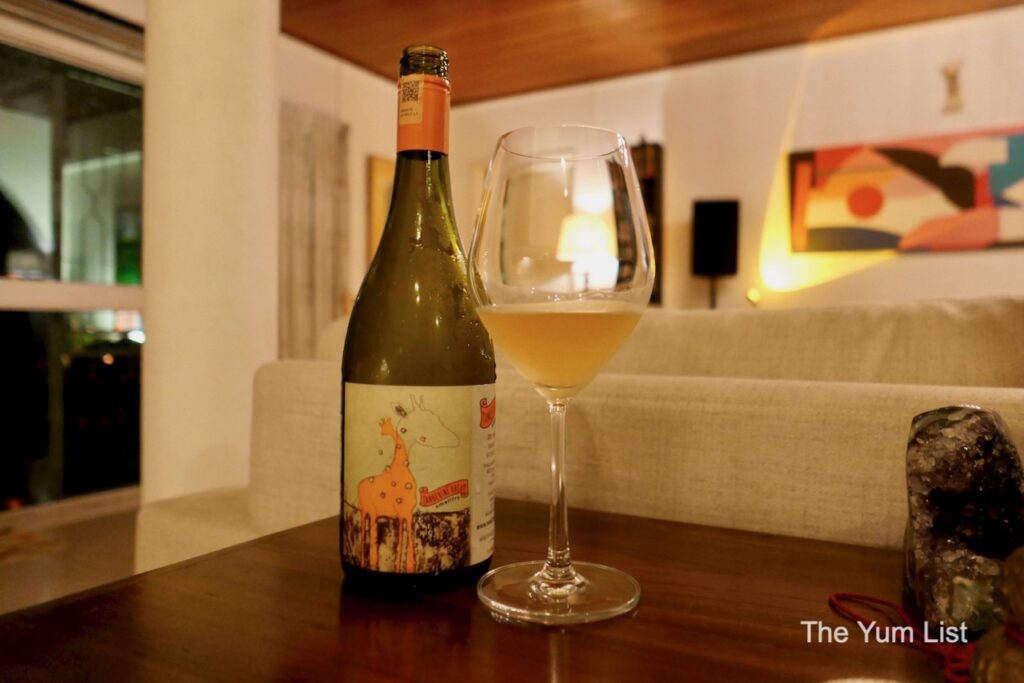 Seventh Course
Apam balik potong organic corn with peanuts, milk, local Greek yoghurt and condensed milk is a hit with fellow diners. It's a rich, smooth, cold ice-creamy interpretation of those little pancakes you see folded over with corn and peanuts in the night stalls. Squeeze the ice to the top of the plastic wrapper and suck, lick or chew to your heart's content.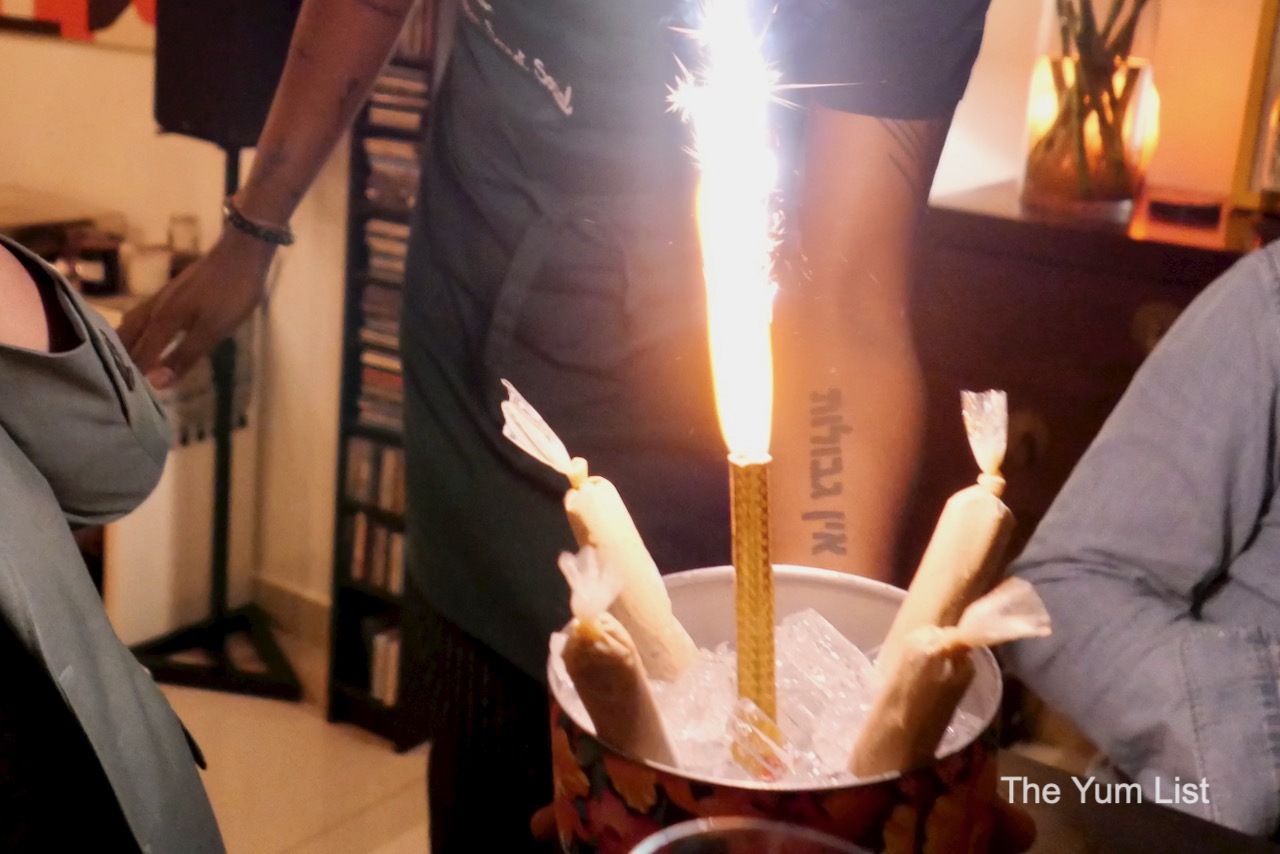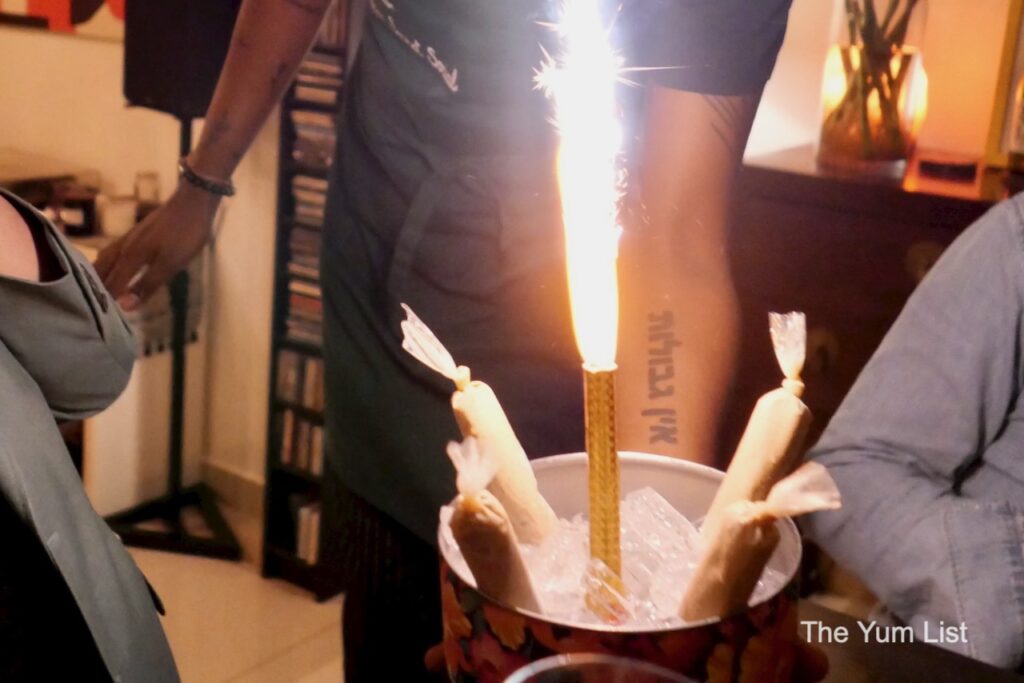 Eighth Course
The only course I couldn't eat got a standing ovation from the other supperclub guests. I gag at anything on the same spectrum as durian – cempedak and jackfruit included – so the cempedak goreng, I'm afraid, was just not for me. However, I do appreciate its appeal. The creamy ball of deep-fried cempedak ice cream coated in a paper-thin batter was served with kecap manis (sweet sauce), chilli and a sprinkling of sesame seeds. Nowadays, you mostly only find fried bananas at hawkers. I hear that in the past, though, cempedak was as equally common. And, so we conclude our stroll through the pasar malam with a little nostalgia, satisfied tummies, and warm new memories to carry home.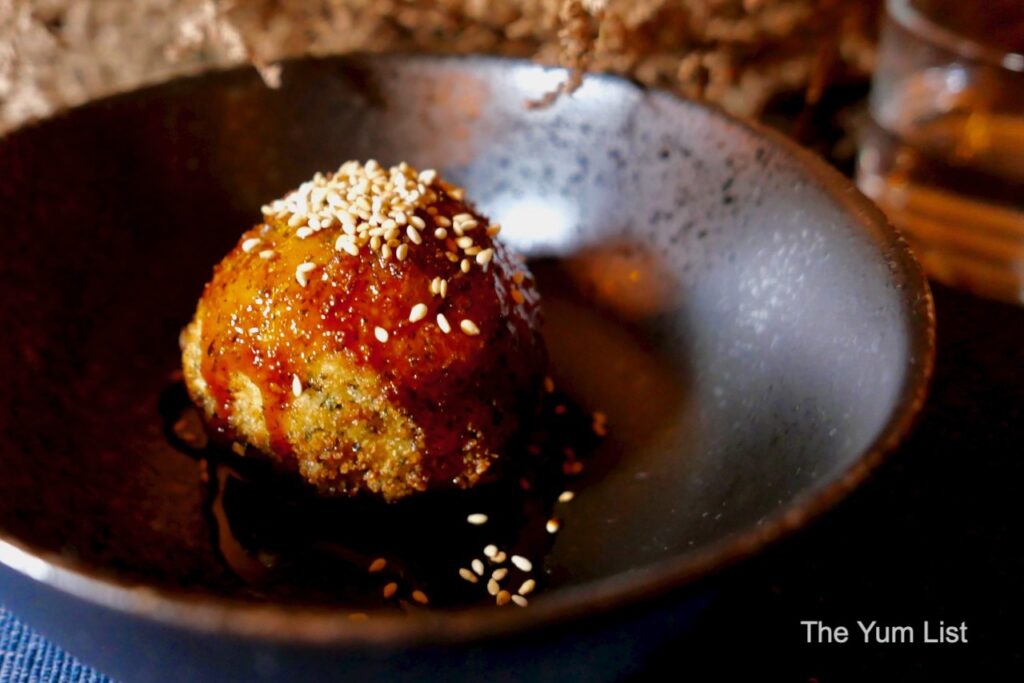 Super Secret Social supper club KL
Secret Location
Instagram @SuperSecretSocial
[email protected]
+60 14 2658630
Find more restaurants for special occasions in Kuala Lumpur here and stay up to date with the latest food and beverage happenings in KL here and here.