Fifty Tales
Words: Han Sen Hau
Photos: Rich Callahan
Bandar Sri Damansara might seem like a neighbourhood that's just too far away from everything else that's remotely interesting, but this incredibly congested residential township hides a humble little gem that's worth returning to again and again. Mind you, this writer lives in Subang Jaya. And yes, I would brave the distance and endure the atrocious traffic once more simply to lick the bowls clean at Fifty Tales.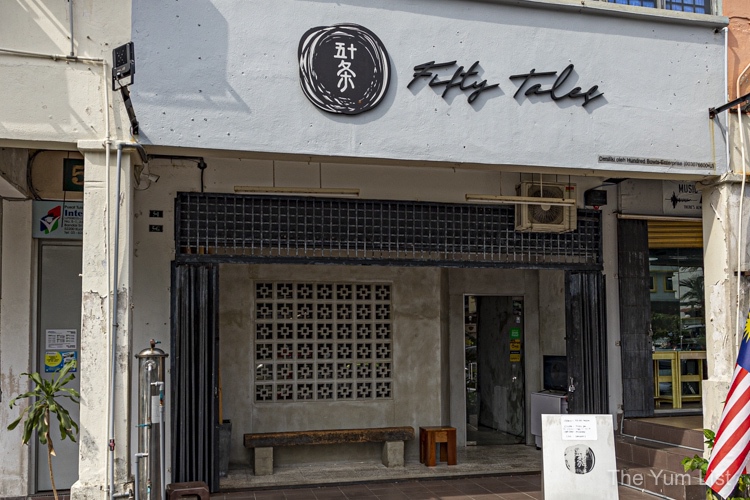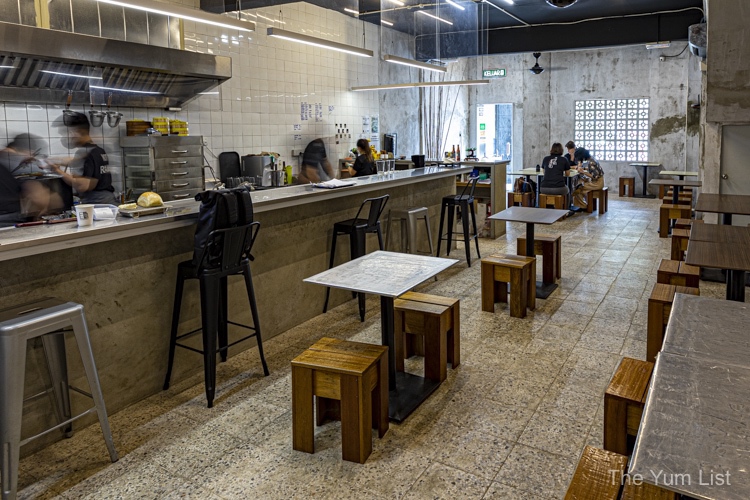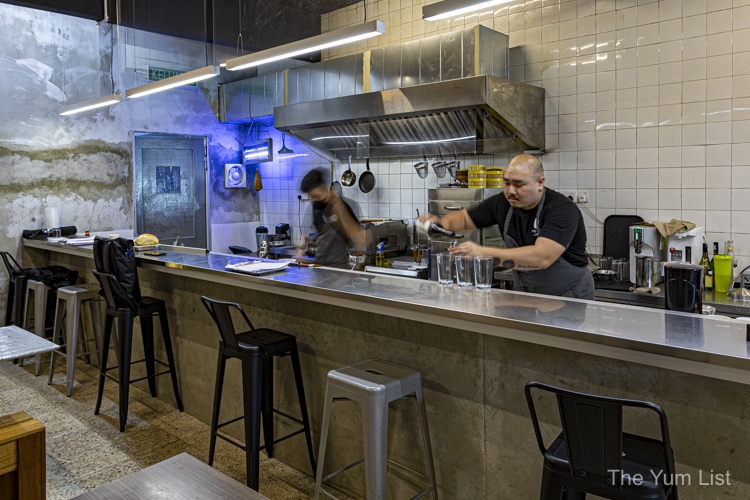 Fifty Tales
Helmed by the Malaysia Barista Champion of 2019, Aaron Phua, Fifty Tales is unassuming in its single-minded focus on elevating the prestige of local, handmade noodles among connoisseurs and the greatest critics ever known to walk the earth: aunties who live across the street. Flanked by his two friends Aaron Khor (with two Aarons in the kitchen, they sound like members of a 90s boyband sans unbuttoned white shirts) and Bimmy Soh, Aaron P set off to prove that even native recipes that have been perfected by his hands can rank high and stand proud among established greats like pesto pasta or tonkotsu ramen.
Fun trivia regarding the latter: early customers once ceaselessly compared Aaron P's creations with tonkotsu ramen due to their similarities, which vexed the chef though it did inspire him to create a different broth base to further differentiate the dishes. Ultimately, Aaron P's objectives with Fifty Tales come from a place that's intimately dear to him, born out of a desire to preserve the rich cultural heritage of noodle making in the country and to serve patrons the taste of yesteryear.
OG Style Noodles
You can't visit Fifty Tales without ordering a bowl of OG Style Noodles (RM21), and while we initially thought "OG" stood for "Old Guard", which would have referenced the bowl and restaurant's early beginnings, we like its actual name better: Original Gangster.
Amid the simple presentation of egg noodles, beer braised pork and soft-oiled egg belie a flavour packed with so much nostalgia that it could make an uncle moan with delight. The noodles are springy and chewy, while the pork caresses the palate with a gentle sweetness. Even the egg was a feature on its own, having been marinated with Shaoxing wine, which permeates the yolk and electrifies the tongue. Together, the simple combination of ingredients would leave you wanting more if only there weren't other equally tantalising options on the menu.
The noodles come with a three-month-aged cili padi condiment served on the side. The condiment is a staple at all noodle houses, though the recipe for each is unique to the chef. Though small, just a tiny bit of this in each spoonful can cause your nostrils to flare and your eyes to water, so to those who can't handle a lot of spice in their food, you've been warned. Otherwise, the cili padi was lovely, and I am unashamed to admit that I have once requested to have it packed to go just so I could keep it in the fridge for a week and pair it with almost every meal I had.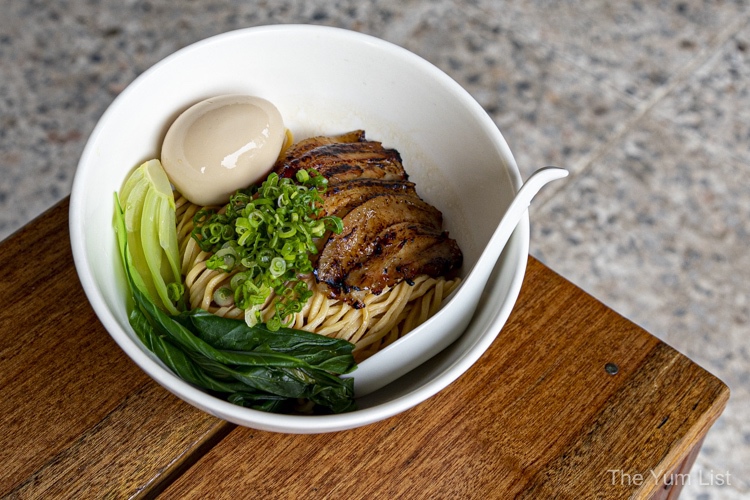 Fifty Tales Laksa
A good laksa is hard to master. The 50 Tales Laksa (RM21) deserve special mention because it is delivered without a core ingredient for laksa broth: shrimp paste. The genius behind this beautiful bowl is none other than Aaron K, whose admiration for Aaron P's work began with a seemingly harmless question, "Can I touch your noodles?"
They should have that printed on a t-shirt.
The texture and consistency of the steaming broth are spellbindingly luscious and sinfully creamy. While the dish comes served with a generous portion of shrimp and chicken, the broth itself is vegetarian. Its genesis spawned from Aaron K's desire to create a bowl of Nyonya Laksa that could be savoured by his best mate Aaron P, who is allergic to prawns, proving that the bond between the two is still a better love story than Twilight.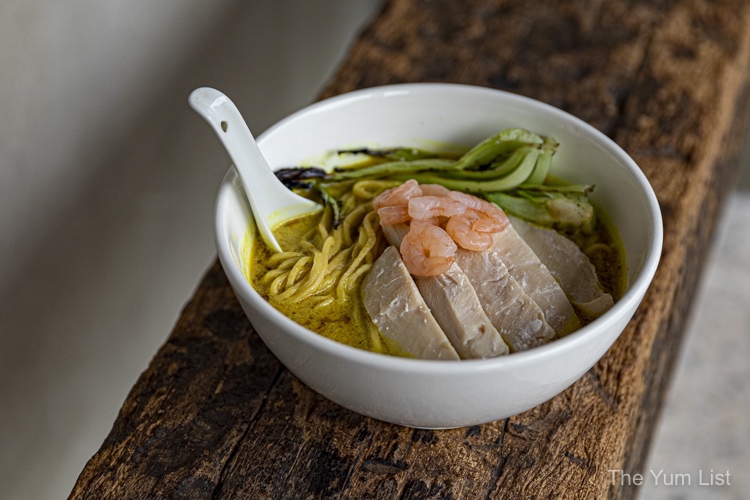 Emerald Dragon
Finishing off the trio of noodles is the Emerald Dragon (RM24), a verdant combination of noodles tossed in spring onion pesto sauce, ham choy (pickled mustard greens), and beer braised pork. The dragon was born from two conflicting emotions: Aaron P's abhorrence for Hakka lei cha as a child and his love for the colour. Balancing the creaminess of the laksa and the lightness of the OG Style Noodles, the Emerald Dragon satisfies the palate with its well-rounded profile, while the ham choy adds a little complexity to the meal.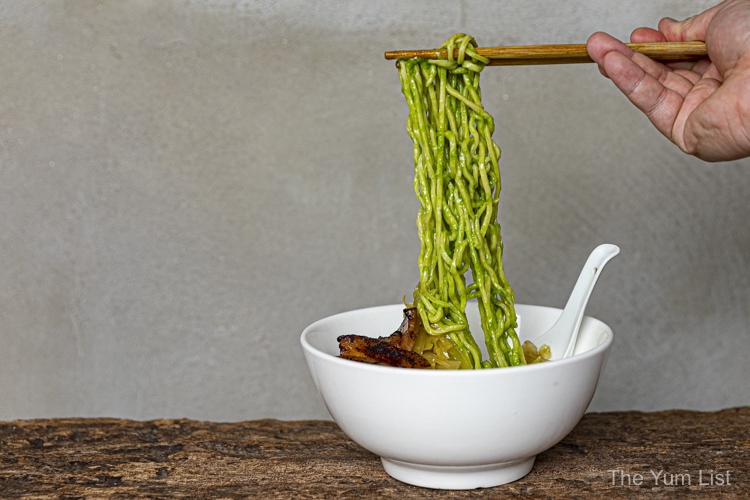 50 Tales Cold Cuts
Having devoured the main attractions, we were then presented with a, surprise, Charcuterie Board (RM28), complete with pork belly ham, vegan tofu cheese, homemade lap cheong (Chinese sausage), duck ham, pickles, and you tiao. The platter was a real treat as it featured many familiar, local flavours prepared in a quintessentially European presentation. The addition of the you tiao was an excellent touch, which made us wonder why none of the fancier outlets in the city has thought of doing this, and the marriage of ingredients sing in the mouth, especially with the accompanying whipped pork fat and pineapple jam spread.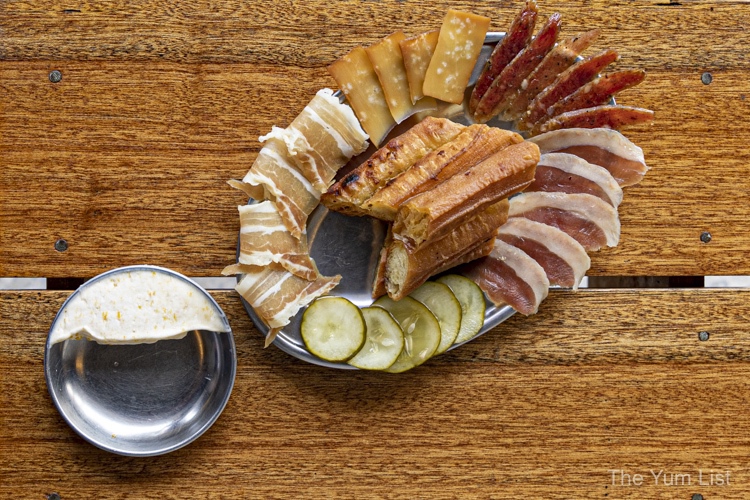 Pork Neck, Dates & Goji Jam
The last meal on the table was an impressive Pork Neck Steak (RM30), served with a dollop of dates and goji jam. The flavour of the dry pork cuts is best relished with the jam, an exquisitely traditional offering reminiscent of salubrious herbal soups.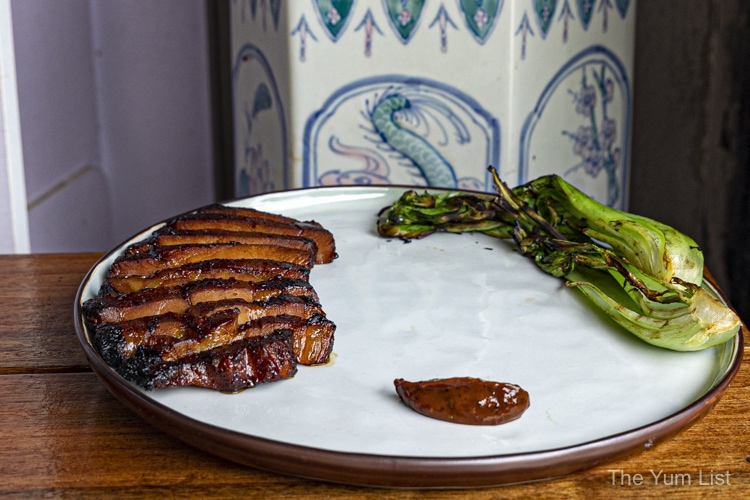 Drinks
Considering how rich and "heavy" the meals are at Fifty Tales, the drinks on the menu are thus designed to be the perfect light accompaniments that refresh the senses. Most of them come in two variants: non-alcoholic "Bubbles" and their alcoholic counterparts. From the former, we had the Kok Fah Ginger Soda (RM8), which had Bentong ginger syrup mixed with the sweet chrysanthemum that cuts through the fatty meals.
As for the stronger tipples, we had the Hamkat (Calamansi) Beer (RM14), and East Meets West (RM18), amusingly known as the Gwailou Leong Cha ("White Man's Herbal Tea"). Both options go down really smoothly with the casual fare, and it's easy to forget that they're spiked with beer due to the sedative herbal ingredients. Again, nostalgia is pushed to the forefront, and Aaron P is a master of the senses by championing local, established ingredients to appease even gwailou sensibilities.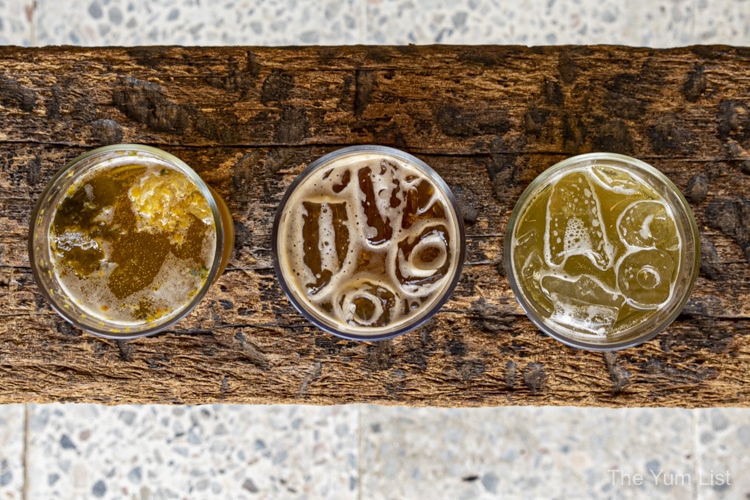 Gwailous would be happy to know they can bring in their favourite bottles of wine to enjoy with their meals at Fifty Tales. The first bottle is free, though with the caveat that the chefs get to enjoy a glass as well. Corkage will be applied from the second bottle onwards.
Fifty Tales – Final Thoughts
Although noodles remain the main highlight at Fifty Tales, we would be remiss to not mention its Cincai dinner menu that further showcases Aaron P's versatility as a chef. Partner Bimmy has also been working hard behind the scenes to introduce a dim sum breakfast menu that's brand new to Fifty Tales. Both menus deserve another story of their own, and we would be happy to return to this quiet little corner in Bandar Sri Damansara to sample them.
Finally, we always enjoy a good origin story, so of course, we had to ask, why Fifty Tales?
"The first time we ever made noodles, it had exactly 50 strands. As for 'tales', we hope everyone who dines here would get to share their stories and create great memories as they slurp our bowls."
Reasons to visit Fifty Tales: Mark off all the noodles available on their list; easy, familiar comforts that have been refined to appeal to an almost universal demographic; great sense of community and camaraderie just from the four-person team behind the counter.
Fifty Tales
5-G, Jalan Margosa SD 10/4a,
Bandar Sri Damansara,
52200 Petaling Jaya,
Kuala Lumpur
+6012 249 2697
https://www.50tales.com
Fifty Tales Opening Hours
Tuesdays – Sundays: 10:00am – 9:00pm
Cincai Dinner
Fridays – Sundays: 5:00pm – 9:00pm
Find more brunch options in KL here and stay up-to-date with the latest gourmet and travel recommendations for Malaysia here and here.