Sunday Sky Brunch KL
Monica Tindall
Spectacular views, excellent food, fine wine, and gracious service – Sabayon's Sunday Sky Brunch is a win on all accounts. Offering a two-course lunch (RM 68) for children (aged 6-12), a four-course lunch (RM 198+) for adults, and a free-flow beverage package (RM 228+) with a premium upgrade (RM 328+) available, it's a pleasant place to wind up the weekend.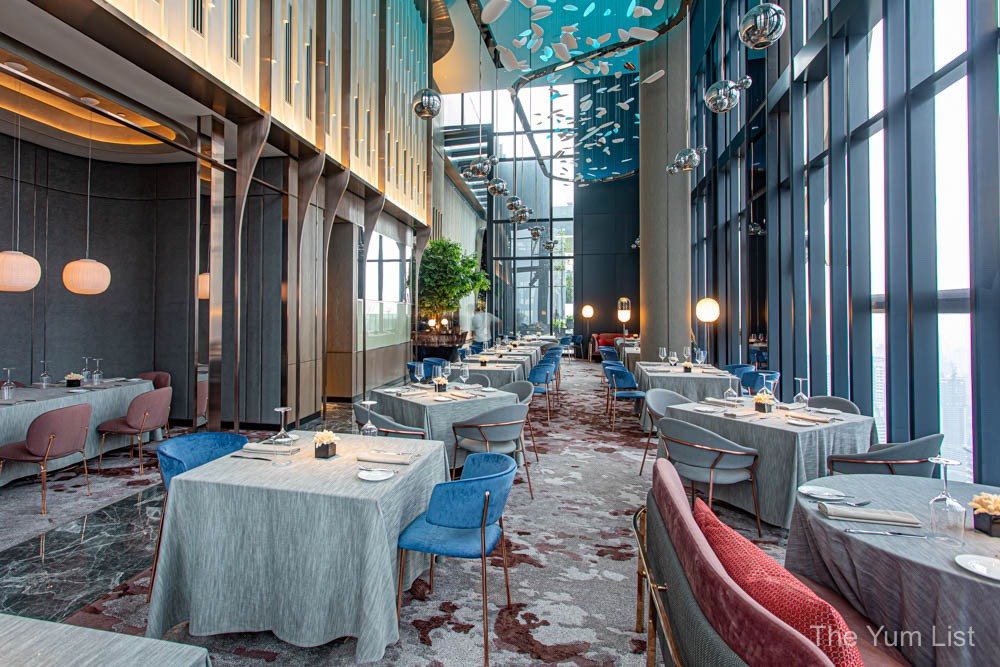 Sunday Sky Brunch – Sabayon, EQ
Once we've prised our eyes away from the breathtaking views from level 51 of EQ, we take our seats in the spacious restaurant, Sabayon. Tables are dressed with linens and elegant posies of dried flowers, and within minutes our glasses are filled with Barons De Rothschild Brut Champagne. Never mind the impressive panoramas and meal curated by one of the country's most award-winning chefs (Federico Michieletto), for many, an unending stream of this premium bubbly is reason enough to book the Sunday Sky Brunch.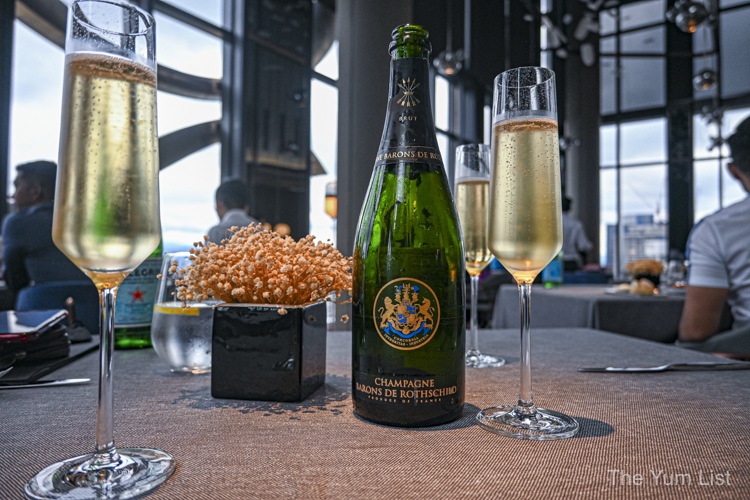 Beverage Package
Seeing our palates are whet, let me introduce to you one of the best beverage packages in the city. As mentioned, the Sunday Sky Brunch offers a four-course meal that can be made fabulous with a free flow of top-notch tipples. This includes Champagne Taittinger NV, a selection of white and red wine, Mimosa and Bloody Mary bars (where you can make your own), a gin trolley and non-alcoholic beverages, such as juice and soft drink. Some might wonder why you'd even need the extras once you have Champagne. Still, I can confirm that making your own Bloody Mary, Mimosa and G&T with quality products and bartender tools is merriment in itself.
Partaking in a bit of bartender roleplay sets a jovial mood at our table, and the bottomless flutes of Barons De Rothschild Champagne ensure our continued joy. Barons De Rothschild Brut is a blend of Chardonnay and Pinot Noir from top terroir in Champagne. It's graceful gold in the flute with a fine mousse and light peach in the bouquet. The balanced and structured palate secures this bubbly's place as both an aperitif and also a fine companion to the rest of the meal.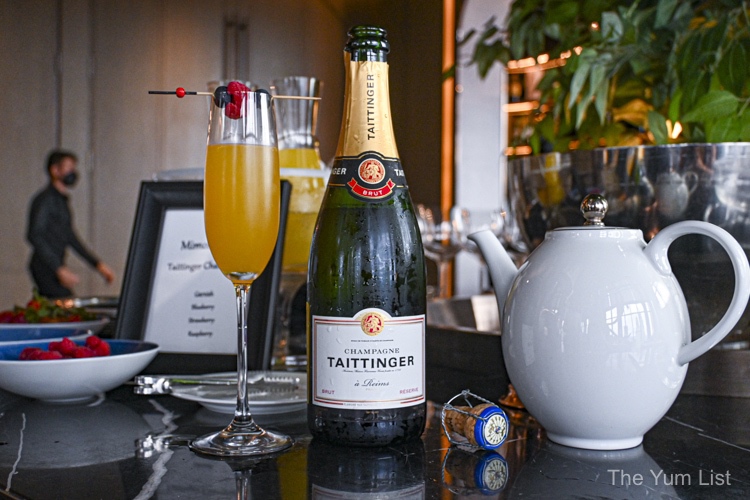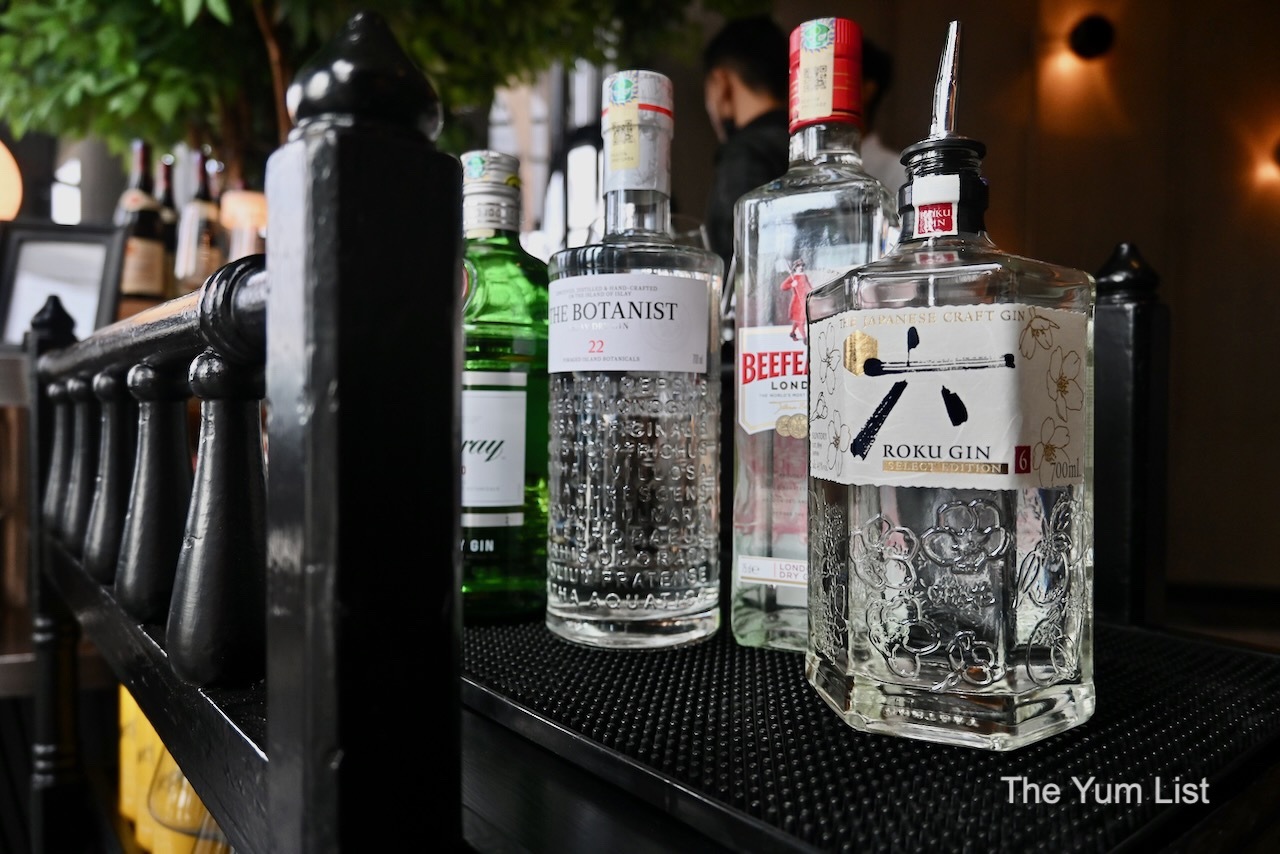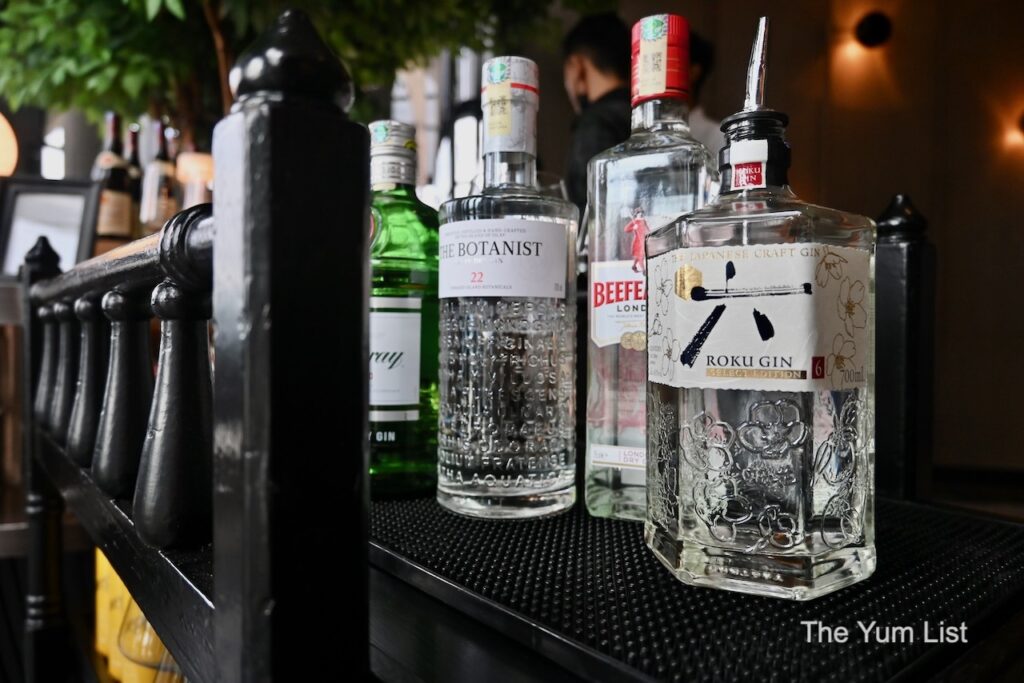 Sunday Sky Brunch – Sabayon, EQ
As mentioned, adults are served a four-course menu, and there are three choices from which to choose in each section.
To Begin
We are blessed to dine in a group of three today, so we can take full advantage of the menu, starting with a choice of cheese, fish or beef. The pungent Swiss raclette with new potatoes and cornichons is guaranteed to make cheese-lovers drool. The cheese is thick and tasty and is seductively melted over the halved baby potatoes and pickled cucumbers. For a lighter beginning, beautiful rosettes of house-smoked Norwegian salmon with capers and sour cream is an excellent choice. Alternatively, salty cecina (air-dried beef) is complemented by creamy burrata, arugula and balsamic. I'd be happy to order any of the trio again.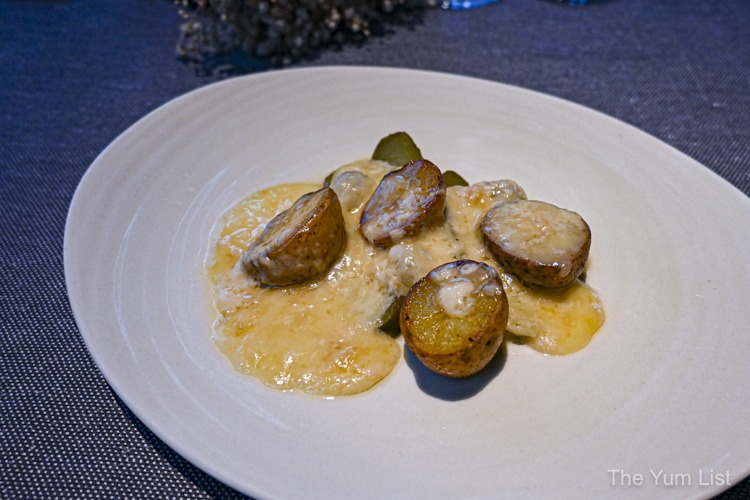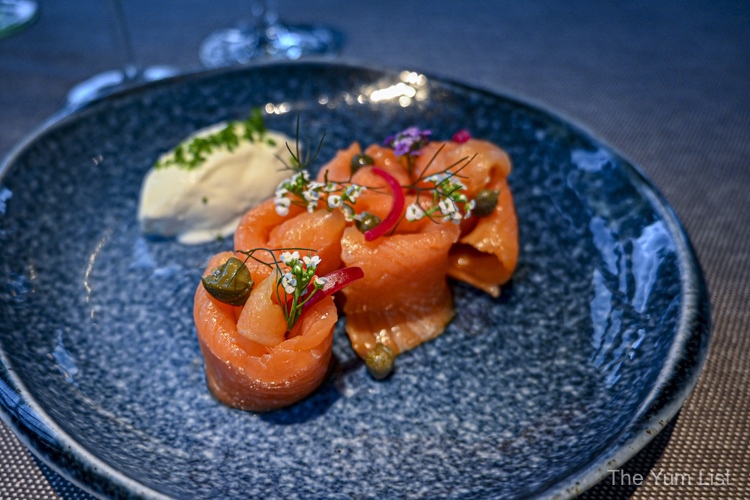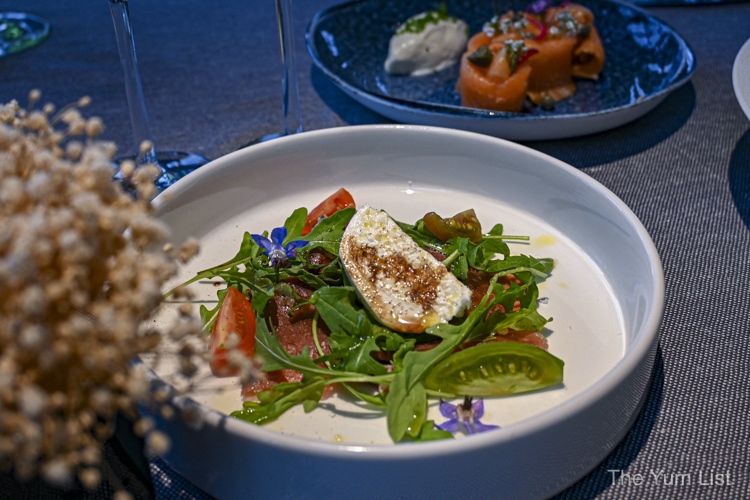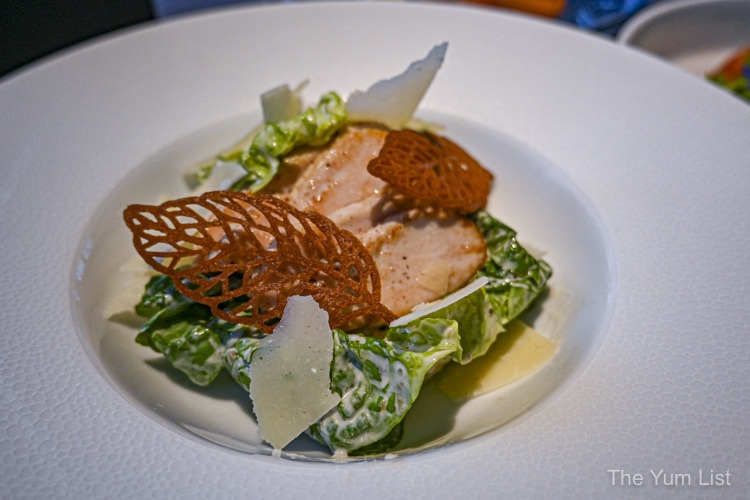 Starters
Once more, we are presented with a trifecta of recipes for the starters. I can't resist homemade pasta, so the spaghetti alla chitarra with veal ragout and Parmesan cheese is my top pick. Named for the instrument used to make it that resembles the strings of a guitar, this egg pasta is famous in the Abruzzo region of Italy and goes particularly well with ragout. Hubby eases into the day with poached eggs on an English muffin with Hollandaise and truffles, but the mushroom consommé royale with porcini mushroom is also a worthy pick.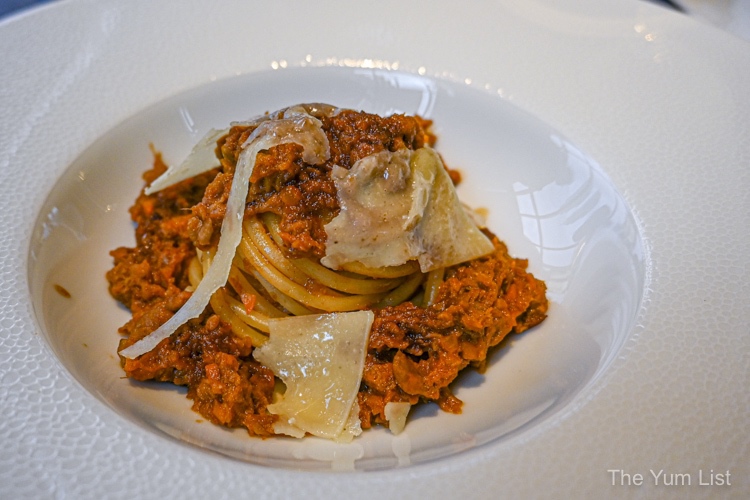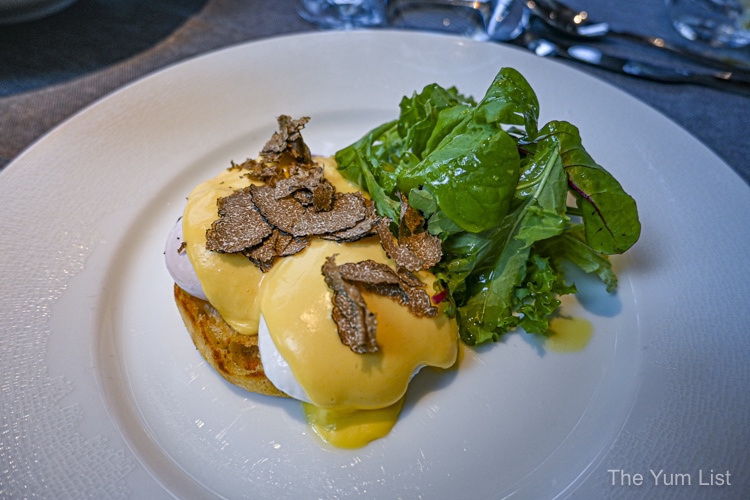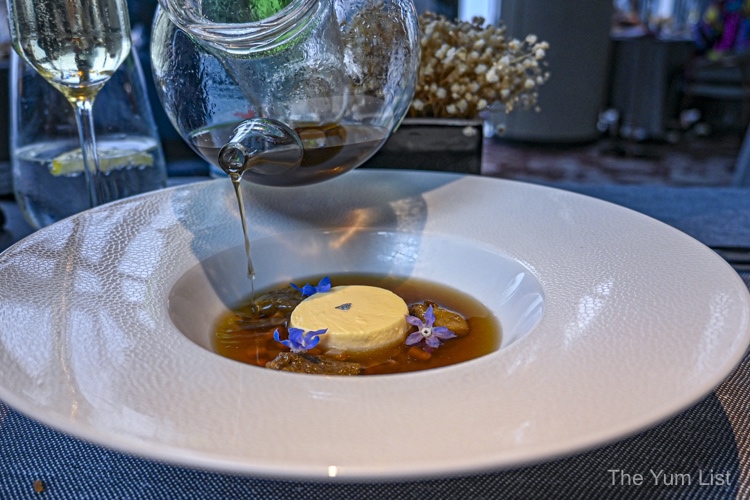 Mains
All the meals we've dined on so far have been familiar, well-balanced and of high quality. The theme continues with three mains – lamb, fish and poultry. The classic French stew, lamb Navarin, is rich and loaded with autumn vegetables and new potatoes. It makes us glad we kept a piece of the mini loaves of bread served to begin the Sunday Sky Brunch as we want to mop up every last drop. The pan-fried snapper is a pretty picture on a base of soft spinach, ringed with a yellow beurre blanc sauce. Lastly, roasted duck confit with lentil cassoulet and duck jus is equally delicious as the lamb and fish options, making recommending one over another near impossible. In the end, I suggest dining with two friends (so you can try all three dishes) or just choose your favourite protein for the day.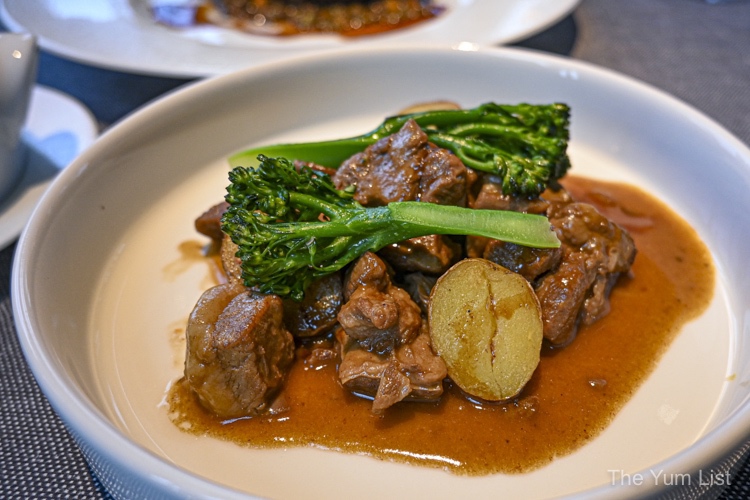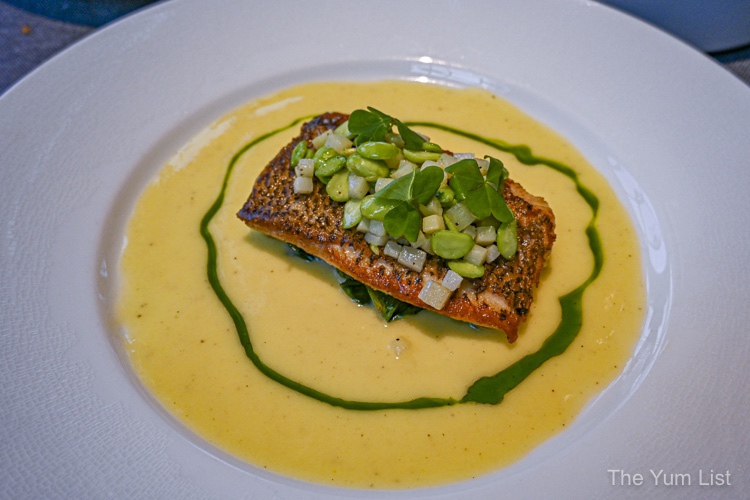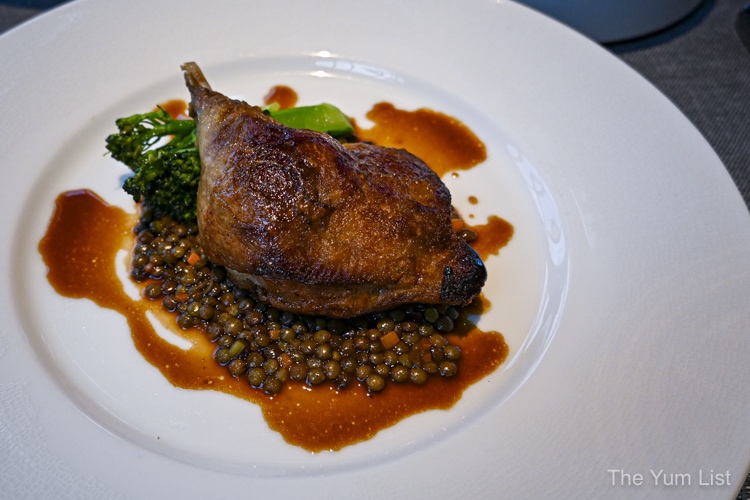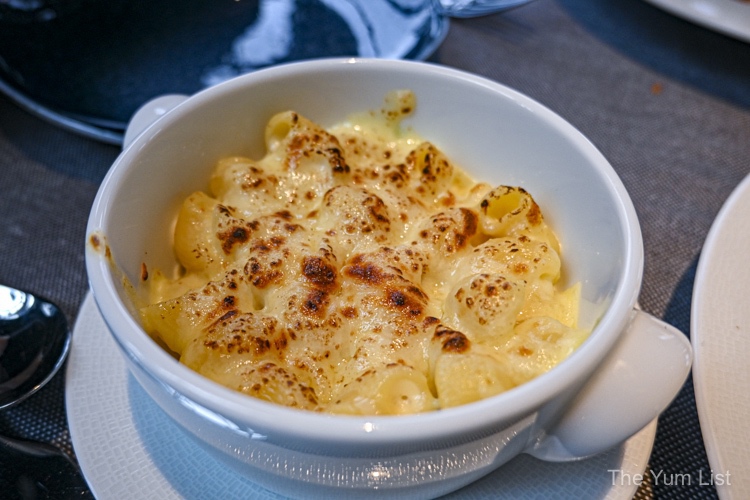 Dessert
I don't have a particularly sweet tooth, so I find the duo of sorbets a befitting conclusion. Scoops of the yuzu and raspberry flavours are bright and refreshing. Hubby's fondness for all things sweet and creamy is fulfilled with the vanilla panna cotta with strawberries, and chocolate fans don't miss out either with a rich dark chocolate tart with Madagascan vanilla gelato.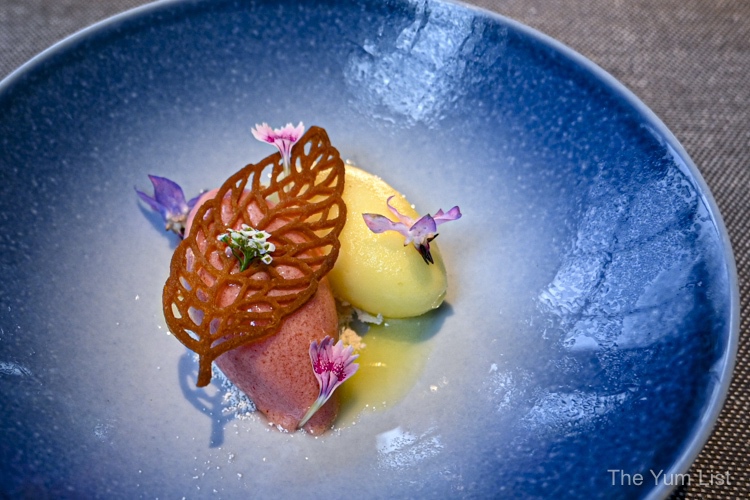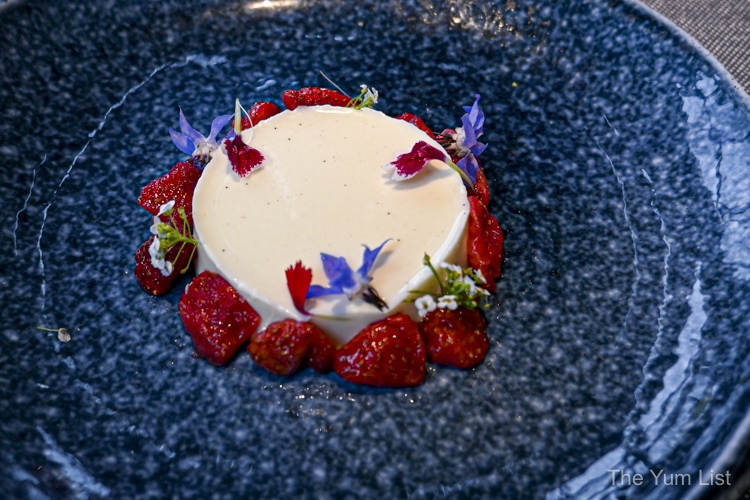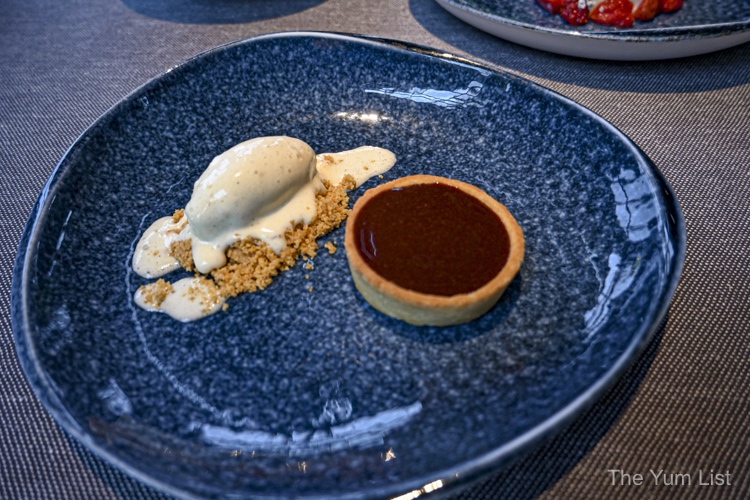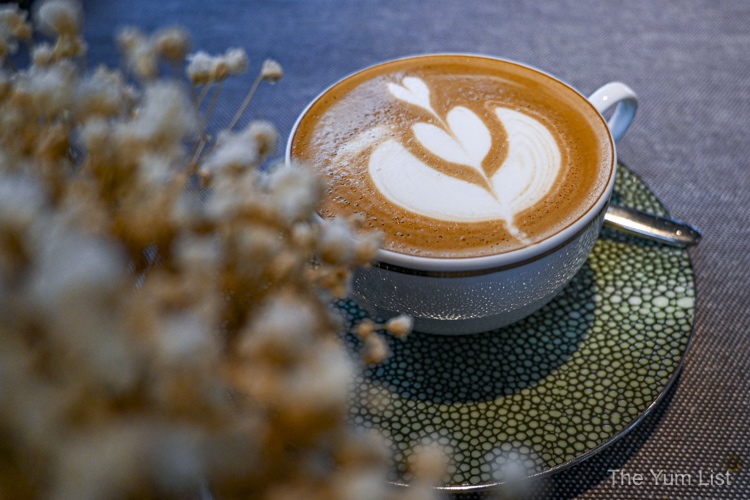 Sunday Sky Brunch Review
Sabayon's Sunday Sky Brunch is a smashing way to revel in the weekend. The set lunch has enough choices to customise the meal as you please without being overwhelming. The food is of high quality, and recipes are familiar and comforting, while the free-flow beverage package adds instant celebratory appeal – our glasses were never empty. You can even bring your (well-behaved) children, too, and have them show off their table manners at a special lunch.
The Details
Sabayon's Sunday Sky Brunch runs from 12 pm – 3 pm. Adults are charged RM 198+ for the 4-course, and the 2-course brunch is priced at RM 68 + for children aged 6 – 12. You can add a free-flow of Taittinger Champagne, white and red wine, for RM 228+, or upgrade to Barons de Rothschild Champagne for RM 328+. It's a fine setting and elegant meal, so do dress appropriately. (Scroll to the bottom for the full menu .)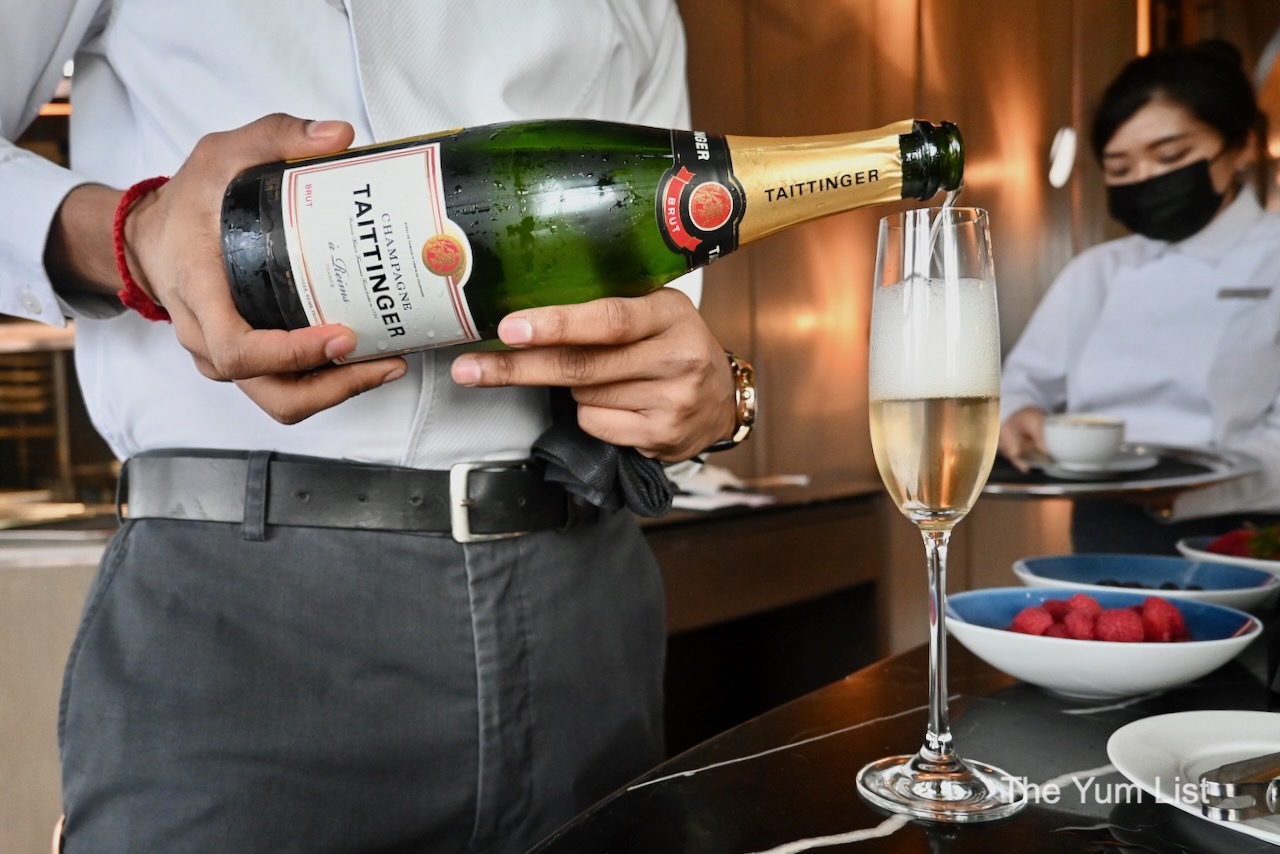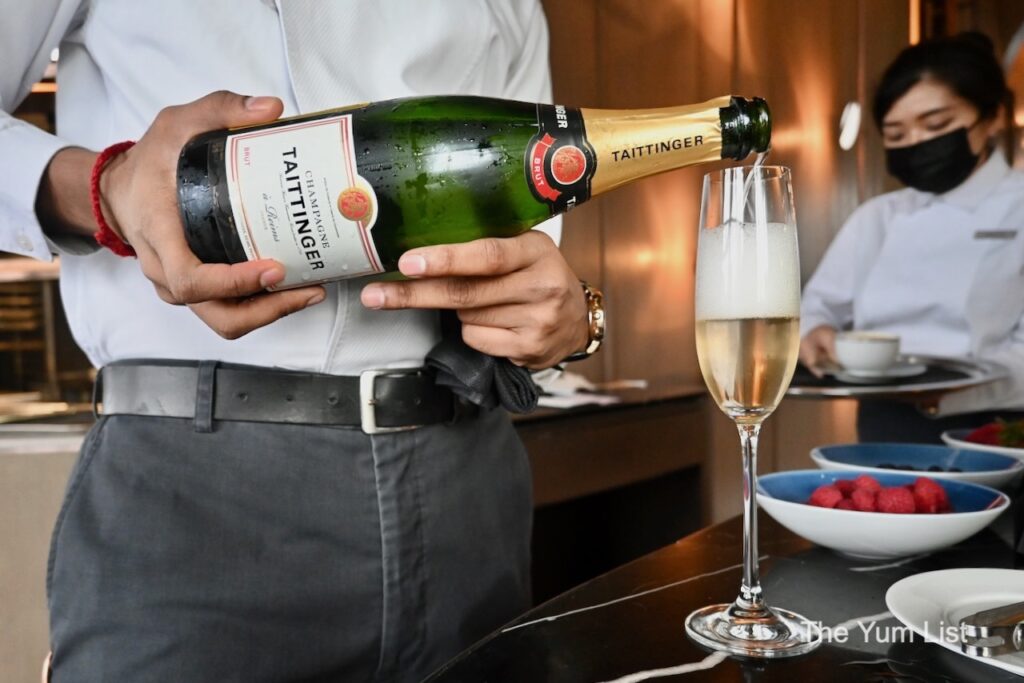 Reasons to try Sabayon's Sunday Sky Brunch: fabulous views; a high-quality four-course meal of food guaranteed to nourish and satisfy; excellent beverage package including make-your-own Mimosas, Bloody Marys and G&Ts; the possibility to upgrade to Barons de Rothschild Champagne; staff ensured our glasses were never empty.
Sabayon, EQ Kuala Lumpur
EQ, Equatorial Plaza
Jalan Sultan Ismail
50250 Kuala Lumpur, Malaysia
+603 2789 7777
[email protected]
www.eqkualalumpur.com/dining/sabayon
*Dress code: smart casual
Sunday Sky Brunch Brunch Hours
Sundays 12-3 pm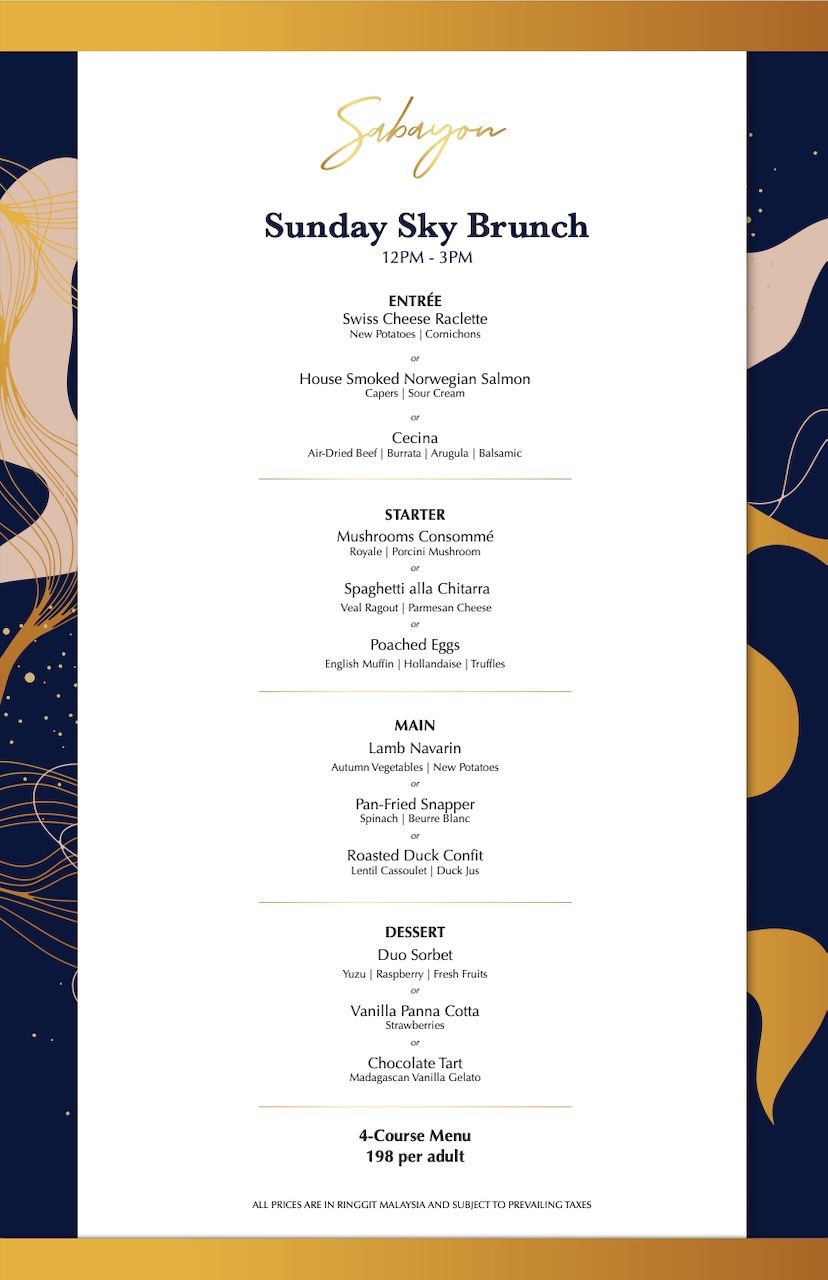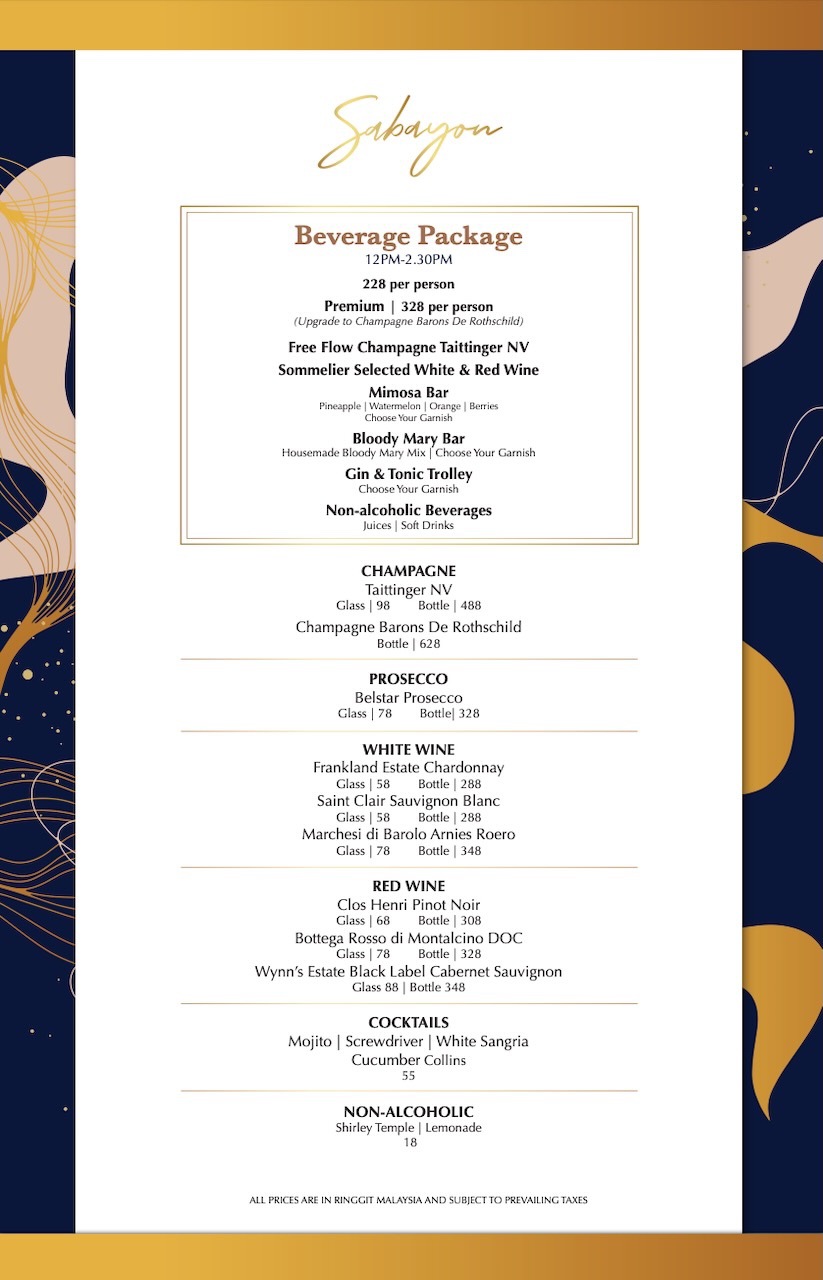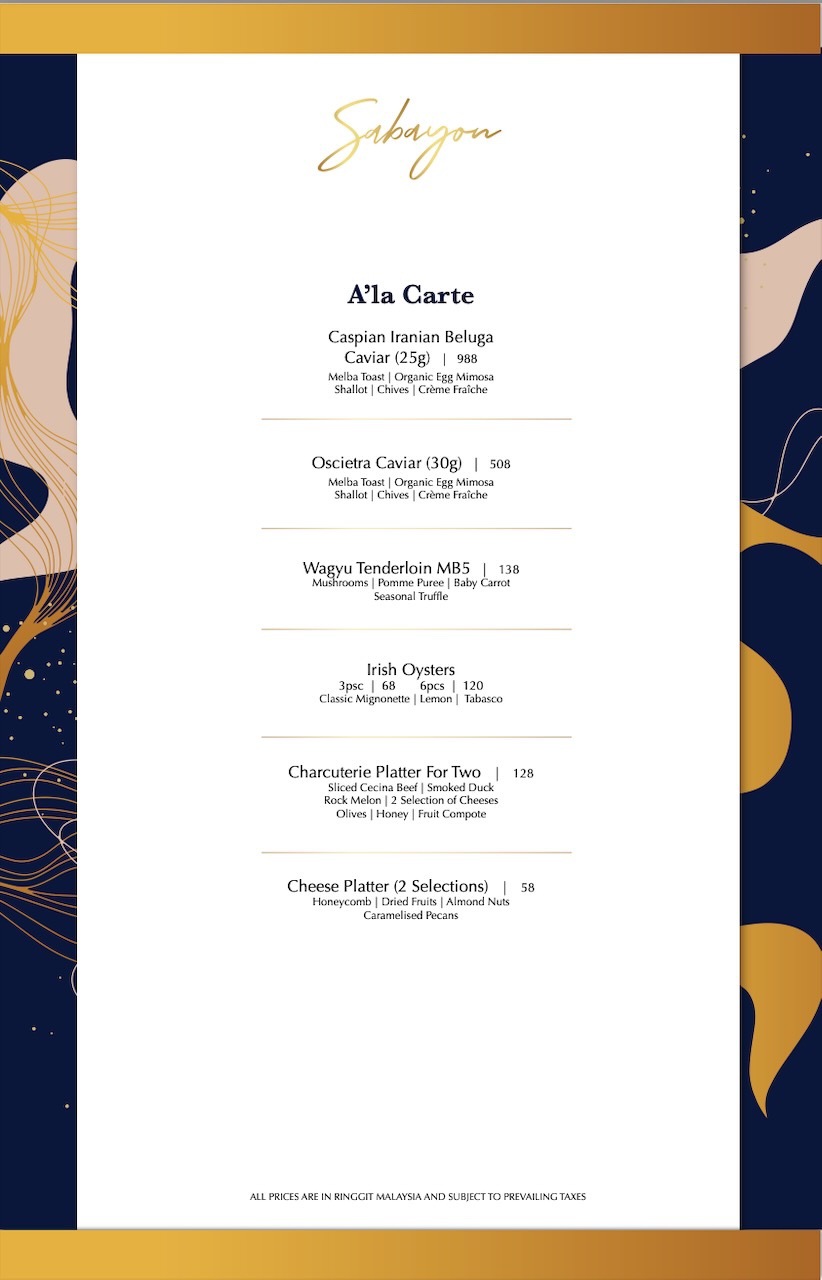 Find more brunch options in KL here and stay up-to-date with the latest gourmet and travel recommendations for Malaysia here and here.