Ruyi One.Café
Words: Monica Tindall
Photos: Rich Callahan
The latest food and beverage addition to The Grange at Ampwalk is Ruyi One.Café. It's easy to access and serves a compact menu of quality Vietnamese food in a bright, cheery setting.
Perched to the left of the main entrance of the mall in a glass-walled lot, it's no challenge to find. The small outlet is a comfortable space with natural light filling the café and Vietnamese bowls and green Saigon beer cans decorating it.
Owners Kenny and Vanessa started the café as a tribute to their son Ruyi. Experiencing his formative years in a relatively isolated environment due to the pandemic, they wanted to provide some hands-on activities to keep him engaged. Furthermore, separated from mummy's family in Vietnam, cooking became a way to maintain a cultural connection.
Meal preparation extended beyond the home to the immediate community, with family and friends ordering Vanessa's authentic Vietnamese cuisine. With positive feedback, the concept grew to where it is today, the newly opened kitchen, Ruyi One.Café in Amp Walk.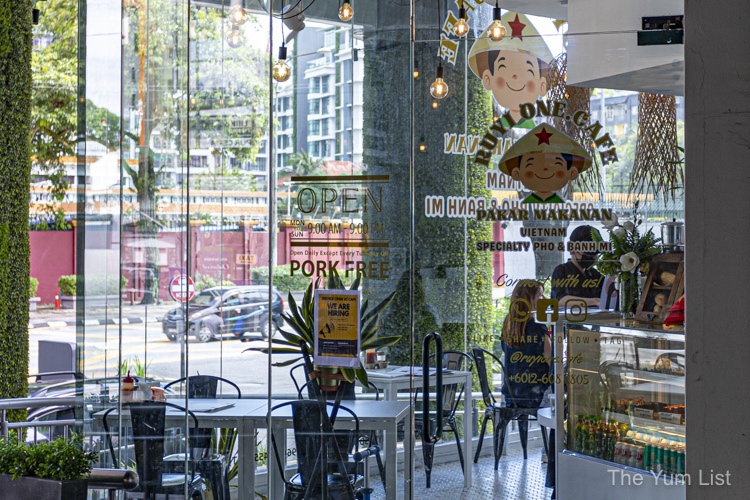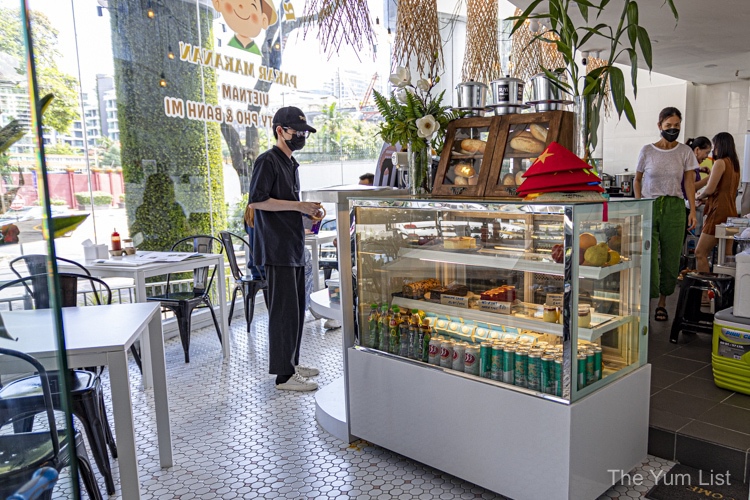 Ruyi One.Café Menu
The focus of Ruyi One.Café is bánh mì and phở, with everything made from scratch and derived from Vanessa's family recipes.
Starters
Although the majority of dishes are various versions of bánh mì and phở, there are several starters worth a second look, too. The Chicken Salad (RM 18) makes an excellent beginning (or even a light meal on its own). It's a simple mound of shredded cabbage, pickled carrots, fresh herbs and slices of chicken dressed in an addictive vinegar and sugar dressing. The seasoning is light and delicately sweet but can be given additional oomph with a spoon of fish sauce and red chilli.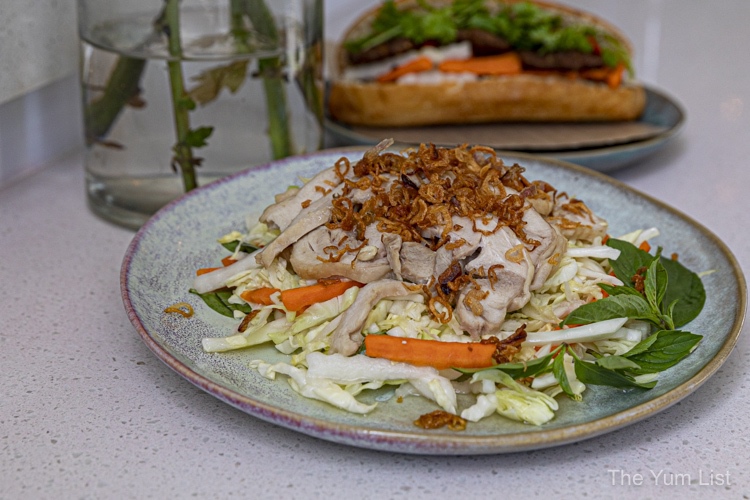 The Vietnamese Prawn Dumplings (RM 19) are not what I was expecting. I incorrectly assumed these were a version of fresh spring rolls. Instead, this recipe is composed of sticky tapioca dough lined with whole crunchy baby shrimp. They're wrapped in a banana leaf for steaming and eaten together with picked veg, mint and fish and chilli sauce.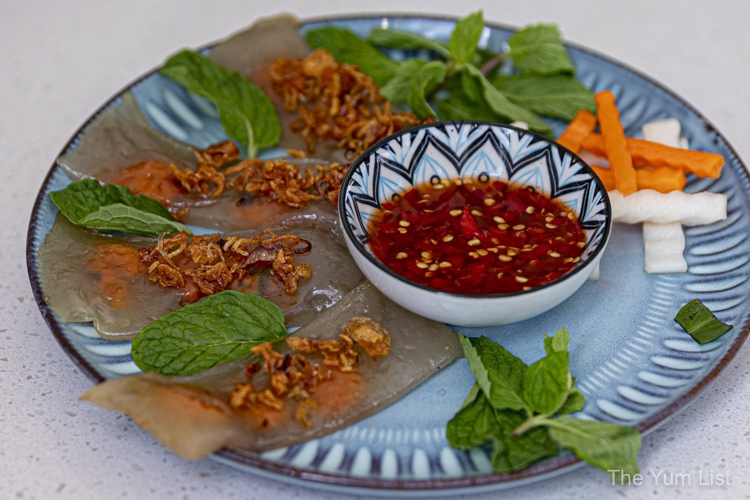 Bánh Mì (Baguette)
Of course, you must order bánh mì at Ruyi One.Café, and there are several fillings to choose from. As with everything else, the bread, the essential component of bánh mì, is made from scratch. Our first taste is the Bánh Mì with Lemongrass Beef (RM 20). The bread is excellent, featuring a fine crunchy crust. This one is filled with lemongrass beef, chicken liver pate, mayonnaise, pickles, spring onions, cucumber, coriander and fresh red chilli. If you have a low tolerance for spice, you might consider asking for yours without the chilli.
The Bánh Mì Vietnamese Breakfast (RM 24) is a detour from the popular pre-filled rolls. Plated separately, you can stuff your own bun. A sunny-side-up egg, chicken sausage (homemade), chicken liver pate, pickled veggies and coriander are meant for cramming at your own pleasure. While Rich is taken with the beef filling, I'm rather partial to this brekkie option.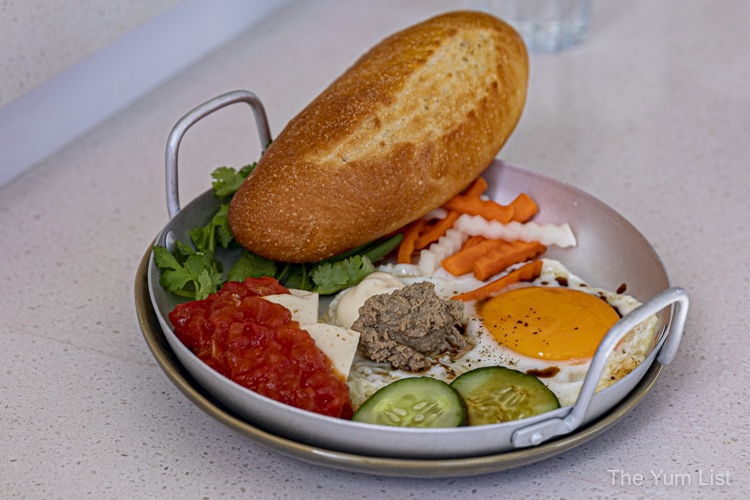 Phở Noodle Soup
From one iconic dish to another, we move on to Ruyi One.Cafés Special Beef Phở (RM 28). The bone broth is cooked down for over 12 hours, gifting a gentle sweetness to the soup. It's filled with silky noodles, rare sliced beef, beef brisket, homemade beef balls, plump bean sprouts, onions and spring onions. Rich and I share a bowl and find it filling. Large appetites might do it on their own, but I found half a bowl just right.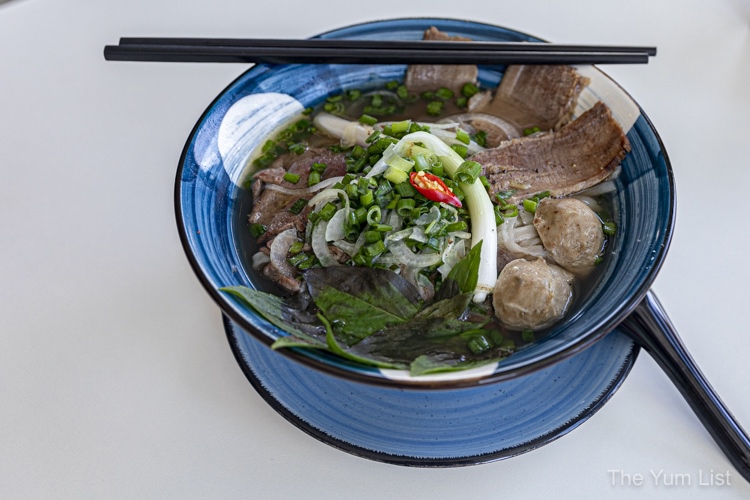 Dessert
A small cake counter at the entrance holds a handful of house-made desserts. However, if you want to combine your sweets and caffeine finish into one, you can try the Vietnamese Coffee Affogato (RM 16). It's given a luscious twist with the inclusion of coconut ice cream. The rich gelato is a counterbalance to the sharp, distinctive taste of the coffee. It's a good match.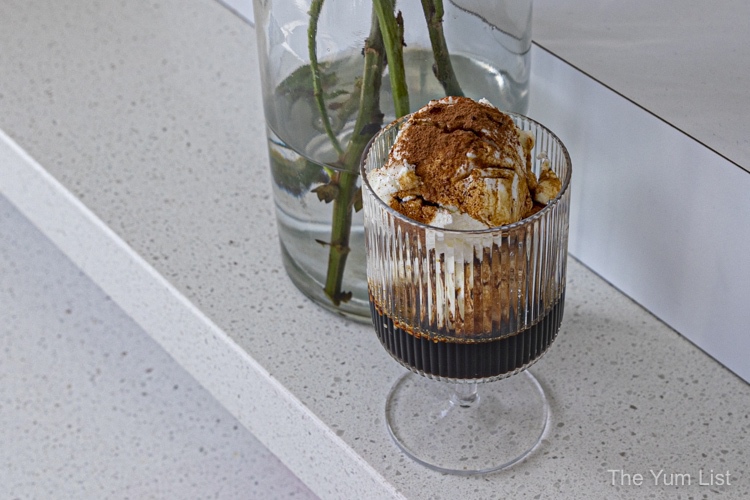 Drinks Menu – Ruyi One.Café
There are a handful of drinks on Ruyi One.Cafés menu, with Vietnamese coffee in several renditions a highlight. Expect to find the strong, bitter drip coffee with condensed milk, coconut milk, salted cream and even egg. We try the latter, which is brewed with egg and condensed milk at the top of the drip, along with the ground beans in the Egg Coffee (RM 15). It's sweet and rich.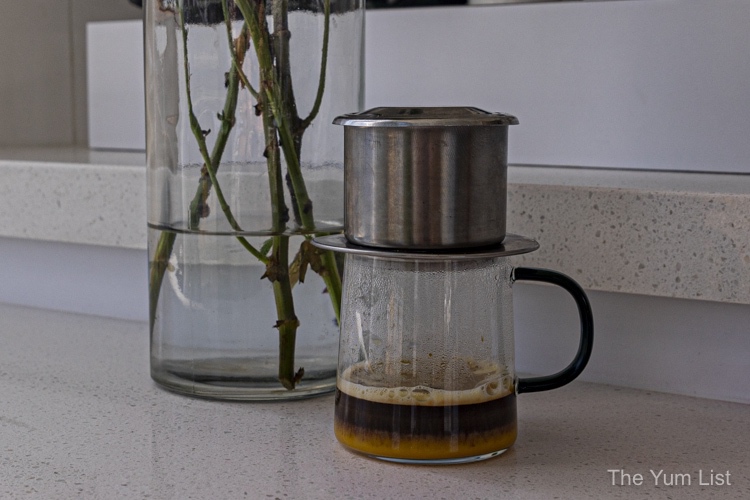 For something lighter (and non-caffeinated), Passionfruit Juice (RM 14) is great refreshment. Passionfruit pulp is mixed with strips of orange rind and served over ice. Great on a hot afternoon.
Ruyi One.Café Review
Ruyi One.Café serves simple and delicious, fresh and well-balanced Vietnamese food in a light, bright setting. It's a good spot. We recommend you visit.
Reasons to visit Ruyi One.Café: Vietnamese speciality dishes – phở and bánh mì. Rich enjoyed the lemongrass beef bánh mì, while Mon will return for the chicken salad and probably bring hubby back for the special beef phở.
Ruyi One.Café
The [email protected] (to the left of the main entrance facing the road)
218 Jalan Ampang, Kuala Lumpur
+6 0126082805
Instagram: @ruyi_one.cafe
Ruyi One.Café Opening Hours
Wednesday to Monday: 9 am – 9 pm
Tuesday: closed
Find more restaurant recommendations for Ampang here and stay up-to-date with the latest gourmet and travel recommendations for Malaysia here and here.