Hide Kuala Lumpur
Words: Han Sen Hau
Photos: Monica Tindall
If the name of this restaurant isn't a klaxon-blaring advertisement for its clandestine location just right by the lobby of The Ritz-Carlton Residences, then you may just as well think nothing of the series of floral paintings on your way to the restrooms next to said lobby. But if you just paused for a second to admire and assess the paintings (some of these are for sale too, by the way), you'll notice one significantly larger piece of art hanging at the end of the corridor, with its black frame extending all the way down to the floor.
The secret this painting, titled "Glimmer", contains lies in its description:
The main inspiration for this piece was the concept of the space that is hiding behind it. A meticulous blend of contrasting colours with bold gold slicing through the centre of the painting; as though a glimmer of light sweeping through – tempting the viewers to go beyond and explore the delights awaiting ahead.
Did you catch it? The artwork is a door, a door that opens to reveal the sleek and chic 15-seater brainchild of Ng Yi Shaun, head chef of Hide Kuala Lumpur.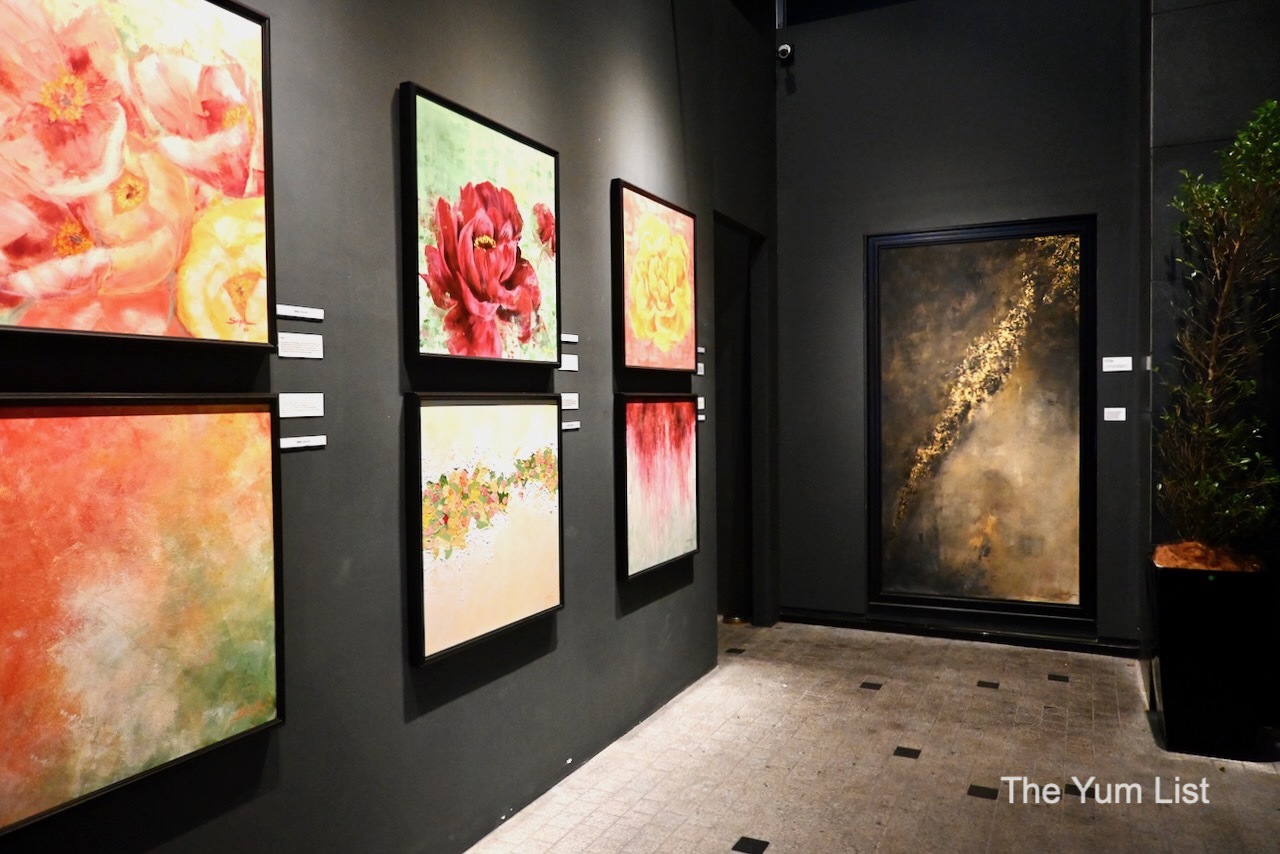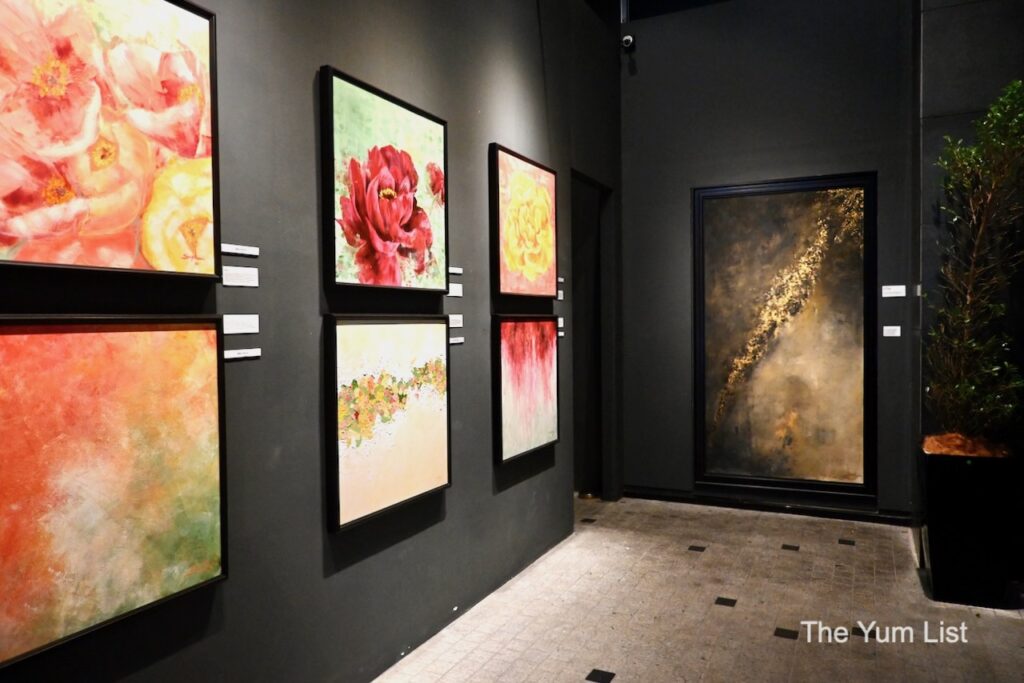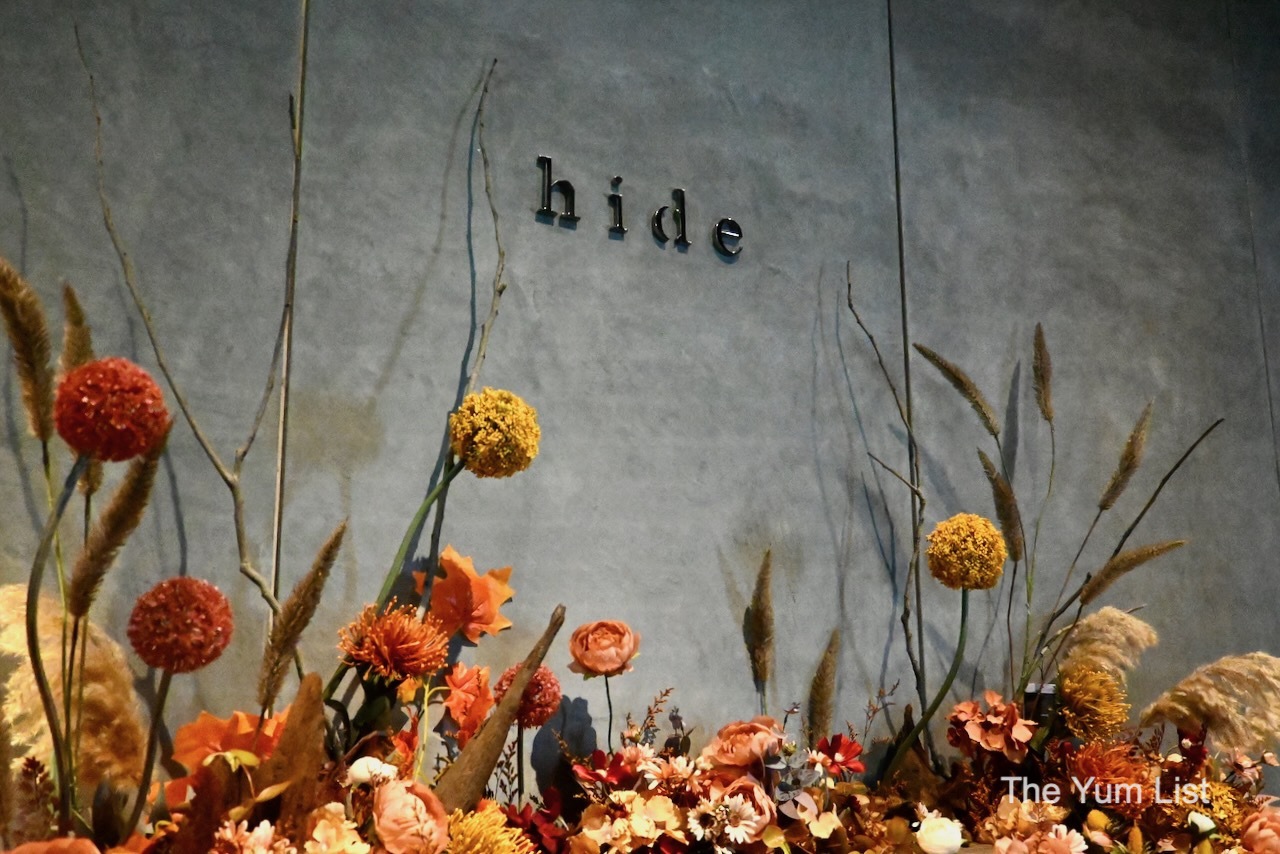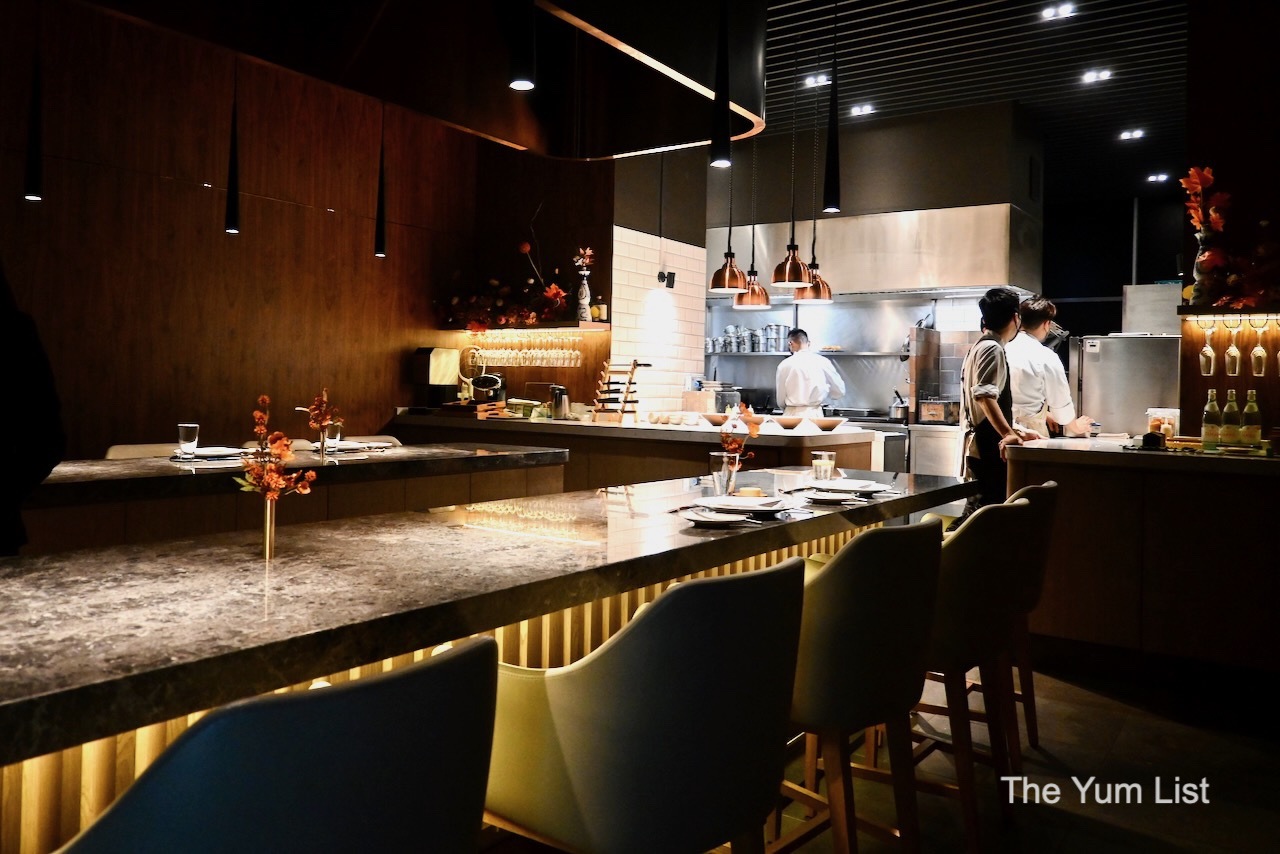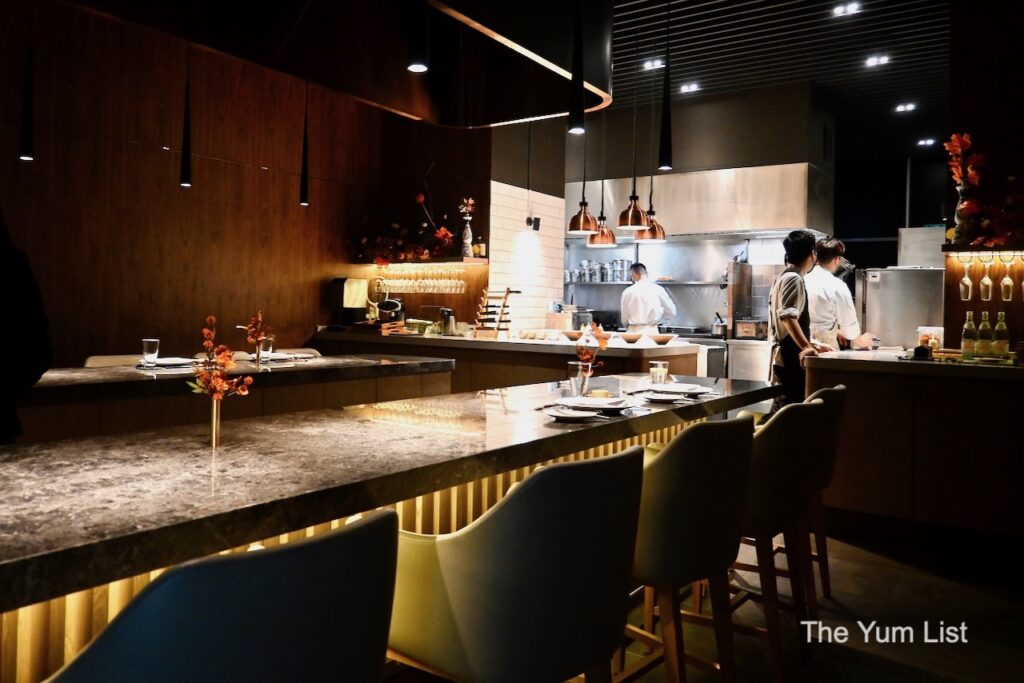 Hide Kuala Lumpur
Operating strictly via reservations only, for obvious reasons, you would be ushered to your seat where a wax-sealed envelope with your name on it awaits you. Inside, the menu of the day lists the myriad of morsels that will beguile your lips over the next three hours. While the cuisine isn't generally pinned to a single location, most of what will be served on your plate will contain seafood, which is chef Shaun's forte.
Aperitif & Bread
Once settled in, you would be presented with a single, translucent sphere of Lillet Blanc mixed with aloe vera and green tea, balancing a thin strip of Granny Smith above it, and served on a wooden spoon. As you pop the sphere, the burst of flavours in your mouth instantly invigorates your senses and acts as a dramatic and refreshing exposition.
The accompanying seaweed brioche and homemade butter, which looks amusingly like a bar of soap, also tantalise with their softer and saltier profile, a foil to the fast-disappearing drop of dew enjoyed earlier. We appreciate these options for their lightness as we ease into Hide's prodigious carte du jour.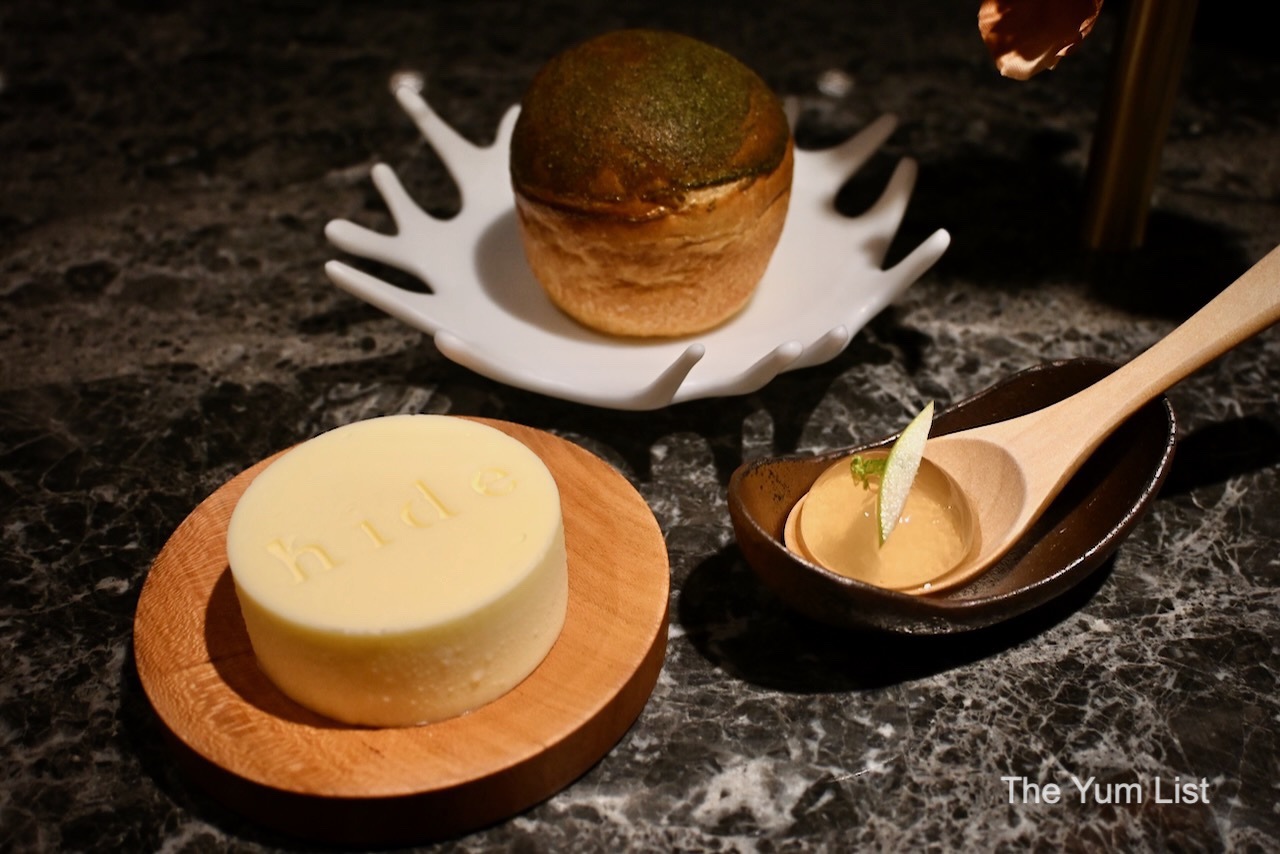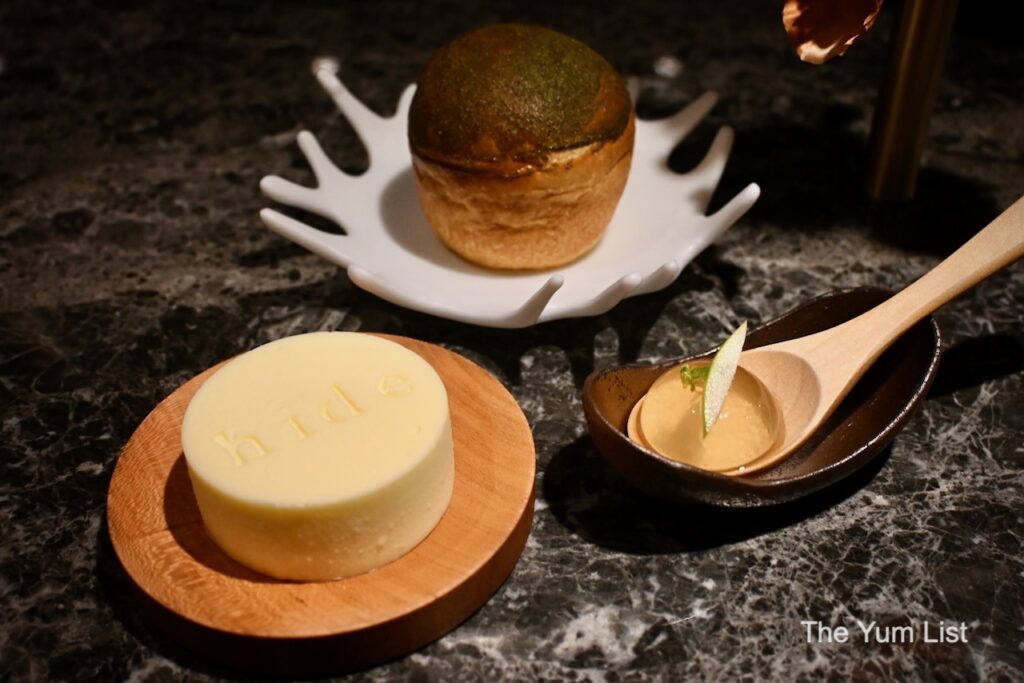 Amuse-bouche
Our bite-sized adventure continues with a trio of beautiful hors-d'oeuvres: a crisp tuna gunkan (Tuna | Nori), a floral ikura canapé (Ikura | Smoked Salmon), and a decadent black truffle cheeseball (Black Truffle | Comté).
The tuna gunkan is a miniature homage to the flame-licked, deep-fried fish you would get at many Cantonese "dai chao" restaurants around town. The ginger oil and scallions immediately permeate the nose and induce an impatient growl from the stomach. The soft tuna tartare then works its magic to counter the crisp seaweed, while the ginger oil's sweet aroma lingers long after you've swallowed the gunkan.
The second ikura canapé is a delicate piece of art that deserves a longer lifespan in the mouth, considering how long it probably took the chef to carefully arrange each cosmos petal atop the smoked salmon cupped in puff pastry. The ikura stacked above the petals completes the illusion that you're ingesting a single flower, though that impression is quickly dispelled when the salmon swims in aioli and lemon confit on your tongue.
The black truffle and Comté combination wraps up the appetising trilogy with its intense fragrance and creamy finish. The experience is akin to indulging in a bowl of mushroom soup, albeit exceedingly rich and condensed to the size of a cheese ball. The eruption of flavours simply forces you to slow down each bite so that every grated strand of truffle can be appreciated for as long as possible.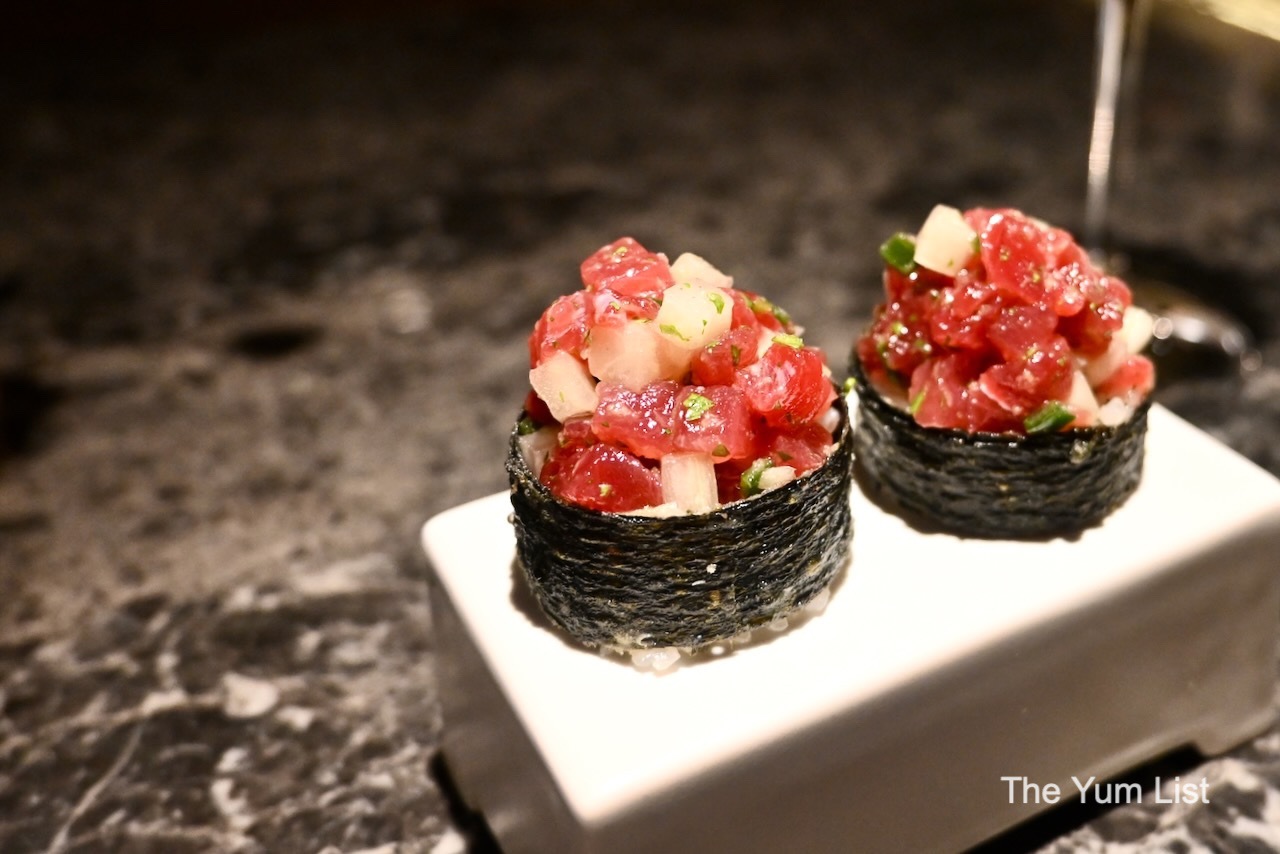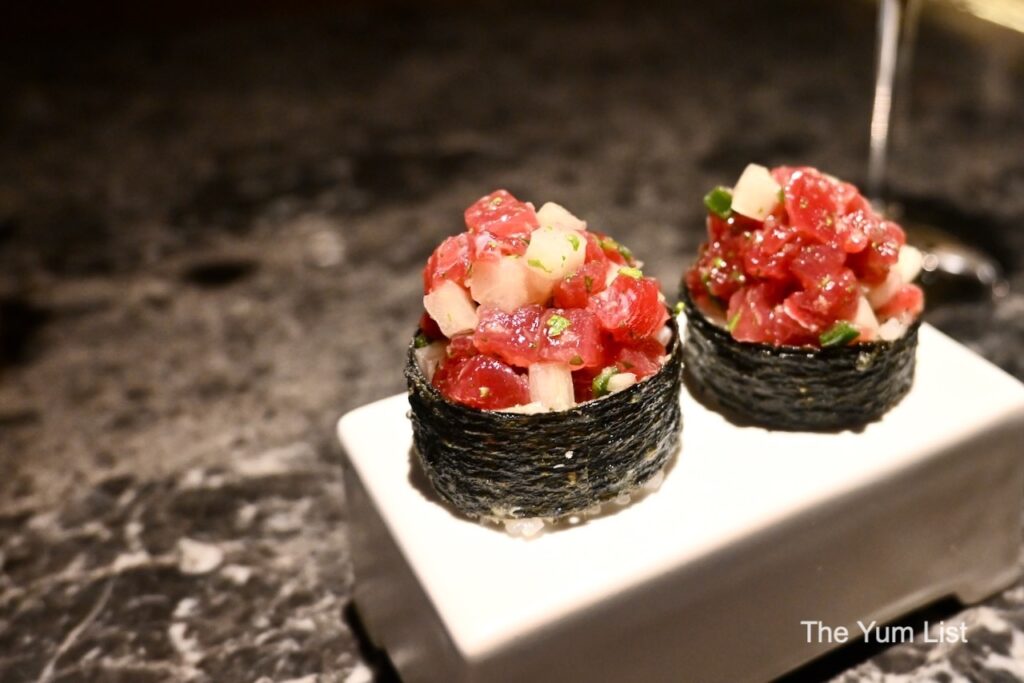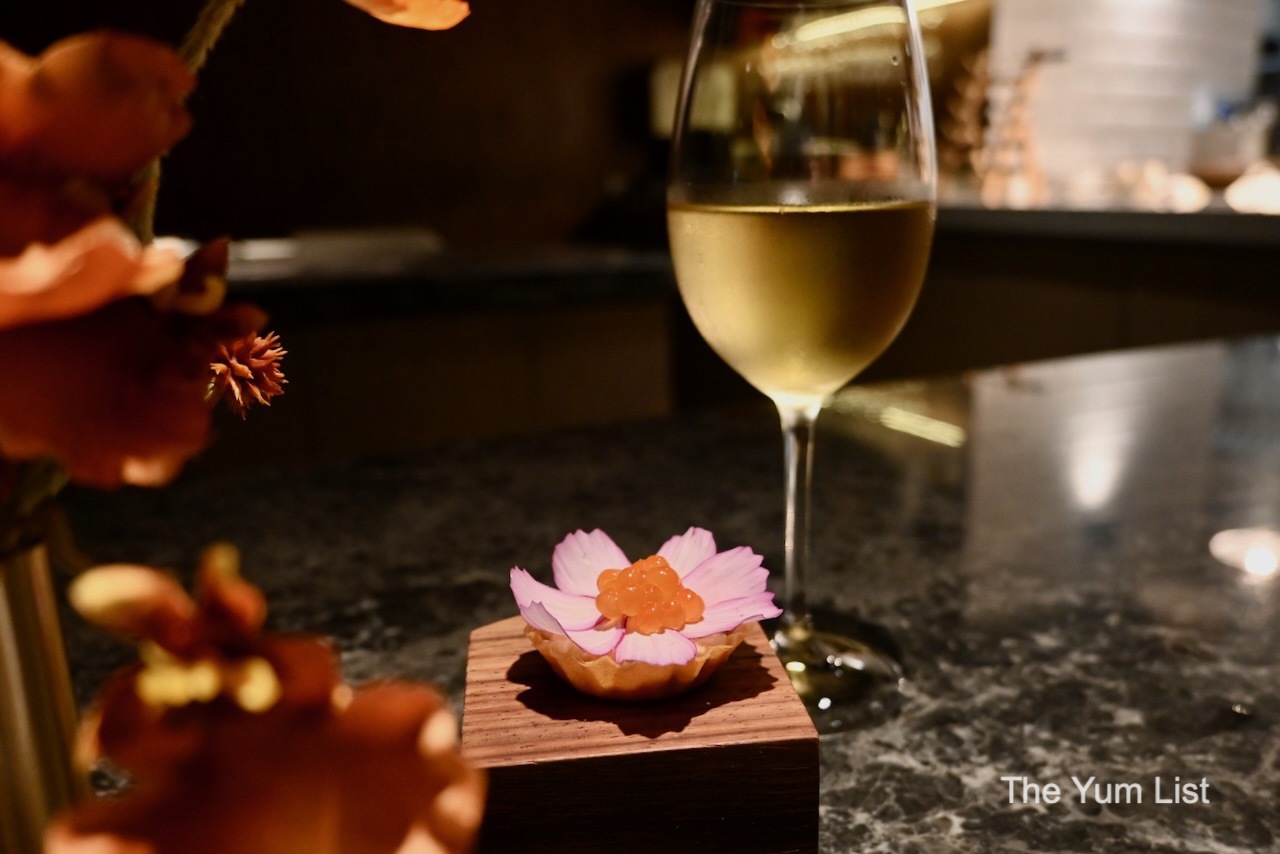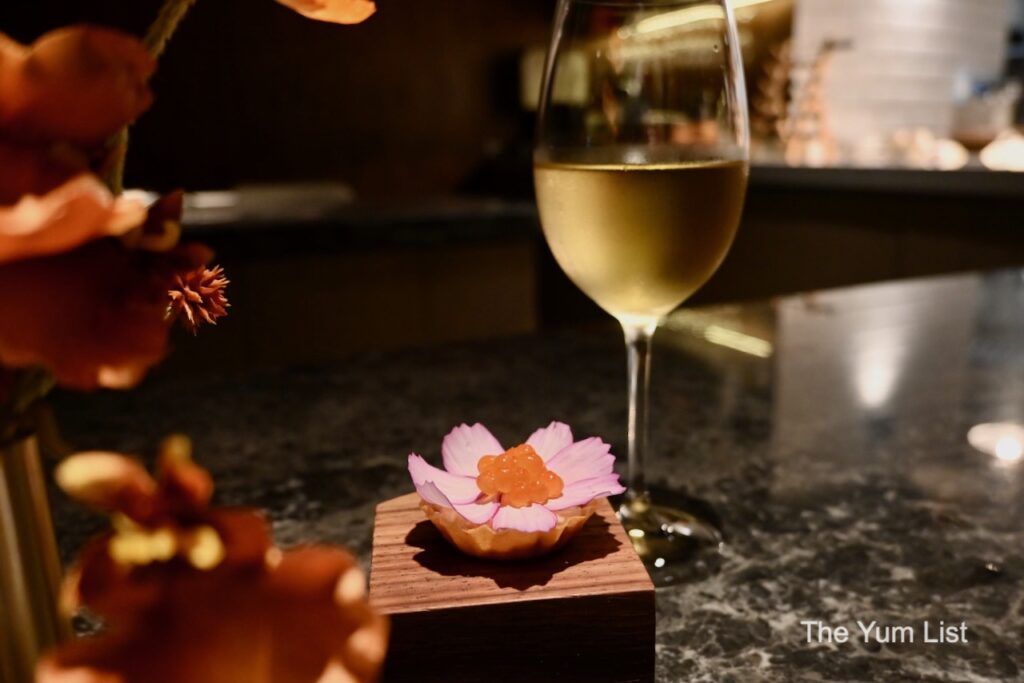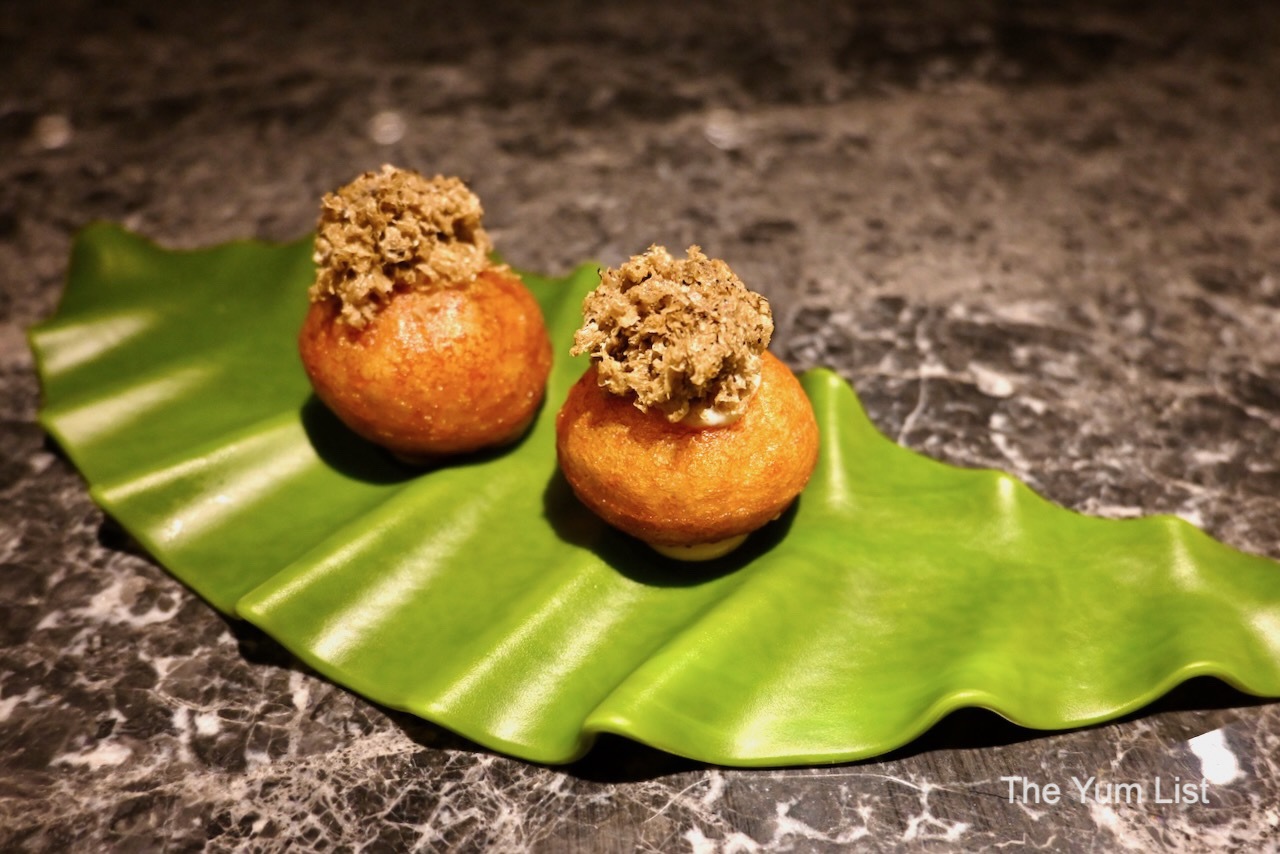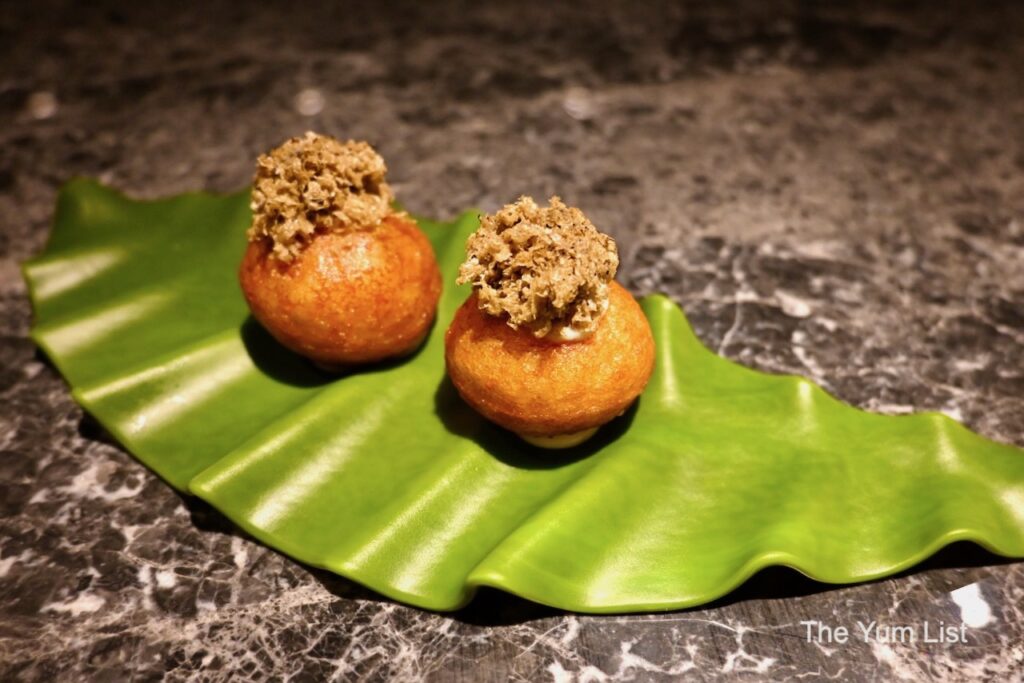 Yuzu Reset
Overcoming the potent flavours from that last nibble is an endeavour that can only be challenged by the ensuing Tai sashimi. Dipped in a glorious yuzu vinaigrette and served in a fantastically beautiful Hering Berlin perforated bowl (which honestly deserves an article), this sharp intermission immediately banishes all traces of the truffles and cheese to reset the palate.
The most defining quality of this dish is its complexity. Following a sweet yuzu entry, the tongue is then overwhelmed by the wave of tangy vinaigrette before the subtly savoury profile of the sea bream comes to life. This transformation occurs with every bite, and you'd wish each distinct experience would persist a little longer. Alas, we only ever yearn for that which never truly lasts, which is probably why this dish was so compelling.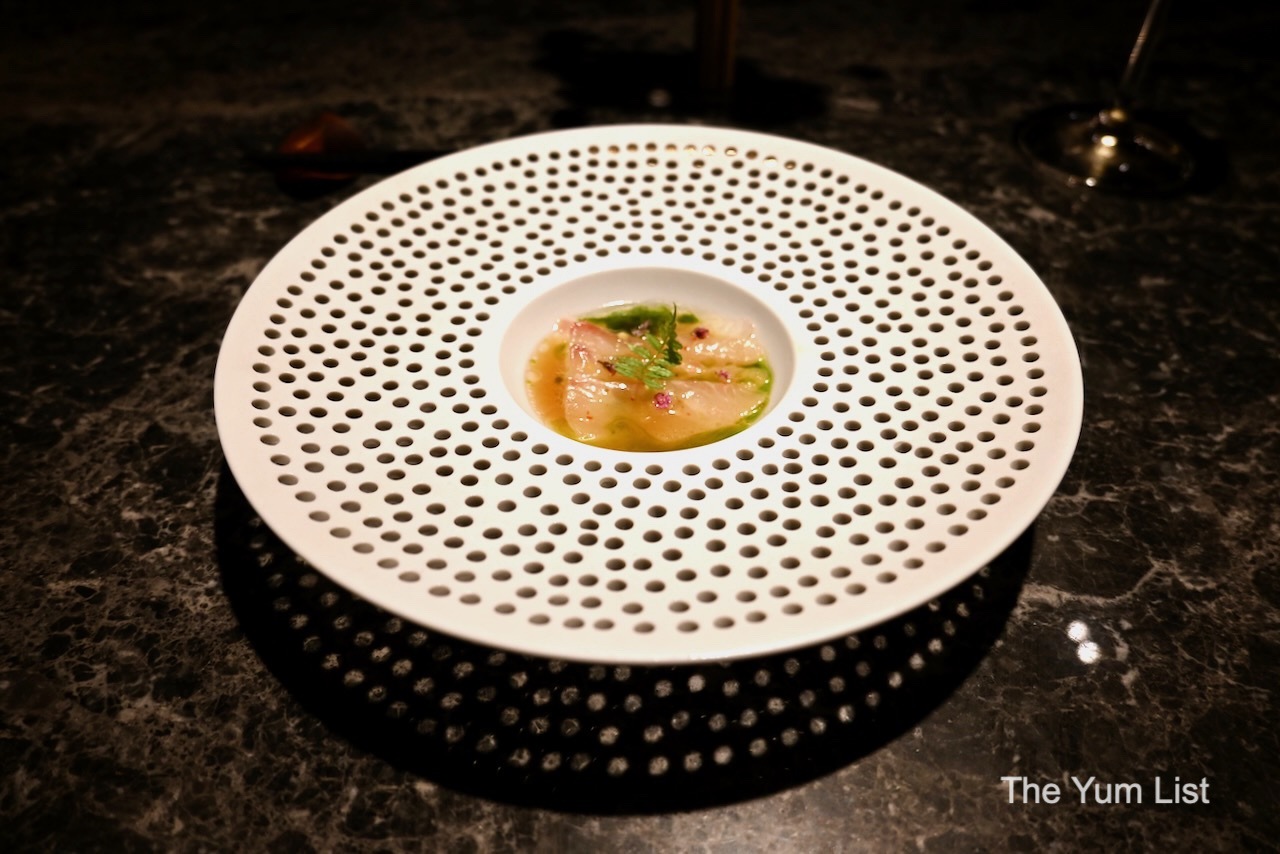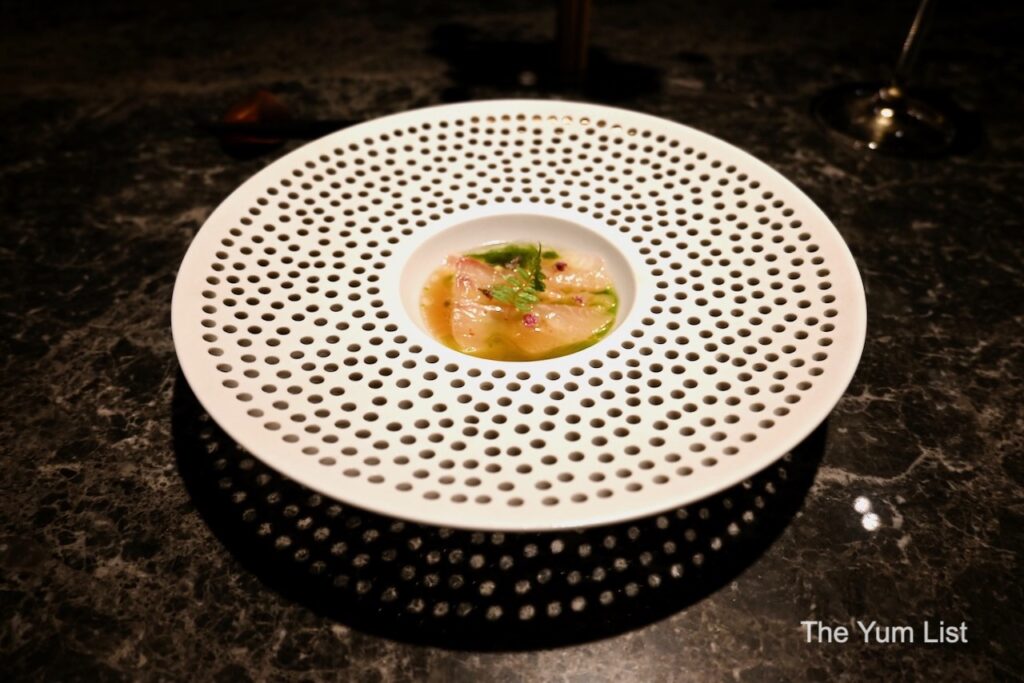 The Optional Indulgence
Truly, Hide's appetisers could compete with its mains in scale and design, so if you ever want to entreat yourself to more hedonistic entrées, you should definitely order up the supplementary black truffle Dadinho (RM88++). Taking inspiration from a Brazilian staple snack, the Hide team elevates the humble Dadinho (made out of tapioca sago) by topping it with fresh uni and grated black truffle.
The combination is not that dissimilar to eating expensive cuts of meat and luxurious cheese on a Ritz cracker. However, with the cleanest sea urchin imaginable sandwiched between the crunchy dice and truffle floss, you would be remiss to eat this without a plate, as things can get messy. You wouldn't want to waste any of the ingredients.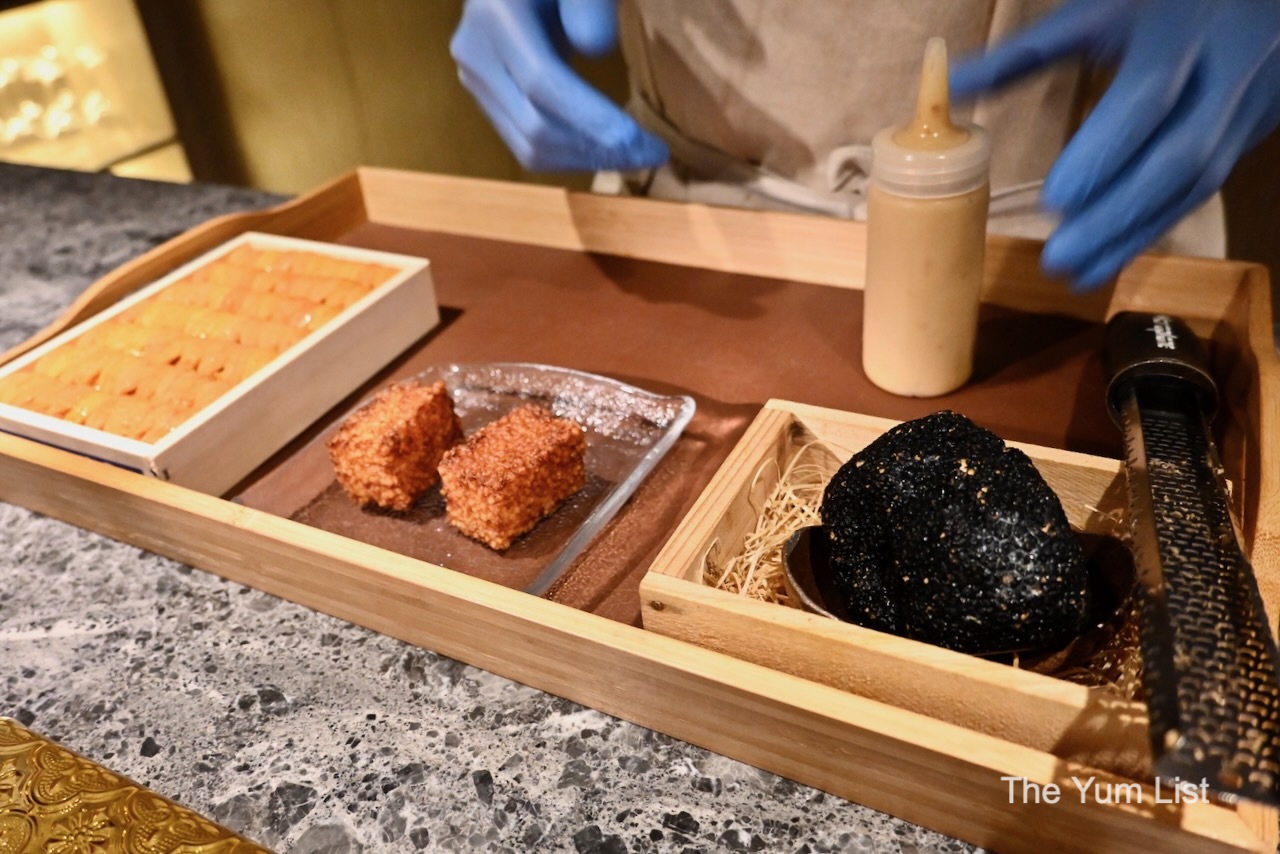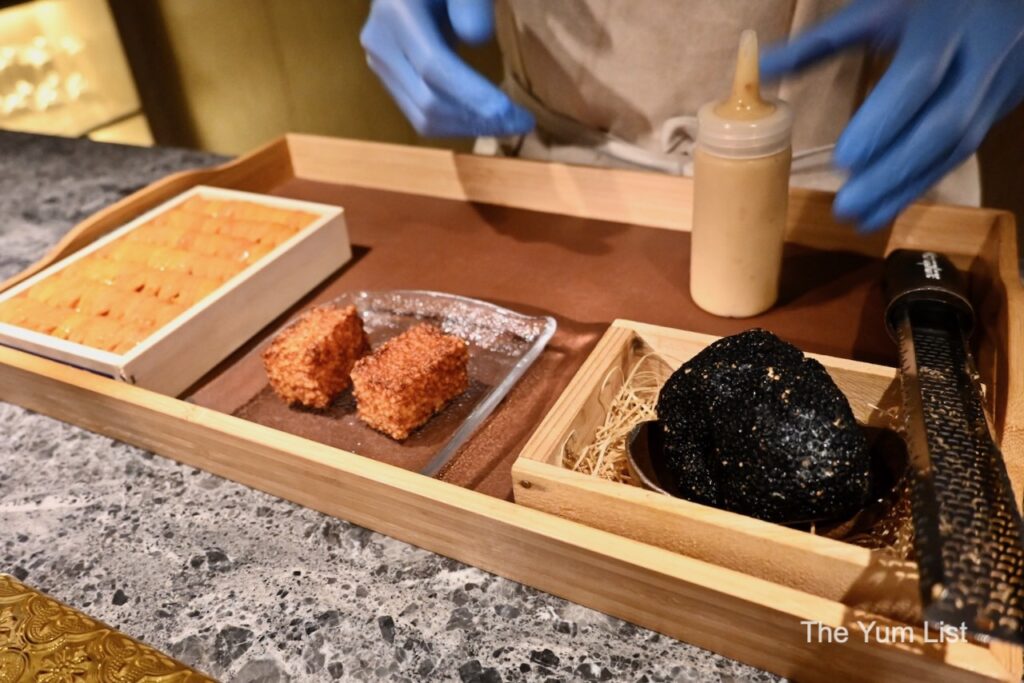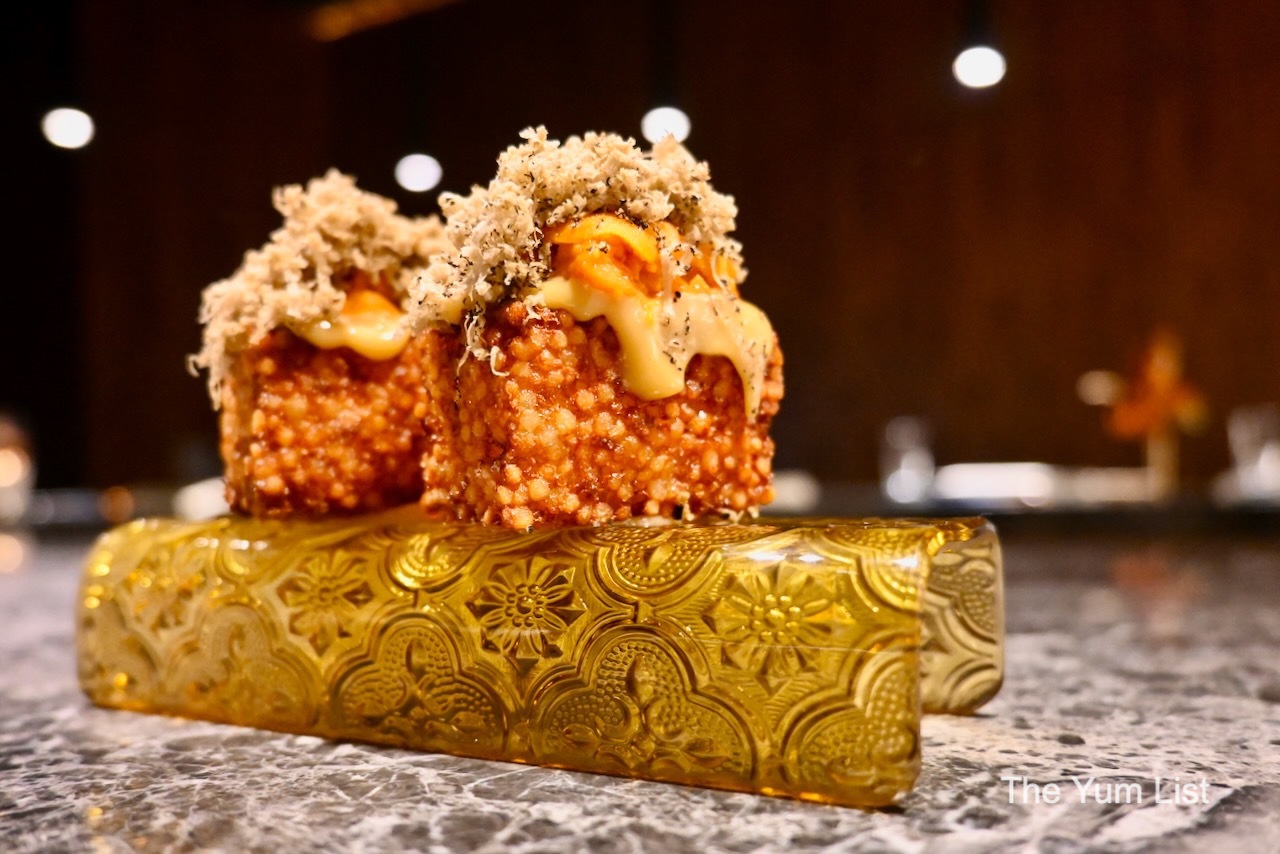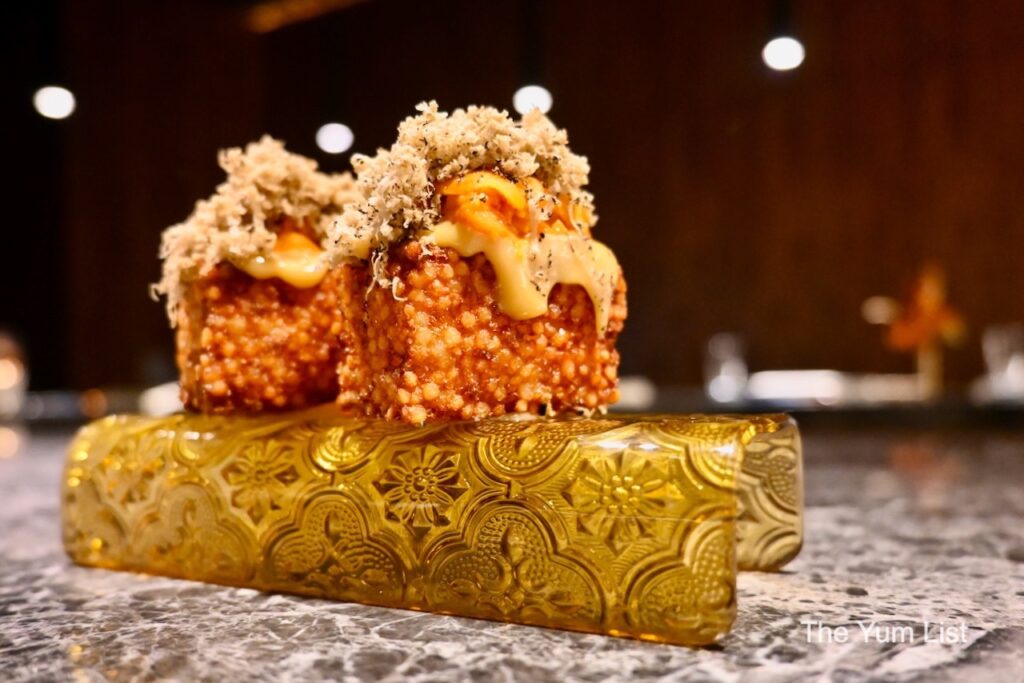 A Familiar Comfort
As the final warm-up before the sizeable mains, the fluffy lobster "ma po" egg custard warms the guts with its piquant palate. The Szechuan peppercorn oil drizzled into this clears the nostrils. It reawakens the mind as you feel a tingling sensation at the back of your head. The true potential of the spice is gently subdued by the egg custard, allowing the flavours of the chunky lobster bits to rise above that layer of spice without being choked by a fiery bouquet.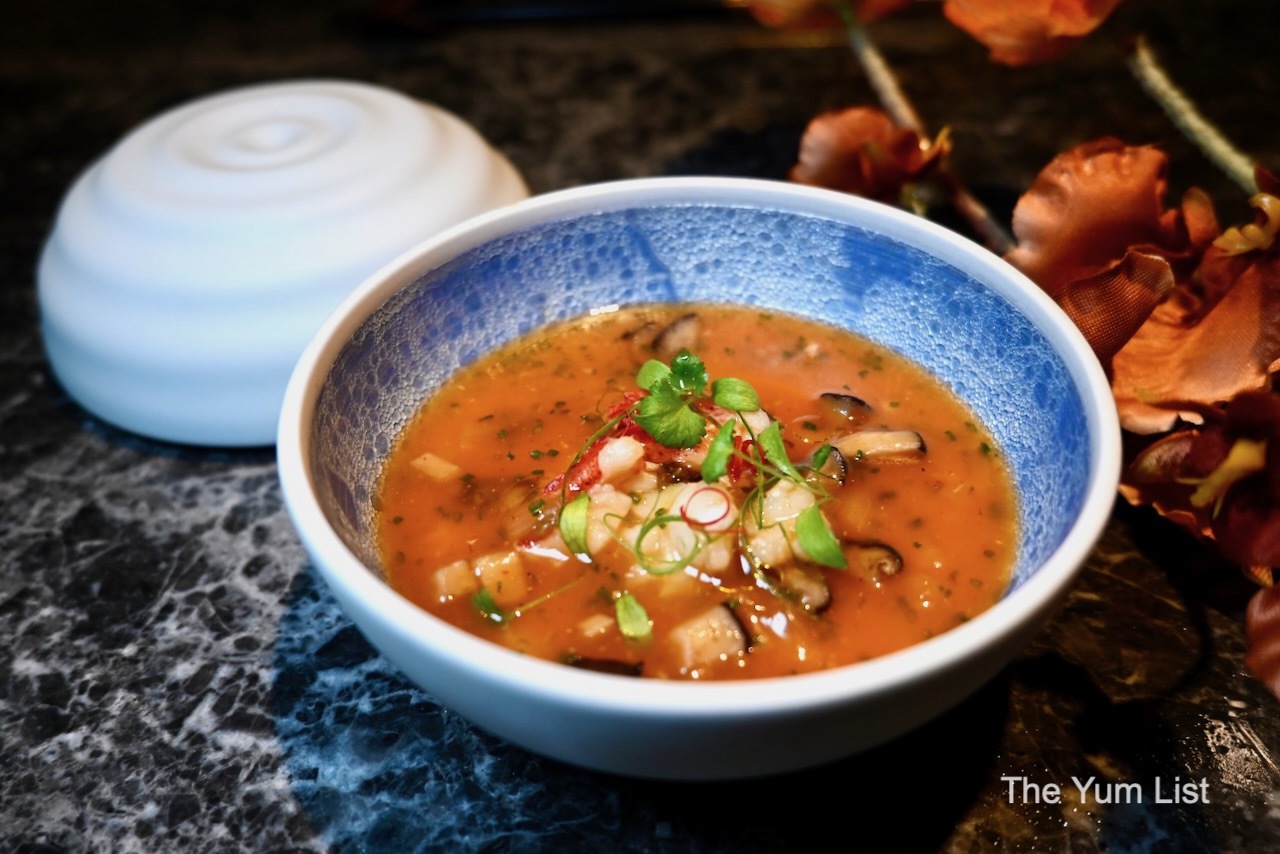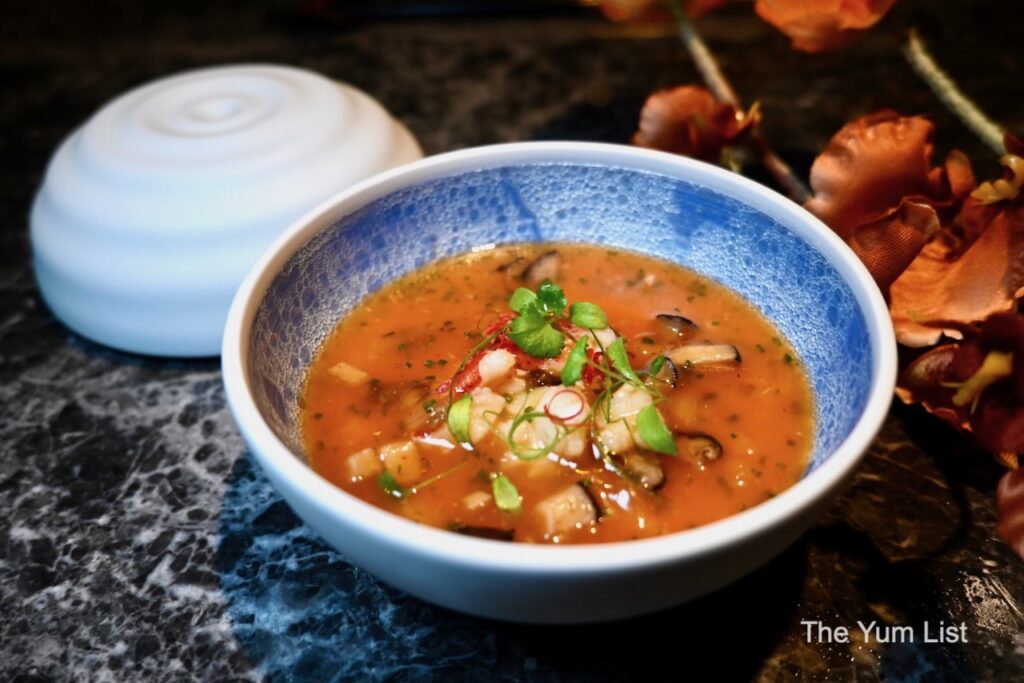 Main Courses
The first main of the evening is an impressive strip of golden eye snapper served with three cuts of bigfin reef squid and paired with a Meunière sauce. The fish's skin, pan-seared to a crisp, golden brown, produces an irresistible crackle when you slice into it. At the same time, its flesh is firm yet remarkably juicy. The Meunière, enhanced with capers and yellow wine, is mandatory for maximum enjoyment, though best savoured in small amounts.
The following snow crab and scallop tagliatelle is redolent in its arrabbiata sauce. The shredded crab and garlic panko introduce an interesting flaky texture to break the monotony of the creamy sauce clinging to the pasta while the juicy scallops impress with their size. Still, it is the surreptitious gochujang mixed into the arrabbiata that steals the show with its signature sweetness. Also, for an additional RM65++, you can enjoy this with fresh uni added into the mix.
Finally, in comes the highly anticipated strip of Silver Hill duck that has been dry aged for two weeks. Served with potato purée and duck jus on the side, the duck blushes in pink and the flesh separates easily from the blade. Much pleasure can be derived from its lightly charred skin, though it's the fat that oozes out right under it that thoroughly enraptures you.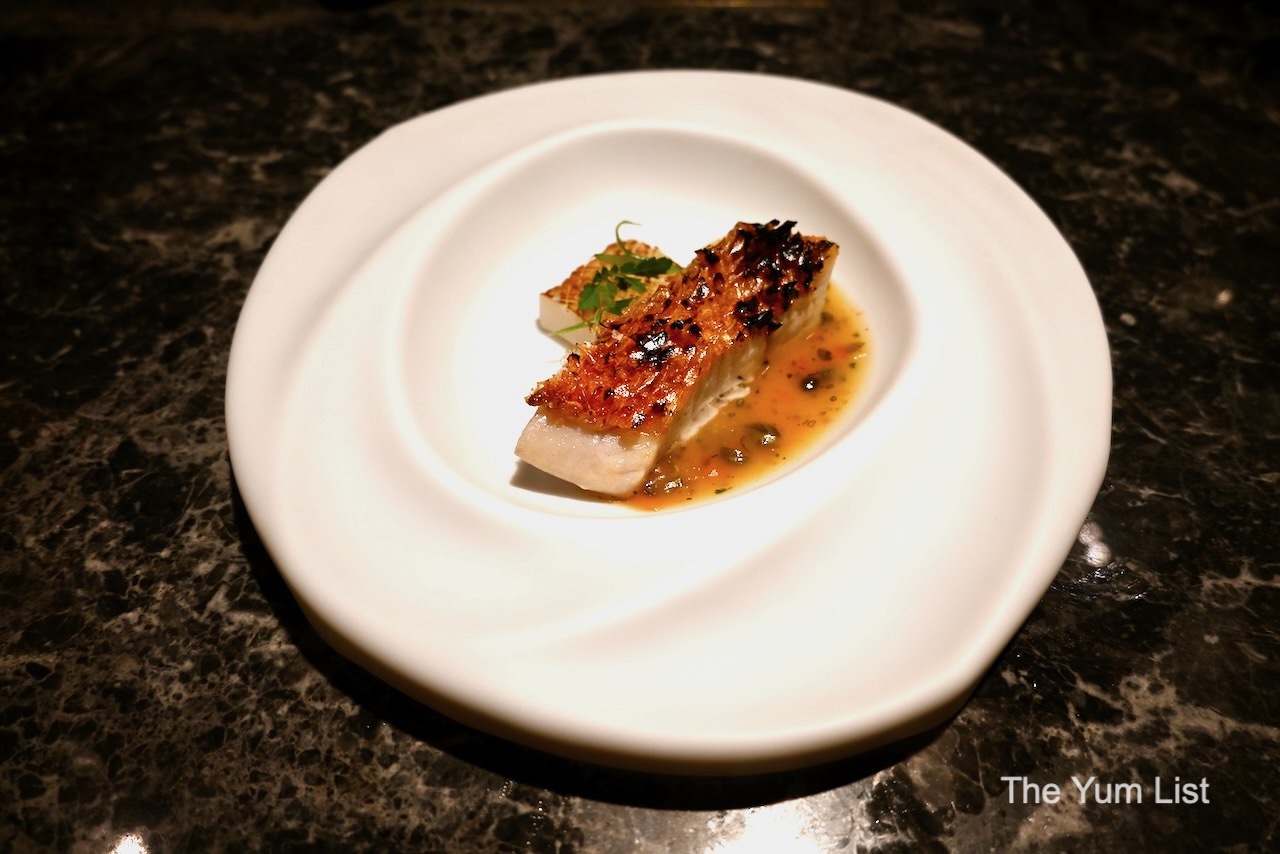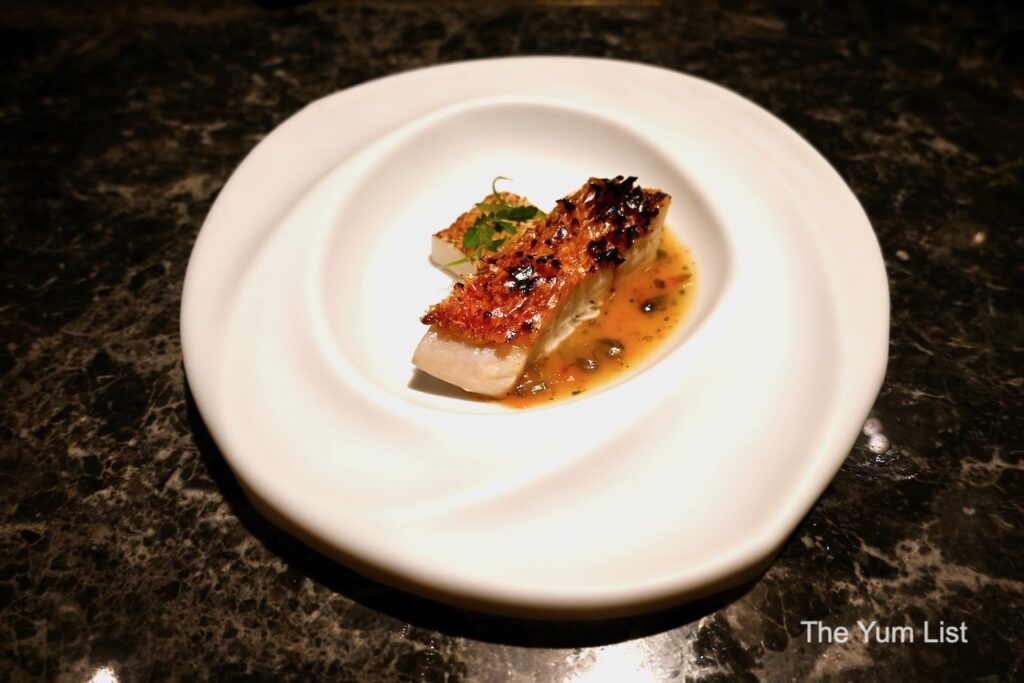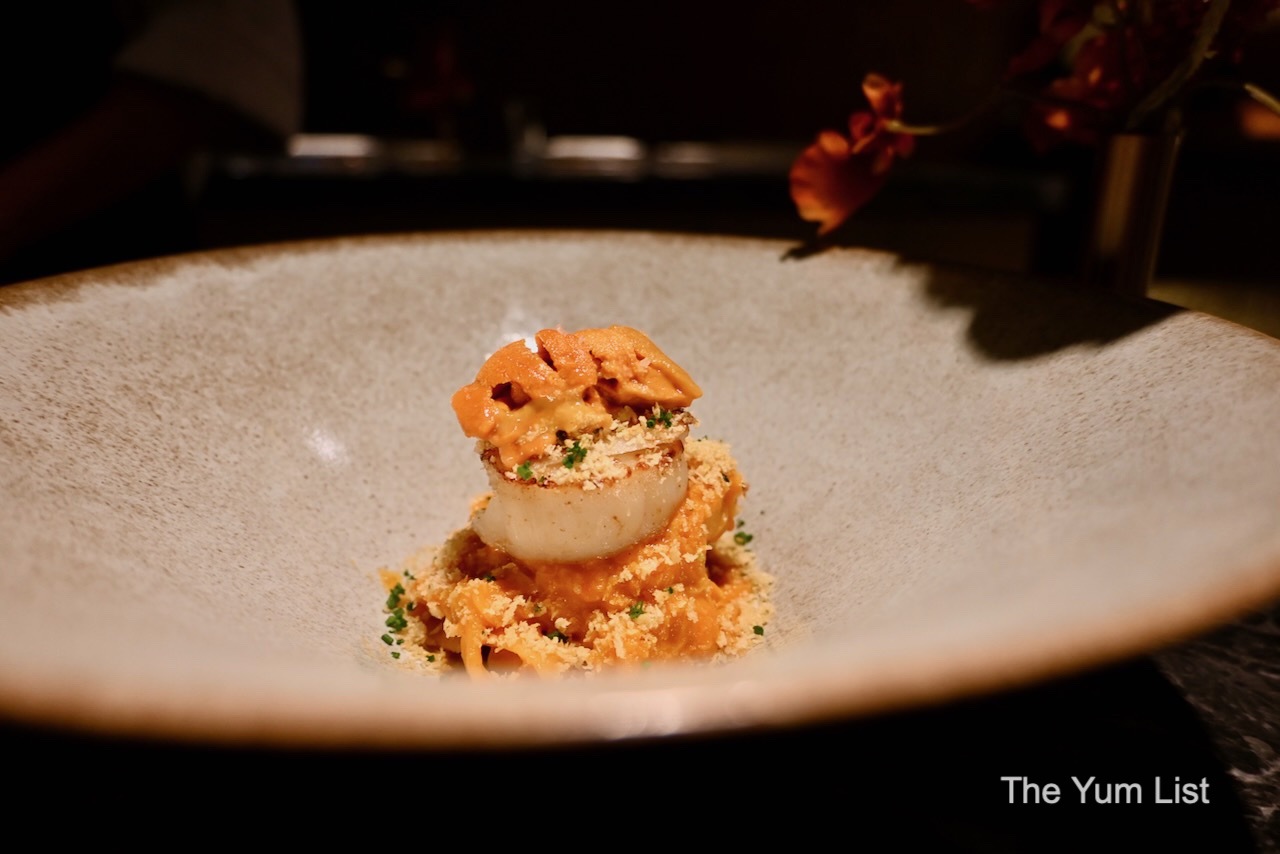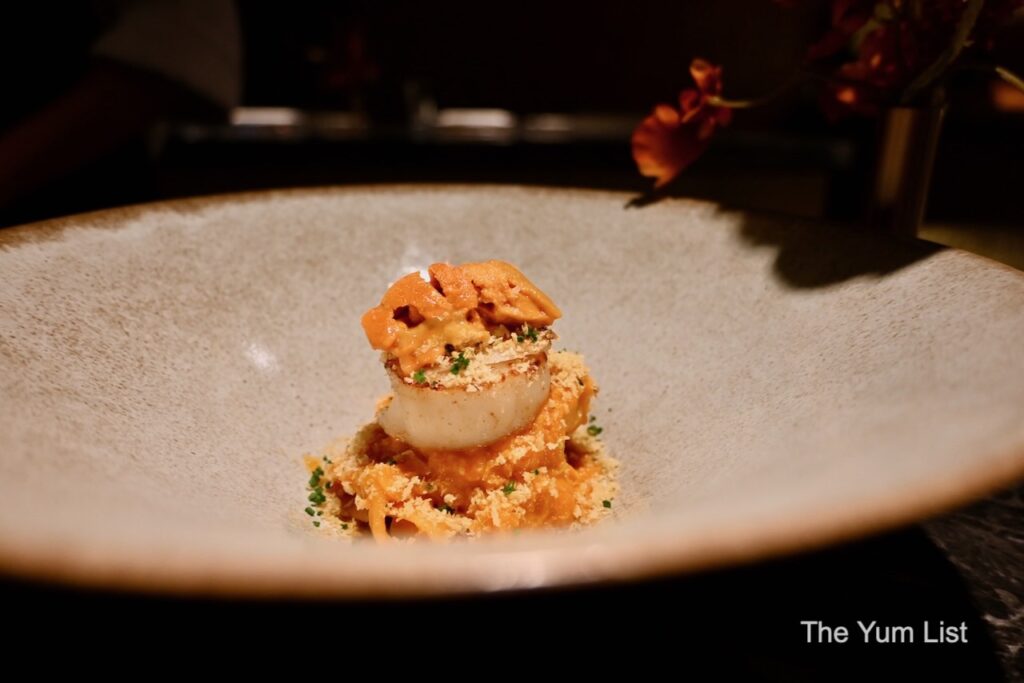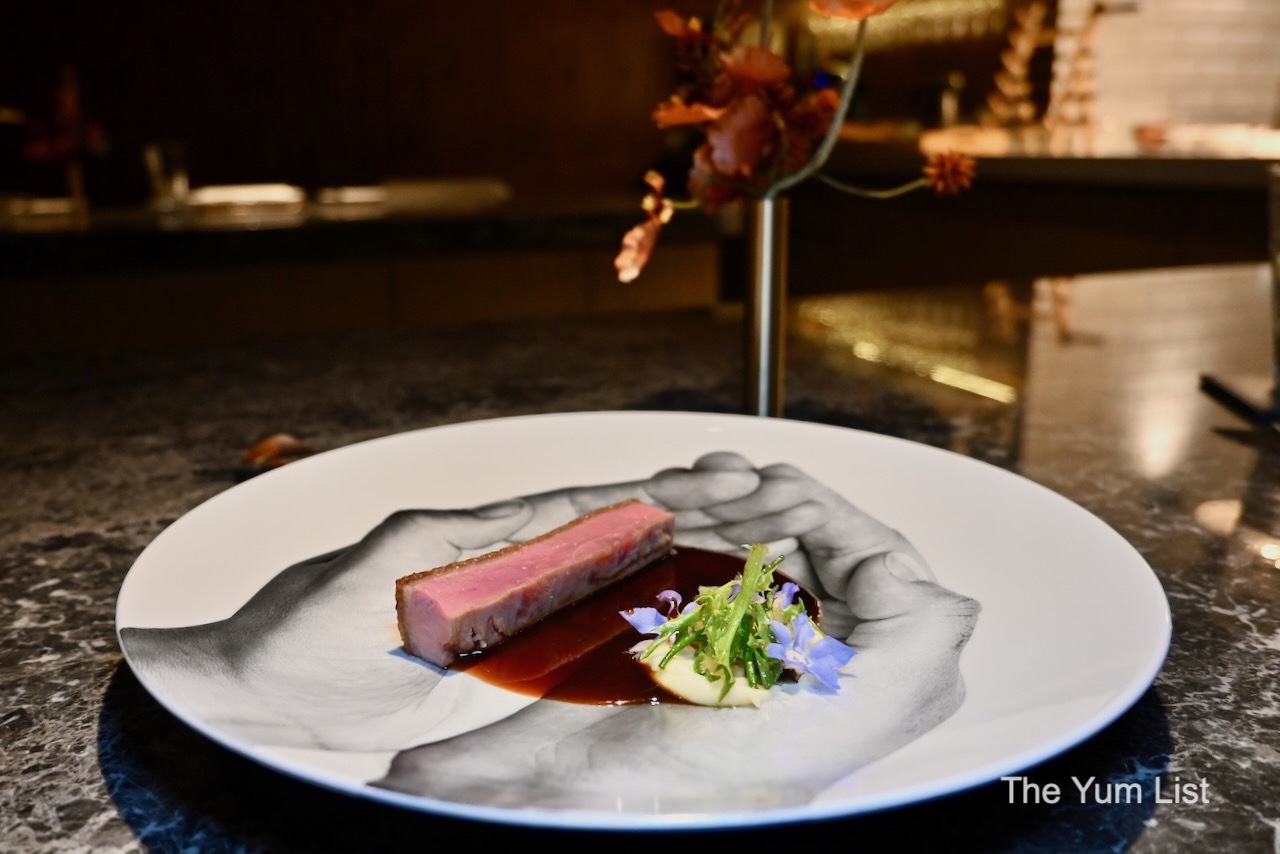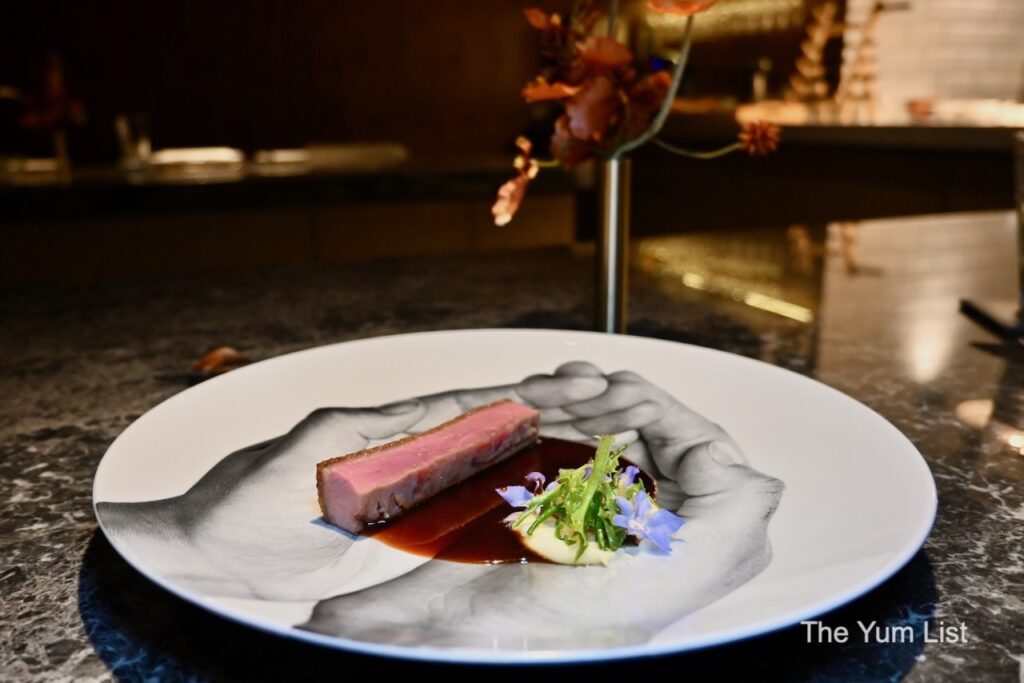 Hide Kuala Lumpur – Desserts
After the conquering of a hefty menu comes the mercy of light desserts, beginning with a deconstruction of a popular local delicacy, "hak lor mai". It arrives in the form of ice cream made from black rice and is paired with coconut foam. On the tongue, it is a refined and lighter variant of its common counterpart and even comes with black rice popcorn sprinkled on the coconut foam that emanates a sweetness to remind you: there's always room for more desserts.
The penultimate sweet course is another deconstruction. Inspired by local kopitiam breakfast staples, a kaya cream puff base balances a "horkasai" (an infusion of coffee and cocoa) ice cream and an intricate latticed crown. At this point, it is obvious that the Hide team strives to showcase that even run-of-the-mill standards off the streets can be polished and reworked to become beautiful, consumable pieces of art.
Lastly, the petit fours. Composed of a mini strawberry shortcake and a Chipsmore-inspired financier, the former appeals with its fruity profile while the latter delights with a nutty body. We imagine these would go great with a small cup of coffee to wash everything down.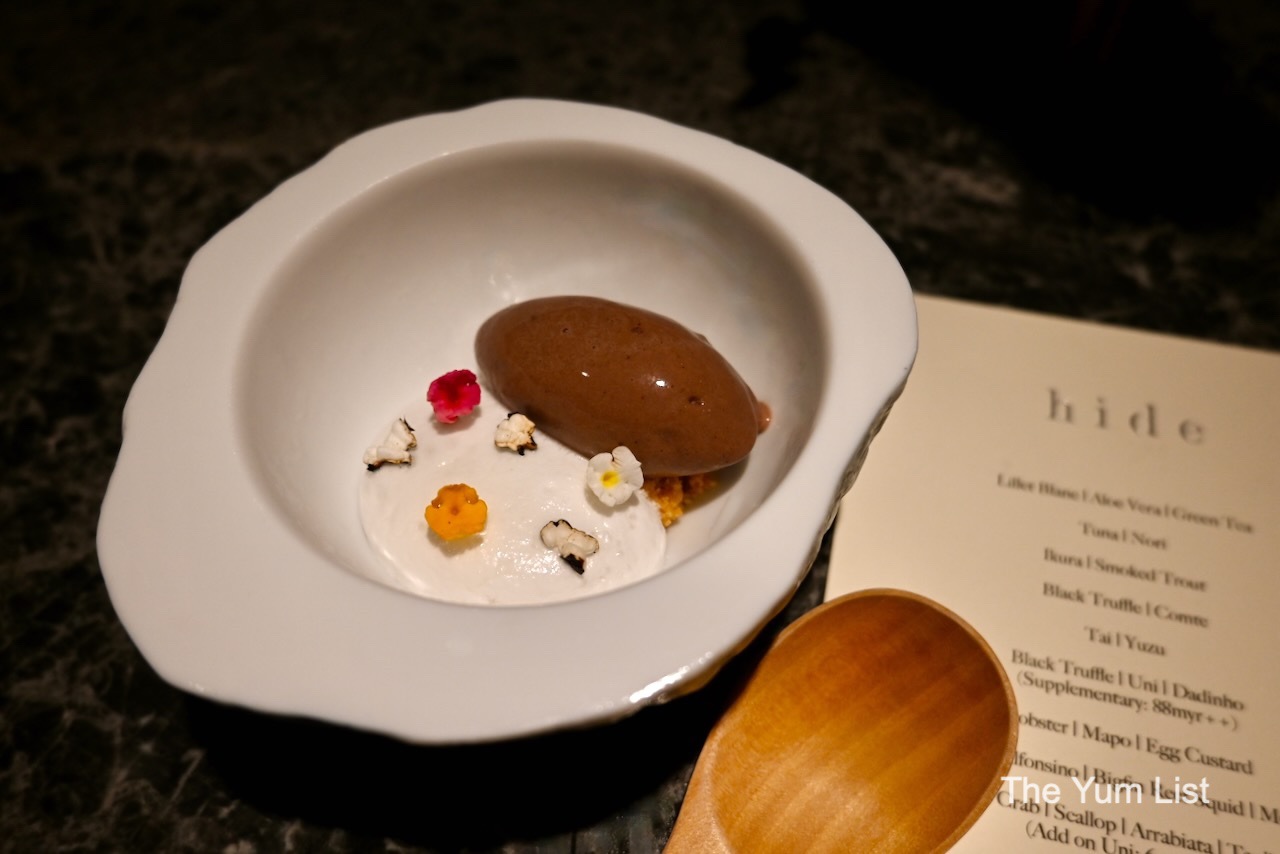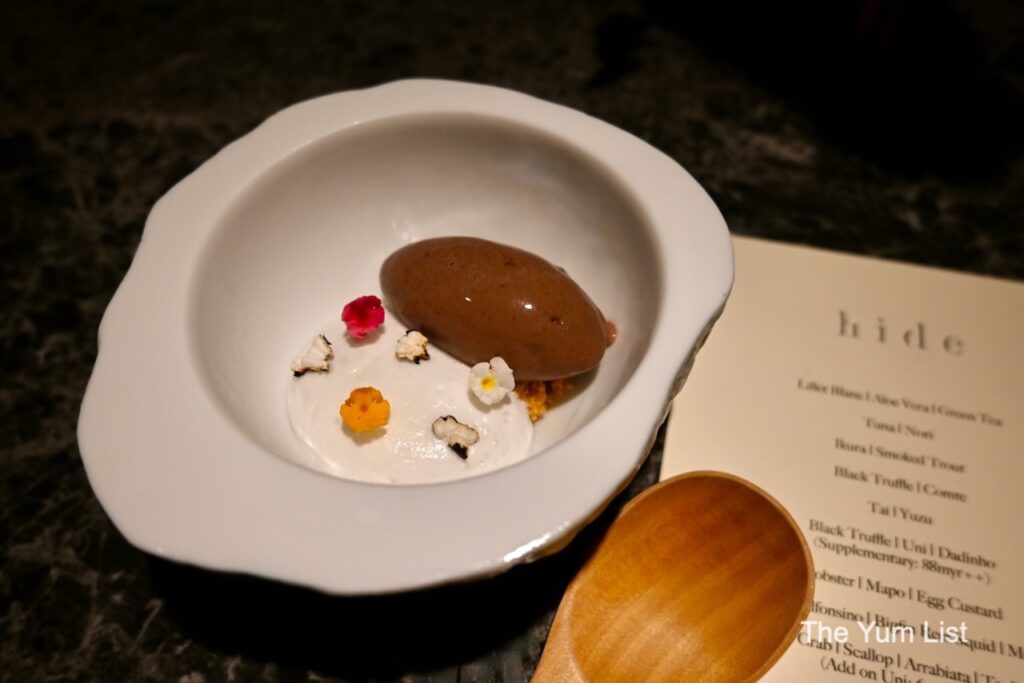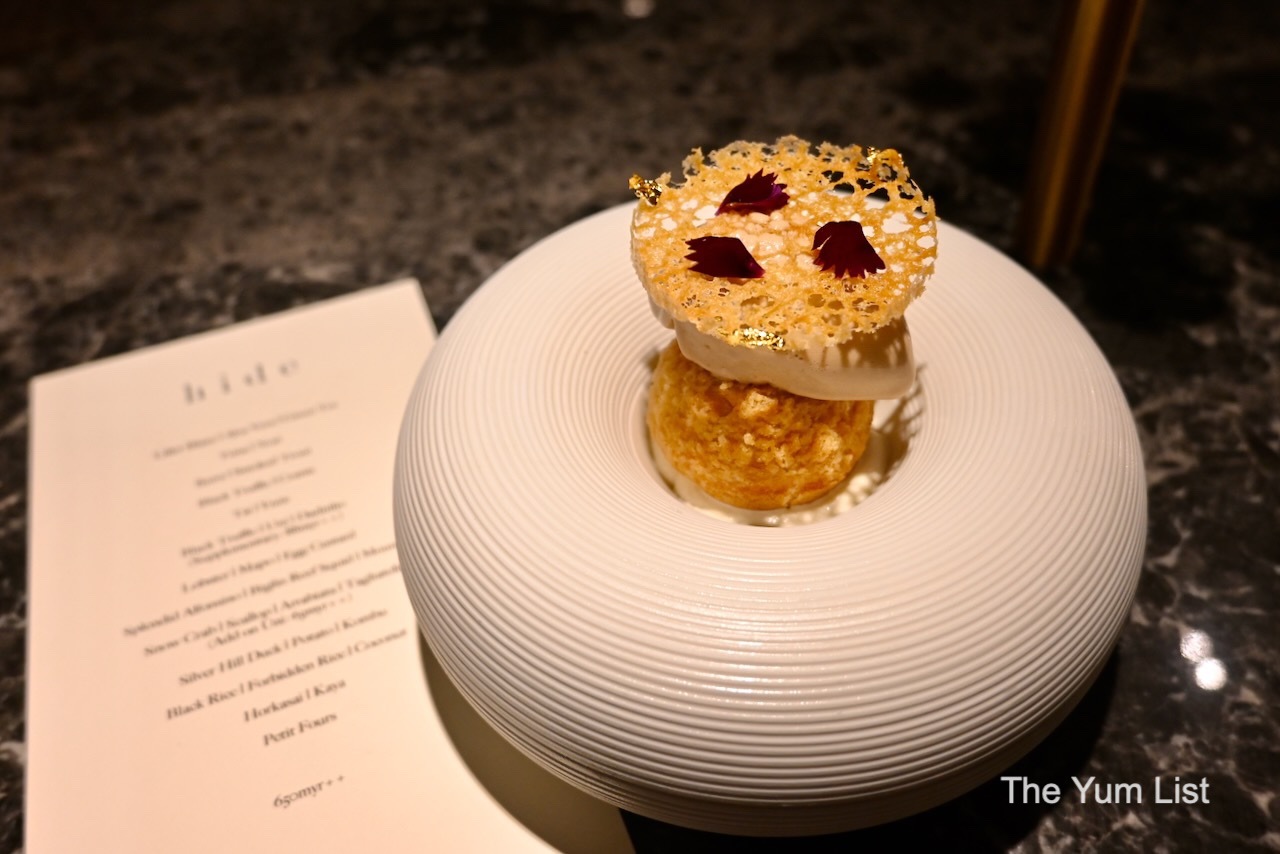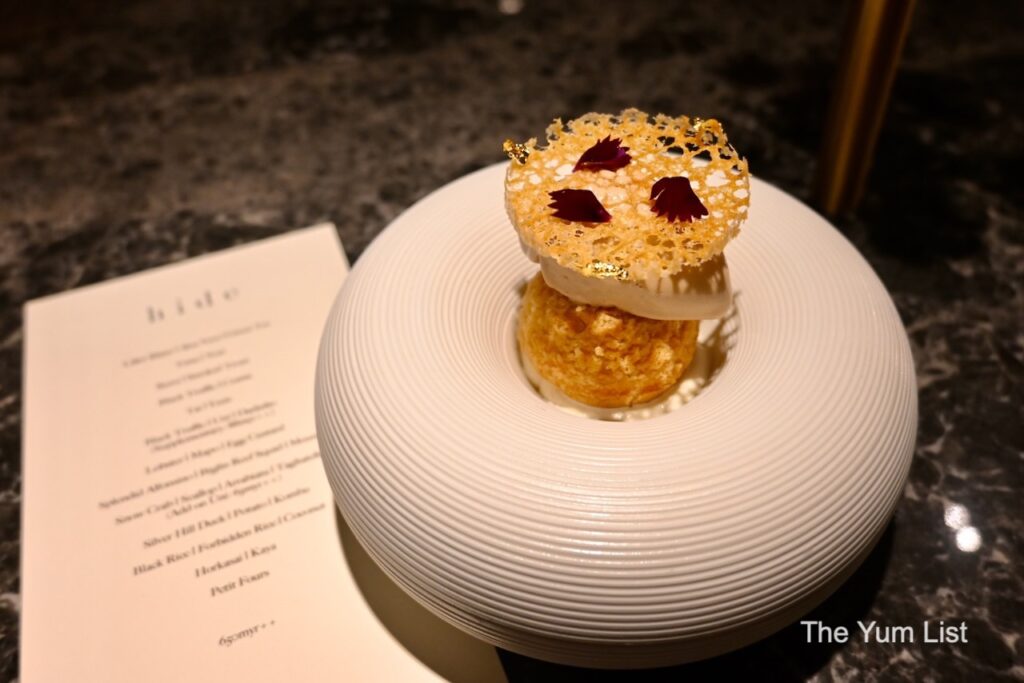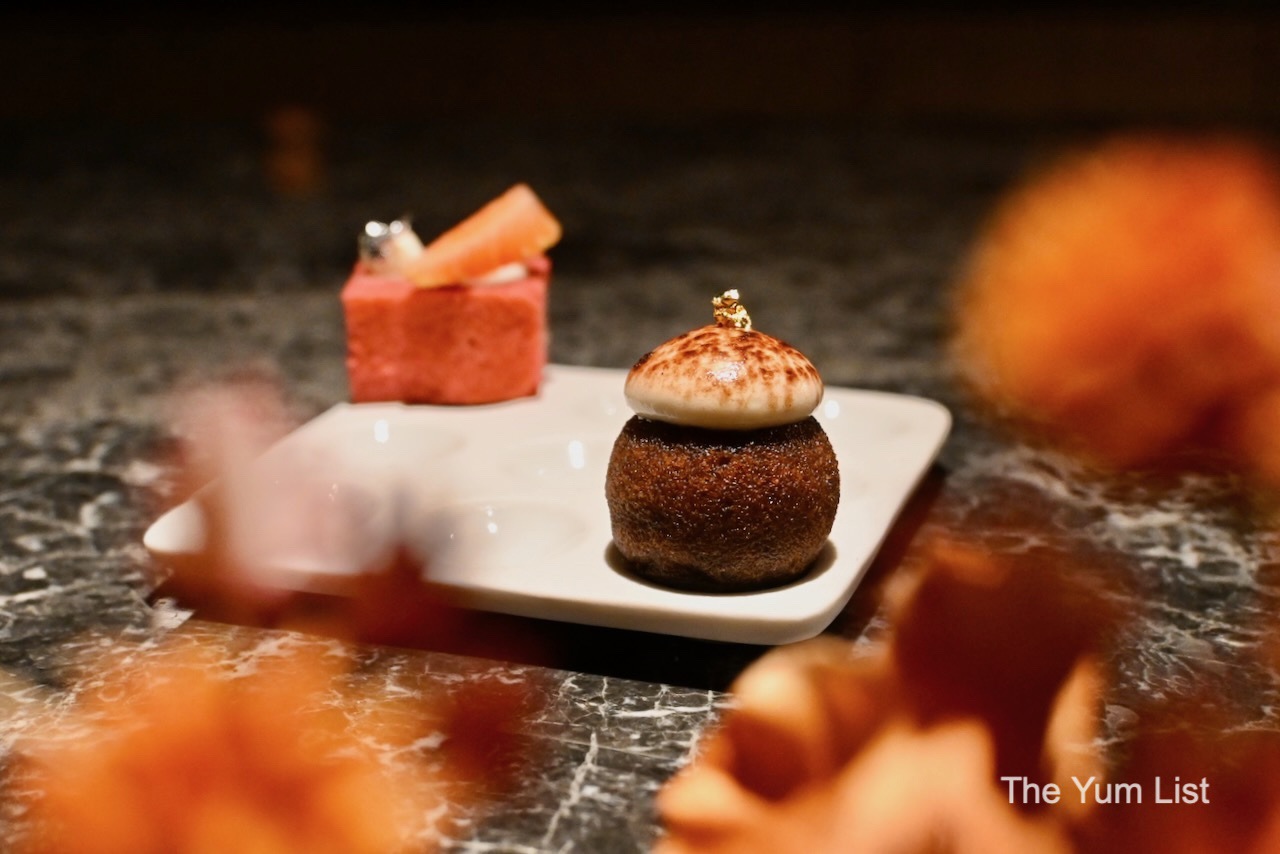 Final Thoughts – Hide Kuala Lumpur
Unlike other reviews for similar establishments in the past, our time at Hide did not include an extensive wine pairing changing over the courses. In this case, it has been a boon to the restaurant as we fully appraised the unadulterated creativity of Shaun and his team. The only wine accompanying dinner was a dry 2017 Les Crêches Saint-Véran (RM55/glass; RM225/bottle), which went very well with much of the seafood.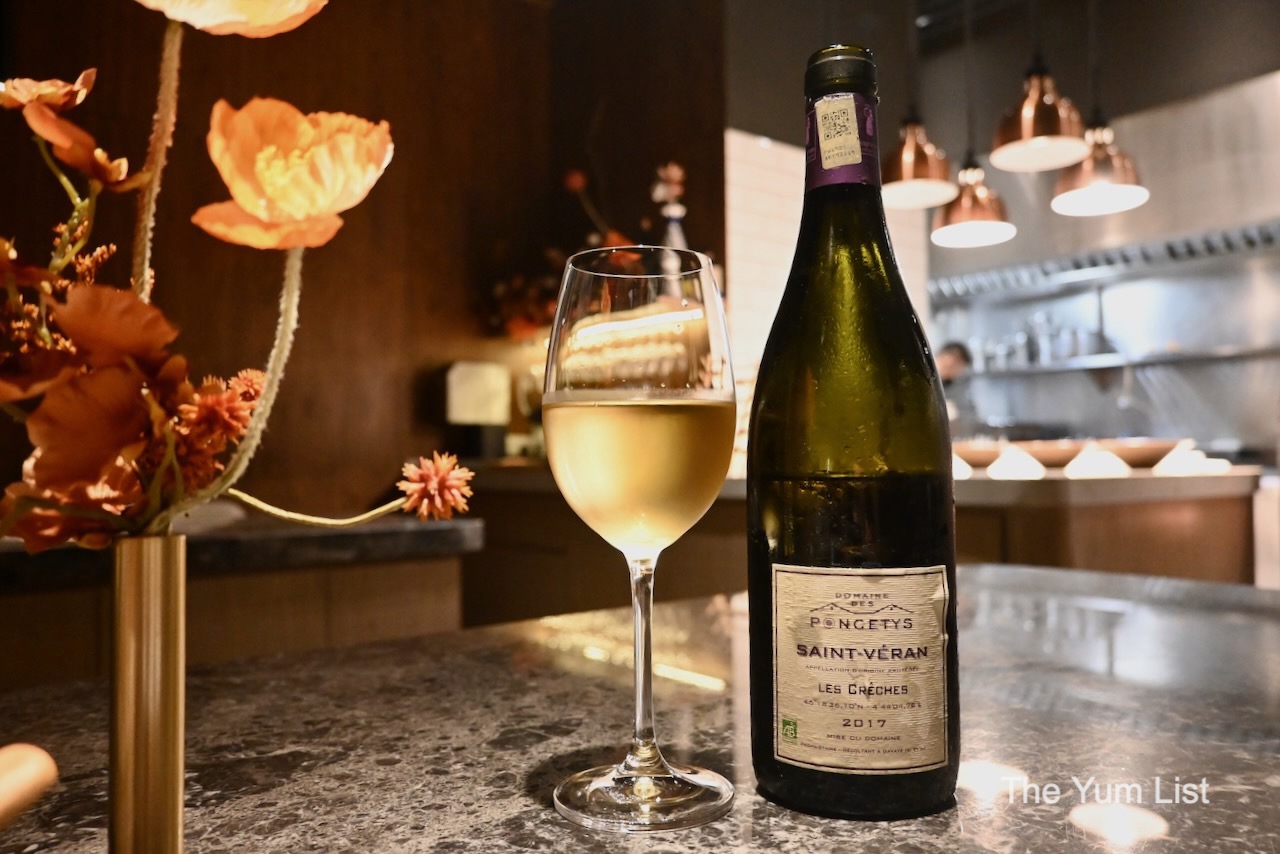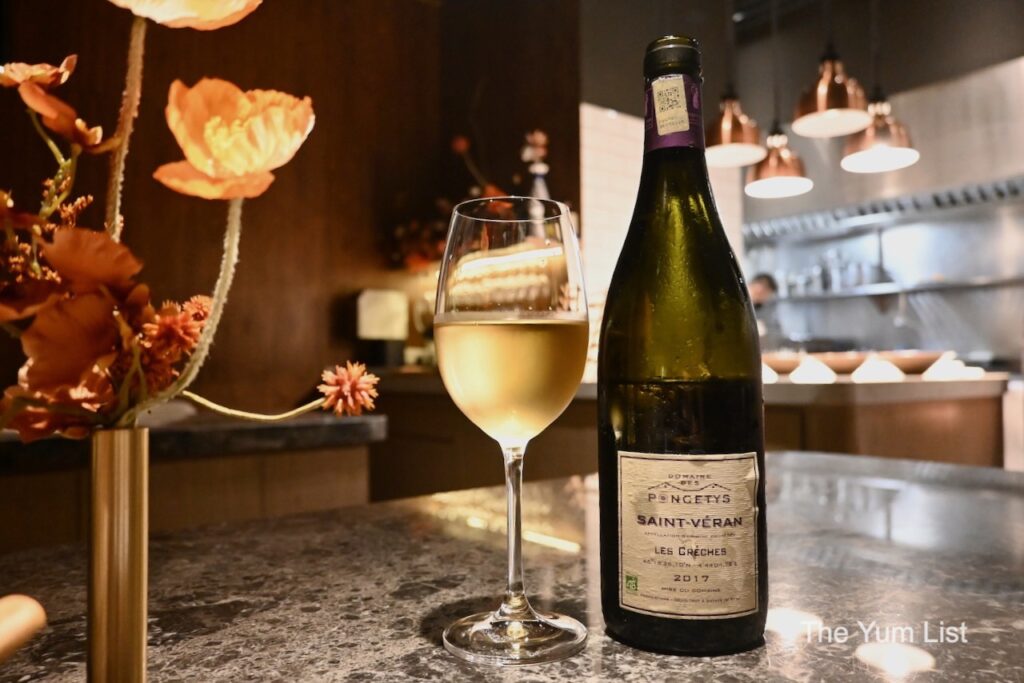 It is easy to forget how complexity can look, smell, and taste on a plate. From our time here at Hide, we're glad to be able to savour some of those elements in almost every dish, however fleeting, which is the most painful and, thus, most captivating feeling of all. It is precisely because you're only afforded a glimmer of the taste right after they stimulate the senses that you desire more of them. Hide succeeds very well in this regard. By showing you a glimpse of what food can be and how it gets there, you cannot help but feel drawn to the process and product, and you leave developing a greater respect for the craft.
Special thanks to Siyin for hosting us and to Lucas, Hao Jie, Michelle, and Eason for preparing and explaining the meal.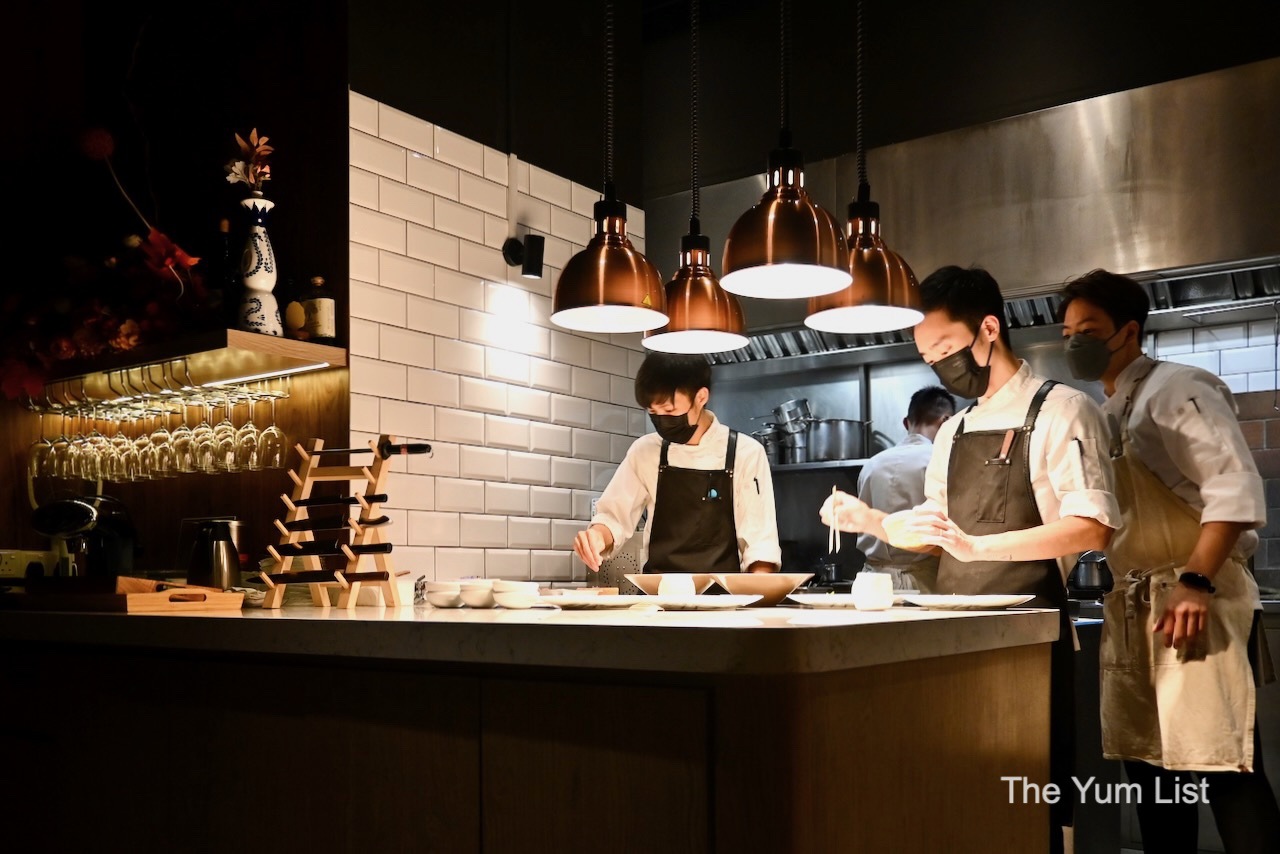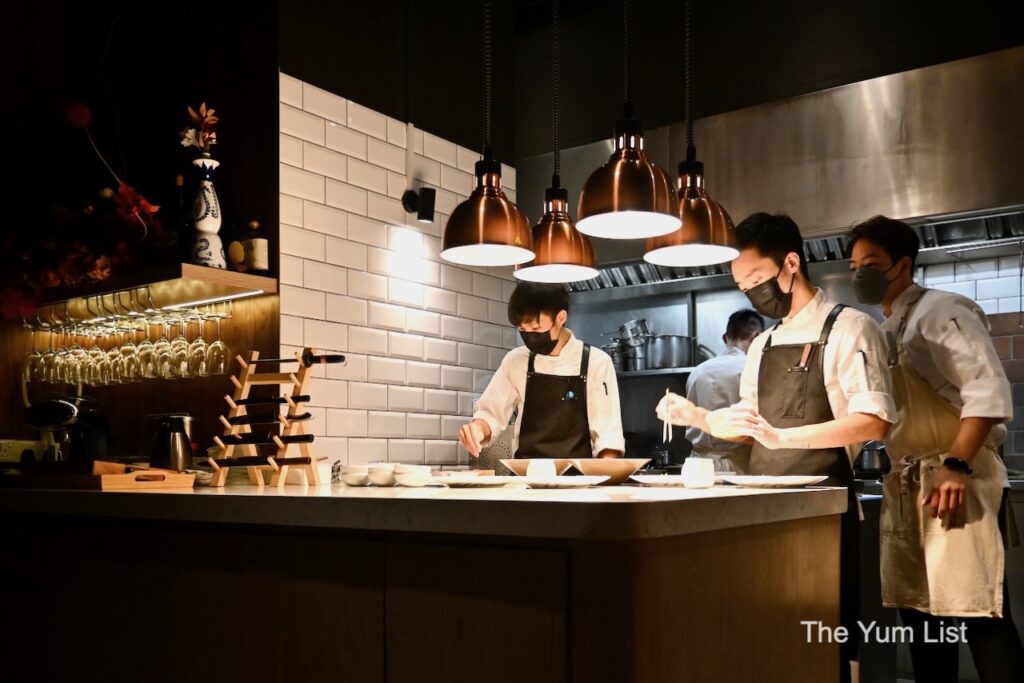 Reasons to visit Hide Kuala Lumpur: Impeccable service; complex dishes that have been meticulously prepared and plated; varied menu that changes according to the season; one of the more comprehensive and extensive tasting menus available around town.
Hide Kuala Lumpur
The Ritz-Carlton Residences, Concourse Level,
105 Jalan Ampang, 50450 Kuala Lumpur, Malaysia
www.hidekl.com
WhatsApp +6013-203 3627.
A deposit of RM200/pax (via website) or RM325/pax (via WhatsApp) is required.
Fixed price for tasting menu: RM650++
Wine pairing is available (four different glasses) at RM260.
Hide Kuala Lumpur Opening Hours
Tuesday – Sunday: 6:00pm – 10:00pm
Find more restaurants for special occasions here, and stay up-to-date on KL's food and beverage scene here and here.