Hide Restaurant KL
Words: Meg Alice
Photos: Monica Tindall
This is The Yum List's first-time visit to the relatively new, ultra-chic fine dining restaurant Hide (advertised in lower case 'hide'). It is literally hidden behind a rotating art display at the Ritz Carlton Residences on Jalan Ampang.
Having opened Hide in early 2021, head chef/mastermind Ng Yi Shaun is embarking on his fourth iteration of a multi-course set menu. Monica and I are the first to taste the new spring menu. Shaun naturally has a disposition to seafood, having trained at world-renowned Le Bernardin in New York City under Eric Ripert (who is equally well known for his endearing friendship with Anthony Bourdain, rest in peace).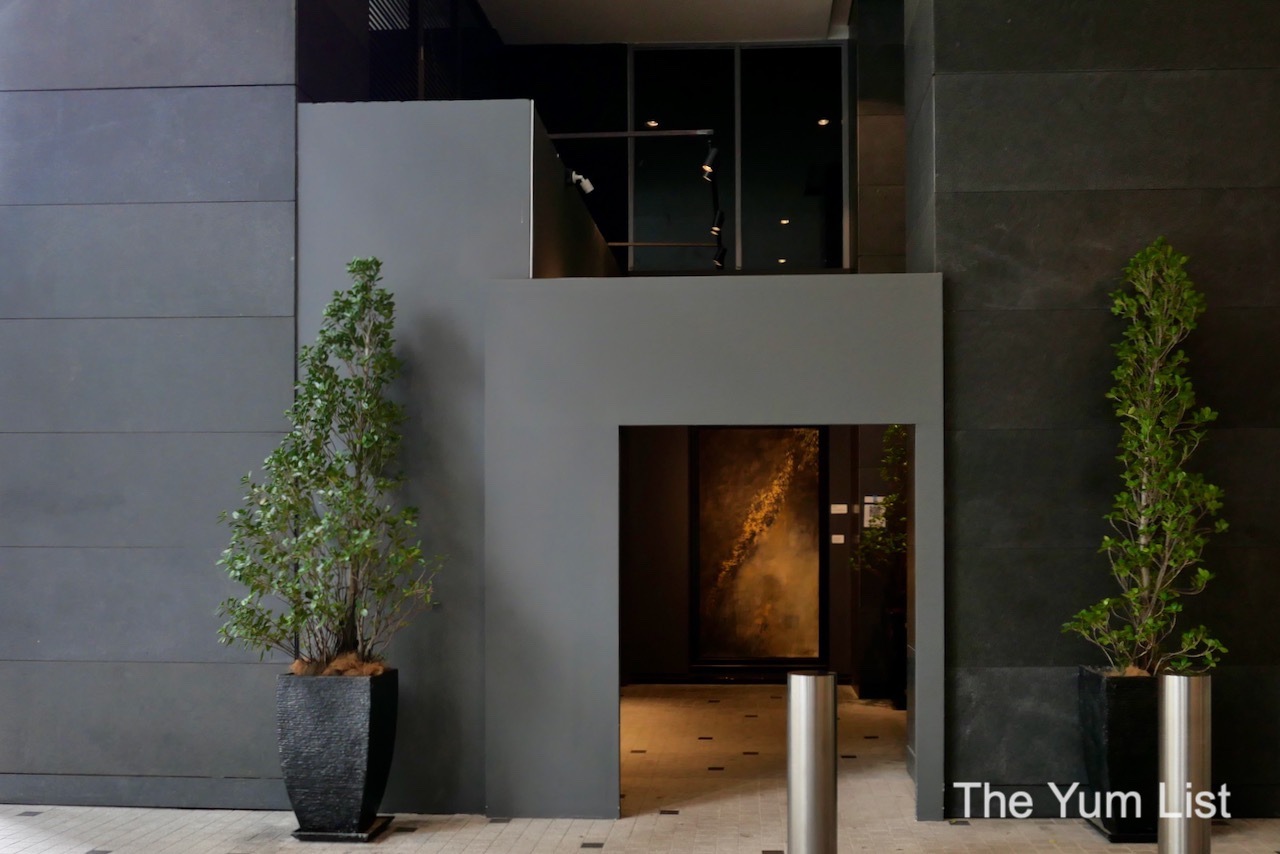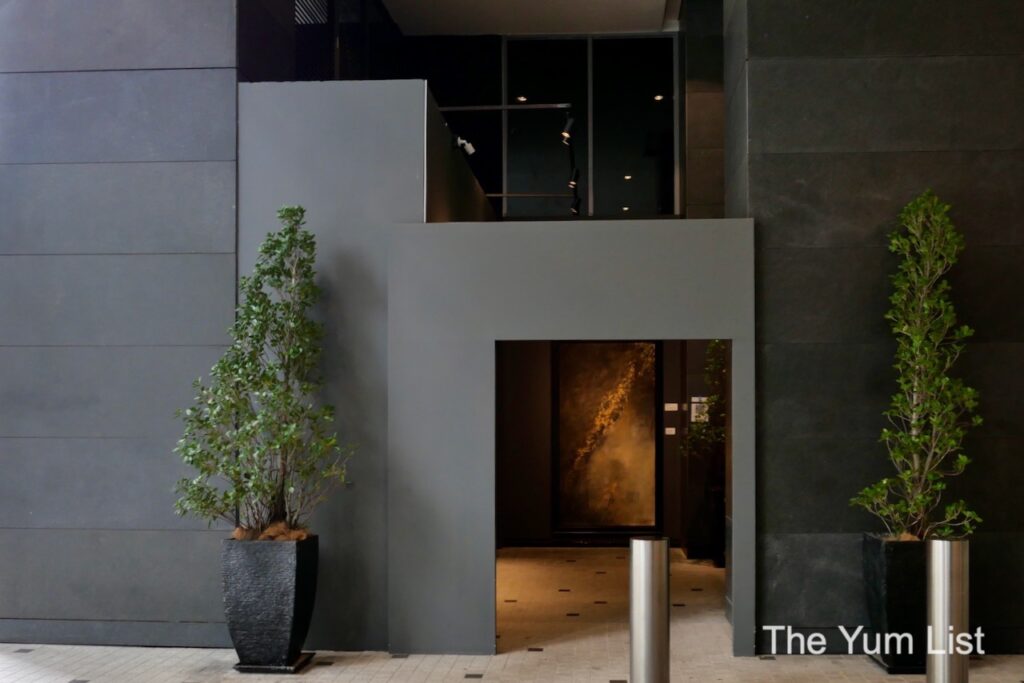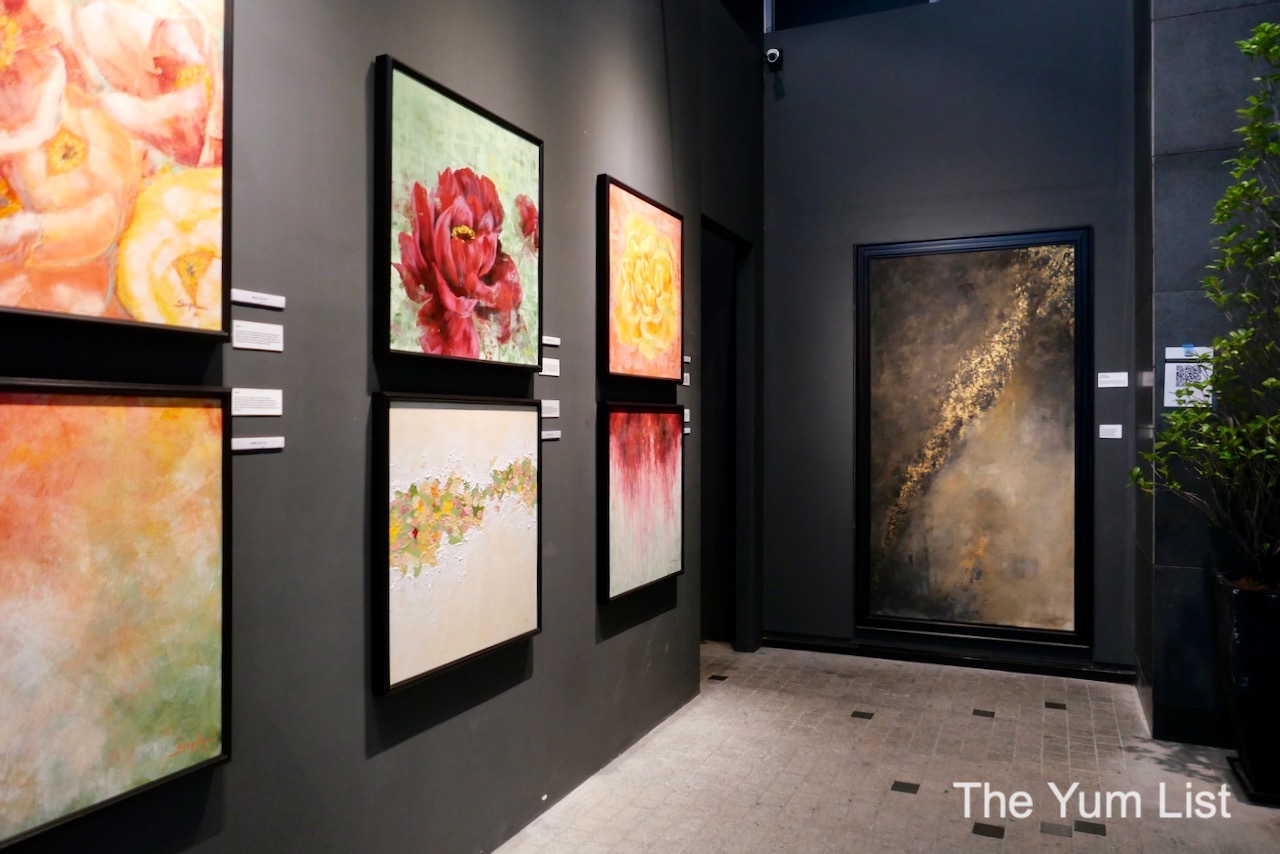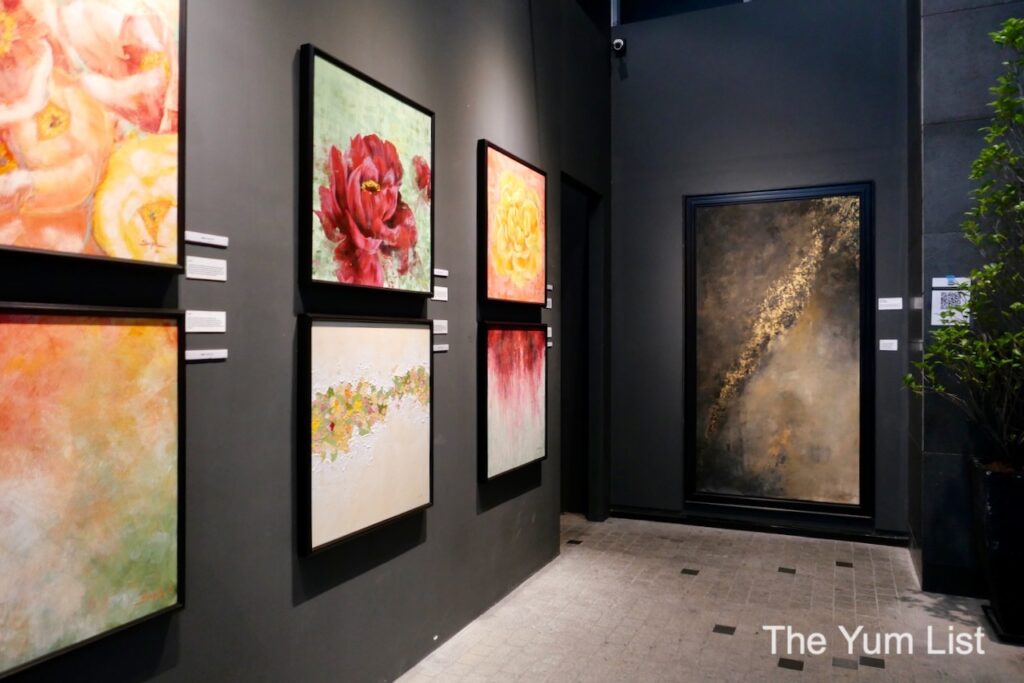 Hide is one of the most on-trend restaurants that I've visited in Malaysia, with an open kitchen, wood interior, perfect lighting, and hip-hop music. It's insular, closed-off ambience makes you feel like you're inside the coolest place in Southeast Asia. Shaun and his team all look under 35 years old, making Monica and I the oldest in the intimate dining space. The energy is palpable between the fun music, young staff, and details like the utilitarian aprons donned by the team of chefs. Even the plates are a work of art.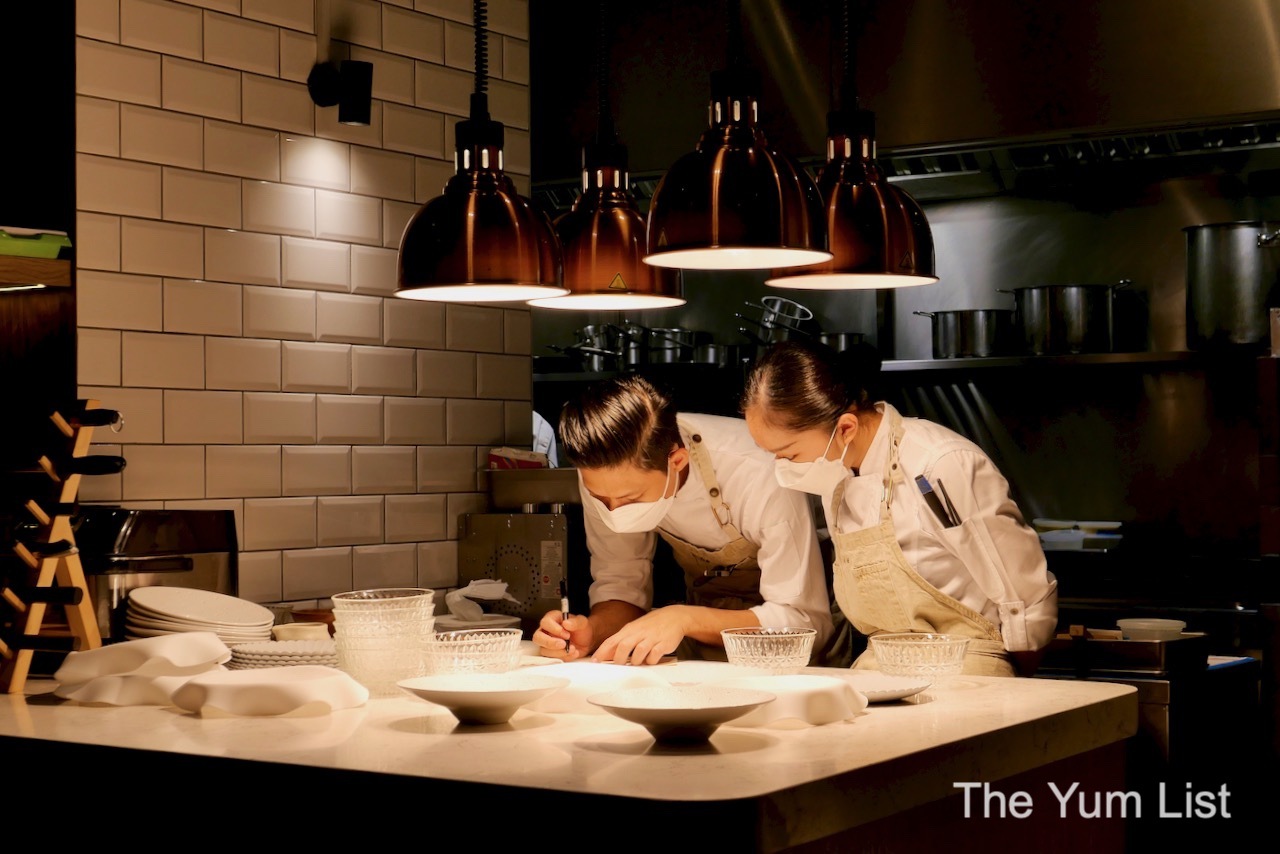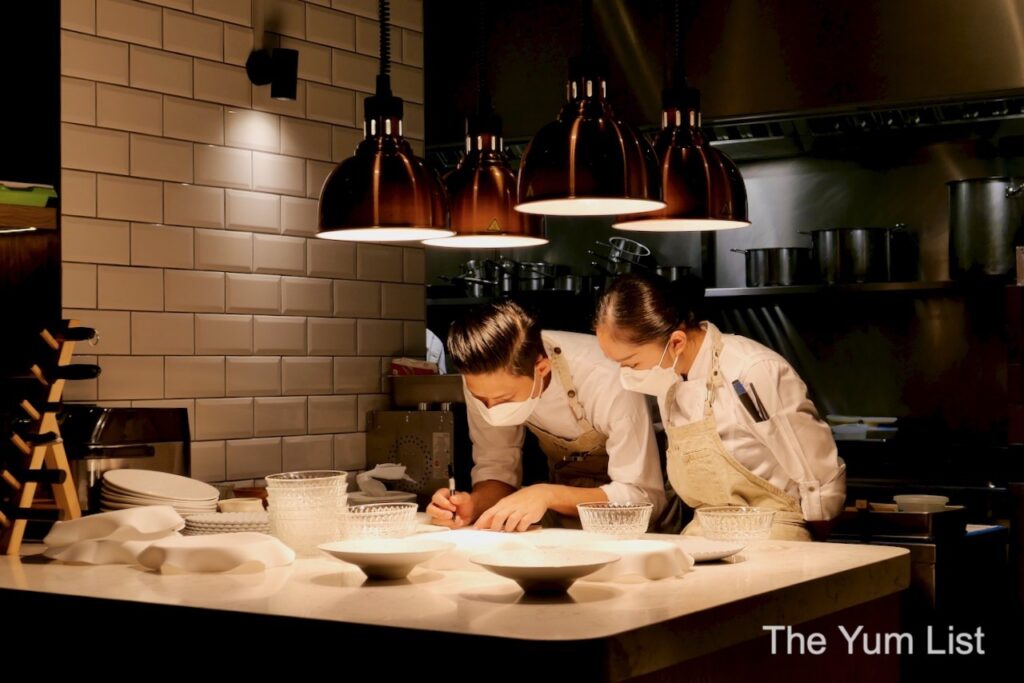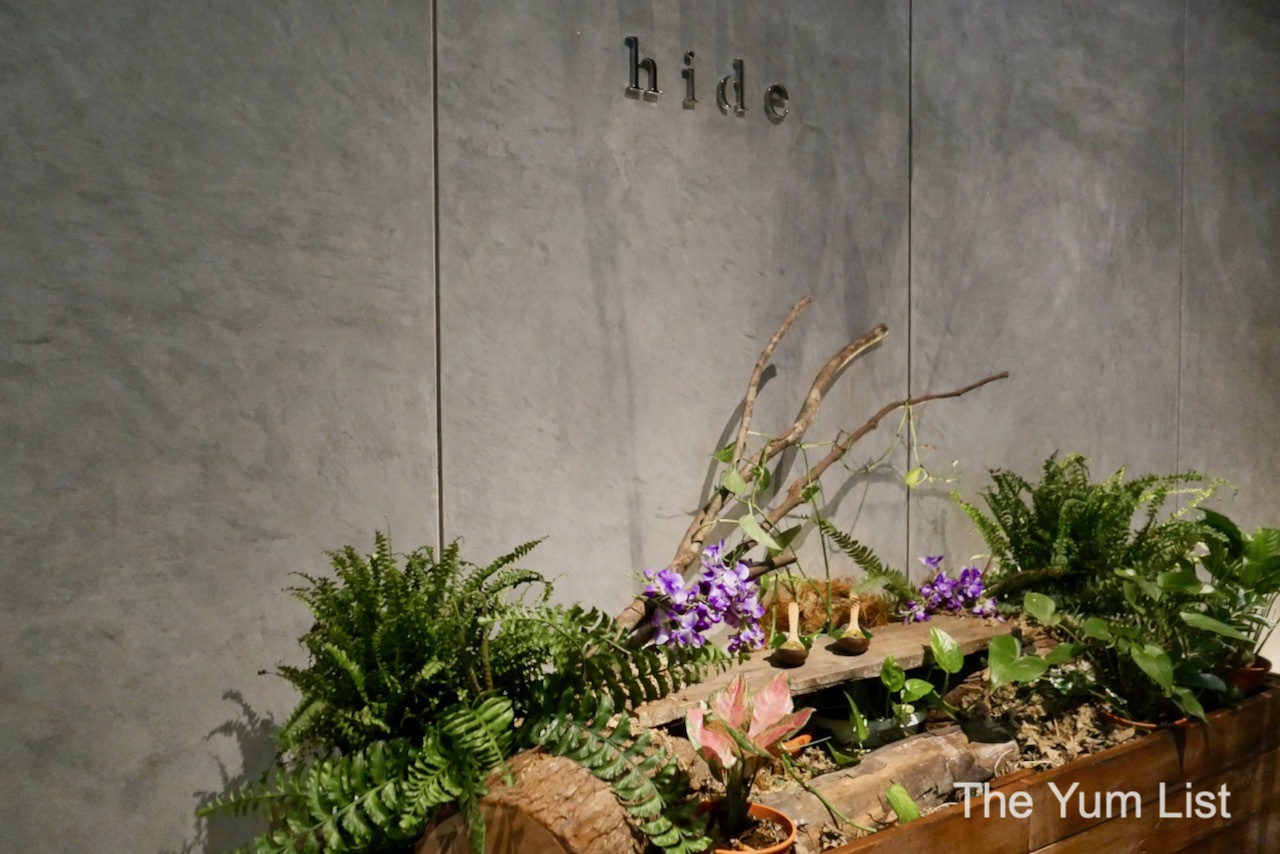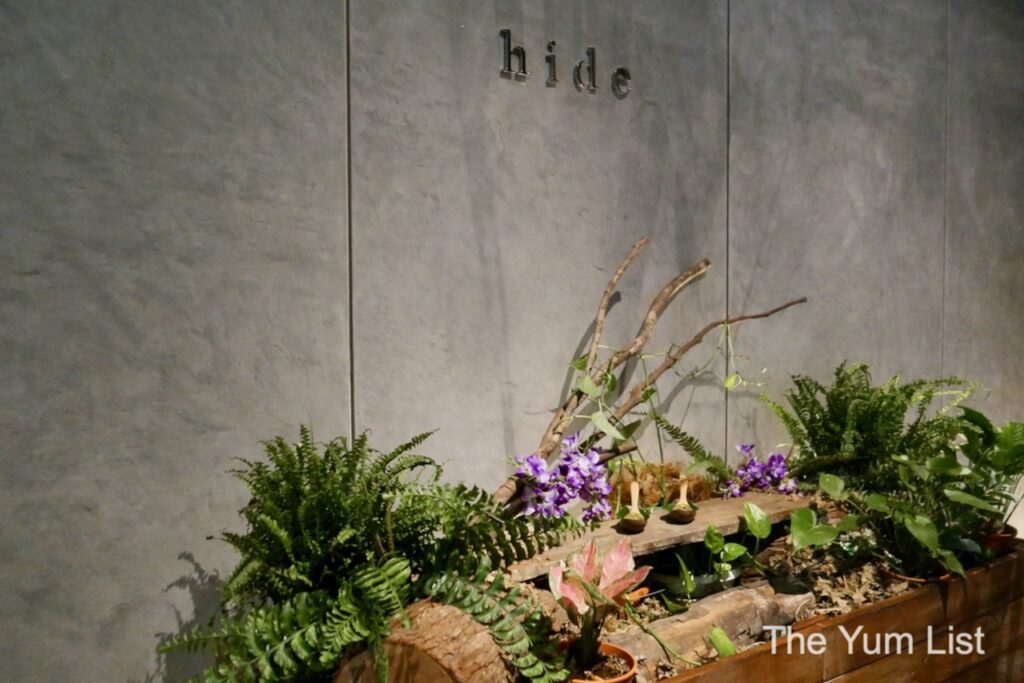 Hide KL Menu
But how about the food? The food is delicious, current, artful, thoughtful. We're greeted at the door by the general managers Julian Rayne and David Carr and are presented with a liquid ball of lemon Midori. It's like space liquid popping in your mouth. It tastes like Mountain Dew which is a fun way to set the tone of informality and experimentation in a formal fine-dining setting; Shaun emphasised that Hide is supposed to be casual fine dining. They want people to appreciate fine food without the pressure of a stiff environment.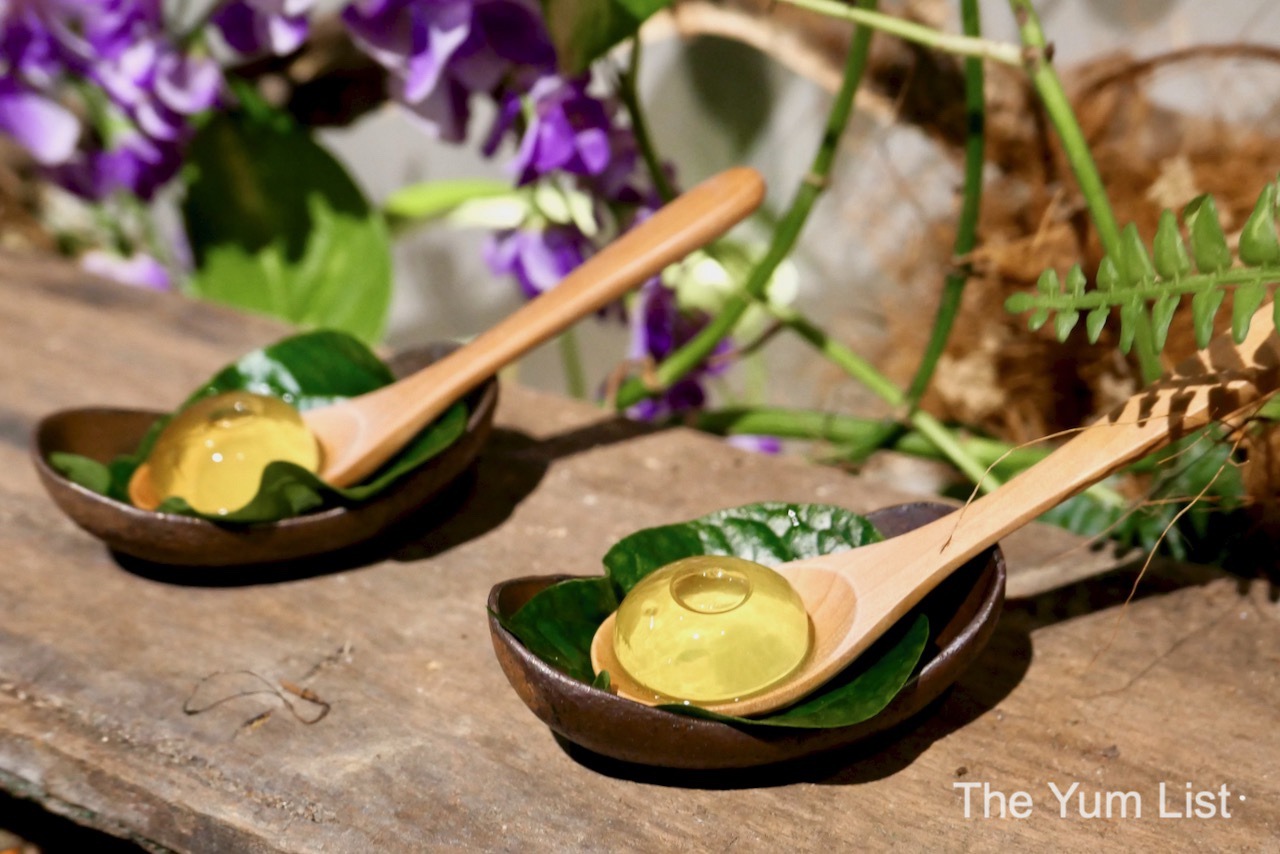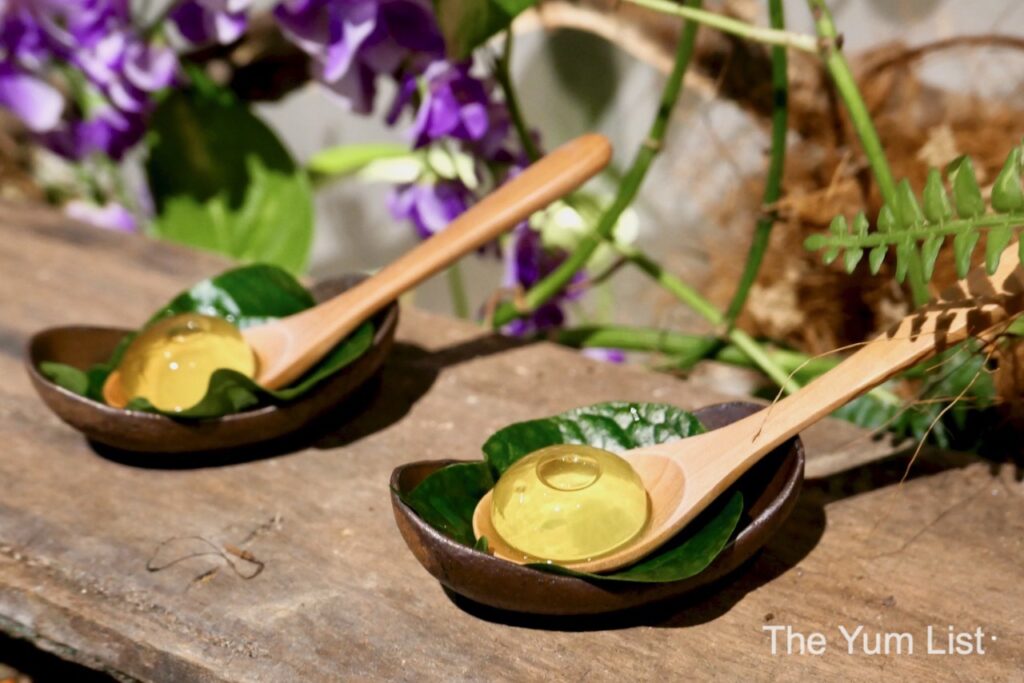 Bread Course
Monica and I know we are heading into a special food experience by the bread, prepared on-site. It's a toasted brioche filled with caramelised onion and served with warm sea-salted butter. I hate to use superlatives, but this is the best piece of bread that I've had in Malaysia. Shawn gives us extras to take home.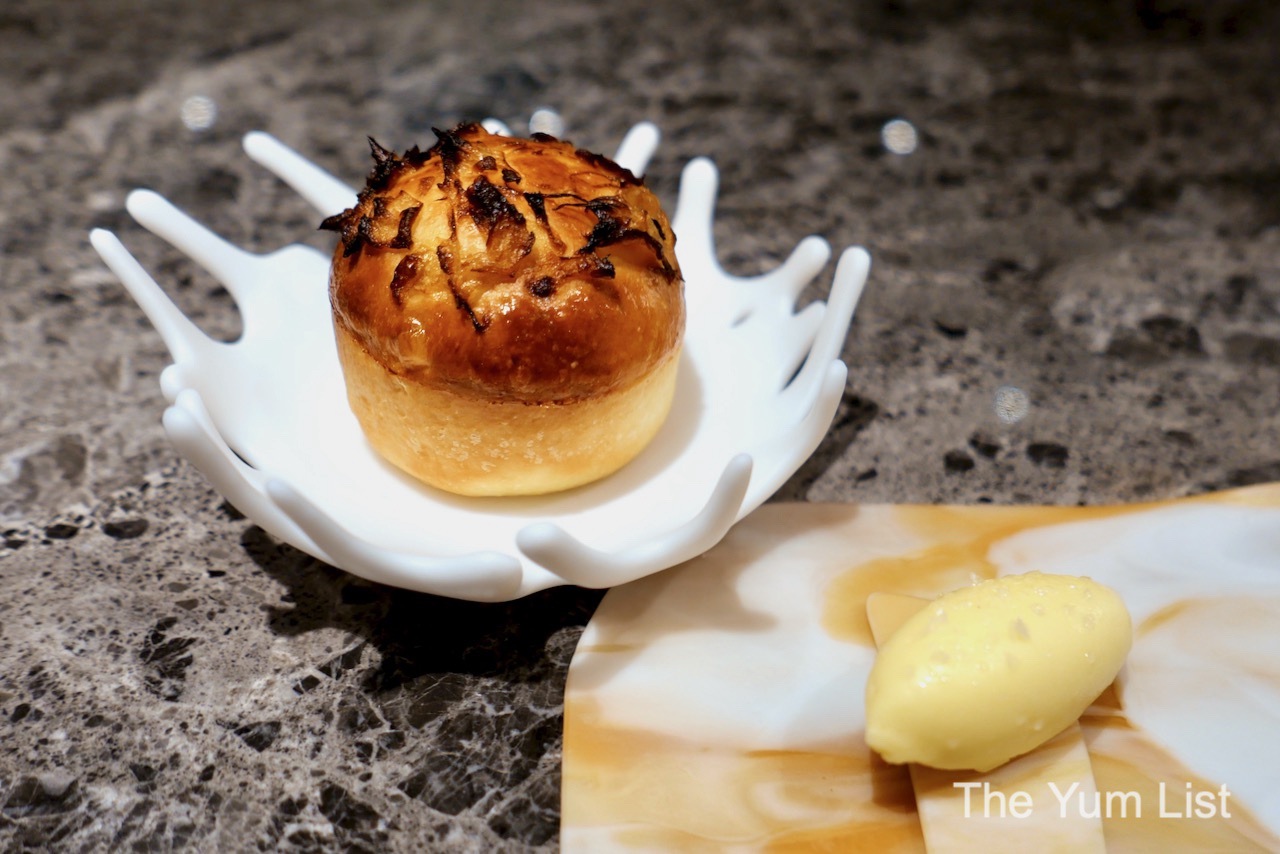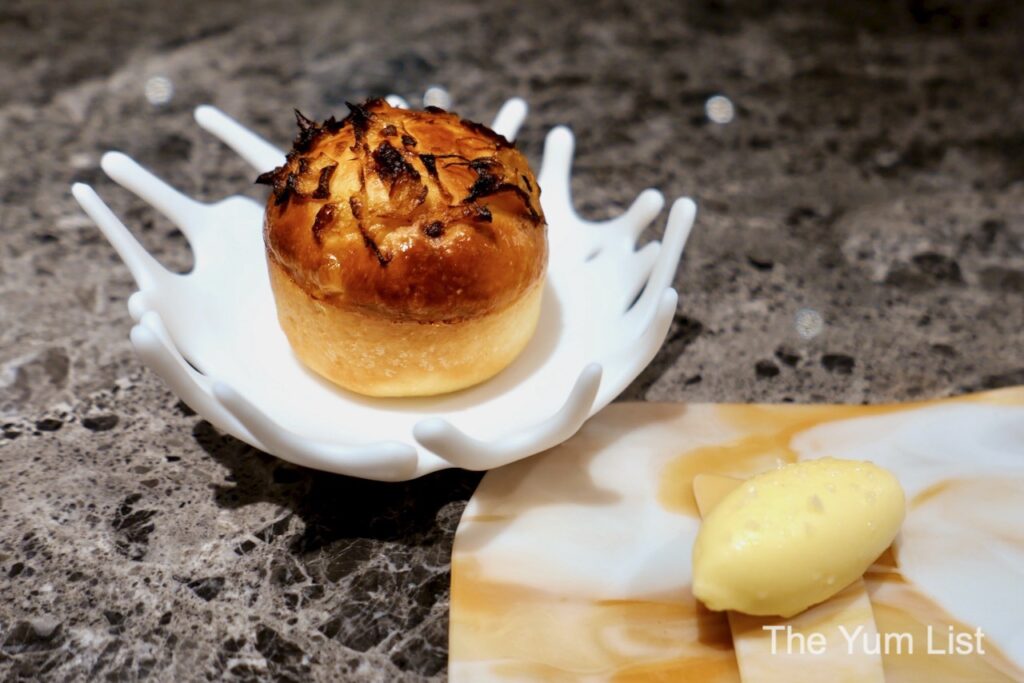 Appetiser Bites
Our first appetisers are three bites: tuna, kanpachi, and an oyster. For the tuna, we forego the foie gras but take notice of the punch of spiciness from Hide's homemade chilli sauce. It also features piquillo pepper. The kanpachi or amberjack is served with caviar and wagyu on a Japanese rice seaweed cracker called gim-bugak. The cracker's strong seaweed taste and crunch almost overwhelm the wagyu and caviar, but each ingredient has its moment. The kumamoto oyster hailing from my home state of Washington, USA is featured with tomato vinaigrette and sorrel leaves. This is a distinctly fleshy oyster.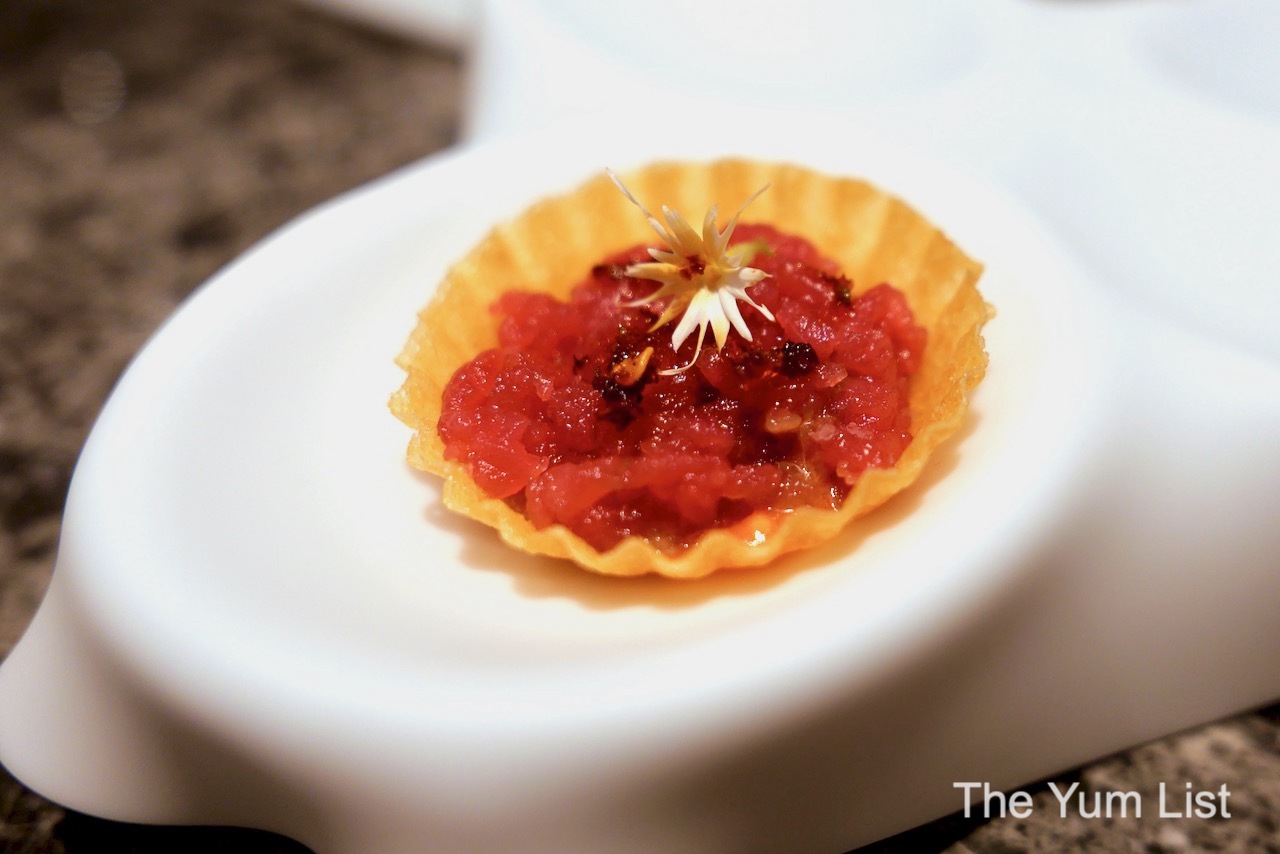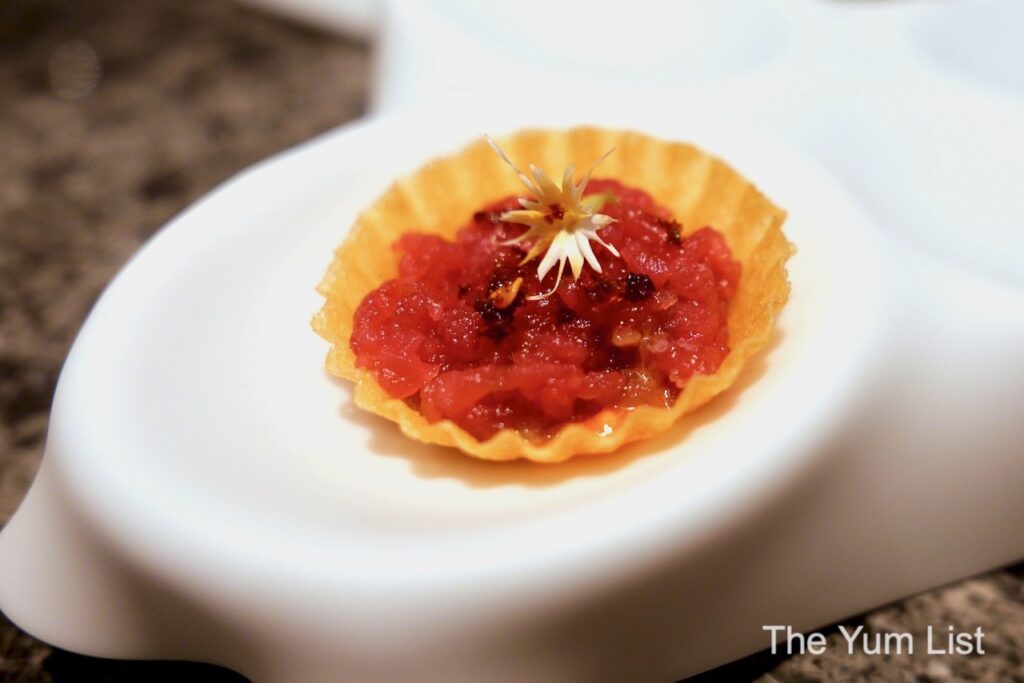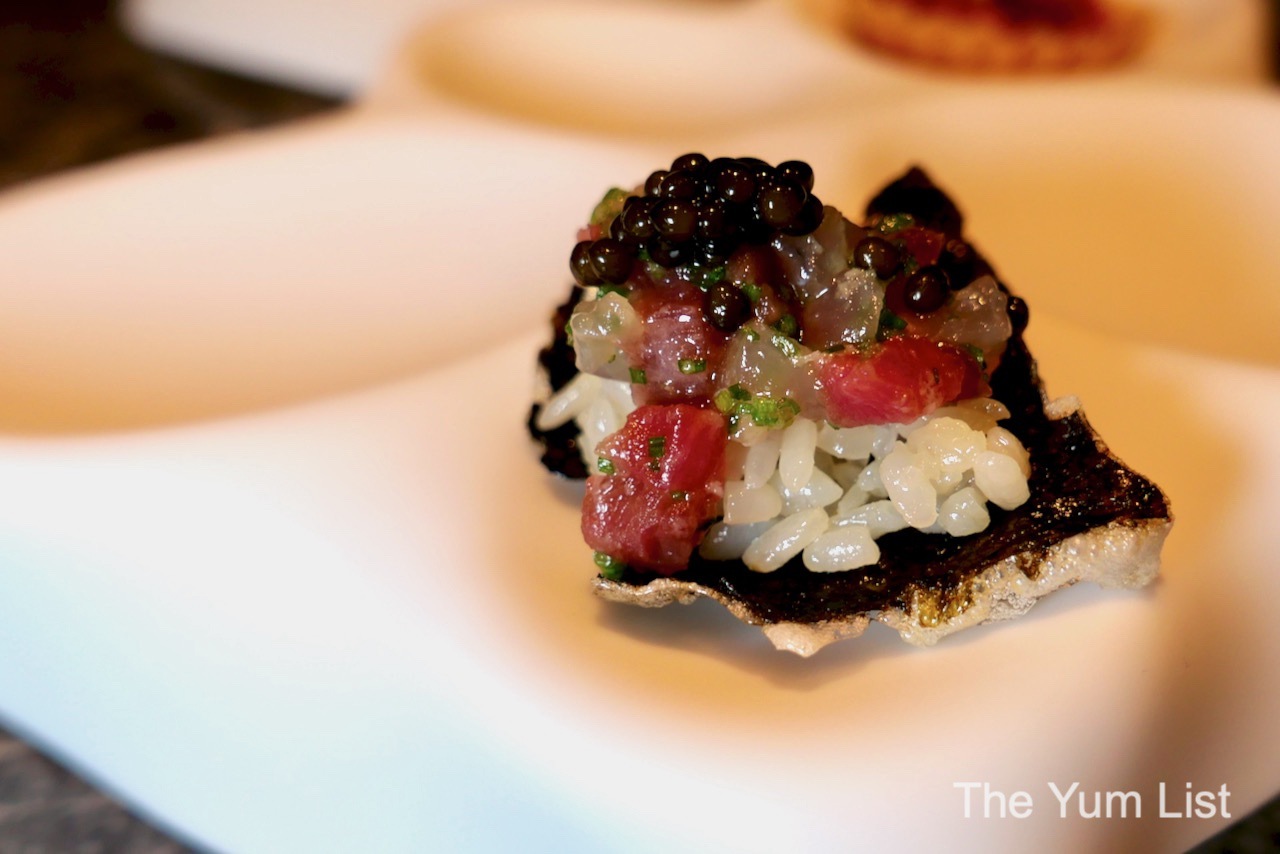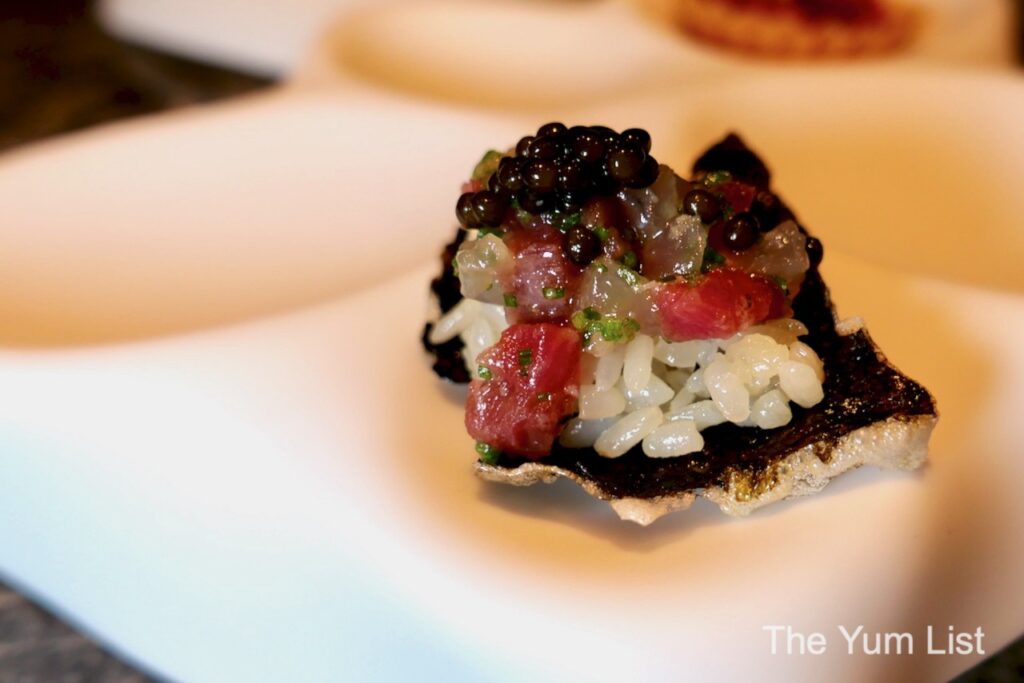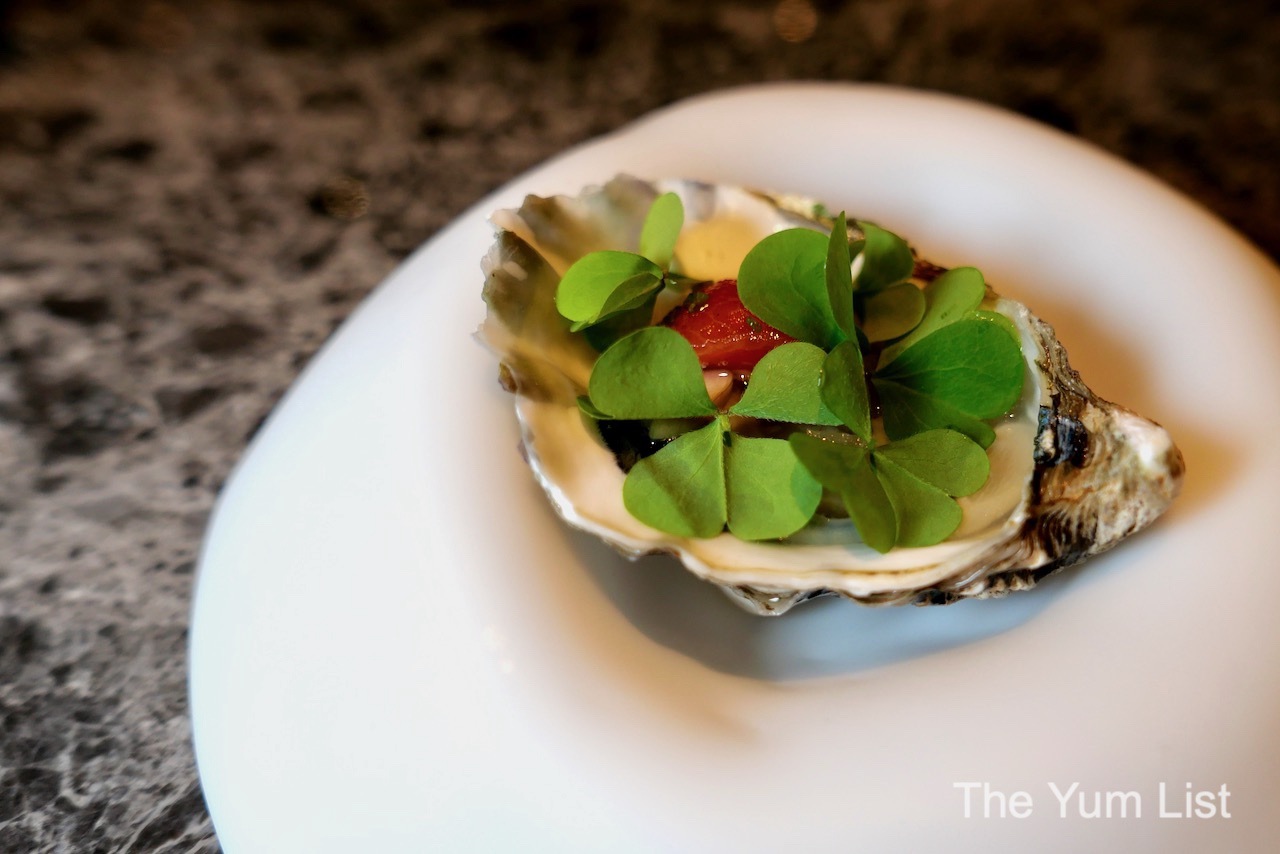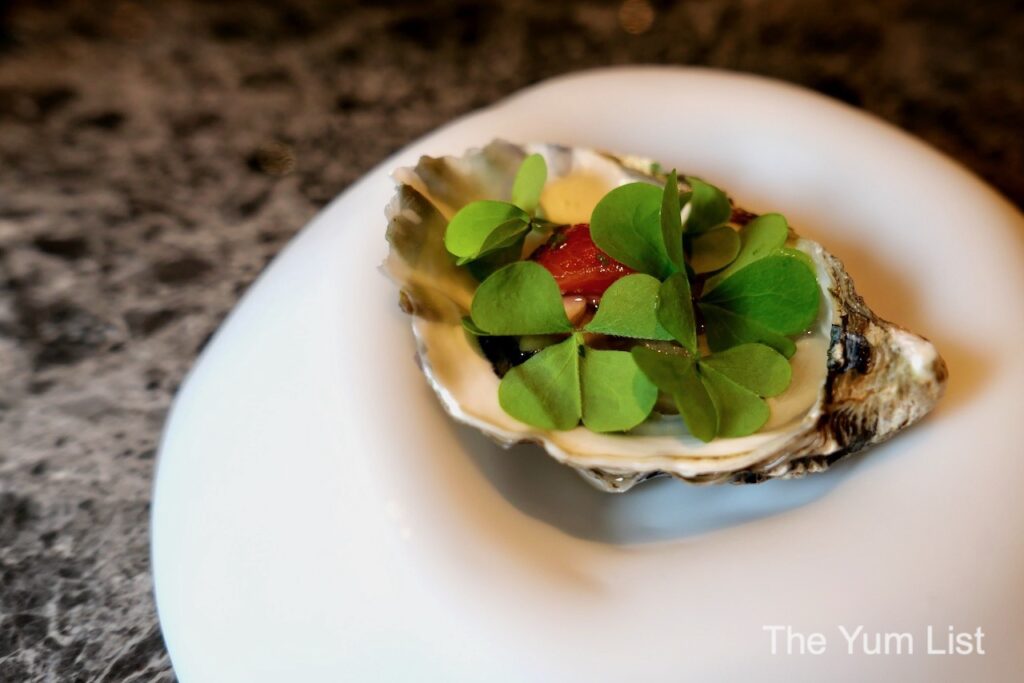 Appetiser Plates – Hide KL
Our next appetisers are served perfectly spaced apart and continue the seafood theme. We enjoy a chicken wing stuffed with abalone infused koshihikari rice prepared risotto-style. Next, we indulge in tai, a Pacific sea bream fish prepared ceviche style with red and green peppers, jalapeno, sweet potato, julienned onion, and tangerine leaf. I especially enjoy the char in the sea beam, which is a twist for ceviche.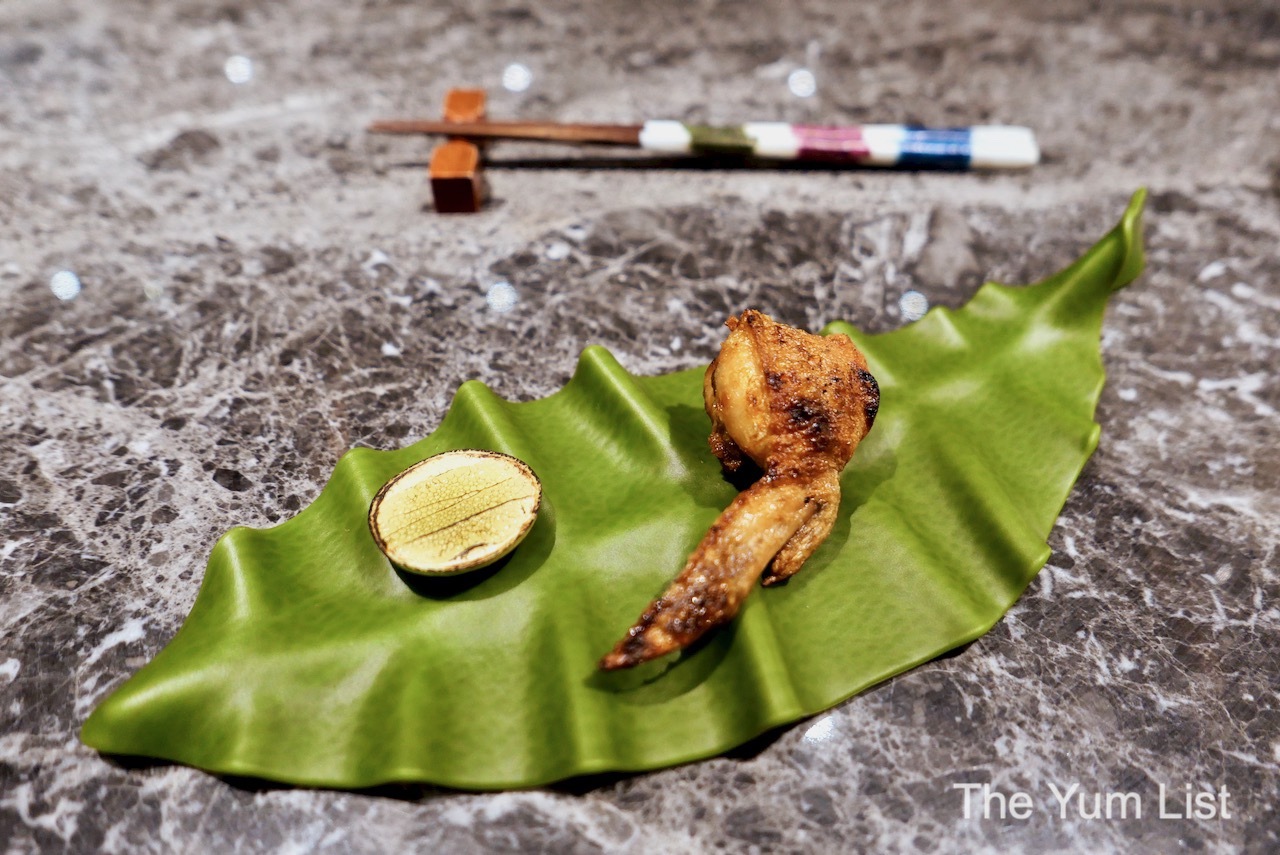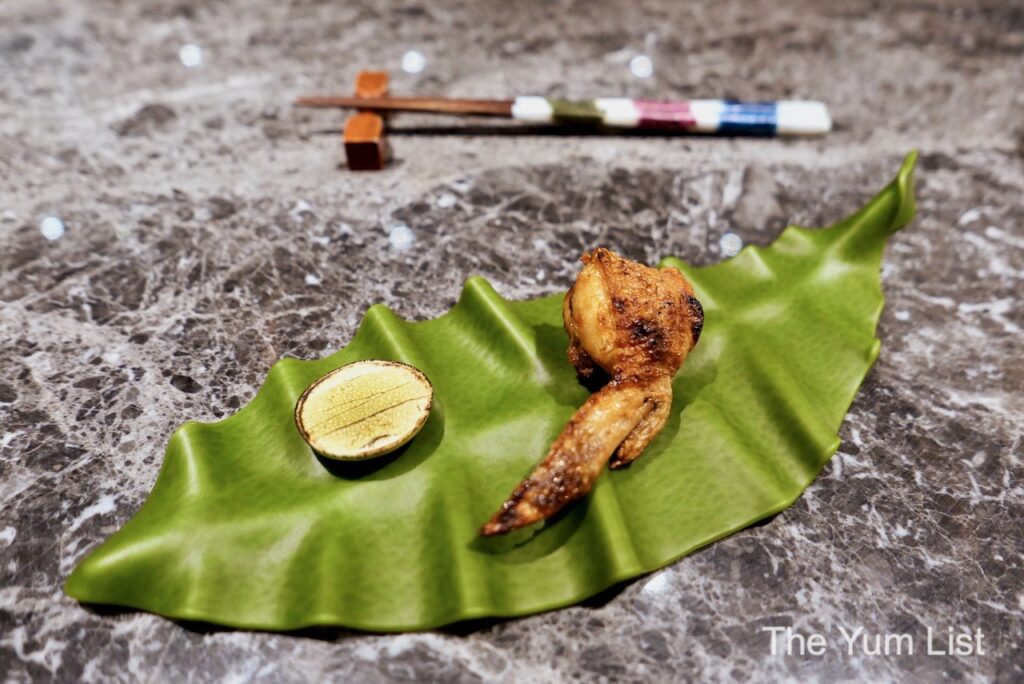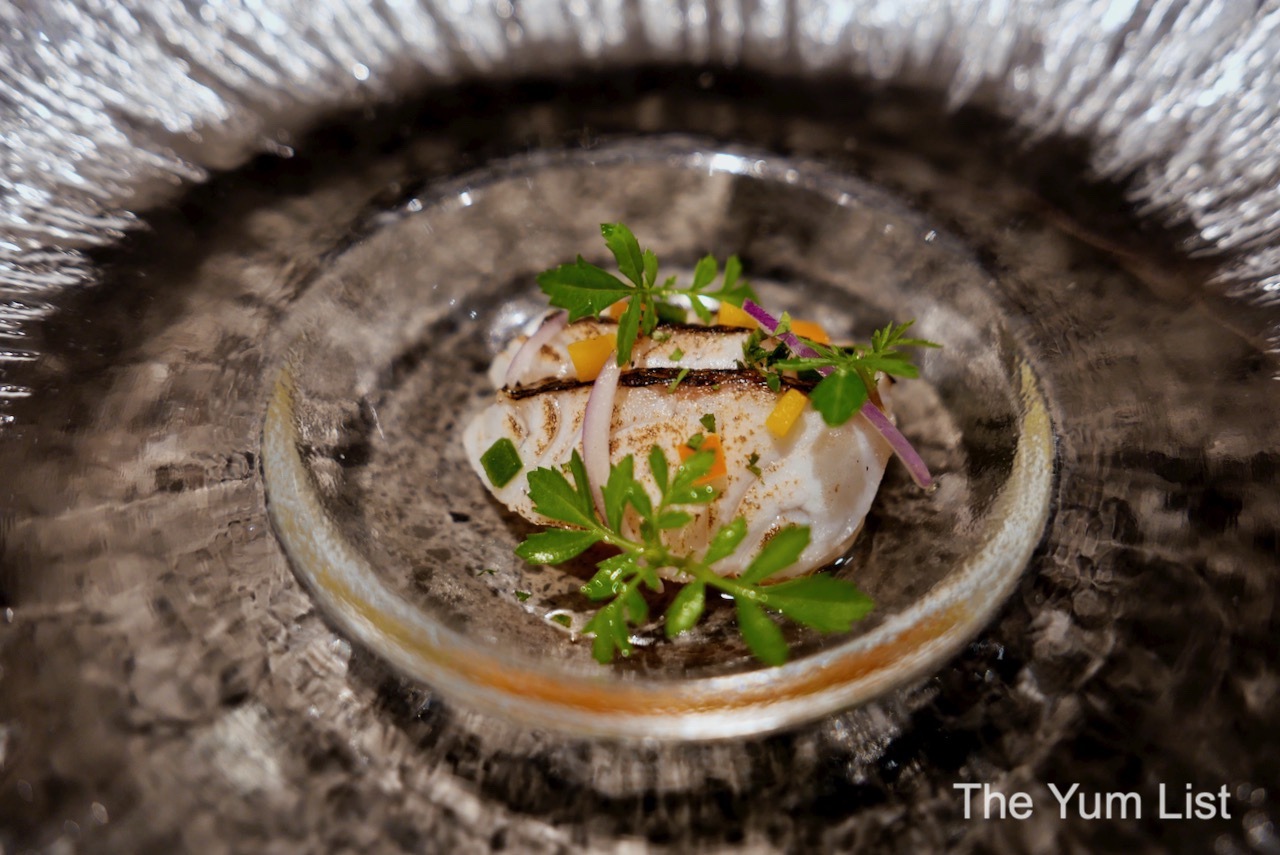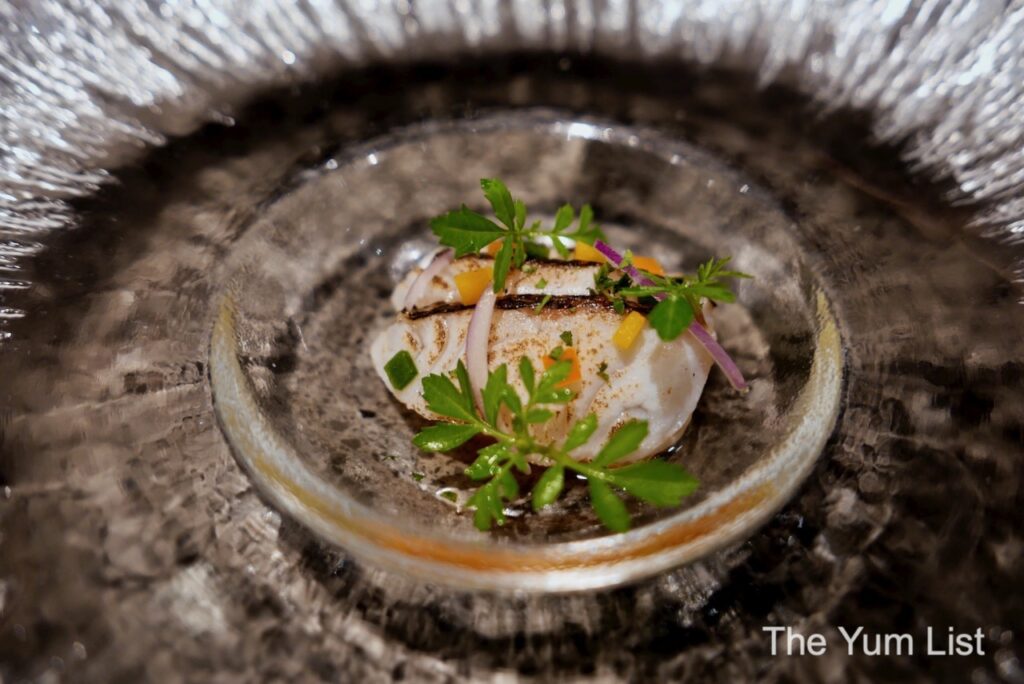 Hot Pot
Finally, as we transition to our main courses, we enjoy mud crab folded into an egg in a mini hot pot. This hearty dish also features potato for texture and additional hominess. Nothing signifies spring more than an egg. The mud crab, which is local, is generous in portion and happily mixed in the rich egg yolk.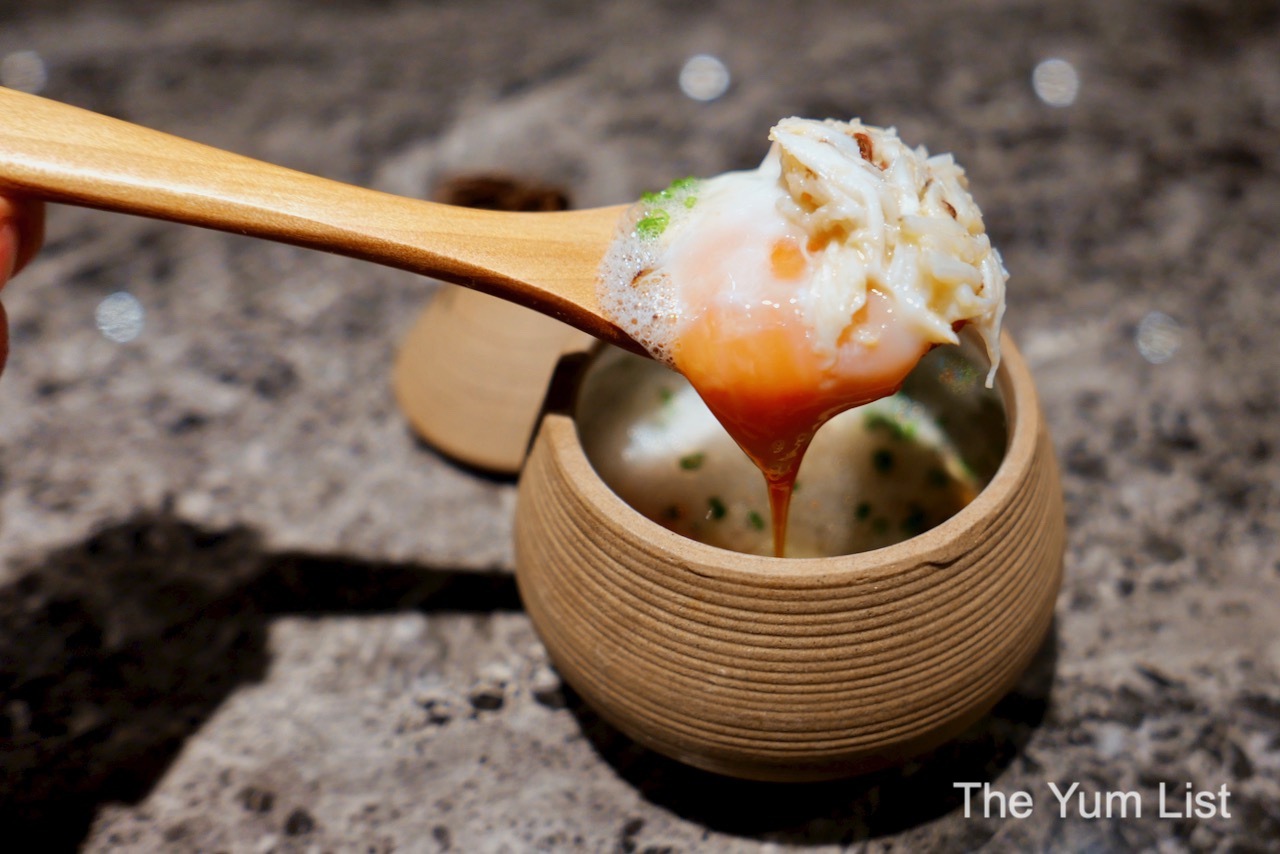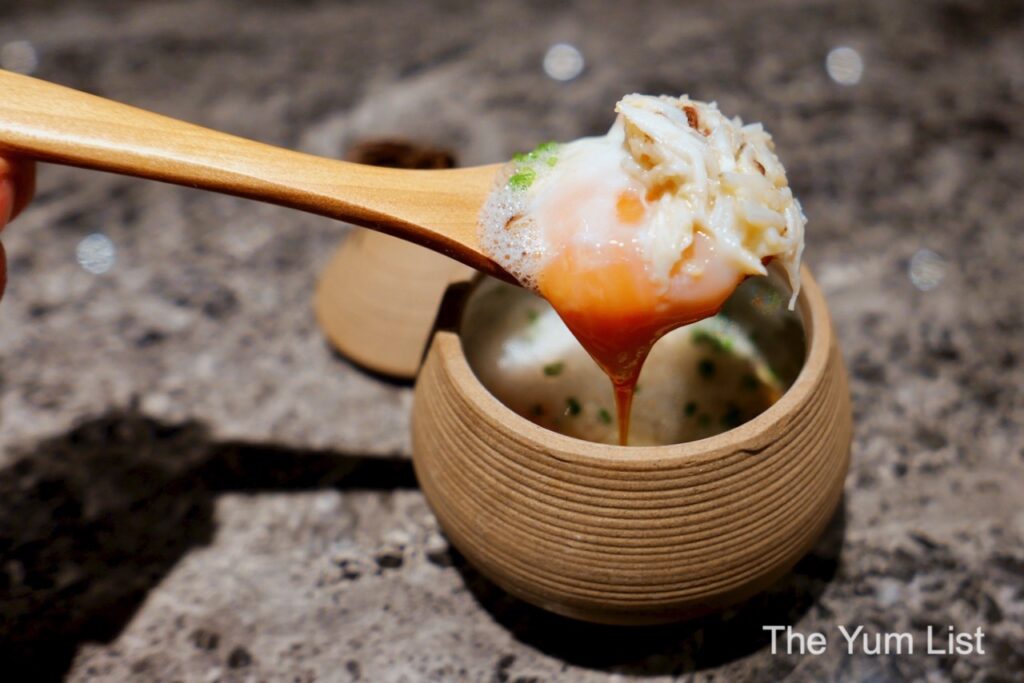 Snapper
Our first main course is kinmedai or golden eye snapper. These beauties are known for their large "golden eyes" needed for the deep waters this fish prefers. We enjoy her charcoal grilled with burdock root served pureed with saffron butter. The deep, warm golden colours are memorable.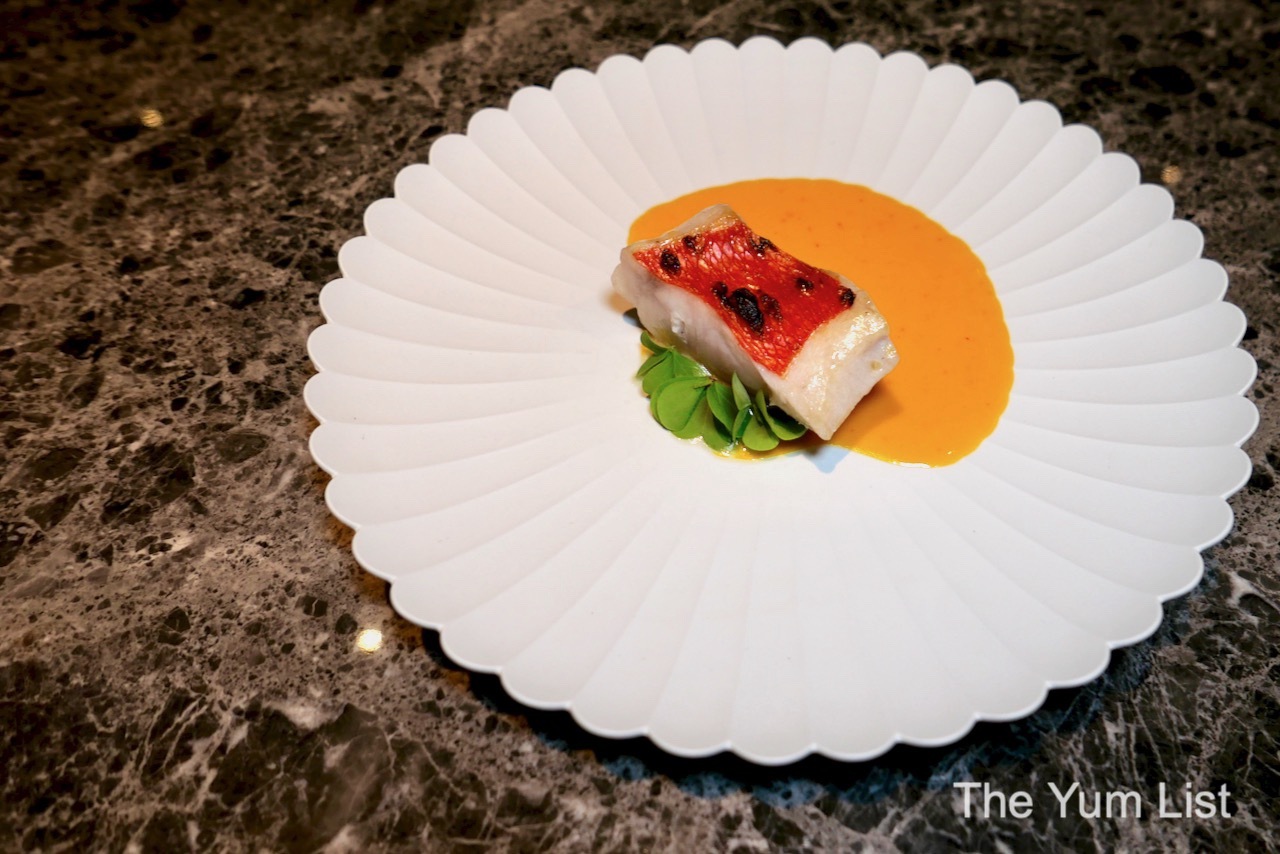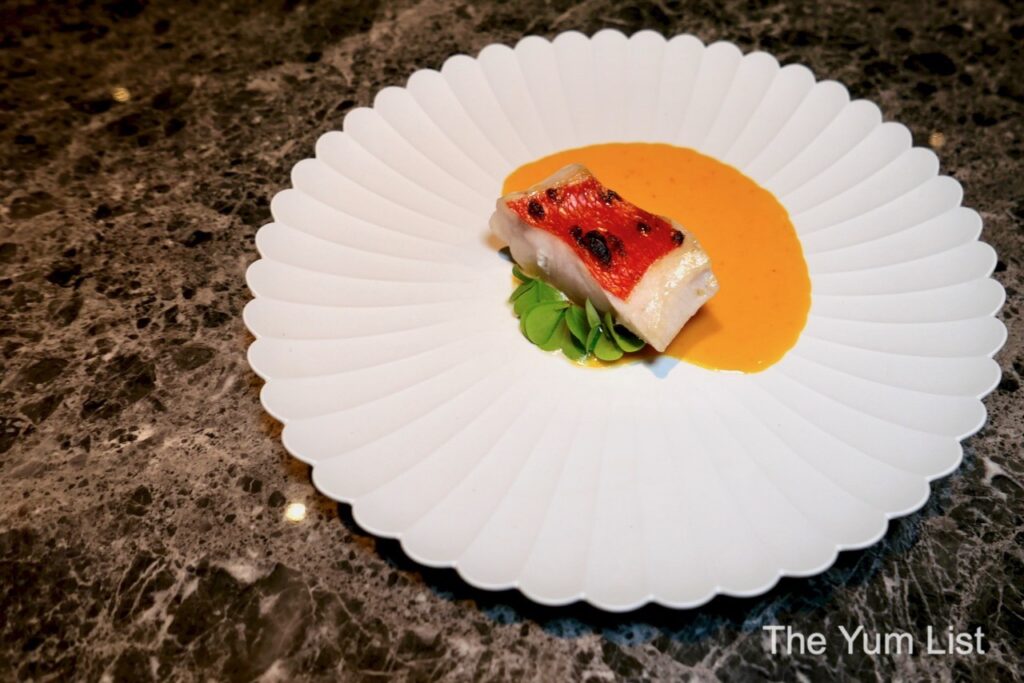 Lobster
In one of my favourite dishes of the night, we feast on a hefty serving of lobster. The lobster is flown in from Boston and killed just hours before our dinner. It is served with celeriac root vegetable puree, baby carrots, and a classic sauce Americaine (Eric Ripert would be proud).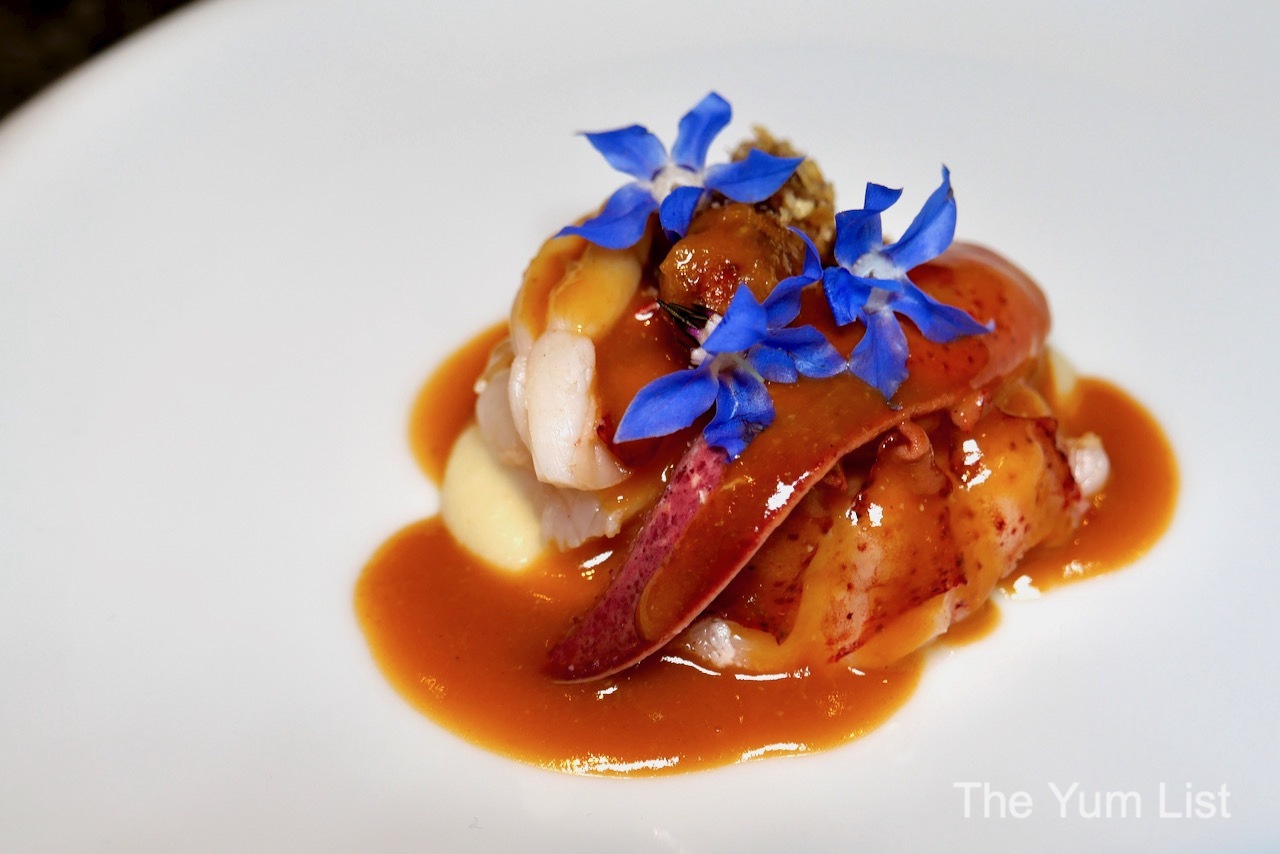 Pasta
The next dish, the pasta course, is the most divisive plate of food on the menu, being very uni forward. This linguine is served infused with uni as well as featuring Hokkaido uni to cap it off. Uni, less appetisingly known as sea urchin, is an acquired taste. To me, if you claim to like seafood, you have to embrace it as it's the essence of everything ocean.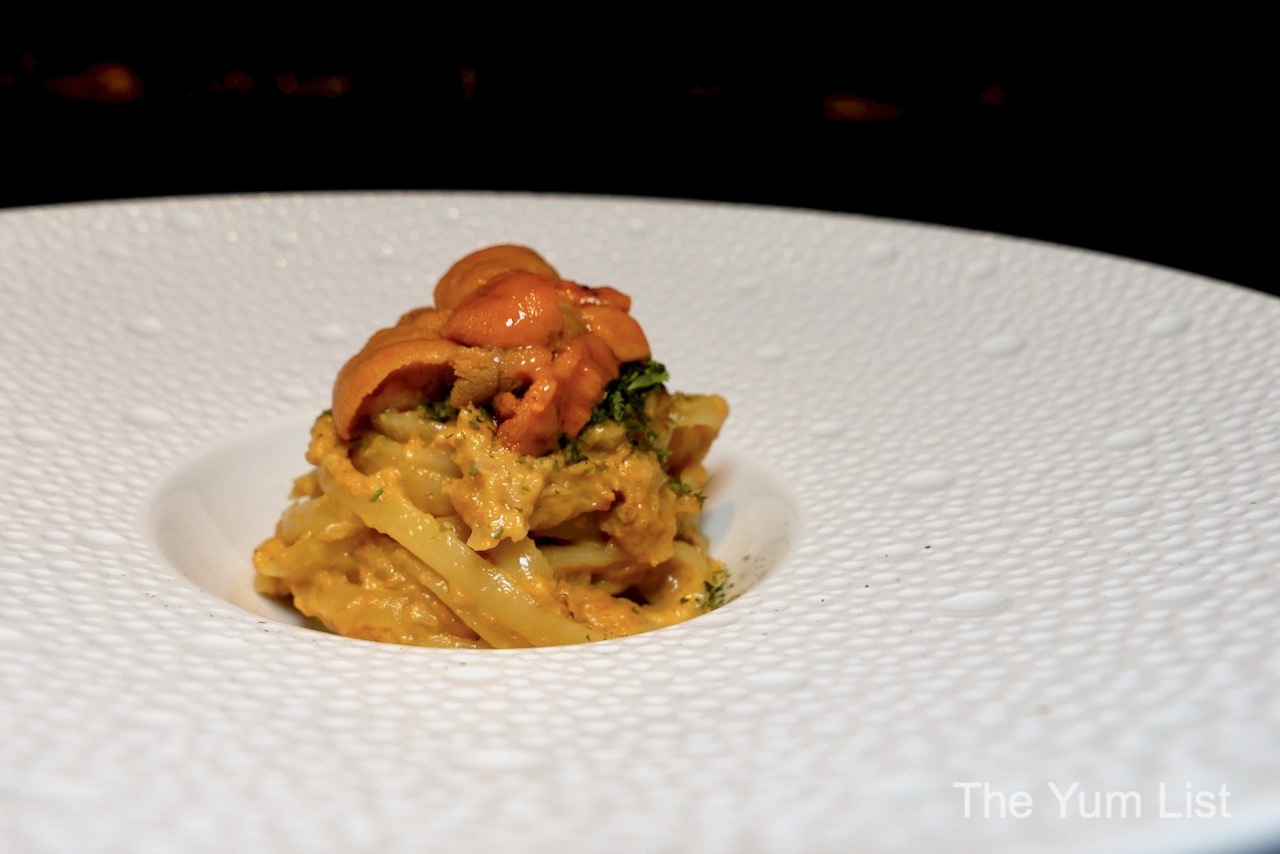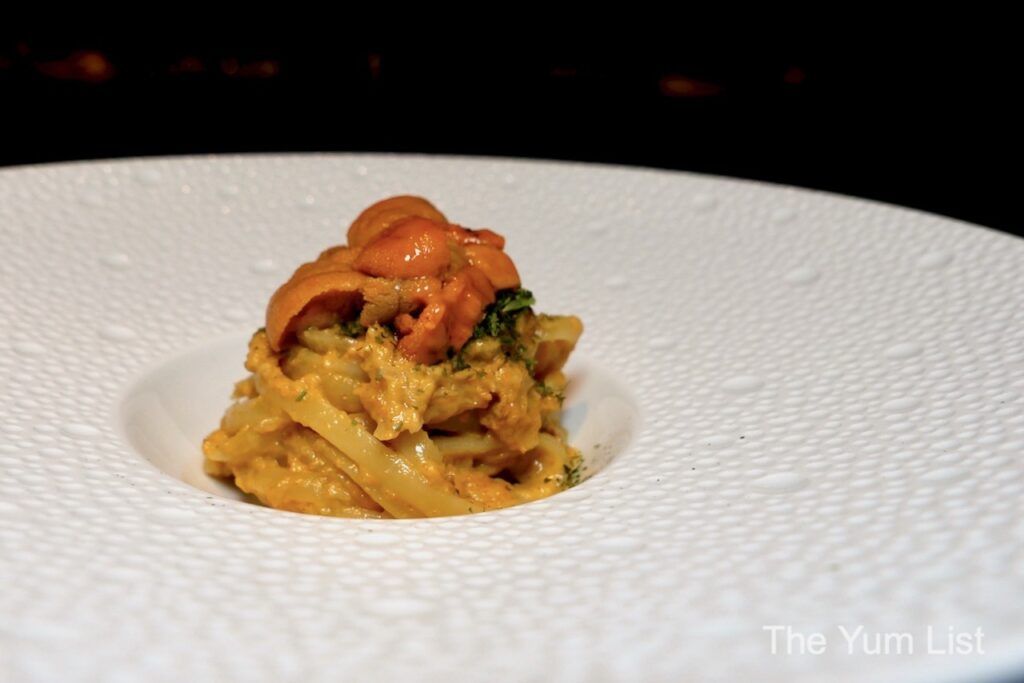 Duck
The grand finale is a simply prepared duck. Our duck did not have a name, but he hails from Ireland. From Monica's photographs, you can see his friend's bums lined up in the dining room refrigerator on display. The skin is perfectly charred. This is a very lean piece of poultry and another generous portion. The duck is served with an apple reduction (not sweet) and sunchoke puree, also known as Jerusalem artichoke. Sunchoke looks like ginger in its raw form but tastes like a nutty turnip. The dish works well together because of its simplicity following a very complex set of prior courses.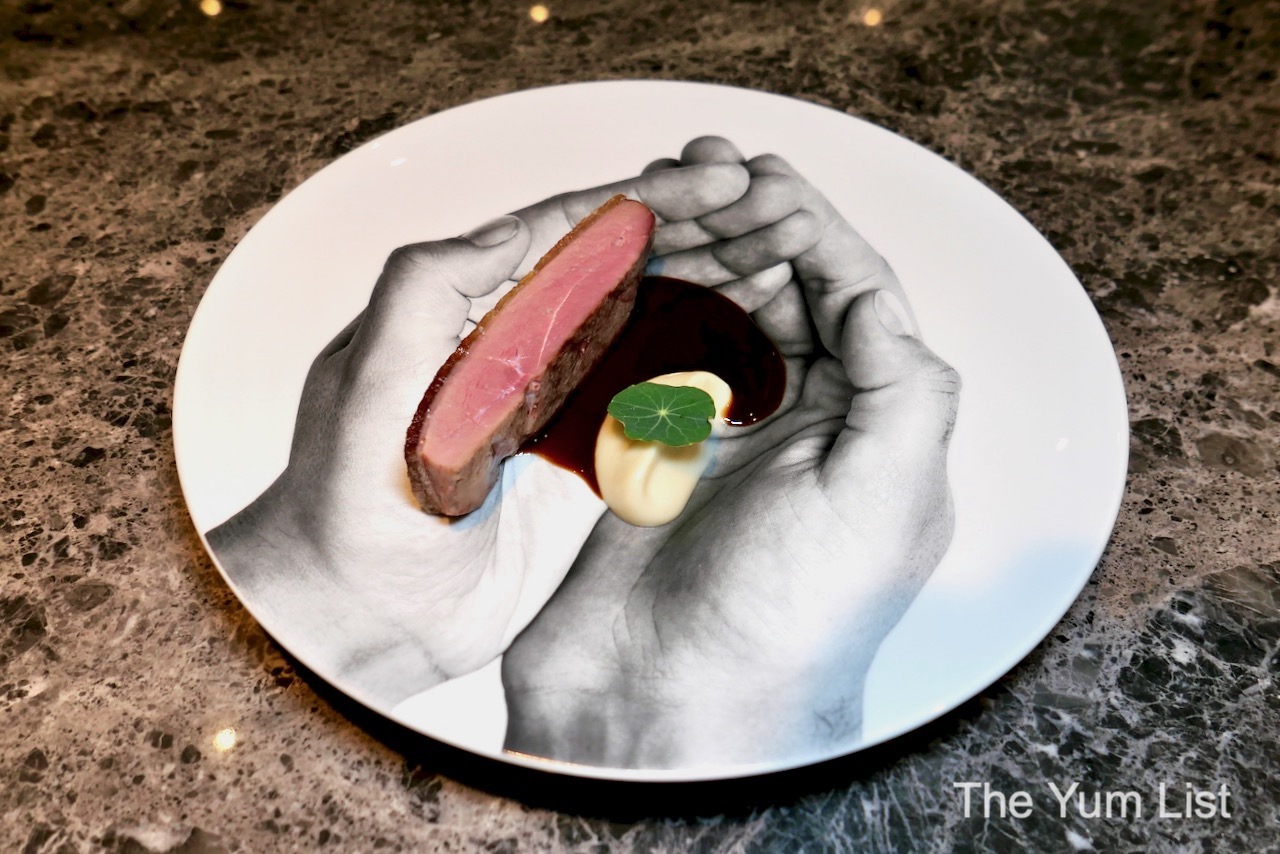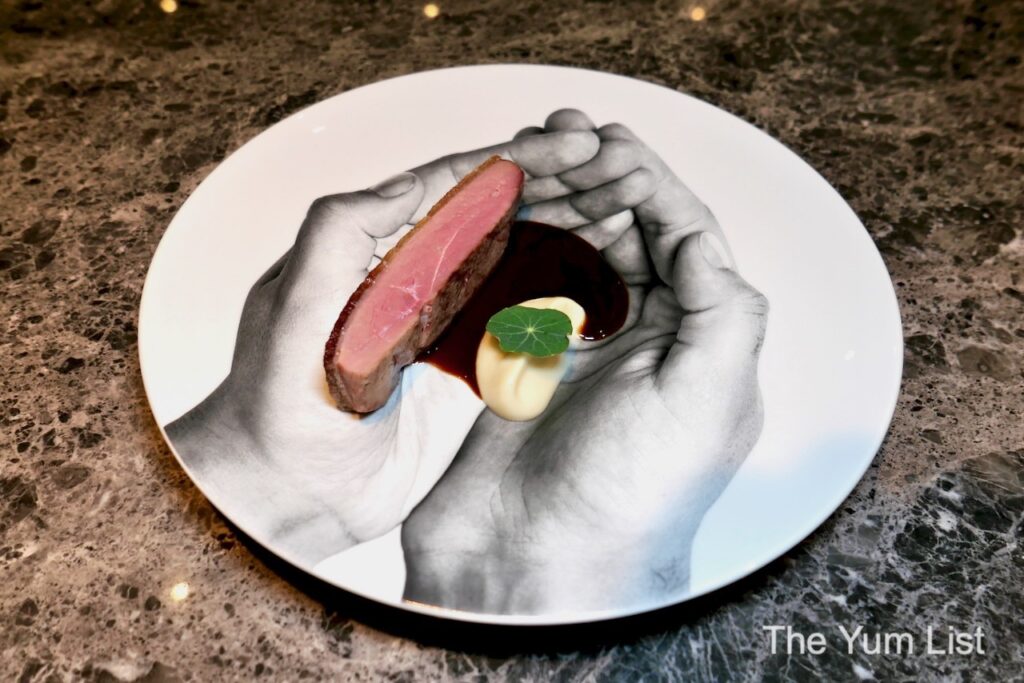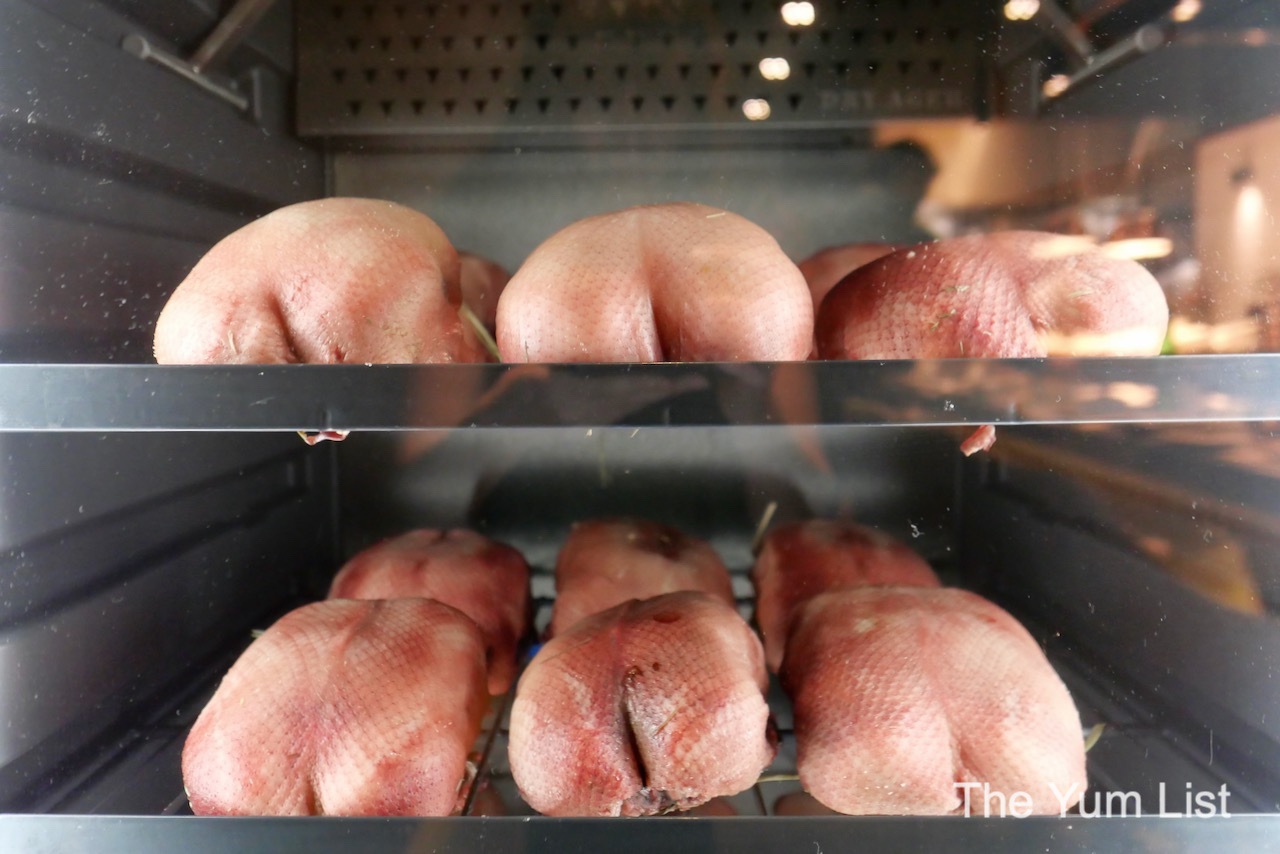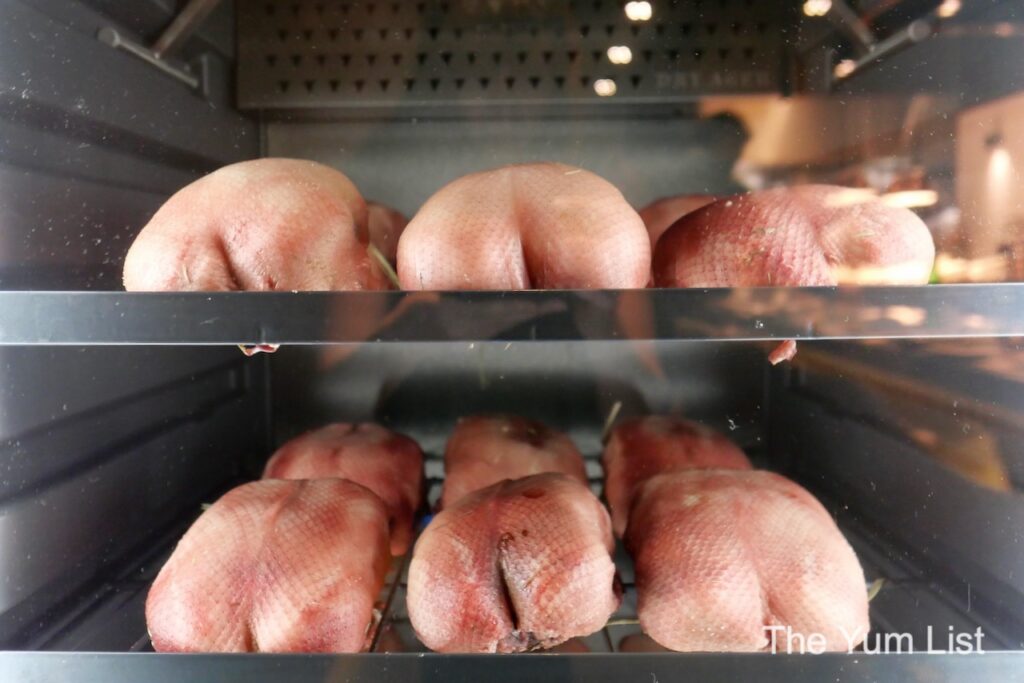 Palate Cleanser and First Dessert
We enjoy a palate cleanse of grapefruit sorbet with mint. This is a needed break as we move into the desserts. Our first dessert is a tribute to kaya toast, a pandan coconut-like cake accompanied by Horkasai-flavoured ice cream. The inspiration for the ice cream is Malaysia's national drink of Milo, and tastes a little like mocha. Lastly, it's capped with a crunchy tuile.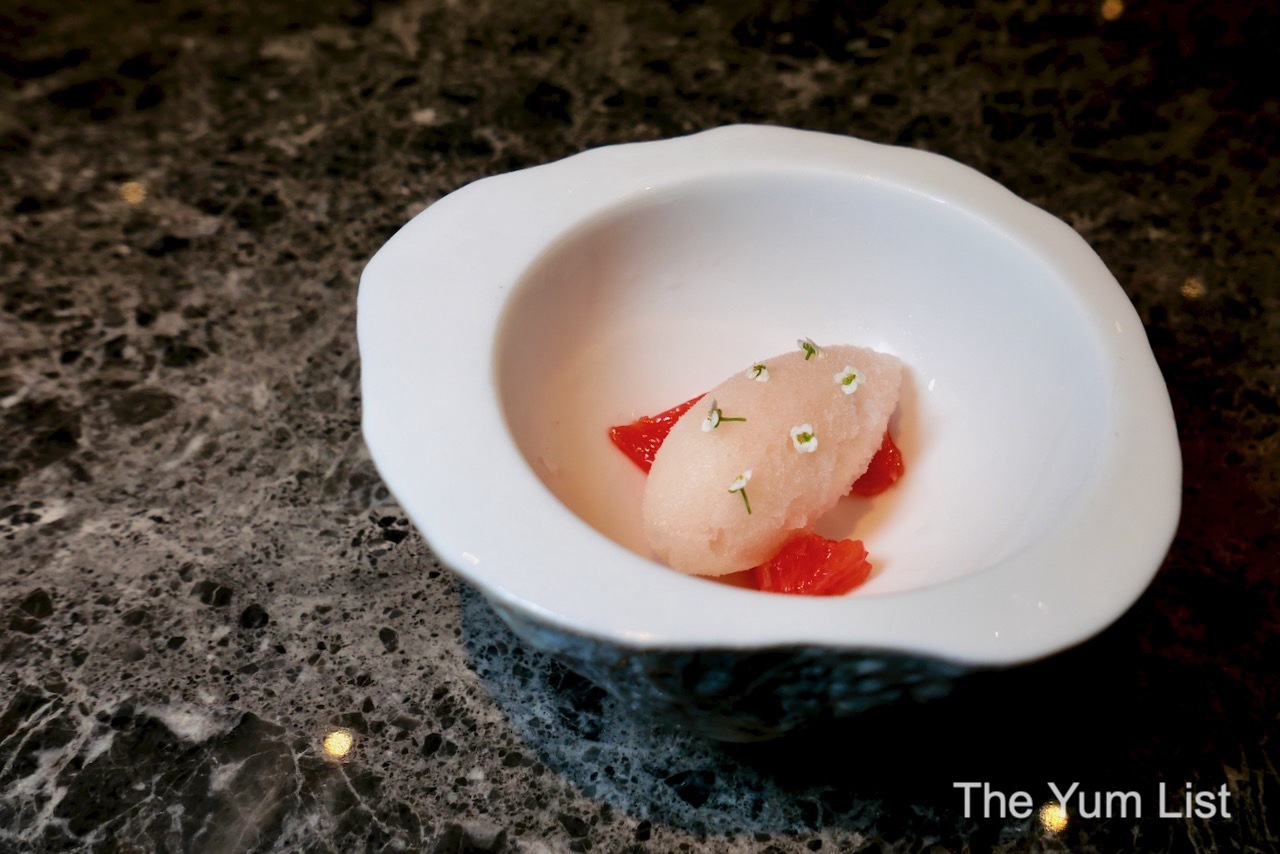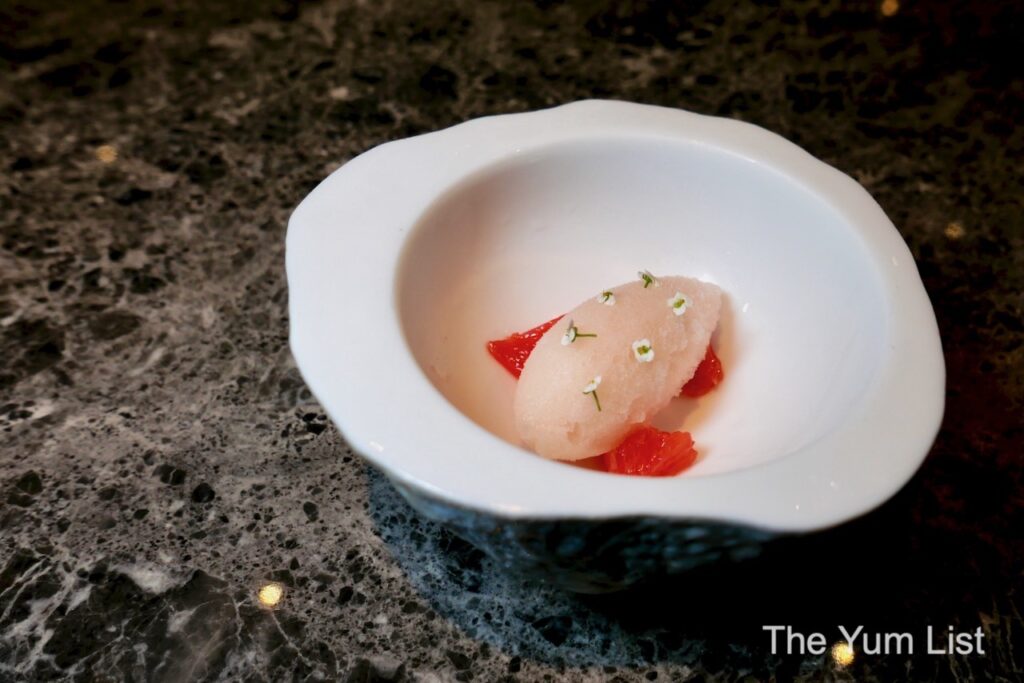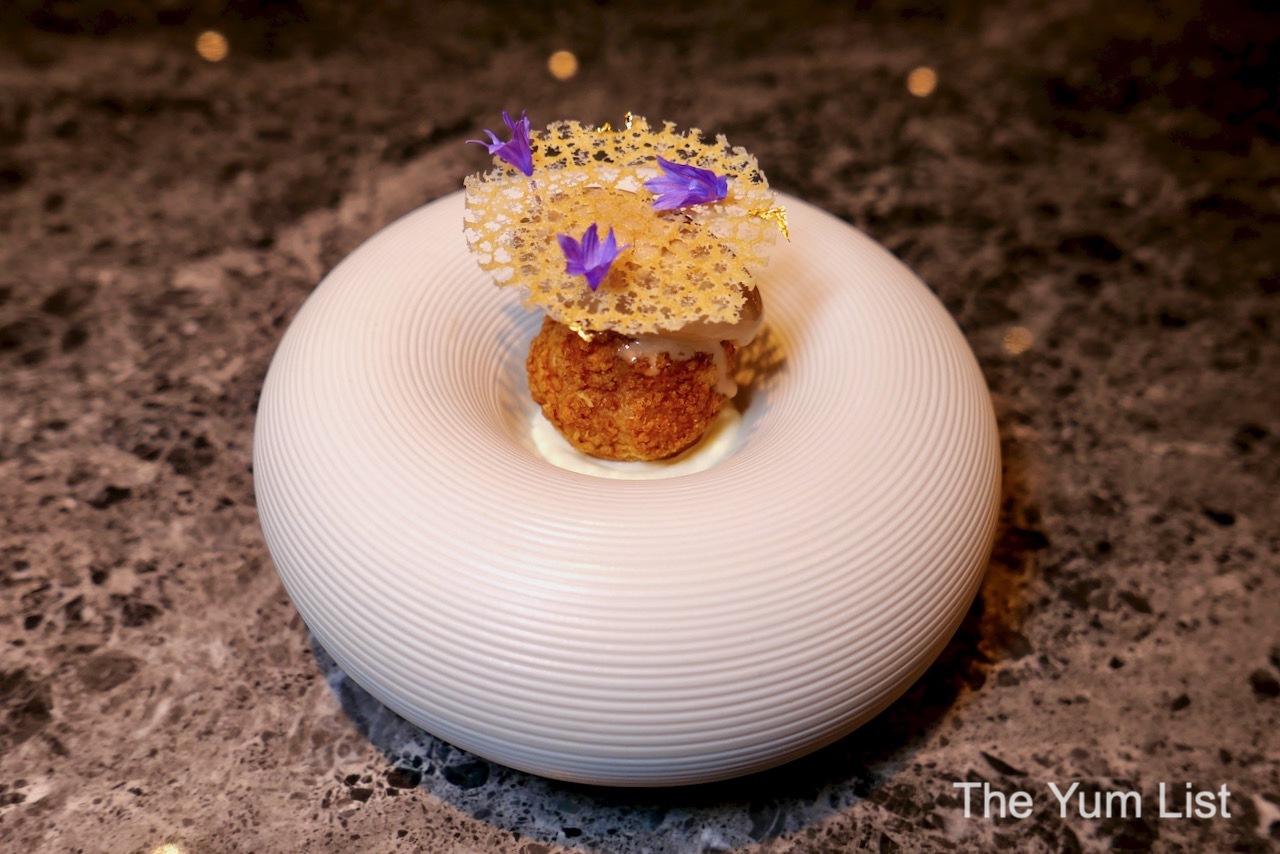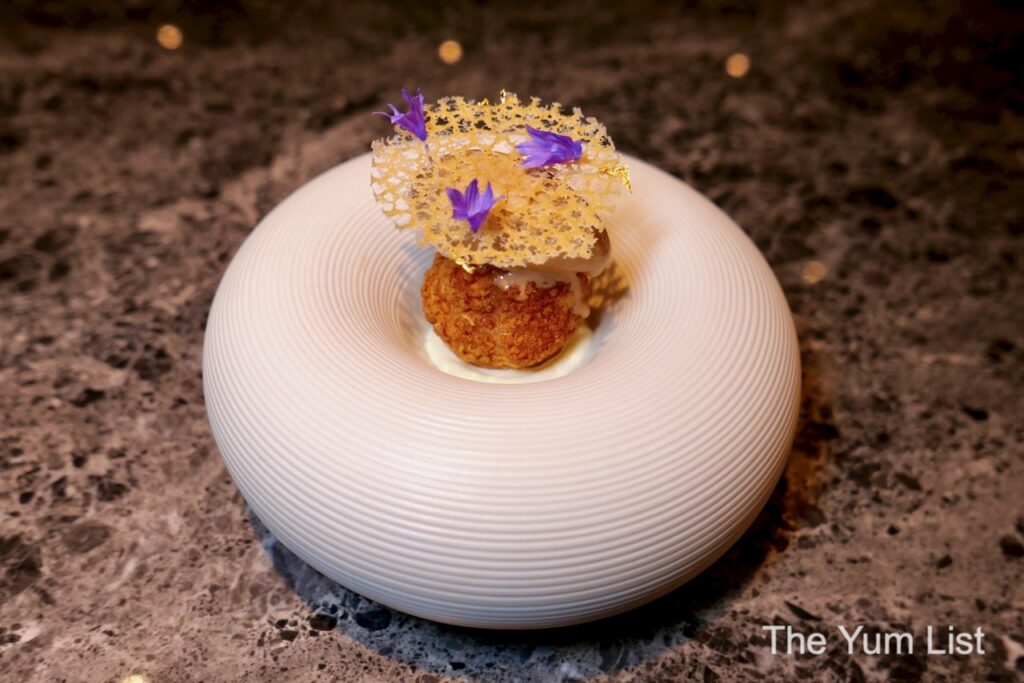 Second Dessert & Petit Fours
Our final dessert is a Valrhona chocolate-covered cake infused with yuzu and mango sorbet on the side. This is also served with the two petit fours, one being a madeleine with Ribena-flavored filling. Ribena is a black currant-flavoured drink harkening back to other beloved, youthful themes in the evening like the Milo ice cream and Mountain Dew amuse-bouche when we arrived. The other petit fours is a piece of chocolate with teh tarik flavouring; a popular Malaysian poured milk tea.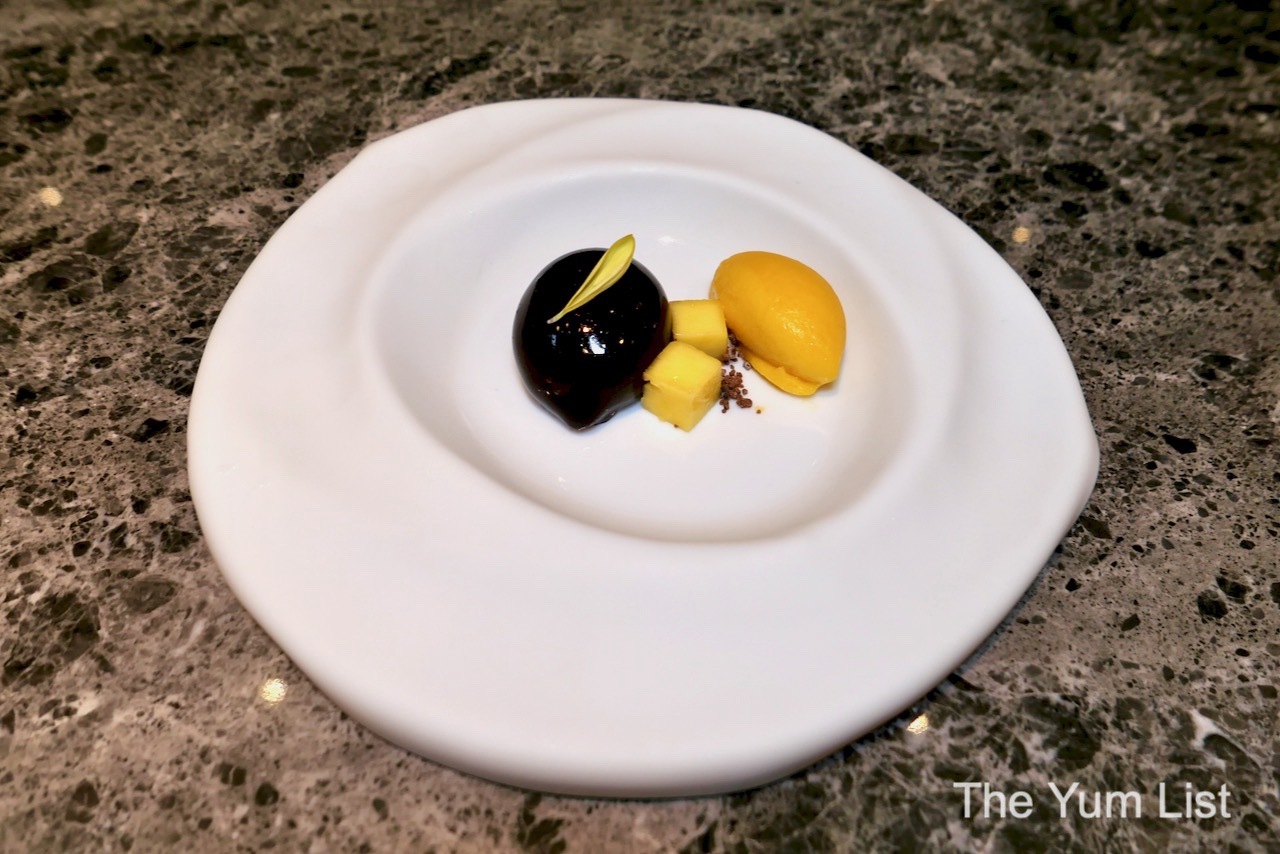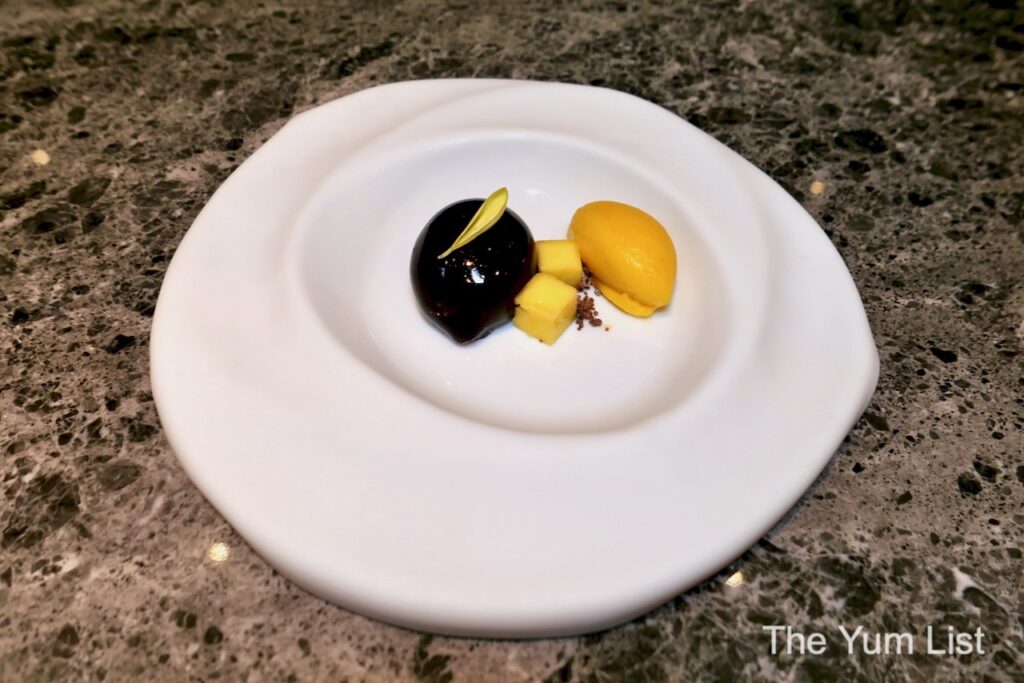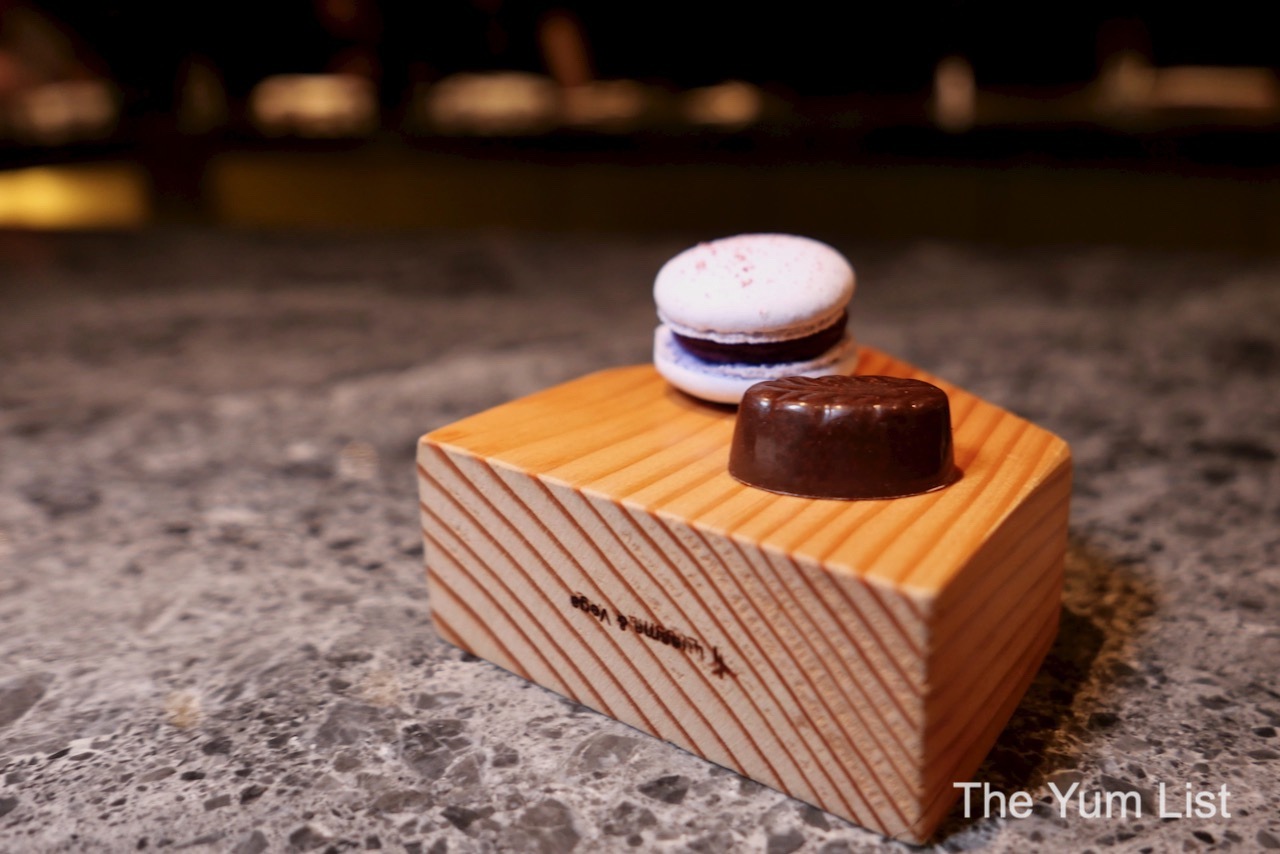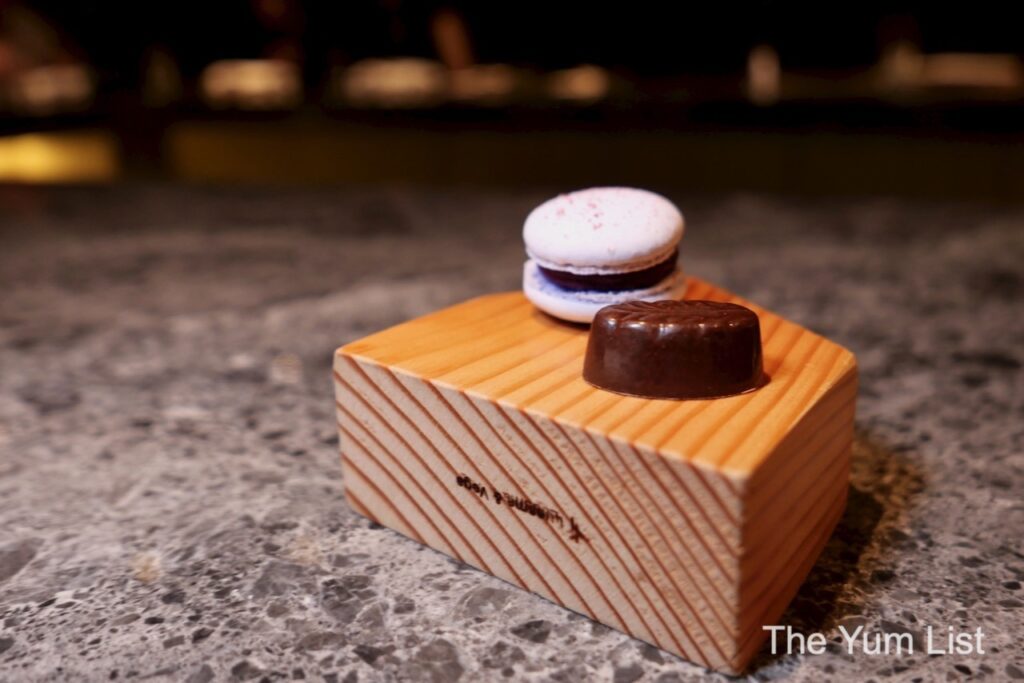 Hide KL Wine List
Hide does not offer a wine pairing but has a wide variety of wines to choose from. We opt for a white Burgundy from Domain Des Poncetys located in Saint Veran, France. This particular white cuvee from 2017 is called "Les Creches" after the patch of land where it was grown. Its versatile drinkability pairs well with the seafood courses. It probably would have clashed with the duck, but we had finished the bottle by then and move to sparkling water.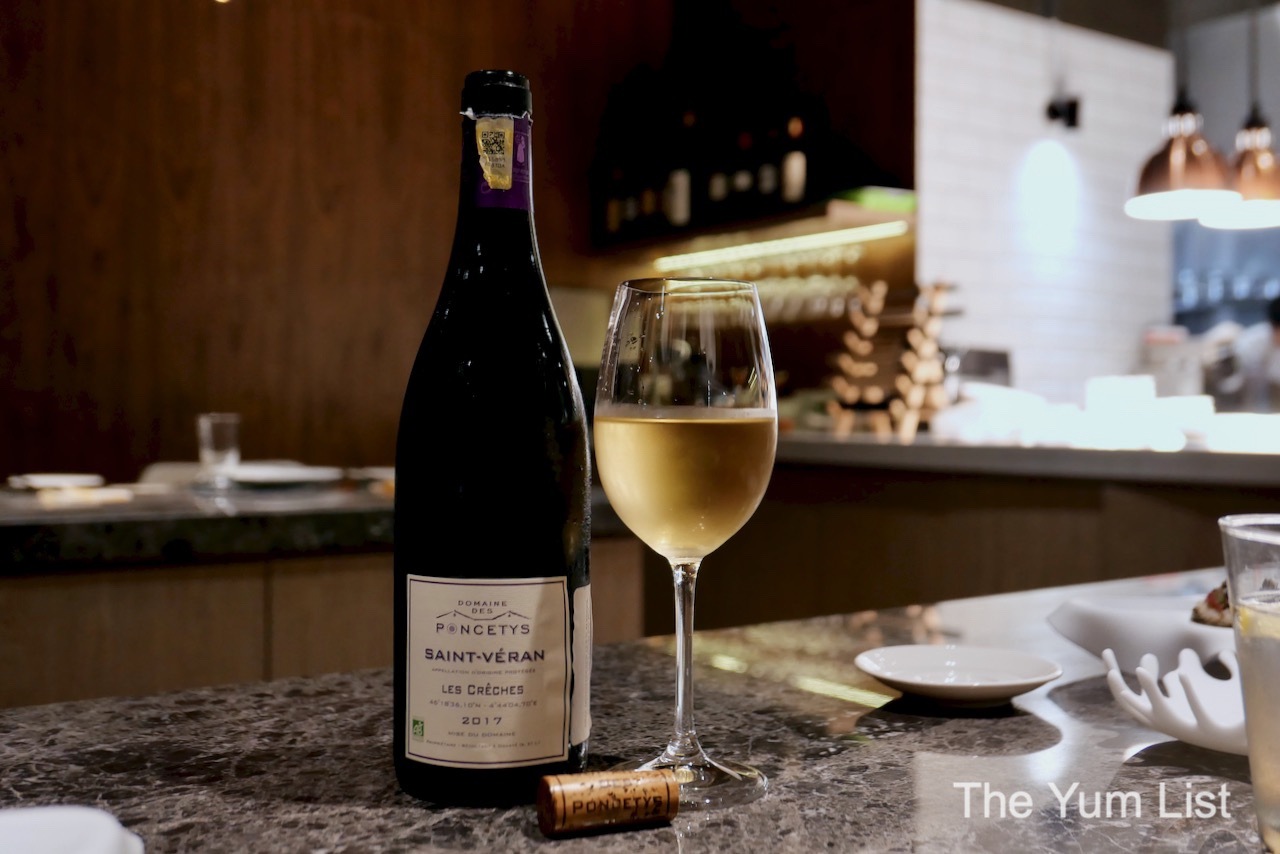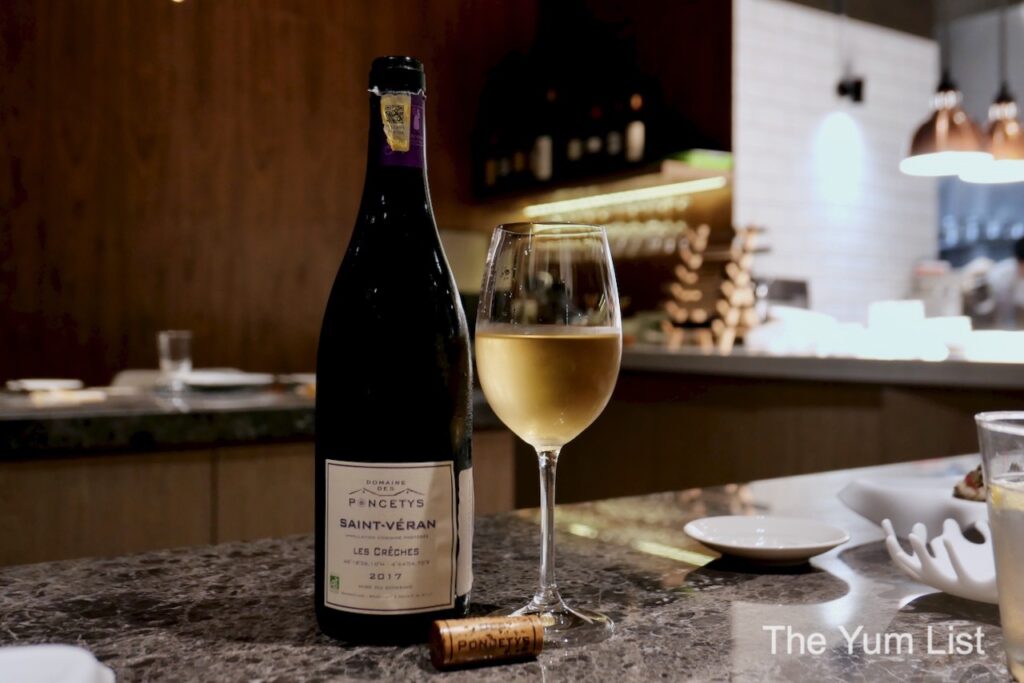 After Dinner Thoughts
Chef Shaun will go far in the restaurant industry not only because of his cooking talent and training but also because he knows how to lead. Hide operates like an orchestra where he's the conductor. We delight in each course being served by a different sous chef or cook, each who have their names listed on the menu. His team is empowered and thoroughly versed in each dish. A special shout out to Soon Si Yin, Michelle Wong, and Nigel Lazaroo for their grace and patience in explaining each dish.
Hide KL Price
The spring set menu is priced at RM650. There is a course add-on of Kaluga queen caviar for RM450 and a supplemental Miyazaki A5 sirloin for RM188.
Reasons to visit Hide KL: Possibly one of the coolest restaurants in the city – fab setting hidden behind a painting in an art gallery; gracious service; a young, energetic team; great for date night and serious gourmets.
Hide KL
The Ritz-Carlton Residences, Concourse Level
105 Jalan Ampang, Kuala Lumpur, Malaysia
+60192229842
www.facebook.com/hide.kualalumpur
Hide KL Opening Hours
Tuesday through Sunday from 6 to 10 pm
Two seatings – 6 & 8 pm
Reservations are a must.
Find more restaurants for special occasions here, and stay up-to-date on KL's food and beverage scene here and here.