Benang The Second Chapter
Words: Jacob Weber
Photos: Rich Callahan
Tucked away in a back alley in Plaza Damansara, Benang The Second Chapter is where James Bond's tailor would go for a cocktail.
Smart, sophisticated, and in true speakeasy fashion, cleverly hidden behind a secret door – the super spy's sartorial advisor would happily sneak away here for a strong drink after 007 brings back another bullet-riddled blazer.
And there are plenty of strong drinks to choose from, whether from the signature cocktail selection or the extensive spirits list. After a quick tour of the surprisingly spacious seating area, and a quick feel of the various fabrics that serve as subtle wall decorations (benang is Bahasa for 'thread'), we take a front-row seat at the bar to get started.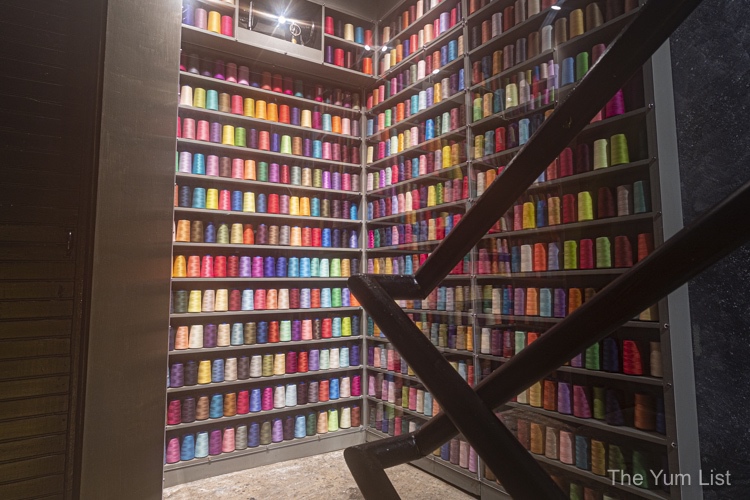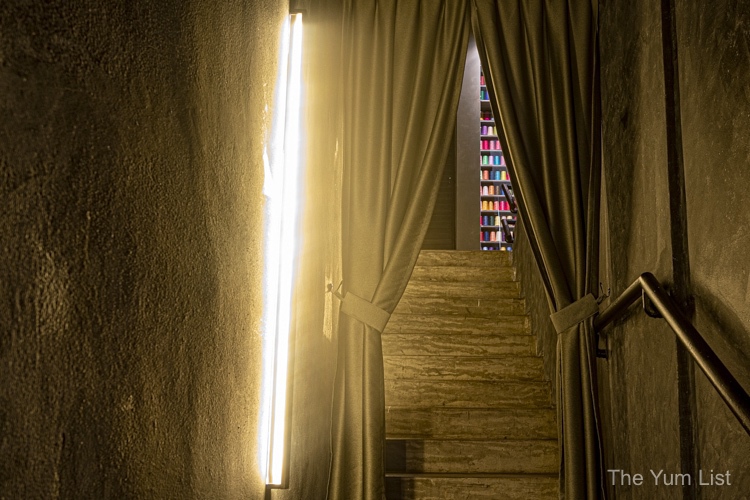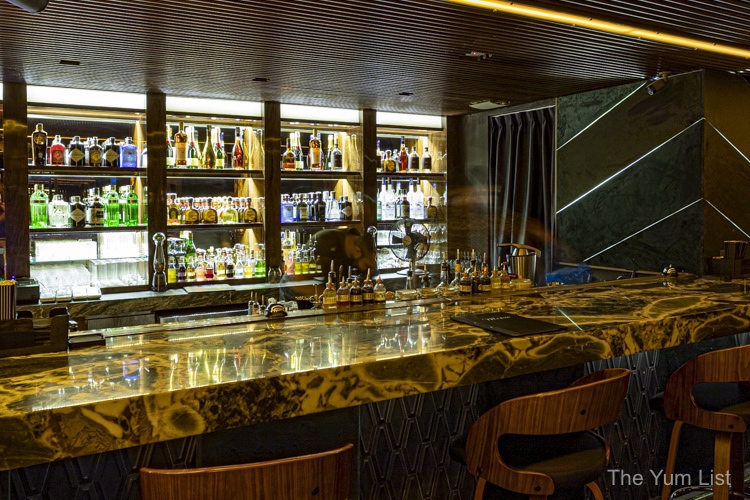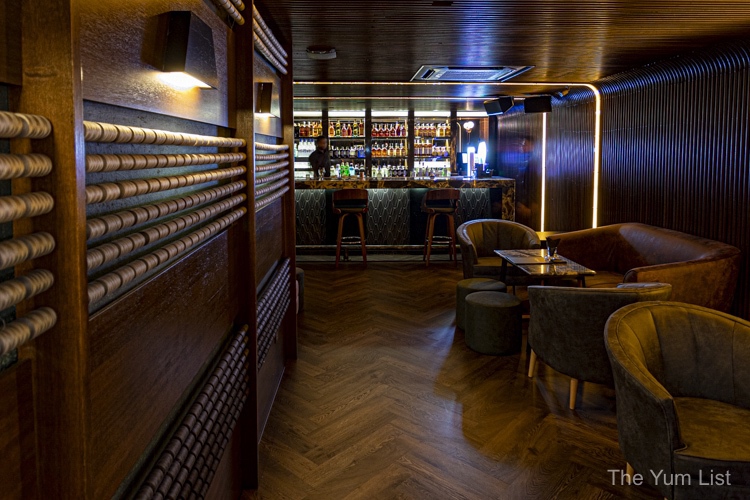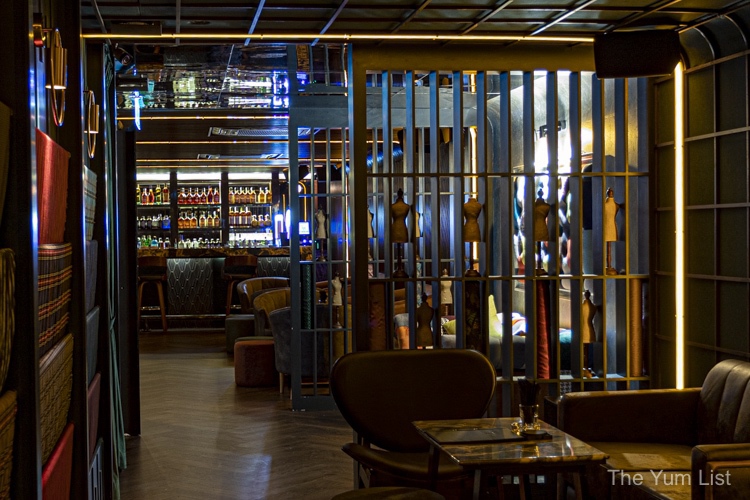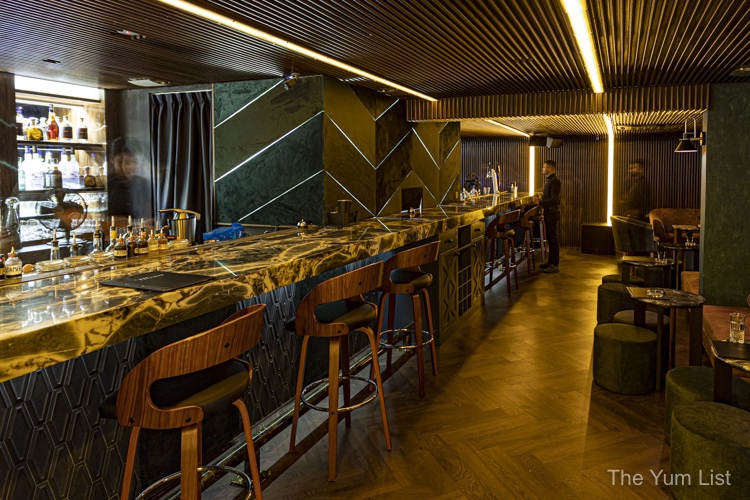 Benang's Signature Cocktails
Just as with his first outing, The First Chapter, head bartender Ben Nair proudly puts his personal spin on the drinks menu, especially the eponymous Ben's Paloma (RM38). His version of the tequila-based cocktail uses grapefruit juice and sparkling water instead of the traditional grapefruit soda, giving it a little more bite.
Given the name, Vamos (RM40) – Spanish for 'let's go!' – seems like a good cocktail to kick things off with. It's deceptively simple – smoked mezcal, fresh pineapple, sea salt and lime – but sophisticated, balancing sweetness with smokiness, and citrus with saltiness. Extremely drinkable, and I'm already tempted to order a second, but there's plenty more to get through.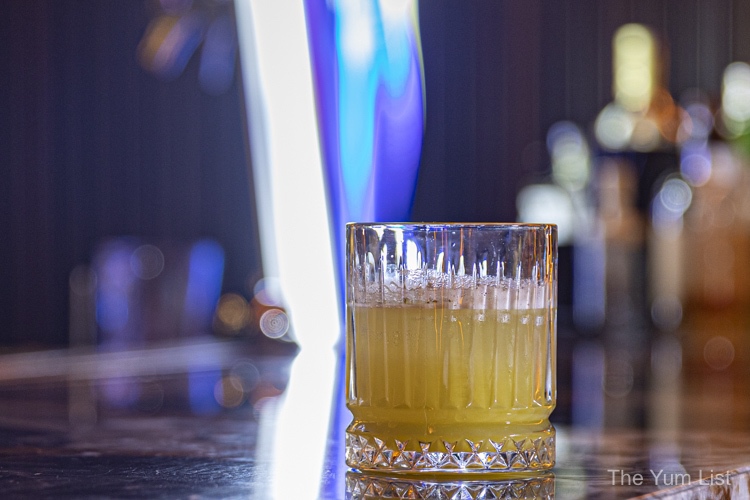 The Asa Akira (RM45) raises an eyebrow before you've even ordered it. Yes, you might recognise the name. No, I won't remind you where from. If you're reading this at work, don't Google it. And if you're reading this at home, don't Google it in front of the kids. Let's just say it's Ben's homage to a pornstar martini. However, the usual vodka and passionfruit have been replaced with Tanqueray gin, peach liqueur and peach purée. Topped with Miraculous Foamer and Prosecco, it's a punchy, fruity number that hits the spot. (Am I allowed to say pun intended?)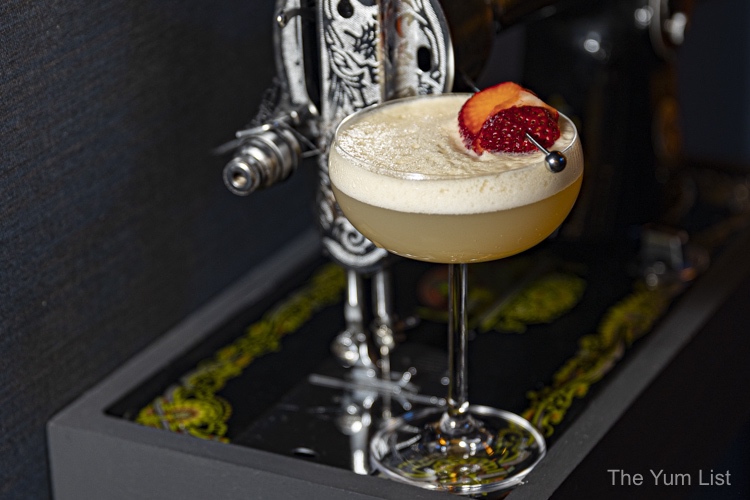 The South Malaya (RM 42) is a fascinating fruity combination of Demonio de Los Andes Pisco (from 'South' America) and hibiscus tincture (from 'Malaya'), topped with fresh lime and lemon and aquafaba. There's a lot of depth to this drink – and it's vegan-friendly, with the aquafaba (made with chickpeas) giving the same foamy topping effect as egg whites.
Four drinks in, it's time to settle the stomach, soak up the booze, and order some food, as we still have several more Second Chapter signatures to sample. We're professionals, after all.
Benang The Second Chapter Food Menu
First up are the Sambal Prawn Sliders (RM28), which come in mantou buns with a mango and lychee salad. Crispy prawns in a cotton-soft bun are a great start, and I just wish there was more than one prawn in each slider – until Rich points out that you never plate items in even numbers, and three prawns per sandwich would be a little excessive. I reluctantly agree.
The Sweet Potato Fries (RM22) soon follow. I love sweet potatoes but often find myself disappointed by sweet potato fries (too oily, too soggy, too burnt). No such issues here – Benang's version, deep-fried and served with a delicious homemade hot sauce dip, is 'just nice', as they say.
Meat lovers will appreciate the Beef Tataki (RM 42) – tender, seared Angus with a tangy Ponzu sauce and veggie tempura. It's very difficult to share because you'll want it all to yourself. You can distract your company with the Mint Lamb Bites (RM 36), although you won't want to miss out on these either. These were a personal favourite because despite being raised on Sunday roasts in the north of England, I've never been the biggest fan of mint sauce – and these boneless lamb shoulder morsels are smothered in it. And it absolutely works.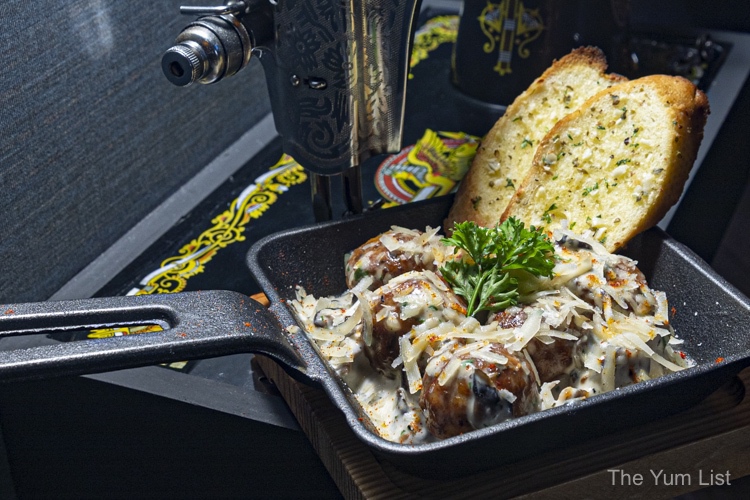 Time for a final carb load before the next round of cocktails, so we order the Patatas Bravas (RM 24). Benang's version replaces the traditional spicy tomato sauce with its own "secret smoked veggie sauce", which is delicious. These also come with chicken chorizo sausages, which you won't usually find on a Spanish menu either. Again, it works.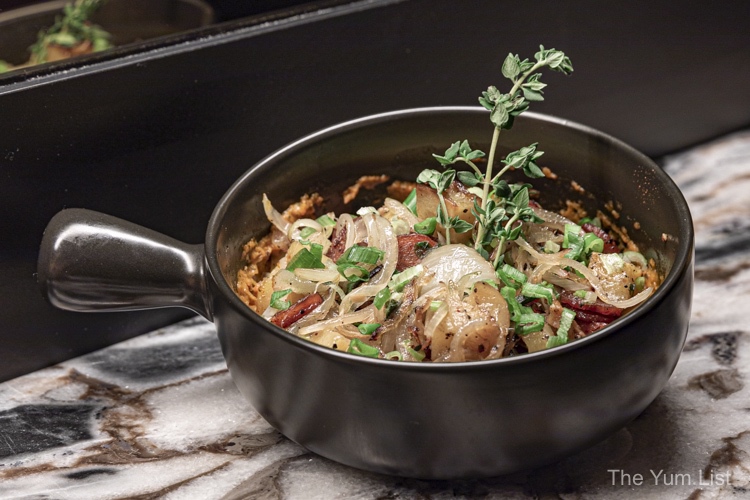 More Signature Drinks
There aren't any dessert items on the food menu, but there's plenty to satisfy a sweet tooth on the signature cocktail list, so we flip back to that.
If your post-dinner preference is for something sharp, sweet and fruity, the Mango Brulé (RM 42, header photo) is for you. Plantation 3 Star rum, fresh mango and lime, shaken with aquafaba – it's another 'simple' recipe served expertly. The Passion Project (RM42), made with Demonio de Los Andes Pisco and passion fruit pulp, is another excellent choice.
If you're looking for something a little more velvety smooth, treat yourself to the Guilty Pleasure (RM 38) – Grey Goose, Irish Cream, coffee liqueur, Frangelico (a hazelnut liqueur), and cream. It's aptly named and extremely sweet, but a comforting alcoholic kick takes the edge off. It's a little too much for me, but I don't doubt this drink will become a crowd favourite.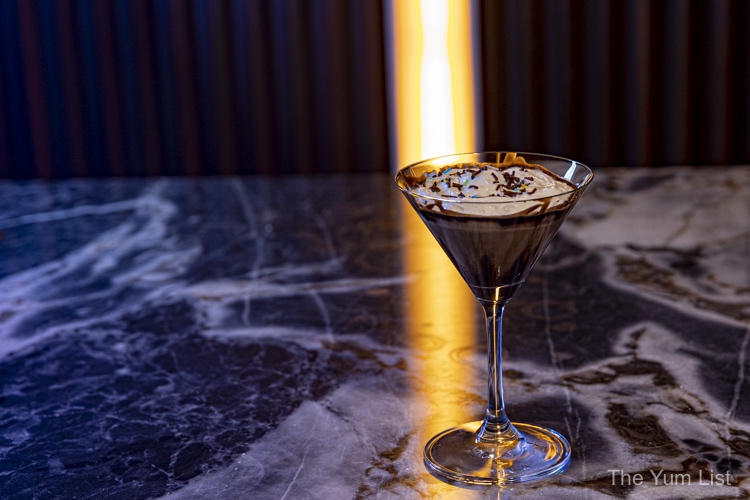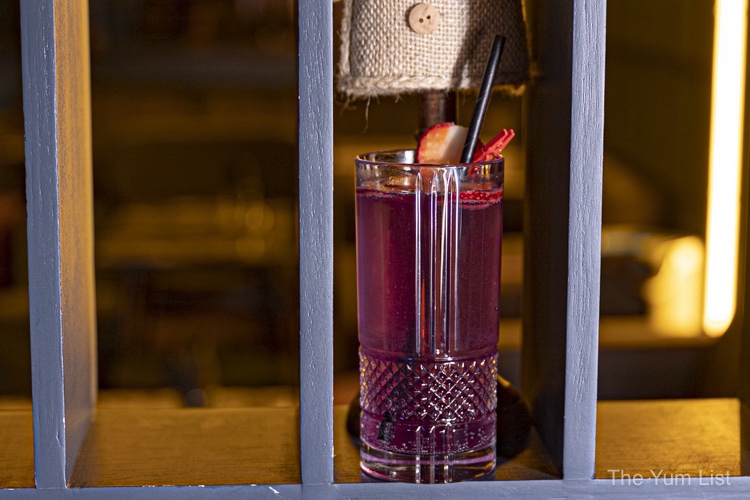 Benang: Expertly Crafted
There's a lot to love about Benang The Second Chapter. There's no unnecessary novelty about it; nothing over-the-top about the theme. Like any good tailor, its sophistication is in its subtlety. Even the antique sewing machine display doesn't feel overdone. There are plenty of nods to its inspiration without making you feel like you're in one of those selfie museums. (Although there is a pretty cool colourful patchwork sofa which will no doubt feature on plenty of Instagram feeds.)
The staff are friendly and attentive – and can tell you all about those fabrics on the walls – the bartenders really put on a show, and it's just as good for a date night as for a casual catch-up with mates. Oh, and there's Happy Hour every (opening) day from 5-9pm, with Buy One Free One on wine, cocktails and beer. Now that's a classy touch.
Reasons to visit Benang The Second Chapter: classic speakeasy vibes; great for date night; generous Happy Hour; excellent signature cocktails and extensive spirits menu; delicious food that's perfect for single servings as well as sharing.
Benang The Second Chapter
Jalan Medan Setia 2, Bukit Damansara
50490 Kuala Lumpur
+60 111 400 9621
Benang The Second Chapter Opening Hours
Wednesday – Sunday: 5 pm–12 am
Find more KL bar recommendations here, and stay up-to-date on the latest gourmet and travel happenings around Malaysia here and here.