Casa del Mar – Welcome Home
Monica Tindall
Twenty years of visiting Langkawi, and not a whole lot has changed. The sleepy tropical island in Malaysia's north continues to be an easy weekend getaway for KL-ites or Singaporeans desiring a break from harried city life. And Casa del Mar maintains its position as a firm favourite for couples or friends wanting a tranquil, sophisticated getaway. As their catchphrase goes, we feel "welcomed home."
Casa del Mar was in the fortunate position to keep all of its staff over the pandemic. While the hotel didn't offer guest rooms over the various MCOs, the team did take advantage of the time to upgrade and maintain the hotel. Not only were rooms made up regularly, but multiple improvements were also carried out. New toilets, more greenery and updated technology, such as a new coffee machine in the library, all make the guest experience more comfortable. What hasn't changed, and certainly needs no enhancement, though, is the friendly service and feeling of coming home.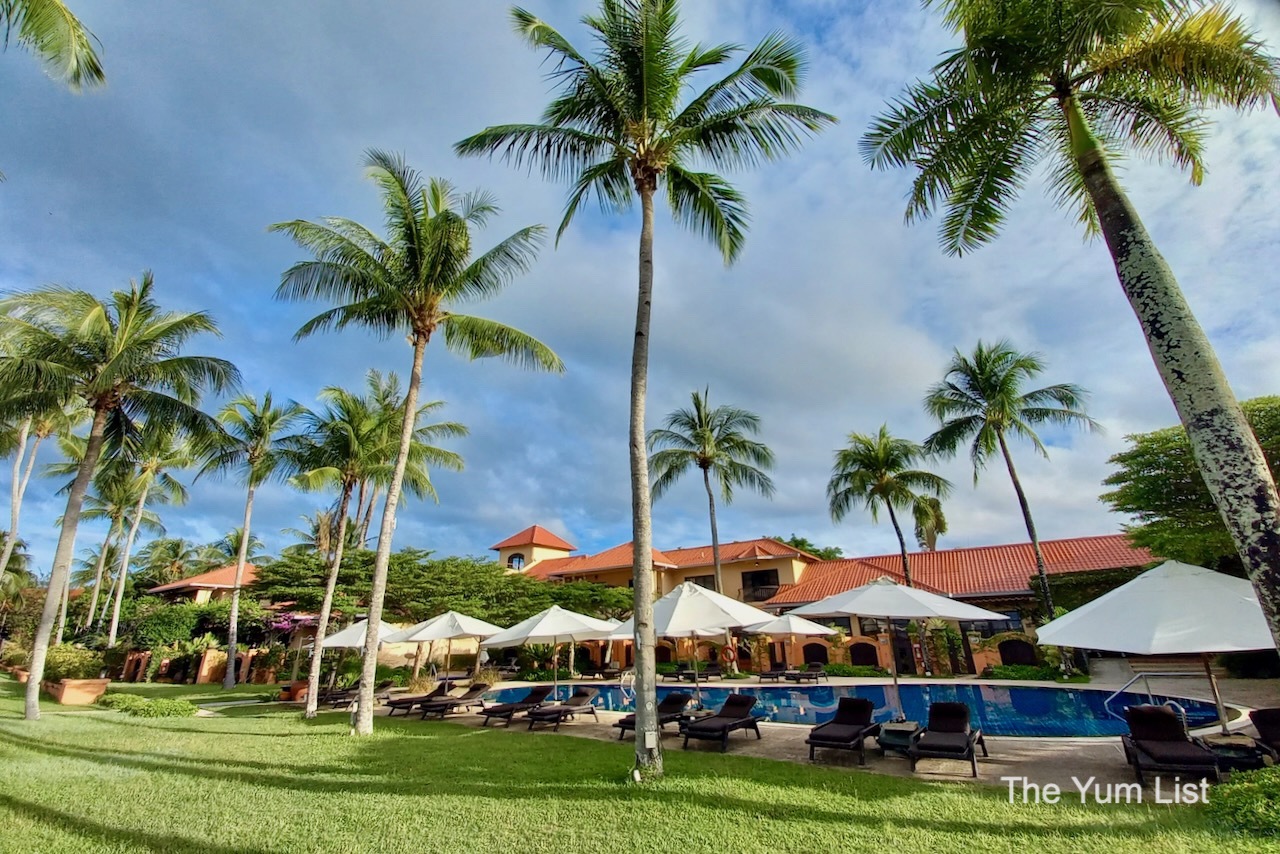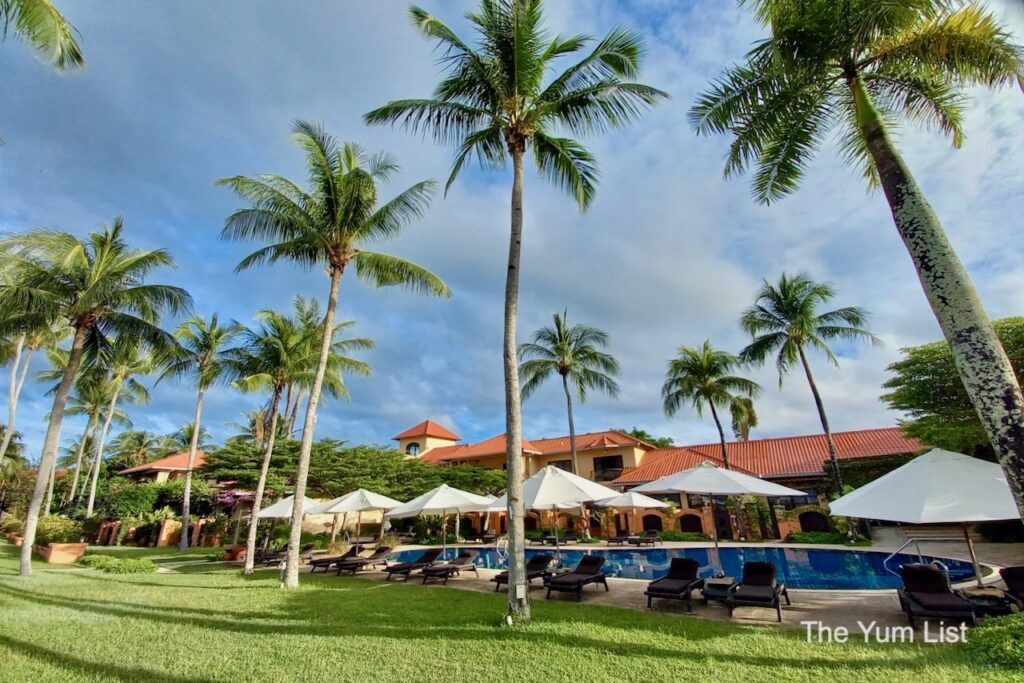 It's All in the Details
A memorable experience is found in the details; this is precisely where the team's expertise at Casa del Mar lies. Greeted by familiar faces (our last visit was six years ago, and they still remember us), the continuity of service is something that even the most luxurious properties struggle to maintain.
A stay at Casa del Mar begins with an airport pick-up. A smiling face with our name sign awaits at arrivals and has us whisked away and into the hotel in less than 15 minutes. We're greeted with house-made lemonade and a wet, scented towel on arrival. The attention to detail persists to departure when our driver awaits us and the whole team wave goodbye.
In between, there's the Casa del Mar newspaper at breakfast. Printed daily, it highlights the top news stories from around the world. At turn-down service, there are mugs with hot chocolate sachets, the weather forecast and a scented bookmark with potpourri from the spa – it's the adult version of being "tucked in." The library and lounge are cool respite on a hot day or an alternative location to your room in wet weather and are stocked with free tea, coffee and biscuits. By the pool, we find fresh fruit skewers, cold water and chilled towels to accompany the after-sun spray and two sets of towels (one that perfectly fits the pillowed sunbed). In the fitness room, there's a water dispenser and peppermint-scented wet towels, and right next door, a lounge with a shower for those arriving or departing outside of check-in hours.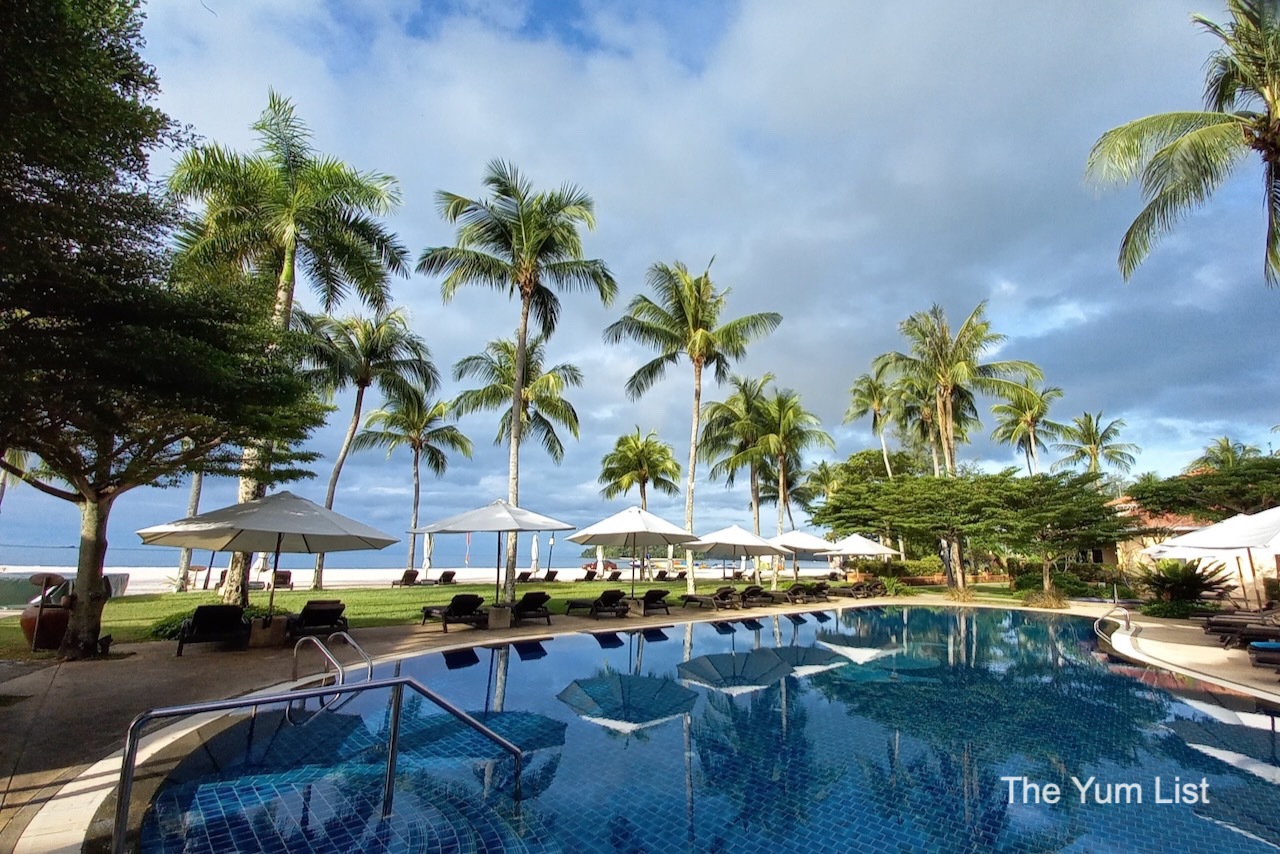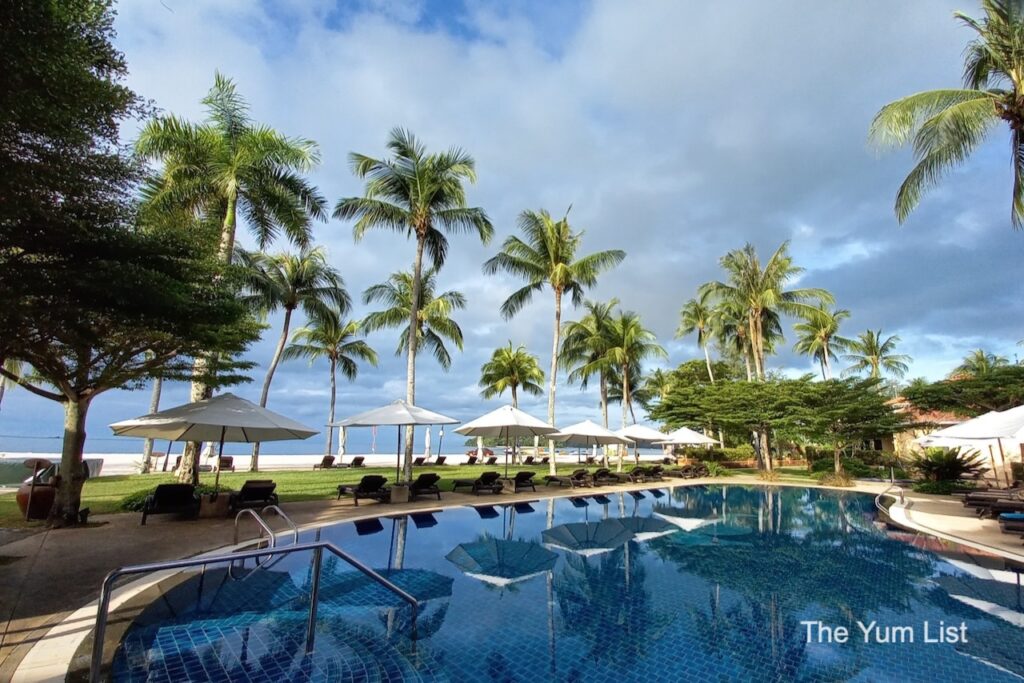 Casa del Mar Location
As mentioned, Casa del Mar is minutes from the airport. On the upper end of Pantai Cenang, it benefits from a slight separation from the bustle. However, still, restaurants, bars, entertainment and shopping are all just a stroll away.
Despite the development on this side of Langkawi, Casa del Mar, with its beachfront positioning and intimate 34 rooms, maintains its mood of a private oasis and romantic retreat. The building is nestled in a strip of lush tropical gardens with flourishing bougainvillea, a vibrant contrast to the teal-blue sea.
Arriving just as the sun sets, we forego seeing our room, kick off our shoes and head straight for the beach. And this is where the true beauty of this island refuge is found: an hour's domestic flight from KL with only hand luggage, and we're out the door of work and on the beach in less than two and a half hours. Champagne pops as the sun casts its final blaze across the skies, and our weekend sojourn at Casa del Mar officially begins.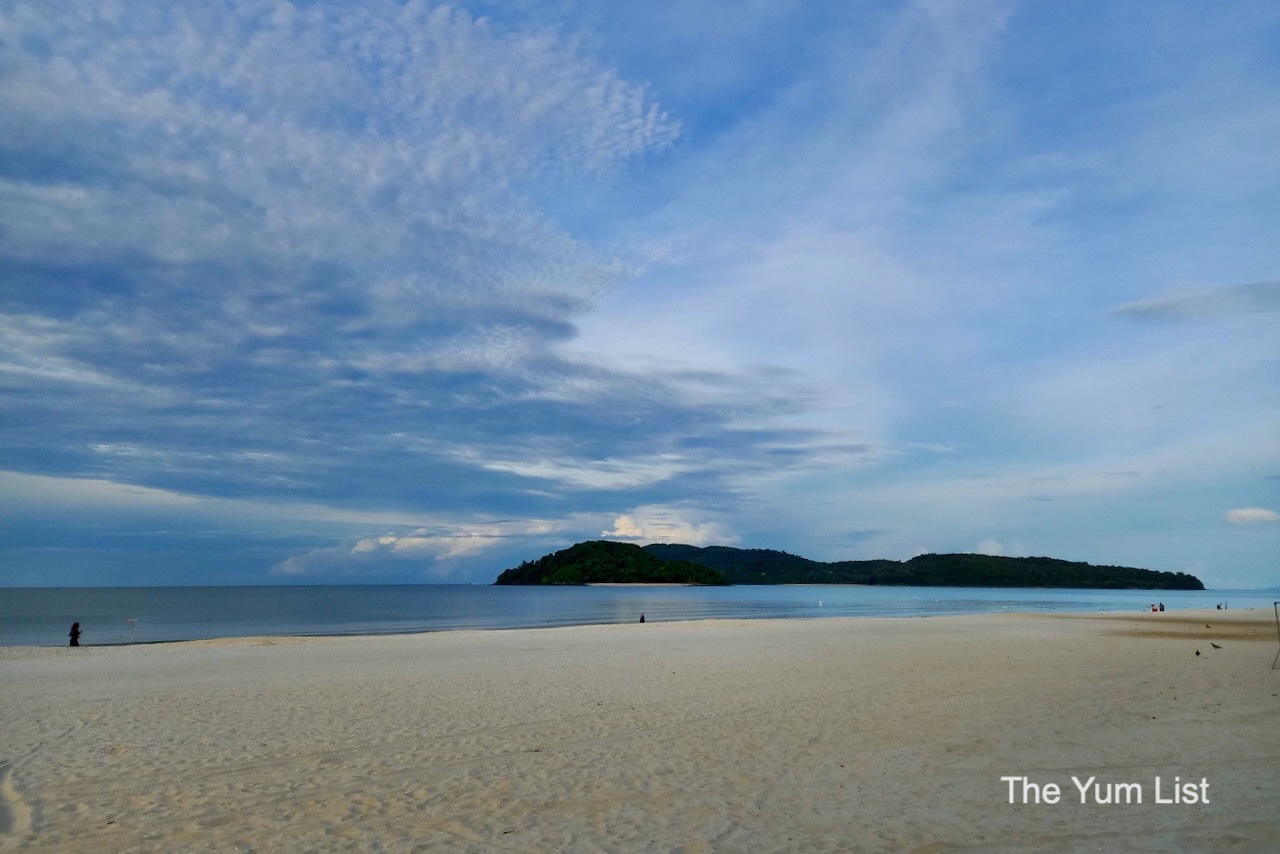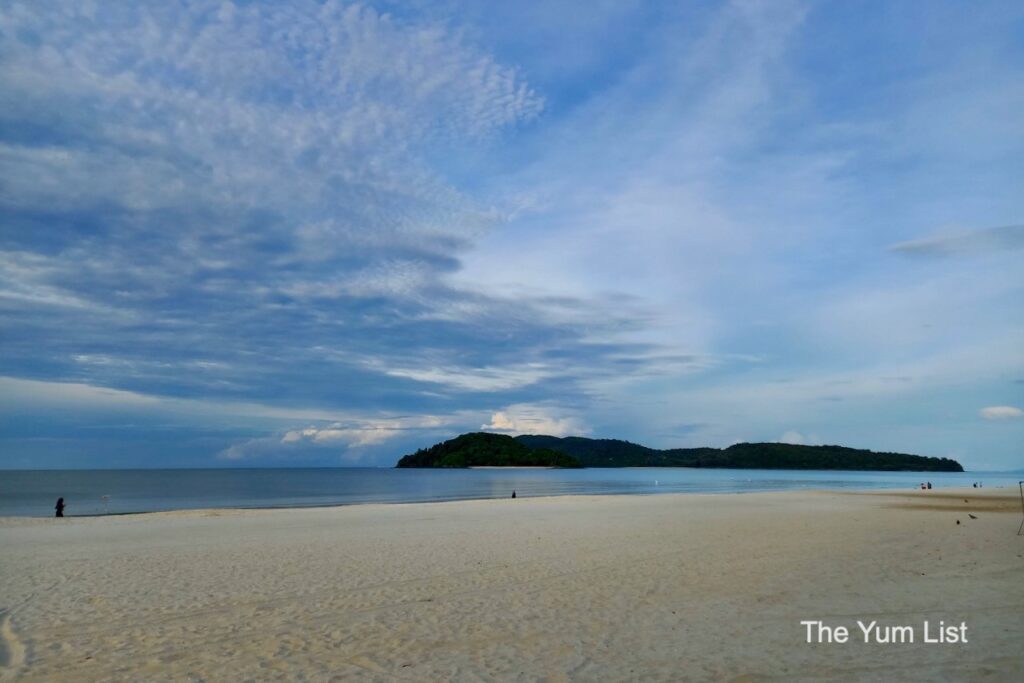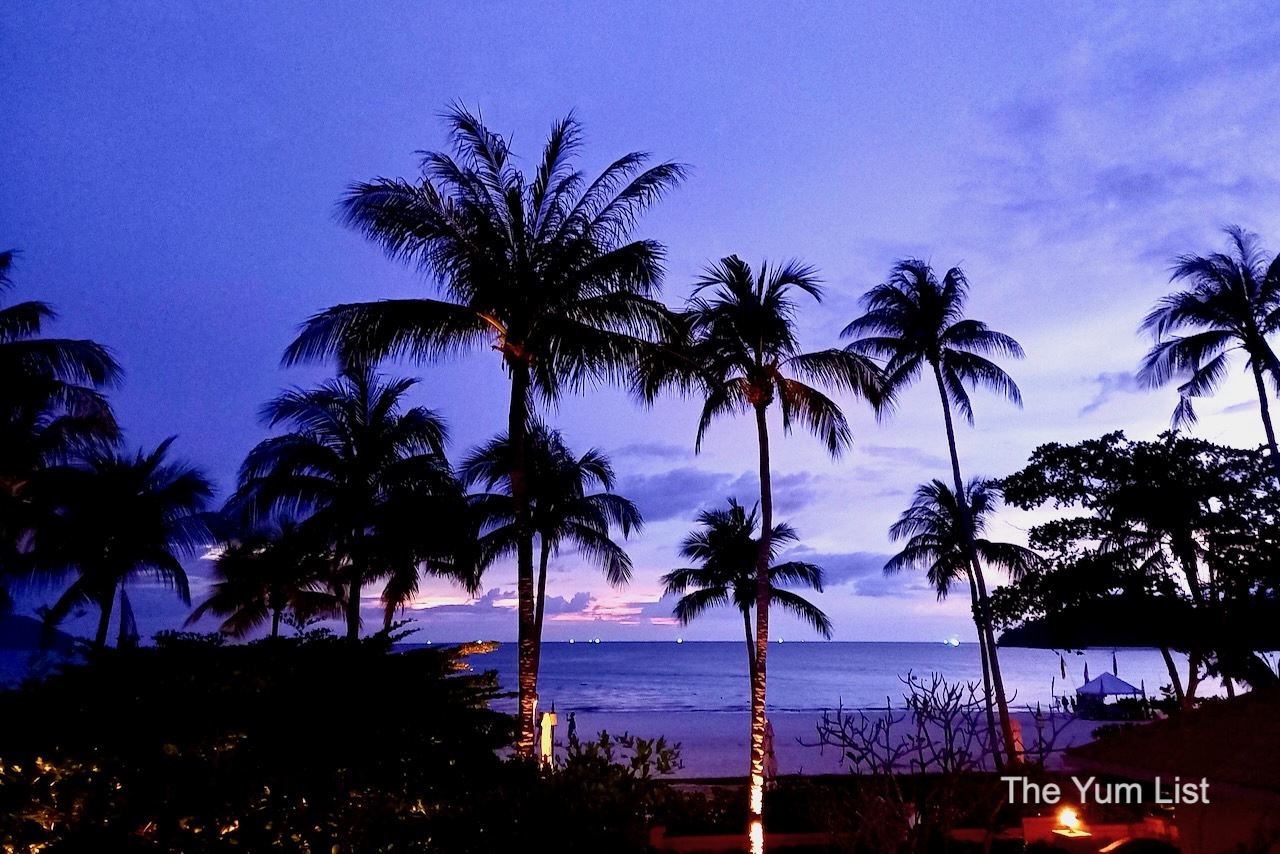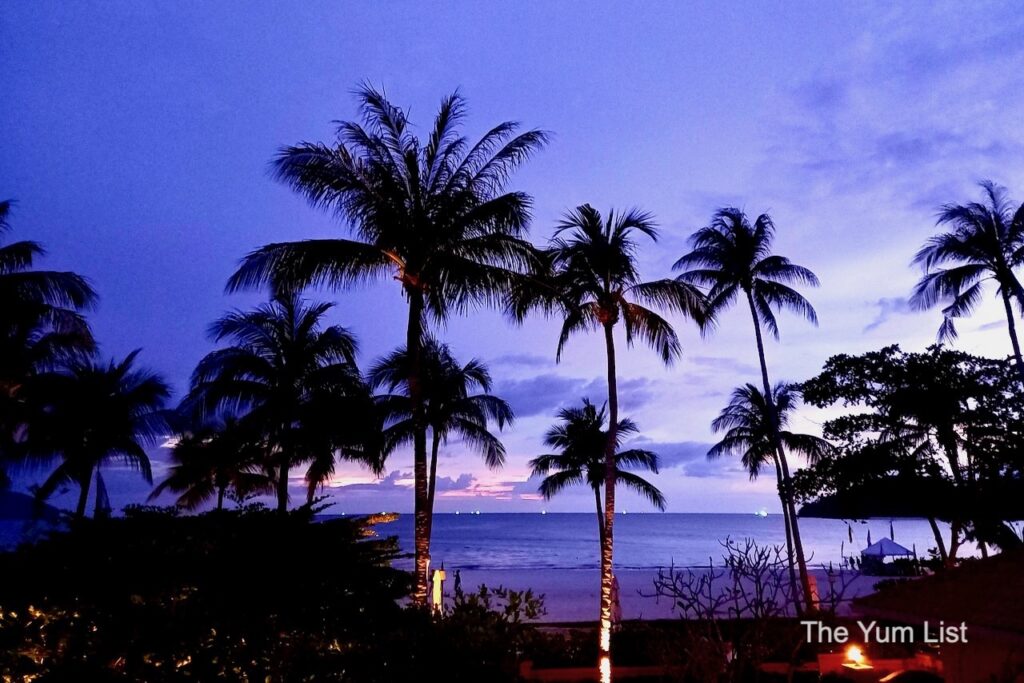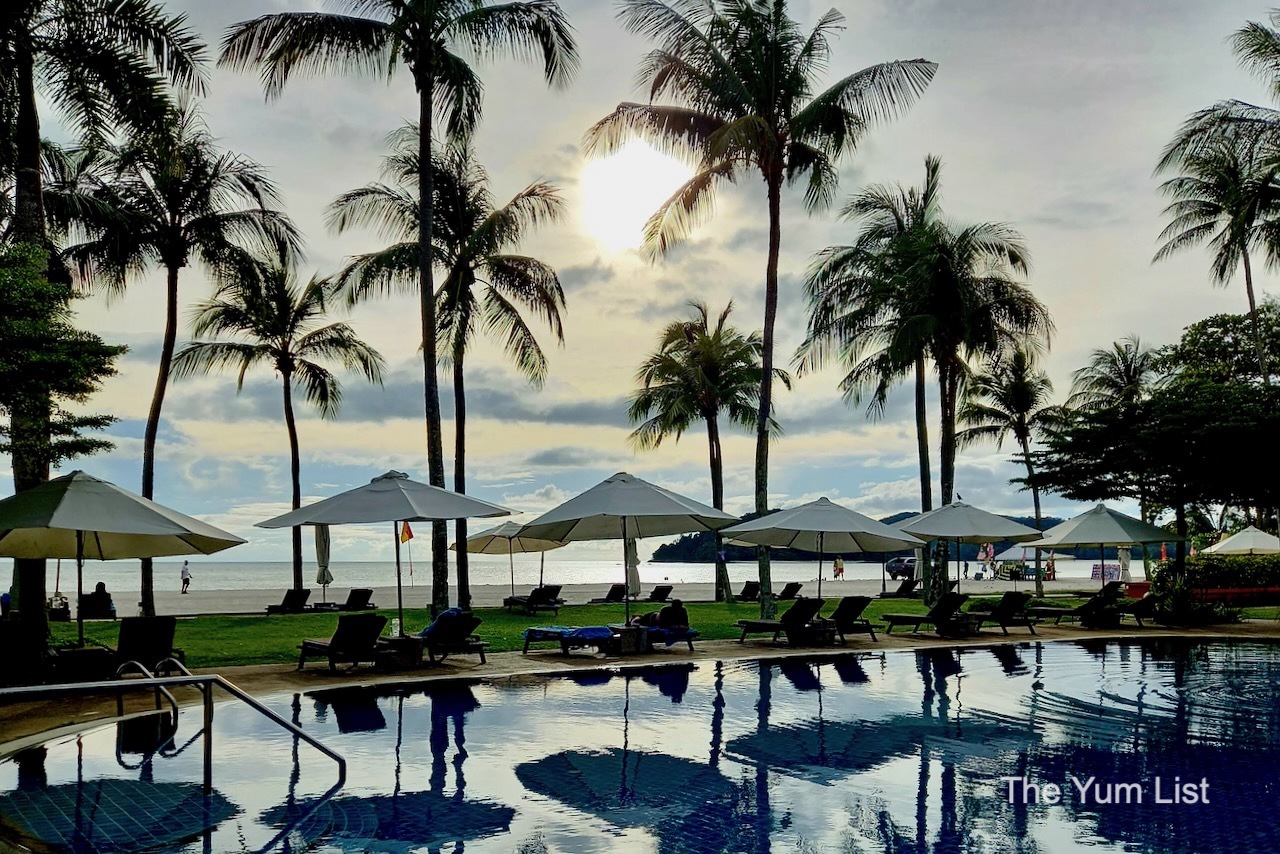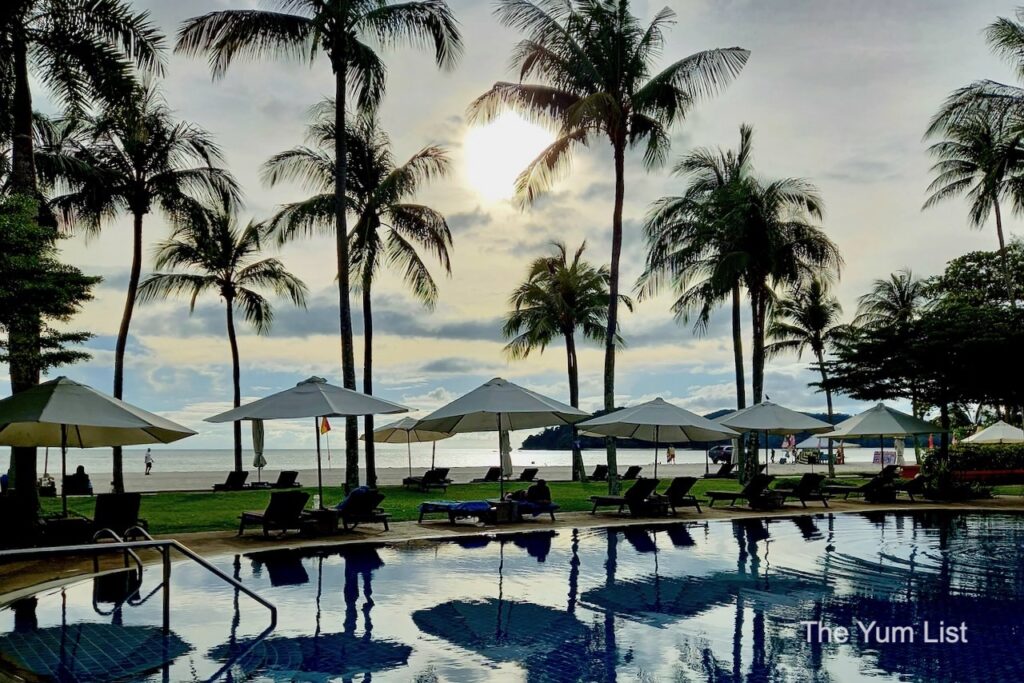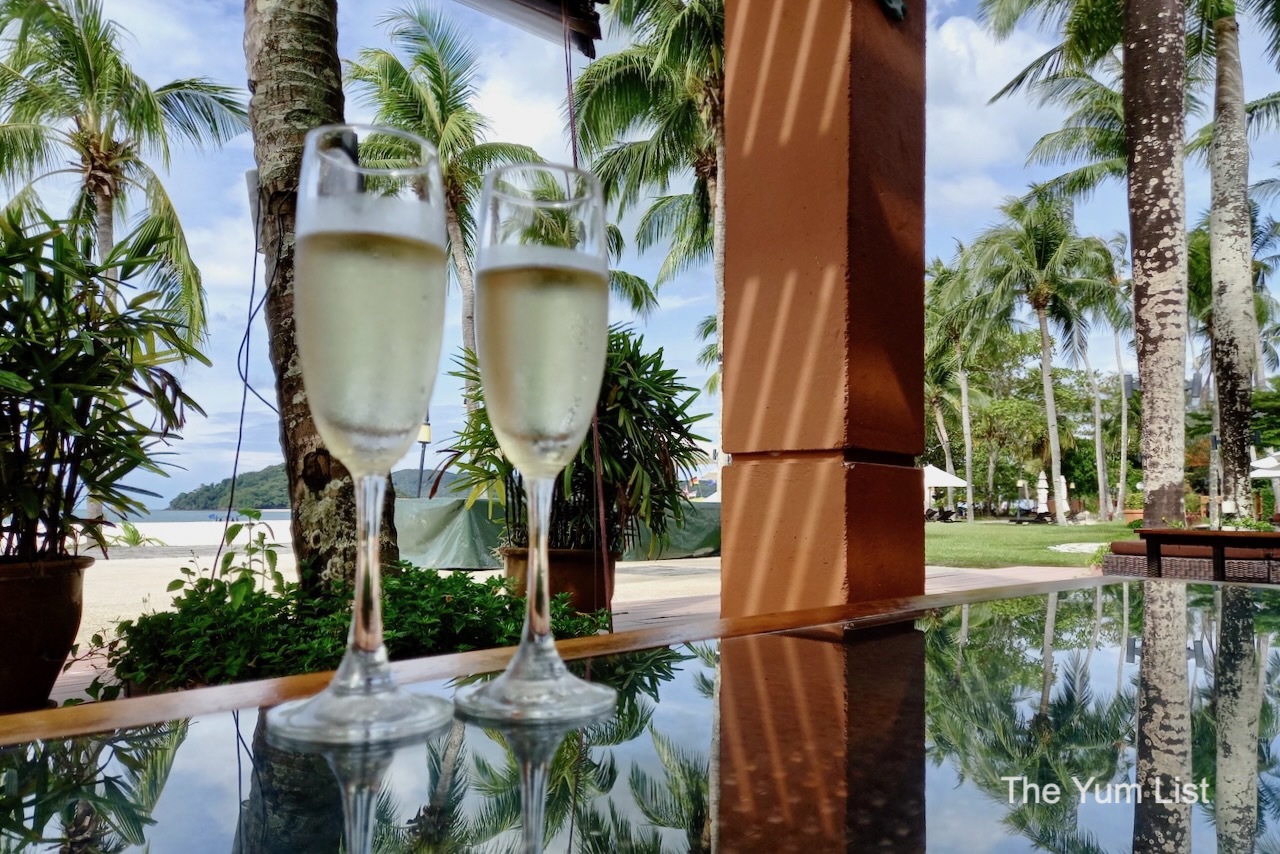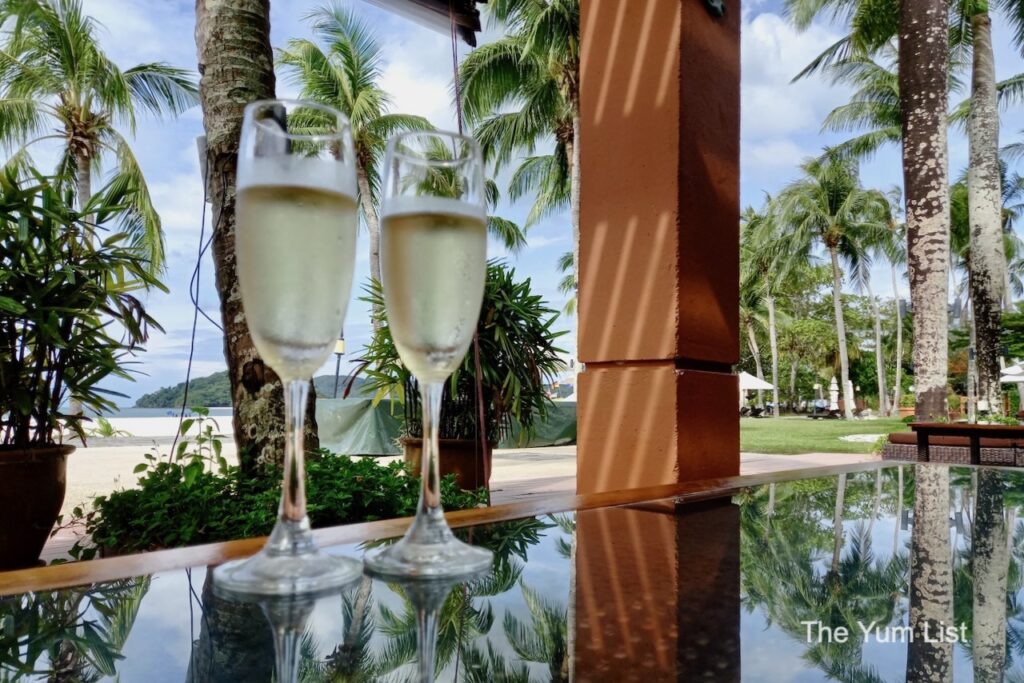 Rooms
This round, our stay is in a Beachfront Studio Suite. A small garden courtyard bridges our room and the beach. We're that close; we don't even need to wear shoes. Our weekend is spent barefoot dipping in the sea, pool, and jacuzzi and reclining on the sunbeds with the convenience of our suite just next door. We delight in the uninterrupted view of the Andaman Sea. The standard 42 square metre studio seems infinite with the open glass sliding doors and possibilities on our doorstep.
The king bed is superb – soft but supportive with quality linens. More relaxation is found in an armchair, a small dining table with two chairs and an outdoor cushioned bench. Also, outdoors is a drying rack for our clothes and a bin where fresh beach towels are placed.
The large bathroom features a dressing area, bathtub and separate rain shower. Refillable bath product pumps remove the wastage of single-use plastic and gift a distinct luxuriousness to the setting. The rain shower, bath and double sinks are much appreciated, and if the weather weren't so beautiful, the bath might have had good use.
The mini-bar has premium teas, instant hot chocolate, and an espresso machine. Jars of cookies, peanuts, and a fresh fruit platter are thoughtful complimentary additions. Locally crafted snacks and refreshments are reasonably priced, with a small bottle of sparkling wine only setting you back RM 20.
The magic of this room, however, is awakening from a sound night's sleep (thanks to cloud-like beds and heavy-duty blackout curtains), throwing open the doors, and being met with the bewitching scene of palm trees in the foreground and rich blues in sea and sky in the backdrop.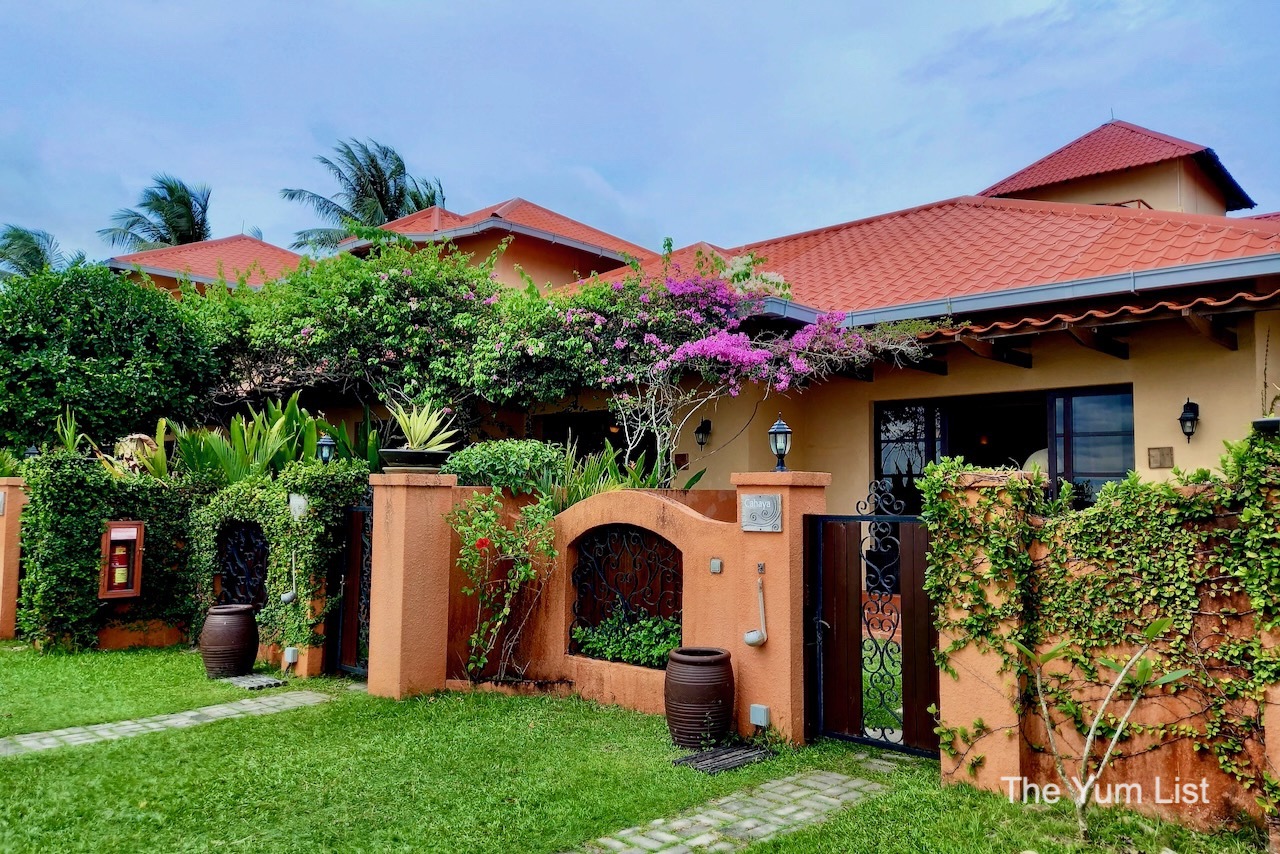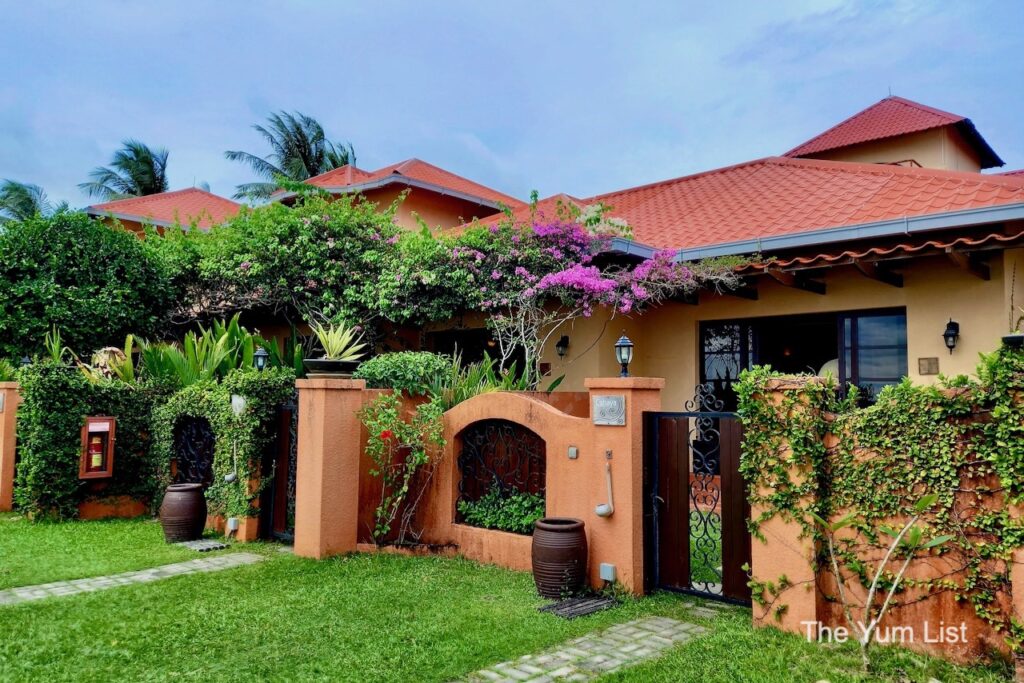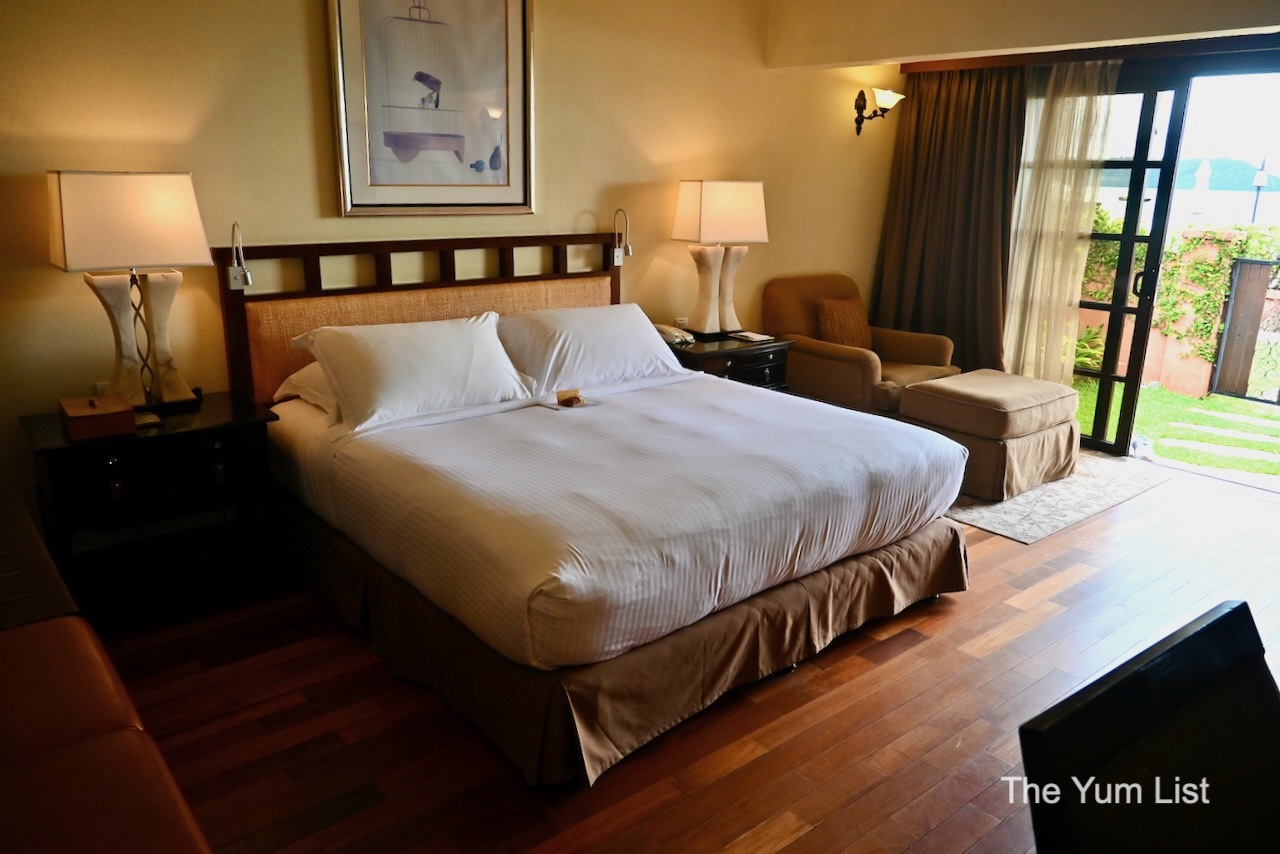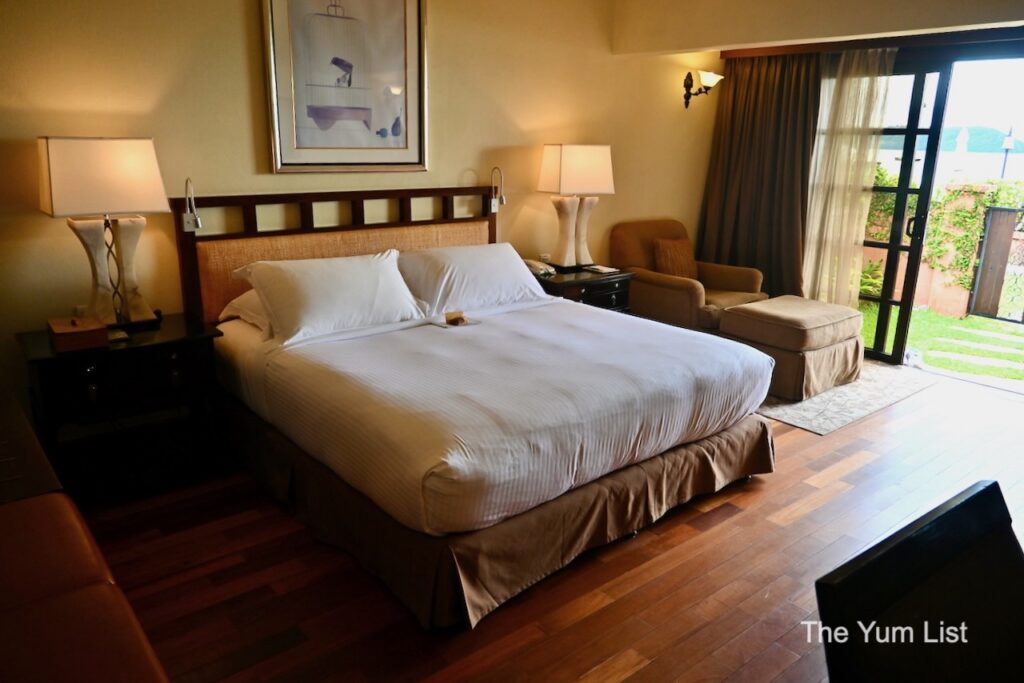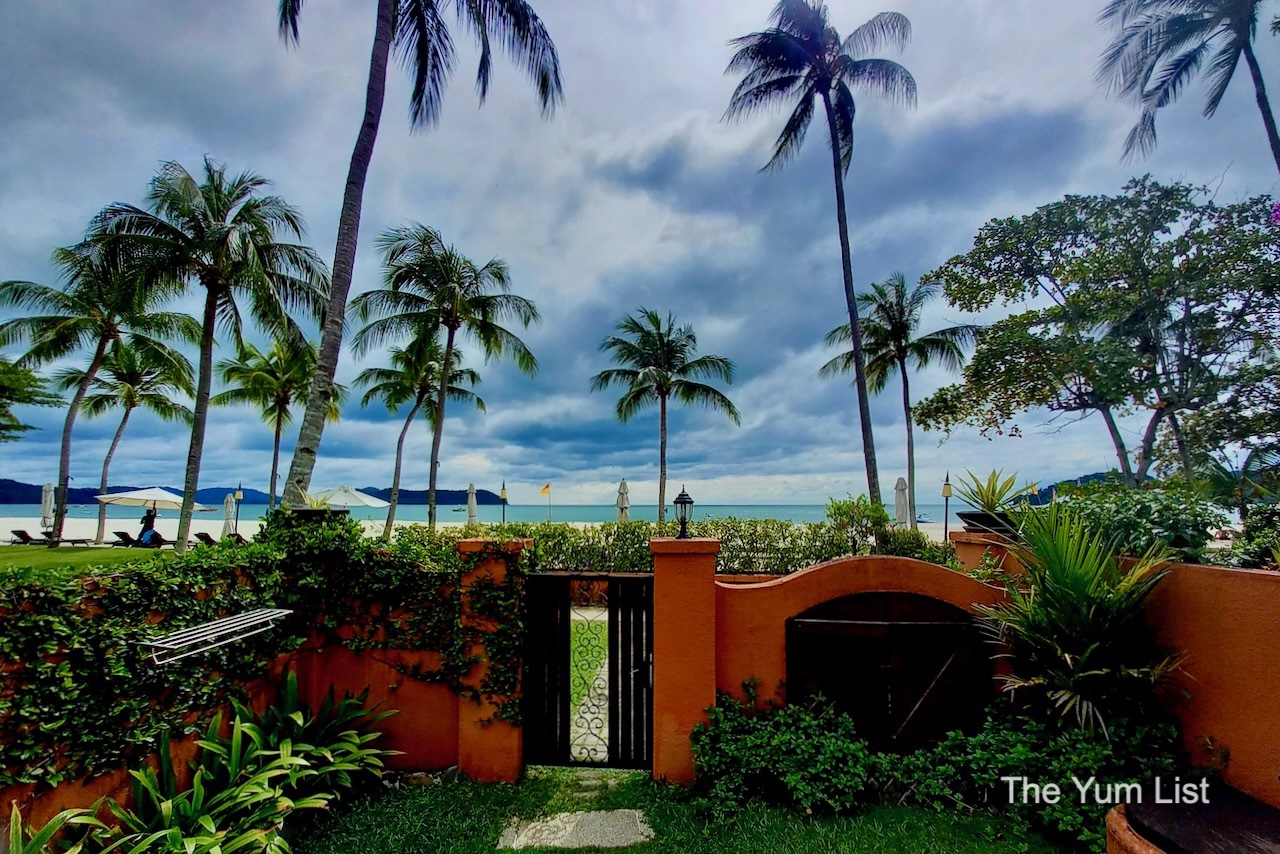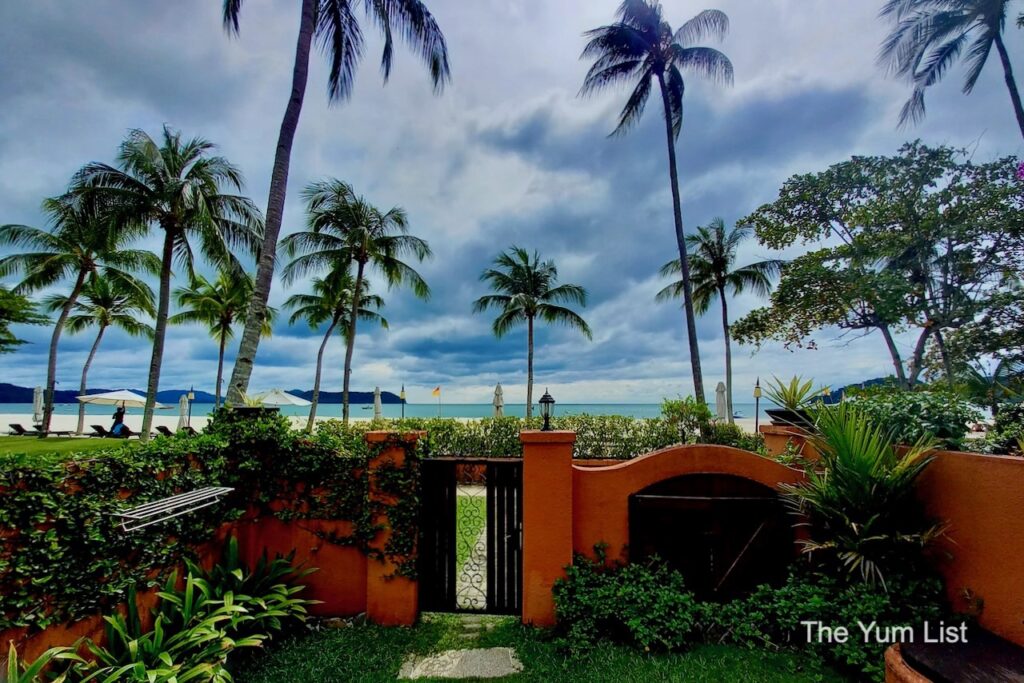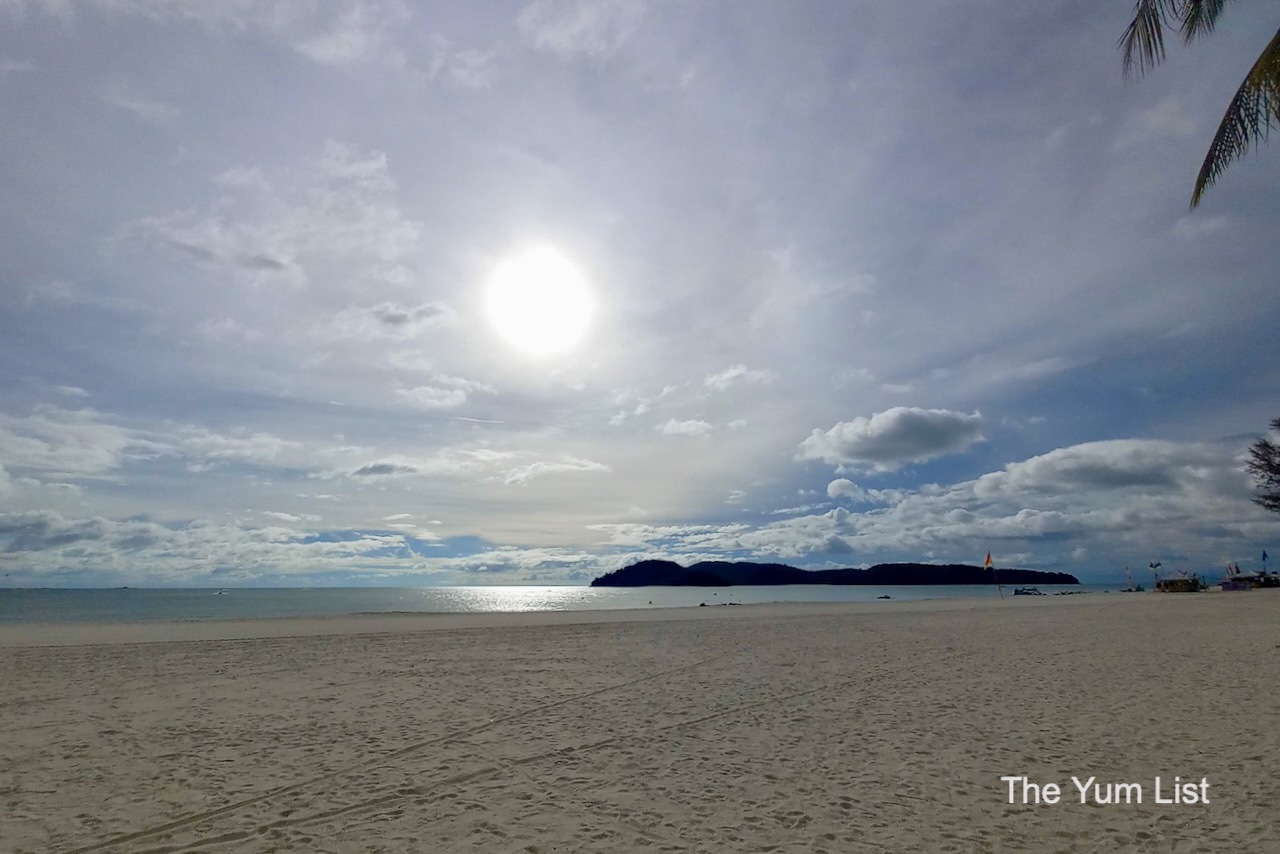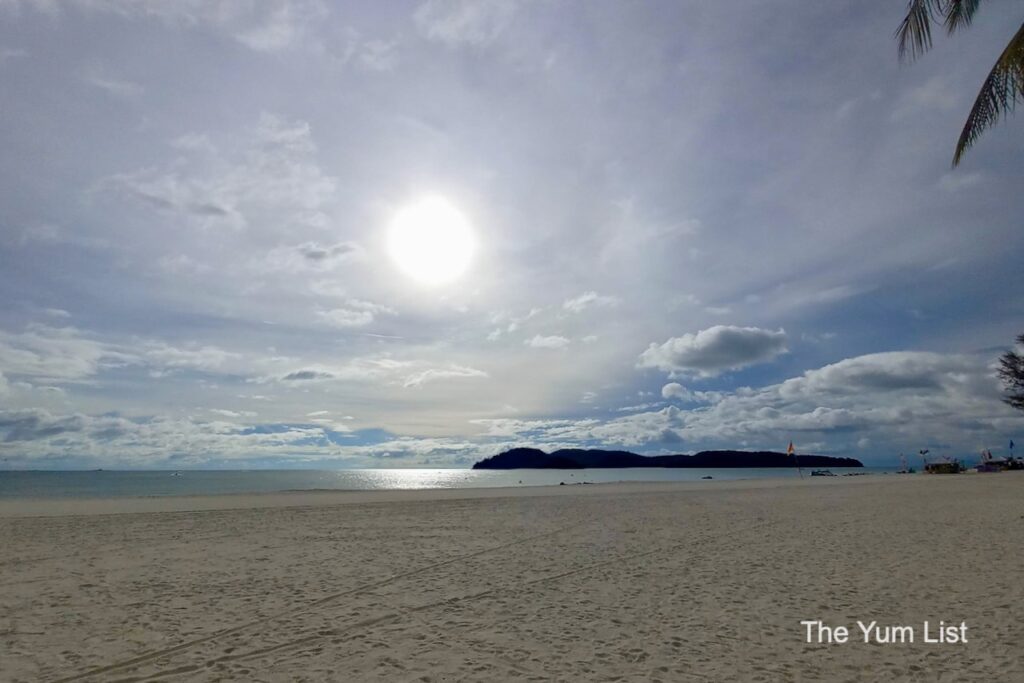 Food & Beverage at Casa del Mar
With the sun already shining bright, hunger pangs stir, announcing that it's time for breakfast. It doesn't matter where we sit at La Sal Restaurant – on the upper deck, patio, in the sand or pool bar – splendid beach and sea panoramas open up before us. At breakfast, we're presented with a compact buffet supported by a la minute orders of Western and Asian favourites. Juices and coffee are made on the spot, and there's a station for you to make a cocktail of the day, too – from bellinis and sangria to bloody Marys. Cheers!
In an outdoor straw-roofed kiosk, beautiful tropical fruit is sliced to order. On the buffet, bread and pastries are made in-house, and so are no less than ten different varieties of jams and spreads. Small, individually plated artisan bites such as panna cotta topped with strawberry compote and hand-rolled sushi are highlights. And you can satisfy local cravings at the nasi lemak station. Eggs any way you choose, pancakes, French toast, roti canai, porridge, noodles and dim sum, and a section dedicated to vegetarian and gluten-free dishes are all made to order.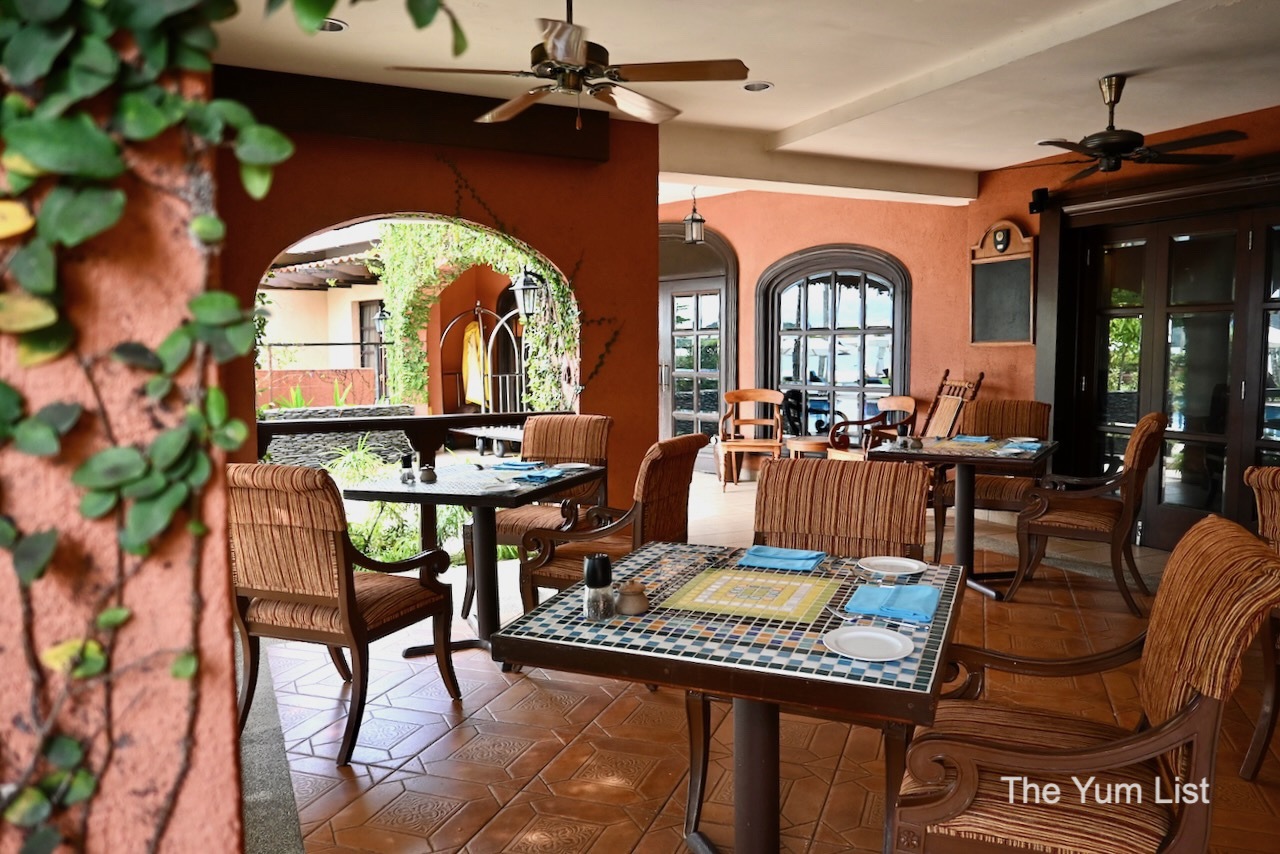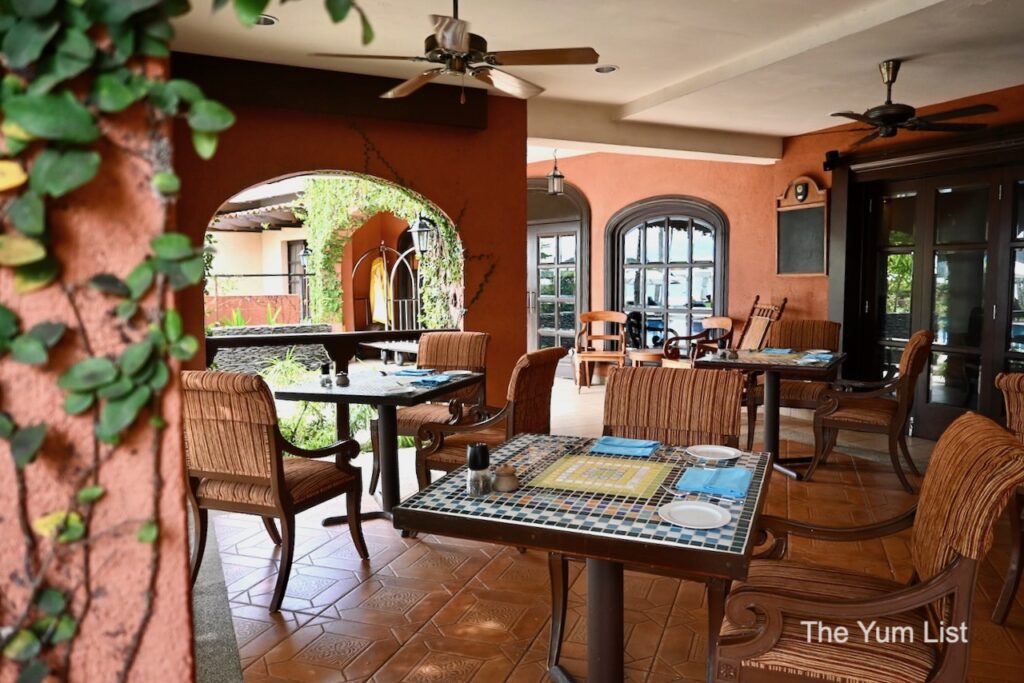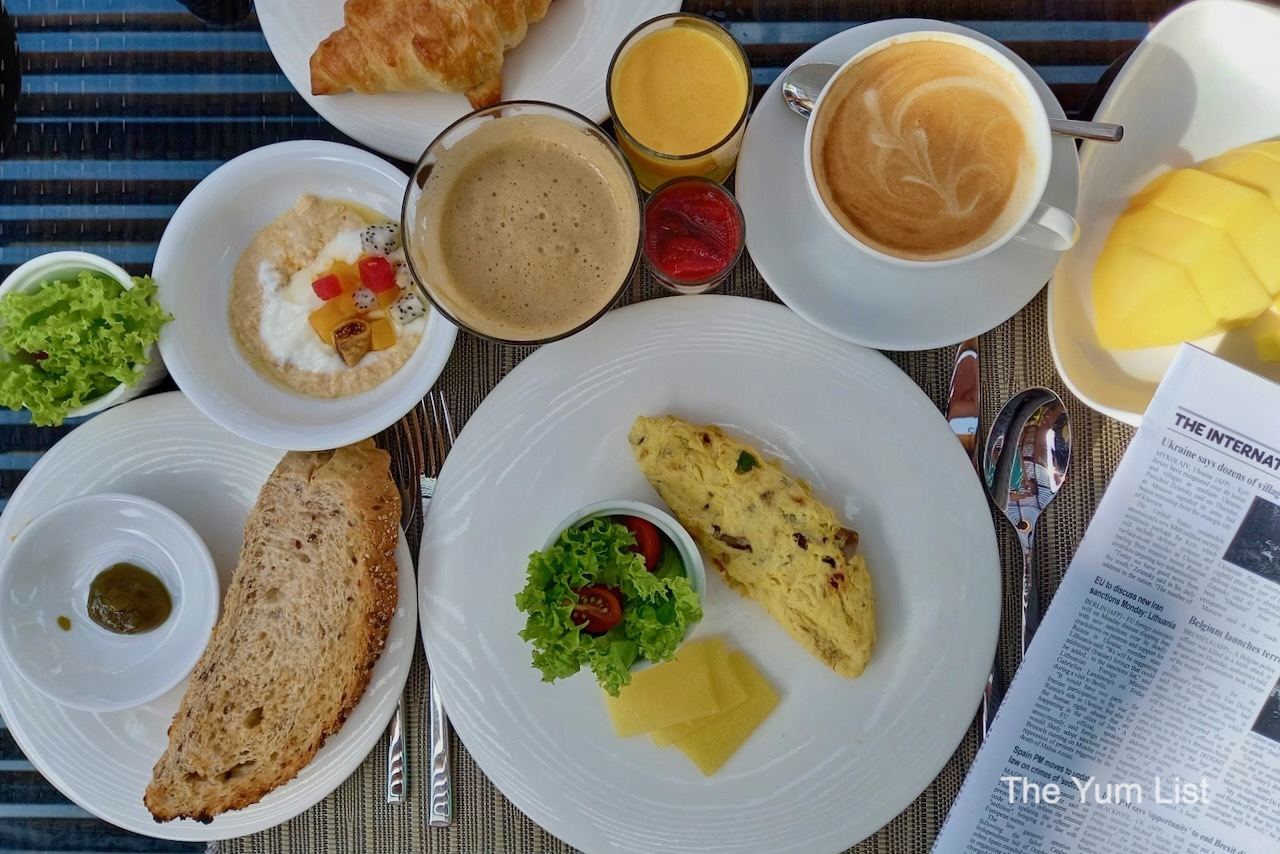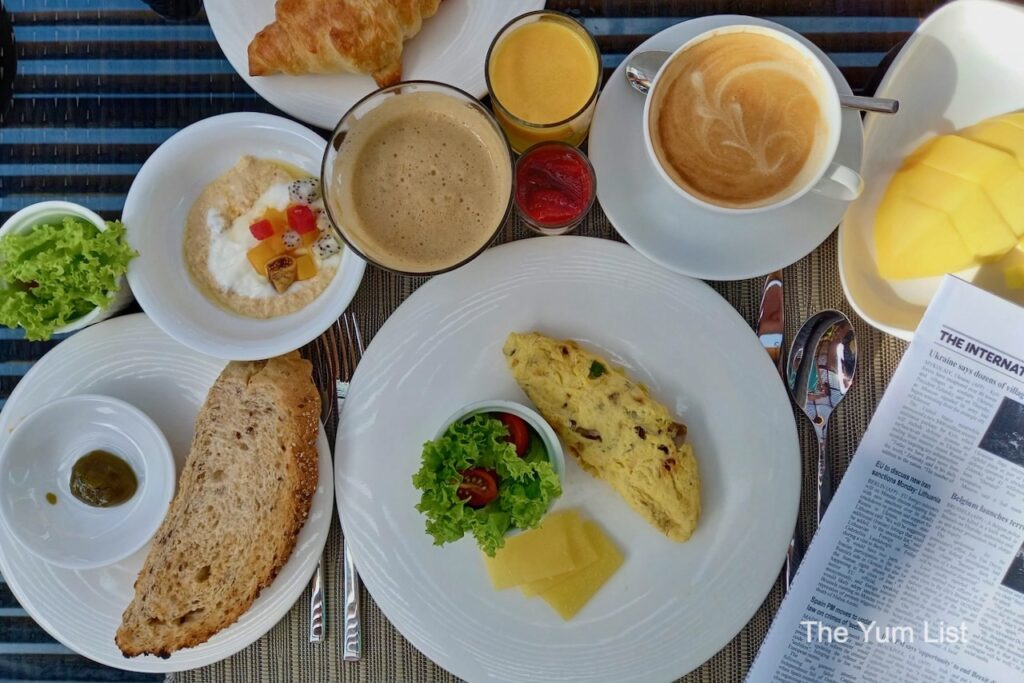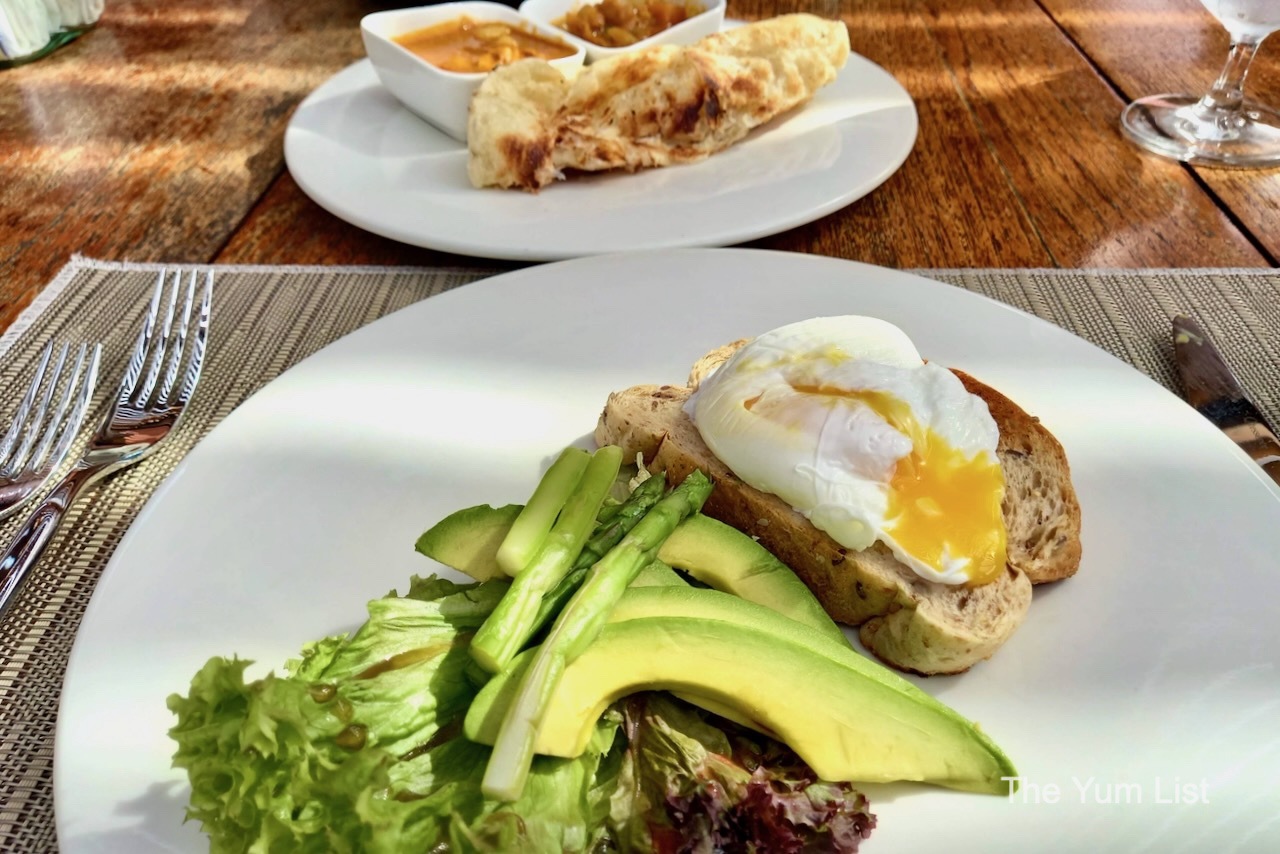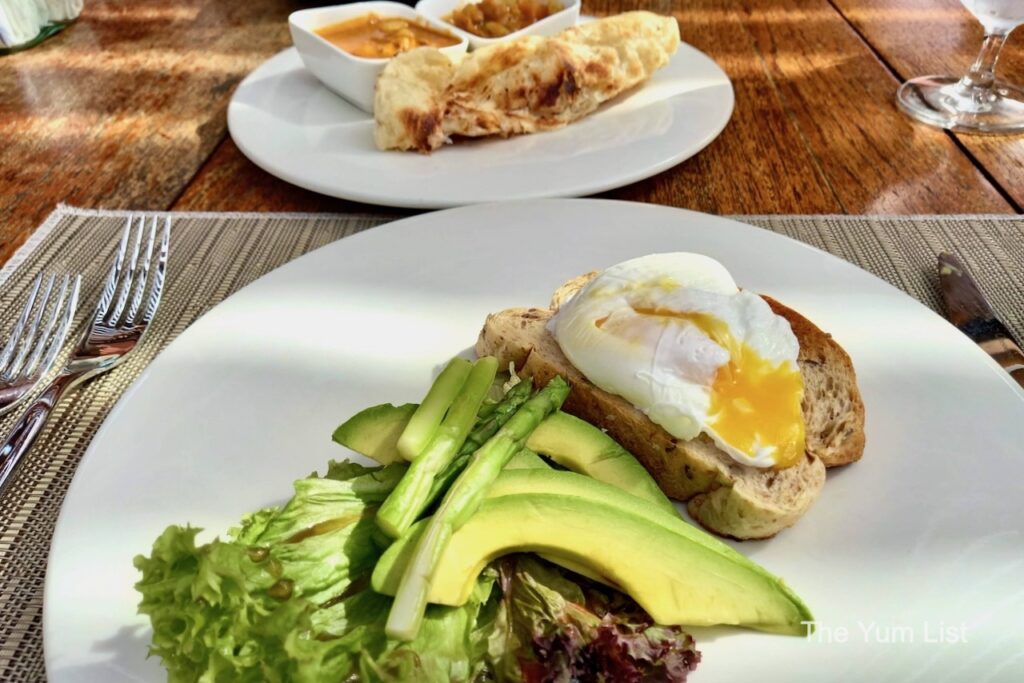 La Sal Restaurant, Lunch & Dinner
Several eateries and bars are a short walk from Casa Del Mar for lunch and dinner. However, you'd be hard-pressed to find a lot that is better quality than what is already within the hotel walls. We delight in several meals here and appreciate the clearly marked menu, indicating dishes that are the chef's signature, gluten-free, spicy, vegetarian and items containing nuts.
Something Light
Salads are great in the tropics for lunch, and La Sal Restaurant has several western bowls to please. Roasted Butternut Pumpkin, Salad of Mix Greens (RM 34) or Caesar Salad with Sea-salt Cured Salmon (RM 40) are all fresh, bright picks. Alternatively, Soft Shell Crab & Prawn Tempura (RM 45) or the Homemade Toasted Whole Grain Sandwich (RM 42) are a little more filling.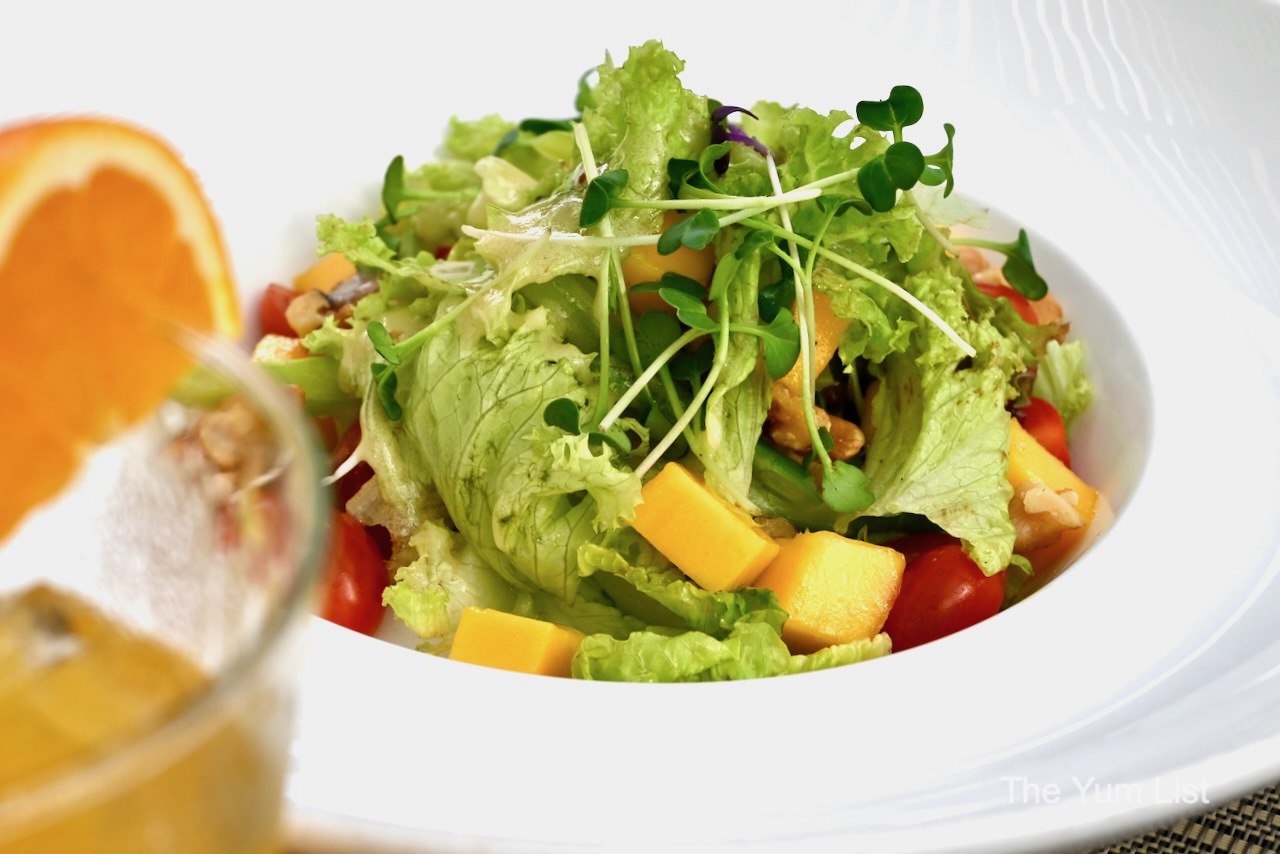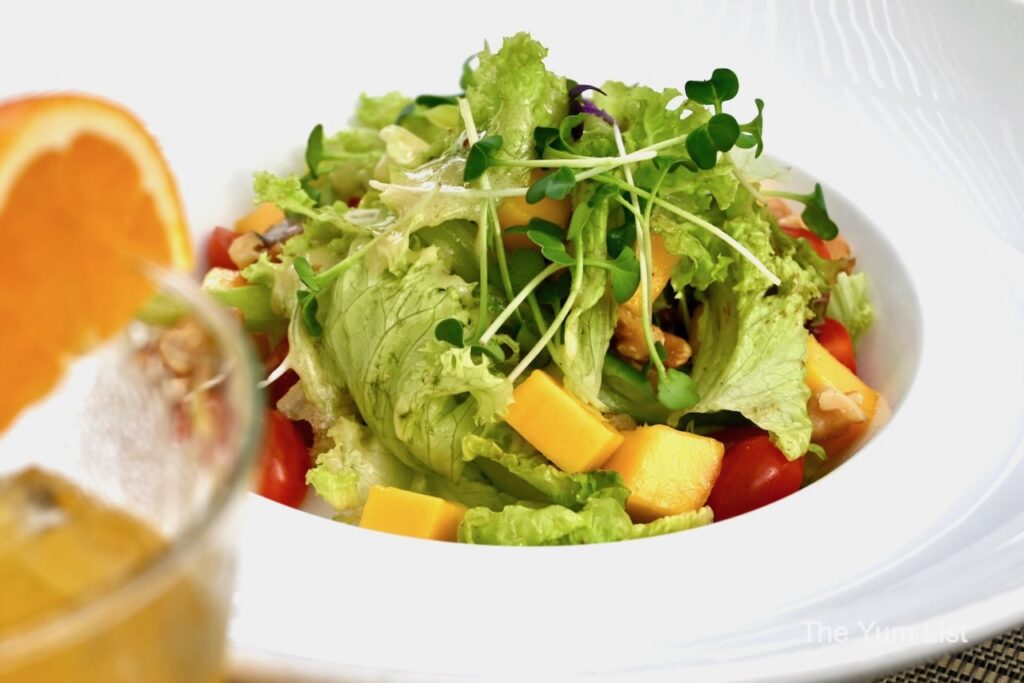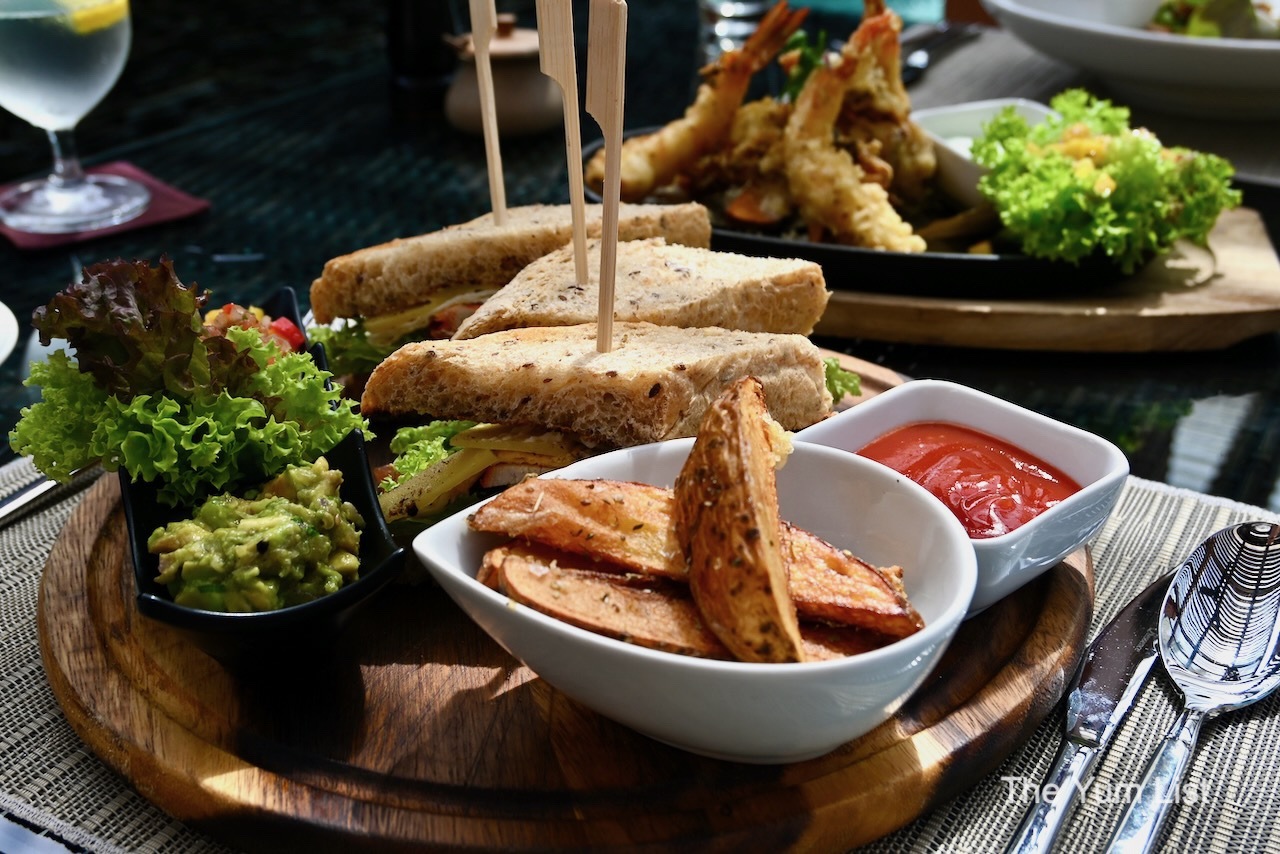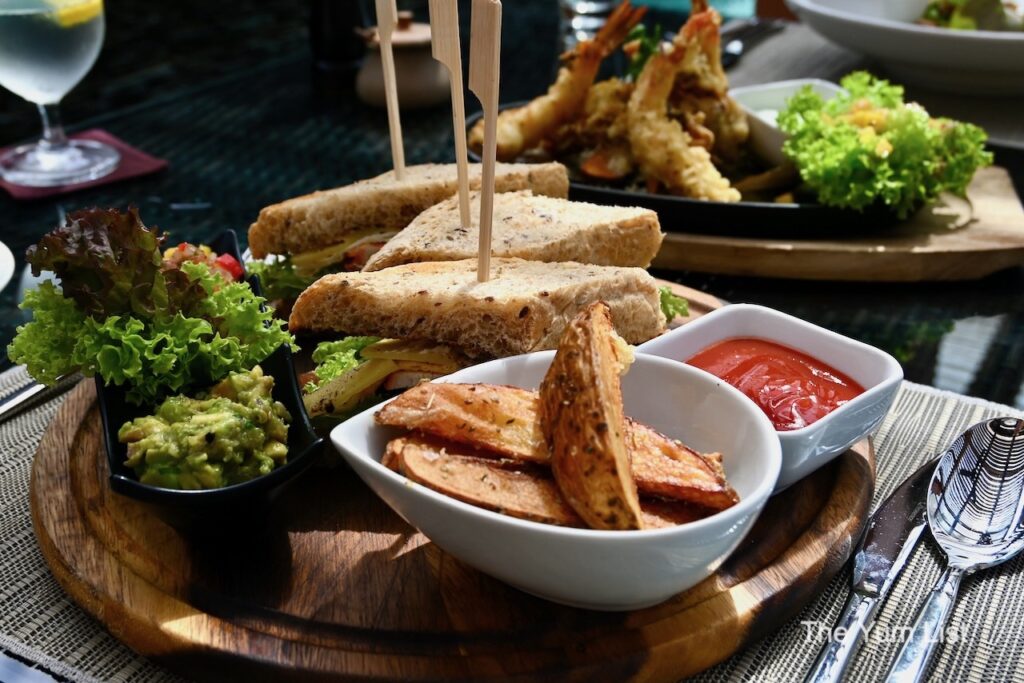 Asian Wok
Of course, with a kitchen team from Langkawi, you can't go past local favourites. The Char Kuey Teow (RM 34) is a plentiful plate of wok-fried flat rice noodles, prawns, fish cakes, egg, chives and bean sprouts, and the Wanton Mee (RM 32) features wok-fried wanton noodles with soy sauce, egg, bean sprouts, tofu, bok choy and char siew chicken attractively enveloped in a thin lacey omelette. We don't get to the entire menu, but my girlfriends (also conveniently staying here) report the tandoori, sweet and sour chicken and beef rendang as firm favourites.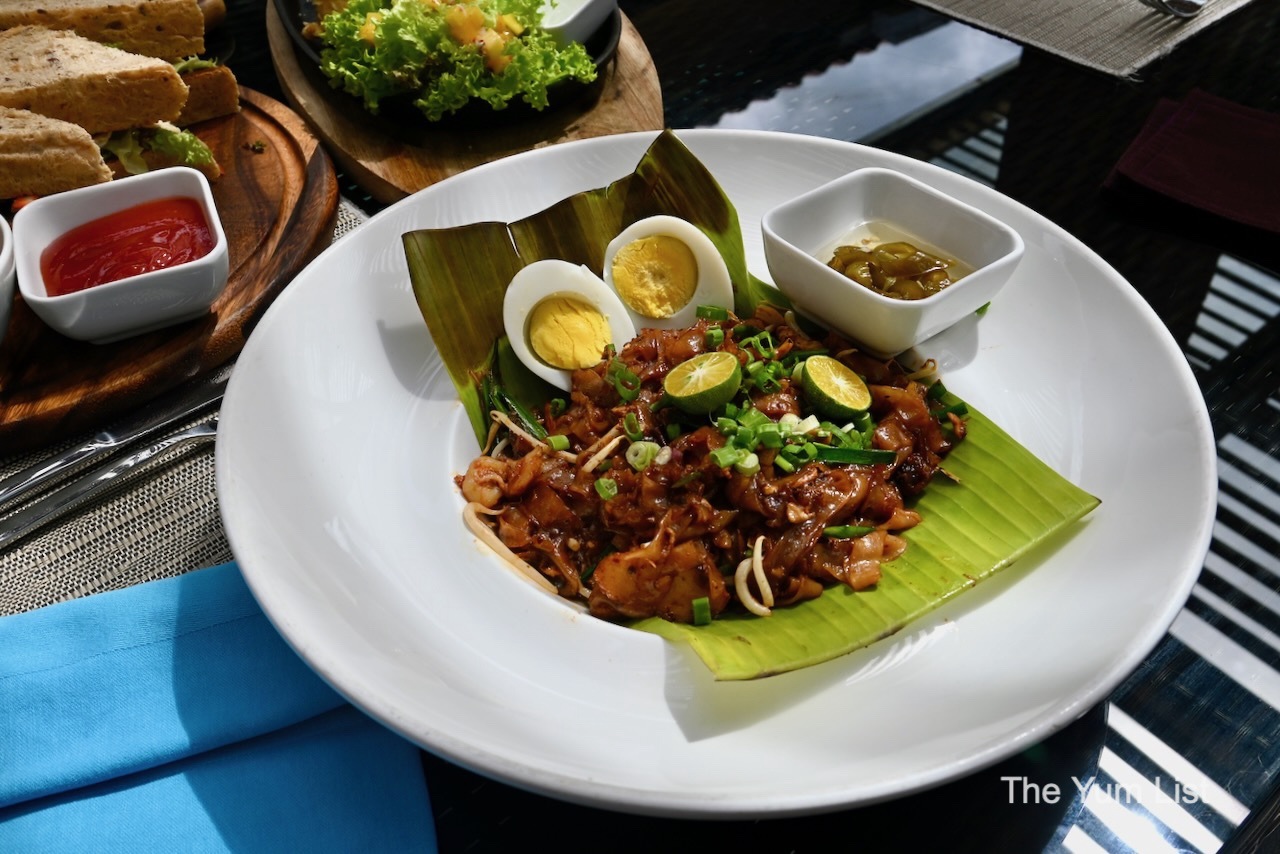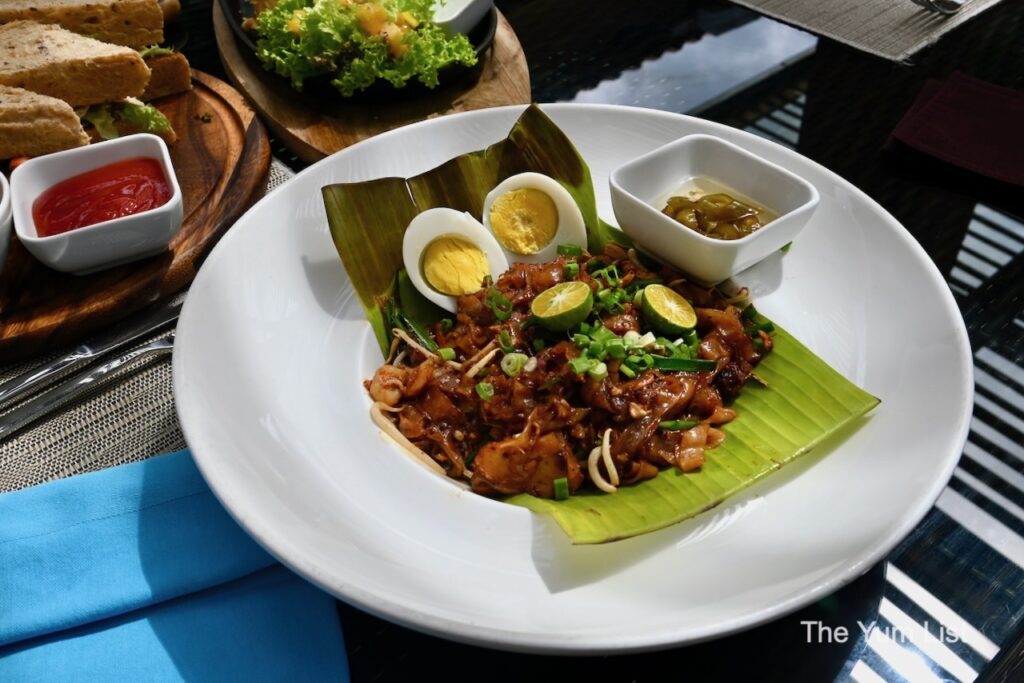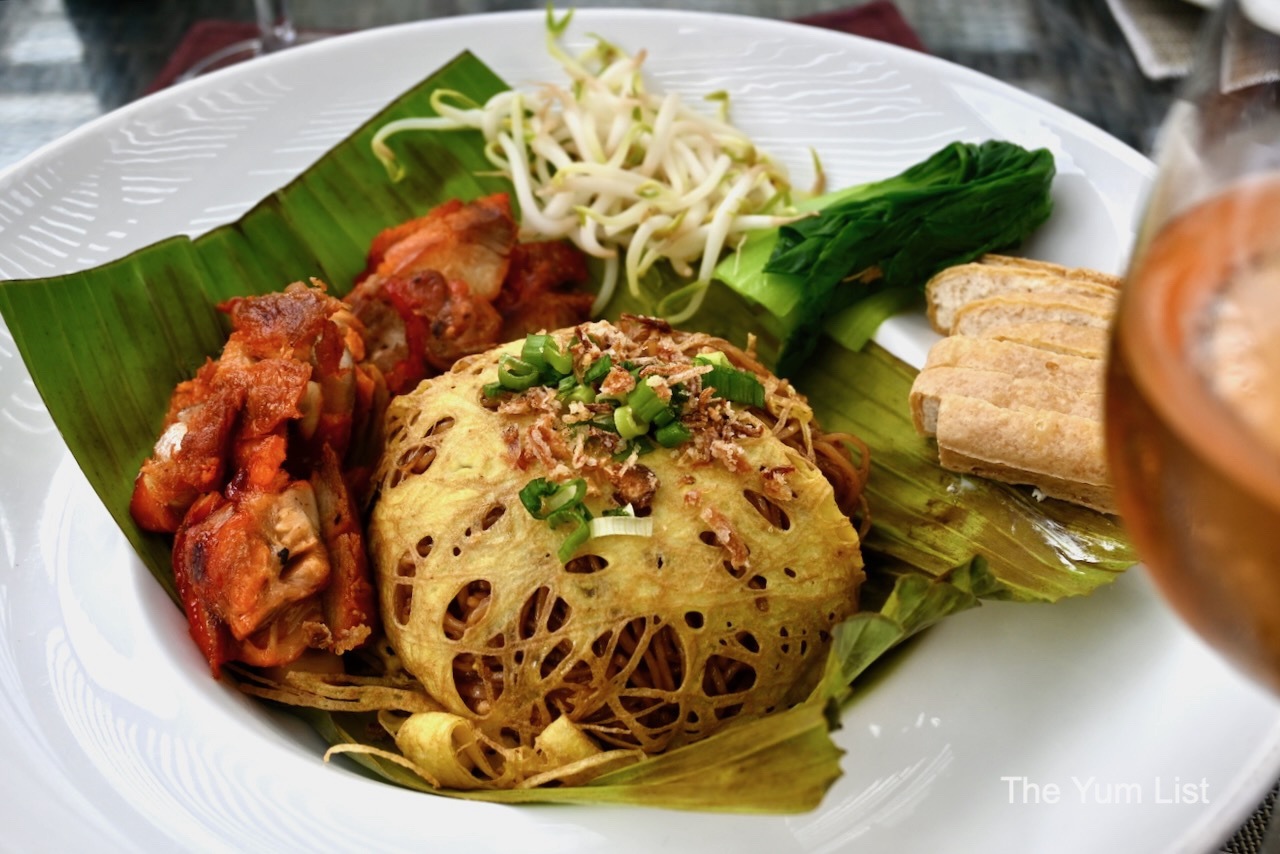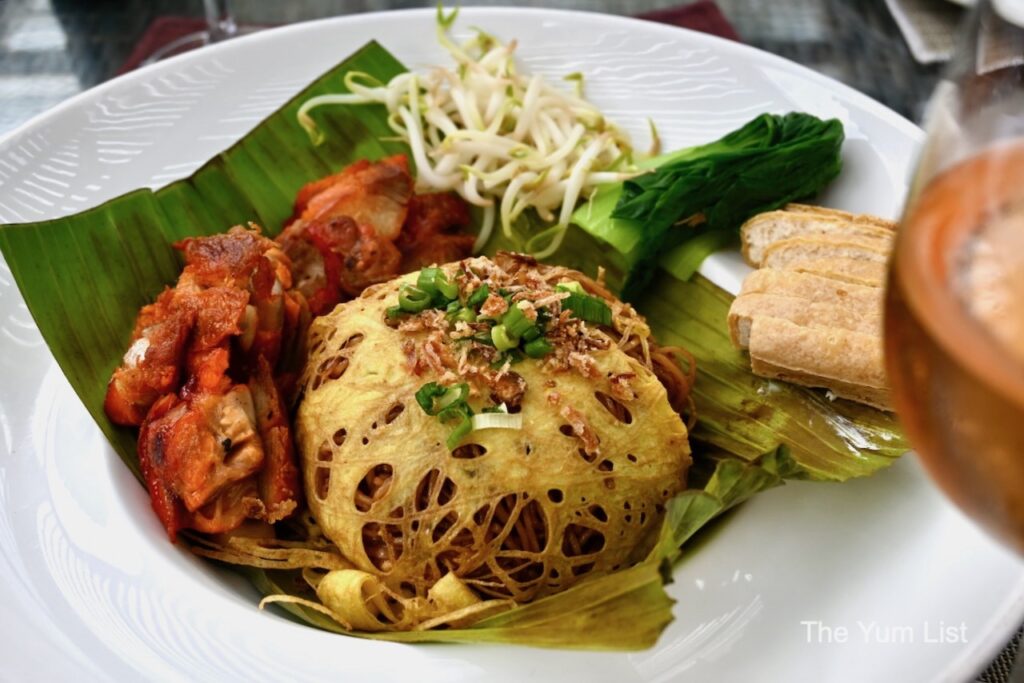 Set Menus
If you find it hard to choose, leave it to the chef with a western or local set menu. Hubby enjoys a western set (RM 79) with Roasted Sweet Basil Roma Tomato Soup and Crusted Stuffed Chicken Breast one day, and Fish & Chips and Corn-crumbed Banana Fritters the next.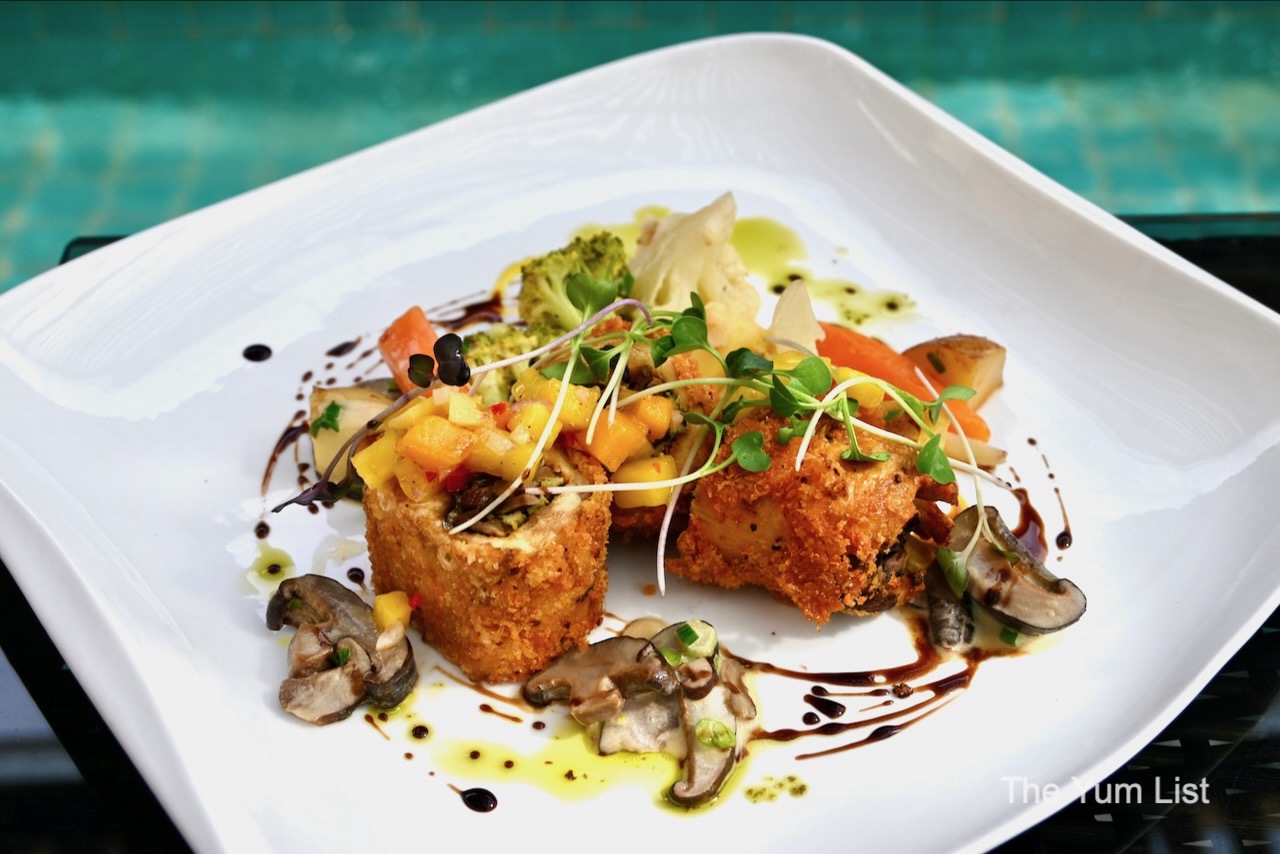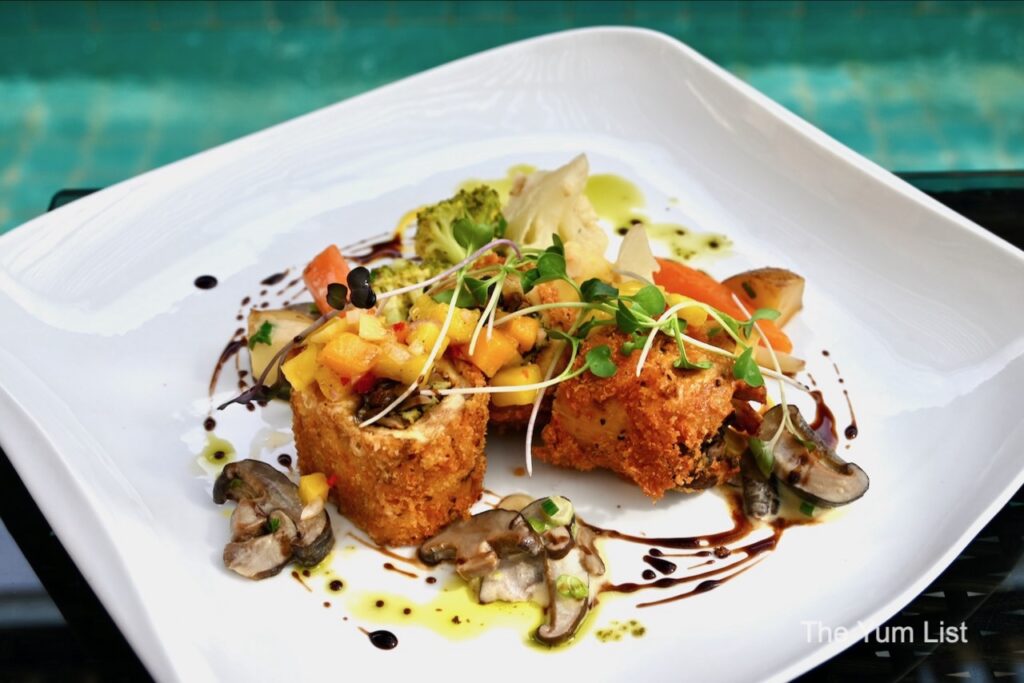 Sweets
Passion fruit Sorbet (RM 14) and Tropical Sliced Fruit Platter (RM 20) are excellent choices for midday sweets. Light, cooling and fruity, they are ideal in warm weather. Alternatively, try the Butterscotch Cheesecake (RM 36) with passion fruit curd, sesame tuile and vanilla ice cream. It's a dense rendition drizzled with a thick zig-zag of butterscotch sauce. I think it could be easily shared, but hubby appears not to agree as, once again, he has cleaned the plate.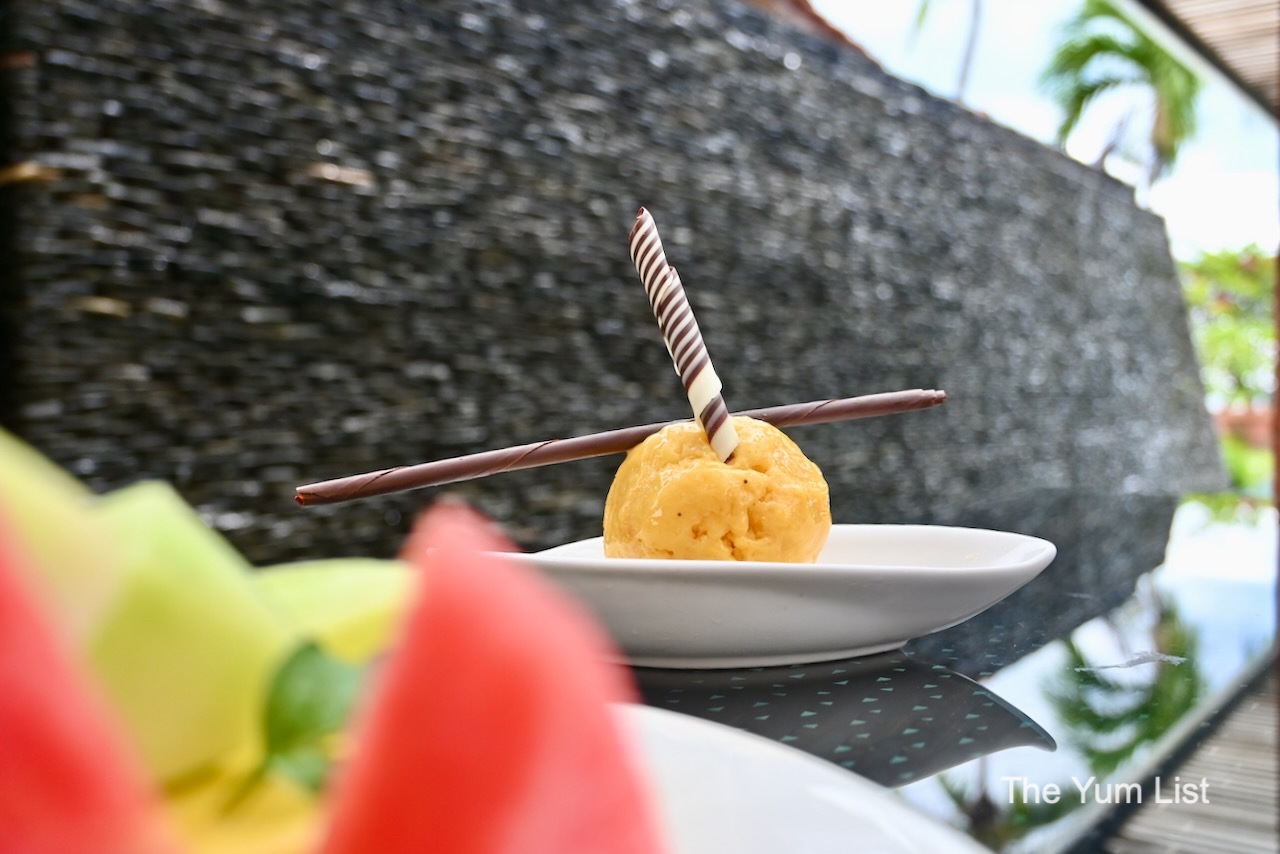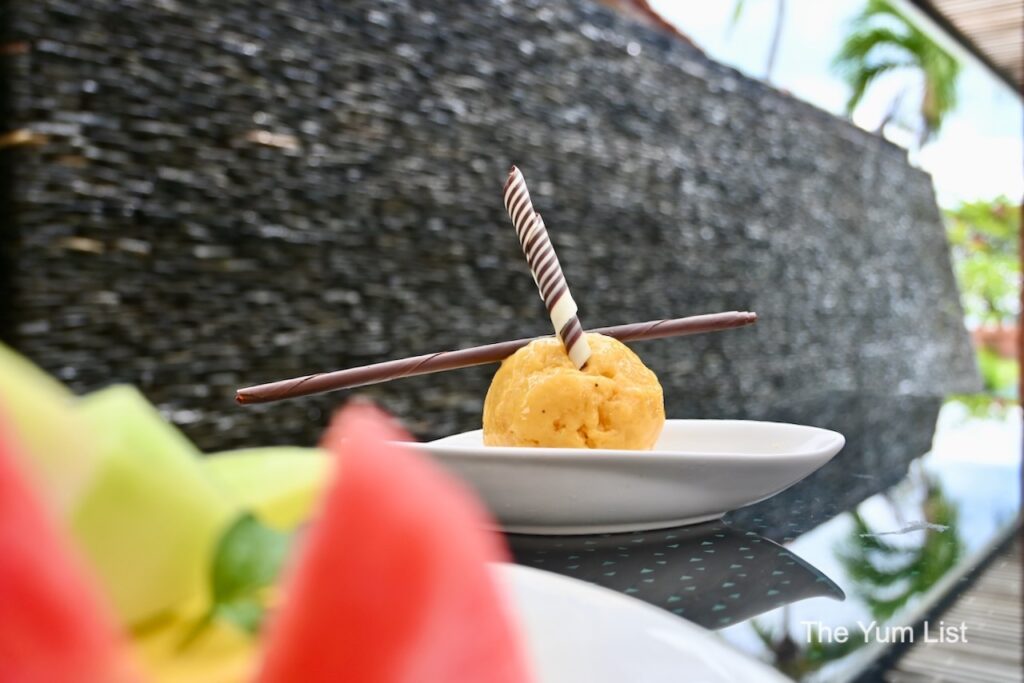 Dinner at Casa del Mar
In good weather, the best place for dinner is a table on the beach. Sand in our toes and the cool ocean breeze are all the design features we need in this restaurant. Soups and salads are a good place to start with both the Butternut Pumpkin & Sweet Potato Soup (RM 26) and Creamy Shitake Mushroom Soup (RM 26), thick and creamy, clearly packed with raw ingredients and not artificially thickened. The Tuna "Somtam" (RM 38) fits the bill for something fresh and light to begin. Elegant squares of pan-seared sesame tuna maguro are partnered with mango, green papaya salad, and a sweet, sour, and spicy tom yum dressing.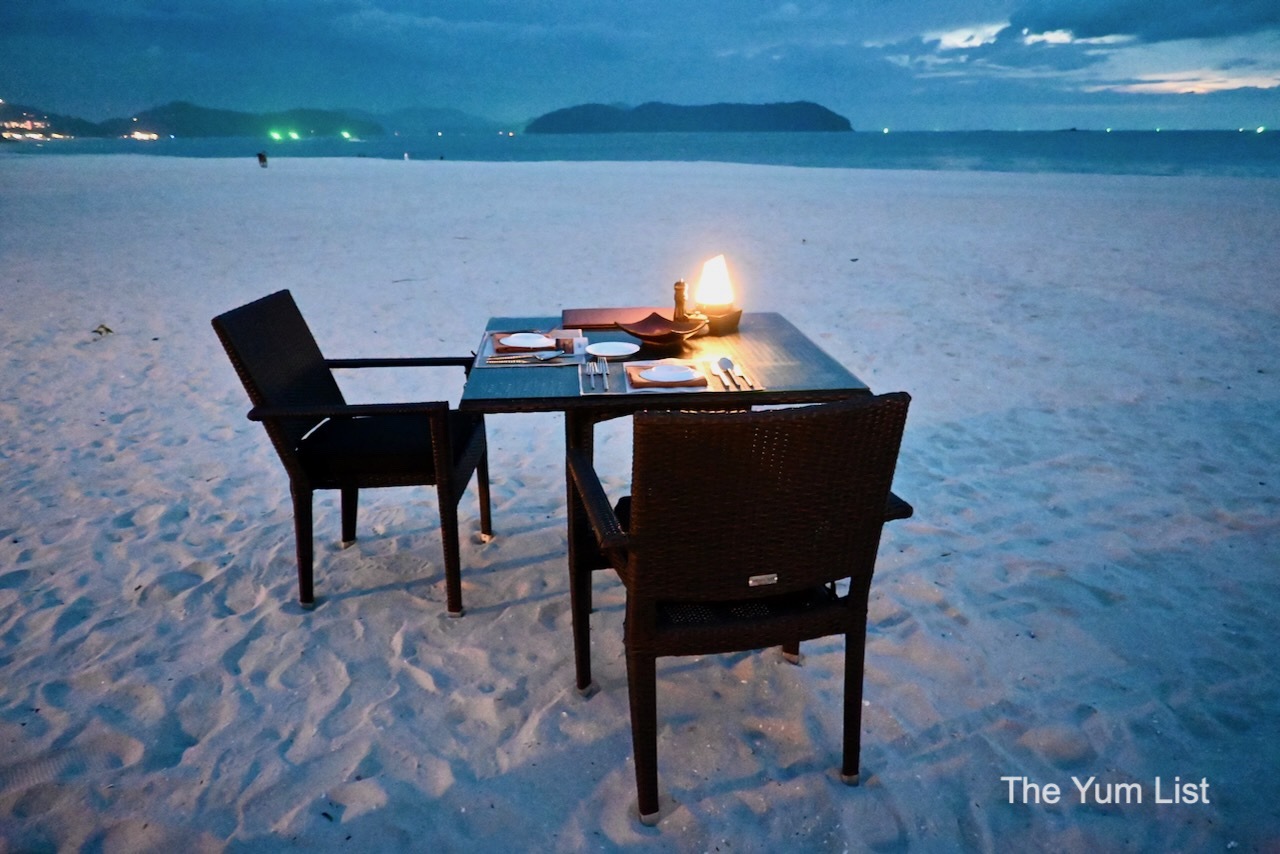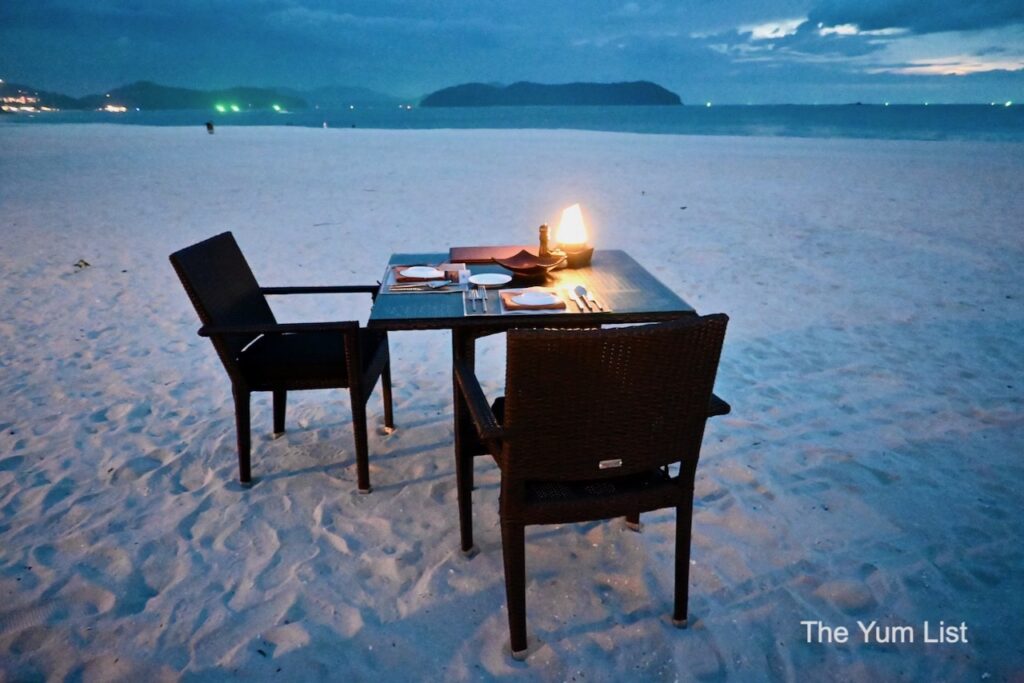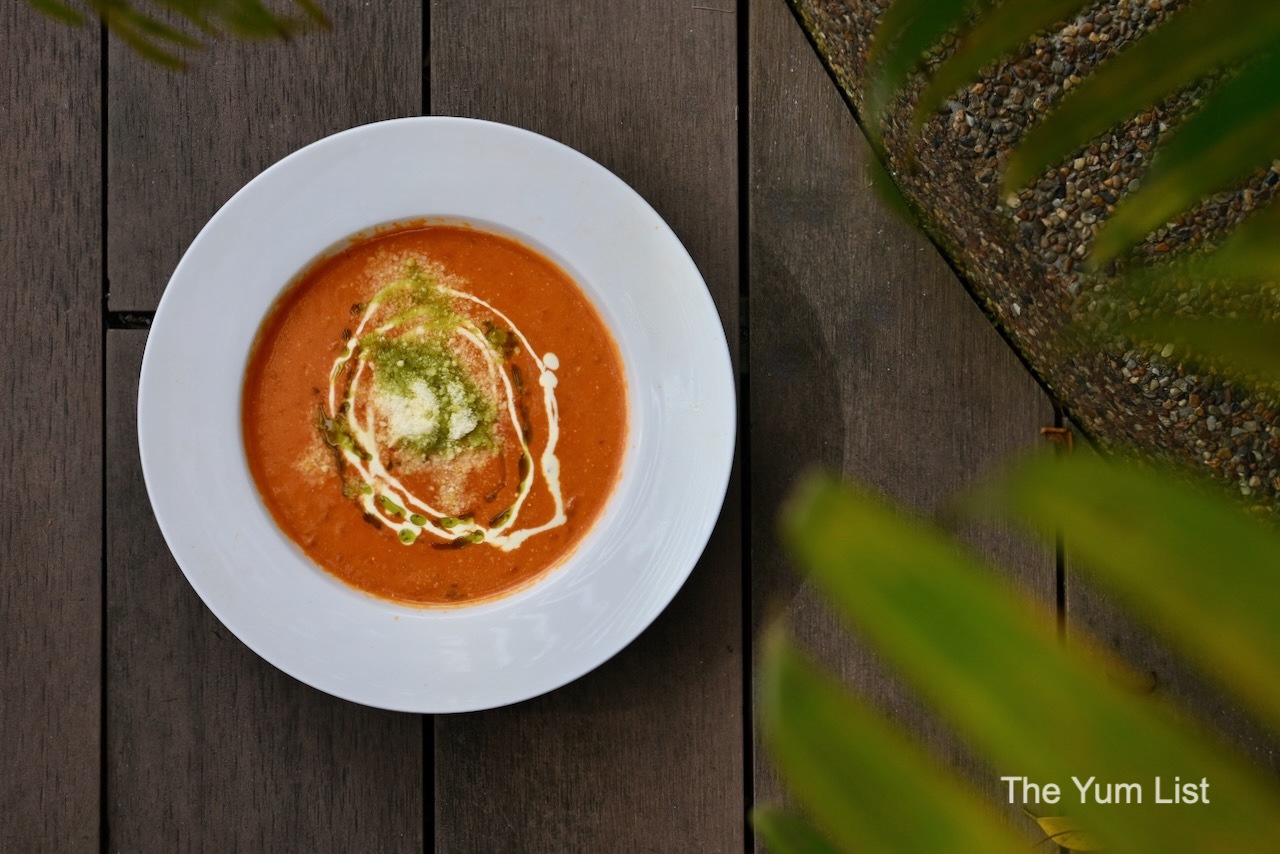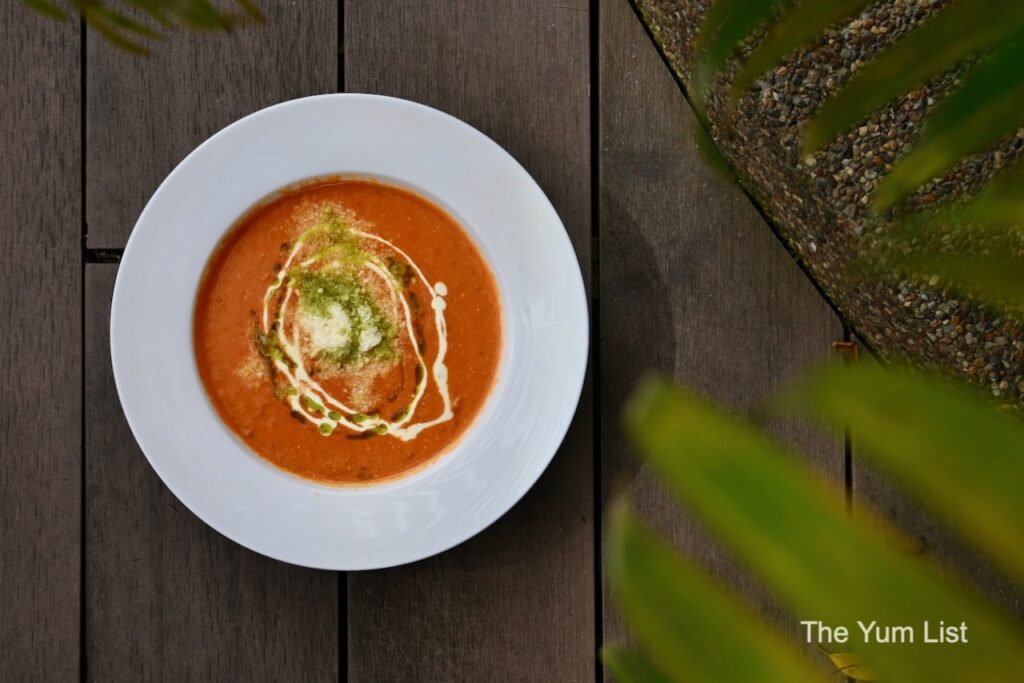 La Sal Restaurant Mains
Land and sea feature on the main menu, with fish, poultry and red meat available in various western and local renditions. We have Pepper Pan-fried Sea Cod (RM 88) and Rib Eye Steak (RM 138). Both dishes are generous portions; you could even be content with just a main, no starter or dessert required to top up the tummy. The fish comes with a fanciful king prawn wrapped in a deep-fried tangle of pasta resembling a cocky's comb. I find the red curry glaze quite sweet, thinking the fillet is good on its own without embellishment. Oven-baked penne lasagna, butter vegetables and pumpkin-peppercorn sauce support hubby's steak plate. Again, I find the sauce too rich for my light preferences, yet hubby wipes his plate clean.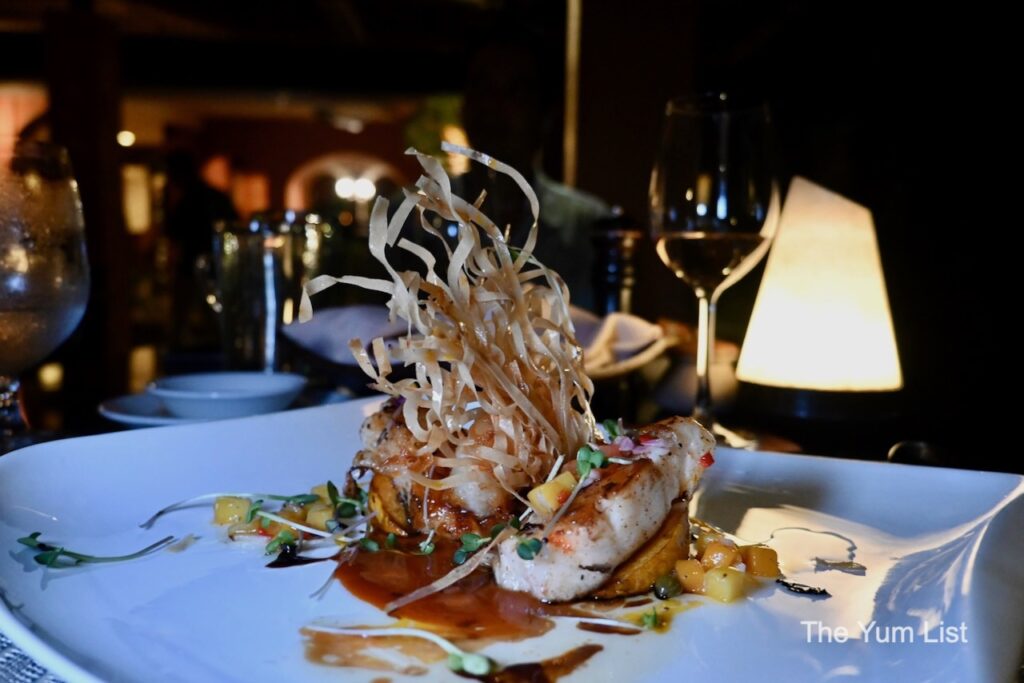 Drinks List – Casa del Mar
La Sal has a compact wine list, and we're happy with the wine-by-the-glass choices of Marius Peyol Cotes de Provence (RM 49) and Canaletto Pinot Grigio Delle Venezie (RM 47). The first is a rose with a balanced structure that's round in the mouth and fresh in the finish. The latter is elegant and dry with floral notes and great with seafood. Also on the menu is a great Barolo, a good choice with red meat. Furthermore, the bartenders shake up some fantastic cocktails. Try anything with rum it in or go for a classic such as a dry martini happily served to you on the beach.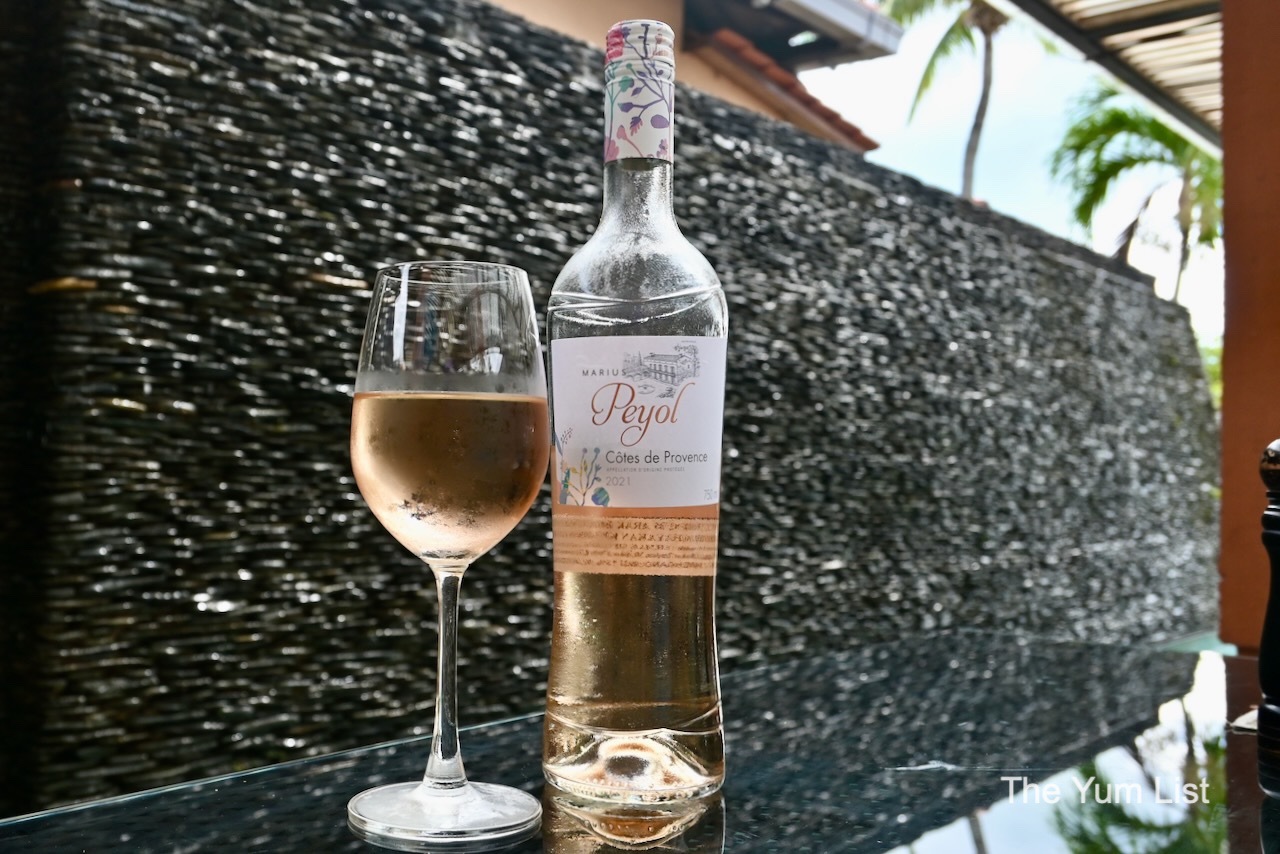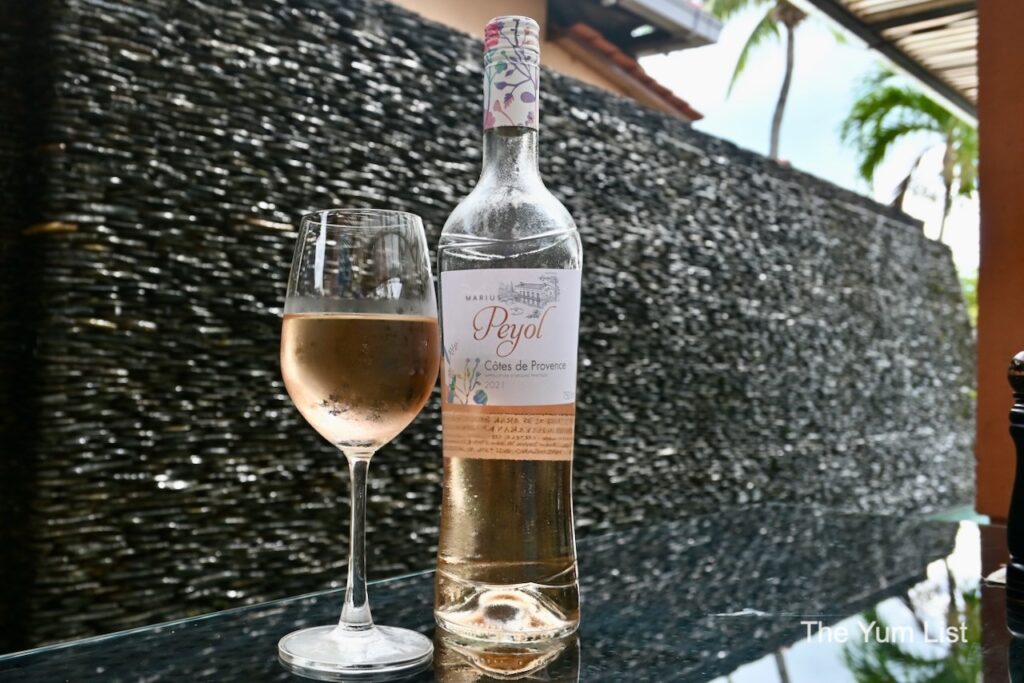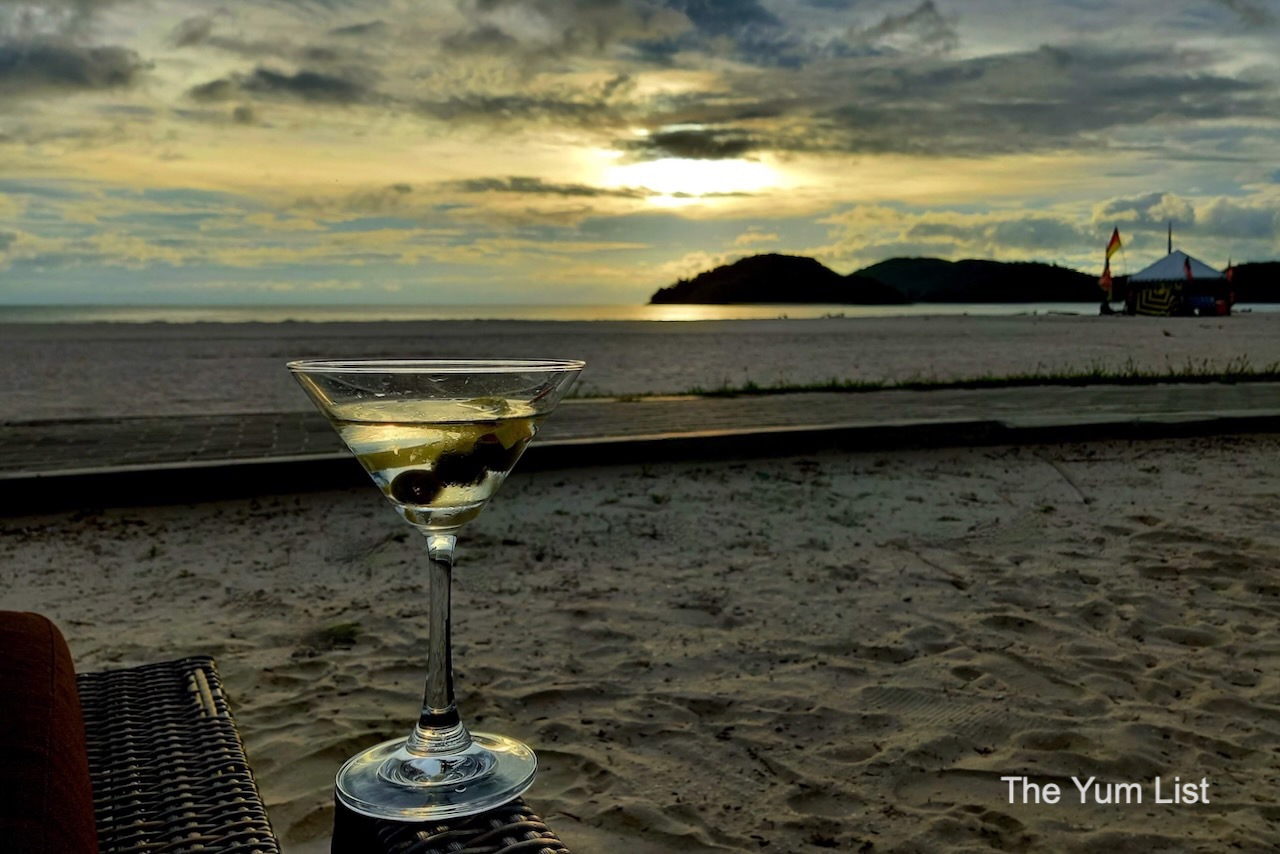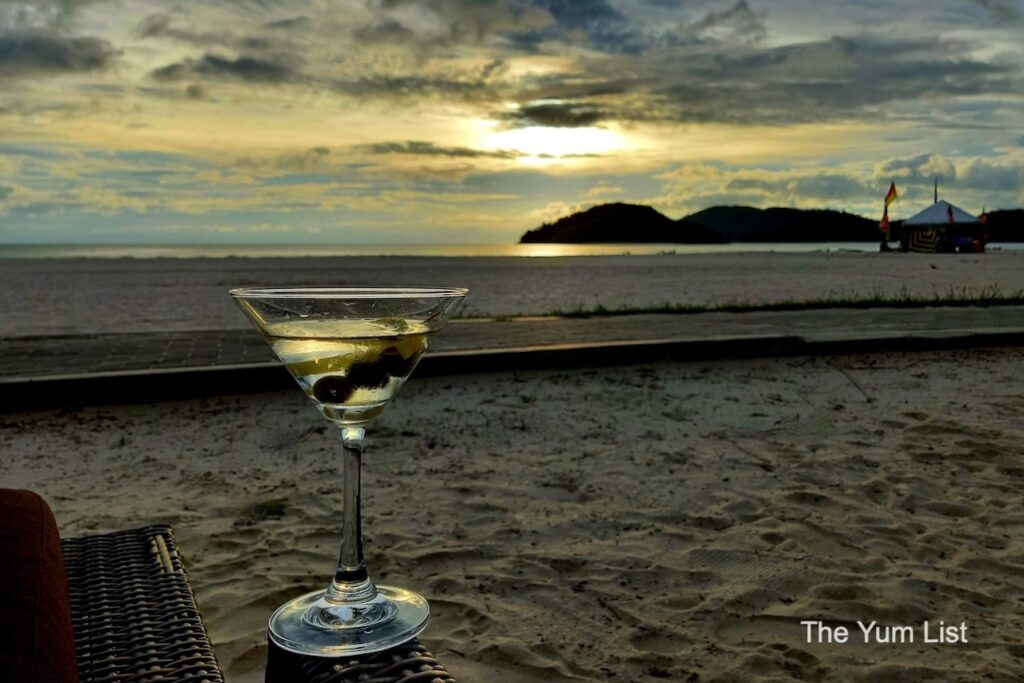 Reasons to visit Casa del Mar, Langkawi: intimate luxury boutique hotel with the beach at the door; convenient and quick access to the airport; a stroll away from a multitude of entertainment and dining options; friendly service welcoming you "home."
Casa del Mar, Langkawi
Jalan Pantai Cenang Mukim Kedawang
07000 Langkawi, Kedah Darul Aman, Malaysia
+60 4 955 2388 +60 4 955 2228
[email protected]
www.casadelmar-langkawi.com
Find more recommendations for travel to Langkawi here and stay up to date with the latest gourmet happenings in Malaysia here and here.