Last Project: Handroll & Yaki Bar, Bangsar

Words: Tim Jay
Photos: Rich Callahan

Juxtaposed in a family neighbourhood, Lorong Kurau, in Bangsar, is an odd little street of restaurants and bars. Some of my favourites are there. And now, we can add Last Project to the list. The small handroll and yaki bar is above Ben's Chicken. The space has light wood and feels much larger. There are counter seats and tables alike.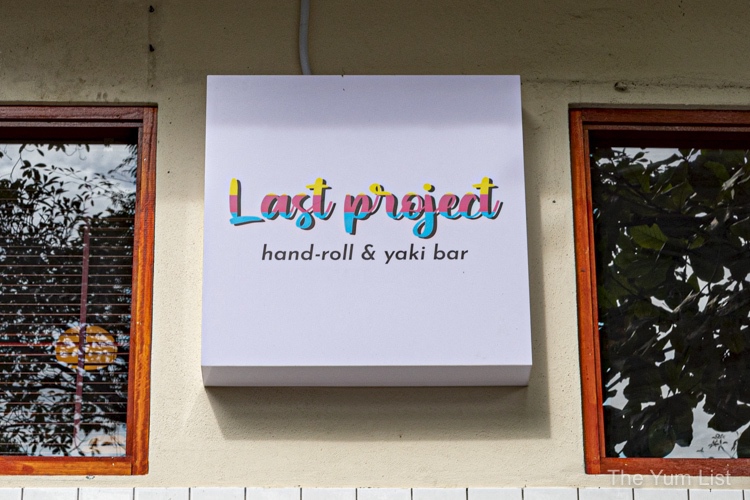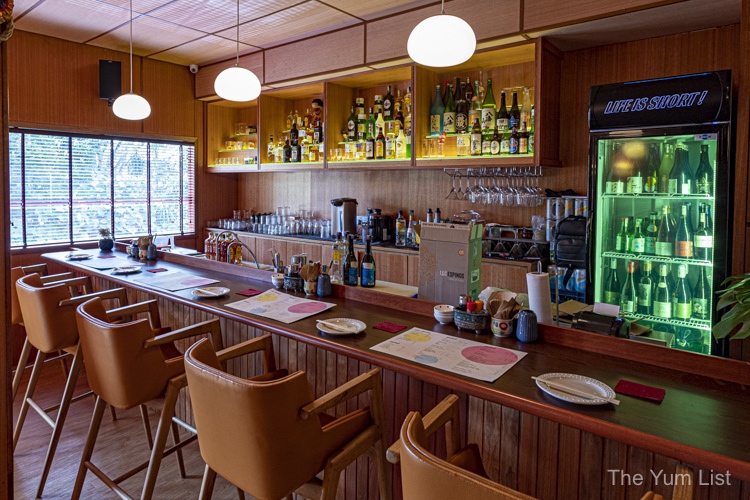 Last Project Bangsar – To Begin
As is preferred, we started with a cocktail. A traditional sour is a spirit, citrus and sugar. The New York Sour (RM 34) became popular in the mid-19th century. It is whisky based with a red wine float. The small amount of red wine enhances the warming spices of the whisky.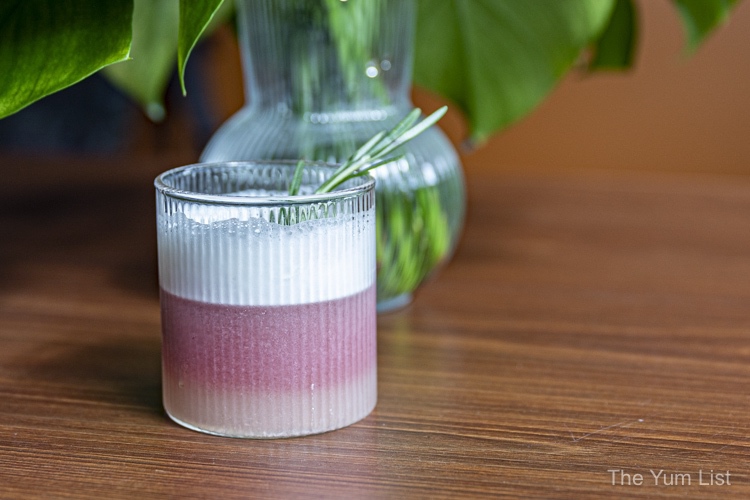 A great appetizer is Wagyu Beef Tata (RM 48). The beef was hand-chopped. A bit of spicy sesame mixed with the creamy egg yolk had a velvety mouth feel. Ikura, corn, onion, and gherkin complimented each other. It was a nice balance of French and Japanese. However, I am not sorry to say that the wasabi and lightly sugar-coated nori crackers stole the show! The crackers had enough body and strength to easily eat the tartare. They were terrific and should be in giant bags for sale.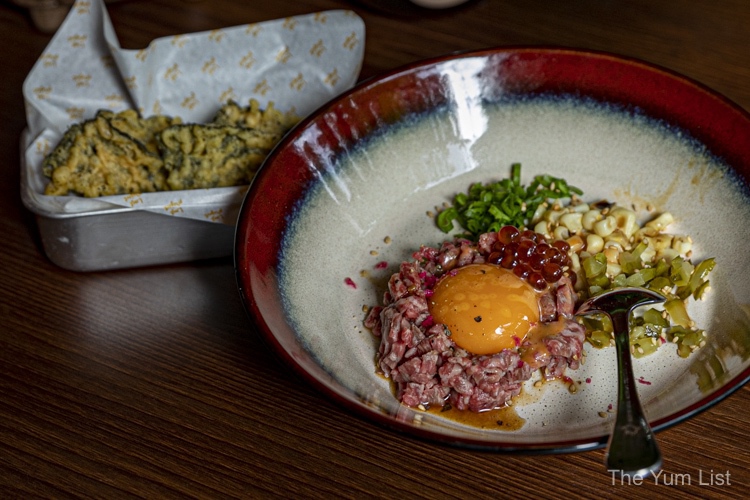 Another classic cocktail, White Lady (RM 34), paired well with the Wagyu Tata. This is part of the long-lost Side Car family. I love the simple perfection of a classic. And Rosh, the bar manager, created a very well-balanced drink. In the White Lady, gin replaces Cognac. It is mixed with Cointreau, sugar and a frothed egg white. A simple pleasure.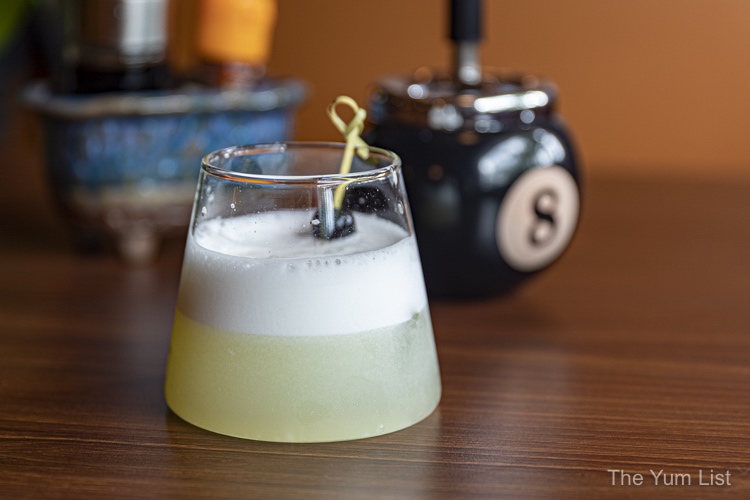 To Continue
The Yuzu Peach (RM 11.80) is one of eleven non-alcoholic beverages. While the marriage of yuzu and peach sounds intriguing, I found it too sweet for my palate. Peaches are difficult to find in Malaysia and quite expensive. But the canned peach slice for a garnish, I would rather not see.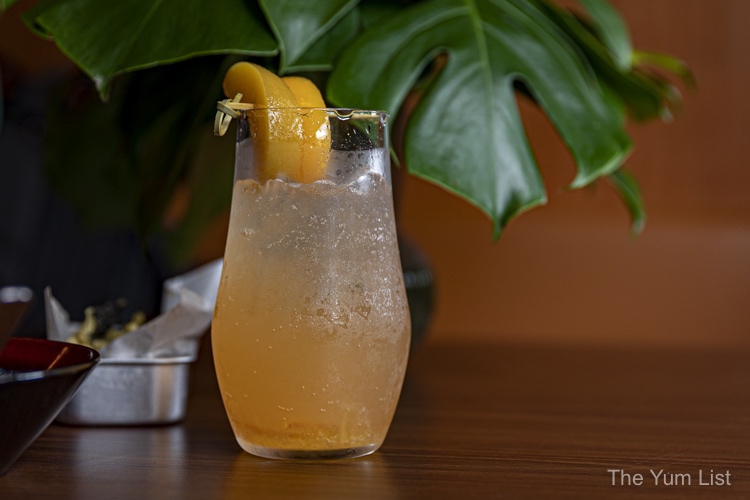 All the items on the Hand Roll Bar menu were served "open face" on quirky semi-circular plates. After taking photos, the shape of the plate supplies a natural cue to complete the hand roll before eating.
Chef Zhen described the sauce for New California (RM 16) as tonkatsu, wasabi mayo. A crisp tempura prawn on brown sushi rice waited to be rolled and devoured. The food is Japanese. But the presentations make it less formal, a bit childlike and fun all at once.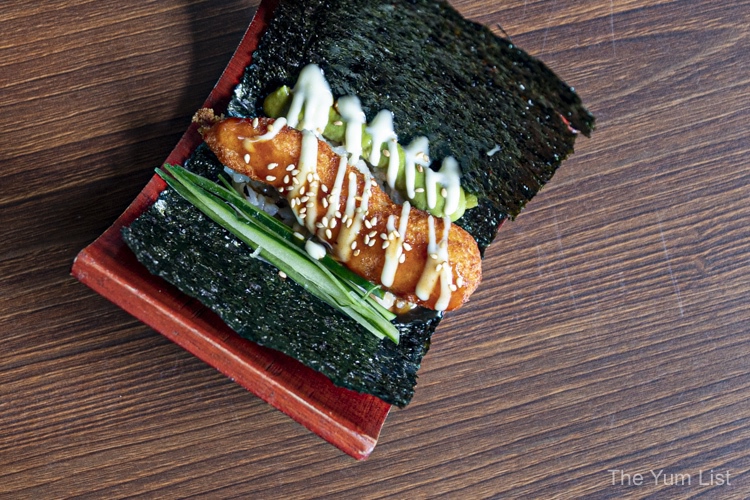 The teriyaki-glazed top round cap of Wagyu Off Cut (RM 28) has a lovely chewy, fatty and charred texture. A bit of smoked salt, avocado and spring onion creates a taco-like experience.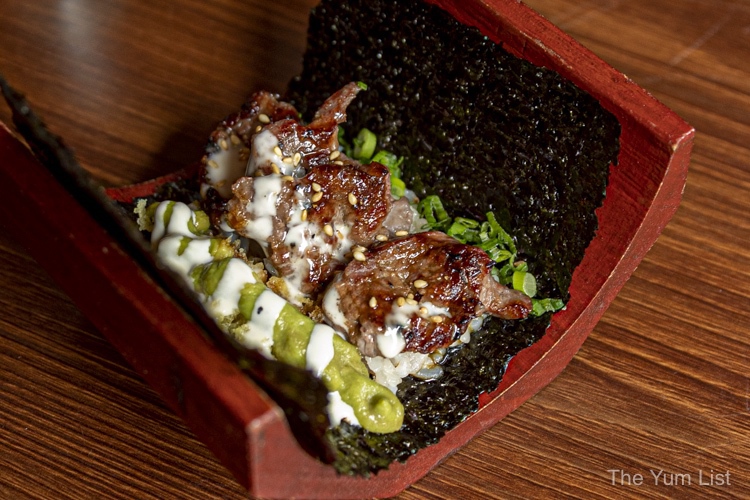 I wanted more spice in the apricot sauce on Spicy Tuna with Sardine (RM 24). I appreciated how the tuna was not over-dressed. Just enough sauce held the little cubes of fish together. The sardine on top offered a visual anchor, but the oiliness of the little fish competed with the tuna. Buttered corn offered pops of colour and a little texture.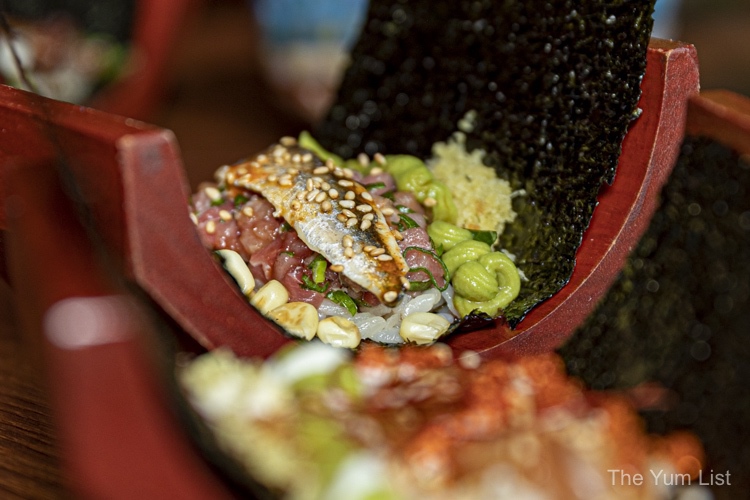 There is a touch of truffle oil in White Fish with Avocado (RM 22). A light lemon and honey mayo lovingly dresses the fish, and the creaminess of the avocado creates a soft cloud-like roll.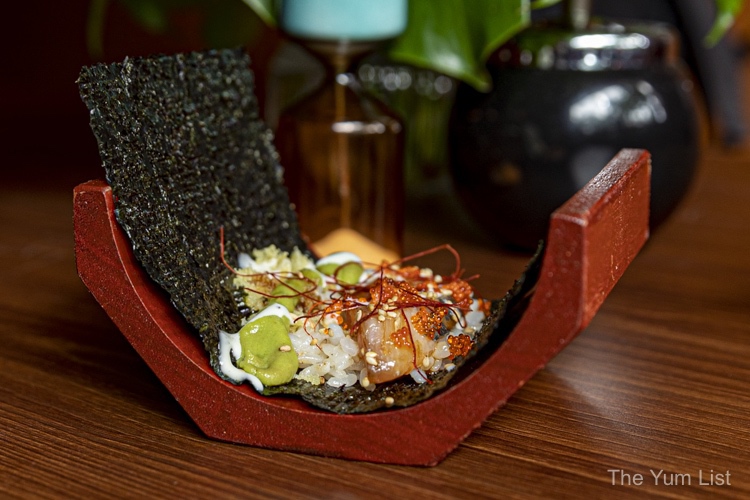 Off-menu at Last Project Bangsar
The off-the-menu Thai Salad (RM 38) was reminiscent of time spent in Bangkok. A collage of Thai recipes deconstructed on a plate allow you to build iceberg lettuce cups with large flat rice noodles, minced lamb, onion, fresh coriander, crushed peanuts and a bright citrusy prik nam pla inspired sauce. The choice to use lamb instead of chicken brought an underlying gaminess complimented by the sauce.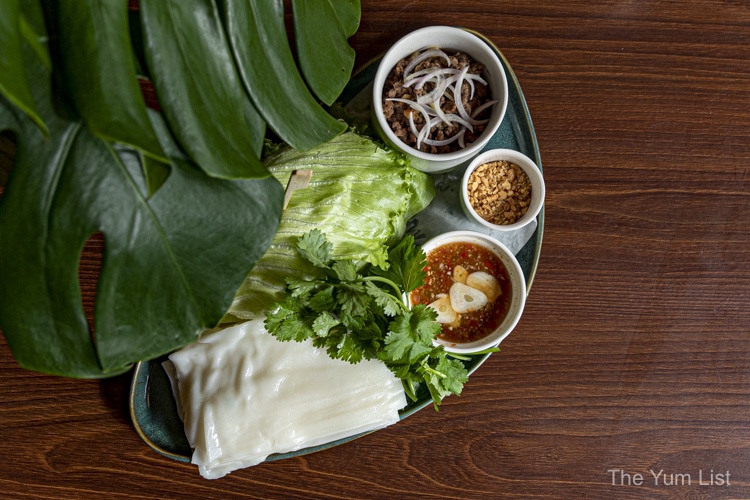 Here is a fun fact. White mushrooms, cremini and portobello, are the same mushroom at different stages in life. On the vegetable section of the menu, Portobello Mushrooms (RM 18) are sweet, tender bites with truffle oil and teriyaki.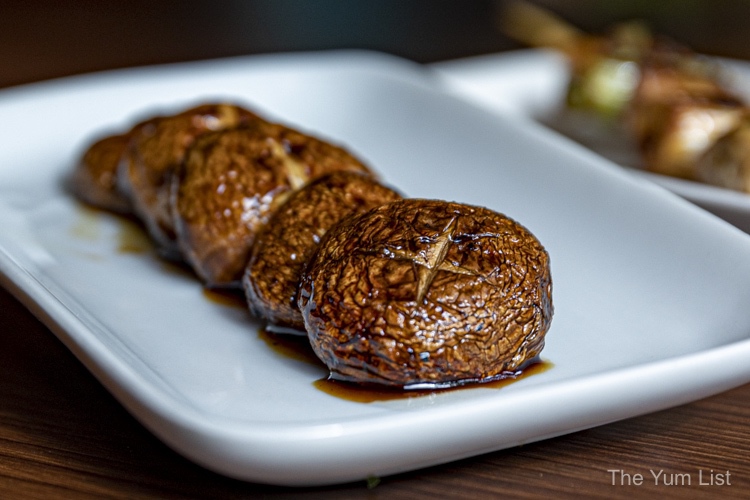 At first glance, one might think there was a mistake on the menu. Chicken Thigh (RM 12) appears twice. It is actually two separate dishes. The first thigh is skewered and grilled. Served with teriyaki, yuzu and leeks. It is very simple, allowing for the chicken to speak for itself.
The second thigh has a larger personality. And although it is also skewered and grilled with leeks, it is topped with a dollop of spicy mayo, made with Szechuan pepper oil and coriander. The ma la numbing heat is minimal, and anyone should be able to enjoy it.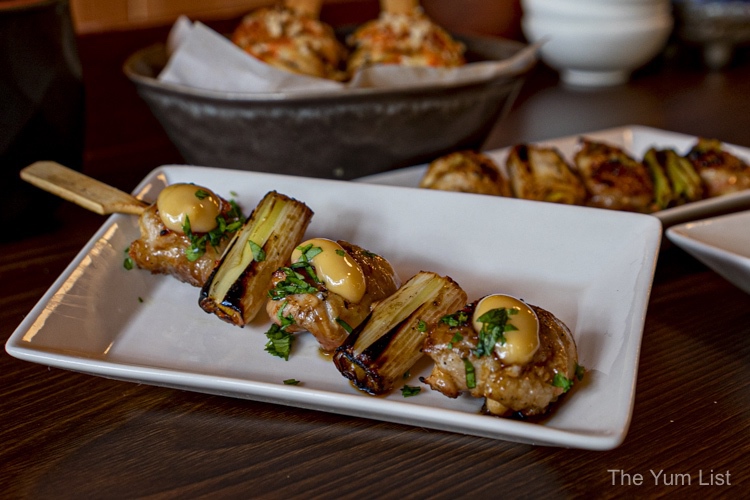 Smoked Duck (RM 18) was one of my favourites. The smoke was strong but not overpowering. The fat was nicely rendered, leaving the skin with a little crunch. The ginger chilli sauce was bright and fresh. It was like a smoky Asian chimichurri.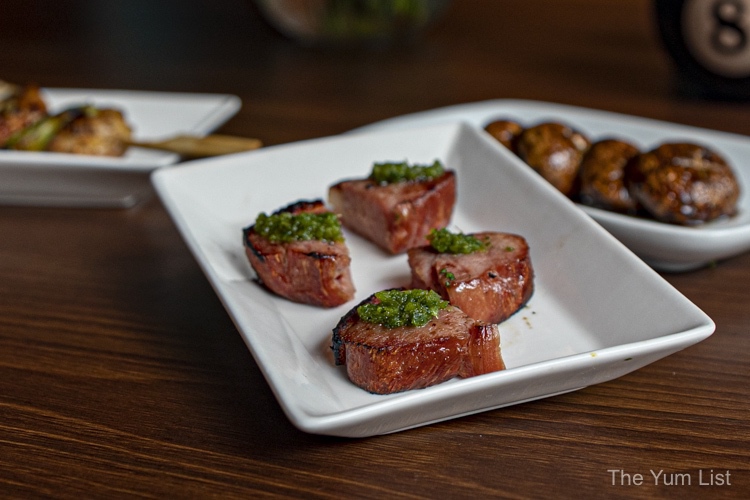 Last Project Bangsar – More!
I don't know about you, but I often feel like I am being punished at a restaurant if I do not purchase a bottle of wine. Drinking wine by the glass usually implies limited options and terrible selections. However, that is not the case at Last Project. There are three whites and three reds by the glass. There is also a natural wine and sake section on the menu (served by the bottle.)
We drank the Ignacio Marin Lluvia (RM 30/glass) from Spain. It is a blend of muscat and grenache grapes. It is a rather interesting and unique wine. It has a hint of sweetness at the beginning and finishes dry. It went well with the Sweet Corn (RM 15) and the special Chicken Tsukene (RM 15).
The lightly grilled sweet corn is served with a small-pronged handle making it very easy and clean to eat. The sweet corn from Cameron Highlands is topped with garlic aioli, tobiko and cheese – a classy bit of street food.
The Japanese grilled meatball, Special Chicken Tsukene (RM 15) is lightly brushed with teriyaki, creating a slightly sticky, caramelized crust. The bottom of the serving bowl has an egg yolk and teriyaki. Breaking the yolk and mixing created a creamy, slightly sweet sauce. There is lotus root in the meatball adding a pleasing bitter note to balance the sweetness of the teriyaki.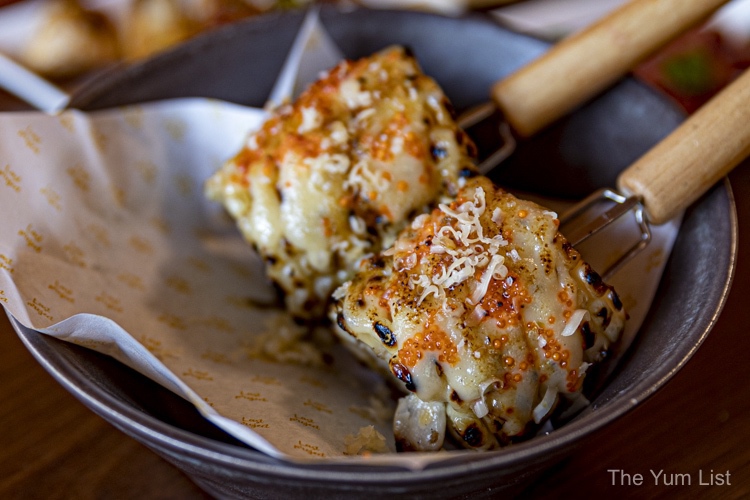 Something to share is the Wagyu with Cauliflower Rice (RM 80). The cap from the topside creates a nice steak when served rare or medium rare. The meat was fatty and chewy, as one would expect from a wagyu steak. The cauliflower rice had a nice texture and a sour note that cut the fat of the meat.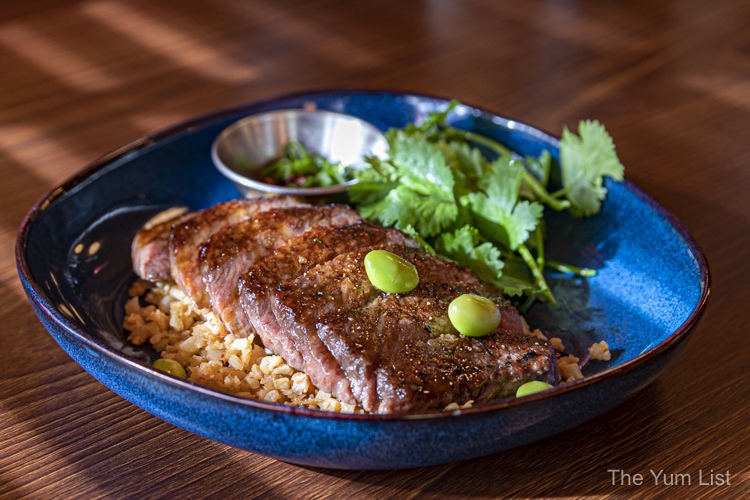 To End – Weird Noodles!
By the name and description, I would have passed on Weird Noodles (RM 28). I am excited to say this dish is a must-try! I think someone was feeling a little weird when it was developed. Teriyaki is used to create a sweet sauce on the dry ramen noodles. A mound of fresh coriander adds a Thai element, as does the chopped century egg. The century egg is spiced with Szechuan oil and tobiko. Just try it. Only then can you understand.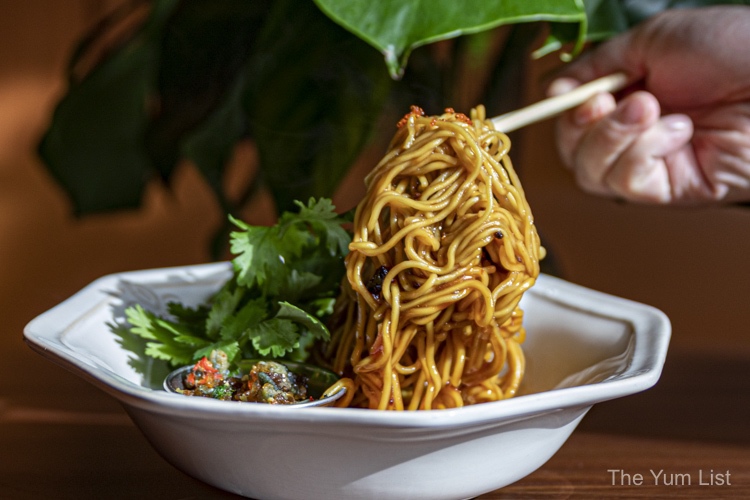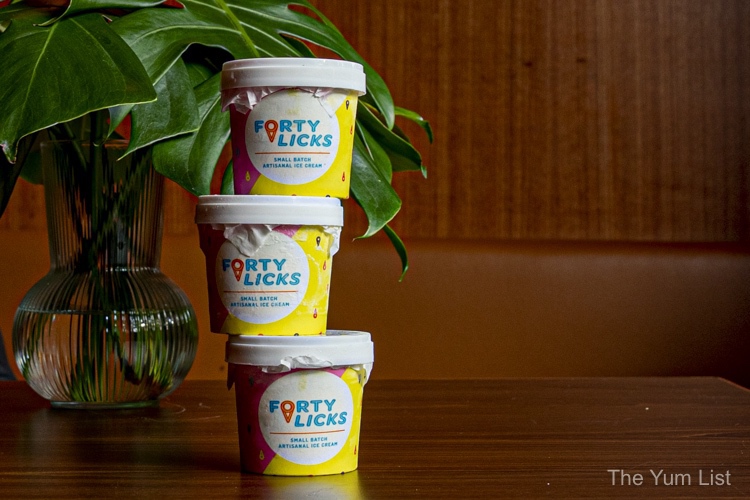 Reasons to visit Last Project Bangsar: Japanese food with zero fuss and exciting twists, a tasty wine-by-the-glass and craft cocktail list, and pleasant staff that create a fun, positive experience.
Last Project – Bangsar
11B Lorong Kurau, Bangsar (above Ben's Chicken)
59100 Kuala Lumpur, Malaysia
+60 17-527-7285
@lastproject_bangsar
Last Project Bangsar Opening Hours
Closed on Monday
Tuesday to Sunday 5:30pm – 11:00pm
Find more restaurants and bars in Bangsar here, and stay up-to-date on the latest gourmet and travel happenings around Malaysia here and here.