Minami Omakase Bukit Jalil
Words: Amanda Chin
Photos: Monica Tindall
In a land far, far away, next to the new Pavilion Bukit Jalil mall, you'll find Minami Omakase. Famed for their tank-to-table live seafood menu, guests could not ask for fresher ingredients.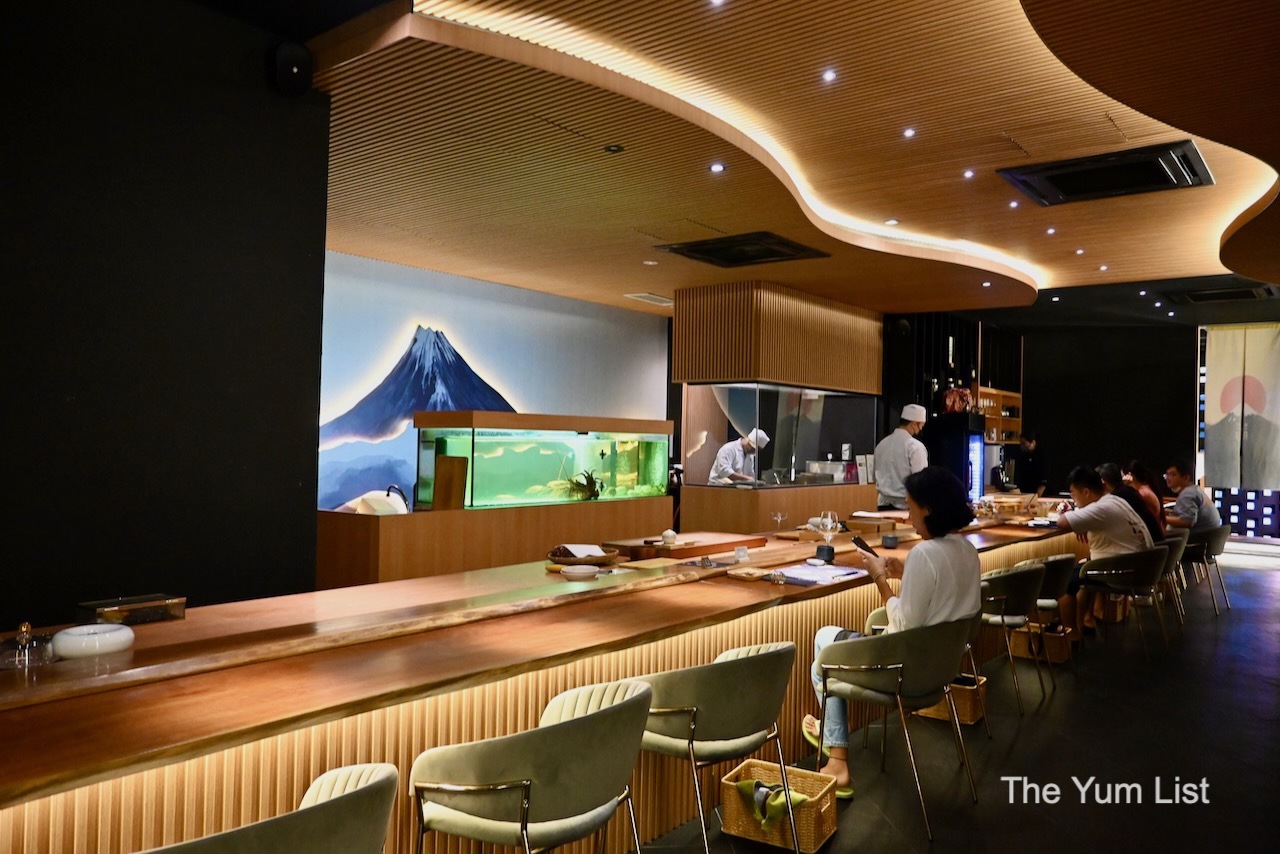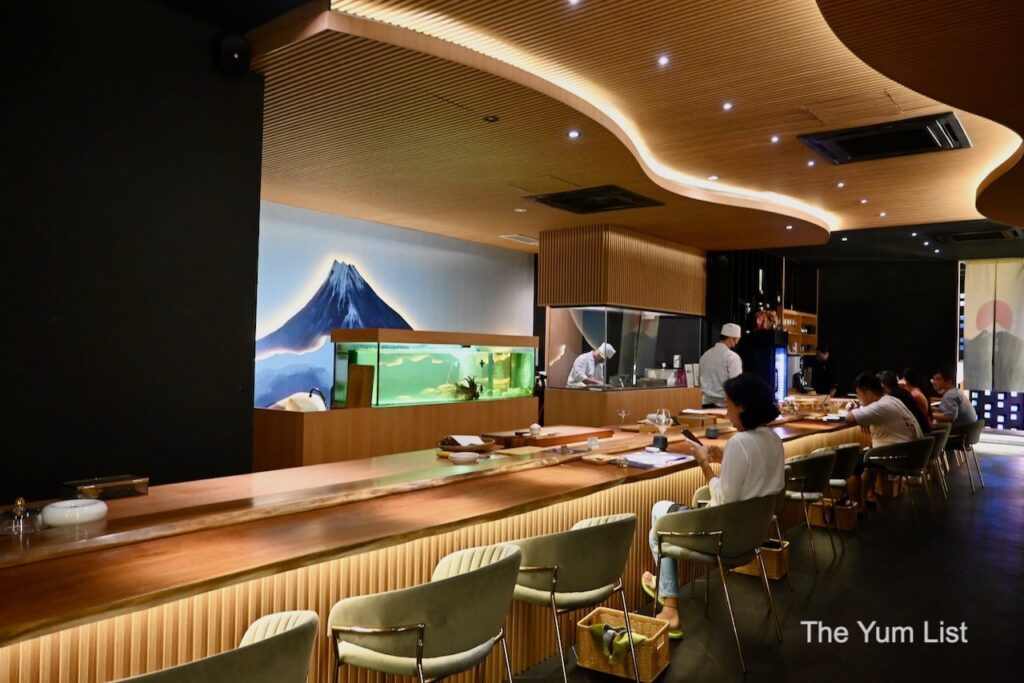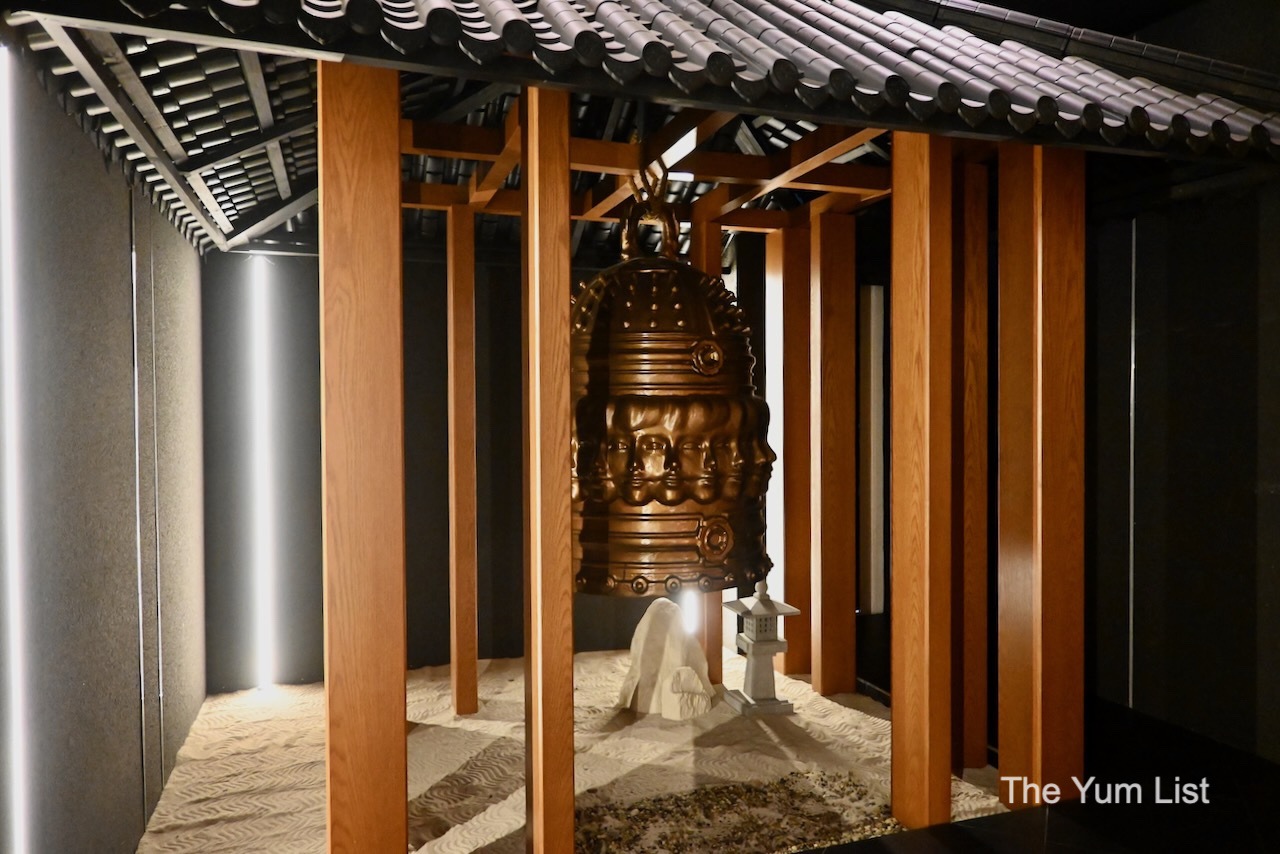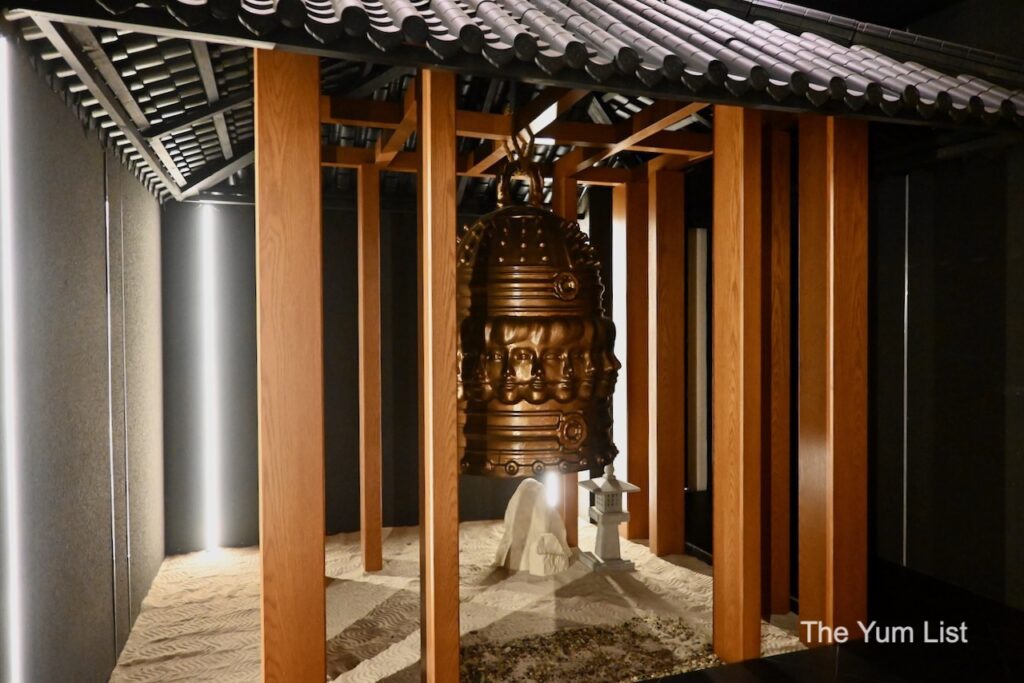 Minami Omakase
Walking through a simple large black door at the entrance, we instantly felt how intimate the space was. There was no view of the restaurant from the outside, and the inside felt as though we had stepped into a completely different world. Greeted at the entrance by a friendly operations manager and Minami's sake sommelier, Kerwin, I was taken to my seat at the bar.
I appreciated the limited 15 seats as they're all located on the counter where you get to see the chefs prepare everything right in front of you. Attention to detail does not go unnoticed, and in Minami Omakase, you can tell they take great pride in this. From the table settings to choosing your sake glass to welcome drinks and digestives, no triviality is too small.
The highlight, however, is the large tank filled with oysters, lobsters and a whole assortment of live seafood – your food couldn't be any fresher. The team at Minami Omakase receive live seafood from Japan and cares for it until just before serving, bringing new meaning to the farm-to-fork concept.
Minami Omakase – Wa Menu
Minami has several options for Omakase, from a fully cooked meal to the most exotic raw preparations. We dined on the auspicious Wa menu (RM 888), meaning "harmony" in Japanese. The name completely suited how the chefs brought all the ingredients together. Besides impressive food menus, the restaurant also has an excellent list of exceptional sakes to pair with the meal.
Premium Sake
After freshening up with a warm towel and fruity welcome drink, we took our first sip of Zaku Impression N Series Sake (RM488). This limited edition, unfiltered, nakadori Junmai Daiginjo Muroka Genshu is premium yield. Nakadori means "middle take" in Japanese and is considered the finest part of the batch. We were grateful for the opportunity to try the sake in two different glasses – a wine glass and a small ceramic cup. It was fascinating how we felt a light effervescence in the cup while finding more aromatics in the glass. This was a fantastic sake – we highly recommend you try it.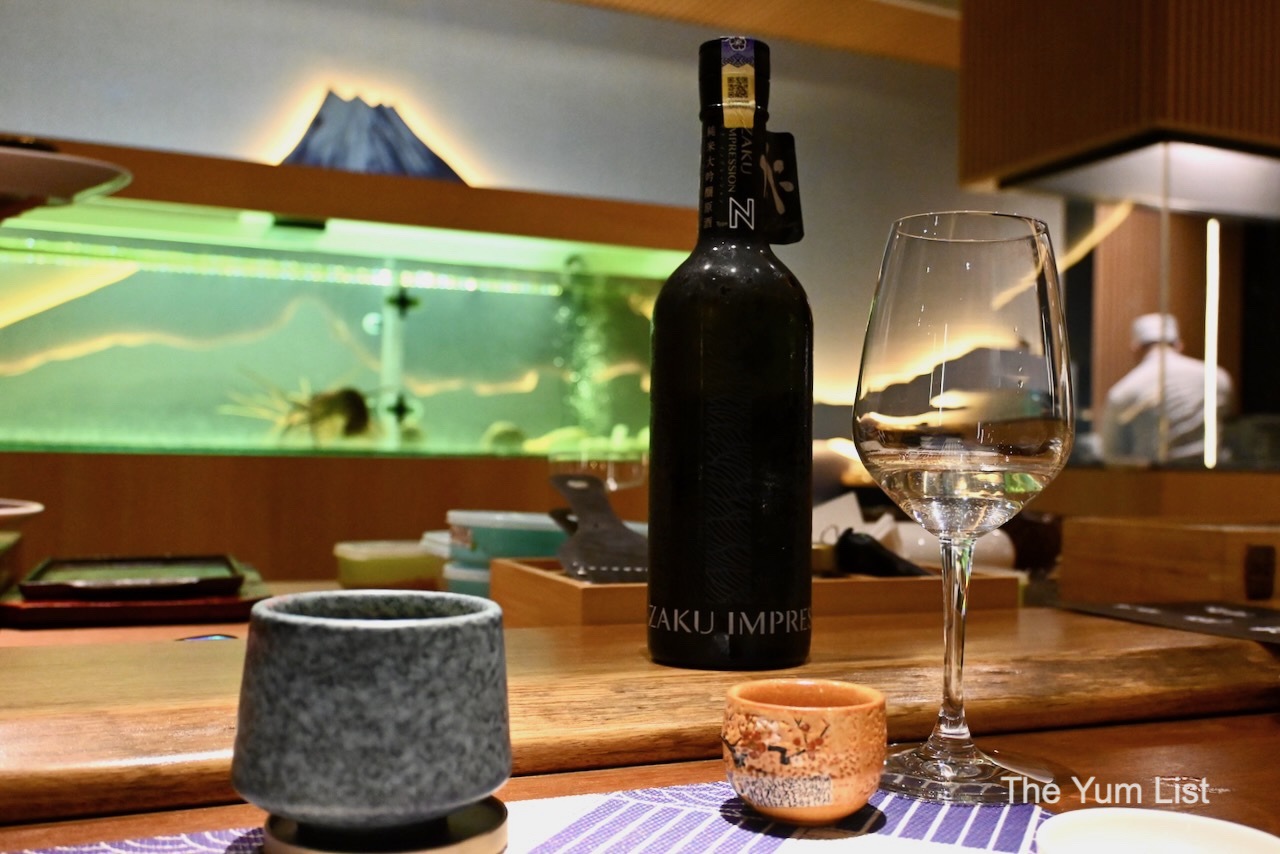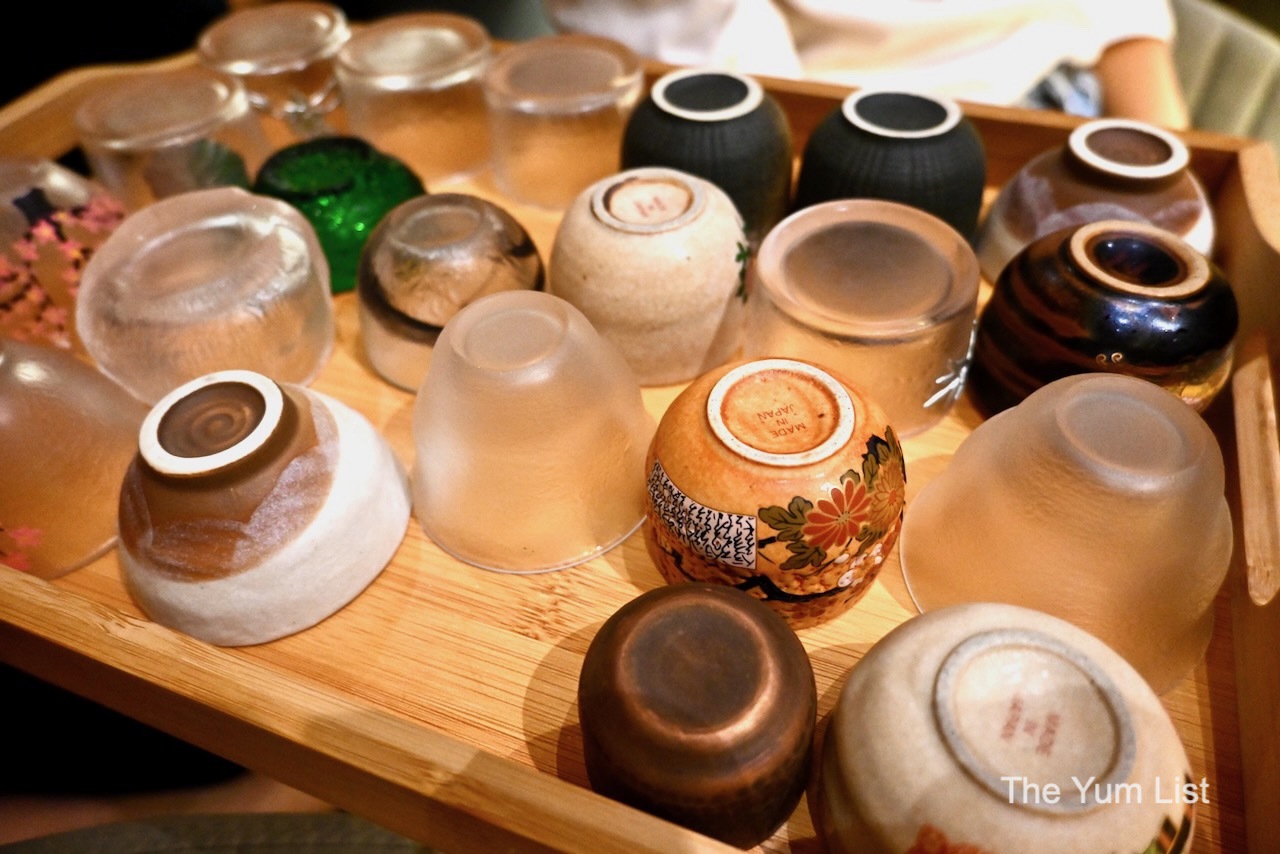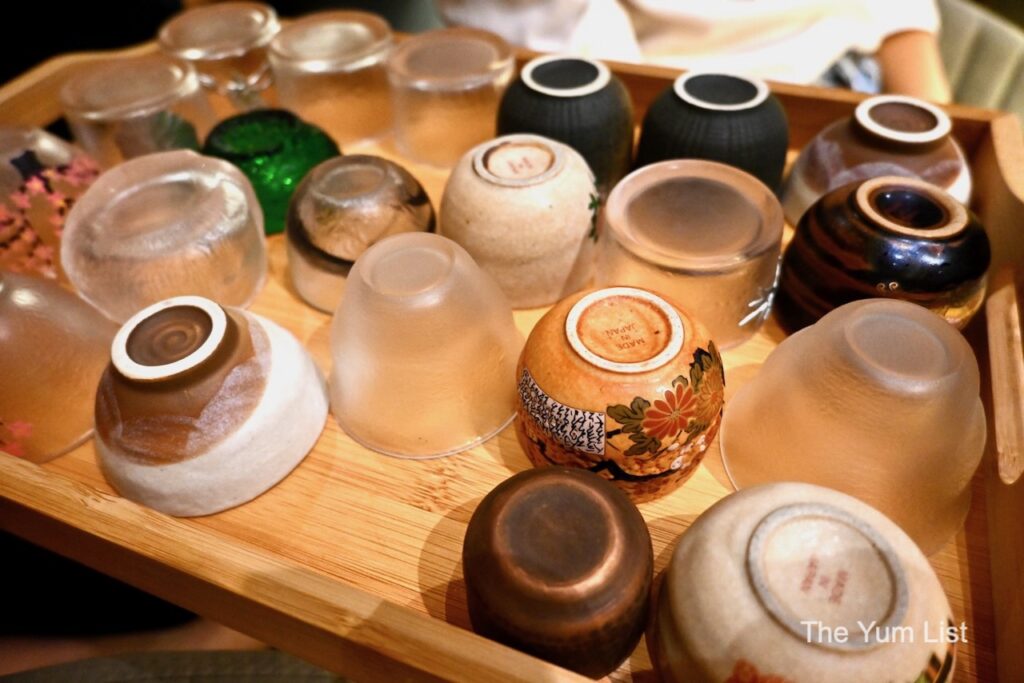 Appetisers – Minami Omakase
The appetiser came on a brightly-coloured plate set with assorted tiny bowls. The first took us by surprise – Tara Shiroko. We knew this would be no cookie-cutter line-up of ingredients when the chef translated our first bite to cod sperm. It looked a bit like a human brain but tasted quite succulent. It's popular amongst Japanese women for its high nutrient content (Vitamins D, E, B1, B2 and more) and anti-aging properties. The next was Komochi Konbu, kelp seaweed with fish roe, which was mildly creamy and salty. Lastly, Ankimo (monkfish liver) is the foie gras of the sea. Chefs rub the liver with salt and then rinse it with sake resulting in a rich mouthful. Pickled vegetables cleansed our palates between bites.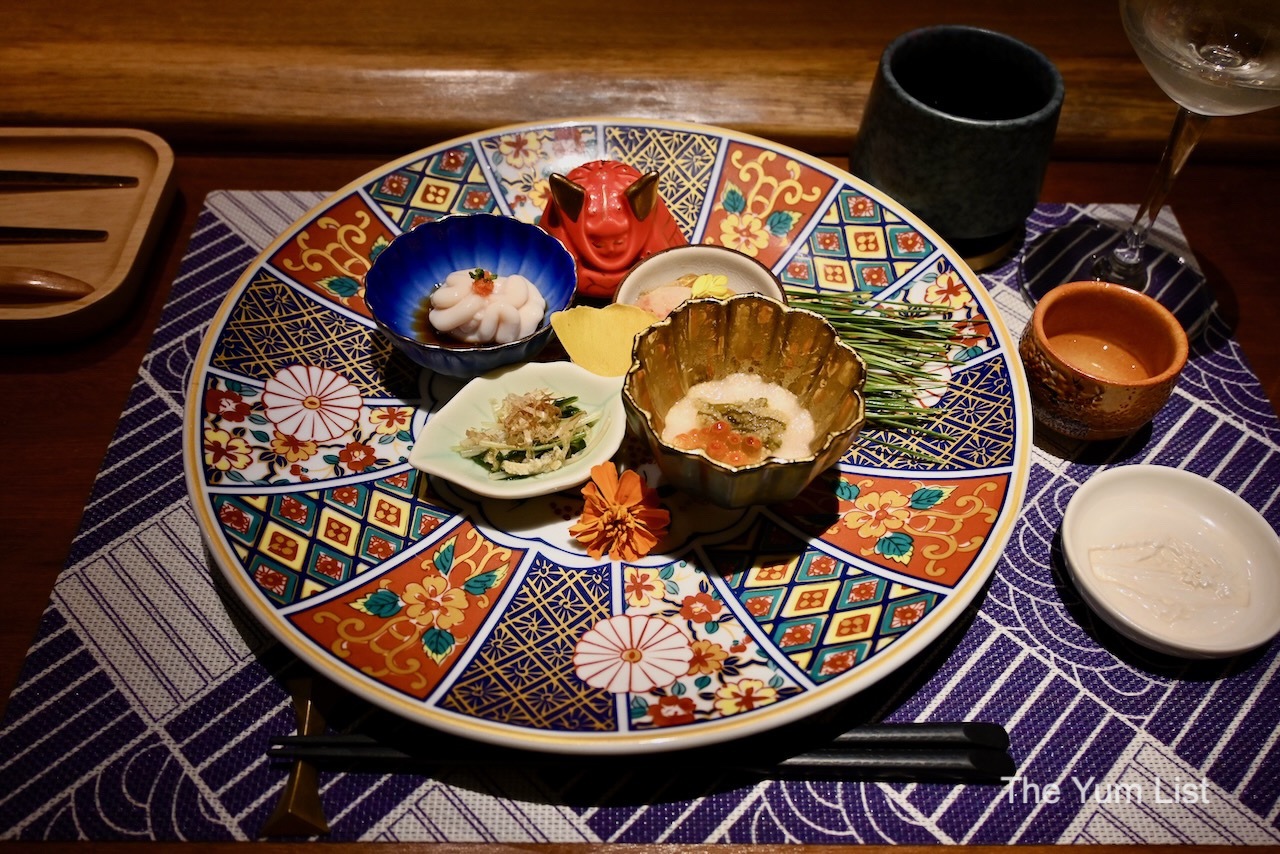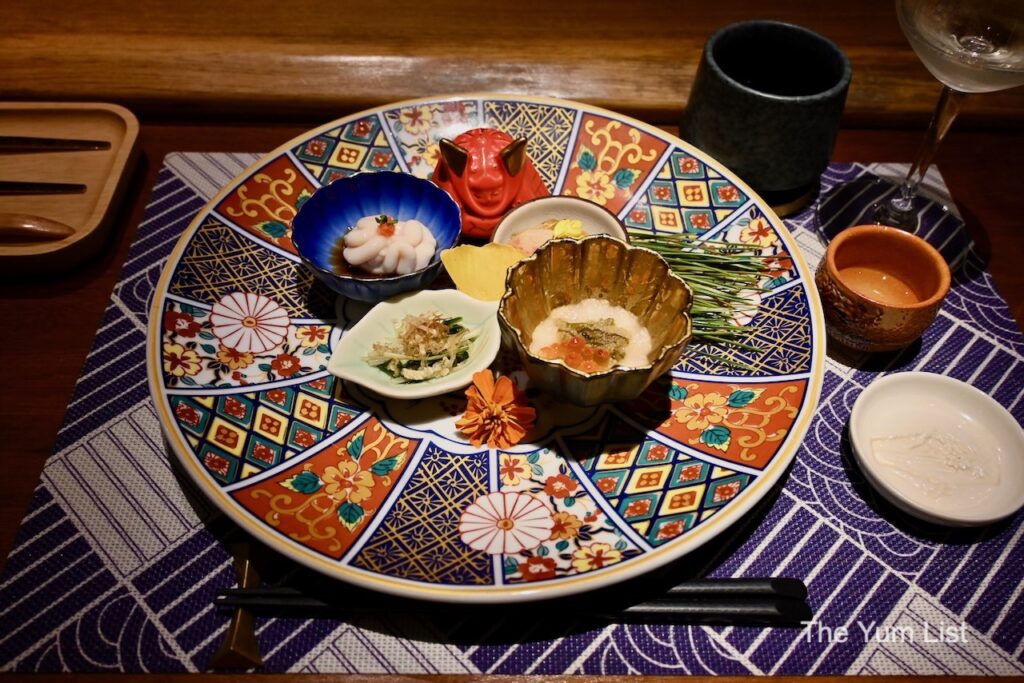 Oyster
Have you ever had an oyster with its own passport? Well, that's the equivalent of what we had next. The premium oyster from Tokyo was served in a cocktail glass with a jelly-like sauce, fish roe and its own identity card! It was superiorly fresh with a clean and mildly savoury finish.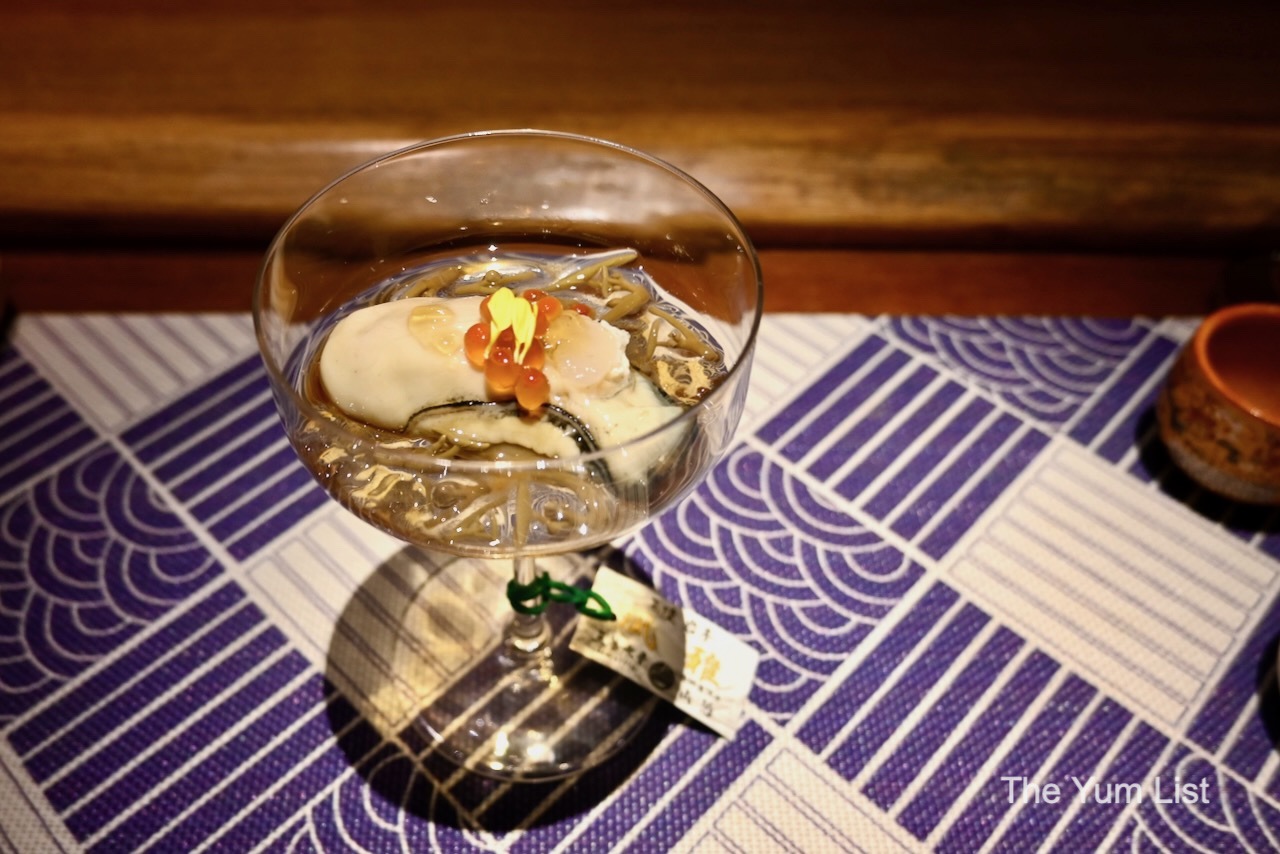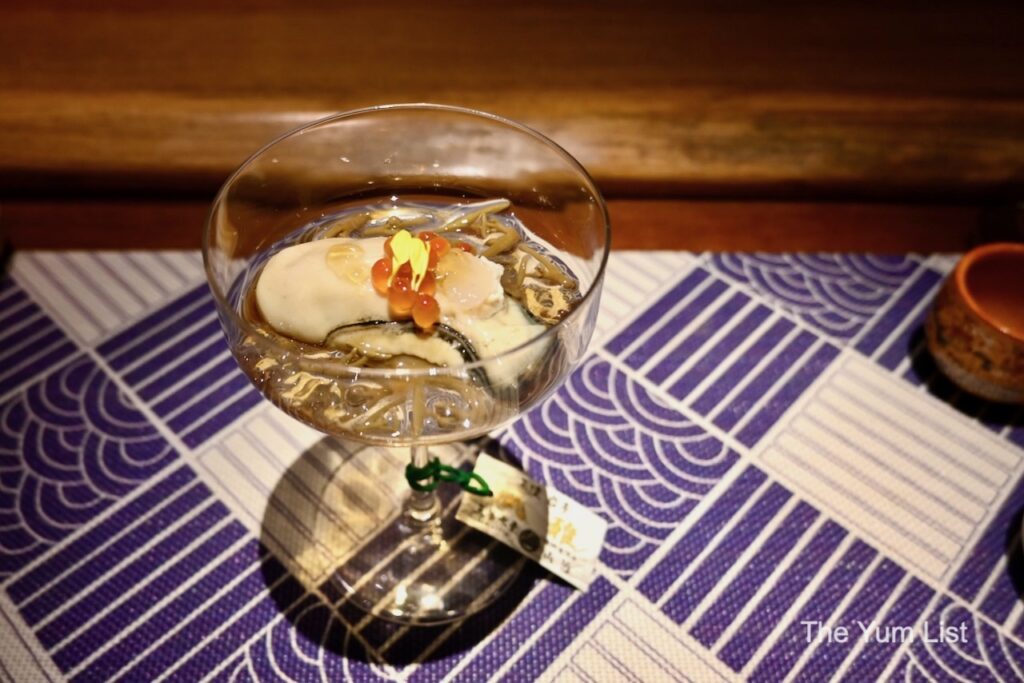 Negitoro
Soon followed a stylish white plate holding negitoro, uni, truffles and caviar in a paper-thin case. This was a beautiful harmony in my mouth, indeed. Everything in this bite complimented each other teetering between creamy and crunchy, umami and gently sweet.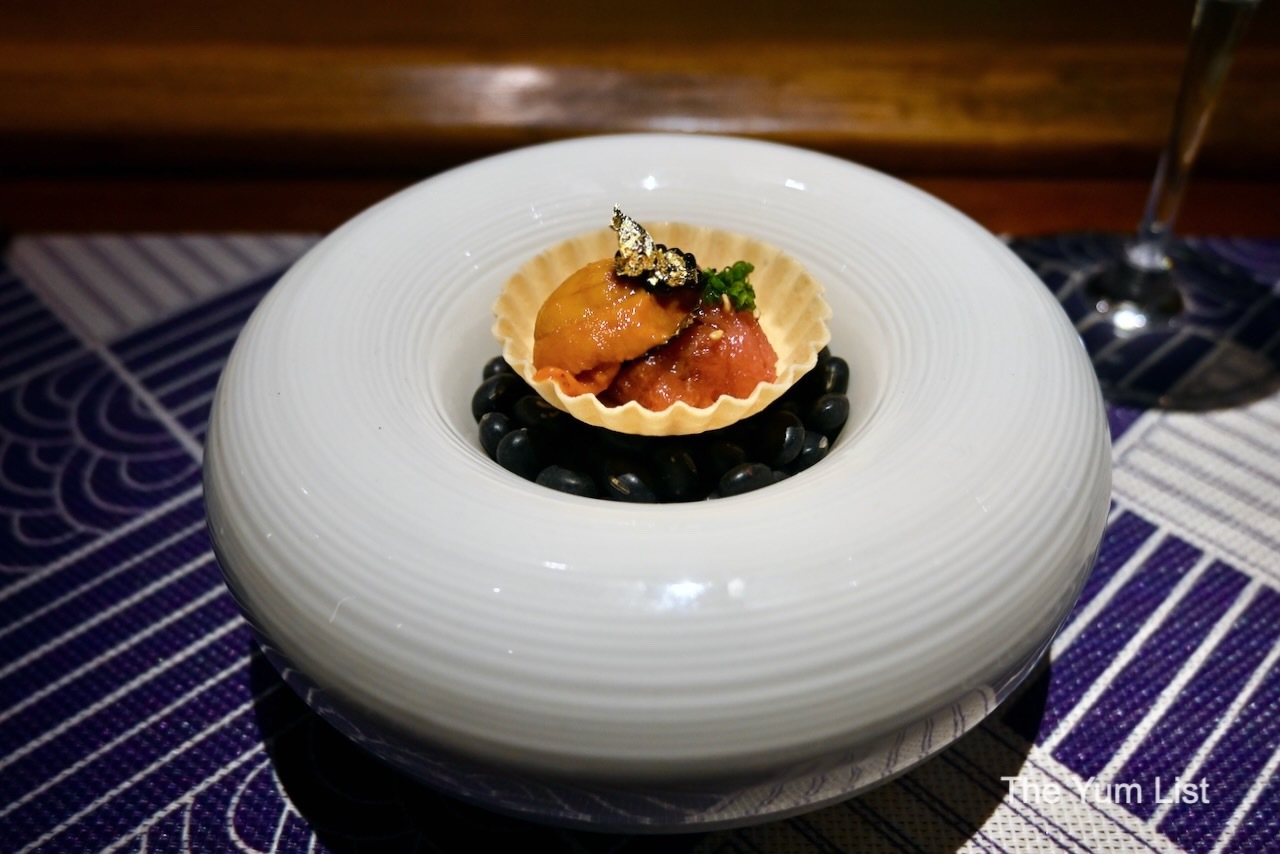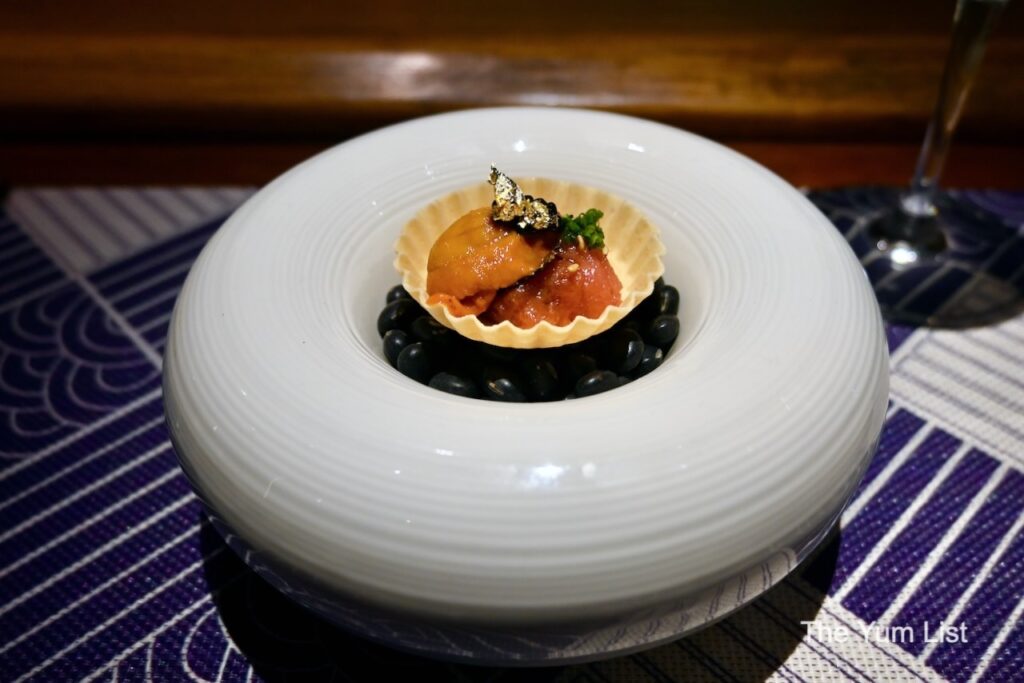 Sashimi
As the sashimi course was being prepared, homemade soy sauce was poured into small white bowls we had not paid much heed to. However, once the bottom was coated with the dark liquid, the outline of Mount Fuji began to show – small but memorable entertainment between courses.
The sashimi showcased a variety of colours, textures and flavours. We began with the Ise Ebi topped with caviar, the Japanese spiny lobster we saw swimming in the tank moments earlier. Paired with the homemade wasabi, this was a delectable way to begin our sashimi journey. Also on this plate was another fascinating creature – Mirugai. Also known as the Pacific geoduck, the giant clam is rather phallic-looking, with a big neck protruding from the shell. It gave a salty flavour with notes of seaweed and was crunchy to the bite. Kamasu, Japanese barracuda, had a unique sweet taste to it. Shimaaji, a warm water fish, offered tender flesh and a little fat. Saving the best for last, we ended with the Otoro, the most wanted and fatty part from the inside of tuna – it melted inside my mouth.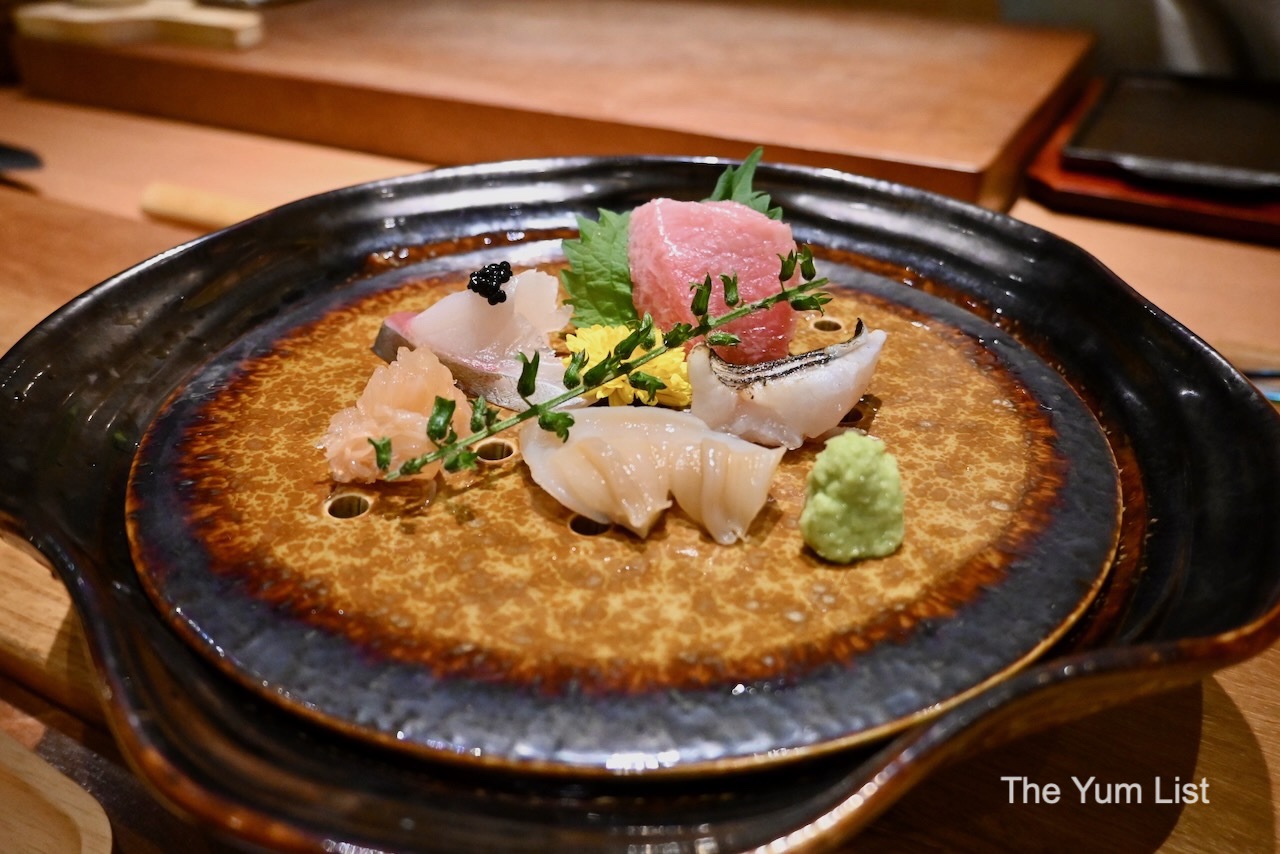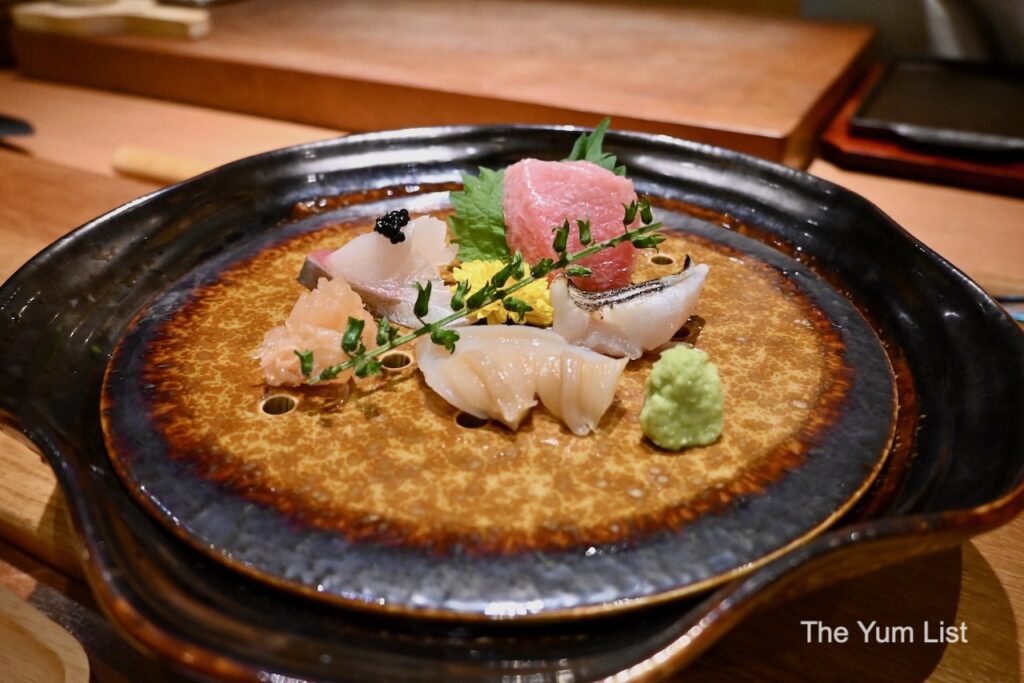 Snow Crab
Looking like an art installation, the next course was the Sekogani, using its own shell as a plate. The female snow crab is prized for its exceptional flavour and the 1000s (up to 100 000!) of tiny, vibrant orange eggs in its belly. Pink and orange sea kelp balls on top complement the dish' texture.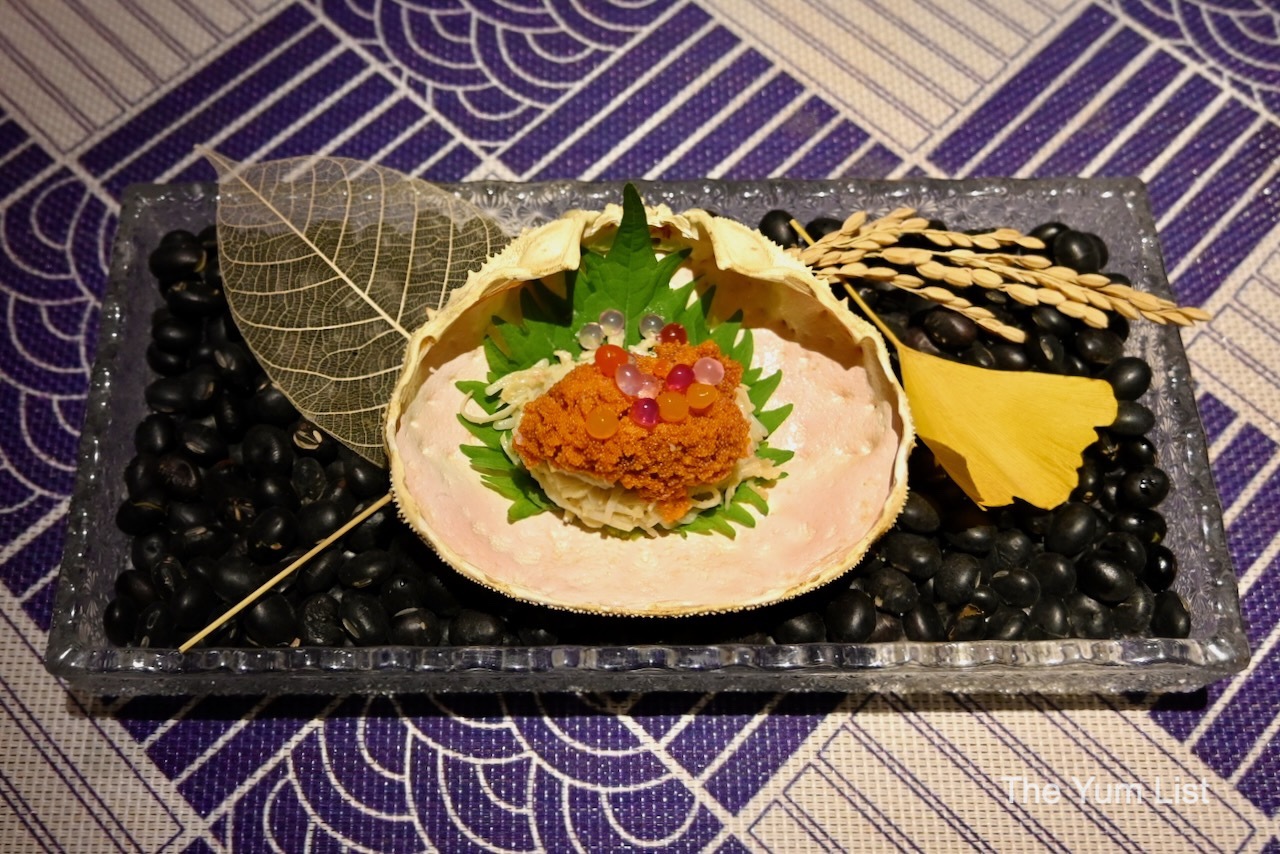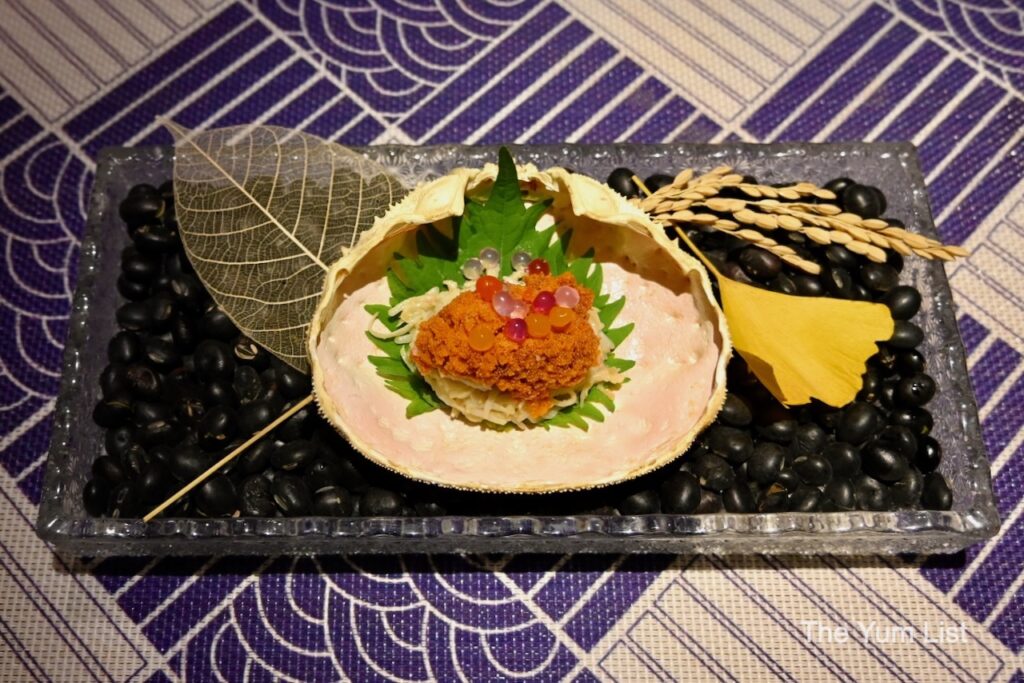 Spiny Lobster
Another one for the art museum is the Ise Ebi Misoyaki, the grilled spiny lobster we had just seen in the tank moments ago. This was one of our top picks because of its simplicity and extraordinary freshness. Dotted with the tiniest cherry tomatoes you've ever seen and a sprinkle of seaweed, it tasted luxurious.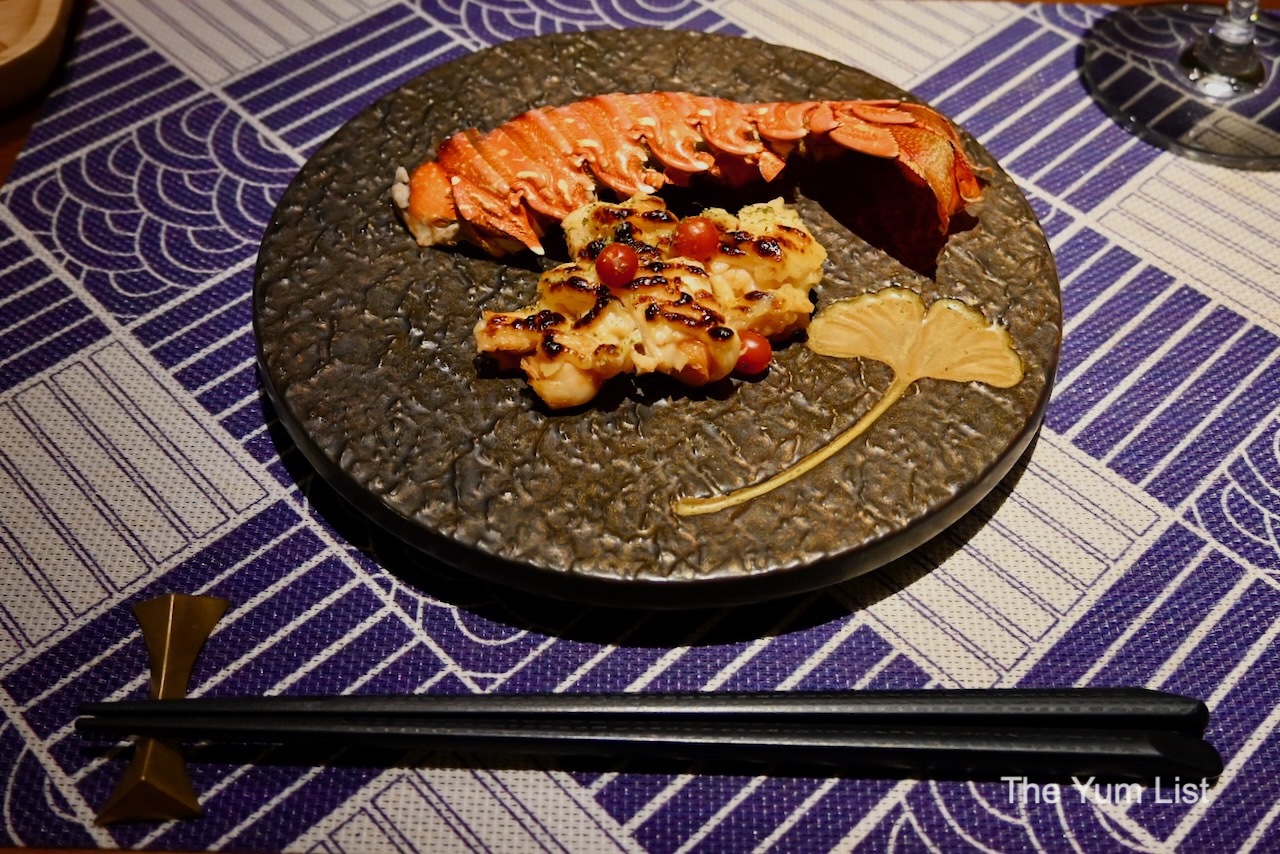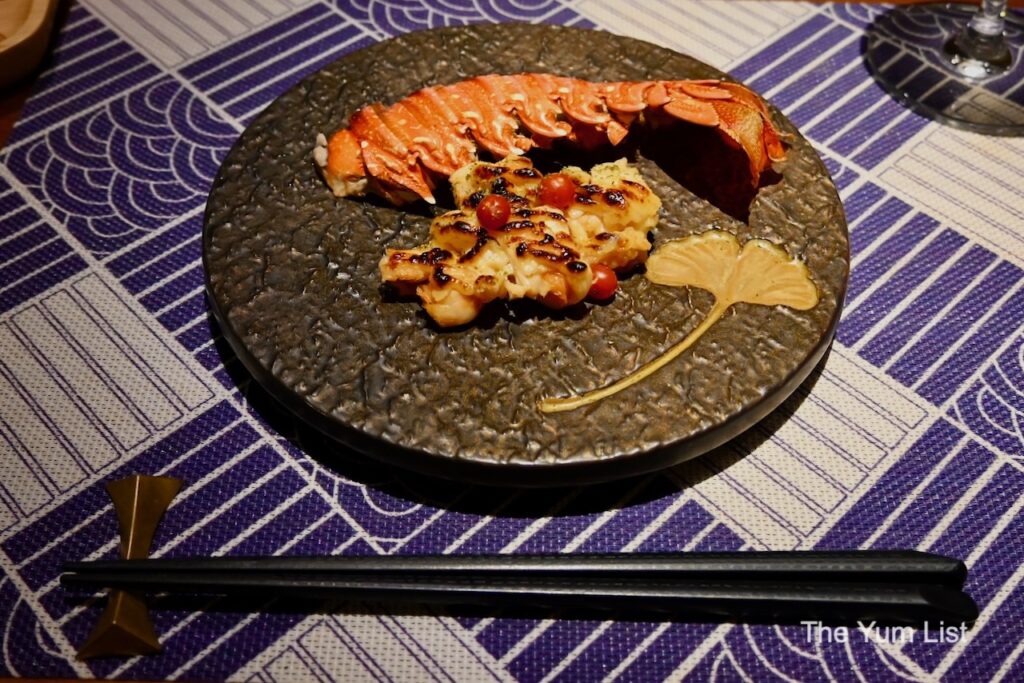 Wagyu
Detouring away from seafood, the Miyasaki A5 Wagyu Beef was the next delivery. Shaved ala minute, foie gras and truffles rained over an egg yolk tempura, which we were instructed to break first to use as a sauce for the beef. The beef was a rich red and had a buttery texture and a dense flavour which paired exceptionally well with the rest of the ingredients.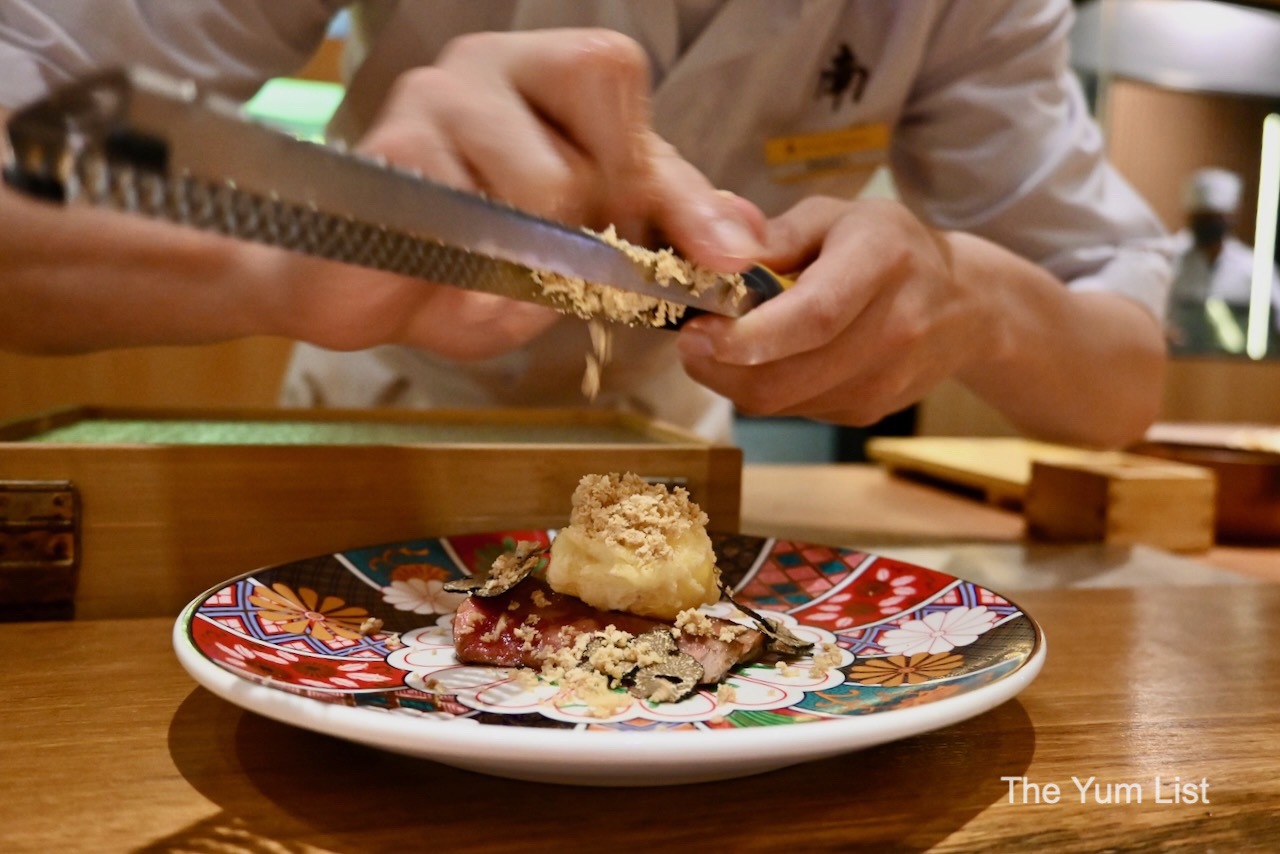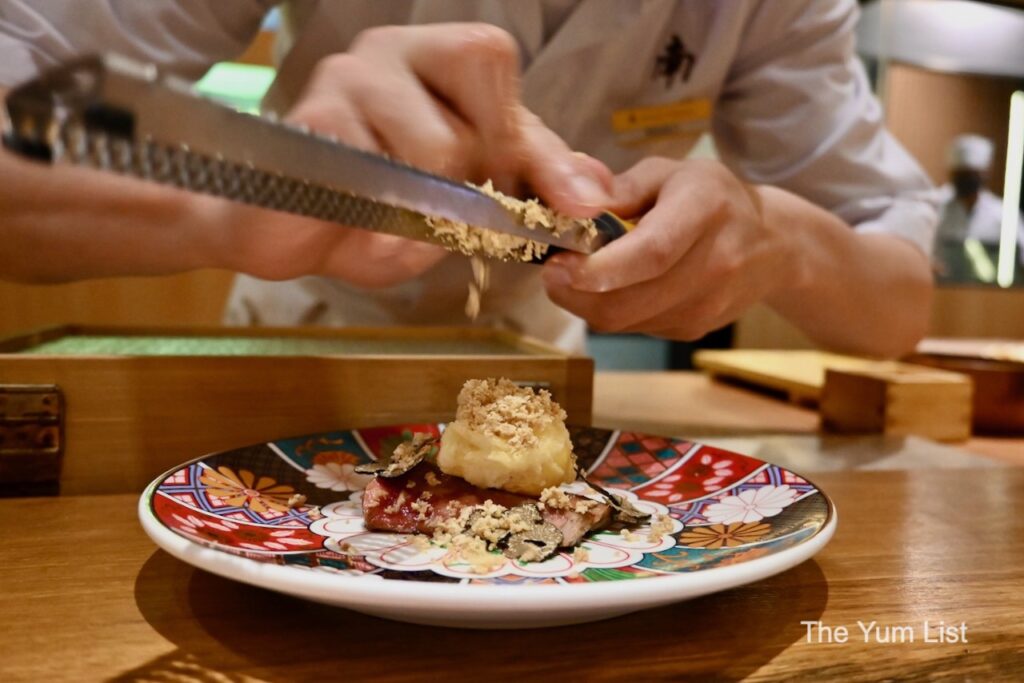 Chawanmushi
Truffle Chawanmushi, a Japanese steamed egg custard with ginkgo nuts, mushrooms and truffle, was warm and comforting.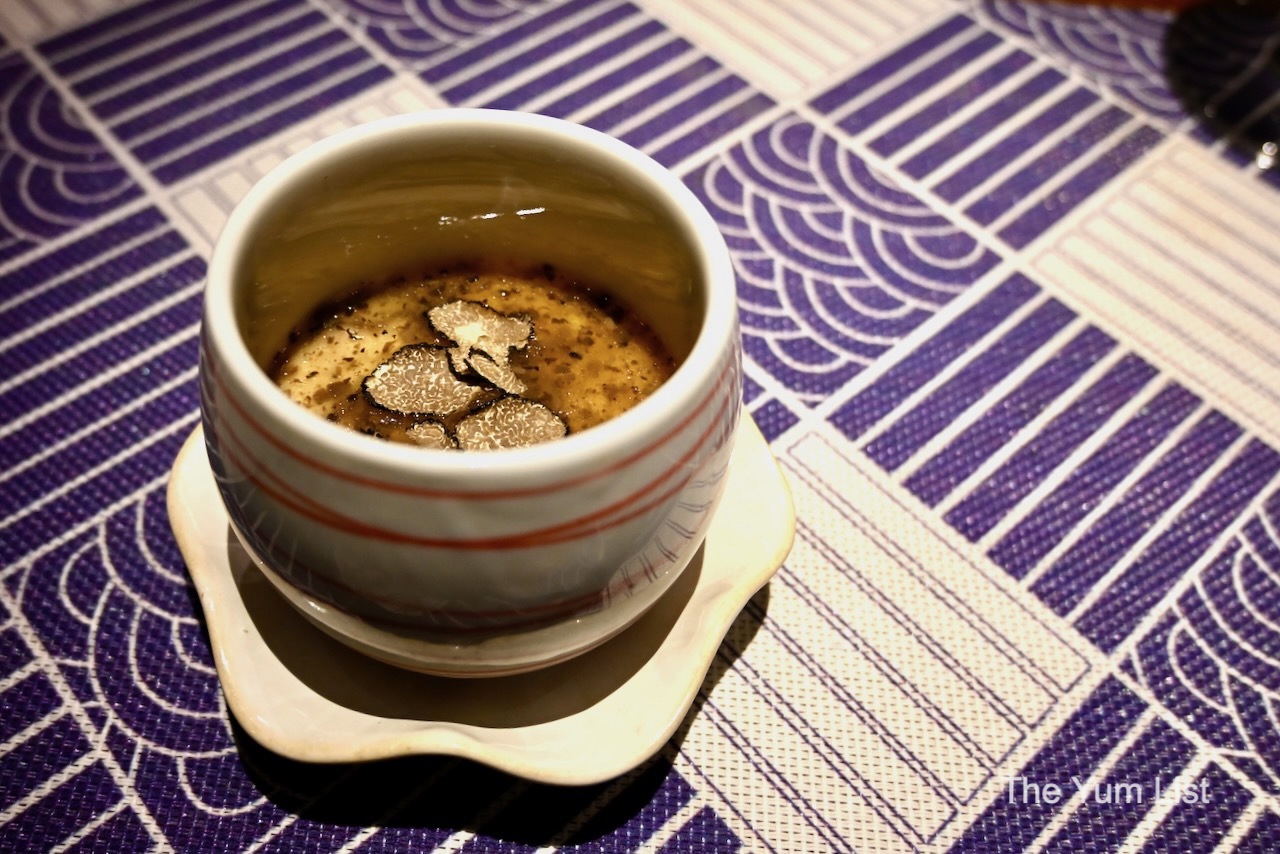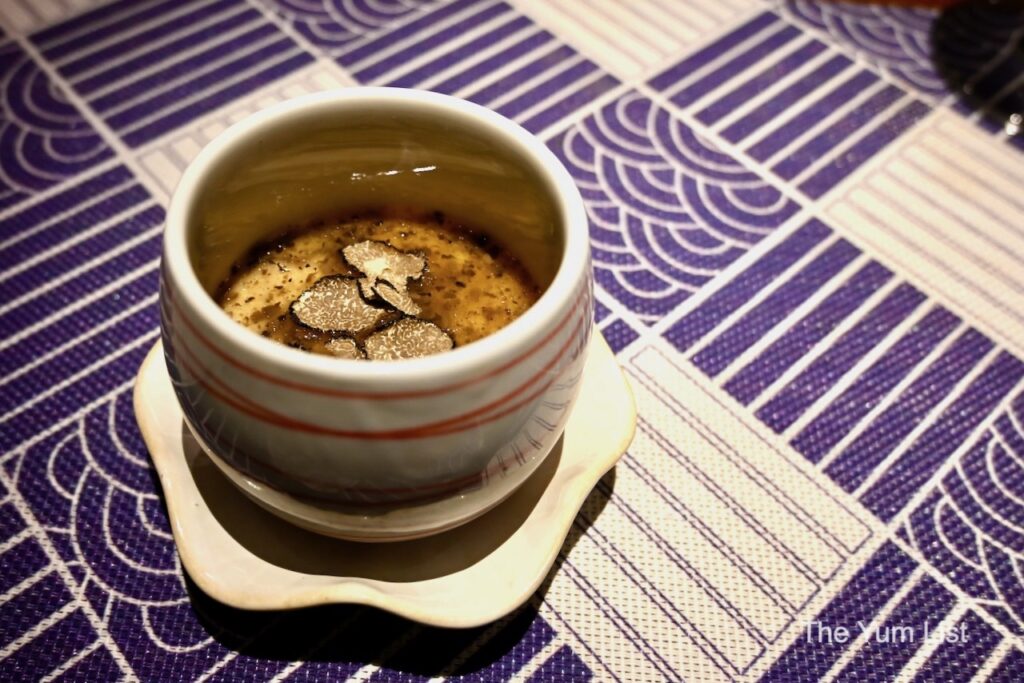 Sushi – Minami Omakase
The part I looked forward to most was the fatty sushi galore from the chef's hands straight to my mouth. It truly is an art form the way sushi is made. First came the Tai (sea bream) topped with shavings of foie gras, and then Akami, which is the flesh from along the spine of the tuna – it was lean and luscious. Next was the sweet Anago – the saltwater eel – which torched right before serving and had to be split into a few pieces to fit in our mouths. The Hotate followed, and I don't think I've ever eaten a scallop that big. Wrapped in a toasted seaweed leaf, the texture was sweet and delicate. To finish, the Uni was thick, creamy, and rich in texture with a briny taste. It had small rice balls sprinkled on top for a crunchy finish.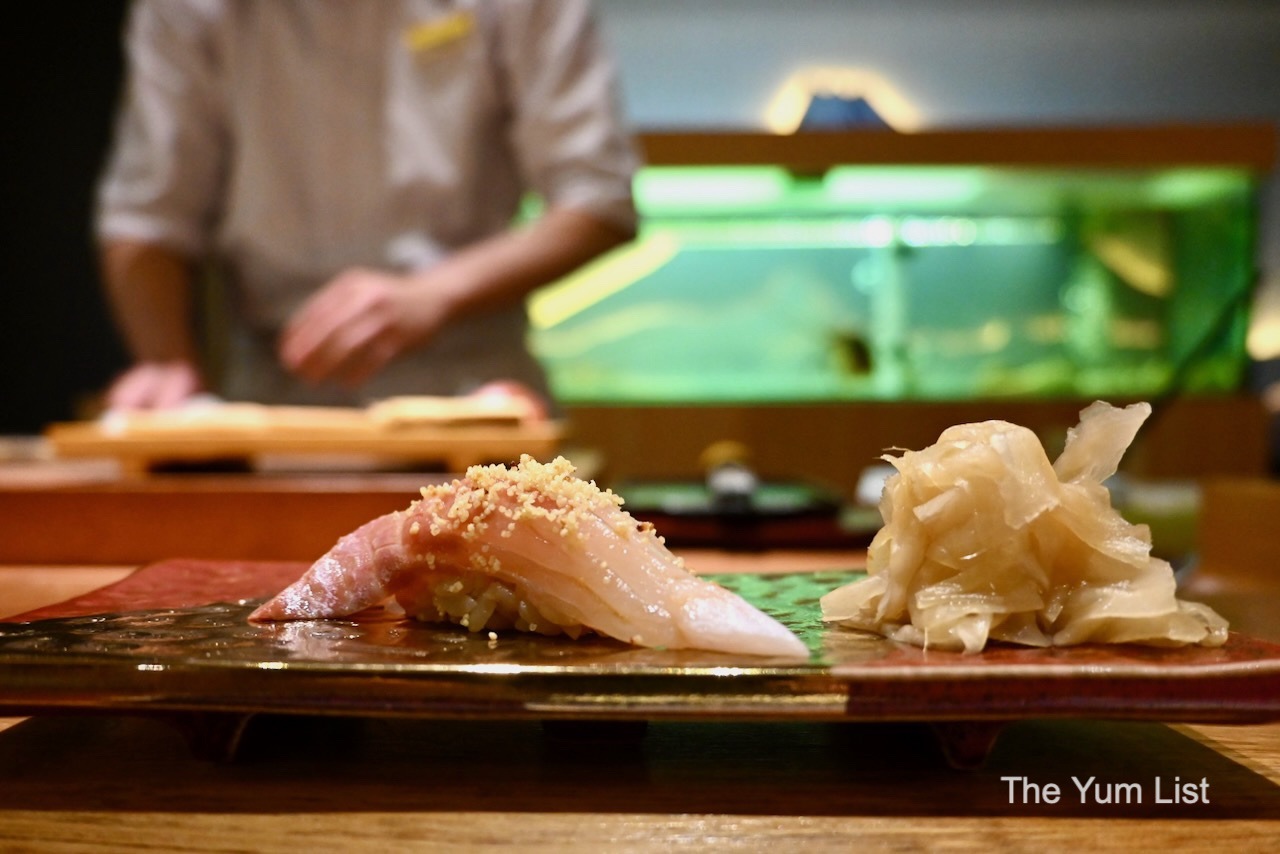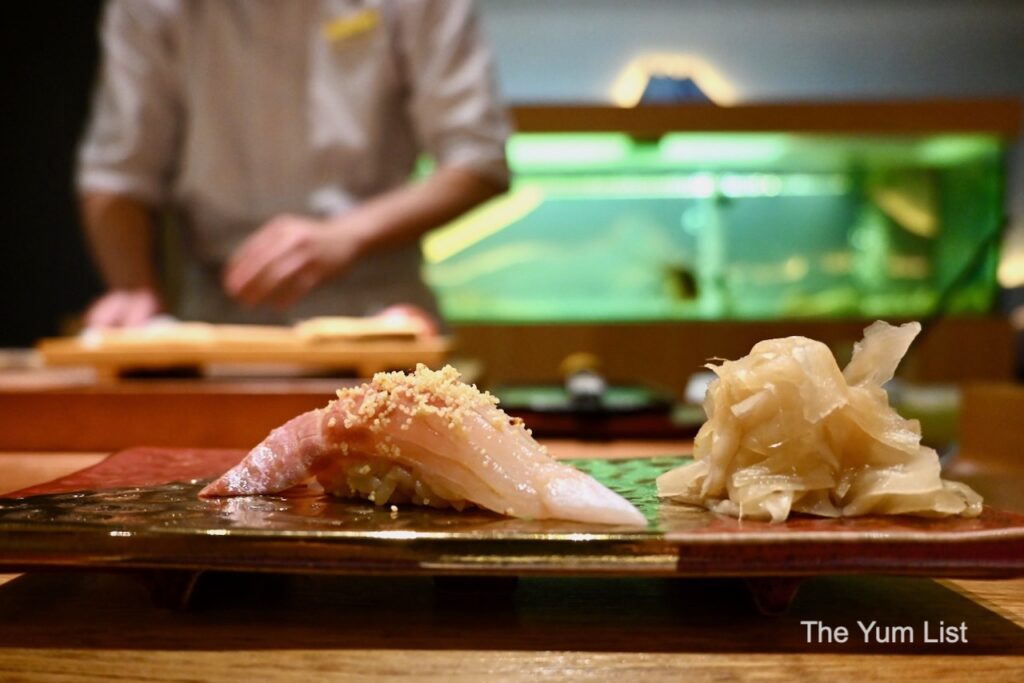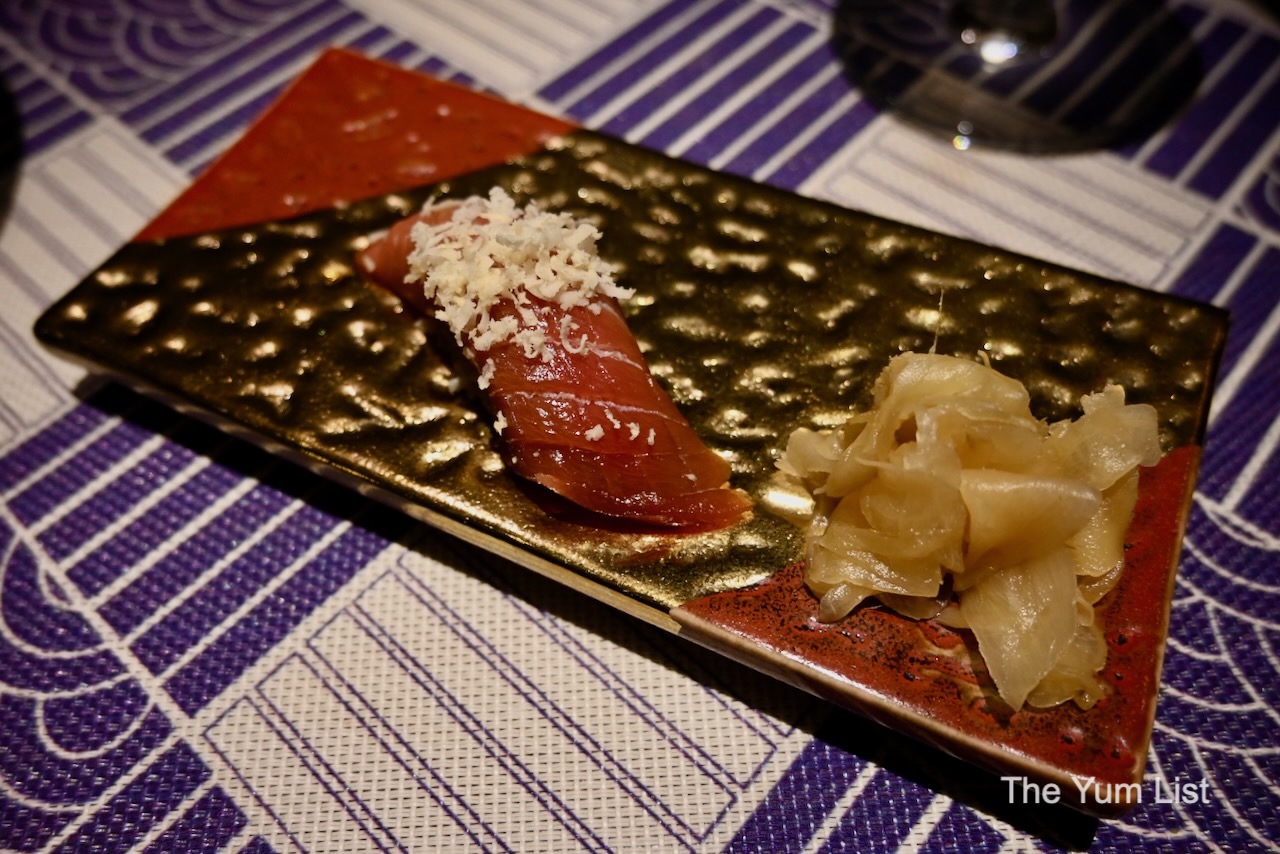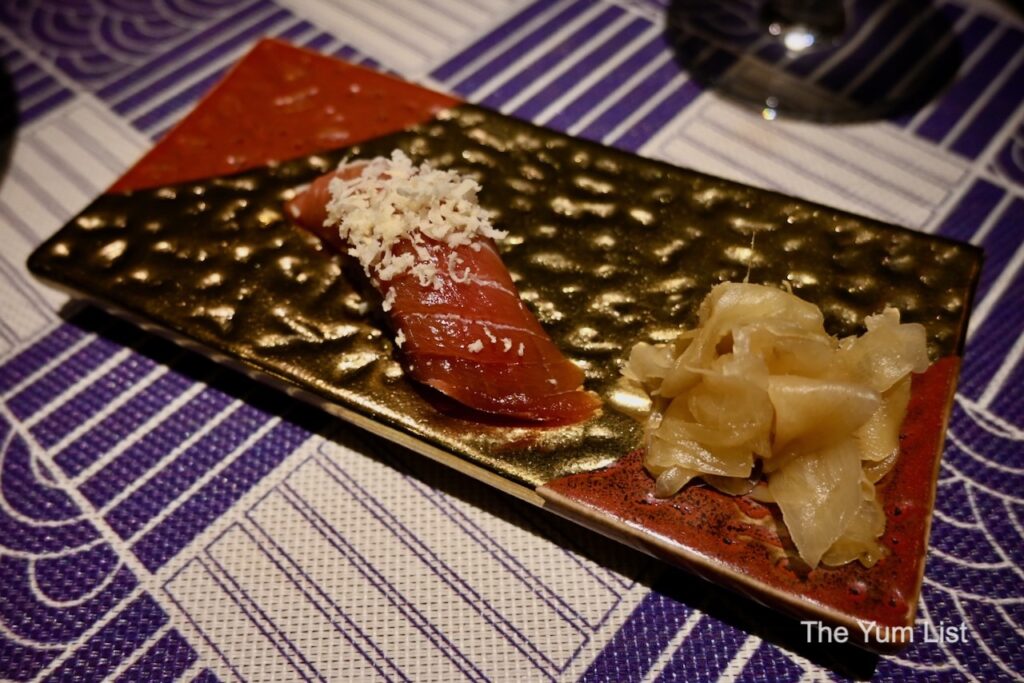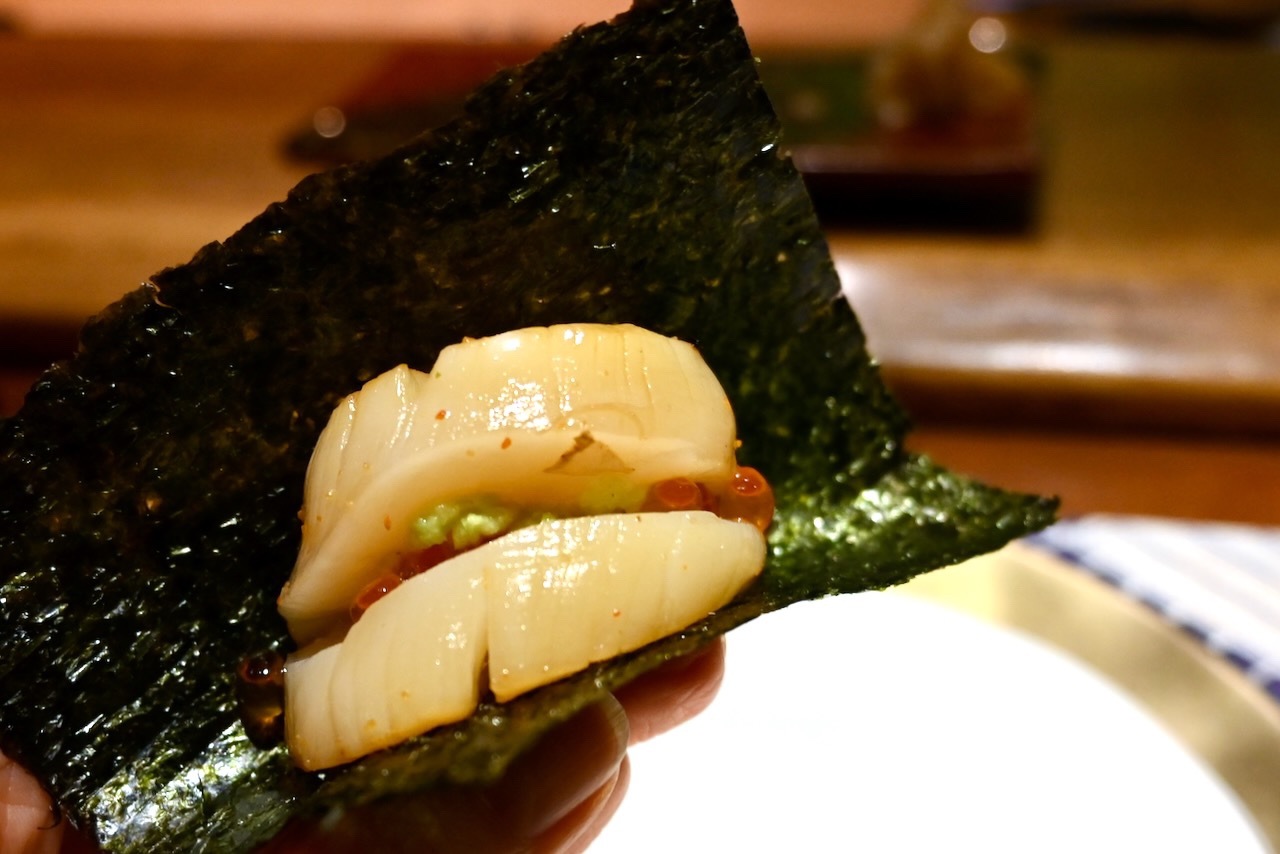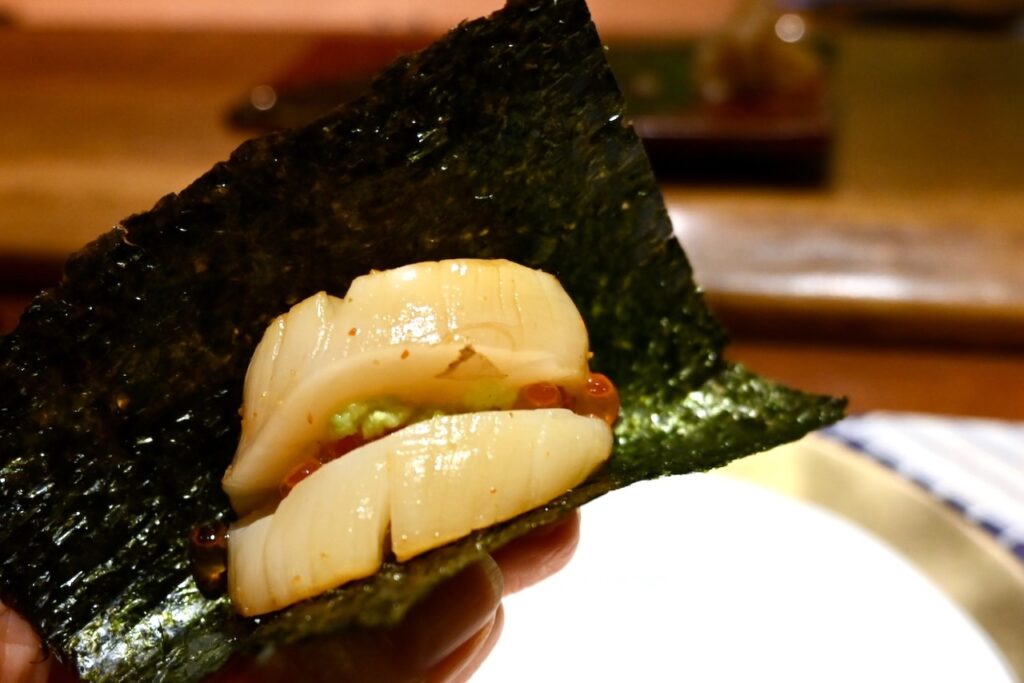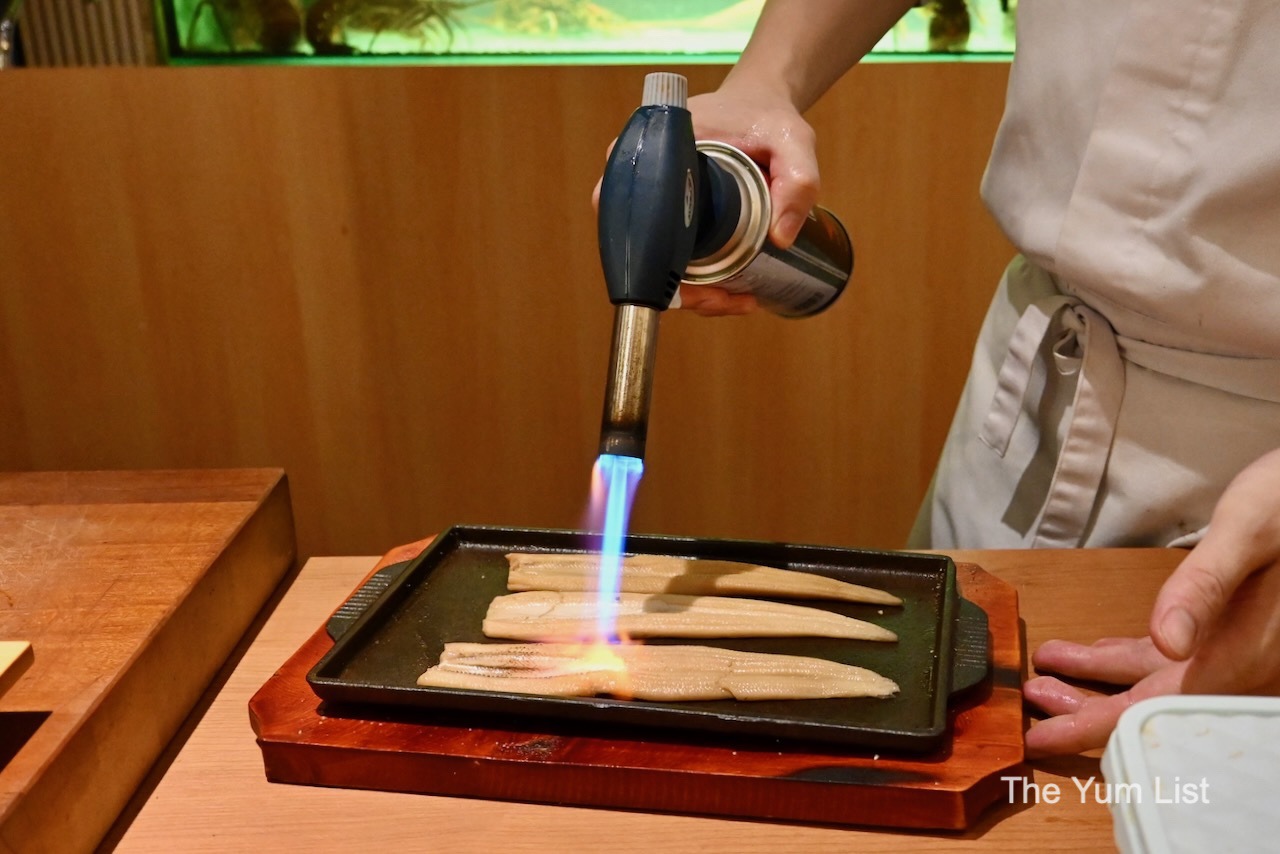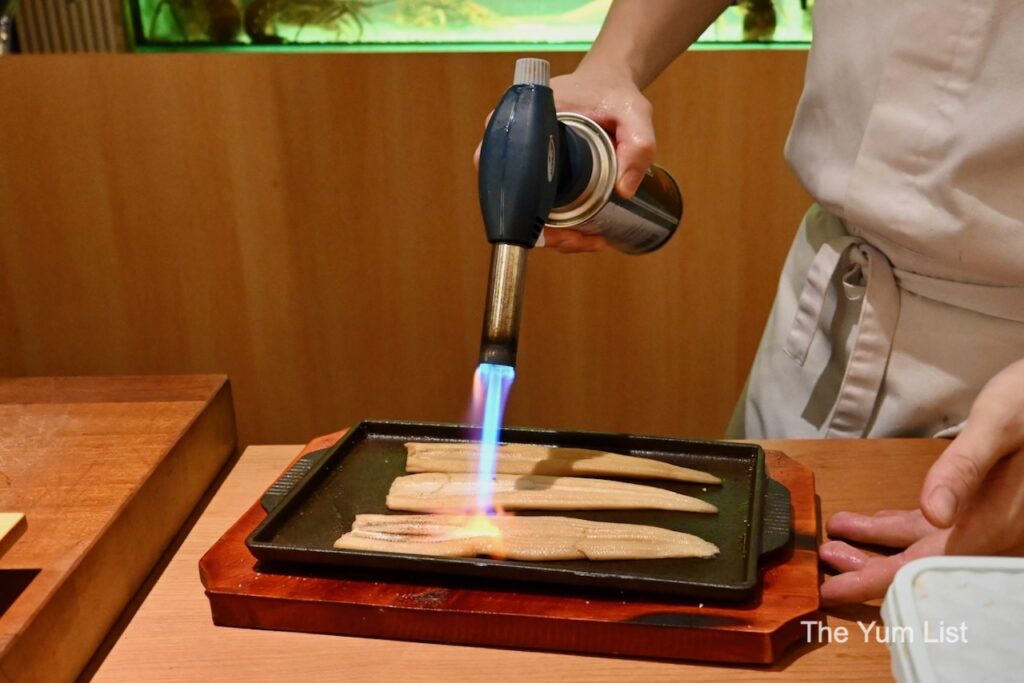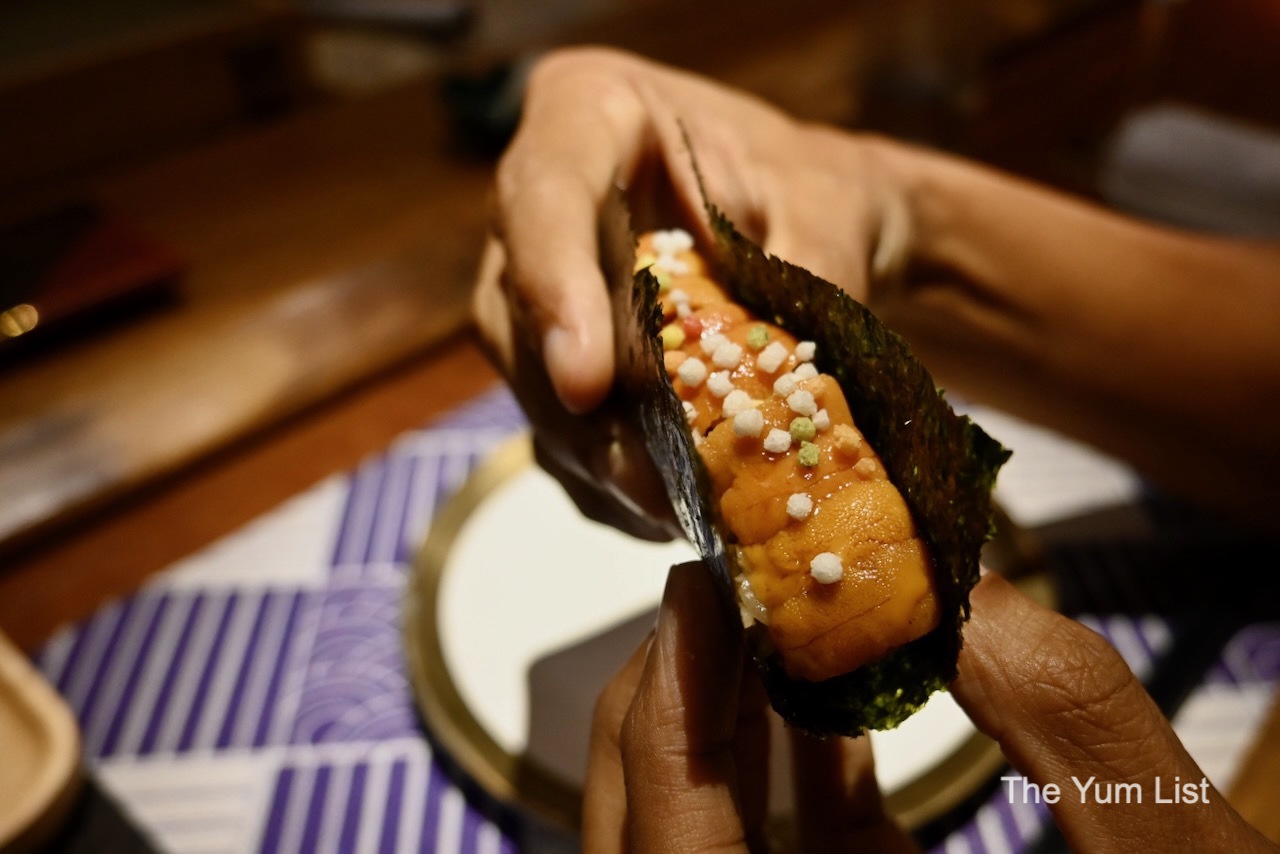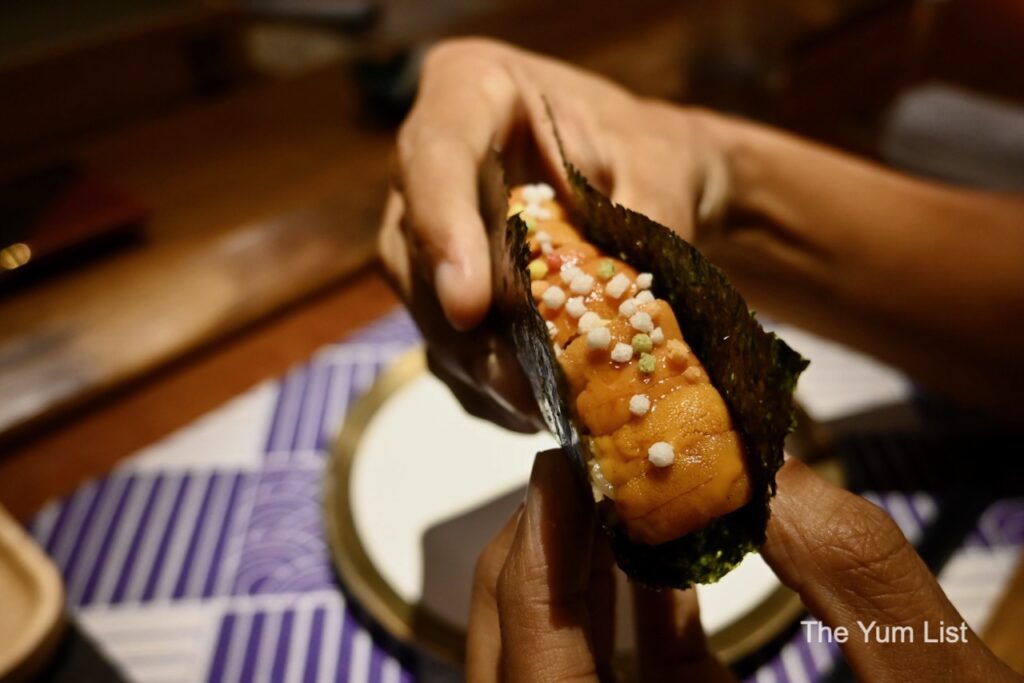 Miso
The savoury dishes ended on a wholesome note with Ebi Miso Soup. With a tiny piece of lobster in it as well. It was a great way to end such a fantastic menu.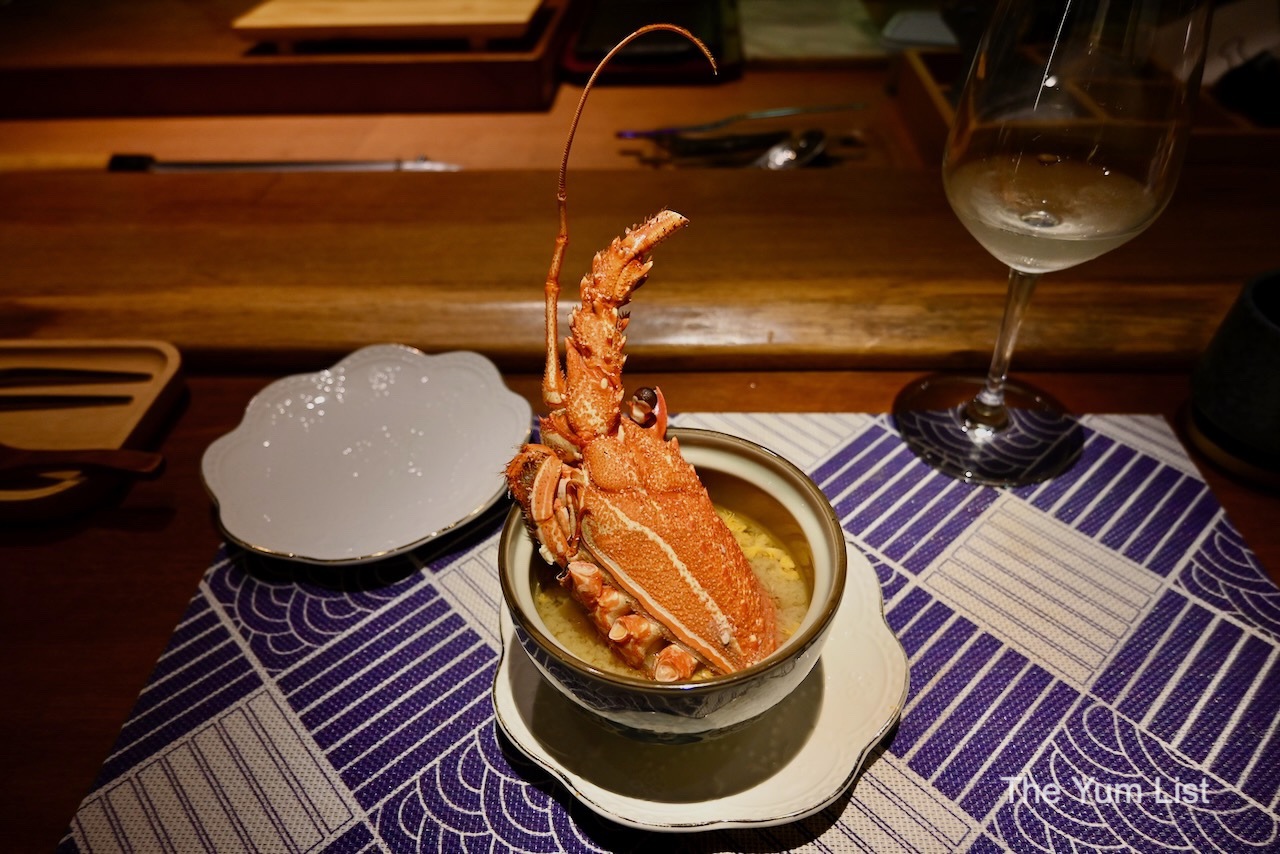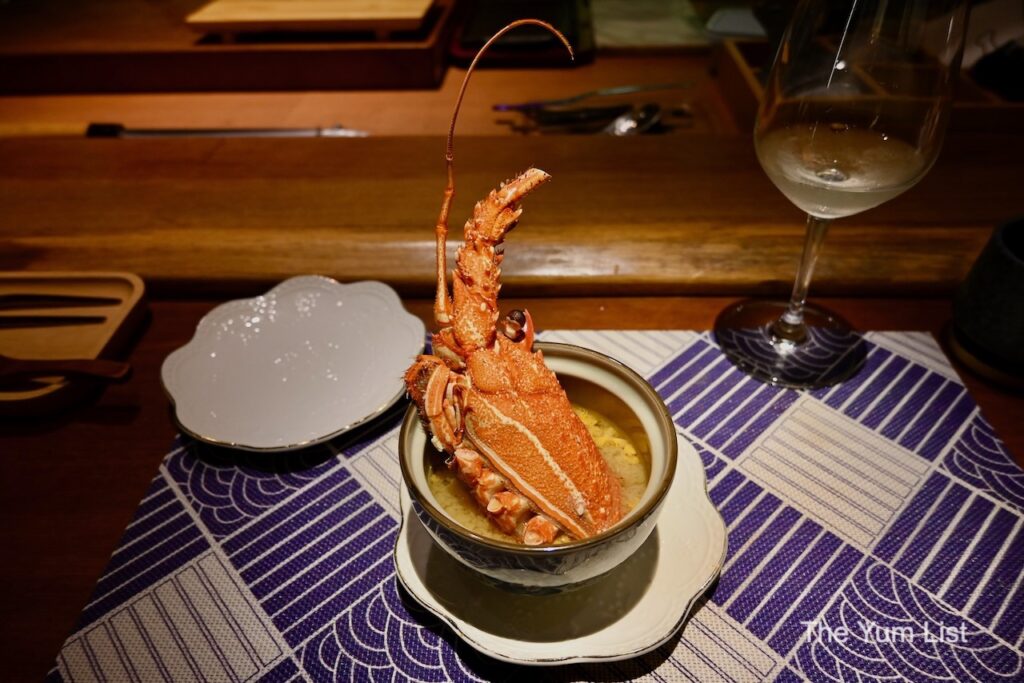 Dessert – Minami Omakase
As you might expect by now, the team at Minami Omakase do nothing without pizazz, so we knew we would be in for a mind-blowing dessert. Goodbye green tea ice cream, and hello dessert fantasy! The whimsical sweet was hugged with blue cotton candy speckled with rainbow sprinkles made right in front of us. The tower held Yuzu Ice Cream in a clam-shaped wafer, which was light and invigorating. Exceedingly juicy Japanese Muskmelon took prime place on the spire. Matcha Pudding was creamy and intensely flavoured, and our final bite, Sasa Mochi, was like a present wrapped in a leaf. Unveiling the contents, we found a translucent mochi made from sea kelp encasing the egg custard filling. If there is a mochi heaven, this is pretty close to it.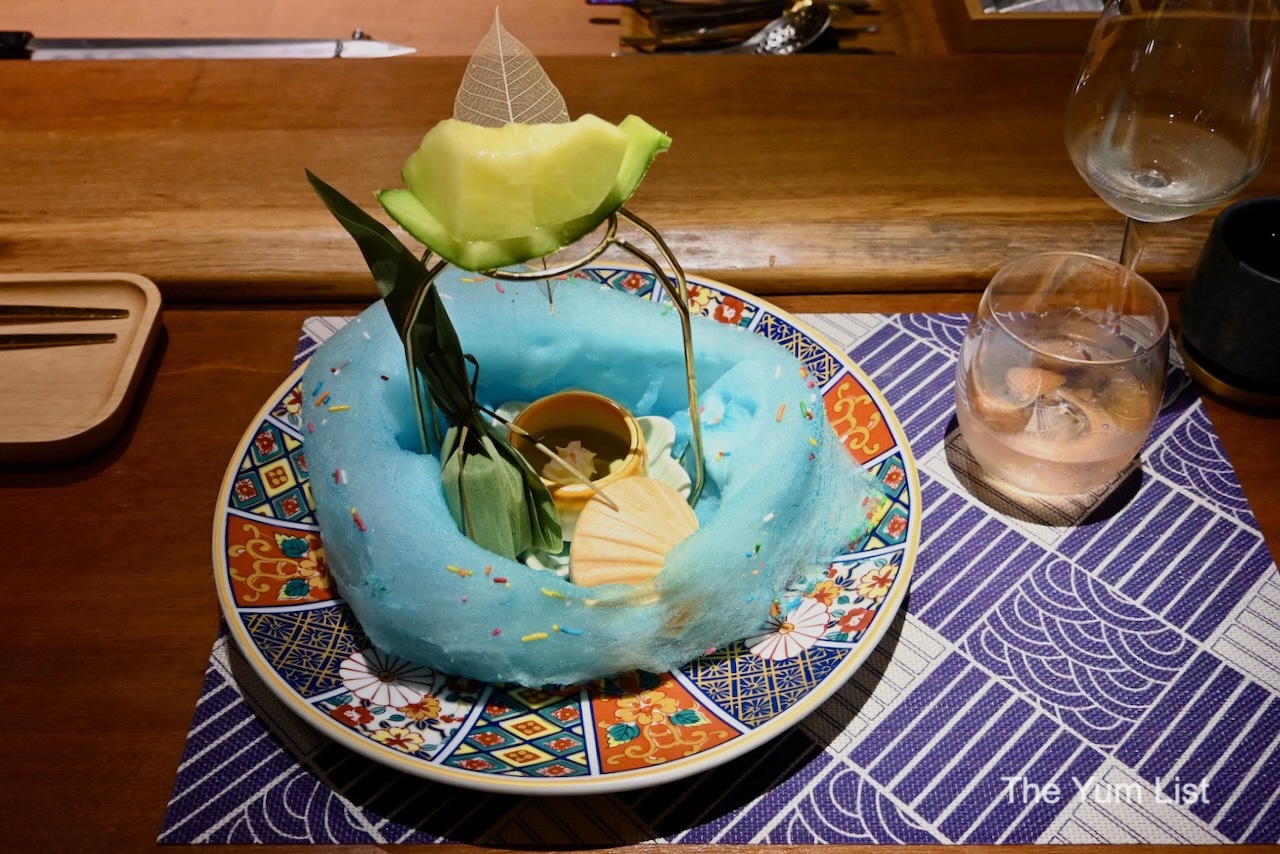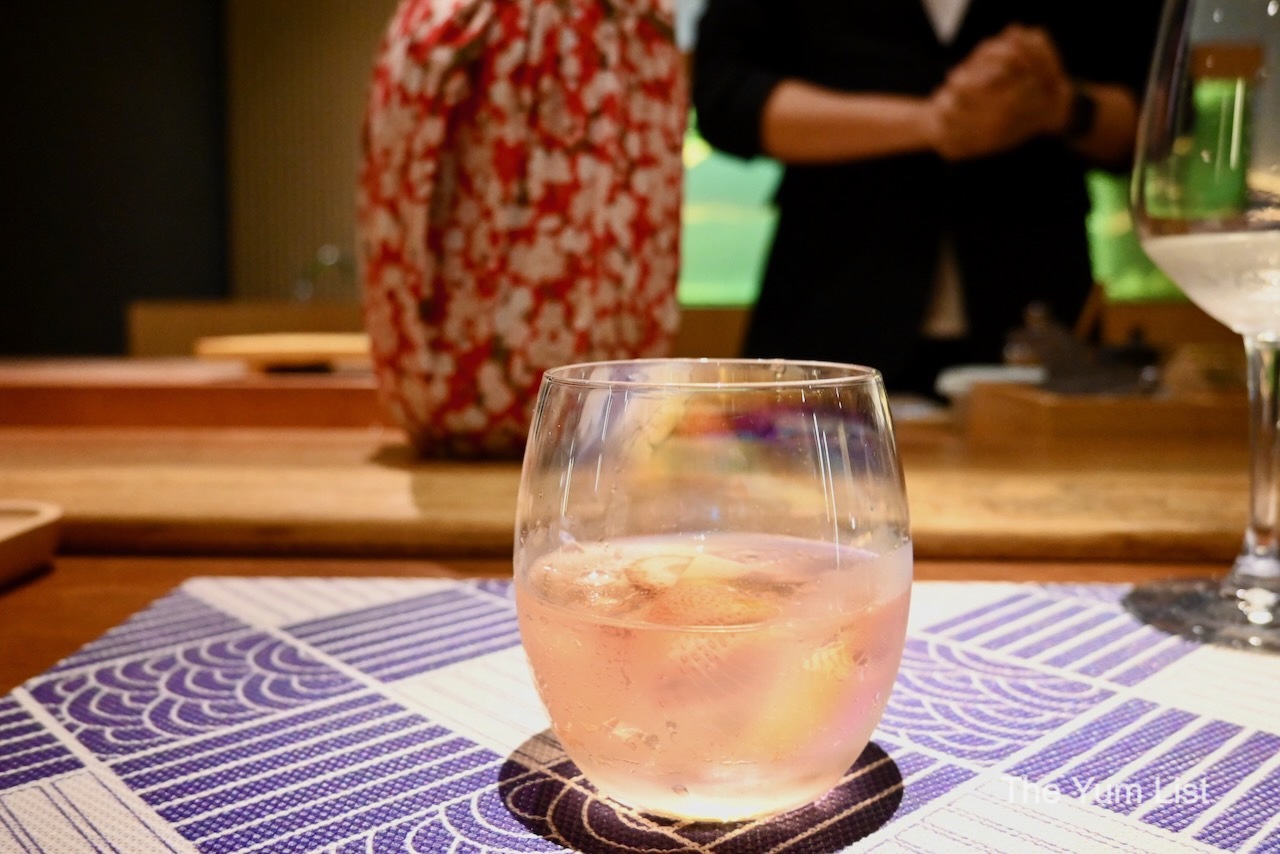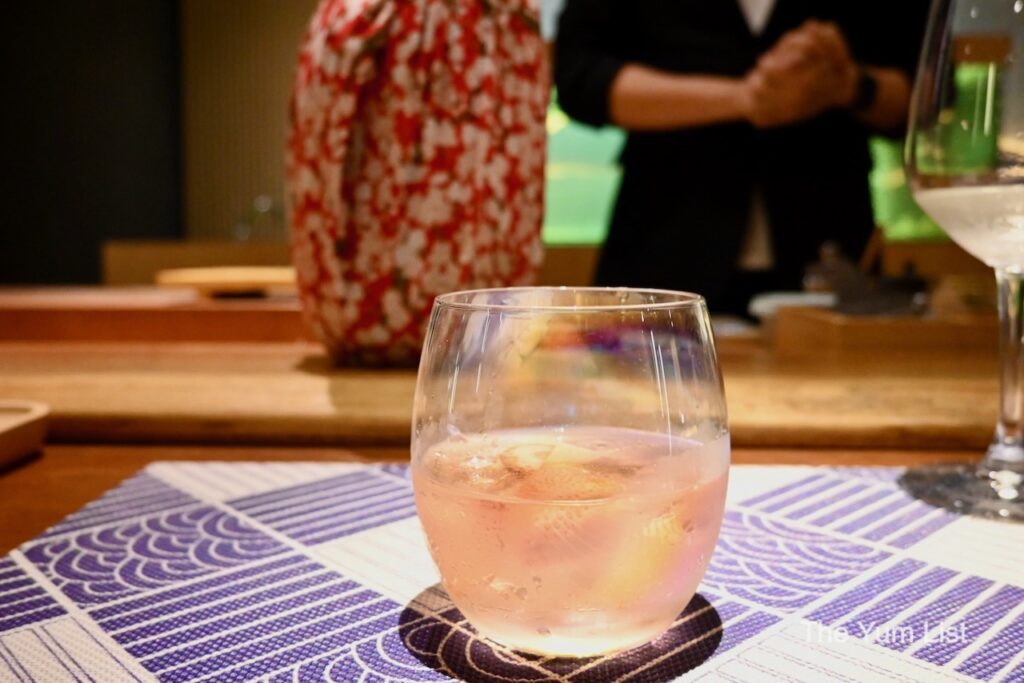 Sushi Time & Feeling Fine
So, is the Wa Minami Omakase worth RM888? Absolutely! From service to the freshness of ingredients and the sharp setting, it's an exceptional experience, all from a counter bar seat with a prime view. In addition, the chefs are friendly and happily answer questions, of which we had many.
Reasons to visit Minami Omakase: an exceptional experience with great attention paid to detail; premium ingredients that even the greatest gourmands will find intriguing; intimate setting and fresh seafood served from tank to plate.
Minami Omakase – Japanese Restaurant
H10-1, Pusat Bandar Bukit Jalil, 1, Bukit Jalil
57000 Kuala Lumpur
www.facebook.com/MinamiOmakase/
Minami Omakase Operating Hours
Tuesday to Sunday: 5:30 pm – 10 pm
Find more seafood restaurants in KL here, Japanese restaurants here,  and stay up-to-date with the latest gourmet and travel recommendations for Malaysia here and here.