Ignis KL – Woodfire Grill Restaurant
Words: Monica Tindall
Photos: Rich Callahan
If anything shows a chef's skill, it's the ability to tame a woodfire grill. Without temperature precision found in other cooking methods, the chef must know how to read the flame and the charcoal. It's a relationship that takes keen observation and a feel for the fire. The chef must be ready to adjust cooking time, airflow and proximity to the heat to achieve the desired result. While it might be one of the most challenging culinary arts to master, it also produces some of the most habit-forming outcomes – browning of the skin, a slightly caramelised crust and drool-inducing aromas. We're at Ignis KL in Bangsar South to witness all of the above.
The team at Ignis KL works hand in hand with neighbouring restaurant, The Farm Foodcraft at The Sphere in Bangsar South. Owning 28 acres of farmland in Bentong, not only are poultry and fish sourced locally but so too is an increasing amount of fruit and vegetables. And all of them, even the desserts, receive a little love from the grill in some form. Co-founder and chef, Lroy Lim, says managing the grill is skill-dependent. "You don't really control the fire; the fire controls the chef. You need to learn to play with the heat. Temperature changes with the weather, more or less humidity changes the conditions, so you have to cook by feeling, not simply following a set of directions. It's primal," he concludes.
The grill is the first thing we see upon entering Ignis KL. Custom-made by local company Tanshogrill, it's sturdy and serious in appearance. A long bar with padded stools gets guests so close to the flame that we can feel the warmth coming off the charcoal. A mix of local mangrove and rambutan woods supply the smoke, and charcoal maintains the heat.
Further beyond the barbecue, there's a glass-walled bar looking onto extensive greenery, an area with dining tables, and also an alfresco patio bordered with walls of herbs used in the kitchen. Clothed in wood, stone and untreated metal, there's a definite industrial overlay to the design, and the soft rock playlist fits perfectly with the vibe.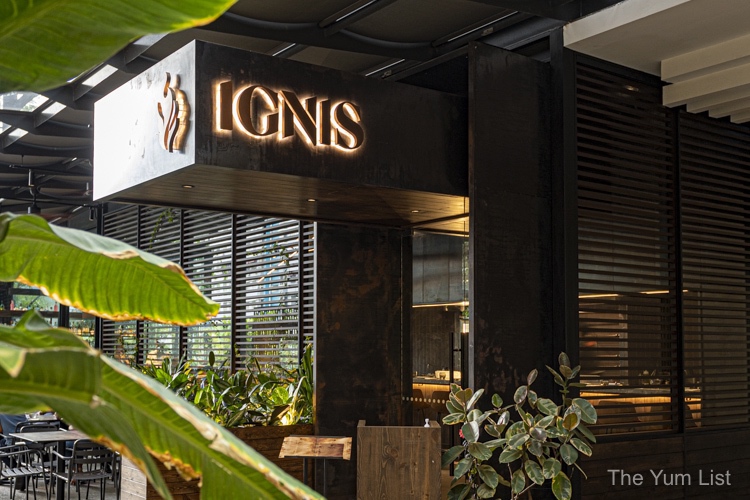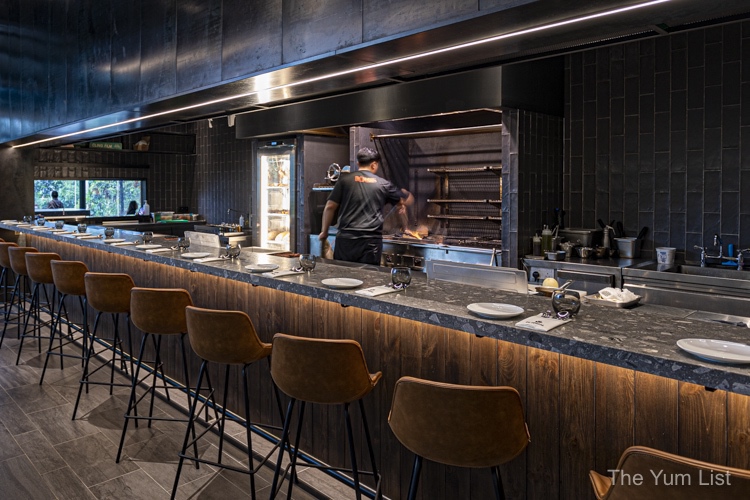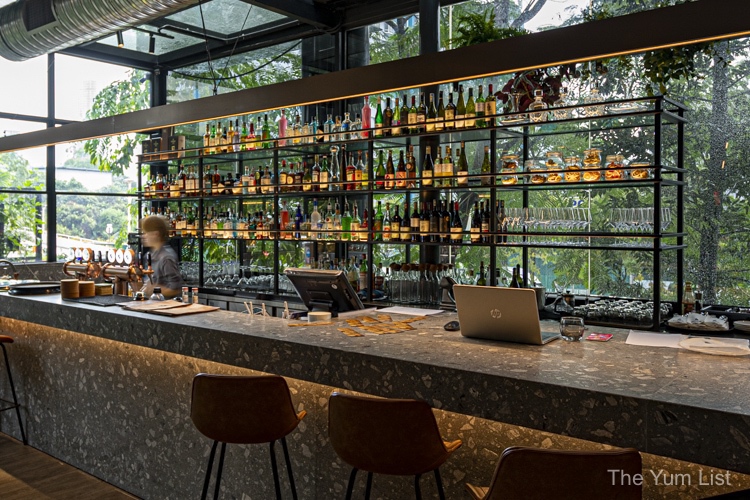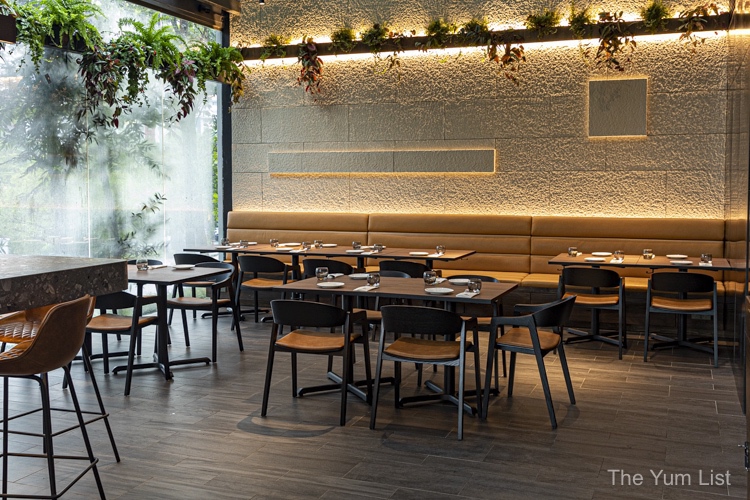 Ignis KL Menu – Woodfire Grill Restaurant
Chef-partner Lroy Lim and head chef Desmond Chong have designed recipes that bring fresh produce from Bentong, Pahang, to the table in an Asian-inspired, but Modern European menu.
Farm
With a strong farm-to-table concept, you'd expect a decent selection of plant-forward recipes to be present, and the team delivers. Beetroot (RM 22) is an impressive start. Two whole beets have been hollowed out and refilled with their own flesh mixed with horseradish, parmesan, quinoa and lime juice that's been slow-cooked overnight in charcoal. Earthy, nutty and creamy, the portion is generous and easily shared between two.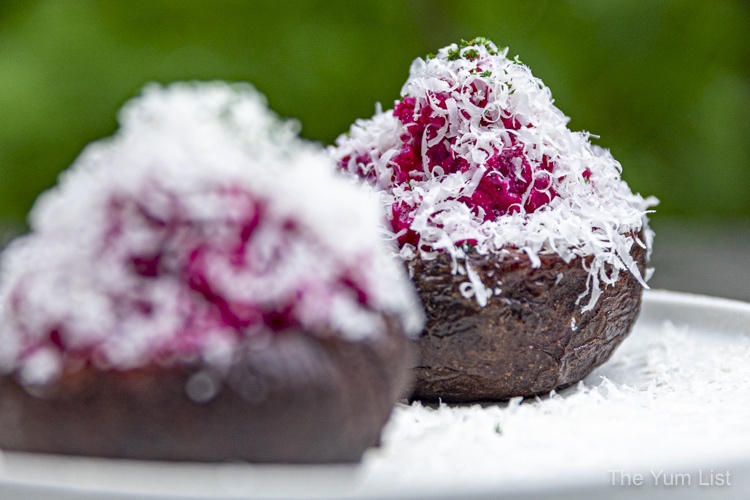 We're excited to dine on another veggie dish and are so taken by the sweet, juicy tenderness of the Chitose Corn (RM 36) we bet it could be eaten raw. Chef confirms that the Japanese breed grown in Cameron Highlands is only gently touched by the heat so as to preserve its character. It's lightly charred with shio kombu butter and a citrus sauce, sprinkled with chives and togarashi (Japanese chilli flakes). There's sweetness, spice, acidity, and fattiness in every bite.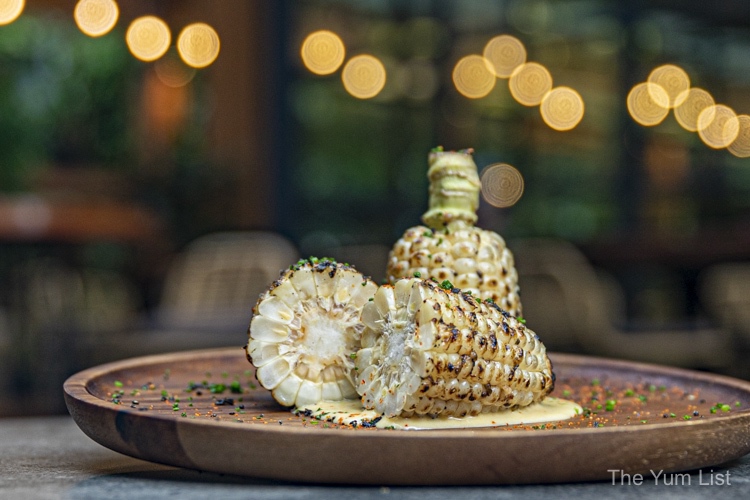 Luck comes in threes, and we're again delighted with another plant-forward pick, Cauliflower (RM 24). The white florets have been dipped in butter, sprinkled with ras el hanout spice and then charred. Caesar dressing with anchovies and parmesan works well with the cauliflower adding savoury, umami flavours.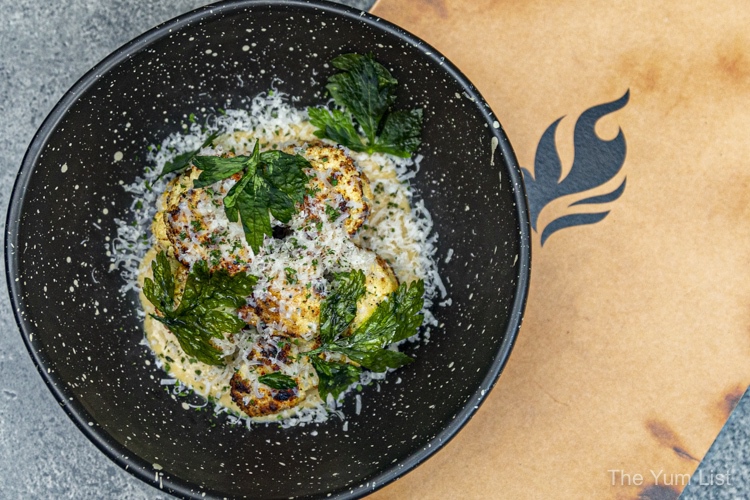 Sea
From the sea, Red Snapper (RM 90) hides under a tumble of local leaves – ulam raja and daun selom. Sambal crumble, made with chilli and toasted bread crumbs, adds a spicy crunch to the soft, flaky fish. Grated orange rind gifts the necessary citrus, and there's an addictive ginger flower sauce that reminds me of laksa.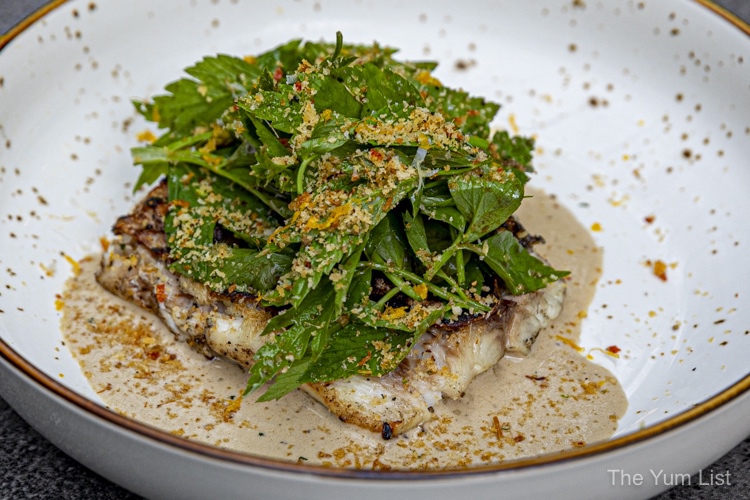 Clams (RM 64) from Sabah range from moon to pearl and other varieties too. Today huge pearl clams are in season, and their meatiness is wonderfully complemented by grilled fennel and a creamy beef chorizo sauce. It's the little things that can make or break a recipe, and, in this case, pieces of fried beef chorizo are the winning topper.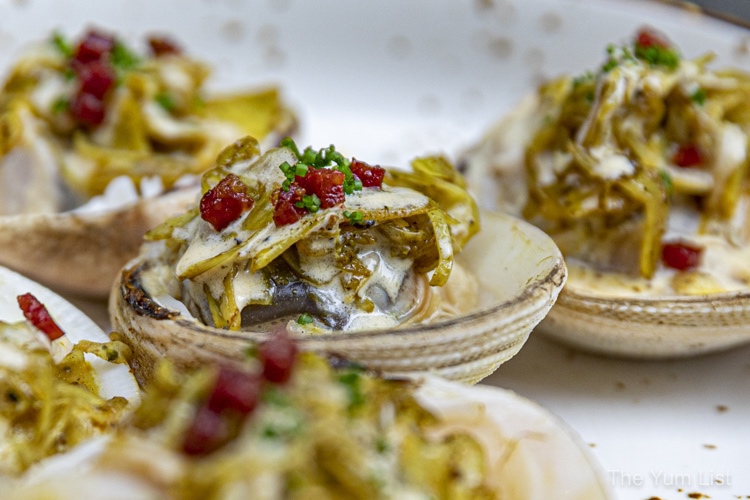 Land
If you're a steak lover, you absolutely must try the Beef Flatiron (RM 94). It comes from the shoulder with the connective tissue removed, producing a cut that is evenly thick with moderate marbling. It's both tender and flavourful, does particularly well on the grill and is great with a light marinade. At Ignis KL, the chefs have perfected the technique, and the chaperoning complements of caramelised onion puree and watercress salad with blueberry dressing are delicious.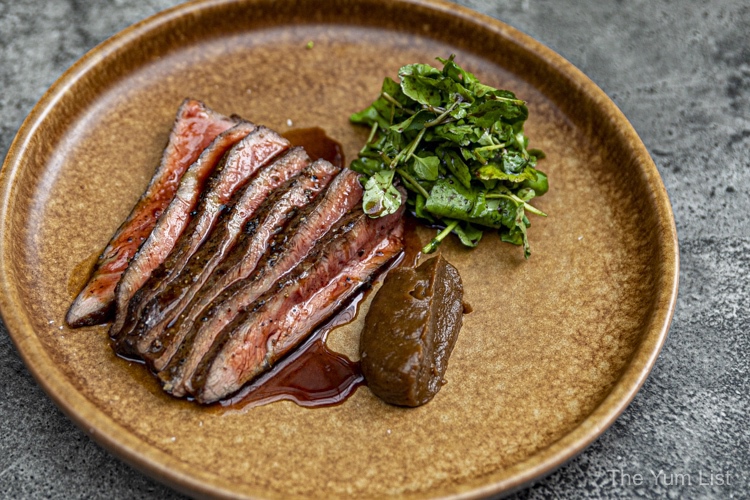 Sweets
The mood of the grill changes with Viyern, the pastry chef, taking the reins, and tuning the fire for a sweet finish. Grilled Pineapple (RM 28) comes over a rectangle of toasted brioche French toast with passionfruit mousse and coconut sorbet.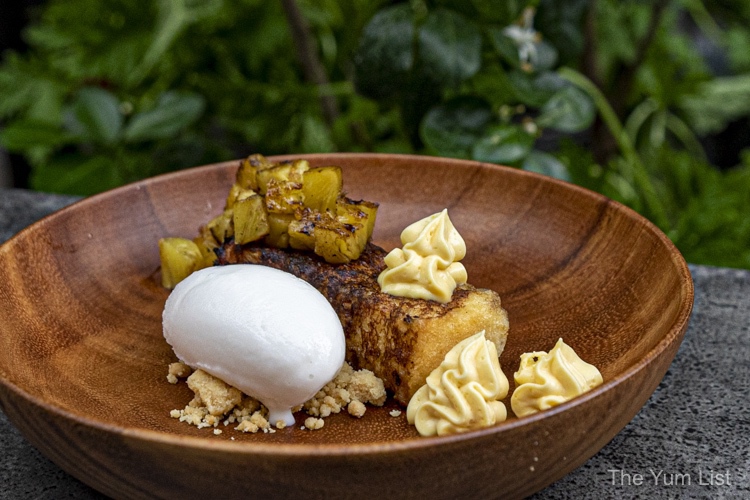 Next, the team's take on a classic north American dessert, S'mores (RM 8 piece), makes perfect sense for the setting. Traditionally toasted over a campfire, S'mores (as in, give me 'some more') are simply chocolate and marshmallow between Graham Crackers. Of course, the team have given it a gourmet upscaling with the use of Altara dark chocolate and house-made orange marshmallow.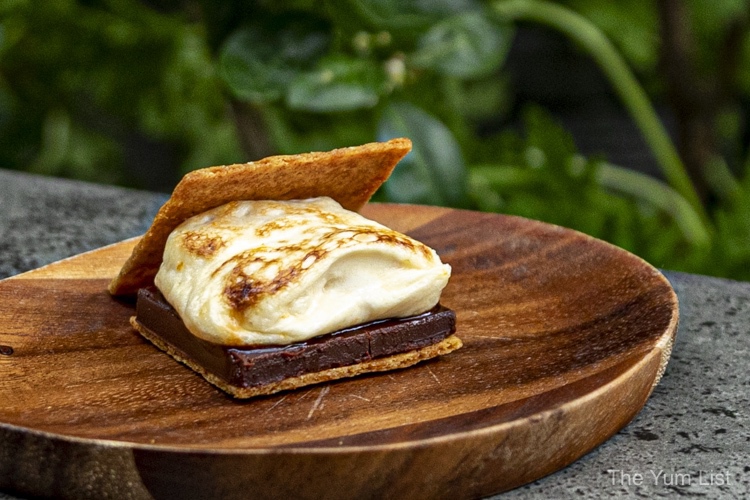 Lastly, we can't resist trying the "reverse cheeseboard," Grapes (RM 32). The grapes are rolled in honey butter before grilling and partnered with Parmesan biscuits and yoghurt dip. They certainly make us stop and think a bit. I think I need a glass of wine, don't I?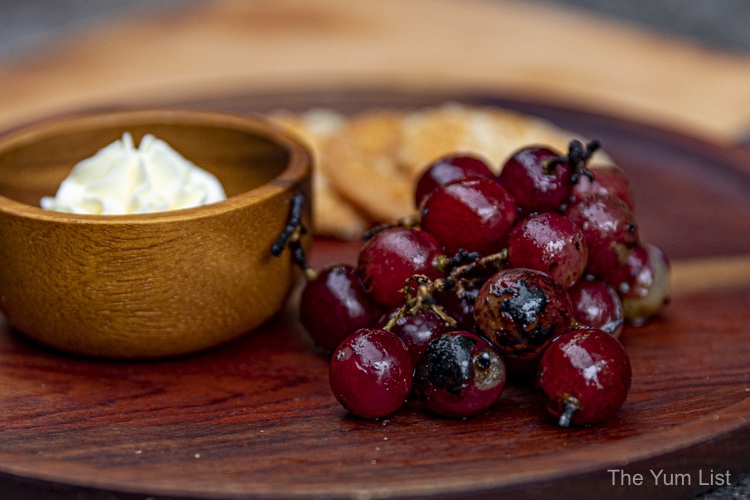 Drinks Menu Ignis KL
Besides tea, coffee, juice, soft drink and mocktails, Ignis KL has a solid selection of spirits, wine, sake, beer and cocktails. The wine list is a compact one-pager starting at RM 168 for a bottle of Bodega Garzon Estate Viognier and going up to RM 650 for Taittinger Prestige Rose. Two reds and whites are offered by the glass, with both an entry-level and something a little fancier available. The drink list is wide enough for the average drinker to not need to consider bringing your own. However, if you have something special that you'd like to pair with the delicious menu, wine corkage will set you back RM 80 per bottle and hard liquor RM 150 per bottle.
We test the skills of the liquid chefs, head bartender – Bob, and senior bartender – Wen Shan, with a trio of cocktails. Blue Pea Gin (RM 42) is both a pretty and tasty blend of Roku gin, kombucha, lemon and simple syrup garnished with a sprinkle of a rainbow of petals on top. I love the sharp, tart finish. Pretty Honeydew Melon (RM 42) is fresh pale green with a white foamy cap. A purple flower breaks the white, and a trail of rose petals adorns the side of the glass. Midori, Chartreuse, Cointreau, melon and lime juice are not as sweet as you might think – I take more than a sip. Making a good digestive, or even great with steak, the Grill Manhattan (RM 46) is poured over a sphere of ice. Wild Turkey, Laphroaig, Vermouth, and Demerara complement the smokiness of the grill.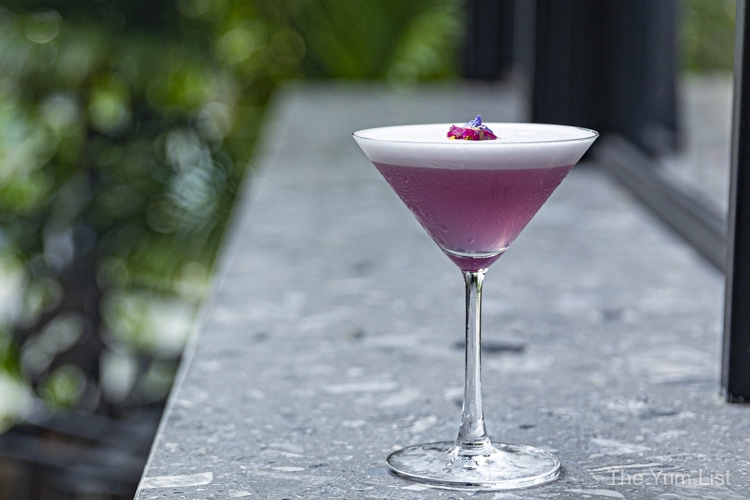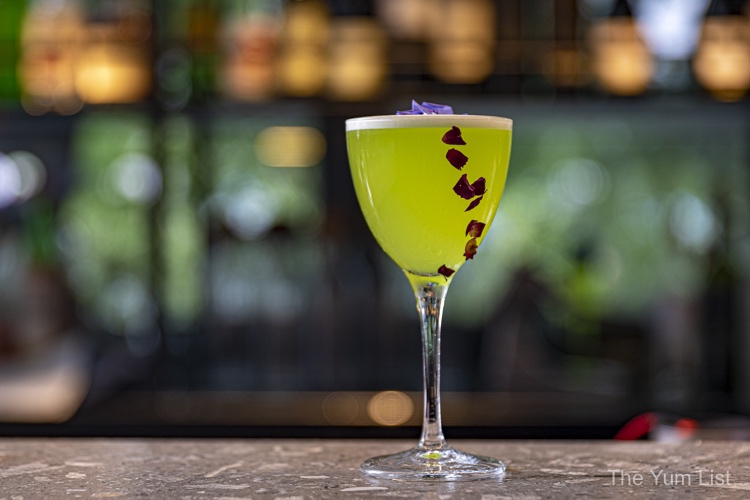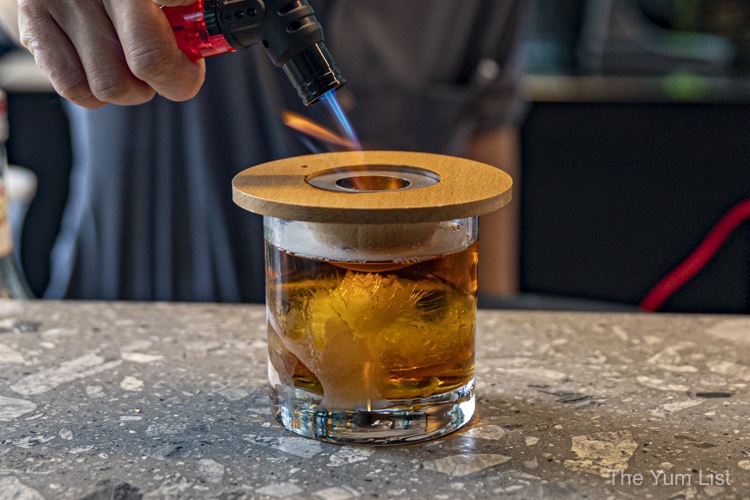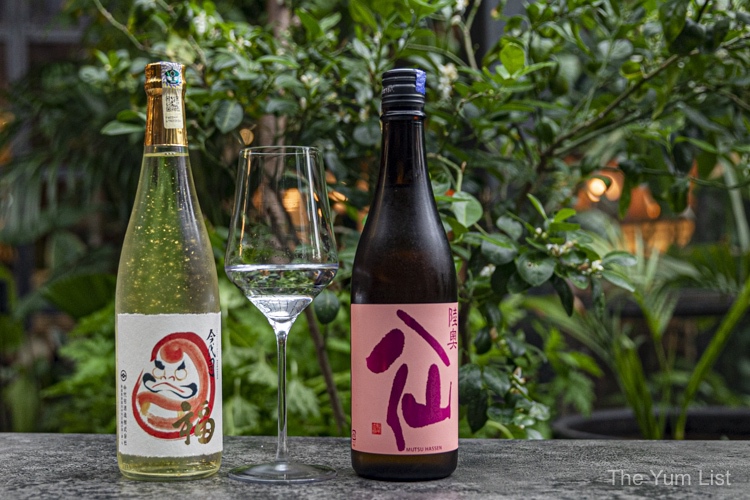 Ignis KL Review
We loved our meal and the whole experience at Ignis KL. The setting is relaxed and approachable, the food is tasty and something a little different, and the drinks menu is an excellent complement.
Reasons to visit Ignis: KL welcoming setting surrounded by greenery; attractive industrial design; excellent grill concept – must try the veg dishes, the flat iron steak and indulge in a tipple or two.
Ignis KL – Woodfire Grill Restaurant
G-02A, Ground Level, The Sphere, No. 1, Avenue 1
Bangsar South City, 8, Jalan Kerinchi
59200 Kuala Lumpur, Malaysia
[email protected]
+60123439566
Instagram: @ignis_kl
Private Dining Room Reservation Policy: Exclusive use of Chef Table facing open kitchen is available for up to 18 persons. A minimum spending of RM2,500 (for lunch service) / RM5000 (for dinner service) is required.
Ignis KL Opening Hours
Sunday to Thursday: 11.30 am – 10 pm (Kitchen closed 3 – 6 pm, but drinks still available)
Friday & Saturday: 11.30 am to 12 pm
Find more of our favourite restaurants and bars here and stay up-to-date on the latest gourmet and travel happenings around Malaysia here and here.