Freshest Seafood in KL – Southern Rock Bangsar
Words: Margaret Cheng
Photos: Monica Tindall
Situated in a quiet foodie street in Bangsar, I immediately felt at home and hungry at Southern Rock Seafood. It has an appealing laid-back vibe that signals an eatery that is all about food and good times in an attractive yet relaxed setting. In fact, Southern Rock Seafood is so serious about quality and the provenance of food that they have their own fishmongery. Directly importing live and chilled seafood from around the world and Malaysia, they have some of the best value and freshest seafood available in KL.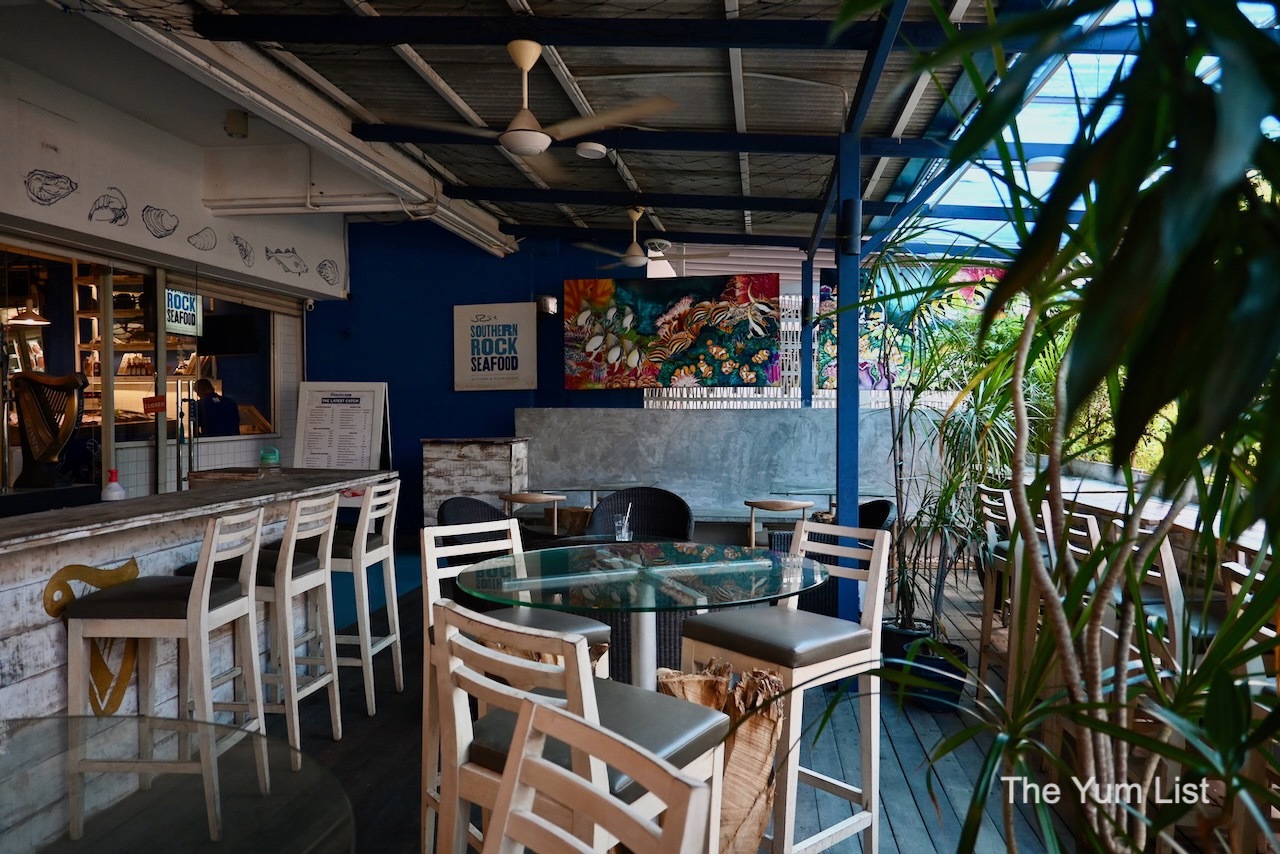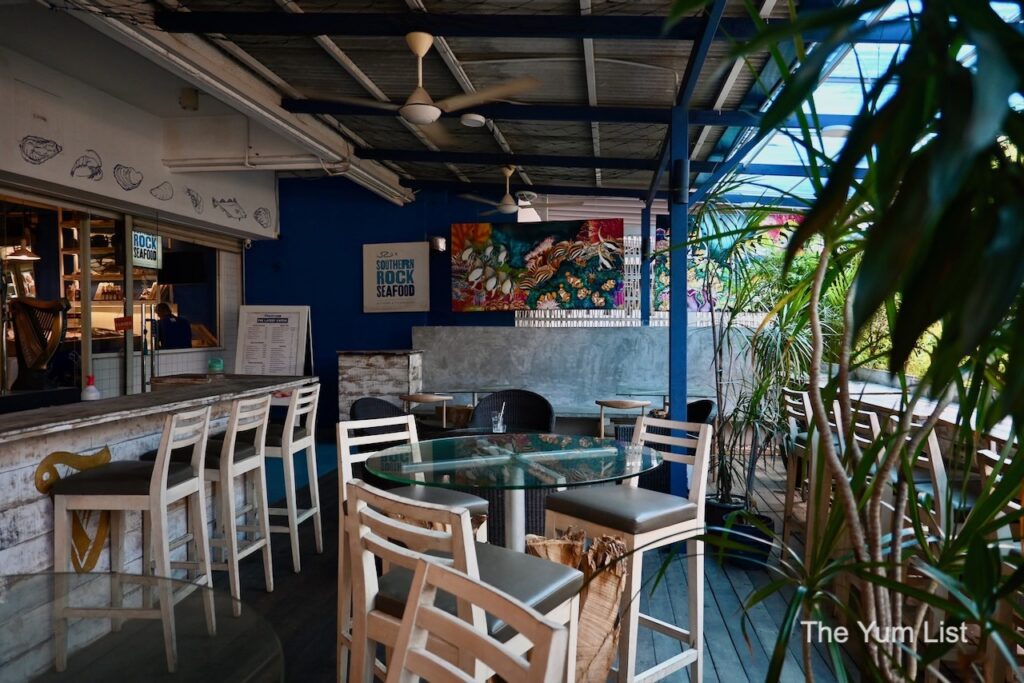 Southern Rock Bangsar
The outdoor courtyard is a spacious leafy oasis offering privacy and ample seating, an appealing plus as the pandemic lingers on. Service is attentive and fast, and there is an alfresco bar for busy times and special events. The space creates a welcoming entry to the restaurant.
Inside, there are two connected rooms. Simple white walls, wooden furniture and aqua-blue accents combine to make the space feel like a charming seaside restaurant. The cane lampshades are a beautiful touch reminiscent of traditional fishing baskets. Each side of the restaurant has a visual centrepiece. I had a glorious view of the oyster bar sparkling with ice and loaded with oysters from around the world. It's an ace Insta spot, with the bar lighting creating a picturesque backdrop beyond the oyster bar.
On the other side, you get to watch Chef Balan orchestrate his magic ways with Bertha. Bertha is a professional-grade charcoal oven and grill that creates a controllable, high heat to cook fast, retain moisture and caramelise food. The overall win is perfect texture and retention of flavour.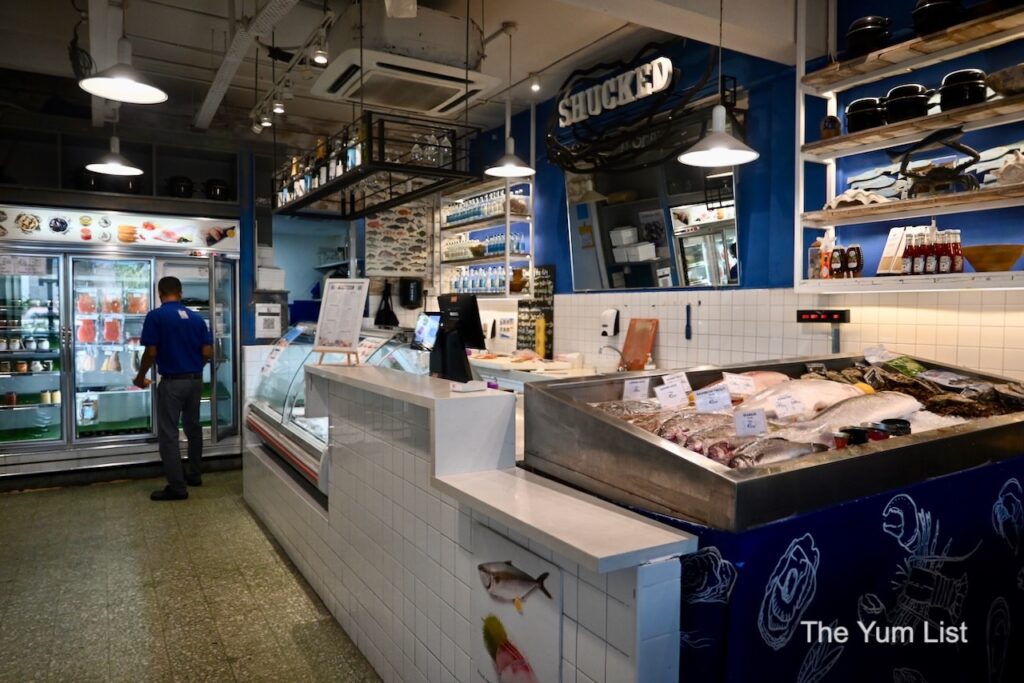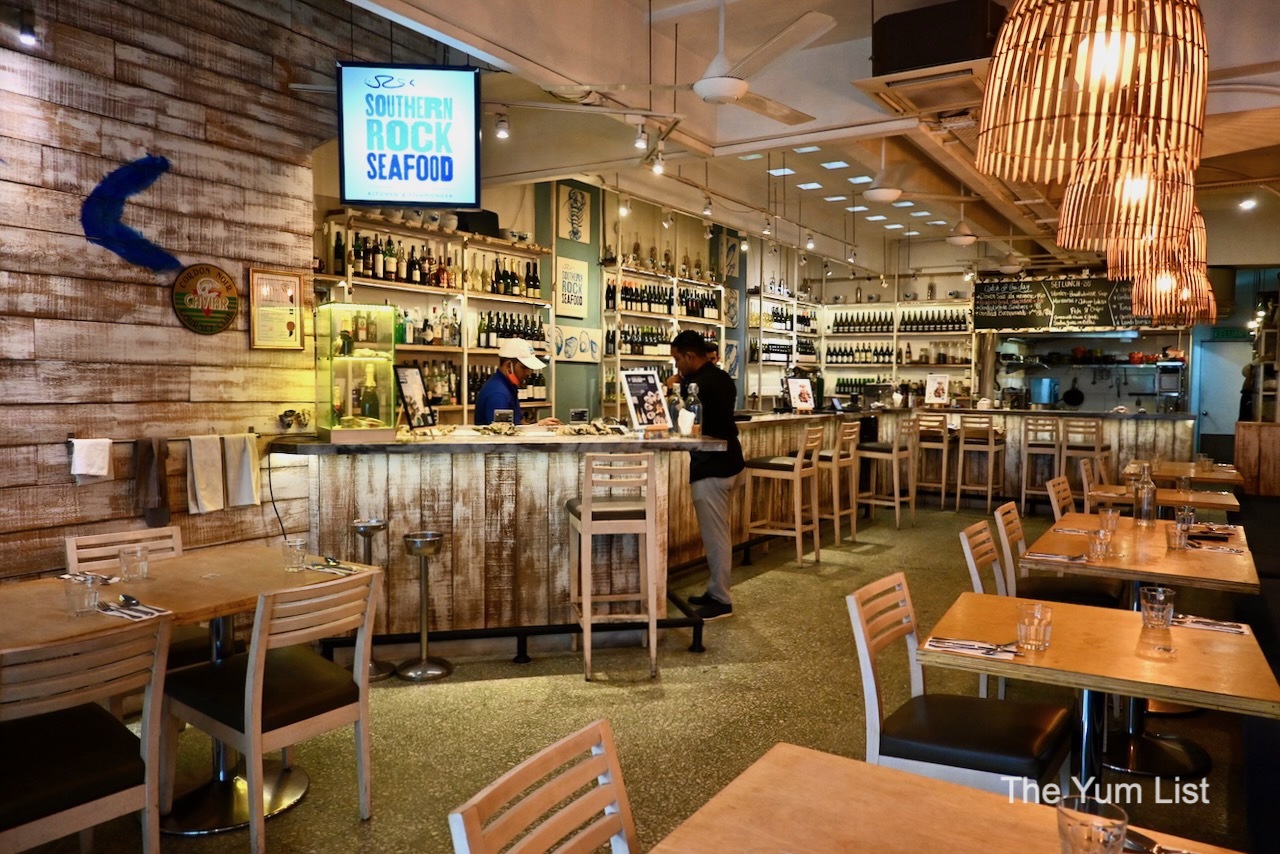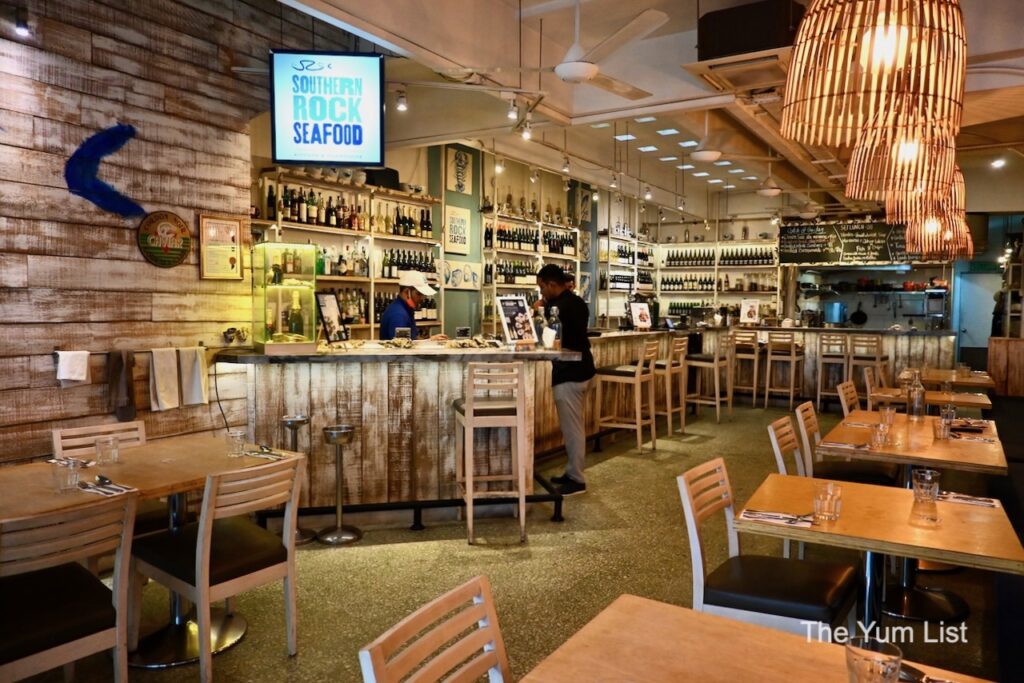 Freshest Seafood in KL – Menu
The menu is thrillingly extensive, so I urge you to go to the Southern Rock Seafood website to see the wide range of items and promotions. The complete menu encompasses the oyster bar, catch of the day, chef specials, whole fish options cooked and an a la carte menu that includes non-fish items, so all your friends and family are catered for. On top of that, there is the SRS Tasting Menu, everything available from the fishmonger, the festive Merry Fishmas and New Year Seafood Celebration menus with promotional offers. Use the code YUMSEAFOOD to get a 10% discount on both dine-in and delivery!
Best Fish in Kuala Lumpur
So, what did I eat that made me say this is one of the best food experiences I have enjoyed this year? A lot!
We began with Around the World Dozen (RM188++), a sharing plate with two each of six of the finest oysters shucked to order: Tragheanna Bay, Gallagher Specials, Ireland; Fine de Clare, France; Dutch Imperial Natives, Holland; Tasmanian Prime and Sydney Rock Oyster, Australia. This dish comes with a tasting guide with helpful descriptions about the order of eating and tasting notes. It was a delicious education to learn that oysters vary in nose, body and finish. I prefer the original taste of an oyster, so I did not use the supplied lemon juice or Tabasco. Indeed, each is different, and although all were great, I did decide on a favourite one: Tragheanna Bay from Ireland. Interestingly my companions chose different varieties, stimulating friendly debate. It goes to show there's definitely an art to oyster tasting just as there is to wine tasting.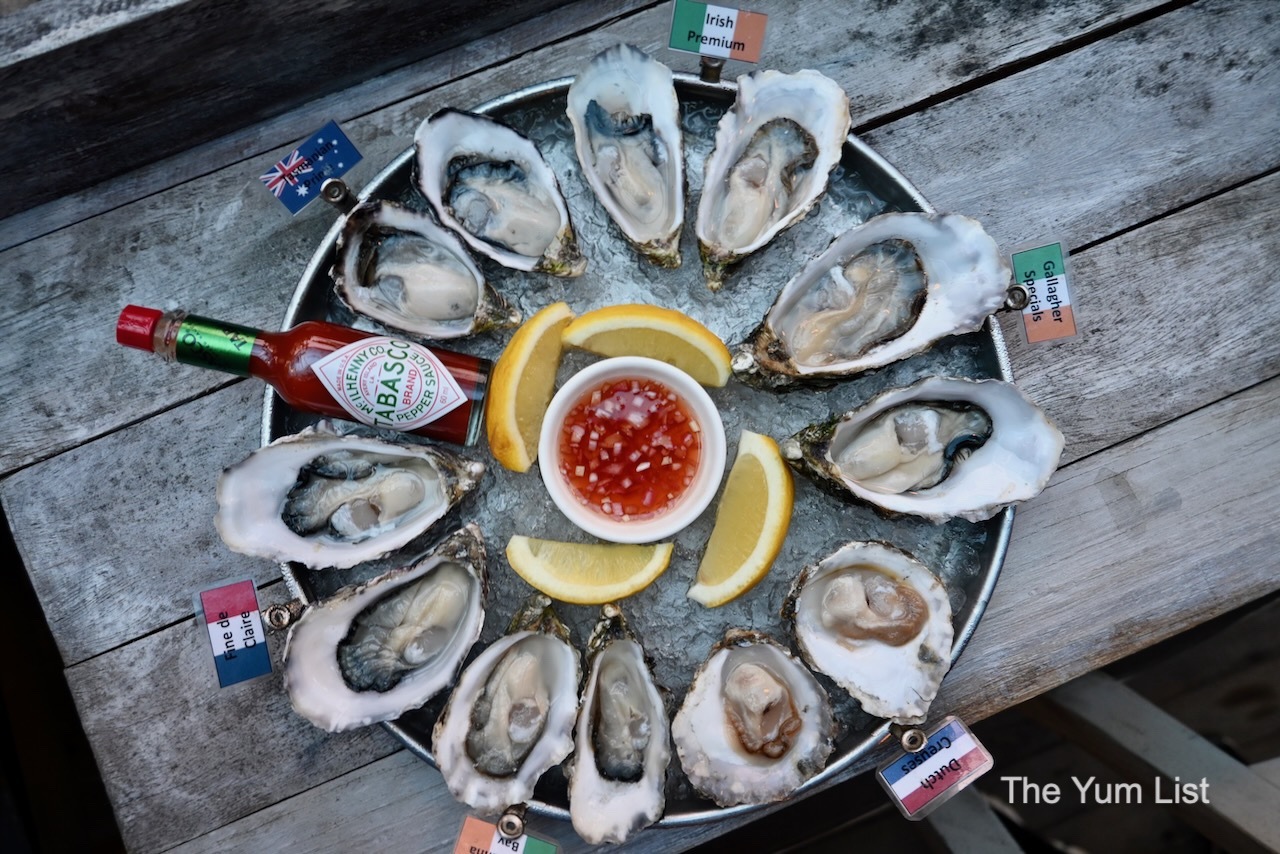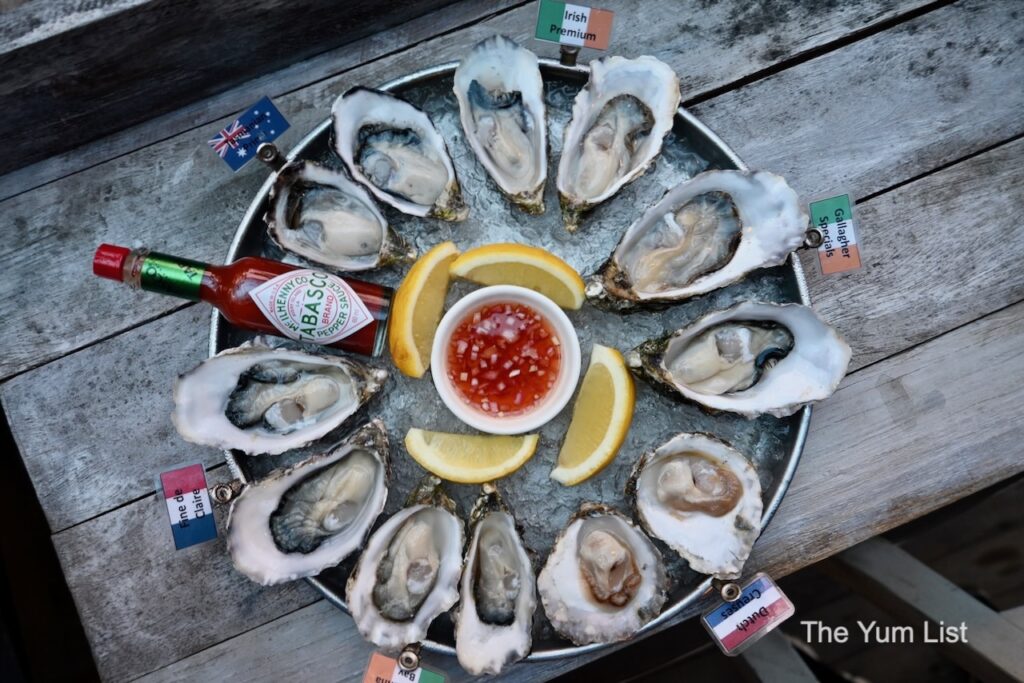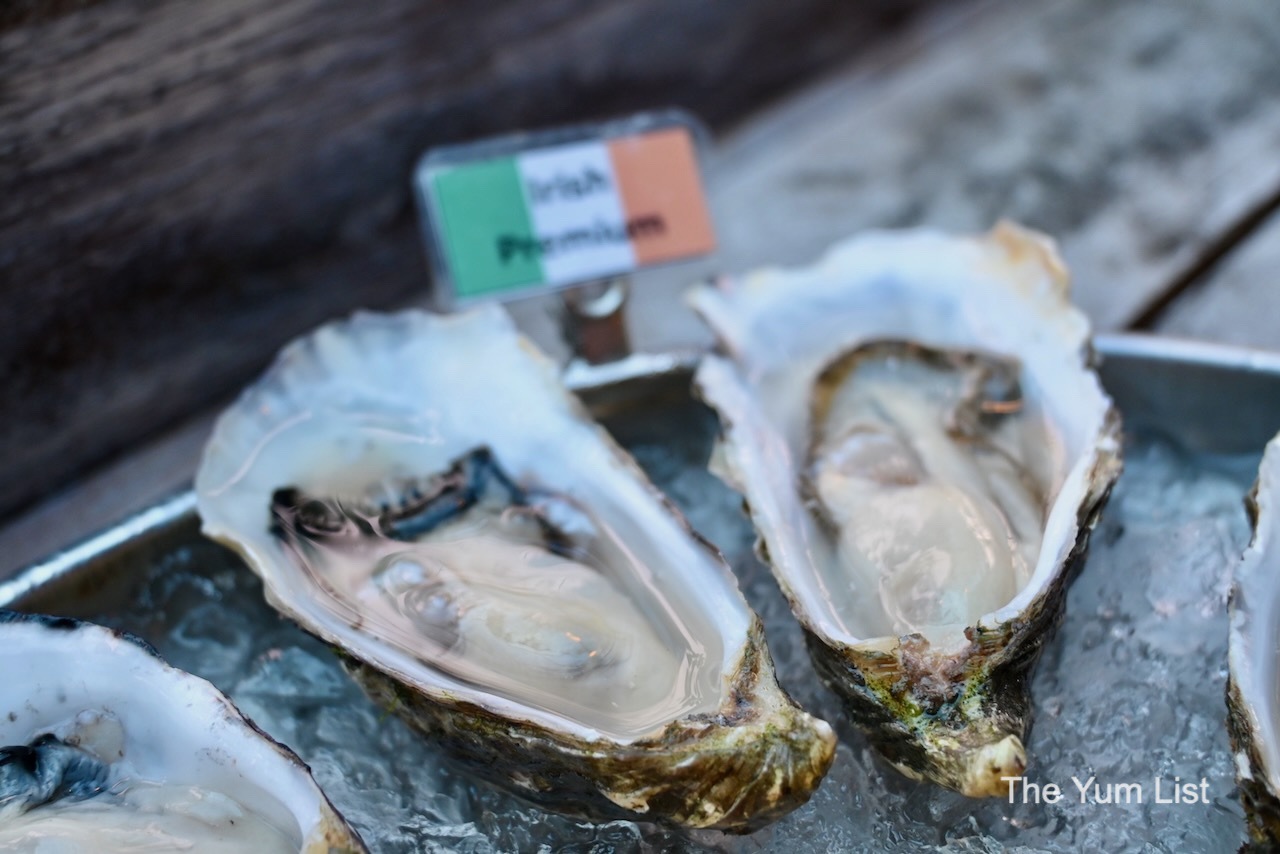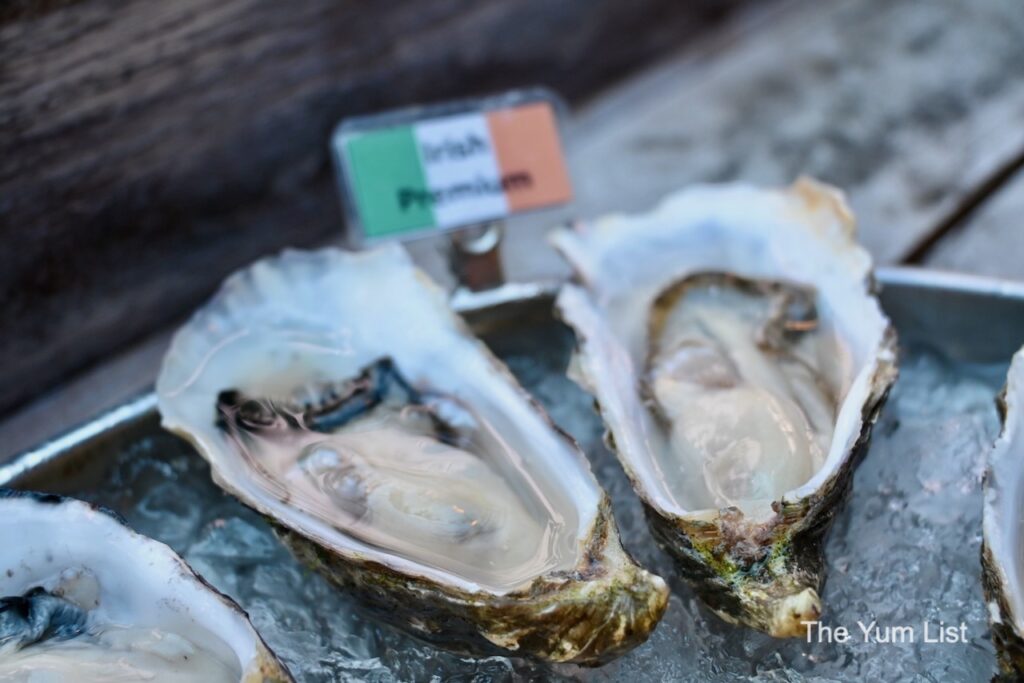 Fruits de Mer (RM158++) is another opulent presentation ideal for sharing (and even better with a glass of wine) – a tower of oysters, mussels, smoked and cured salmon, prawn cocktail, blanched prawn, seared scallop and smoked mackerel pâté. Each item was served consummately according to its type. Blanching the prawn retained plumpness and juiciness. The two types of salmon had beautifully distinct textures, and their accompaniments suited each flavour perfectly. I was delighted by the sweet prawns, light mayonnaise in the prawn cocktail and the mussels with tomato salsa were luscious. Apologies to my companions – I am sure I ate more than my fair share of mackerel pâté and crispy crouton bread. It was so… well, more-ish!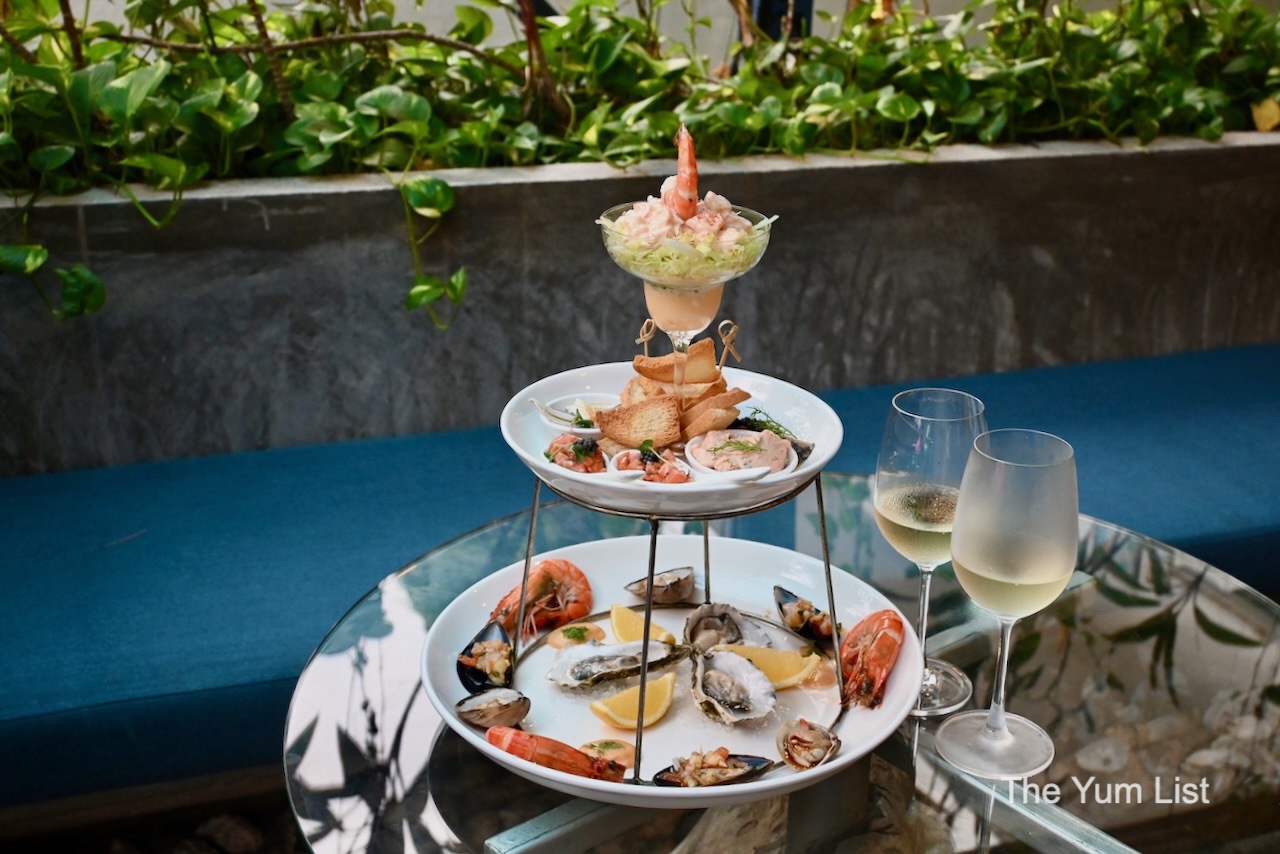 Ocean trout, barramundi and snapper were arranged in a mouthwatering line-up on the Grilled Fish Platter (RM 120++). This platter is big enough for two people and has three types of grilled fish and sides. Simple recipes often show the skill of the chef and the quality of the produce; in this case, both get the highest marks.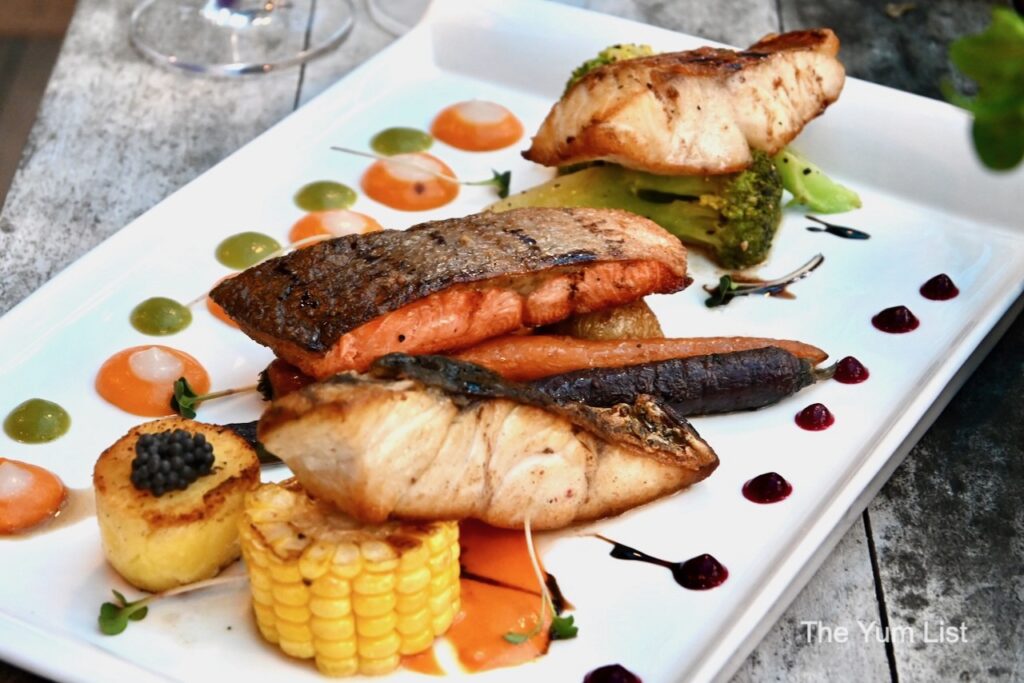 For me, the hero of our feast was Salmon Wellington with parsley sauce (RM180++). Wow! The pastry was golden and crisp; no soggy bottom from Bertha, that's for sure. The fish was subtly seasoned, and the texture was silky and moist. As we cut into the crust, we could hear the light crunch of the pastry, and an appetising aroma was released. Salmon Wellington was served with a dainty parsley sauce that worked well with the natural notes of salmon. Roast Mediterranean Vegetables (RM15++) were a great accompaniment.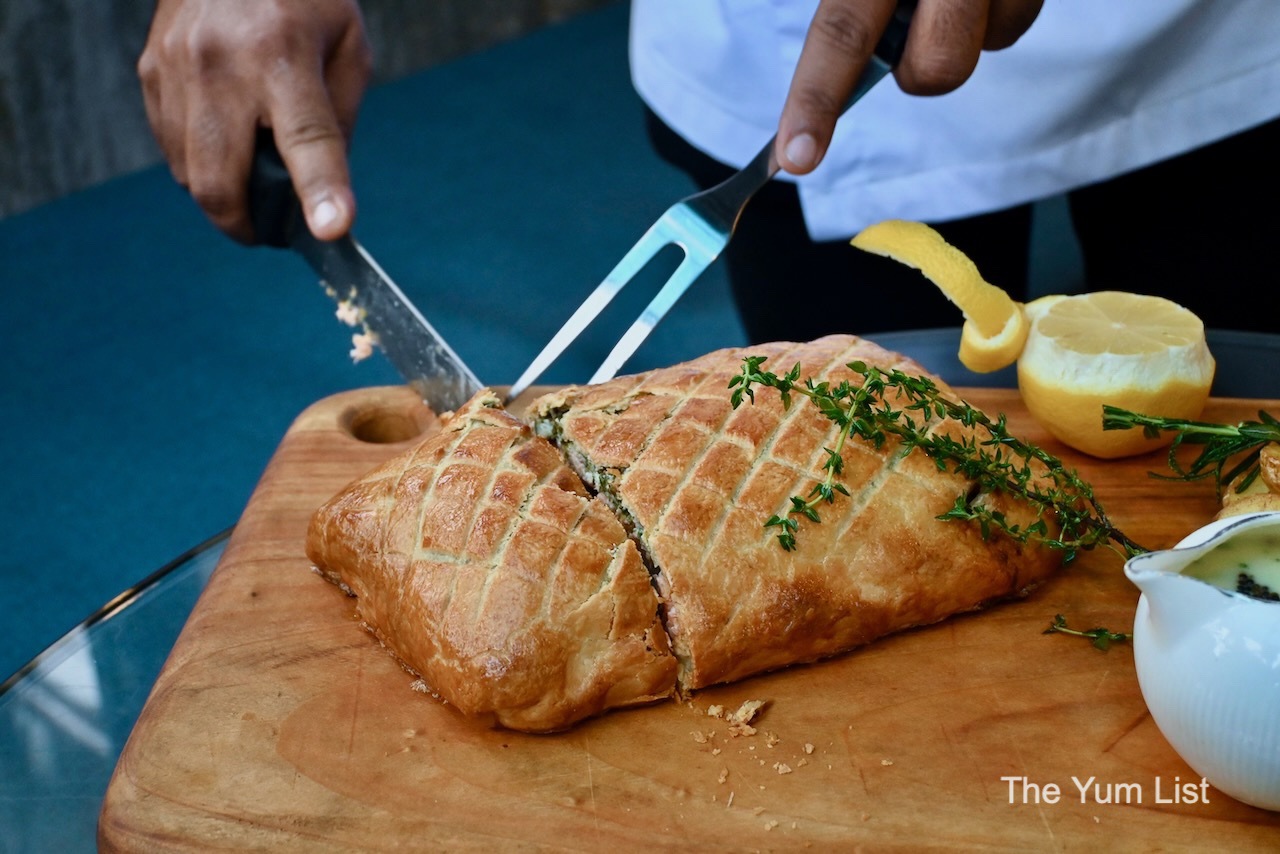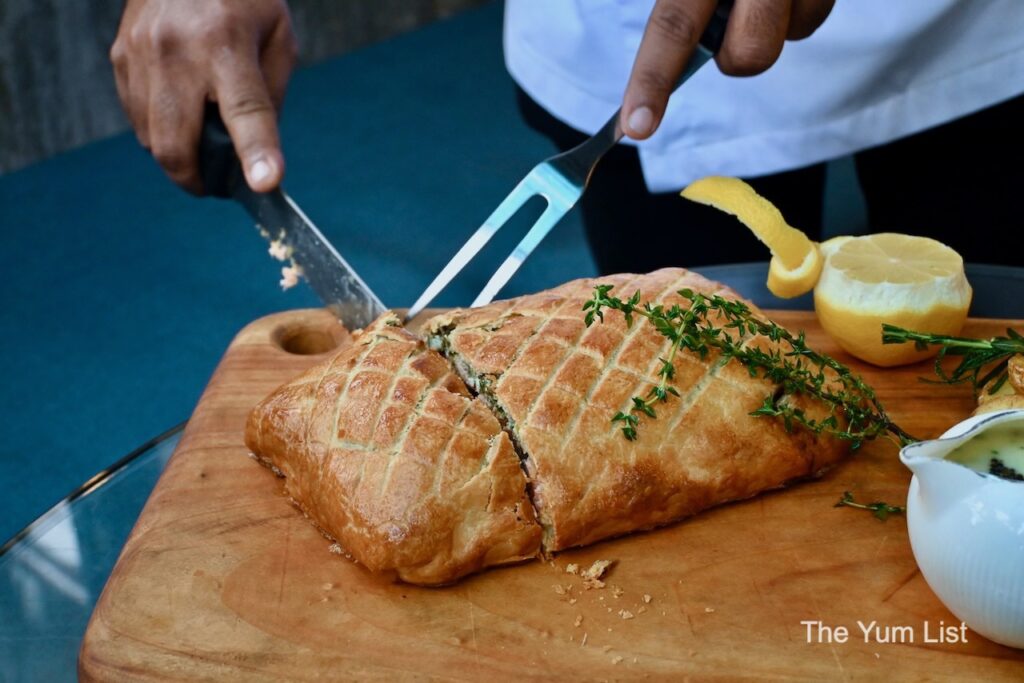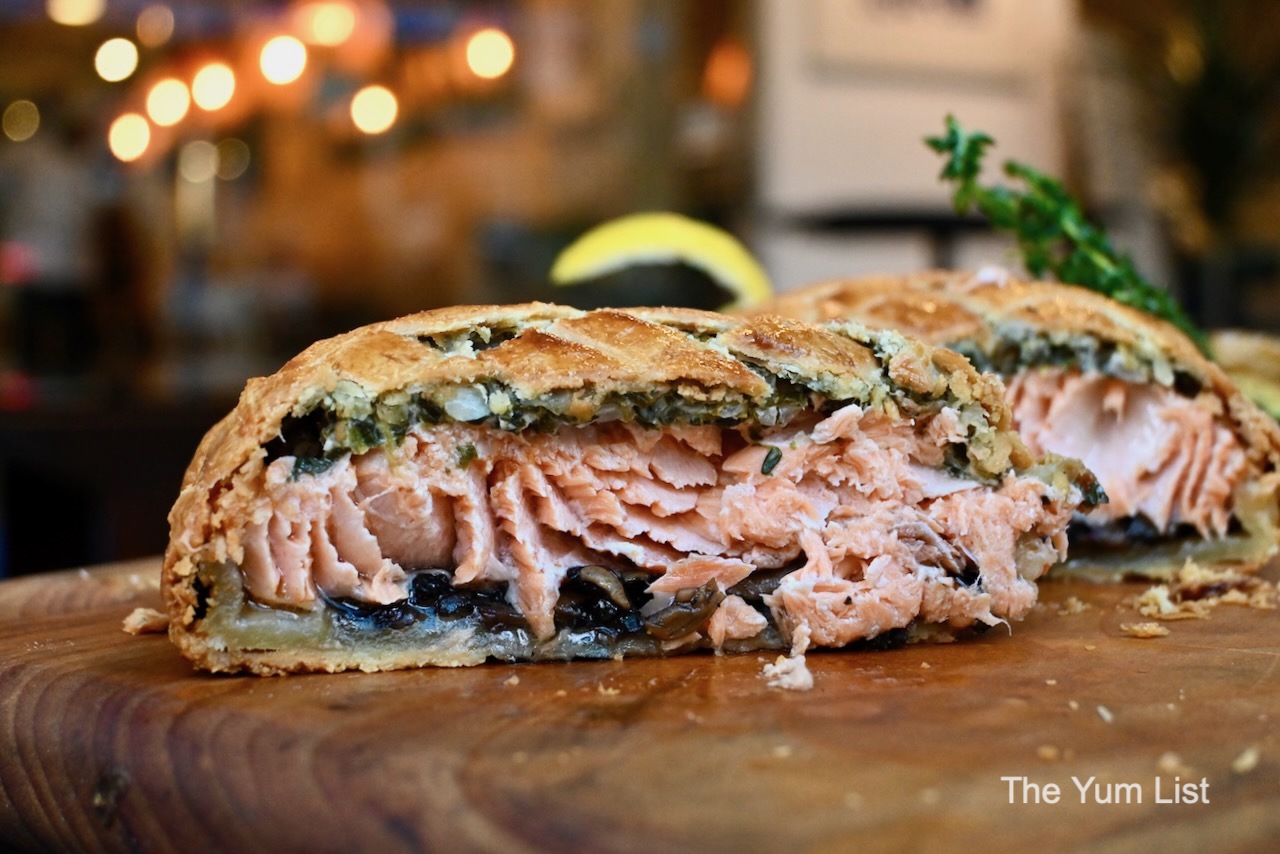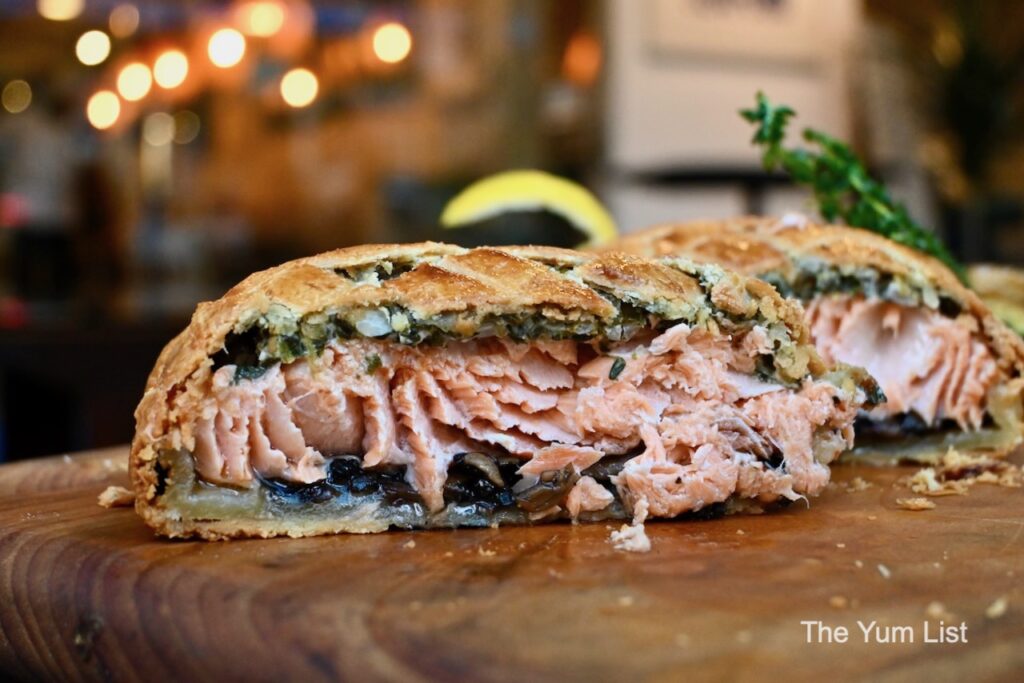 Dessert
Eventually, we came to dessert provided by Bake with Dignity, a social enterprise from Dignity and Services. We chose Lemon Tart (RM20++) over Salted Caramel Fudge Brownie (RM25++). It was a tough decision, but we were so well-fed that we could not squeeze in two sweets (even though we'd heard such high praise about the brownie). The lemon tart had a crisp, shortcrust base and a smooth, creamy filling that was a delicate blend of sweetness and acidity.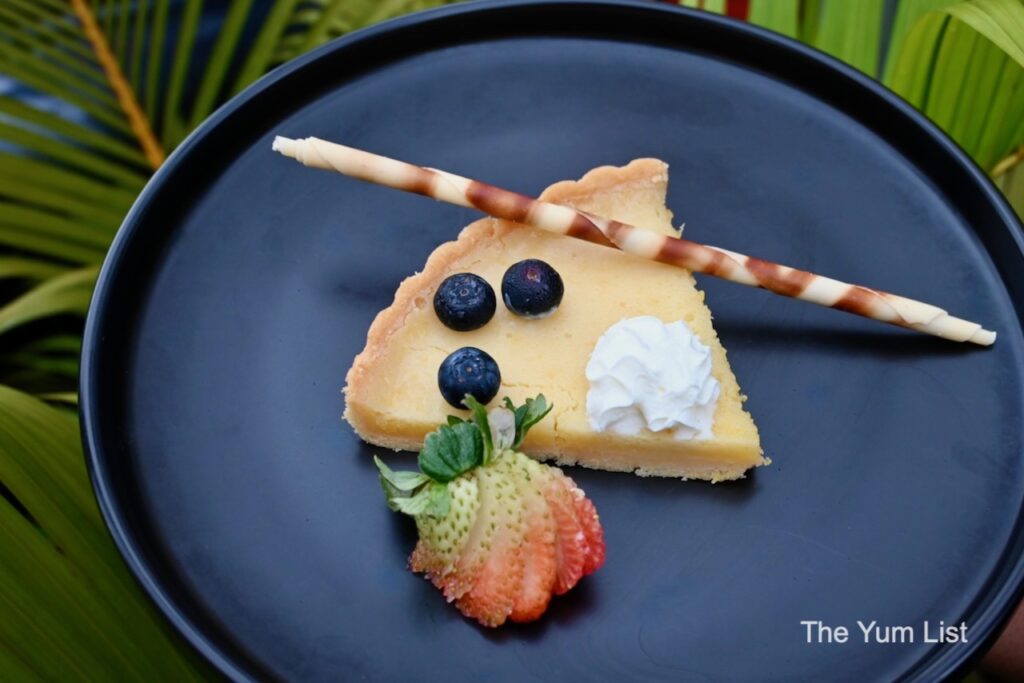 Drinks Menu – Freshest Seafood in KL
Southern Rock Seafood has a comprehensive drinks menu, including wine, bubbly, cocktails, spirits, and beer, as well as smoothies, sodas, tea and coffee. Wines come from all over the world at multiple price points, with several select drops also available by the glass. Our wine pairing was a Lucien Crochet Sancerre AOC from France (RM280++). The sauvignon blanc grapes used in this wine are grown sustainably, and this wine is vegan-friendly. The result is a classy, elegant wine with a pleasing balance of acidity and fruit. It had a light freshness and smooth, crisp finish with a hint of citrus that paired well with seafood across all our courses.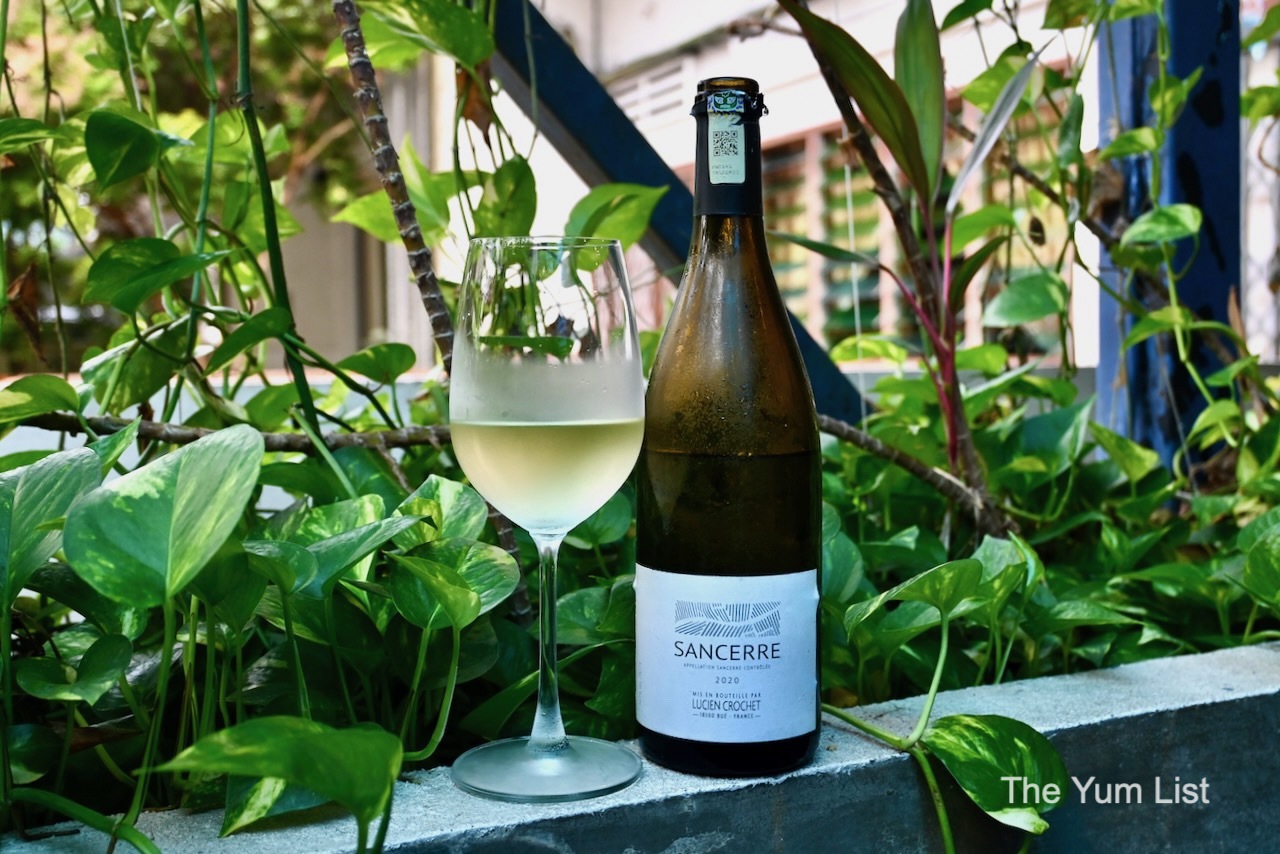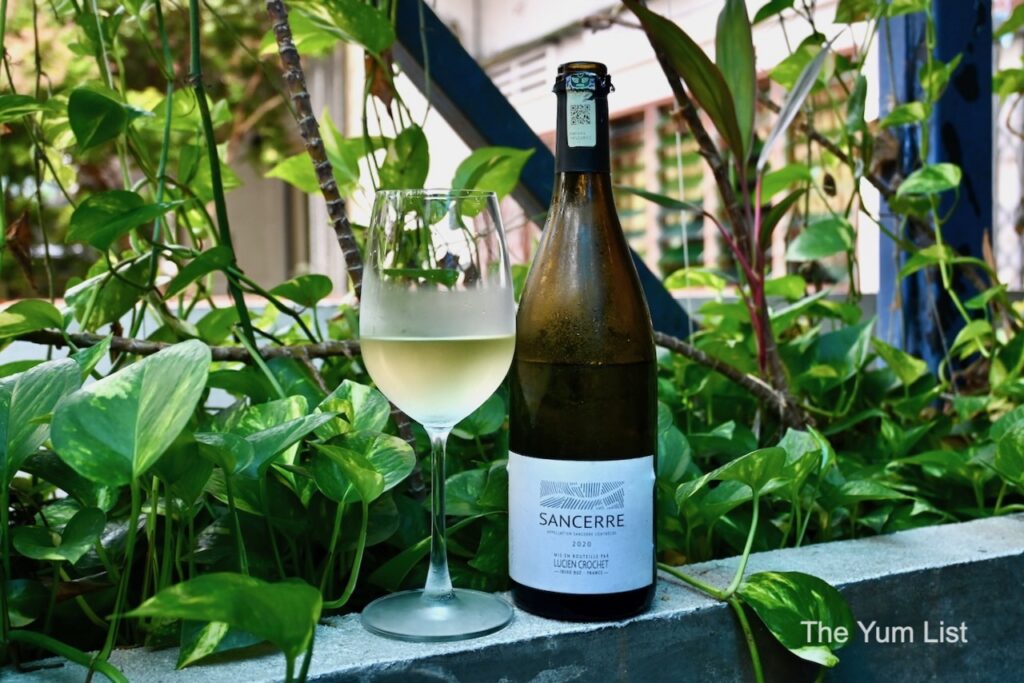 Online Orders & Festive Deals
There is so much available from the restaurant and fishmonger. Imported produce is delivered twice a week and arrives live or chilled, not frozen. You can purchase at the fishmongery next to the restaurant or order online for pick up or delivery. The online order form is great for checking out what is on offer. Pre-Christmas orders are being taken now, and business is brisk, so make your order soon and remember to quote YUMSEAFOOD for a 10% discount.
Merry Fishmas. Southern Rock Seafood also offers a festive menu for a workplace celebration or Christmas lunch for families and friends throughout December. See the Merry Fishmas menu (RM128++ pax and RM250++ for two) with a complimentary bottle of prosecco for groups of six or more. This menu presents canapés, soup, a choice of main course with seafood and non-seafood options, plus dessert. Southern Rock Seafood will be open on Christmas Day.
New Year Seafood Celebration (RM148++/person) is a four-course menu available through January 2023. This menu proffers fruits de mer platter, a main course of Bertha roast fish with a choice of one of Loch Duart Salmon, Petuna™ Ocean Trout, Yellowtail Kingfish, Barramundi or Surf & Turf combo of grilled aged rib-eye and tiger prawns or a Pot of Mussels (Laksa, Meuniere or Tomato & Basil Sauce). Chat potatoes and winter roast vegetables accompany the main course. Dessert choices are salted caramel brownies or Jersey Jack gelato. This menu is dine-in only, and remember to use the code YUMSEAFOOD for a 10% discount. What a great way to ring in the New Year!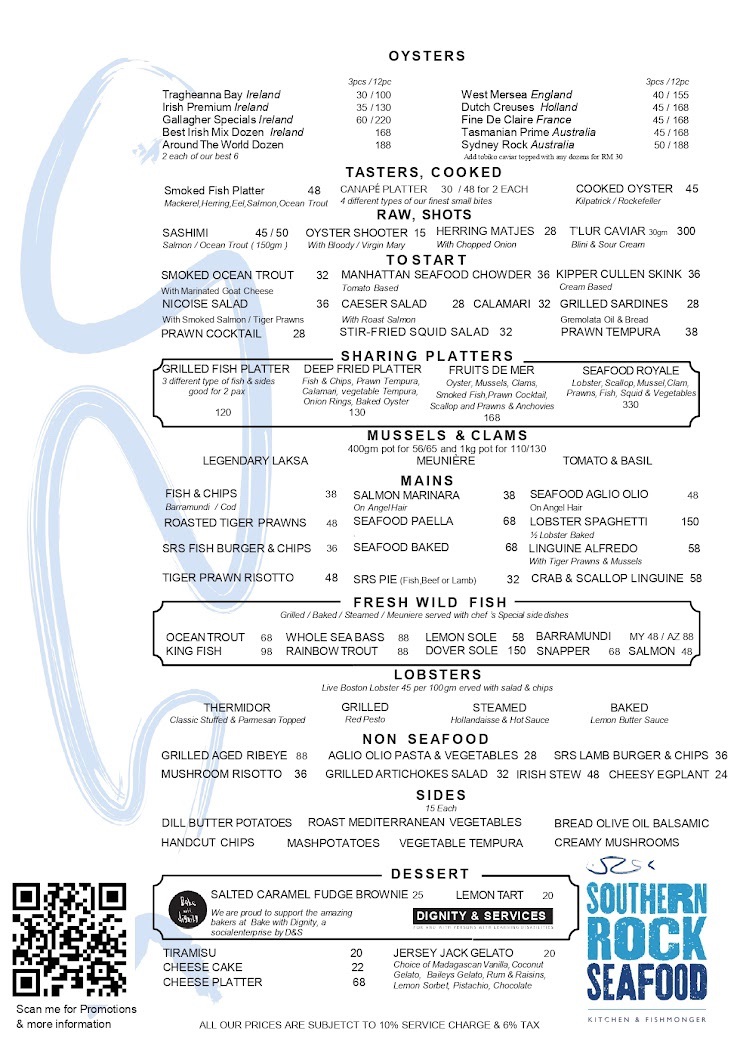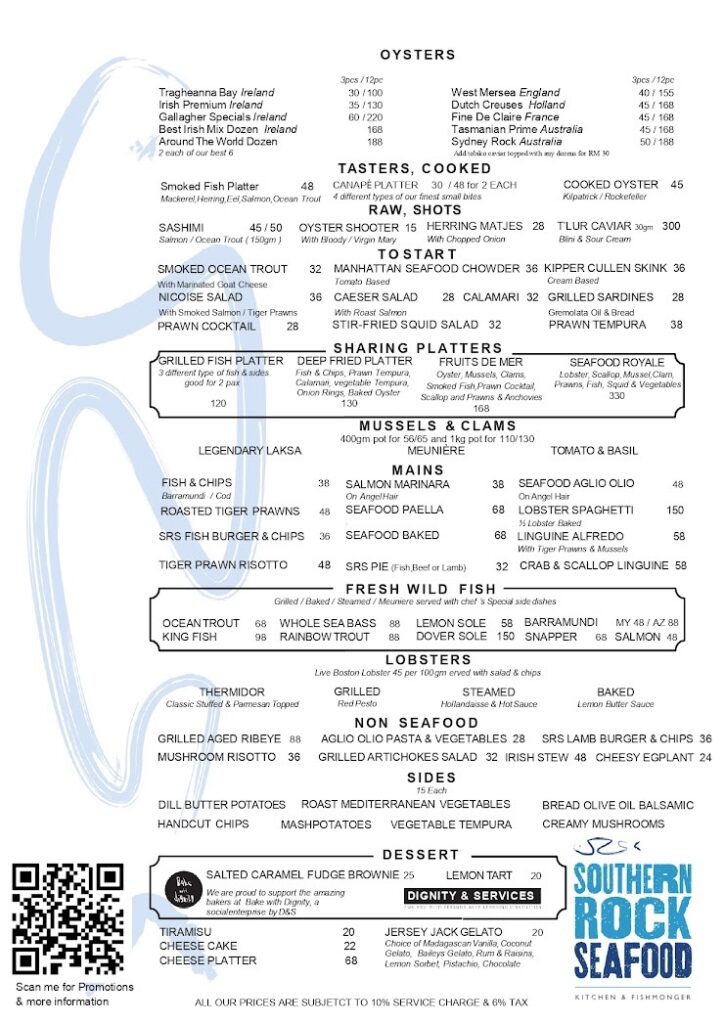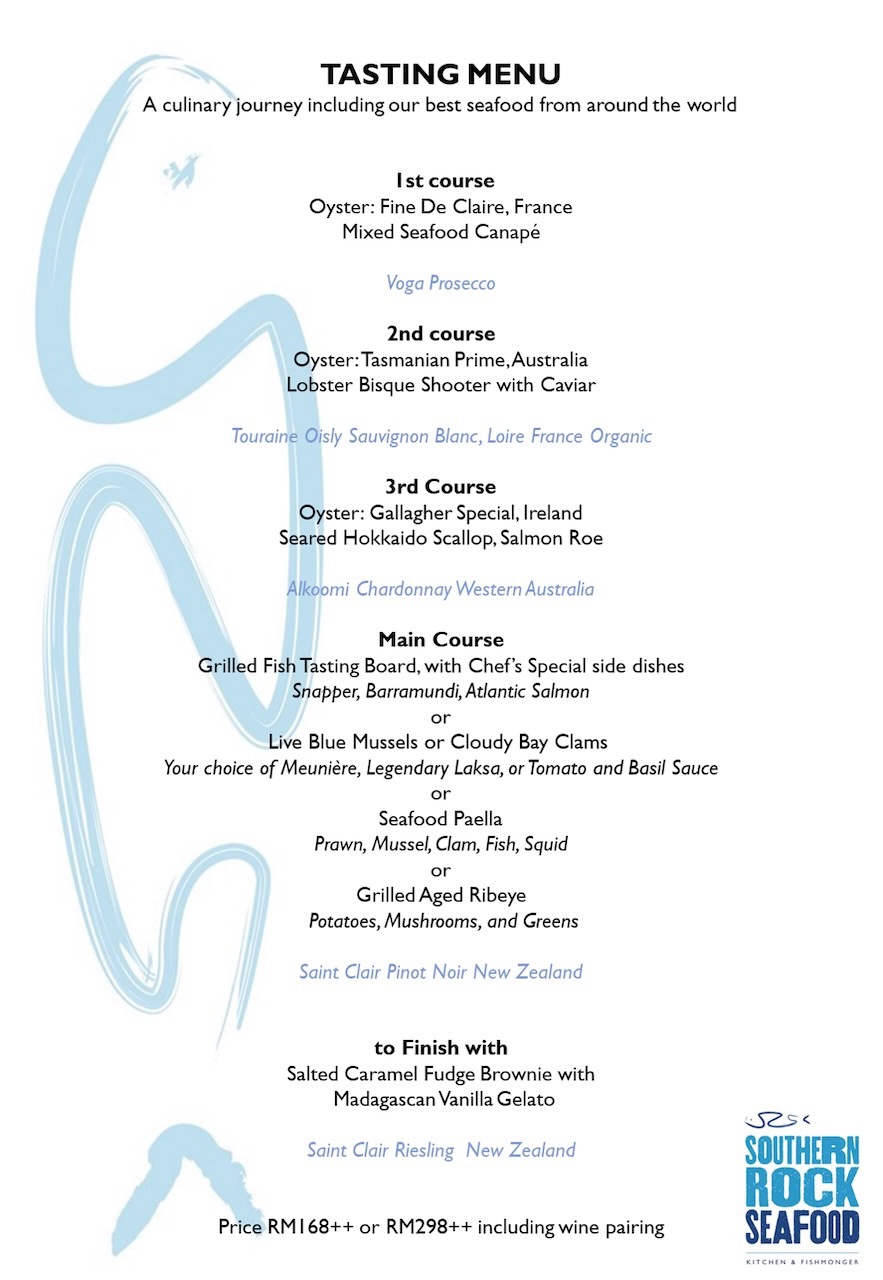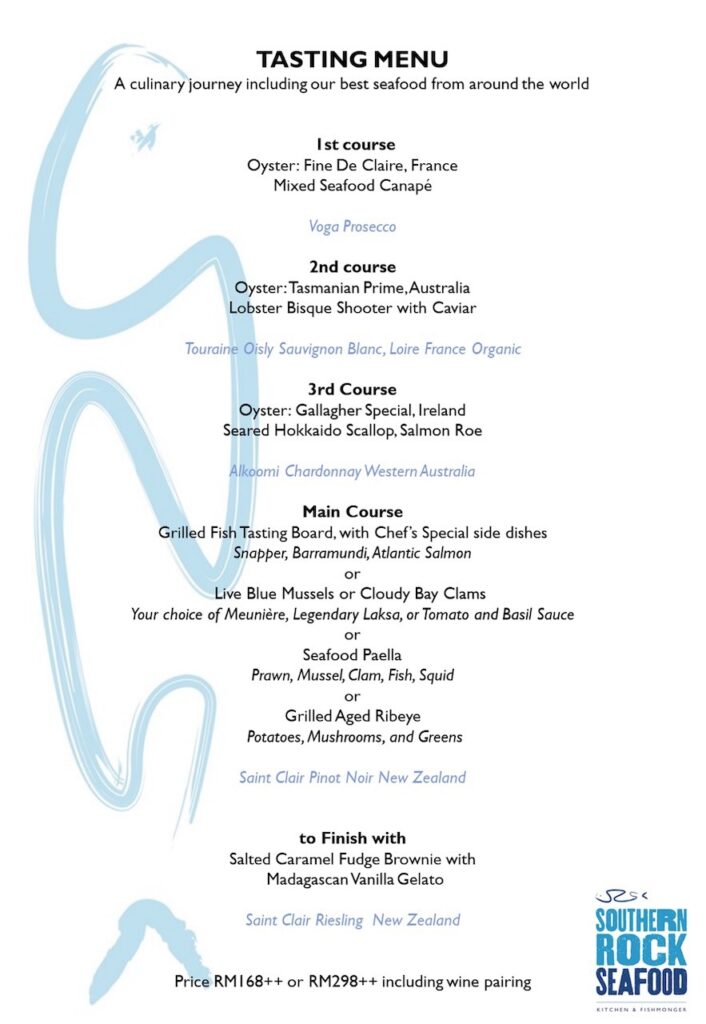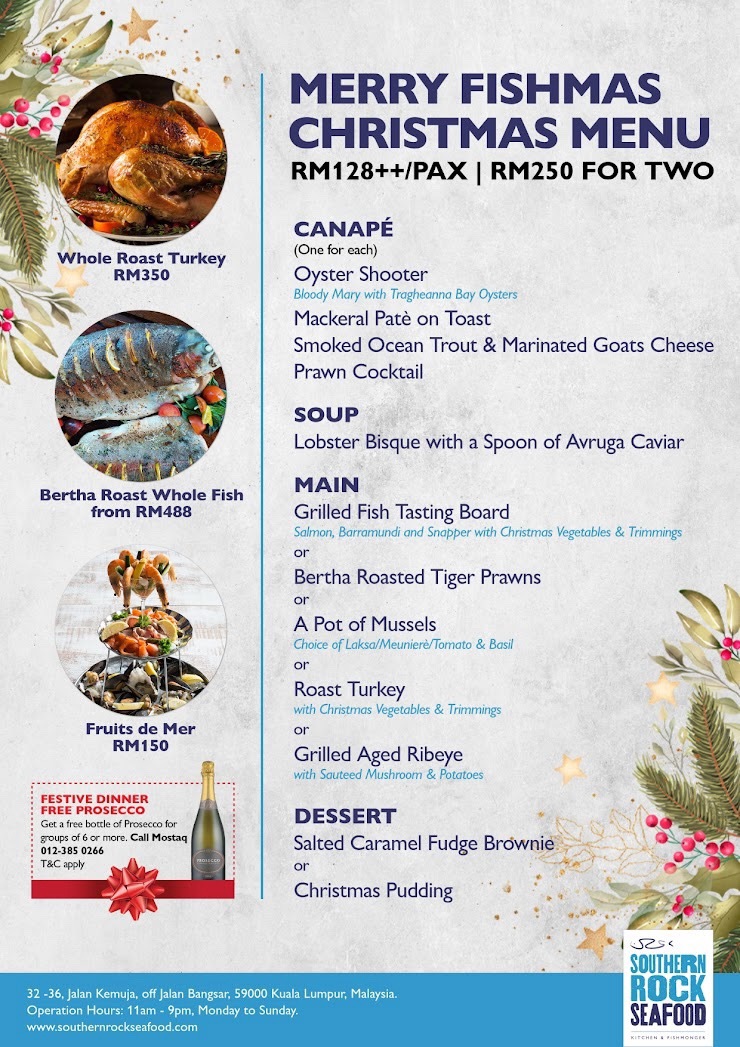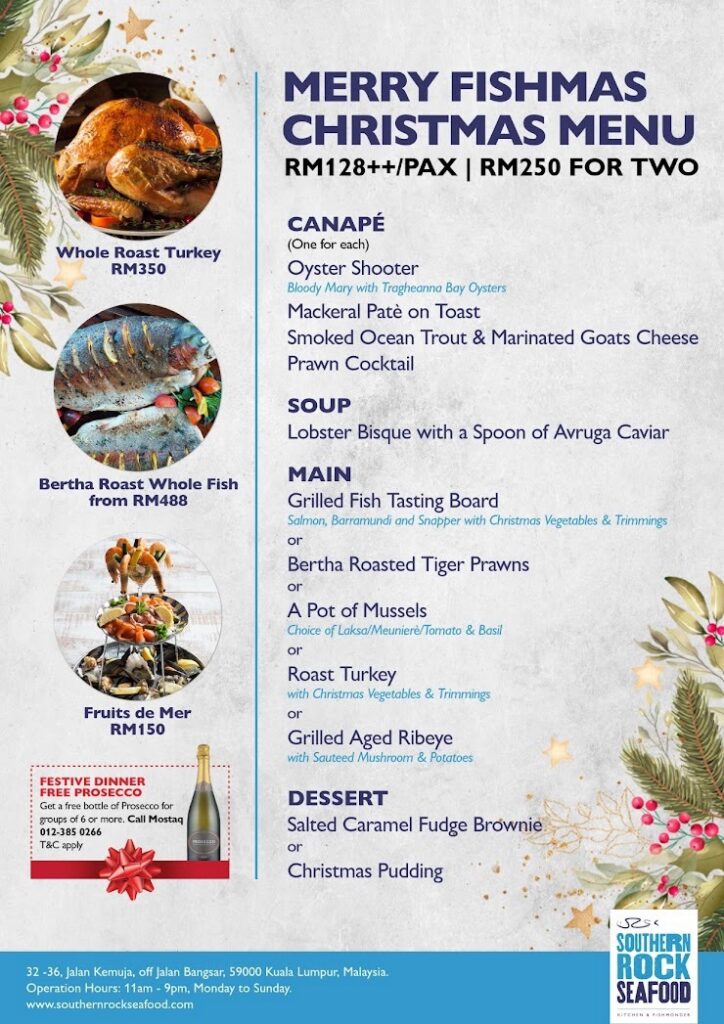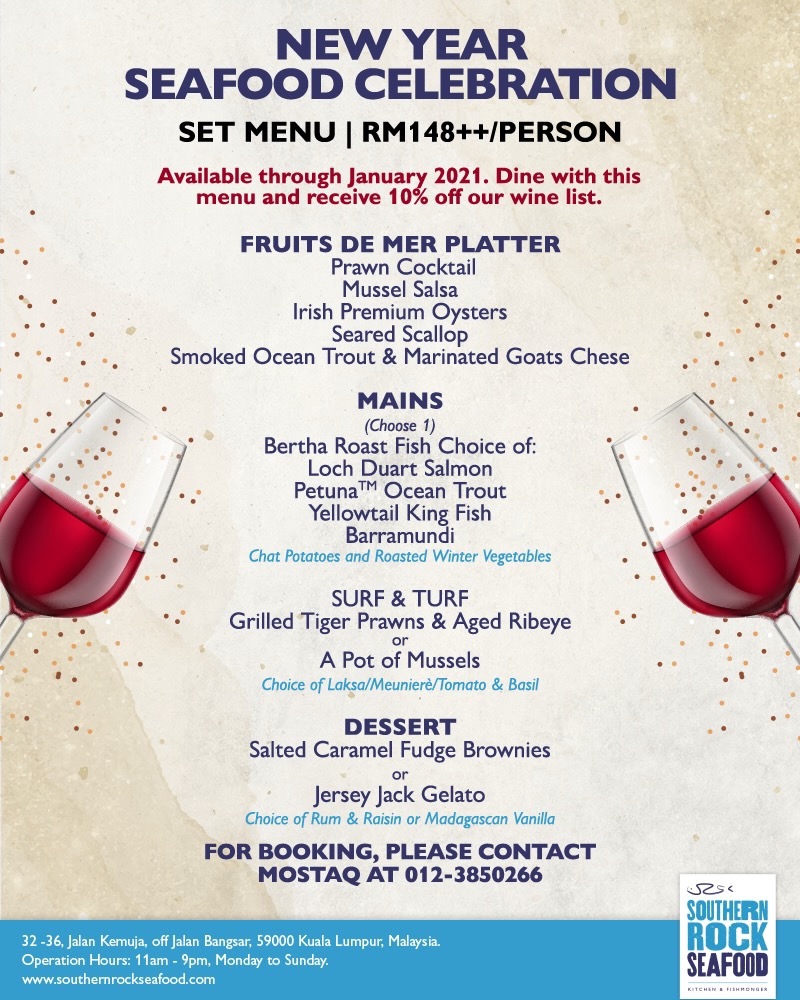 Southern Rock Seafood Review
My party had a fantastic time at Southern Rock Seafood. The staff were attentive and friendly under the expert guidance of Mostaq Ahmed and Josh Green, our charming hosts. The ambience was conducive to chillaxing and enjoying the conversation of companions, and you'd be hard-pressed to find seafood of better quality, taste and value in the city.
Reasons to visit Southern Rock Bangsar: some of the freshest seafood in Kuala Lumpur, good value for money, must-tries are the Around the World Oysters and Salmon Wellington. Get a 10% discount using the code YUMSEAFOOD!
And a little more about the Festive season, Christmas is a time for giving. Should you be fortunate enough to have some time, you can volunteer, Bake with Dignity could use your help getting their Christmas rush orders out to customers. Check out the link to donate your time or order from a range of baked goods. Bake with Dignity is a social enterprise run by Dignity & Services. This non-profit organisation supports people with learning difficulties.
Southern Rock Seafood
Seafood Restaurant Bangsar
32-36, Jalan Kemuja, off Jalan Bangsar, 59000
Kuala Lumpur, Malaysia
+6 03 2282 8315
www.facebook.com/southernrockseafood
Southern Rock Seafood Opening Hours
Daily 11:30 a.m. to 10:00 p.m.
Find more seafood restaurants in KL here and stay up-to-date with the latest gourmet and travel recommendations for Malaysia here and here.