Cafe Limóne
Words: Nichole Ong
Photos: Monica Tindall
Like its citrusy namesake, Cafe Limóne is bursting with vibrancy and zest. Its menu items, from beverages to brunch, to desserts, are crafted with precise passion, melding Malaysian classics with European flavours and flair.
Seated in the al fresco area outside the cafe, we could take in the inspiration for the cafe's ambience. Co-owners Sherina and Tee recount missing travelling to Europe during the lockdown period and turned to baked goods, eventually culminating in the opening of Cafe Limóne in September 2022. The cafe is inspired by an Italian garden, with the centrepiece of a lemon tree tying together the picturesque scene of warm yellows and greens.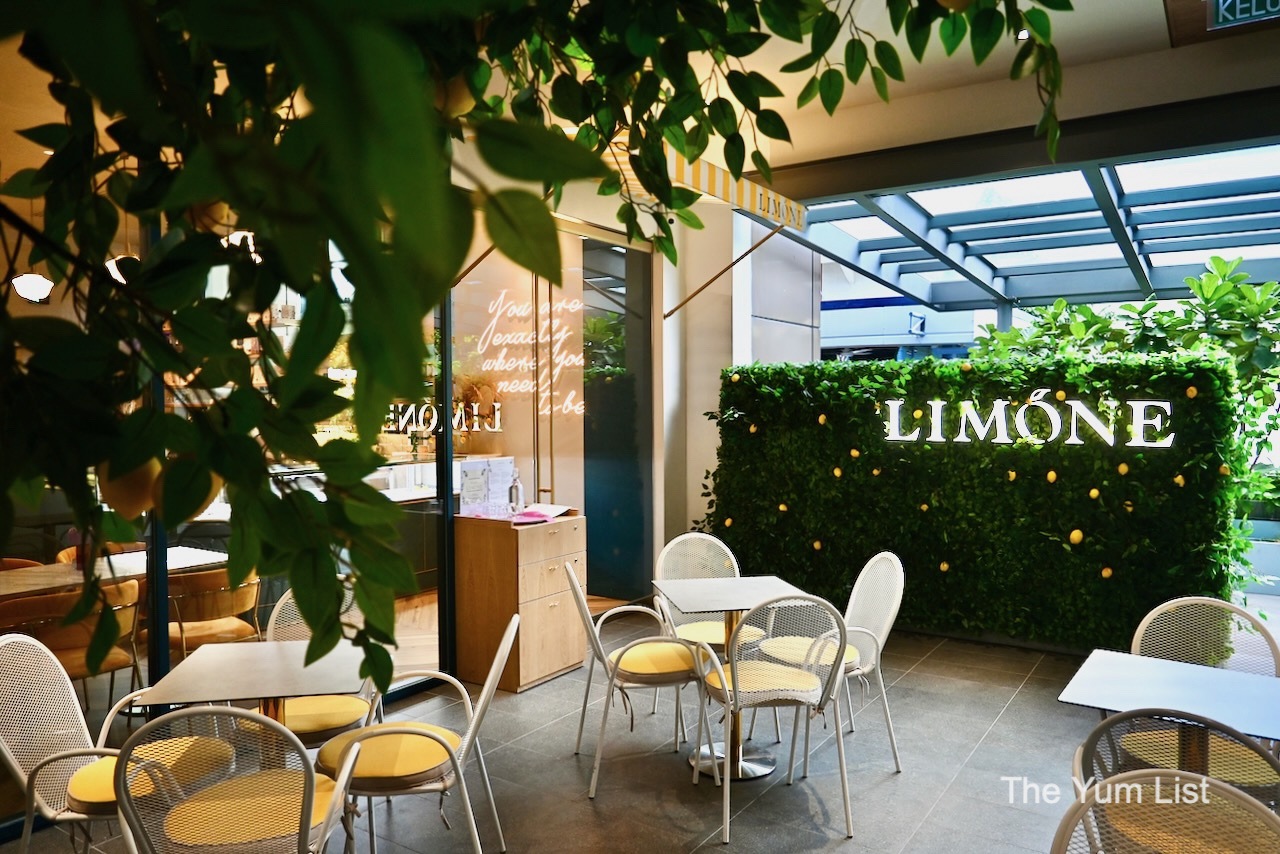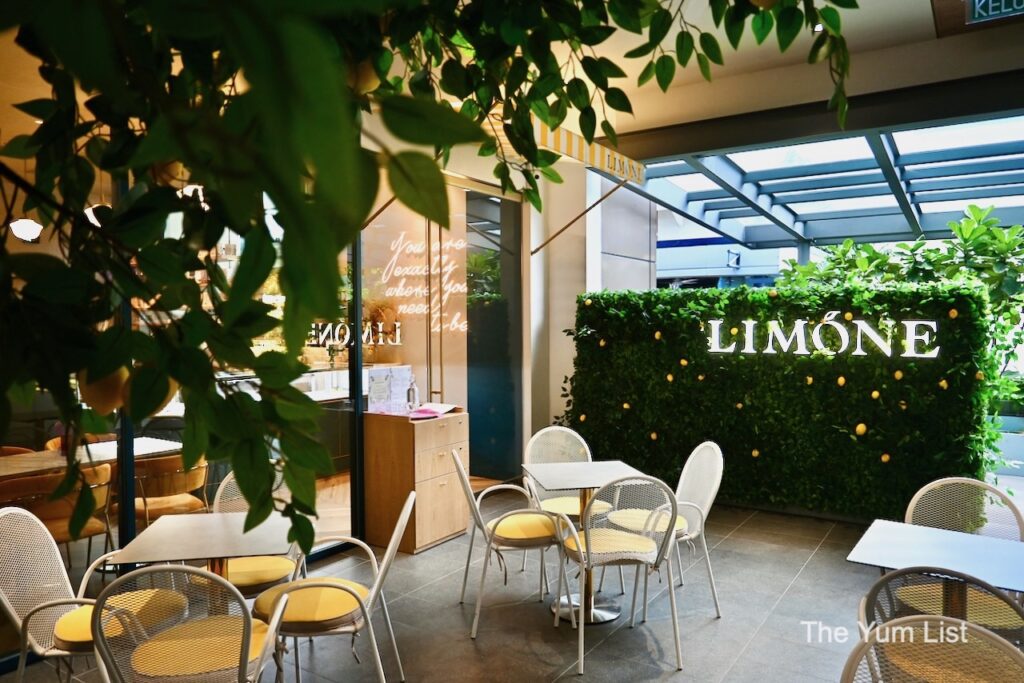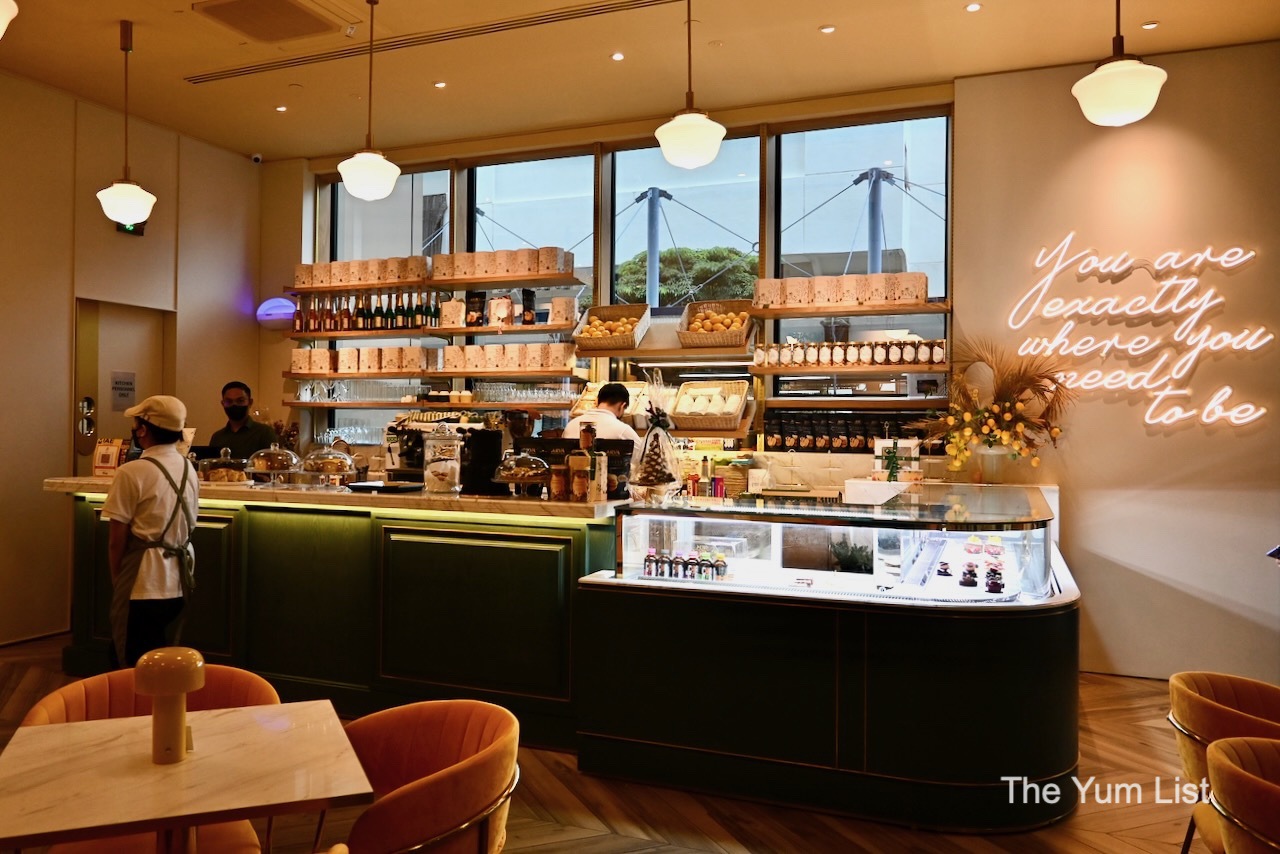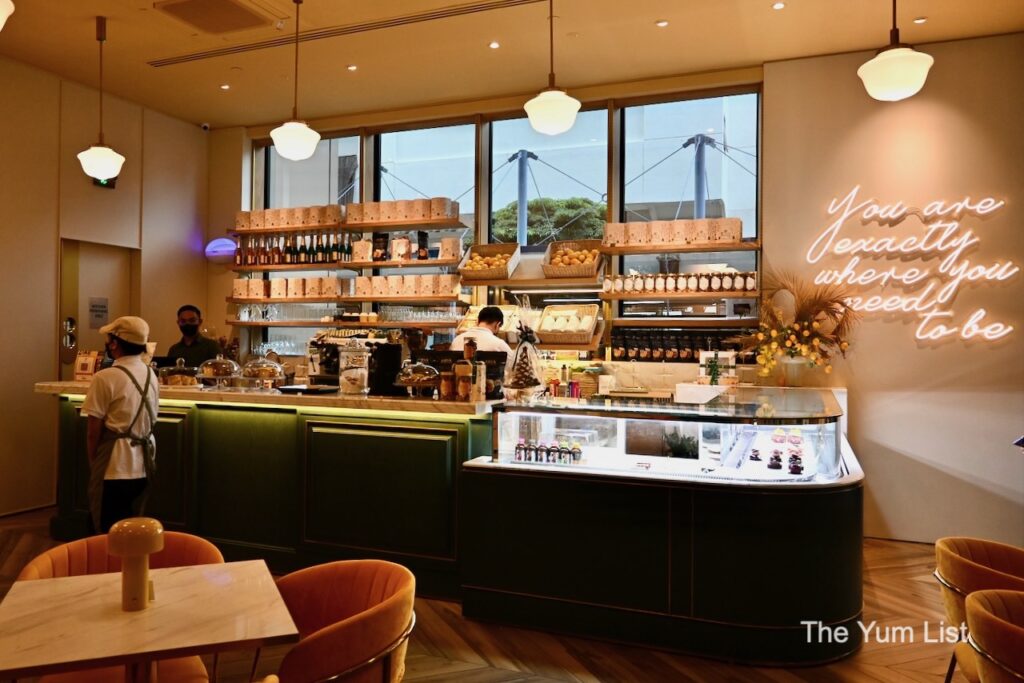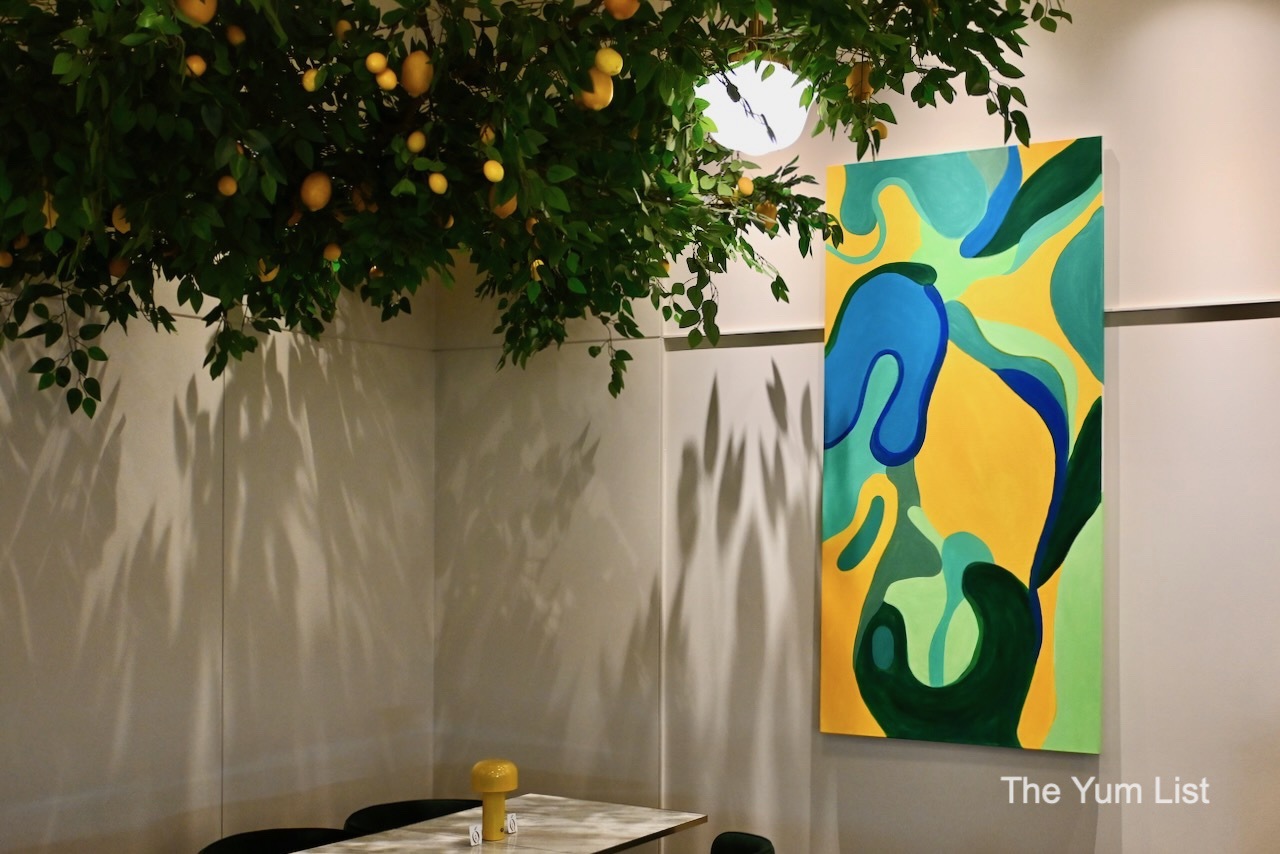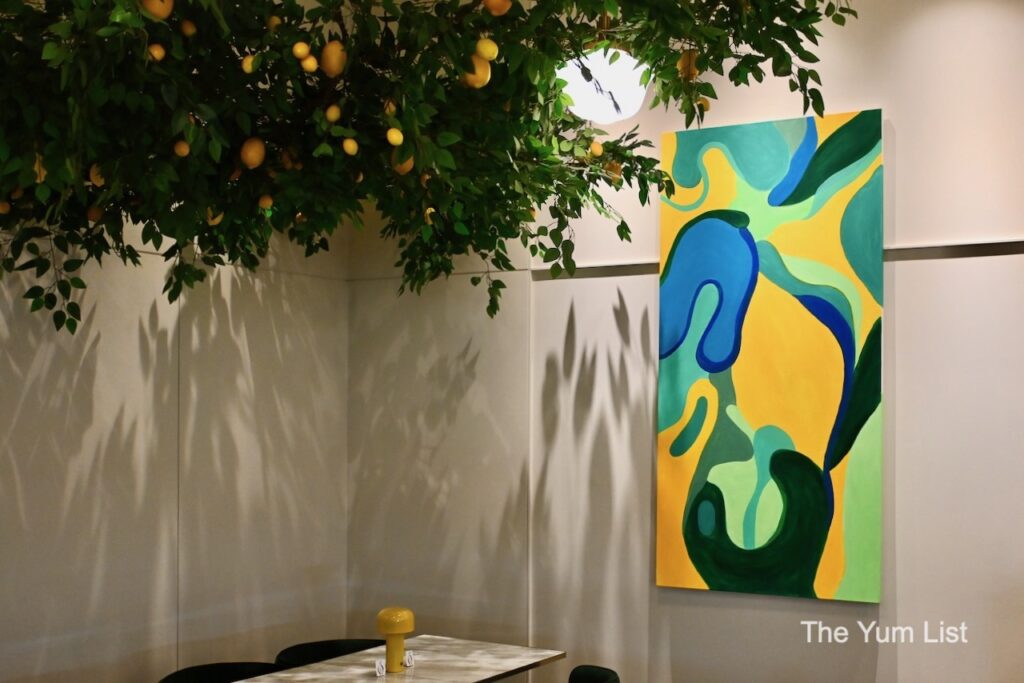 Cakes at Cafe Limóne
As an avid lover of cakes, I was in dessert heaven upon seeing the vast array of beautifully presented mini cakes on display at the counter. The cakes at Cafe Limóne are truly a highlight, presenting a medley of classics and creatively ingenious delicacies sure to please many.
Upon recommendation, we tried The Kebaya (RM 21), a pandan mousse with glutinous rice and mango aimed at capturing the richness of local flavours. The Kebaya is distinctively delicious in its ability to interweave the pandan sponge's softness with the glutinous rice's texture, providing a subtle sweetness and fragrance. Presented beautifully with a topping of mango and gold leaf, this cake delights both the eye and the taste buds.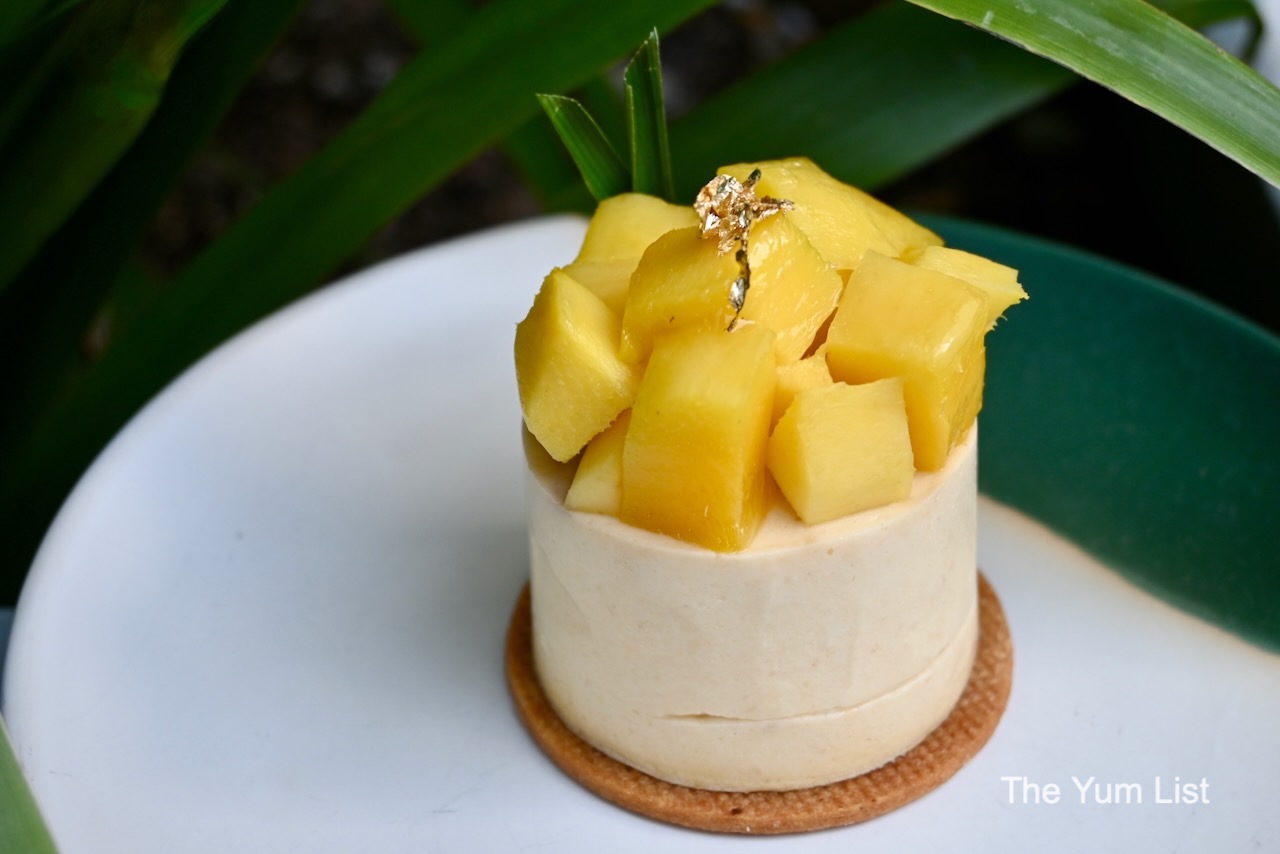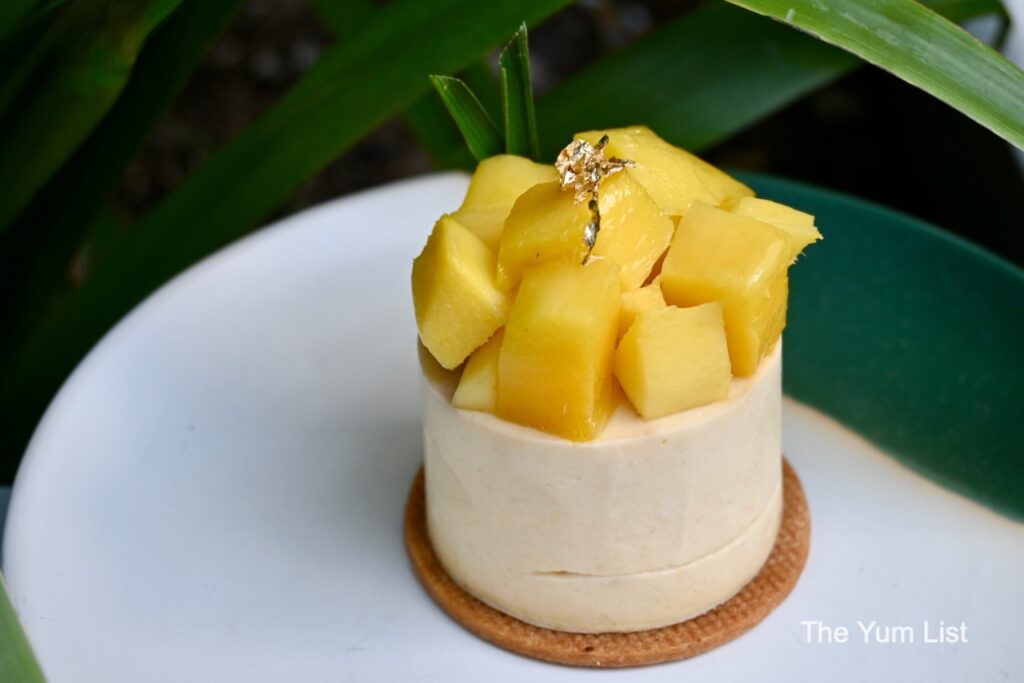 I picked out the Daisy Cake (RM 21) for its eye-catching presentation in the form of a pretty pink sphere with rose-gold leaf and daisy embellishment. This cake went above and beyond what meets the eye, containing a delectable lychee and raspberry filling that balanced acidity and sweetness with natural flavours.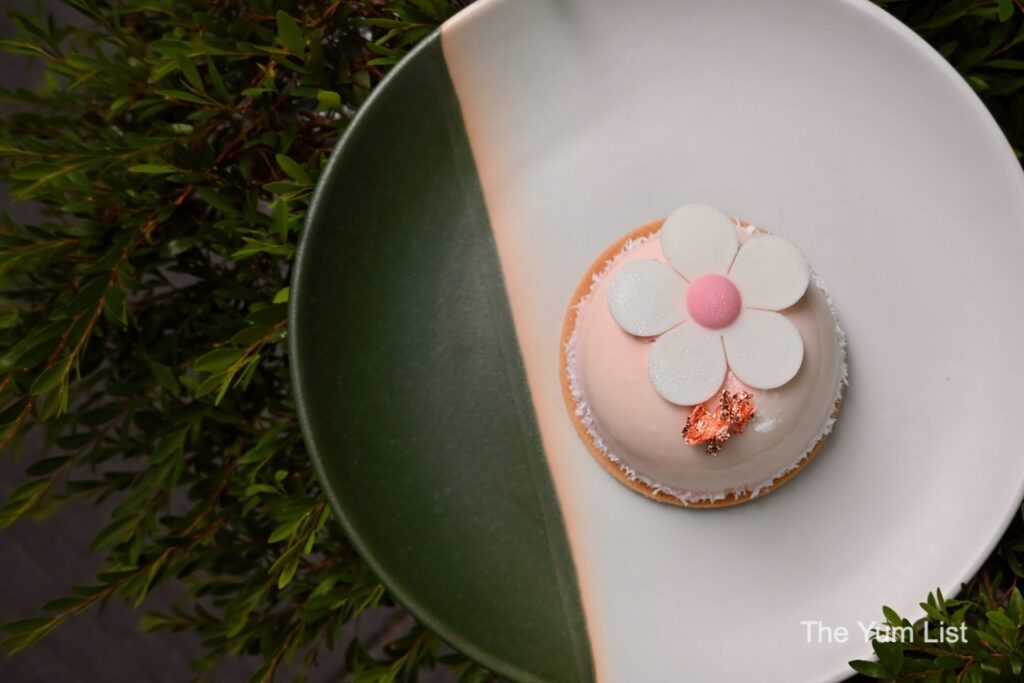 In the vein of natural flavours, the Cerise Noire (RM 21) is shaped like a large cherry, complete with a stem. This black forest cake is made with pre-soaked dark cherry and vanilla cream for optimal depth of flavour and uses a darker, slightly citrusy chocolate to balance out the sweetness. There is an alcoholic version of this cake upon request.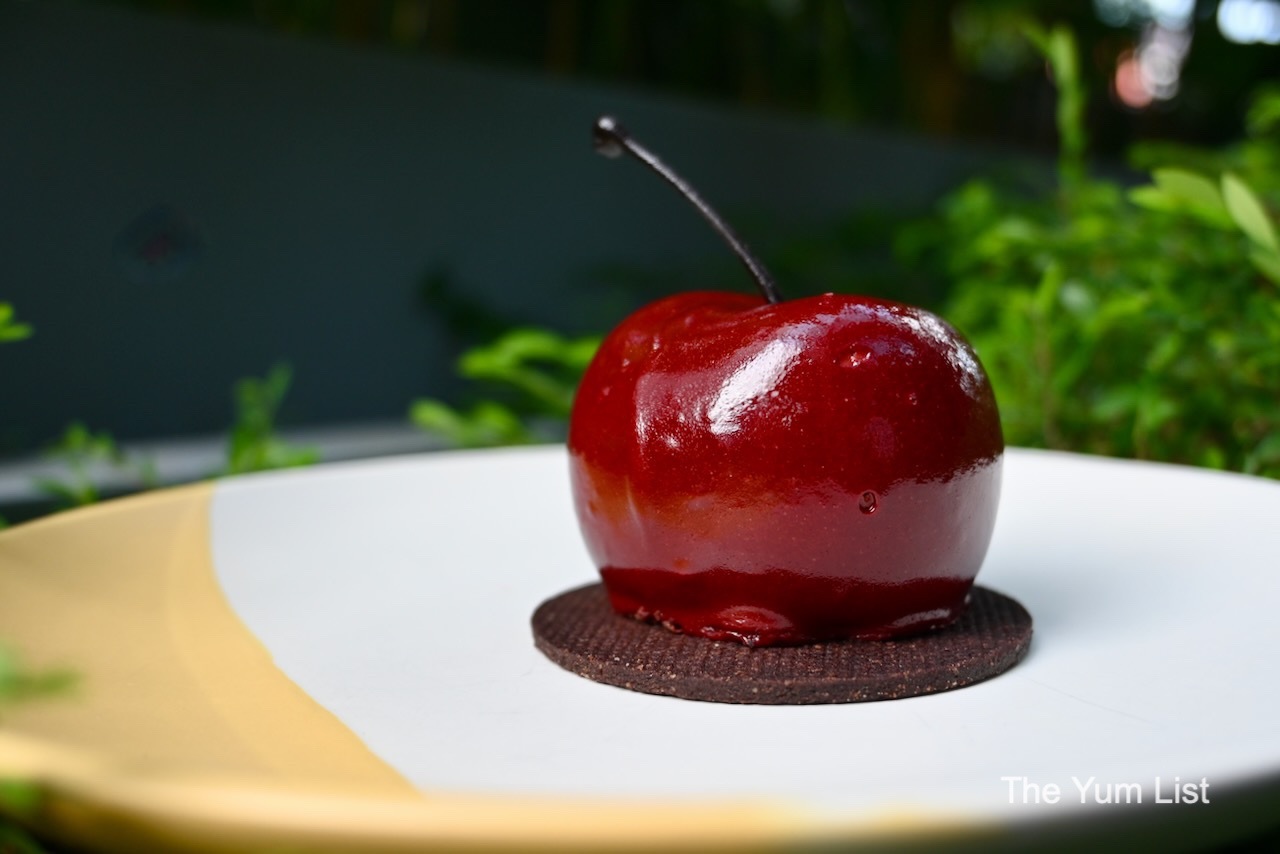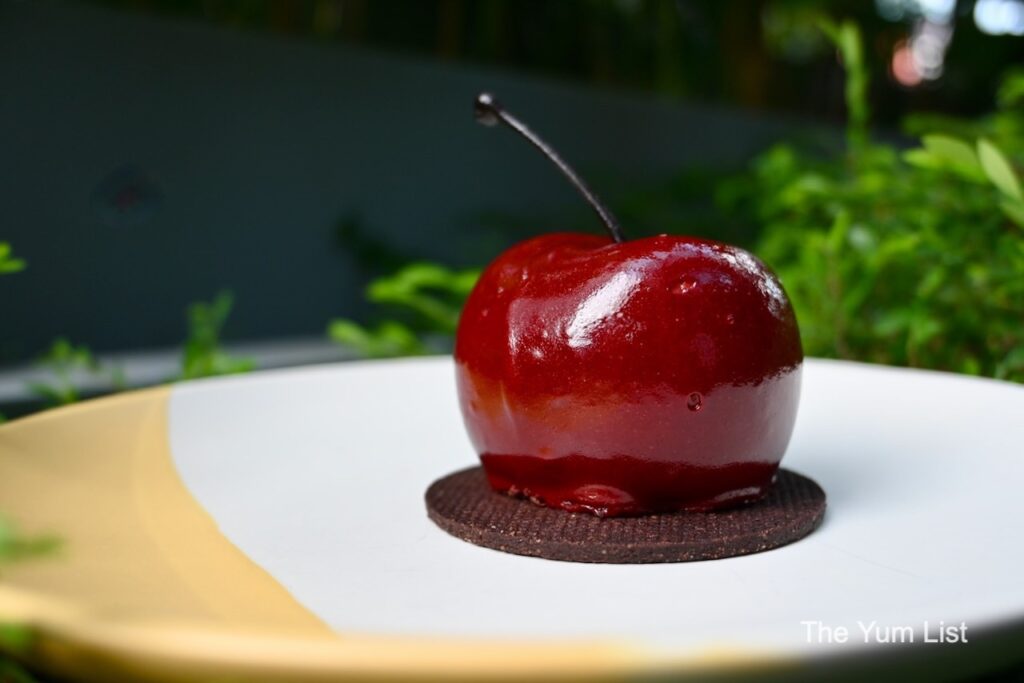 The Romarine (RM 15) raises the standard of a classic lemon butter cake with an infusion of rosemary. The result is a bright, zesty cake with beautifully synergising herbaceous flavours that perfectly balances sweet and sour. The lemon buttercream is also an asset to the cake, completing its vibrant flavour profile with an added citrus tang.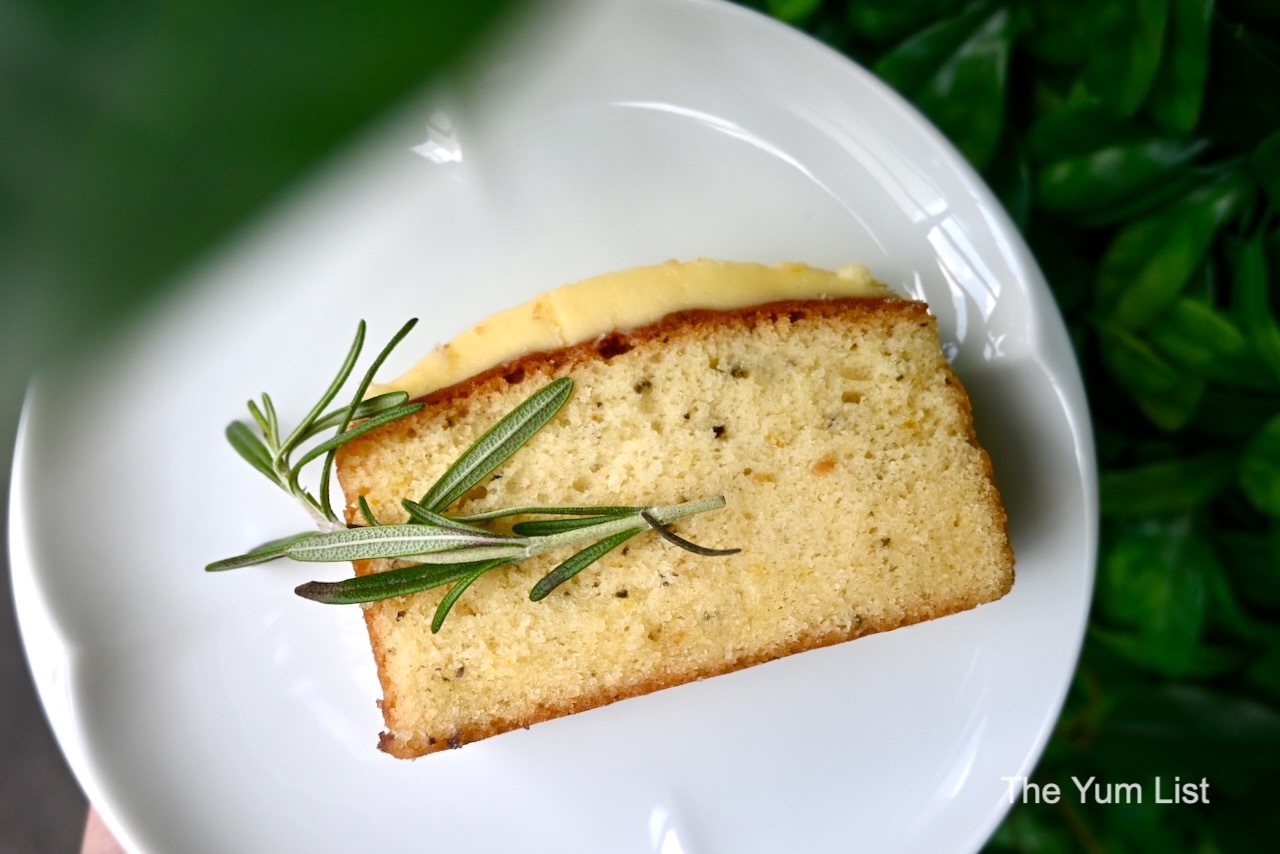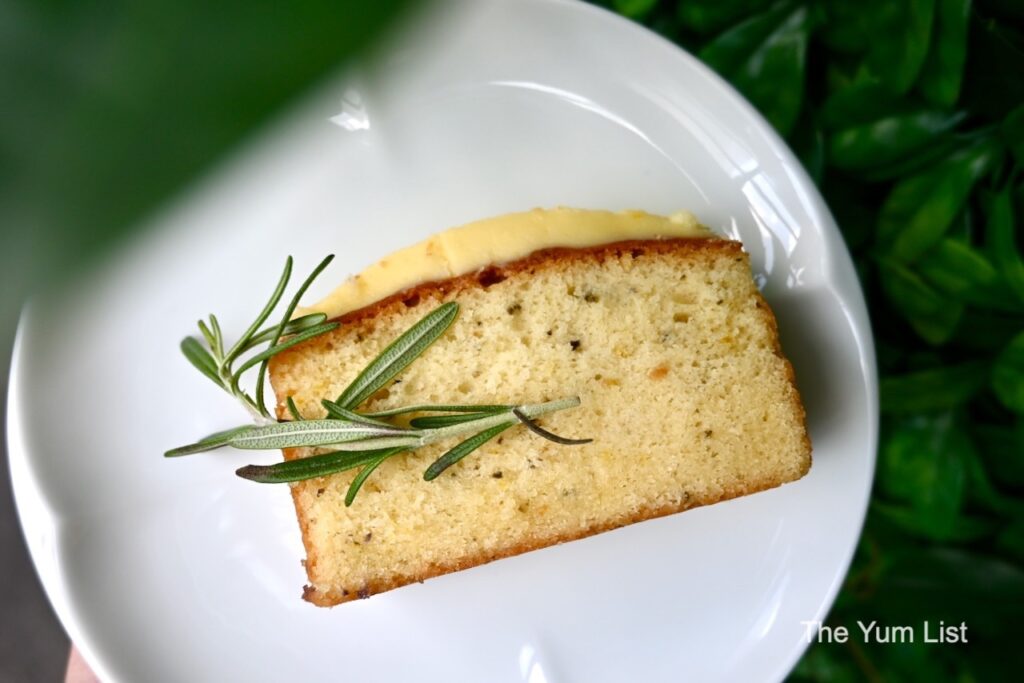 To wrap up the cake tasting, we tried the Pink Pistache (RM 24), a pistachio and strawberry cake that once again perfectly balances sweetness and acidity. The outer layer of homemade pistachio praline sets a deep chocolatey undertone to the bite, complementing the tart sweetness of the strawberry.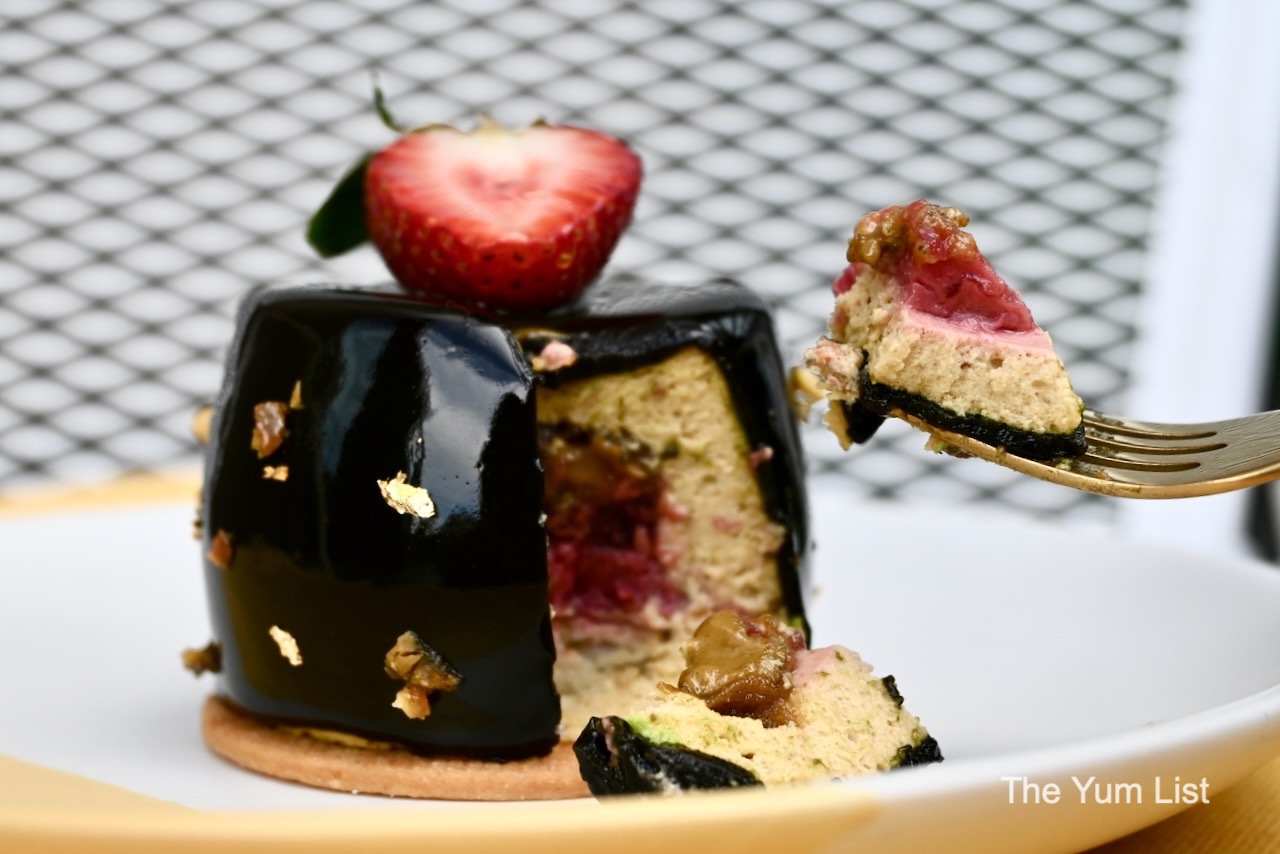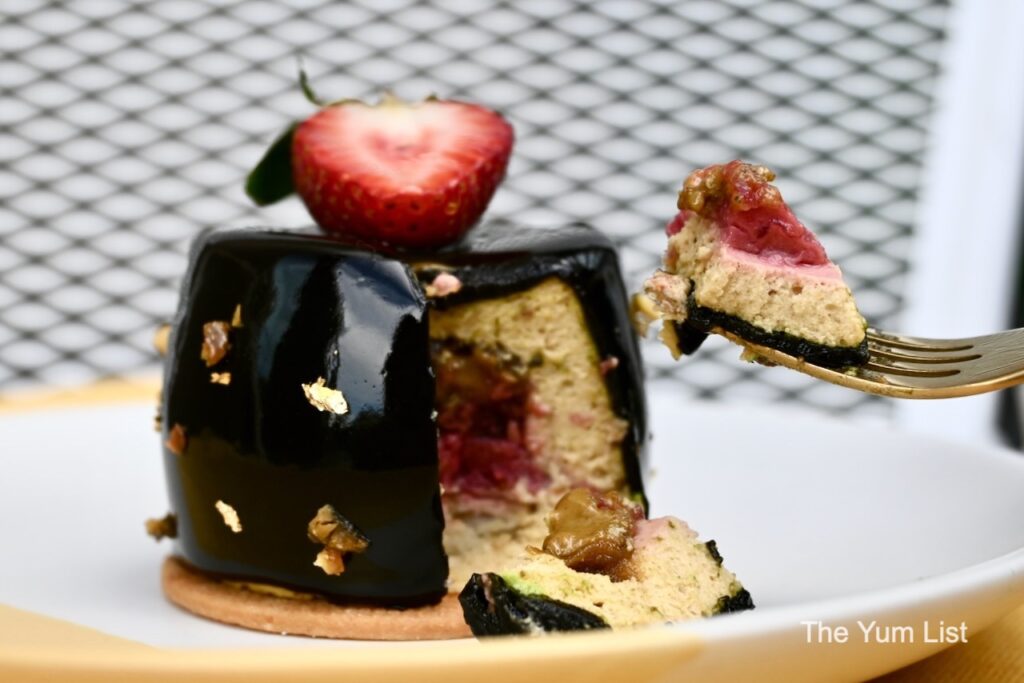 Drinks Menu
Cafe Limóne emphasises quality beans and coffee, with Sherina and Tee searching far and wide before finally arriving on a blend they both love. It's easy to see why upon tasting the Cafe Latte (RM 12), which was nicely balanced with smooth, nutty flavours. We opted to have ours with oat milk, appreciating the availability of dairy alternatives.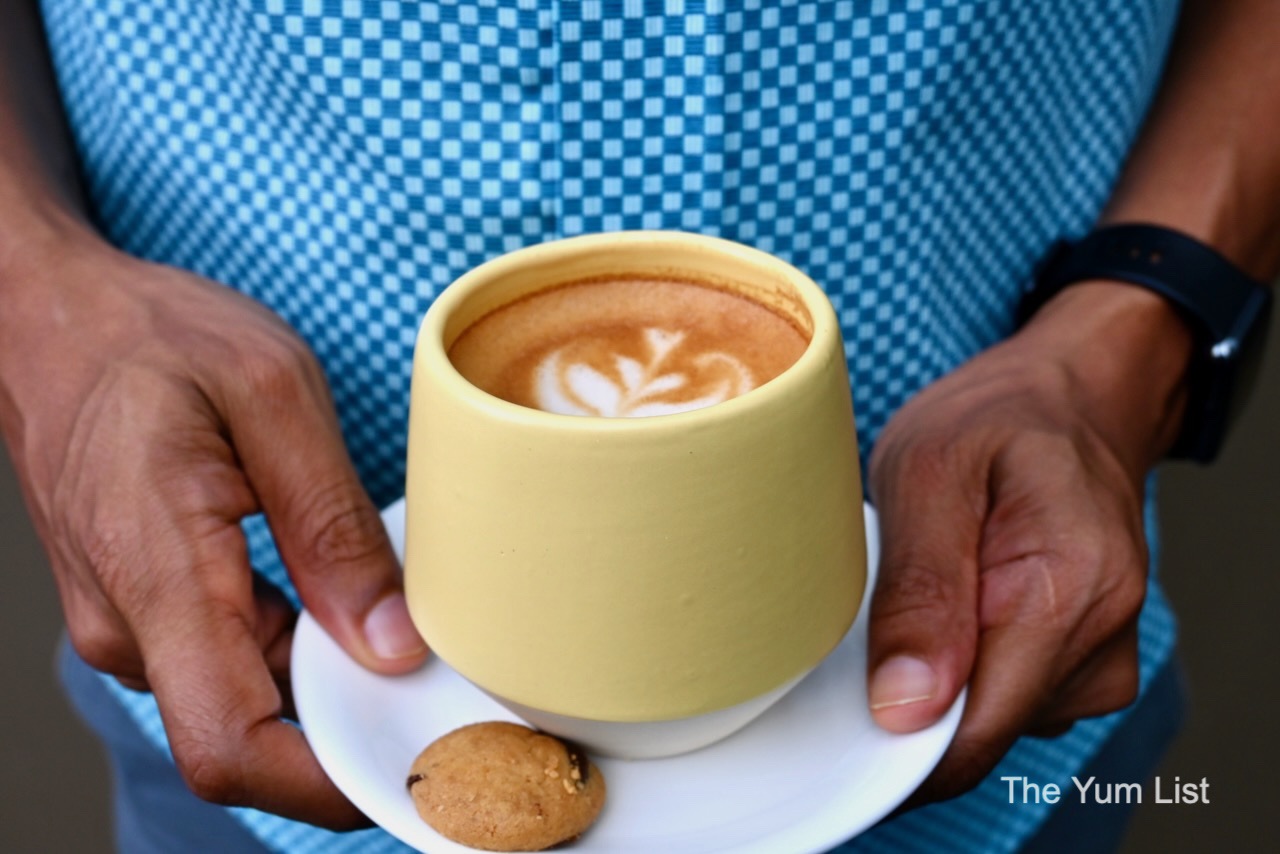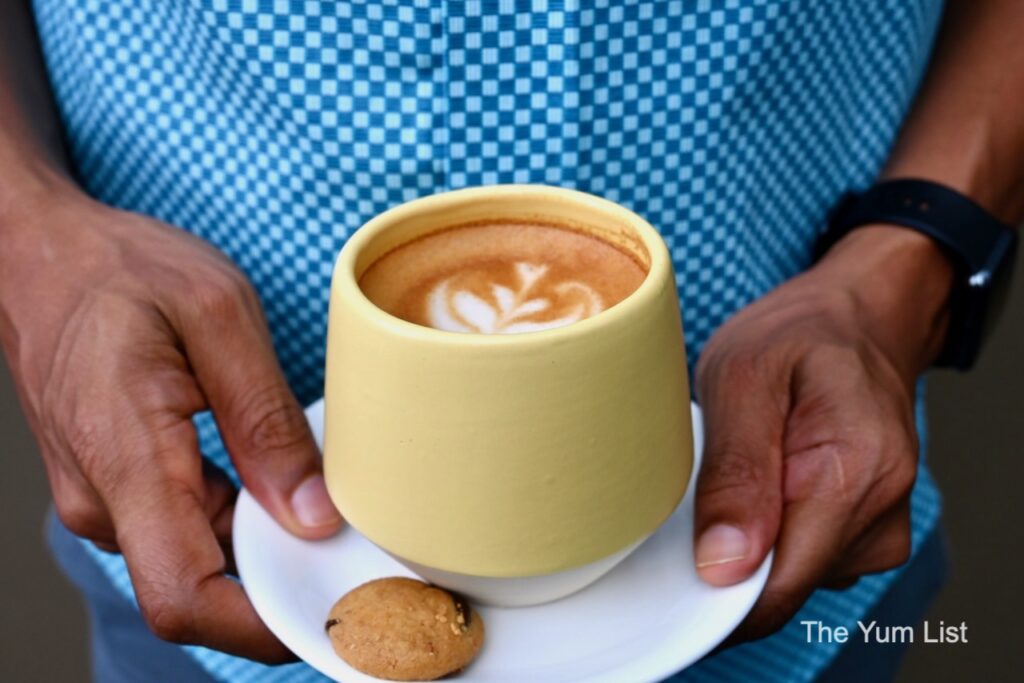 From the non-caffeinated options, we tried the Princess Peach mocktail (RM 16), a medley of white peach puree, lychee, mint leaves, and soda. Its refreshing sweetness harmonised with the Italian garden setting well while not being overpoweringly sugary.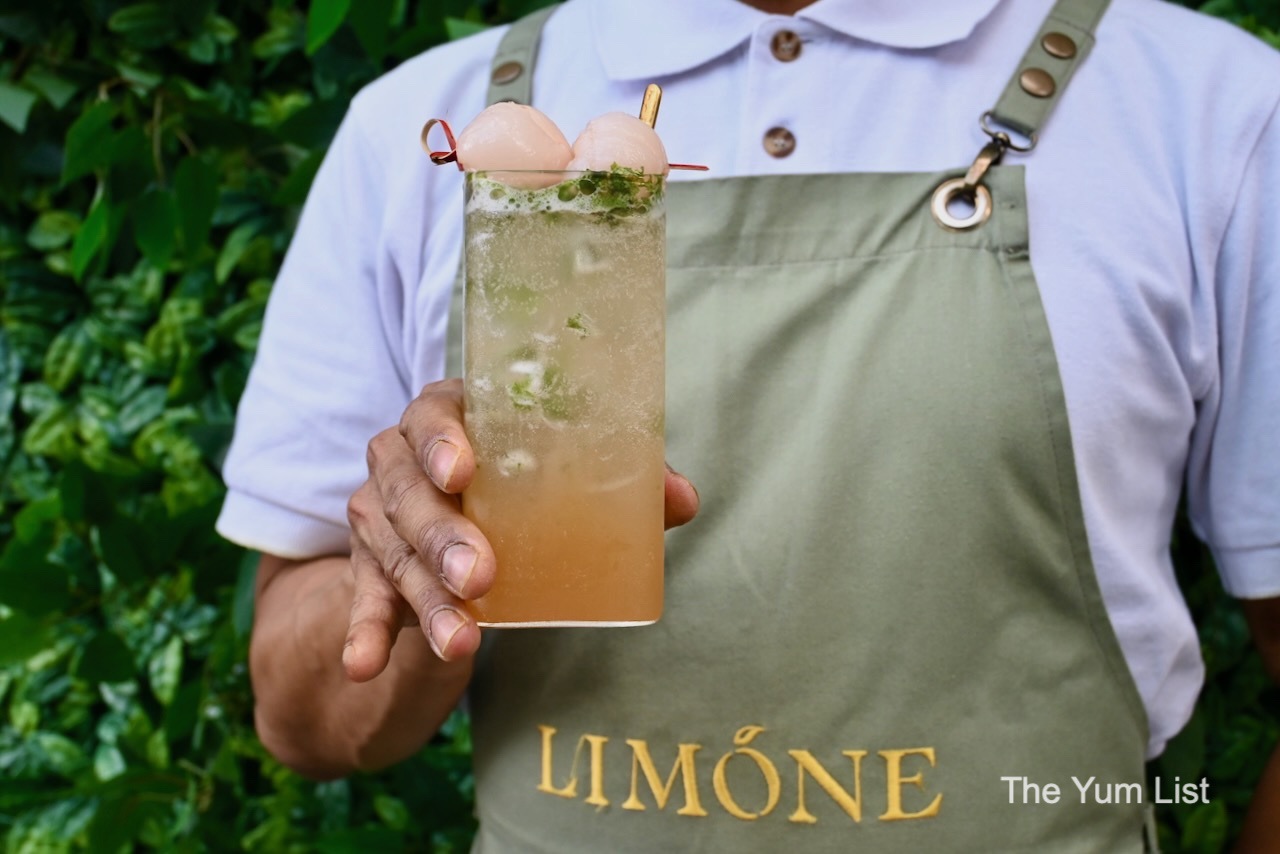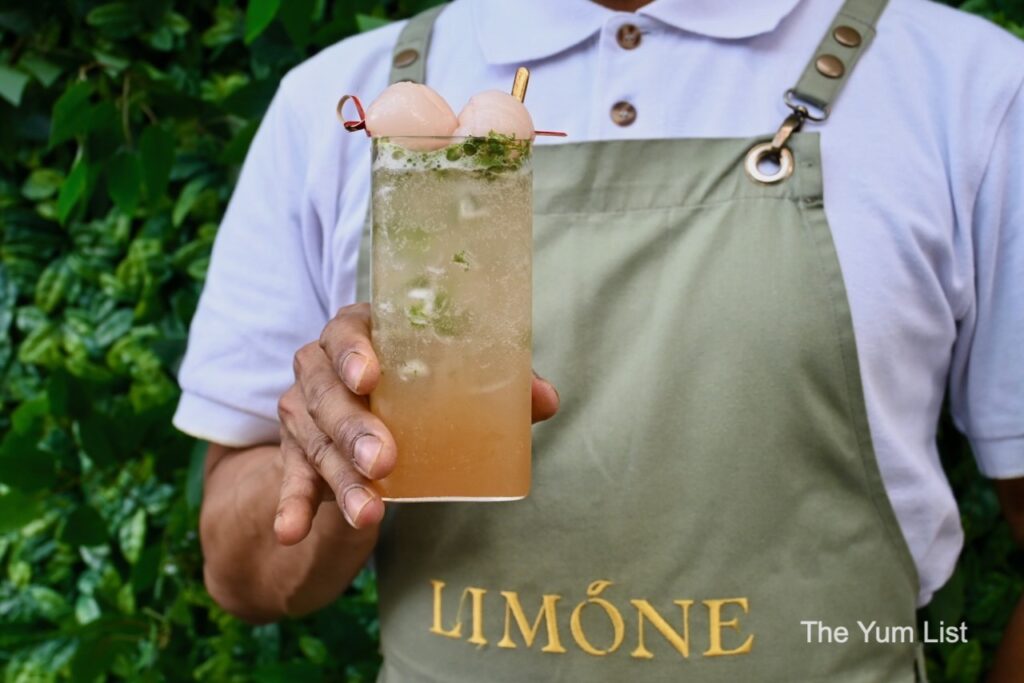 We also sampled the Classic Lemonade (RM 12), which was fascinatingly presented alongside a glass of butterfly pea flower-infused syrup, which caused the lemonade to turn from a muted yellow to vibrant shades of blue and purple before our eyes. Much like the Princess Peach, the lemonade was a refreshing drink much enjoyed beneath the lemon tree.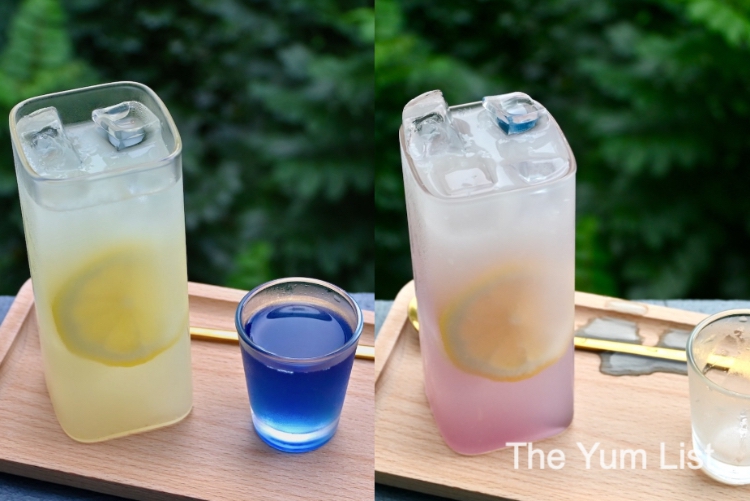 Cafe Limóne's version of hot cocoa, Cocoa Treats (RM 20), lived up to its name, treating us with a generous amount of whipped cream, marshmallows, and caramel sauce atop the comforting chocolate drink. Much like the lemonade, the Cocoa Treats goes the extra mile in visual appeal, with the hot chocolate being poured on top of a chocolate cap over a dollop of whipped cream in an appetising display.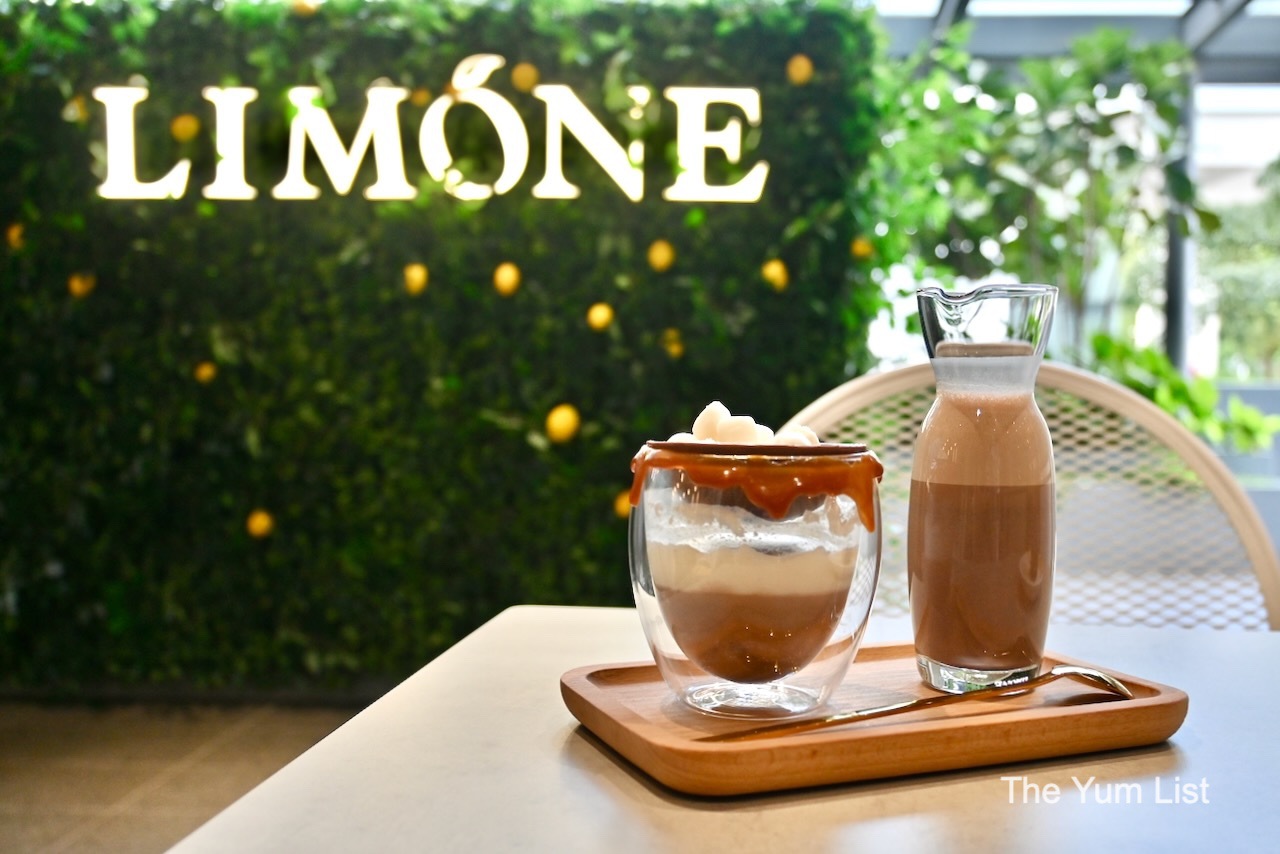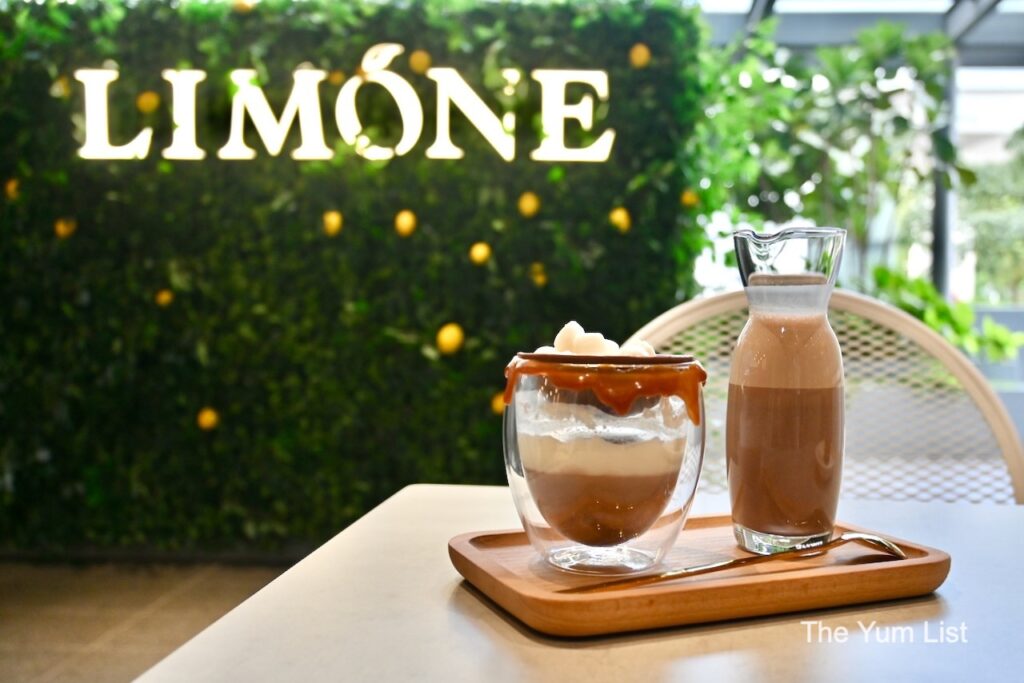 High Tea Menu – Cafe Limóne
From Cafe Limóne's upcoming high tea menu, the Salmon Tacos with Mango Salsa (RM 32) were delicious savoury-sweet delights on top of wonderfully flaky pastries. Mango and salmon make a uniquely harmonious pairing, with the mango adding sweetness and acidity to the salmon, which itself was cooked and seasoned skillfully.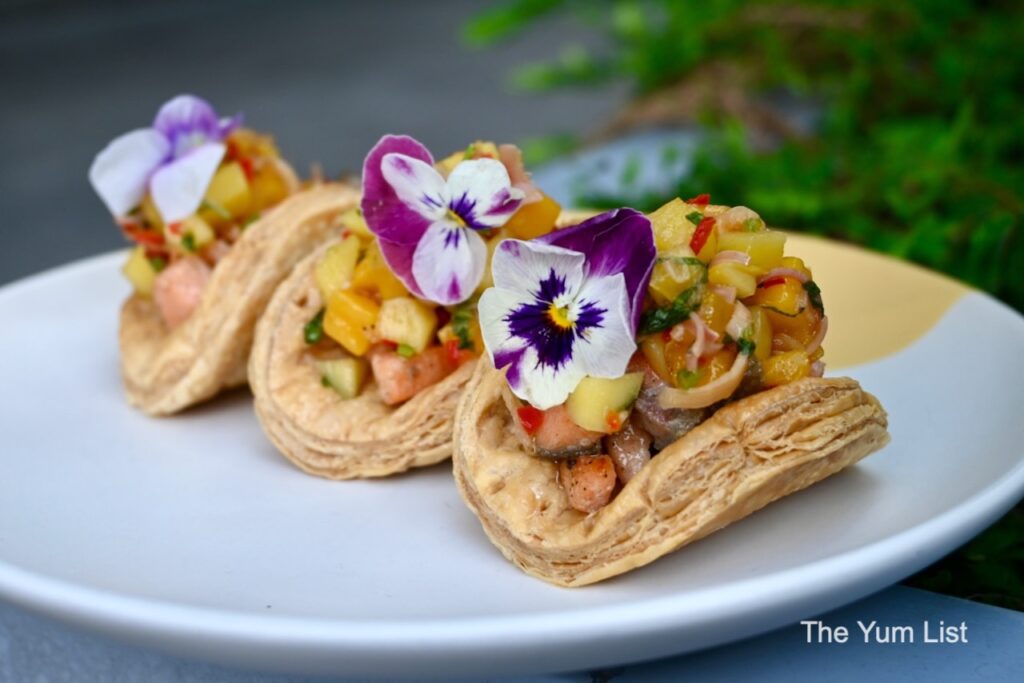 This was followed by the Grilled Spicy Corn Ribs (RM 16), which were well seasoned as the smoky flavours complemented the sweetness of the corn, and the seaweed added a salty kick.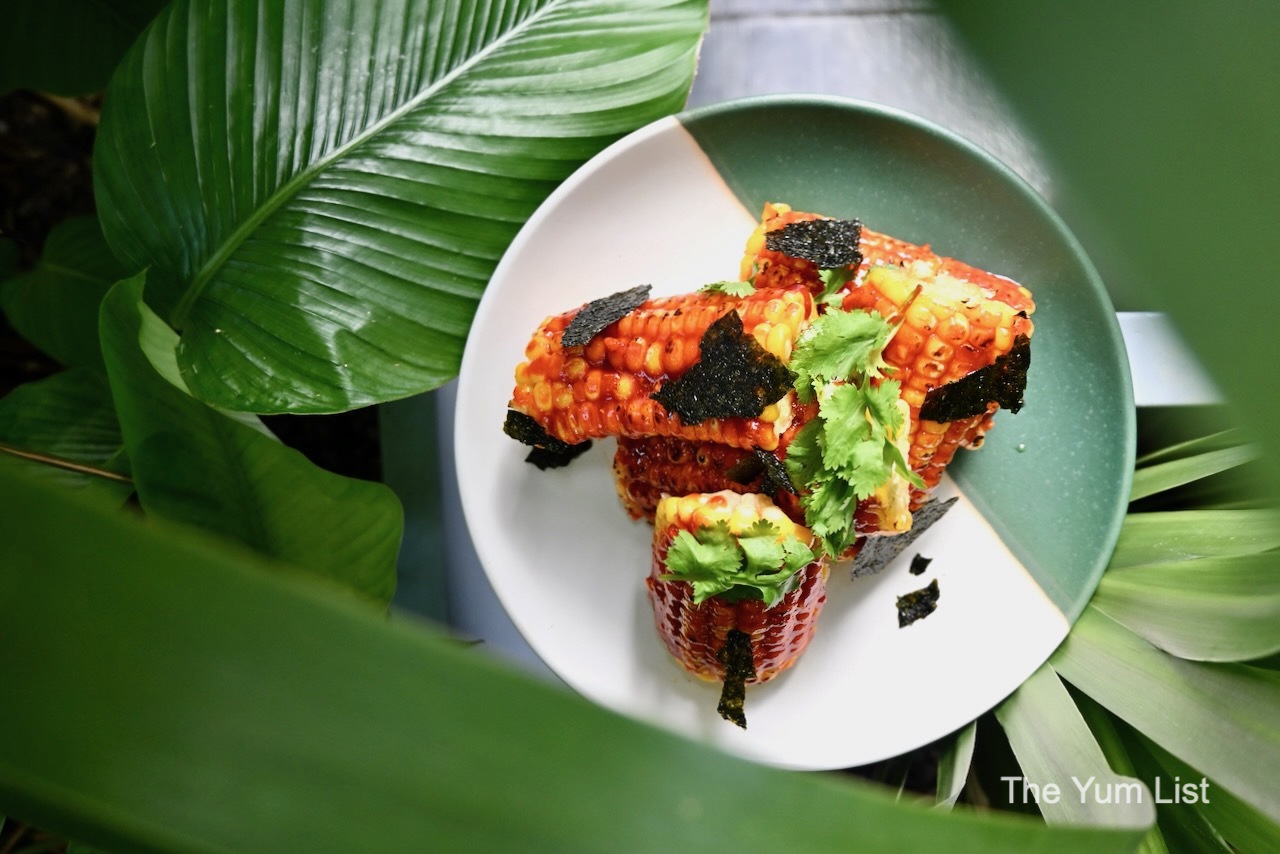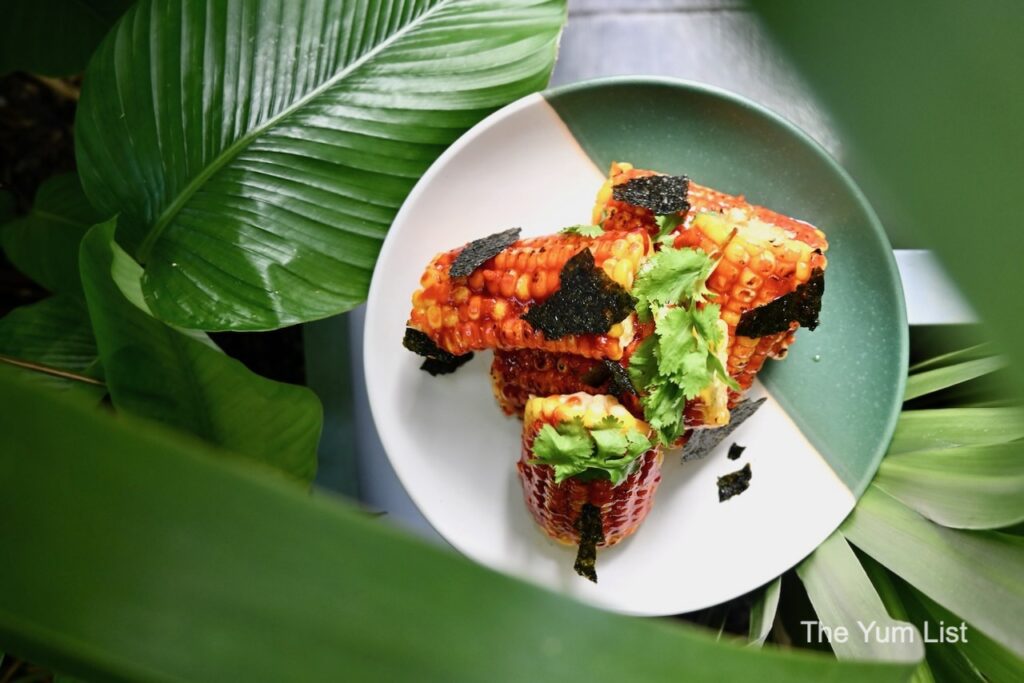 As another vegetarian option, the Sweet and Spicy Tempeh (RM 16) is crispy on the outside and soft on the inside. It is well seasoned with caramelised sweet and spicy sauce and additionally flavoured with the piquancy of torch ginger and the earthiness of the sesame seed garnish. The high tea menu will be available on weekends for pre-bookings.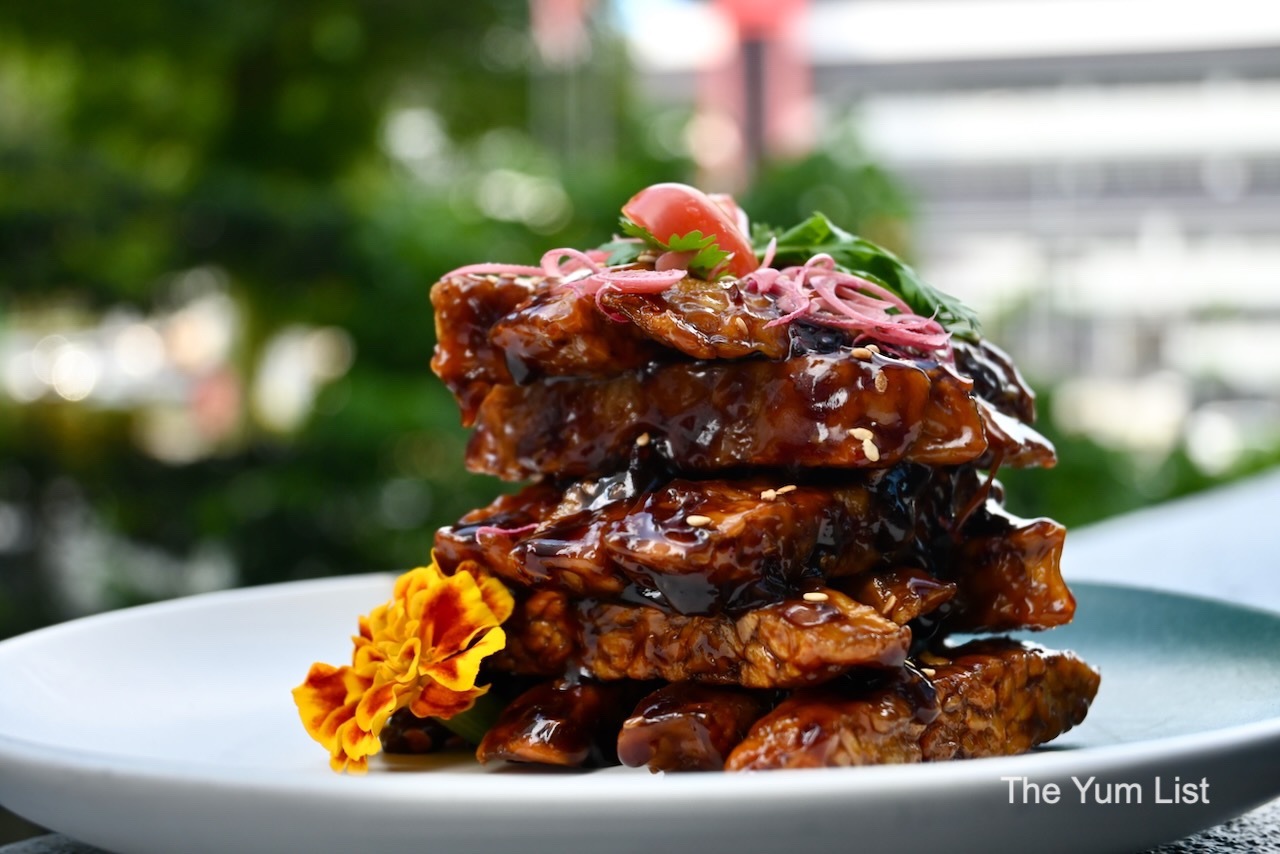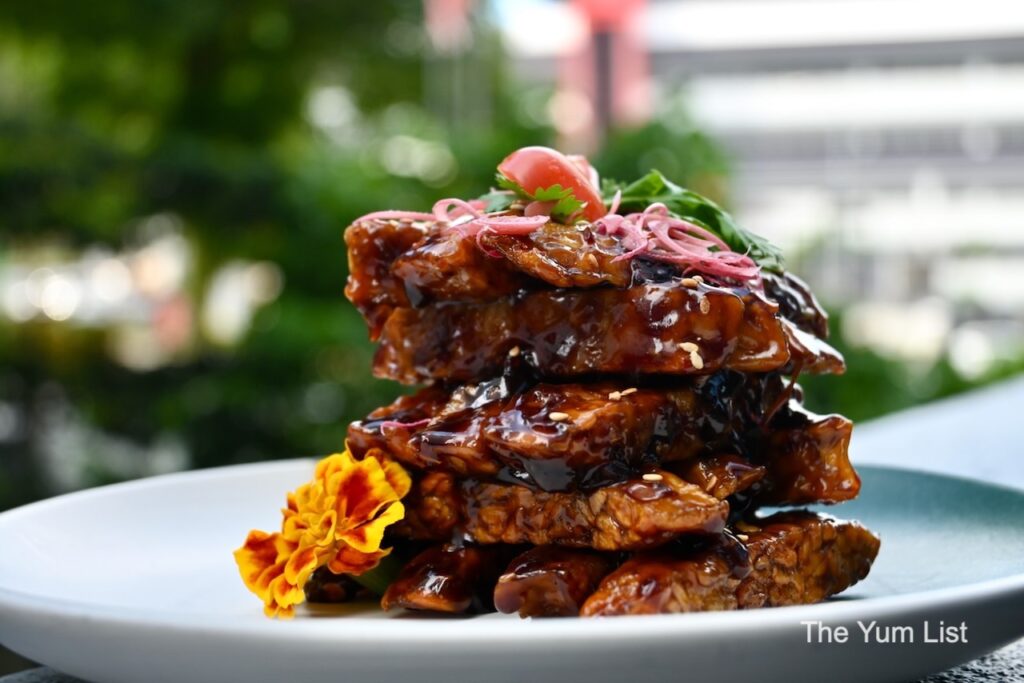 Mains
True to its Italian inspiration, Cafe Limóne also makes excellent pasta. The Spicy Seafood Squid Ink Pasta (RM 38) was particularly impressive both in charcoal-black colour and inviting taste. The pasta was cooked al dente and served with a heaping portion of various seafood, particularly highlighted by the Asian-inspired pasta sauce, which contains lemongrass, coconut and chilli — staples of Asian cuisine interweaving seamlessly with a classically European dish.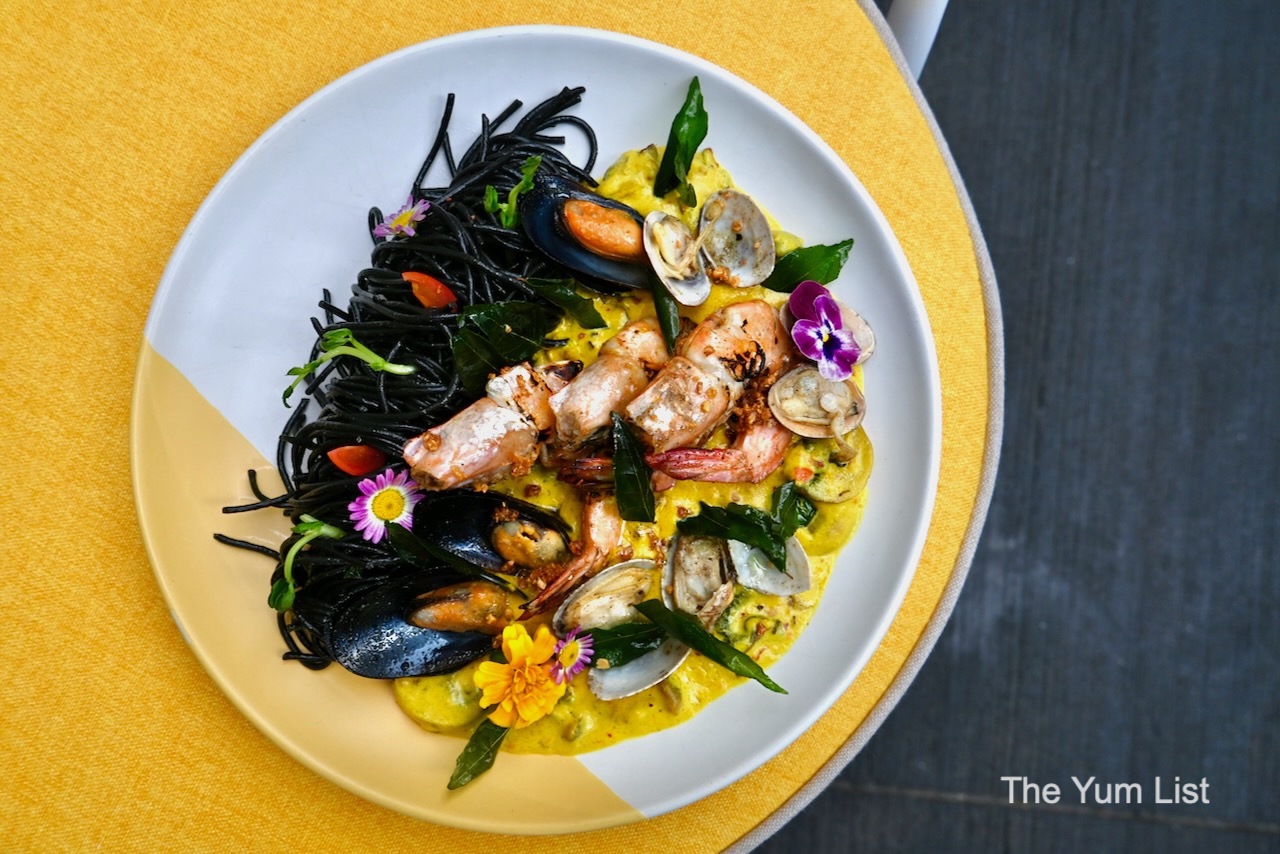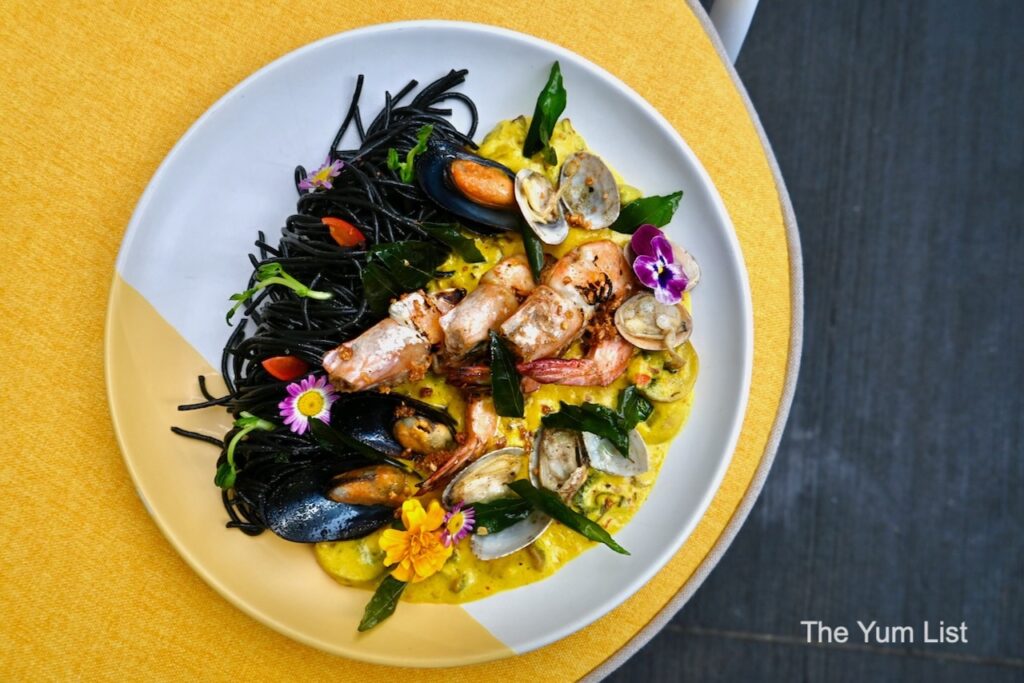 The Vegan Pasta (RM 25) is also a tasteful pasta option, heaping with fresh and earthy mushrooms. The seasoning of garlic sauce and greens adds a savoury freshness that is highly enjoyable.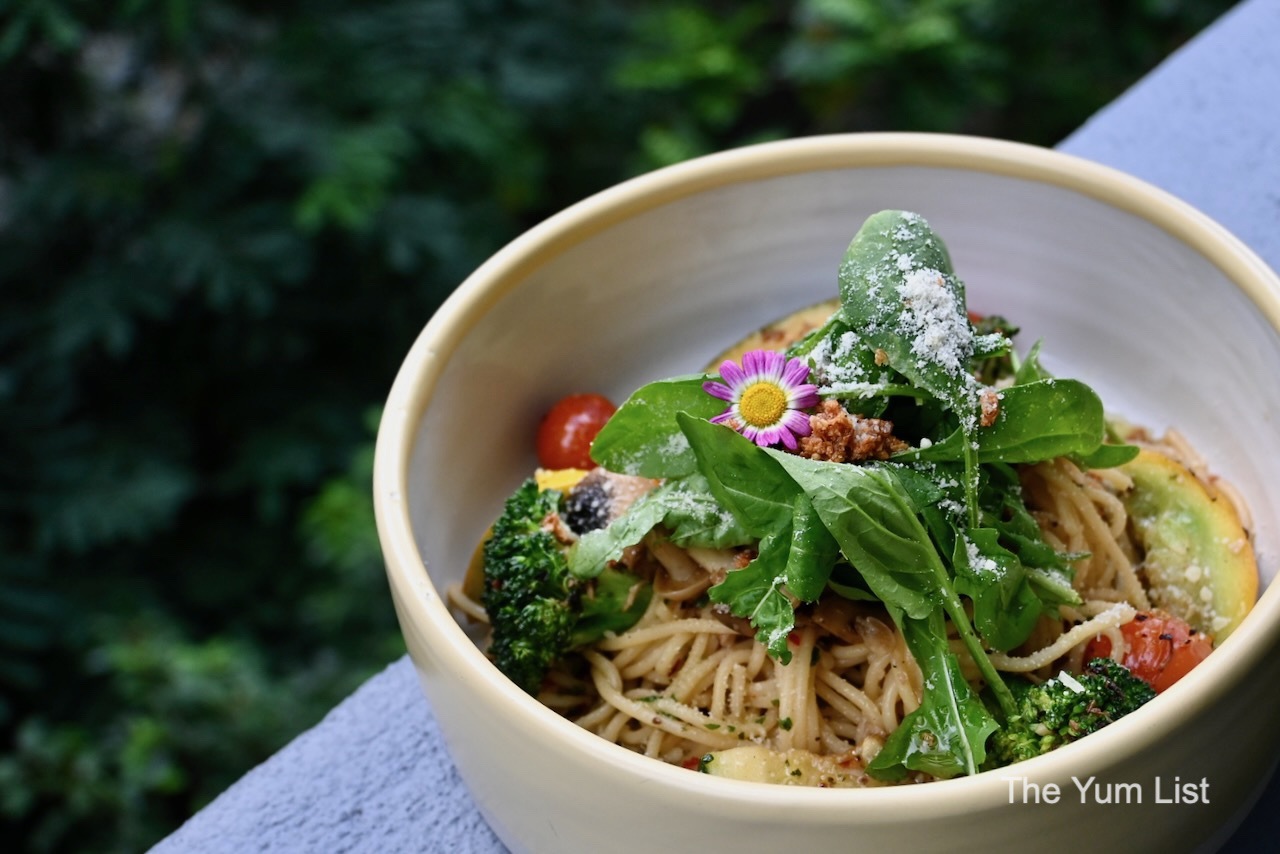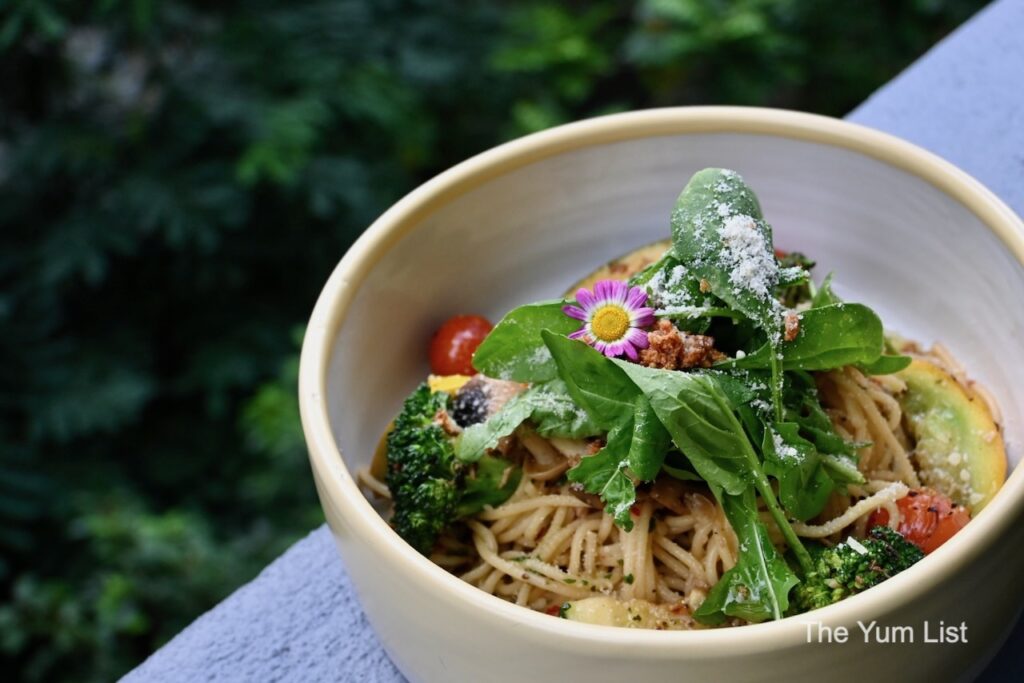 In keeping with the vegan theme, the Vegan Poke Bowl (RM 29) is piled with fresh and healthy goodness, using fresh vegetables and brown rice to ground the dish. The poke bowl is indulgent but healthy, with turmeric adding a brightness of flavour alongside the lemongrass and coconut milk. The vegan rendang, made of mushrooms, is a particular highlight, alongside the fermented tempeh optimal for gut health.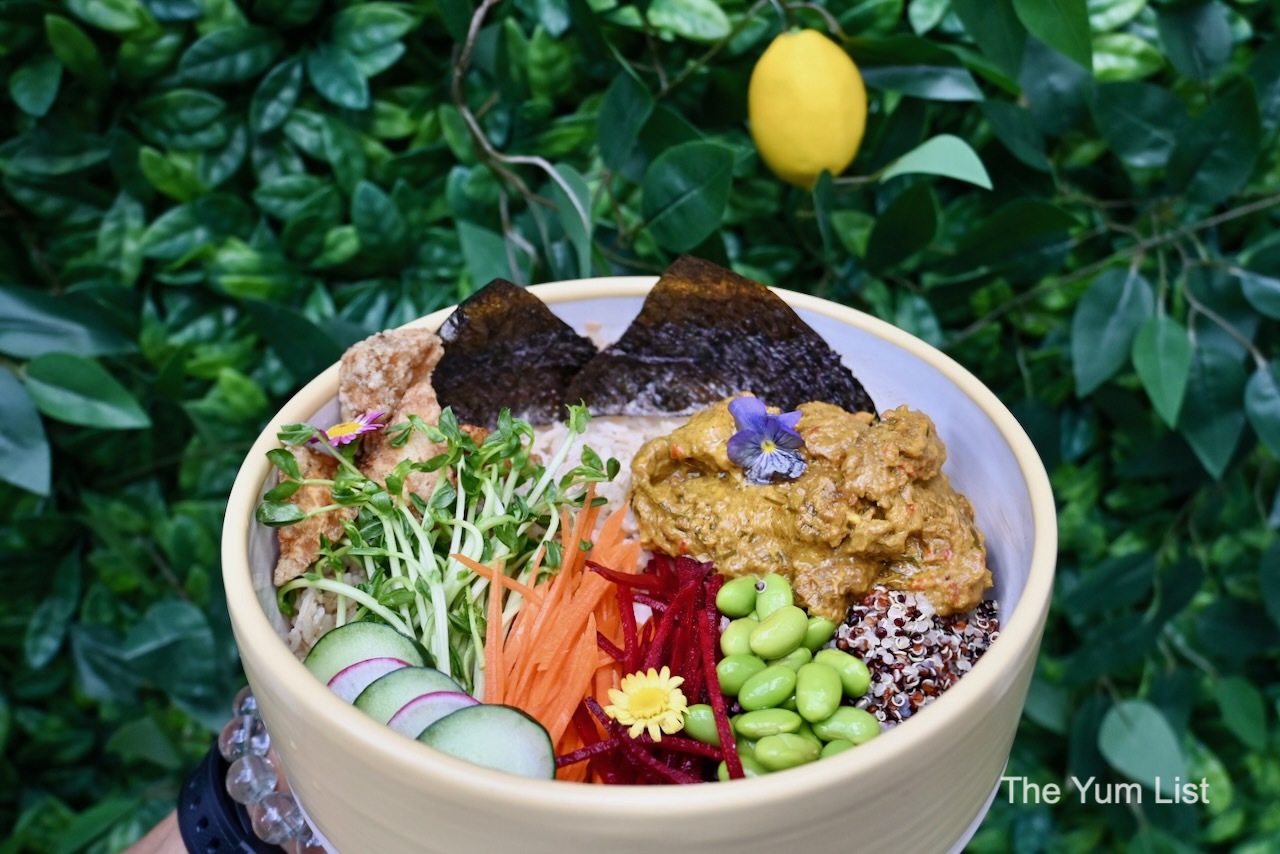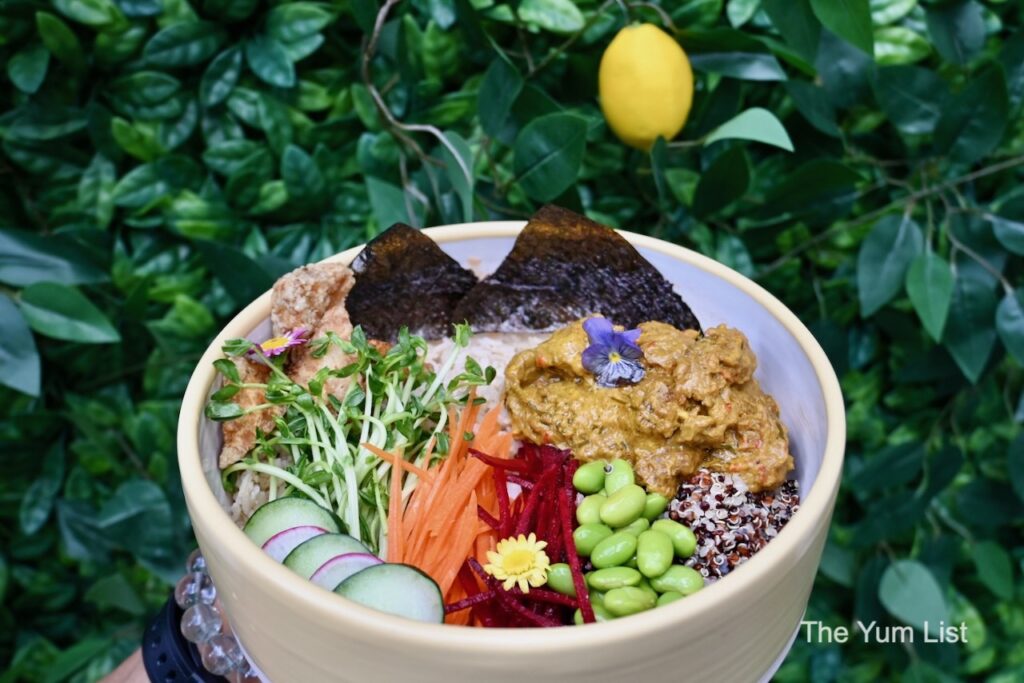 Cafe Limóne Review
Cafe Limóne features beautifully presented and scrumptious dishes amidst an idyllic setting. There's something for everyone here in the intermingling of Western and Asian flavours to create unique delicacies that are sure to ensure Cafe Limóne's place as a regular destination for cakes, drinks, and hot foods.
Reasons to visit Cafe Limóne: European-inspired setting; Western-Asian fusion food; beautiful and delicious cakes; excellent coffee, mocktails, and cocoa.
Cafe Limóne
Plaza Zúrich, Block A Lot G01-03,
Jalan Gelenggang, Bukit Damansara
50490 Kuala Lumpur
Instagram @limone.my
+60 12 373 3743
Cafe Limóne Opening Hours
9am – 6 pm
Closed on Mondays
Find more of our favourite cafes here and stay up to date with the latest gourmet happenings around Malaysia here and here.