DC Restaurant – Revisited November 2022
Words: Matt Brown
Photos: Monica Tindall
Numerous moments during my first year in Kuala Lumpur have been spent in gobsmacked joy at how not only did I find myself in this vibrant and diverse city during such a strange time in the world but somehow added the cherry of all cherries on top of the experience by writing for The Yum List. I've been fortunate to experience the skills, passions and imaginations of so many welcoming and inspirational people across the city; sometimes, I have to pinch myself that it's all really happening. After visiting Darren Chin's exquisite DC Restaurant for the first time, I have had to cease the pinching, or there'll be no part of me left that isn't heavily bruised.
I try very hard with my articles to avoid using (or at least over-using) certain words and phrases. There are only so many times that I imagine you want to read about a 'perfect' combination of flavours, or 'exquisite' 'taste sensation'. For what you are about to read: I apologise. Darren and his precise and professional team have left me no choice but at the end of this glorious year, I must abandon all of my self-imposed rules and let loose. Spoiler alert: it's just that good.
DC Restaurant – Revisited November 2022
Chef Chin's commitment to telling an impeccably delicious story using the freshest, most flavoursome and most thoughtful ingredients means that constant evolution is a hallmark of the menu. With an incredible ability to use his 14 years of training and technique in ways that elevate a dish without seeming trend-driven or showy, there isn't an item from any menu where you wouldn't find an honest and intelligent approach in its creation.
Tasting prix-fixe menus offered are based on seasonal ingredients, which is constantly evolving. During our visit it was towards the end of hairy crab season (lucky us!), and we hear winter black truffles will be starting soon. Their well structured menu starts with the ultra luxurious Louis XIII Emperor Tasting Menu, which encompasses the very best of DC, using the freshest and premium ingredients to highlight the true essentials of luxury. Another highlight is their Sake Pairing Menu, a well thought-out diverse selection of six sakes ranging from sparkling, junmai and junmai daijinjo's pairing beautifully with their predominant seafood-forward dishes. Other menu offerings include a 7-course, 5-course and 4-course with optional a la carte add-ons, and they are also known for their Vegetarian Menu, which showcases diversity of craft and culinary skill.
DC Restaurant Menu Highlights – Appetisers
Before you've even considered the food or drink for the evening, the staff at DC welcome you with warmth and ease that give a sense of how you're in good hands. On the ground floor level is Le Comptoir, the long bar that sets the tone for style in this impressive building and where we are poured a delicious glass of Charles Ellner Premier Cru Brut, from the Epernay Champagne region of France. Once we are relaxed and ready for the night ahead, we are led upstairs to the first-floor La Salle dining room, where crisp linens, private tables and a gorgeously minimalist style combine.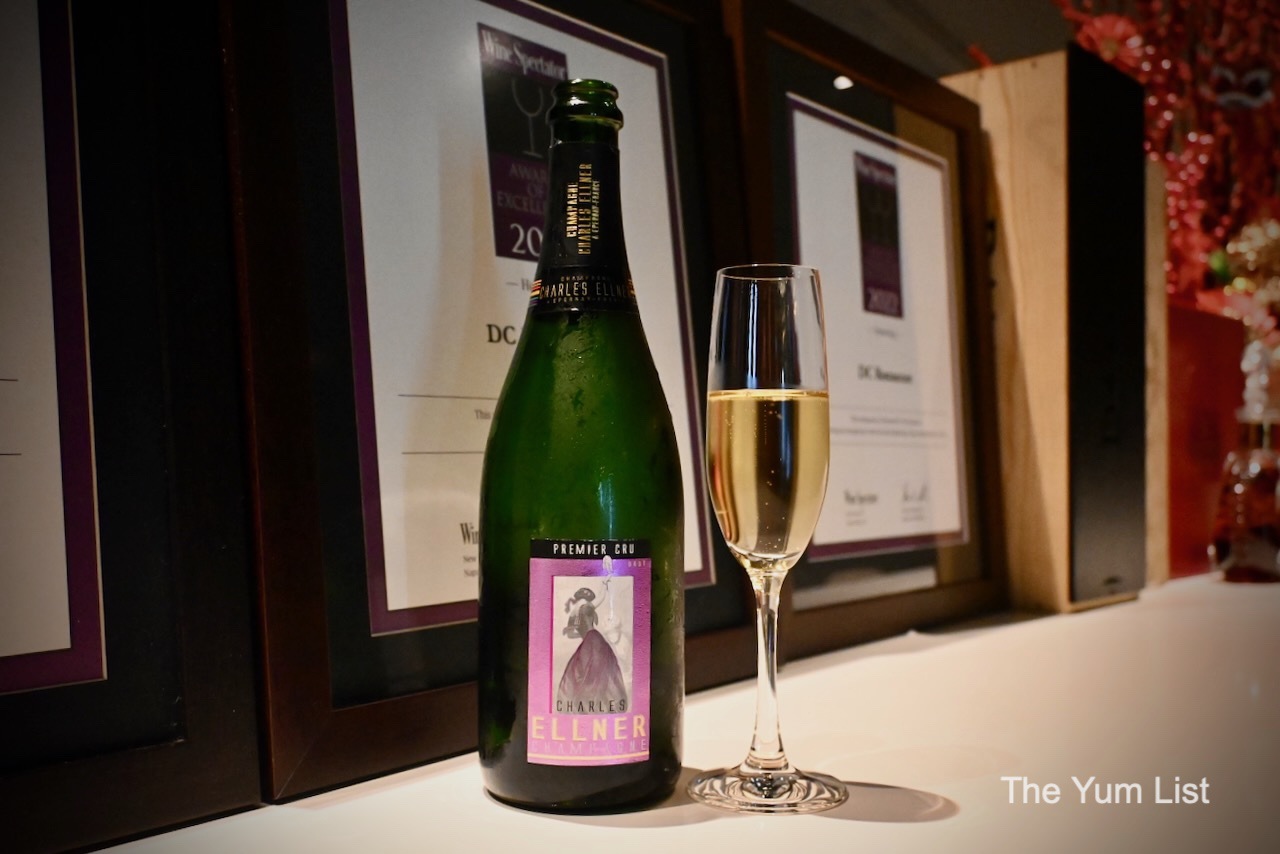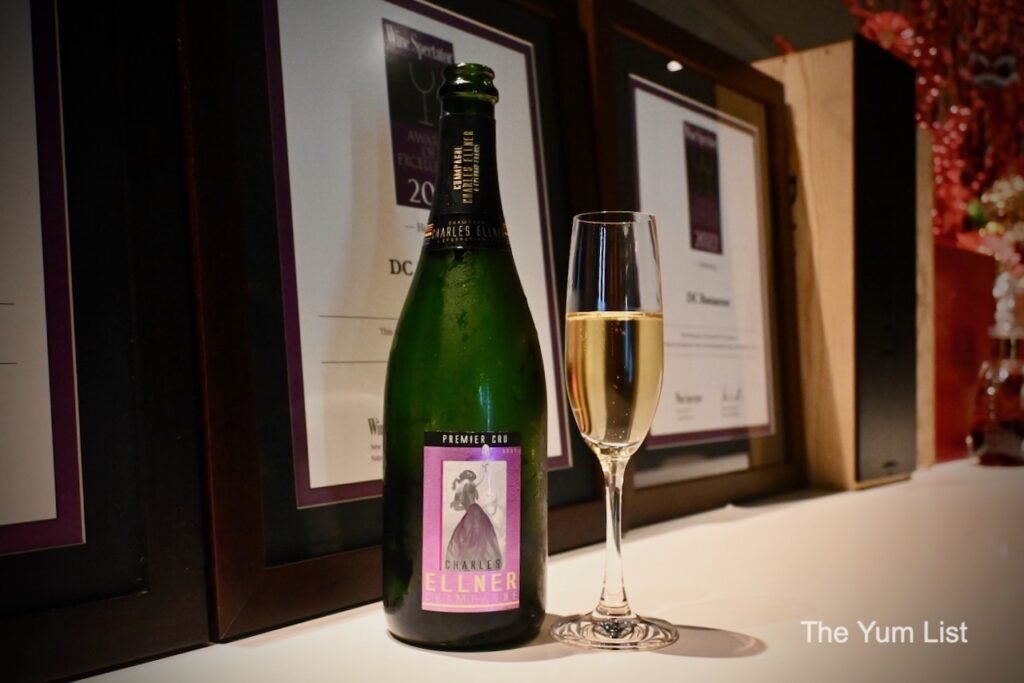 Not long after taking our seats and the warm welcome, a gorgeous prelude to the evening arrives in the form of house-baked bread and pastries. I have tried all year to be strong and not consume too many bread offerings upfront when out for a meal, but at DC Restaurant, the croissant, fermented sourdough and onion, cheese, and tomato bread twists were too good to resist. I thought I had spotted a more trendy addition when the butter was revealed, as the dark flecks in the quenelle reminded me of so many servings of truffle butter that are de jour in fine dining. Not at DC. Of course, it's not truffles – it's caviar. Caviar butter. It did not last.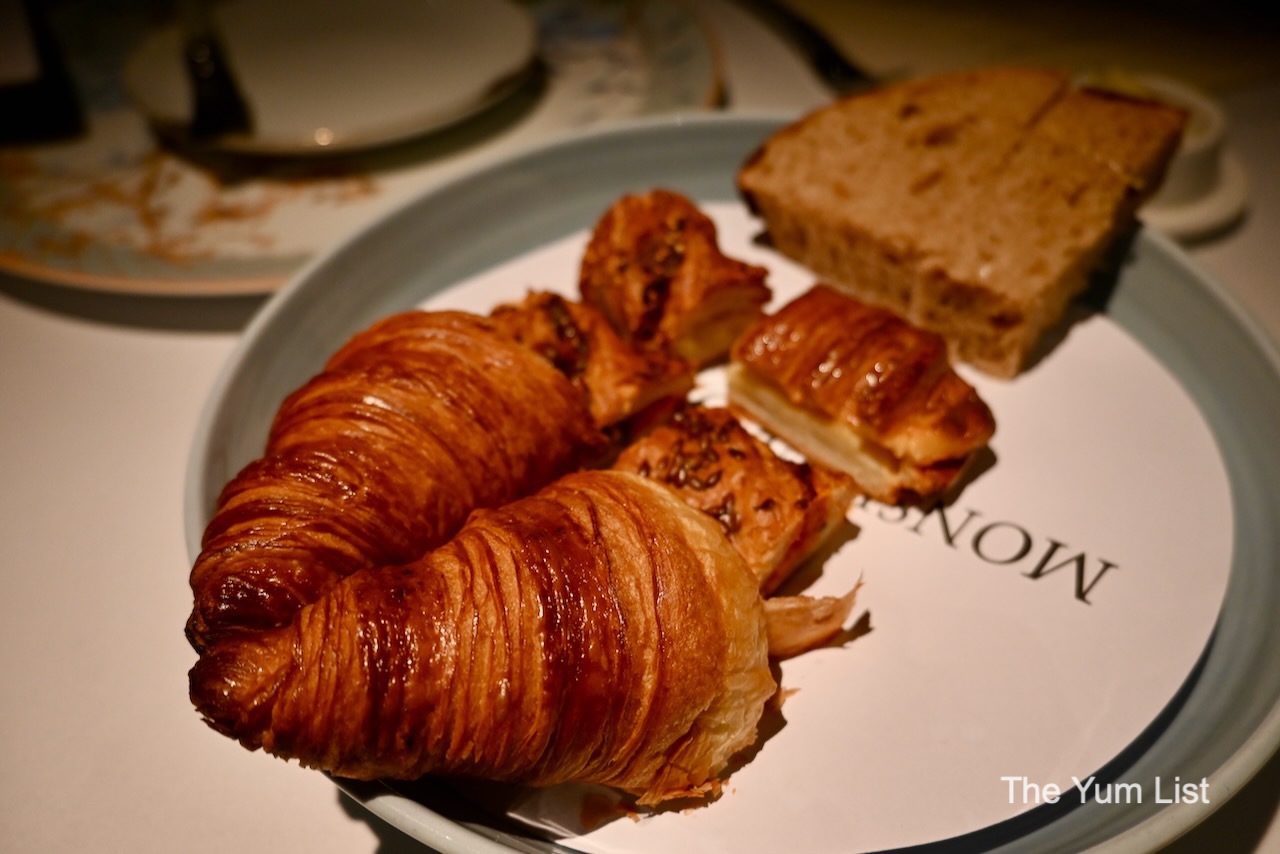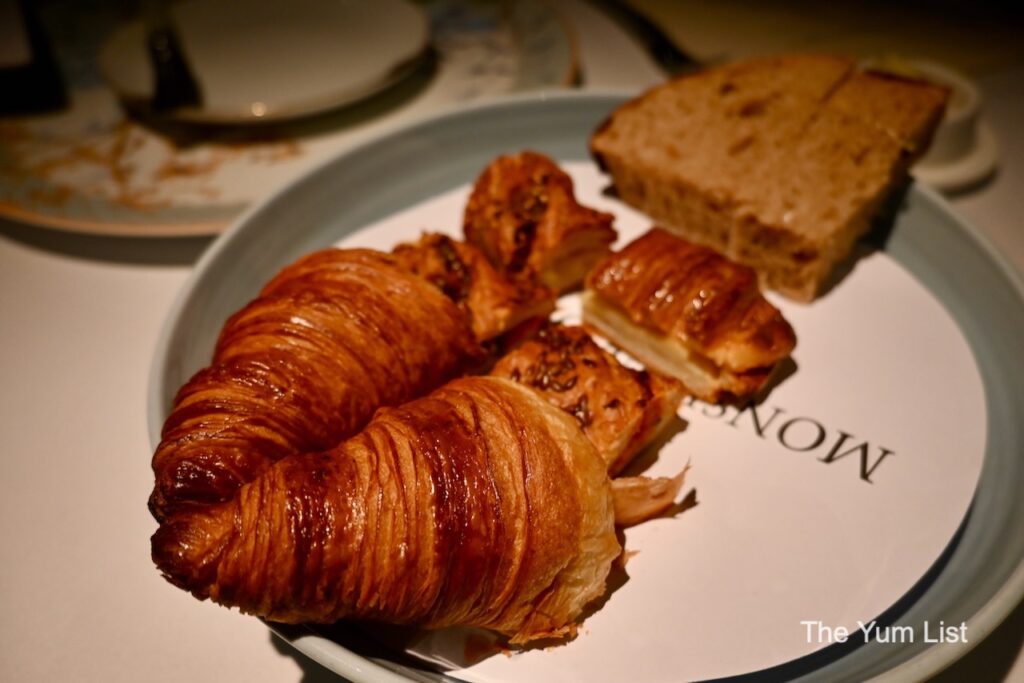 The Amuse Bouche arrives next, with four artfully arranged items for tasting. Everything is explained respectfully by our servers for the evening, General Manager Hafiz and Ifran, who take great care in detailing the ingredients and the best ways to enjoy them. They are masters of instinct – disappearing when you're ready to continue your conversation and popping up to refresh a glass or answer a question. The four items we taste are a classic sandwich with white onion panna cotta, Japanese Shishito peppers with snow crab and curry in an oyster emulsion, cured mackerel with local caviar and shortbread with goat's cheese, sour black pepper and Chiang Mai honeycomb. All are light and refined in flavour, complemented immensely by the paired sakè – a cold Tanaka Rokujugo from the Miyagi prefecture of Japan.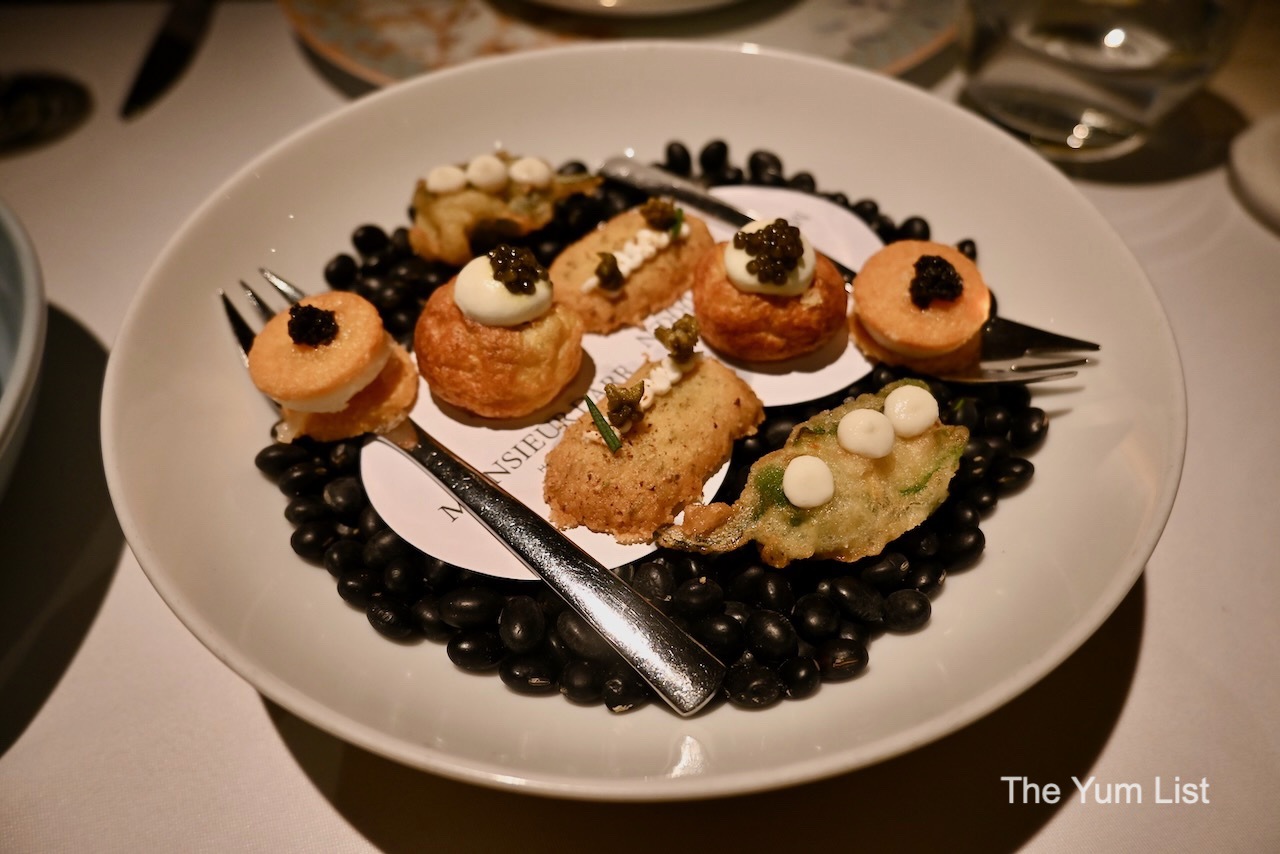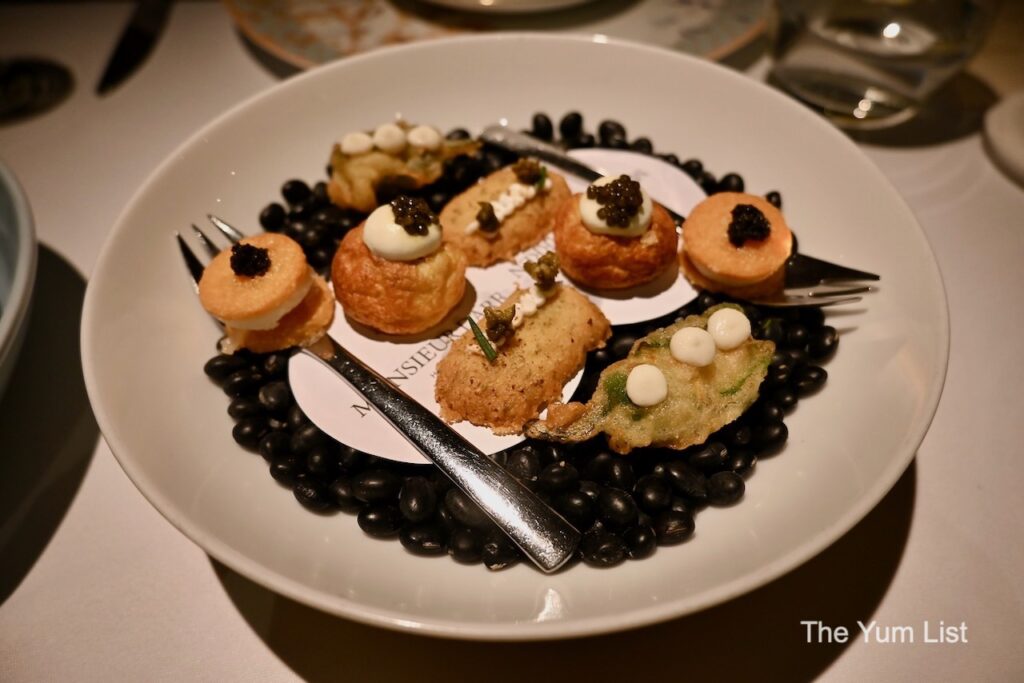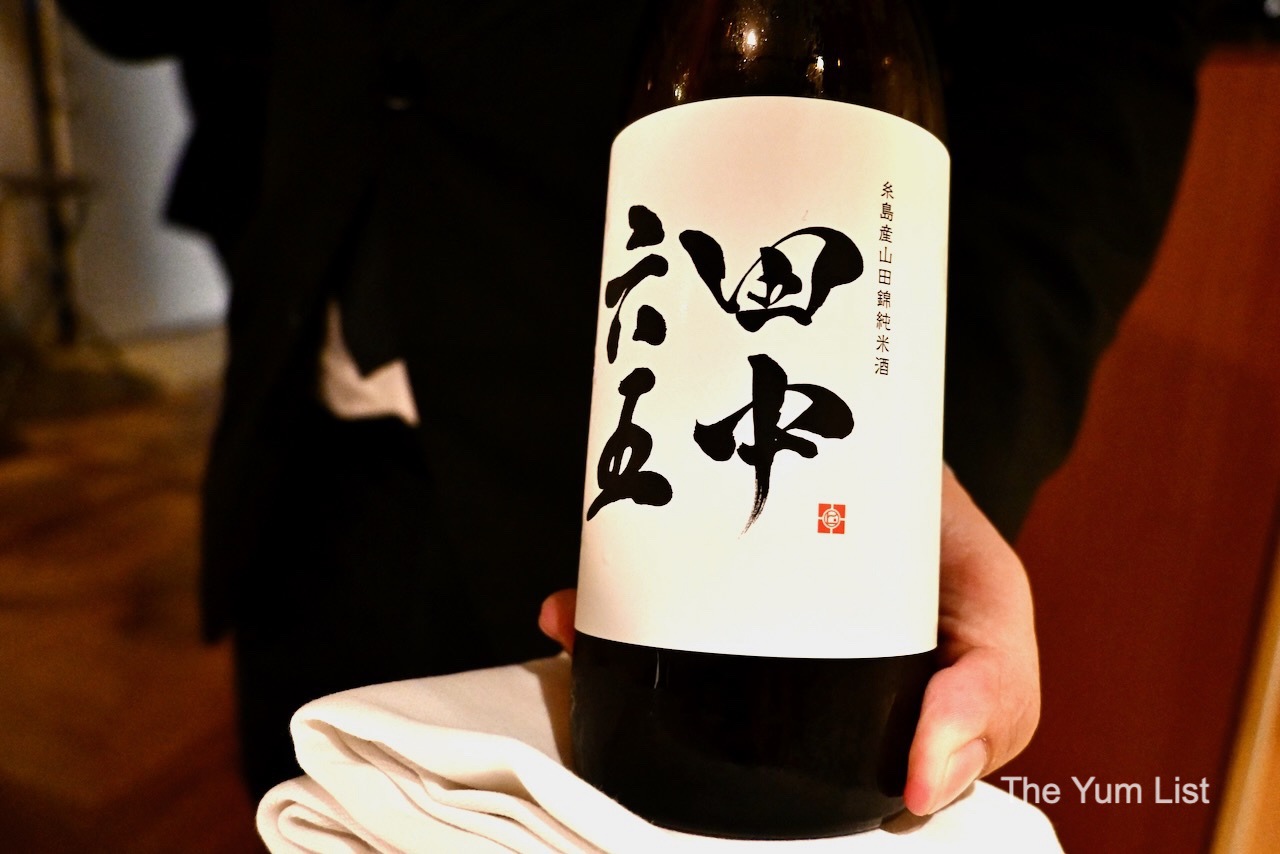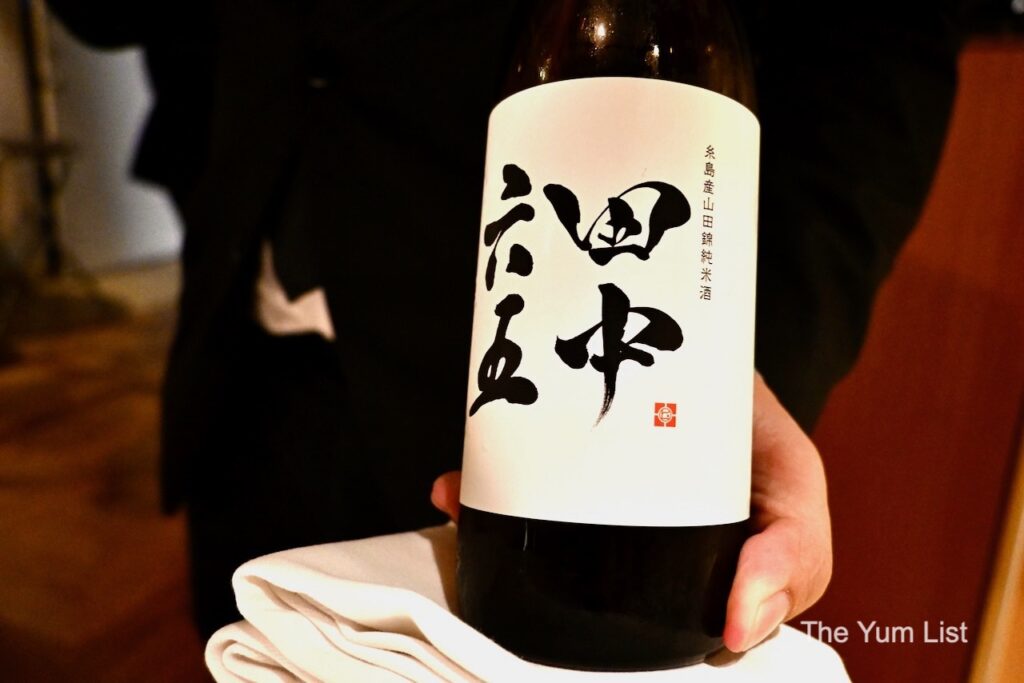 Continuing the opening themes of lightness and subtlety, the Cured Amaebi is simply incredible. The 'sweet shrimp', as it is known to sushi lovers, is perfectly presented after having been marinated in shio koji. Served with a sweet-tasting arugula puree and clams marinière, there are pickled Dayak onions on top, as well as a serving of the pickling foam. Everything here is in balance, and the prawns are so buttery.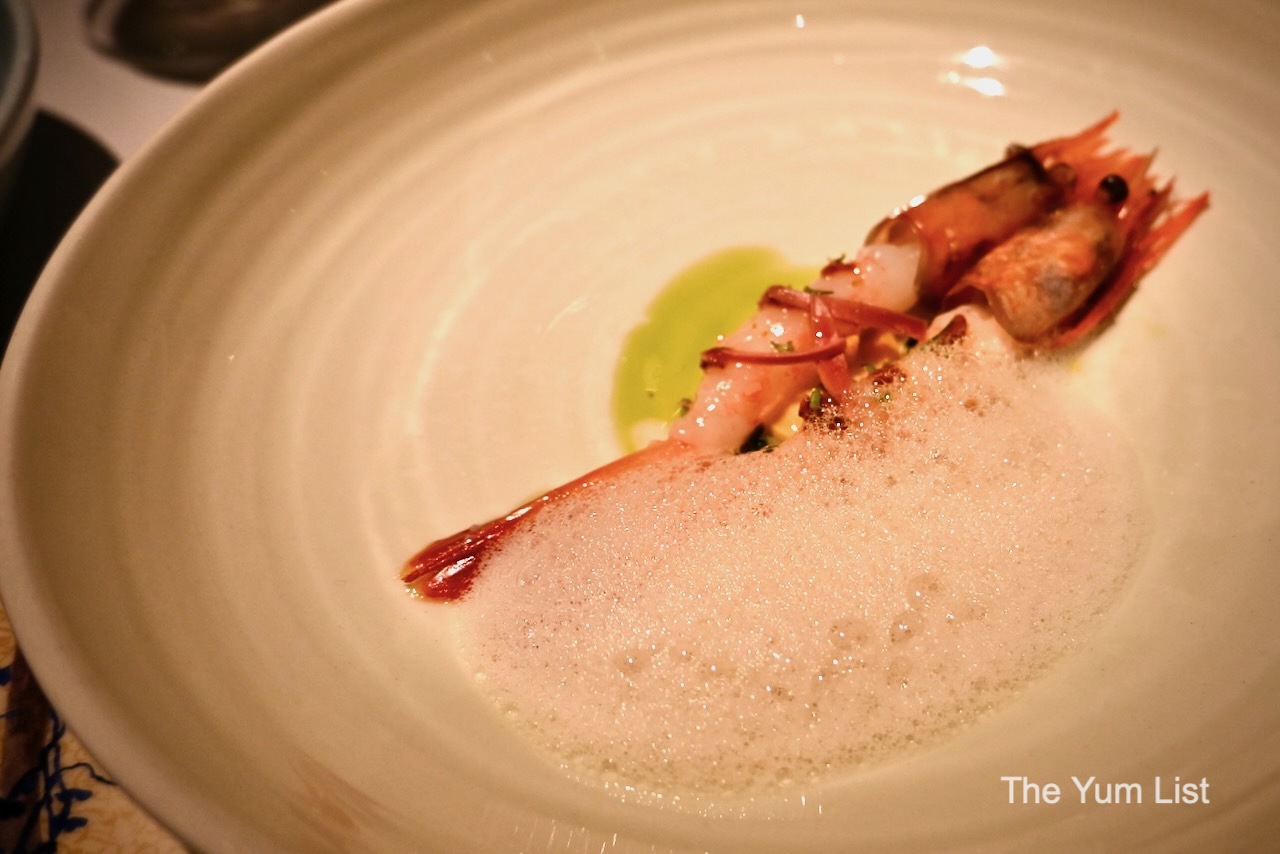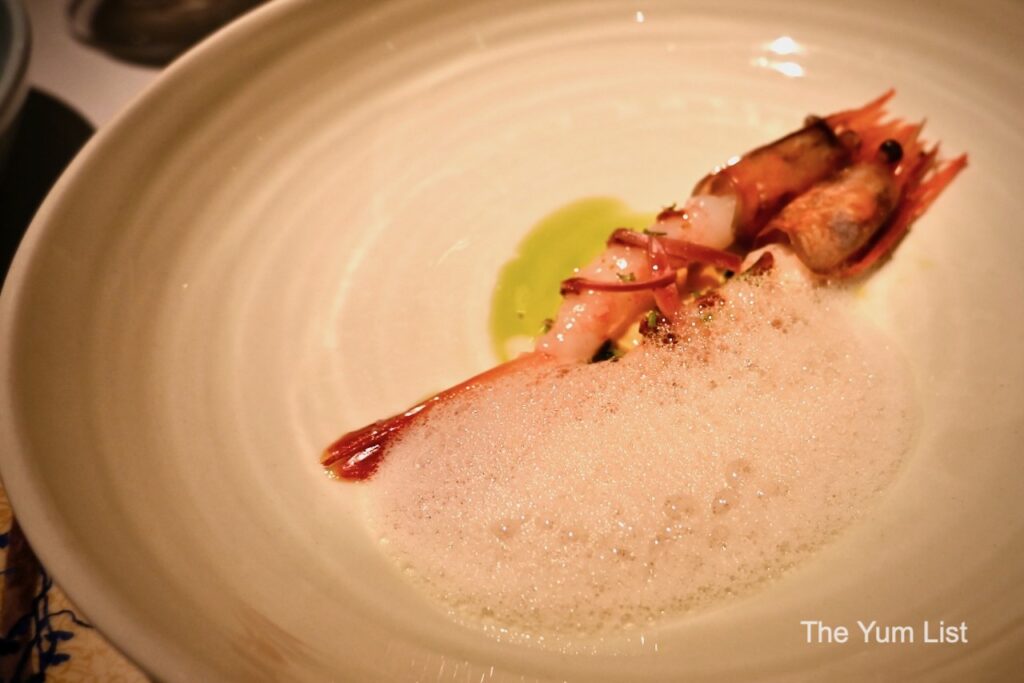 An expertly grilled Maru-emon Hokkaido oyster done al ajillo style, seasoned lightly with shanso pepper, garlic, sliced mushrooms and finished with a fruity Tuscan olive oil arrives next, continuing the Chef's unwritten menu theme of 'seafood that will be hard to forget'. The oyster is fresh and creamy, with delicious flavours added from the few ingredients of the dish, ensuring simple and honest excellence is achieved.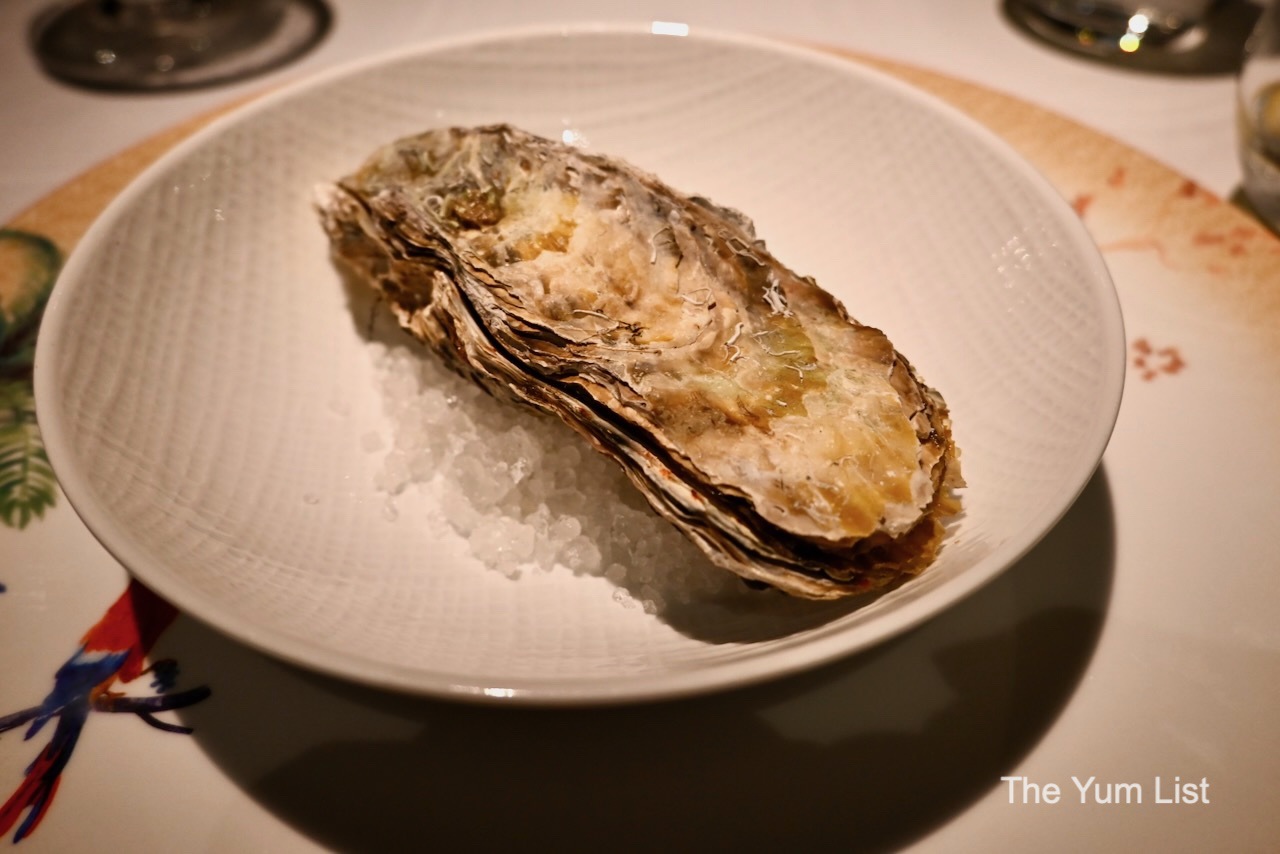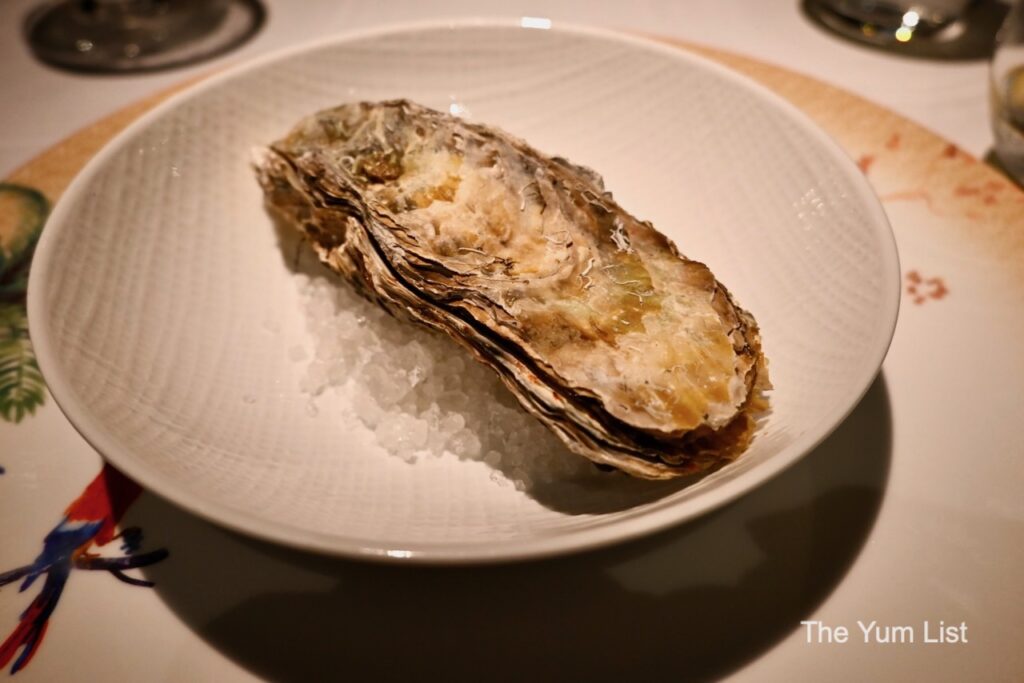 Mains
A brilliant yin and yang experience follows next, with a warm Daishichi Jumnai Kimoto sakè pairing alongside seasonal Hairy Crab from Lake YangCheng of the Jiangsu Province in China. The warmth of the sakè is supposed to balance the cold of the crab, served with crab roe, Bentong ginger, Dayak onions and Iranian Ossetra caviar. The ginger is an exquisite player in this dish, while the stunning caviar ties together all elements.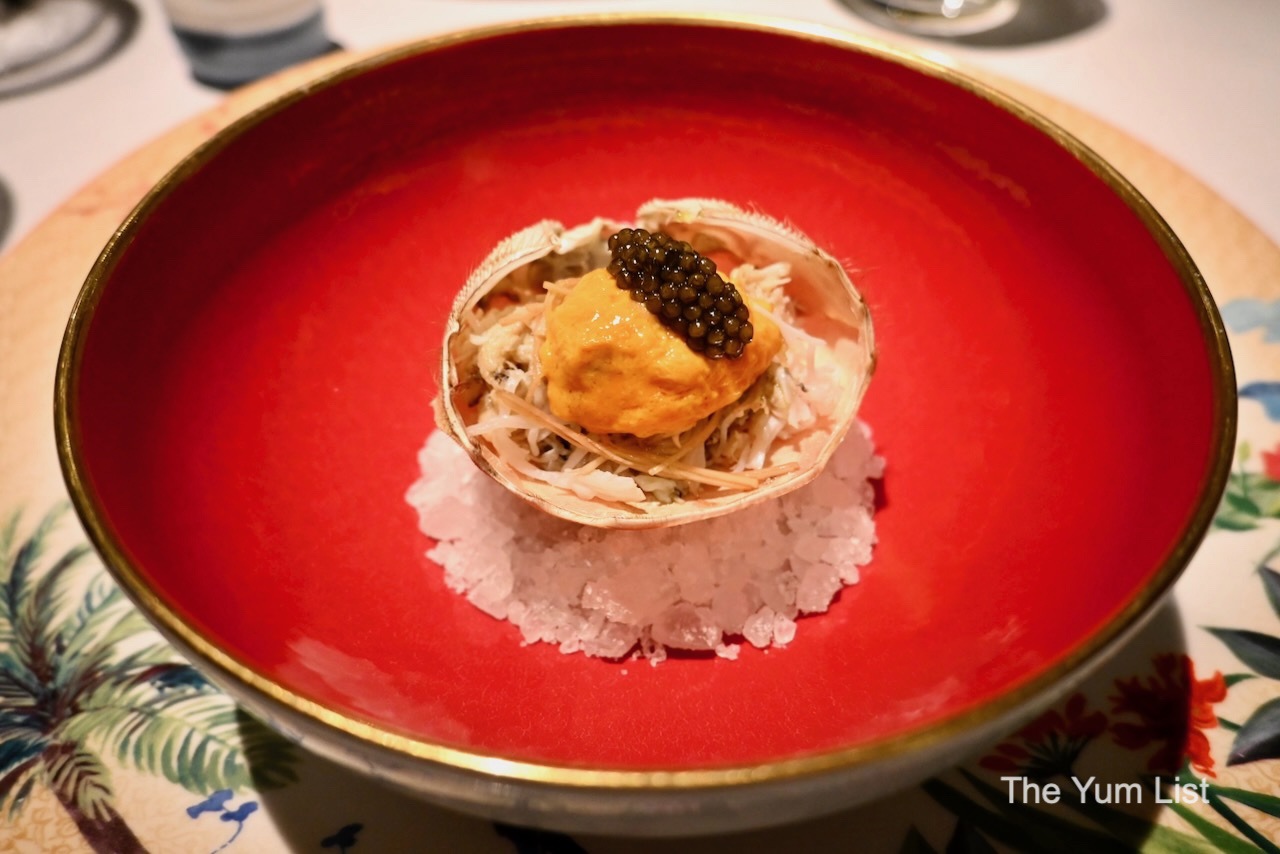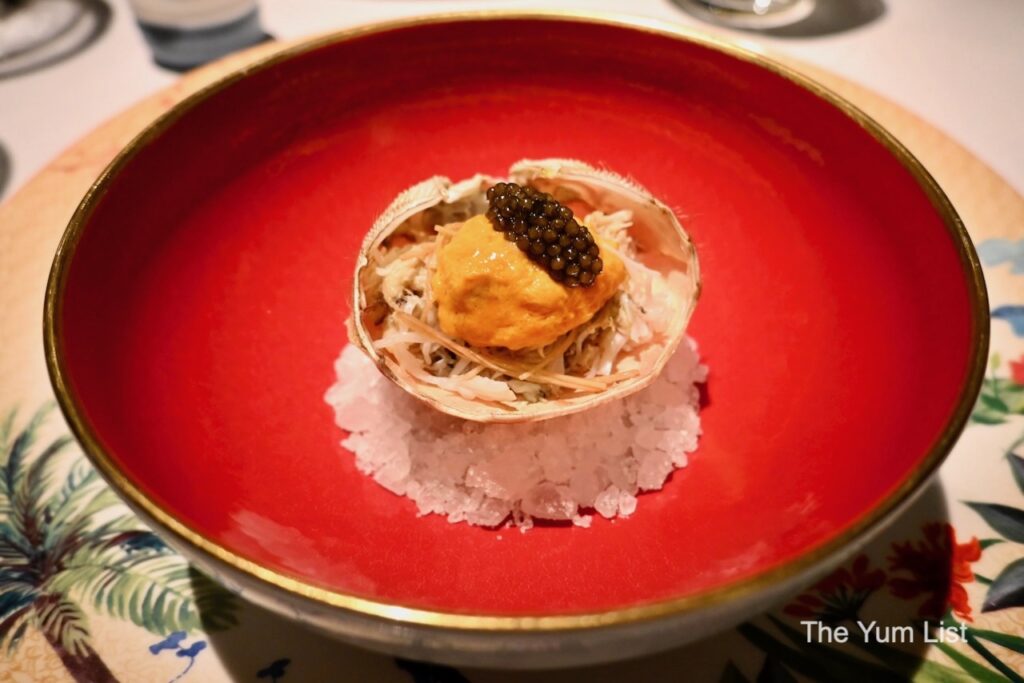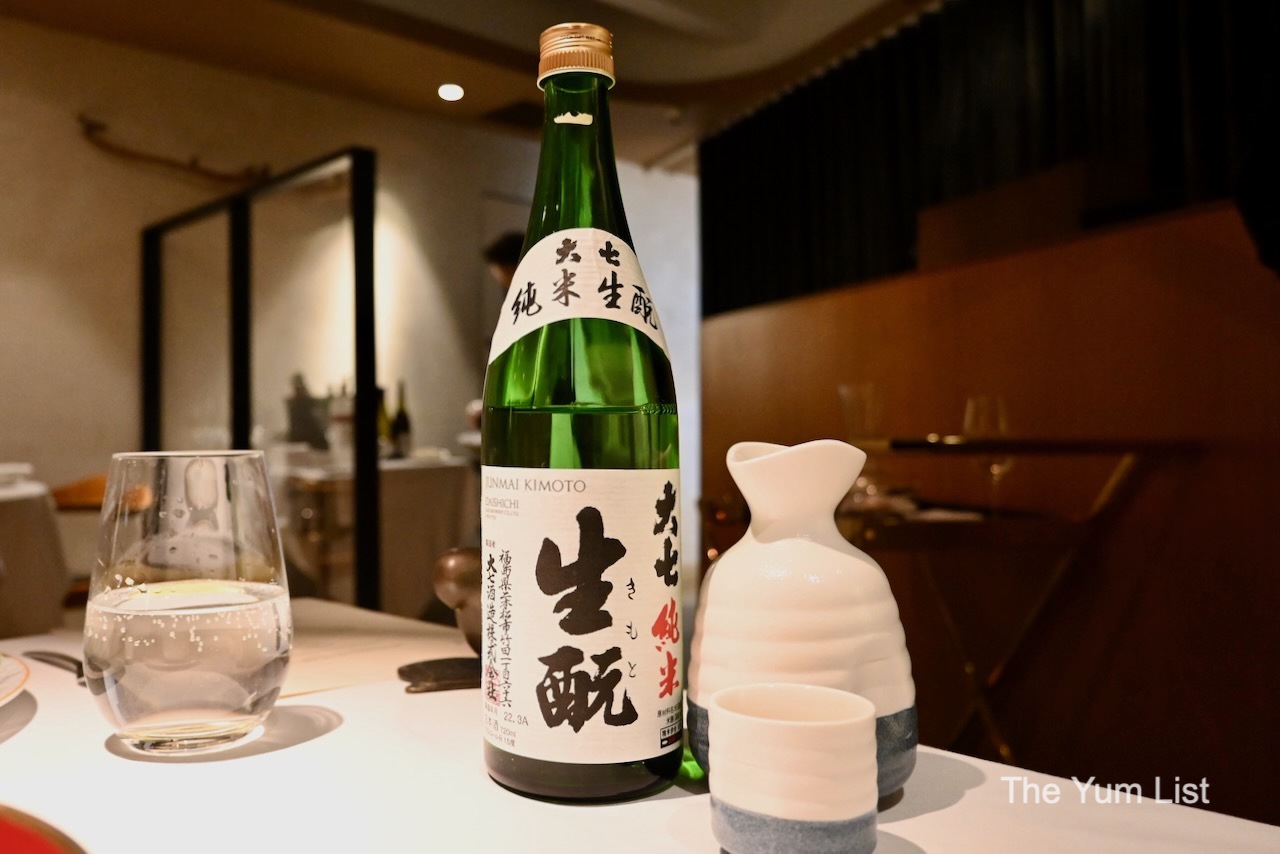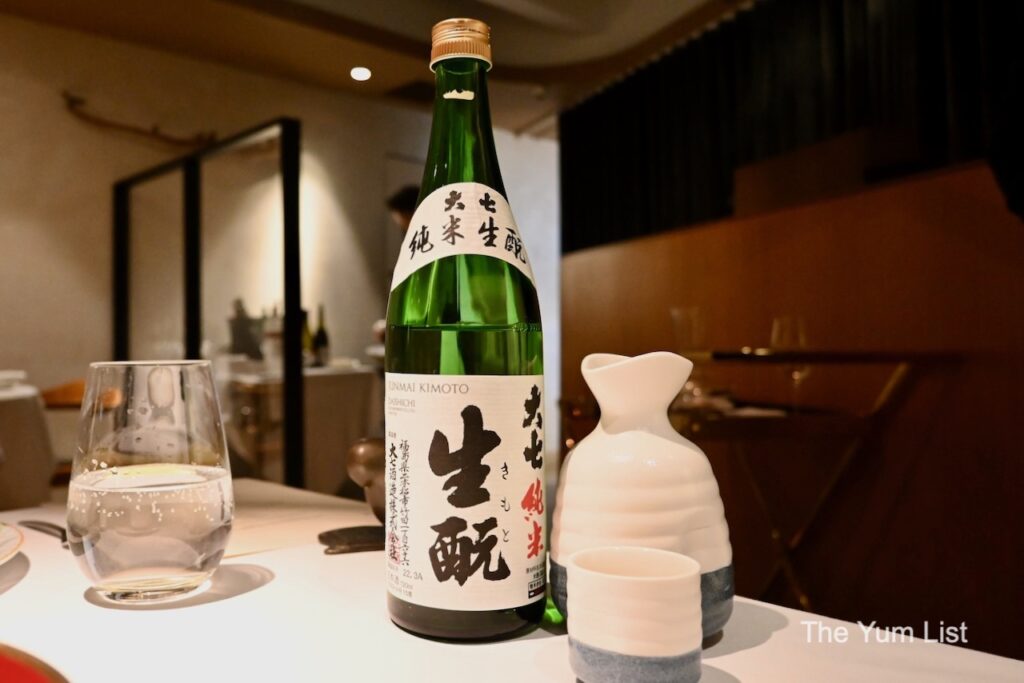 The Squab dish arrives on a striking red plate announcing a change from the ocean-inspired menu thus far. Quail from Penang has been aged for a week to allow the flavour and tenderness to increase. Served with a fermented blueberry sauce, turnips, Chiang Mai sticky rice, aged pecorino and gated white cabbage, this is a hearty and enjoyable dish. Served with a New Zealand Kupe by Escarpment Pinot Noir, everything matches wonderfully, and the red chapter of the evening is outstanding.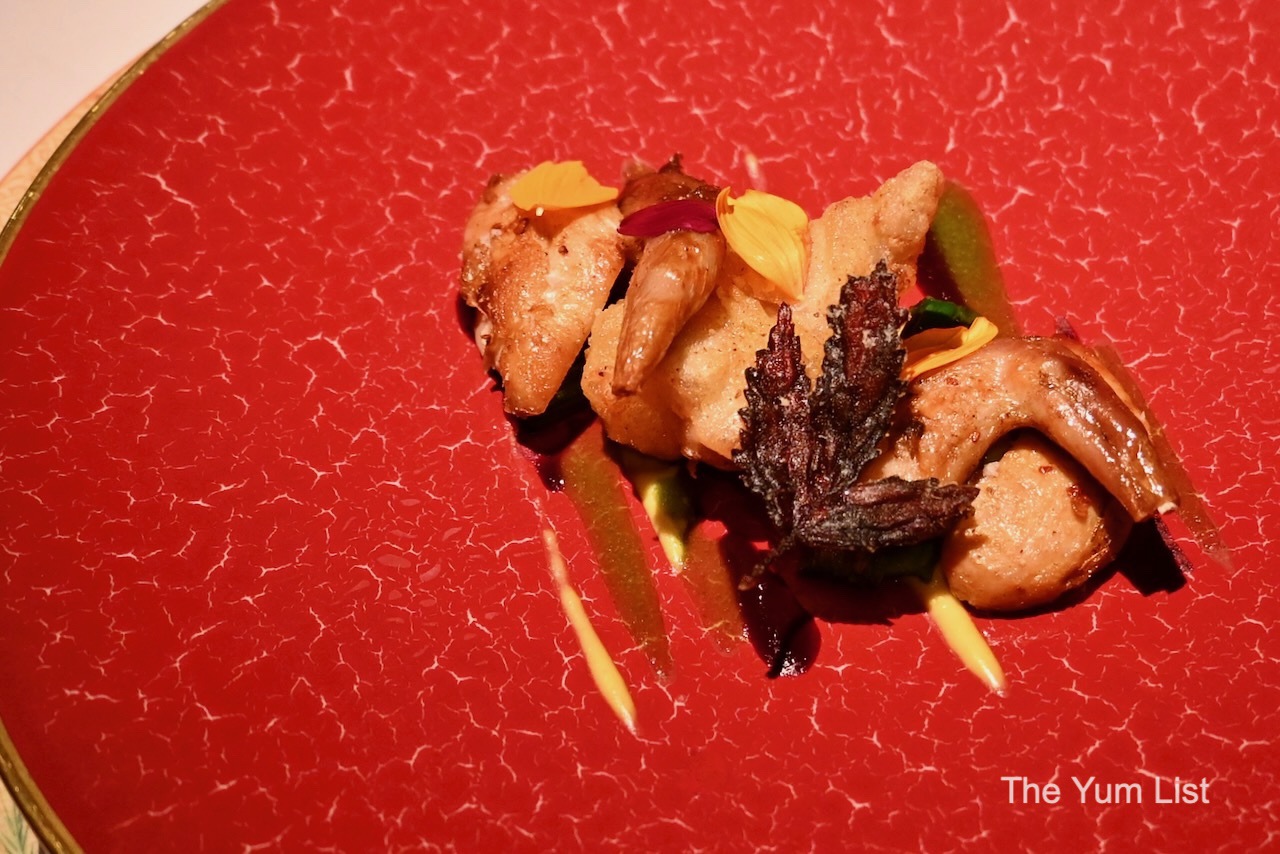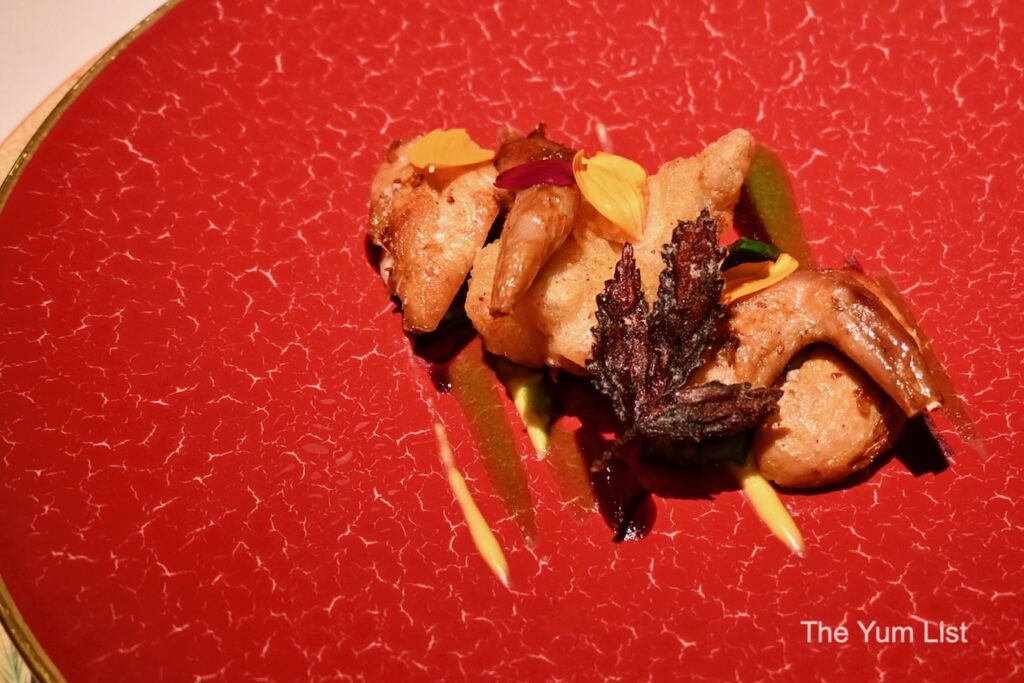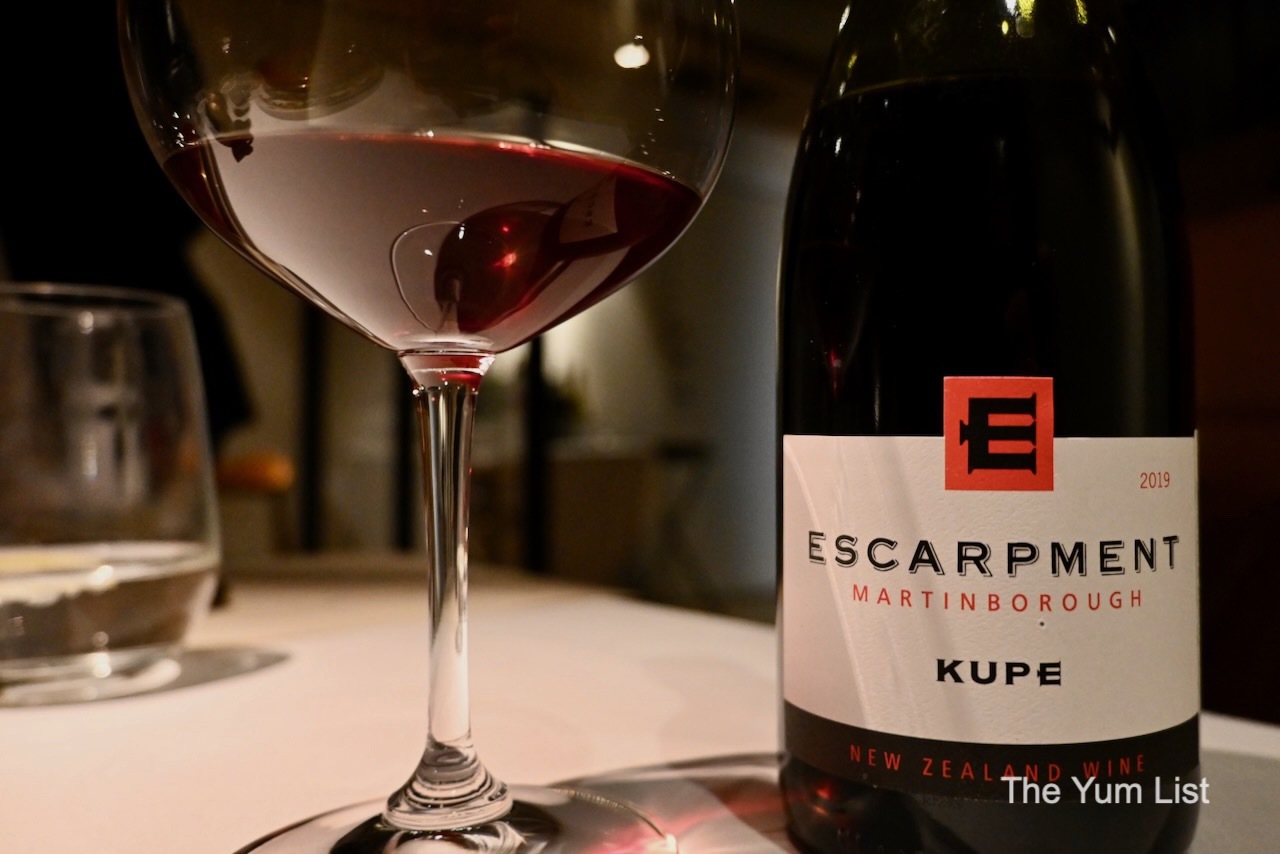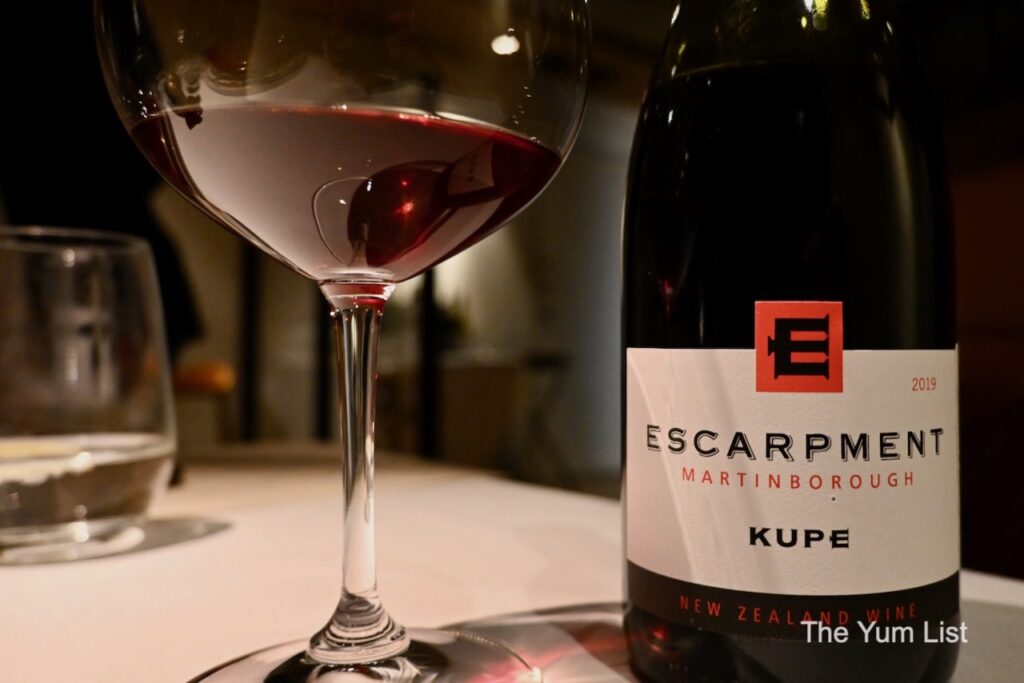 Adding more drama with a synchronised cloche reveal comes the incredible vegetarian dish that had only that evening joined the menu following Chef Chin's recent return from Italy. Drawing upon his inspiration, he has crafted a perfect – yes, I stand by the use of the word here – Butternut Squash Gnocchi with a carbonara sauce created out of parmesan and egg. Each morsel is topped with a shaving of black truffle, and the advice here is to 'Scoop and Sip' – heed this and enjoy! The Alta Viña Ardanza Reserva Tempranillo from La Rioja, matches the full-bodied sauce of the dish. So much credit to the kitchen's talents must be given when they create meat-free options that rival any other dish as the best of the night.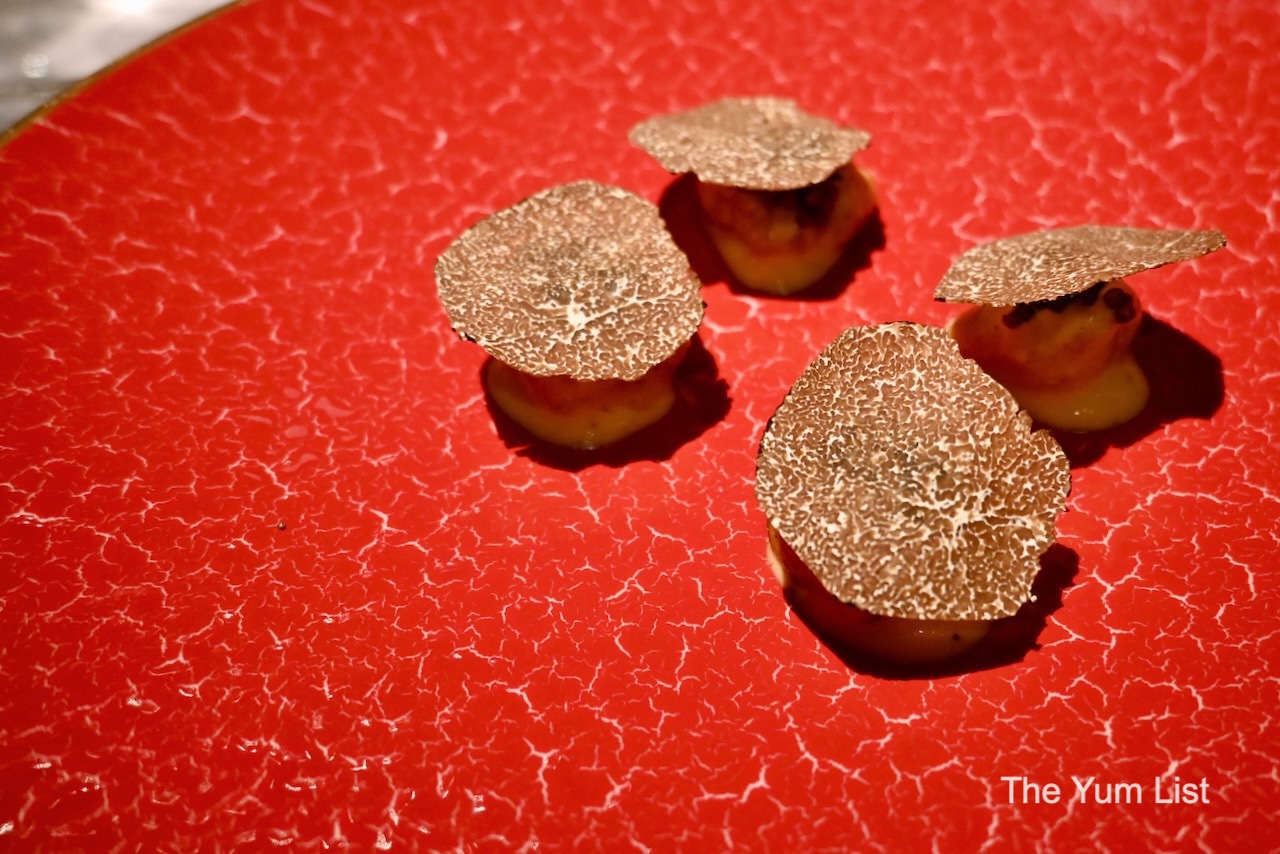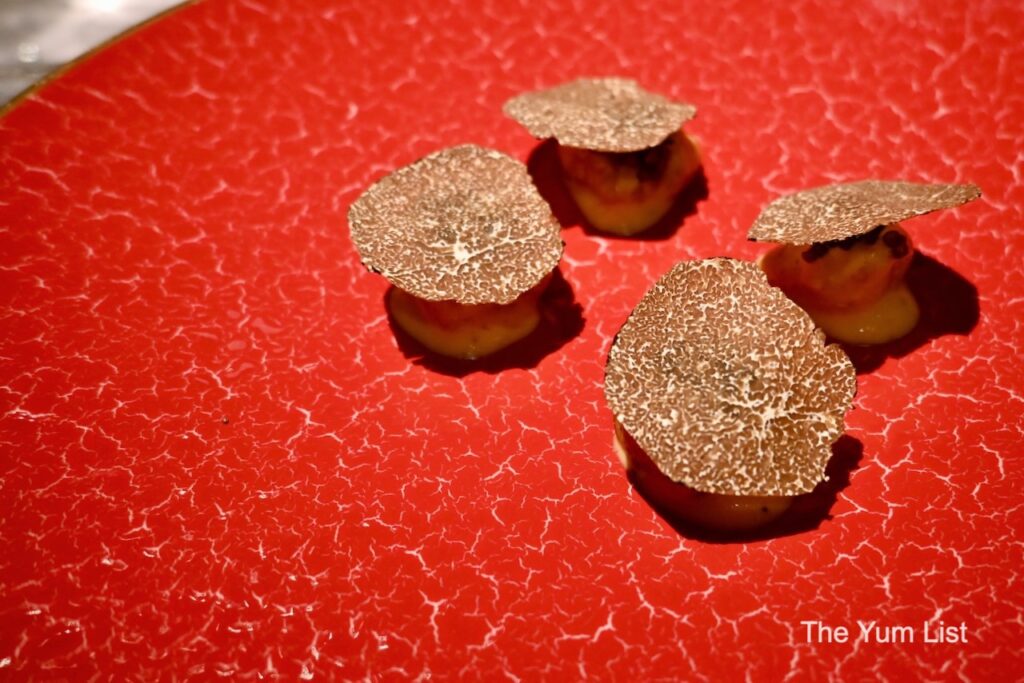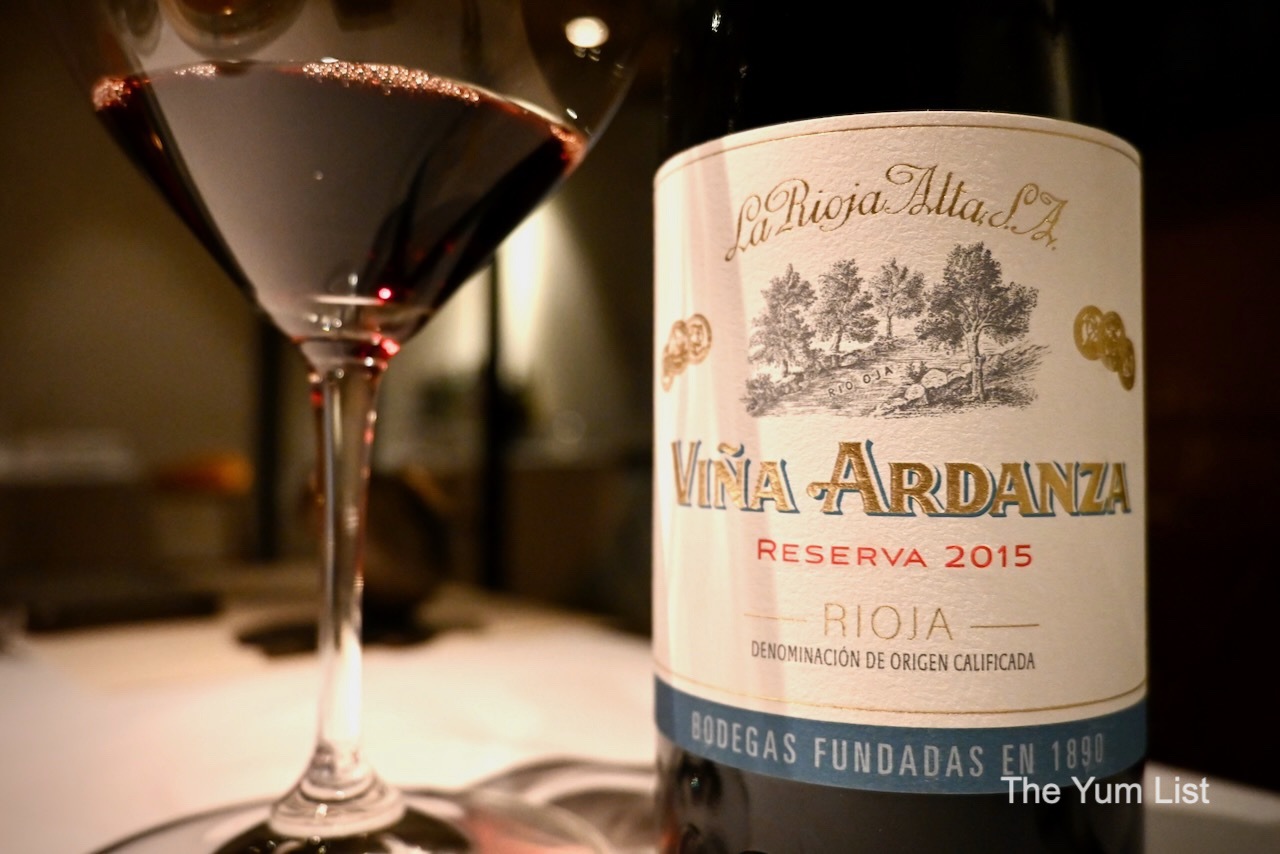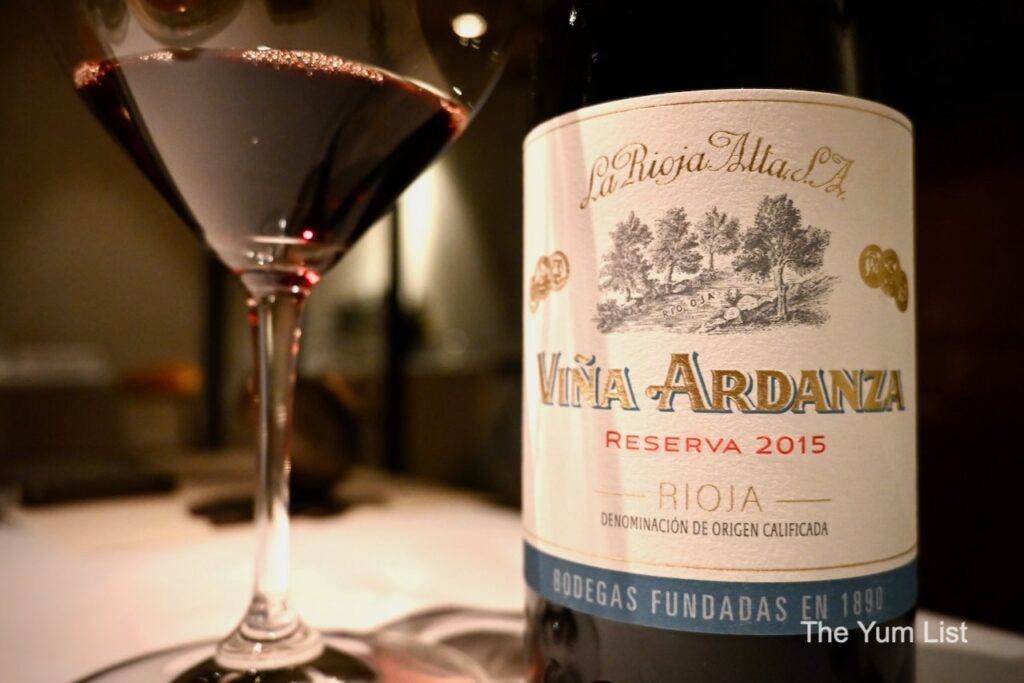 A gorgeous palate cleanser arrives in the form of a Mandarin and Orange Sorbet, topped with pineapple mint leaf. This slight detour off the menu is a reminder this far into the evening of just how every single detail is considered without being overdone, whether it's the dishes from Chef Chin, the matched drinks coming from sommelier VP or the still-to-come desserts presented by Hazel Chan.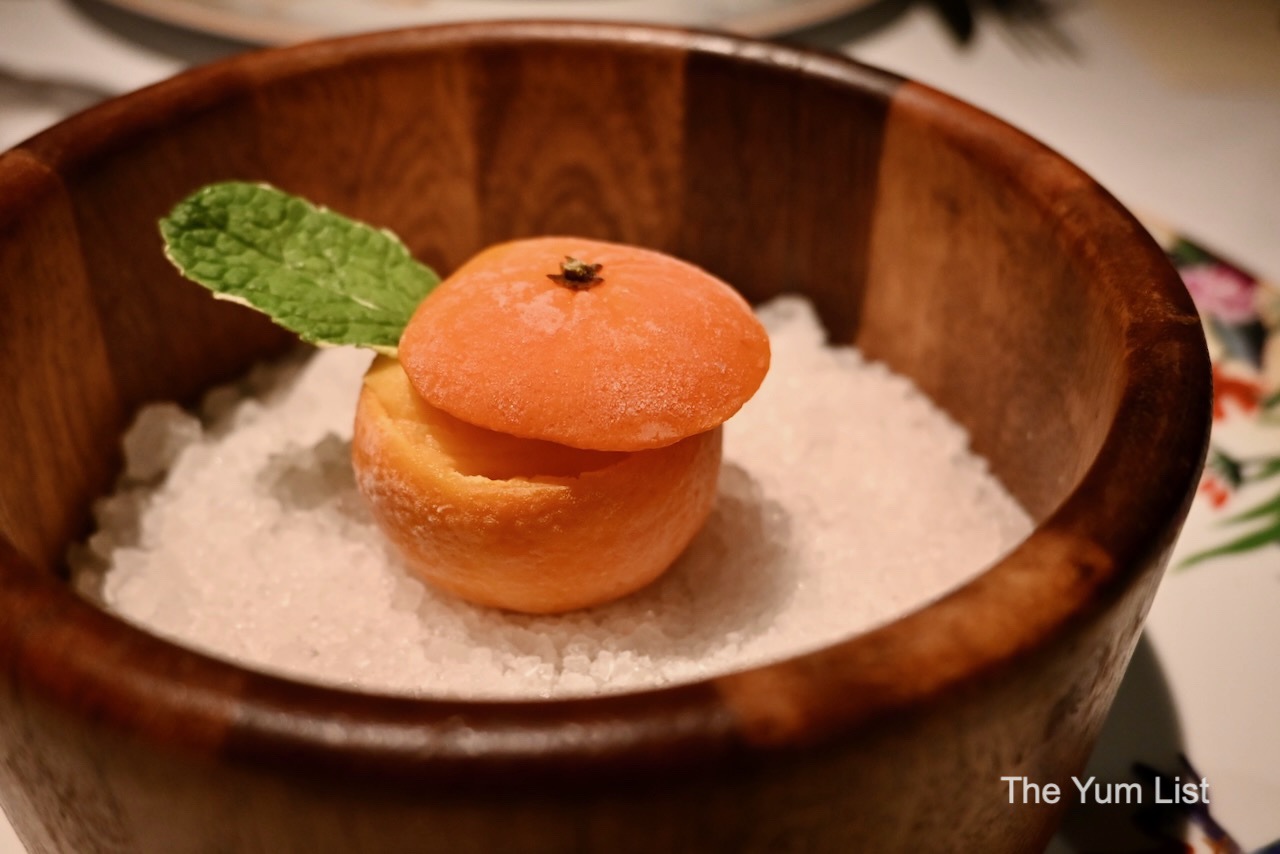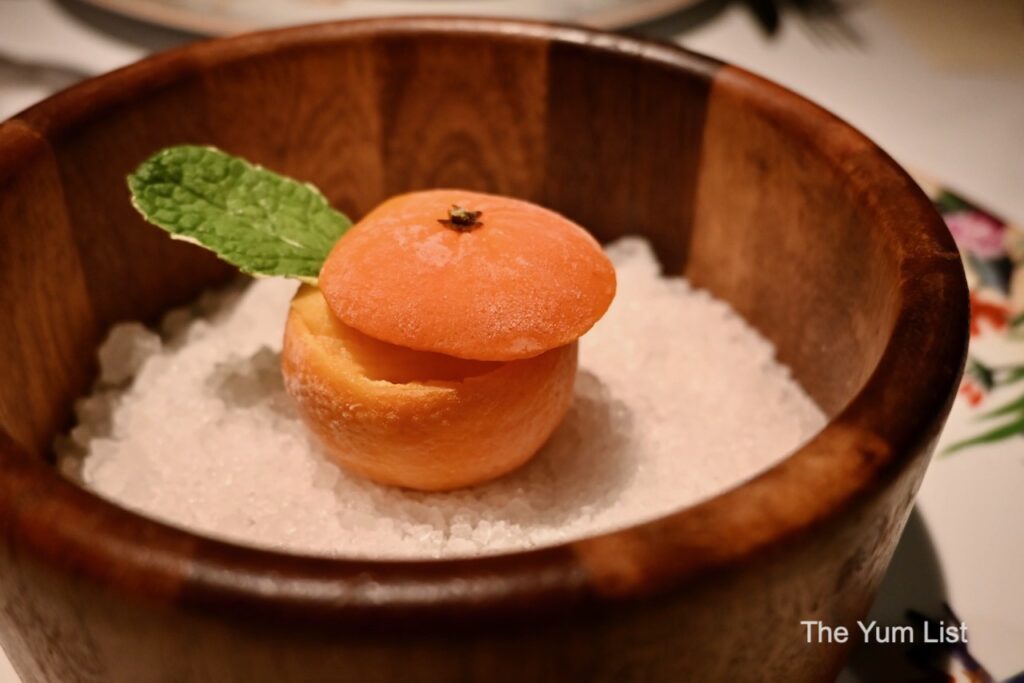 Our final main dish of this evening is Butter Poached Rock Lobster, flown in from Brittany, France and served with a superb pearl barley risotto and confit of fennel. A tomato water jelly is placed on the tender claw meat. At the same time, a kombucha created using fennel is poured over the dish. A crisp shard of mysterious beauty beside the lobster turned out to be fennel glass, which was a crispy contrast to the buttery seafood on the plate.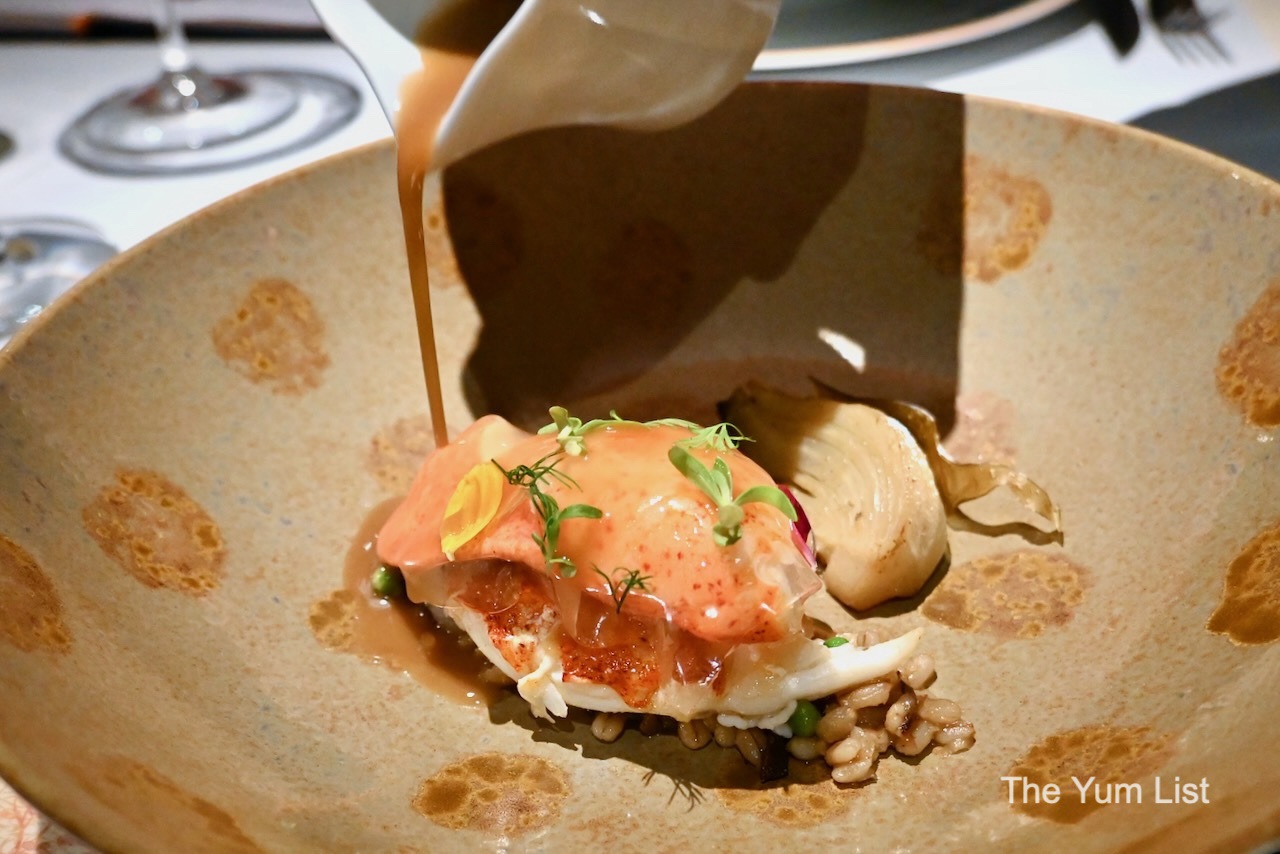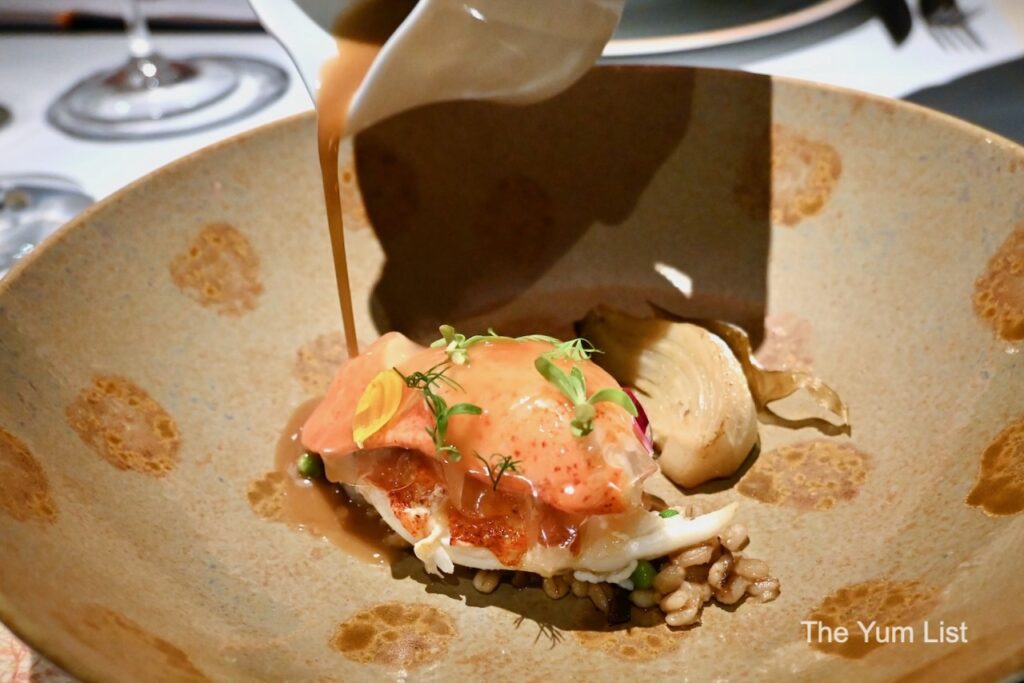 Desserts
Just when I thought I had hit my maximum of delightful phrases for the evening – 'platter of bread', 'scoop and sip' and 'more wine, Sir?' spring to mind – I was introduced to another: pre-dessert. With a new pastry and dessert brand in the works called Monsieur Darren, Hazel Chan is creating some impeccable items to end your night in sugary splendour. We were lucky to sample two items; a Choux filled with pandan chantilly and house-made gula Melaka, as well as a light and chewy nougat of mixed nuts and dried cranberries wrapped in edible rice paper. Of course, both of these mouthfuls are sweet and delicious and would be happily accepted as the only dessert course… and of course, I still wanted to try everything else.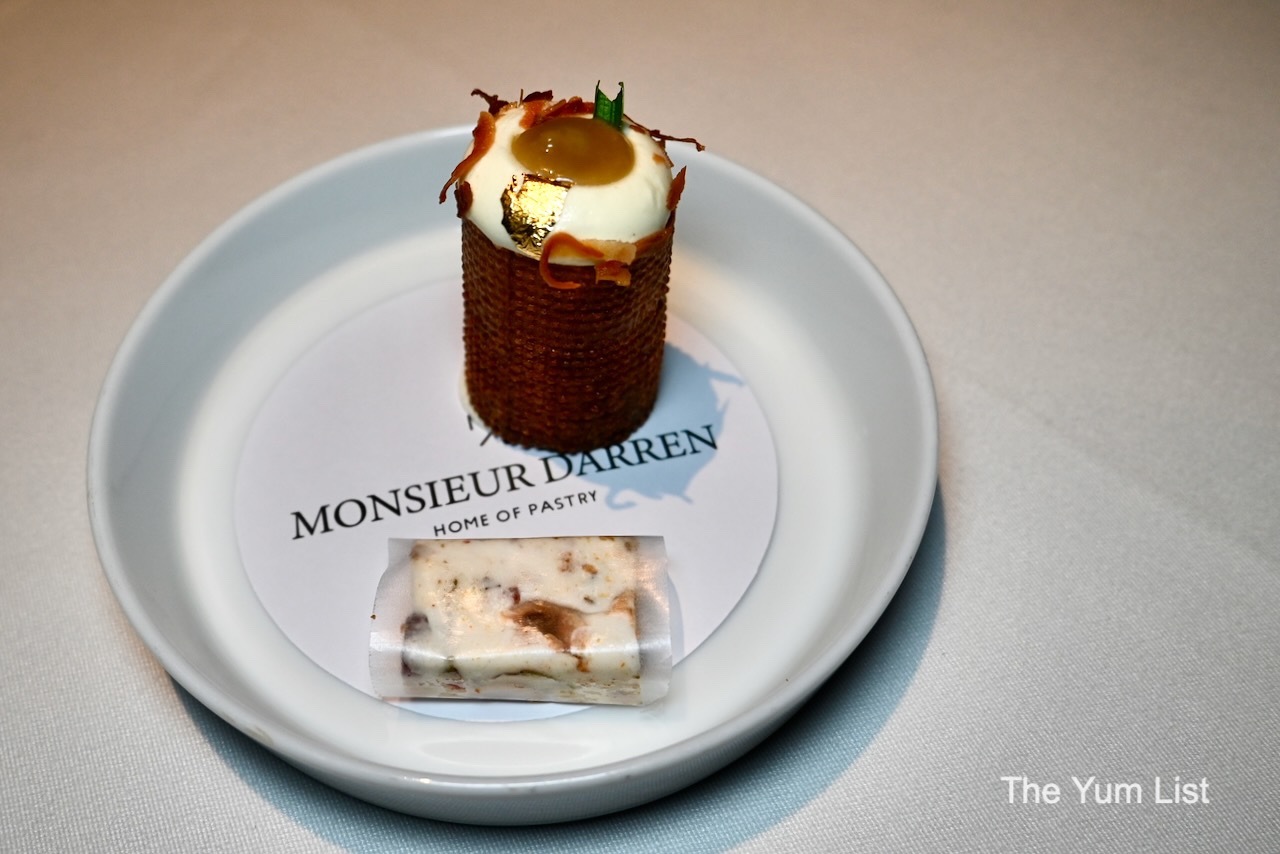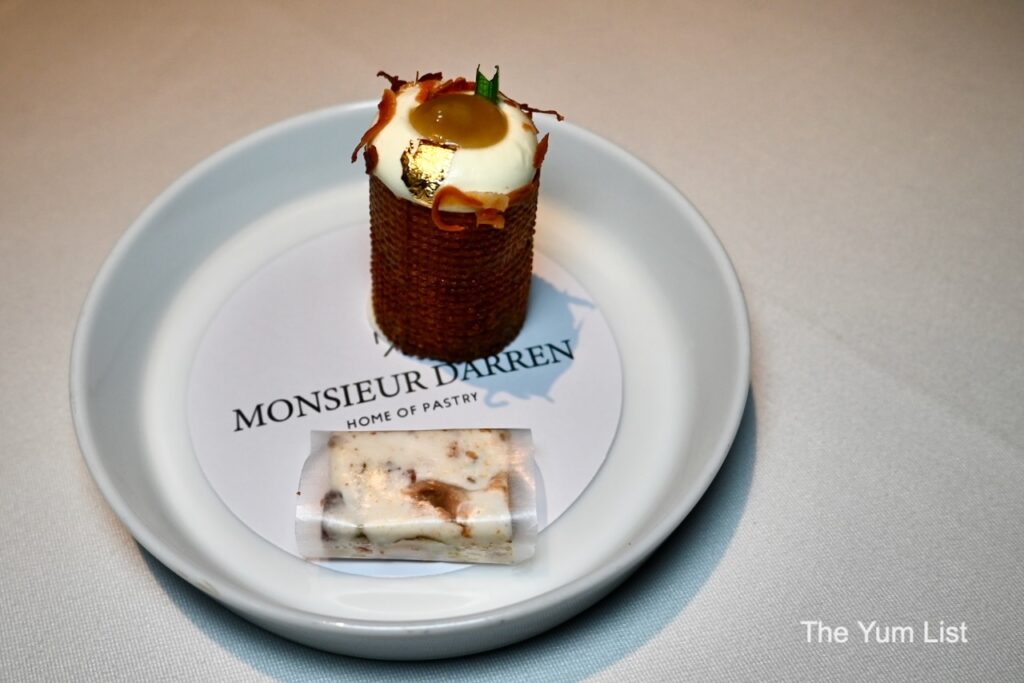 The stunning Dark Chocolate St Honorè is a rich combination of 70% chocolate cream made from local Kelantanese cacao, dark caramel choux and house-made raspberry jam. It is smooth and creamy, and Monica barely got her spoon in it before it had somehow completely vanished.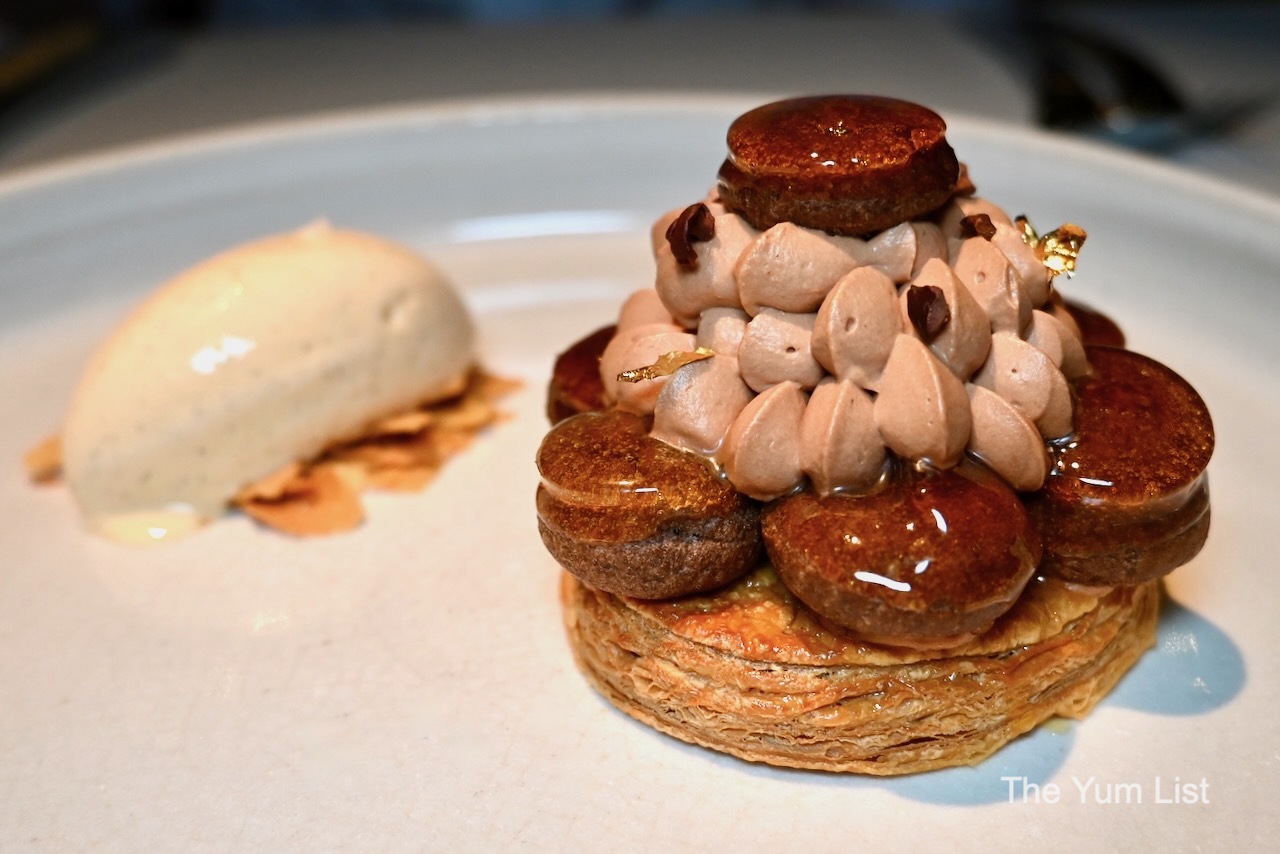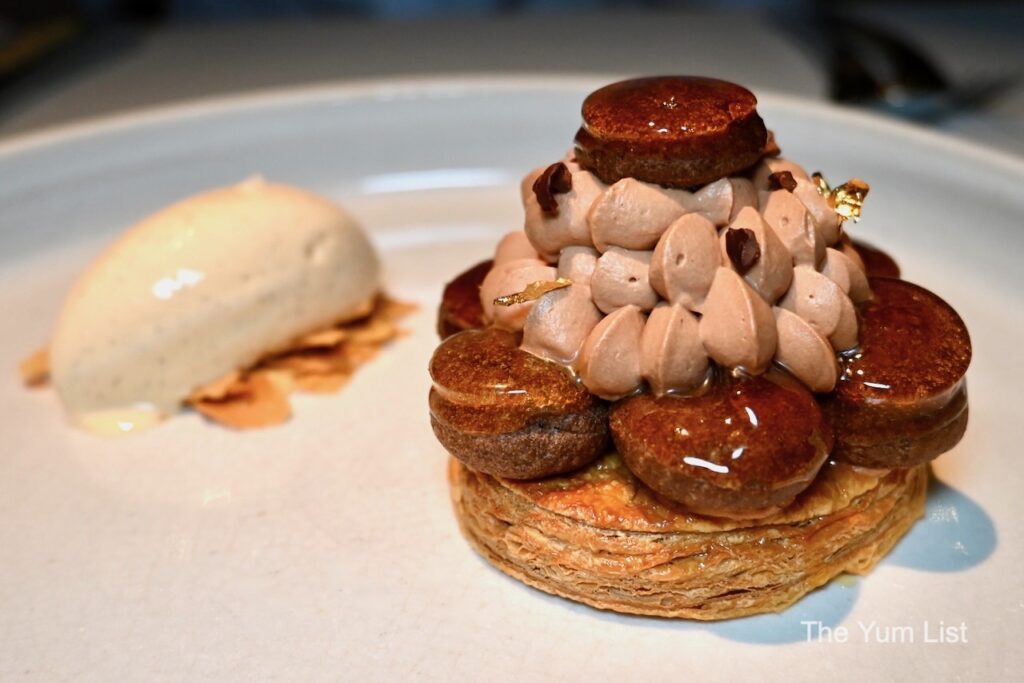 The White Rose elevates a roasted white peach with its natural sweetness highlighted by strawberry and jasmine tea espuma/foam, caramelised white chocolate cream and calamansi meringue crunch, atop which sits a scoop of refreshing peach mint sorbet.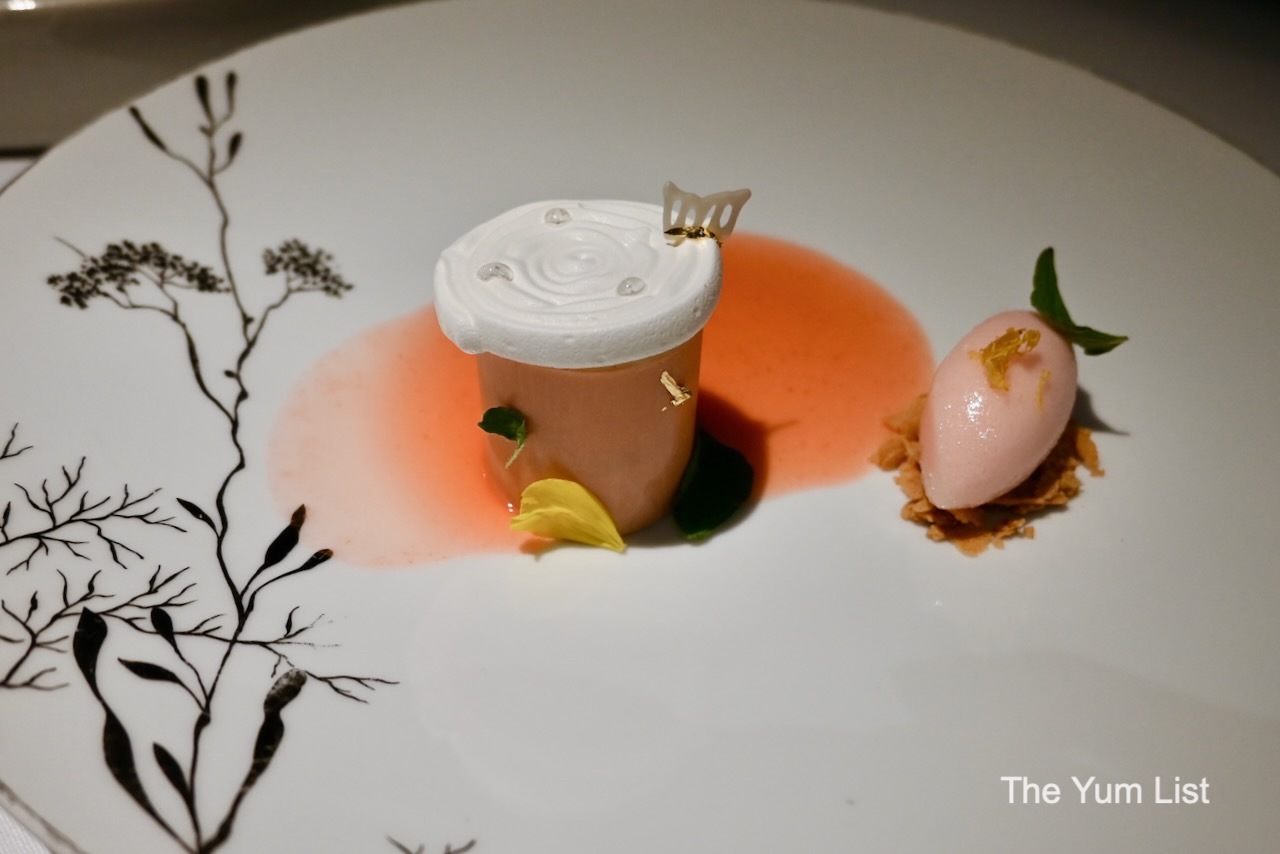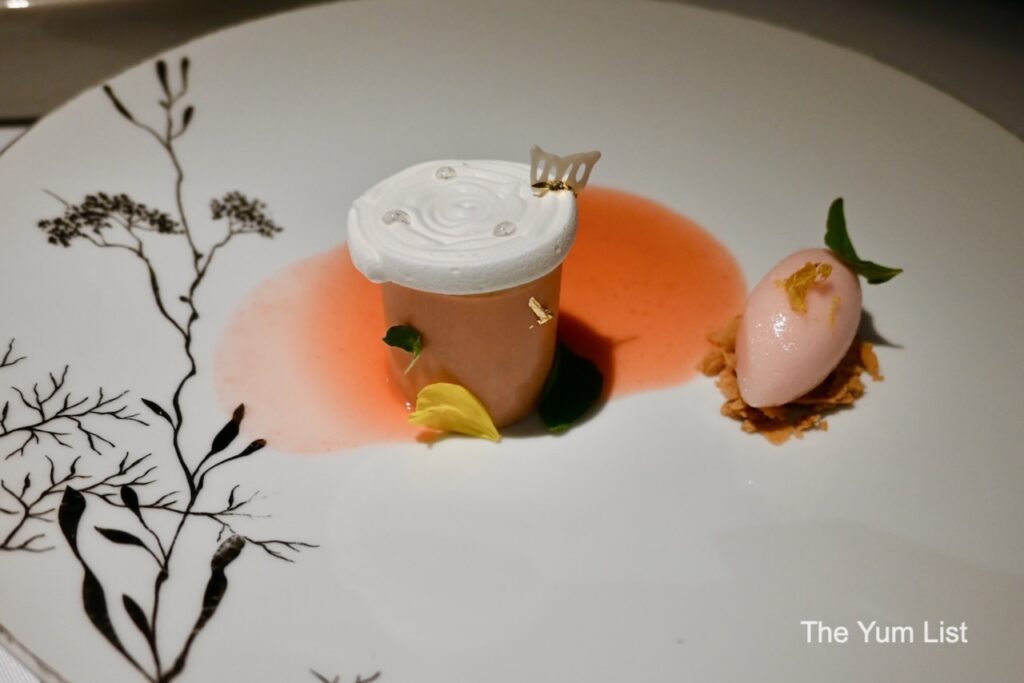 To assist with the consumption of these phenomenal offerings, we are poured a glass of Dow's 20-year Aged Tawny Port, which is a refined and balanced accompaniment to our dessert discoveries.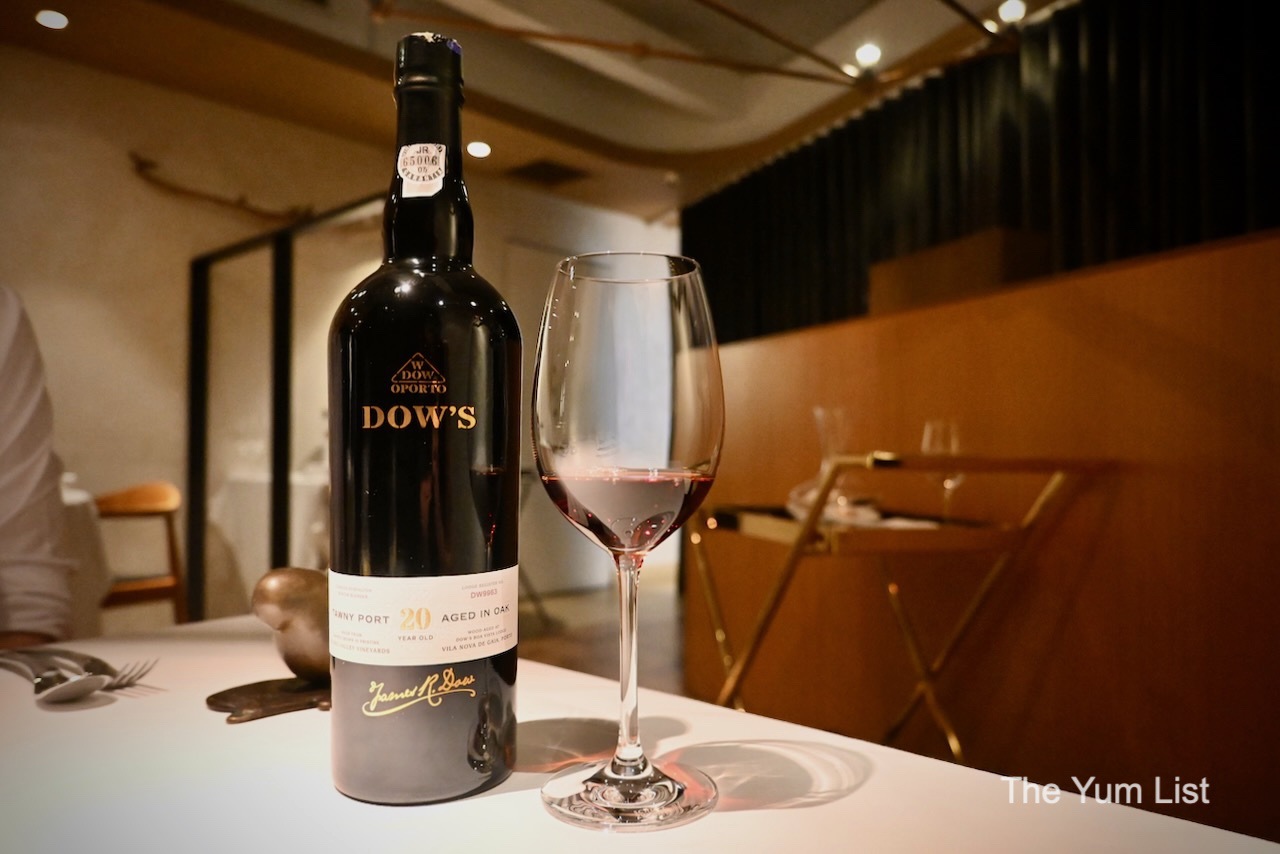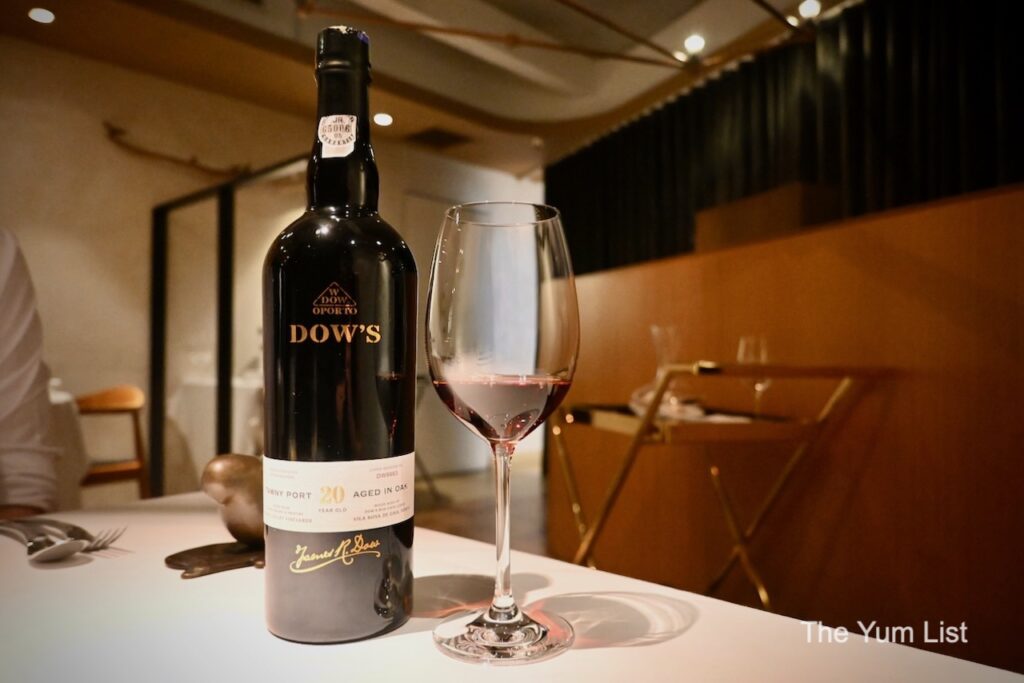 Our evening of divine fine dining ends with the arrival of the Le Fromage offerings, wheeled over on a grand chariot of cheese that looks better built than my first car and more spacious than my first apartment. We can select from the more than 20 choices of French and Italian AOP cheeses, five to taste alongside DC's signature truffle brie sandwich and spectacular fresh wildflower honeycomb from Chiang Mai. At this point, I actually have run out of adjectives and synonyms to describe the process of choosing and then devouring the cheeses. Of course, they are all mouth-wateringly, mind-blowingly good. Of course, they hit all the right notes of either sharp and crumbly, tangy, creamy or wonderfully complex. Of course, you will probably only find this sort of experience at DC Restaurant by Darren Chin.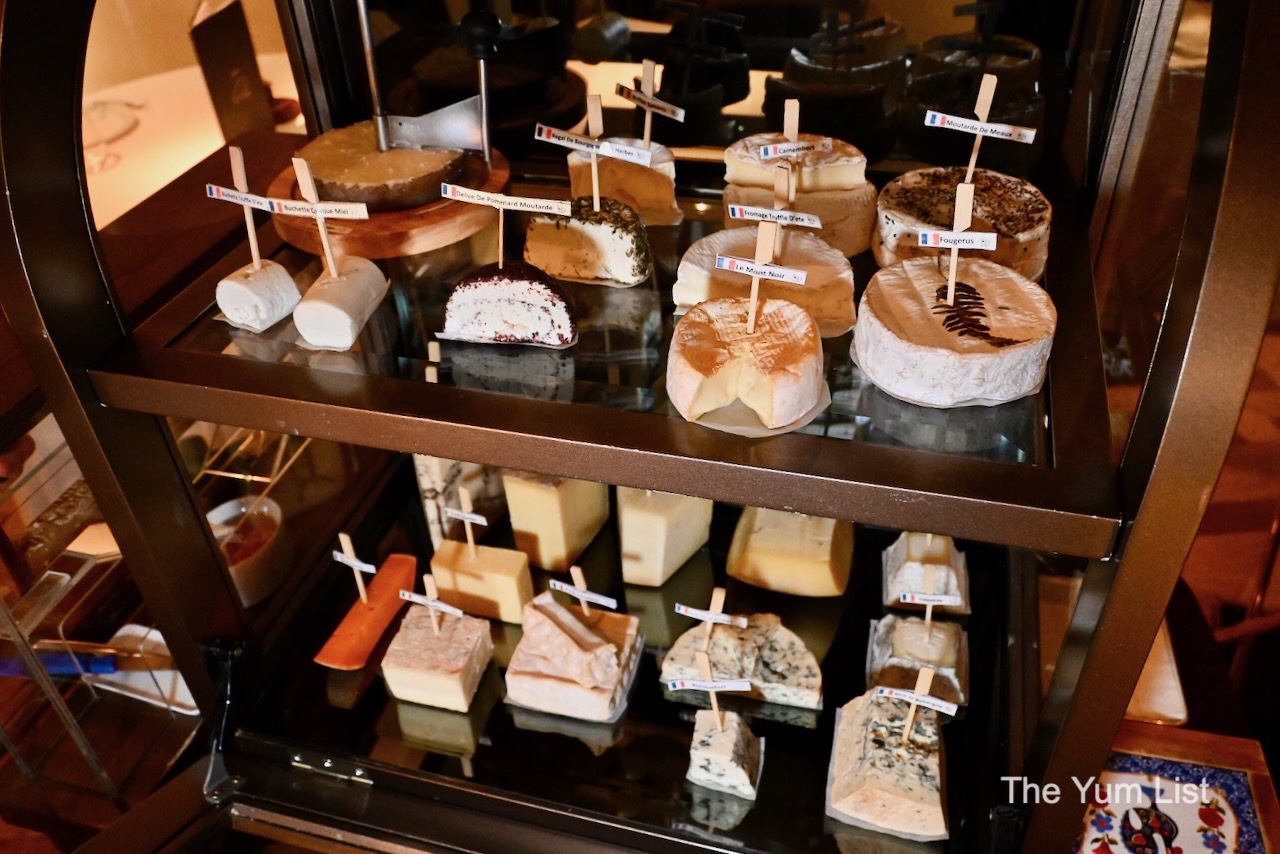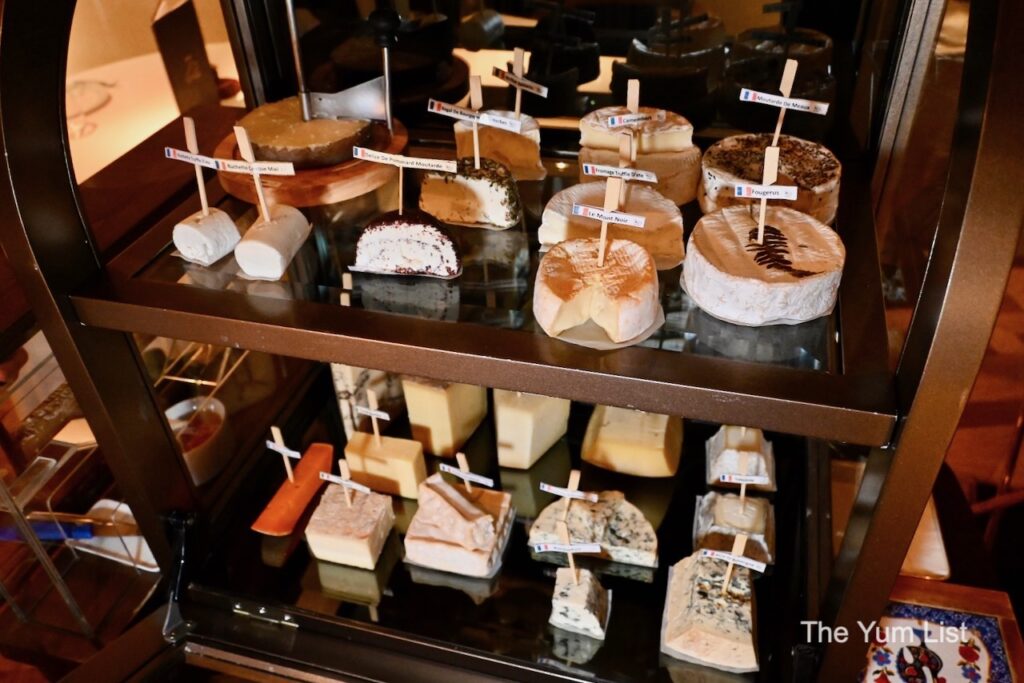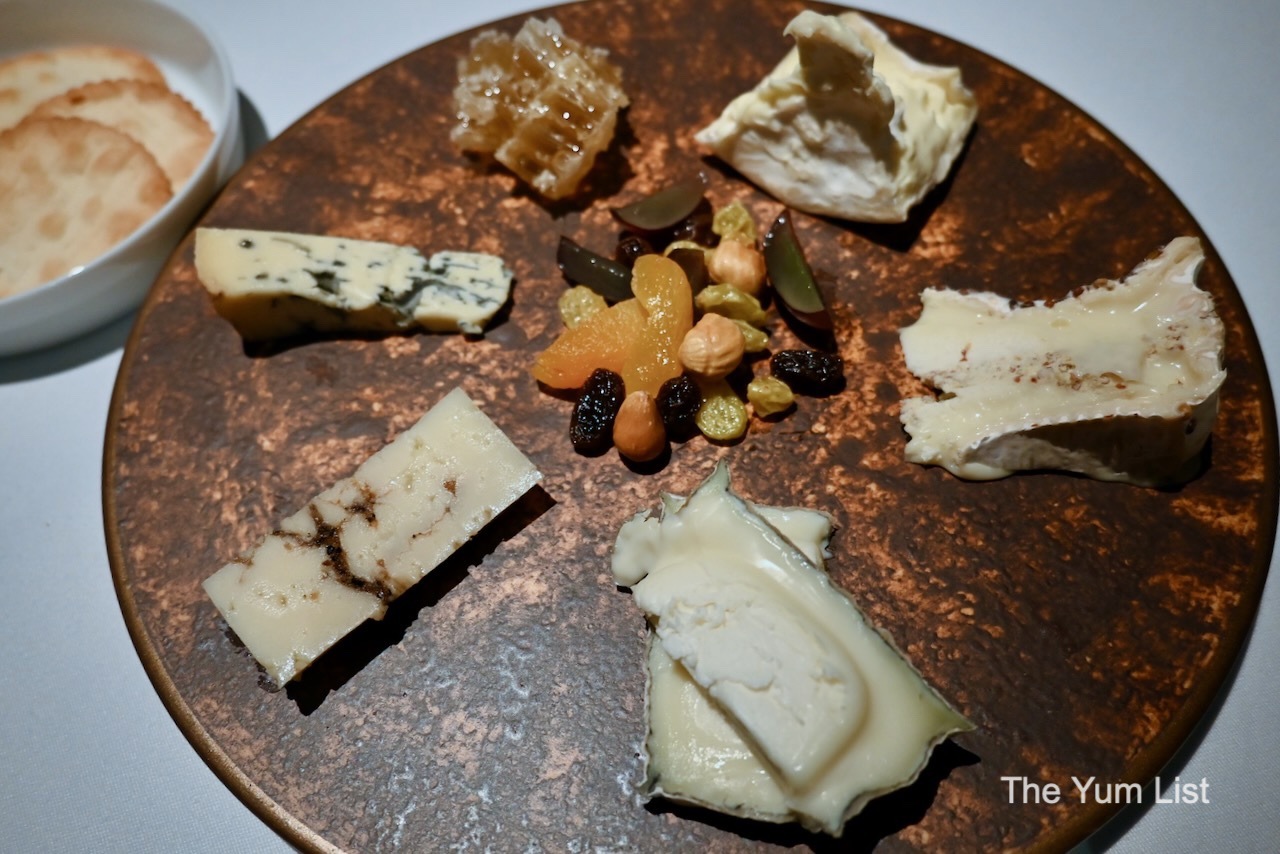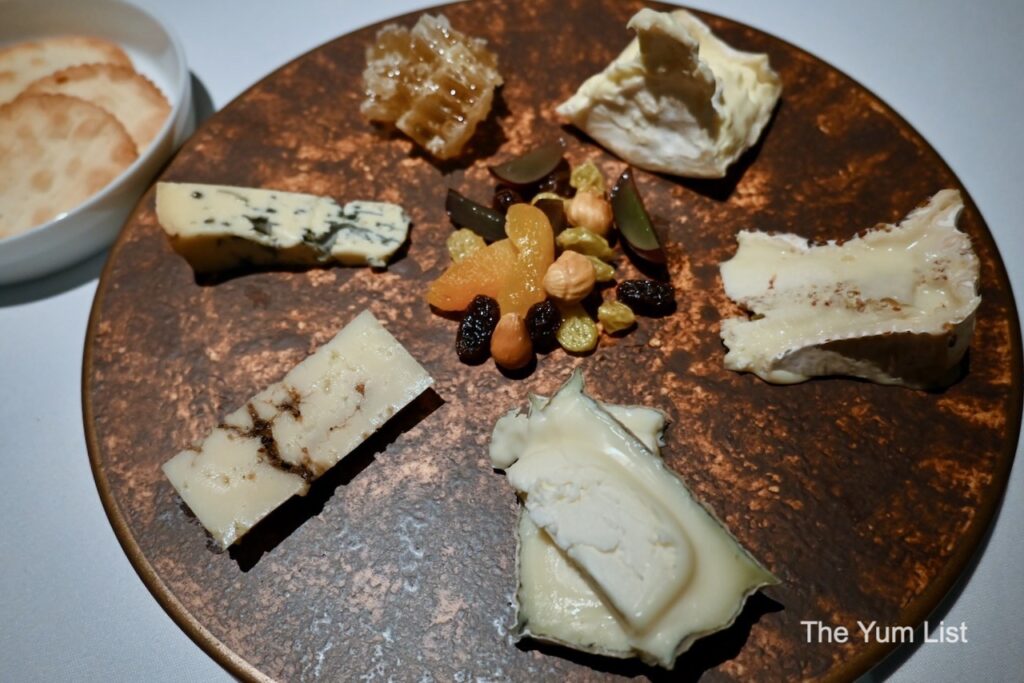 Chef Chin's global influences and passions inform every aspect of his dining experience. Having spent two years studying in France and twelve exploring and refining his techniques all over the world, his overriding philosophy of the freedom possible in cooking is prevalent. He clearly derives great joy from choosing the best ingredients, supporting local suppliers and taking his diners on journeys of gastronomic discovery, where honestly, you wouldn't find a better tour guide.
Moonbar
If you have any stamina left following such an incredible degustation or actually need some time to both literally and figuratively digest the journey on which you have been, climb a few more stairs to the second floor, where Moonbar awaits. A strikingly beautiful moon wall with twinkling fibre optics and the hand-painted heavenly body glow artfully as resident Mixologist Arsenio "Ash" Mariano Jr mixes neo-Parisien French-style cocktails. Light tapas is also available, although had they been offered to us at this point, I think Monica and I might have declined. I say might.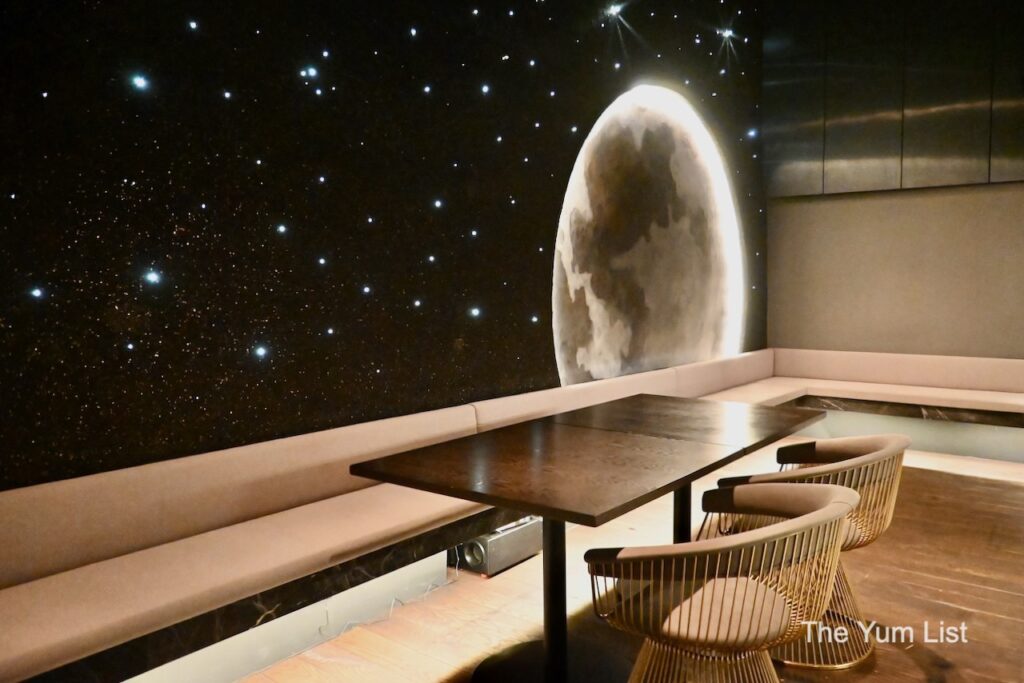 Louis XIII Red Rooms
If you have a chance, do take a look inside the elegantly appointed Louis XIII Red Rooms on the same floor. Chef Chin's collaboration with Grand Maison Louis XIII Cognac has resulted in the creation of two private Special Red Rooms, where guests can eat and drink in elevated luxury.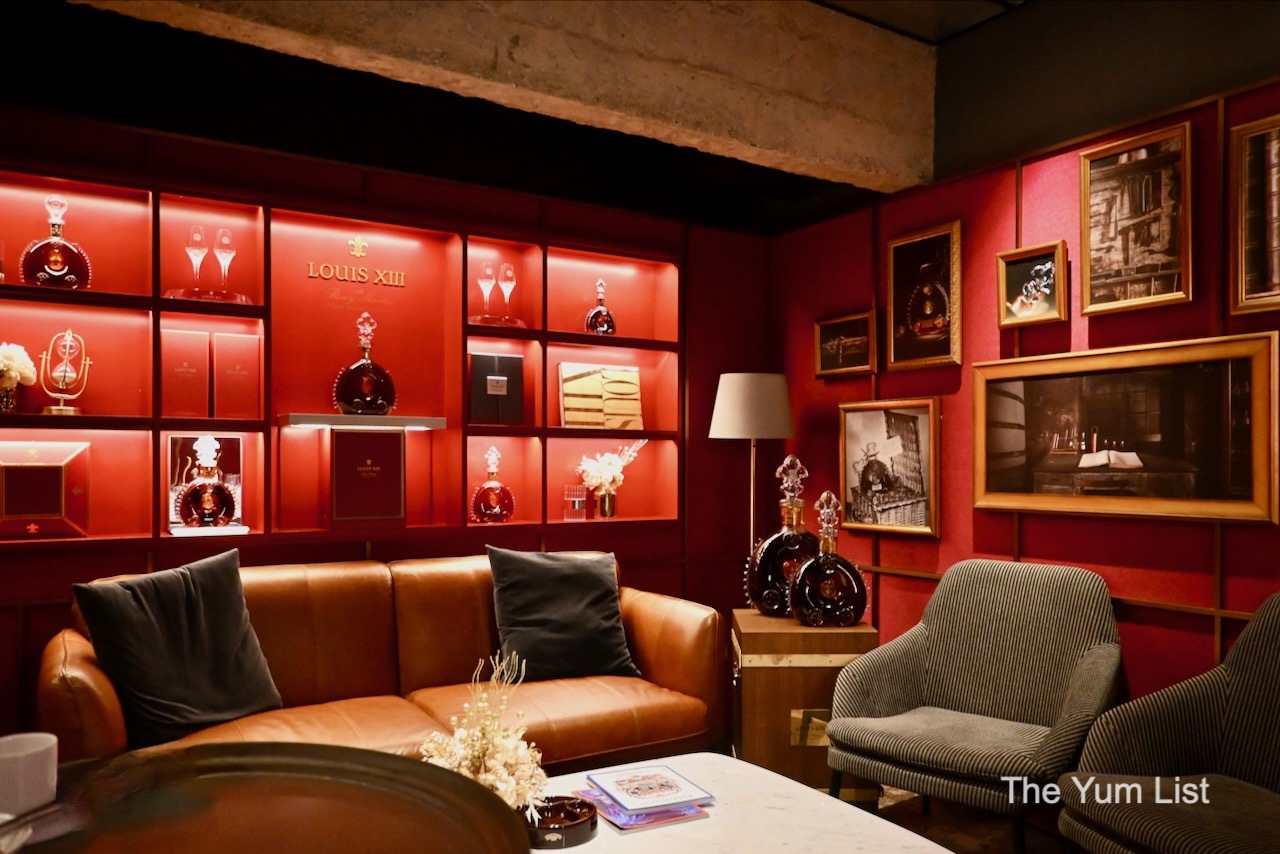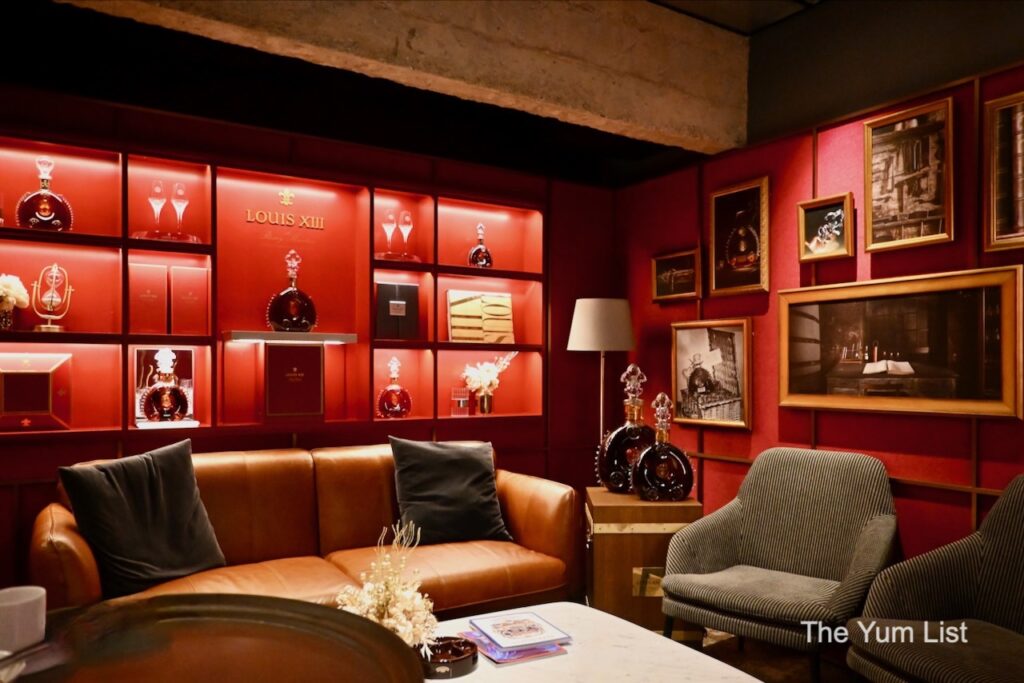 Reasons to visit: Over three levels and with numerous options for the kind of night out you want to experience, DC Restaurant by Darren Chin offers sophistication and elegance that lifts the entire KL fine dining scene along with it. Attention to detail and service is second to none, and Chef Chin's commitment to telling a delicious story with the best ingredients will make any event memorable in so many ways. Matt was in awe of the Gnocchi and its rich flavours, while Monica was ecstatic as the cheeses were scooped up and gobbled down. I had been told that this would be a special night of all the many I have been so fortunate to have this year, and it really was.
DC Restaurant by Darren Chin
No. 44, Persiaran Zaaba
Taman Tun Dr Ismail
60000, Kuala Lumpur
Ph: 037-731-0502
Instagram: @dc_restaurant
DC Restaurant by Darren Chin Opening Hours
Dinner Only
Tuesday to Sunday – 6:00 pm – 11:00 pm
Find more restaurants for special occasions here, and stay up-to-date on KL's food and beverage scene here and here.