Yi Fusion – Bukit Jalil
Words: Christina Morgan
Photos: Rich Callahan
Yi Fusion in Bukit Jalil is an exciting new Japanese-French fusion dining concept. The gorgeously hand-painted exterior, an eye-catching mural of Japanese-influenced paintings, vividly calls attention to the otherwise hidden entrance.
Upon entry, we found ourselves in the omakase bar, an open-concept kitchen surrounded by eight cushy leather chairs. The decor was minimal yet exquisite, with muted neutral hues accented with silver and gold hanging lights. Our host showed us to the lift hall, where more hand paintings added a vibrant splash of colour. The second floor, where teas are generally served, is divided into smaller private rooms echoing the decor in the omakase bar. On the third floor is an event space that can cater to a wide variety of events for up to 30 people. It offers a homey feel among the simple yet posh decor, more like a comfortable family dining room than a restaurant.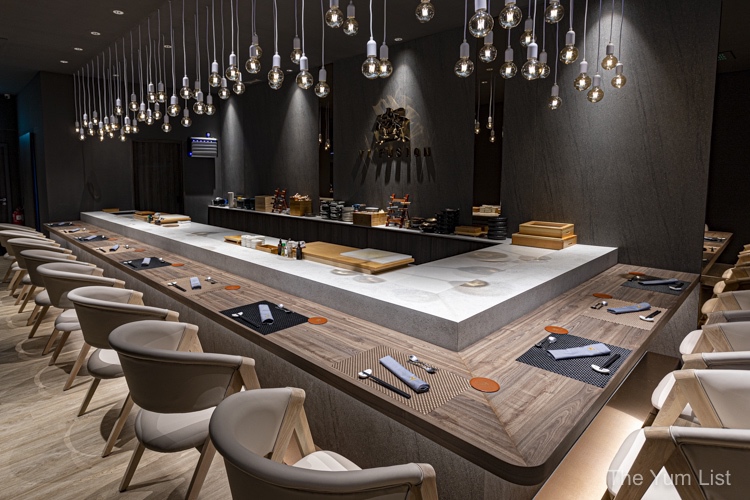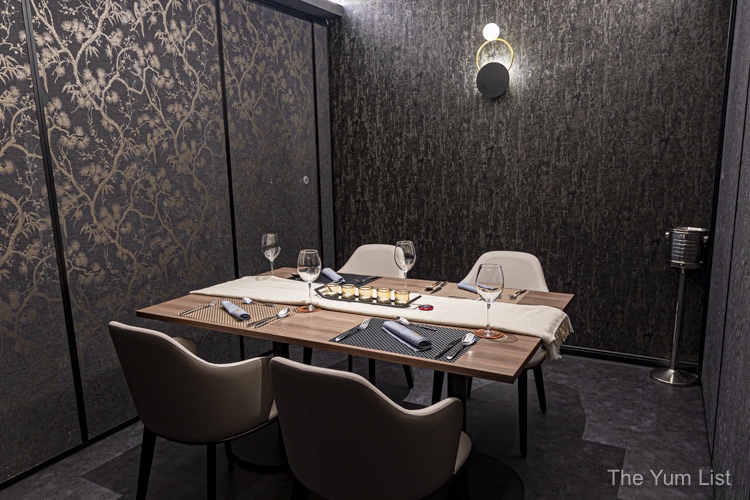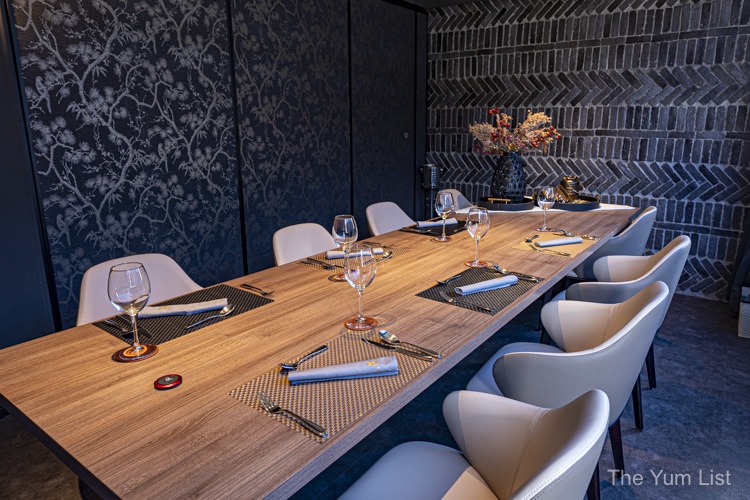 Yi Fusion – Japanese-French
Eight-Course Fusion Menu (RM 488)
The Fusion Menu (RM 488) consists of eight courses offering a variety of cleverly crafted dishes brought together with fresh ingredients. The bread of the day, a lovely chilli bread, started the meal. It was soft and fluffy and slightly chewy inside with a crunchy outside. Very tasty!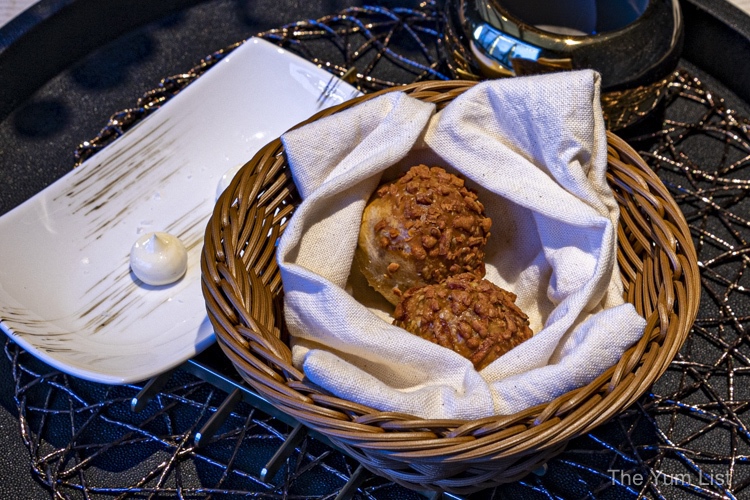 The Amuse Bouche featured a duo of small bites: a goat-cheese cone, and fried chicken skin. The first was a crispy wafer filled with creamy goat cheese with a pop of salmon roe on top. The latter was a crunchy base enhanced with beef jerky flakes, tomato salsa and caviar. Both offered an excellent blend of sweet and savoury while looking like little artworks.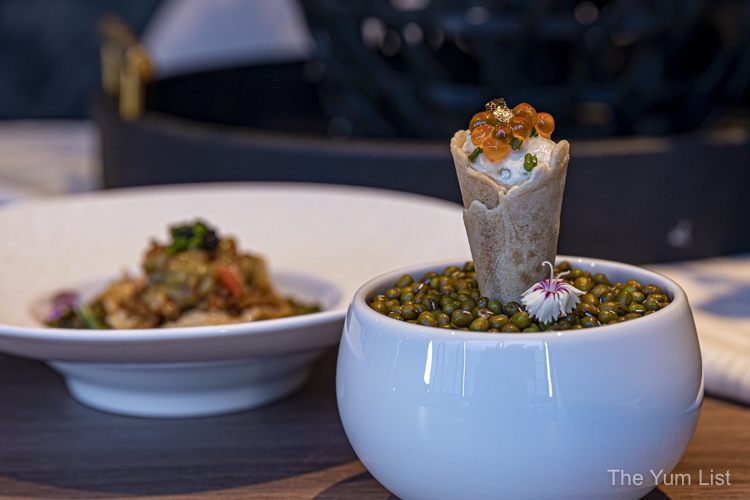 Pumpkin Dashi was a lovely starter of stir-fried Miyaki oyster and salted duck egg – it was almost too pretty to eat! The pumpkin puree was smooth and sweet and matched beautifully with the oyster, which was cooked, so it melts in your mouth. The oyster melded well with the pumpkin. An impressive dish.
Our next course, Hokkaido Scallops, consisted of pan-seared scallops, foie gras and sweet cauliflower puree. Again, another stunning dish! Our chef may also be an artist! This dish was even topped with gold flakes for that extra bit of jazz. The foie gras was spectacular; a creamy middle, lightly crispy surface, and a lovely rich grilled essence. The scallop, seared to texture perfection, was fresh, moist and delectable. The cauliflower puree was satisfyingly smooth in texture and in taste. The combination of richness of the foie gras and the lightness of the scallop combined to create a balanced and delicious plate which left me begging for more.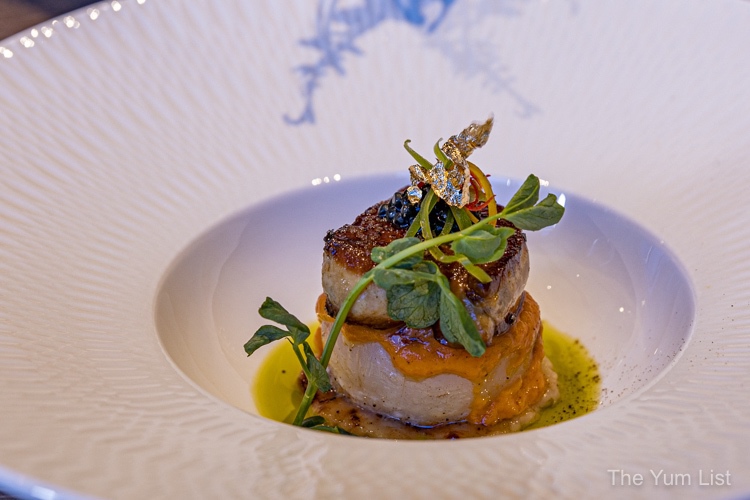 Zuwai Kani Kurimu Korokke – snow crab flakes and special tomato dressing on top of pressed watermelon – was also very pretty, vibrant and topped with flowers, totally Instagrammable! The snow crab was fresh and delicate. Along with the chilled, tangy tomato and sweetness of the watermelon, there was a whole mouthful of complementary tastes. Different, unique and tasty.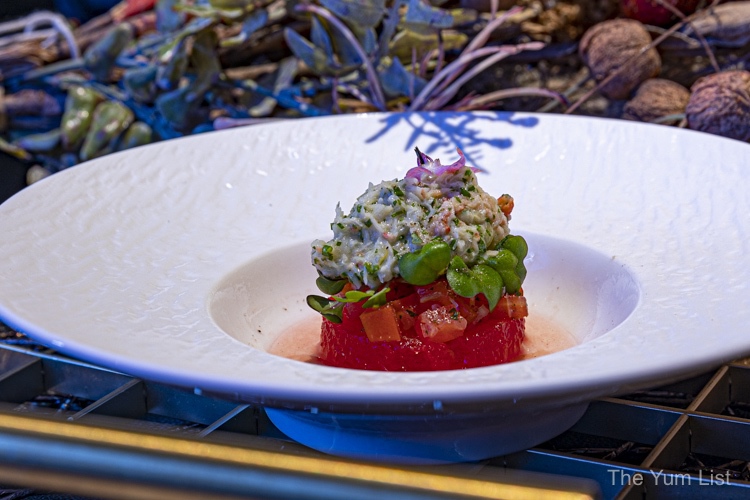 Our soup course brought us Flavour of the Sea, a slightly creamy tomato-based seafood soup with a light seafood aroma served with buttery, juicy and tenderly cooked kampachi. Simple yet very tasty.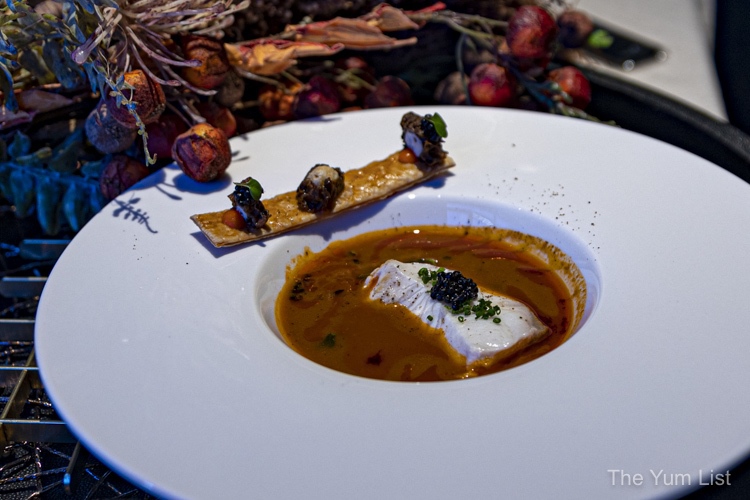 The fusion menu offers a choice of two main courses, Japanese Wagyu Beef with sauerkraut, miso powder and honeycomb or Gold of Deep Sea. Gold of Deep Sea was a scrumptious piece of crimson sea bream, firm but slightly flaky and absolutely glorious. The mouth-watering taste of the fish was complemented by the delectable Yi Fusion sauce and supplemented with a burst of savoury tang from the well-cooked white radish. This was my favourite dish of the day! The healthy portion of Wagyu was cooked medium-rare and was accompanied by sauerkraut and honeycomb, as well as balsamic pearls. Even on its own, the beef was heavenly, tender, juicy, and even better paired with the sides.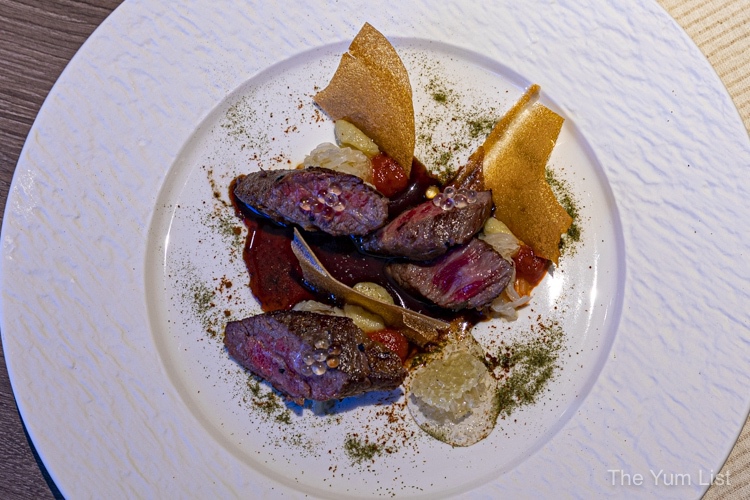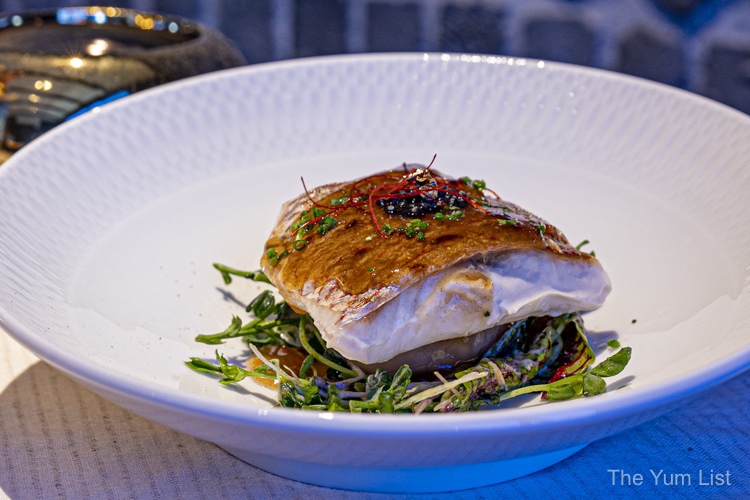 Dessert was a choice of Yuzu Sorbet and Pavlova. Artisan Yuzu sorbet with lemon zest was refreshing and divine on a cookie-like base. The second choice was-a slightly crunchy pavlova filled with a luscious tropical sauce and topped with freshly diced fruit. Light, sweet and fruity, the dessert course alone was reason enough to visit Yi Fusion!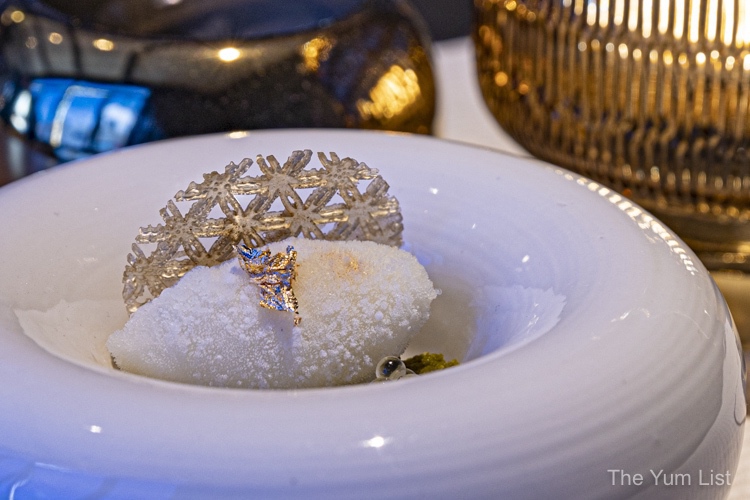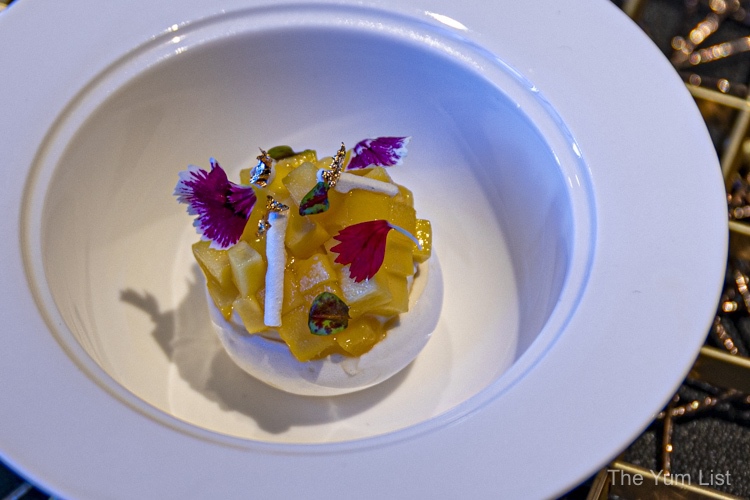 A duo of Petit Fours wrapped up the meal with a chocolate and raspberry macaroon and fluffy peanut butter and chocolate cake topped with whipped cream. Both were deep, rich decadence!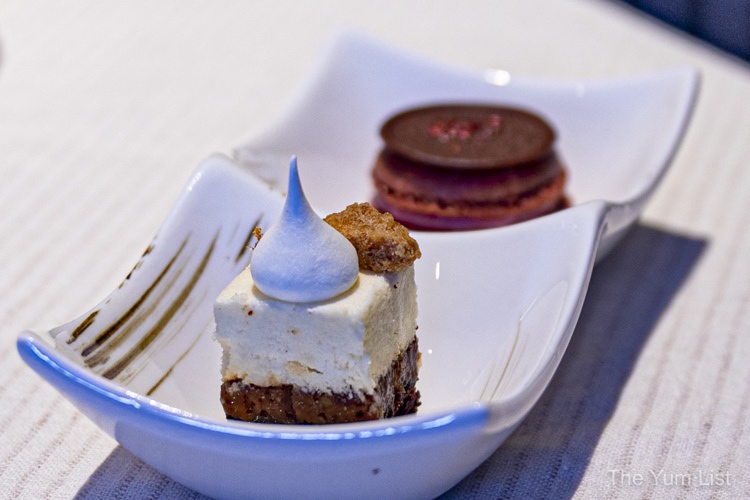 Yi Fusion – Bukit Jalil Review
I thoroughly enjoyed the entire menu and loved sampling the many different dishes in combinations that I would have never imagined would work so well together! And the sorbet… for me, it was the star of the show!
Apart from the inviting food menu, Yi Fusion provides a fabulous selection of beverages. If you are a sake connoisseur, this is the place for you. Yi Fusion offers 12 different kinds of sake, ranging from RM 328 to RM 3,988 per bottle. If wine is your tipple of choice, you will be in for a treat as the exclusive wine list includes reds, whites, roses and champagne to suit every palate. They also stock a wide variety of spirits.
With scrumptious, Instagrammable dishes, elegant ambience and first-class customer service, Yi Fusion is a culinary experience that is not to be missed. Individual dining rooms offer an intimate dining experience, while the omakase bar offers a traditional Japanese setting while still feeling relatively private. Reservations are recommended as space is limited to preserve the exclusivity of the restaurant.
Reasons to visit Yi Fusion, Bukit Jalil: From the air-flown fresh ingredients to the impeccable customer service, Yi Fusion is a must-visit destination for world-class fusion cuisine. The tasting menu options are an excellent choice that allows the diner to experience a variety of exquisite dishes crafted by the master chef. The classy decor adds a posh aura to the magnificently prepared dishes.
Yi Fusion, Number 80 The Earth
Bukit Jalil, Sekatan Lebuhraya, Puchong
57000 Kuala Lumpur
www.facebook.com/yifusionmy/
+6012-717-3520
Yi Fusion Opening Hours
Daily
Lunch 12:00-2:30 pm
Dinner first session 6:00-8:00 pm
Dinner second session 8:30-10:30 pm
Find more restaurants in Bukit Jalil here, Japanese restaurants here,  and stay up-to-date with the latest gourmet and travel recommendations for Malaysia here and here.