Cafe Near Jalan Imbi – Bestow
Words: Matt Brown
Photos: Rich Callahan
Almost a year ago I was fortunate enough to be taken on as a writer for The Yum List, where my first-ever article was a cute little restaurant located behind Berjaya Times Square. Bestow has always taken great pride in offering an easy, welcoming and attentive experience for their guests, so I was excited to return to where it all began for a look at their new menu. The space is still an impressive mix of comfort and eye-catching, with the double-storey wall installation of seeds from around the world lit beautifully in the natural light of a rainy KL afternoon. There are seating arrangements for couples, small groups and larger dining gatherings, with the mezzanine level still a delightful nook that looks out over the space below. The staff are still friendly and genuine in their care for your satisfaction, and the revamped menu offers even more tasty offerings than before.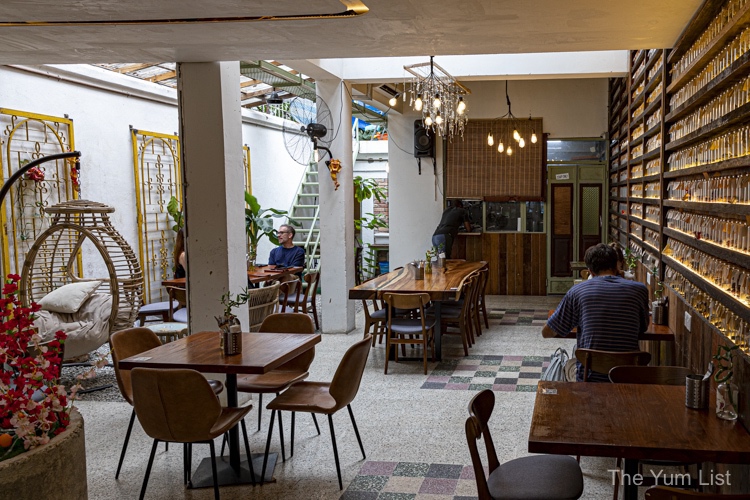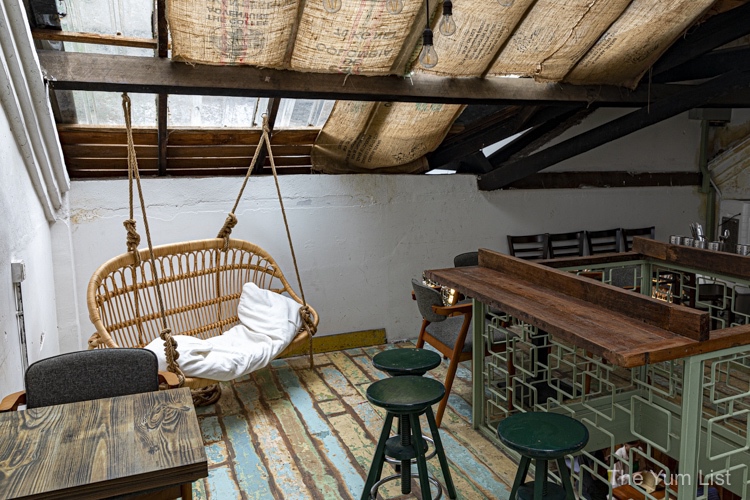 New Happenings at Bestow – Cafe Near Jalan Imbi
Taking great pride in listening to what their customers want, the team behind Bestow are busy with a capital B. Not only is the restaurant featuring the new menu, but behind the scenes and up the stairs, at the back, they have been creating a unique boutique hotel space that is set to open in a couple of months. Soon, you can B&B at Bestow, as well as enjoy even more delicious offerings when the planned bakery opens next door beneath the hotel space. Exciting times behind Berjaya!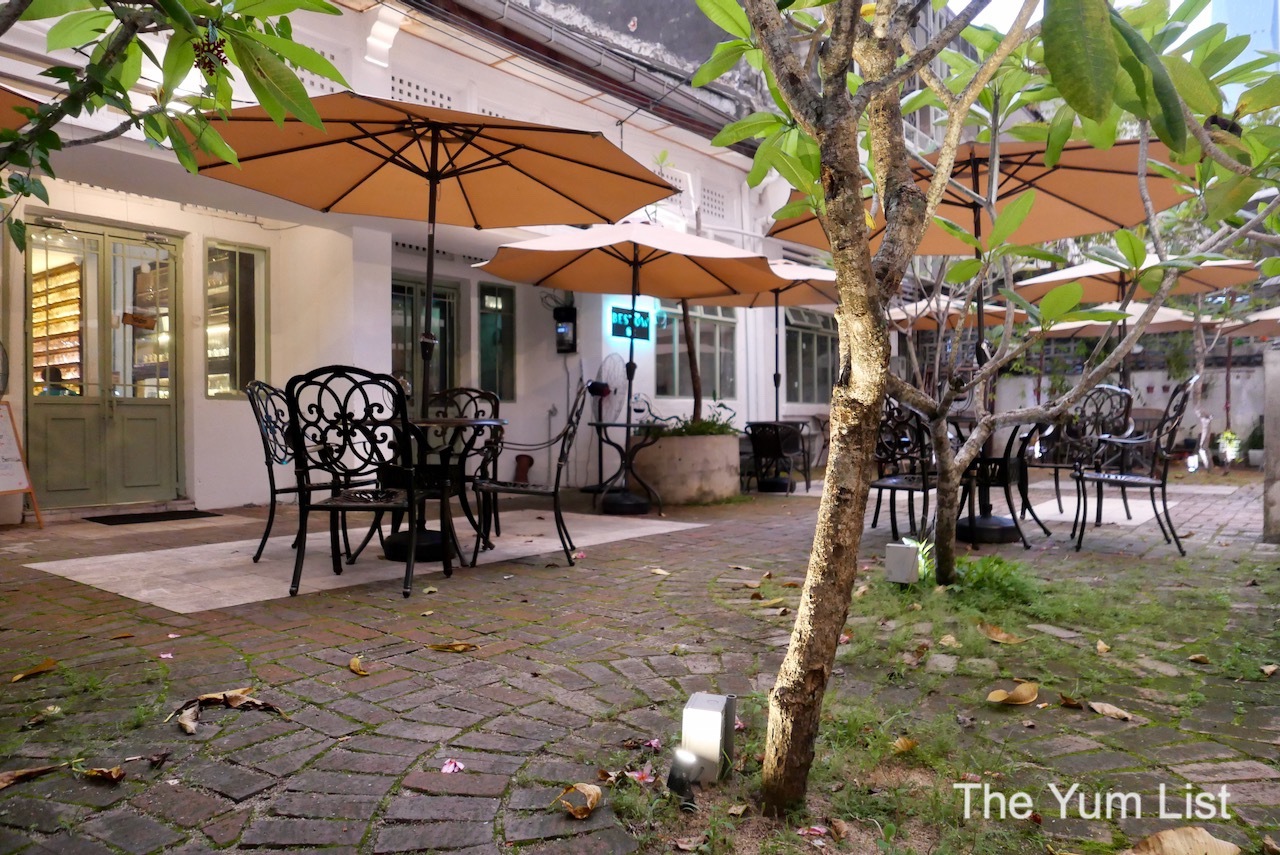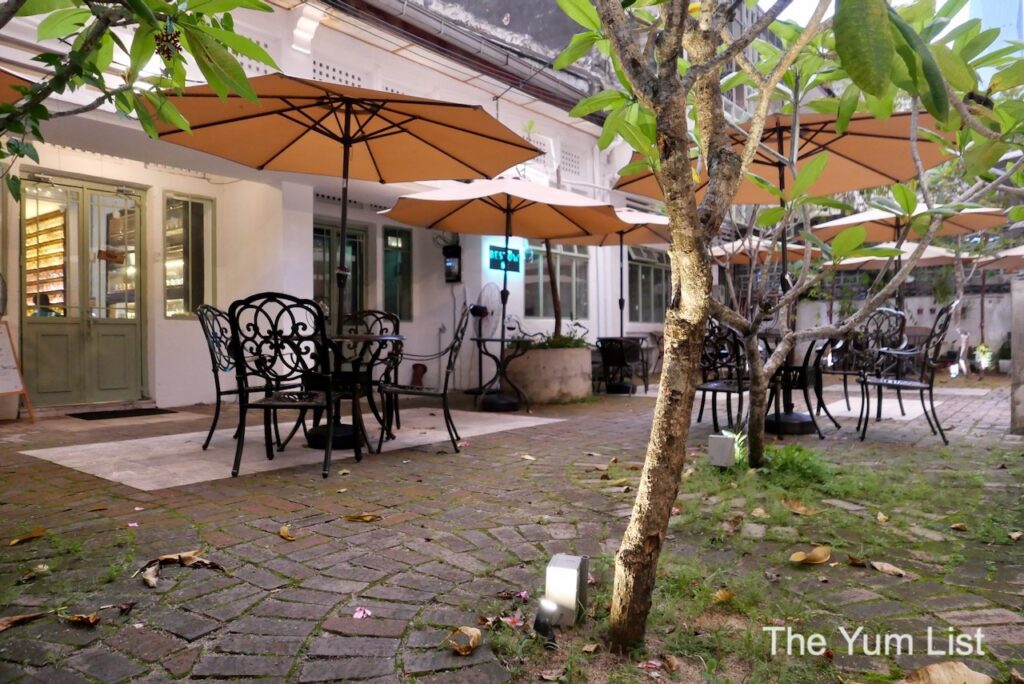 New Menu
In the interest of making the most out of Rich's brilliant photographic skills, we decided to sample a range of dishes that would make for a colourful and eclectic mix of pictures. The plus side, of course, is that there were some really awesome additions to the menu in the form of our choices.
A breakfast option available all day is French Toast and Scrambled Eggs (RM25), both of which are fluffy and light. These are expertly paired with either a Green Matcha Latte (RM14) or a classic Flat White (RM12).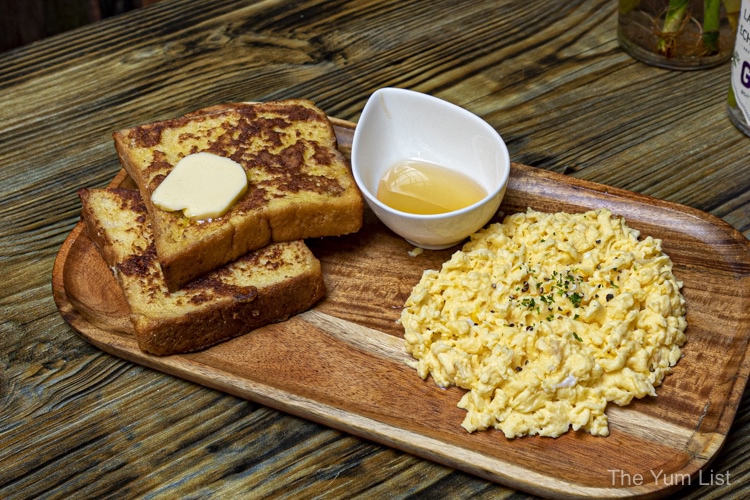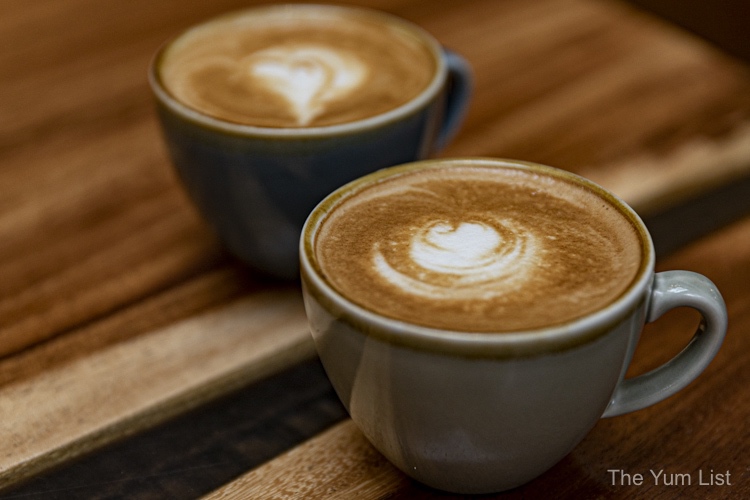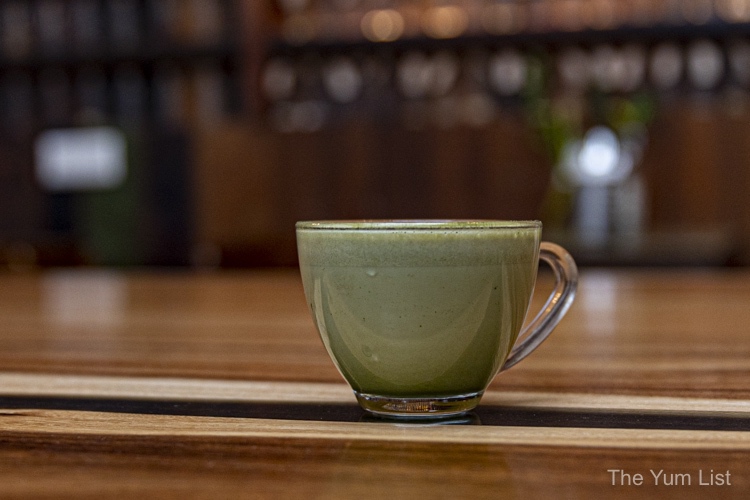 For menu items more suitable later in the day, the Teriyaki Smoked Duck (RM30) features slices of well-cooked duck in teriyaki and plum sauces, sitting on top of a mesclun salad. The duck is cooked like good bacon and although sweet, doesn't overpower the taste buds.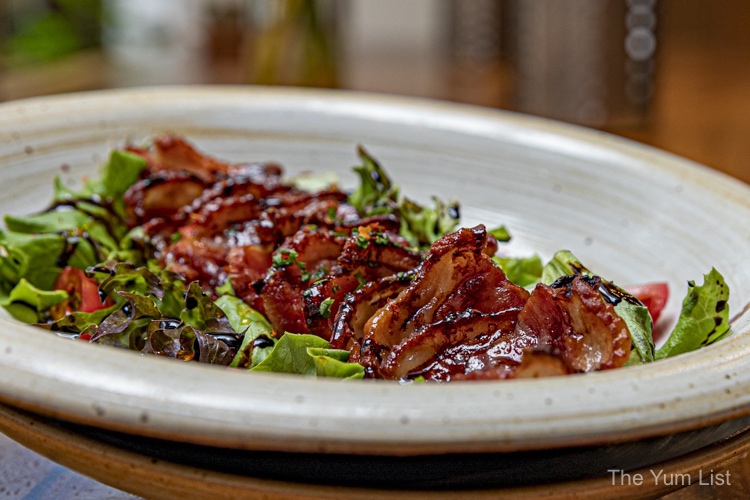 The Grilled Lamb Skewers (RM35) received a unanimous trio of satisfied hums from the table as we tasted the Indonesian sweet sauce marinated skewers of super tender grilled lamb. The dish comes with an eggplant purée and flatbread on the side – distract the rest of your party with the flatbread so that you can eat more than one of the skewers.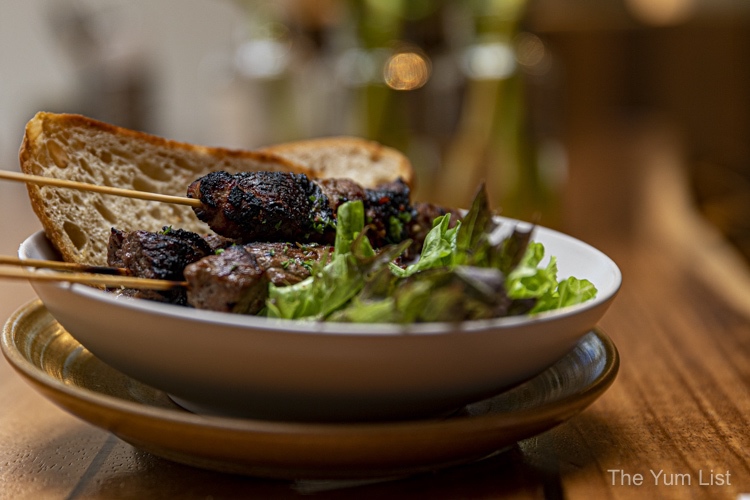 Light and creamy Mushroom Alfredo (RM23) is ideal for one of those rainy KL afternoons that we've been having lately. The portion size is a Goldilocks-level of not too big, not too small, and sharing it means that you can sample more from the kitchen.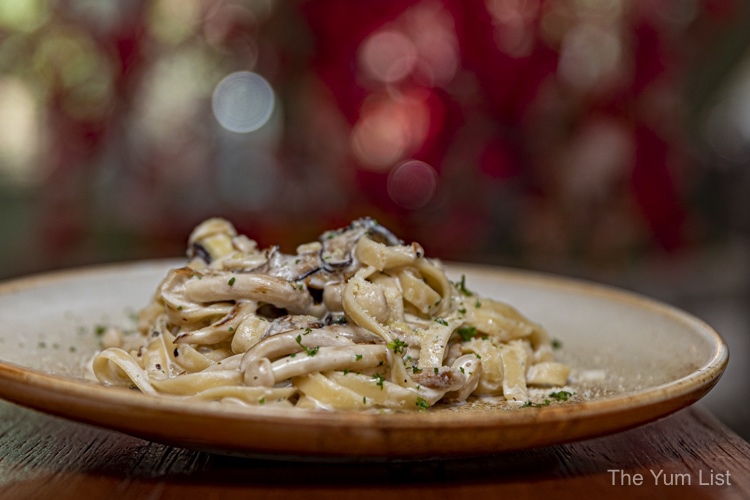 The surprise hit of our dining experience was the Spanish Pan-fried Butterfish (RM40), which was a perfectly cooked piece of fish topped with the house chimichurri sauce and served with sauteed kale and a sweet potato mash. I may have moved the plate out of Monica's reach once it dawned on both of us how tasty and more-ish this dish was.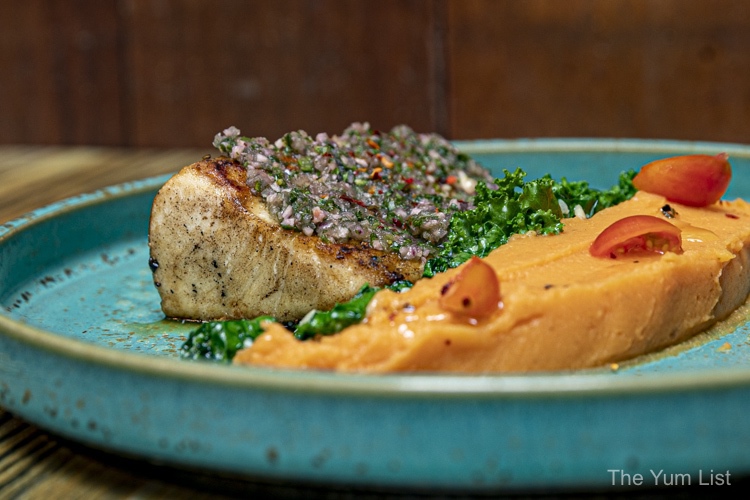 Those after a dessert at the end of their meal, or who may just like to enjoy the surroundings with a cup of coffee and a piece of cake, will find what they crave in the cabinet at the front of Bestow, where pastry and cake options change regularly. The Lemon Poppy Bundt Cake was just the right level of spongy goodness to perfectly pair with a coffee. If you prefer to drink your desserts, Bestow also has a selection of smoothies – the Pink Guava and Lychee Smoothie (RM15) benefits from the honey and almond milk mixed in to make it an impressively light and refreshing fruity option.
If something alcoholic is more your craving, Bestow offers beers and ciders as well as organic wines and all the usual spirits, available with soda or tonic water. I learned something new that day when we ordered a Gin & Sonic (RM27) which smoothly mixed Hendrick's gin with a combination of soda and tonic. It always pays to be a lifelong learner!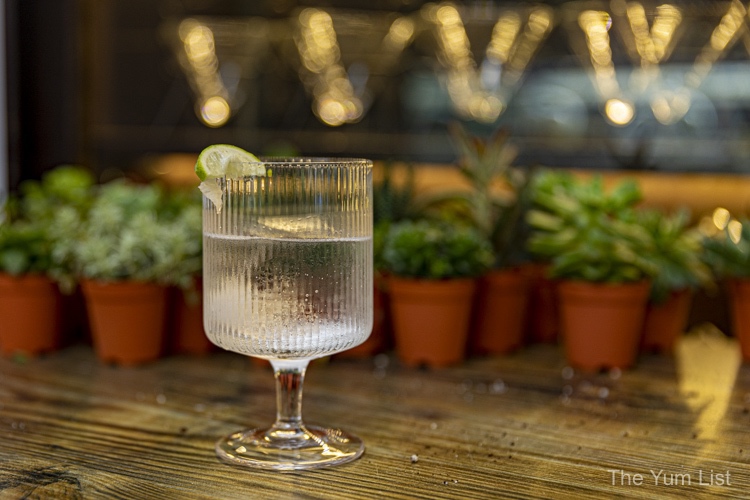 Reasons to visit Bestow, cafe new Jalan Imbi: If you haven't had a chance to visit Bestow since it opened at the end of 2021, the new year new menu is an excellent reason to add it to your to-do list. Fine dining often gets all of the publicity around town, and it's great to be able to shed some light on a casual place like Bestow, where a relaxed atmosphere doesn't mean a lack of quality. Rich ate his Lamb Skewer the fastest out of the three of us, while Matt and Monica rhapsodised for a good thirty minutes after finishing the Butterfish.
Bestow Restaurant
82, Lorong 1/77a, Imbi, (cafe near Jalan Imbi)
55100 Kuala Lumpur
+6 018-298-2921 thebestowexperience.com
Bestow Opening Hours
Sunday – Thursday: 10:00am – 10:00pm
Tuesdays: Closed
Friday and Saturday: 10:00am – 12:00am
Find more cafes in Kuala Lumpur here and stay up-to-date on the latest happenings in KL's food and beverage scene here and here.