Pimalai Resort and Spa, Koh Lanta, Krabi
Words: Kirsten Durward
Photos: Monica Tindall (without watermark supplied by the resort)
With over 100 acres of lush tropical forest, it's easy to reconnect with nature at the Pimalai Resort and Spa on Koh Lanta. Although I have travelled extensively, I have rarely stayed in a place with such spectacular views. And the breathtaking scenery is everywhere. From the moment you step into the hotel, welcomed with a refreshing drink and a cool towel, it's easy to see that the star of the show is the sparkling Andaman Sea. But unlike the rest of Koh Lanta's endless vistas, Pimalai Resort and Spa benefits from a unique position overlooking a picturesque cove that gives an exceptional framing to the outlook. And then there is magical Koh Haa (a rocky outcrop of small islands) in the distance, sparking our imaginations with thoughts of mystery and adventure. It's truly the best view on Koh Lanta.
We love walking around the property, particularly in the cool mornings, enjoying the sounds and scents of the natural environment. Pathways wind between stone walls, tropical forests and water features. Everything feels in tune with nature. If you don't feel like walking, a masterful transport system will whizz you around this 100-acre tropical paradise. We never have to wait more than five minutes for a buggy or a van at any point, and the drivers seem extremely happy.
Because of the capacious site and expansive outlook, Pimalai Resort and Spa feels very private and is ideal for a romantic retreat or friendship travel fun. Cleverly woven into the hillside, you will find two glorious sparkling turquoise pools, four different dining options, a sports centre, a hidden spa, and a delightful herbal garden. Whether you want to zone out on your terrace or pack your days with activities and excursions, you will find what you need in this wonderful resort.
With 900 meters of pristine beachfront, you can bliss out on the sands, gazing at the endless Andaman waters, or try something more active. With paddle boards, kayaks, snorkelling, diving, and even a sports cat, there's plenty to try out on the beach at Pimalai Resort and Spa.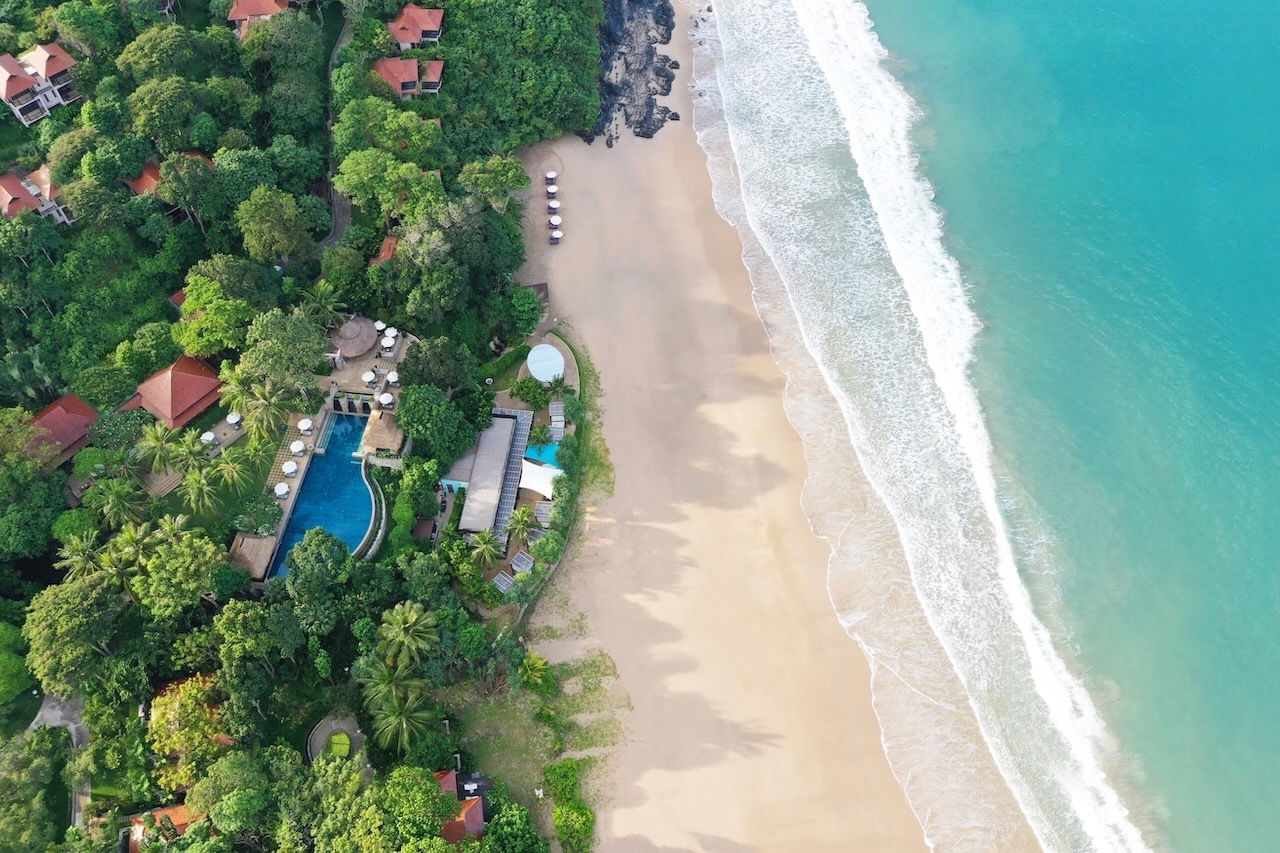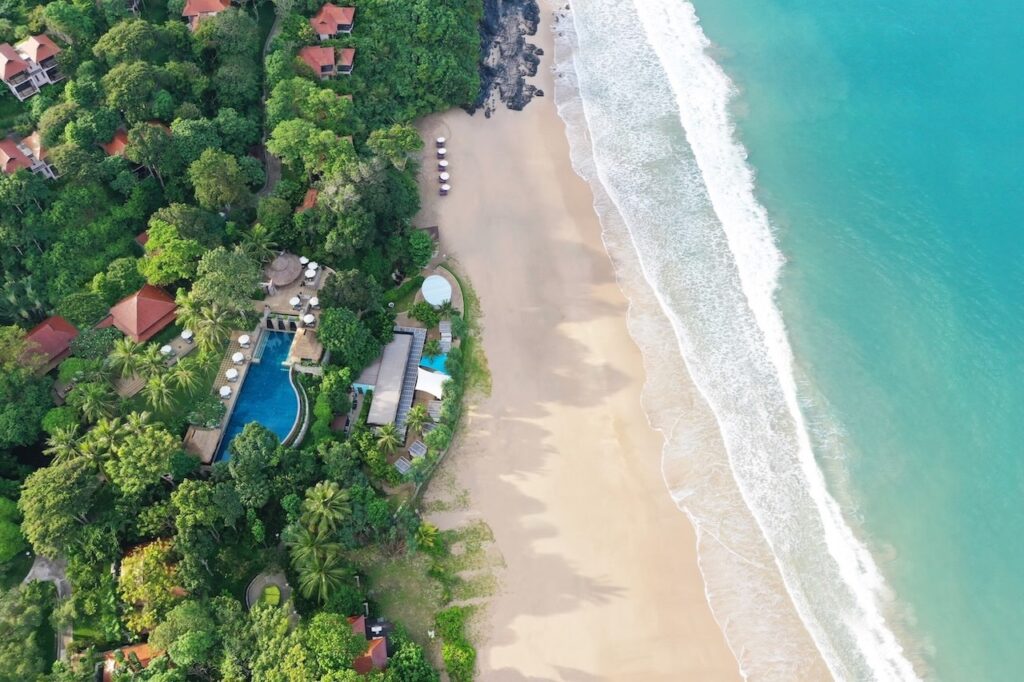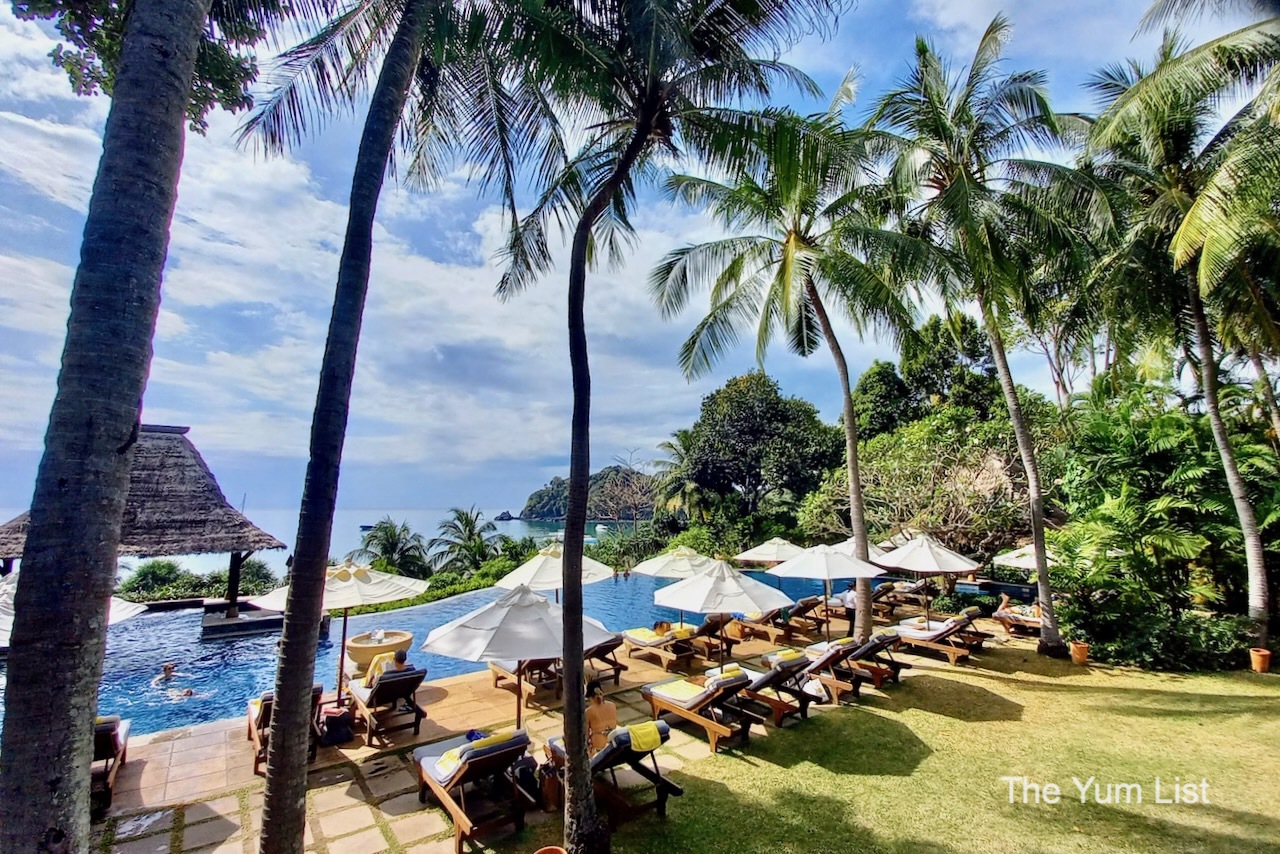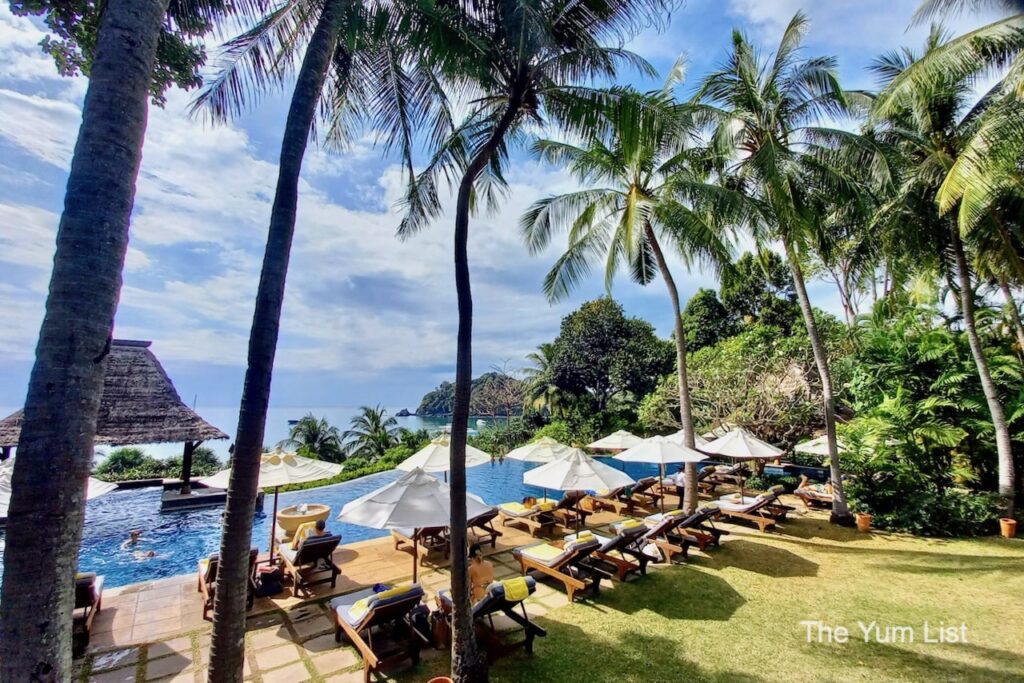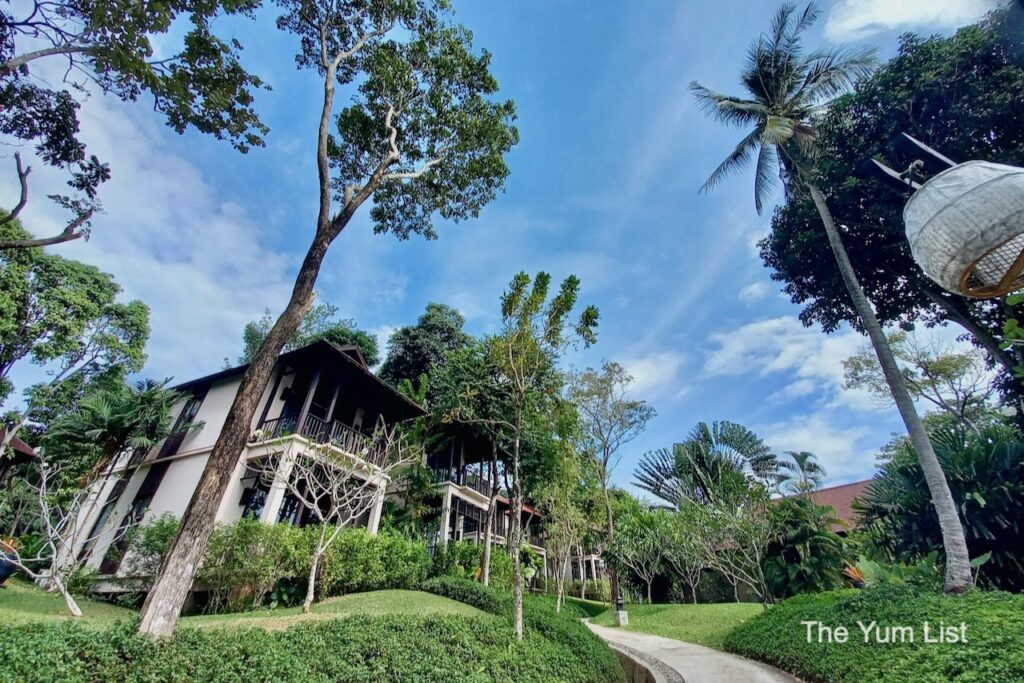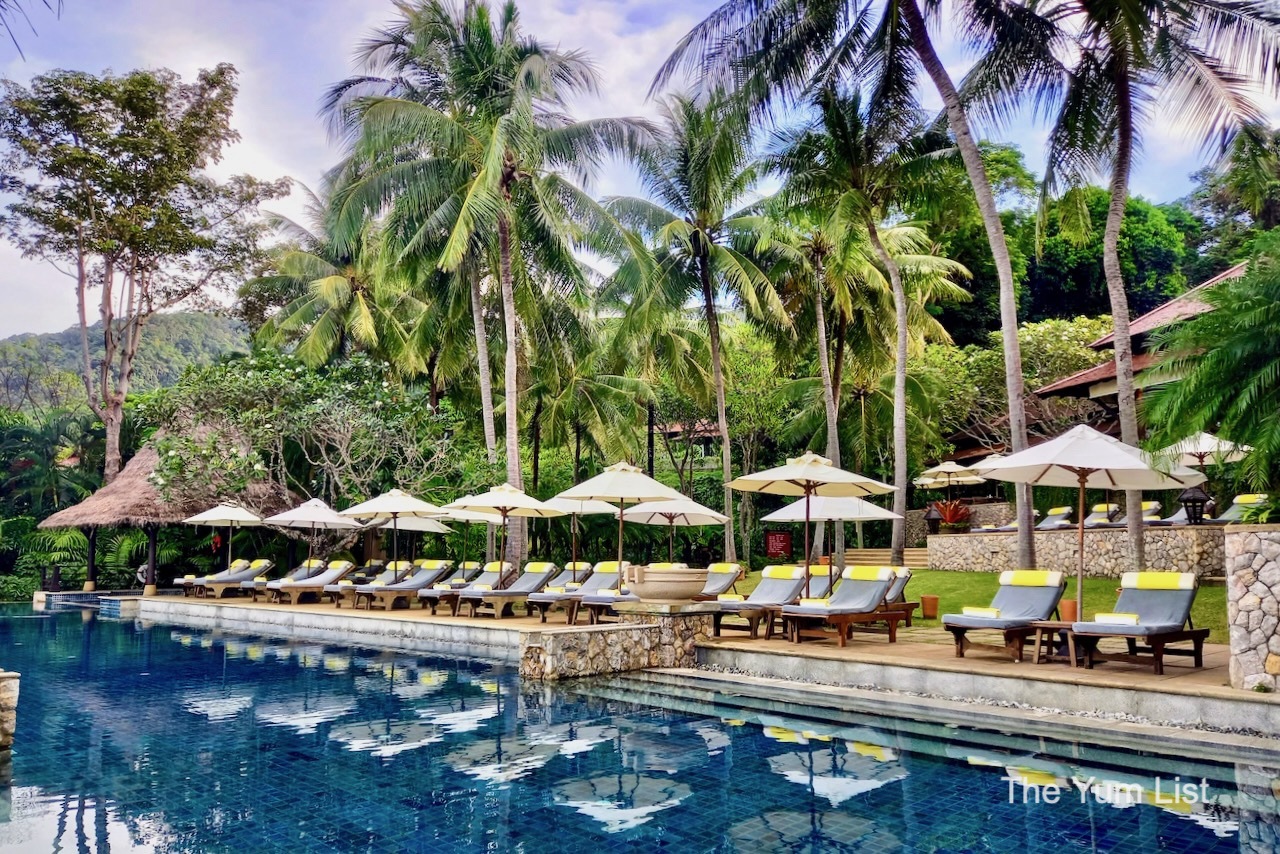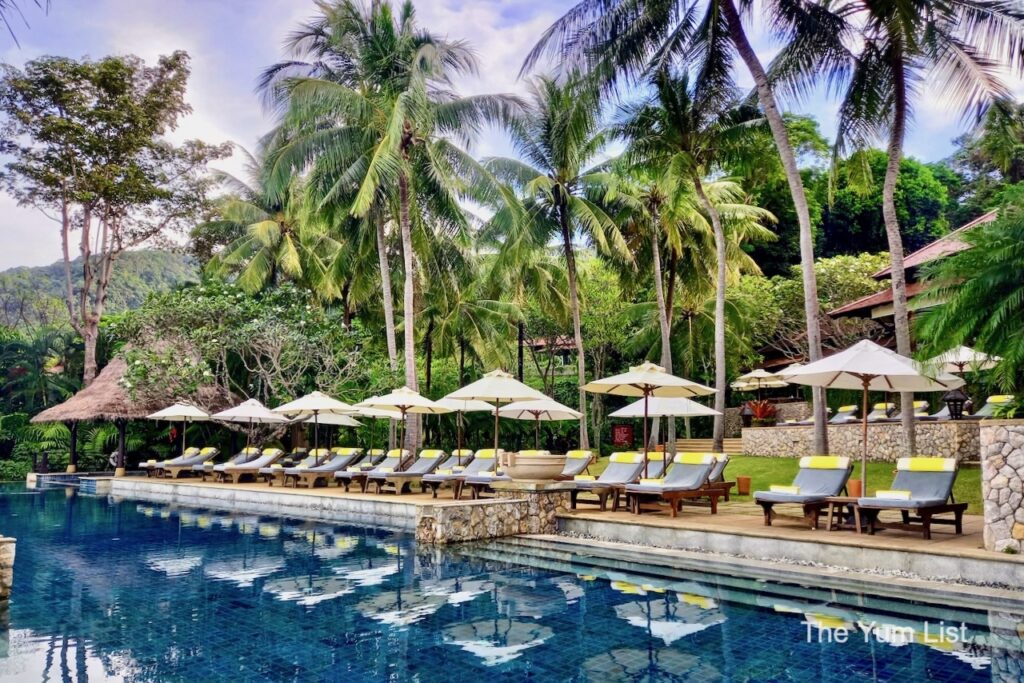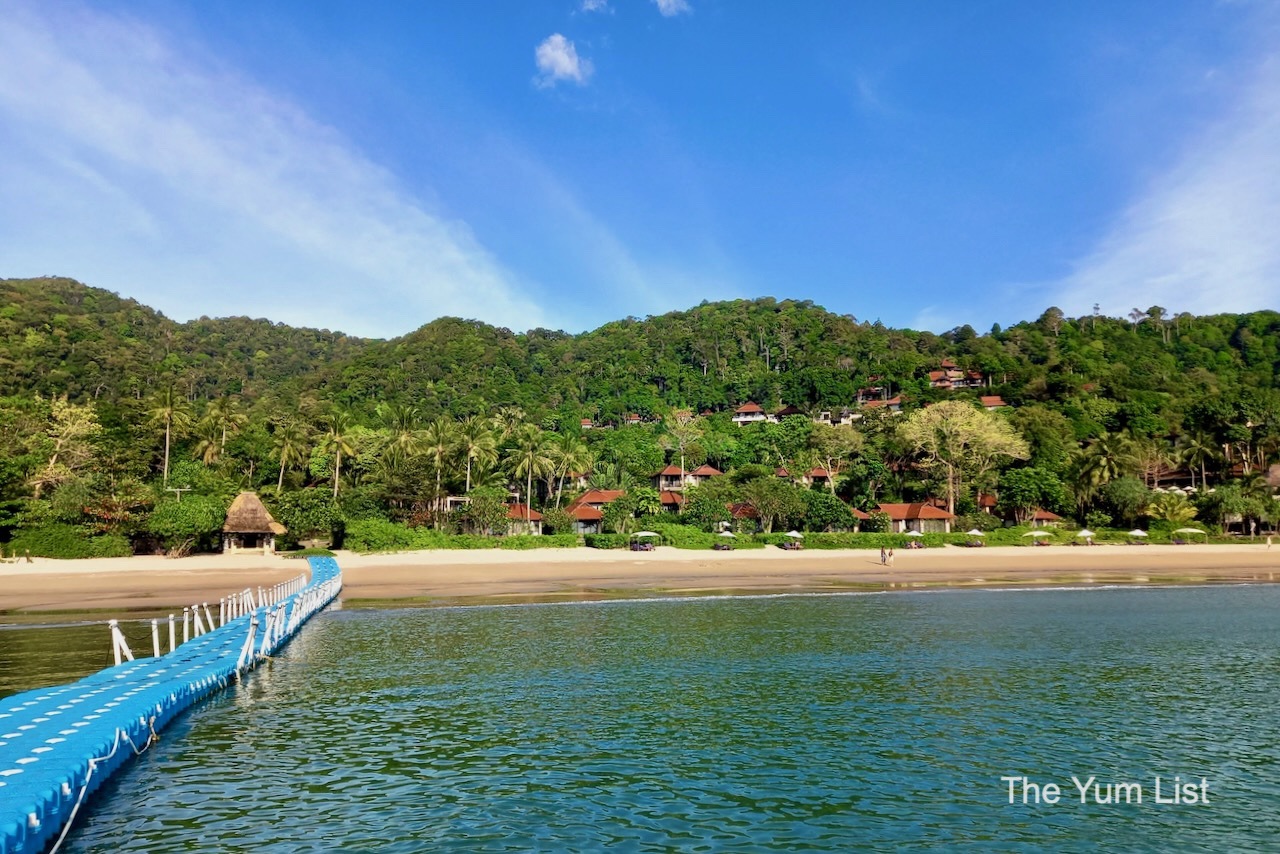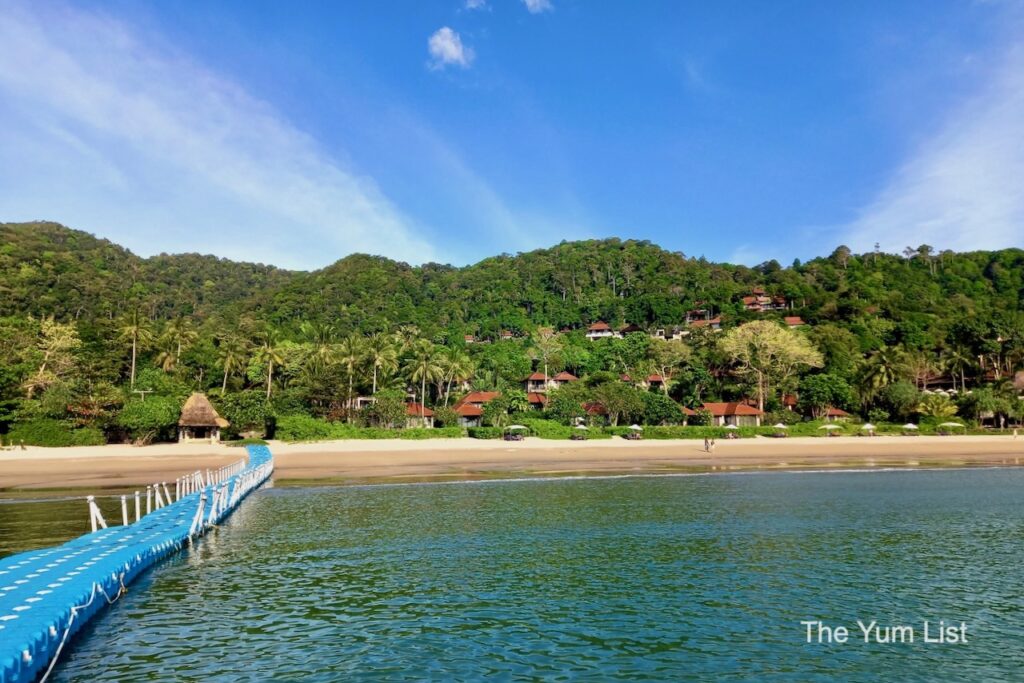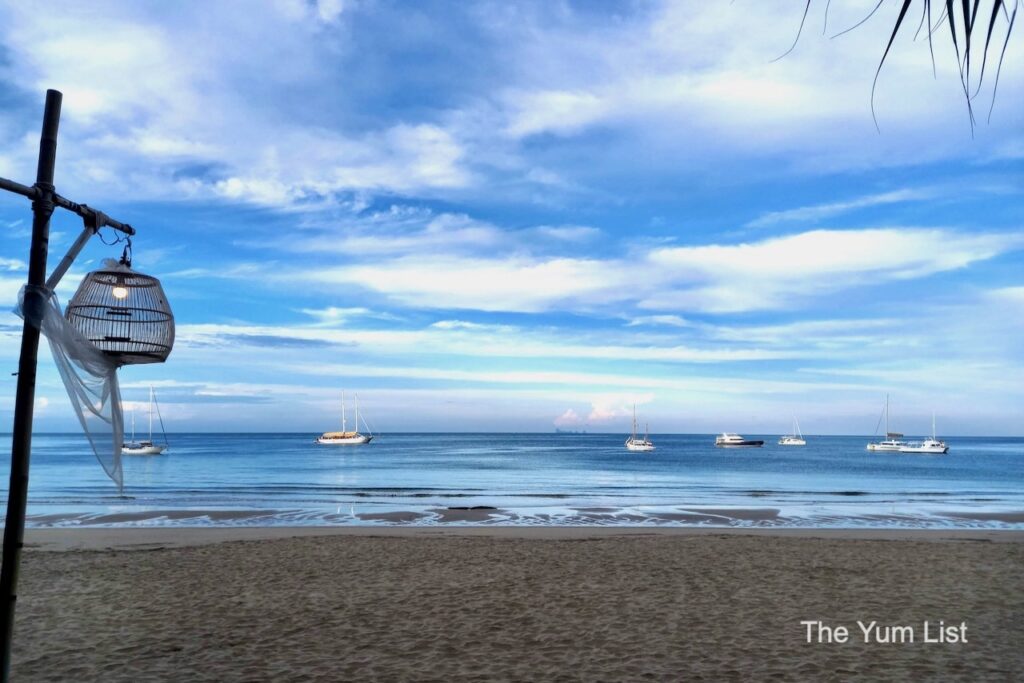 Pimalai Resort and Spa Accommodation
We are indulged with a luxury hillside ocean-view private pool villa. Opening the double doors to this secluded hideaway, we instantly gasp with pleasure at the spectacular view and the inviting accommodation. We are surrounded by natural forests and pause to take in the environment's sounds, sights and soft breeze. It's a balm for the soul standing looking out here!
Exploring our 204-square-metre temporary home takes quite some time! The overall sensation is of space. The rooms embrace simple luxury, quality and comfort that welcome you but are designed and positioned solely to take advantage of the simply stunning location. The central plunge pool separates the romantic bedroom and main bathroom from an extensive living area that boasts a second bathroom and a small kitchen (full-size fridge, coffee maker, sink, cooking facilities, crockery, and cutlery). It would be easy for groups of three or a small family to make this area into a second bedroom.
Floor-to-ceiling windows allow the natural vistas to remain centre stage, but every comfort has been considered. I could rave over many things, but I will select just a few and allow you to discover the rest yourselves – the bathtub with a view (and choice of salts), the high-quality bathroom products in reusable pumps (and the general absence of single-use plastic), the light and space, the separate wardrobe and dressing area, countless places to lounge, and the much-appreciated choice of twin beds or a king. Pimilai Resort and Spa is known as the best hotel in Koh Lanta, and these details demonstrate why.
After our welcome coconuts and settling into the villa, we enjoy our first Pimalai sunset with a glass of bubbly in the pool. The sky lights up with soft golds, pinks, oranges and purples, and mysterious Koh Haa seems to float above the water as the sun sinks below the horizon. We are surrounded by nature, the wind rustling in the trees, birdsong and a cricket orchestra.
A good night's sleep is ensured by blackout drapes, a supportive, comfortable bed, adjustable air temperatures, and an intense sense of serenity. Waking up in this luxury villa brings happiness as we again admire the outlook and plan for the day's experiences. I have no more words than delightful! I'd happily move here for a month or much longer if the management allowed it!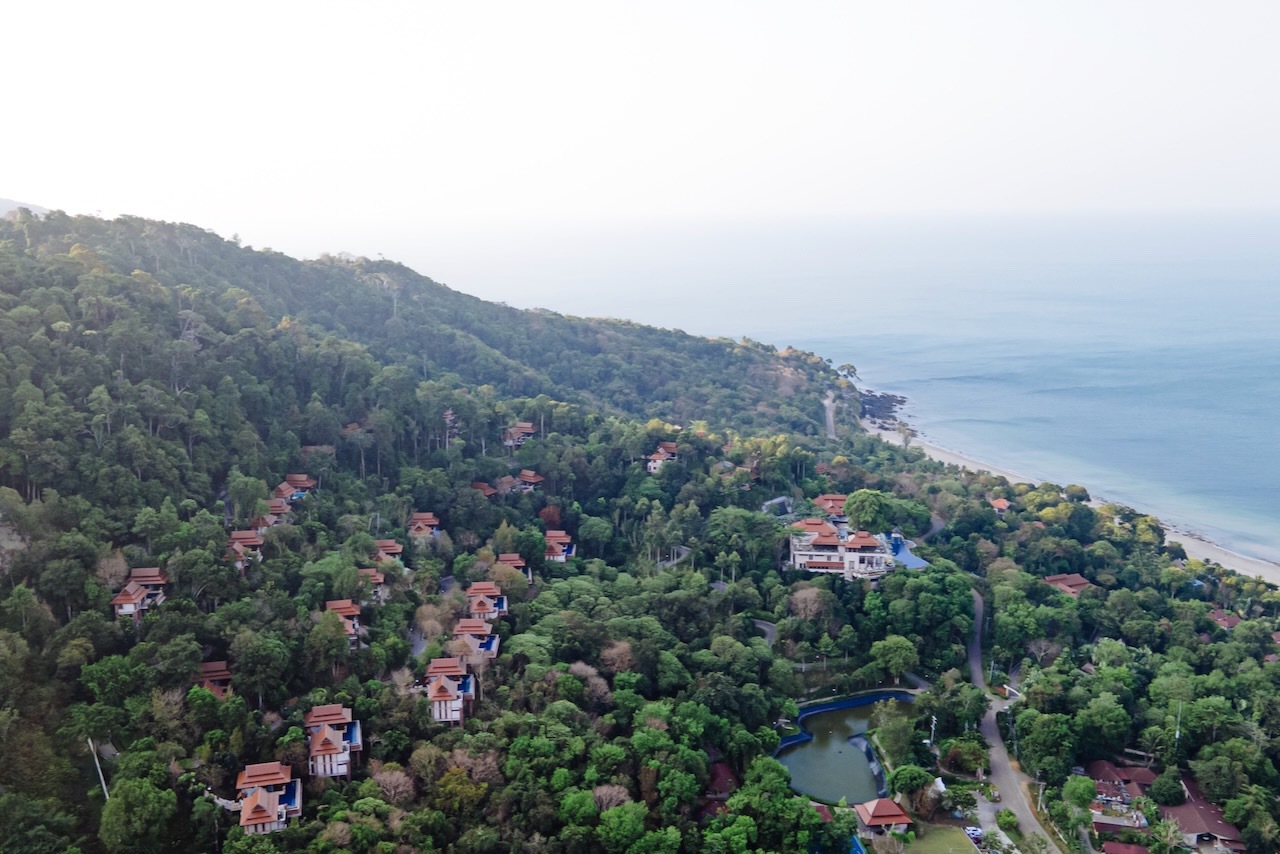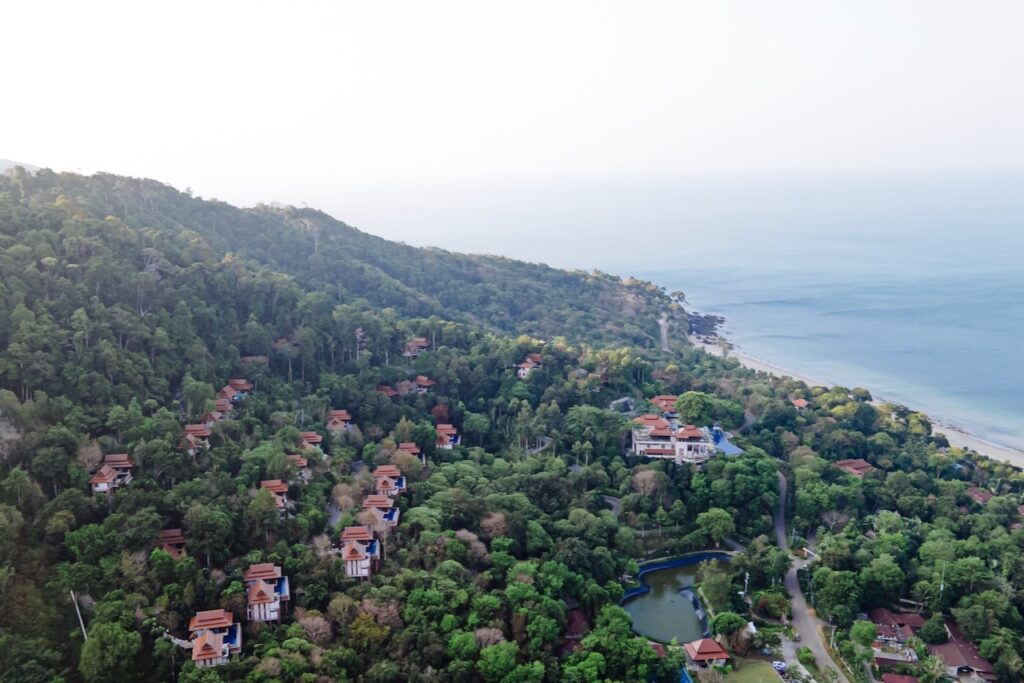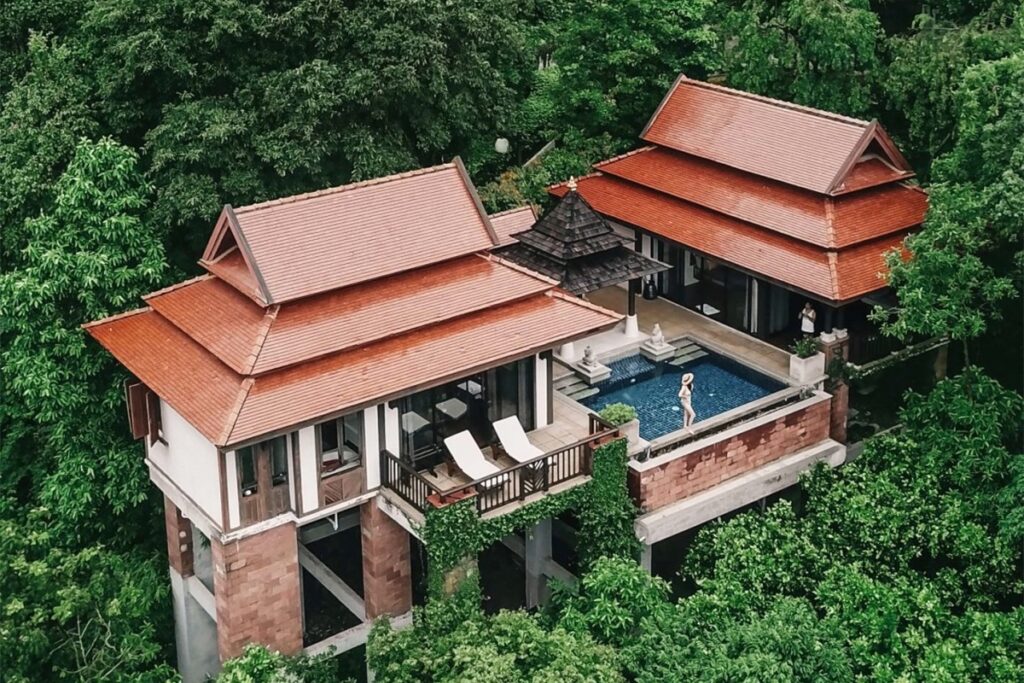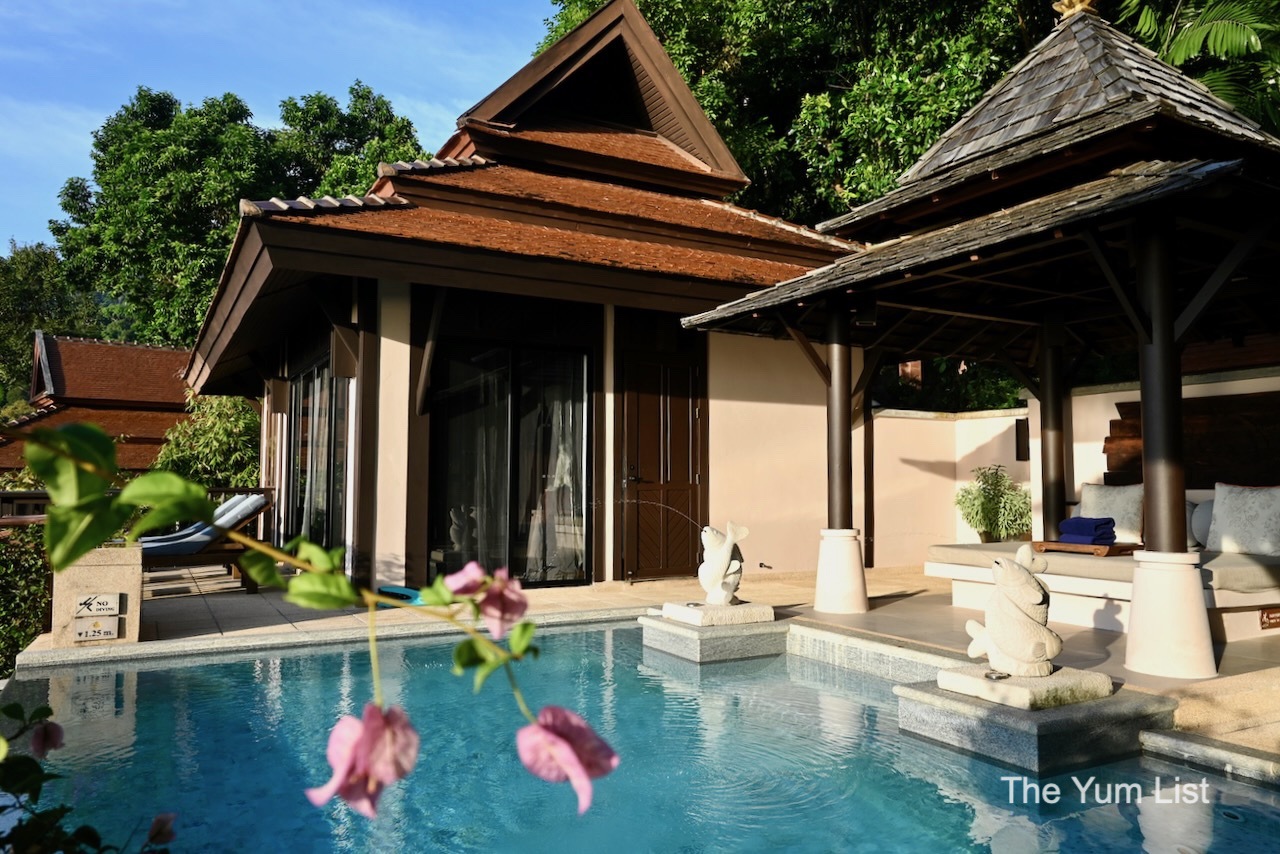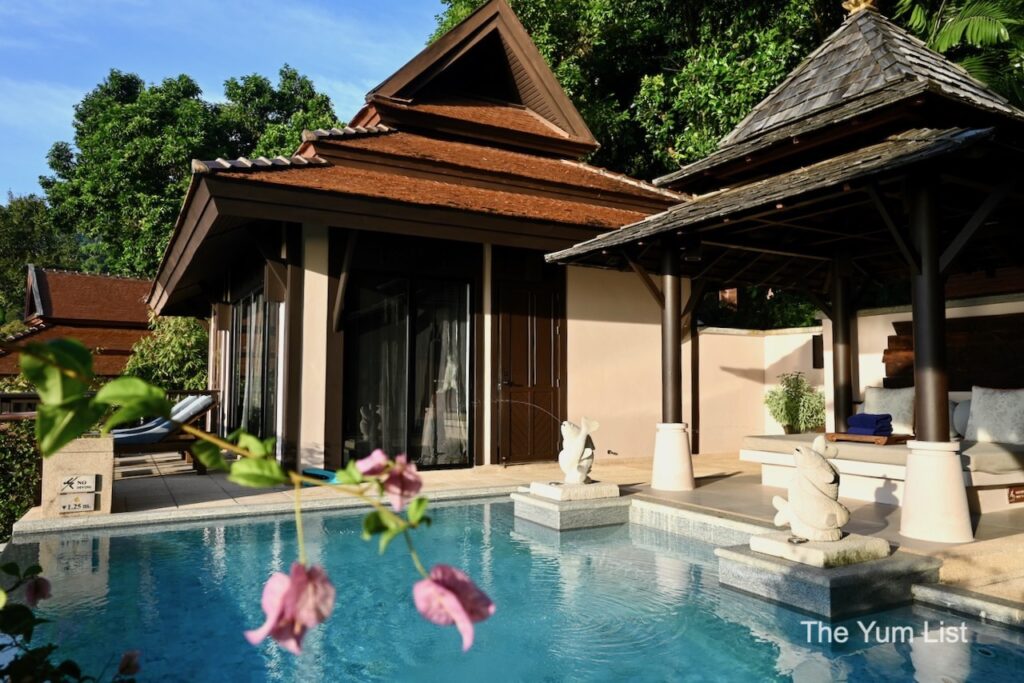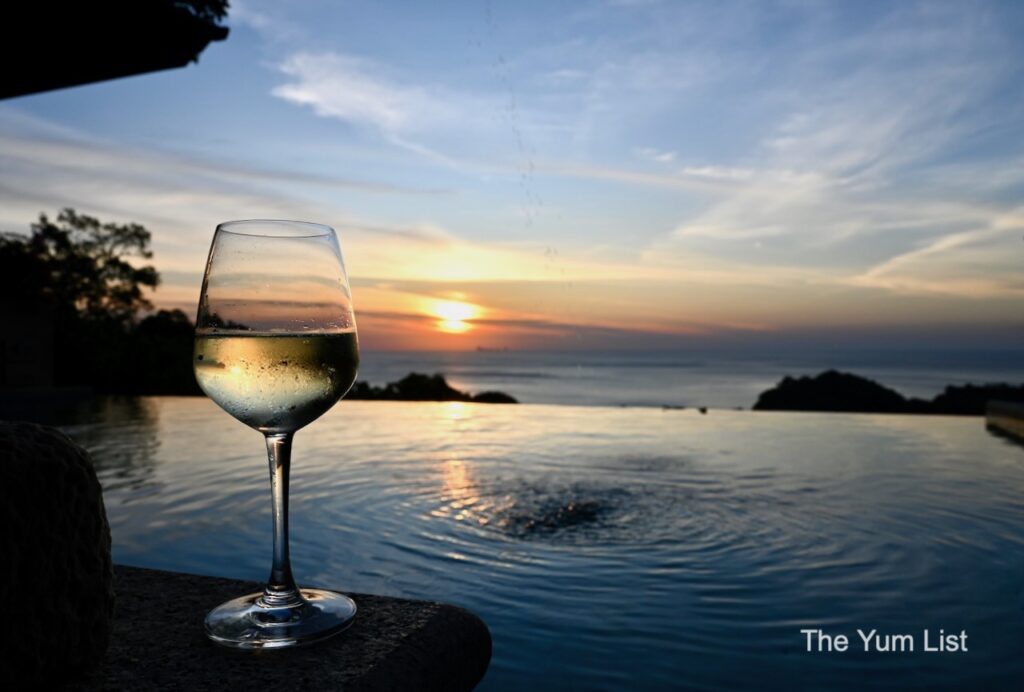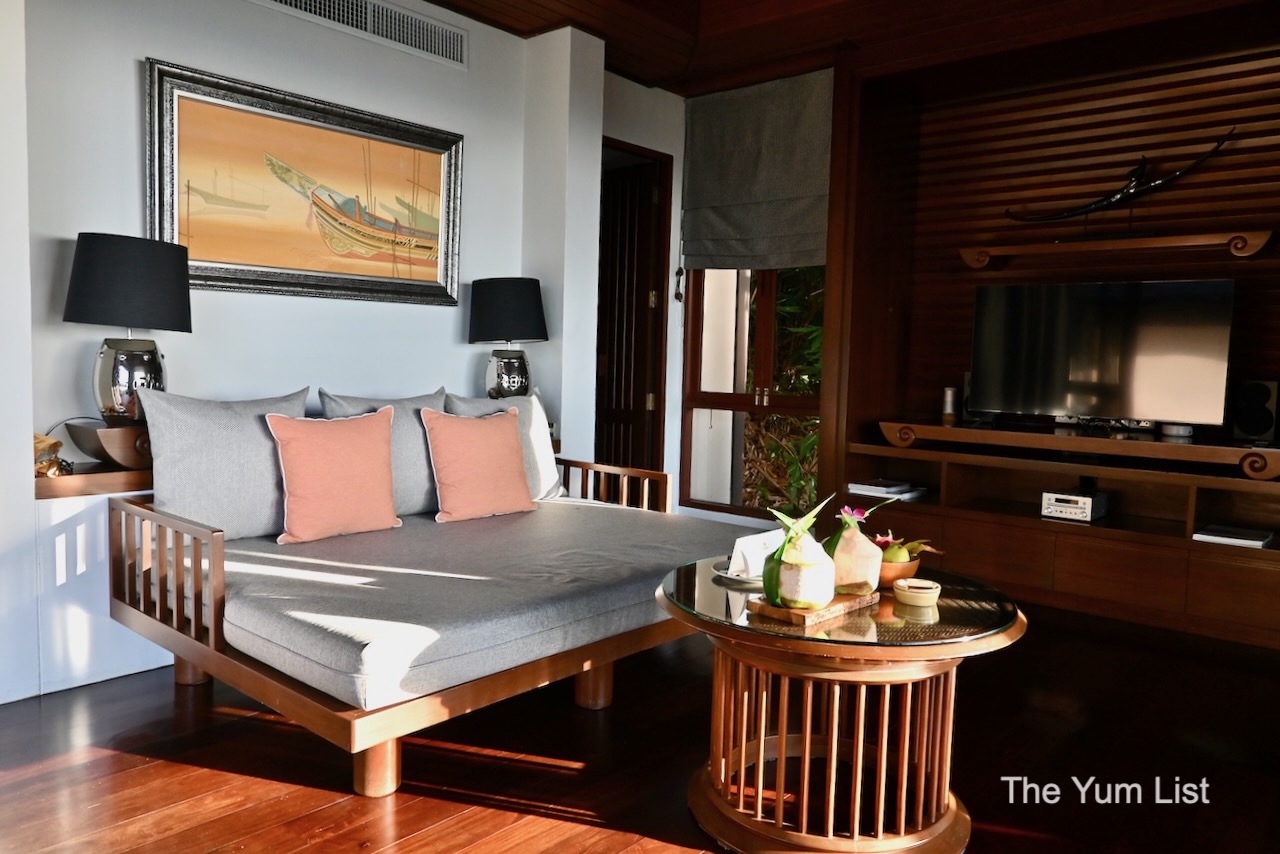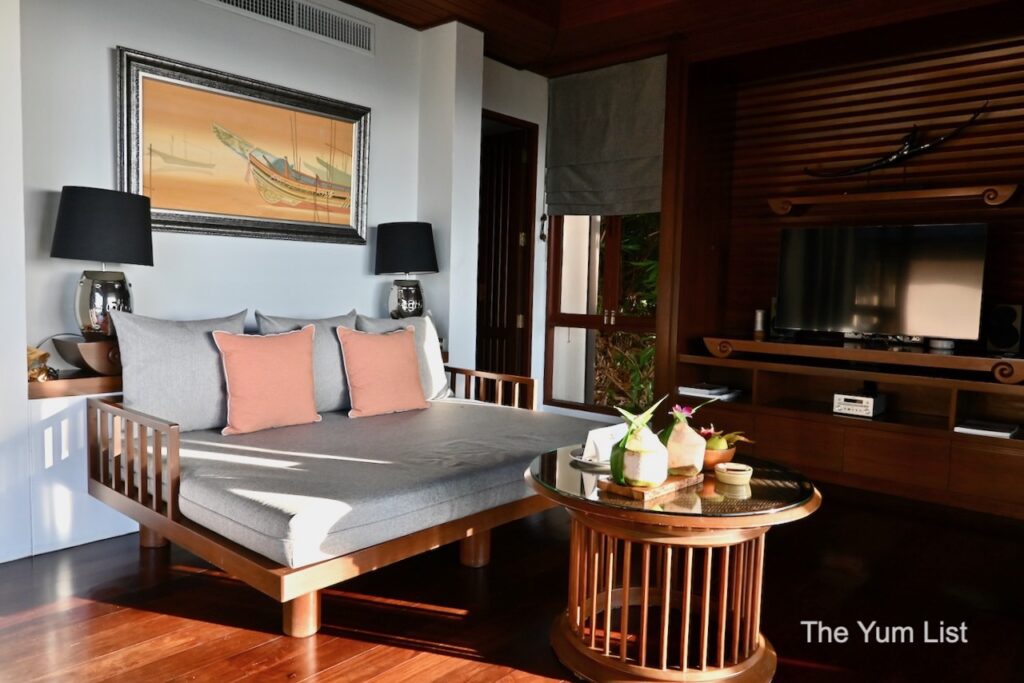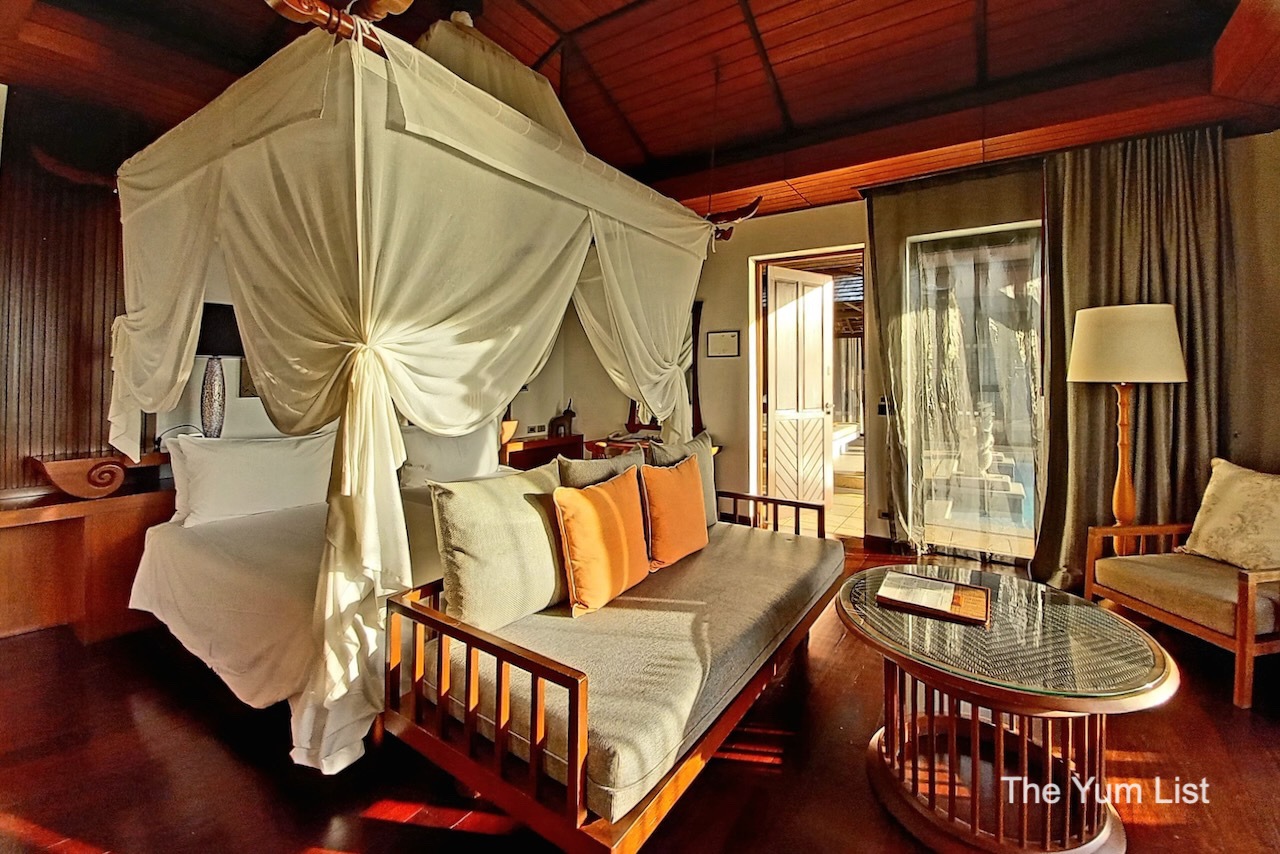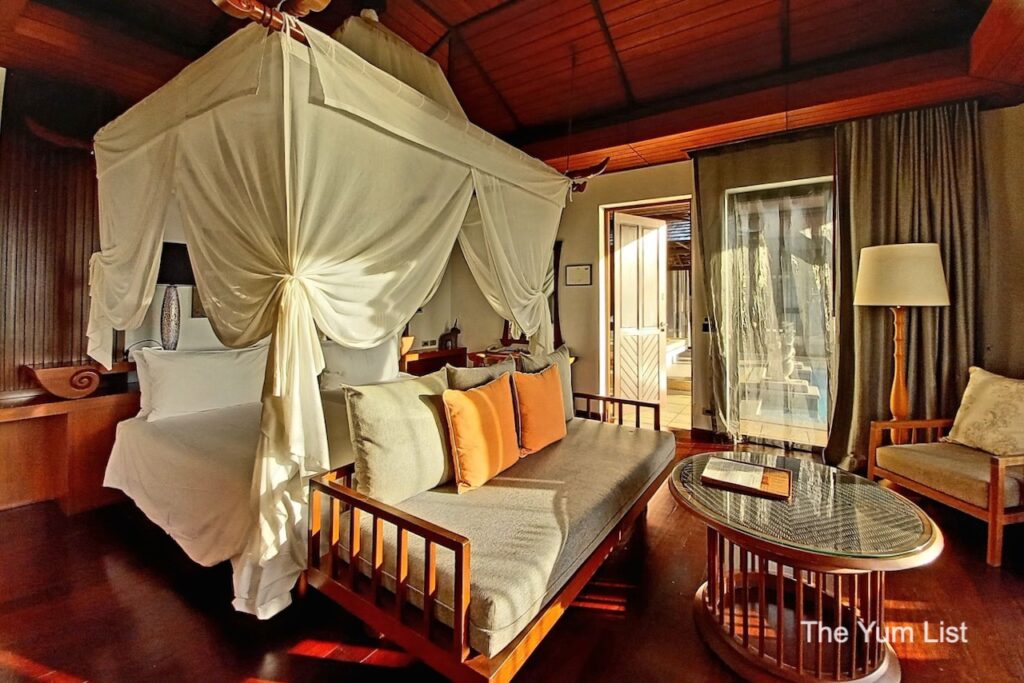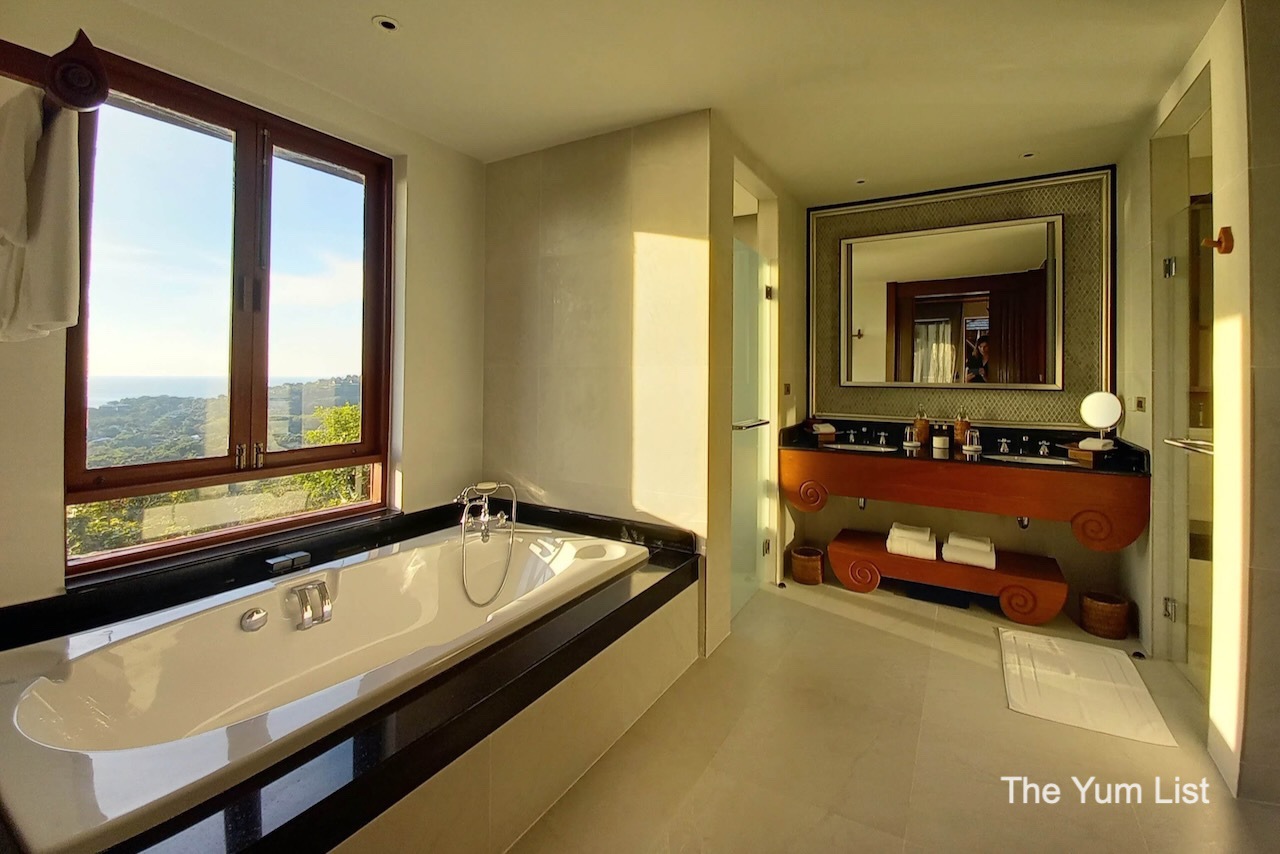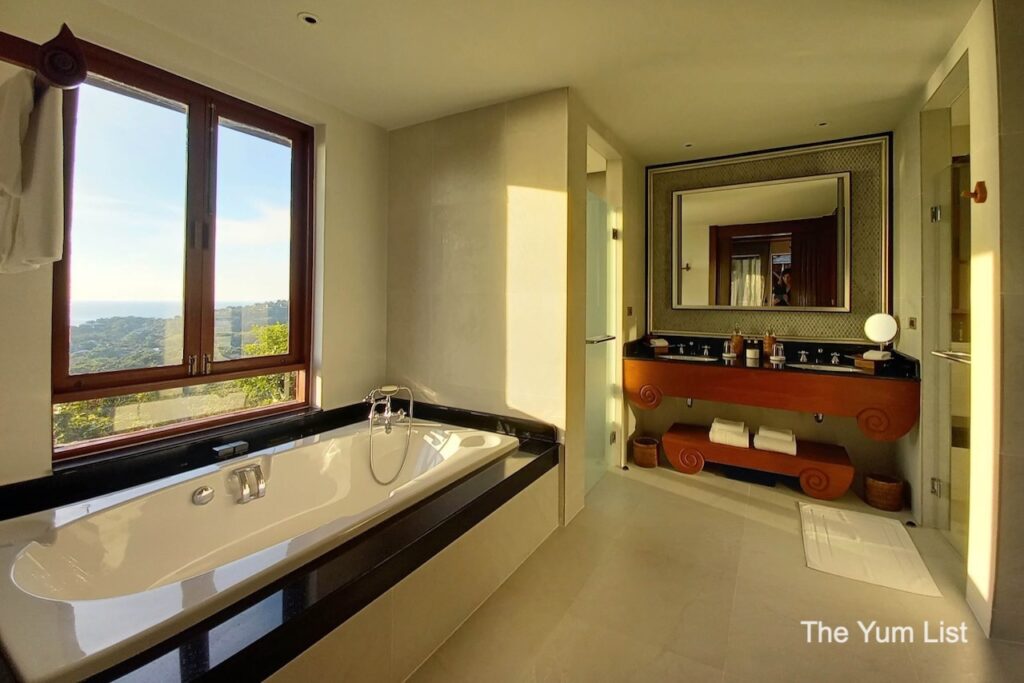 Pimalai Resort and Spa – Food and Beverage
It doesn't matter where you eat at Pimalai Resort and Spa; you are guaranteed a spectacular view!
Rak Talay Beach Bar and Restaurant
Koh Lanta is traditionally a fisherman's island, and Rak Talay Beach Restaurant and Bar feeds off this heritage. Central in the interior is a beautiful wooden boat. The open-air design with alternating sail and slatted roofs is fresh and breezy with shades of sand and turquoise flashes. With fish trap lamps, wooden platforms, exposed roots and dangling leaves, it's rustic beachside with an upmarket twist.
Can there be a better place to eat than the beachside? Not in my opinion. Rak Talay Beach Bar and Restaurant at Pimalai Resort and Spa takes full advantage of a spectacular location and endless views. We watch the sun sink as a giant red ball amongst slivers of gold-tinged purple clogs to the side of dramatic Koh Haa. The sea mingles with turquoise, silver and threads of orange and pink. Our charming server, Anee, brings us coconuts as we peruse the colourful menu, which groans with the ocean's bounty. However, there are meaty and vegetarian-friendly options too.
We select a duo of salads to begin our feast. Monica's mango and avocado bowl is fresh and light, whereas my prawn and beetroot mix is a little more filling. We both love the turmeric in the savoury seafood broth and just about have room for the splendours of the seafood platter. It's so much fish! Which is, of course, the main point of the Rak Talay menu.
I'm tempted by the glorious visuals of the dessert options and sigh over tiramisu and chocolate mousse before agreeing on the local flavours of coconut and pumpkin as the natural choice. Everything tastes twice as good, accompanied by the lapping waves and fresh ocean breeze. We leave with reluctance, a backward glance before the buggy whisks us off back to our dreamy villa.
Rak Talay Beach Bar and Restaurant
Lunch & Dinner: 11 a.m. – 11 p.m. (Last order at 10:30 p.m.)
Happy Hours: 5:30 – 6:30 p.m. and 9:30 – 10:30 p.m.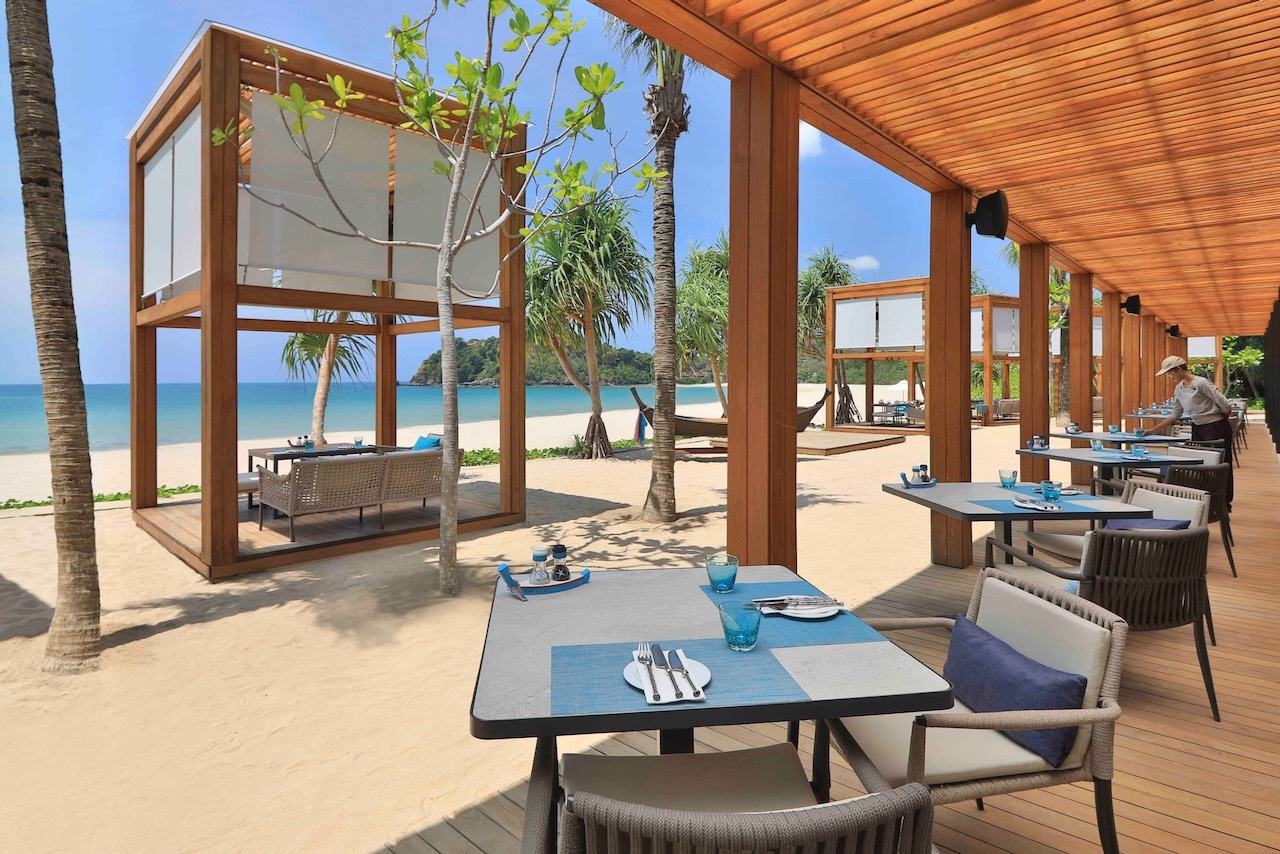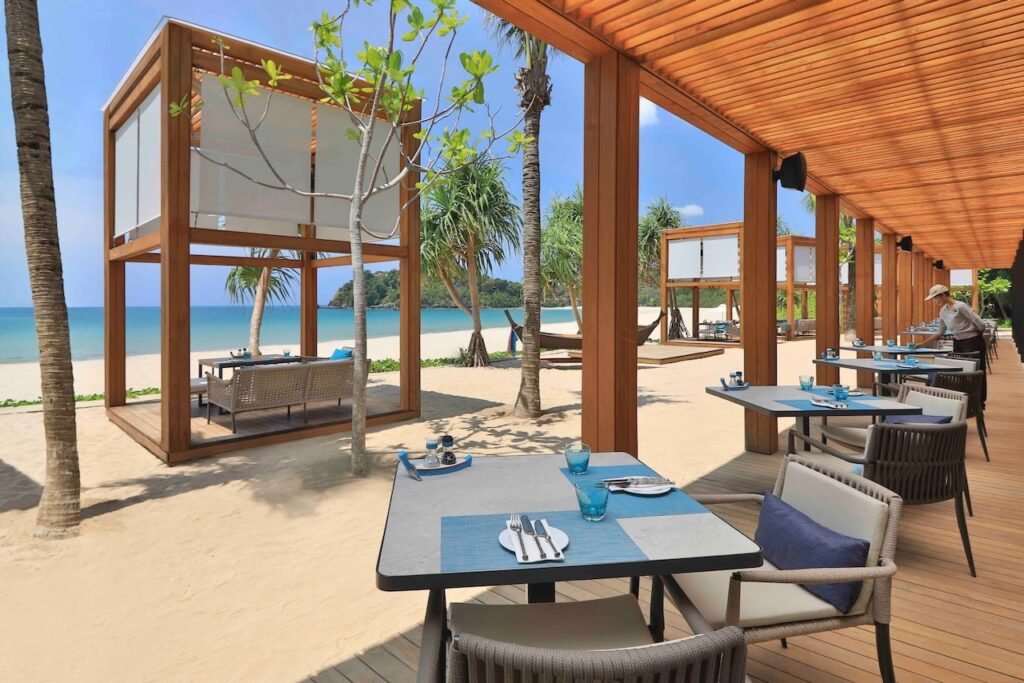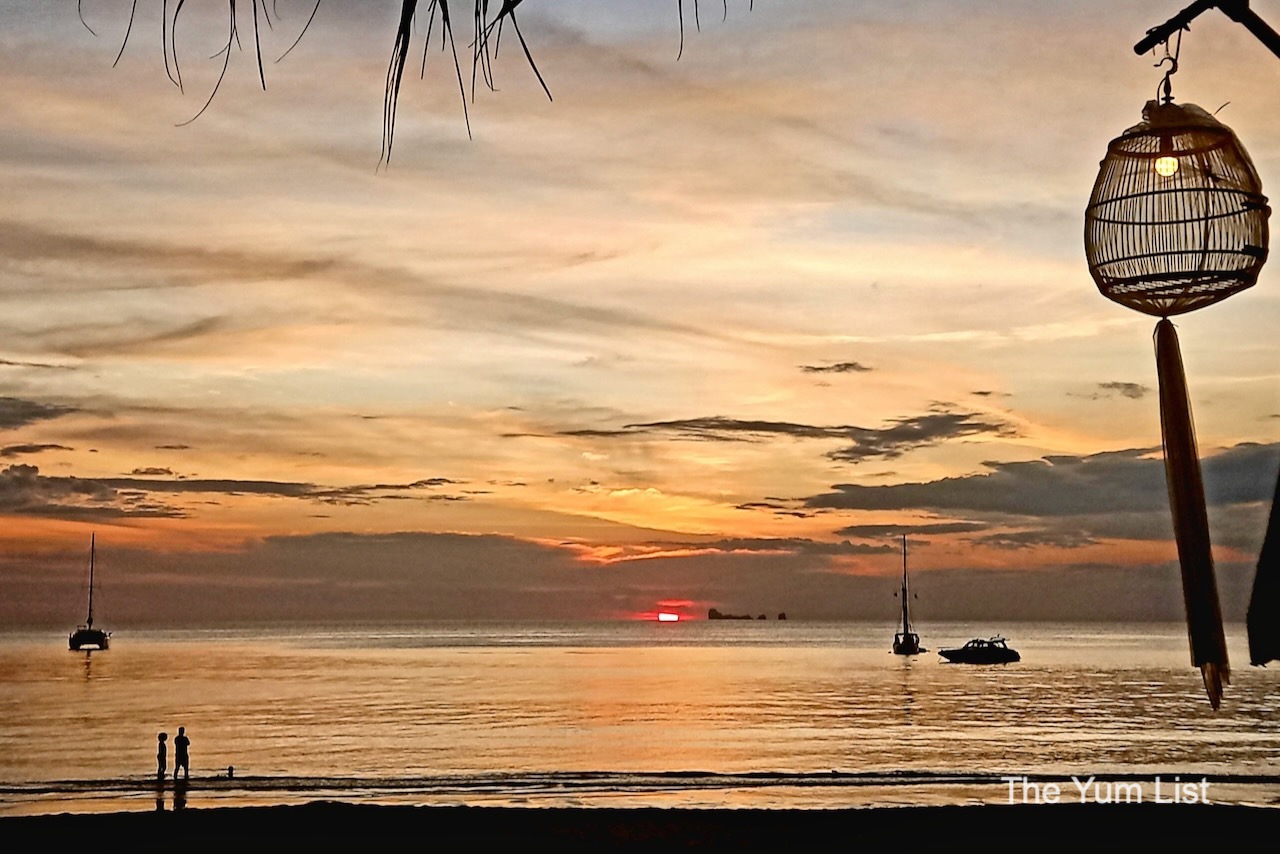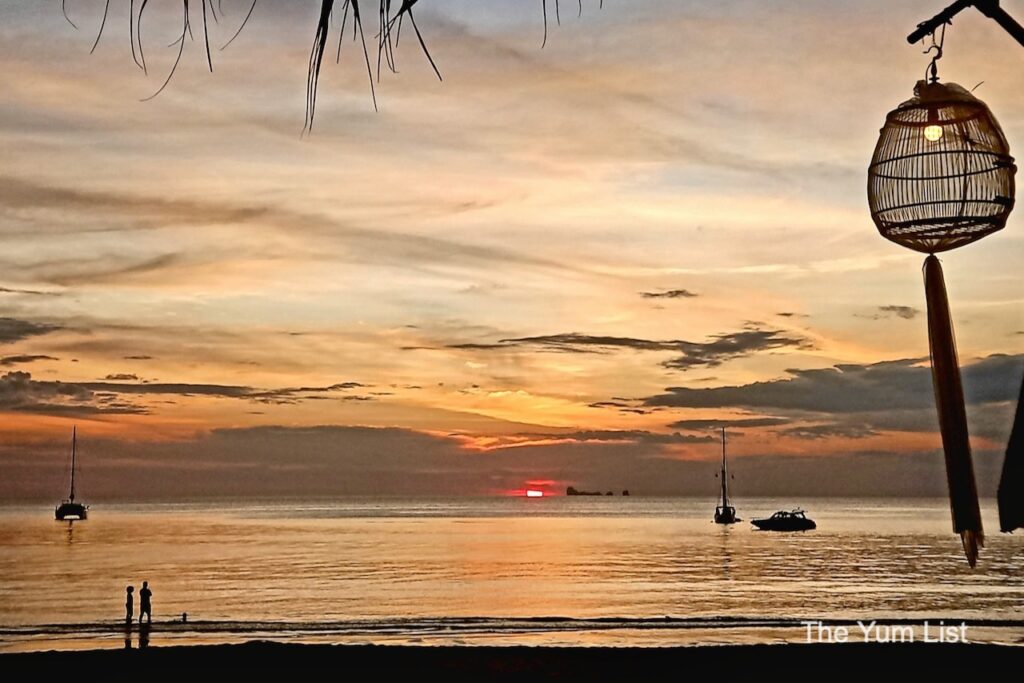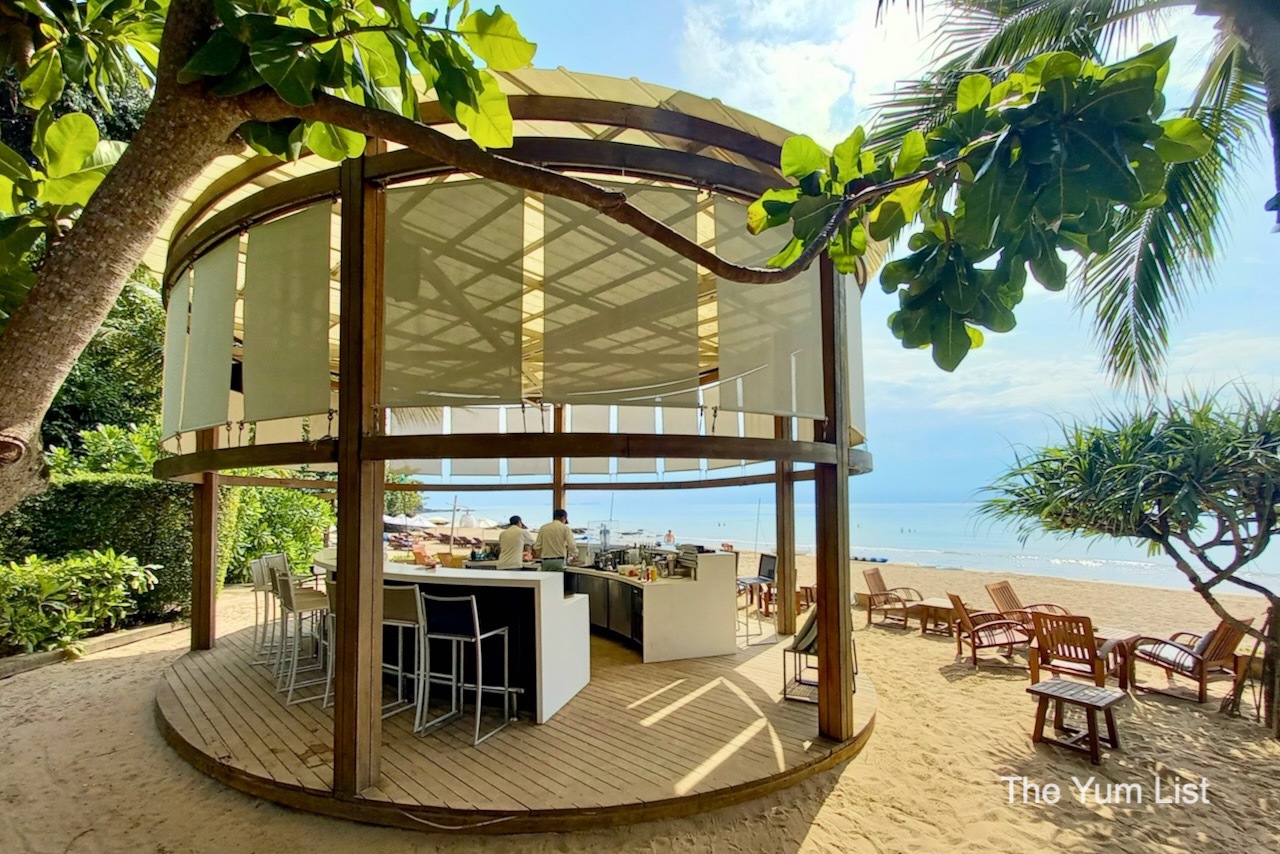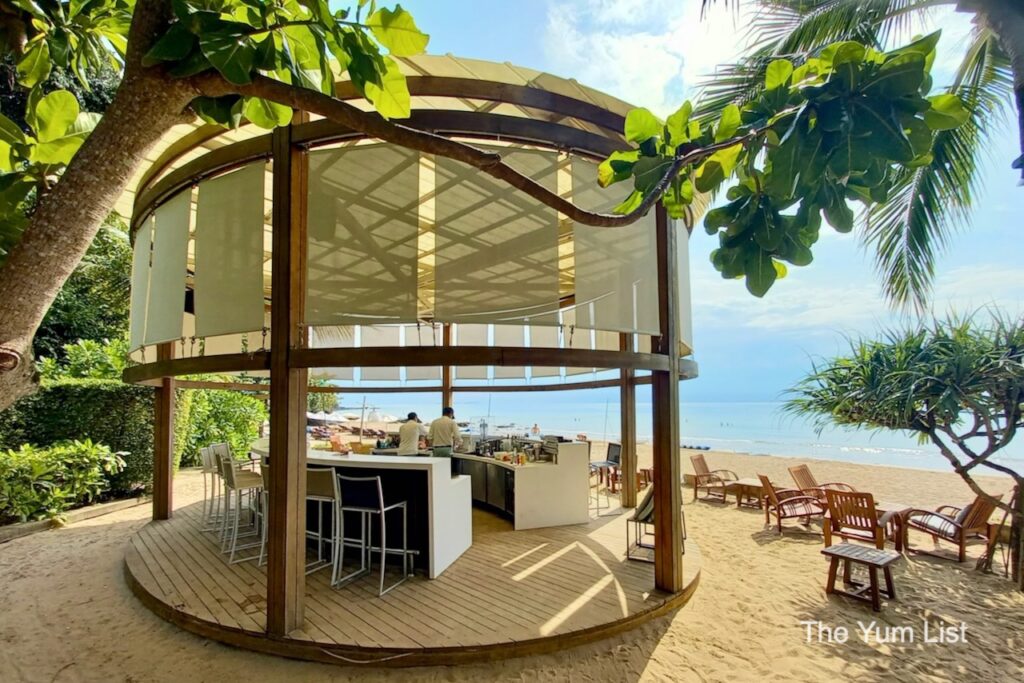 The Banyan Tree Poolside Cafe
Monica has lunch at The Banyan Tree Poolside Cafe, featuring a vibrant menu of burgers, sandwiches, snacks, bright, fresh salads, and, of course, more views. My takeout (eaten half submerged in our private pool) is a tumble of greens with seeds and fruits akimbo. We appreciated the balanced menu with loads of wholesome choices (especially in the new year with renewed vows to eat better). But never mind the savoury options; Monica is just in raptures over her Mango Sticky Rice (which she might order for breakfast, lunch and dinner, given a chance).
The Banyan Tree Poolside Cafe Opening Hours
Lunch: 11 am – 5 pm.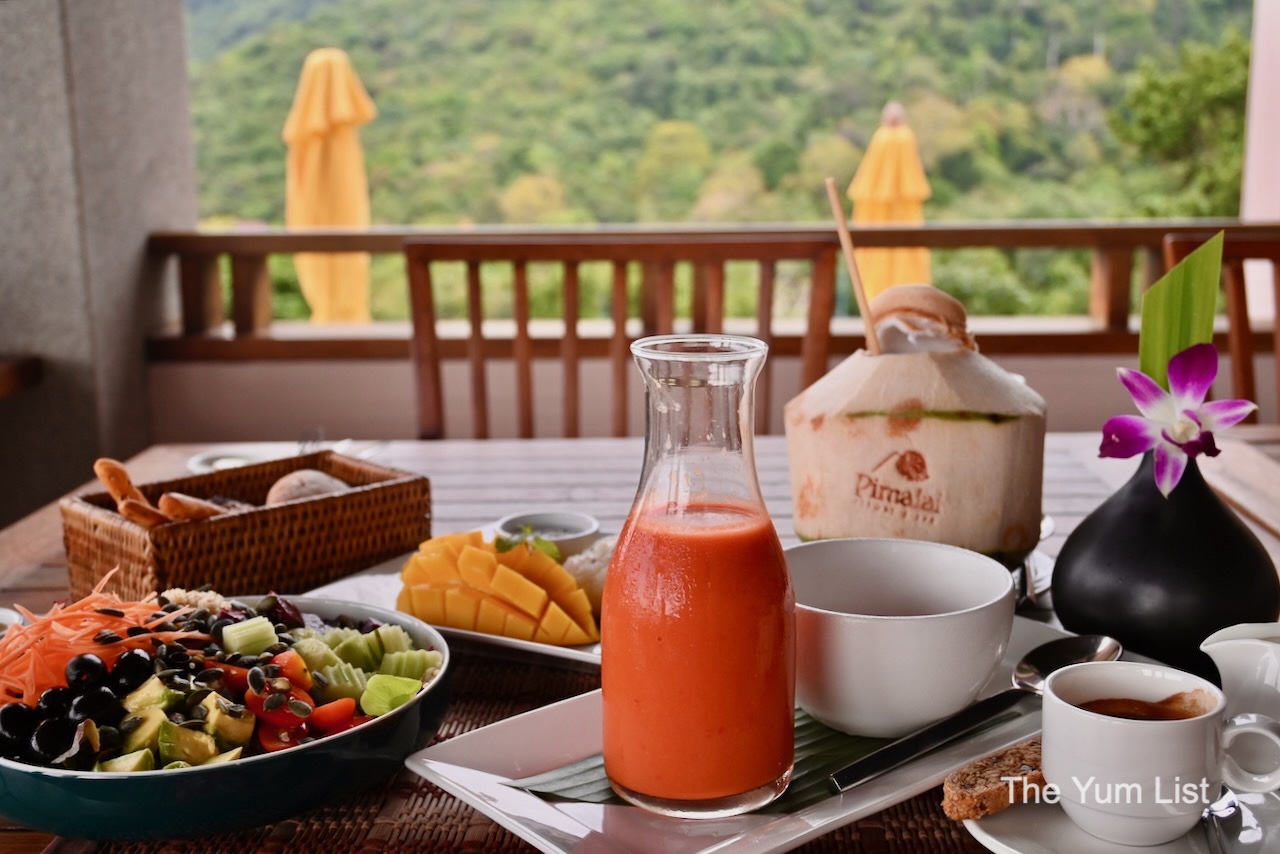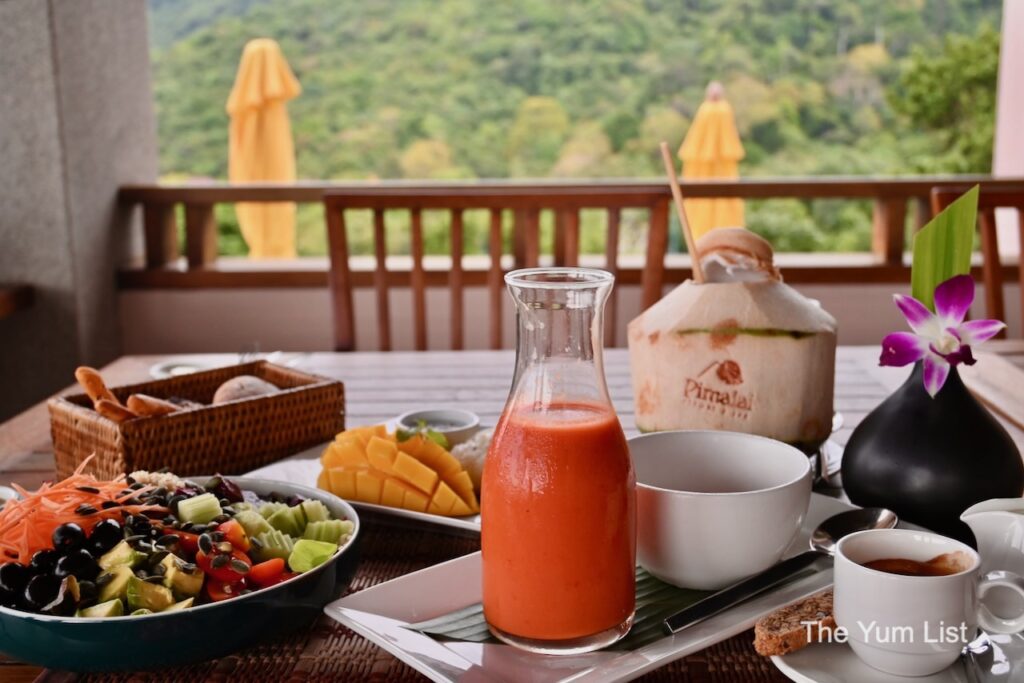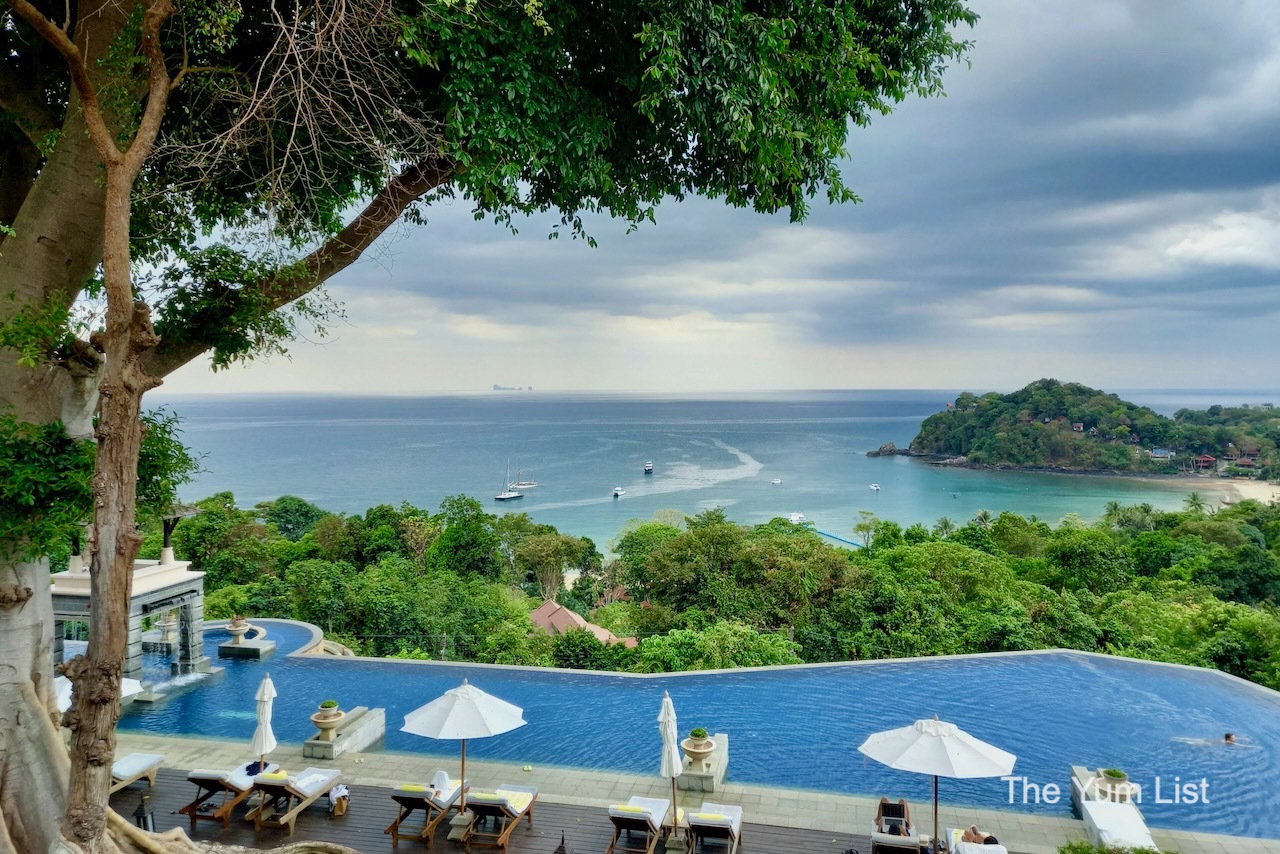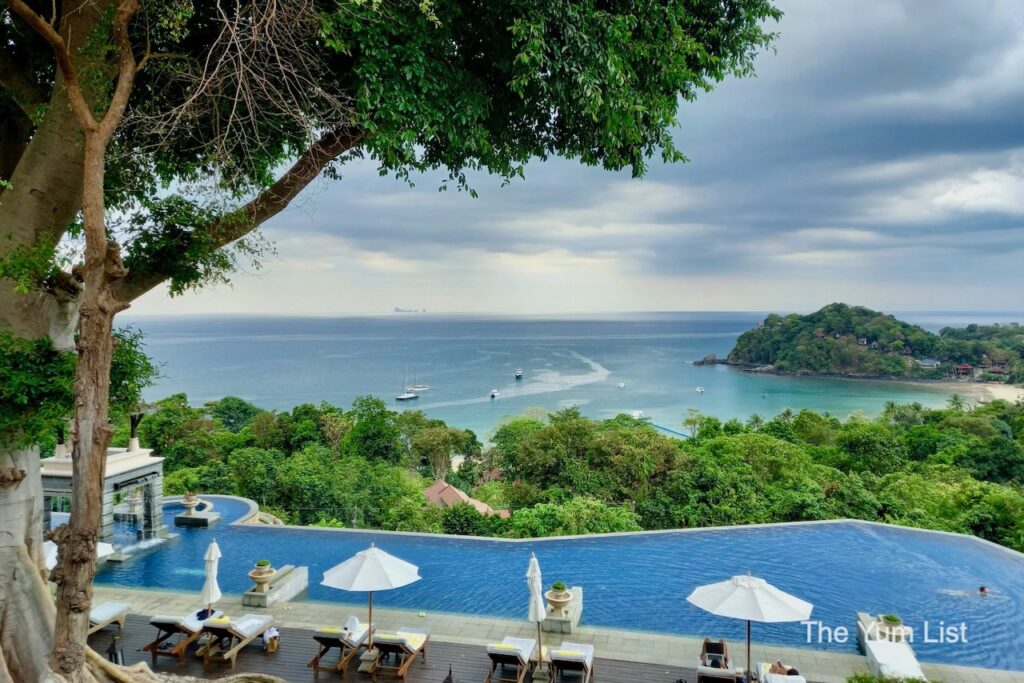 Seven Seas Breakfast and Dinner
Although all the restaurants at Pimalai Resort and Spa are beautifully sited, Seven Seas is the most spectacular of them all.
Breakfast is simply splendid. The buffet groans with options – several choices of juices and smoothies, special health tonics, tropical fruit, a range of cereals, a bakery section, cold cuts, salads and hot western and local dishes. I particularly love the nuts and dried fruits I use to garnish my porridge and the yoghurt pots with fruit flavours. Hot dishes range from local noodle recipes and freshly made soups to vegetable gratin and cooked meats. Eggs-to-order offers several omelette and poached variations, all of which are a yummy way to open the day. With so much variety, it's build-your-own-breakfast in the most delightful way.
Dinner at Seven Seas is a more elegant experience, with the purpling sky and the twilight giving a mysterious hue to the surroundings. The a la carte menu offers a wide range of western dishes, including a good selection of vegetarian options. Despite some tempting choices (I very nearly went for duck breast with potatoes gratin), we both decide to stay veggie in the evening.
The dish of the night is very definitely Monica's starter choice of caramelised pumpkin and feta salad with green leaves and roasted pumpkin seeds. It's pumpkin perfection, with the crumbly feta giving texture and depth. I was also happy with my resonantly flavourful roasted tomato soup. Accompanied by crispy goat cheese crostini and pesto, this warms my heart.
Our main dishes do not disappoint; Mushroom Tortellini is just al-dente, with creamy spinach coulis and fresh vegetables. Coconut foam adds a cheeky tropical twist to this dish. Monica swoons over her grilled eggplant with cashew nut cream, pickled chilli and bell pepper. Apparently, pickling can take the heat out of these chillies!
For dessert, there are too many choices. I plump for rosemary apple tart, which has soft pastry and juicy apple, the warmth cooled with the sweetness of salted caramel ice cream. Decadent! Monica sticks to the tropical choice of warm pineapple with salsa and vanilla ice cream. We both agree that the cheeky peppercorn really makes this a delectable dish.
Seven Seas is open to non-residents; however, reservations are required to ensure that tables are available. Having eaten a lot on Koh Lanta, I'd recommend this as easily the best restaurant on the island.
Seven Seas Restaurant
Breakfast (For guests staying in Hillside Estate): 6:30 – 10:30 am.
Happy Hour: 5:30 – 6:30 pm.
Dinner 6:30 – 11:00 pm (Last order at 10:30 pm)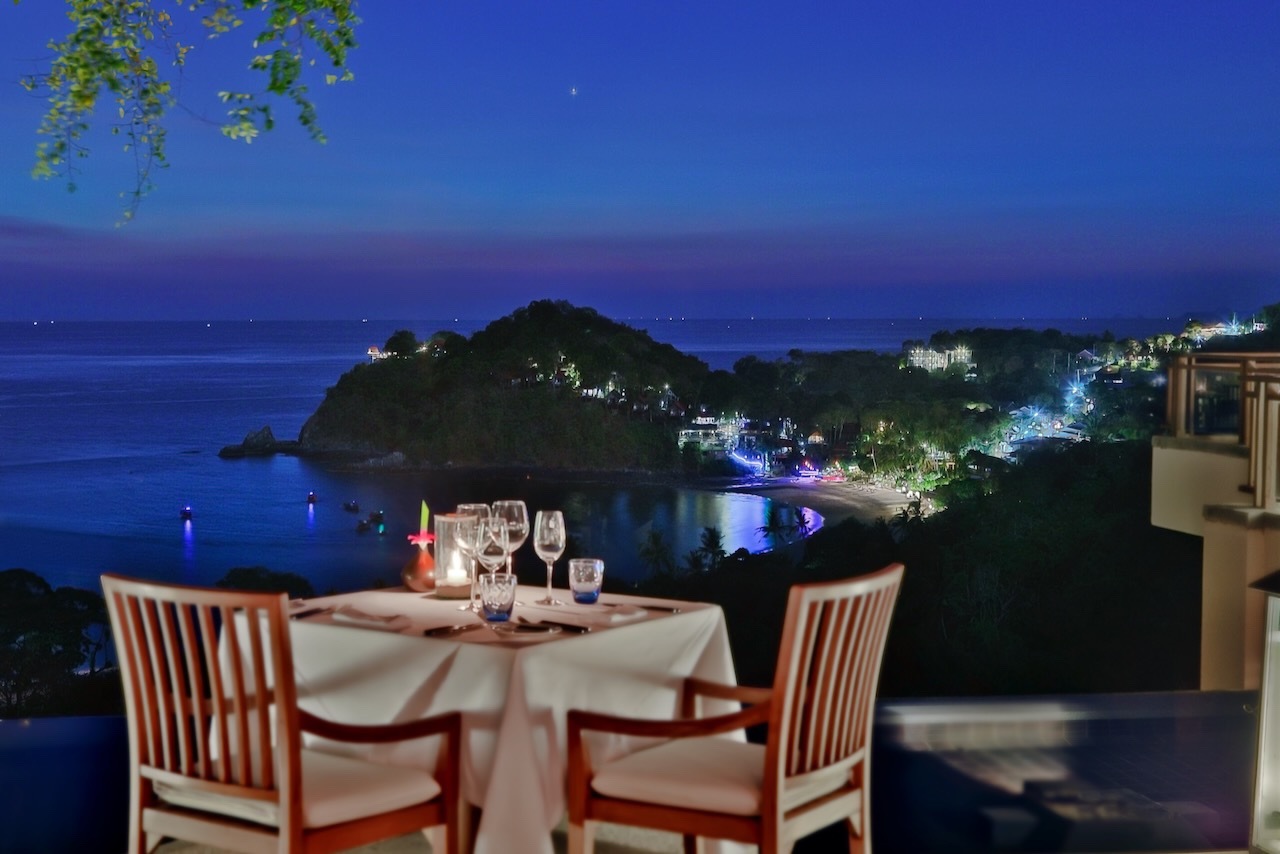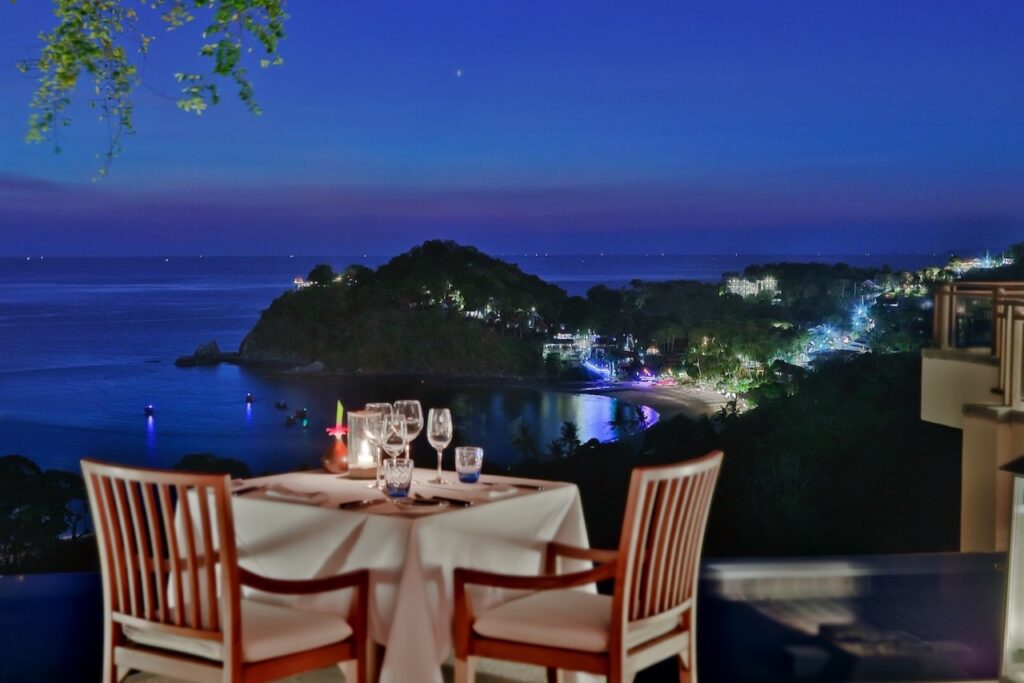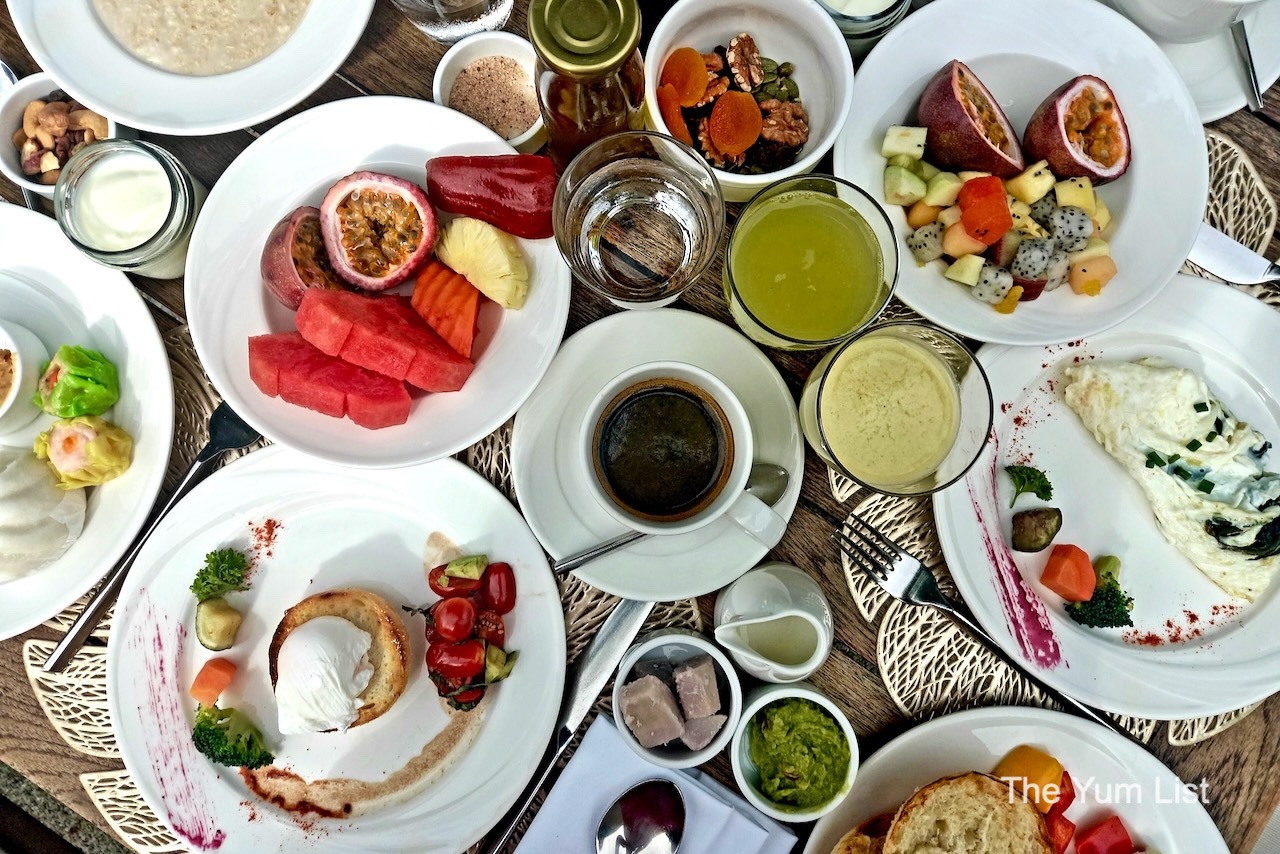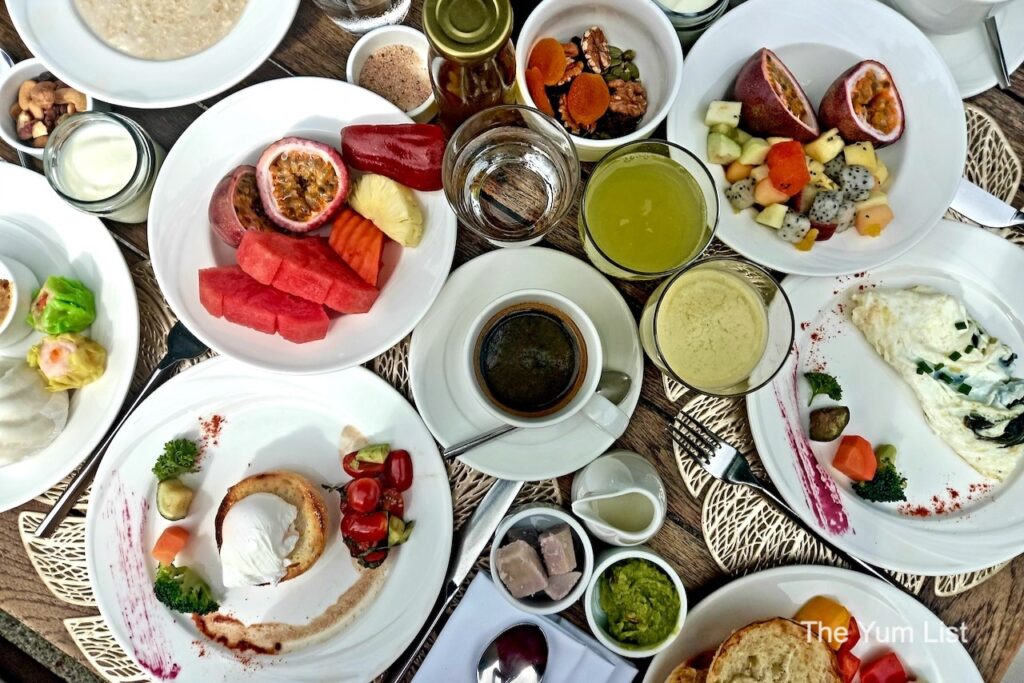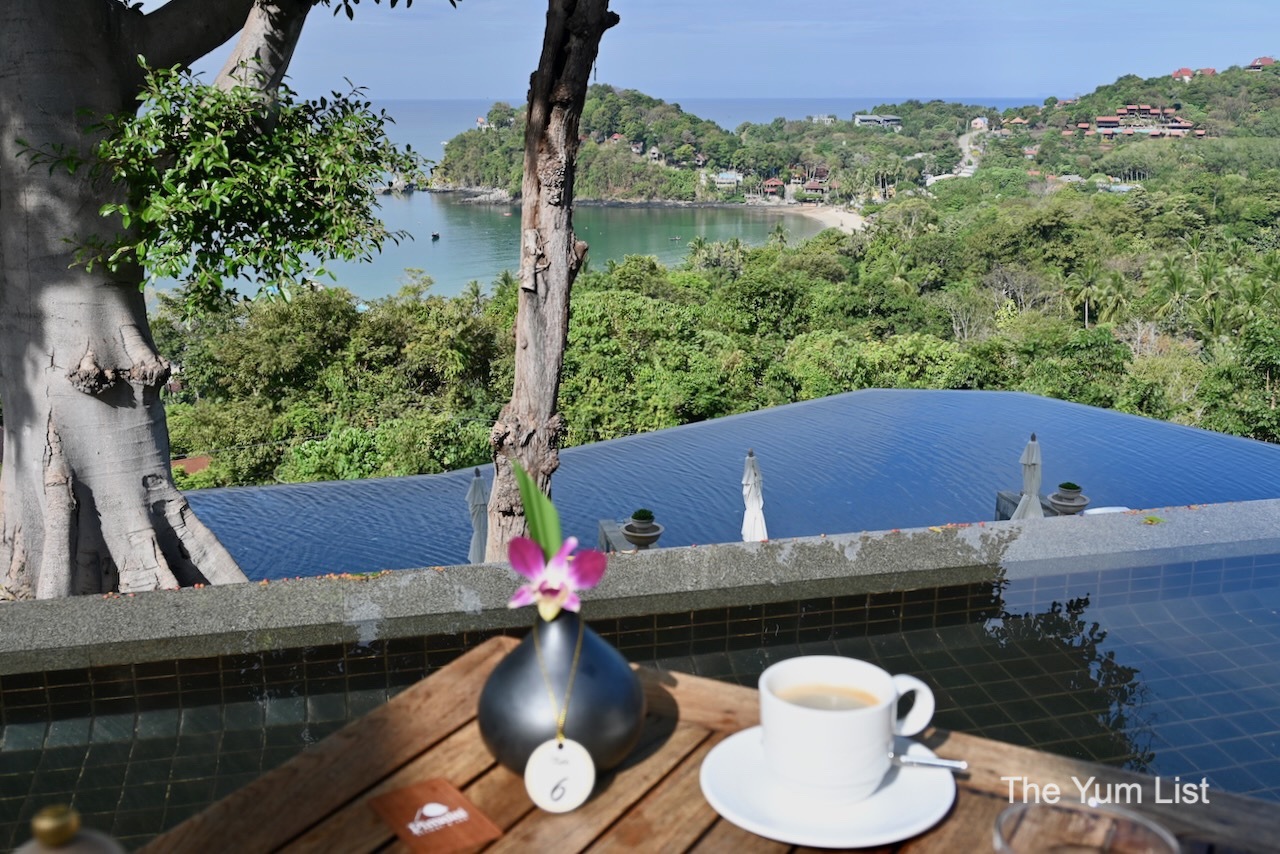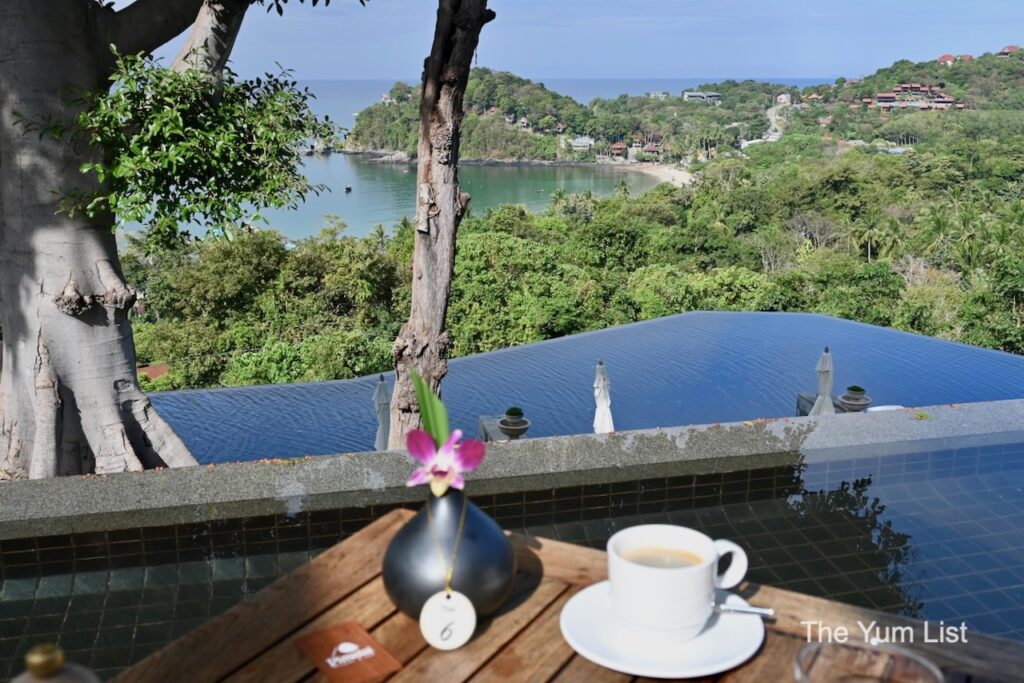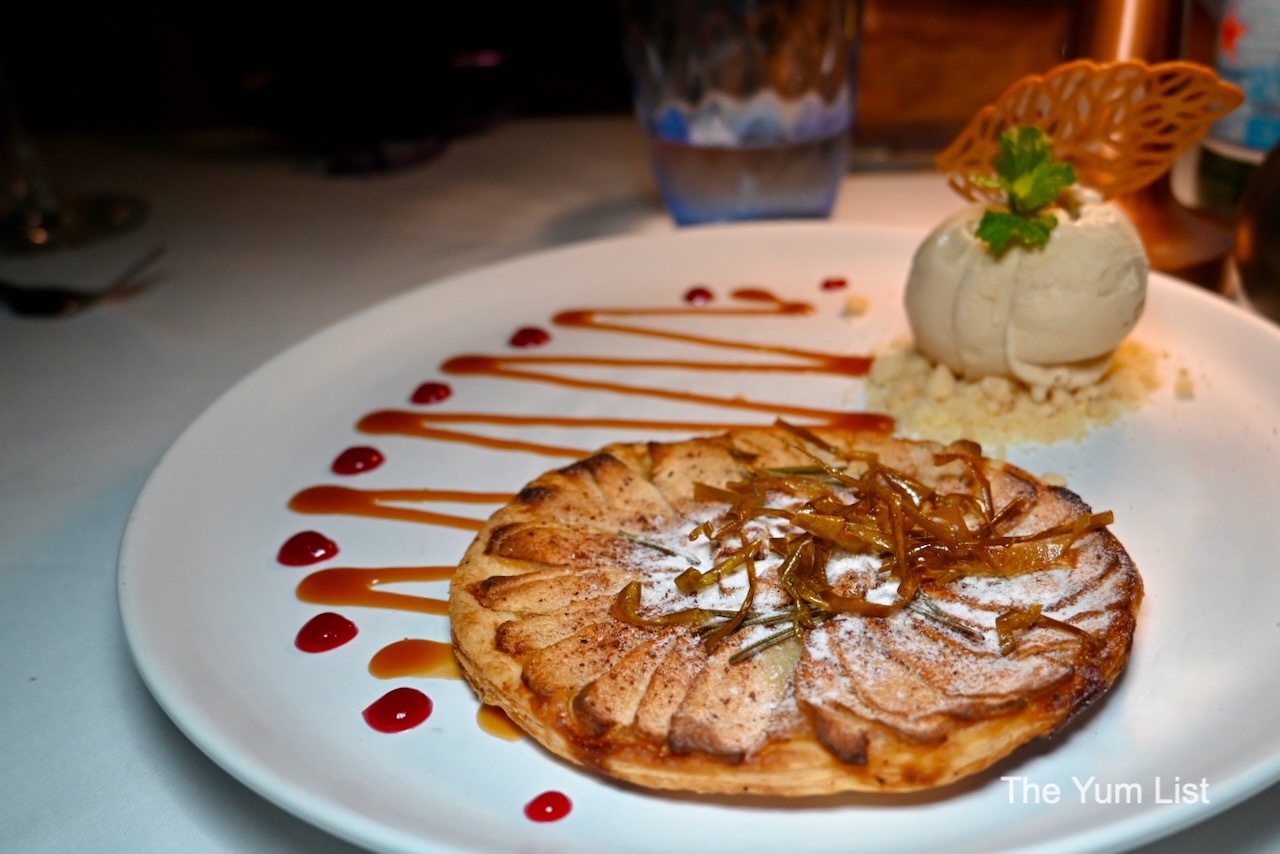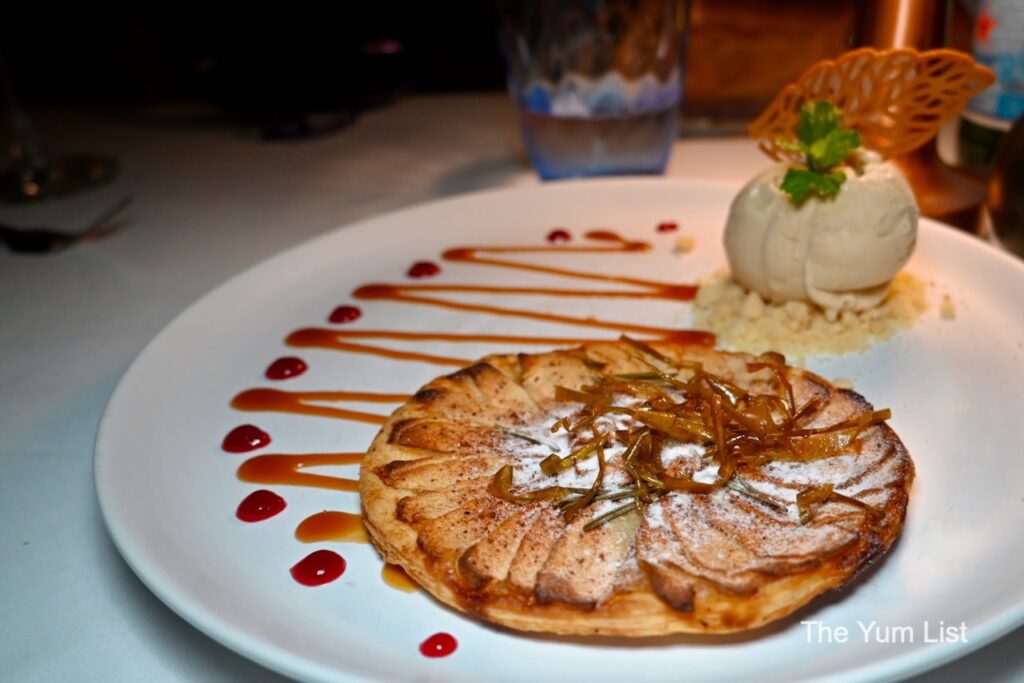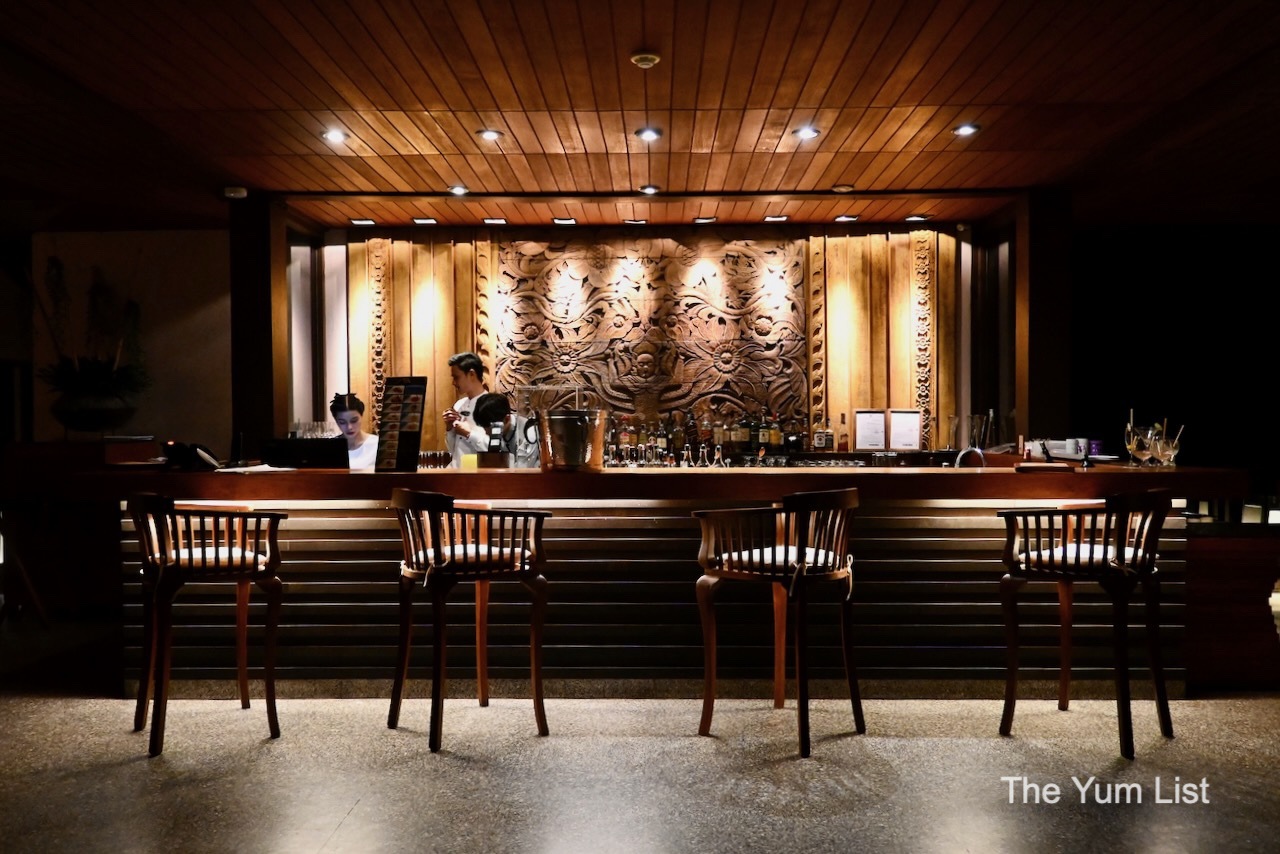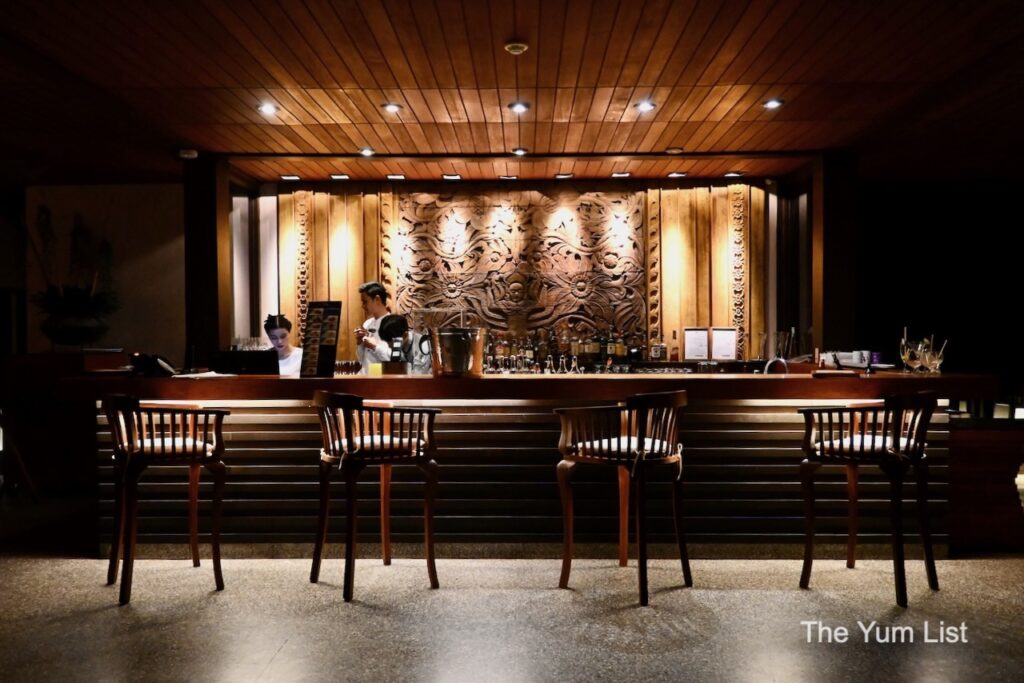 Spice and Rice Thai Restaurant
Spice and Rice serves a range of traditional Thai food and should be visited at least once during a stay at Pimalai Resort and Spa. A vast open-air terrace is surrounded by a seemingly endless jungle. We choose to sit right on the edge for the maximum nature experience.
Monica orders Massaman Nue Kab Roti from the tempting menu, which is Australian wagyu beef stewed with massaman curry paste in coconut milk with sweet potatoes and roasted peanuts. We both agree that the meat is soft and tender, the flavours resonant, and the accompanying roti is simply moreish. My Kaeng Poo Bai Chaplu is a traditional crab meat curry with wild betel leaves. We are warned that it's a hot dish, and despite asking for it mild to Monica's tastes, it was indeed fiery. The crab is soft and succulent, with the betel leaves adding a special flavour to the sauce. We are happy to have the choice of brown rice to accompany our curries. For dessert, Monica opts for her favourite mango sticky rice while I taste the delightful house-made mango ice cream. Mango two ways!
Spice and Rice Opening Hours
Breakfast: (for guests staying in Beachside Estate) 6:30 – 10:30 am.
Dinner: 6:30 – 11:00 pm (Last order at 10:30 pm)
In addition to the options described above, Pimalai Resort and Spa also offers a range of in-room dining from 6:30 am – 2:00 am.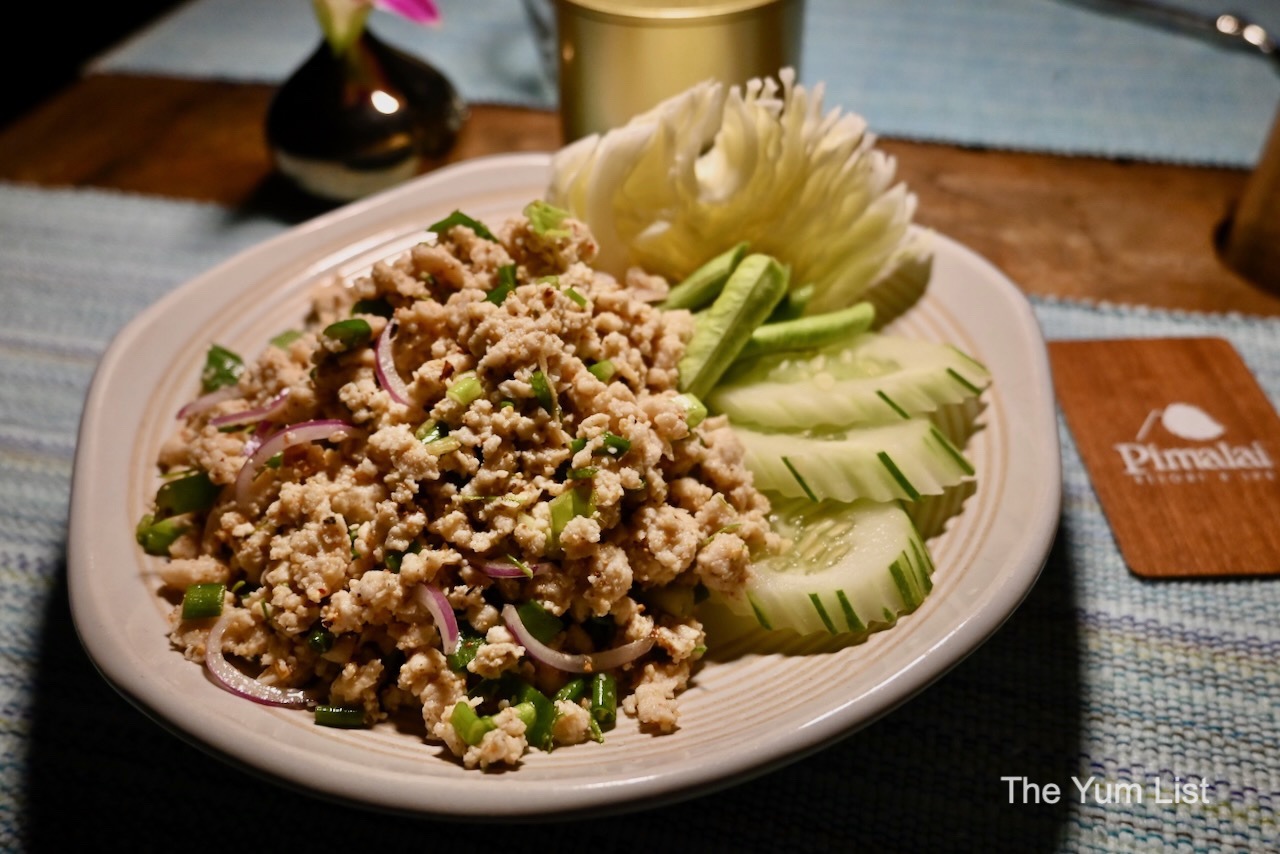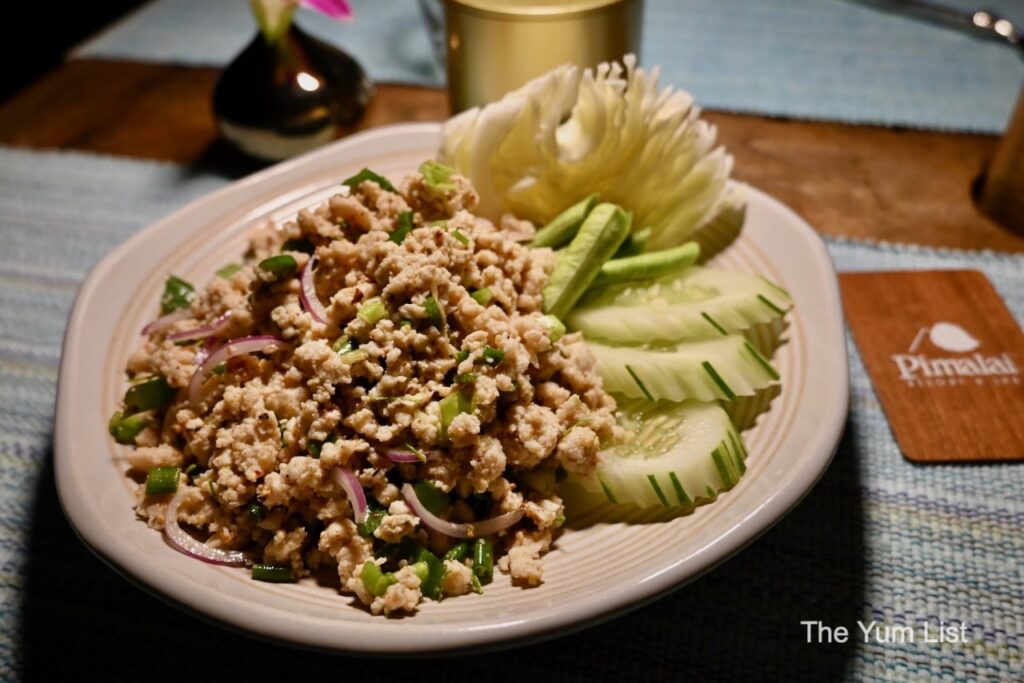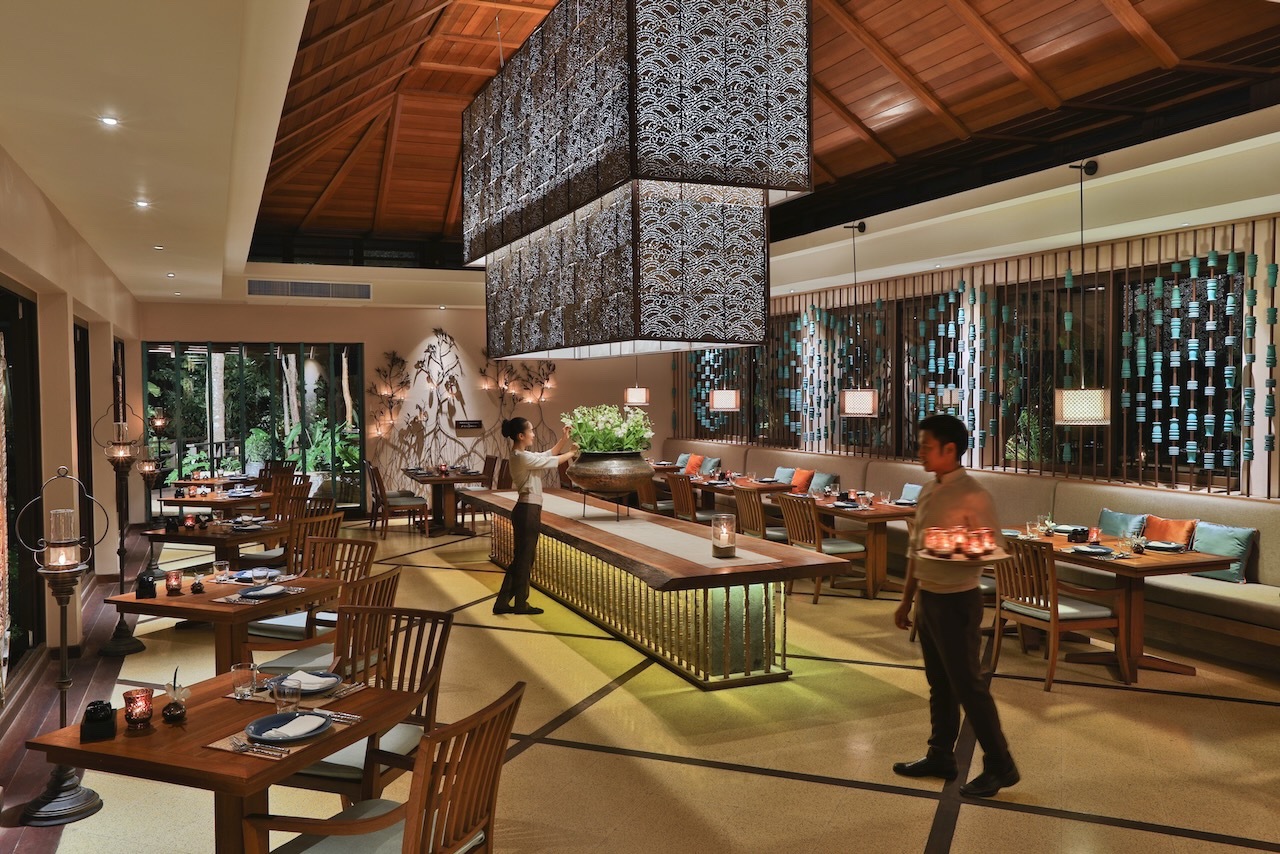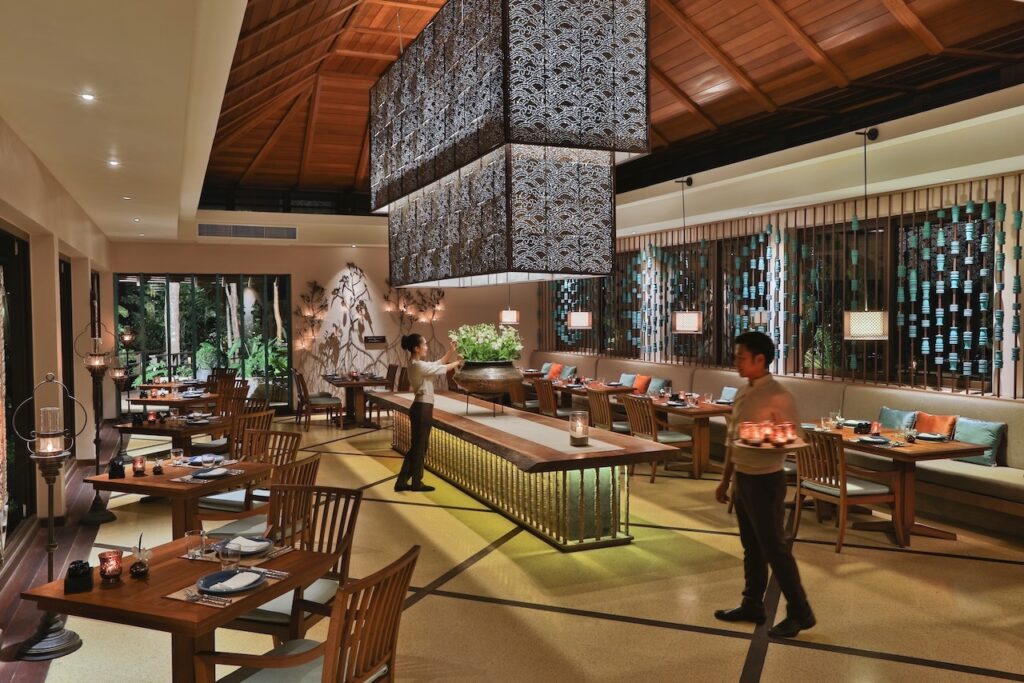 Pimalai Resort and Spa Activities and Excursions
Pimalai Resort and Spa offers a great selection of engaging activities and excursions for families, couples, friends and singles. Guests can play tennis, take a class in the onsite Muay Thai gym, swim in several sparkling pools, enjoy a range of beachside activities and even learn to dive.
We decided on a balance of activity and rest during our four-day stay with a spa treatment, cooking class and magical island excursion on the agenda.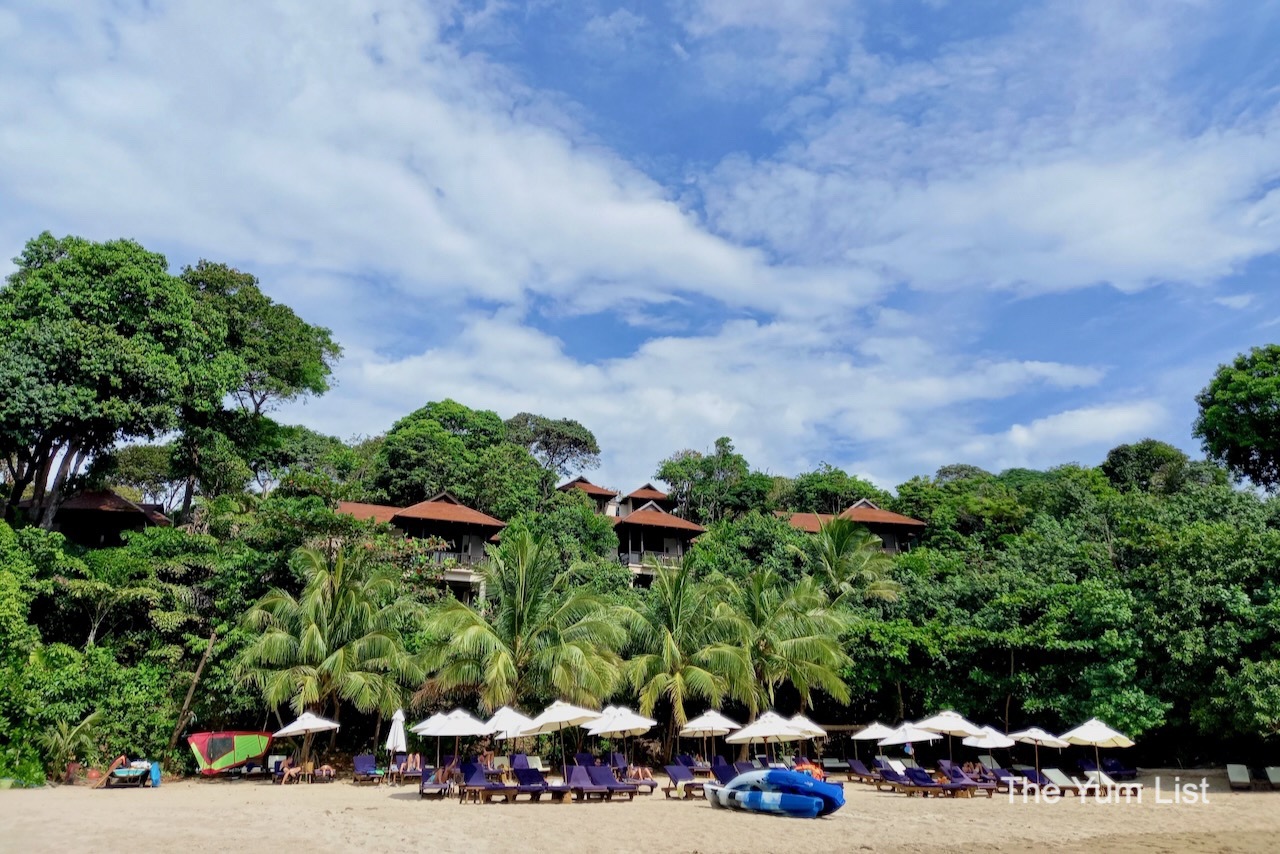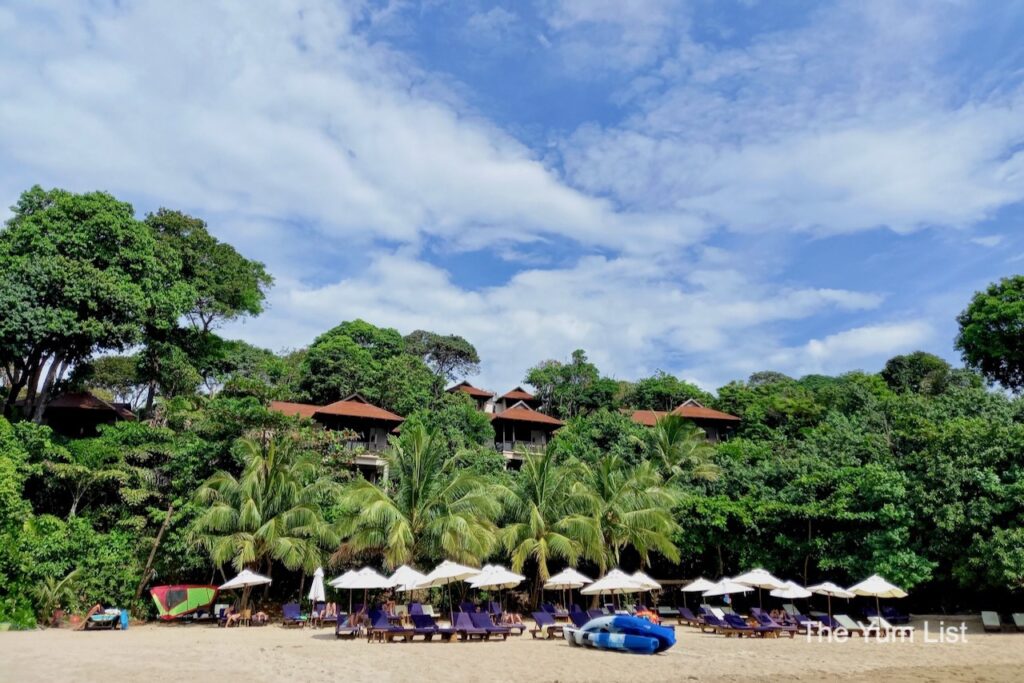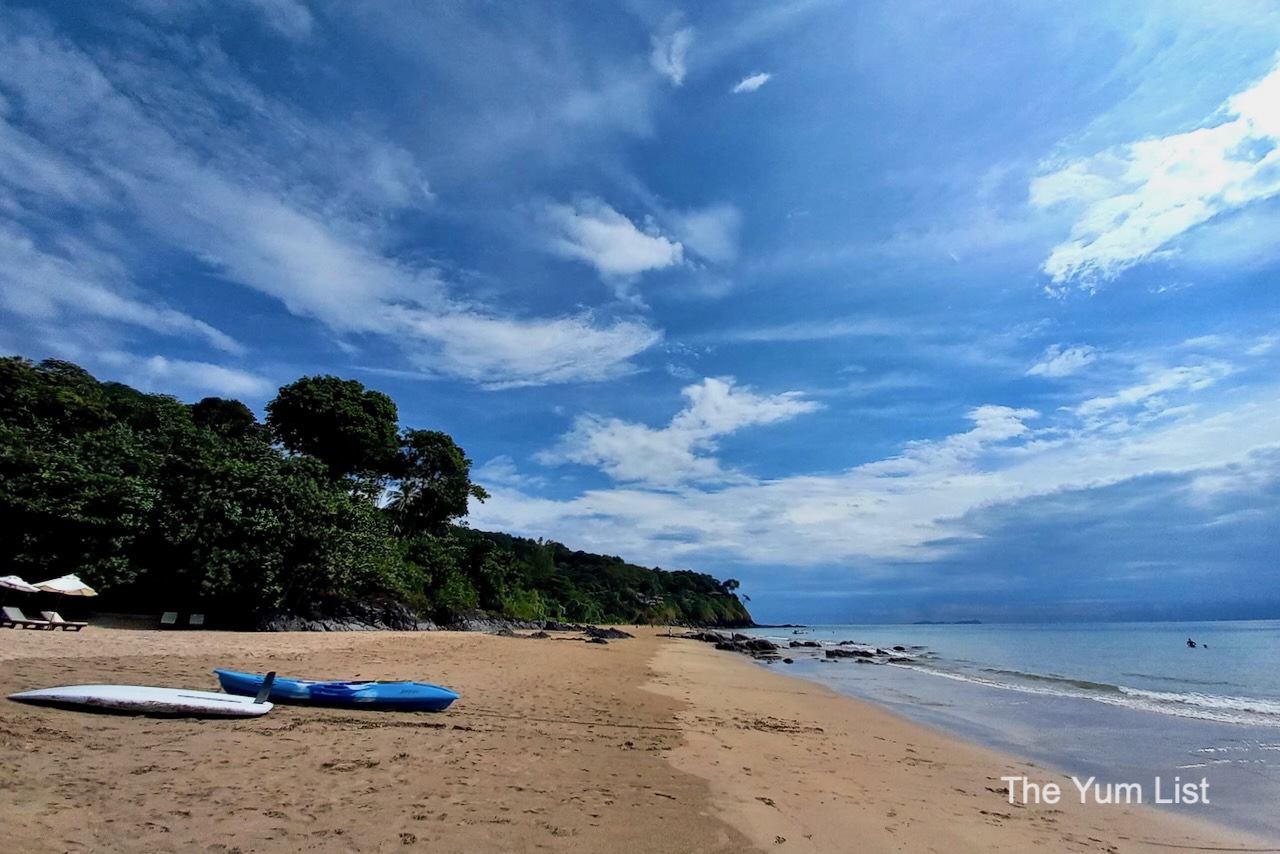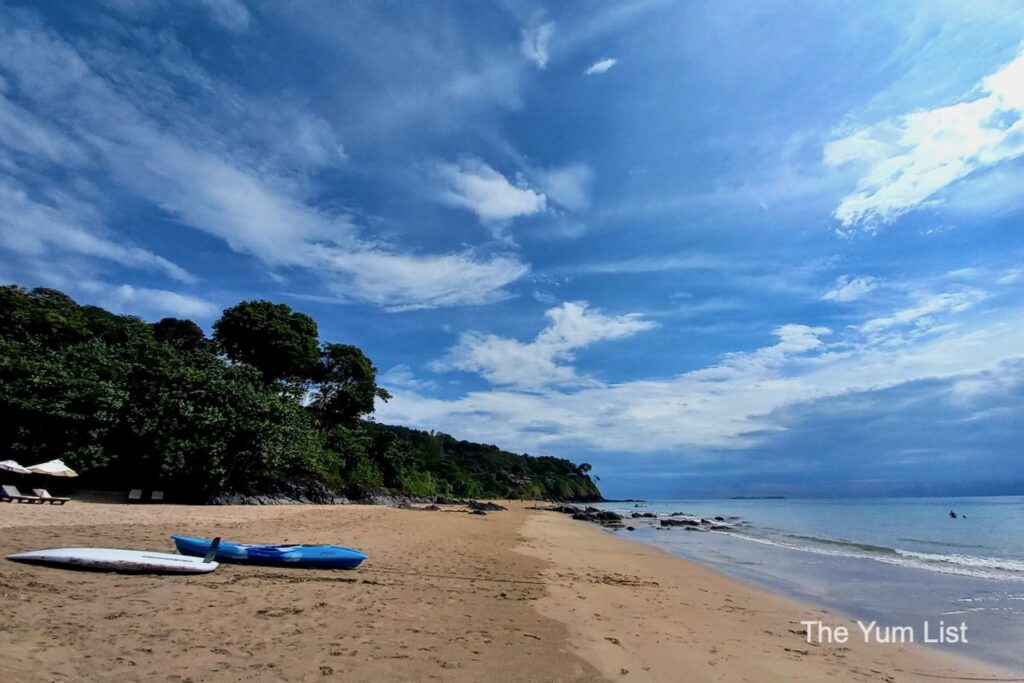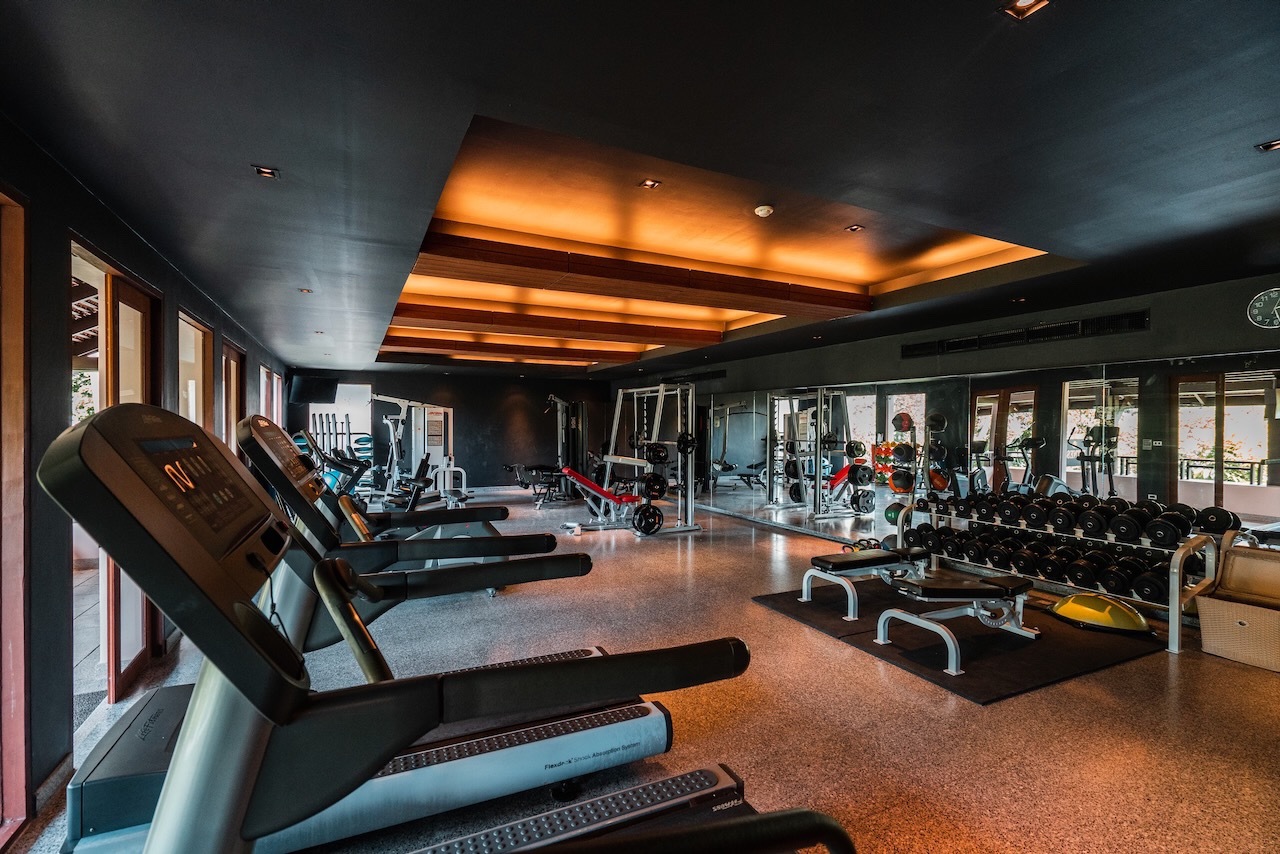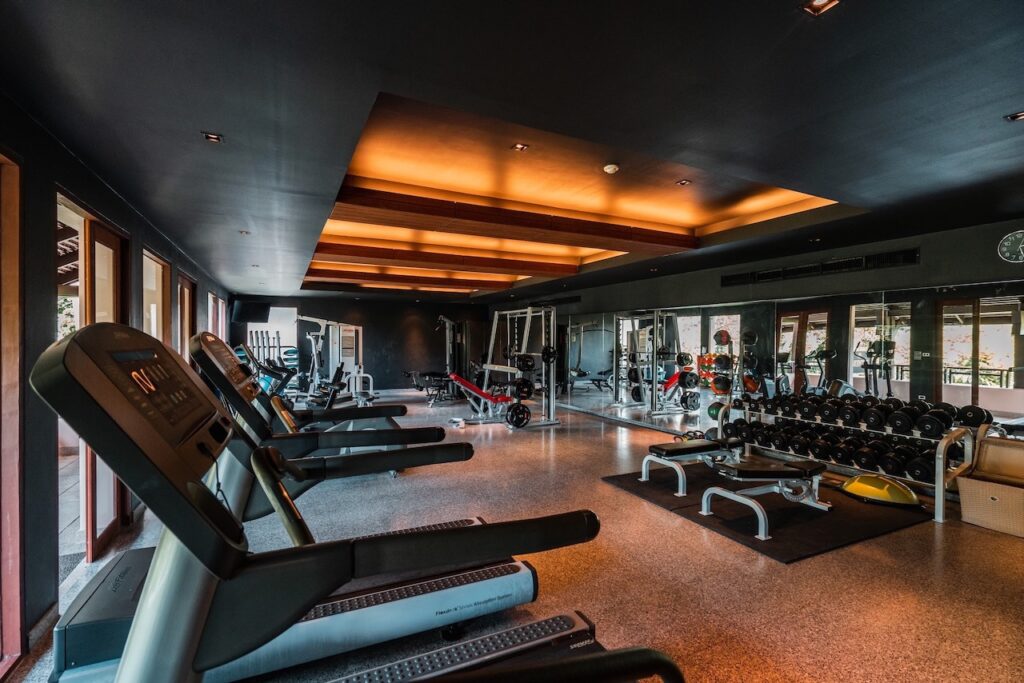 Luxury Spa Koh Lanta
Pimalai Spa blends into the natural environment even more than the rest of the resort. It's almost hidden amongst the lush trees and foliage. With water features and winding pathways through the forest, each thatched roof spa cottage exudes peace and quiet, bringing relaxation before the treatment even starts.
Offering the full services of a luxury spa, every detail has been considered at Pimalai Spa – from pre and post-tea to a choice of premium oils, masterful therapists, lush robes and quality treatment beds. Massage therapy offers a total unwinding experience, guaranteed to give your body and mind a break from the stress of modern life. As ever in Thailand, a massage a day keeps aches and pains away. No wonder we call it the Land of Smiles!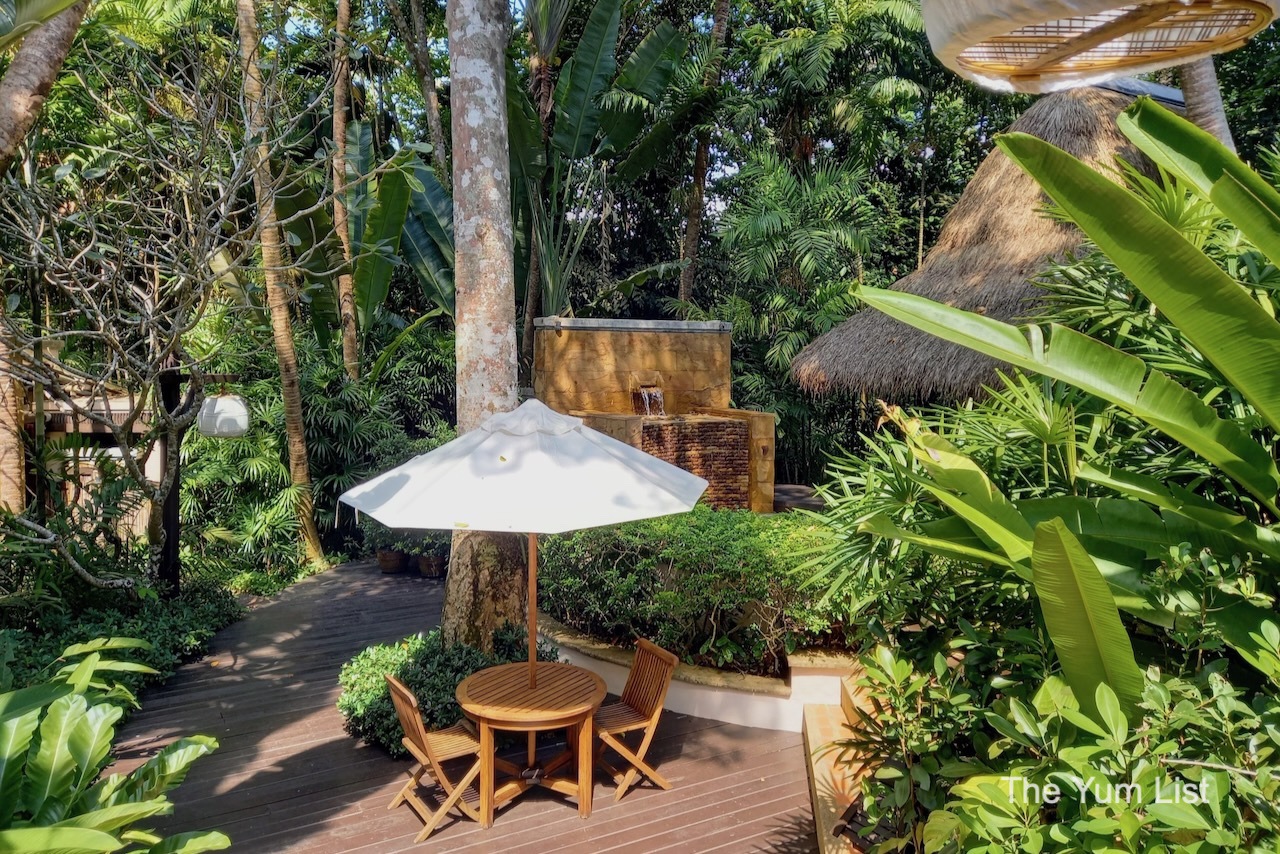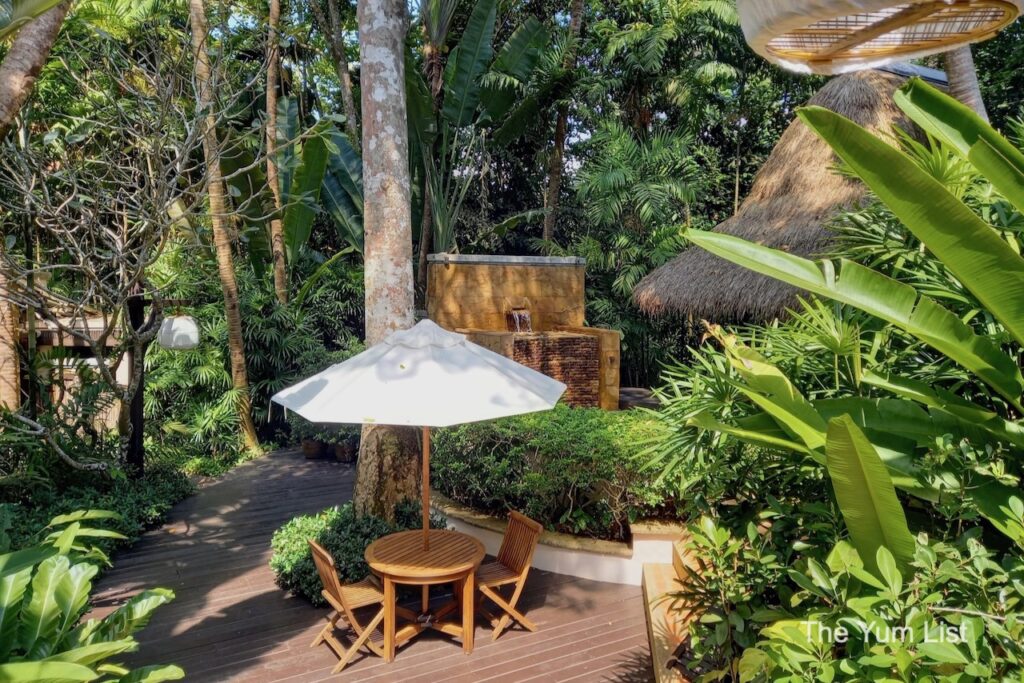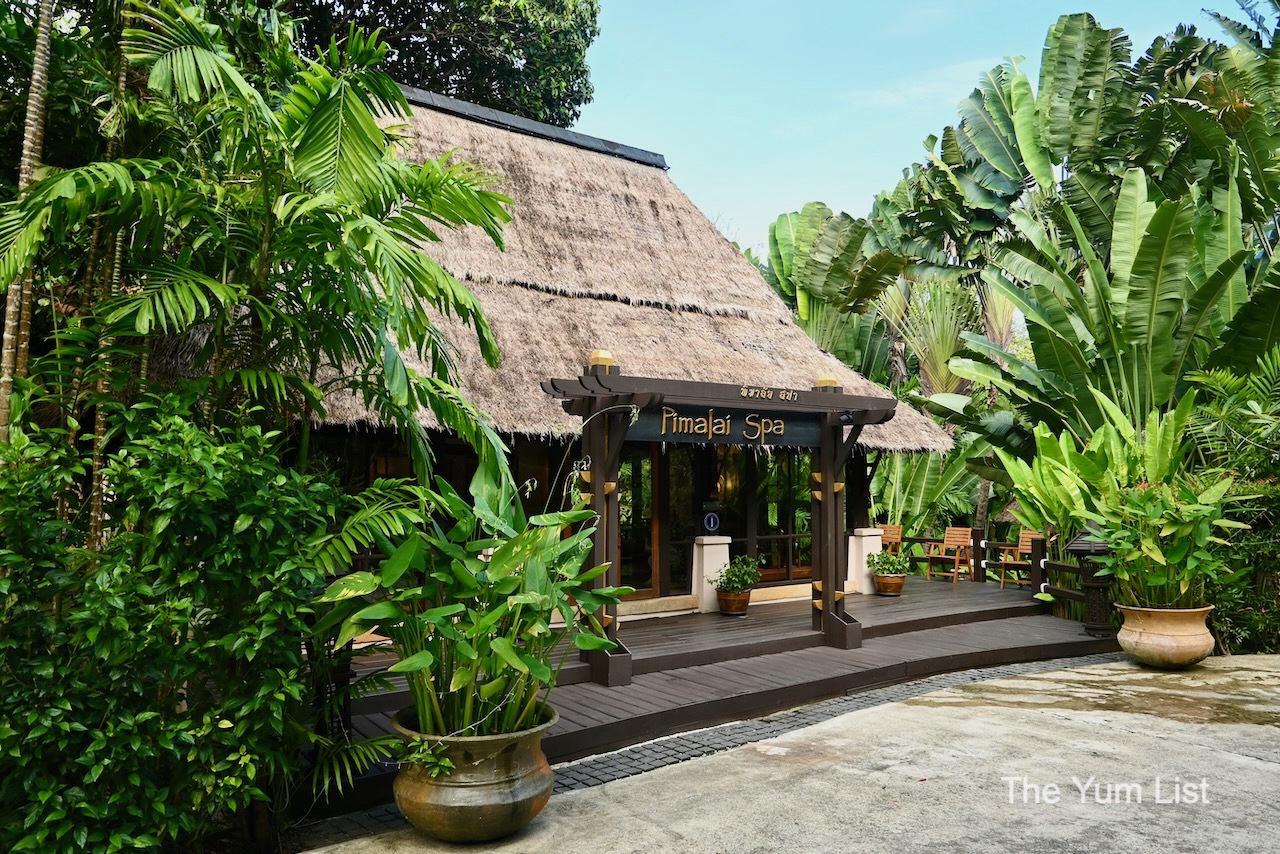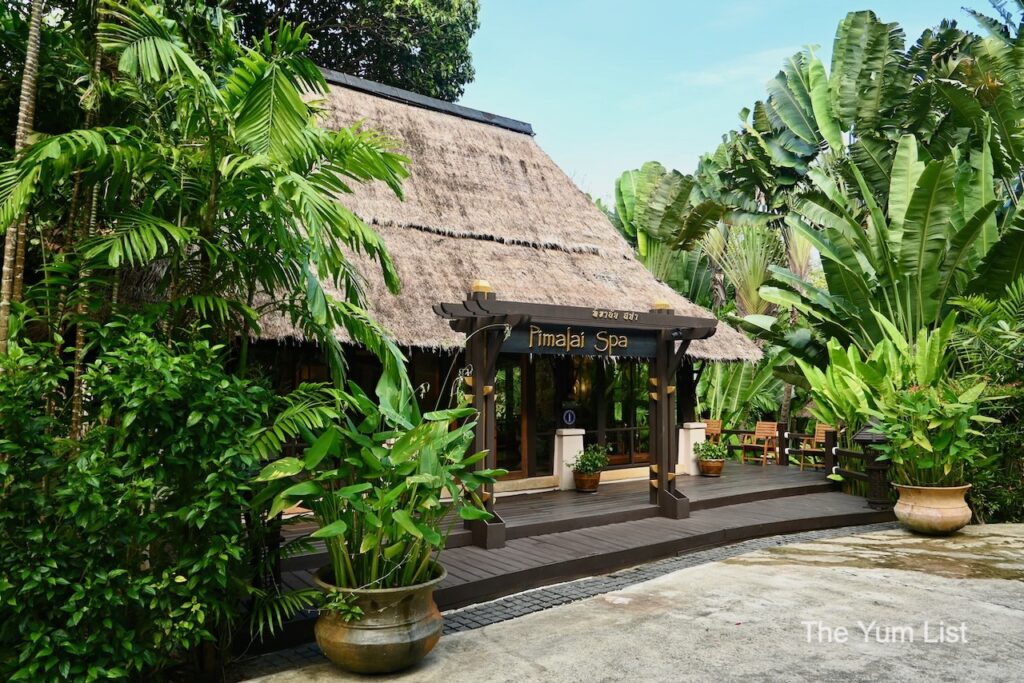 Thai Cooking Class Koh Lanta
The Thai cooking class with Chef Peng is a fun experience. Chef Peng is entertaining and clearly loves to share Thai produce and cookery. With a wealth of international experience (particularly in the USA) and work in some of Bangkok's top restaurants, he keeps us engaged and smiling for the entire session.
We start our morning in the hotel's organic garden, smelling, tasting and taking cuttings for our class. We're fortunate to have so many fresh local ingredients going into our meals. We also learn that the hotel has a larger farm further north in Thailand, guaranteeing a steady supply of the best seasonal plants.
Returning to the pleasant open-walled Seven Seas Restaurant, our first dish is the signature Som Tum or green papaya salad. Almost everything has been chopped and prepared for us in advance, but I do get to chop some chillies, long beans and tomatoes and crush some garlic. Luckily Chef does let us handle my favourite – the mortar and pestle. I pound away at the garlic and chillies until there are no more big chunks, then add palm sugar until a paste is created. We pop in the long beans and pound more lightly together with the shrimp and peanuts to break them up slightly. Then for fish sauce, tamarind and lime juice, stirring more carefully with a large spoon before gently bringing in the shredded papaya and tomato.
For fish with lime sauce, it's more lime, more cilantro, more sugar, and this time a little ginger and spring onion in the chopping. And some tiny chillies which Monica eyes with suspicion and agrees to only the tiniest piece. A light turn in the mortar and pestle, and the concoction is poured over three pieces of fresh fish before the plates are placed in a huge steamer, and the fish is left to absorb all the fragrant components.
While the fish is steaming, we prepare Tom Yum soup. Lemongrass, galangal and kaffir lime leaves are the vital ingredients here, the ones that give the soup its flavour. The introduction of chillies sparks a discussion 'ped' (hot) or 'mai ped' not hot. I raise eyebrows by selecting five chillies while Monica elects to make her soup without. Roughly chopped tomato, onion and fresh prawns are placed in the waiting broth, and we add our taste preferences of lime juice, sugar and fish sauce. All this creates the balance of sweet-sour-salty-spicy, which is the epitome of Thai food.
Our fish is ready, and it's time to plate. Slicing the lime and twisting it for decoration is the most challenging part. Chef is highly amused by my efforts which are 100% less delicate than what he turns out. His sprigs of coriander also look more artistic than mine, but I'm going for the rustic look anyway, right?
Our food was delicious and particular to our personal tastes. It gets a Yum! from both of us. However, we acknowledge that we could never run a Thai restaurant as it took us over two hours to turn out these three dishes, which usually appear within minutes!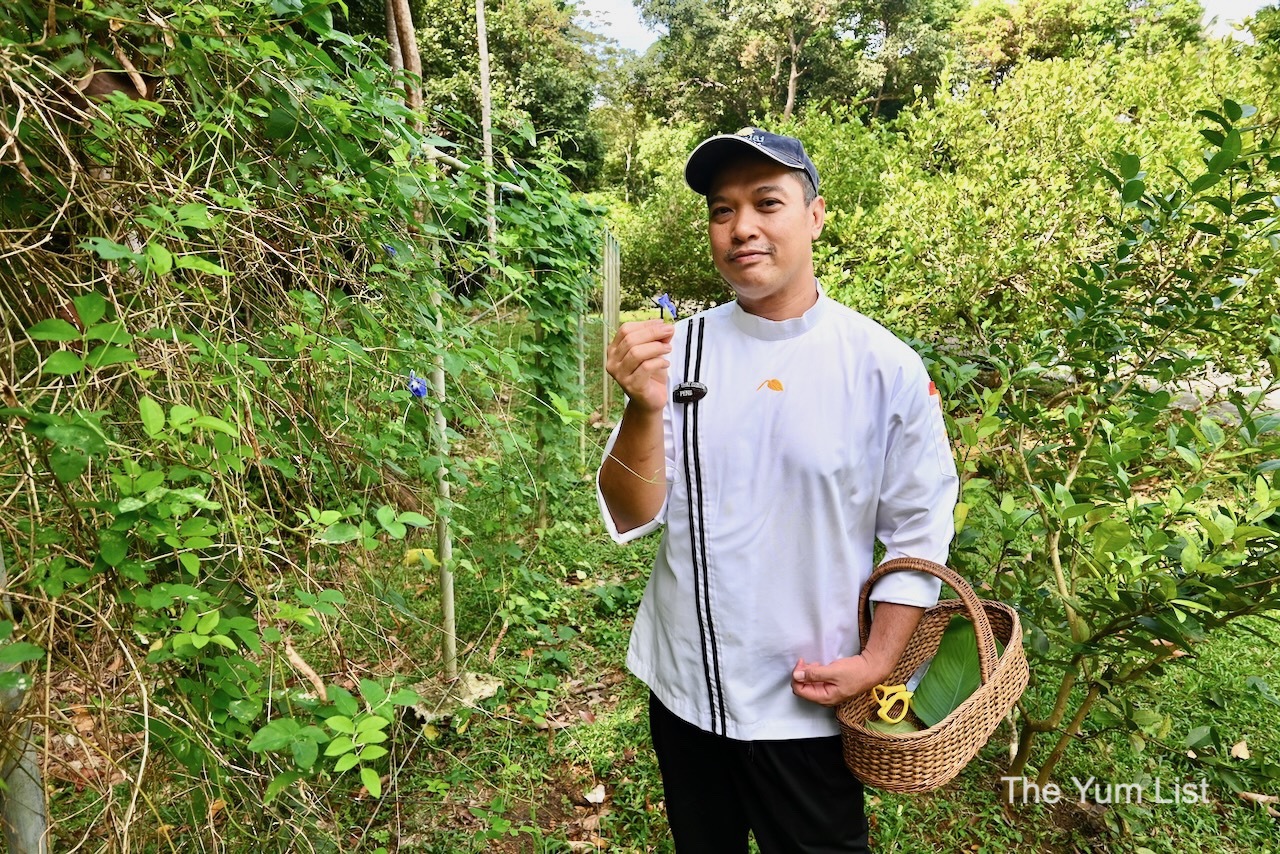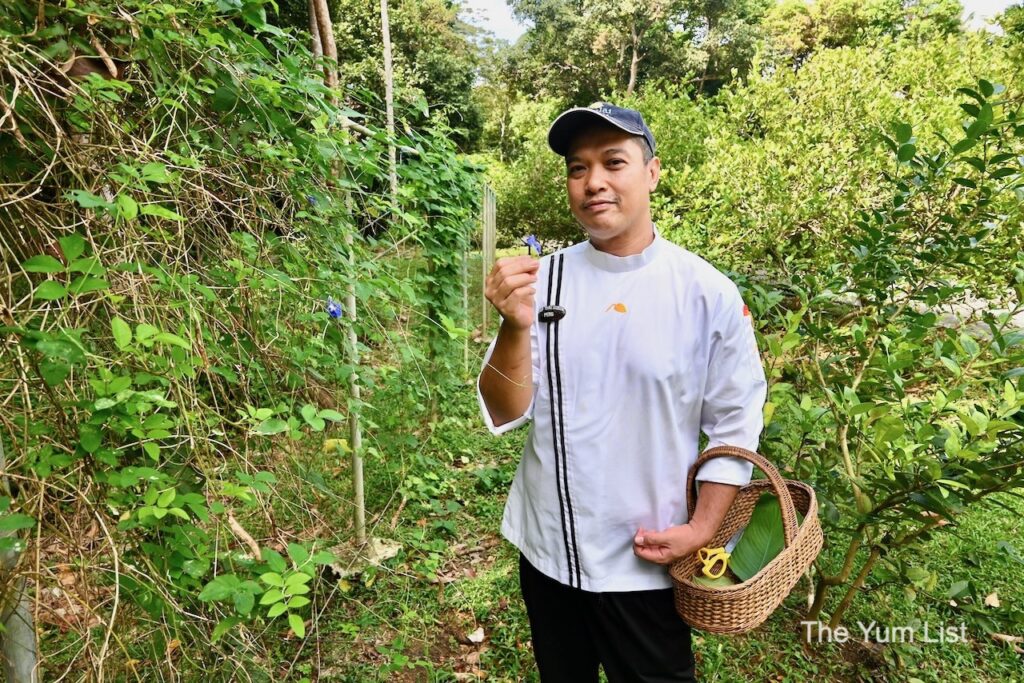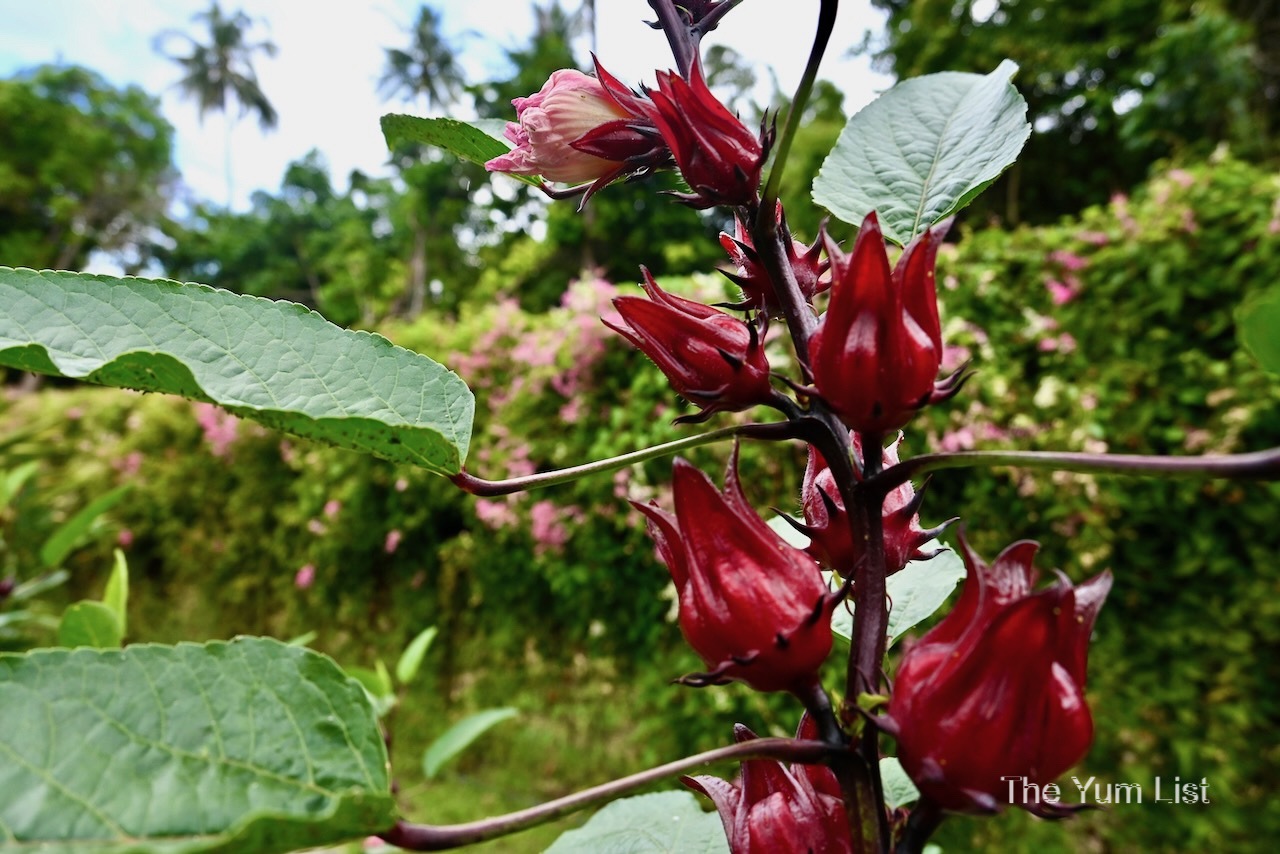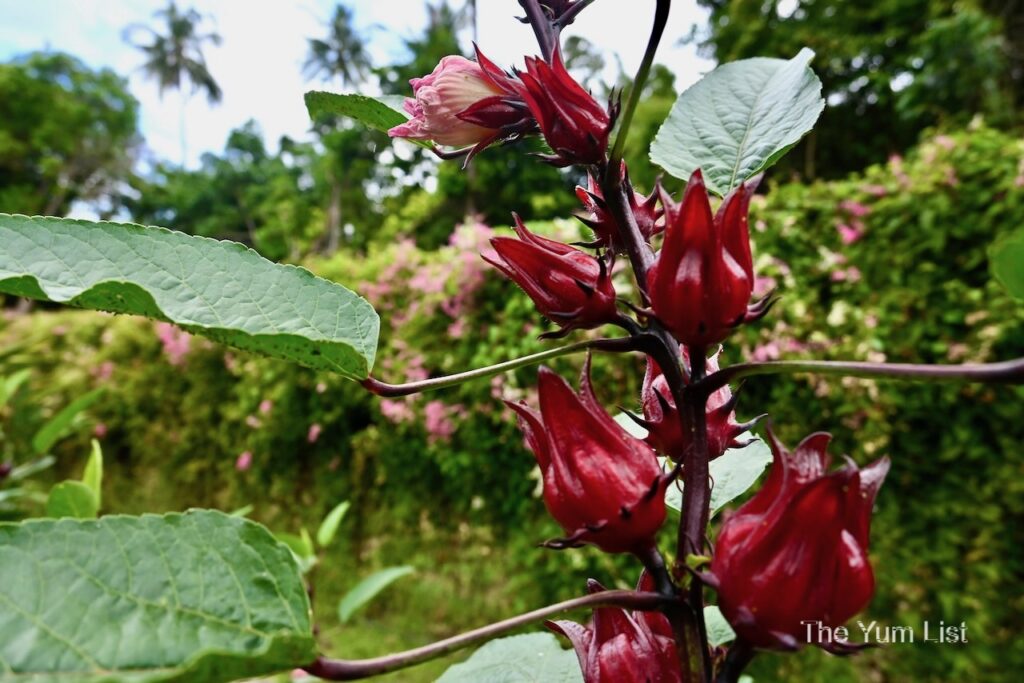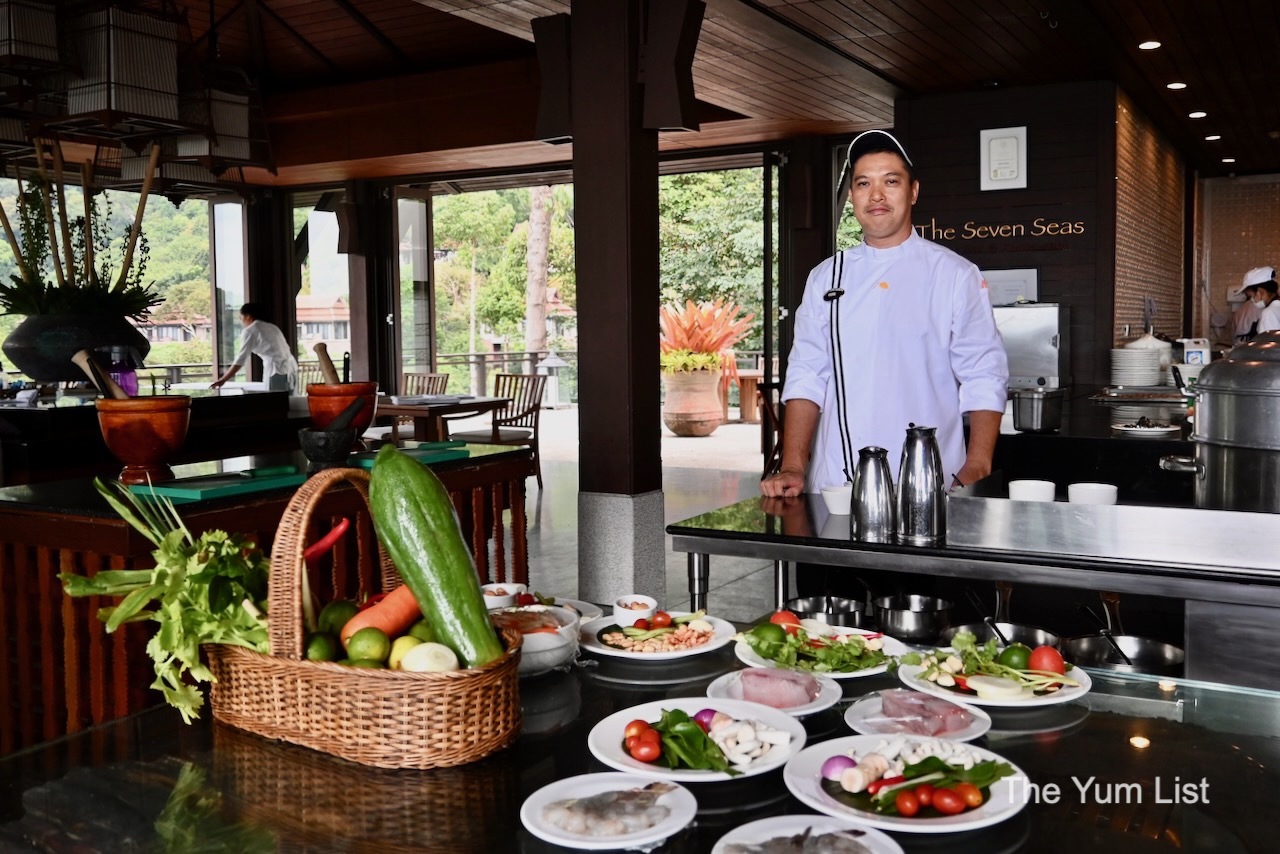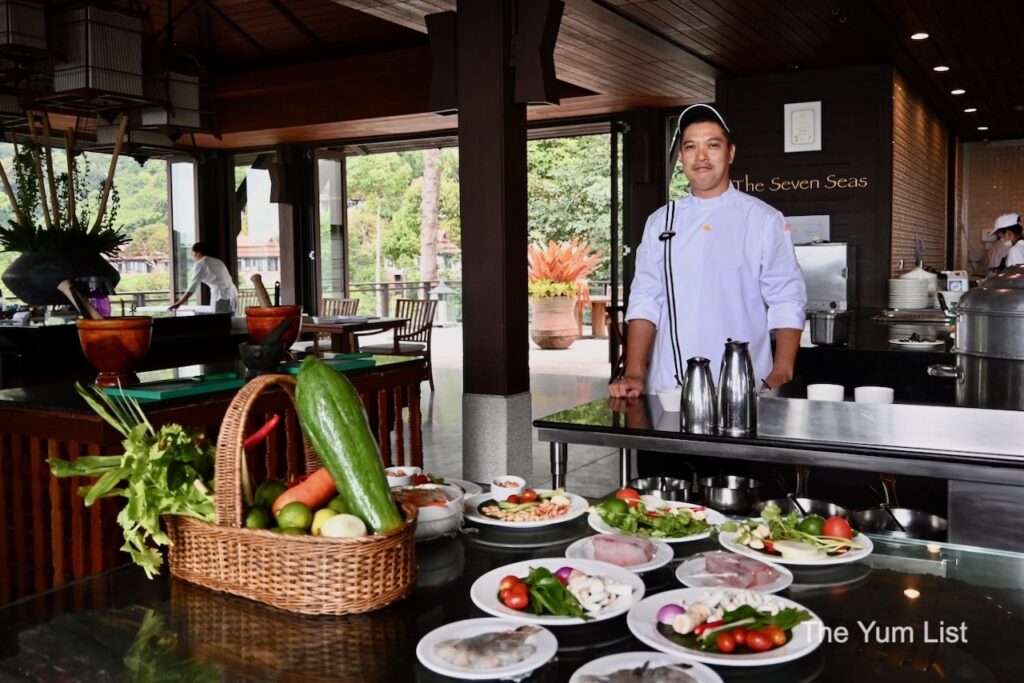 Snorkelling & Sunset Cruise to Koh Haa
We've been gazing at this mysterious Koh Haa outcrop on the sea's horizon from every location at the resort since arriving. We're delighted to be invited to take a closer look. Haa in Thai means five, and so Koh Haa means 'five islands.' Technically, it is six, but one is so tiny that the local people did not count it.
We whizz off on one of the Pimalai's speed boats, enjoying the breeze and a cold drink during the 40-minute ride. We are toured around the stunningly beautiful rock formations, seeing the islands from every angle before mooring close to a shallow lagoon. The water is so clear that you don't have to snorkel to view some coral formations and fish. However, I do love to snorkel, so I don the fins and dive into the sparkling sea. Our guide knows where all the animal life is hiding and leads us around the coral reefs, pointing out moray eel, lobster, and even a baby puffer fish.
On returning to the boat, I am quizzed by one of the younger guests about what I saw. The laminated sea life guides are useful for pointing out and discussing the sightings. Before heading back, we are treated to glasses of wine, smoked salmon sandwiches, curry puffs and flavoured peanuts. As we motor away, we all gaze over the back of the boat as the sky lights up with dramatic colour and Koh Haa slowly fades back into its mystery.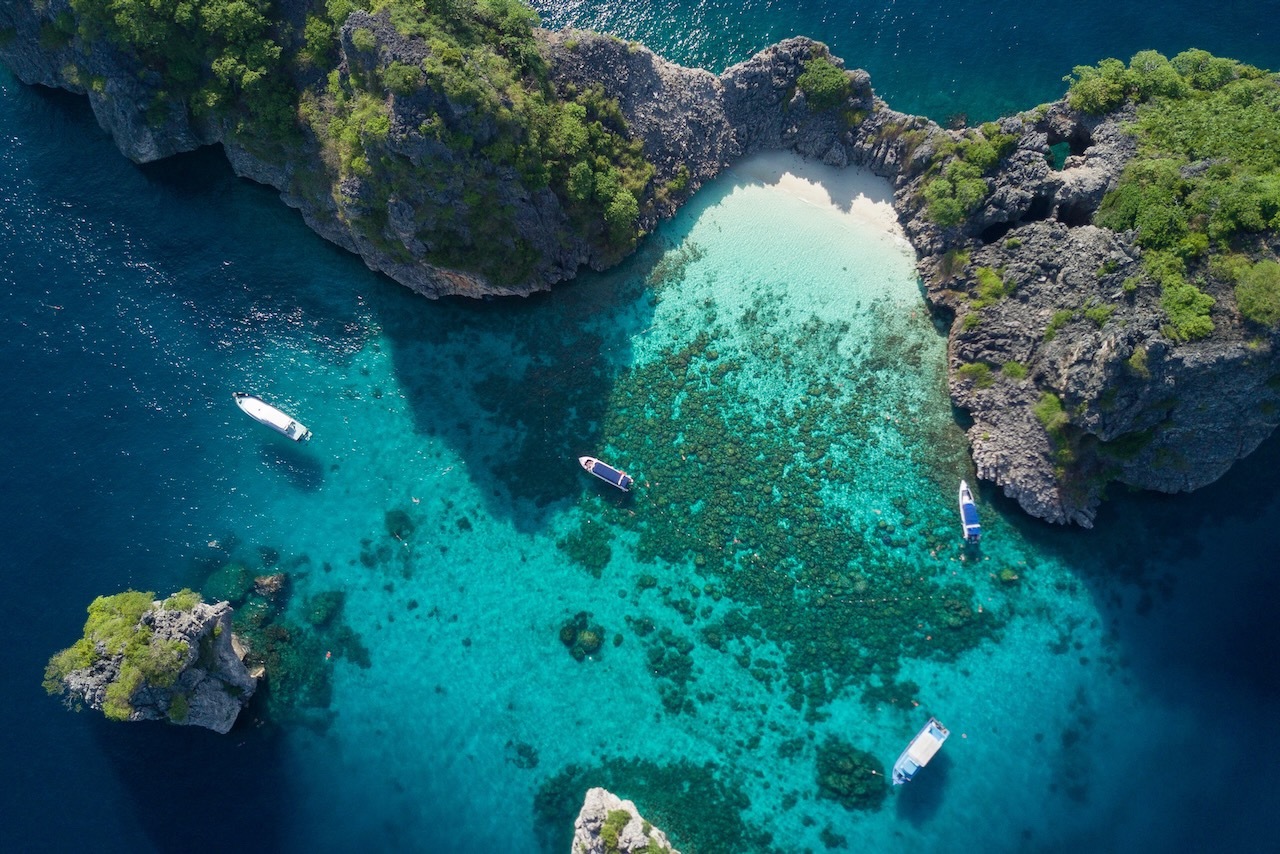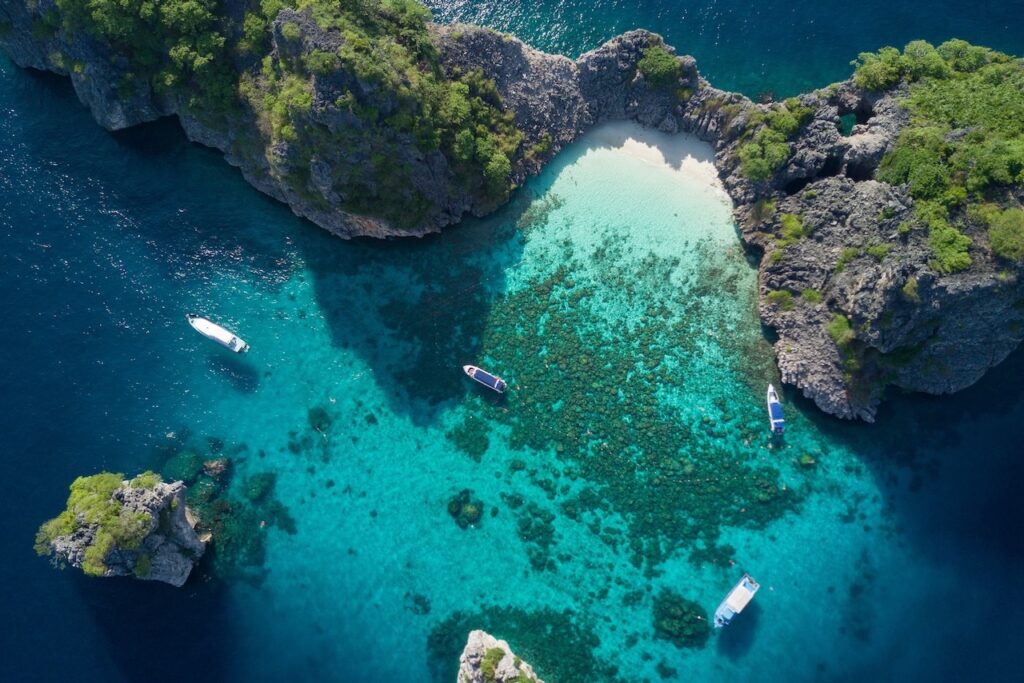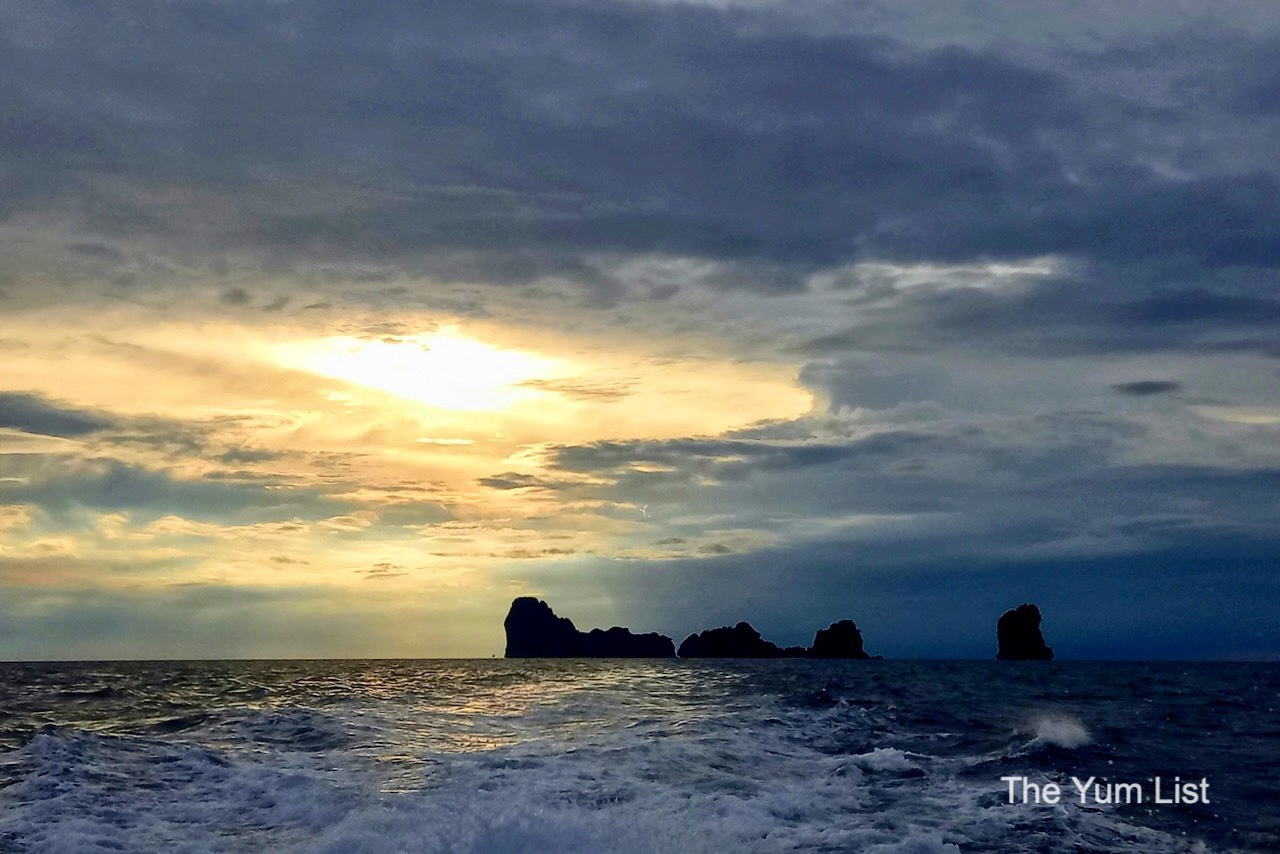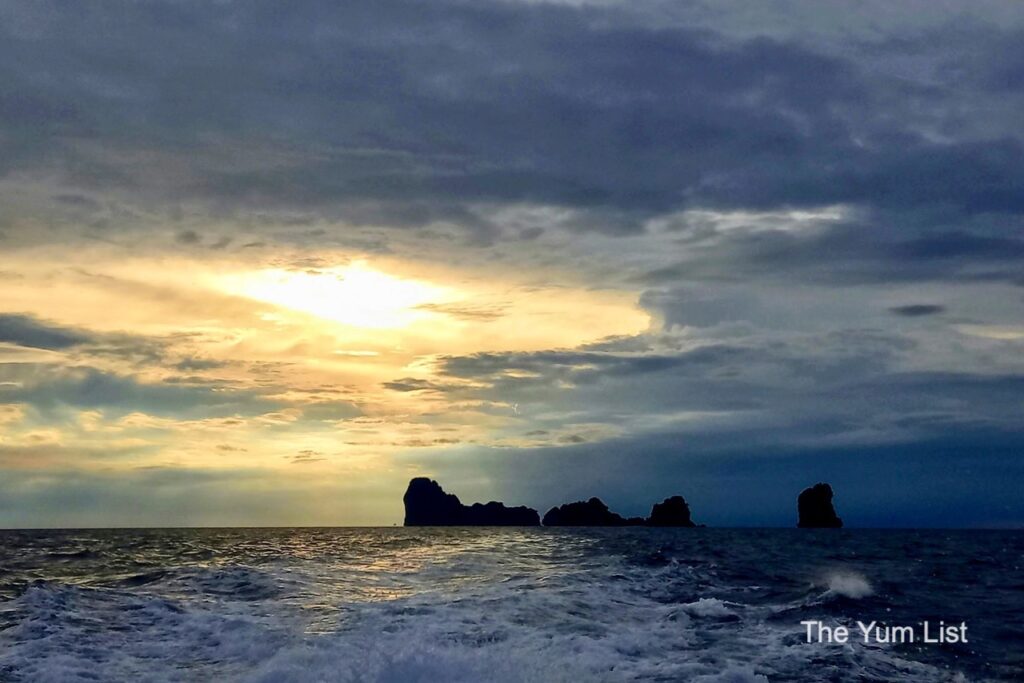 Pimalai Resort and Spa Review
Everyone should have the opportunity to spend some time in a hotel like this. It's simply bliss. This hotel coined the term for me 'approachable luxury'. Every detail has been thought about, and every provision is top quality, but it doesn't overwhelm you. Instead, it invites you in, and you want for nothing – it's clear to see why Pimalai Resort and Spa is considered the best stay on Koh Lanta.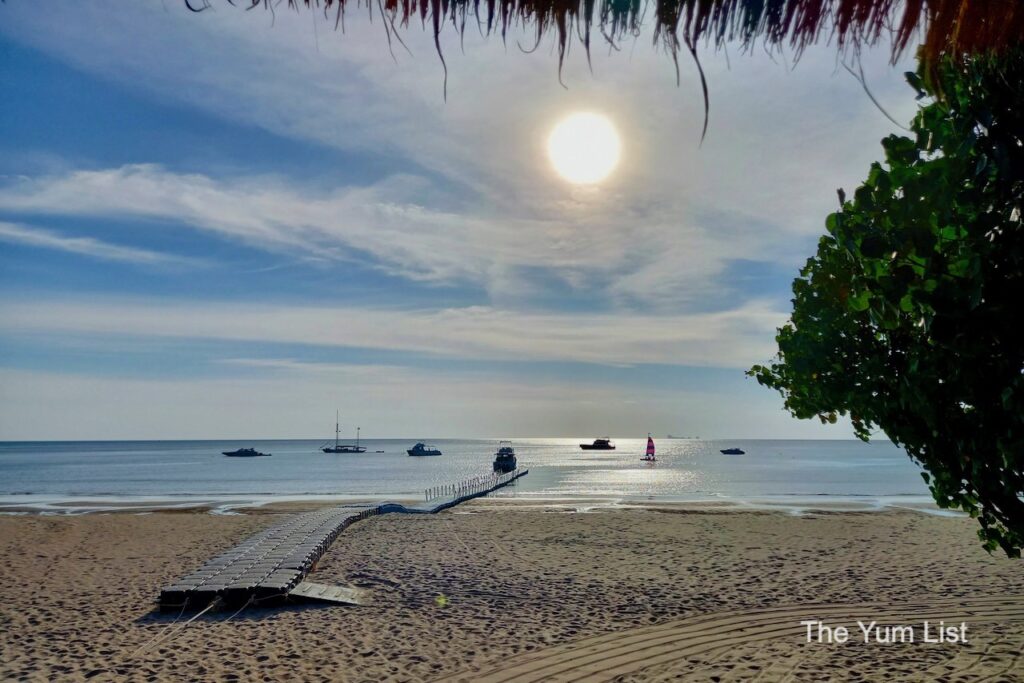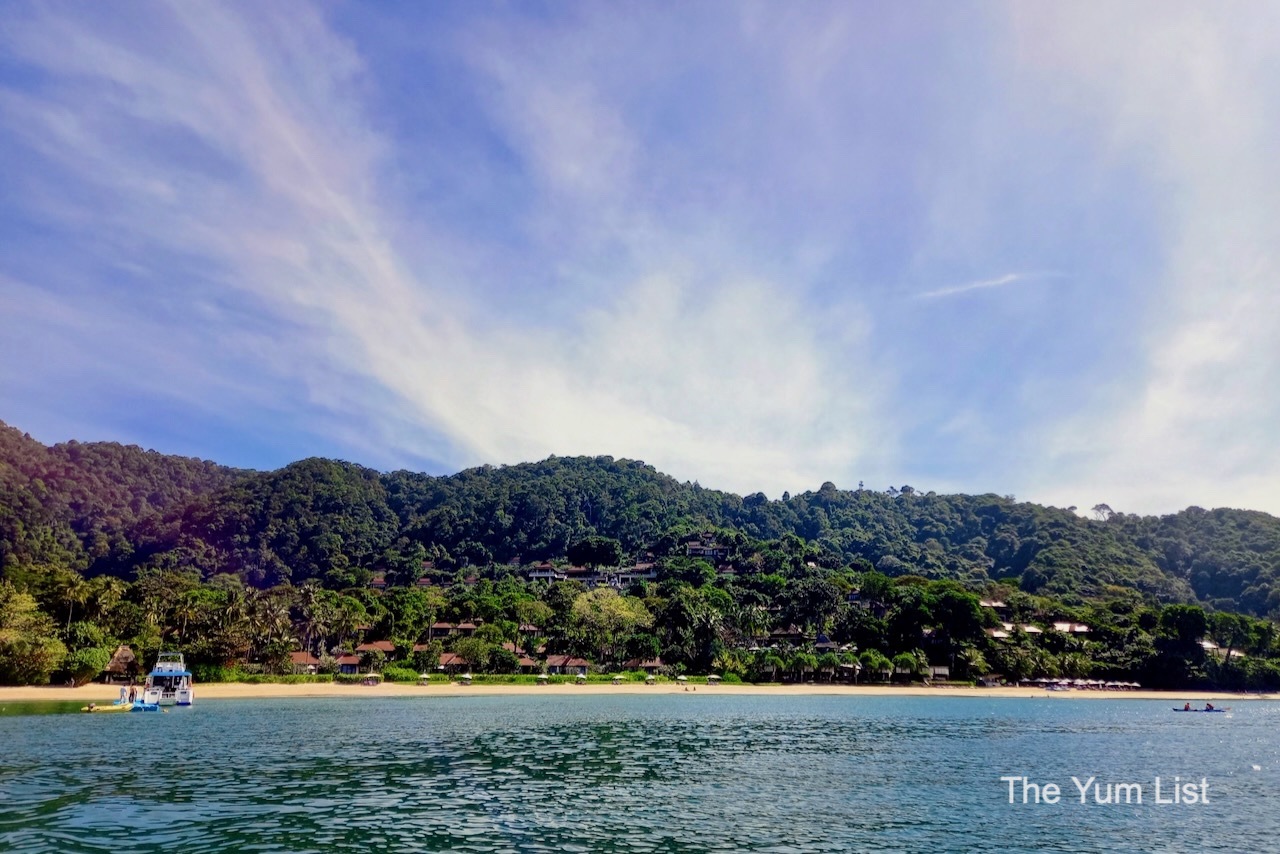 Getting There
Pimalai Spa and Resort offers mini-van and speedboat transfers from Krabi airport. The drive to the jetty from the airport is about 50 minutes, and the beautiful boat trip is around 40 minutes. Alternatively, it's possible to drive from the mainland, take a car ferry across the island and then drive down to the resort or travel from Phuket via boat and land.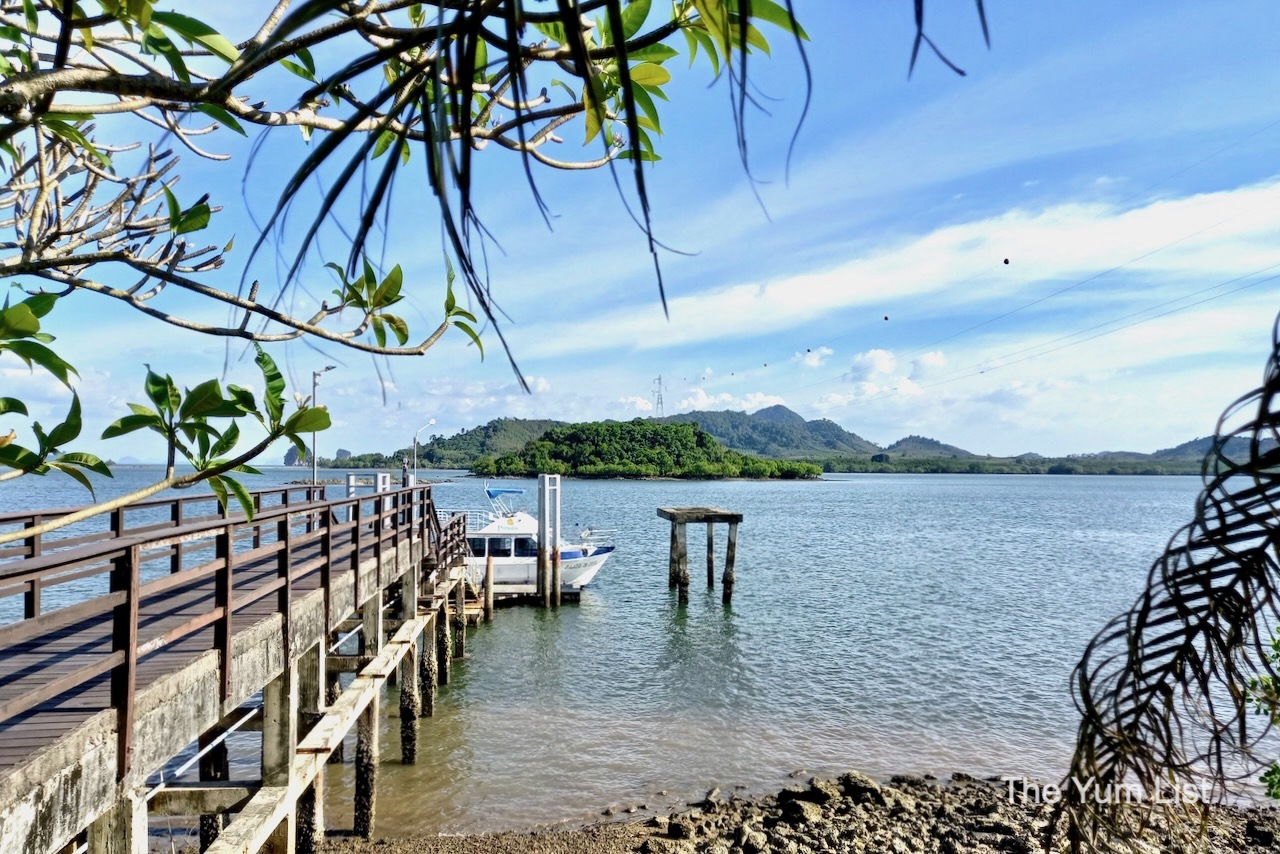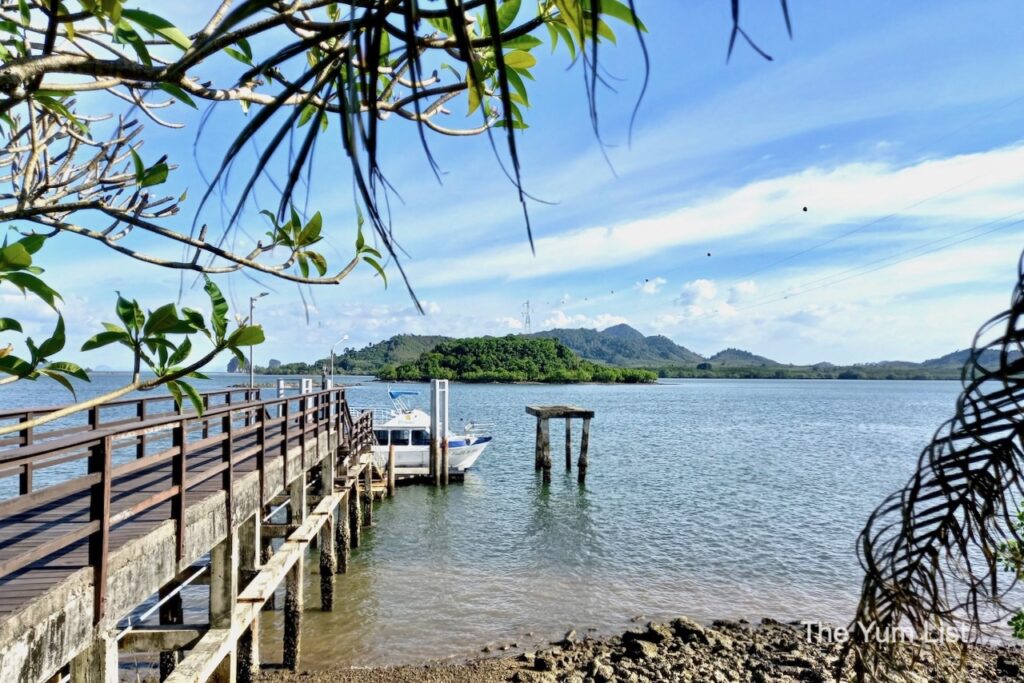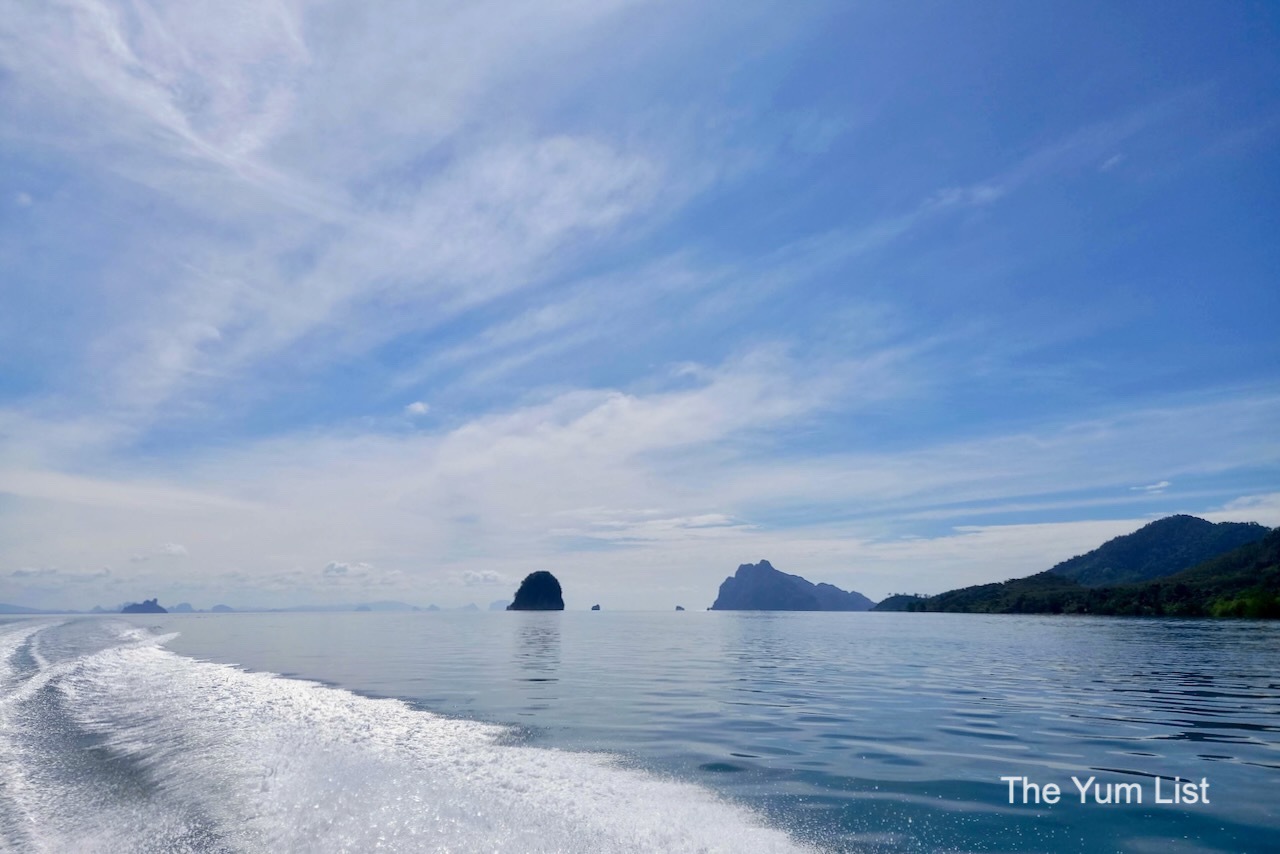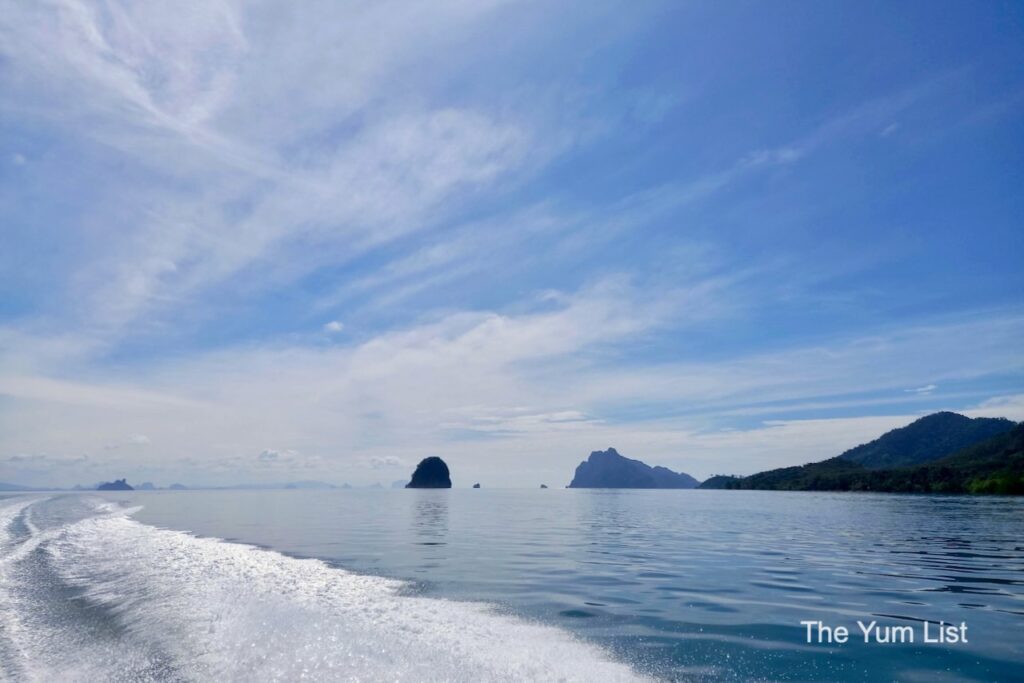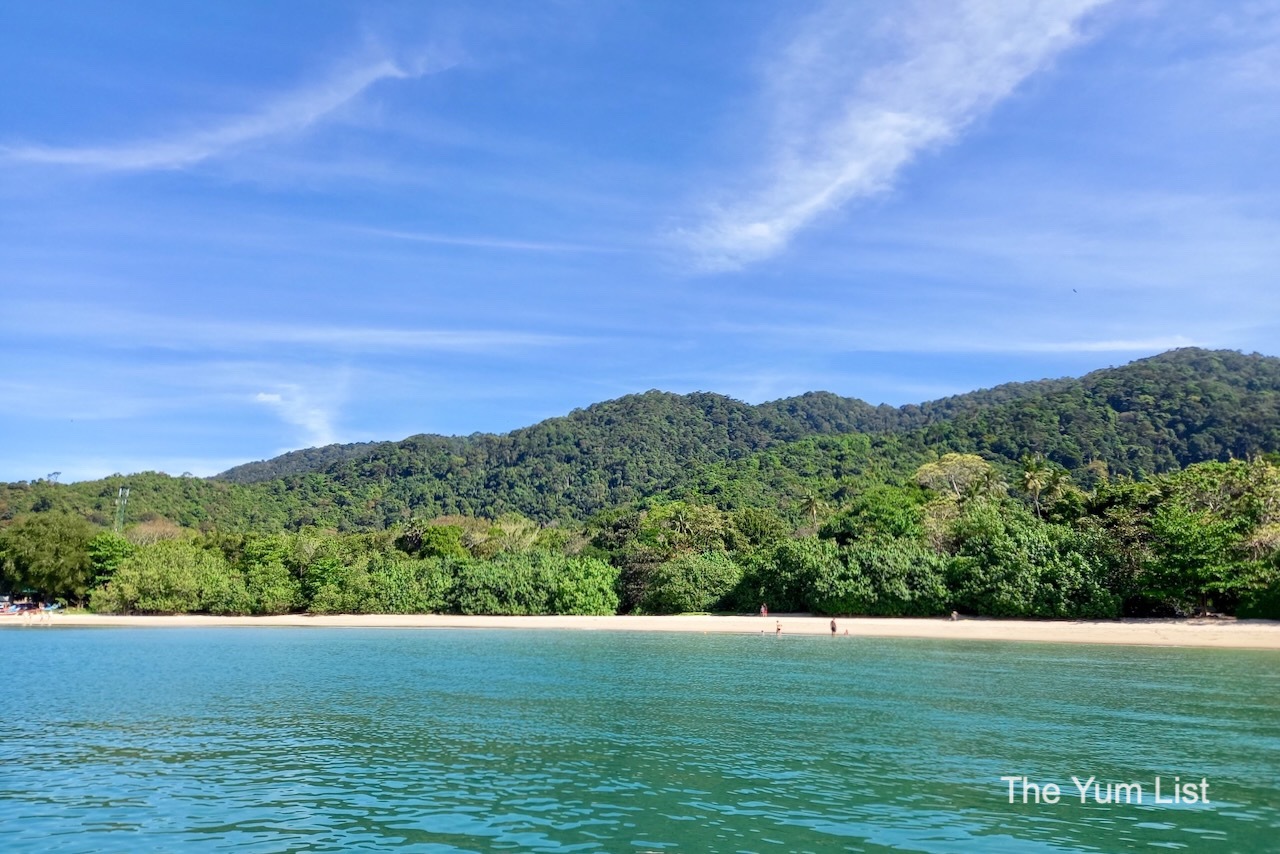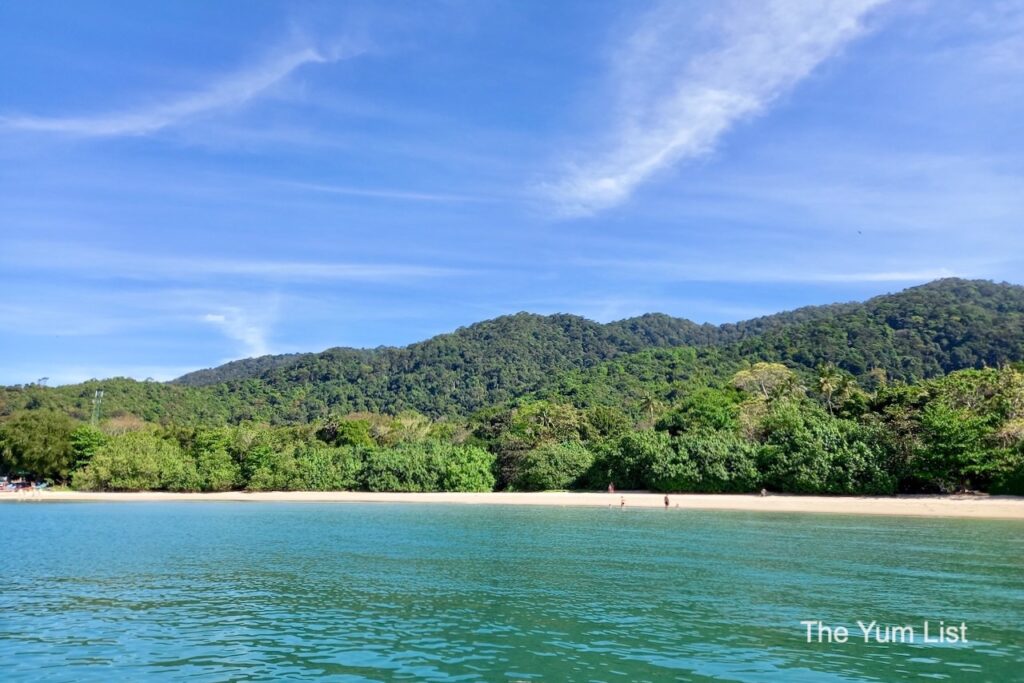 Reasons to stay at Pimalai Resort and Spa: The best resort on Koh Lanta, stunning views from all rooms, 100 acres of private jungle-rich property and 900 metres of private beach, peaceful natural environment, top-class service, private pool villas, a wonderful range of restaurants, engaging activities and excursions (don't miss a trip to Koh Haa and be sure to sign up for a session in the spa).
Pimalai Resort and Spa
99 Moo 5, Ba Kan Tiang Beach Koh Lanta
Krabi 81150, Thailand.
+66 (0) 2320 5500
[email protected]
pimalai.com
www.heavensportfolio.com
Find more recommended luxury stays around the world here and stay up-to-date with our latest gourmet travel finds here and here.