Tap Room KL – Bamboo Hills
Words: Jacob Weber
Photos: Rich Callahan
Wood-fired pizza and craft beer at the Tap Room KL in Bamboo Hills might be my new favourite way to spend a sunny afternoon in the city.
A spacious and airy dining hall with two-storey, full-width windows and a comfortable-meets-contemporary vibe, nestled in the greenery in beautiful Bamboo Hills – it's all very agreeable.
Oh, and there are massive copper beer vats gleaming proudly above our heads. (There's another one at the entrance for photos, don't worry.)
Tap Room KL is part of the Rhombus Connexion group, which manage a few familiar favourites in KL, and this could well be creeping up that list very soon. They're supplying this venture with genuine Malaysian-brewed craft beer, and they've employed the services of "The Pizza Duo", a male-female partnership who knows how to work a wood-fired pizza oven.
And – record scratch – that wasn't a typo. Genuine, Malaysian-made, Malaysian-brewed craft beer.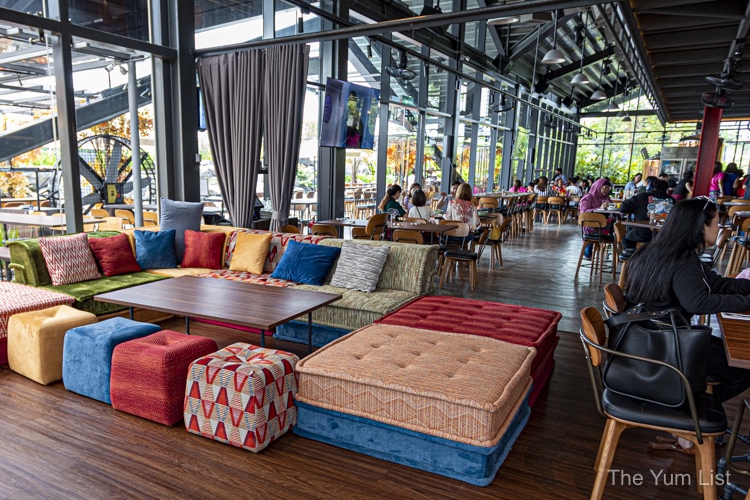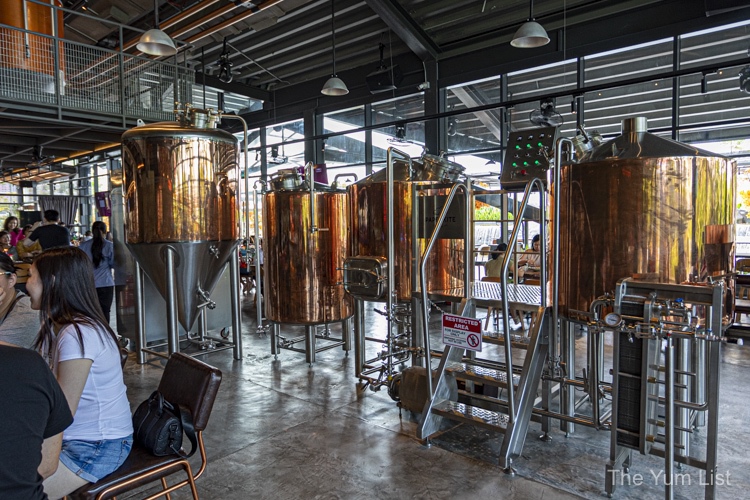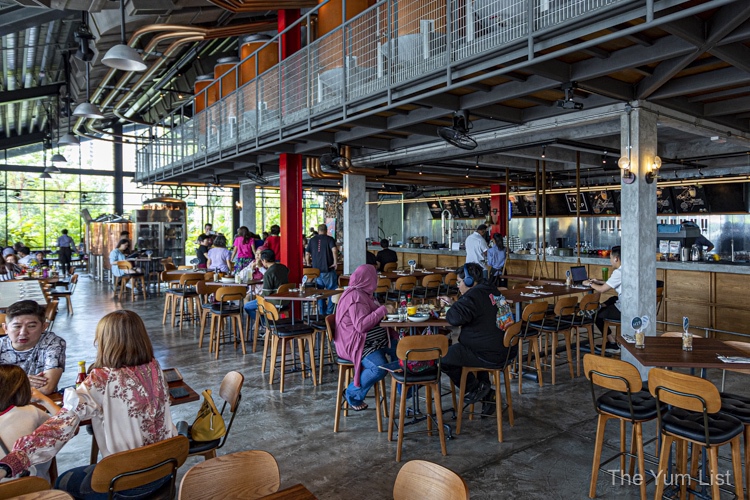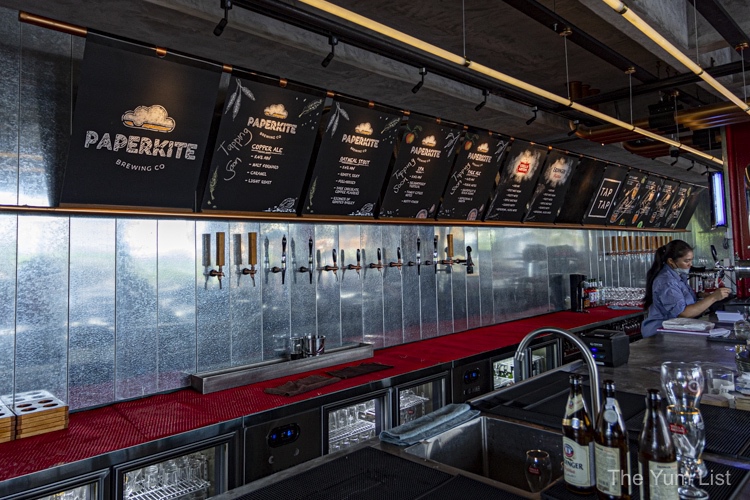 Craft Beer KL
Brand-new Paperkite Brewery already has a long legacy. None other than Alvin Lim, one of the co-founders of Taps Beer Bar in Bukit Bintang, is behind this new venture.
Much to my dismay (and especially because we're here on a public holiday), all but one of the four craft beer taps have run dry today. I have to drown my sorrows with the remaining Oatmeal Stout (RM22). I don't usually drink stout, but I like this – roasty and full-bodied, with dark chocolate and coffee. I order another one, being dismayed and all.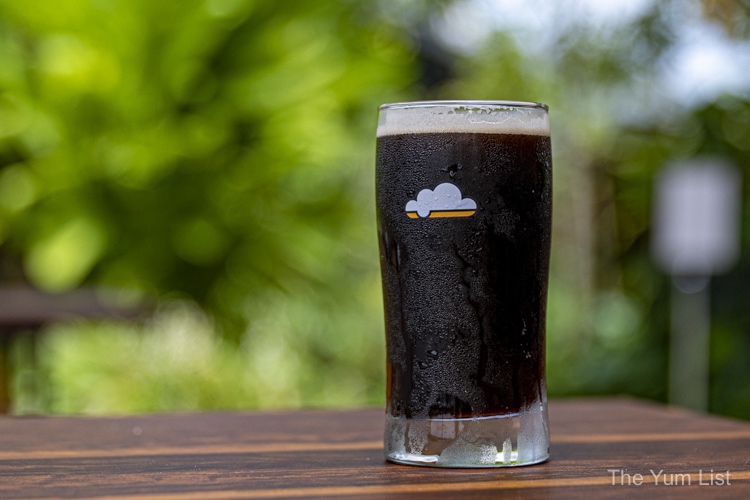 We also order a round of Cold-pressed Juices (RM16) – life is about balance – which is supplied by the experts at Jussu. Heart Health (beetroot, apple, carrot, ginger, lemon) and Immunity (carrot, passionfruit, apple) were both great; bright and sweet, as you'd expect from 100% fresh juice.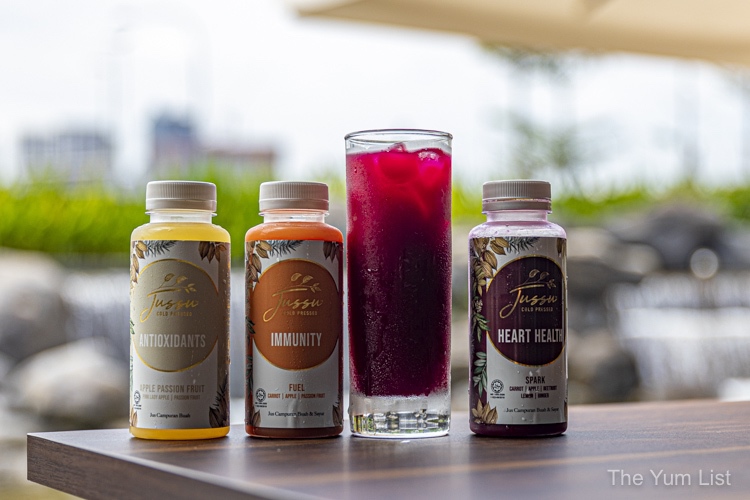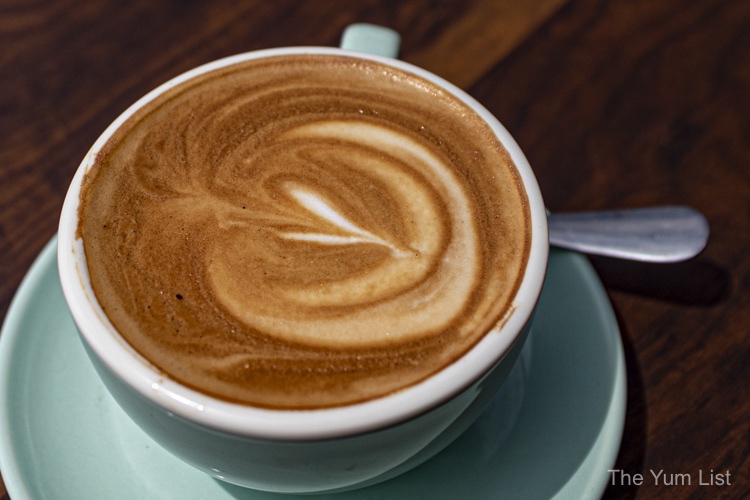 Tap Room KL Food Menu
Our first dish is a Watermelon Meze (RM9.80) which seems like a nice light bite to start before some proper pizzas – and we're right. Fresh watermelon comes topped with chuka wakame (delicious, chewy Japanese seaweed) and chopped peanuts tossed in Thai dressing for a wonderful, flavourful crunch.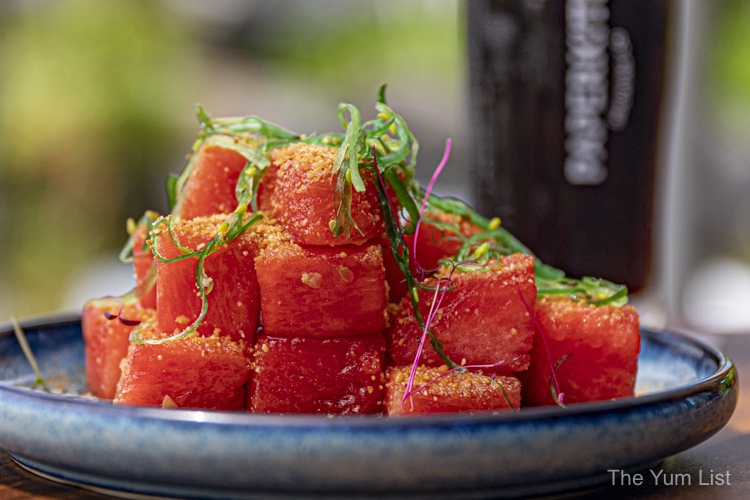 The Roasted Cauliflower (RM19) is a generous portion of nicely roasted cauliflower with all the right spices and a few coconut flakes for good measure. The accompanying sambal terasi – a creamy version of sambal belacan – is an acquired taste, but might win a few die-hard fans of the famous shrimp paste.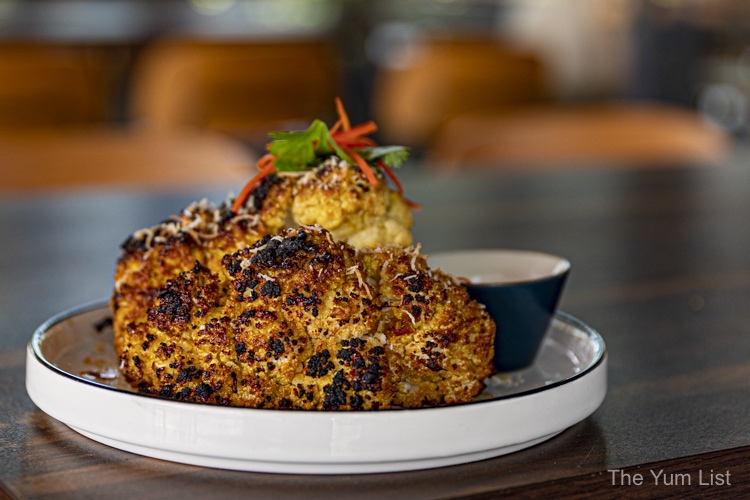 For the mains, we decide to pick two pizzas and a sharing platter. After the two generous opening portions alone, we can tell the servings are hearty.
Pizza Duo's Neapolitan Pizza, Bamboo Hills
The Animale Pizza (RM66) certainly is a meaty portion. Beef salami Milano, Angus Beef Sausage, Italian Beef Bacon – some of Europe's best beef is having a 'meating' (sorry, not sorry) on a delicious, rich San Marzano tomato base.
The pizzas, by the way, are done in an authentic Neapolitan style, with a little bit of a modern twist. The Pizza Duo double-ferment their dough for over 72 hours, and it shows. There's a signature burn in all the right places, and the sourdough crust is crispy and chewy in all the right ways. Attempting the authentic style of literally the birthplace of pizza is ambitious, so we have to respect that. It's not perfect – the base on the Animale might be a little thin for all of this meat – but it's very, very good.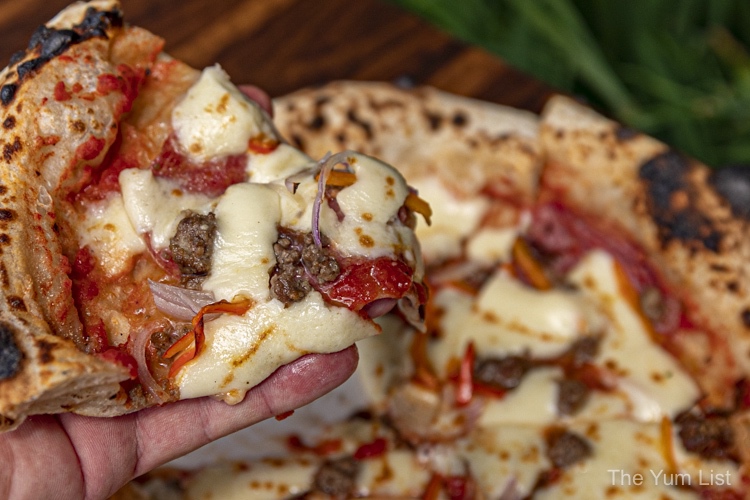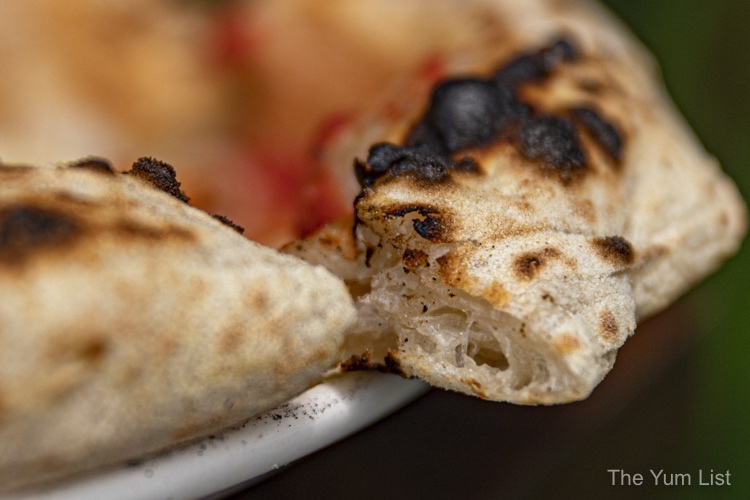 The whole pizza menu is pretty exciting, whether you're in the mood for a classic pizza like the Margherita 2.0 (RM42) or a signature special like the Krapow (RM58) with Thai basil chicken and bird's eye chilli. After the Animale, we figure a vegetarian pizza with a white base would be another suitably balanced choice. Yin-yang Yum List, I suppose.
The Garden State Pizza (RM48) has Parmigiano fondue and smoked Provola as a creamy base for roasted and pickled zucchini. You don't have to be a vegetarian to appreciate it, and I promise you won't miss the tomato sauce. (Which really is excellent.)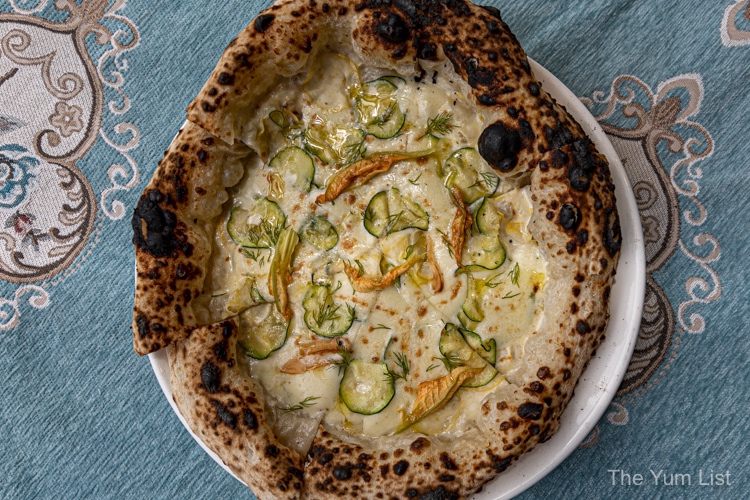 Meaty Mains
The Meaty Platter (RM129) is quite perfectly named – and a good show of cooking, too. Grilled grain-fed striploin, chicken leg, and big juicy tiger prawns are flanked by corn, mesclun, and purple slaw, with a signature spicy sauce and mushroom sauce. Everything is presented and cooked beautifully, and the spicy sauce is an absolute hit.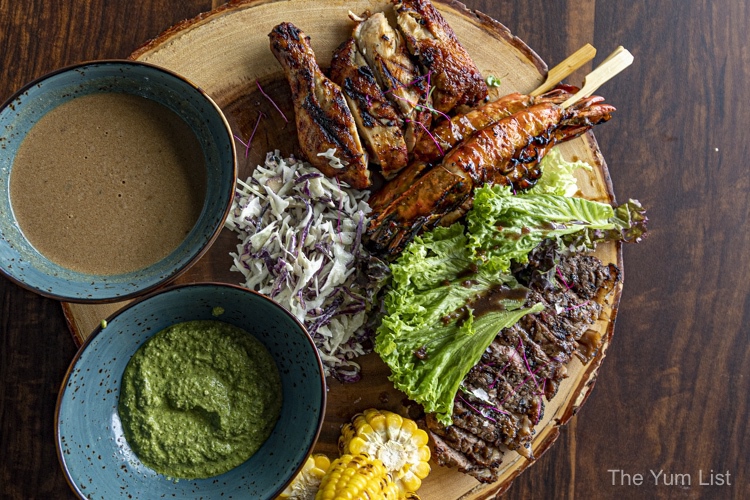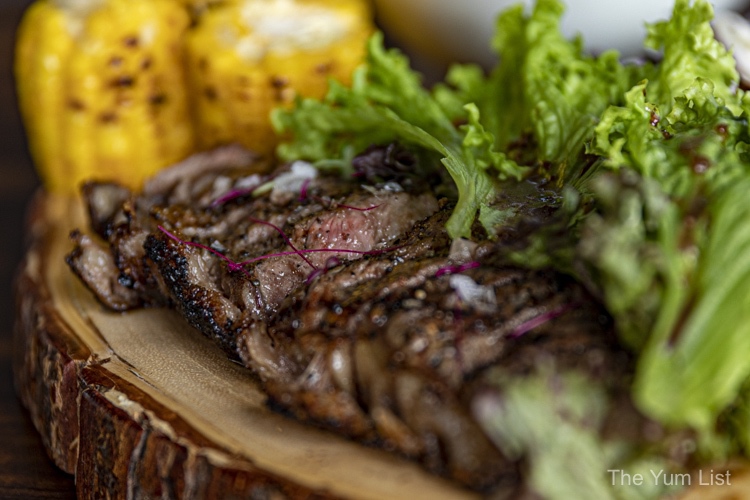 We don't have room for dessert, but I do spy a few very good-looking waffle and pancake dishes from a distance and make a mental note for next time.
Tap Room KL Review
And there will certainly be a next time – I'm a little disappointed that we could only taste one of their four craft beers, but after a couple of hours hanging out with the remaining stout and in a very pleasant environment with very pleasant company, I'm not actually too disappointed at all. Plus, next time, I'll get to sit outside on the deck by the pond. There's even a mini-waterfall feature.
Reasons to visit Tap Room KL: Spacious and comfortable venue in a beautiful environment; genuine Malaysian-made craft beer; authentic, wood-fired Neapolitan pizza with classic and creative ingredients; generous portions and a good selection of tapas and sharing plates.
Tap Room KL
Lot P10, Bamboo Hills off Lebuhraya DUKE, Taman Bamboo
Segambut, 51200 Kuala Lumpur
www.facebook.com/TapRoomKL
Tap Room KL Opening Hours
Sunday – Thursday: 11am – 1am
Friday & Saturday: 11am – 2am
Tuesday: Closed
Find more restaurants in Bamboo Hills here, and stay up to date with the latest gourmet happenings around Malaysia here and here.