Gordon Ramsay Bar & Grill, Sunway City Kuala Lumpur
Words: Claire Matheson
Photos: Monica Tindall (those without watermark have been supplied by the restaurant)
Known for roasting uninspiring restauranteurs, Gordon Ramsay's Sunday Roast is a lesson in how passion, mixed with a hunger for challenge, can lead to culinary excellence. At Gordon Ramsay Bar & Grill in Sunway City Kuala Lumpur, guests are served a masterclass in dining from a team who have been meticulously trained. The dedication and attention to detail from all of Ramsay's team have been crafted with an aspirational thirst for learning. When you dine here, there is no hubris, only truly exceptional food.
Ramsay has built his career not only on his exceptional skill and talent as a master chef on a global scale but also by addressing the faults of restaurants around the world, challenging those in the industry to improve their service, food preparation methods, and the quality of their ingredients and dishes. In truth, watching his Hell's Kitchen episodes, it is evident that Ramsay's outrage stems from his own passion and his failure to comprehend when people do not equally care about their work or the experience of their guests. Ramsay openly discourages perfectionism, instead encouraging those who train with him to step outside their comfort zone, pushing themselves to learn continuously. While his past roasting of lazy or inattentive restauranteurs may be bracing, today, we are here for a roast of a different kind. We suspect it will live up to the hype.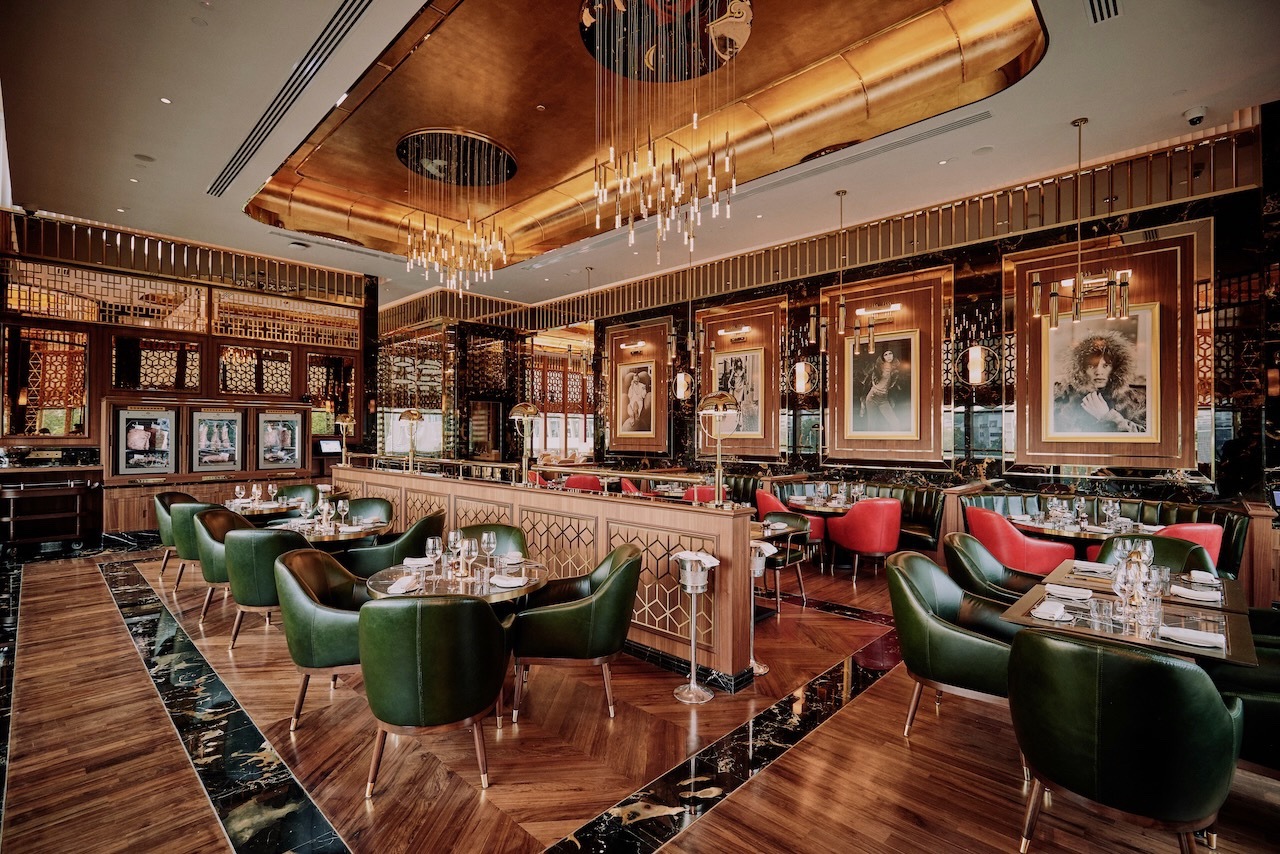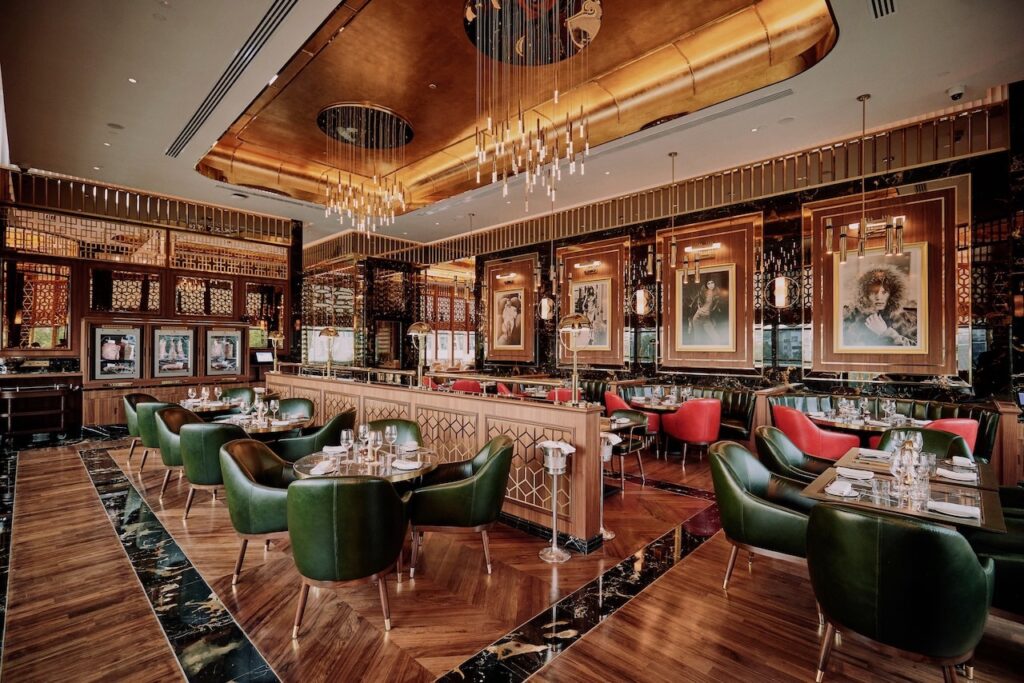 Gordon Ramsay Bar & Grill, Sunway City Kuala Lumpur
Situated on the ground floor of Sunway Resort Hotel, adjacent to Sunway Pyramid shopping mall and Sunway Lagoon Water Park, the entrance to Gordon Ramsay Bar & Grill is through the hotel lobby. As you walk into the opulent marble, gold and smoked glass space, you immediately notice two things: the colossal tiered crystal chandeliers warmly glimmering in the gold inlaid ceilings, and Gordon's larger than life, black and white portrait – its eyes follow you as you make your way to your seat. With floor-to-ceiling windows looking out over the water park below, we initially think we are going to have a front-row view of the fun and frivolity below. At the end of the meal, we realise we haven't looked out the window once. There has simply been too much to capture our attention within the restaurant. 
Ramsay has taken care to include nods to Malaysian symbols of prosperity in all sections of the space while still honouring his own hometown heritage. A marriage of the two cultures, if you will. Black marble is shot through with ribbons of folded gold. We are told the gold leaf ceilings took months to install by hand. Hints of red leather can be found in the private dining spaces: the Chelsea (seating 12), the Mayfair (seating 8) and the Soho (seating 10), each of which is bookable in advance with a minimum spend package. Iconic portraits by the famed photographer Terry O'Neill line the walls in the back dining area, with Sean Connery, Jean Shrimpton, Twiggy and Mick Jagger gazing hauntingly into the distance. Evocative of London's identity and Ramsay's own heritage, O'Neill's photographs are the modern era's Louvre-worthy portraiture.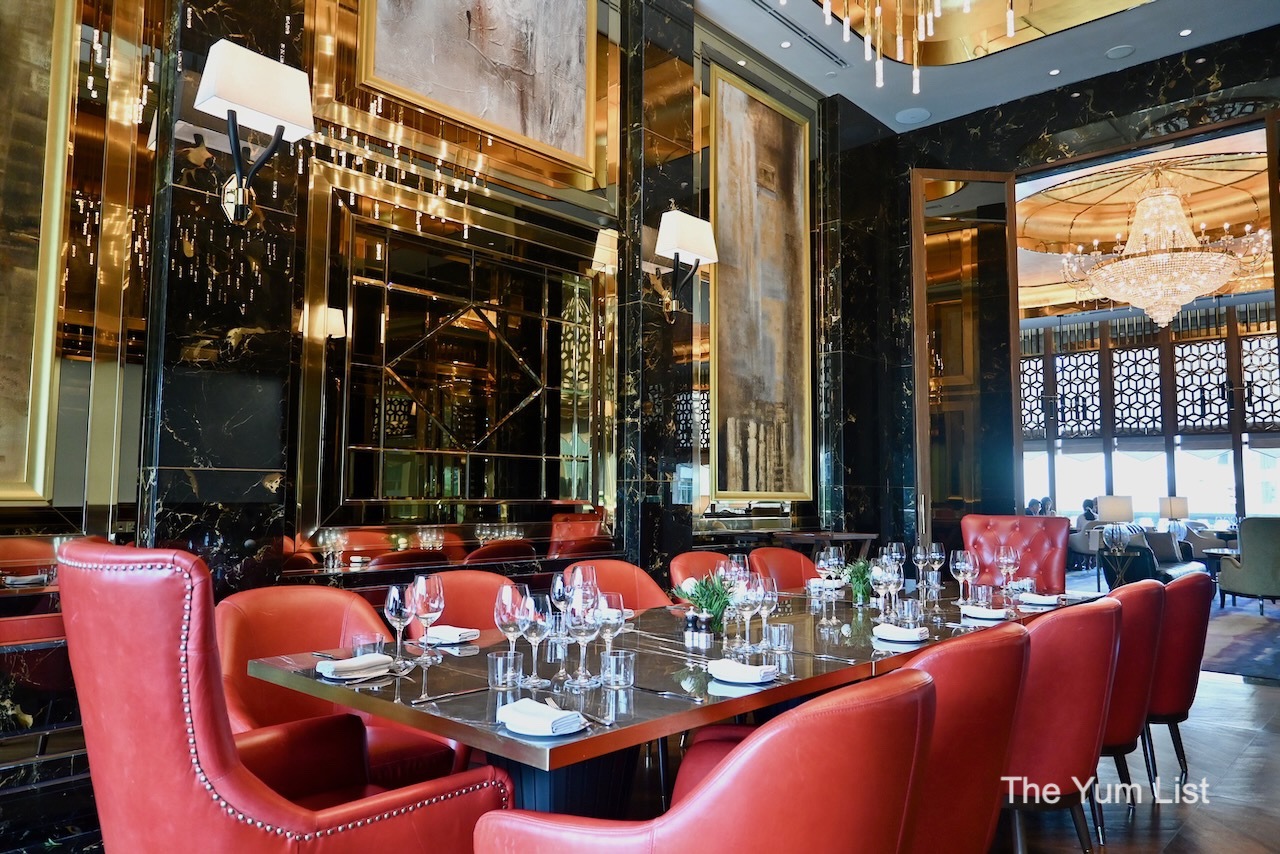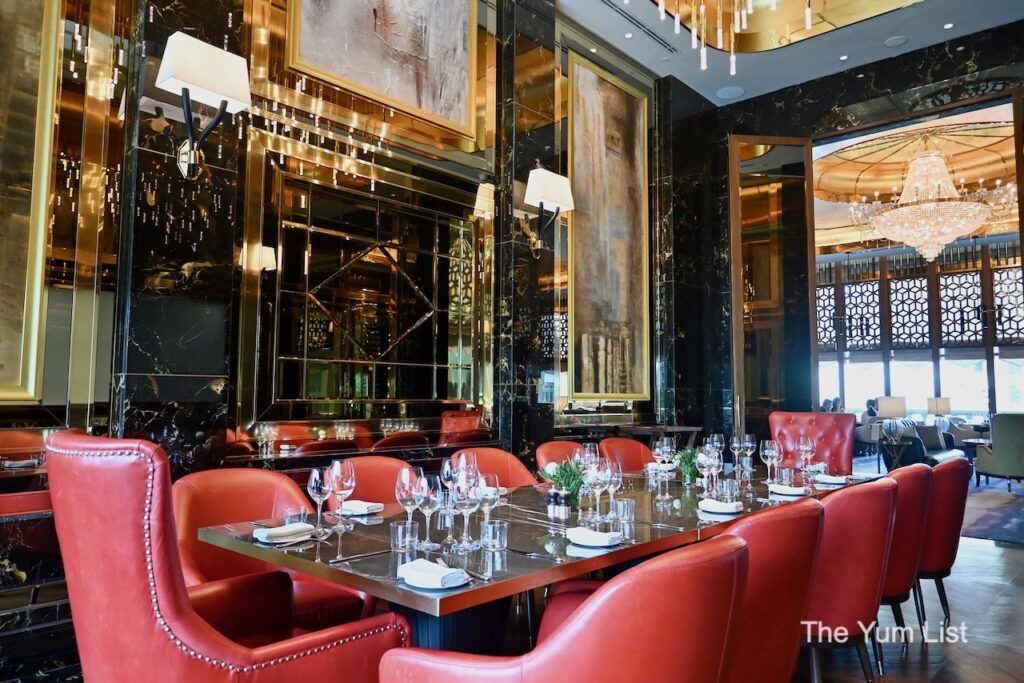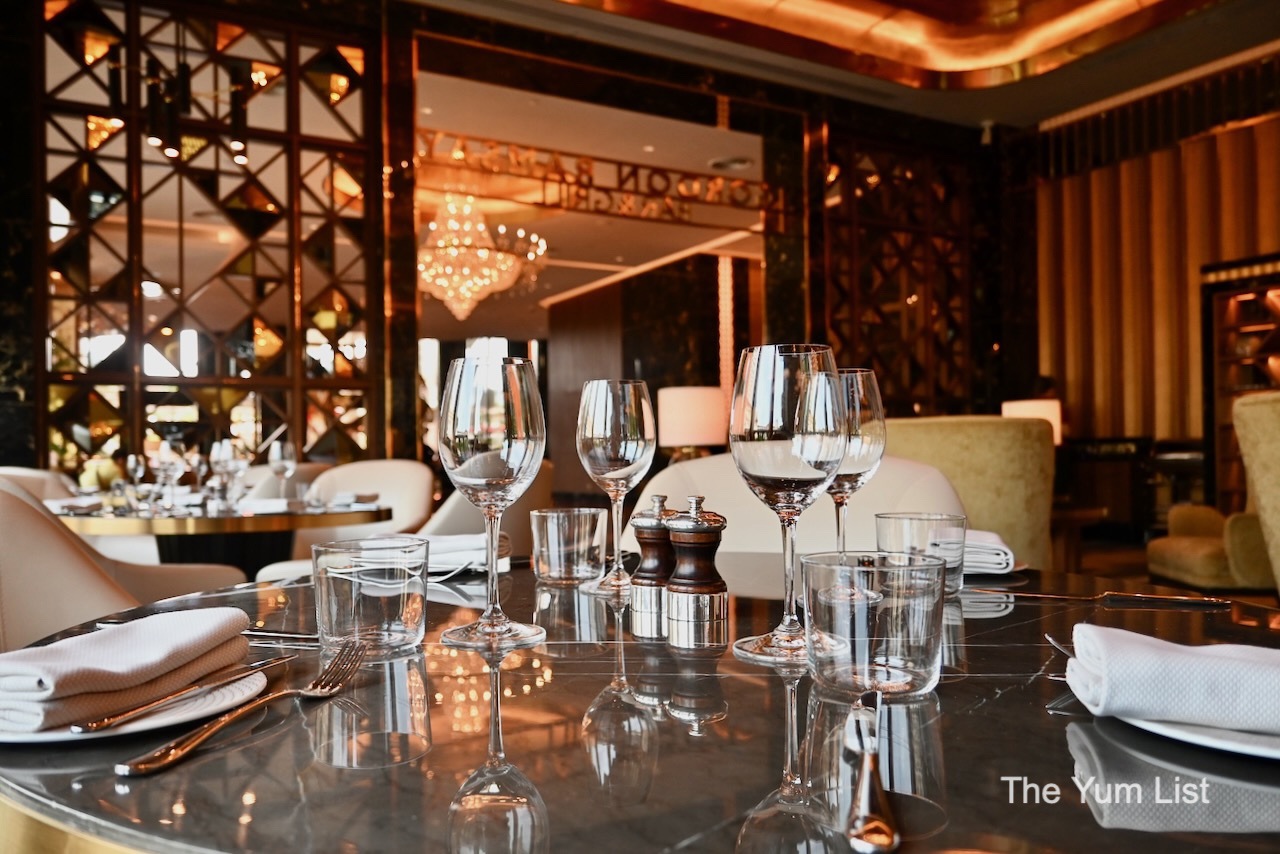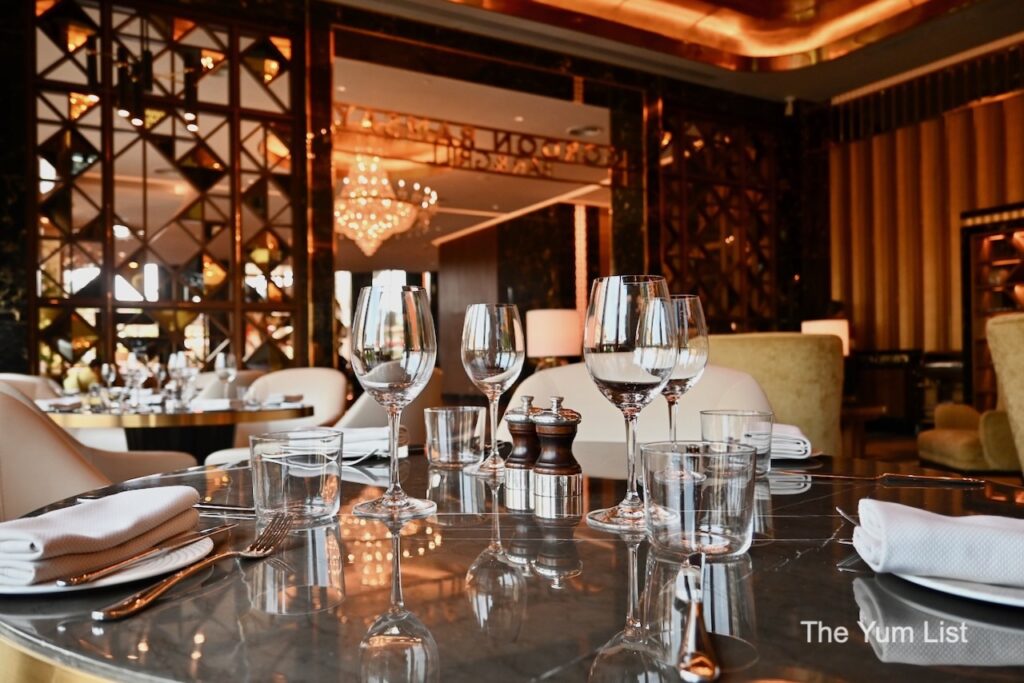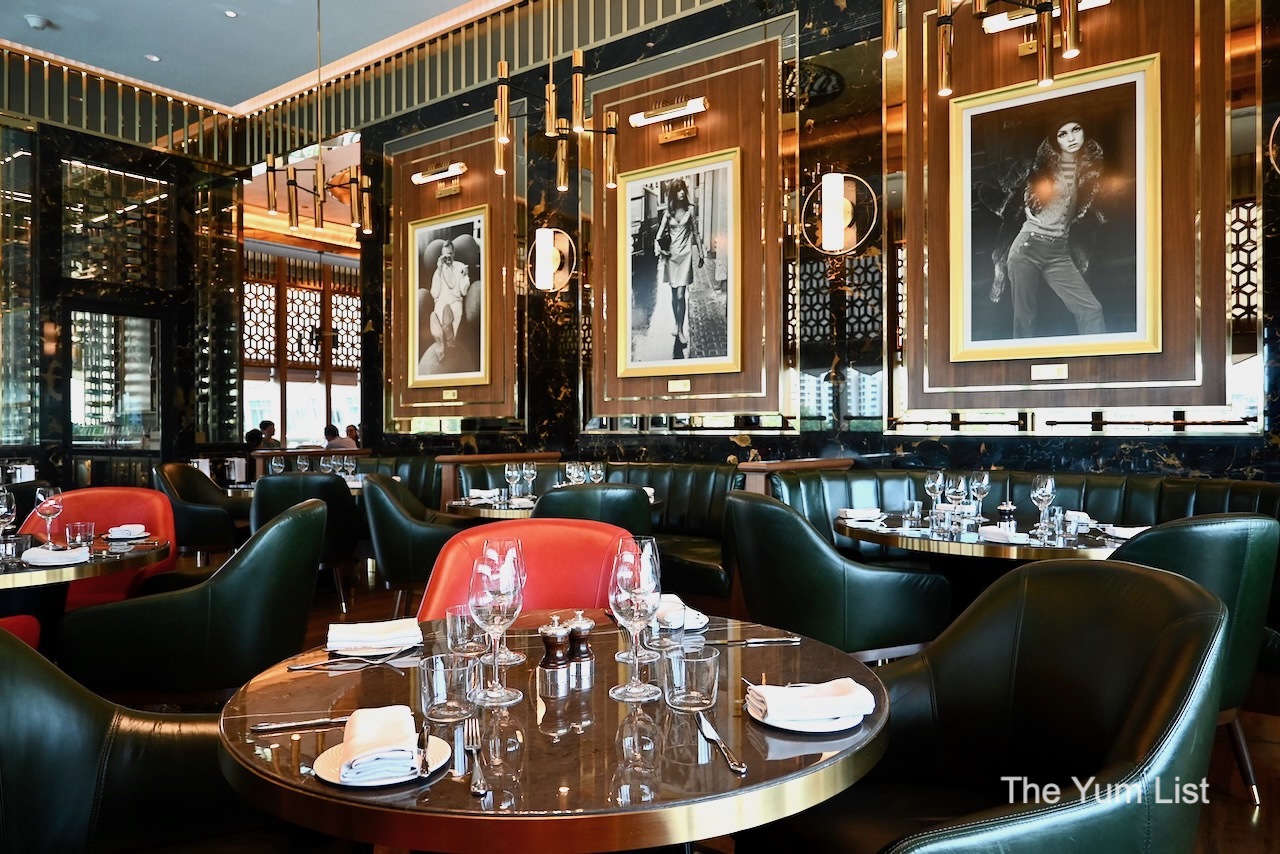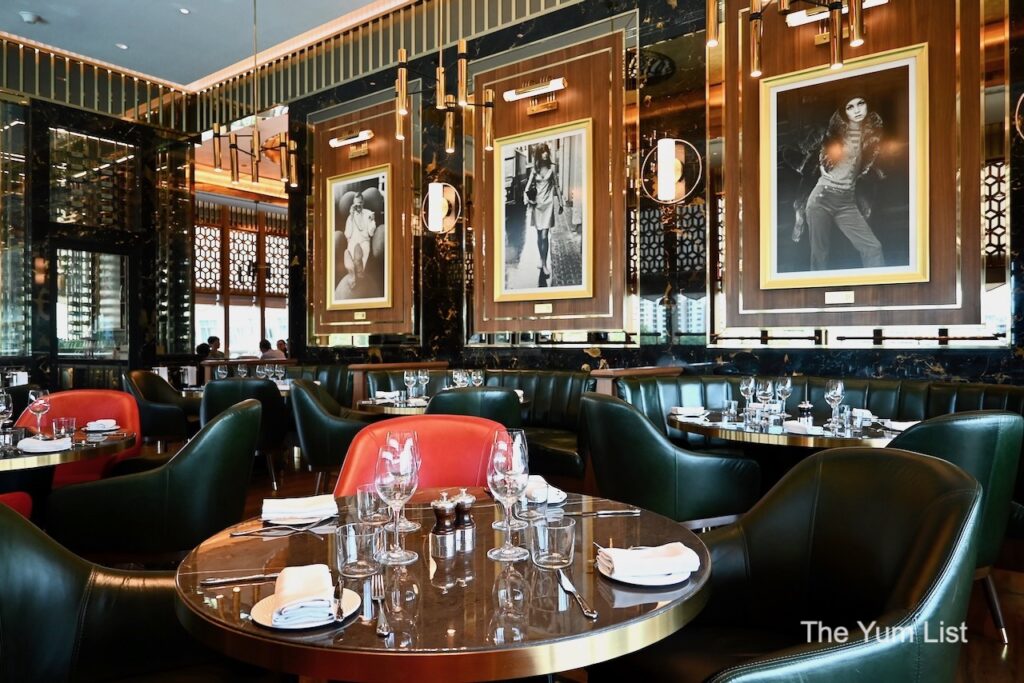 We meet with General Manager Ryan Behr and Head Chef Giles Langford and are given a back-of-house kitchen tour. Even in our line of work, this honour is a rarity, speaking to Ramsay's openness to running kitchens that are as aesthetically organised as the guest-facing dining spaces. As someone whose fame is intertwined with his harsh critiques of kitchen operations, there is a sense of transparency and integrity in Ramsay's own house processes. Guests dining in the Chelsea Private Dining space are offered the ultimate in inclusion, with an unhindered view of the kitchen through a huge two-way window, which can be opacified for privacy. Langford has worked with Gordon Ramsay for many years, starting at Ramsay's first ever wholly independent, self-titled restaurant in Royal Hospital Road in London – a three-Michelin-starred establishment. The opening of this restaurant was initiated when Ramsay and the majority of his L'Oranger staff walked out after the dismissal of one of his top chefs. It is Ramsay's loyalty to his staff that also inspires such reciprocal loyalty from them. In fact, many who meet Ramsay speak of his kindness and considerate nature, a far cry from the expletive-laden, fiery temper we see on our TV screens. Though perfectionism and attention to detail remain the same.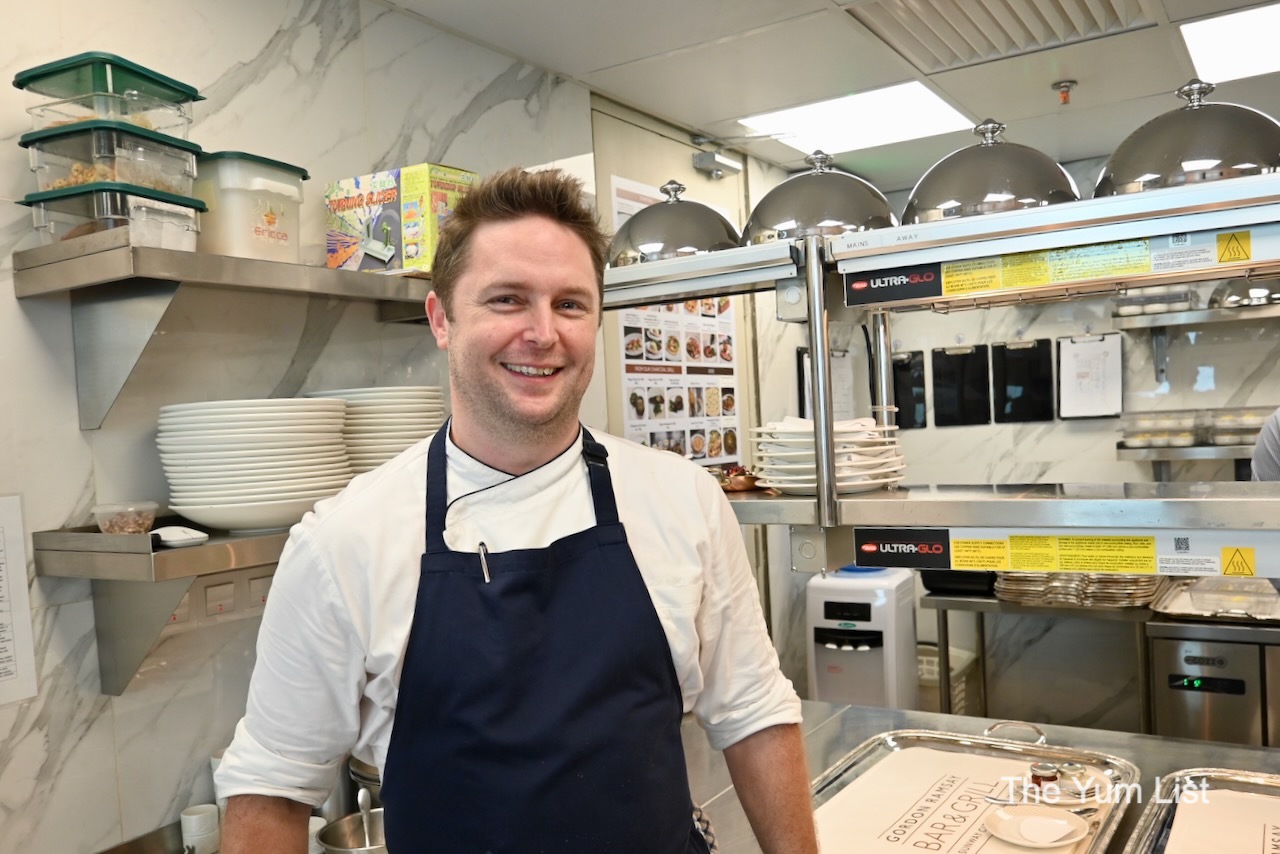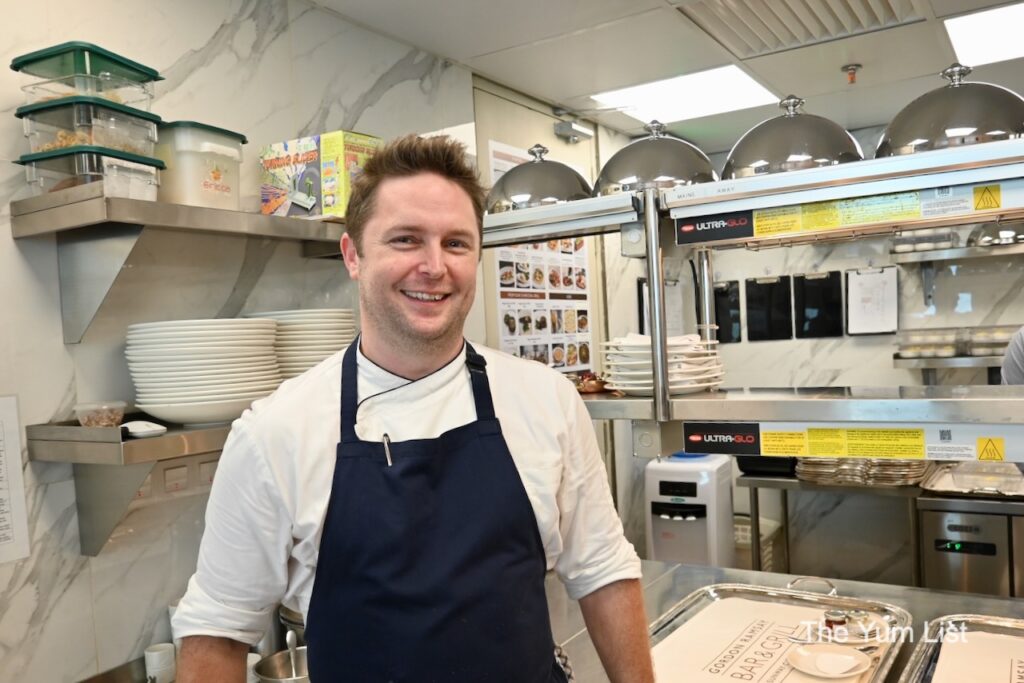 Langford takes the time to explain the fundamentals of his kitchen to us. All of the team at Sunway's Gordon Ramsay Bar & Grill are local Malaysians aged 26 and under. Ramsay's International Culinary Director, Damian Brassel, flew out and trained the team for a number of months prior to opening. The dedication to recognising and promoting the next generation of Malaysian talent is notable. Each of these young chefs has been given a chance to train with the best – an enviable start to their careers. The responsibility and opportunity are not lost on them, and the precision and concentration in the space are palpable. Each of them is as impressive as the next.
Many Malaysians will be familiar with Gordon Ramsay from his good-natured online feud with Uncle Roger, the character of local-born, UK-based comedian Nigel Ng. The gentle back-and-forth ribbing between the pair has seen Gordon earn the moniker Uncle Gordon, only to lose it again and gain it back, depending on Ng's current judgement of the amount of wok hei in Ramsay's Asian-inspired dishes. Despite Ng's sass, the two appear to have a clear mutual respect, and the exposure has given Malaysians a sense of representation on the global culinary stage. As a result, many Malaysians have shown a great affinity for, and appreciation of Ramsay, as opposed to some other globally infamous chefs, whose lack of cultural understanding when it comes to the appropriation of techniques and flavour profiles may leave a sour taste in the mouth. This aside, Ramsay was a fan of Malaysia well before. Mention Uncle Roger's name in Gordon Ramsay's Bar & Grill, and you're likely to receive a cheeky, playful response: "Uncle Roger? Who's that?" Chef Langford answers when asked if he has any fighting words for the YouTube food critic, followed by a quick wink and a sly grin. Well played sir. Well played.
Service
The difference in Ramsay's staff, under the guidance of Behr, is immediately noticeable when we are first seated and receive an explanation of the menu. Teha is looking after us today, and after making sure we are comfortable, she begins to detail the different sections of the menu, what the highlighted signature options entail, what her personal favourite menu options are, and why. We find out later that all staff are asked to taste a number of dishes each day, learning about the ingredients, how they are prepared, and the flavour profiles of each plate. The result is that every staff member has an encyclopaedic knowledge of all menu items, providing outstanding recommendations to suit the individual tastes of guests. Furnished with food menus, we are also given green cocktail menus, which include homemade lemonades and iced tea options, along with a master wine list. We note the lengthy number of premium names and labels, available by glass and bottle. Many of their selections come from small commune winemakers in France. It makes sense, that in a British and French fusion restaurant, French wines would play a central role. So central in fact, that the wine cellar enjoys prime position in the middle of the restaurant, giving a 360-degree backdrop for all diners of towering pillars of exceptional vintages.
Gordon Ramsay Bar & Grill Menu
Even in the face of an onslaught of questions, Teha is able to give us unparalleled insight as we place our order. She provides us with a refresher of information each time a new dish is brought out under giant silver cloches, hinting at which notes and flavours to watch for, as well as any 'in the know' instructions for the best way to eat each dish. She draws our attention to what she feels are the best highlights on the menu: The Arnold Bennett Twice Baked Soufflé, the Seared Scallops and the Lobster Bouillabaisse from the Starters menu. On the From the Sea menu, the three types of Caviar, the Oysters, and the Seafood Tower are all sensations, the latter of which is apparently a challenge for two people to finish – dare you accept? The ever-popular Beef Wellington and the Traditional Sunday Roast are the top choices from the Mains menu, while the Charcoal Grill menu offers Atlantic Cod and Dover Sole, along with choices from the inhouse dry ager, where some of Australia's best steaks are aged for 42 days. The Sides Menu gives the option of adding Seasonal Black Truffles to any dish or Gordon's signature Pomme Puree mashed potato, while the Classic Mac & Cheese remains one of their biggest drawcards. Many guests make a special visit just to order this side dish. Lastly, the 64% Manjari Chocolate Tart is a dessert showstopper, the Mille-Feuille puts a twist on a French classic, and the Apple Tarte Tatin for Two is their most requested dessert. Seeing one delivered to a nearby table, we can understand why.
Bread
While contemplating what to order, we are brought sparkling water (RM36 per large bottle) with optional ice and lemon, along with a bread basket of ciabatta, multigrain, crunchy farmer's white, and olive-specked bread. Teha enlightens us that the butter pat, shot through with parsley, is actually bone marrow-infused butter, giving it a smooth, smokey and pate-esque richness. We are not usually ones to fill up on bread before a meal, but the freshly churned butter has the depth and roundness of an oxtail soup. Mesmerising and irresistible.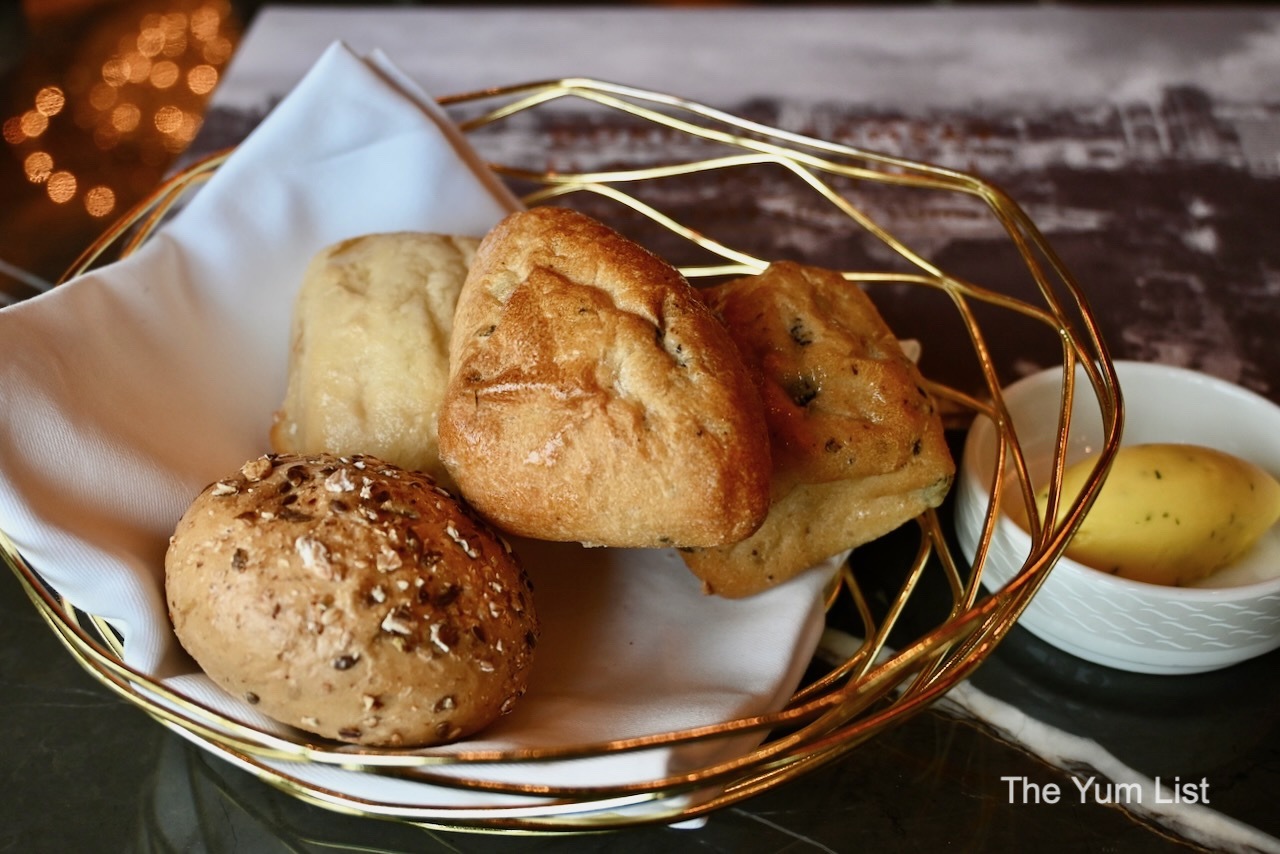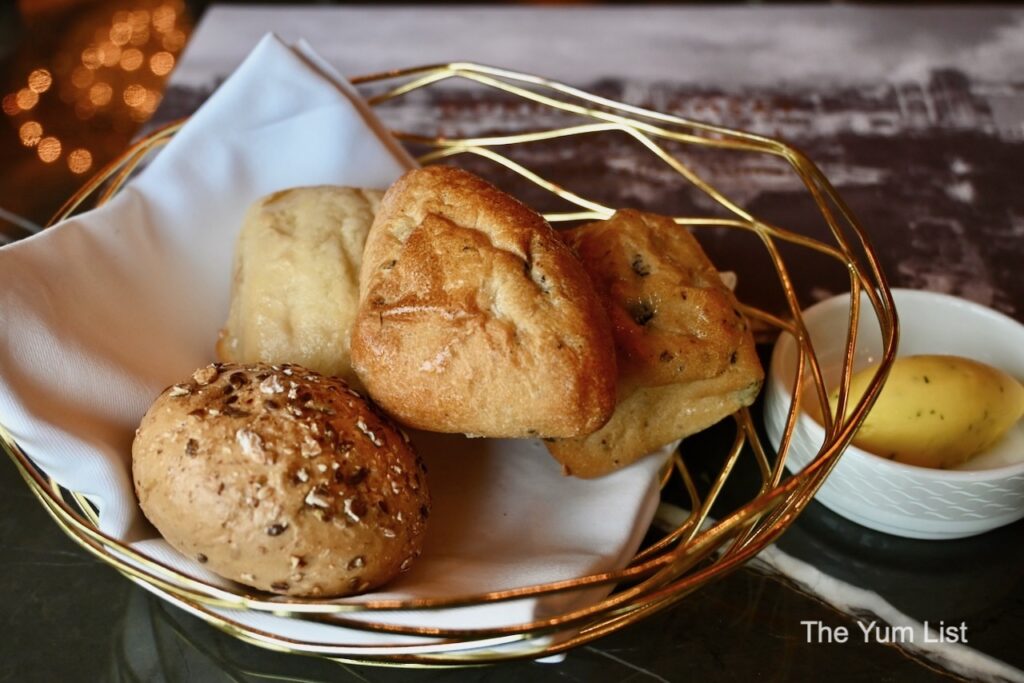 Starters
Notoriously difficult to perfect, a soufflé is a litmus test of a chef's talents. The Arnold Bennett Twice-Baked Soufflé (RM100) does not disappoint. The light, fluffy sponge-like texture maintains its integrity against the heavier cheese and chive sauce. Holding its shape in defiance of the cut of the spoon, each morsel delicately reveals folded in layers of smoked haddock. The dish, originally served at Ramsay's British and French-themed Savoy Grill, was inspired by the Savoy's smoked haddock Arnold Bennett omelette, originally designed in honour of the UK novelist – who wrote his final literary masterpiece, Imperial Palace, while staying at the hotel.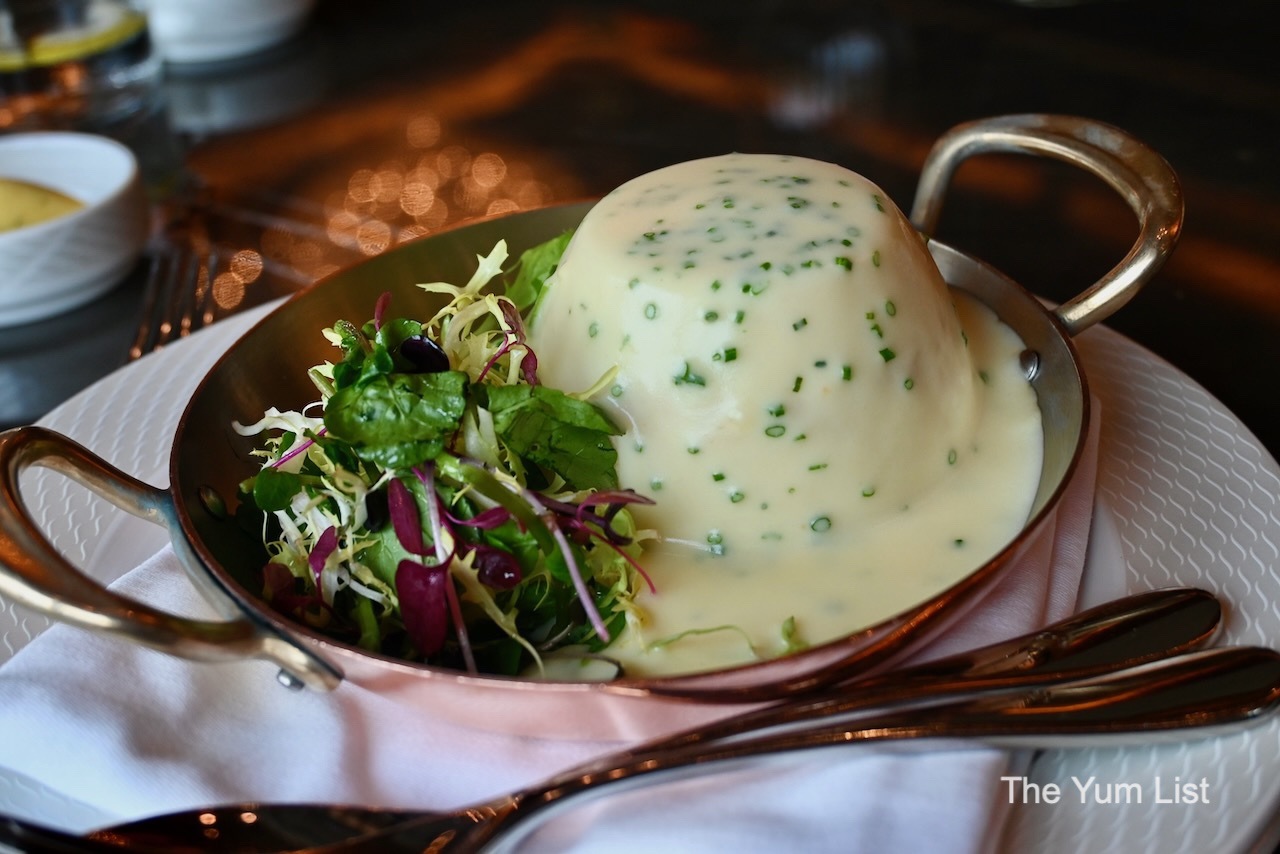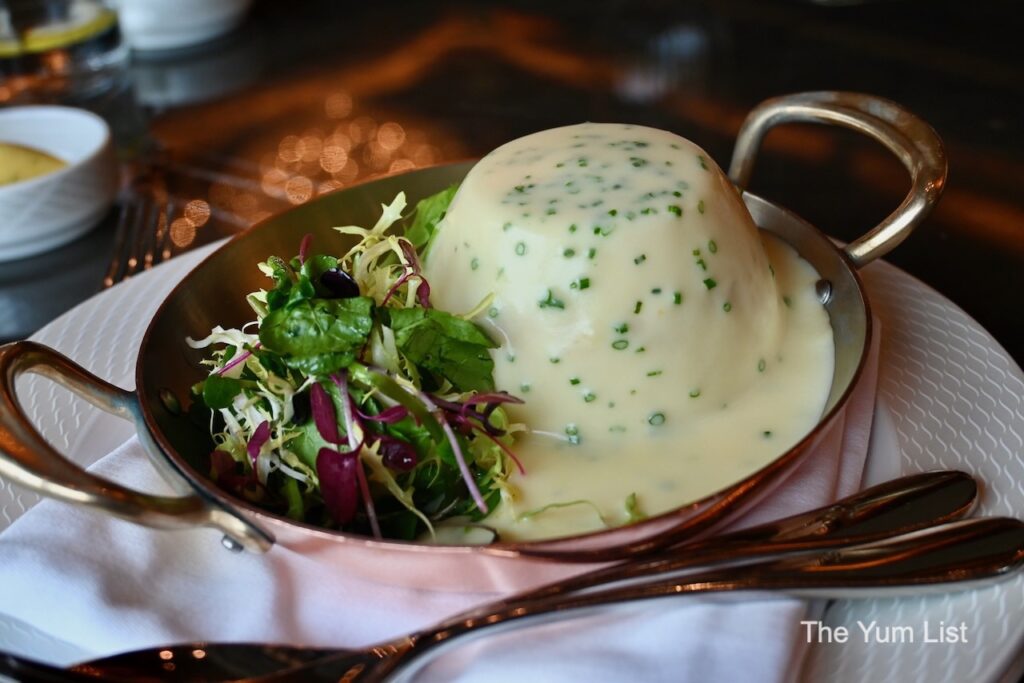 Rich and layered with concentrated seafood and fish flavours, the creamy and intense Lobster Bouillabaisse (RM198) contains an ocean in each bite. The lobster is thick and firm, yet supple, enlivened with tiny cubes of pear, enigmatically crispy while tasting of roasted caramelisation. How does Ramsay's team achieve such magic? What bread is left over in the bread basket is soon put to use, sopping up any last molecules of bouillabaisse sauce still on the plate.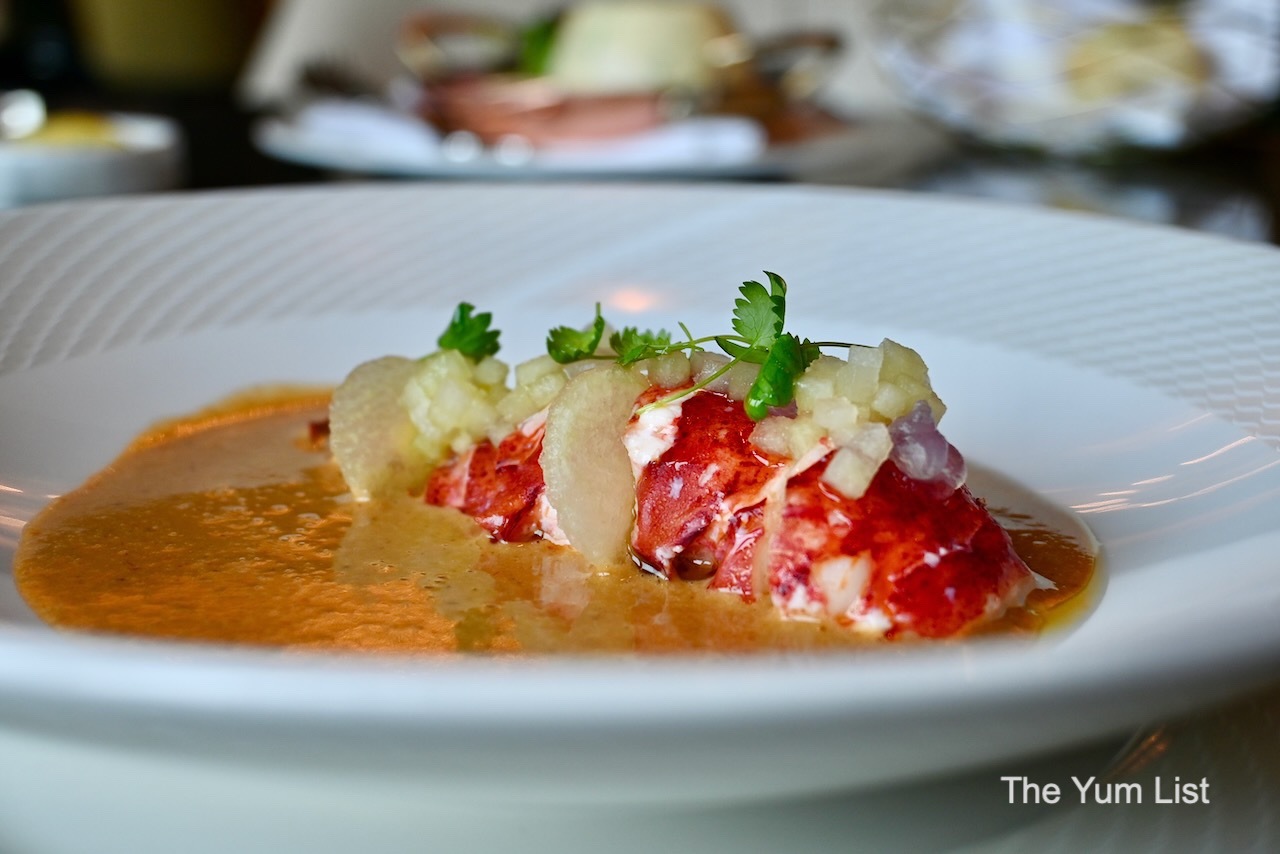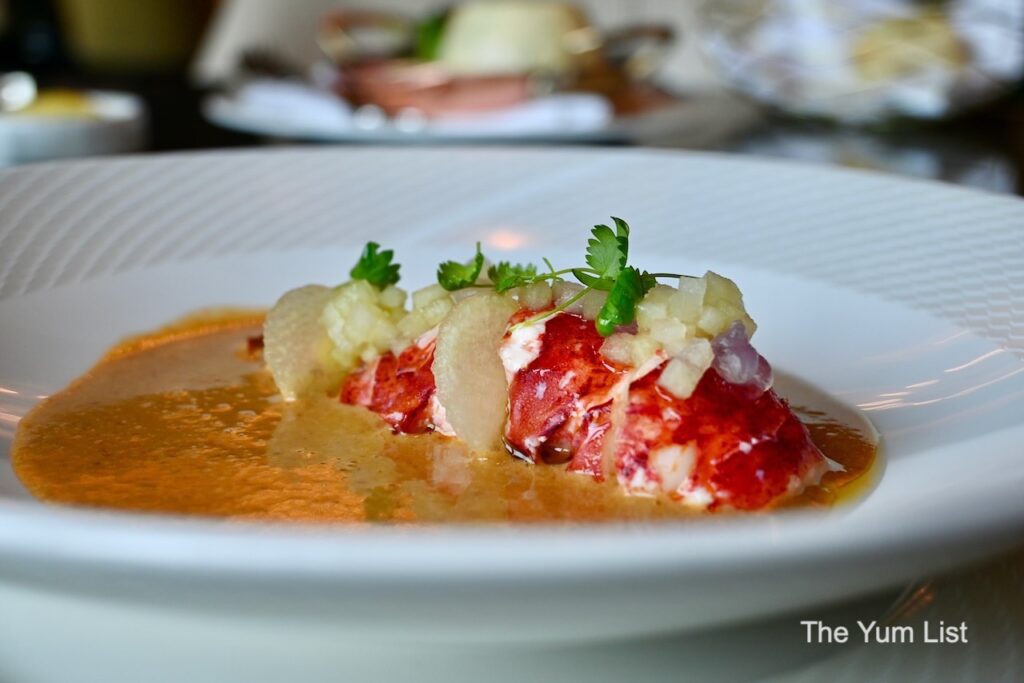 Wine List
Head Sommelier Izzat visits our table to assist us as we navigate the lengthy wine list. With his guidance, we settle on the 2010 Chåteau de Lafont (RM95 per glass or RM450 per bottle), poured into large, ballooned Riedel red wine glasses for enhanced aeration. This is a blend from the Bergerac subprefecture of the French Dordogne region, from the Di Tullio & Sons Malaysian family-owned winery. Comprising a Merlot, Cabernet Franc and Cabernet Sauvignon blend, it is oak barrel aged for 12 months, followed by a further four years of bottle ageing. The nose is dark and fruity, with the first sips giving tones of plums, cherries and raspberries. This is followed by smokey notes of liquorice, leather and tobacco in the mouth, accompanied by hints of vanilla and spiced cloves. The final texture is dry and firm, with silken tannins and a hint of chocolate. It is an ideal companion for the red meat to come.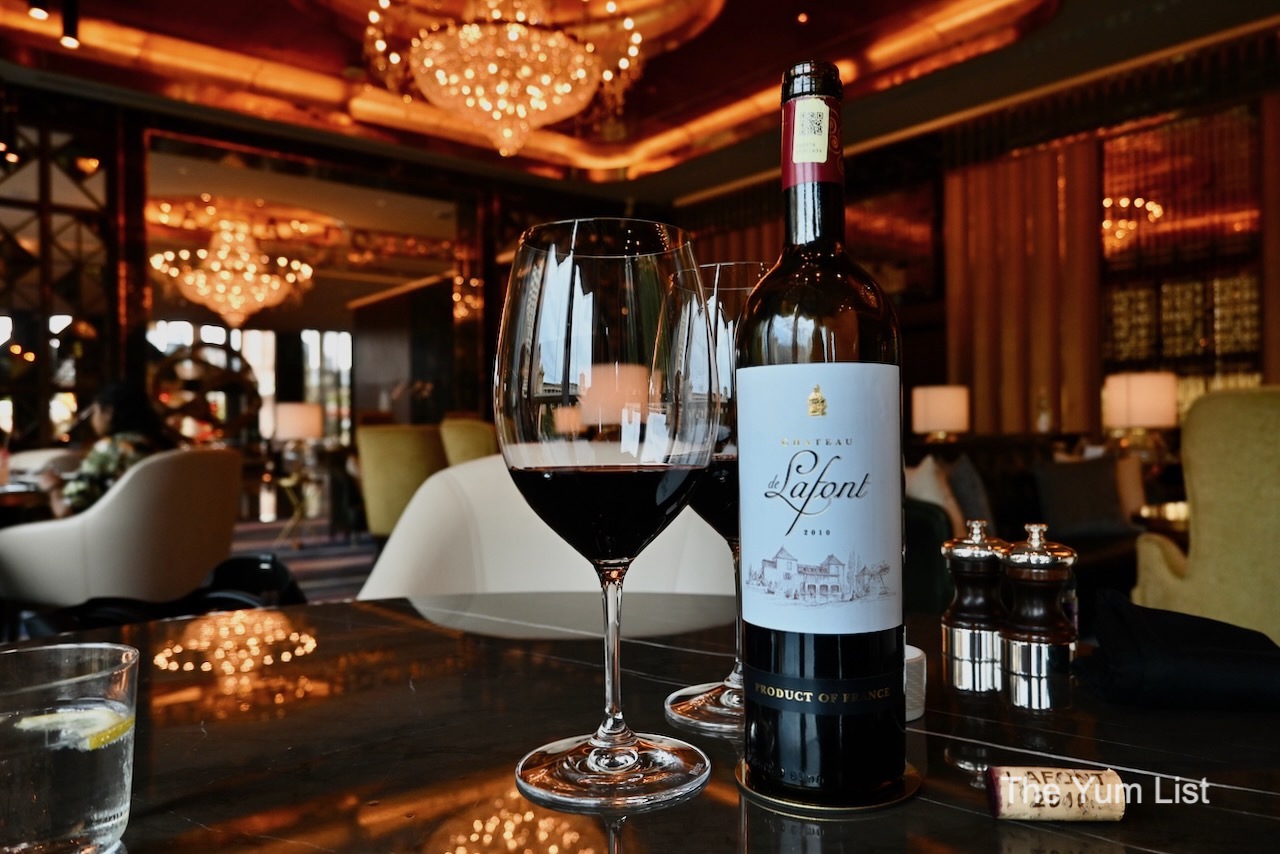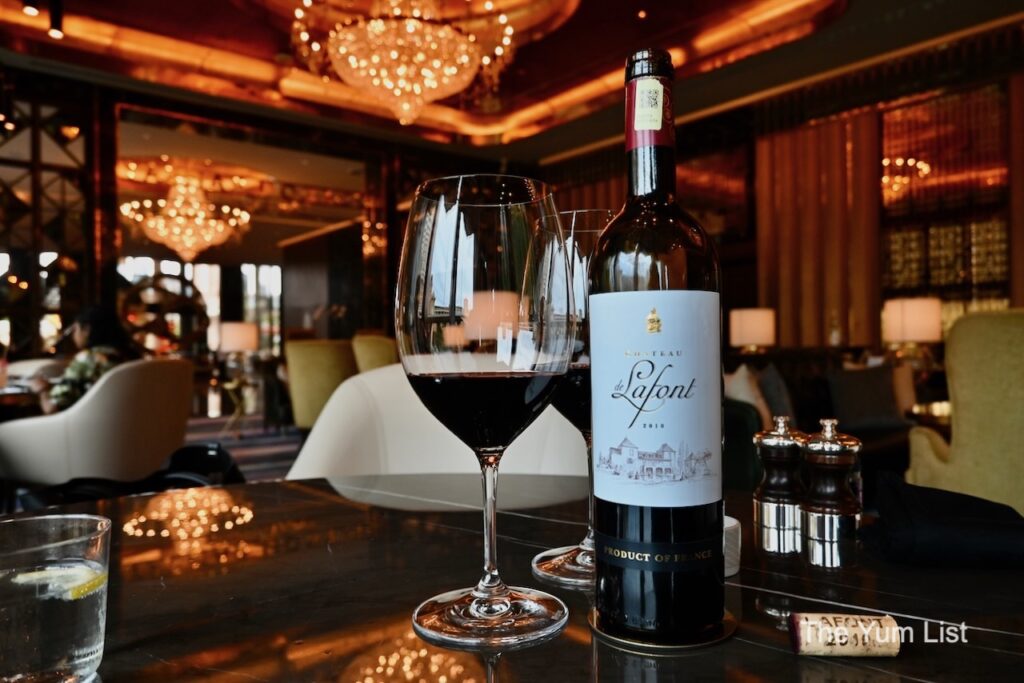 Sunday Roast
We have not come for Ramsay's signature Beef Wellington today but for the Traditional Sunday Roast (RM245). One cannot test the skills of arguably Britain's most famous chef without testing his roast. Is there a more quintessential British dish? During my years living in London, I discovered the Sunday Roast is perhaps the most revered meal in the country. I was perpetually surprised to find that many UK gastropubs are reserved months in advance for this honoured tradition. Our table is re-set with Florentine steak knives in preparation. Too big for a single plate, we are each served a plate for the 180-220g Angus Beef MSA4 Tenderloin, with another plate for the roast vegetables, served in a silver bowl against wide-brimmed, gold-inlaid fine porcelain. The silver gravy boat filled with red wine jus comes on yet another plate. The meat is tender and soft, giving way to the slightest pressure with a springy bounce. The serving is overly generous. On reflection, we would have been happy sharing a single serve between the two of us. On the roast's outer edge, a Porcini-rubbed crust gives a salty earthiness with a hint of spice, sealing in the intense meat juices. Later, we quiz Chef Langford on the majesty of this crust. He smiles slowly, admitting to a little bit of brown sugar, honey, and spices, but will give us no more insight into the magic behind the curtain. A magician must guard his secrets, after all.
Alongside the beef, a sculptural Yorkshire pudding opens to reveal a buttery inner, both filling and airy. We pour a decent waterfall of red wine jus through ours, not wanting to alter the perfect roast beef in any way. Away from the meat, we can appreciate the refined depths of this complex sauce that is so much more than just gravy. Also on our plates are a dollop of charred leek sauce, a smooth cauliflower puree, and a verdant spinach puree that is leafy in the mouth. For vegetables, we are served butter-glazed heirloom carrots dotted with subtle, smoky ricotta. Less earthy and gentler in flavour than a typical carrot, they pair beautifully with soft, pillowy roasted potatoes encased in a crisp, golden brown. As if this main dish is not endearingly British enough, the vegetables are rounded out with curried Brussels sprouts, the mix of spices capable of impressing any Indian Malaysian auntie. We punctuate our meal with sips of the Chåteau de Lafont, the red wine tannins becoming more evident and forward taken with the roasted meat.
Talking to us for a time about the grading and measurement of the quality of meat used, Chef Langford supplies us with some of the finer details of their roast preparation on the proviso that we promise we will give none of their secrets away – sorry, readers! Guests will notice the beef on the menu is halal-certified, premium MSA4-graded Australian purebred Black Angus. Steak aficionados will know that the hype surrounding wagyu is not always warranted, and high marbling content is no guarantee of quality or value. Comparatively, MSA grading has quickly become one of the most internationally respected beef grading methods, ensuring a higher standard of tenderness, juiciness and flavour. At Gordon Ramsay Bar & Grill, slow poaching prior to roasting breaks down the meat fibres, allowing for the fall-apart tenderness of a wagyu without an excess of fat marbling tainting the purebred flavour. The team at Gordon Ramsay Bar & Grill source their meat from Australia and much of their fresh produce from Europe, such as artichokes and heirloom carrots. Though, they are beginning to investigate working with local suppliers from the Cameron Highlands and other areas in Malaysia where possible.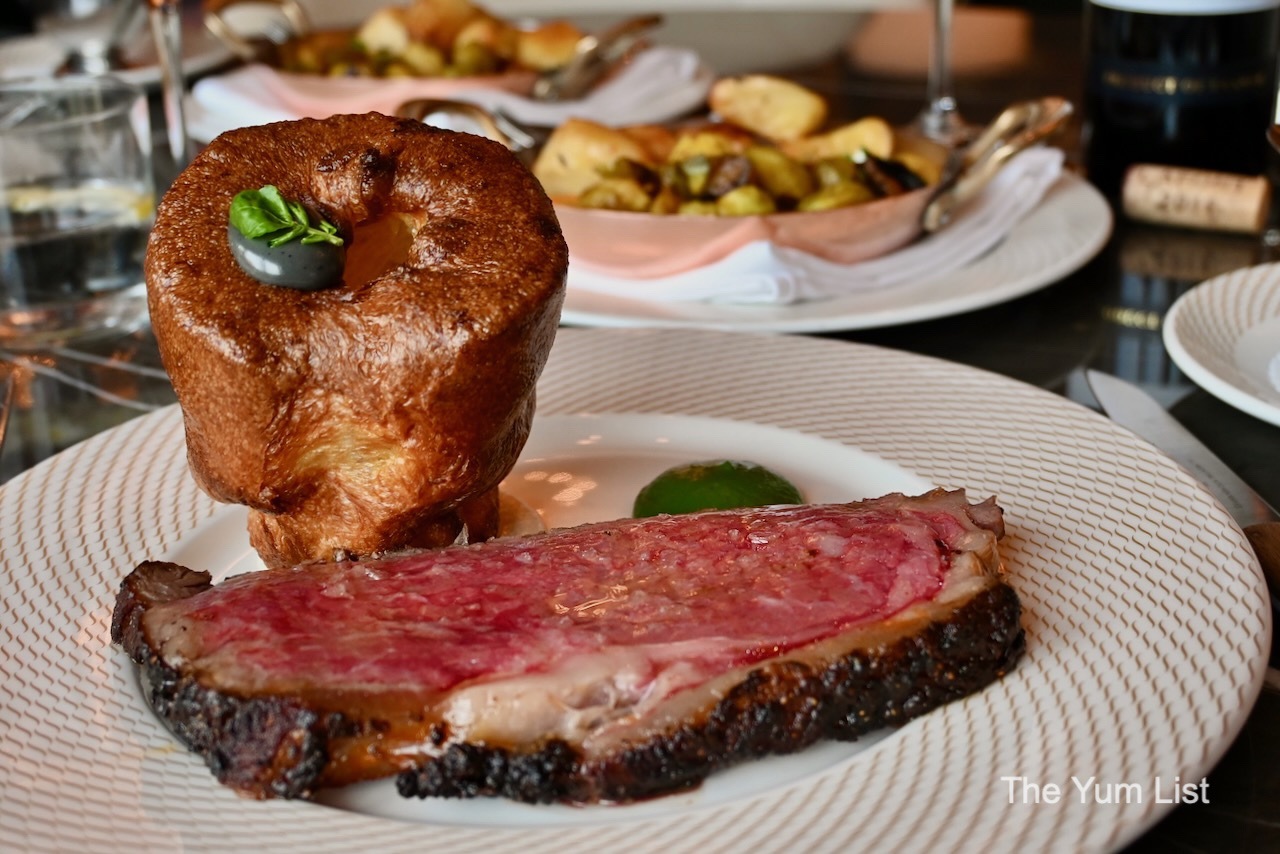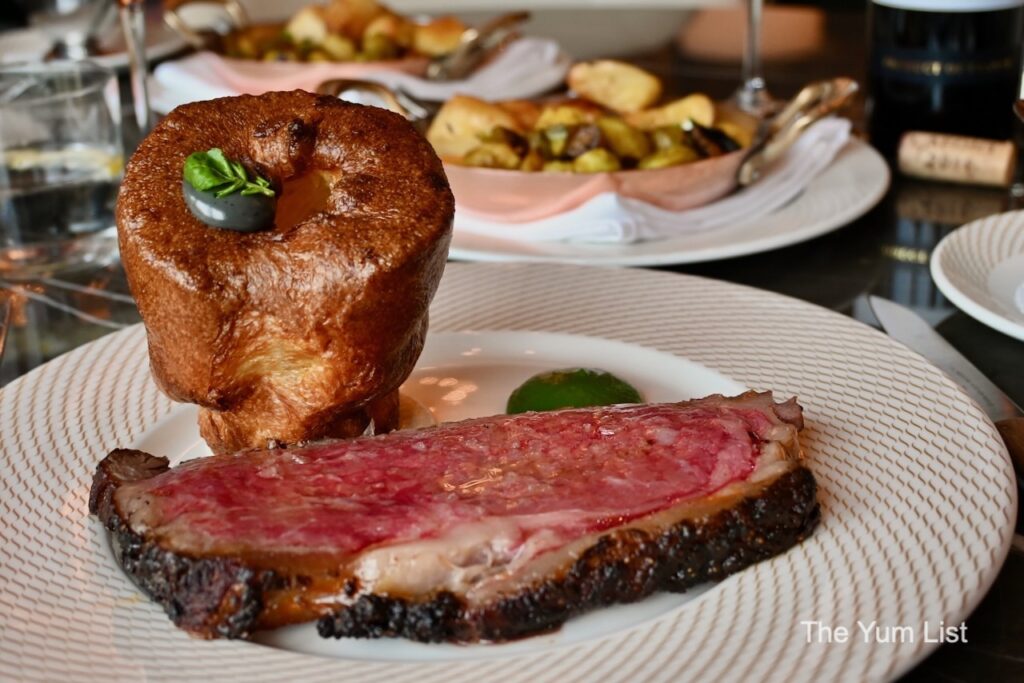 Dessert
For dessert, we cannot resist the call of the 64% Manjari Chocolate Tart, made from single-origin Madagascan cocoa beans. Bittersweet and balanced, it has the depths and pure flavour of high percentage dark chocolate but is smoother on the tongue; less bitey. Topped with an artistic nugget of homemade honeycomb, it playfully dissolves in the mouth, balancing out any bitterness of the chocolate. The thin, buttery tart crust offers the texture, splitting apart with some pressure. A tart yoghurt sorbet and a biscuit crumb provide the final elements of equilibrium, with alkalinity cancelling out the acid.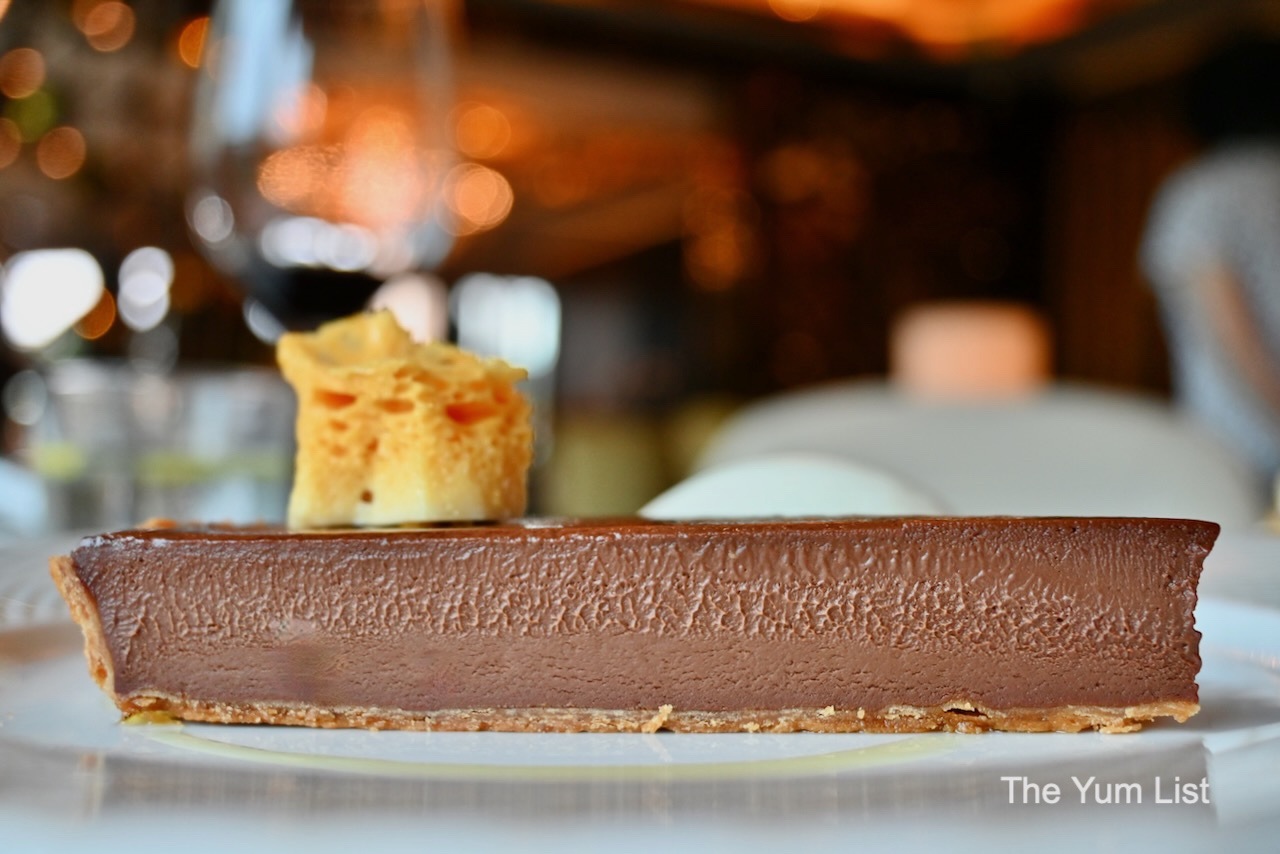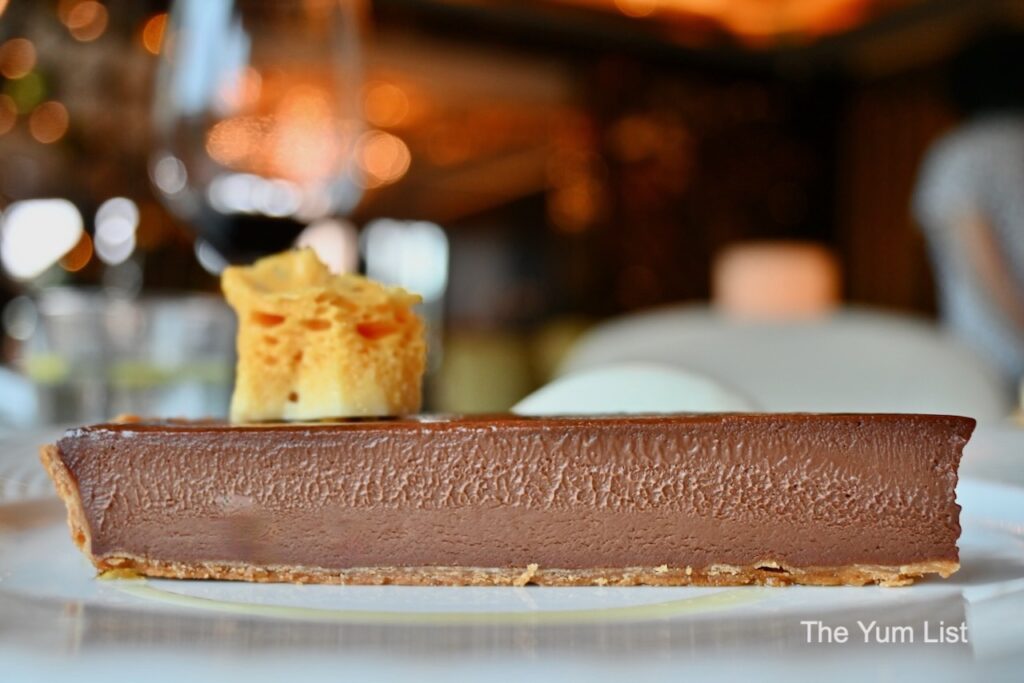 Layers of crispy, butter-rich puff pastry hide sweet, creamy treasures within the Mille-Feuille (RM70). Topped with torch-browned Italian meringue, orange segments and mint leaves, this cracking, crumbling dessert is enhanced with a yuzu crémeux, cream cheese, and more piped meringue, serving acidic, creamy sweetness. Drops of mango and bergamot gel add an ethereal touch of musky, floral fragrance.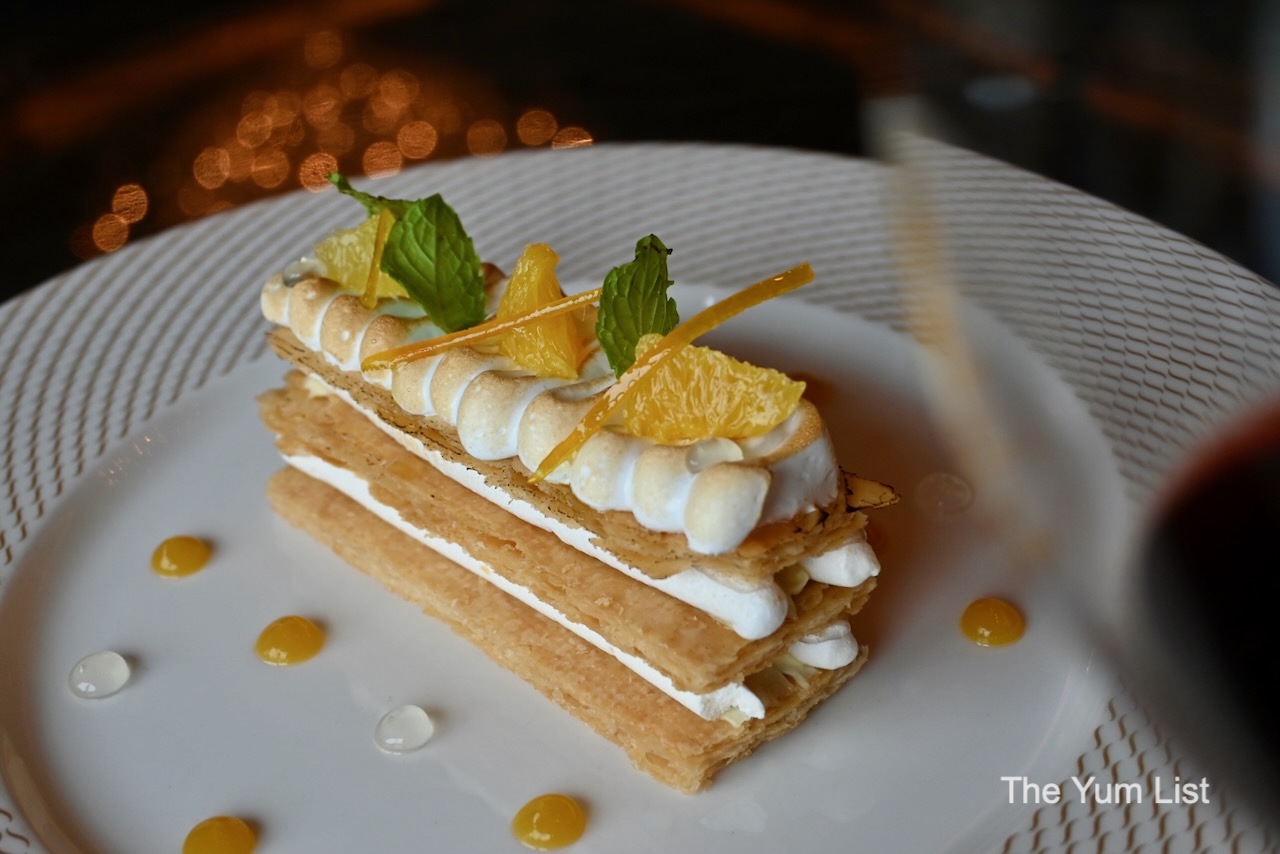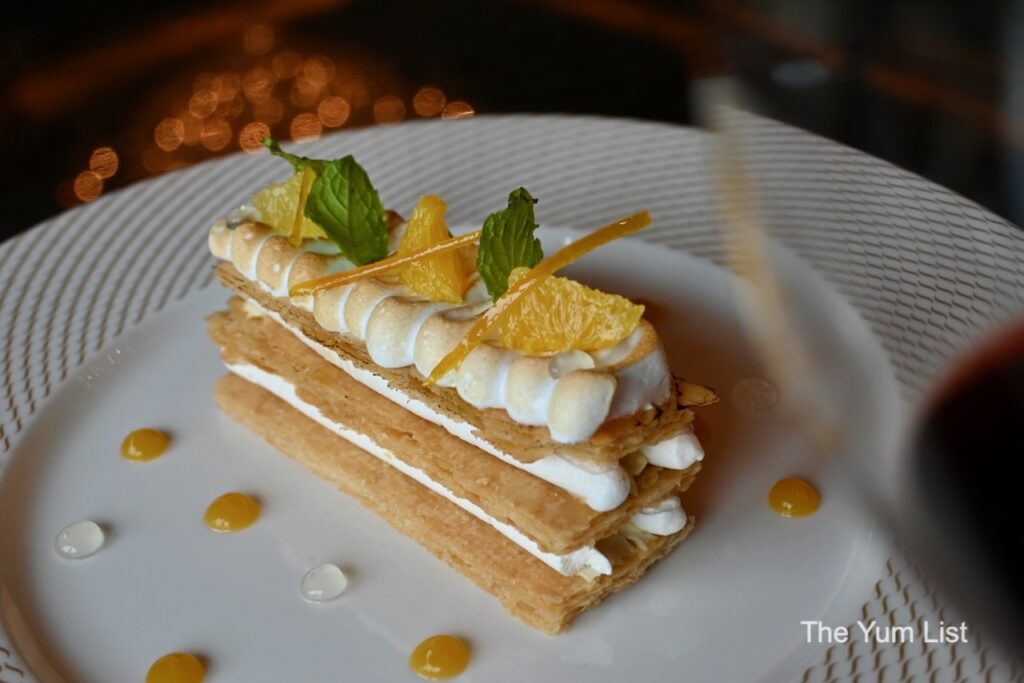 In the quiet chatter of the post-lunch sitting, we watch as some guests pose to have their photo taken with Ramsay's portrait. After the meal we have just eaten, the buzz and reverence for Ramsay, Langford, Behr and their team is understandable. The experience is practically divine: a spiritual awakening and humble worship of flavour and quality.
Gordon Ramsay Bar & Grill – Cocktails
To aid in our digestion of such a feast, Behr suggests trying one of their cocktails. In all honesty, after the splendour of the Sunday Roast grill portion of our visit, we had clean forgotten about the spectacular bar aspect of Gordon Ramsay Bar & Grill. Located at the rear of the restaurant, the bar is a cosy, secluded space, a welcome haven from the indetectable bustle of the theme park and shopping mall outside. For the more discerning drinker looking for a luxurious after-work drinks location away from KLCC, this is a premium choice.
Bartender Hanif presents us with a smoke-filled bell jar, opening the lid and swirling clouds of cherry wood smoke around us to reveal a Barrel-aged Negroni (RM75). Made with equal parts Tanqueray gin, Campari and Antica Formula vermouth, the mix is 30 days barrel-aged and infused with cherry wood smoke. How does one enhance the perfect negroni cocktail? By barrel aging and smoking it, of course! The ruby liquid carries the incredible earthy, pure wood smoke flavour within its depths. It evokes the elements of a winter fireplace while remaining suited to the Malaysian heat. Each glass comes with a large cube of ice stamped with the Gordon Ramsay Bar & Grill logo.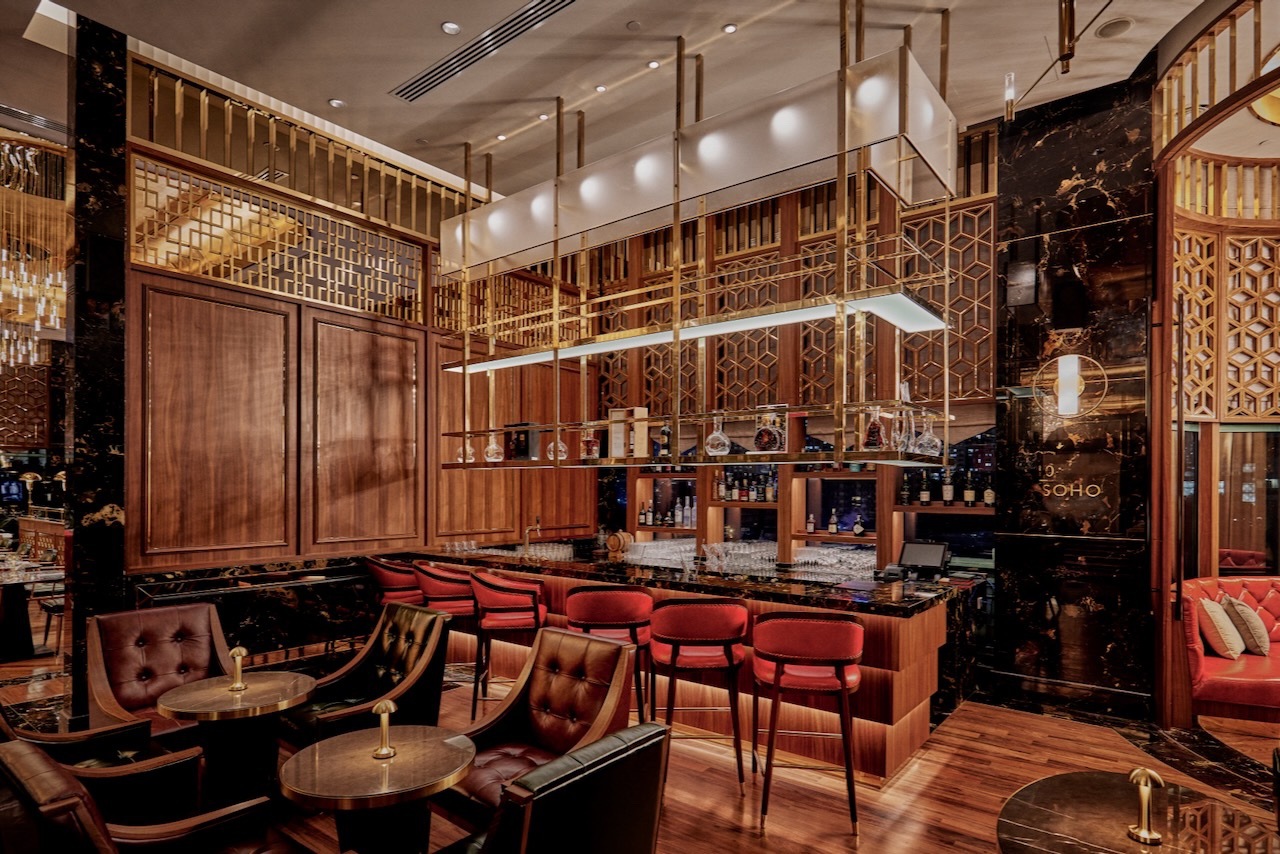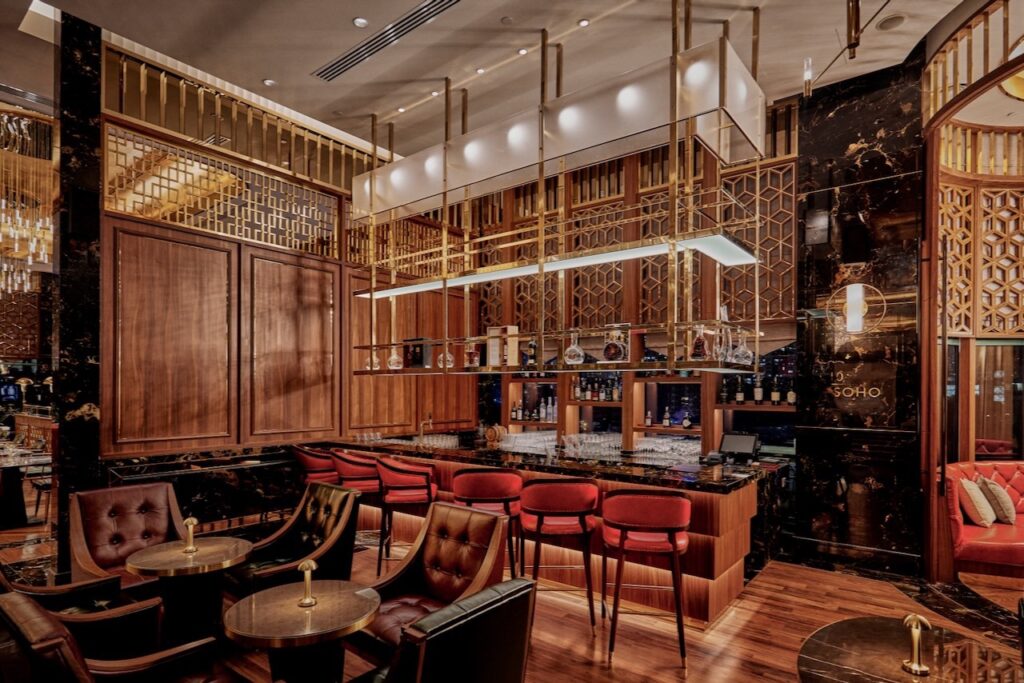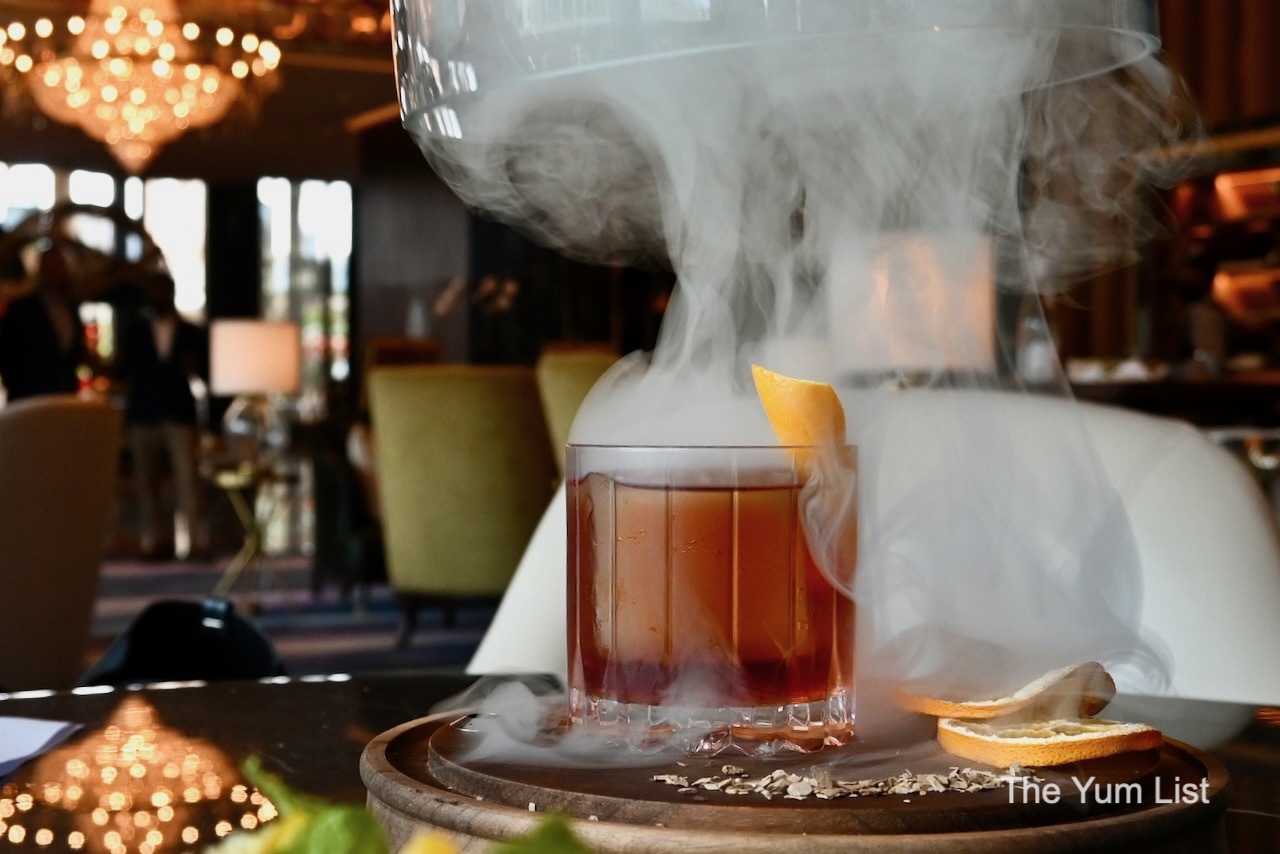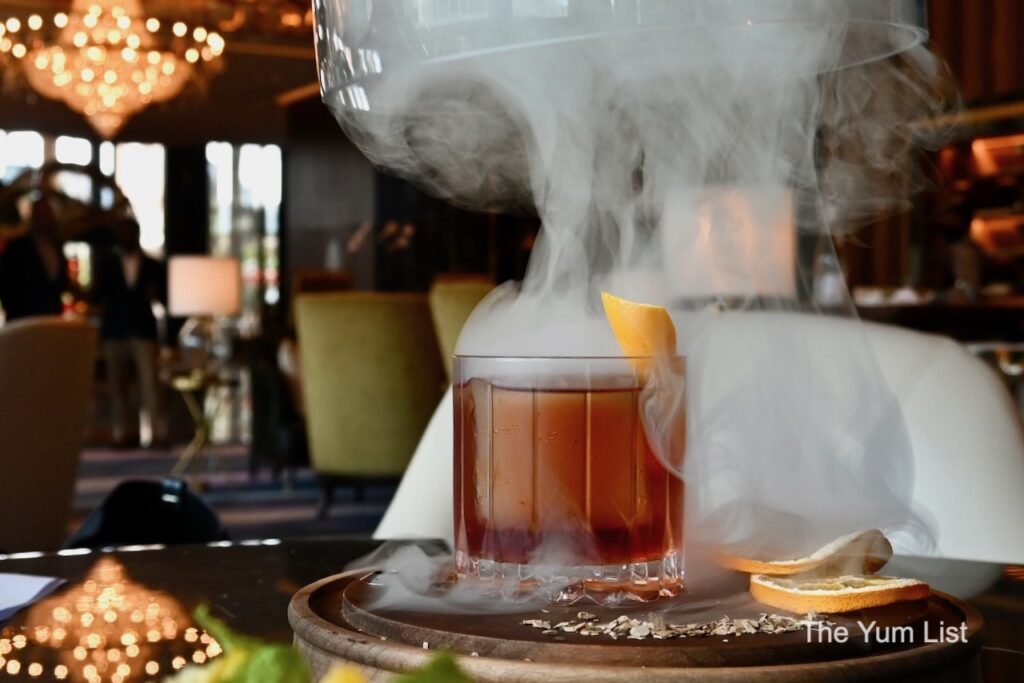 Gordon Ramsay Bar & Grill KL Review
Sated, we recline in a post-Sunday Roast stupor, chatting easily with the charming yet understated Behr, along with Teha, and other team members who discretely stop by to refresh our drinks and check we have everything we need. Even in the post-rush calm of the restaurant, their eagle eyes keenly spot an askew napkin or empty glass. Each of them is warm and friendly, priotising genuine, caring service. Basking in the quiet attention and undeniable hospitality, we are inspired. Gordon Ramsay's legacy is not his 58 restaurants and counting. It is his love for food, for learning. It is his sharing of enthusiasm for culinary greatness with those willing to accompany him on this journey that he passes on to others. His team are pushed to achieve this greatness every day, and they exceed all expectations.
In our eyes, the hype is justified.
Reasons to visit Gordon Ramsay Bar & Grill at Sunway City Kuala Lumpur: The Traditional Sunday Roast is everything you could wish for in the ultimate Gordon Ramsay dining experience. We also recommend rounding out your order with the Lobster Bouillabaisse and the Mille-Feuille, while the Bar & Grill's Barrel-aged Negroni is worth a booking in and of itself.
Gordon Ramsay Bar & Grill Sunway City Kuala Lumpur
Lobby Level Sunway Resort, Persiaran Lagoon,
Bandar Sunway, 47500 Subang Jaya, Selangor
+6 03-7492 8000
Instagram @gordonramsaybarandgrillkl
Gordon Ramsay Bar & Grill KL Opening Hours
Lunch – 12:00pm – 15:00pm
Dinner – 18:00pm – 22:30pm
Afternoon Tea -15:00pm – 17:00pm
Lounge – 7:00am – 12:00am
Find more restaurants for special occasions in Kuala Lumpur here and stay up to date with the latest food and beverage happenings in KL here and here.