Afternoon Tea W Singapore – W T Time: High Tease at WOOBAR
Monica Tindall
W Singapore's afternoon tea – W T Time: High Tease at WOOBAR – delivers tradition with a distinctive W twist. The sweet and savoury set is packed with artful small bites and served in a metal birdcage hung from a "tree" stand tableside. WOOBAR is an intimate and stylish space at Sentosa Cove with views of tropical foliage, one of the largest resort pools in Singapore and further beyond to the sea.
Both sweet and savoury lovers could be satisfied with the selection, but the W T Time: High Tease at WOOBAR definitely swings in favour of those who love sugar!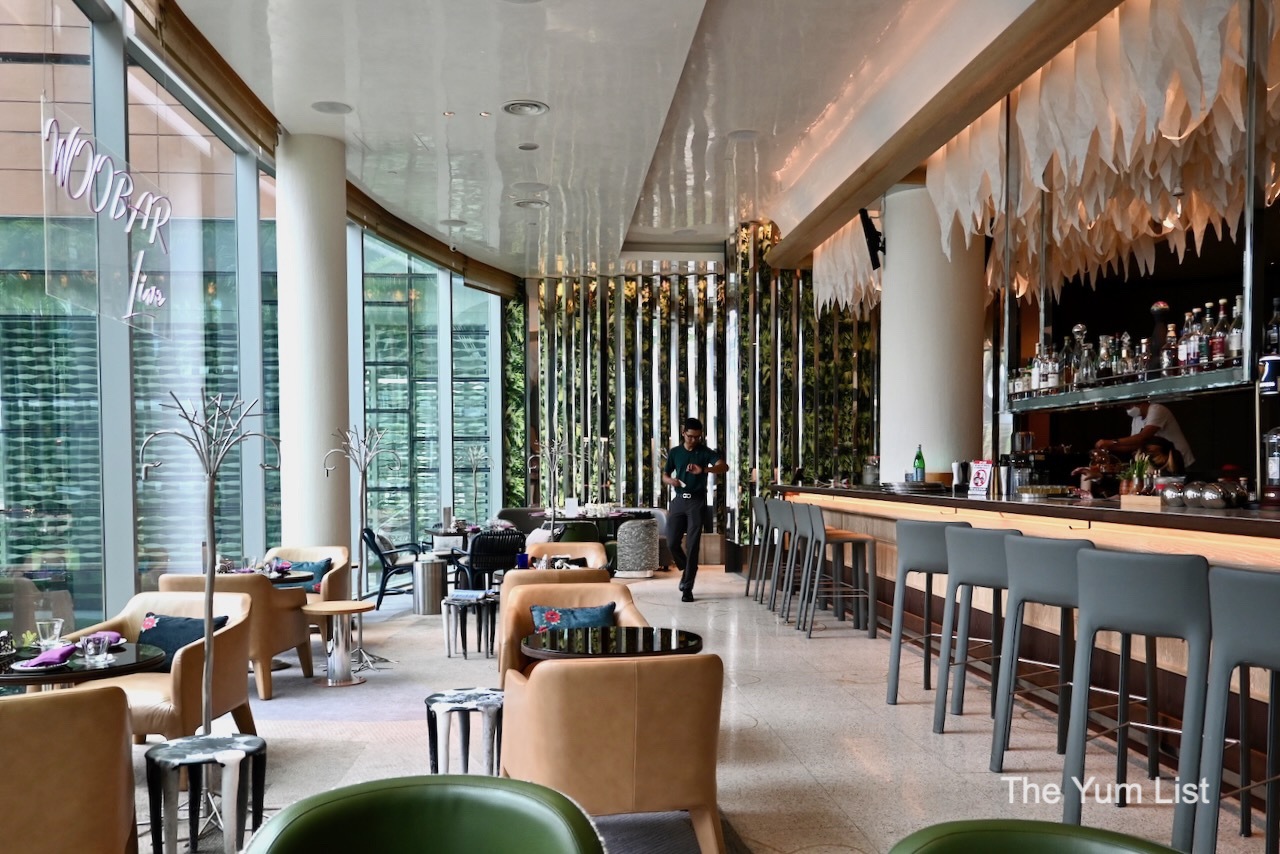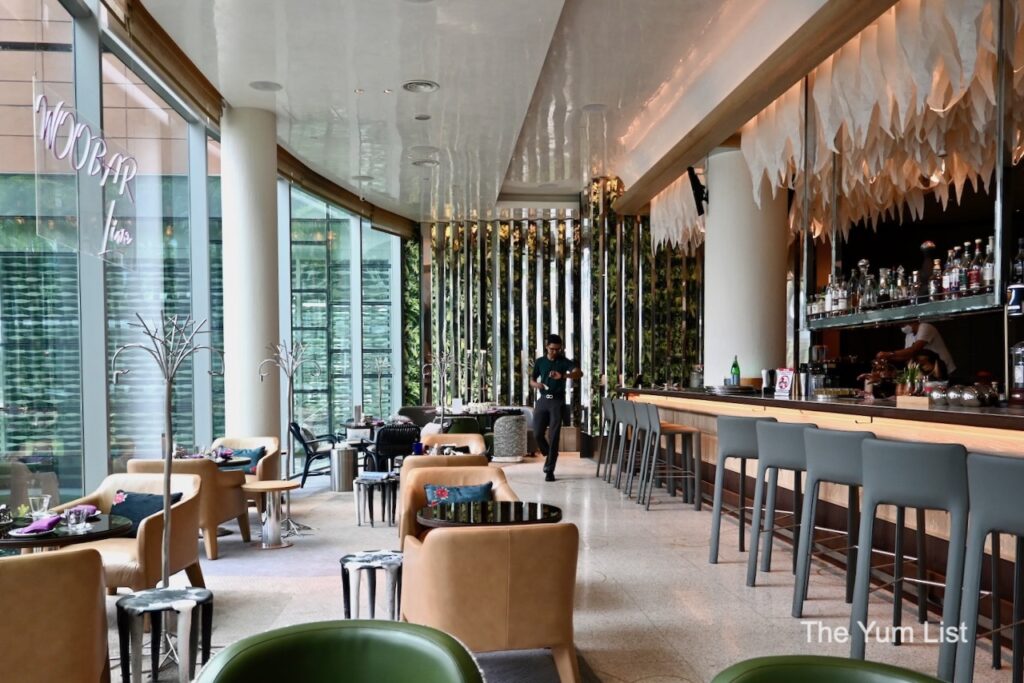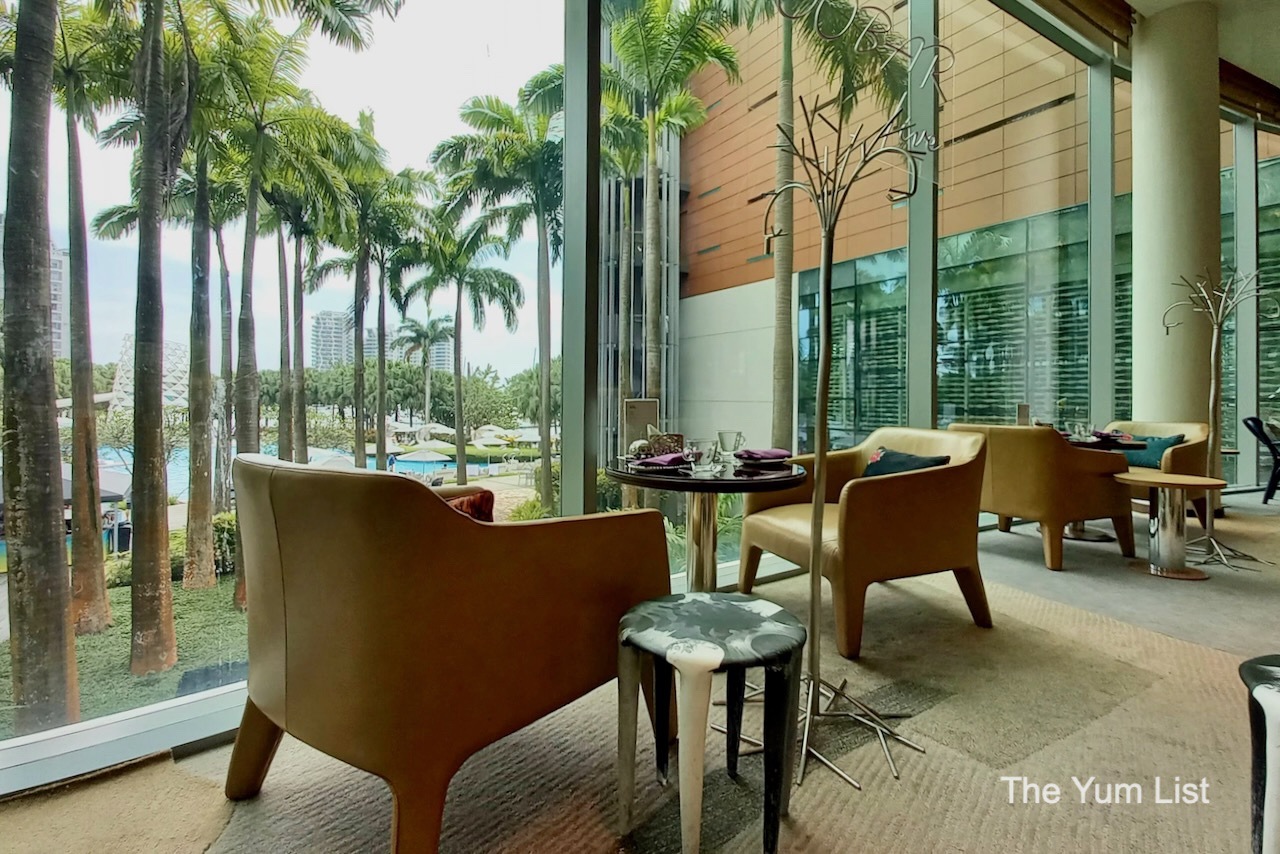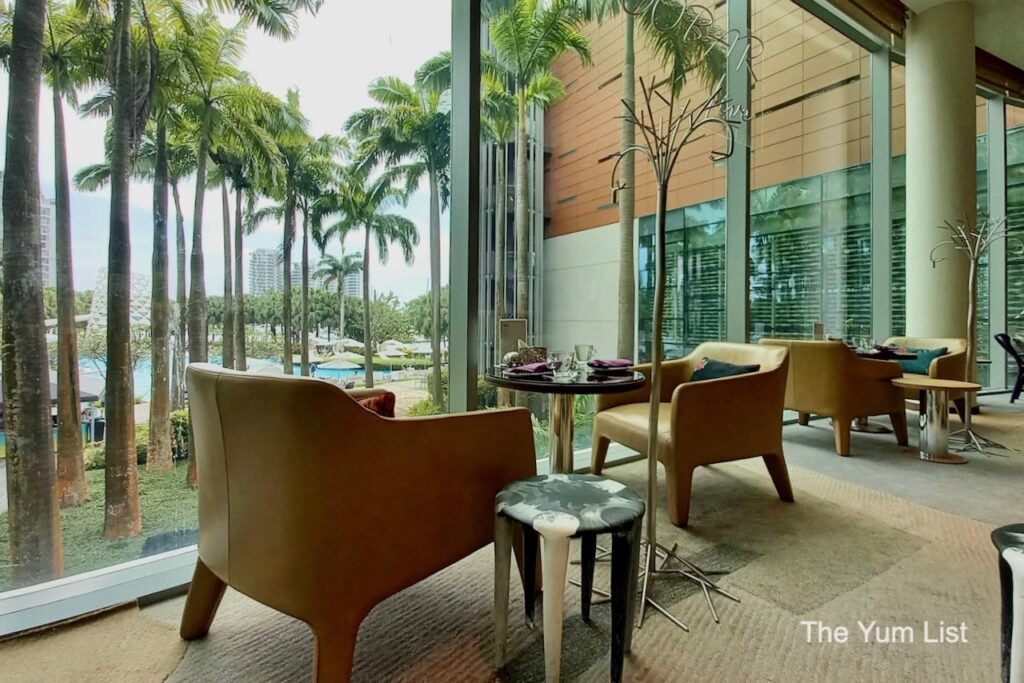 Afternoon Tea at W Singapore
Savoury
Savouries are a fun compilation of international flavours in the W T Time: High Tease at WOOBAR. Mini Boston Lobster Rolls are seasoned with tarragon aioli and lemon zest. They're irresistible little bites, kicking off the tasting with a touch of class. The seafood theme is carried through with Smoked Atlantic Salmon atop dark rye with yuzu, ikura, balsamic and basil cream. Quail Egg Quiche has our minds wondering how much the kitchen crew adore or despise the head chef – can you imagine how many quail eggs you'd have to crack to make a quiche?! The mini quiches are cased in crispy wonton wrappers with lemon, chives and smoked sea salt. Lastly, the Savoury Cheesecake bridges the tiers with goat cheese in a filo crust and is garnished with balsamic onion marmalade and sesame.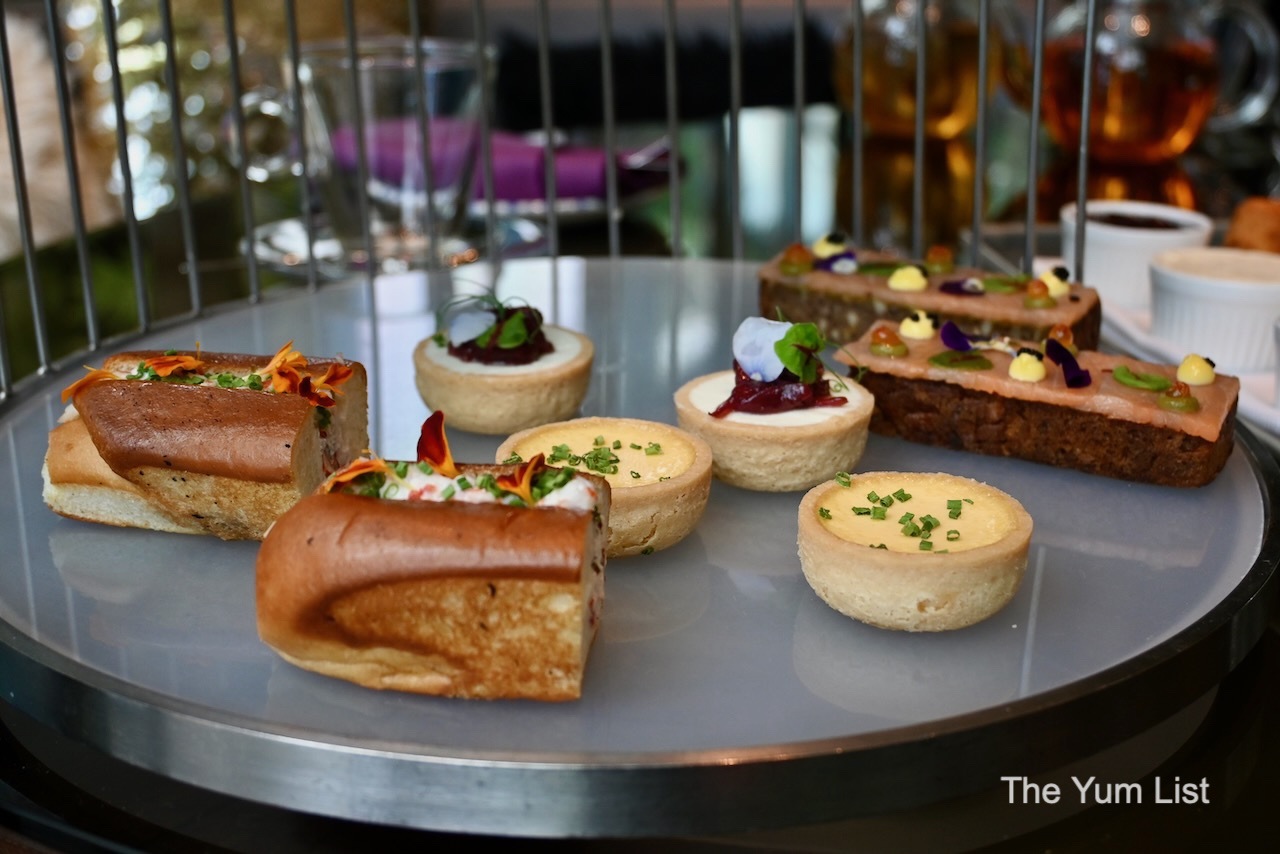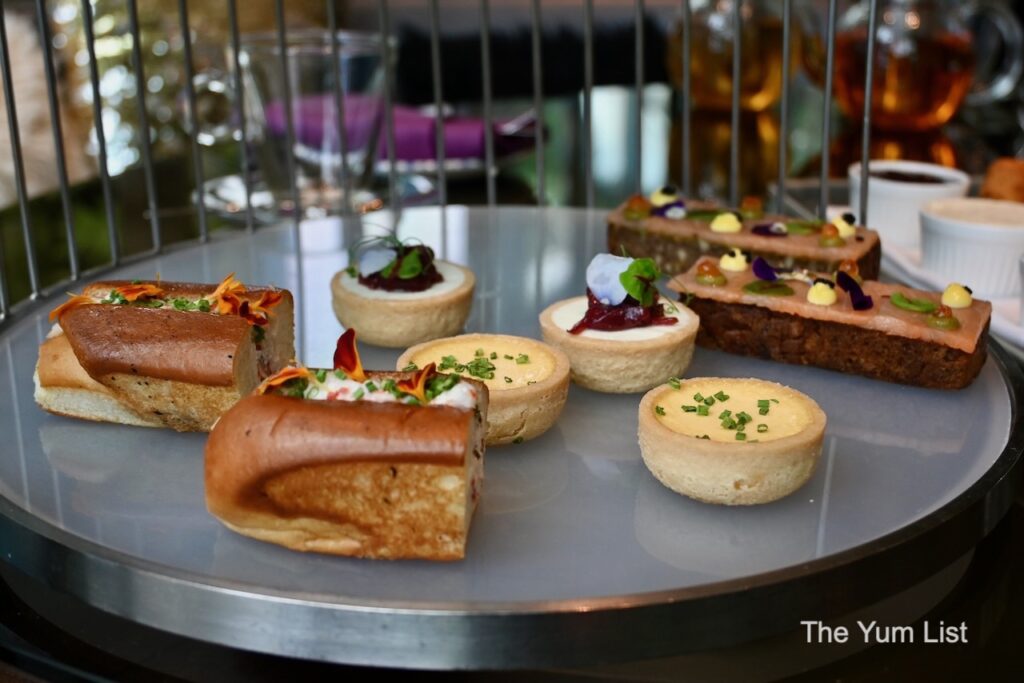 Sweet Tooth
Moving up the three-tiered birdcage platter, we find Mandarin Pâte de Fruits with cloves, star anise and cinnamon. Rainbow Thousand Layer Cake would take any unicorn lover's fancy, and Red Velvet Lamington Cake Pops are quite spectacular to bite into. The coconut and ivory chocolate coating gives way to rich, red layers of moist cake. Pistachio Cranberry Nutty Nougat is a winner, even for my non-sweet tooth, as I love the chewy texture. The Lavender Macarons are made exceptionally well with a delicately crisp shell and not overly sweet white chocolate and rosemary ganache filling. The Lychee Blackcurrant Marshmallow pleases both the eye and the taste buds. And for a final sugar overdose, handmade Chocolate Pralines and Triple Chocolate M&M's Mini Milkshakes guarantee a saccharine high.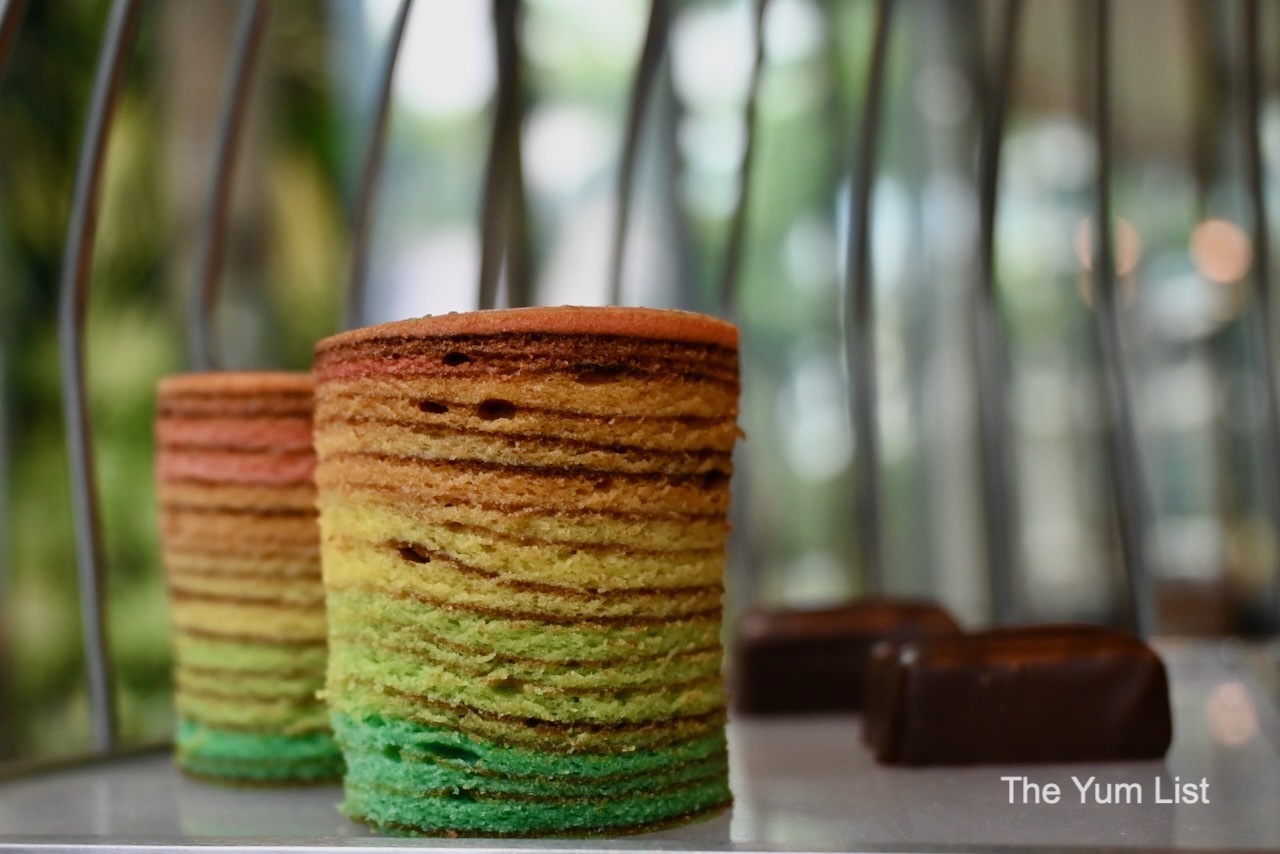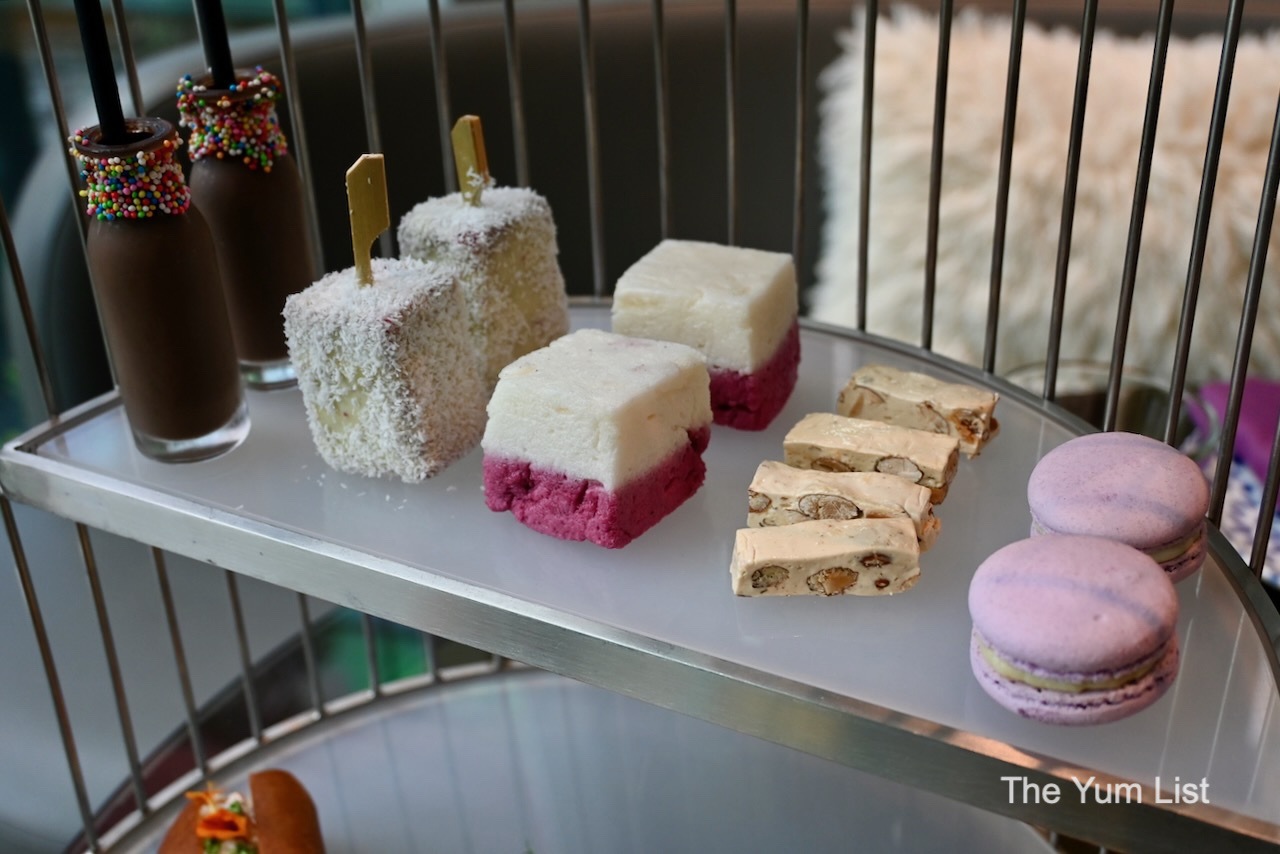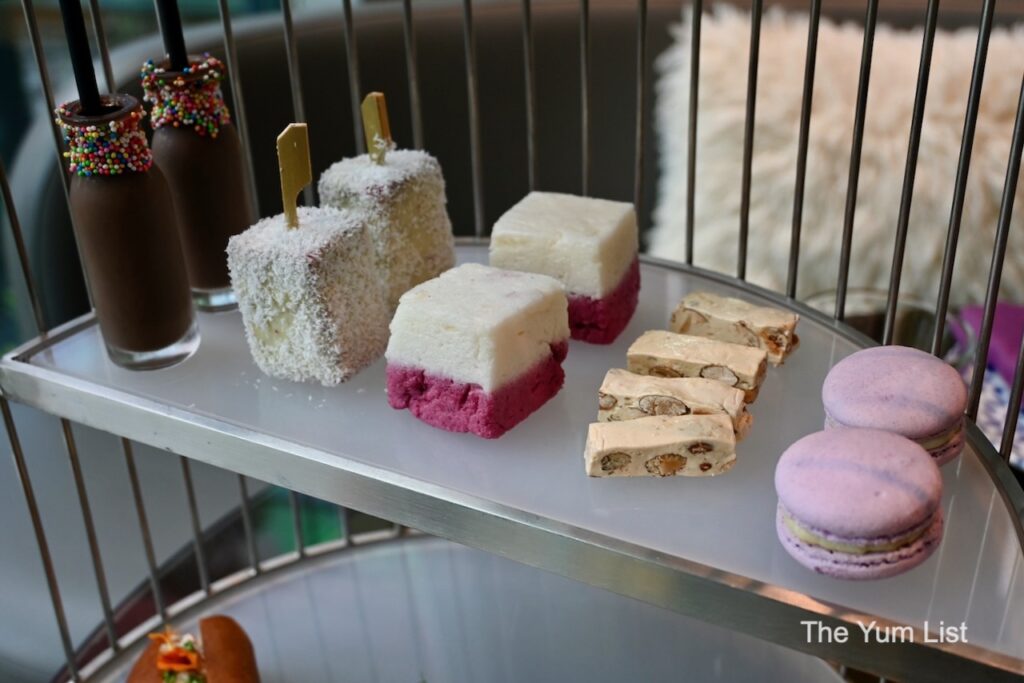 Freshly Baked
Balancing both sweet and savoury elements, Lemon Cranberry Scones are served warm (at least if you don't spend 30 minutes photographing them) with honey lavender butter (my fave), clotted cream (hubby's pick) and house-made jam. Fennel Pollen Madeleines are like the rice dish in a Chinese meal, ensuring no one leaves hungry, and no sweet tooth is left unsatisfied.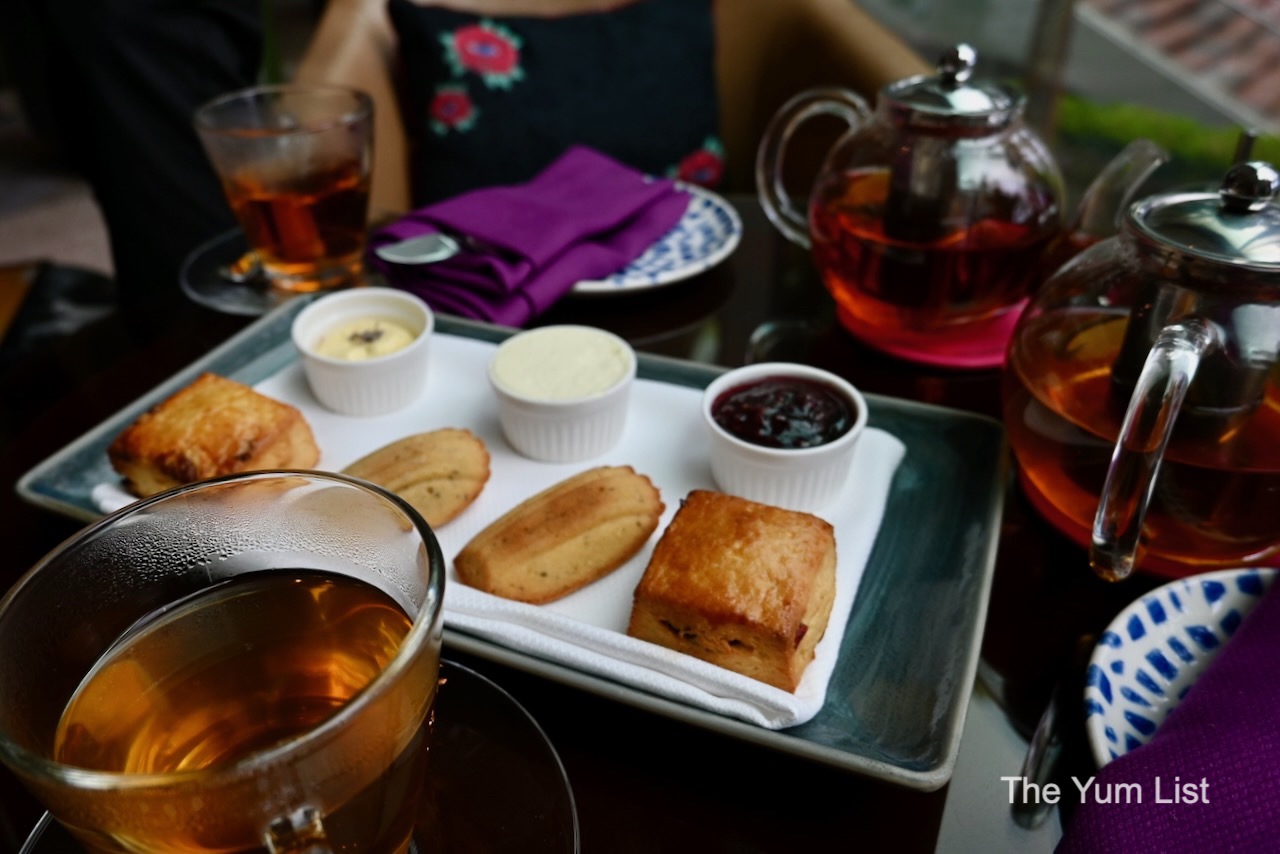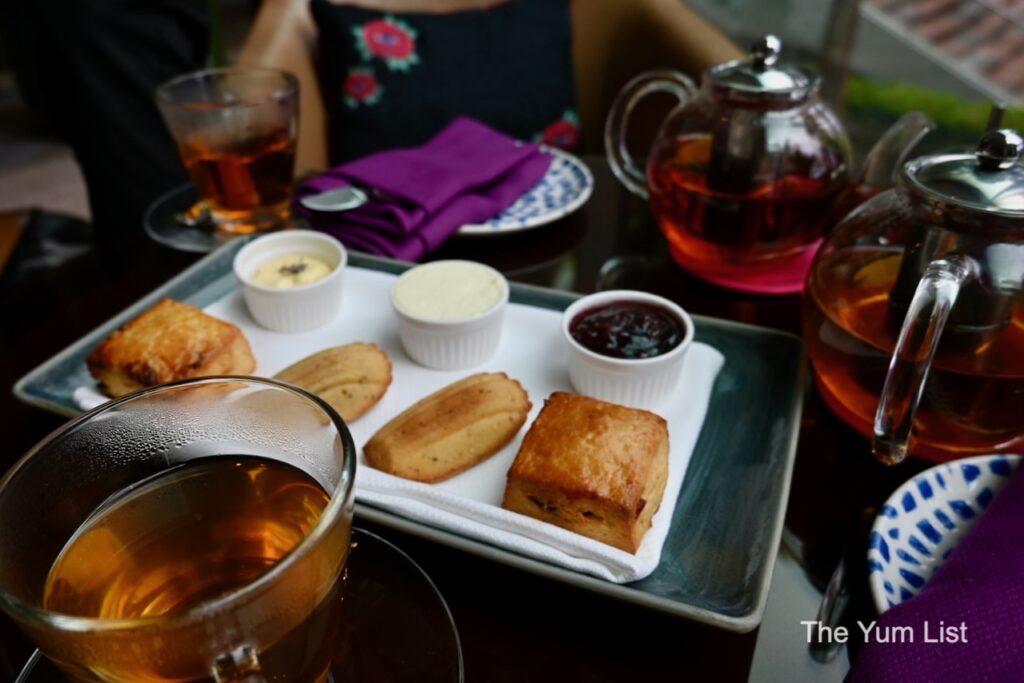 Afternoon Tea W Singapore – Drinks
A selection of eight tea blends, alongside espresso-based coffees, partners with the W T Time: High Tease food menu. Hubby is overjoyed with his TWG Rum Tea brandishing warm tropical notes of sugarcane and rum. At the same time, I'm content with my choice of TWG Jasmine Queen Tea, cleansing the palate with its floral bouquet complementing its lightly bitter base.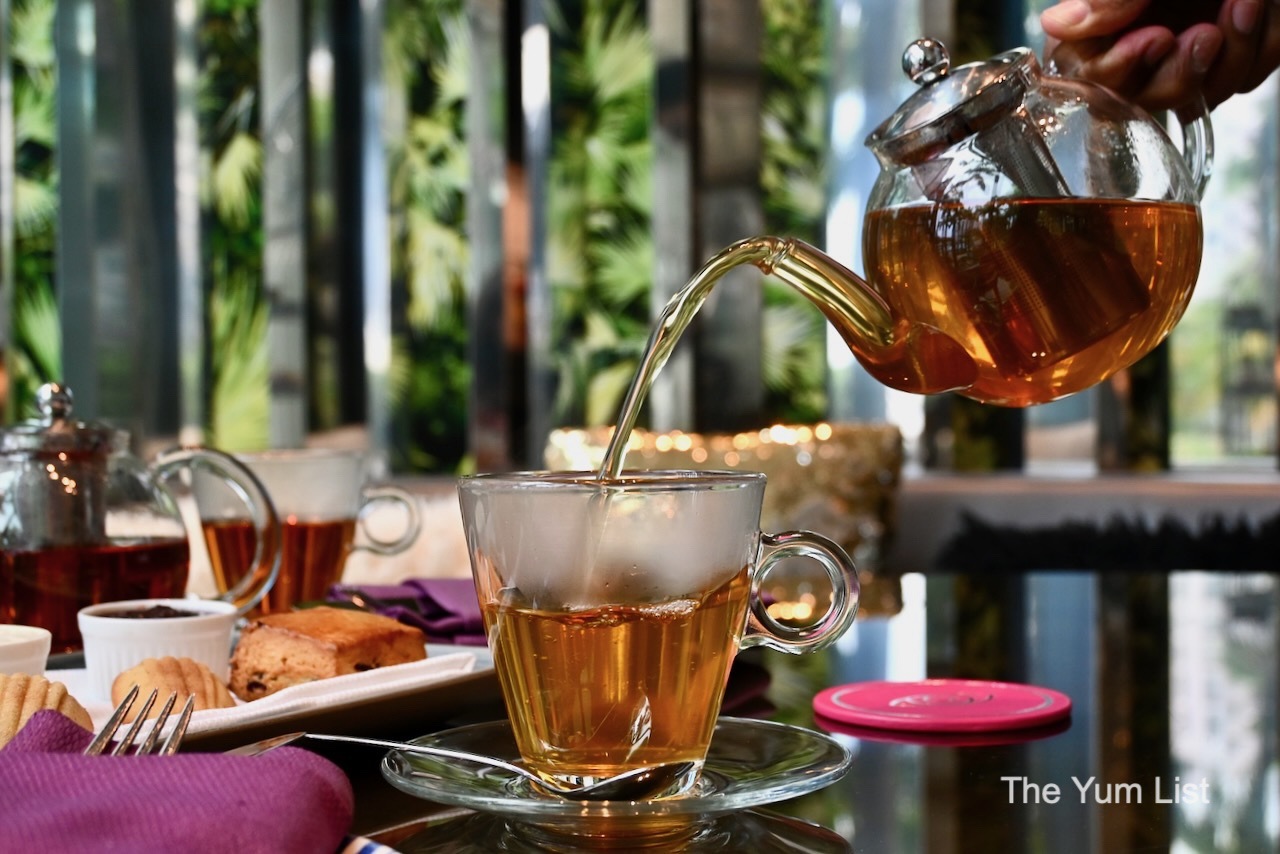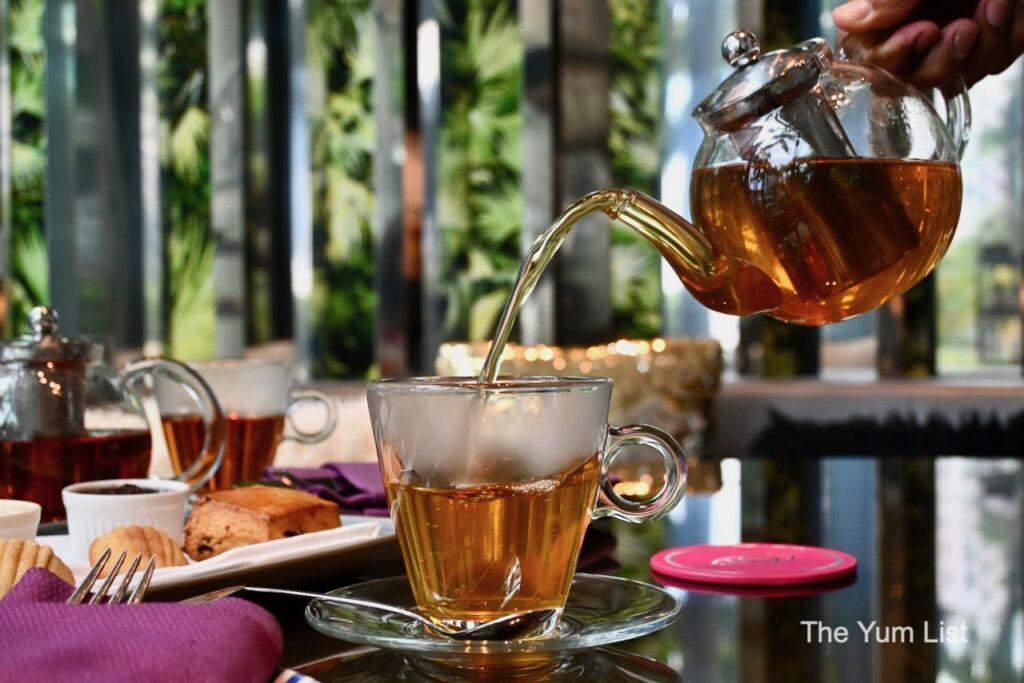 Reasons to visit WOOBAR for W T Time High Tease Afternoon Tea: stylish setting with tropical green views; an artful twist on a traditional afternoon tea set; lovely service by the W Singapore team.
WOOBAR – W T Time: High Tease
Afternoon Tea W Singapore – Sentosa Cove
1 Ocean Way, Singapore 098374
+65 6808 7258
wsingapore.co
Reservation required
W Singapore Afternoon Tea Timing & Price
Daily 3 pm – 5 pm
Weekdays: SGD88++ for two persons
Weekends & Public Holidays: SGD98++ for two persons
Inclusive of free-flow selected TWG Teas and Coffee.
Find more Singapore restaurants, bars and hotels here and stay up-to-date on the latest culinary happenings around Malaysia here and here.