Bar Micro – Cocktail Bar, Mont Kiara
Words: Margaret Elizabeth
Photos: Rich Callahan
Speakeasies may no longer be illegal, but the feeling of taking part in a secret indulgence still carries the thrill of the illicit. Bar Micro is tucked away in a residential block in Mont Kiara, up a flight of stairs and behind an unassuming door. Inside, the vibe conjures a traditional speakeasy with a chic twist. It's a bijou bar with sleek lines, sophisticated simplicity and atmospheric lighting.
We were greeted warmly by our hosts, Zal, bartender Din and friends. Zal is one of four friends with a dream who decided to embrace the motto, start small, dream big. You may be familiar with another friend and brand ambassador, Malaysia's very own, Ping Coombes, winner of MasterChef UK, 2014!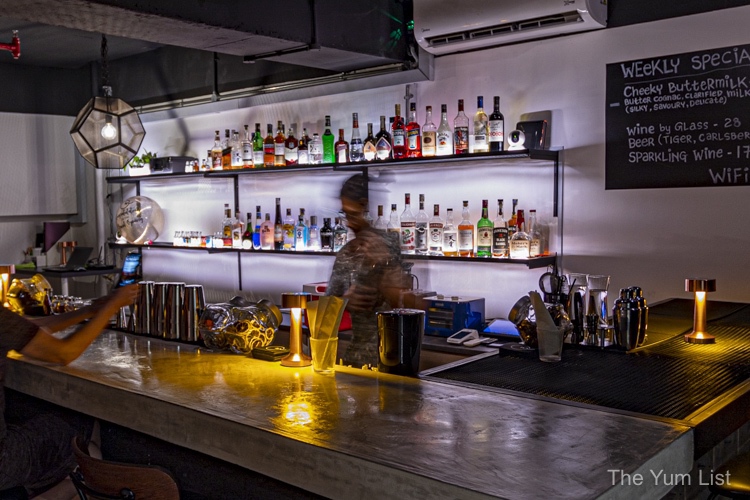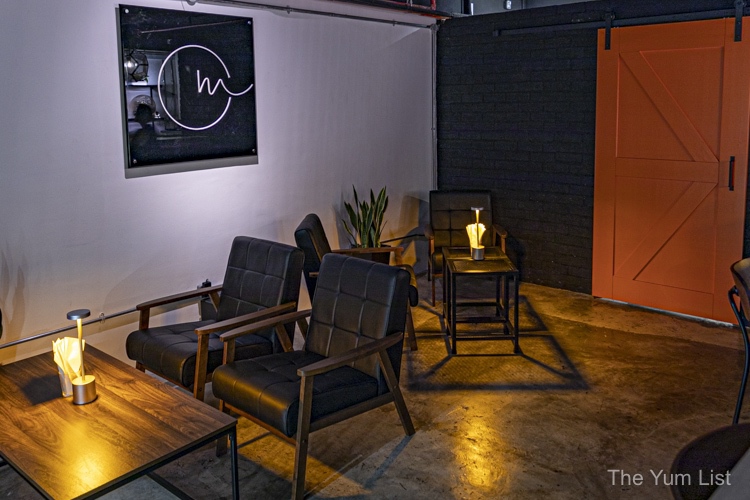 Bar Micro Mont Kiara
In the mood to learn something new, we chose the bar seating. It is a great spot for chatting with bartender Din and even better to watch him perform his mixologist magic. Move over, Tom Cruise! Din is a joy to watch as he artfully shakes that shaker creating cool beats with ice cubes. Din is a savvy, professional cocktail designer who puts his personal twist on traditional favourites and new creations.
Symphony Series
The symphony series of cocktails helpfully contains a lighter amount of alcohol for those who prefer a lower ABV.
Olden Highball (RM 46), made with Sipsmith gin, Aperol, white wine, citrus and soda is Bar Micro's best seller. I loved it! It was Din's interview-clinching drink, although he didn't know it at the time (as the owners quietly sipped away at his previous workplace). This drink is like a symphony: all the parts unite to make a unique flavour profile. It's hard to nail down exactly what makes this such a stand-out drink. My best guess is that the simplest solution is usually the right one, so the popularity of this drink is down to the fact that it tastes great!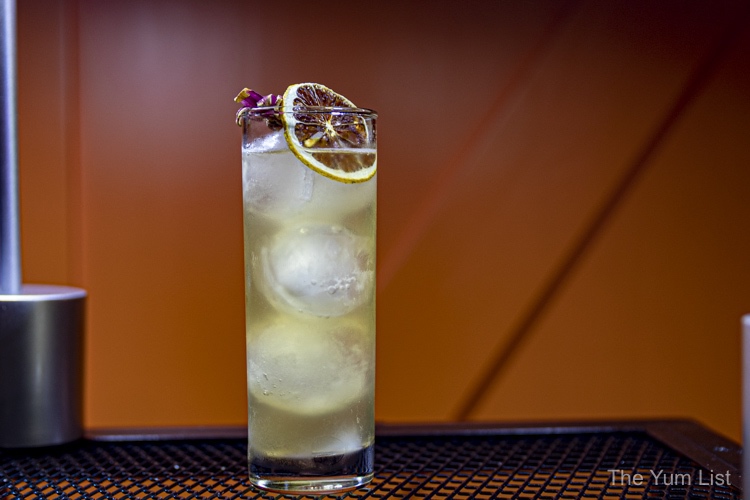 Two Tonne Tonic (RM 38) is made from lavender-blue pea gin, calamansi shrub, and tonic, of course. It was love at first glance for me. Three spherical cubes of ice, suspended in magenta were as enticing as a work of art. It's beautifully garnished with a slice of dried orange and a tiny chrysanthemum bud. The ingredients balanced perfectly, resulting in a smooth mouthfeel with a satisfying aftertaste.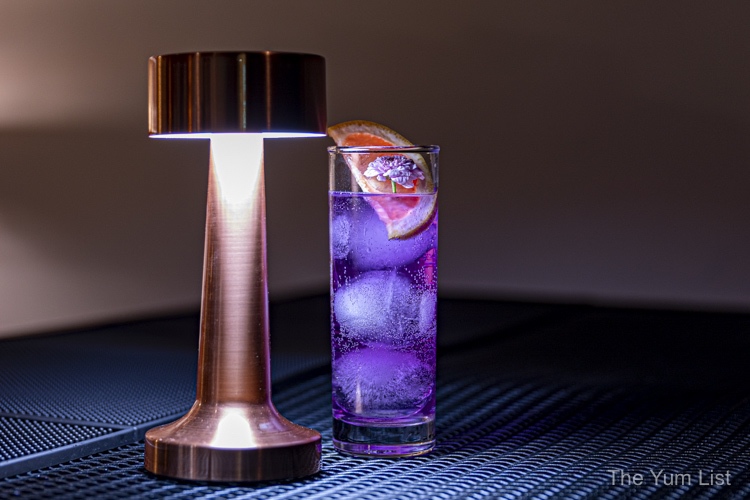 Golden Daiquiri (RM 40) is based on Captain Morgan's Spiced Rum with honey-ginger syrup, lime and Angostura bitters. This take on a daiquiri is delicious and has a luxurious golden colour, true to its name. The ginger honey syrup is house-made and adds a subtle dryness that is very pleasing at the back of the throat. I also noted a pleasant scent of spice that adds to the overall appeal of this cocktail.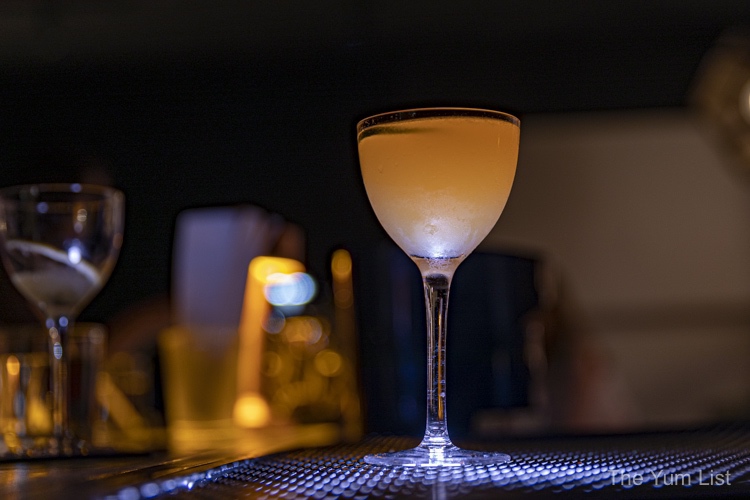 Razberi Stolichnaya, pineapple, cranberry, lime and egg white make up the Tutti Frutti (RM 38). What a delight this drink was: seductive creaminess, sweet and fruity, beautifully nestled in a traditional champagne coupe glass. It's a voyage through the time warp to connect with your fellow pleasure seekers in prohibition days.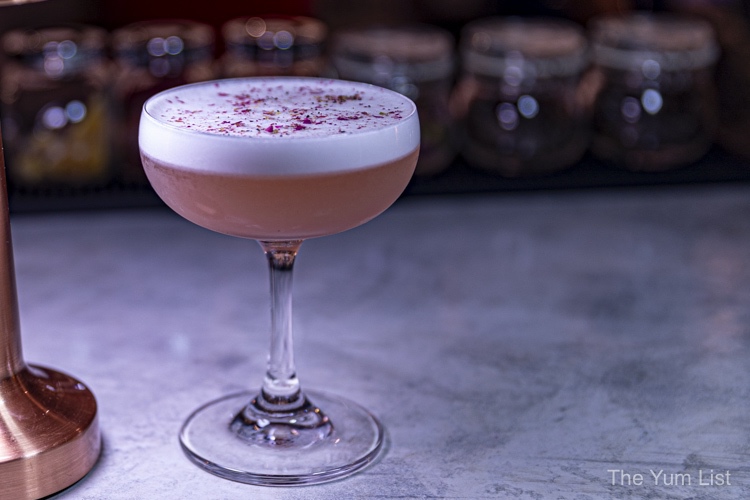 Indulgence Series
This series contains stronger shots of alcohol for those who prefer a big hit.
Beluga Noble vodka and Cinzano dry vermouth are the only two ingredients in the Whale of a Martini (RM 50). A classic martini glass always evokes style, sophistication and mystery, so it was such a joy to hold this gorgeous martini. Beluga Noble is a super-premium vodka therefore made from high-quality ingredients. This quality can be tasted in a smooth finish without any sharp aftertaste. In a glass washed with vermouth and styled with elegant twists of lemon, this version of the martini is as powerful as its name suggests.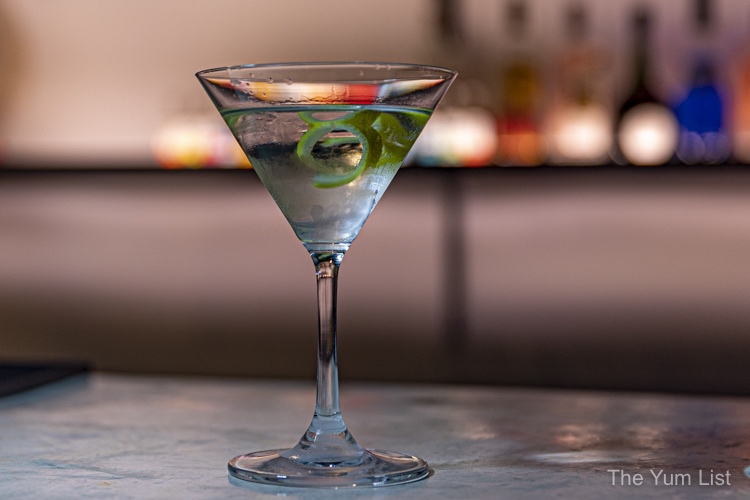 Negroni is Monica's favourite cocktail, so the stakes were high tasting Bar Micro's Ne-gro-ni (RM 50) with Botanist gin, Campari and Cucielo Sweet Vermouth. The name Ne-gro-ni represents Din's personal styling of a Negroni. I can tell you the ratios, but I suggest that you sit at the bar and chat with Din yourself. It is much more fun. Din's passion for mixology shines as he deftly concocts and chats. Cocktails are meant to look beautiful, and this one did. Served in a tumbler, it glowed in striations from deep orange to tangerine. Made from London Dry gin, the flavours come from botanicals, so there are gentle washes of different sensations bathing your mouth. It was a first-class negroni, and Din's take on the mixing is inspired.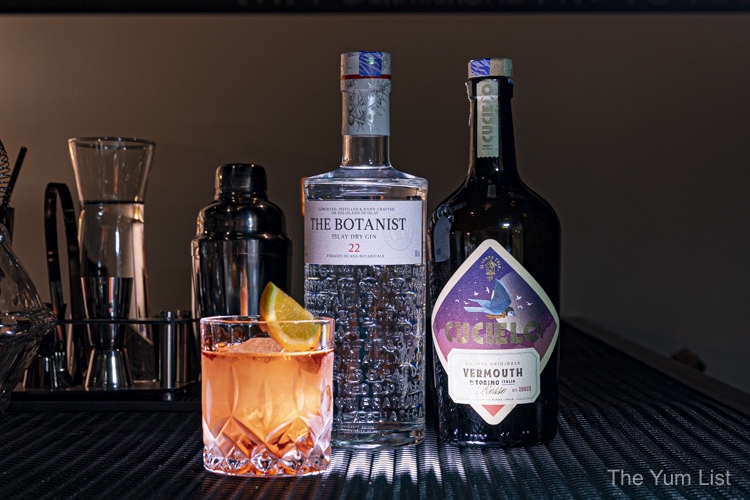 Zero-Proof
Bar Micro can also mix delicious zero-proof drinks based on their signature cocktails. We sampled a mocktail that was a nod towards a Golden Daiquiri cocktail. It was refreshing and full of blended flavours. Just as beautifully presented and served in a cute, long-stemmed glass.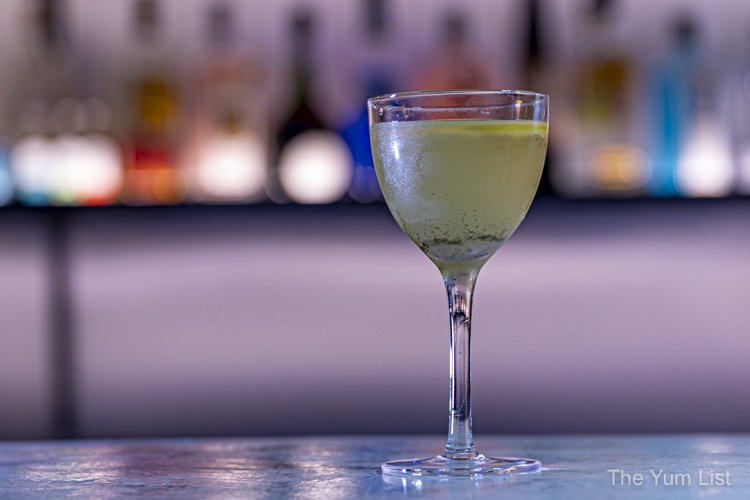 Snacks Menu Bar Micro
Bar Micro's snacks are intended to be micro bites. Expect a substantial and tasty snack with attention to detail in flavour profile and presentation. What I like about this kind of eating is that you can sample many flavours by yourself or you can share plates with friends.
Hmm, not sure if Monica and I qualify as bad girls, but we started off with this plate of Bad Girl Fries (RM 23) deliciousness. I am a potato fan, so bring it on! Just like a cocktail, this plate is a combination of flavour layers. It is a good-sized serving of crinkle-cut fries, dressed with a sauce of gherkin, jalapeño, Kewpie mayonnaise and sprinkled with cheese and chopped onion. The addition of onion elevates these fries by adding a crunchy texture, a little tartness and a little sweetness.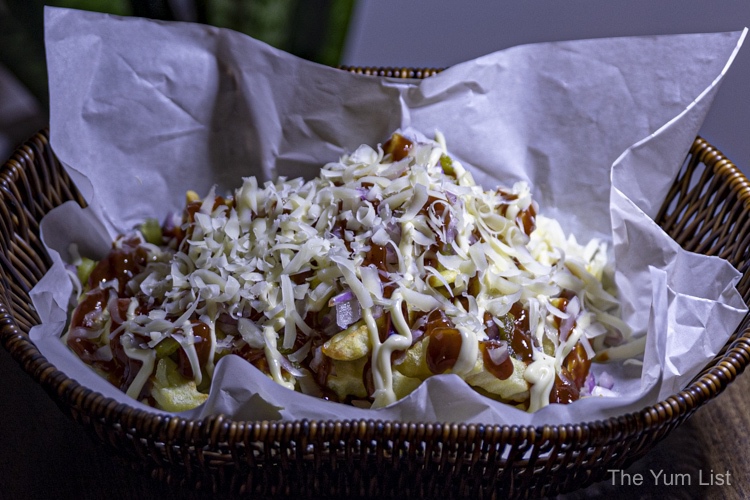 Bar Micro's Sarawak Laksa (RM 18) is made at a nearby, famous kopitiam. They bring in the base ingredients and assemble the laksa in-house so that it is always fresh and very much Bar Micro style. The star of this dish is the huge, juicy prawn on top. The soup slid down with layers of Sarawakian flavours. The noodles had just the right bite to them. There was a yummy spiciness to the dish that was not too hot but big enough to give the right amount of heat.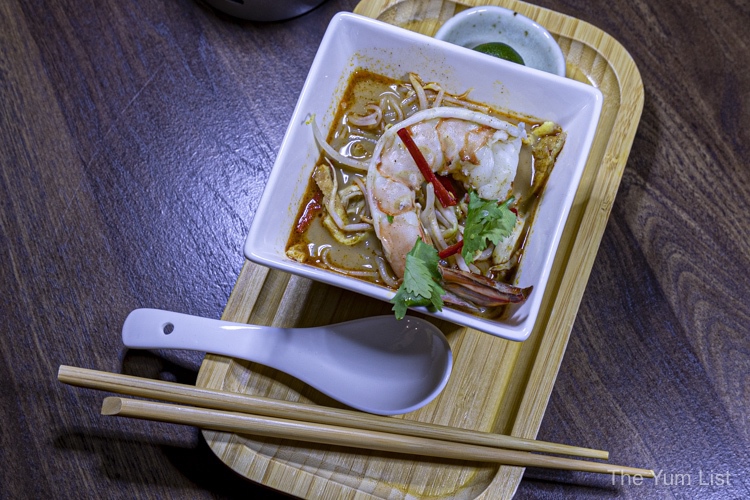 Chicken Tenders (RM 18) consists of a very large chicken tender that is luscious and moist, sliced into finger servings. Artfully presented on a bed of homemade sauce, the sauce is made with yoghurt, gherkin, vinegar, chilli and belacan. The garnish of coriander was generous, as was the sprinkling of anchovy pearls across the plate. I have to agree with Zal; this is a gorgeous dish that delivers "a flavour, flavour, flavour, bomb." It was probably my favourite bite due to the clever balance of flavours and the saltiness of the anchovies.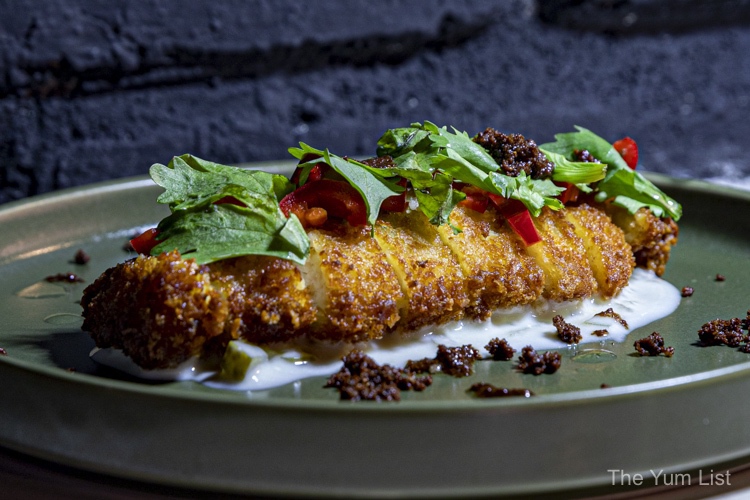 Micro Signature Nuts (RM 8) are crispy little darlings that we munched throughout our cocktail spree. They are flavoured to Bar Micro's homemade recipe using salt, curry leaves, curry powder and cumin. The variety of tastes in these signature nuts is unique to Bar Micro. They were a great companion to the cocktails that we drank, as the variety of tastes complimented something different in each cocktail. I especially liked the contrast of sweet, spice and sour when pairing these nuts with the Tutti Frutti cocktail.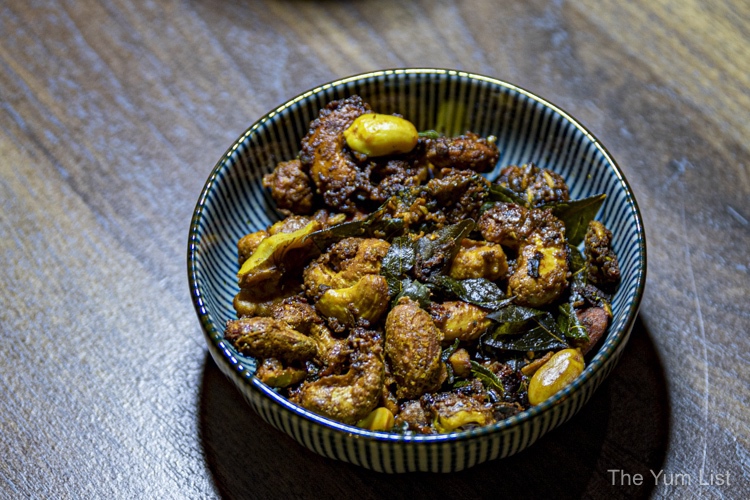 Lastly, we appreciate the vegetarian option of Spring Rolls (RM 15) made from jicama and carrot, wrapped in a wheat spring roll skin. Once again, the texture and flavour profile was interesting and tasty. The big, hitting punch comes from the "My Mum's" homemade chilli dipping sauce. Made by an actual mum, the recipe is a family secret. The sauce has a rich, authentic taste reminiscent of a Malaysian family's good times. I wish my mum had this recipe.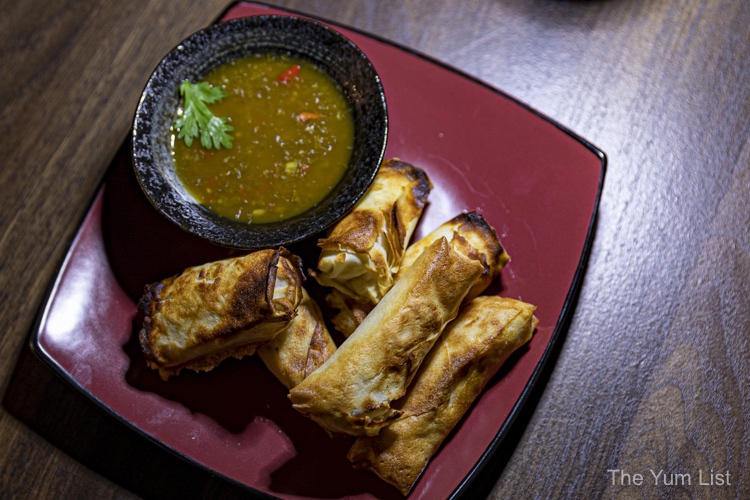 Reasons to visit Bar Micro: cool, speakeasy vibe, gorgeous professionally mixed cocktails, fabulous mixologist and friendly owners and staff. We had such a good time that we didn't want to leave, so we lounged on the comfy sofas enjoying the upbeat soundtracks- just speaking easy.
Bar Micro
Unit LG2-09, The OOAK Suites and Residence @ Kiara, 163 5
Jalan Kiara 4, Mont Kiara, 50480 Kuala Lumpur, Malaysia
+6 011-1218 5950
Instagram: @barmicro.kl
Bar Micro Opening Hours
Daily 5 pm – 11 pm
Find more KL bar recommendations here, and stay up-to-date on the latest gourmet and travel happenings around Malaysia here and here.