Ca' del Bosco Wines – CIAK – In The Kitchen, Hong Kong
Monica Tindall
One of the beautiful things about the food and beverage industry is the opportunity to make friends worldwide. Food and wine connect people, and as Julia Child said, "People who love to eat are always the best people." I'm lucky to reconnect with some of the best people and meet new ones at a Ca' del Bosco wine dinner at CIAK – In The Kitchen, Central, Hong Kong.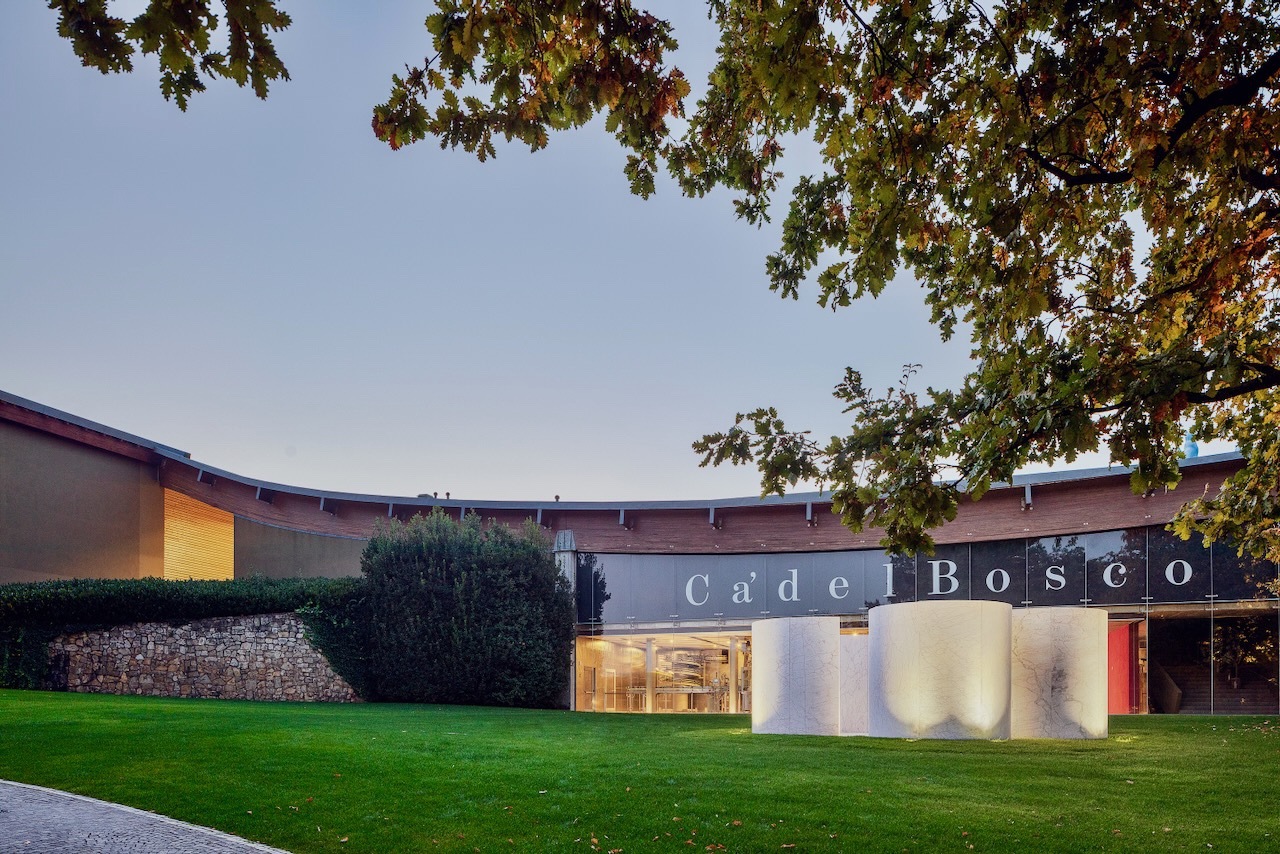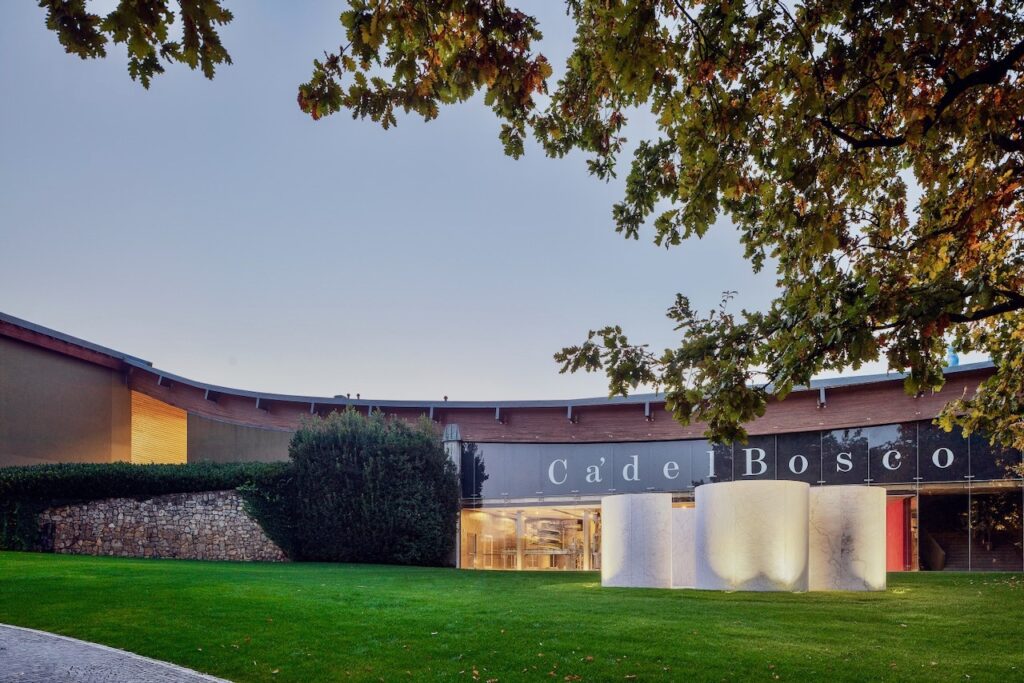 Ca' del Bosco Wines
Ca' del Bosco's organic vineyards in Franciacorta are on show tonight, paired with a menu of Italian favourites by Chef Umberto Bombana at CIAK – In The Kitchen. The refined trattoria is warm and welcoming, adorned with Italian produce and photographs. The wines are displayed as a prelude to the coming pairings, and the mood is energised and friendly.
Ca' del Bosco is one of the country's most recognised producers of Franciacorta. The Italian sparkling wine is made using the traditional method resulting in complex aromas, flavours and fine bubbles. However, I soon discover there's more to this region than fine bubbles alone.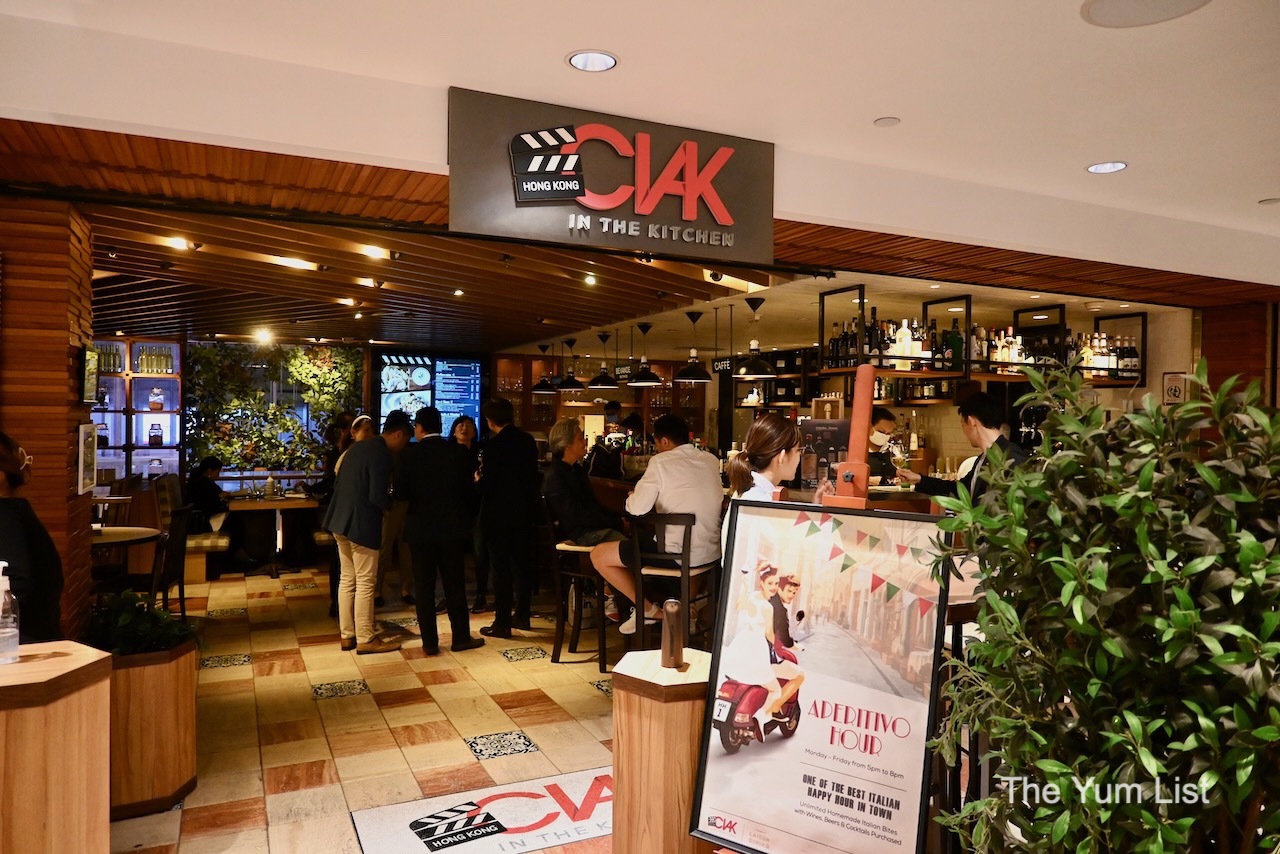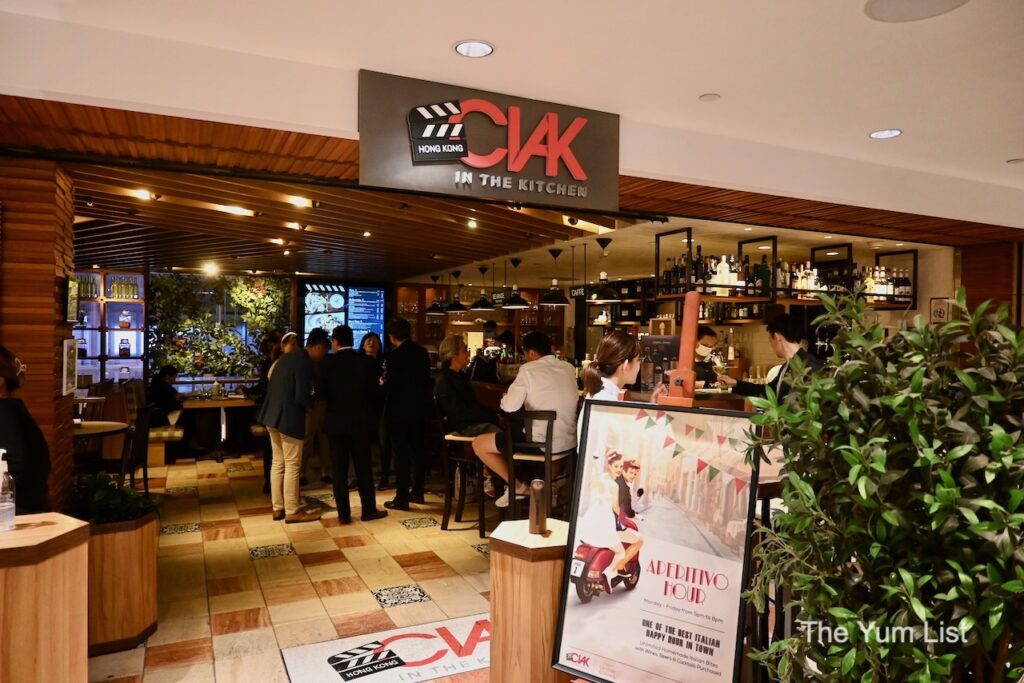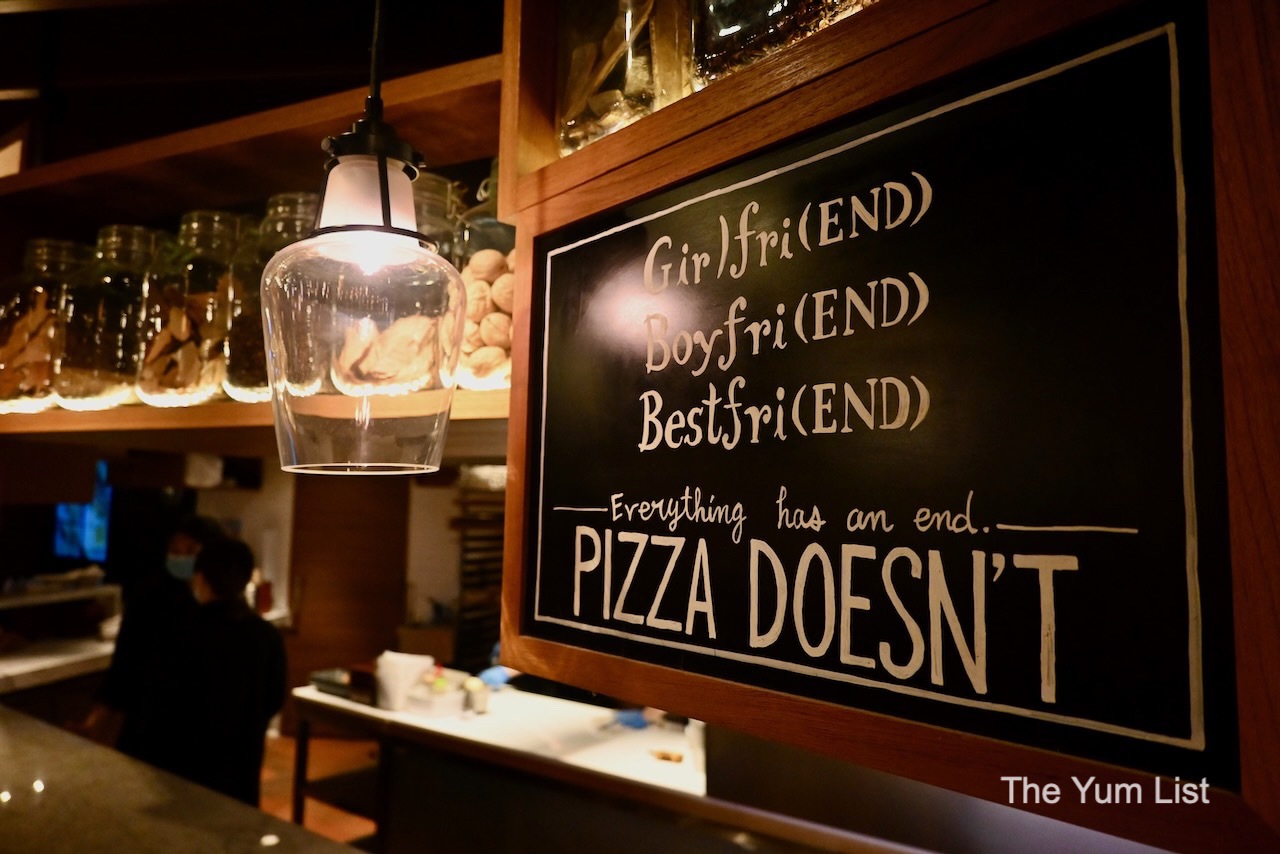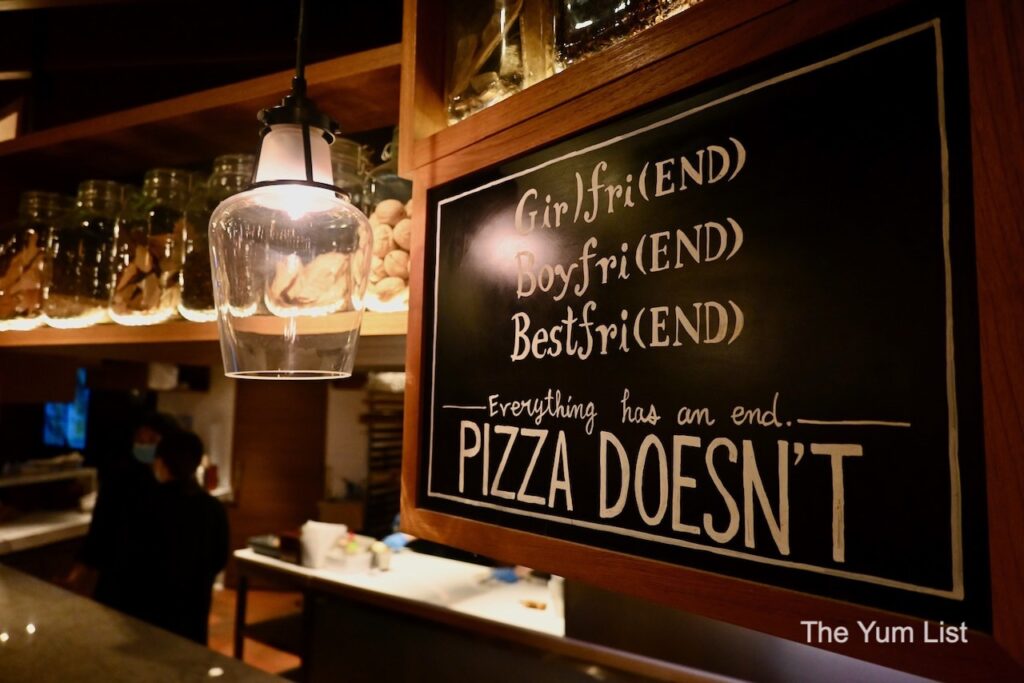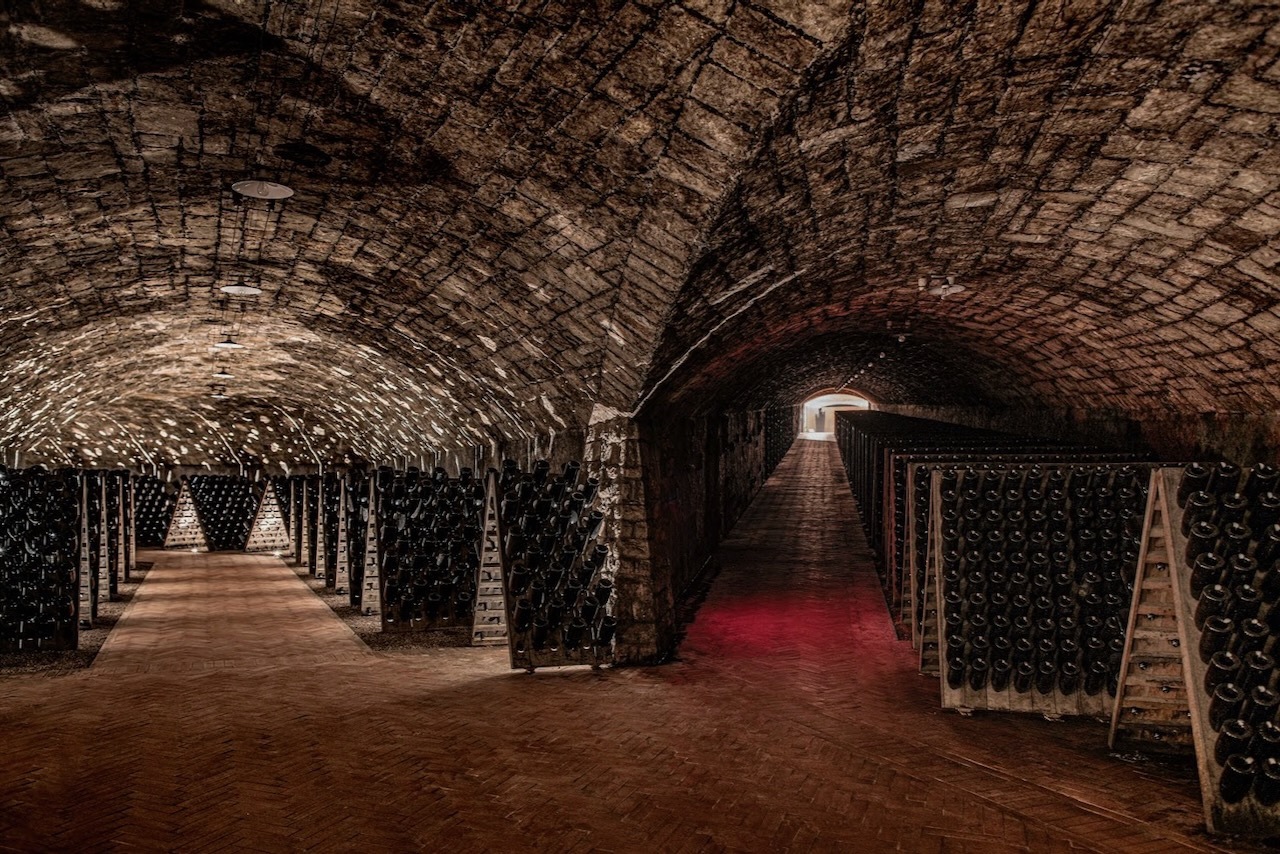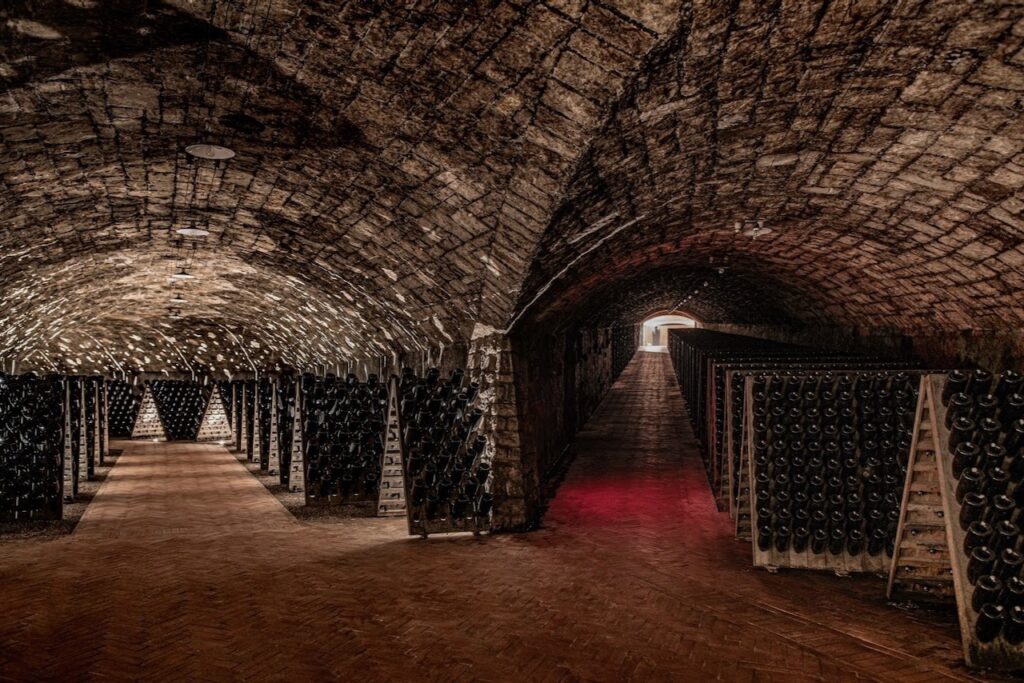 Welcome Drink
We're welcomed with a glass of Cuvée Prestige Edizione 44, which lubricates conversations and brightens an already convivial vibe. The grapes are mostly chardonnay with a little pinot nero and a spot of pinot bianco. It's straw-hued with golden flecks in the glass and offers lovely familiar aromas of apple pie, pineapple, some herbs, spice and a trace of minerals. It's light and inviting, and the fine bubbles both cleanse and excite the palate.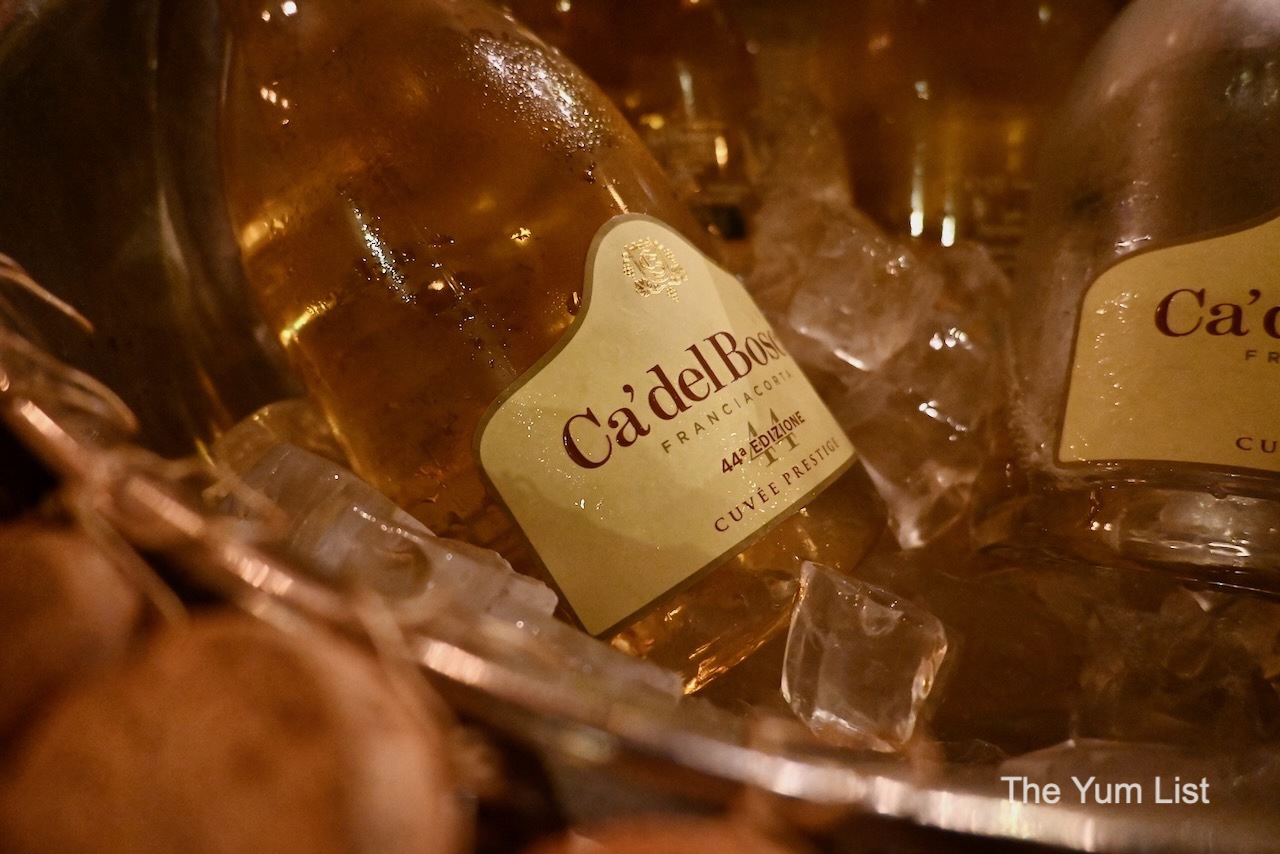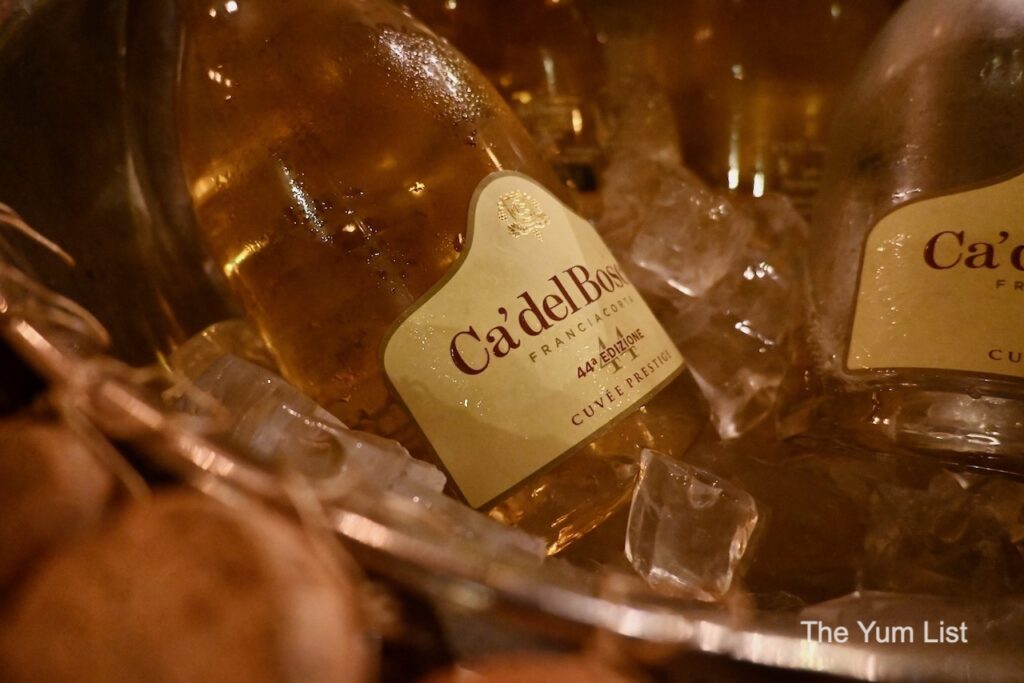 Starter
The starter of Vitello Tonnato is a classic example of the Italian recipe made with premium ingredients. Thinly sliced veal loin is tender beneath an intensely flavoured tuna and anchovy sauce. Crisp rocket leaves add a mild peppery bite, and Datterini tomatoes, prized for their vibrant hue and sweet taste, balance the plate with fresh appeal. The wine mate, Ca' del Bosco Chardonnay Curtefranca 2017, turns out to be my favourite drop of the evening. Strong fruit and floral aromatics linger with a whisper of vanilla and nuts. In the mouth, it's round and full, reaching every corner and evolving with fruit and freshness to a creamy finish.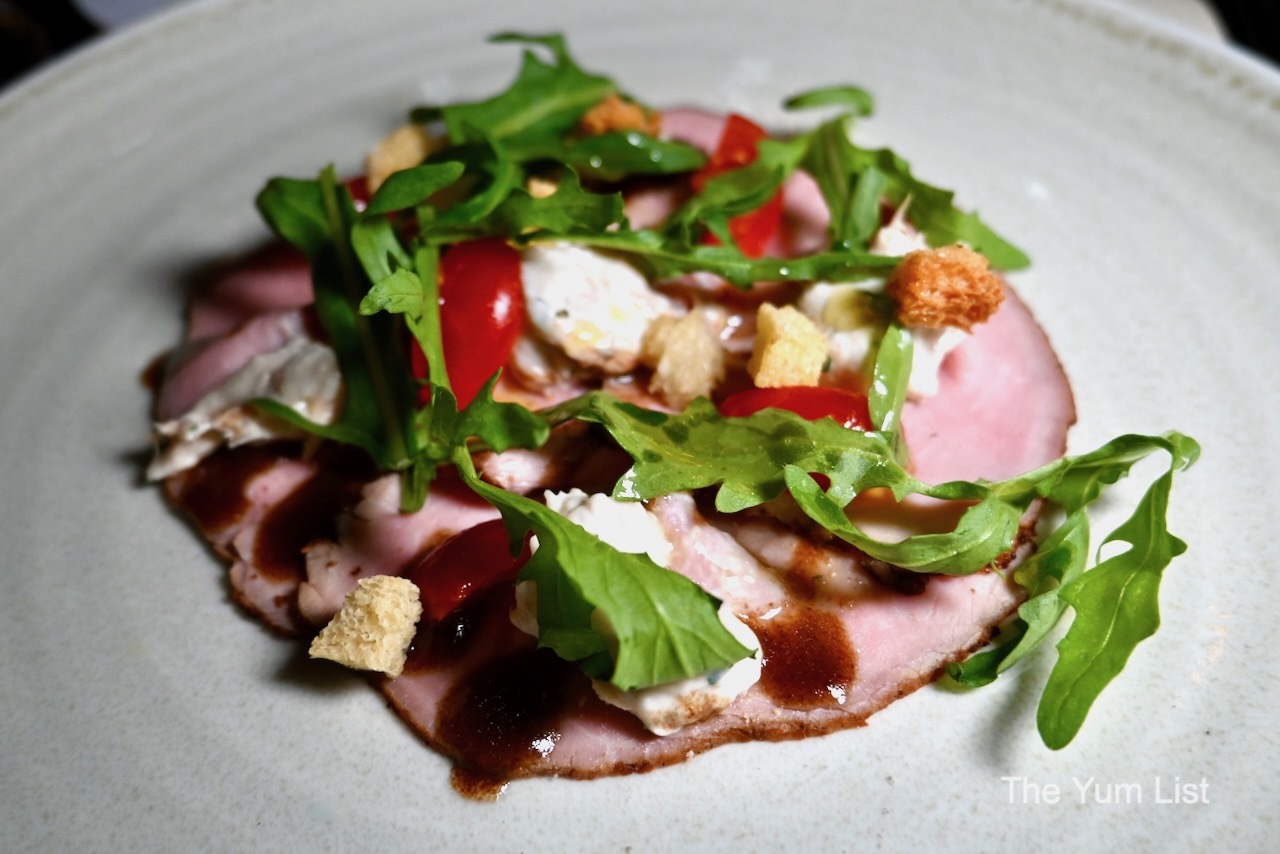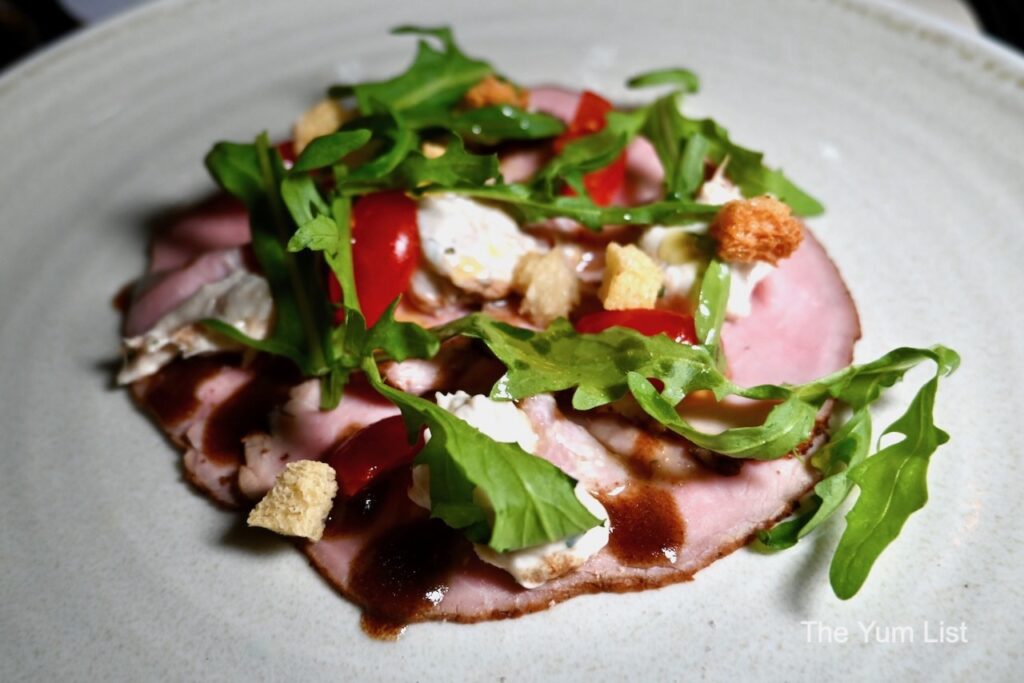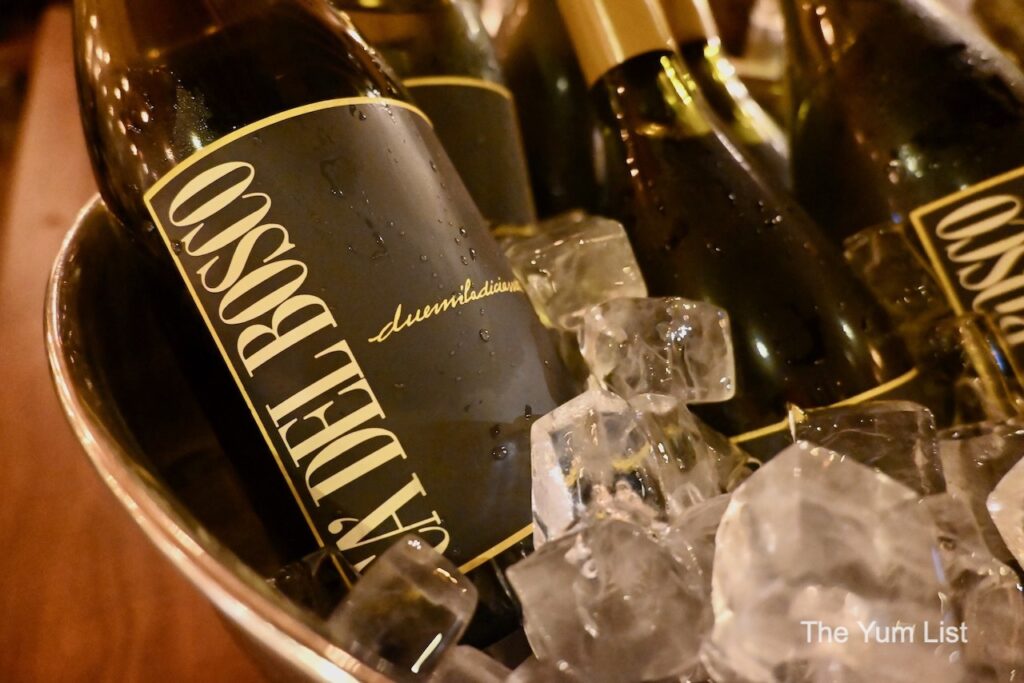 Pasta + Ca' del Bosco Carménère Sebino Rosso 2018
The next course, Duck Ragout with Calamarata Pasta is an absolute delight to the senses. The pasta is cooked al dente and paired flawlessly with the rich and savoury duck ragout sauce. The flavours are perfectly balanced, and the dish is satisfyingly hearty. The Ca' del Bosco Carménère Sebino Rosso 2018 is a great match for the food. The wine's deep and complex aromas of dark fruit, spices, and a hint of earthiness complement the dish's rich and robust flavours. The tannins are firm and provide a good structure to the wine, making it a great pairing for the dish. Do note the wolf dressed in sheep's clothing on the label – a fun reference to the story of a mix up in plants. They thought they were planting one type of grape but then discovered years later that it was actually Carménère.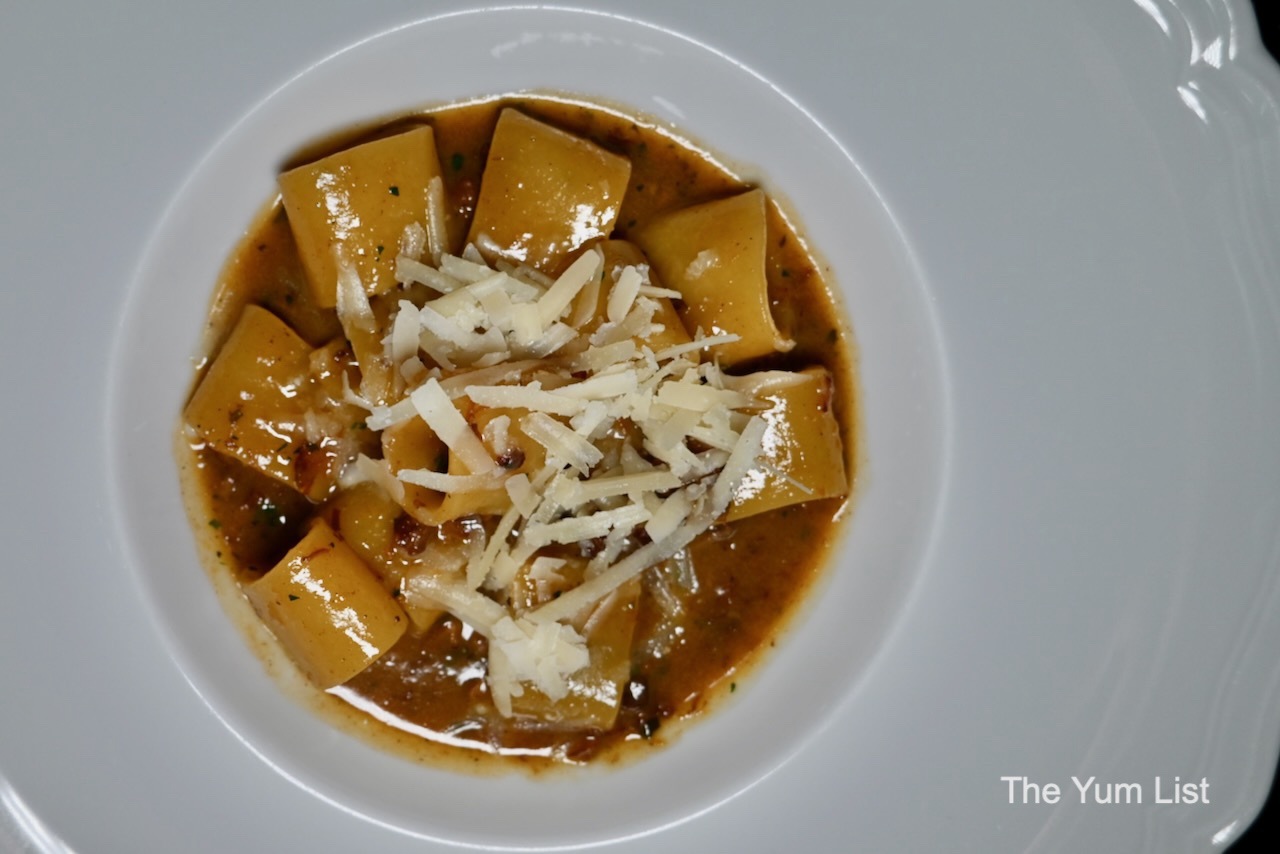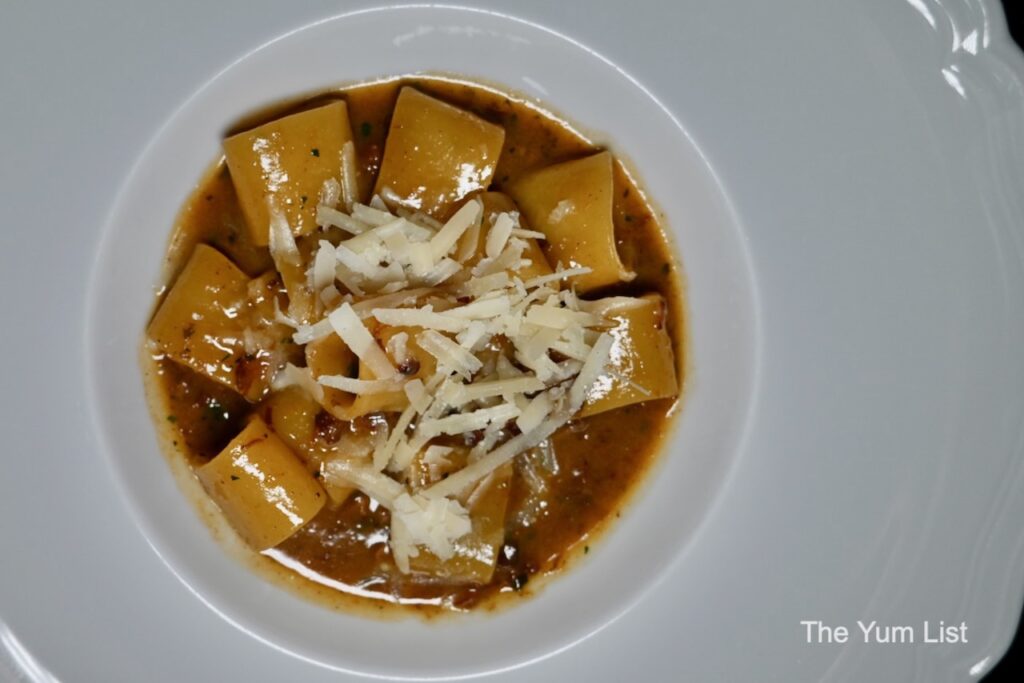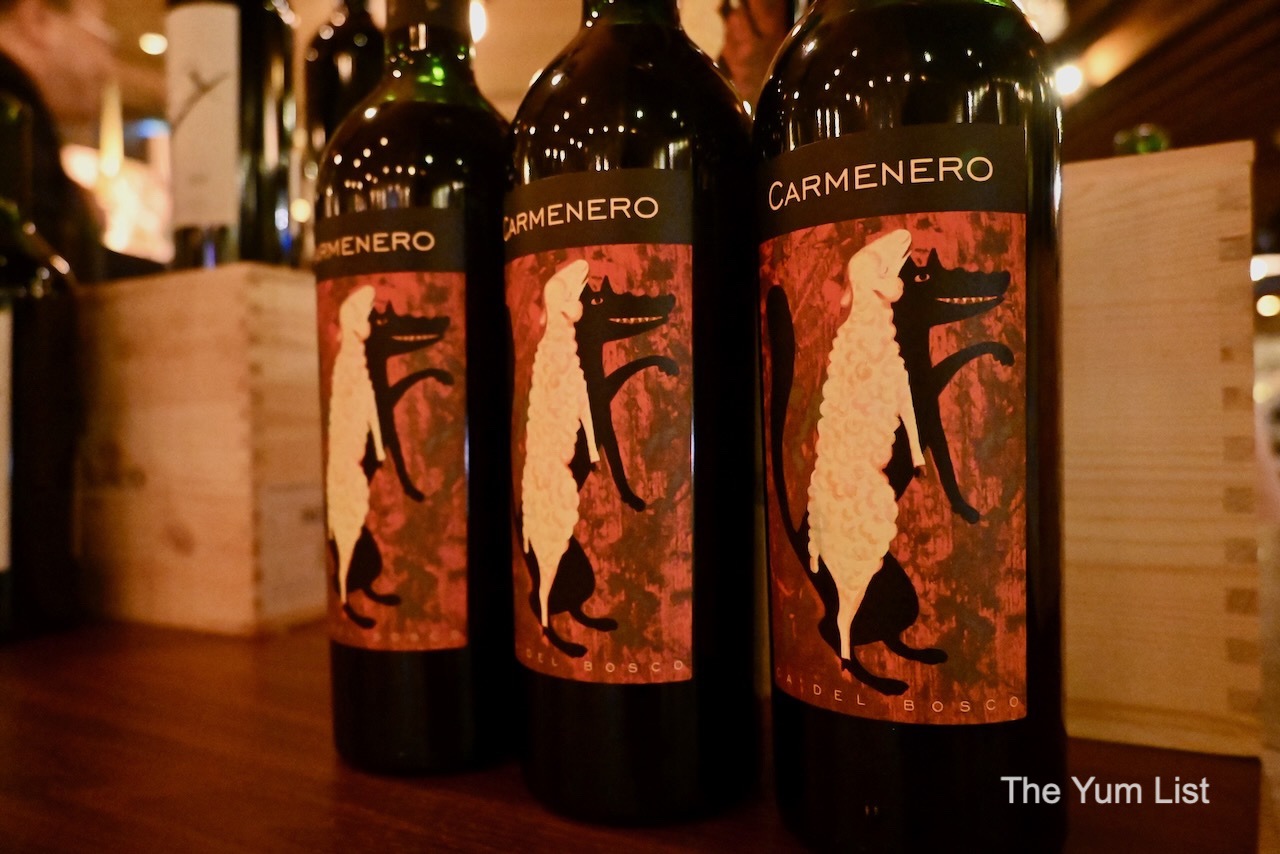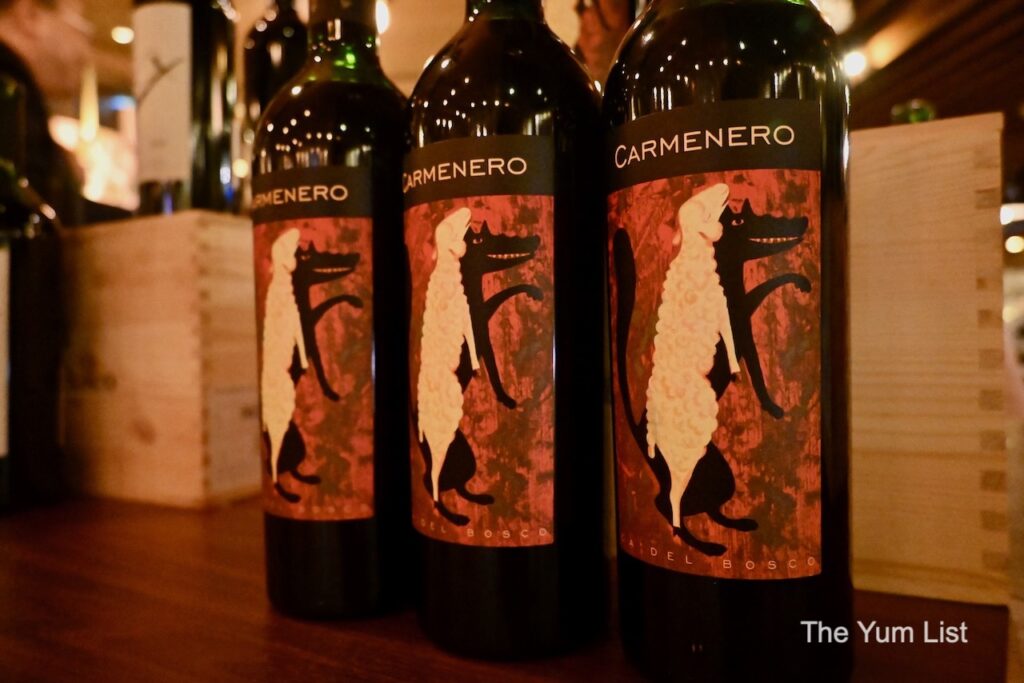 Main + Maurizio Zanella Rosso Del Sebino 2018
The main course, Charcoal-grilled Hanging Tender Steak comes with truffle-mashed potatoes and baby asparagus. The steak is juicy and tender, and has a smoky flavour from the charcoal grilling. The truffle-mashed potatoes have a creamy texture and a hint of earthiness, which complements the steak well. The baby asparagus provides a fresh and crunchy texture. The Maurizio Zanella Rosso Del Sebino 2018 is an excellent wine mate. The Bordeaux-like blend's complex aromas of black fruit, leather, and spices, along with its firm tannins and good structure, make it an excellent pairing for the steak.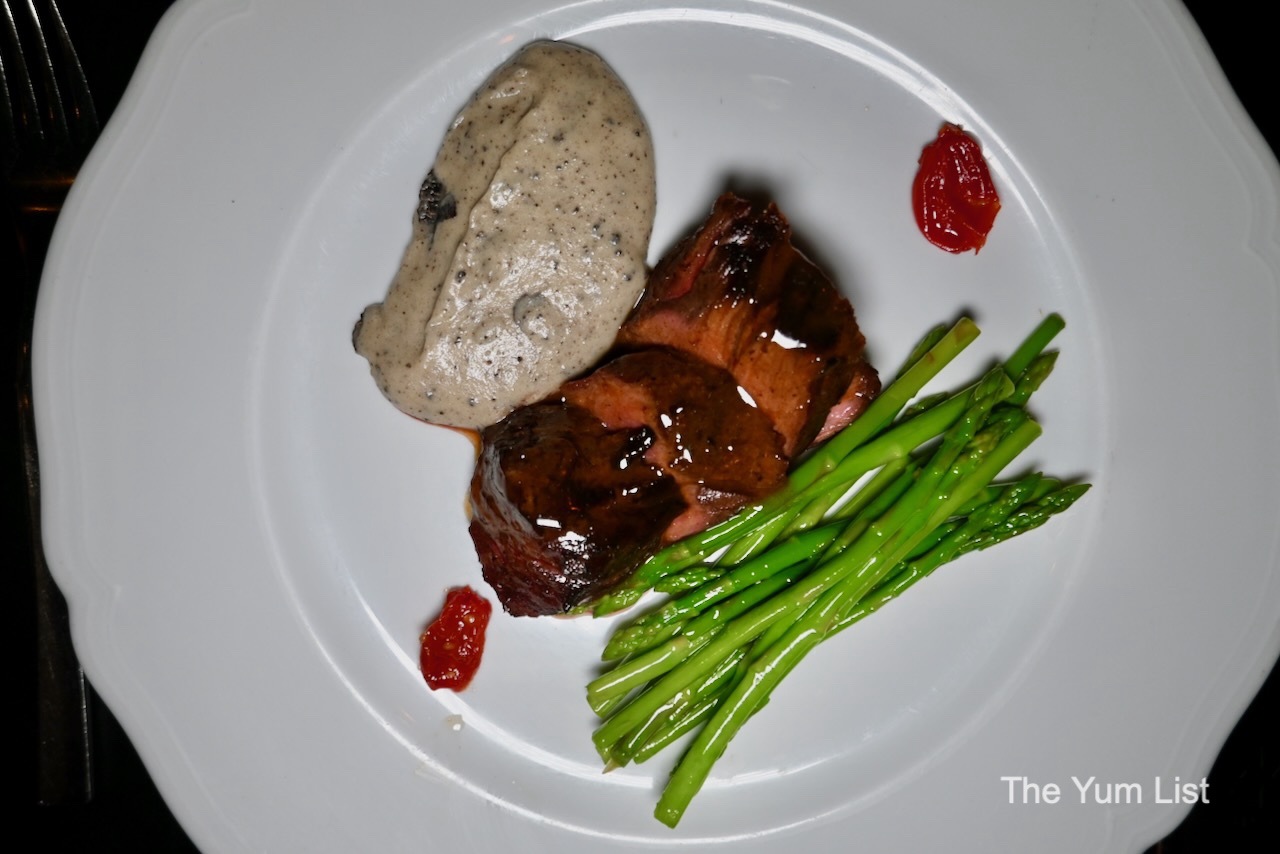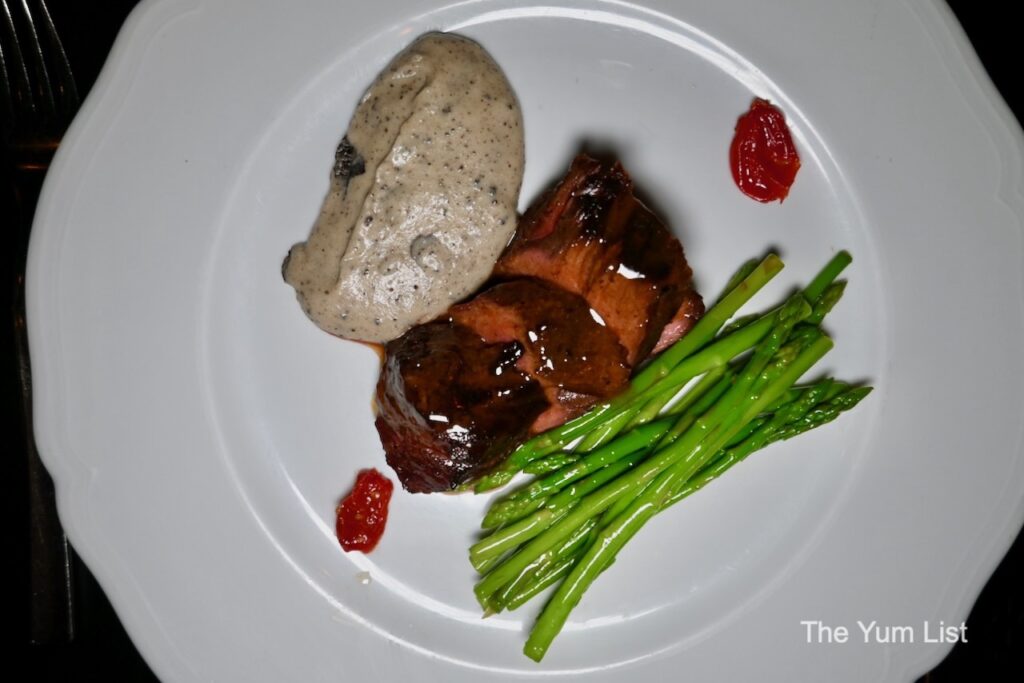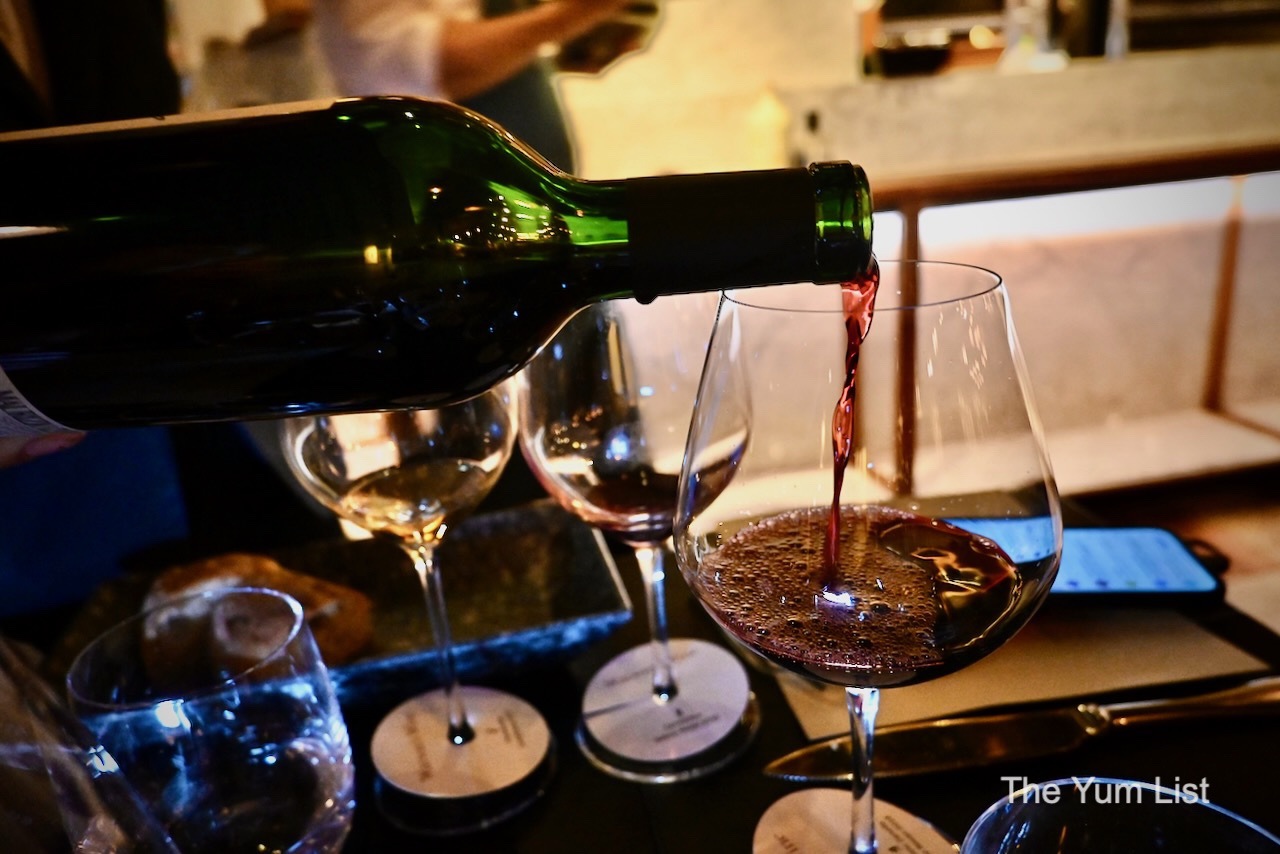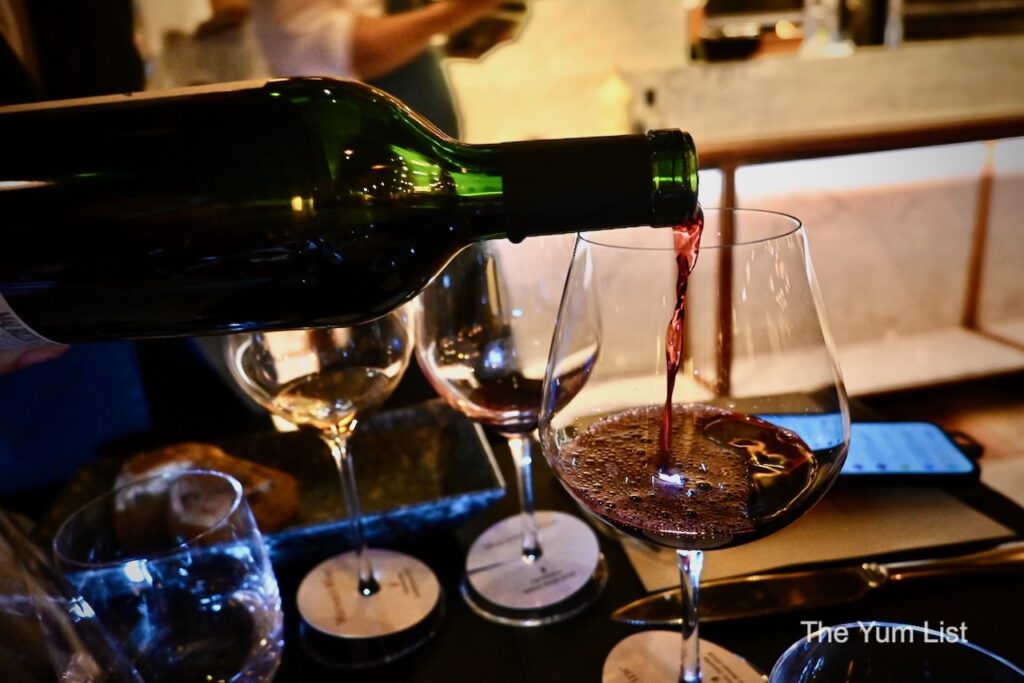 Dessert
The Cheese Selection would have been a perfectly acceptable ending to the meal. A variety of soft and hard cheeses, each with its unique profile, are served at optimal temperatures. Taken with the last drops of Rosso Del Sebino, they provide a prime opportunity to test the versatility and complexities of the wine. However, we're dining with Italians tonight, so "the end" is never really "the end." Chef Umberto Bombana optimistically pushes the limits of our stomachs with two incredible desserts – one is layers of cream and chocolate, and the other is an incredibly flaky, warm and comforting apple tart. And with that, George Miller's words have never been truer: "The trouble with eating Italian food is that five or six days later, you're hungry again."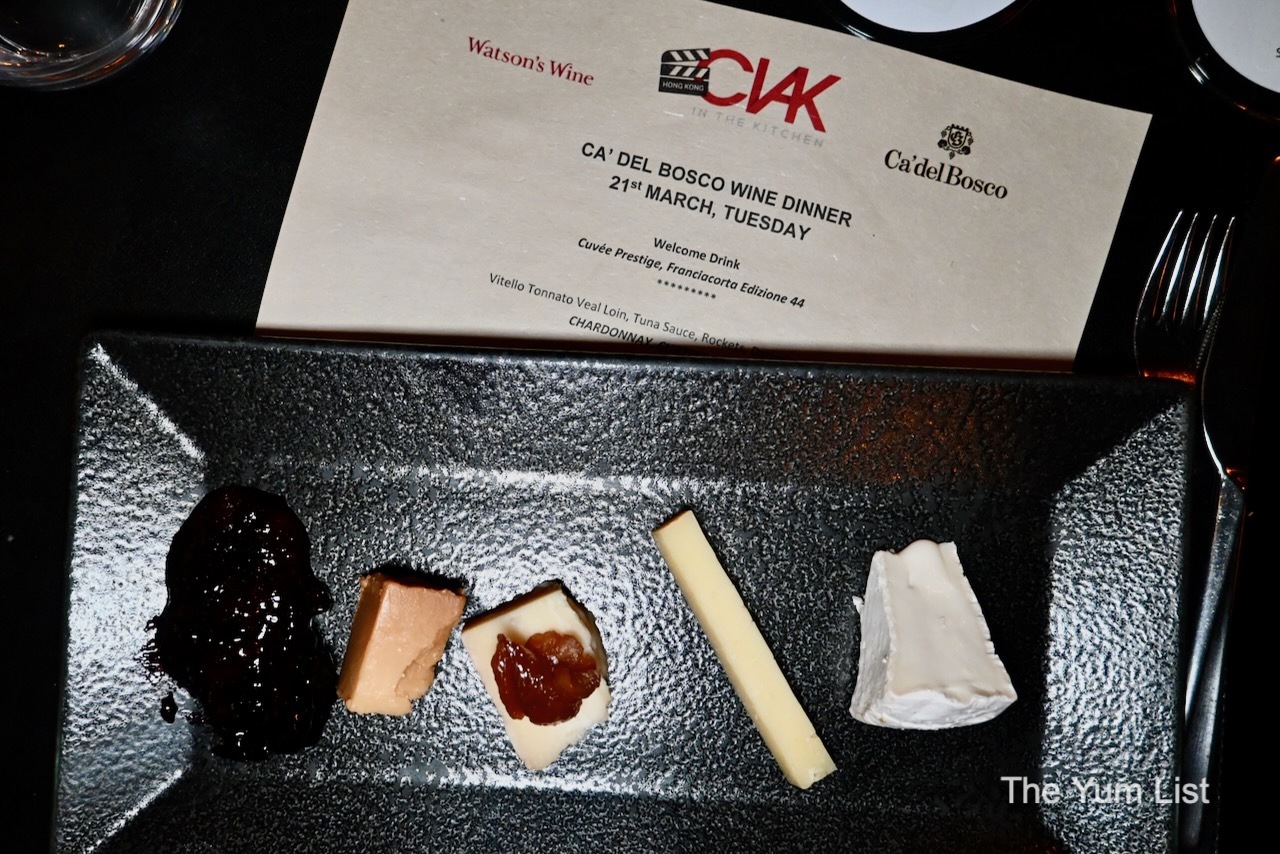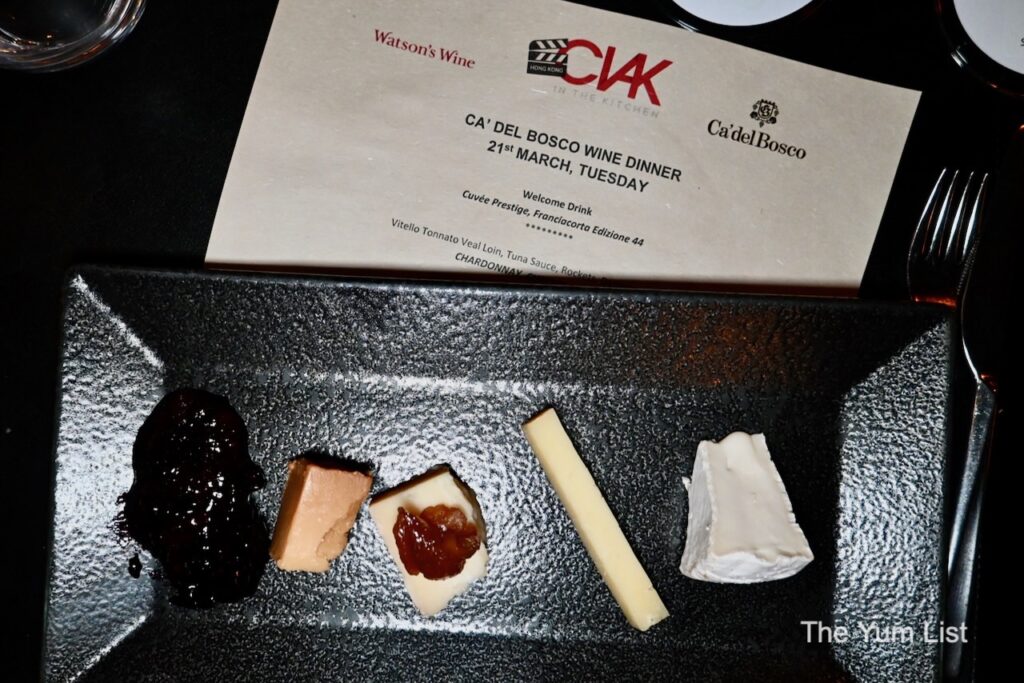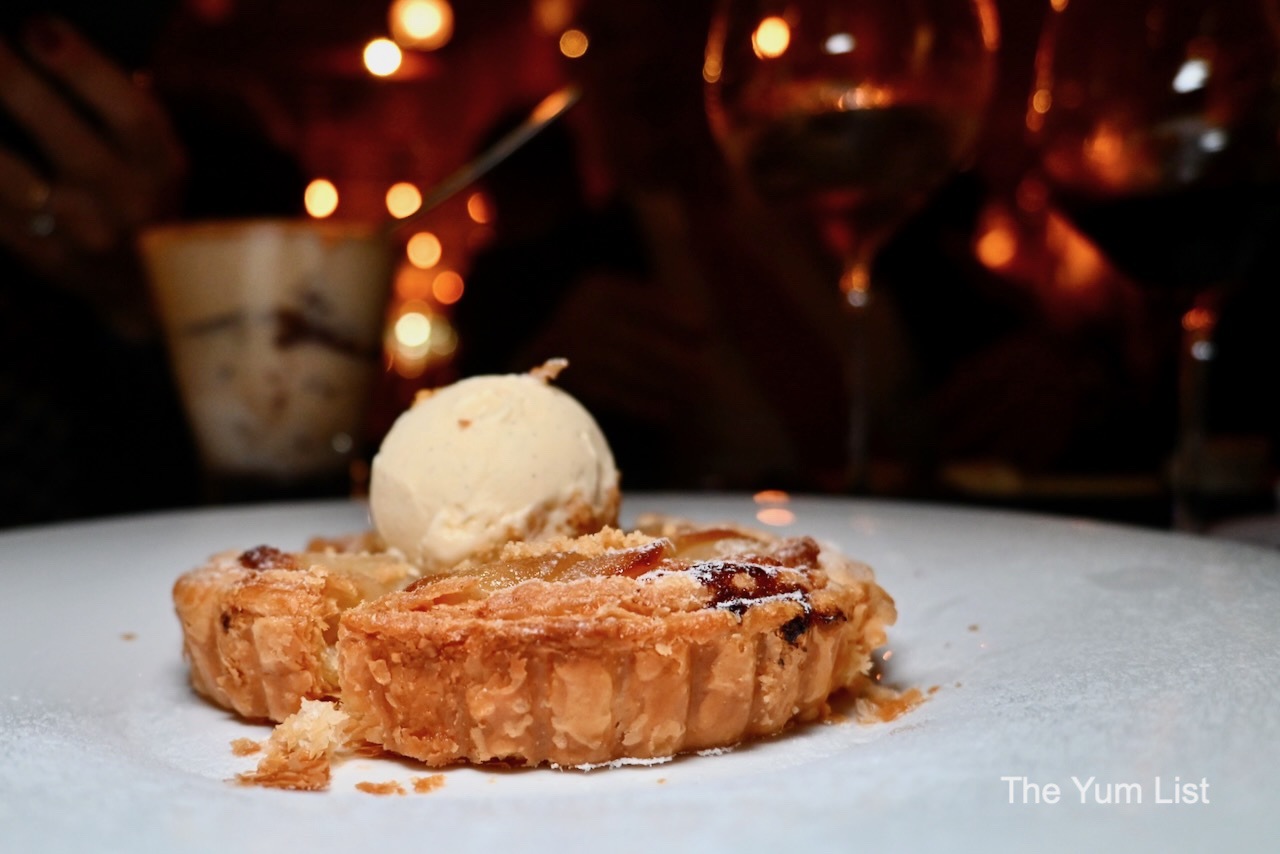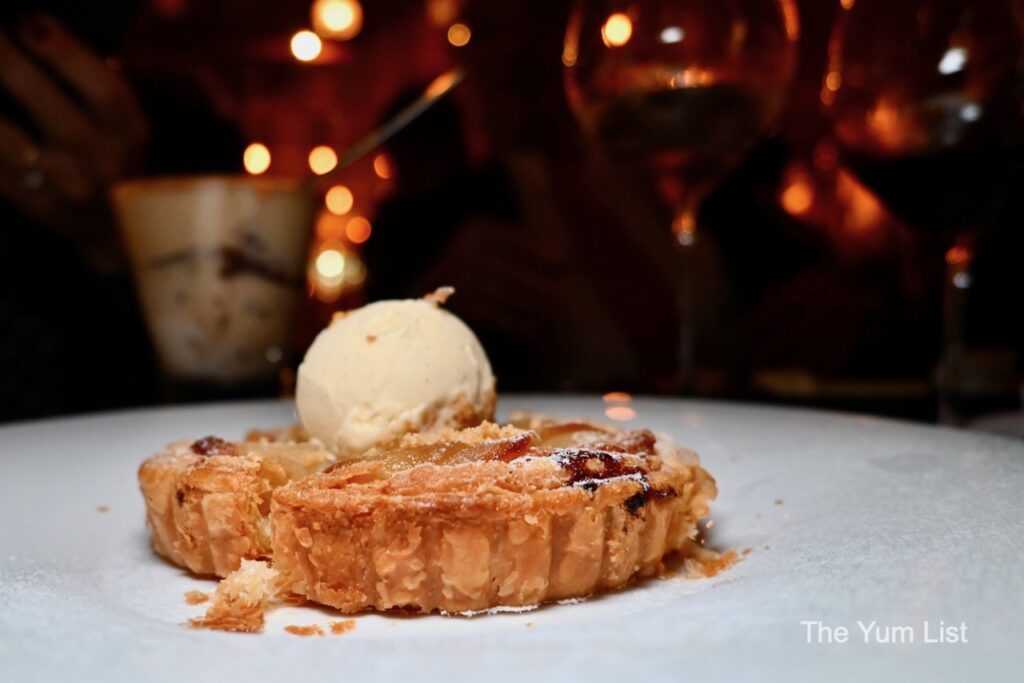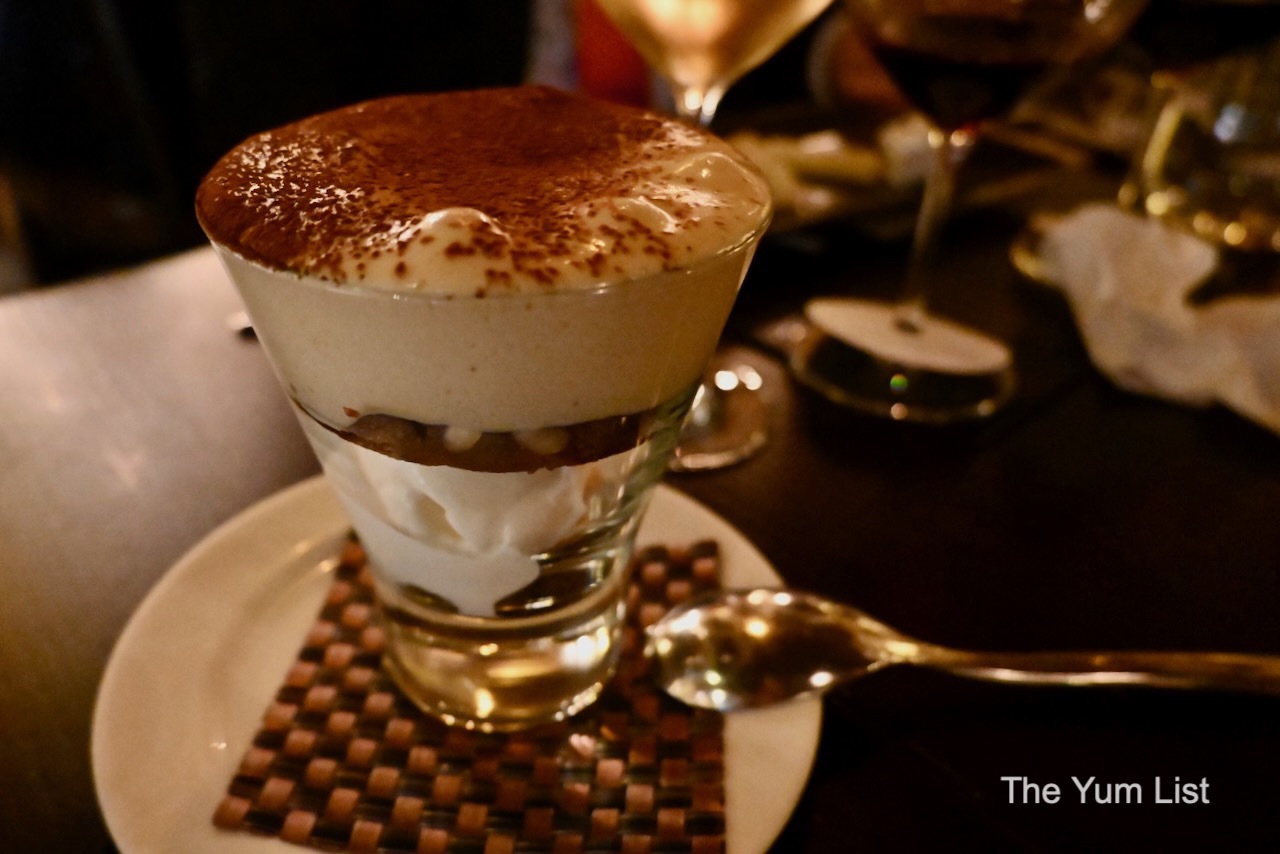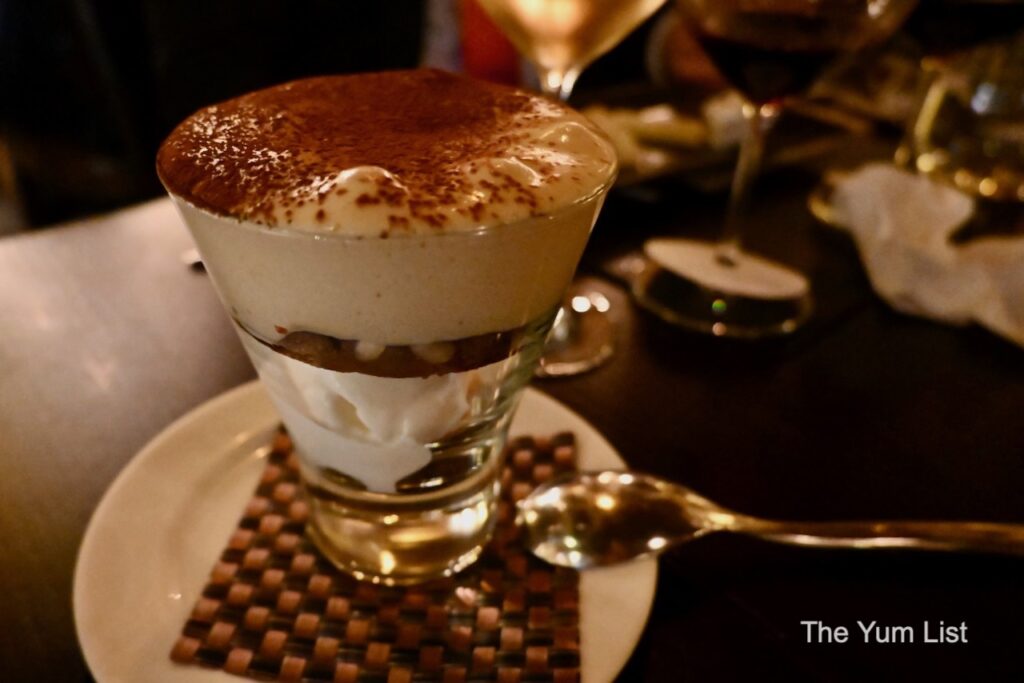 Look out for Ca' del Bosco labels on good wine lists in Hong Kong, but also have a look at menus in Malaysia too, where several bottles are now available.
Ca' del Bosco – www.cadelbosco.com
CIAK – In The Kitchen – ciakconcept.com
Watson's Wine – www.watsonswine.com
Find more recommendations for gourmet travel to Hong Kong here, and stay up-to-date on the latest culinary happenings around Malaysia here and here.