Japanese Restaurant Medan Damansara – Gekko Dining
Words: Jacob Weber
Photos: Rich Callahan
Gekko Dining might be my new favourite Japanese restaurant in Medan Damansara because its culinary concept is surely my new favourite word.
Japas.
Japanese tapas.
It's… glorious. So brilliantly simple and beautifully accurate. It deserves an award.
I could just leave it at that because it so perfectly captures the masterful menu at this modern Japanese restaurant in Medan Damansara. But that wouldn't be fair at all because there's so much more to this place.
(And if "Japas" has been done before, I don't want to hear about it.)
In fact, Gekko Dining has garnered quite the reputation for cocktails and omakase dining, which takes place in a private room at the back. Today, we're front and centre for the a la carte menu, where Co-Founder & Head Chef Ryusuke has a little more freedom to flex his creative muscles. And it's a hard flex: these street-food-inspired sushi-style dishes go very nicely with Co-Founder & Head Bartender Sam's special cocktails. There are bar snacks, and then there are Japas.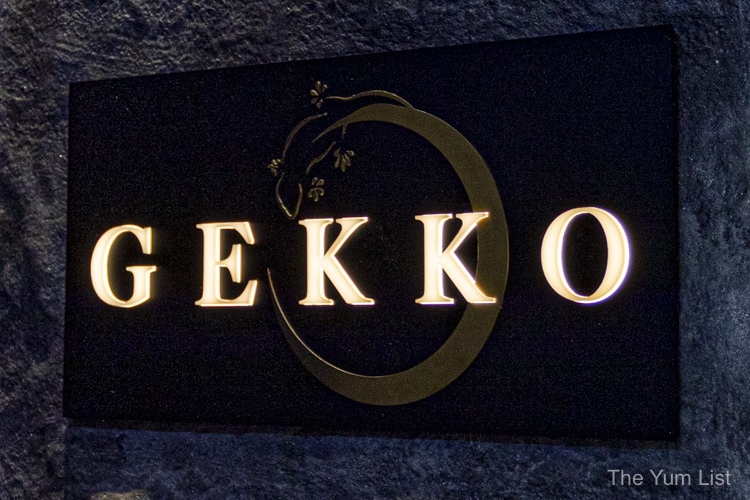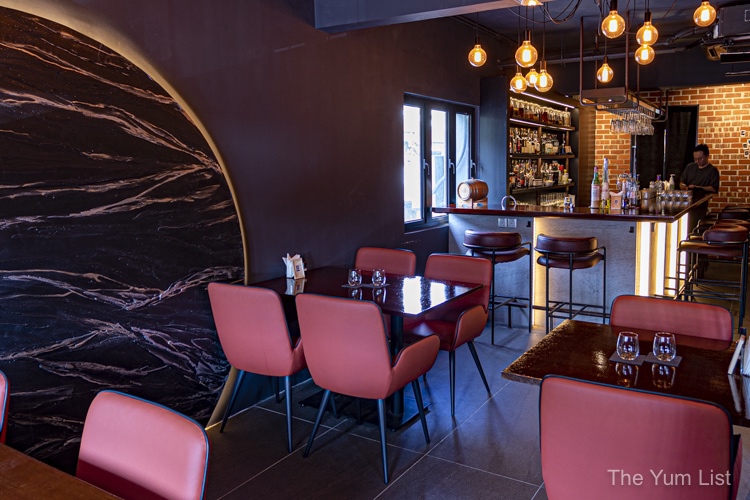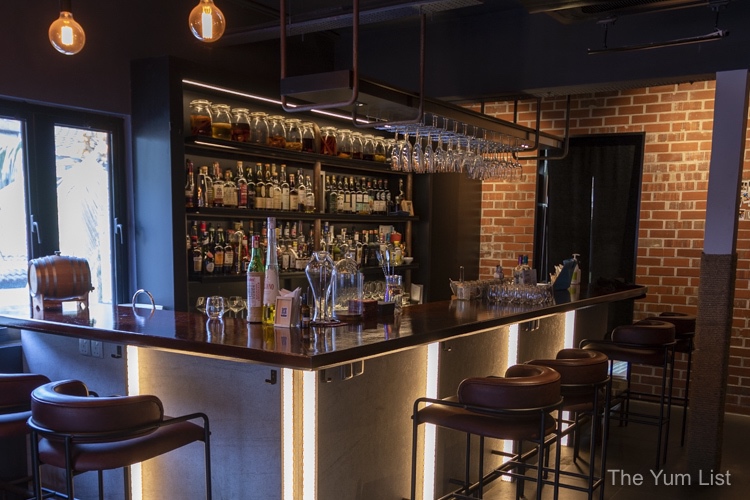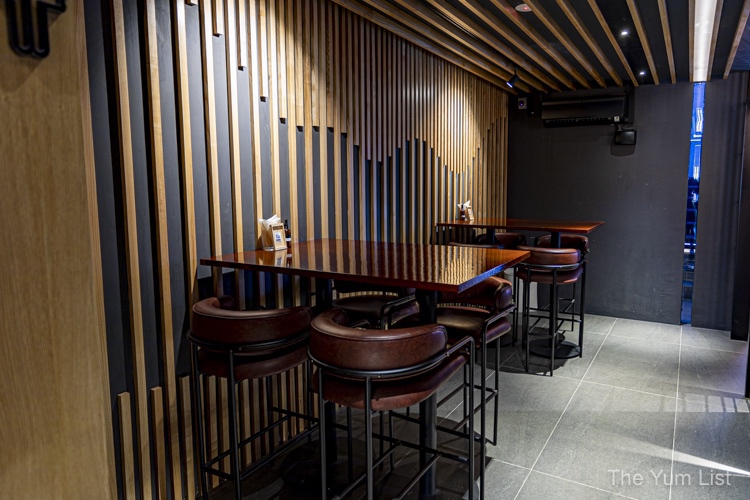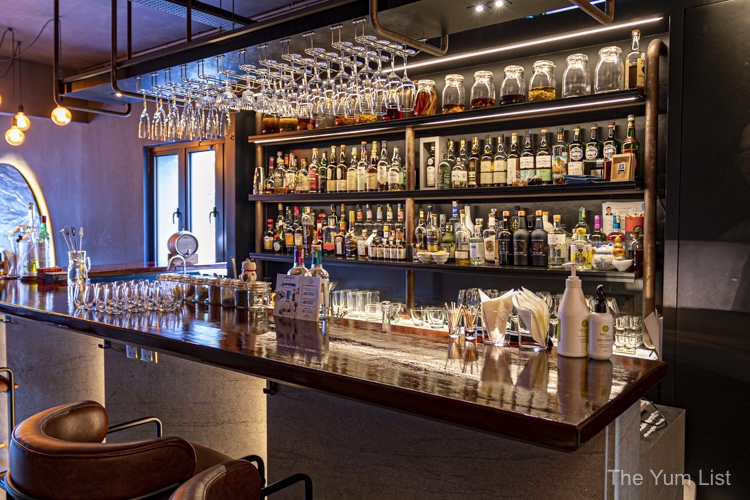 Creative Japanese Cuisine
We settle down in the cosy-contemporary dining area, where industrial-chic fittings and big glowing bulbs create a very pleasant atmosphere. There's no unnecessary novelty or tacky trinkets to highlight the Japanese heritage – just a few expensive-looking liquor bottles, including a Nikka whiskey with decorative samurai armour. It's subtle, stylish, and, with a faint jazzy soundtrack, surprisingly soothing.
Our first taste of Tokyo-style street food is a Chu Toro Sashimi (RM85), three pieces of 10-day aged semi-fatty tuna. It comes with seaweed in two forms – transparent noodles and multi-coloured pearls – and a cute little pipette so you can drizzle soy sauce to your preference with surgical precision. (We're about to find out that the pipette is a common and welcome touch.)
It's delicious. Thick cuts of tuna melt in the mouth with a soft, almost buttery texture. The sharp spiciness of homemade wasabi paste complements the slight sweetness of the fatty meat. Everything on the plate is edible, so I polish off every last seaweed pearl.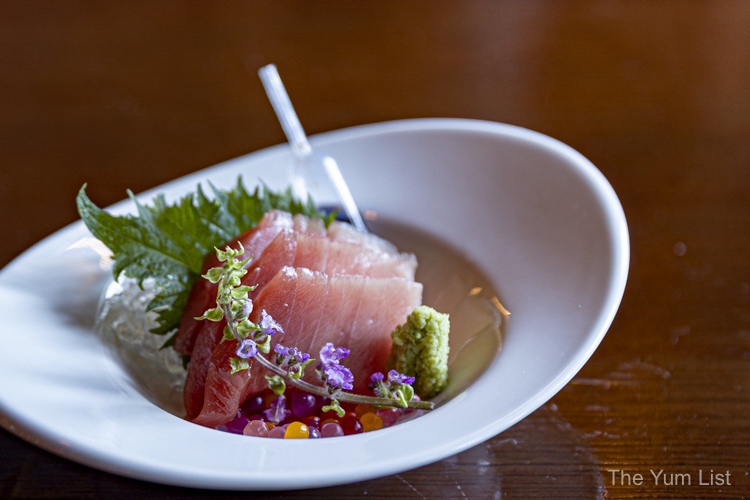 Next up, a 'mini sushi cup' of the Spicy Tuna variety (RM40). Lean bluefin tuna, dry-aged for ten days, is served with avocado, tempura flakes and spring onion. There's a nice contrast of taste and texture, with the crunchy tempura flakes adding a little saltiness to the sweet, fleshy tuna, brought together with spicy mayonnaise which has been mixed with chilli oil. And, of course, you can pipette some soy sauce in there for extra depth and umami. I recommend bringing in the lab equipment about two-thirds of the way through the dish, so you can get a final burst of new flavour after appreciating the dish as it is originally served.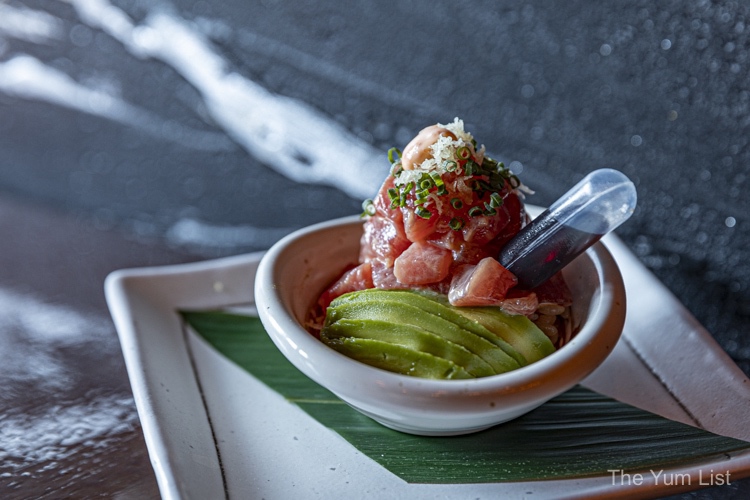 I'm already a fan of mini sushi cups, so I'm delighted when a second arrives. The Engawa Aburi (RM34) is halibut fin muscle seared to tender perfection – seriously, it falls apart with the poke of a chopstick – and flying fish roe served with Hokkaido-style sushi rice. There are little flecks of wasabi buried in the rice for a few spicy little surprises, which works nicely with the black and rice vinegar varieties used to flavour it.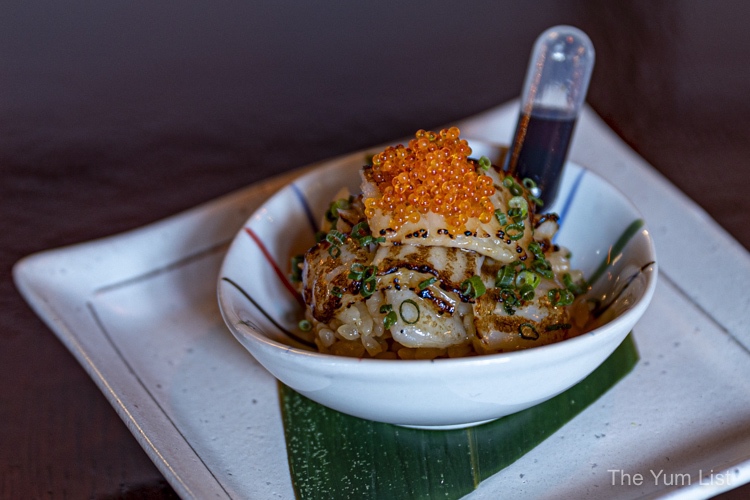 Next, the first 'sushi taco' arrives, and suddenly everything falls into place. Tapas meets Tokyo in magnificent tasty technicolour. The culinary vision made edible reality. The Hotate Zuke (RM28) is Sam's favourite sushi taco, and for good reason. Raw marinated scallops and homemade pico de gallo in a nori tempura shell, topped with spicy mayonnaise; a marvellous medley of tangy and crispy and salty and chewy, beautifully balanced and perfectly presented.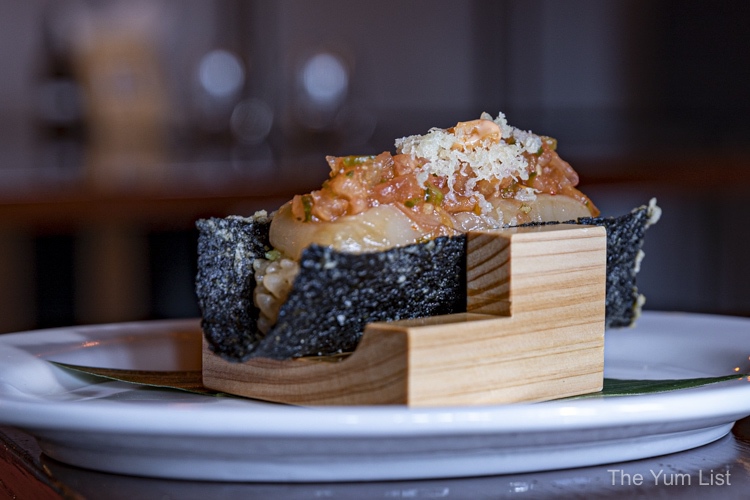 As fantastic as every fish-based dish has been so far, Rich and I are both delighted when the Kalbi (RM28) taco comes to our table: grilled short-rib beef with homemade kimchi. The kimchi is excellent and goes very well with the teriyaki glaze on the beef.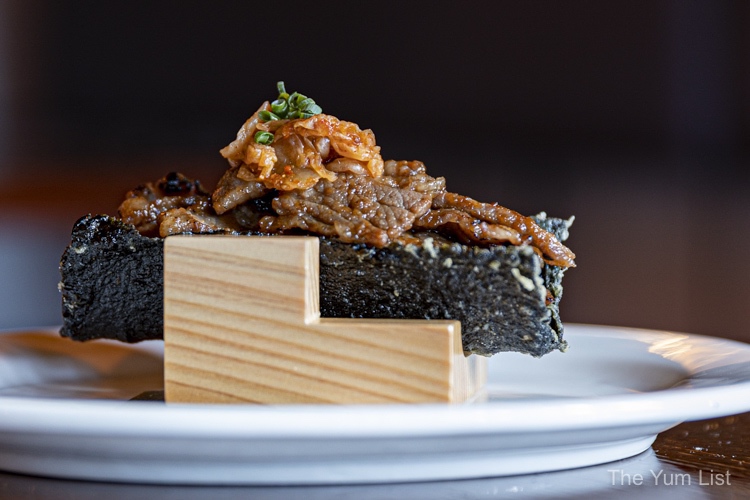 We finish with another fishy flourish: the Toro Taku (RM50), chopped fatty bluefin tuna with pickled daikon radish. There's a same-same-but-subtly-different edge to this version, with the chopped tuna and radish instead of wasabi creating something softer and less spicy – and certainly, no less tasty.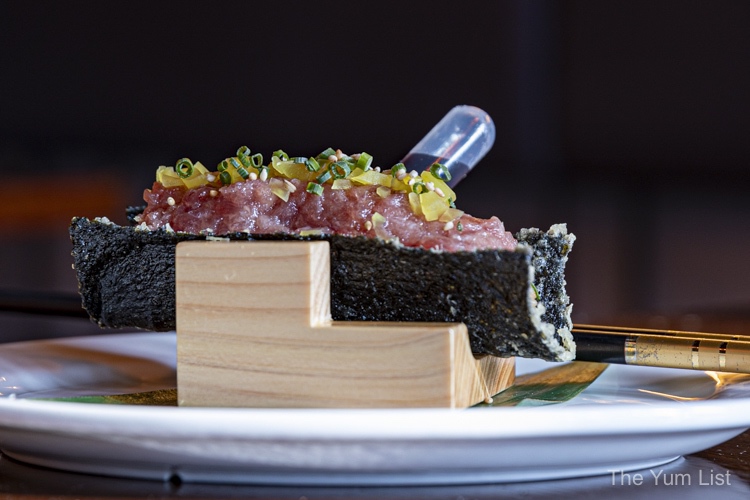 Chef Ryusuke joins us briefly, and we can tell he's had a lot of fun developing this menu – and having even more fun serving it. He tells us that everything is as authentic as they can reasonably get it, with most ingredients flown in from Japan and aged in-house. No wonder it all tastes this good.
Home-infused Liquor – Japanese Restaurant Medan Damansara
The shelves behind the bar at Gekko Dining are something to behold, specifically the very top shelf, where you can count 14 varieties of house-infused whiskey alone. From apple and honeycomb to sweet potato and strawberry, sweet to spicy to sour and back again, your brain cells will burn out well before your taste buds get bored of trying something from Sam's collection.
We start with a couple of Gekko's interpretations of old-school cocktail classics. The Old Fashioned (RM50) is Suntory whiskey infused with Japanese apple and cinnamon and finished with bitters and sugar. The massive ice cube is made in-house, too. There's a big slice of apple garnish that has been steeped in whiskey goodness; I pop it whole into my mouth after I've drained my glass and – oh my. It's like a whole extra shot and sends all the best kinds of shivers down one's spine. Talk about whiskey-infused – this goes right down to its DNA.
Awesome.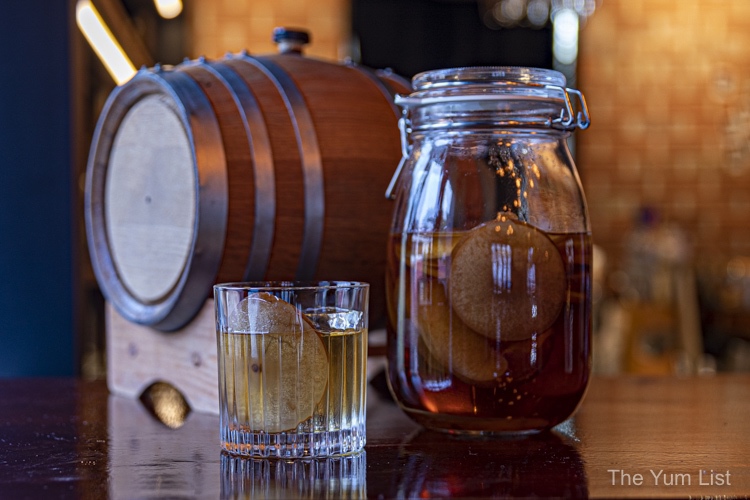 The Whiskey Sour (RM50) is topped with real honeycomb from Perak, which acts as a natural sweetener in place of the typical, traditional sugar. The tanginess from the lemon juice combines nicely with the rich honeycomb flakes dancing in the glass.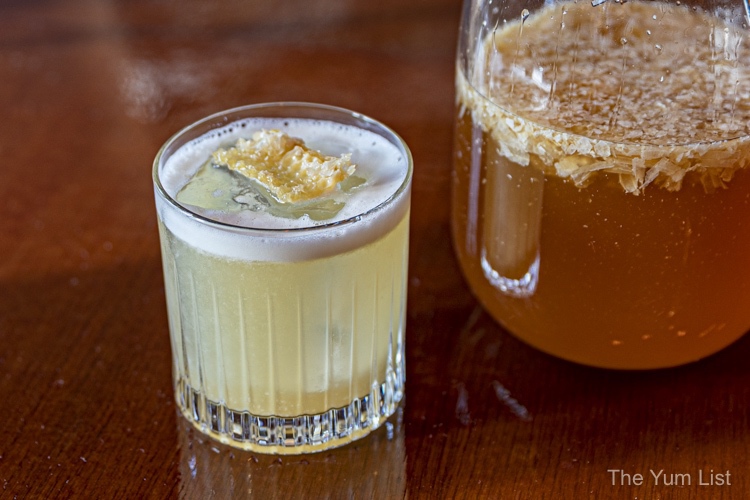 The next cocktail would be perfect for a hot Saturday afternoon, so it's almost a shame that Gekko only opens in the evenings. April's Cocktail of the Month (so, hurry!) is the Mint Julep Gekko-Style (RM50), and that style shows itself in the form of mint leaf-infused whiskey and soda water to give it an extra refreshing kick. It's a real thirst quencher, but sip it slowly because it's much stronger than it tastes!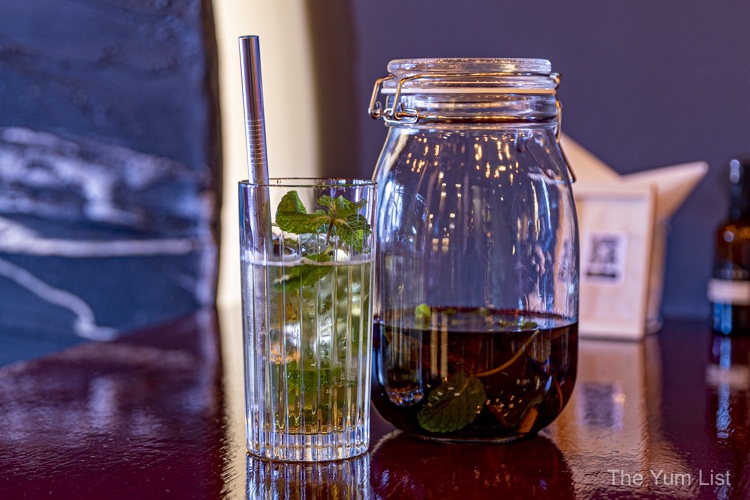 One more for the michi (that's 'road' in Japanese): the Yakimo Saketini (RM45). Sweet potato is baked, left swimming in sake, and kept in the chiller for two months. It's a lot more 'sweet' than 'potato', and this cold-brew-style cocktail will win plenty of hearts.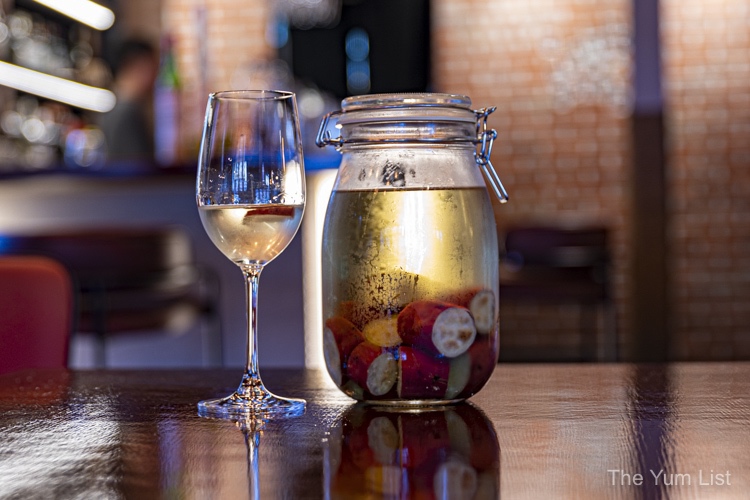 Gekko Dining Review
If you like strong cocktails and great sushi, you'll love Gekko. Actually, if you like food and drink, you'll probably love Gekko. It's a warm, welcoming space with a well-thought-out menu, and, 'Japas' jokes aside, they really have nailed the concept of Tokyo-style tapas without compromising the quality or sacrificing the soul of the classic sushi dishes that have inspired their versions. This isn't a fusion-food mash-up for the sake of it; you can admire the experience and expertise in traditional Japanese cuisine in every bite.
Reasons to visit this Japanese restaurant in Medan Damansara: unique modern touch on classic Japanese sushi and sashimi dishes; imported Japanese ingredients prepared by an expert Japanese chef; interesting and creative menu; incredible house-infused liquor used in excellent cocktails; a friendly welcome from the co-founders and staff.
Gekko Dining
Japanese Restaurant Medan Damansara
120A, Jalan Kasah, Medan Damansara,
50490 Kuala Lumpur, Malaysia
Phone: +60 10 275 1800
www.instagram.com/gekko.dining/
Opening Hours
Monday: Closed
Tuesday-Sunday: 6pm-12am
Find more KL bar recommendations here, and stay up-to-date on the latest gourmet and travel happenings around Malaysia here and here.